Food has become a very serious business in our city as we speak and if you browse any food / review portal you would realize that there would be more than 500 big and small restaurants and café in our city catering to the hungry junta. Since searching the food portals isn't an easy job and most of the reviews aren't reliable so I bring you 10 tried and tested places in the city which have left a lasting impression on my palate and I can close my eyes and recommend them to you. The list is strictly based on my personal taste and preferences and you may beg to differ. You are free to add any more names to this kitty in the comment box. The list is in no specific order or sequence.
Sodabottleopenerwala Khan Market / DLF Cyber Hub
SBOW carry's on the dying and almost extinct legacy of bustling, colorful Irani Cafe's. Making the dying Irani / Parsi cuisine a super hit amongst us, a cuisine which was alien to Delhi / NCR before SBOW came. This place has kind of carved a niche in our hearts and guts and this multi award winning contemporary parsi / Irani cafe is a rock star amongst Foodies of all Genre's. The Menu is so catchy and pretty that you want to carry it home and frame it and put it on your living room wall. Menu is simple, crisp and covers almost all famous Parsi / Irani dishes. Even though the food isn't the flashy, fine dining kind, yet for some reason its soul food that strikes a chord deep within you. And whats even more unique is the way they serve the food in the signature aluminium ware. Must haves are Berry Pulao, Baba ji nu thullu, Marghi ka Farcha, Dhansak, Keema Baida Roti, Bhindi Bazar Sheek Paratha, Vada Pao, Aaloo Aunty cutlet, Salli Boti, Parsi Kulfi, 5 star brownie, Lagan nu custard and Toblerone Mousse. Please do not think, that I just named the entire menu because almost all items are pretty delightful. They operate two outlets in Delhi / NCR as on date. You can copy paste the below link on your browser and read my detailed review of SBOW
http://whatsamsaysabout.blogspot.in/2014/10/sodabottleopenerwala-open-today-khan.html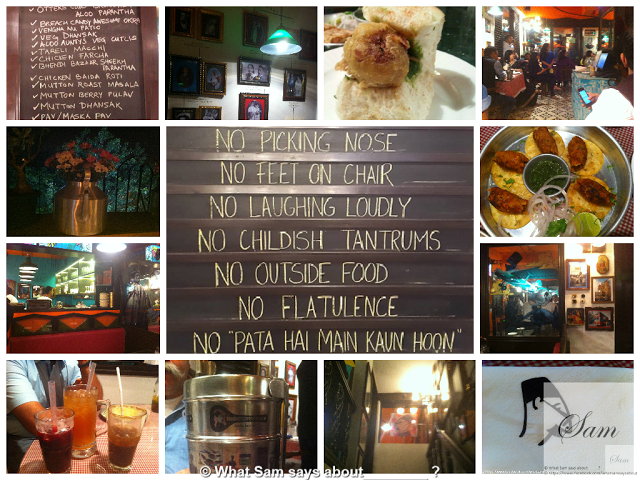 DIGGIN
This place had been on my "to do" list for 2016, and I am glad I visited it in the Ist month itself. As a friend of mine rightly pointed out and I totally agree that Diggin is a café with "Character". This place is authentically European. Walking into this place I had no idea what I was headed into, but that it was a hole in the wall spot. What do you know, I was pleasantly surprised. This little known restaurant is increasingly getting popular and is tucked away in front of Kamla Nehru College and one can not only enjoy a very intimate and Romantic evening with a loved one, but also a chilled out evening with friends. The cafe has seating both indoor/outdoor. The Al-Fresco seating on the ground floor and the Ist floor is beautiful surrounded by greens, flower pots and lovely flowers, I felt as though it was spring. Must haves are Diggin Special Salad, Crispy Zuccini Fries, Diggin's Signature Ravioli, Pan seared Fresh Fish and Oreo Brownie Cheese Cake. You can copy paste the below link on your browser and read my detailed review of Diggin
http://whatsamsaysabout.blogspot.in/2015/01/diggin-sam-totally-digs-this-cafe-455.html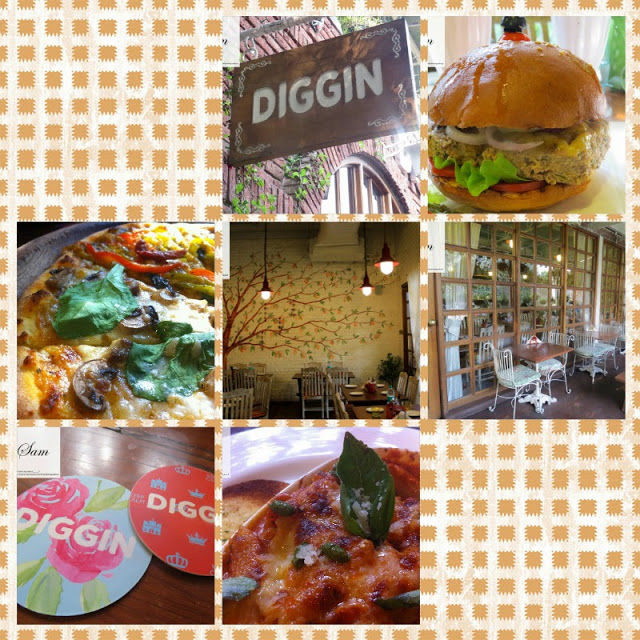 The Big chill Cafe
Located centrally in the heart of Khan Market, Big Chill is one of the oldest and one of the most famous Café's of Khan market. Having a number of outlets now across the city the place has been a hot favorite of people from all age groups. Having primarily an Italian and European influence on the menu with a couple of American items as well, the menu is a Rockstar and what's even great is that the menu will never disappoint someone with a sweet tooth. The dessert section is a Sugar rush in itself and it's a pleasure to read such top of the line desserts on the menu, hard to find elsewhere in the city. From a simple Salad to a Risotto to a nice antipasti and shakes and smoothies and even fresh Juices the menu is a clear winner. The pricing is slightly higher but at par with most South Delhi restaurants in the same category. You can copy paste the below link on your browser and read my detailed review of the Big Chill Cafe
http://whatsamsaysabout.blogspot.in/2015/08/big-chill-khan-market-45.html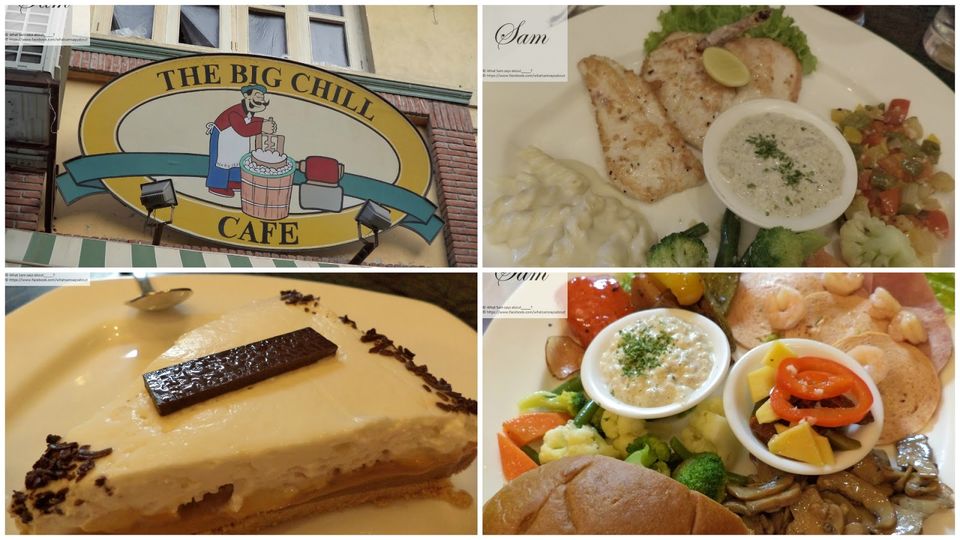 The California Boulevard
I happened to visit this classy diner in Rajouri garden in Delhi some months back and was totally blown away by the concept and like a kid posed with the Harley to get clicked. And when I heard they opened in Gurgaon where I work I could not wait and decided to visit at the first opportunity that would come up.The place is B-E-A-U-T-I-F-U-L and done up really well.The menu here has some new items and is very very interesting and promising and picks the best and popular dishes across cuisines. From a moussaka, to the British favorite - Fish and chips, to Awesome sea food variations in Chinese and European cuisines. I was blown away by the interesting variety in vegetarian food which is usually given a royal ignore in most restaurant menu's. The desserts deserve a special mention. The Gazzak Kulfi and Chocolate Nutella Torte really blew me away.
You can copy paste the below link on your browser and read my detailed review TCB
http://whatsamsaysabout.blogspot.in/2014/12/california-boulevard-gurgaon-chic.html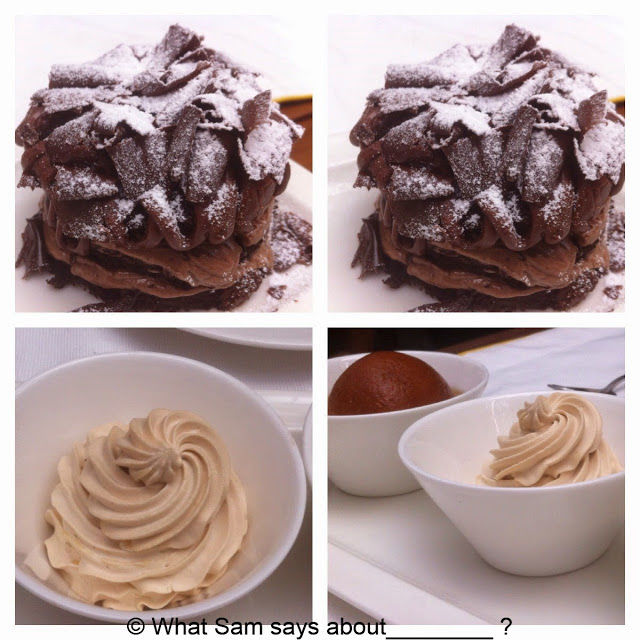 Cafe Turtle
One is shell shocked when one visits an upmarket suburban cafe like this to find nothing non vegetarian on the menu. But as the food starts piling up your table, you forget what non veg even means to you. Full marks to their extensive All-veg menu that has something for every palate. The only constraint is that at peak hours seating can be tricky and waiting time can drive you nuts. Keeping all that aside one forgets everything as the food arrives. The double cheese club is a grand treat to oneself, so is the penne arrabbiata. The pita pockets are simple yet tasteful and so are the thin crust yummy to the core pizzas. The cookie shake made me a kid wanting to have more and more of it. The carrot walnut cake is to die for so is the brownie. The color of the walls and furniture just add to your cafe experience. This place is frequented by foreign tourists and mainly expats. And why not this place is comparable to most international cafes. Must visit this place for the food and the experience You can copy paste the below link on your browser and read my detailed review of Cafe Turtle
http://whatsamsaysabout.blogspot.in/2015/09/cafe-turtle-45.html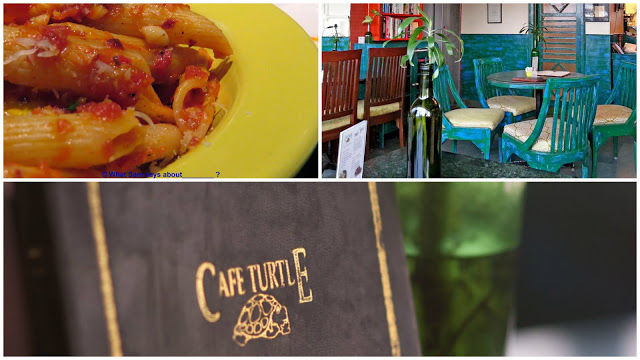 Cafe Wanderlust
Café Wanderlust is all about, the owners love and passion for travel and visiting new places discovering their food and enjoying life and the good things in it. The setting is quite delightful with one wall covered with murals of famous monuments from the world over - be it the Eiffel tower, or the London Eye or the pyramids or the Colosseum from Italy, transporting you in time to these places. With a hammock in one corner to cozy and comfy bean bags to great music, this place has it all. This place is not only a weekend place when most of us want to de-stress & chill & relax, but even on weekdays when you are tired of the madness of this city, with its traffic problems, with its long office hours, with your nagging bosses, and wives and colleagues simply head to café wanderlust, and chill over a cuppa adrak tulsi chai, read a book, or enjoy poetry or relax on the hammock with your eyes closed. The food there is something that is very hard to find elsewhere, even in the metro we call Delhi / NCR. Its remarkably unique and there is something for everyone there. There is no paper menu - its a Samsung Galaxy Tab. You can enjoy loads of vegetarian delights like Banarasi Kachaudi, Vada Pao, Dabeli, Pancakes, and loads of amazing Vegetarian dishes at great prices. You can copy paste the below link on your browser and read my detailed review of Cafe Wanderlust
http://whatsamsaysabout.blogspot.in/2014/11/samcafe-wanderlust-gurgaon-world.html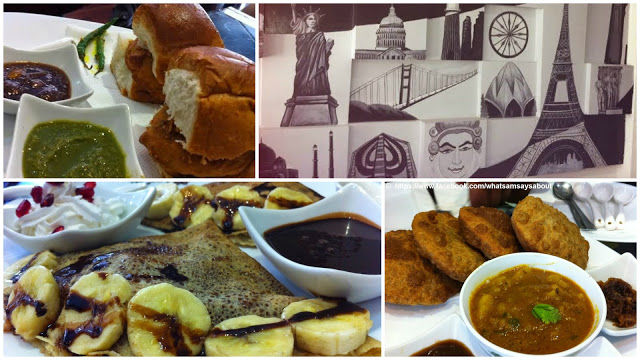 Farzi Cafe
This restaurant is a fairy tale romantic affair, right from entering the restaurant, to the cutlery, to the crockery, to the artifacts, to the personalized service and of course to the food. Located at the Lobby level just next to Café Delhi heights in DLF Cyber hub, this second successful restaurant launch in Cyber hub by restaurateur and son of the Legendary Jiggs Kalra- Mr Zorawar Kalra is all set to create new benchmarks and sweep every competitor off their feet in the food world. Farzi is not a restaurant where you go to eat food, it's a place where you go and experience gastronomy at its best. Another restaurant highlighting Progressive Indian cuisine and serving super Cocktails all with a quirky out of the box presentation. Farzi café is about instilling glamour to simple ingredients and pumping up the simple things in life what we all call soul food. Be it daal chawal and making it into Arancini or a simple 10 Rupee Maggi and pumping it up to a Posh Maggi with Duck liver as Foie gras. The dishes I love at Farzi are Dal Chawal Aranchini, Chorizo pulao, Pumpkin Khao suey, Farzi OK, Chilli Pork Ribs and Tandoori Guchchi Risotto You can copy paste the below link on your browser and read my detailed review of Farzi Cafe
http://whatsamsaysabout.blogspot.in/2014/08/sam-reviews-farzi-cafe-where-food-is.html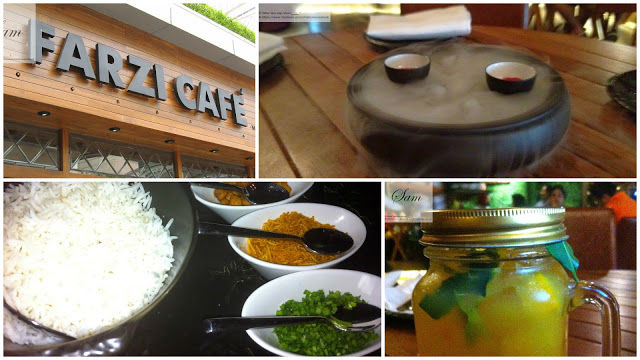 Cafe Delhi Heights
Cross point and Ambiance are the only outlets I prefer, since I have had major service issues at their Cyber hub outlet. The ambiance is great, and yes they play awesome music. Service is flawless and Portions are OMG! really really really huge. The one and the only reason that prompts me to visit time and again is the Juicy Lucy Burger which I adore. I also love their herb crusted fish, Chicken Cacciatore, Steak's, Som Tam Salad and Herb Crusted Fish You can copy paste the below link on your browser and read my detailed review
http://whatsamsaysabout.blogspot.in/2014/12/sams-only-favorite-cafe-delhi-heights.html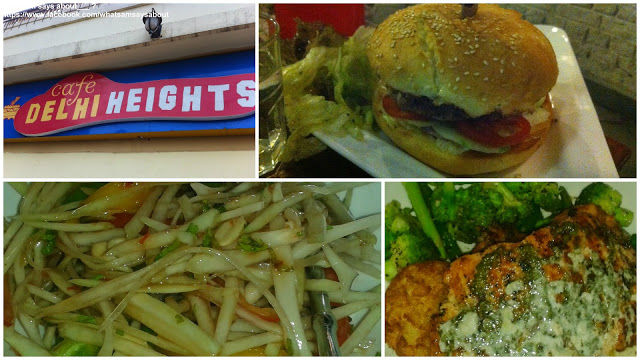 The Joint Cafe-
The Burger Industry is booming as we speak. The Burger loving junta is increasing by the minute, and is simply showing no signs of slowing down. There's a Hard rock cafe, a Fork you, a Smoke house deli, the CDH selling juicy lucy's but even with this swarm of meat our carnivorous stomachs have not yet experienced what I call the tenderloin heaven. We have heard the juicy lucy making news and the Tough Guy burger's making news but here is the Holy Cow at The Joint café that ought to make the real noise, and I am sure it will make all its competitors sweat. From a great breakfast menu to loaded burgers, steaks, hot dogs, they have it all. Its a meat lovers paradise. And the meat is so good in quality and you can taste that for yourself. Everyone needs to try this place at least once!! This place is cute, it's little, but it's cute. They play hip music and the atmosphere is fun and inviting. The burgers are a meal in themselves and they are not skimpy on the ingredients. I know the size of this burger might intimidate you, but don't we all crib that most restaurants serve meagre portions? So at-least I ain't complaining. Bring it on. Must haves are Fat Tony Burger, Falafel Burger, Holy Cow and the Illegal Ammo Burger. You can also have some super breakfast options and Hot dogs too. You can copy paste the below link on your browser and read my detailed review of The Joint Cafe
http://whatsamsaysabout.blogspot.in/2014/09/the-joint-cafe-big-mama-of-all-burgers.html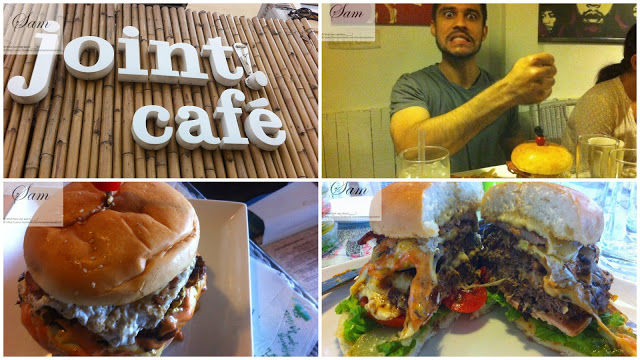 Woodbox Cafe, Satya Niketan
Having heard a lot about their outlet in North Campus, I was excited when I visited this outlet to experiment with world cuisine. Located in South Campus, this place primarily caters to the college junta around the Venkateshwara college. We loved the ambiance, the decor, and the colourful walls of the place. The staff was extra sweet and extra courteous. Service was very prompt and food had great portions and prices for world cuisine were OMG, affordable. Must haves are Cilantro Salad, Chicken Cacciatore and Flake Tower.
You can copy paste the below link on your browser and read my detailed review of Woodbox Cafe.
http://whatsamsaysabout.blogspot.in/2014/06/the-fun-team-sam-had-at-woodbox-cafe.html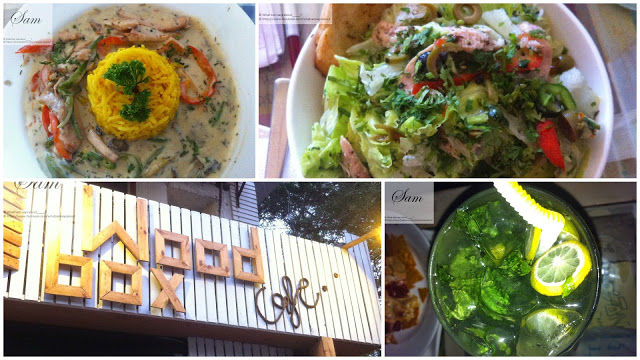 © What Sam says about________ ?
This blog was originally published on 'What Sam says about________ ?'