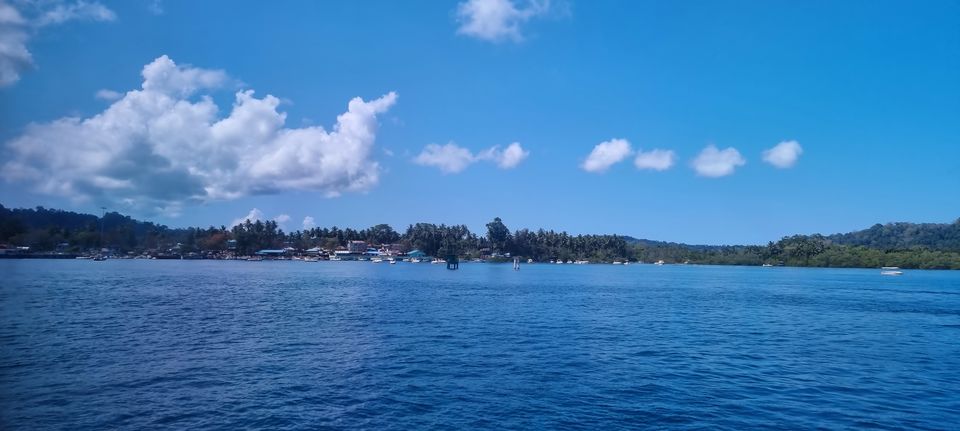 Havelock Island, now renamed as Swaraj Dweep by Hon'ble P.M. during his last visit there, is the most the frequented island by tourists from Port Blair in South Andaman. This island houses the only beach of Andaman and Nicobar archipelago, which has a blue flag certification.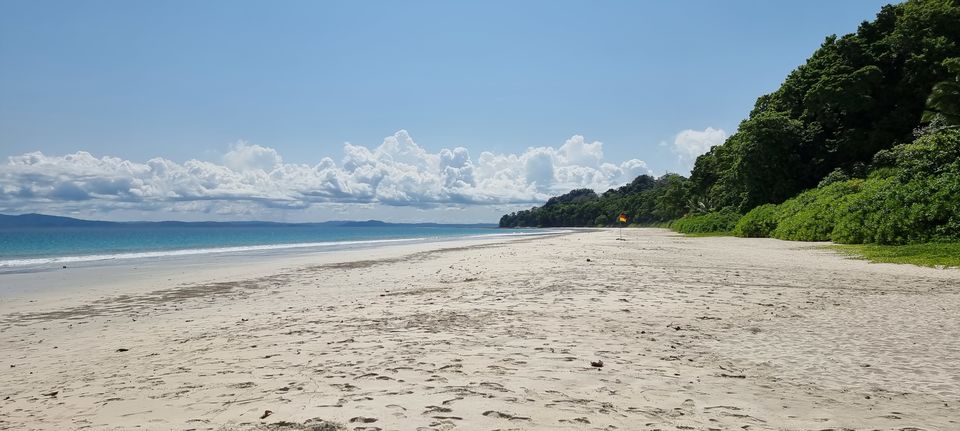 If planning a visit to Havelock Island, keep at least 2 complete days if on a tight schedule, however, the same may be extended to 3 days, in case of a relaxed trip plan.
The most common mode to reach Havelock Island is via private or government ferry, from Port Blair, and the trip takes approximately 1.5-2 hours, depending on the type of ferry and weather. Government ferry usually take longer time to reach but have the advantage of an open deck. However, their bookings can be done only in person. Contrastingly, private ferry providers can be booked online or can also be done via travel agents. The common private ferry providers operating are Makruzz and Nautica. If lucky, you will see lots of flying fishes on your ferry ride to Havelock.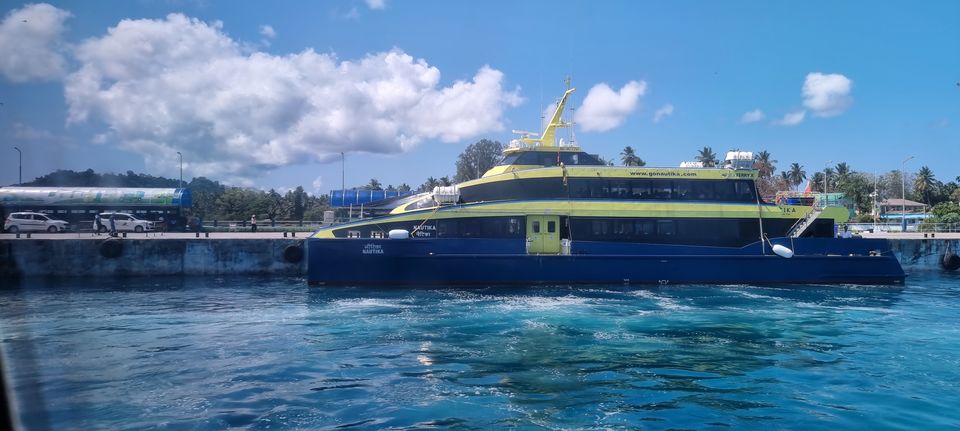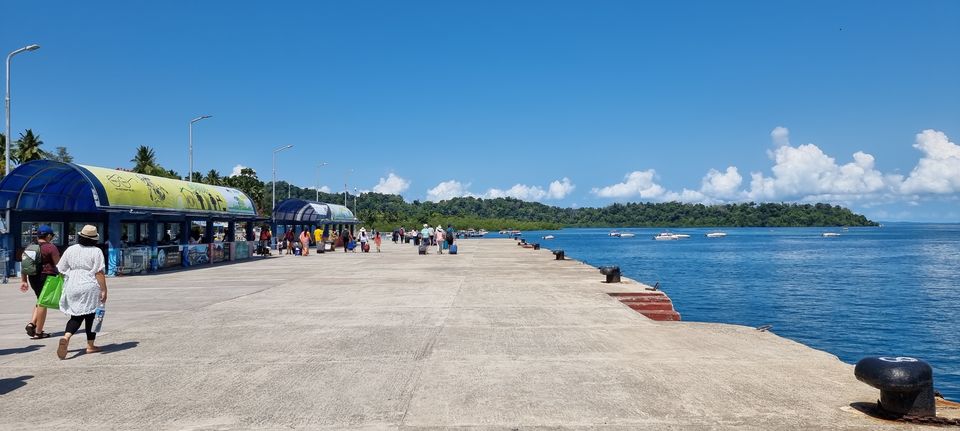 For travel within the island, Cabs, Autos and Rental Scooty are available, and can be opted for as per personal need and group size. Further, Mobile Network connectivity is limited on the island, but Airtel and Jio networks are available at most prominent places.
The places of interest i.e. the must visit tourist destinations are:
1. Radhanagar Beach
2. Kalapathar Beach
3. Elephant Beach
Radhanagar and Kalapathar Beaches are on opposite sides of the island, and both are approx. 8-10 kms from the Jetty Point. Both these beaches are accessible via road.
Elephant Beach is accessible either by foot or by speed boat. If approaching via foot, it takes approx. 40 min to 1 hour to reach there, depending on your speed, which may depend on the weather :). The Starting Point for this foot trek lies on the road to Radhanagar Beach, and you can take a guide to take you through the forest.
You may also find names of some other beaches like Govind Nagar Beach, Vijay Nagar Beach, Nemo Beach etc. on certain websites, but these beaches are not exactly visiting tourist destinations. All these beaches lie along the approach road to Kalapathar Beach, and along these beaches are lots and lots of hotels / resorts / restaurants, where each property is built on a segment of these beaches only and the same can be visited on the back side of these properties, if you are staying in one or can be visited through approach paths available at intervals from the main road. Based on your location on these beaches, you either see the open ocean in front you or may see parts of islands in the Richie's Archipelago opposite to you.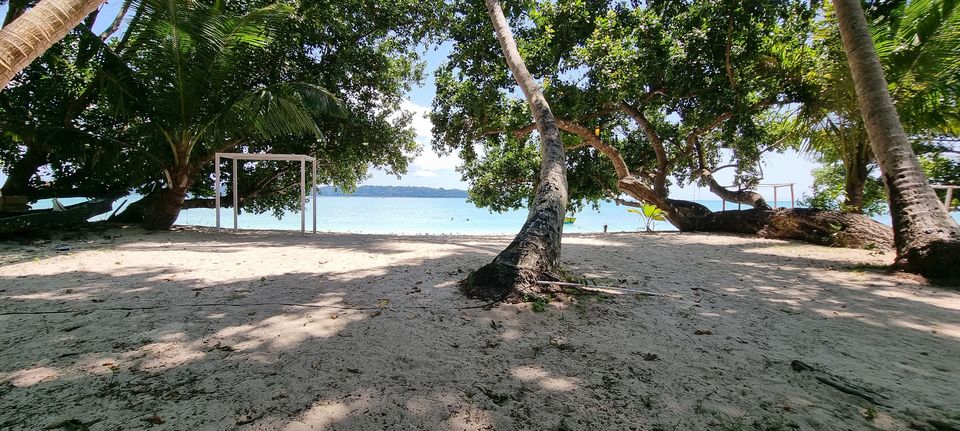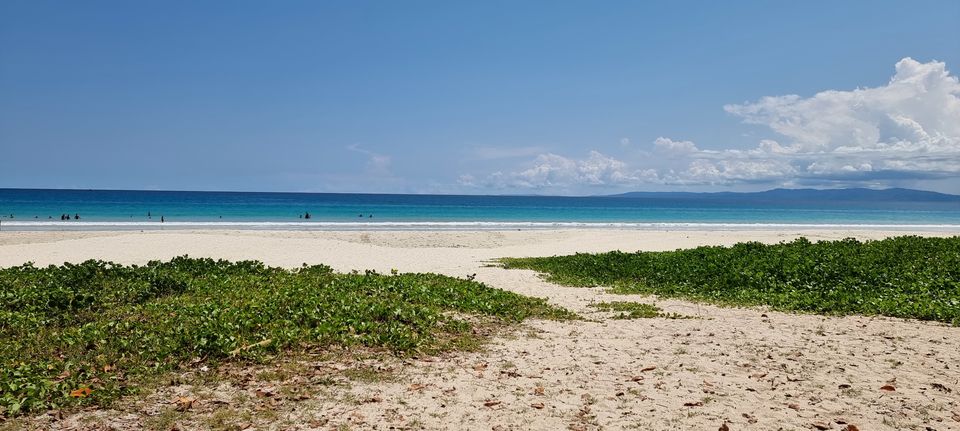 This beach is the major attraction of Havelock Islands. It is located on one end of the island, and some of the premium hotels and resorts are located nearby, including the Taj Resort. One other premium property worth mention is TSG Hotel.
The entry to the beach is free and there is a spacious parking outside, in case required for self driven two-wheelers. Near the entry point, there are a few eateries and sovenier shops. However, once you enter the official beach area, there are no shops or stalls. The beach has a marvellous view, with cool white sand and clear blue green water visible over the whole horizon. There are many benches and wooden chairs installed on the beach, for all to use and relax in the shade.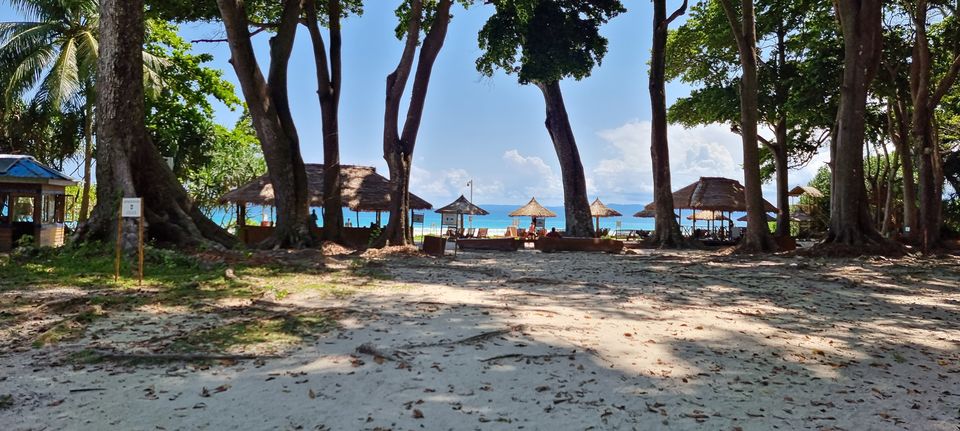 The beach houses a premium washroom and bathroom complex, available for use at a minimal user fee. Also, a branch of the government Sagarika Emporium is also located on the beach.
You can have a bath safely at the beach, till the marked areas. You can also have a long walk barefoot on the pristine white sands and can also wait there to enjoy the sunset, for which it is frequented by lots of tourists in the evening.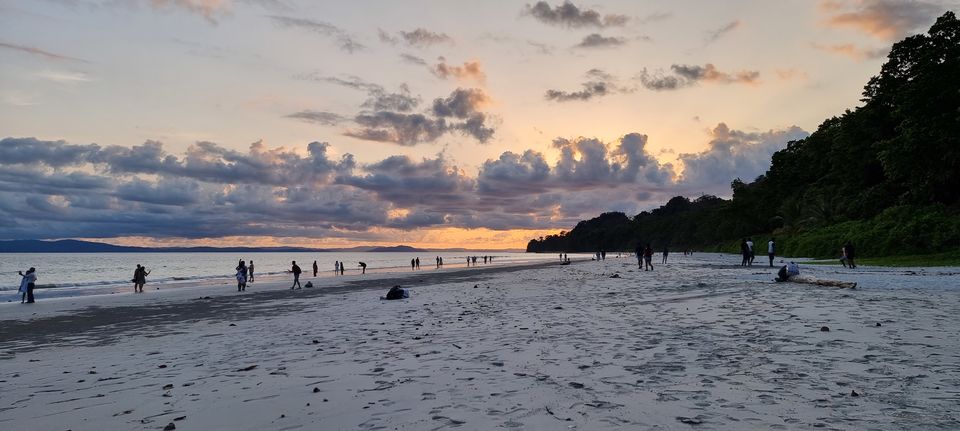 KALAPATHAR BEACH
Kalapathar Beach is famous for sunrise, being on other side of the island. The island has it's own specific beauty depending on the time of visit in relation to the tide. When visited in high tide, you will be able to see multicolored water levels, due to the mixed levels of corals, rocks and sands. However, during low tide, you will see a lot of coral rocks coming out on the beach, which is a sight to see in itself.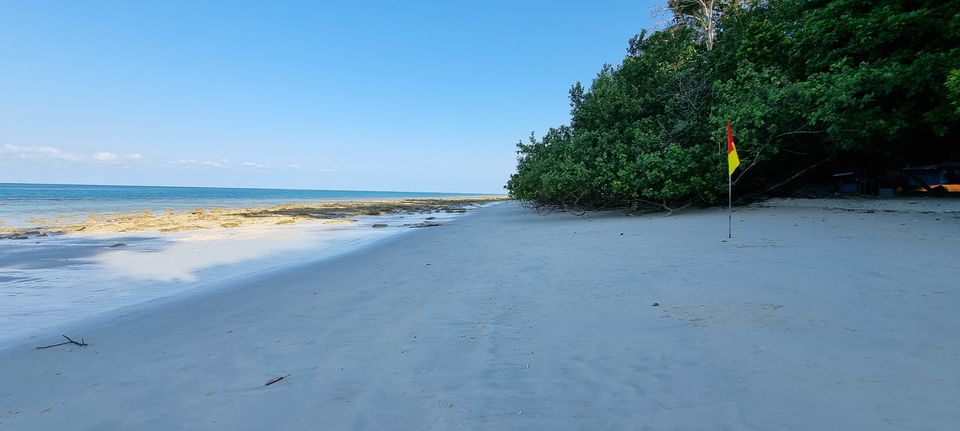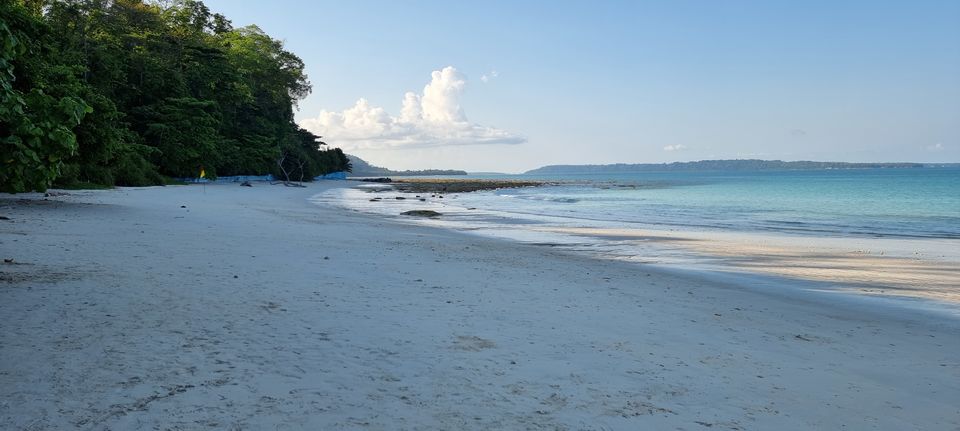 It is recommended to take a calming walk along the beach during evening, and experience the picturesque views along the beach. A few eateries are located outside the beach entry, along the road, where you can have coconuts and other light snacks.
If you keep walking on the left side on arrival, you will find lots of photographic places in the form of rock formations, dead coral aggregations, felled tree logs etc.
ELEPHANT BEACH
Though small and remote beach, with limited access, this is also a very clean beach, with more of nature's landscape. As told earlier, it can be reached either on foot, from the trek starting point or via speed boat. The speed boats for elephant beach leave from the Jetty Point in the morning. They have a fixed charge of Rs. 1000 per person at present and give you around 3 hours of time to spend there. The speed boat journey is a remarkable experience in itself.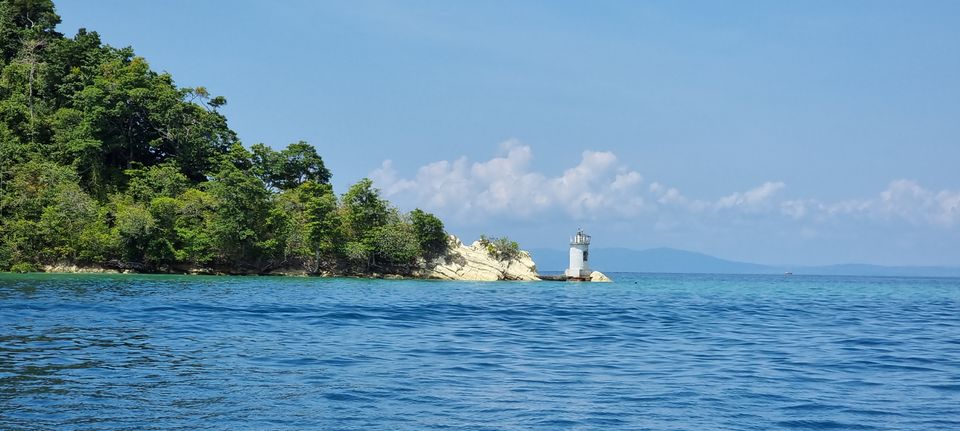 The beach is mainly famous for all kind of water sports, snorkeling and jet ski being the most common opted options by visitors. The access area on the beach is limited and the facility of lockers and washrooms / bathrooms are available on a payment basis.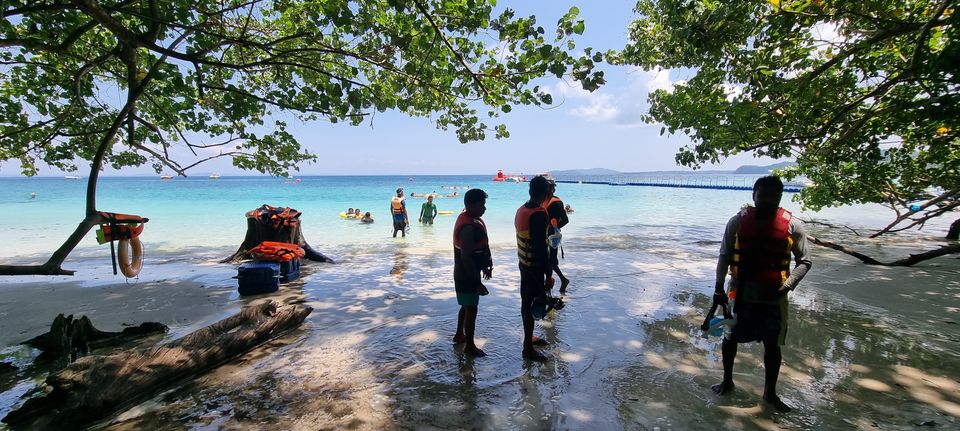 All water sports can be opted and paid for in person, on the beach only. If sure of doing any activity, you can also book the same at counters near jetty point, before boarding the speed boat. When going via speed boat, they provide complimentary snorkeling for a limited distance, via normal snorkeling pipe. However, as an upgrade, they charge Rs. 1000 extra per person for snorkeling with a full face mask, for an extended distance and also provide video recording via action cameras.
FOOD OPTIONS
Most of the hotel / resorts provide complimentary breakfast, and while booking your accommodation, do mandatorily opt for the same for your own convenience. If option is available, it is also recommended to include dinner in your booking plan, as it is not practical to visit other restaurants, especially if located at a distance from your location.
Limited options available for pure vegetarians at hotels / resorts, because of obvious predominance of consumption of sea food in the island. I can suggest a few pure vegetarian restaurants which currently exist on the island, but their overall culinary experience inception may vary from person to person.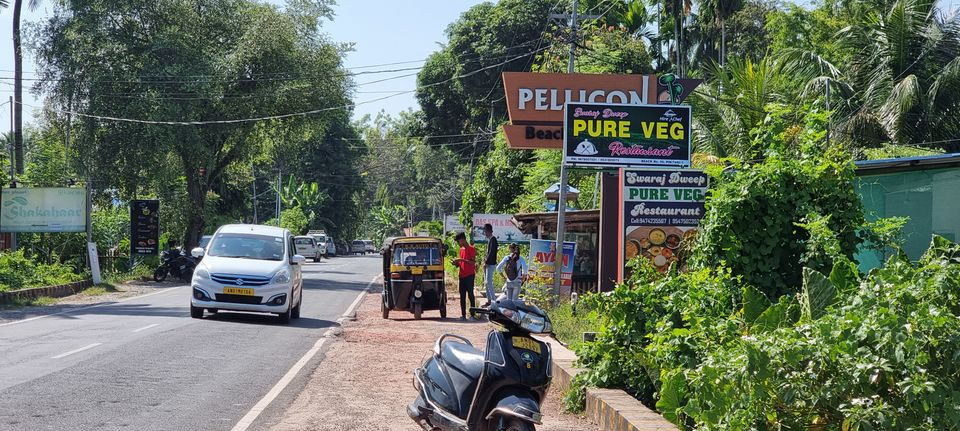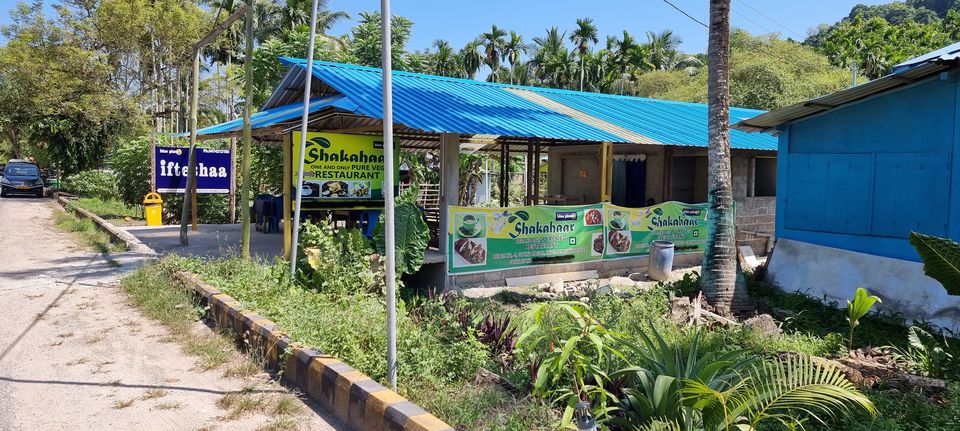 However, there is one restaurant by the name of ANJU COCO, located on the road to Kalapathar Beach, which serves both veg. and non-veg. and variety of cuisines including chinese, italian, north indian, south indian etc. The overall taste experience, costing and service is decent and warrants at least one visit during your trip.
Plus, if you like coconuts, you will have green coconuts available everywhere on the island, at a cost of around 50-60. The coconuts here have much more water content that we find in cities. Do enjoy that refreshment if willing. Also, if you find, try king coconut, which can be identified as a small yellow / orange coconut, available only occasionally with few sellers and has a much sweeter water compared to the green ones.
Overall, Havelock Island / Swaraj Dweep is a recommended visit in the Andaman & Nicobar Islands Archipelago, with it's pristine waters, clean beaches and on beach stay options.
P.S. - If you are an animal lover, you will find a lot of dogs and sometimes, cats, anywhere you go on the island.