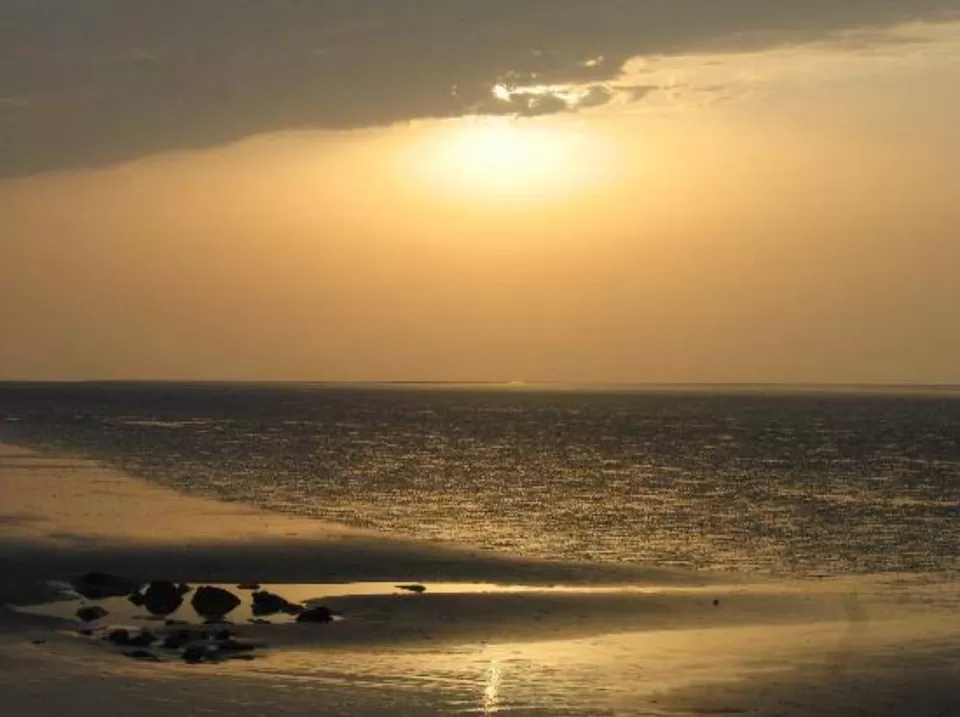 Shoreline of Odisha runs until 400kms. Each beach of this state is a beauty on its own. Filled with Bay of a Bengal waters, kissed by light brown sands, surrounded by lush greenery, these calm waters always creates ripples of peace within us. Sunset and sunrise are so popular here, that it always feels like a celebration when you view them. For nature lovers it is a spot to see three in one- waters, sky and nature. While for adventure junkies this beach offers some best adventure sports. This beach is an ideal picnic spot all through winter, that in summer touching cool waters helps you to beat the scorching heat.
1) GOPALPUR BEACH- Located in Ganjam district, 15km near to Berhampur this beach is full of coconut groves, sand dunes and casuarinas. Cashewnut tree is the unique fact of this beach that lighthouse is very popular landmark. Being very close to Andhrapradesh, this beach is prone to cyclones. Beach festival that happens every year in this beach is a notable feature. It takes place in the month of December that is filled with lot of culture, music and dance besides yummy cuisine. Ramha, chilika lake, rushikuly beach and Shakuntala market are places around this beach.
2) CHANDIPUR BEACH- This beach is 16km long located in Balasore district, where confluence of Buddha Balanga river mixes into the beach waters. This beach is also named as Vanishing sea, for the belief that it disappears at one point is viewable. It is one of the less crowded beach, popular sunset view point, where just at the brink of sunset you could view outline of casuarina trees and sand dunes. It's one of the popular spot of Odisha where you are assured to taste best pomfret and prawns.
3) ARYAPALLI BEACH- Berhampur is 31km away from this beach, that this beach is where you get to see Rushikulya river meet Bay of Bengal. Titled as one of the cleanest beach of Odisha it is a very popular hangout spot all through summer. It is a paradise beach of walkers, while both sunrise and sunset are great to view in this beach.
4) PARADEEP BEACH- One of the largest beach of Odisha surrounded by thick green forest, that you could view confluence of River Mahanadi with Bay of Bengal. Located near Paradip port, 94km away from Cuttack this beach is a must visit spot of Odisha, flocked by tourist almost all through the year. It is a Sunday hangout hub, where you get to view picturesque sunrise and sunset. Though this beach falls under Bhubaneswar city district it is also a part of Jagatsinghpur district. Bijo minar, aquarium, hanuman mandir are places around while it is a place for walkers, jogger's, seafood lovers and photographers.
5) PURI BEACH- This beach is also known as Golden beach where annual puri beach festival is held. Located 60km away from Bhubaneshwar this beach is a sacred beach of Odisha. Filled with mystical charm and spiritual salvation, this beach offers lot of solitude and serenity. An ideal beach for morning walkers, where sunset is named as picturesque. It is an ideal place to taste best seafood and shop for handloom and textiles of Odisha.
6) TALASARI BEACH- Located in Baleshwar district, Talasari means palm row. Another name of this beach is rhythm beach, for the belief is waves produce very mild sound. Surrounded by palm trees, sand dunes where red crabs are spotted. This beach stretches till Udaipur beach. The beach waters drain into subarnarekha river which stretches for many paddy fields. This beach is called as last beach of north Odisha, which is popular for fishing and seafood.
Odisha beach has gaping spells, where blue waters clash a lot with orange sunset sky, making the whole place picturesque. One of the ideal beaches to hangout where you shouldn't miss touching the sands. A colourful shoreline offering spectacular view of the coast stretch during sunrise. One of the best visit beaches if you are a water sport traveler and if you happen to be a nature travel don't miss out on lush surrounding greenery where sun rays just cuts across the beach Bay of Bengal.