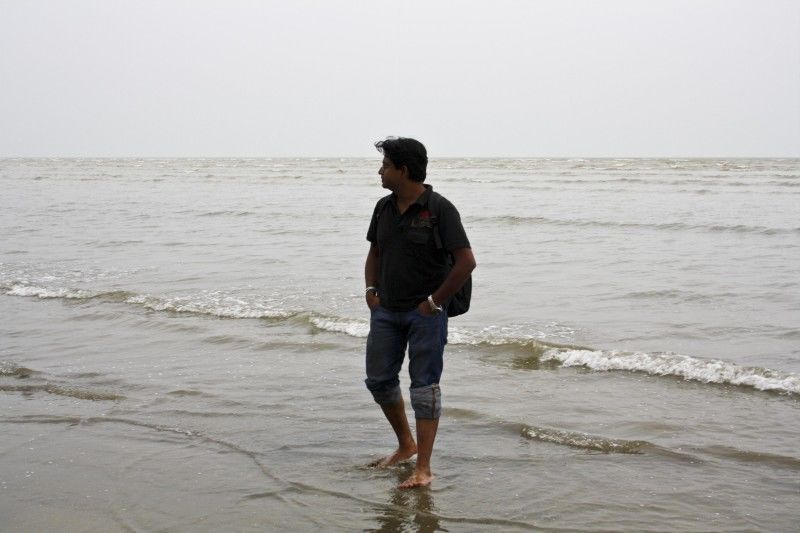 It was 3:30 AM, my phone rang. It was a wake-up call for me from Debabrata. Working late night is okay with me but leaving the bed on early morning always a tough job. Never use an alarm, my wife work as an alarm for me. After so much of procrastination, finally, I managed to wake up at 4:30 AM. My breakfast was ready and served. My wife supports all kinds of wild madness of me. Unless she was there with me, instantaneous travel was impossible for me. Although, I had to catch up Dhauli Express from Howrah for Balasore.
I reached Howrah at 5:25 AM and managed to buy a local ticket after standing in a long queue. Almost I missed the train but got on in a running train. Debabrata was kept on checking my status. Around 6:40 AM I got a call from him and asked me to check my laptop. Switched on my laptop and internet as well to check mails. I called up and informed him about the status of my camera. He smiled and told me that he arranged everything for the trip. At 9:45 AM, I reached Balasore and found ever smiling Debu at the station. We sat at the station and finalized the plan of action for the work. We hired an auto from the station compound and reached DRDO (Defence Research and Development Organisation) by 10:30 AM. It was a semi-official tour for me and I finished my job as quickly as possible. I was so eager to see the magical beach.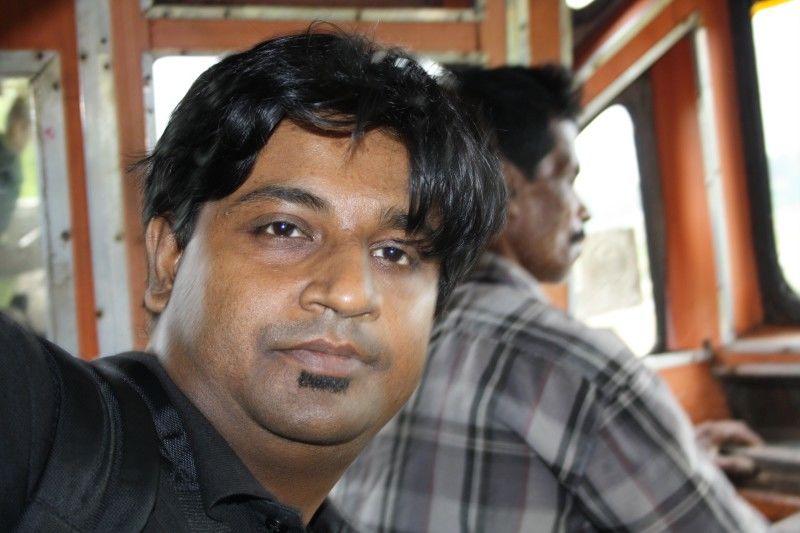 His arrangement of everything was a completely false statement. After walking for a half an hour under the scorching sun, there were no traces of any vehicle. He stopped a lorry and asked for a lift. This was the first time I traveled in a lorry to reach a travel destination. The temperature inside the driver's cabin was reached to the boiling point. It was pathetic but now I feel it was an experience. The driver dropped us at an unknown place and there was no trace of any sea beach. Crossing some narrow lanes and by lanes, we reached the beach but there were no traces of any sea. I asked a passer-by fisherman about the location of the sea and he said "Vanished". He suggested us to wait for few more hours.
We started walking on the beach to locate the sea but there was no trace of a single drop of water. I was completely frustrated. Suddenly I noticed red spots on the beach. Oh my God, there were thousands of thousands of red crabs. Earlier, I saw red crabs on Talsari beach but not in huge number. Few minutes of walking we reached the colonies of red crabs. I could wait for the sea to come back but could not resist myself to play with the red crabs. Crabs were smart and faster than us, they were also not camera friendly. So neither I grabbed a single one in my hand nor I captured them in my cam. Debu went there many times and he was quite acquainted with the place. He informed me that Chandipur is also popular for "Horse-Shoe" crabs. Please don't think that he knows everything about the place. I had some knowledge of historical facts about the place and I showered the same on Debu.
Now it's the time to shower the same on all of you. Popular Indian freedom fighter Jatin Chandra Mukherjee (Also known as Bagha Jatin) was shot twice by the British Army in Chandipur and he managed to escape from the spot. He swam across the river (Budhabalanga River) and reached to Barabati Village. Where a doctor operated on Bagha Jatin to take out the bullets from his body. There was a place called Chashakhanda village where freedom fighters used as a hideout and to store ammunition. After a while, he managed to reach that village but unable to find the door key of the house. Unfortunately, due to excessive bleeding, he fell unconscious and British Army arrested him from the spot. An episode of thoughts about the freedom fighters engrossed me for some moments.
To Read The Full Article, Please Visit
If you like fishing, must visit Balaramgadi Village. It is located near to the beach merely 2 KM, at the confluence of Budhabalanga River. There is a big fish market in the village and fresh sea fishes are available at cheap price. This place is popular among locals and tourists, especially for......................
Panchalingeshwar temple enshrined five Shiva Lingas and it is situated on the top of a hillock near Nilagiri Hill. It is believed that Shiva Lingas have been enshrined by Sita (Wife of Lord Rama) during their banishment. A stream regularly washes Shiva Lingas as it flows over them. A lake is formed by Devkund waterfall, which is also a major attraction of the place. You can explore the Nilagiri (Not Nilgiri)
Forest on foot.
This place is 30 KM away from Chandipur beach. Autos and private cars are available from Balasore station/Chandipur beach. Cost you Rs/- 150 to ..............................
To Read The Full Article, Please Visit
Copyright © BongBlogger
Frequent Searches Leading To This Page:-
special holidays in Odisha, Odisha with friends, Odisha with family, Orissa beach Tour Packages, honeymoon packages in odisha