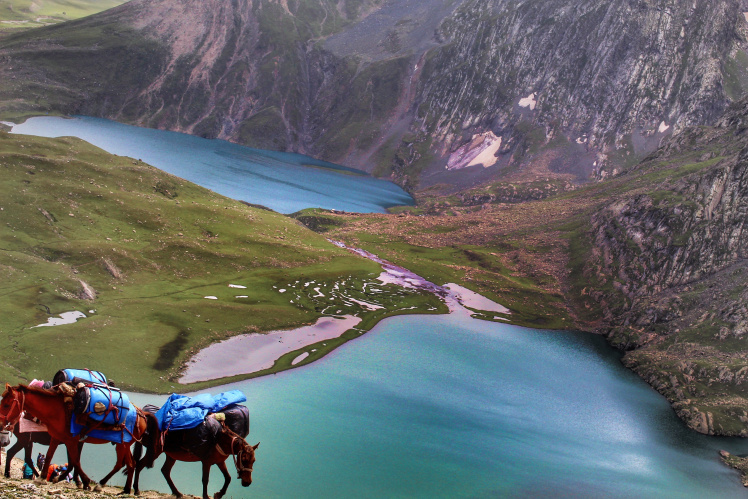 View the original post here
The sun was shining so bright right on my face and I felt completely drained as the heat sucked all the energy from my body. My bag felt so heavy and I, who always travels light, kicked myself for stuffing all those extra kgs into my compact backpack. Thoughts of not being able to make it to the camp, right on the first day of the trek felt very discouraging. I also doubted myself of whether I will be able to complete the trek at all. Packing right and packing light is so damn important!

Tired as I was, I constantly reminded myself to focus only on the next step, and the next, and the next. I was unable to enjoy the picturesque landscape that the trail had magically transformed into. I would only know it later on checking the few photos I had managed to somehow click, and of course from the photographs shared by fellow trekkers.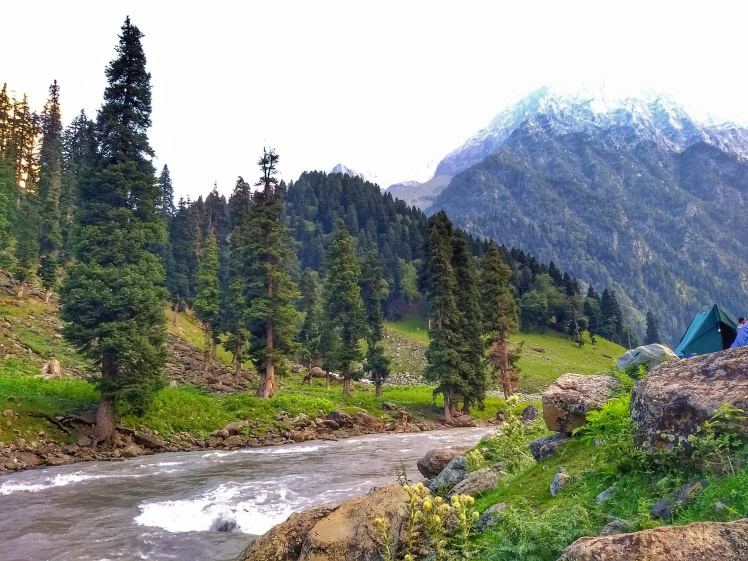 That night I succumbed to altitude sickness with a splitting headache and a slight fever. That night was nothing like what I had imagined the first night camping in the mountains of Kashmir to be. Feeling extremely low, discouraged and drained, I took some medicine and slept. To my surprise I woke up super fresh the next morning, I think I just needed a very good rest to spring back to being my usual self. Somehow, I felt more determined and ready to go on and face the challenges that were waiting for me next, with a faith deep down in my heart that the mountains will be kind to me, as always - thank you dear mountains!
That was my initial experience on day 1 of one of the most beautiful treks ever - Kashmir Great Lakes. No matter how many times you visit Kashmir, it has to offer something absolutely wonderful every time and having done the fabulous Chadar Trek, I couldn't stress this point enough. On one monotonous day, I was craving to go to mountains and somehow the name Kashmir kept popping in my mind. When looking up for the trails around there, I remembered reading about the Kashmir Great Lakes trek sometime back. Taking it as a sign, I booked myself for this trek for August of 2018.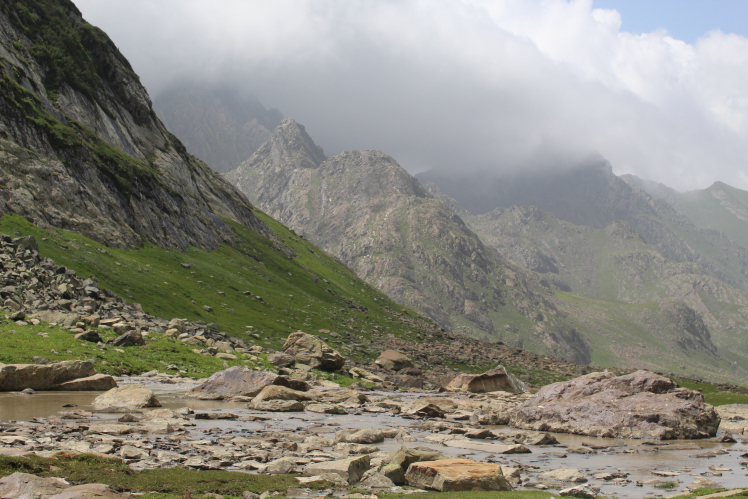 Kashmir has always been an intriguing place for me, as for most of us. I decided to visit a few places there before the trek and zeroed down on Pahalgam. As like many other places in Kashmir Pahalgam too, is abundantly beautiful, and yet there are far too many stories of conflicts, of sorrows and losses, of fear and distress, of griefs and lost hopes, that are subtly hung in the air despite the mind-blowing beauty of the place. Well, that's the topic for another time.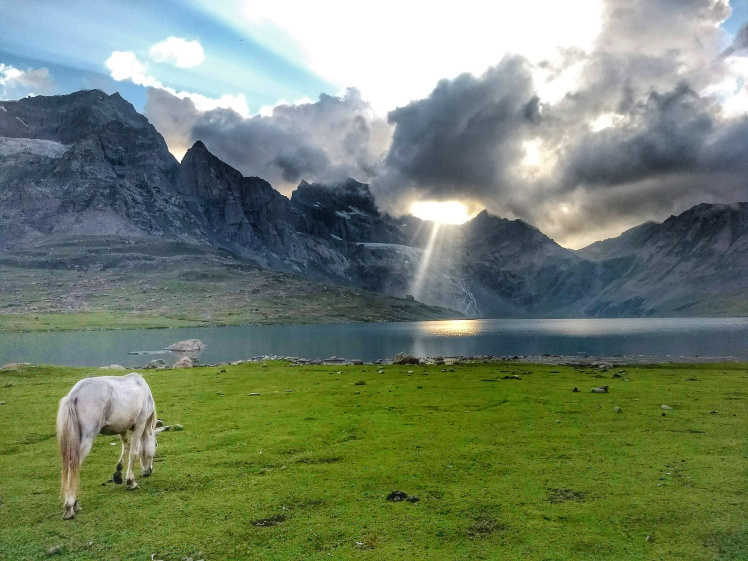 So while my first day of this 7 days-long trek wasn't particularly exciting, I swear, I had no idea how good it was soon going to turn. If I can ignore the initial part, the rest of the trek was not just a visual treat to the eyes, but also impacted me in so many other ways. I met some of the kindest souls ever, laughed and sang with some of the friendliest and genuine mountain people, befriended some very talented and lovely people, challenged my body and mind to go out of my comfort zone and (fairly) succeeded. Watching the beloved mountains from so close was magical and peaceful - the feelings that I still strongly get when I think back about this trek.
Like a poet's words or an artist's stroke, the trail we walked on, just got breathtakingly beautiful each day and filled my mind and soul with such joy that I can't put in words here, try as much I do. The majestic mountains with their snowy/icy peaks with glacial melt forming sparkly lakes at the foothills was a common yet incredible sight. The stunning colours of the clear blue skies and the dreamy reflections of mountains and skies in the glacial lakes, forever getting stamped in on my mind.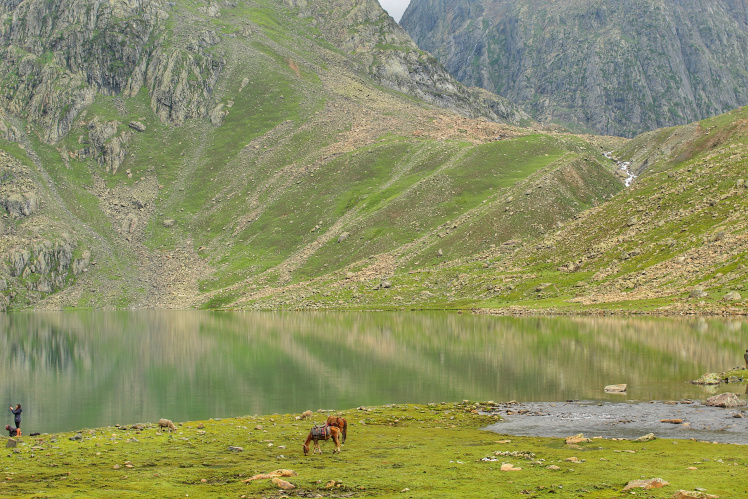 The landscapes magically changed after every few kilometers, taking my breath away every time I walked into it. From lush tree-line to rolling meadows laced with gurgling, icy cold streams. The sun sometimes, warming up the tip of my nose and hiding completely behind the darkening clouds other times, making me shiver in the cold mountain wind. The skies dramatically changed, wispy clouds one moment and dark clouds the other, ready to burst any moment.

The meadows carpeted green and dotted with colourful wildflowers, its beauty making my heart skip a beat each time I rested for a while at such a spot. The crossing of mountain passes, in spite of the tiring uphill climb, was nothing short of a reward, given the stunning views it offered from the pinnacle. The vastness of the mountains, constantly instilling a feeling of how petty and insignificant all those things are that I worry about at times.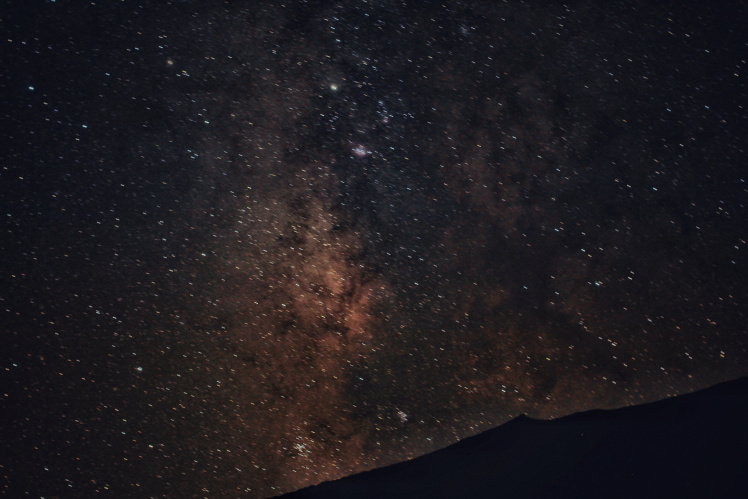 The treks in Kashmir are all beautiful given the beautiful-beautiful landscape of the place, in general. But the Kashmir Great Lakes trek surely changed something so drastically inside me. The many lakes we trekked to and camped at, each with its unique beauty just took away all the worries and filled my mind with such peace, that I cannot possibly explain.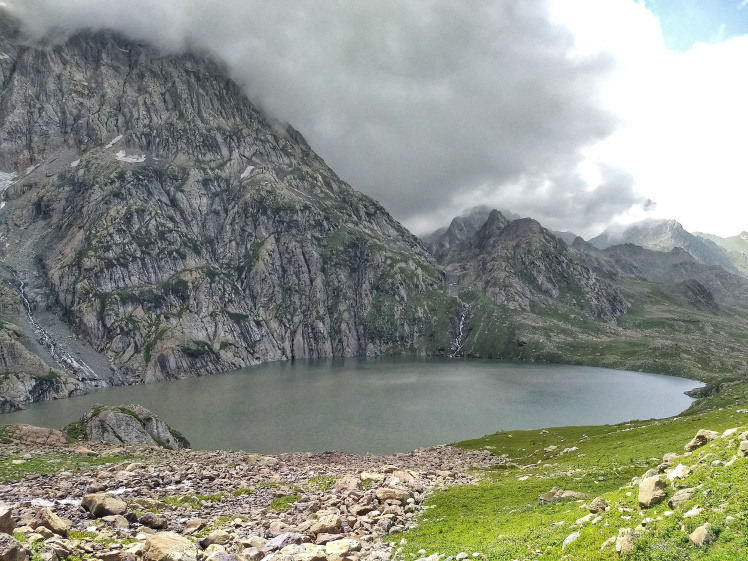 The trail is scarce of people, save a few shepherds that you might (or might not) see on this trek. And while some days of the trek are challenging and tiring, most days are filled with awe-inspiring vistas, walking amidst the gardens of vibrant wildflowers, watching reflections and ripples in the azure lakes, gazing at the clouds hiding and revealing the snowy peaks of the mountains, listening to the gurgling of the numerous streams meandering through the musing meadows creating a fairyland-ish scene, sipping kahwa in the middle of nowhere, meeting the few locals smiling heartily at your despite their hardships, warming your frozen hands and toes in the subtle warmth of the kangdi, waking up to the baa-baa of the sheep roaming freely, watching the star-filled skies and milky way on clear nights - the universe affirming life is such a bliss!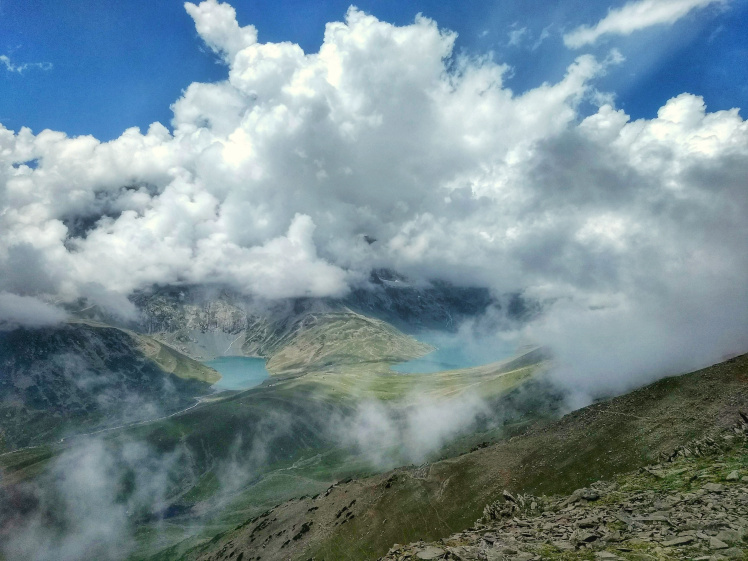 A lot of travel and outdoor companies arrange this trek and there's a lot of useful information out there on the internet for anyone who's planning this trek, so I won't really get into the details of it. But do feel free to message me in case you have questions about the trek that you are unable to find answers for, I'll try my best to answer them. However, I strongly feel, and this is also something that I practise myself - that you go with an open mind. Sometimes when you travel leaving the apprehensions behind, the journey surprises you in ways you can never imagine. Of course, you need to have a decent idea of the terrain, weather etc., so that you are prepared for certain other important factors.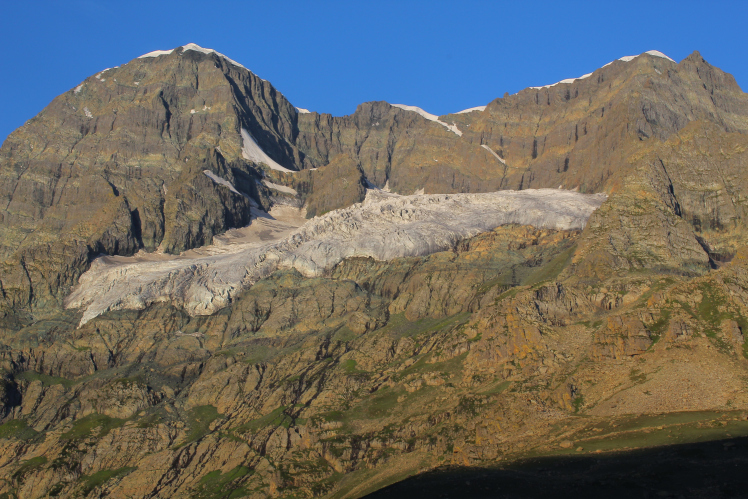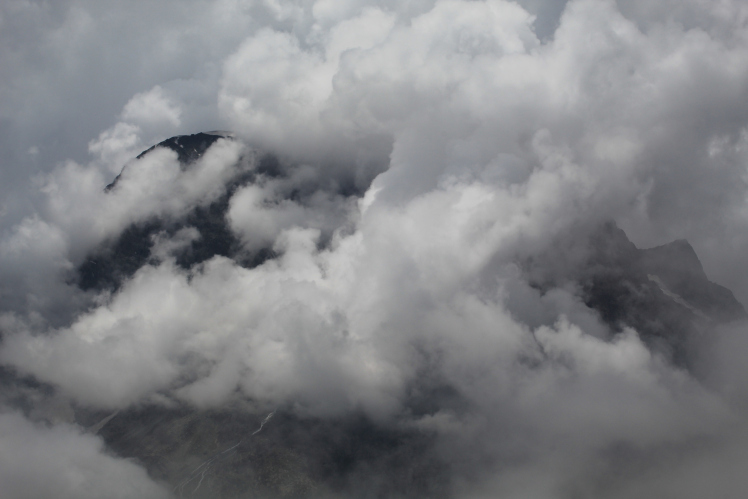 About Kashmir Great Lakes Trek
Kashmir Great Lakes is one of the best monsoon treks and one of the best in Kashmir. The KGL trek starts from a place called Shitkadi that's a few kilometres before Sonmarg and ends at Naranag (this is more or less the route followed by most organisers). It takes you through a number of stunning alpine lakes, namely - Kishansar, Vishansar, Gadsar, Satsar (seven lakes scattered around the BSF check-post after Gadsar, but you don't really see all the seven lakes) Gangabal (twin lakes of Gangbal and Nandkol). You also cross beautiful mountains passes like the Nichnai pass, Gadsar pass, and walk on the ridge (on the last day). You camp in most amazing spots, sometimes by the glistening lakes and see the Mount Harmukh in its full glory.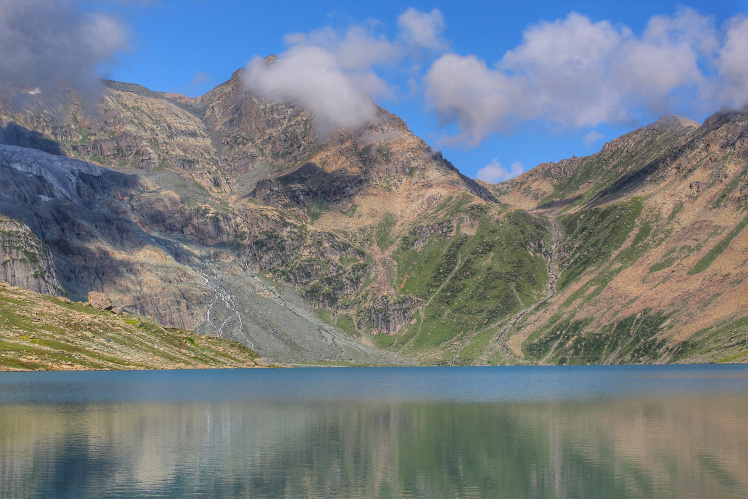 The max altitude you gain on this trek is 13750 ft (4191 Meters). The Maggi and tea points at unexpected places are blessings! Sip on the Kahwa as much as you can - it also helps keep you hydrated at the high altitude. Between July and September is the best time for the trek. I went in August which is just the perfect time for this trek.
Some Tips
If you have been trekking for while now, you'd definitely knows these (and more). For those of you who are venturing out for the first time (yay!) or so, these would come handy.
Keep your rain gear handy as it's a monsoon trek plus the mountain weather is unpredictable in general.
There's plenty of water all along the trail (except a few stretches, your guides will warn you about those so you can refill/carry more water). That being said, I'd say use water, ( esp. instead of using tissues, wet tissues, etc.) It would also help keep the mountains clean - which is a very very big thing you'd be contributing towards.
Pack light (and this I say from my personal experience!) unless it rains and you get drenched you are really not going to change clothes every day, 2 extra pairs of quick-dry tees & trousers should be just fine. Do pack according to the packing list provided by the trek organisers, they would tell you exactly what's needed and what's not, or mail/message me anytime.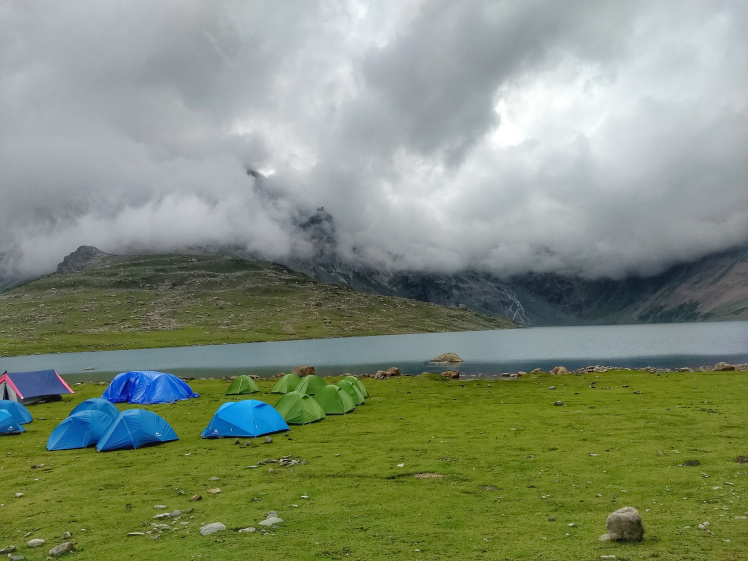 And I can't stress enough but - please be respectful towards the mountains, its fragile environment and those lovely mountain people. You may be well-off in your respective lives but remember treks such as this are just not possible without the local mountain folks.
Lastly, have a lot of fun, explore the surroundings (be cautious) and click lots of pictures - you'll get some of the best shots ever and enjoy the trek thoroughly!!
Happy Trekking! Happy Travels!
View the original post here