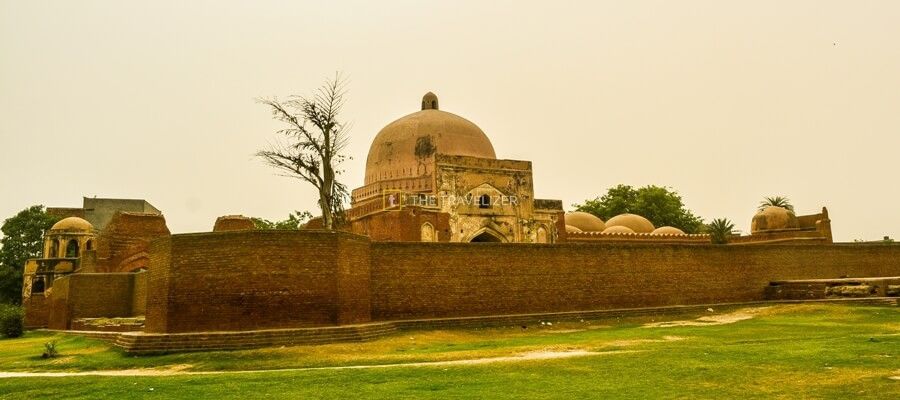 When I received the enrollment letter for the Basic Mountaineering Course (BMC) in Sonamarg (J&K), I had decided that this would be the best opportunity to club it with a trip to Punjab. While preparing the itinerary for Punjab, a name of the place popped up in my mind and I couldn't help but add it to my plan – it was Panipat. Since Panipat is somewhere midway (in Haryana) while entering Punjab from Delhi, I decided to kick-start my Punjab trip with this historical city in Haryana on 15th June 2018.
PLACES TO VISIT IN PANIPAT
- Panipat Battlefield Memorial / Kala Amb Park
- Kabuli Bagh Masjid
- Tomb of Ibrahim Lodhi
- Panipat Museum
- Devi Mandir
- Hemu's Samadhi Sthal
- Tomb of Bu-Ali-Shah Qalandar
- Salar Gunj Gate
PANIPAT BATTLEFIELD MEMORIAL/ KALA AMB PARK
To keep things within budget, I opted to reach Panipat by train i.e. Mumbai to Delhi and then another train to Panipat. Delhi to Panipat is a distance of mere 1 hour by train. Since it was mid-June, there wasn't much of train delays during the entire journey. After checking into Hotel Sai Nath, I left for my first sightseeing spot – The Panipat Battlefield Memorial. Located 7 km away from the Panipat Railway Station, the Panipat Memorial is basically on the outskirts. One has to drive on the NH709AD/ Sanoli Road and take a detour after reaching Government Senior Secondary School.
The best thing about Panipat is the availability of different options for transport. You can reach any place within city by Local bus, Auto-rickshaw or by an E-Rickshaw (shared), and that too at reasonable fare. I opted for shared E-Rickshaw that took 25 minutes to cover the distance from my hotel near station to the Panipat Memorial for only Rs. 30.
To my surprise, the entire premise was calm and clean. Barring few people strolling around and the maintenance personnel, there was no one to spoil the tranquillity of the place. The major attraction of this large park is an Obelisk that commemorates the 3rd battle of Panipat and which states that the battle was fought somewhere nearby. Few meters away from it is a rectangular metal frame with carvings depicting an imaginary scene from the very battle between The Marathas and the Afghans. In the backyard, you get to see a large open ground which for a moment makes you feel that this could be very battlefield where three of the biggest battles where fought at. The calmness of the place was making it difficult for me to leave but I had to move on to my next destination.
KABULI BAGH MOSQUE/ THE ORIGINAL BABRI MASJID
I had literally no idea about this place when I started preparing the plan for Panipat but it turned out to be one of the best places I visited in the city. Located just 4-5 kms away from Panipat Battlefield Memorial towards the Railway Station, is a lesser known mosque built in 1527 A.D. Babur built this mosque to mark his victory over Ibrahim Lodhi in the 1st battle of Panipat and hence it is locally known as the Original Babri Masjid.
The mosque derives its name from Kabuli Begum, Babur's wife. Considering the significance of this mosque in the History, if you are expecting it to be located at any exotic location, you will be disappointed. The central dome of the mosque is visible from quite a distance but to be able reach to the mosque, you have to find a way through wastewater and debris.
Built with bricks and stucco plaster, the mosque in located in a pretty clean garden surrounded by a compound wall. Resembling the mosques of Samarkand to a certain extent, the Kabuli Bagh Masjid has large arched domes with a large central dome. The entry gate is built with bricks and red sandstone. A masonry platform named "Chabutra-i-Fateh Mubarak" surrounds the mosque which was built by Babur's son Humayun in 1557 A.D., after defeating Sher Shah Suri.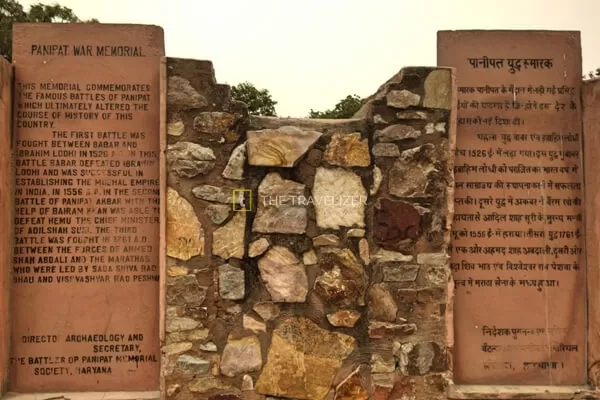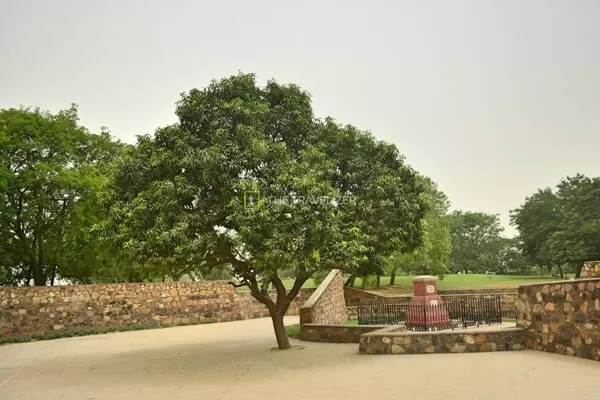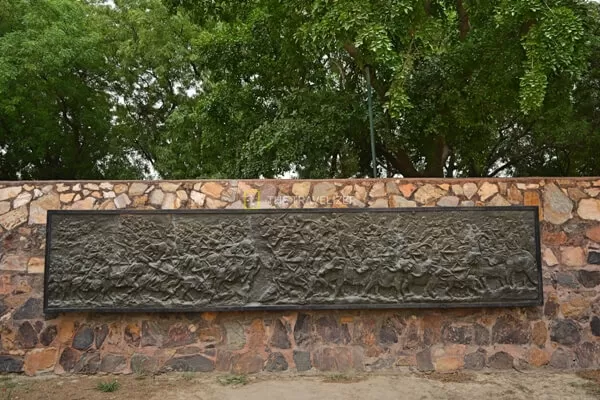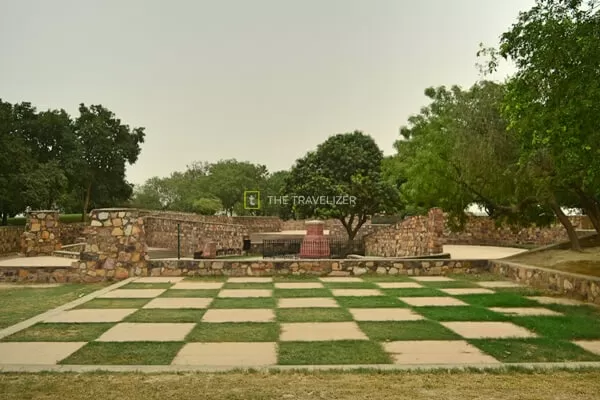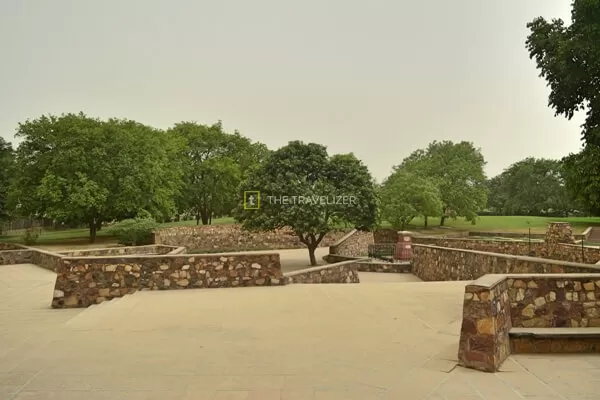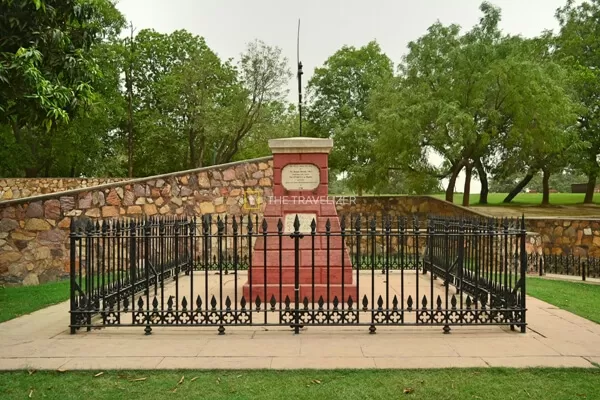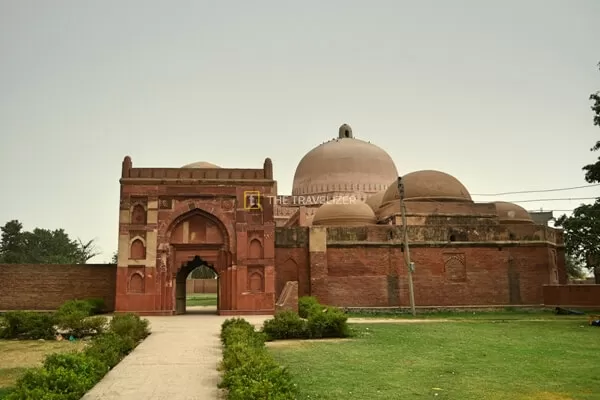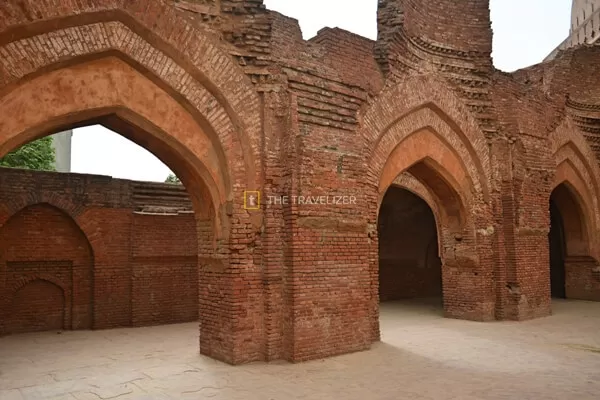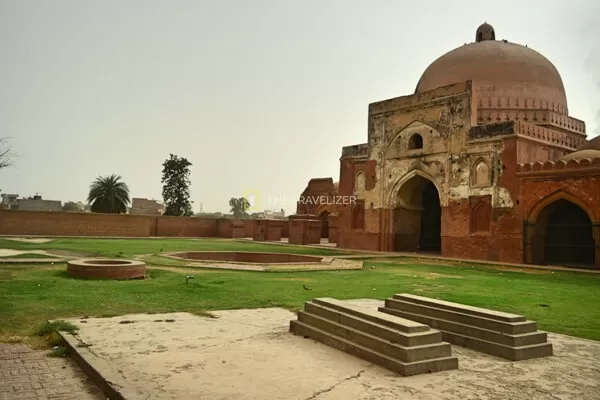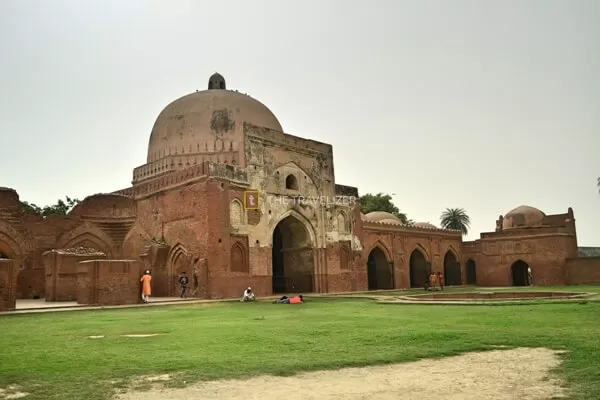 TOMB OF IBRAHIM LODHI & DEVI MANDIR
Since it was already well past 6 pm on Day 1, I decided to visit the Tomb of Ibrahim Lodhi next day. Located just a kilometre away from the bus stand, the place is totally in shambles. The tomb is a part of a joggers park, the entry gate of which welcomes you with debris and animal faeces. The broken statues of warriors, the stinky smell inside the garden makes one leave the place as soon as possible. The jogging track leads you to the tomb which is just a rectangular block on the high platform approached by a flight of steps made of Lakhori bricks. It was very sad to see this monument completely ignored by the authorities.
Since I had to board a bus for Chandigarh, I couldn't visit other places. After spending some time at the Devi Mandir, I moved to Purana Qila. Devi Mandir is said to be built by Sadashiv Rao Bhau. Please avoid Purana Qila since there's not a single brick or stone of the fort that is left there. The area has been converted into a Joggers Park. Nonetheless, Panipat definitely deserves to be on the list of offbeat travel aficionados.
BEST TIME TO VISIT PANIPAT
The winter months i.e. October to February are the best to visit Panipat. Not recommended in summers as the temperature shoots up to as high as 45º C.
HOW TO REACH PANIPAT
Air: The nearest airport to Panipat is Indira Gandhi International Airport, Delhi (100 kms)
Rail: Panipat Junction is well connected to major cities across the country.
Bus: Haryana Roadways has a good bus connectivity across all major North Indian cities.
ACCOMMODATION IN PANIPAT
Hotel Sai Nath
Days Hotels
Hotel BR Inn
Ashoka Guest House
Hotel D'Olives
Bhoomi Residency
RESTAURANTS IN PANIPAT
Food Garage
Mannat Dhaba
Mezbaan
Awadh Restaurant