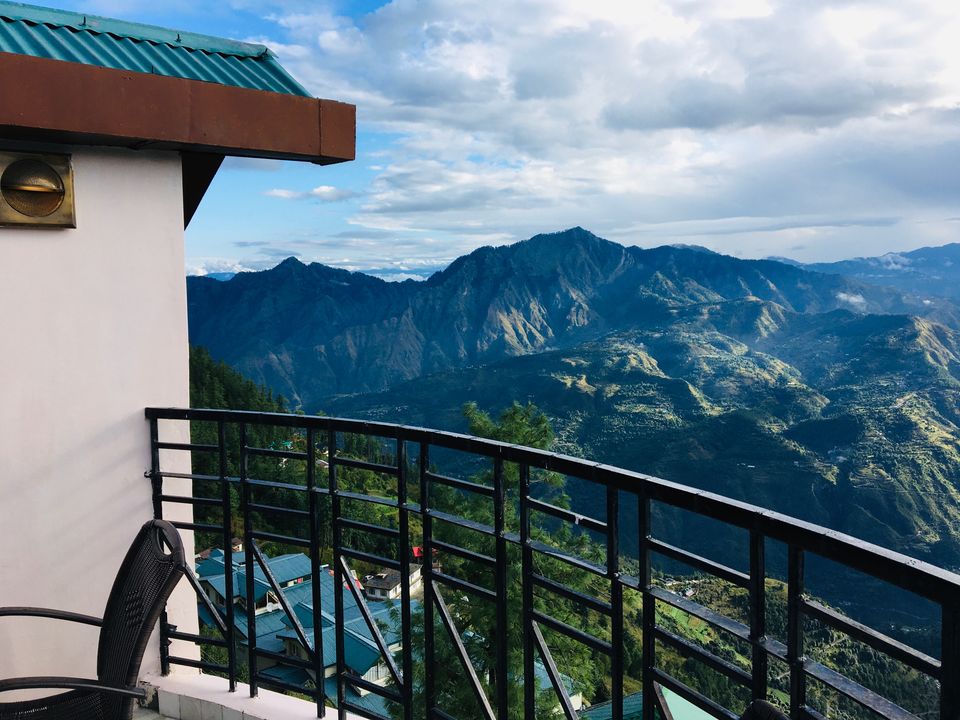 As they say, travellers don't share posts they share stories. So here's come another one. This time it was Shimla, queen of all hills. I was skeptical before deciding to go to Shimla as they say it is more commercialized than being a true quaint for people trying to escape the city crowd. But being too near to Delhi and the just four days in hand, (salute to Gandhi Jayanti), Shimla was the obvious choice and it was there for too long in my bucket list that it was desperate to come out.
We, group of three people made a plan to leave just after Office from Mathura on Saturday, 28th September 2019, (yeah, Saturday is working!!) and to reach Panipat, get some rest, pick up other three colleagues, hire a cab and get going to Shimla on Sunday, 29th September 2019.
We touched our destination at 1900 hours on 29th Sep. I must say, Shimla is well planned and organized. We parked our cab in the parking point. There's a big parking area for vehicles coming to Mall road of Shimla. Just when we got out, it was freaking 13 deg C. After layering up a bit we strolled to the lift centre, where after paying 10Rs/person, you can go up the hill in just five minutes and directly you will see yourself on the famous Mall road. Just taking a left you will find Sol café. We didn't go inside though. We ascended to go up the Ridge. The town is blossomed with Gothic Architecture and kind of an eerie feel which kinds of reminds me of European Horror movies. The faint light from street lamps showing direction to the town museum shimmering through a mist just made my evening, as they say eyes of the beholder.
After strolling at night in mall road, and having some snacks in the local market, we moved on to our home stay "The Cloudberry" at Mashobra, a quaint town just 10 kms away from Shimla which we booked through Airbnb. My happiness knew no bounds, when I keyed into the apartment, it was just like in the snaps, noble interior, warm yellow light added more to the coziness of the house, and not to forget the awe-inspiring views from the arcade.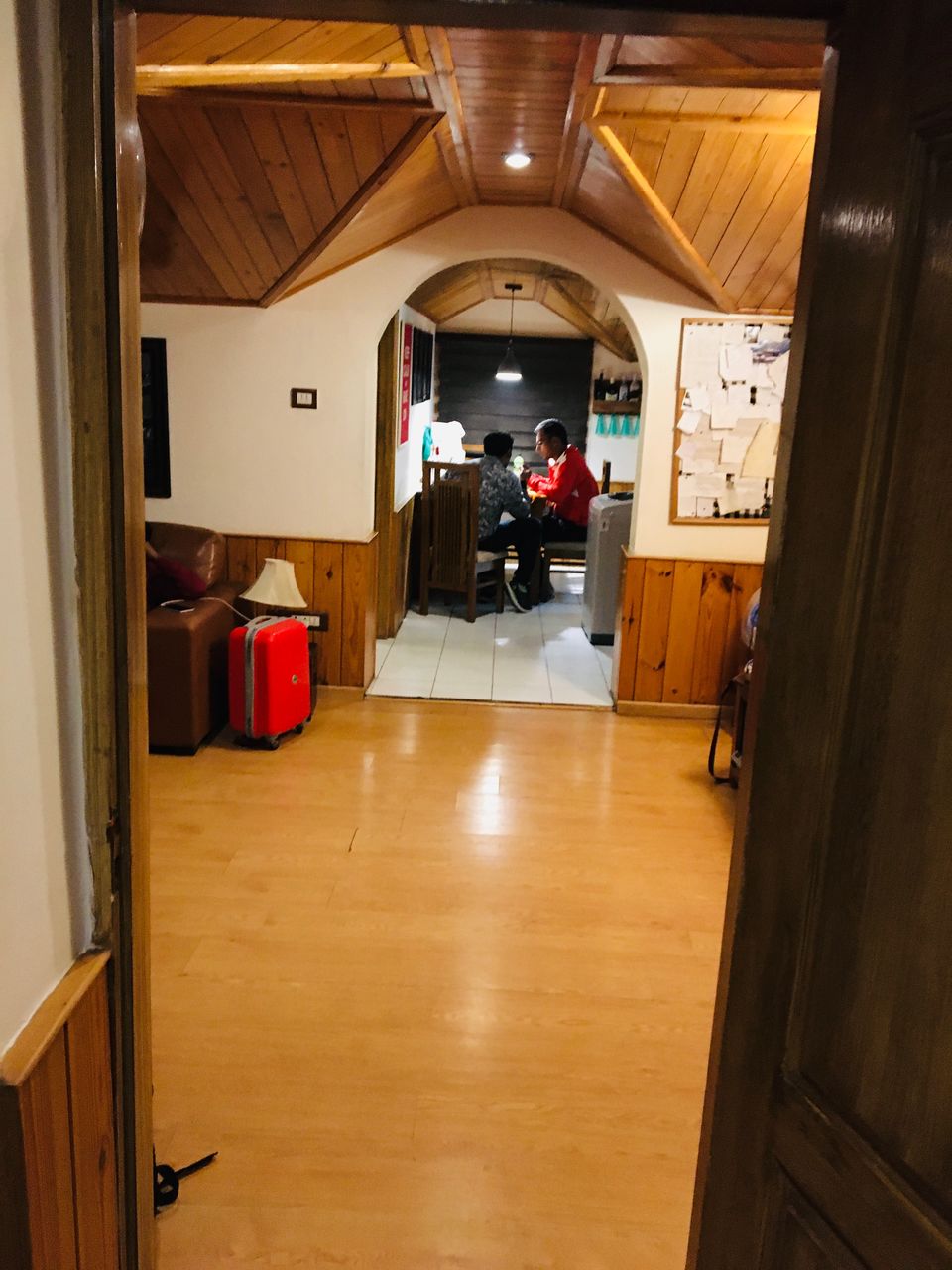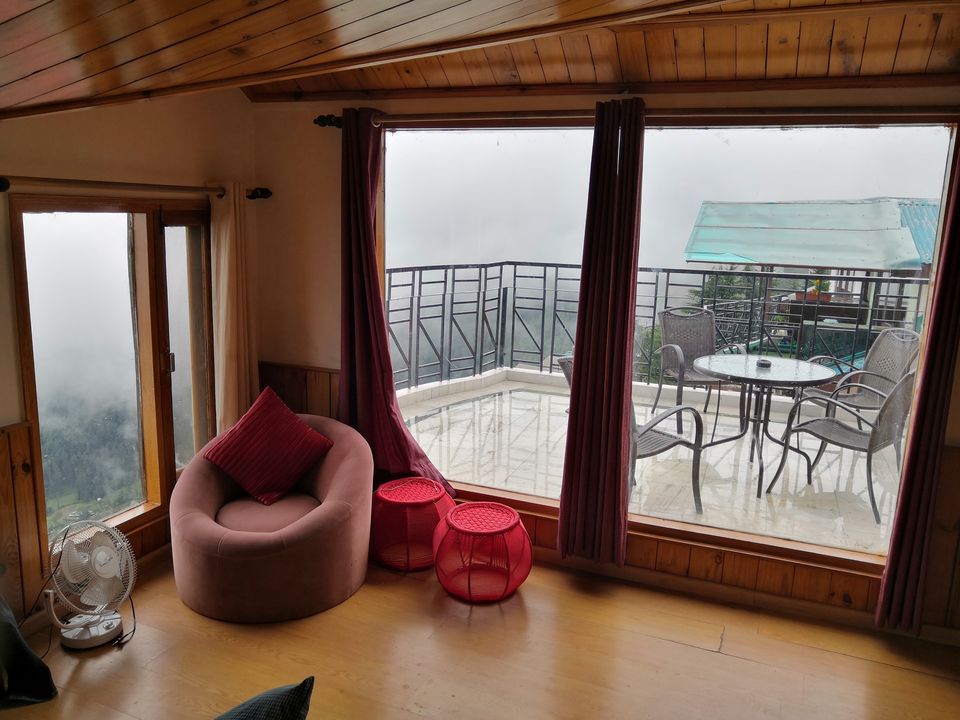 The next day, Monday, 30th September 2019, we intended to go to Kufri. Kufri is a place, which is a must if you come to Shimla. Just 7-8 kms away from Shimla. The main attraction point is that no vehicles are allowed up the hill. You get to park your car and hire a horse to go up the hill, which is as adventurous and scary as you can imagine. The open deep trenches all the way up the hill will give you adrenaline rush and give you a impression of an old era.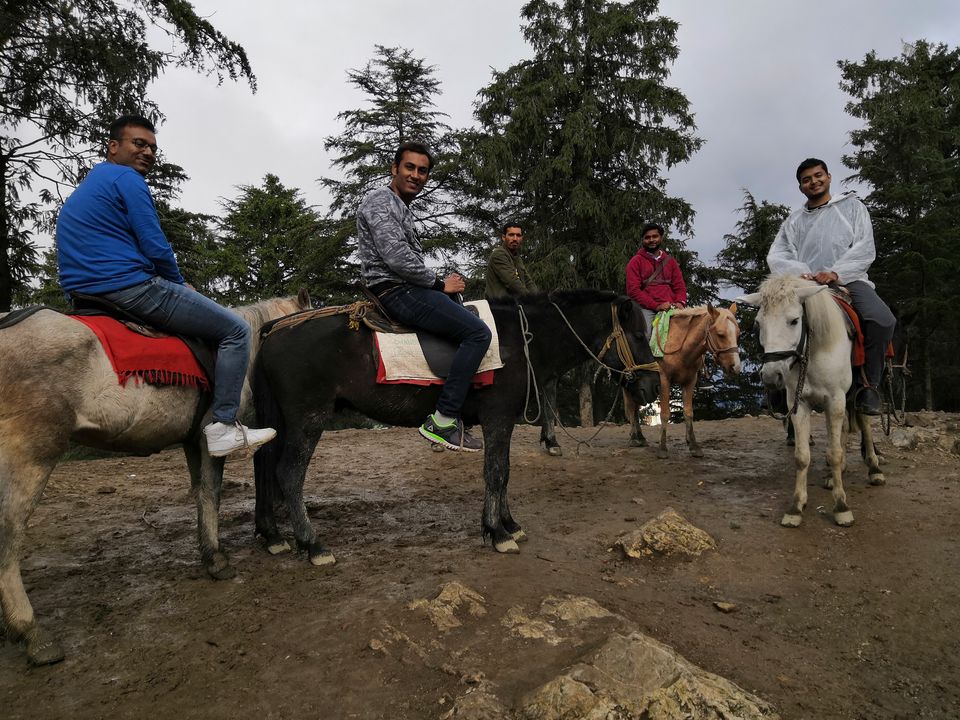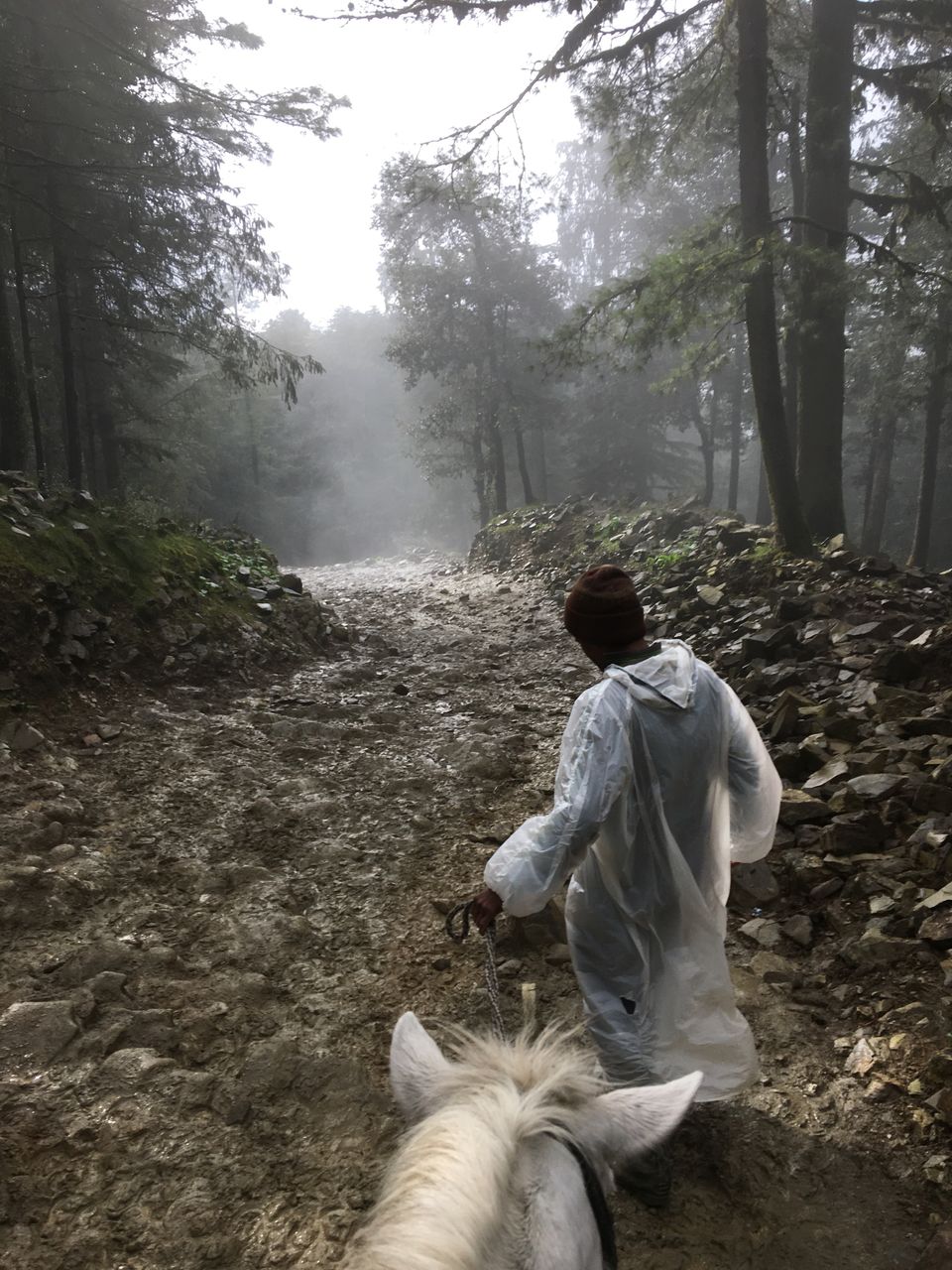 After reaching up the hill, you can all find all sorts of nibbles kiosk, shops for winter attires, slickers. Just when we reached, rain blessed us again; we used this time to get a mouthful. What's so heavenly, when you get a bowl full of hot noodles and tea in cold rainy weather?
After a while we started our journey, we hired a taxi to go to do some adventure, like zip lining, rope climbing and also to stopover at apple garden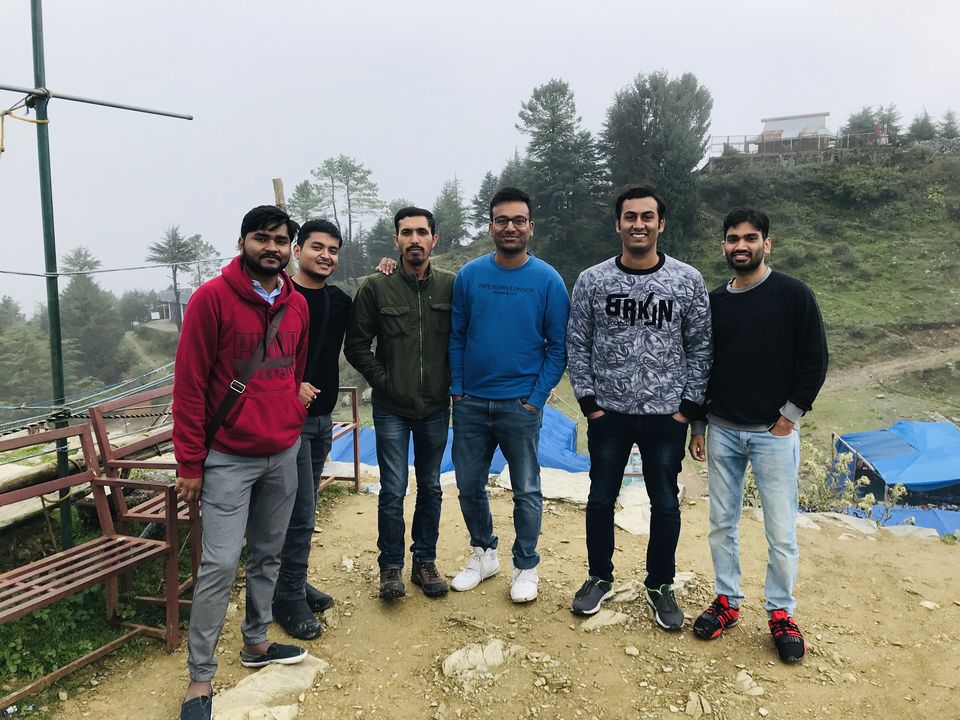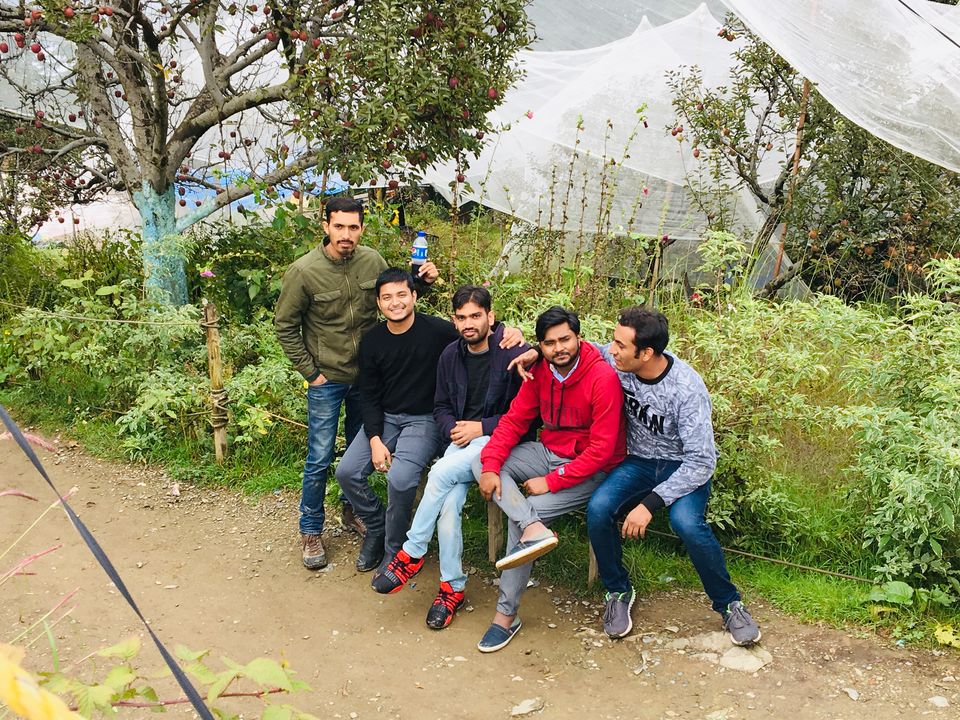 After being done in kufri, we thought of going again back to Shimla to have some indigenous cuisine, Himachali Rasoi is a place in mall road, you can find there Dhaam thalli, a must try.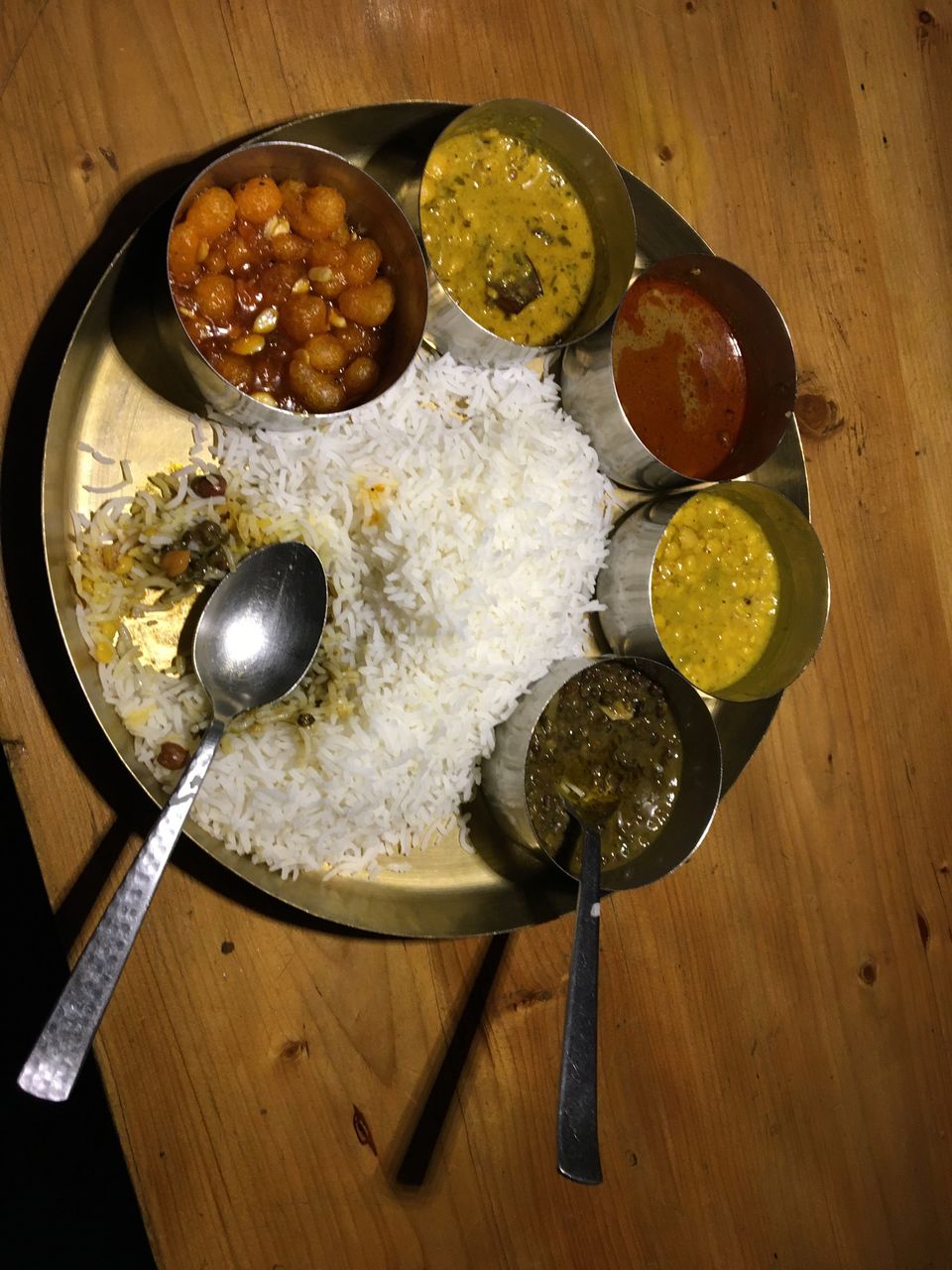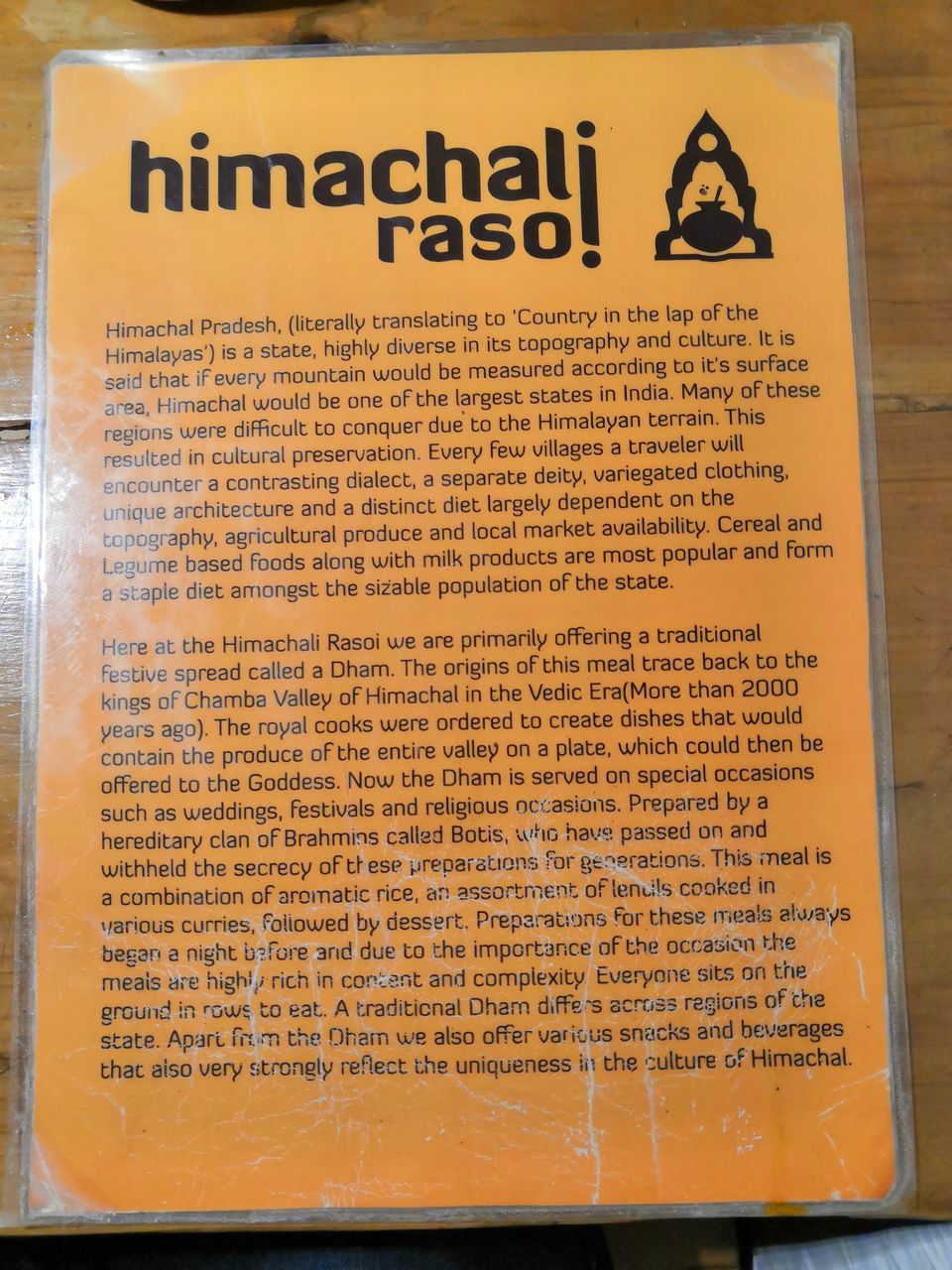 After a while we called it a day then again went back to Mashobra in our homestay.
The next day, Tuesday, 1st September 2019, was a good-bye day. You know there's a phobia, I always dread, since the start of any journey that it will end. This was the moment. With heavy heart and all the good memories in heart, we started our return journey to Panipat.
But we had plan to stay the night in Chandigarh to explore the very nightlife. We reached Chandigarh at 1700 hours on 1st September 2019, and straight way went to the famous "Rock Garden", a fantasy created by Shri Nek Chand, yeah it will give you feel like Mohan Jodaro or any other town found after excavation.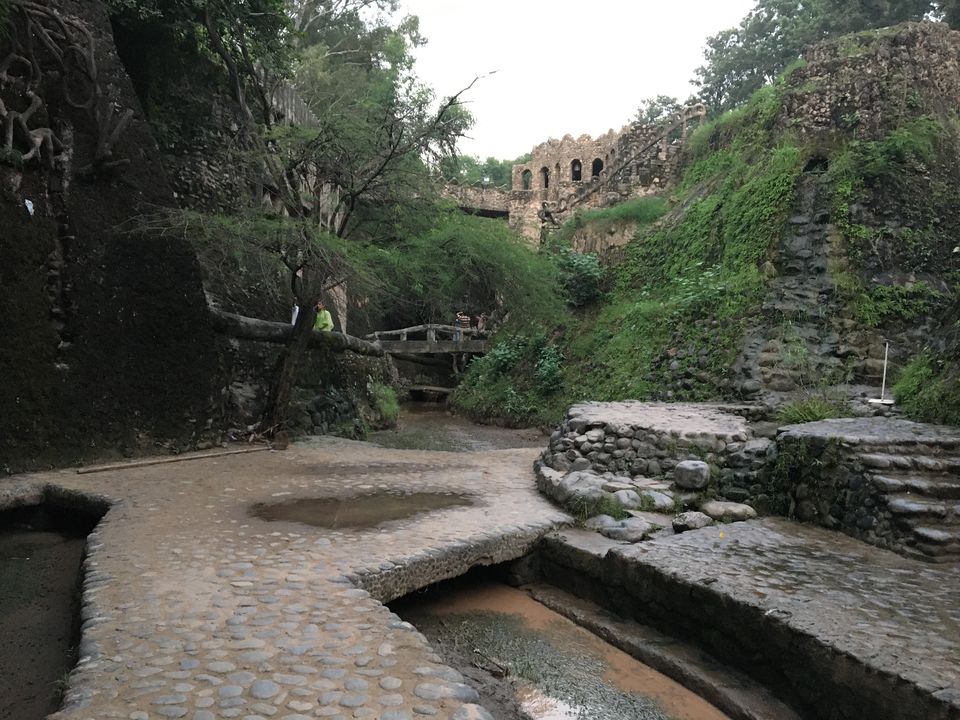 After then, we went to Elante Mall, did some shopping at Zara, then straightway found ourselves going to Pyramid café and lounge. The live recital by Qurbat and DJ harmony later just made the sundown.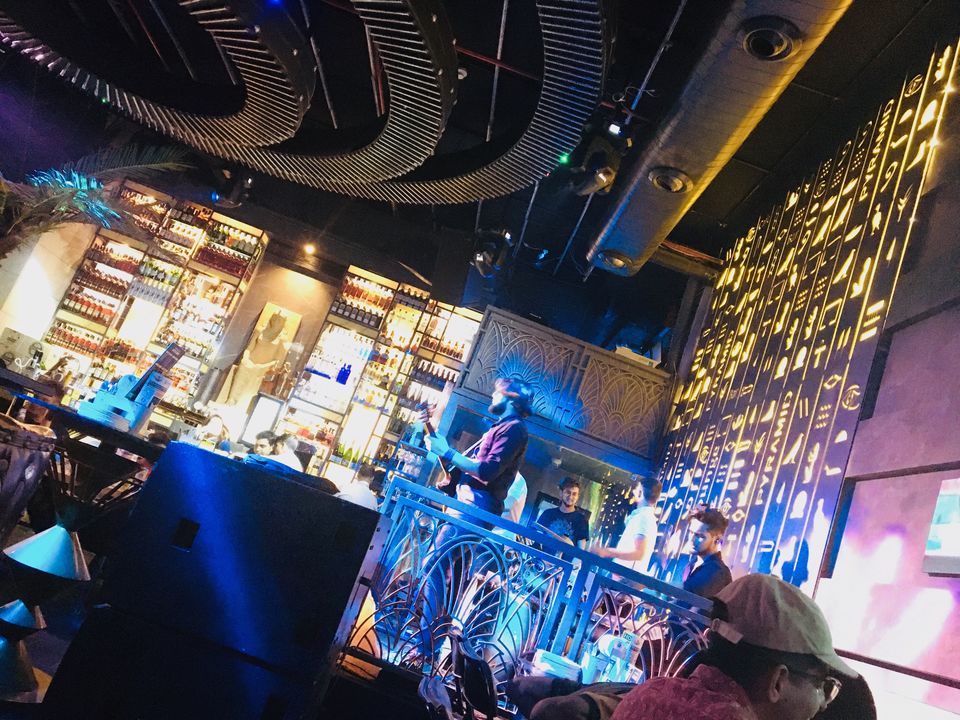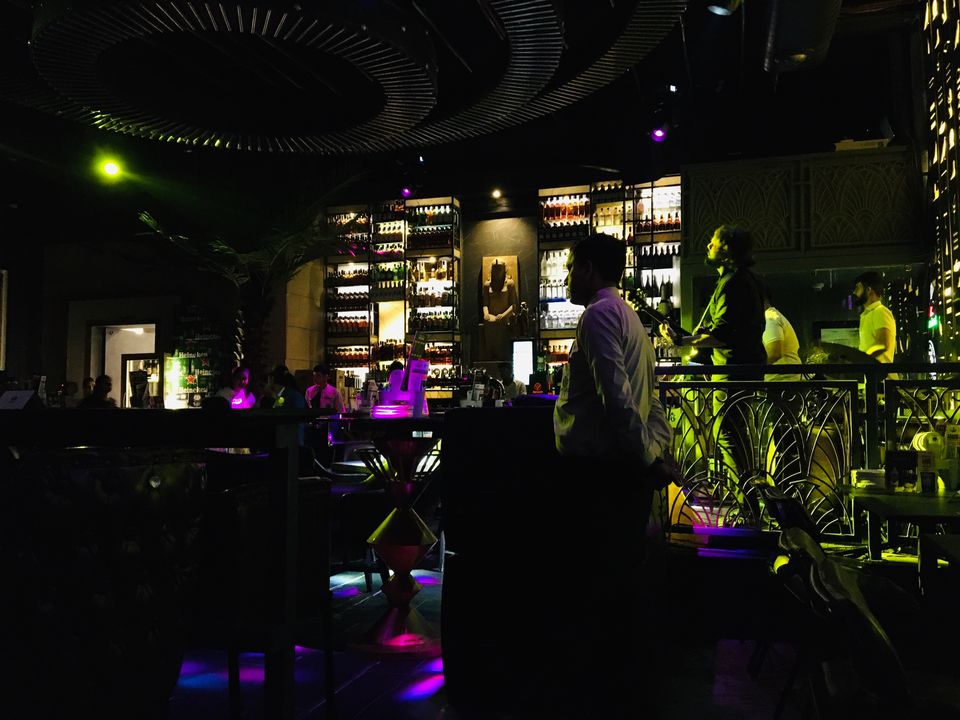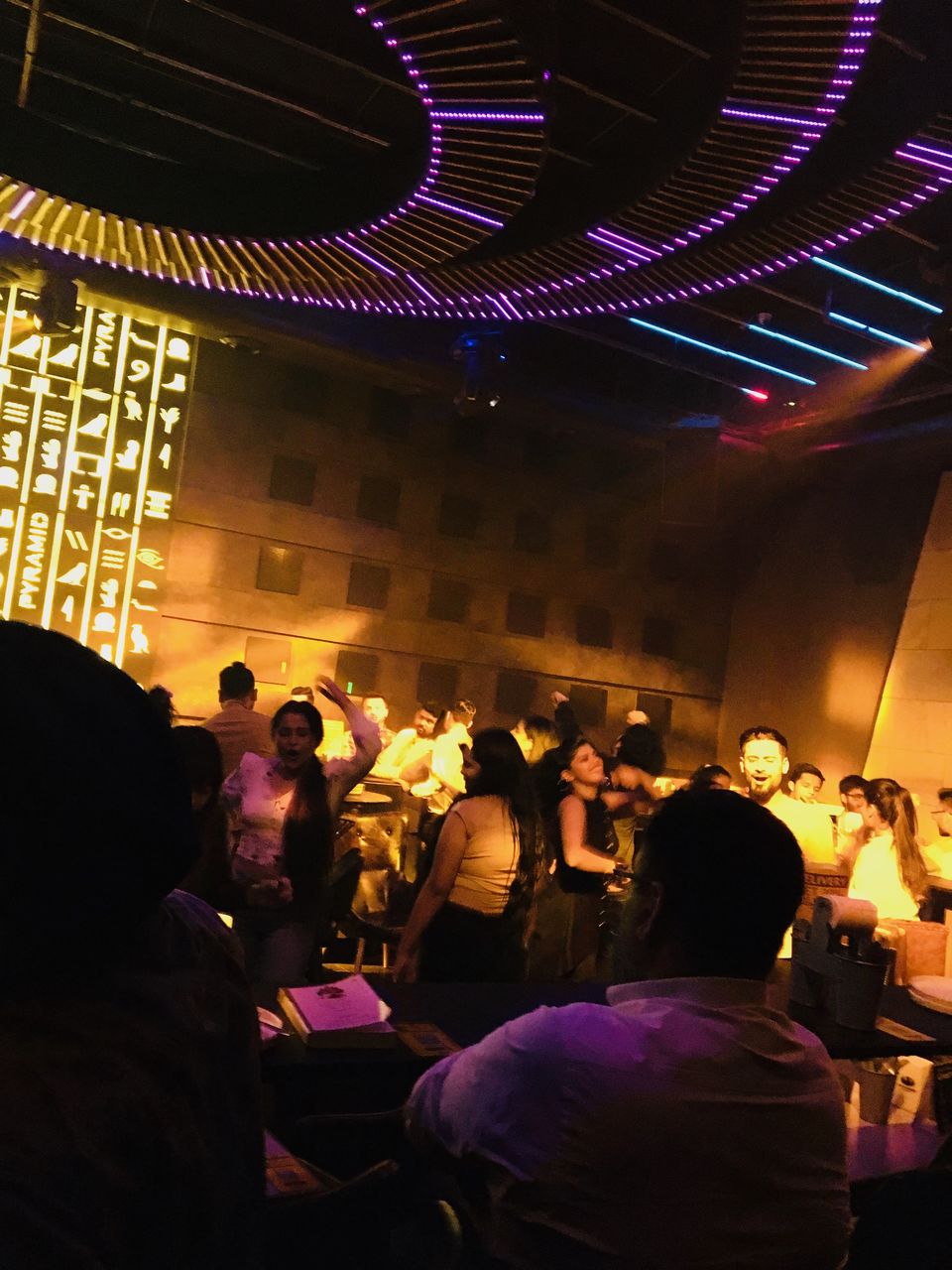 Just in midnight when 2nd October was going to surface, we started our journey to Panipat where we reached at 0300 hours. Got some respite. And came back to Mathura the very same day.
Ending the note with beautiful words of Pat Conroy.
"Once you have travelled, the voyage never ends, but is played out over and over again in the quietest chambers.
The mind can never break off from the journey."