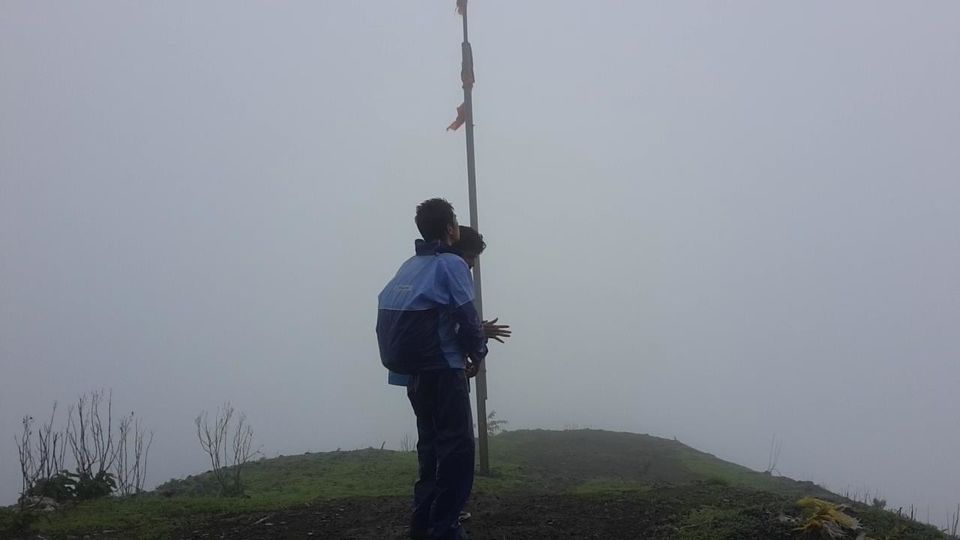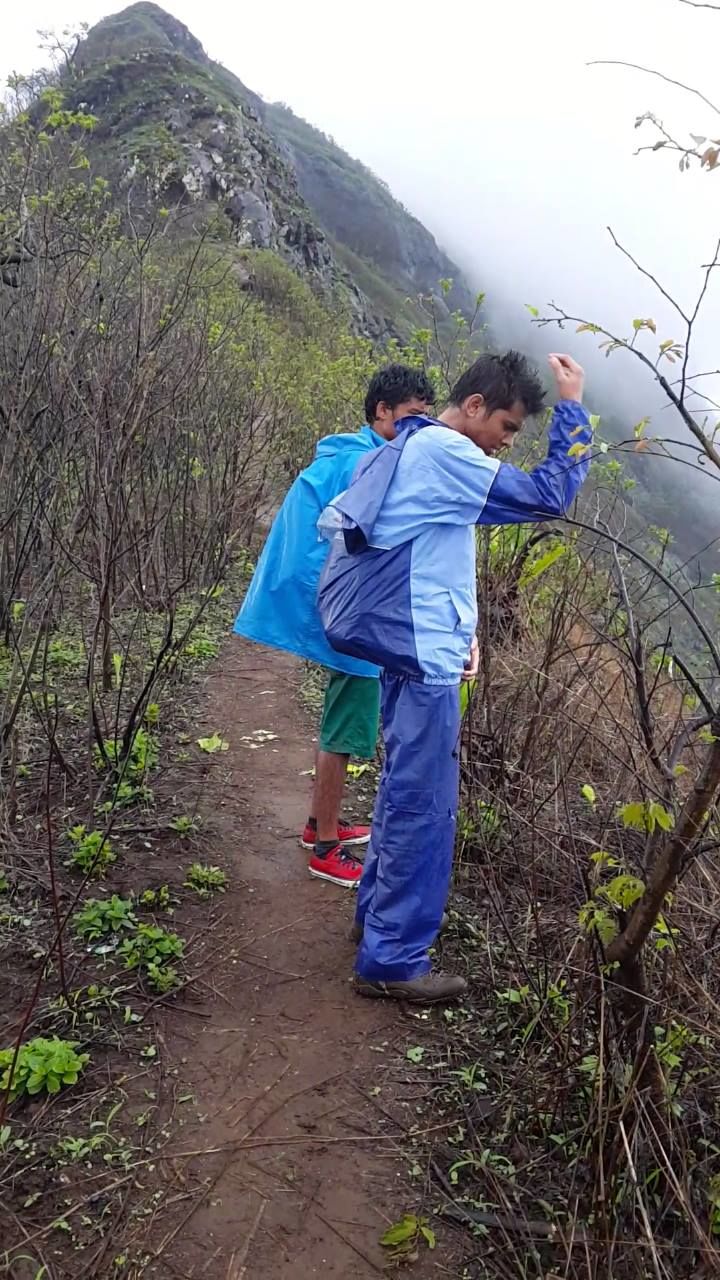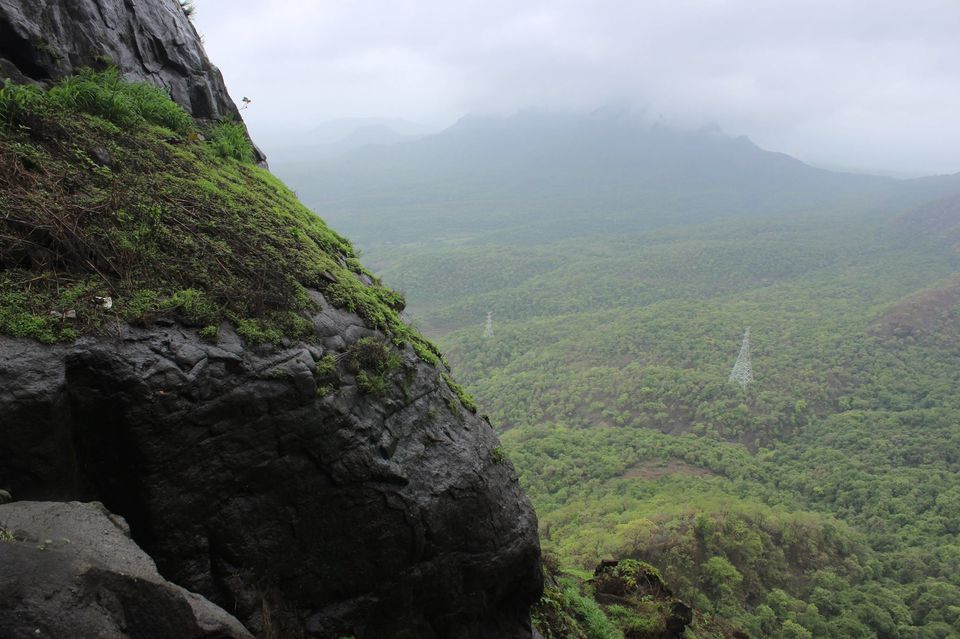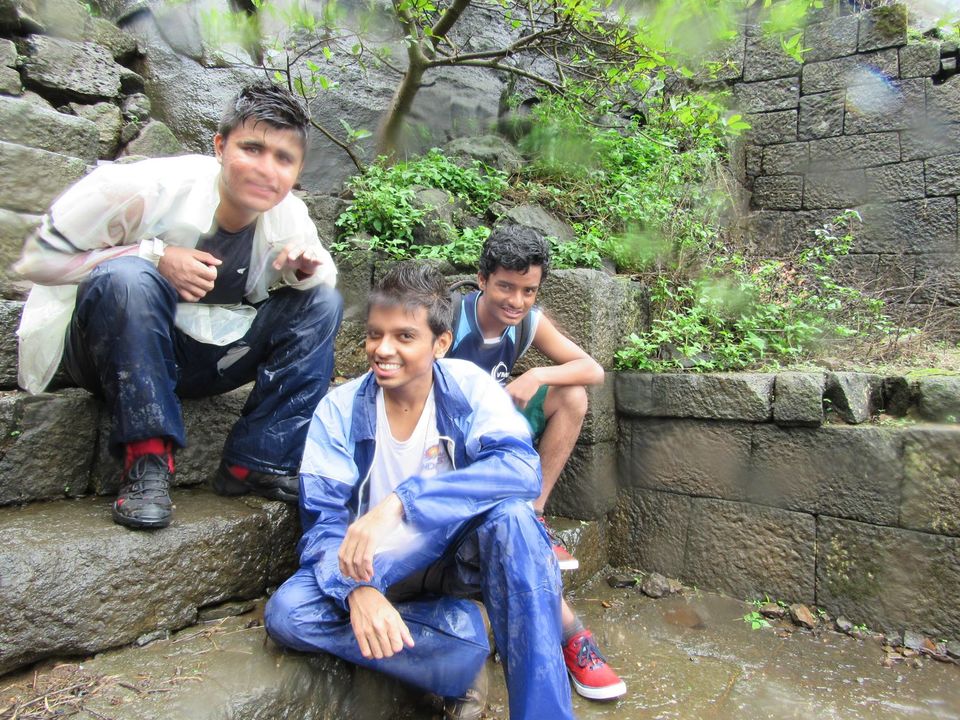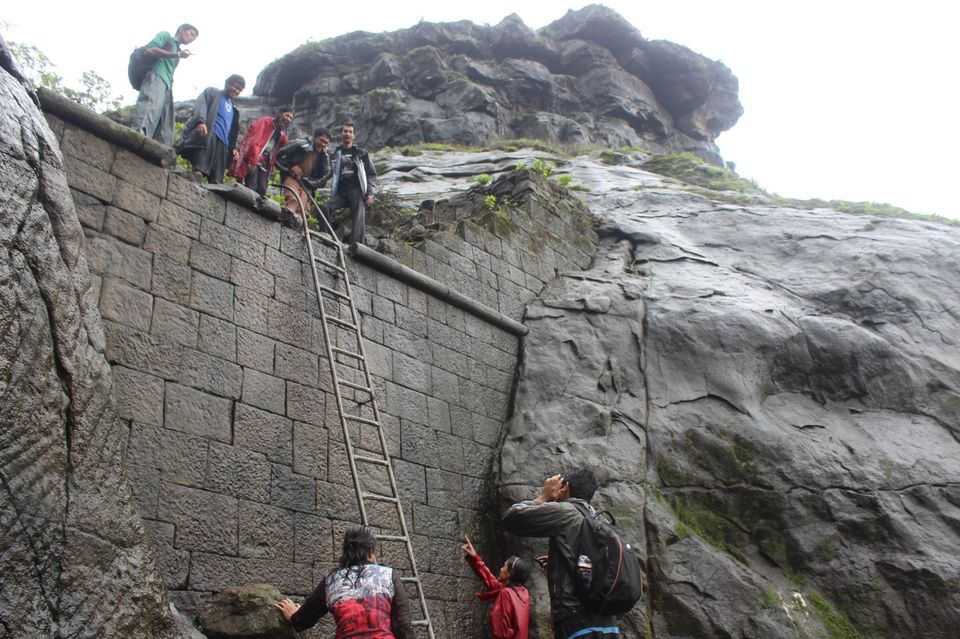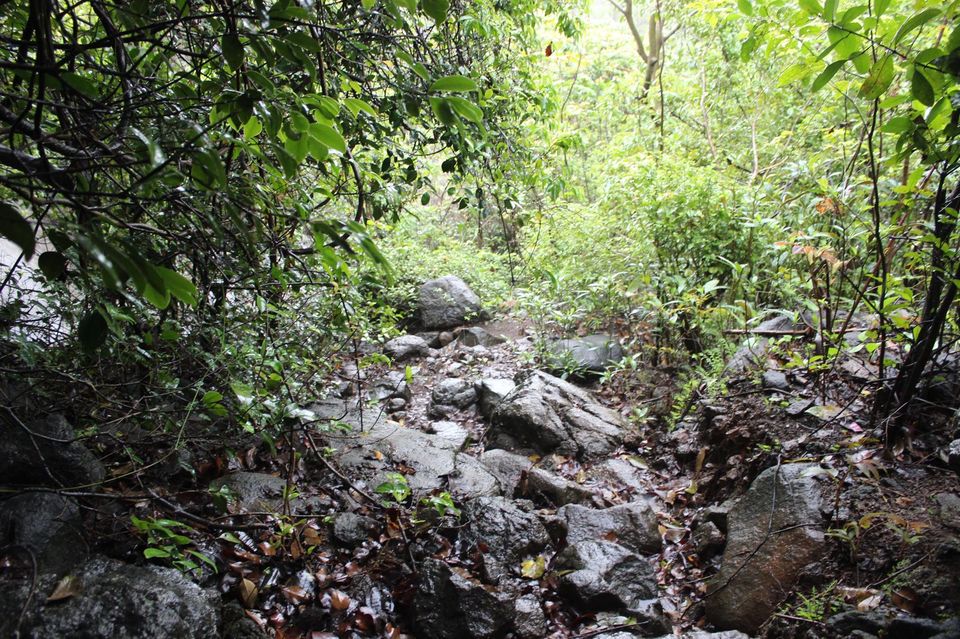 After a sleepless night I woke up early in the morning at 3:45 AM. I checked outside for any sign of rains but everything seemed to be clear. So I woke up rest of my friends. But at around 4:45 AM it started raining heavily and we were in a 50-50 situation. After 30 minutes of turmoil we finally decided to leave.
At 5:45 AM we boarded a local train from Andheri and reached Dadar station. Quickly we shifted to Central Railway and waited there for 15 minutes. The 6:24 Karjat fast train arrived at 6:30 AM. We boarded and headed towards Neral.
At 7:50 AM we reached Neral station. We had a little refreshment there and asked local shops for direction towards the base. After a walk of 45 mins we reached Fanaswadi village which is the base of fort.
We started ascending around 8:45 AM, taking a wrong route which eventually got us to an electric tower. It almost took away our 20 minutes of extra time and energy as well. There we took a break and had a good view of the base village. Thereon we learned that we had to follow the electric towers.
After some walking through moderate plantations we reached to a point where the route got divided into two ways. It wasn't easy to make out which way to proceed. We took the way to our right where we met a few local people from surrounding village. They said that the route was the one which turned towards left. So we reverted back and proceeded with that route.
This is where the trek actually started becoming moderately difficult. We started entering into dense forest. We found a couple of markings on ground and a tree which directed towards the further route. The trail was narrow and we were surrounded by bushes and trees. I was afraid of insects and reptiles crossing our way, but thankfully we didn't find any. Though we found many crabs on the route. One of my friends had slipped here, causing a small cut in his palm.
We were then abruptly stopped by a stream of waterfall. We had no clue where to proceed, whether to cross the stream or follow it's direction. There was no route ahead so we had the only option of going against the flow of water. At that moment we were just stunned with an adventurous feel gushing through our veins. Gradually we kept on clearing the rocky patch with water flowing through them.
After some time we reached flat rocks which had moss on it and were almost steep. We were a little frightened as the route was not clear and it became a little difficult to crawl on the wet rocks. We hooted to a group ahead of us, for the directions. Gladly they hooted back and we moved forward helping each other cross the rocks. Every step here was becoming a decider of life. Somehow we managed to get hold of the situation. 'Ganpati Bappa Morya', we shouted together as we reached on a flat safe surface.
There we met a group of people who were descending after a night trek. After resting for few minutes we resumed back and started ascending with the difficult rocky pinnacle. It was windy, scary and dangerous.
We completed the first half of this patch somehow. I was leading ahead and reached at a point where the patch was getting divided into second phase. This was the spot where we lost all our confidence. There was a huge rock with a small rope attached to it. The rope had a loop at one end. We sat back and thought of going back. But the route which we had covered was equally dangerous. I attempted two times but wasn't able to make it across the rock. We waited there some time for a group behind us. We gained some confidence when they joined us. I took an initiative to lead with the task. Glad that a local person was descending from there, who helped the rest of us to cross the rock. It was a delight when we had a resting time after that clearance.
Within a while we reached at a cave. It had a shrine of God and was a good place for shelter, though we didn't halt there. Further ahead we faced the first shidi (metal stair). It took us a while there.
There were ruins of fort after this point. We climbed few staircases, but they were ruined. So again we had to clear the rocky path. It was a little steep here so the guys from other group waited for us and directed us the route. There were a couple of places here where we had to incline completely on one side to move ahead. Carefully we completed the job and halted there for lunch.
We met many people over there who had started their trek with the descending route. It was almost done and we were about to reach the 2100 ft height, the topmost pinnacle of the mountain. The soil here had eroded, it was slippery and wet. The final rocky patch was too scary, at least for me. Actually that was not the correct route, but we had come half way so had to stick with it. Struggling we reached atop where there was a temple of Swami Samartha. It had padukas of him in it. It was heaven. All we could see around was clouds and fog. It was too difficult to withstand the wind. We hugged each other in delight for completing half of our trek and reaching at the top. It felt proud.
After spending some time there we started decending with the route to Matheran. At first we had a simple plateau region where we clicked some pictures of the mountain range of Matheran.
As we moved further we had to climb down two stairs, which took a lot of time because too many people accumulated there. Everything seemed to be smooth. But it started raining heavily thereafter which made it difficult to walk in the wet soil. There was heavy fog everywhere and nothing was visible clearly. We had to cover a long inclined trail to Matheran where we encountered many waterfalls and ridges. It was exciting and adventures. Within couple of hours we reached Matheran mini train railway. It was a sigh of relief for all of us. We all chanted 'Ganpati Bappa Morya' and thanked God for safe completion of the trek. We walked gradually following the tracks. It took us 45 minutes of walk to reach the main road. We hired two taxis and headed towards Neral station. We reached home around 7:30 PM, an hour ahead than the scheduled time.
It was an adventurous and thrilling trek. We were lucky that we merged with another group or else it would have been difficult for three of us to find the route. This trek taught us many things and gave us beautiful memories to treasure for lifetime.
Peb fort derives it's name from Goddess 'Pebi'. It is also popularly known as Vikatgad because of it's topmost pinnacle which resembles a shape of Lord Ganesha. The fort lies in Matheran region of Raigad district. It also has a temple of Swami Samartha at the top. It involves basic rock climbing, ridge walk, forest trail, making it a perfect get-away for nature lovers in Mumbai.