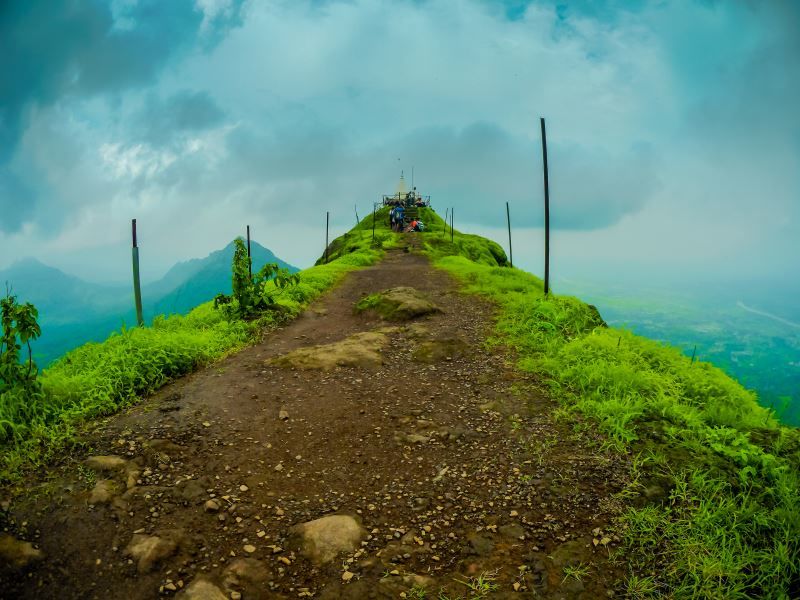 Maharashtra is filled with greenery in the monsoon season. The skies are covered with clouds and fog. Trekkers eagerly wait for this season. And Matheran is perfect for trekking.
Vikatgad fort is situated about 3 Km from Neral and located in same mountain ranges in Matheran. This fort is surrounded with a dark forest and difficulty level is also considered as from medium to difficult.
This place is famous for one day trek and very popular among trekkers throughout the year.
I have heard lots of things about Peb fort difficulty. But i always wanted to do this trek. And finally, I along with my friends (Aneesh, Vickyy, Ashirwad, pooja, Swapnil and Atul) decided to trek the Vikatgad Peb fort on 17 th June 2018.
There are 3 ways to go at the top of Vikatgad fort. One way is from Nakhind-Vikatgad-Matheran(difficult), Fanaswadi-Vikatgad- Matheran(difficult), Matheran-Vikatgad-Matheran (easy) We choose to go from Vikatgad as we loved to face difficult things. We chose Fanaswadi route to go at the top of Vikatgad fort.
We left from Dadar station by 4.22 AM by train and reached Neral station at 6.30 AM. We had a little refreshment there and asked local shops for direction towards the base village Fanaswadi. We took rickshaw from Neral station and started climbing by 8 am. We thought there would be rain but we had chosen the wrong day, the climate was sunny. And it was impossible to climb in such a sunny climate. But log kehte hain na "There is a sweet fruit at the destination of every journey. . To get that , we had settled our mind that we have to climb this fort in any situation.
Climbing was easy but due to summer heat and humidity we were all sweating like pig. Infrequent halt for 4-5 minutes we slowly climbed our first Landmark - Huge Electric Pole Point. As per the local villagers, they said to follow the Electrify tower. After a walk of 30 Minutes, we learned how to follow the electric tower.
We started entering into dark forest. This is the place the trek actually started becoming difficult. We found some trees which directed towards the route. We were surrounded by trees. I was afraid of insects. But I didn't find any. Though I found many crabs on the way.
The climate was sunny we became tired too soon and got exhausted. We all sweating badly and unfortunately we found a small waterfall where we got refreshed and started our further journey. There was a no proper route to follow. We had an option of going with the flow of waterfall. From here, our route was started getting more difficult.
But the climate was getting mesmerizing and cloudy. We reached at a point where we lost our all confidence. There was a big rock with a small rope attached. It was totally risky and dangerous; it was almost 10 ft tall. I thought to go back home. But we waited there for some time and gained some confidence, took an initiative to deal with the task. One of my friends (Aneesh) went ahead to scout as other scaled up one by one. I attempted 3 times to cross that rock. I felt so exerted that my thighs started paining but my friends motivated me that I can easily climb this hill. And finally in 4th attempt I crossed that patch. Hush! That was thrilling and scary experience. There are many other rock patches which are not as difficult as the one mentioned.
After this scary situation we reached at a cave. A tall green mountains, the fascinating scene, the dazzling rains, the dark clouds and wind.. This is the right place everyone was waiting for. We were all dead hungry. After some photo sessions, we had some snacks carried by everyone and continued our journey.
Further we met the first ladder. An iron ladder was adventurous and the weak hearted people dare not see below. At that moment we were shocked with an adventurous feel gushing through our veins.
Once we crossed that ladder, we reached to open space from where you can see the tremendous view of valley below and the temple above you.
We met many groups who were descending down and we were about to reach the 2000 ft height. After that, we climb some ladder and rock patched. Finally reached the top around 1pm. It was Heaven! .There was a small temple dedicated to Swami Samartha. At the top, the clouds were covering the mountain. The view from here is just too beautiful to describe!
Vikatgad Fort
We halted there for some time, had darshan at the temple, Again after some photo-sessions, we started descending with the route to Matheran.
We had to climb down two stairs, which took a lot of time. Because too many people was waiting there to climb down. The ladder was broken in the middle. There was heavy rain, Midst and fog. We could hardly see each other. It was quite risky to cross the ladder but we did. After some walk we reached Matheran rail track. It was a sigh of relief for every one of us. We stared following the track where we met with a water fall. We halt there for chilling and started our journey to climb down. After 45 mins of walk we reached the main road from where we hired Rickshaw and reached Neral station around 5.30 pm.
This was not an easy trek; preferably bit more than 'medium' grade .This trek has given us the beautiful memories to treasure for lifetime. For me, it was adventures and difficult trek till now. But at the end you will feel that every efforts was worth it.