Paris, the city of lights and city of love is my accidental love. Eklavya and I usually like to travel to places which are offbeat. It was an extended Easter weekend, we got a good deal on tickets and Paris is a wonderful city that you can visit again and again, and still discover something new each time you go, so we took off. If you are a fashion enthusiast, an art lover, a foodie or a history buff, this city offers something for each one of you.
I had most romantic time with my partner in this city. This city has magic in its air. Paris is where you want to do cliches and your inner Bollywood resurfaces. (Haha) ofcourse if you are visiting with your partner.
Paris is meant for doing all the romantic things in the world ~ kissing your love at top of Eiffel tower, taking a romantic walk by Siene river, eating by Patio at the arc de Triomphe, binging on waffles and crepes in Montmartre, getting crazy together in Disneyland etc.
Where to Stay :
Air bnb : Belleville, Menilmontant - 20th Arr.
Day 1 : TROCADERO
We reached Paris Airport by 10am. Took the cab for our Air bnb which was in 20th Arr. It was adjacent to Menilmontant Metro station.
We rested for a while in our cosy studio apartment, got ready to explore the city of Lights but food first. There were numerous restaurants just outside our courtyard.
Went straight to Trocadero to catch up the sunset at beautiful Eiffel tower. Ah! It was a beautiful sight. It started raining for a bit, we bought the cutest umbrella from one of the street shop nearby and got the perfect spot to catch up the night light show. It was enchanting.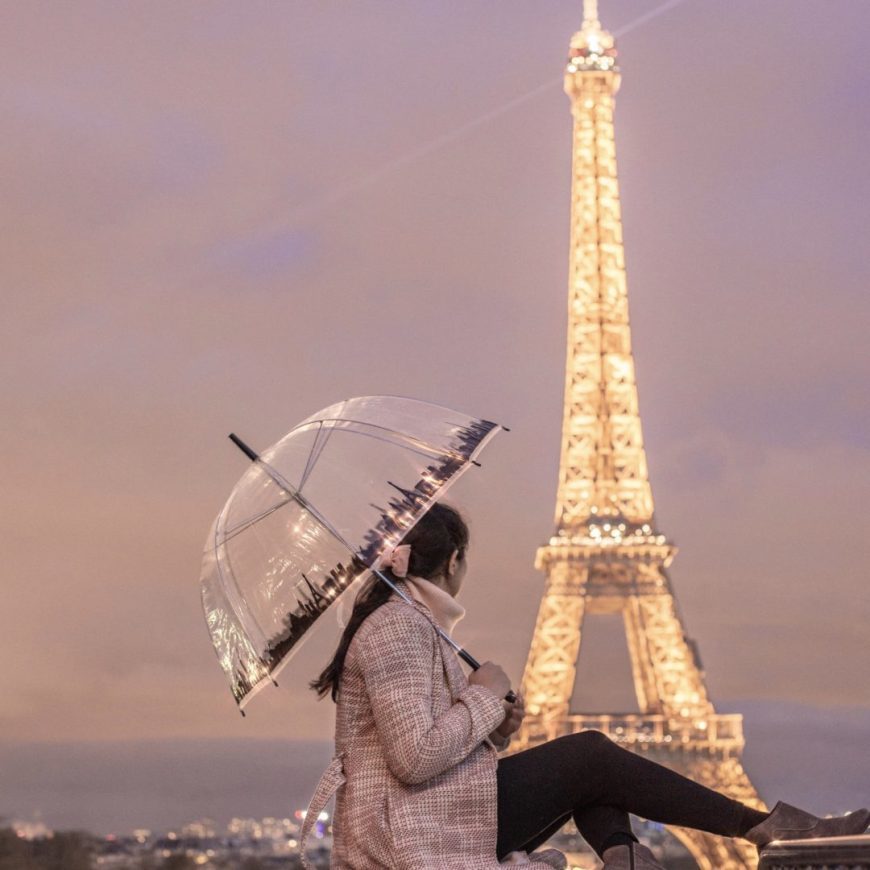 Day 2 : SACRE COUR, MONTMARTE & MOULIN ROUGE
Start your Paris holiday with a peaceful walking tour in the dreamy cobblestone street winding neighbourhood of Montmartre. It became known after the arrival of famous artists like Van Gogh and Picasso and today also you can see artists sitting with their canvases on both sides of the streets. You can get your portraits done if you want. Post that you can feast on waffles, crepes, macaroons and the sweet stuff being sold on cute carts.
Place du Terte is located few blocks from here. You can walk or get a cool ride on a tram. This is the best place to have breakfast.
The famous restaurants like La Maison Rose & Le Consulat are also located here. You can have a coffee or a soup here to inhale all the vibes of this lively neighbourhood.
At night you can enjoy a cabaret show at Moulin Rouge or Lido at Champ Élysées. Book your tickets in advance online or you can also book at the Paris airport at a tourist counter. Witness the colorful explosion of costumes, decorations and dazzling set designs. An evening at the Moulin Rouge is without doubt a Paris bucket-list experience.
Day 3 : LOUVRE, PONT III ALEXANDRE & SIENE RIVER CRUISE
You can spend a whole month in Paris and still won't be able to see all the museums and hence we just thought of sticking to the most popular one. You can also include Musee d Orsay in your itinerary as it houses masterpieces of some great artists like Van Gogh, Monet & Manet.
For Louvre you can spend 4-5 hours easily here. To have that perfect picture with timeless glass pyramid, sunrise or sunset time is perfect.
At night you can have a romantic dinner at Siena River Cruise or you can stroll Han in hand with your loved one along the river side and soak in all the beauty.
For premium dinner experience along with live music aboard you can check Bateaux Parisiens Premium Seine Dinner Cruise.
DAY 4 : NOTRE DAME, CONCORDE & JARDIN DE TULLIRES
The iconic church of Notre Dame is pride of Paris. We were here on the day of Easter and the decorations were beautiful. There is no entry fee for the cathedral but you may face queues. Go as early as possible. If you are lucky you can witness one or two wedding shoots out in the courtyard. We recommend to visit the bell tower inside the church that comes with a small fee.
Jardin de Tuileries is a huge garden with fountains and crushed stone walk ways. It is perfect place to eat an ice-cream or cinnamon sticks and take a breath with an outstanding view. This is the place where you see a giant wheel and across the road you can visit Concorde .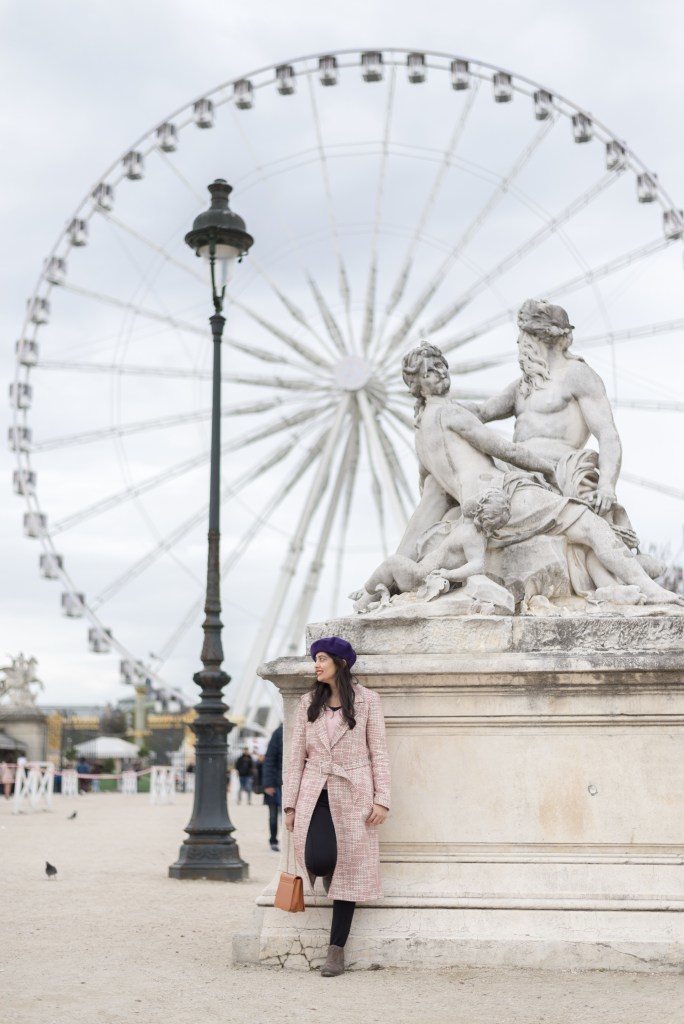 DAY 5 : EIFFEL TOWER, ARC DE TRIUMPH & CHAMP ÉLYSÉES
The Eiffel Tower has a marvellous view both during the day as well as the night. We however visited at night. You can take a ropeway or stairs. Would recommendreserving a prepaid ticket to skip the exhausting ticket line.
However, there are plenty of other spots to view the Eiffel Tower. First one of course is Trocadero. Visit Trocadero at sunrise to have those postcard pictures for yourself. You can also find the famous carousel here that you spot in pictures with beautiful Eiffel backdrop.
Arc de Triumph stands tall in the center of Paris. Leading out of the Arc is the famous avenue, Champs-Élysées. It is known for its theatres, cafés, and shops. You can eat in any of the cafes here Parisian style.
And the architecture of these stores is so classy. The Dior store at the corner had my heart.
DAY 6 : DISNEYLAND PARIS
We dedicated our last day to a bit of fun and frolic at Disneyland Paris . Disneyland Paris is a magical kingdom where fairy tales come true! Come aboard and experience the magical world of Disneyland Park, Walt Disney Studios Park or both. Depending on the time in hand you can buy a ticket to one or both the parks. We visited Disneyland Park.
Endless attractions and thrills that come in all sizes and shapes and for all age groups. Some of our favourites are Space Mountain Mission 2, Indiana Jones, Big Thunder Mountain, Small World etc
The nighttime spectacular show called Disney Illuminations, is unmatched and spectacular. It is the best illumination show that I have seen so far.
Will be sharing an extensive article soon on tips for visiting Disneyland.
It has been rightly said that you can visit Paris again and again, and still discover something new each time you go. Till then soak in the charms of Paris with this itinerary and don't forget to enjoy !
This blog was originally published on The Travelling Lipstick.