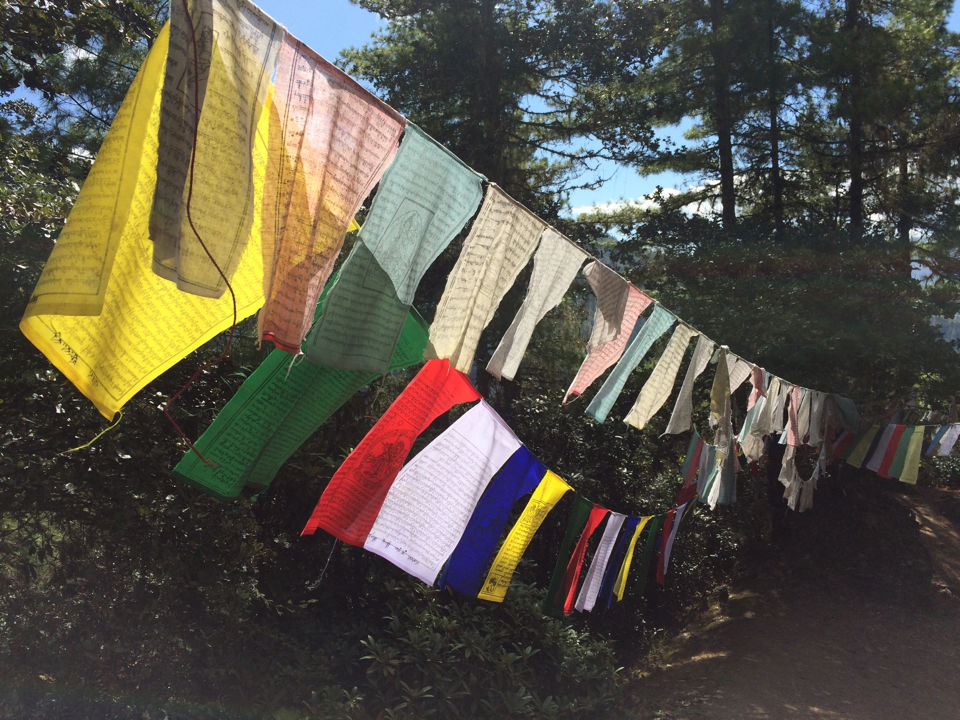 Phuentsholing seemed quite and peaceful.
We started our day with breakfast followed by going to the immigration office to get our travel/riding permits. People had already started gathering before it had opened and slowly it was growing into a mob. Long wait. As the gates opened people rushed like Indian Idol auditions only to be stopped again. Wait continues. Finally our tour operator managed to get us in and the task was done with.
Meanwhile I roamed around the market got myself a local number ( which activated instantly, impressive ) and clicked some pictures of the Entrance gate and a small Monastry located in a central area.
We had sumptuous buffet at a small restaurant ( 150 bucks per head only ) and left for Paro around 1:30.
The road was narrow but decent and had a stunning view all along. The temperature started dipping as the altitude started rising. We stopped for refreshments at the Dantak canteen and headed for the Tanalung checkpoint.
While verifying the documents we realised one person's permit got misplaced earlier at the Kharbanda checkpoint putting the whole group at a standstill. He were held up for over 3 hours with no progress. Finally the issue got resolved and we rode in the dark reaching Paro late at night.
We stayed at the fancy Tashi Namgay Resort which was absolutely kickass. Traditional Bhutanese architecture with intricate artwork done all over. It overlooks the Raidik river with the Paro Air-strip on the other side.
We grabbed breakfast next morning beholding a beautifully sharp take off from the airport. Mesmerising. Paro airstrip is one of the hardest in the world to land/takeoff. Very few pilots are eligible to do so.
Next we headed to trek the Taktshang Monastry also called the Tiger's Nest.
The name comes from the legend about Lord Padmasambhava who came to the mountain in one of his manifestations with the tiger to defeat demons trying to disturb the prevalence of Buddhism.
It was a difficult climb but totally worth all the effort. Beautiful temples and positive vibes. The Nest itself was thin creek within the mountain which is as hard to reach as to leave. Never have I experienced such silence.
By the time we got back it was late but luckily the ride this day was only 70 kms. We crossed the challenging Chelala Pass midway situated at a mighty 13000 feet where we took a much needed halt as almost froze to death. My hands were stone cold numb and I literately warmed myself off the engine/exhaust.
We descended to Haa valley quickly where we were comforted by the cozy Risum Resort. The people there were as warm as the hall with the fireplace. Wooden rooms and soft beds gave such joy. Rum and food came to our rescue, ending our day in peace.