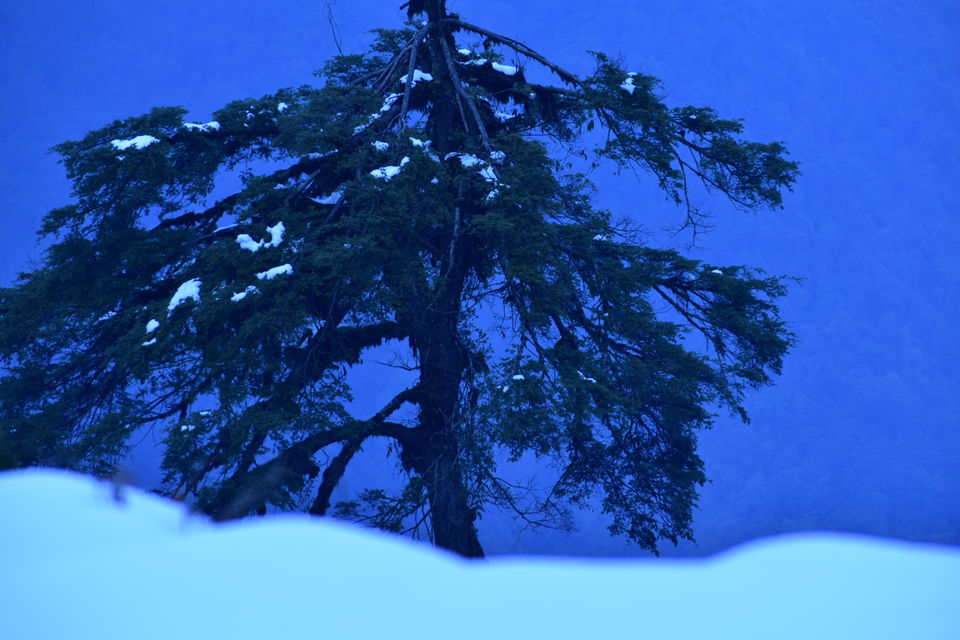 You travel here eighty kilometers at a stretch to locate only two villages and may be three tea shops. If your vehicle breaks down in between, you are stranded for hours. The state with a land mass of 84000 sq. km has a total population of roughly 1.7 million, amounting to a population density of less than 20 per sq. km as compared to the national average of 375. Little did we know about Arunachal Pradesh till it became a union territory. The Eastern most part of of India was inaccessible from the main land, therefore, the land was mysterious, people enigmatic, their culture unknown. Very few books were written on the life of the inhabitants staying here. In one of the earlier encounters in Arunachal Pradesh, published in a book form in the year 2004, Major S M Krishnarthy narrates his journey through the province as "Unarmed Expedition 1956." Krishnarthy along with his wife Geeta traversed through the areas known as Ziro, Daporjio, Mechuka. They made friends with the people belonging to Adi, Mishmi, Tagin and Nyishi tribes. The peaceful expedition of Krishnarthy couple has been a gallant effort to integrate the people of Arunachal Pradesh with rest of the country.
Planning Our Trip
Tawang is the most frequented place of Arunachal Pradesh. Apart from Tawang circuit there are four major circuits for travelling.
1. Itangar-Ziro-Daporjio-Along-Pasighat
2. Pasighat-Jengging-Yingkiong-Tuting
3. Pasighat-Roing-Mayodia-Anini
4. Pasighat-Along=Mechuka
Four of us, Prabal, Ranjit, Swapan and I decided to travel from the eastern part of Arunachal Pradesh and move towards towards the western side. So our first destination would be Pasighat. From Pasighat we would take the state highway to travel to Itanagar via Along, Daporjio and Ziro. If time permits we would make an attempt to visit Mechuka from Along. However, getting information about accommodation and transport became extremely difficult task. Tourism other than Tawang circuit is still in a nascent stage. Swapan visited Arunachal tourism office at Salt Lake, Kolkata to facilitate booking of accommodation and transport. But the office couldn't offer any assistance. Finally I could contact Mrs. Yane Dai who is the owner of Donyi Hango Eco Resort at Pasighat. She advised me against travelling to Daporjio from Along as the condition of the road is precarious and is not at all travel worthy. So we had to change our travel plan. We decided to move to Roing and Mayodia from Pasighat. From Roing we would travel to North Lakhimpur by train via Murkongselek. From North Lakhimpur we could then proceed to Ziro by road. Our last leg of journey would be from Ziro to Itanagar.
Travelling to Arunachal requires Inner Line Permit for the domestic tourists. ILP is an official document issued by the Government to allow inward travel to the state for the Indian citizens. The permit is issued for a limited period of 15 days. It can be obtained on line or can be issued by any of the state tourism offices on uploading passport size photo and address proof. I suggest to get the permit on line, as this is the most convenient way. However, my personal opinion is against imposition of such type of restriction on the domestic tourists. I have seen permits to have been issued in a routine manner. The system of ILP was introduced in 1873 to restrict the British subjects from entering into these protected areas. The word British subjects has been replaced by Indian citizens after independence. In a bureaucratic system, it may take generations to effect a change in the rule book.
The best time to visit Arunachal is from December to April. In December/January the temperature in the high altitude places may dip to one degree or sometimes to sub-zero level. So it's advisable to carry sufficient woolen clothes, jackets, head gears and hand gloves.
Pasighat
From Guwahati we went to Murkongselek by overnight train. The entry point to Arunachal Pradesh is Ruskin which is two kilometers away from Murkongselek. From there we boarded a Tata sumo which took three hours to reach Pasighat. Later on we learnt that the only means of transport across Arunachal Pradesh is Tata Sumo type vehicle which carries 10 passengers. In case you want the entire vehicle for yourself, it's easy deal, just pay the fare of 10 passengers. The fare for the full vehicle works out to Rs. 35 to Rs. 40 per km, approximately. There are plenty of options to stay at Pasighat. Apart from the home stays which charge around Rs. 2200, there are a few good hotels near the Pasighat market. I recommend Serene Abode which is conveniently located at a distance of about half a Kilometer from the taxi stand. The hotel has an in house restaurant which provides excellent room service. The tariff varies between Rs. 2800 to Rs. 4800.
Day 1- Mighty siang
Pasighat was the capital of NEFA. The capital shifted to Itanagar once Arunachal became a union territory in 1976. Today Pasighat is the headquarter of East Siang district. Siang, known as Tsangpo in Tibet enters India from the Northern Upper Siang district. The Ranaghat bridge over Siang, at a distance of three kms from Pasighat, offers an excellent scenic view. The Siang gives the tourists ample opportunity for wilderness and expeditions like river rafting, angling and trekking.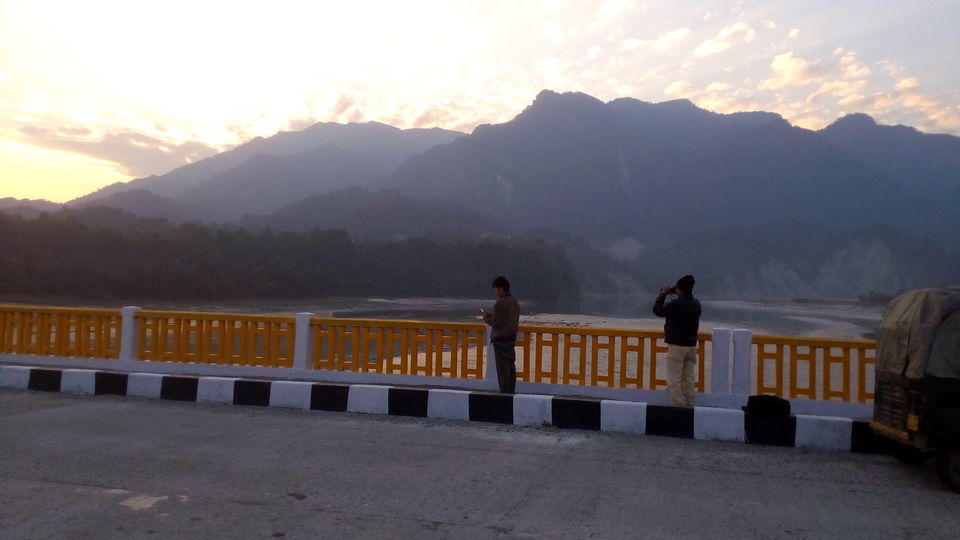 Day 2- Daying Ering Wildlife sanctuary
Daying Ering is around 20 kms from Pasighat. We met Mr. R Riba, the Divisional Forest Officer who arranged the passes for our entry to the sanctuary. The sanctuary is named after the famous politician Daying Ering from Arunachal Pradesh. The sanctuary has come up in a group of islands sandwiched between Siang and Sibia, one of its tributaries. We had to hire a vehicle for whole day as there is no other option to reach the place. It's advisable to carry packed lunch and water bottles along with you, as there is no restaurant, not even a tea shop nearby. The Deputy Ranger of the forest along with two forest guards accompanied us to the sanctuary. We crossed Siang by boat to enter into the forest. Spanning an area of 190 sq. km, the forest has grass land and wooded area. We had to walk nearly 4 km to reach the dense wooded area. The Deputy Ranger mentioned that the forest is home to wild buffalo, deer, elephant,wild boar, leopard, although we encountered none. We met a few girls from Adi tribe who were busy collecting elephant grass for construction of thatched roof for their home.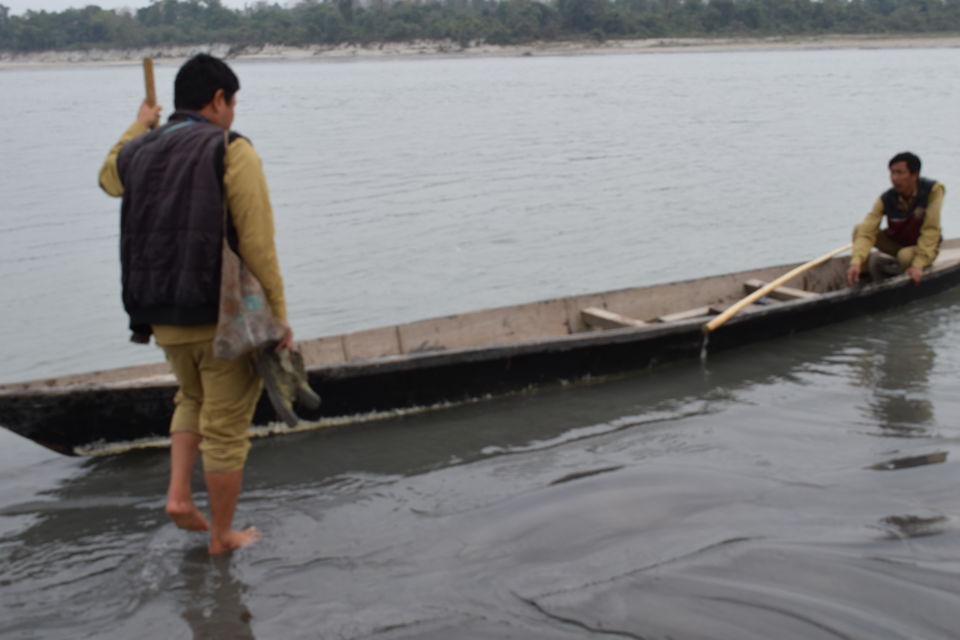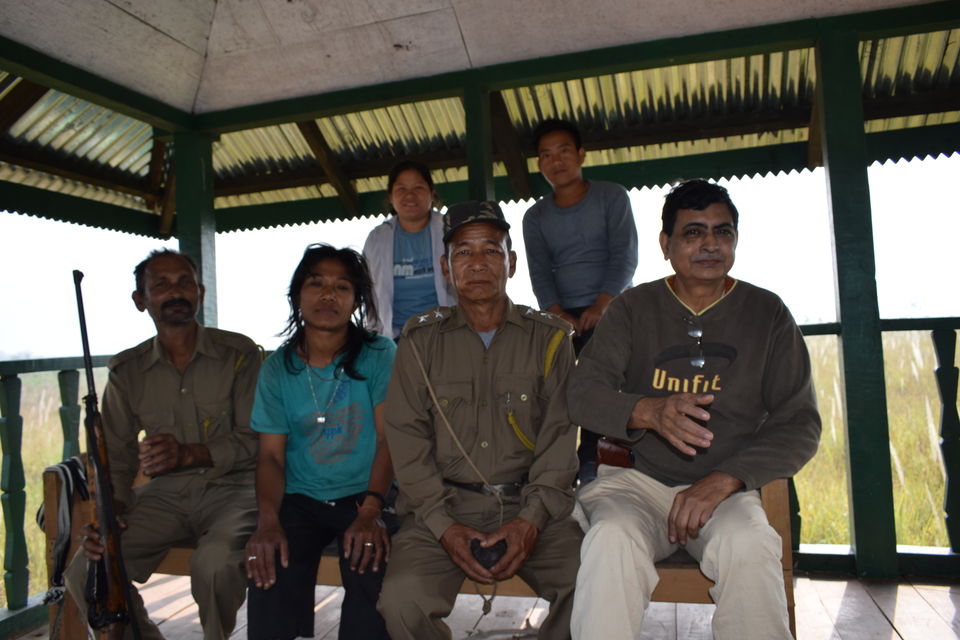 Unfortunately the sanctuary has lost some of its charm due to the absence of migratory birds. The forest officials told that the migratory birds like cranes, wild ducks and storks, they used to spot till last year, have stopped visiting the place due to the polluted water.
Day 3-Journey from Pasighat to Roing
Next day we moved to Roing, the district head quarter of Lower Dibang Valley. The distance from Pasighat to Roing is about 80 km, but the Tata Sumo takes more than six hours to reach. The condition of the road is simply awful. In fact, for a large part of our journey we didn't find the existence of any road. We kept on travelling on the muddy surface or on the pebbles scattered on the river bed. It must have been more than a dozen times when I thought the vehicle would turn upside down. That it didn't was due to the ability of our driver to manoeuvre deftly. We crossed a few small rivers by ferry. Through our long and arduous journey, we came across only two villages and a lone tea shop.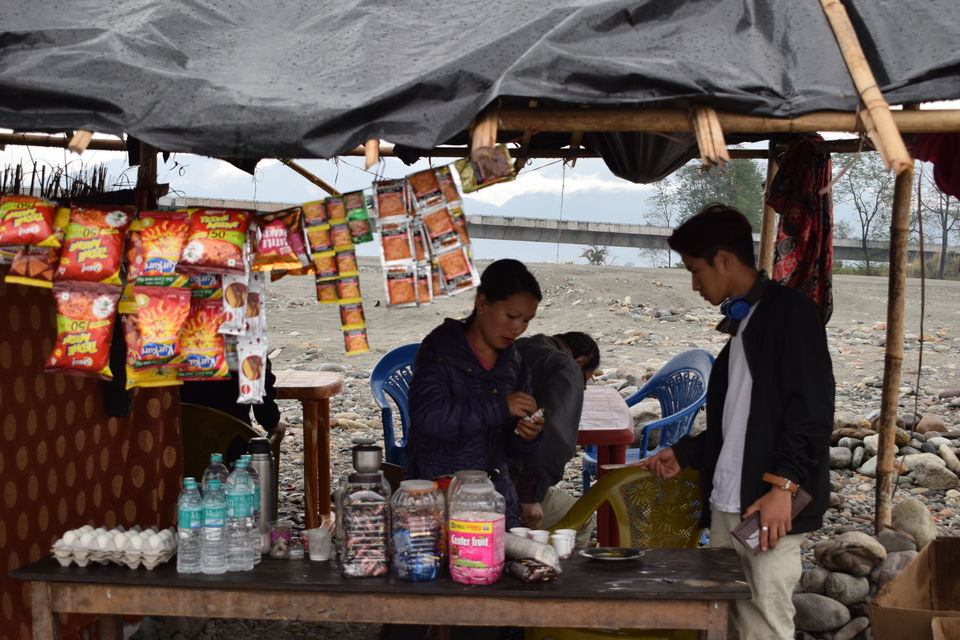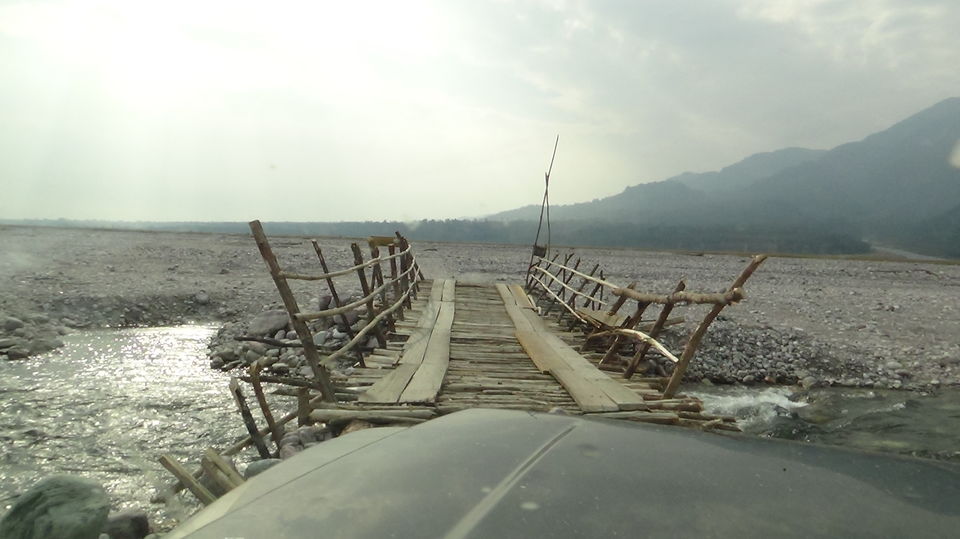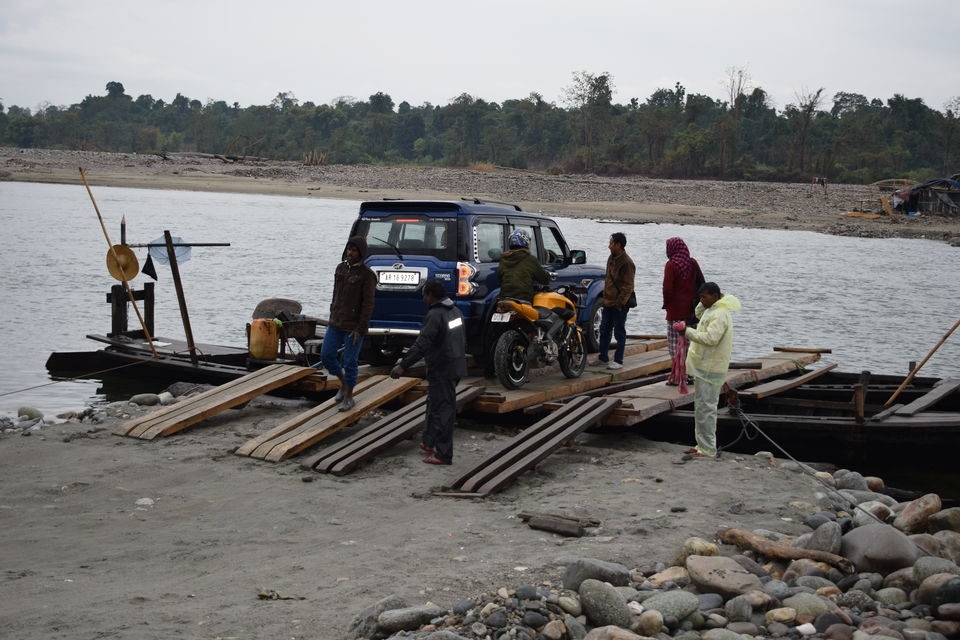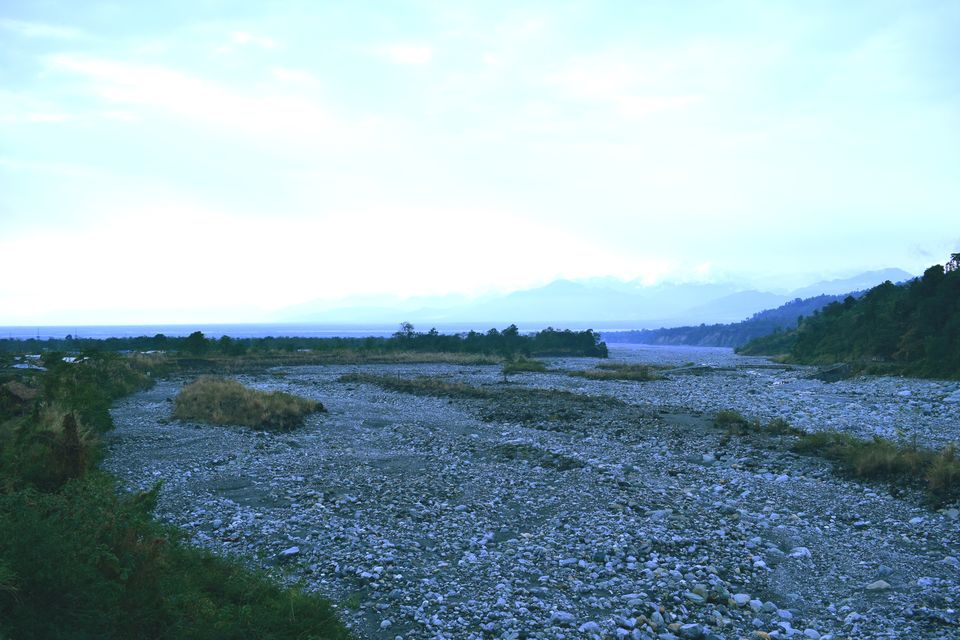 Roing is a very small town with limited options for accommodation and restaurants. We stayed in D S hotel which is 500 meters from the main road. Hotel Lasa and hotel Mimu are located on the main road. There are five or six eateries on the main road where you can get simple vegetarian and non-vegetarian thali.
Day 4-Sally Lake and Mehao Lake
Sally lake is located at a distance of 4 km from Roing. The easiest way to visit sally lake is by auto-rickshaw. There is an arrangement of boating. The coffee shop at the top serves tasty snacks and beverages. The water of the lake is crystal clear. we were awestruck by the exotic greenery surrounding the lake. The reflection of dark green trees on the deep blue water creates a mystical feeling. If you have time you can come here for meditation.
Mehao lake is about 12 km from Roing. The lake is on the top of a hill at an altitude of 3000 feet. There's no transport to reach the lake. So the only option is to climb the mountain. One should be careful about leeches while climbing. The surrounding area offers a beautiful panoramic view.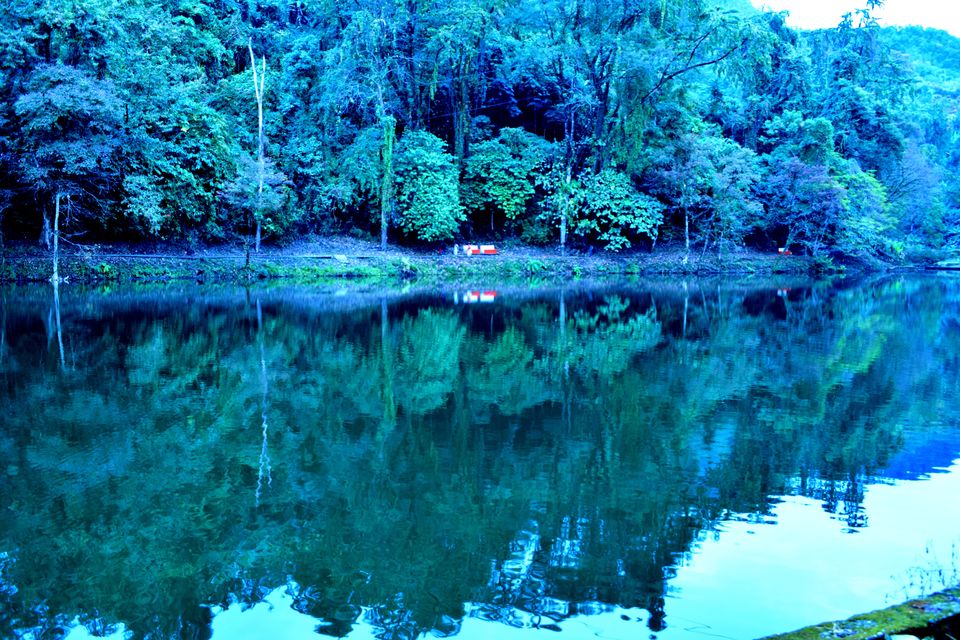 Day 5- Mayodia
Maya, a Nepali girl vanished in the snow and could not be traced. That's how the mountain pass got its name Mayodia. Mayodia is at a distance of 56 km from Roing and is halfway between Roing and Anini. Located an an altitude of 2600 meters, the place is fast becoming a popular tourist destination. Mayodia witnesses moderate to heavy snowfall during the month of December, January and February.
We faced lot of difficulties to reach Mayodia. The day before we planned to visit the place, a tragic accident occurred near Mayodia killing 7 passengers. One Bolero vehicle while negotiating a sharp turn fell down 400 feet below. The local police had to take the help of Army in the rescue operation. They suspended the vehicular movement for two days. We had to obtain special permit from the local authorities to visit the place. On the way we stopped at Tiwari Gaon to enjoy a hot cup of tea in the shivering cold. Our driver Takar Jannom told that one Mr. Tiwari from UP came here 60 years back in connection with measurement of road. He loved this place so much that he decided to settle down here. The village has since been named after him. Below Tiwari Gaon you can view the Mishmi hills of Arunachal Pradesh.
When we reached Mayodia we witnessed moderate snow fall the intensity of which increased gradually. There were hardly any tourists. I have travelled to so many high altitude places but never seen a place so secluded, so lonely, yet so captivating. The amazing landscape will simply mesmerise you. The incessant snowfall, slippery road, biting cold, or any kind of adversaries you name, will fail to dampen your spirit for sure.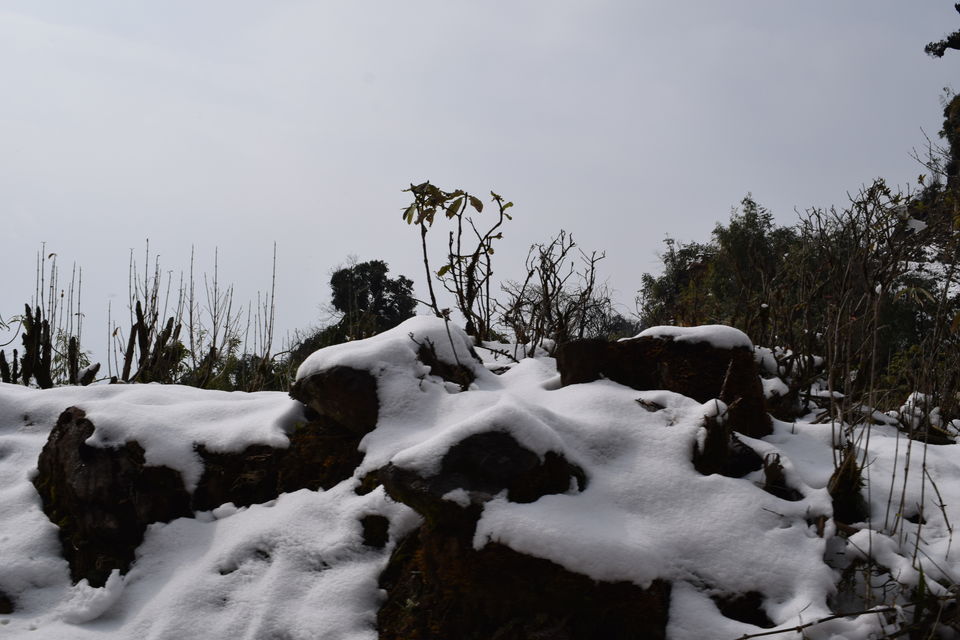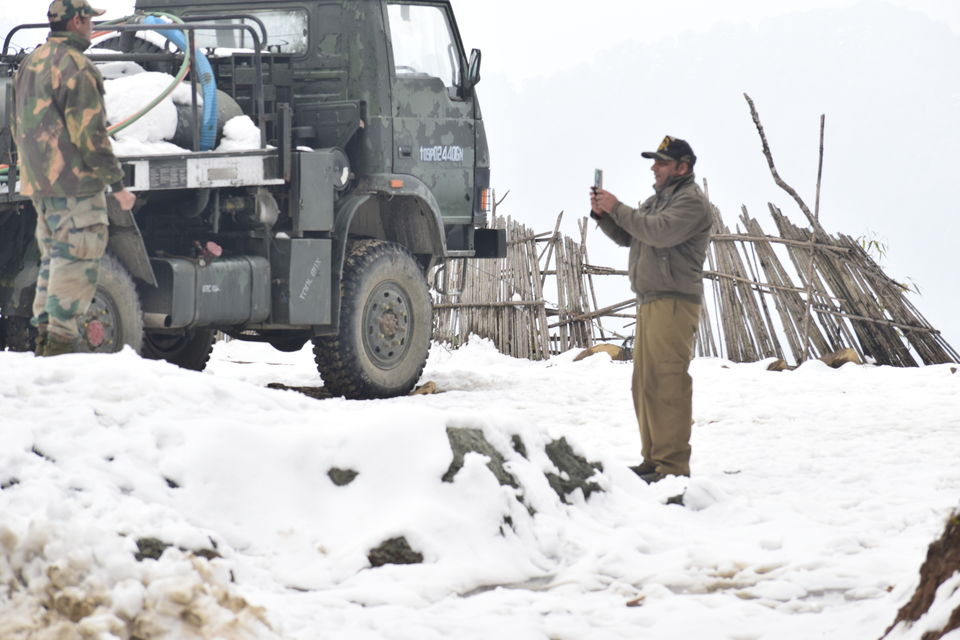 There is only one place at Mayodia where you can stay overnight. It's Mayodia coffee House. The accommodation is very basic. There are two decent eateries which serve chicken, rice and noodles. The bonus is that you get the comfort of sitting beside the fire place in the freezing cold. The place has a small army camp, a temple apart from Mayodia Coffee House.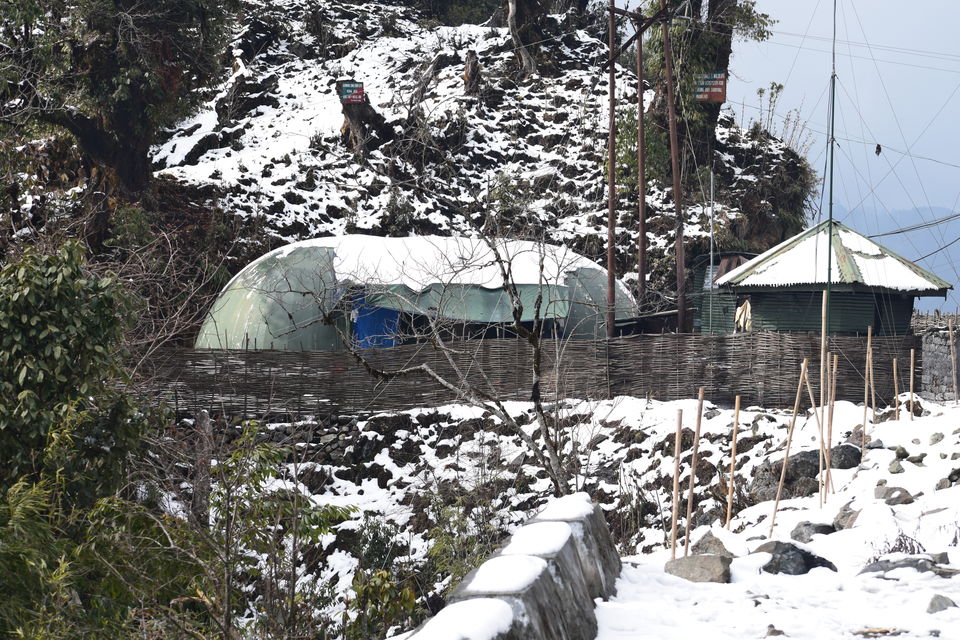 Day 6- Our journey to North Lakhimpur via Murkongselek
From Roing you can proceed to Tezu which is the head quarter of Lohit district. The holy Parashuram Kundu is nearby. However as per our original programme we decided to go to Ziro. we travelled to Murkongselek via Pasighat. From Murkongselek we went to North Lakhimpur by train. Ziro is well connected to North Lakhimpur and Itanagar. The distance from North Lakhimpur to Ziro is 120 km. We thought the condition of the road is way better than what we had experienced at Pasighat sector. But our joy was short lived. After about 30 km into our journey, the road turned out to be muddy and full of ditches. The bad patches continued till Palin where we stopped for our lunch. The condition of the road improved after Palin.
Day 7- Ziro
We reached Ziro after a gruelling road journey of six hours. I have booked accommodation at the home stay of Mr. Hibu Tatu. Hibu Tatu belongs to Apatani tribe. The apatanis have migrated fron Tibet nearly 500 years back and almost 90% of them stay in Ziro Valley. Apatanis write their family name first followed by own name. Tatu's home stay has beautiful surroundings. A huge kitchen garden, a beautiful lawn of carpet grass and a number of trees at the backyard make it a perfect place for holidaying. The salubrious ambience draws you closer to the nature. Rooms of the home stay are cozy and comfortable. I thought the tariff of Rs 1200 per head, dinner and breakfast inclusive, is quite reasonable.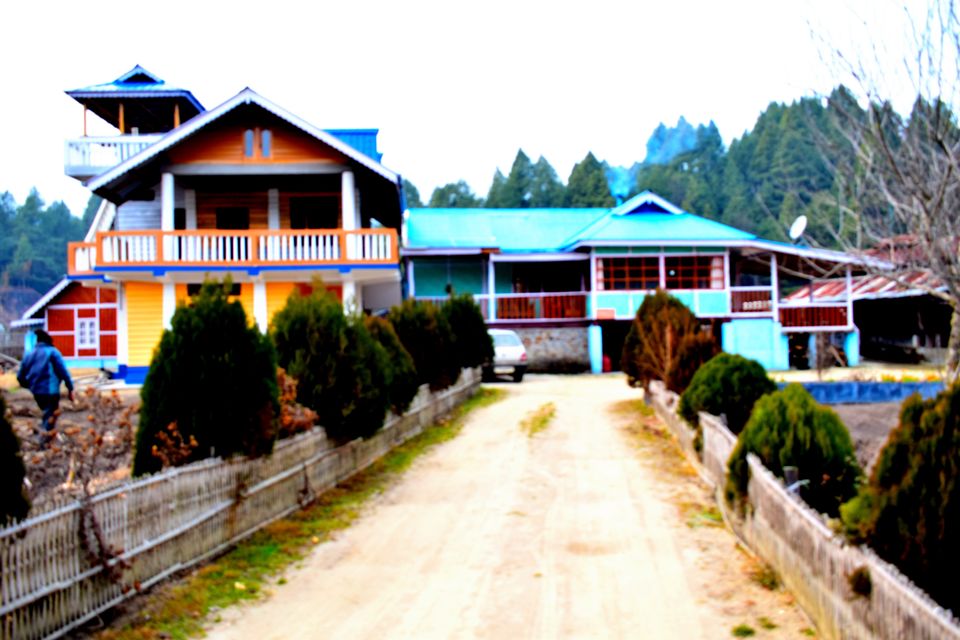 In the evening we sat in Tatu's living room which has a fire place at the centre. The room has a wooden floor and a slanting wooden roof. The kitchen is on the one side of the living room. The kitchen is equipped with all modern gadgets. Tatu's wife Mrs. Ocche is a beautiful and ever smiling lady who, I have found, is always busy in managing the household chores. Later on we will experience her culinary skill also. Tatu is a teacher in a school at Hapoli. He is an excellent story teller. While his wife served fresh apong (rice beer) made from rice and millet, we huddled together around the fire place to hear about the Apatanis.
Apatanis are animist
The Apatani religion is known as Donyi-polo, where they worship Sun and Moon. They regard Sun as their mother and Moon as their father. The Apatanis have their own flag of white colour with the images of Sun and Moon imprinted. They follow the system of sacrificing animals to appease the God. All sacrificial events are held in the presence of a priest. The Apatanis go to Meder Nello, a sort of church like place, every Sunday to offer prayer. The language of the God is known as miji Migun to which the priests only have access.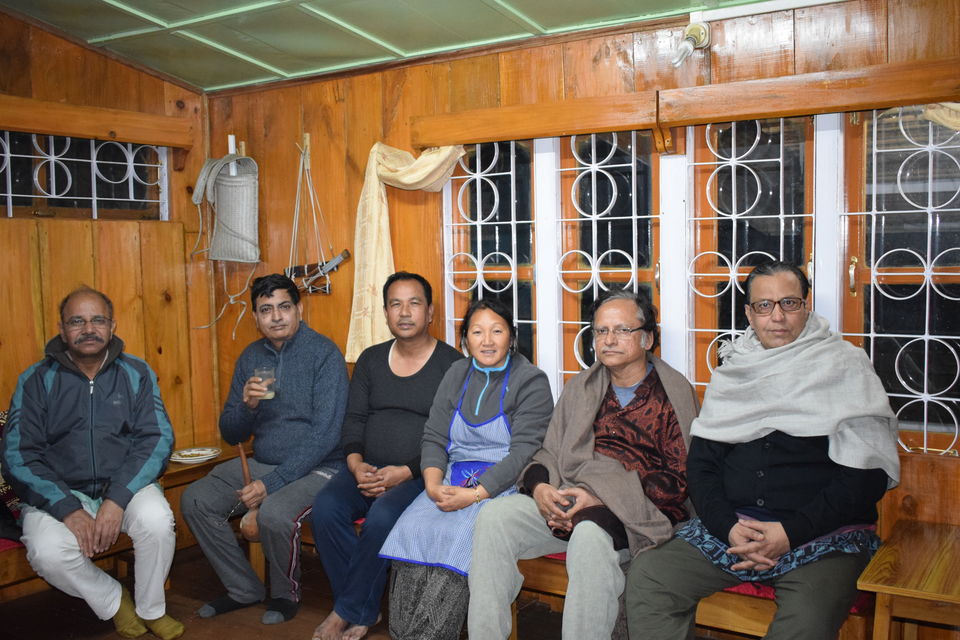 " Marriage is an important cause for celebration," Tatu showed us a bizarre goblet made of gourd, "The bride groom will carry this goblet filled with rice beer and a sword to propose to the bride's father for marriage. He will drink the whole lot of beer in one shot to prove his strength." The sword signifies that he is going to take the responsibility of the girl for the rest of her life. The groom's side then offer a grown up mithun to the girl's father who, in exchange, offers paddy for six months consumption. The celebration could last for a year. "Another interesting feature of the Apatanis," Tatu said, " is our method of cultivation which may be unique in India, We do not use any machinery, nor do we use any animal to cultivate land." Cultivating land without using machinery or animals is a wonder indeed.
Day 8- Villages in the Valley
Mudang Tago is going to take us around the villages of the valley today. Equally proficient in spoken English and Hindi, Tago has a depth of knowledge about the history, culture and custom of Apatani tribe. He is a young and energetic guy of 28 years. While driving his Maruti Ertiga he keeps you engaged with interesting stories. Our first destination is Hari village where we will attend a village feast to celebrate the naming ceremony of a six month old baby. When we reached there, the naming ceremony has been completed. The guests are in the midst of a sumptuous meal. We joined the villagers, talked to some of them. We were offered boiled chicken, pork, bamboo shoot and rice. Tago told us," Apatanis do not use oil for cooking. All ingredients are boiled or baked inside the bamboo stems. No spices are used, only tapiyo, which is home made salt, is added for taste."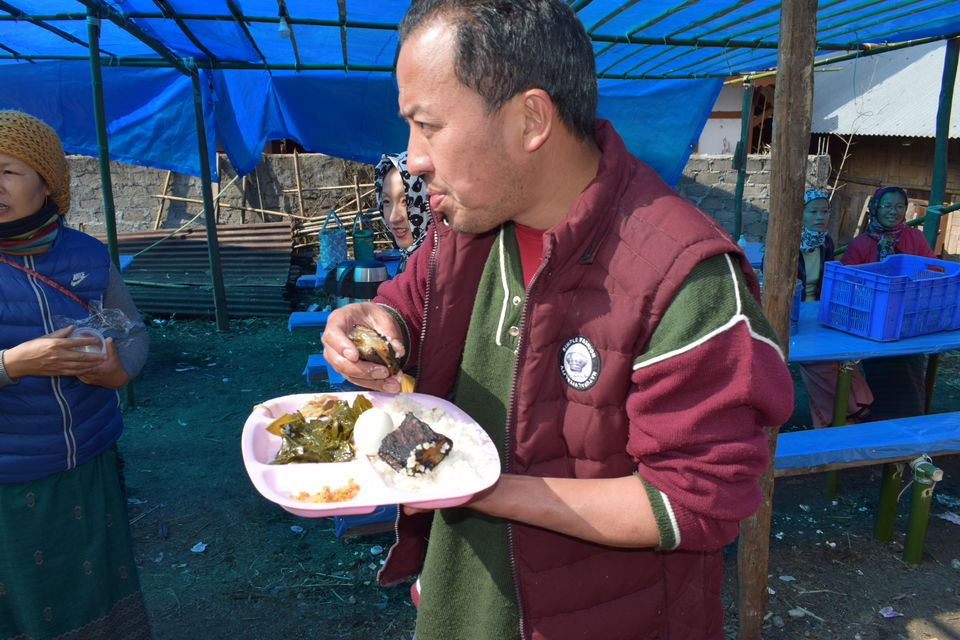 We saw some elderly women wearing nose plugs which obviously look peculiar on their beautiful faces. My friend Ranjit is doing research work on the traditions of various tribal people of North Eastern sector. He was curious to know the genesis of wearing such nose plugs made of bamboo, as this appears to be a unique feature among the Apatani women. Tago said," The Apatani women, being the most beautiful, among all the tribes started attracting men from other tribes. In order to make them less attractive, practice of wearing nose plugs was initiated by the tribal heads. Subsequently it became a tradition." Youngsters have, however, discarded this practice.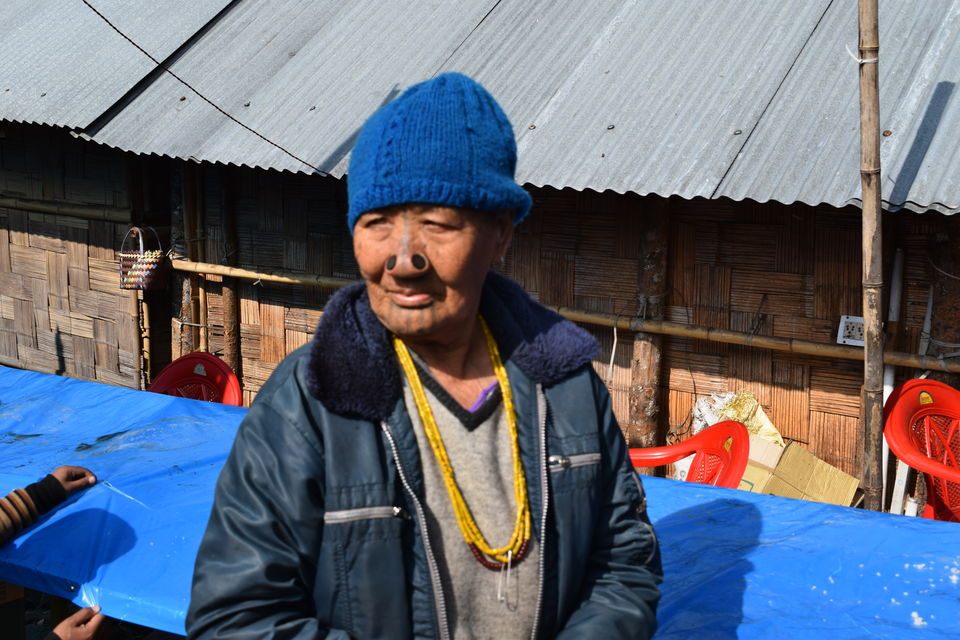 "The houses of Apatani village are constructed slightly above the ground", Tago told us, "This is because almost all the households keep domestic animals, such as, pigs, chicken and goats in the basement." We saw a number of houses with white flags fluttering atop. Tago drew our attention to a special thatched house at one corner of the village. This is the place for sacrifice of animals. When a person is critically ill, the villagers assemble here to witness the sacrifice of animals which is done while chanting Miju (Mantras) by a priest. The Apatanis believe that falling sick actually is a part of punishment by supernatural powers when they are offended. To get rid of the curse, the mystical powers have to be satisfied with the liver, heart and blood of the animals.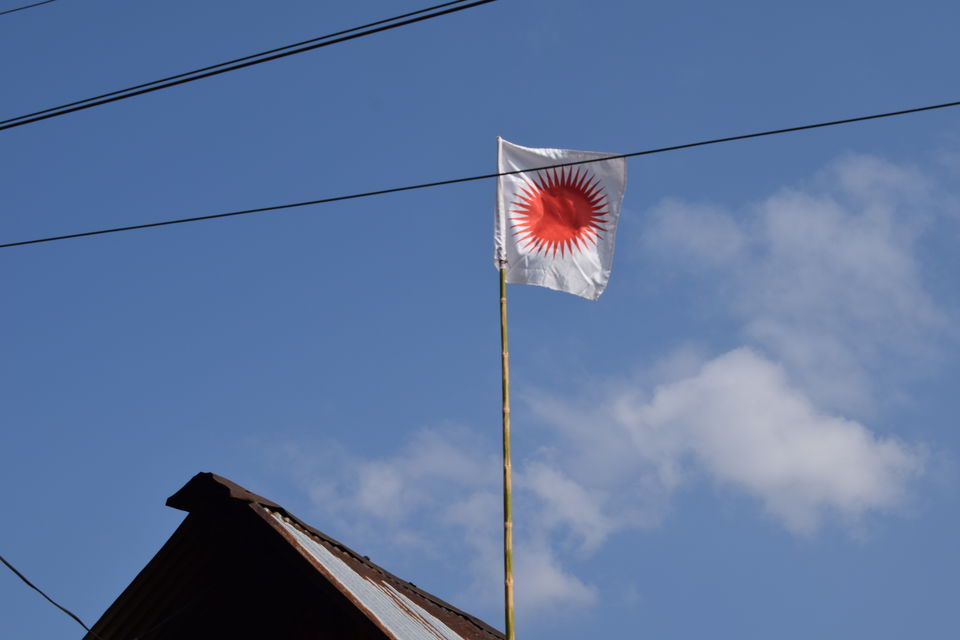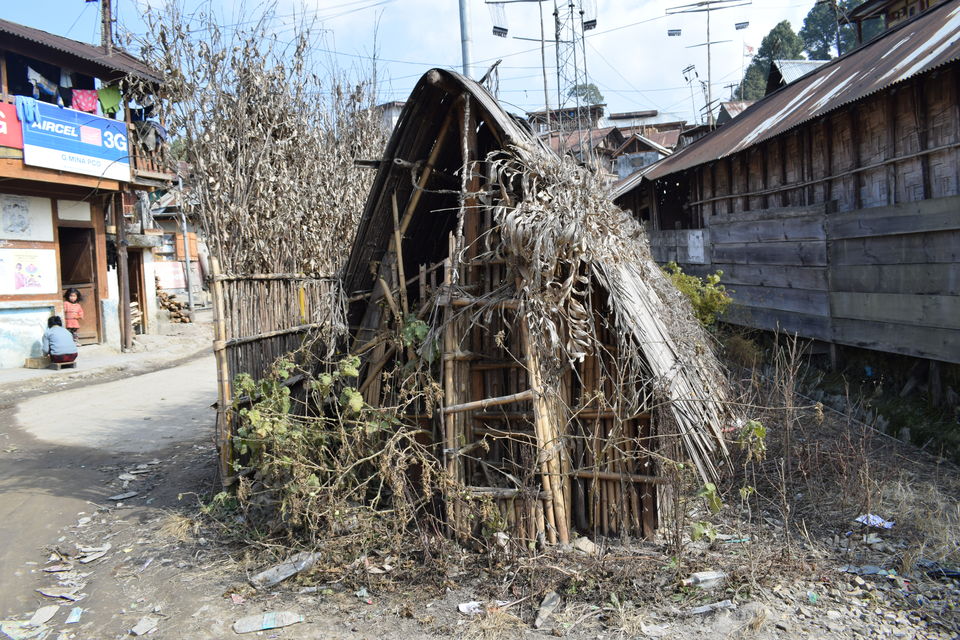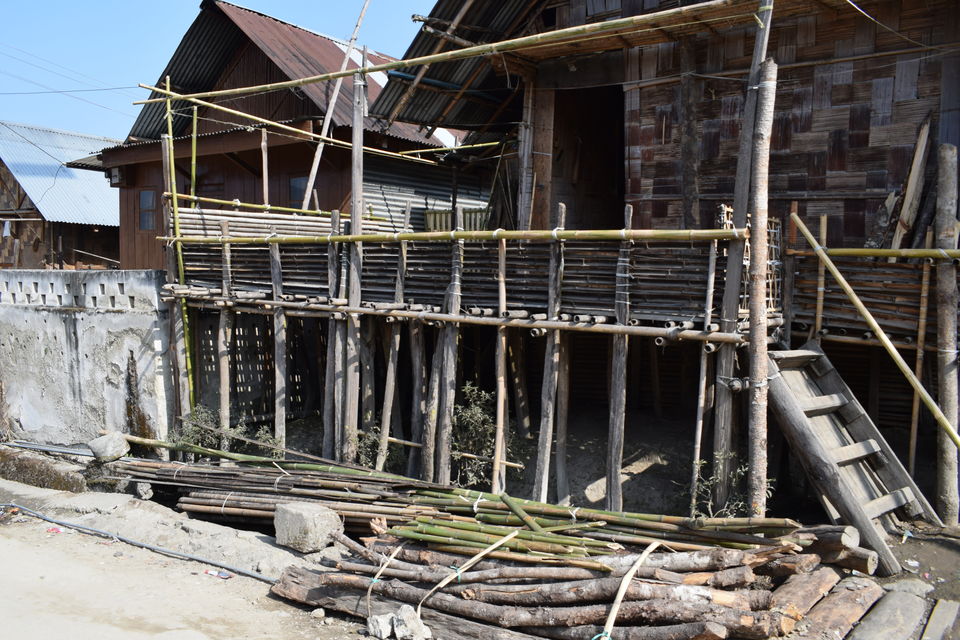 The next interesting place of visit at Hari village is the graveyard which is located on a hillock at a little bit of distance, but quite easily accessible from the main road. The Apatanis bury the dead and construct a bamboo structure on the top. The tomb of a priest is quite distinct from those of the common people. It is at the top most part of the hillock with altogether different set of superstructure.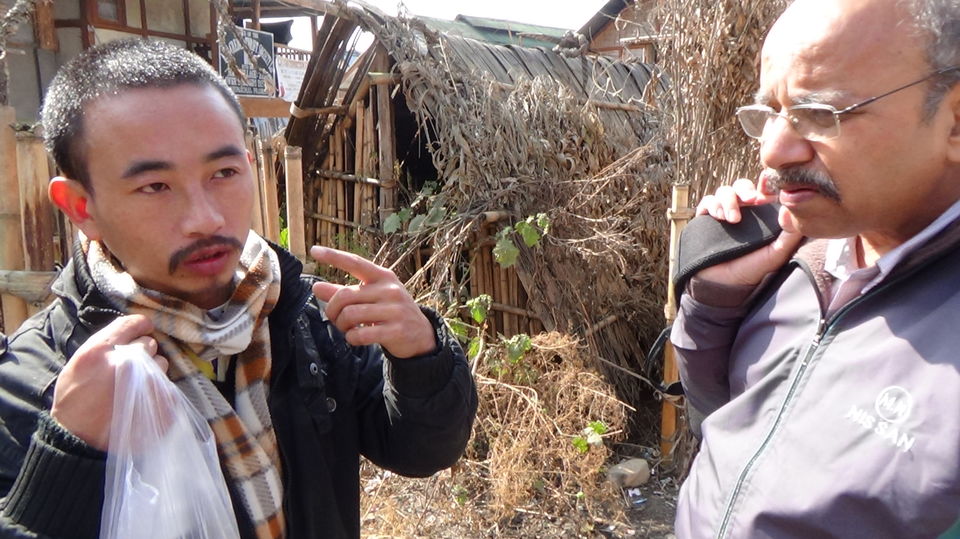 Hong Village
Roads became narrower and steeper as we proceeded to Hong village. We found very few inhabitants in this village as compared to Hari, though Tago clarified that this is because most the people have gone out to work in the field. He took us to egg garden. From a distance we thought it to be a garden with white flowers. But when we went inside we found thousands of broken eggshells hanging on the bamboo structure. If a child falls sick, his relatives come here, break the eggs and pray for his quick recovery. The priest performs the sacrifice of a chicken in a hut located at the corner of the garden. He takes out the liver of a chicken and chants mantras by holding it in one hand to drive away the evil spirit.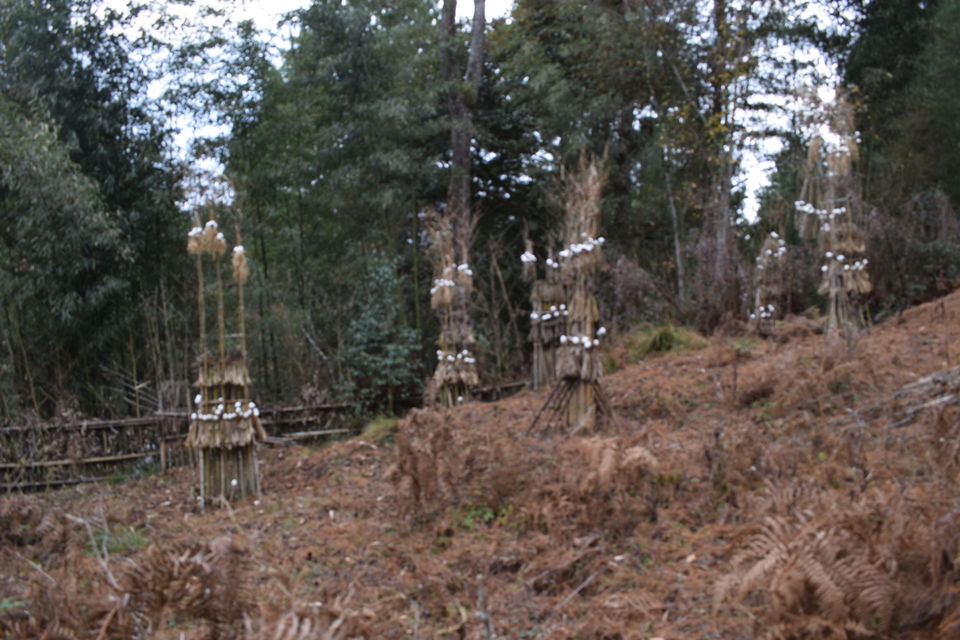 we had lunch at Siiro Resort. The resort has a large number of cottages which provide decent accommodation. The restaurant serves excellent non-vegetarian cuisine and liquor at a reasonable rates. The room tariff is in the range of Rs. 2400 to Rs. 4200. They have a system of on line booking. In case you do not prefer home stay, I would recommend this resort as the next best option.
Kardo-The abode of 25 feet tall Shiva Lingam
It's a tough 1200 feet uphill drive to reach Kardo which has recently become popular due to the discovery of a shiva lingam which lay beneath the ground till Prem Subba, a woodcutter noticed it accidentally on the top of Kardo hill. The lingam is 25 feet tall and 22 feet in circumference at its base. This, I believe, is the tallest natural shiva lingam in India. The local people have erected the lingam and constructed a big bull in front. There is a continuous flow of water at the base of the lingam.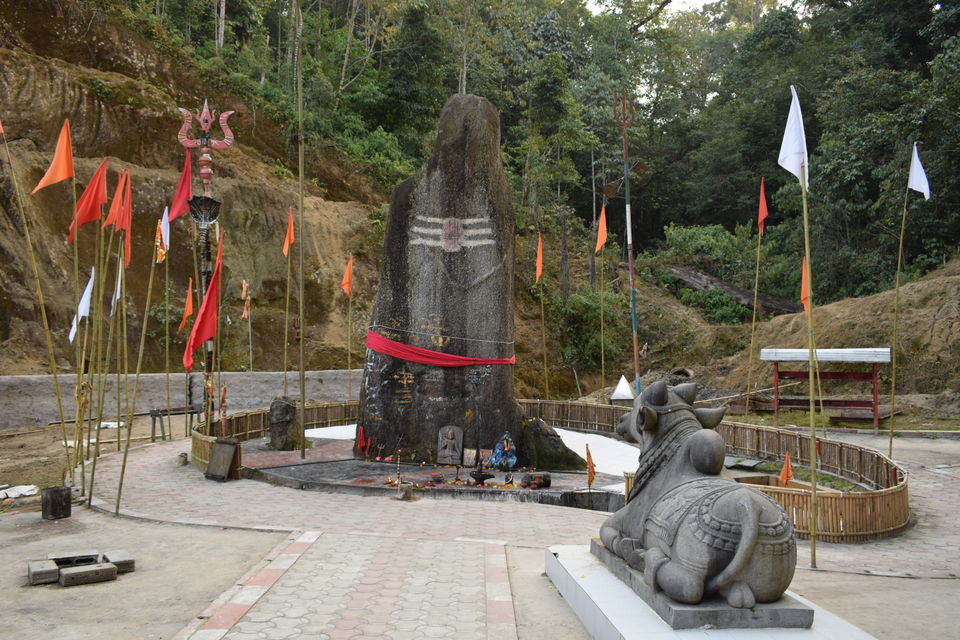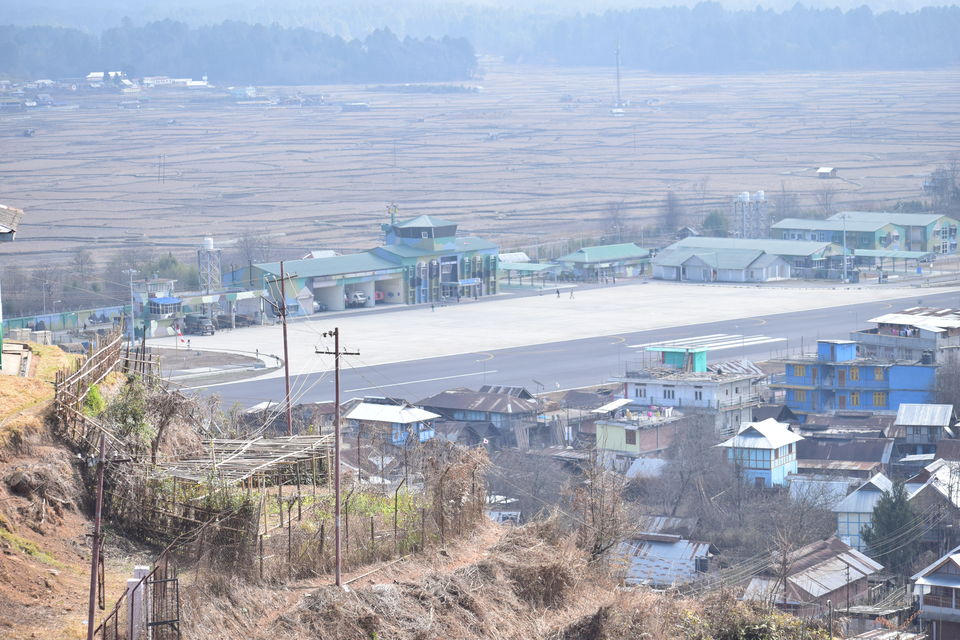 In the afternoon we visited Hapoli which is the main town in Ziro valley. The principal attraction is the state museum which has a fairly good collection of traditional dresses, head gears, weapons, earthen pots and various household items used by Apatani tribe. It's worth a visit if you are interested to know about the life style of Apatani tribe. We took a leisurely walk around the market, lanes and by-lanes of the town to get acquainted with the economic and commercial vibrancy of the place.
A memorable evening with our Apatani friends
We came back late in the evening. Hibu Tatu was waiting with his friends in the dining room. Both of his friends Punyo Chada and Pura Tama are also running home stays in the valley. While the home stay of Punyo Chada is nearby, Pura Tama's home stay is located at Kudang Barang village. All these home stays are run under the umbrella of NGO 'Ngunu Ziro'. Chada told us, "We are running the home stays without any profit for ourselves. We donate 20% of the earning to the NGO." Ngunu Ziro has been established by Dr. Tage Kano for sustainable development and maintenance of ecological balance- a laudable effort indeed.
In the mean time our host Tatu and his wife got busy in preparing Papu paro Panii. Papu means egg, paro is chcken in Apatani language. It's an Apatani method to steam chicken and egg inside hollow bamboo. True to Apatani style no butter or oil is added. Tatu minced boneless chicken and mixed with egg in a bowl. He didn't use any spice, only added a little bit of salt. he poured the mixture inside tender bamboo stems. The stuffed bamboo stems were placed on fire made of wood logs. He removed the bamboo stems after about half an hour and cracked these open. What we got looked like some sort of sausage. Papu Paro Panii, bamboo shoot curry and tawa roti-oh! What an exotic dinner. It made our evening.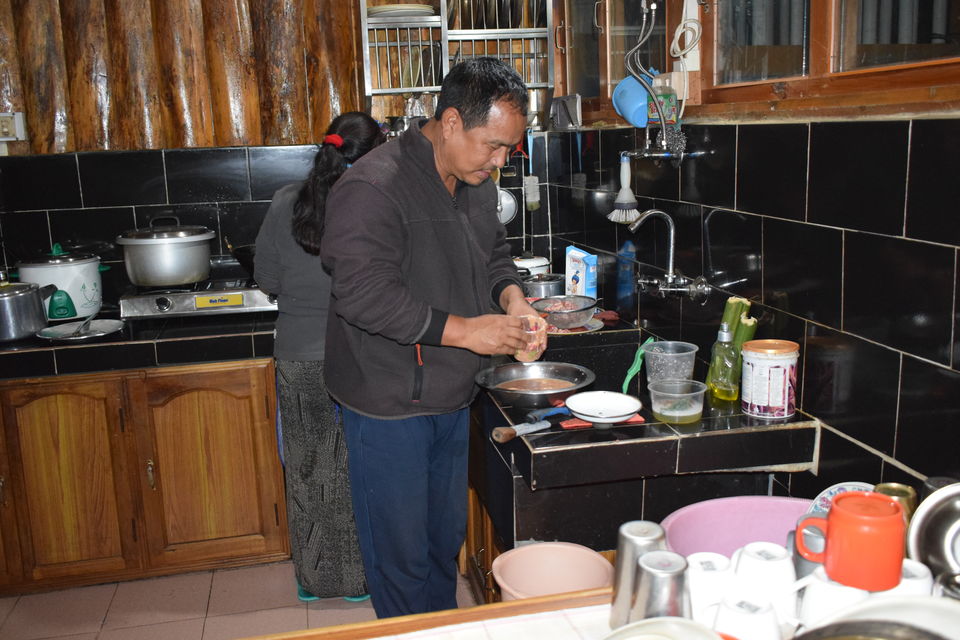 Icing on the cake was celebration of Prabal's birthday. On hearing from us that today is Prabal's birthday, Tatu arranged a cake from nowhere. Chada sang a few songs in Apatani language. On the other hand, rice beer brewed in house was flowing freely.
Punyo Chada insisted us to stay a few more days to visit Talley Valley Wild Life Sanctuary at distance of 35 km from Ziro. " Talley Valley," he said, "is the perfect example to witness the contribution of Apatani tribe to conserve the bio-diversity of the area." While the Apatanis still maintain their traditions and customs, they walk an extra mile to preserve the ecological balance. "That's why," Chada told us,"Talley Valley Sanctuary is home to some rarest species which have been wiped out from the country." There is, however, no accommodation in the sanctuary. Neither is there any transport inside the sanctuary. It's a trek for about three days. One should carry dry fruits, chocolates, torch, water bottles, sleeping bag and tent for the trek. Ziro is at an altitude of 5500 feet and Talle Valley's height is 8300 feet. So it's virtually impossible to cover the distance in one day.
Day 9-Ziro to Itanagar
we started at 10 next day for our last leg of journey to Itanagar. The distance is 110 km. The condition of the road from Ziro To Itanagar is fairly good. The road bifurcates at Palin to connect North Lakhimpur on the one side and Itanagar on the other side. Itanagar is a congested town with a well developed market. I wouldn't recommend a stay here for more than a day. Ita fort and Buddhist Gompa are the twin attractions which you may love to visit. You shouldn't also miss the Jawaharlal State Museum which has a fairly good collection of handicrafts and archaeological findings.
After my visit to Arunachal Pradesh, I have realised that tourism has vast potential here, but it's lagging behind other states commercially due to its poor infrastructure, backwardness and administrative restrictions on entry. Be that as it may, enthusiasts can find this place exhilarating from the point of view of adventure tourism, ecotourism and wild life tourism. Most important is the cost aspect. It's definitely cheaper by a fair bit than many other places of India. My only suggestion to the travellers is to keep sufficient cushion in the itinerary. The road journey is tedious, tiring and time consuming. Keep a day extra at each visiting place. You will come back rejuvenated for sure.