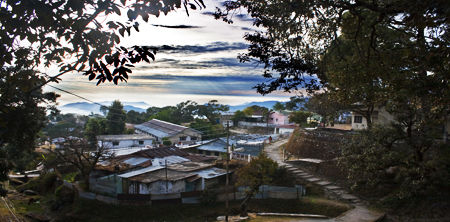 I have almost lost count of the times I visited Lansdowne. This is a place which holds special place in my heart; that is for sure. Actually, I have visited the place 26 times already!
You won't even know when you actually reached Lansdowne. It's such a quaint, little hill-station situated just off the Kotdwara-Pauri road in the Pauri-Garhwal region of Uttarakhand. It is but a stone's throw away from Delhi. You can either take the Delhi – Kotdwara express, which leaves at 9:15pm at night and leaves you at the Kotdwara station at close to 5:30 in the morning, from where there are several tourist cabs/ taxis which you can hop onto and reach Lansdowne in a little more than 2 hours or so, at max.
However, for those who like to travel by road, there is the Delhi – Meerut – Bijnaur – Najibabad – Kotdwara – Duggada Lansdowne road which is equally interesting, albeit a little boring, at times.
Lansdowne is set amidst lovely surroundings – tall oaks and blue pines rise like spires off the mountainside. The forests are lovely, dark and deep, just ideal for those long walks and picnics. There are amazing mountain views of the Western Himalayas from a number of vantage points like Snow View and Tiffin Top. A number of treks into the hillside are launched from Lansdowne, which is a popular base camp. The nature treks range from simple hiking trails of a few hours or one day's duration, to tougher climbs lasting a couple of days. Garhwal Tourism will organize these treks for you.
However, accomodation options are not many, really. There are a couple of hotels, and a GMVN (Garhwal Mandal Vikas Nigam) Tourist Rest House (TRH) which is really good considering it's a Government Guest House. You can visit it's website online and book your accommodation easily, so as to avoid last minute hassles. If you do visit Lansdowne some-time, don't forget to pay a visit to the following places:
- Tiffin-Top & Snow-view point
- St Mary's and St John's Church
- Boating at Bhulla Lake
- Darwan Singh Sangrahalaya
- Officers' Mess Museum
- Bhim Pakora
- Tarkeshwar Mahadev
There are many places that you can visit once, in Lansdowne.
Lansdowne is one of the most beautiful places to start your journey upwards towards the higher terrains of Uttarakhand.It has been my favourite destination for quite some time now (for more than 6 years, if I remember correctly), and I keep visiting this place time and again to relive all the old memories.