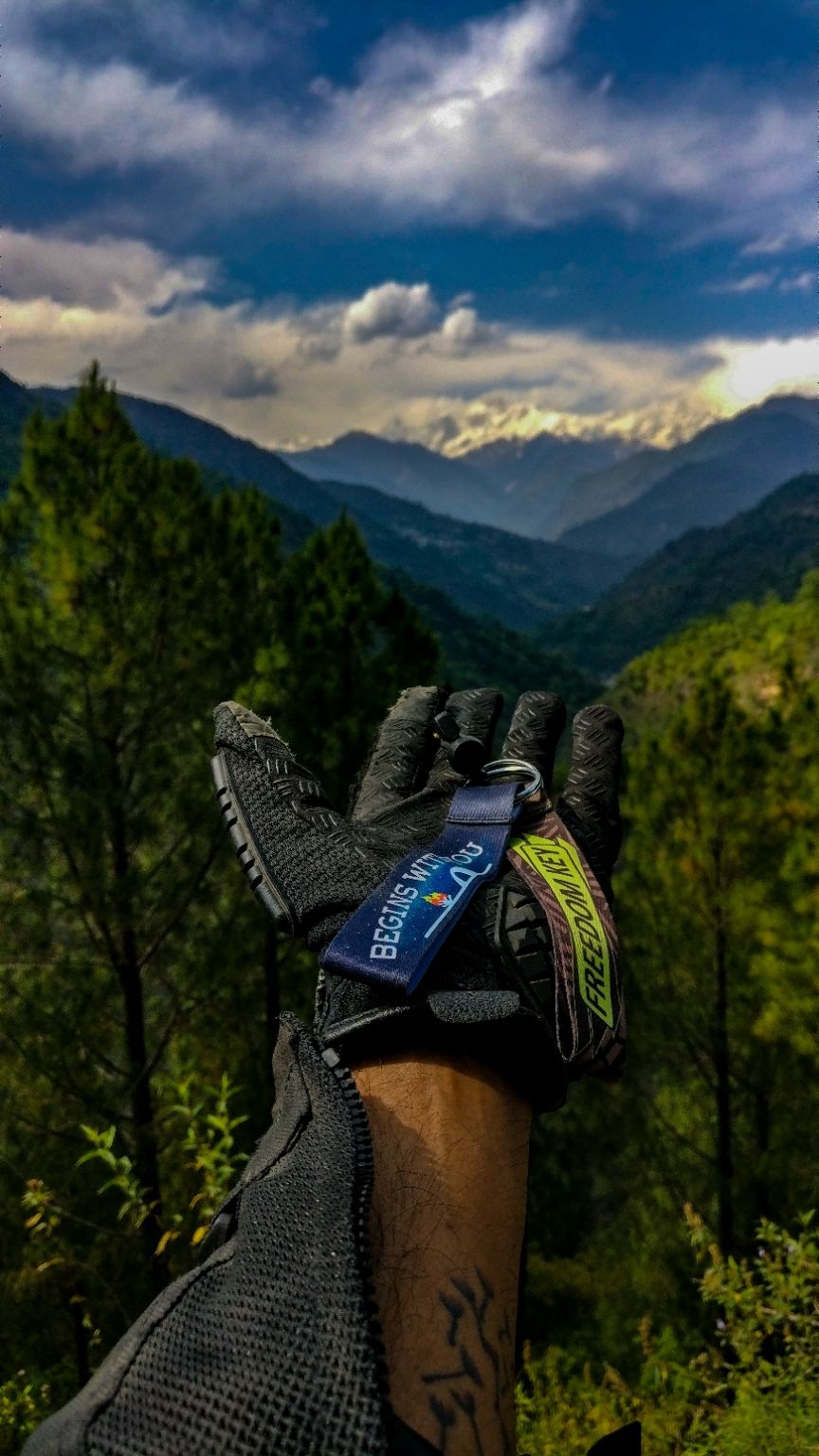 Started Journey for Lansdowne. Planned to start by 4am. I was sleeping sooo... started at 8am hahaha. 😝
After few stop by reached Kothdawar. Hill started .
+
Happy me. Lansdowne road was awsome. One lane two way. Pink pine ,blue pine, green orchid trees are covering road. I felt so lovely as it's suddenly became a road trip like I always wanted(covered with trees and few hi bye of sunshine)
I reached the destination Lansdowne. It's a military base place and at hill station.
+
Awsome road trip if you like roads covered with colourful flowers, trees and green trees or want to experience a long road a colourful road.
+'Tip-Top' point at Landsdown was so clean. Ummm...
I thought of staying there but decided not to stay . So researched and fixed a place to stay ,Srinagar.
Started Journey by 4 pm .
My cruel intentions started. I decided to ride at night through hills .
Road started . I swear if you who love road trip. Please ,once you should take this road to give a great add to your journey list. Awsome roads pals. I have few pictures.
You saw the picture right !! Clicked those and started again . Just down there I got a dhaba ( food point ) ...yeaaah Maggi , tea, rest for me and my cheeta ( bike).
Joint 😋 I got it from a guy who came in family trip with his father and brother . Both brothers were smoking . I smelled and shouted "maal hain kya?"
They said," bro please !!! Father is inside dhabaa , just keep it quiet"
I can't disobey them. 😆
Ohh I am high. Almost cold . 5pm . Nice valley view. Less people .
Yeaaah !!Maggi calling . Had Maggi and followed after tea.
Still high . 🥺
Had conversation with shopkeeper about me and where I was going . He suggested me not to go to Srinagar as I was already late. I should stay at Pauri.
There was a bed outside of the Dhaba just beside the road.
It's already cold . Birds were singing , green allover , golden light of sunset giggling .
Now guess what ...I slept for 1 hr,,, could have been more if shopkeeper was not that kind.
He woke me up and said " You are more late , now leave and he suggested me another place few miles before Pauri." According to him I would reach Pauri by 9-10 pm and weather down there was horrible.
But who listen to good people and good suggestions. 😈
Now the adventure begins.
Roads and views were becoming so beautiful I started cruzzzzing my bike in 30-40 kph . Forgot time and my destiny . I suffered later for this but this road trip and suffing both became memorable for me.
All are dark . I barely can see road . Rain started .
Now adventure of Google map started. Told me to take right. I took , showed the faithfulness. Off road started . I doubted but I love you google map. Ended that off road with a suicide point. No more road no more land in front me. Behind me, in total 3 houses. Still google map was suggesting me with doted blues , 3 mtrs from where I am standing . It's 8:45 pm . I took U turn . Knocked one of the door. One old lady came out and told me that this was a wrong place . I need to go back to main road and from there 24 km more Pauri is.
I started again.
I was bit in mental trouble for what happen before.
Nothing and nobody on the road. Rain became heavy. I could hear storm but no sign of it. There was long turn I can see. Took that and OMG happen. Storm.... as I was at other side of hill I only heard storm , now I can feel bike is displacing. Started riding close to hill to avoid storm. Later I found that's a bad decission as land slide could surprise me more.
After more 18km I found Pauri is 4 km more. Relief .....aaah.
At a T point I saw a hotel. I am intelligent , so I stayed at hotel instead of going to Pauri.
Hotel staff was so nice. I parked my bike. Completely moisturized in rain and mud. I won't say "I am drained in rain because I love rain."
Food was good.
I took one staff with me ,started my bike and went to Pauri .
Guess what !!!?
for wine.😝
It was freezing cold. But excitement calm down every struggle. But my legs were rude to my excitement as they were almost numb in freezing cold.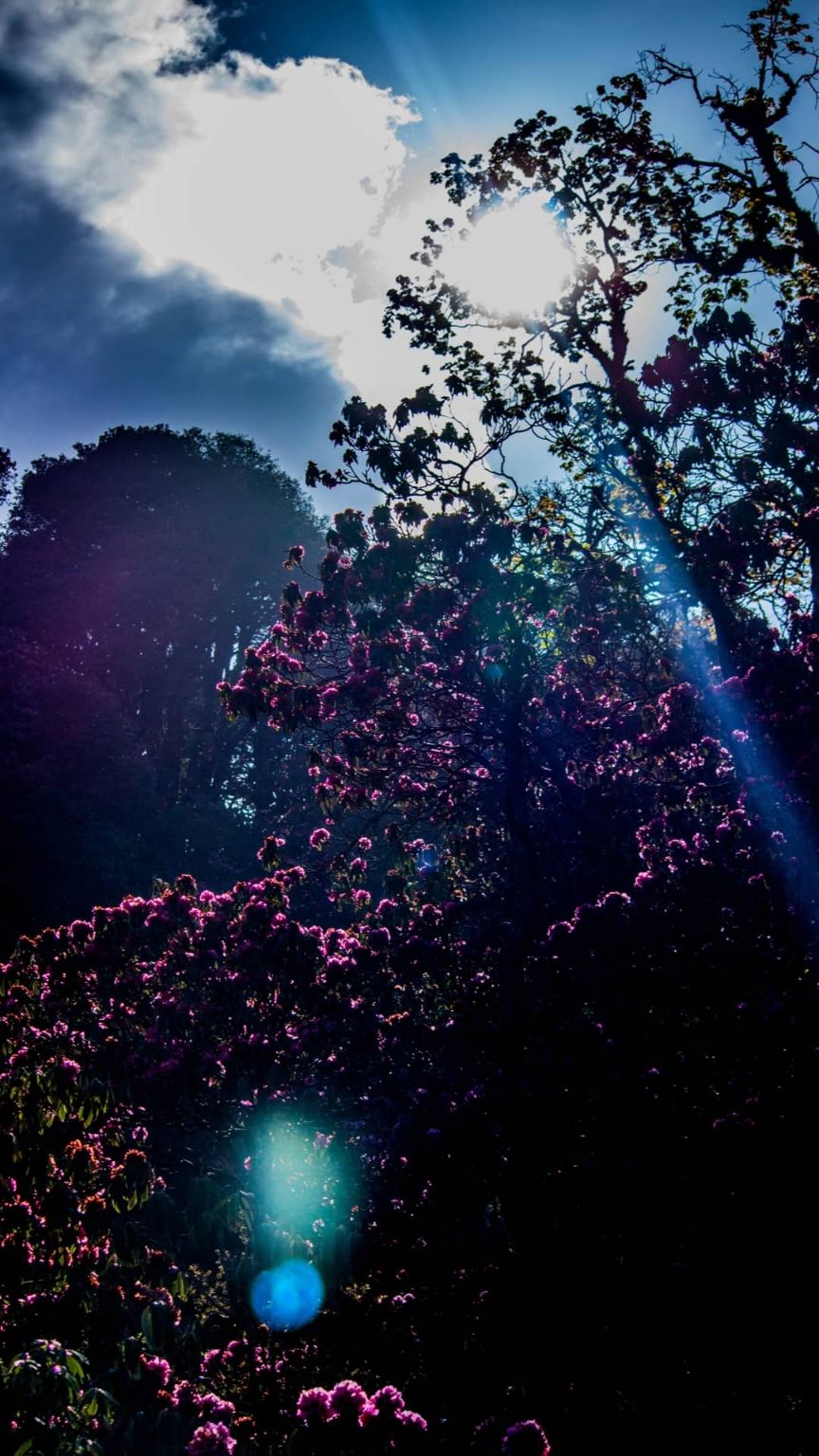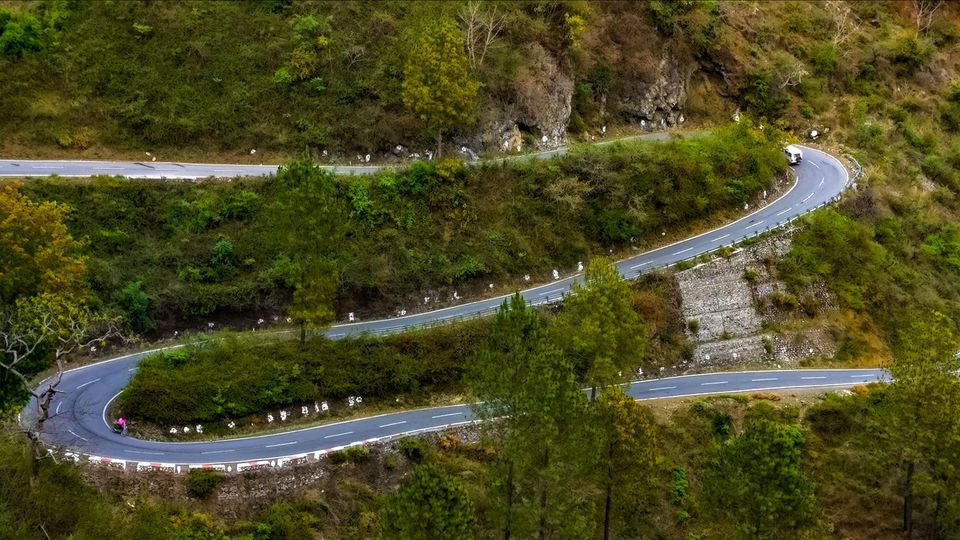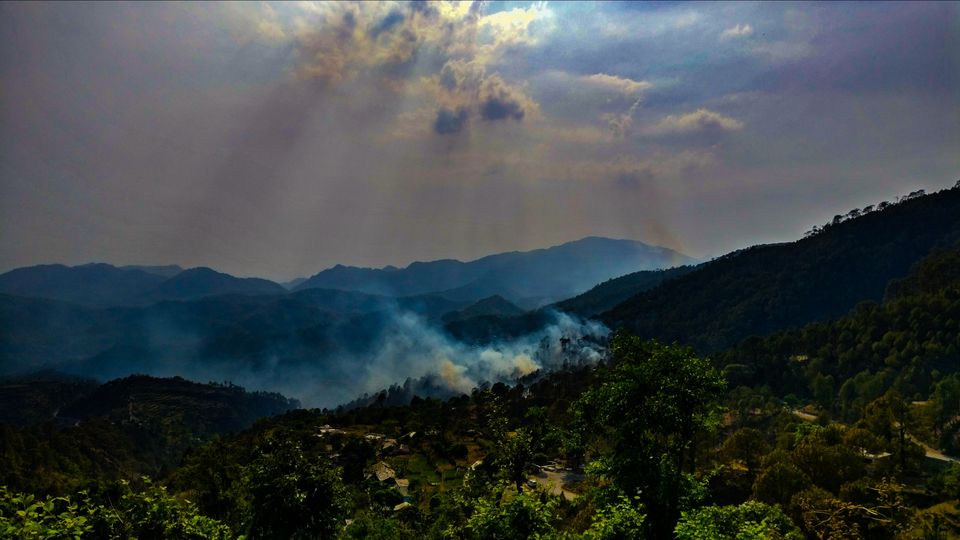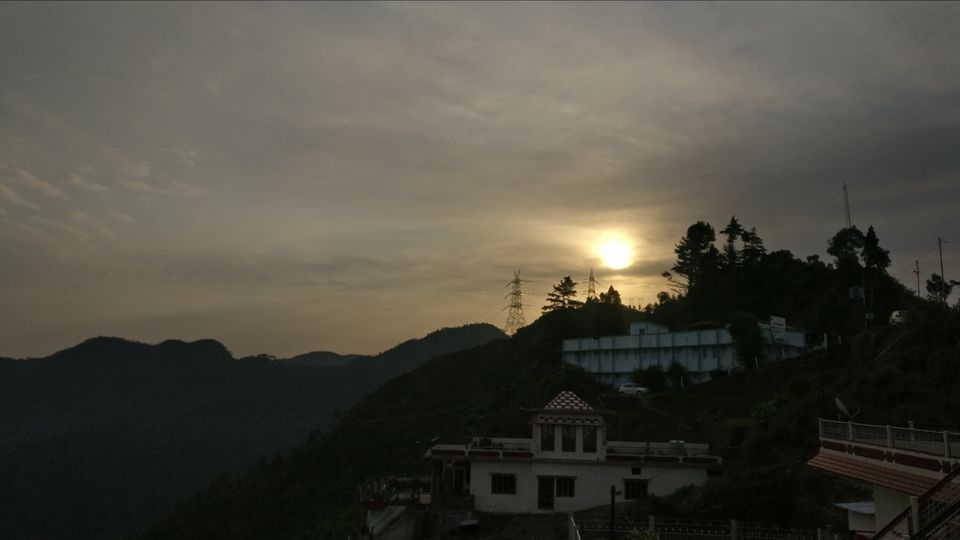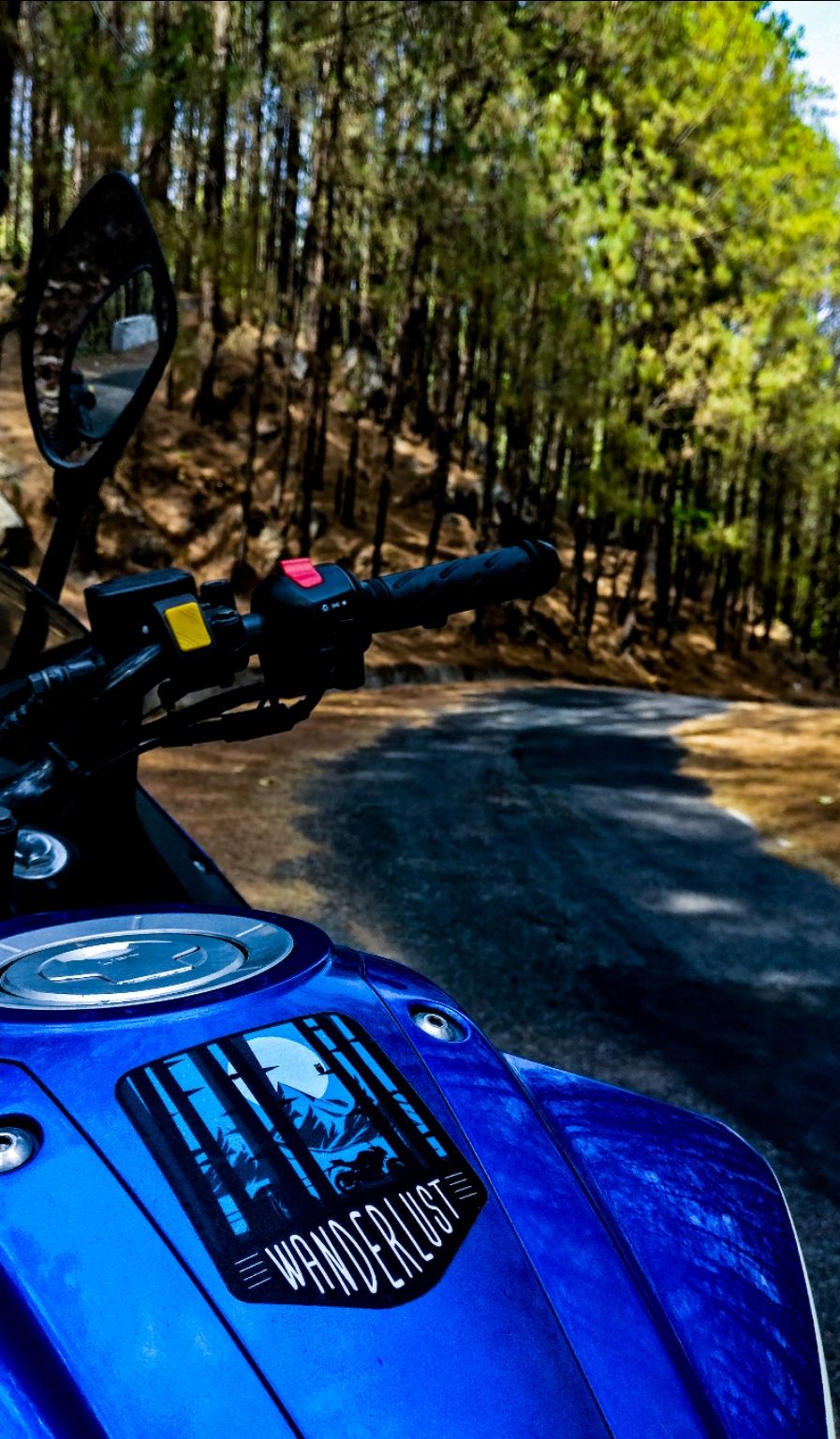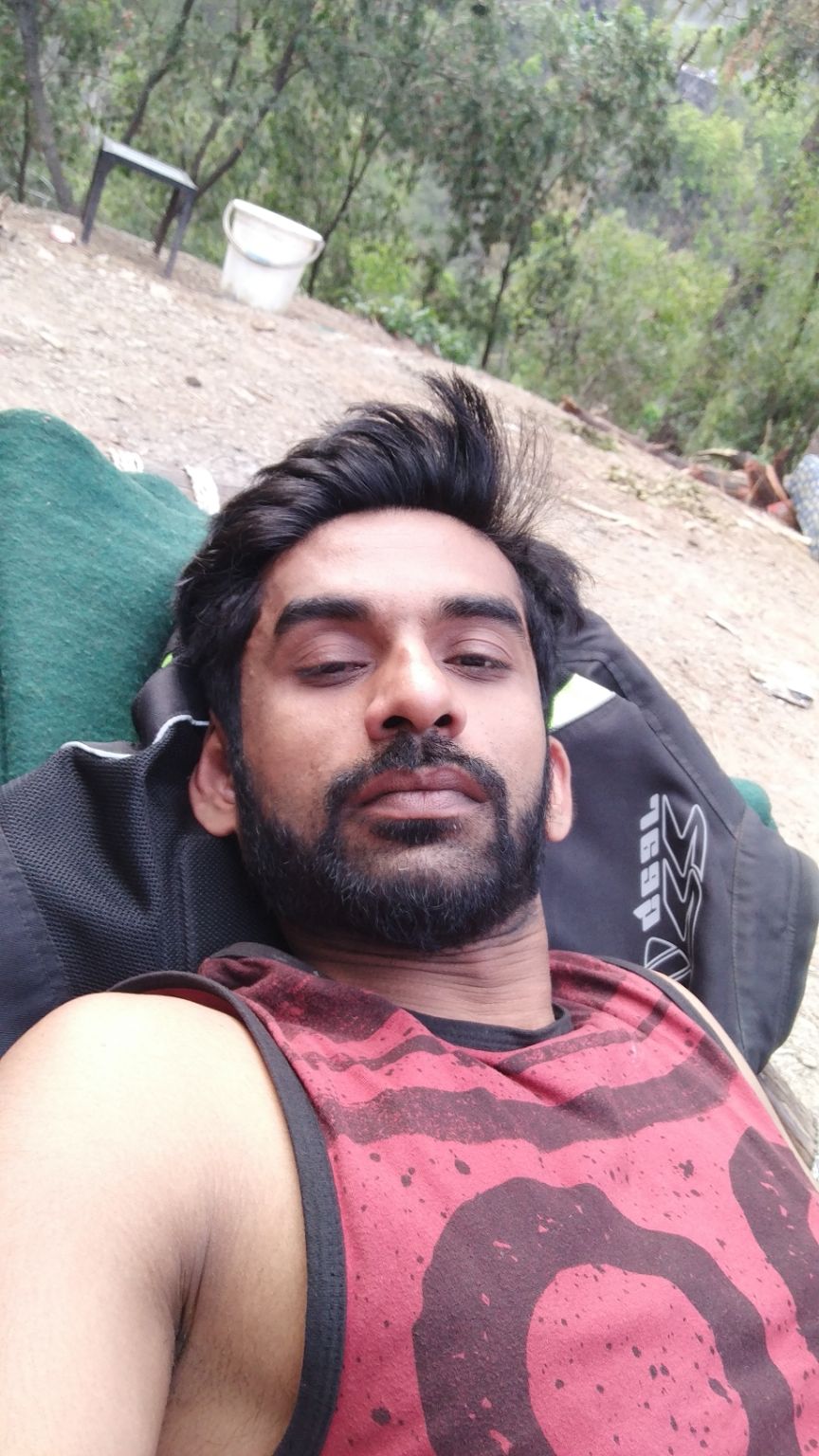 Hi good good morning all.
I came out to main gate of hotel. Climb up the gate as it was closed and I gave sweet to go back ask someone to open it for me."I need tea , toothbrush, toothpaste."
Nice start , again climb up the gate to get in. 🤪
Brkfast time 🍛
Stated for Chopta.
Long long journey , really really beautiful roads and view, spring with colourful flowers.
From Rudraprayag off road started.
Got ping from Rashmi for few nonsense office work I saw her ping when I stopped for lunch. I hate office things when I travel.
Her ping was in some different way so that I think she caught me, I was outstation atleast .
After lunch took a picture of that river to send her and tell her ..
but I stopped as I wanted to keep it as a secret trip.
I found a road where no road actually. People separated river's way and made own way. I found it's cool.
I saw a board shortcut to Chopta, 45 km. I took that .😝
And oh my god , OH MY GOD.
I first time met the natural beauty.
True green ,Fresh air , Cold weather , off road sometimes smooth , peace in breeze touching your skin and you are driving alone .
All was good untill the T point came. Hindi sign board hand written too many directional arrows. One towards left one towards right one is also toward sky and the irony was google map was telling me to take a U-turn.
I told you I am intelligent . I took a break . 😂😂🤣
One car came, owner told me "take this road.... it will lead you to Chopta" . I believed and started . Coz I didn't have any option than believing people's opinion .
After a long long ride . I took a break .
I started again ,Shreya my office friend called me for a weekend plan. She took away this secret trip. 😝🤣
Going on going on.
Chopta ⛰️🏞️
Aaaawww it's awsome almost 7 hotels there. I got a room too. So peaceful . It's almost evening sun was waving off to welcome cold 2°C.
Sunset at Chopta is outstanding beautiful . There is landscape just a few metres down to road from main point . Sit there and enjoy the evening.
Cheap and nice hotels , people are awsome on first meeting I felt .
There's is no mechanic for car or bike . If you are traveling take your backup with you.
Camping is also there. You will find on the road .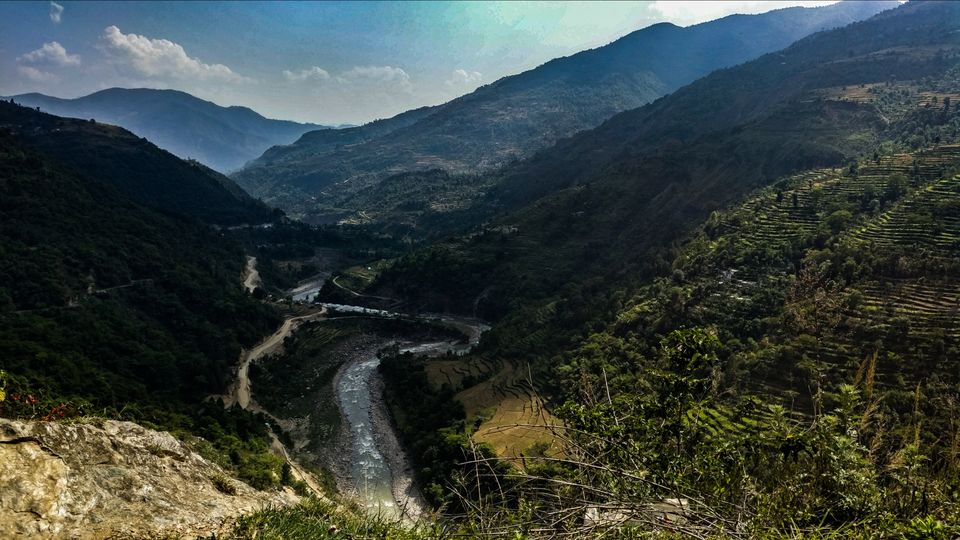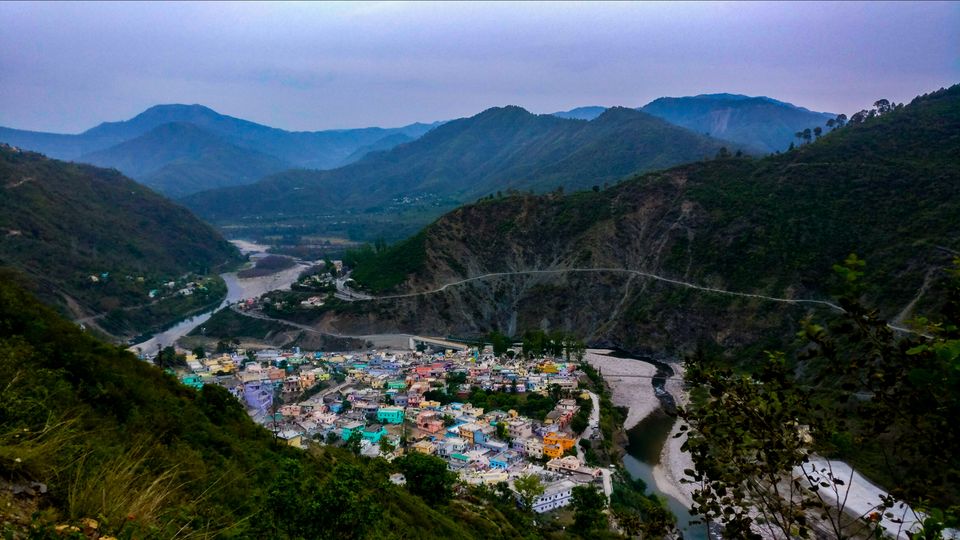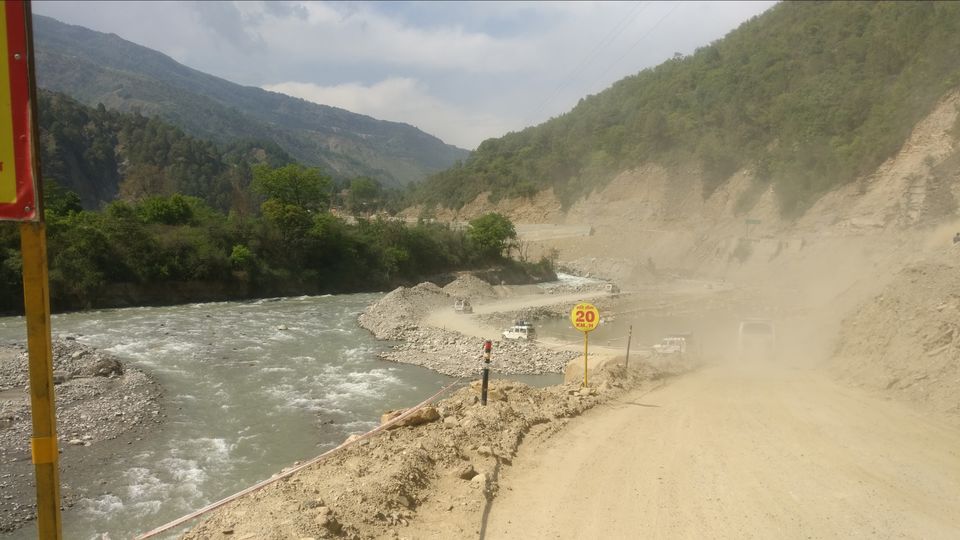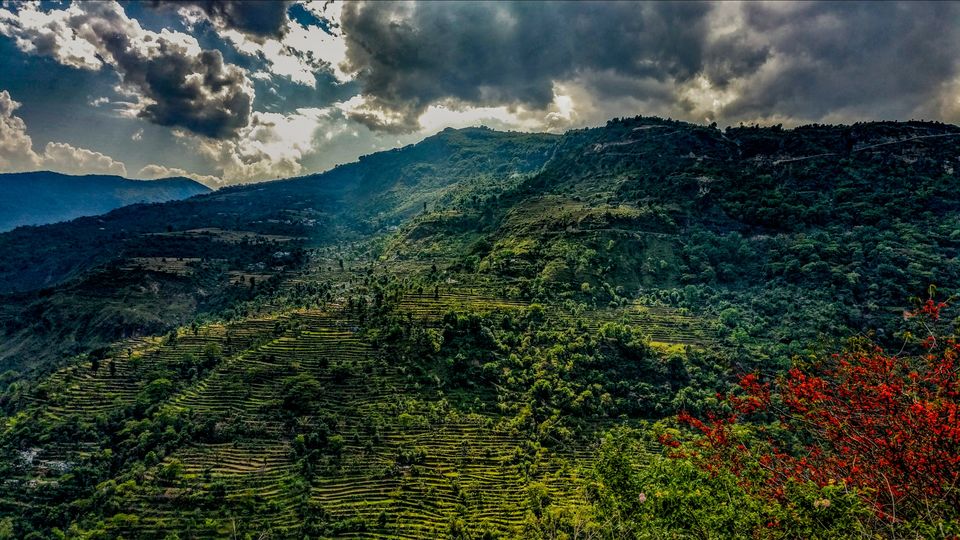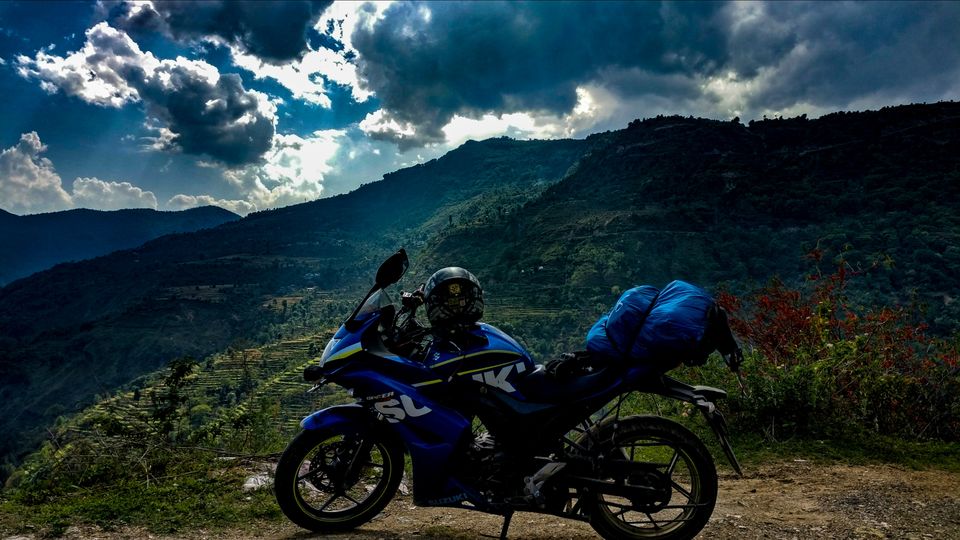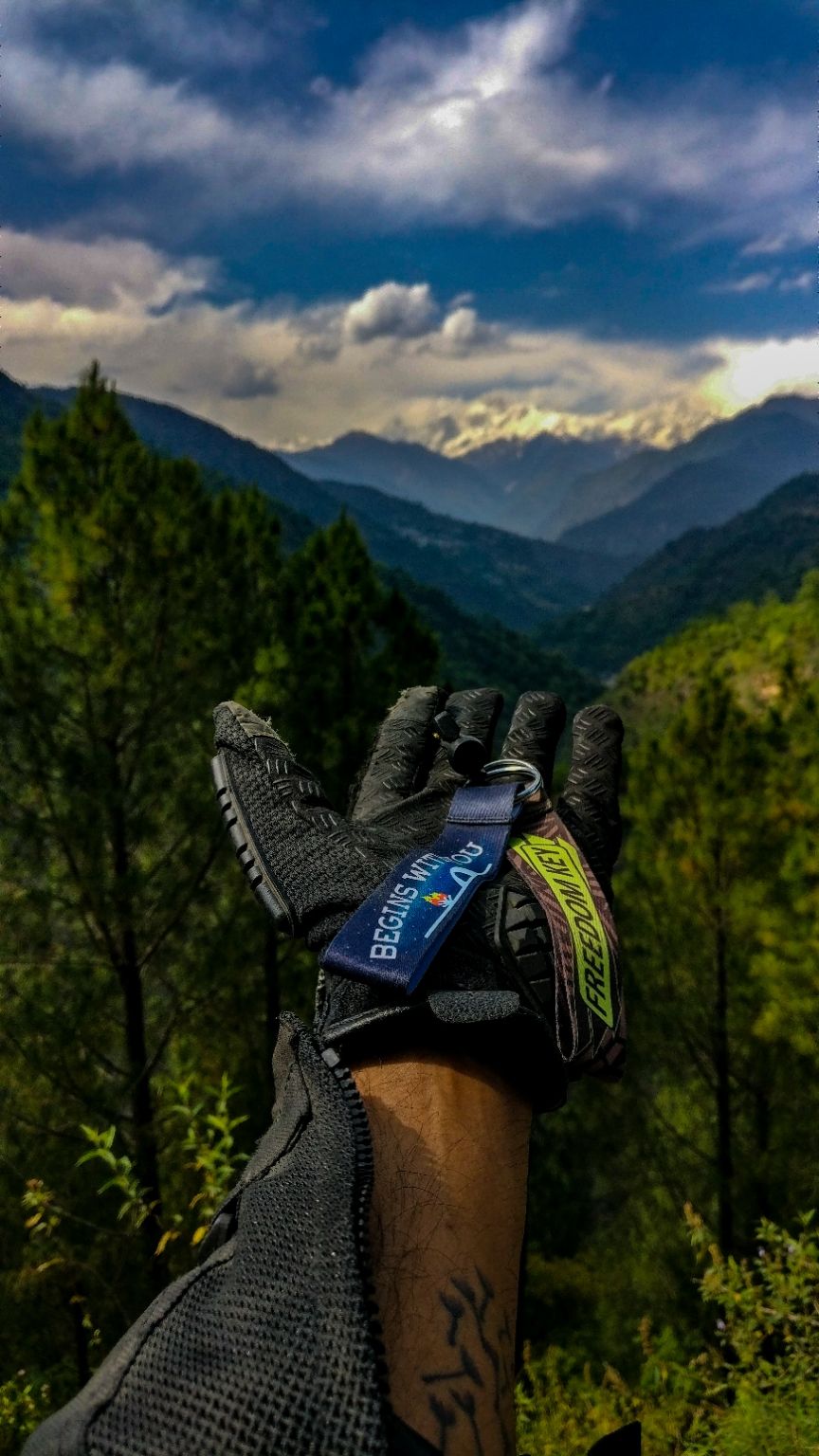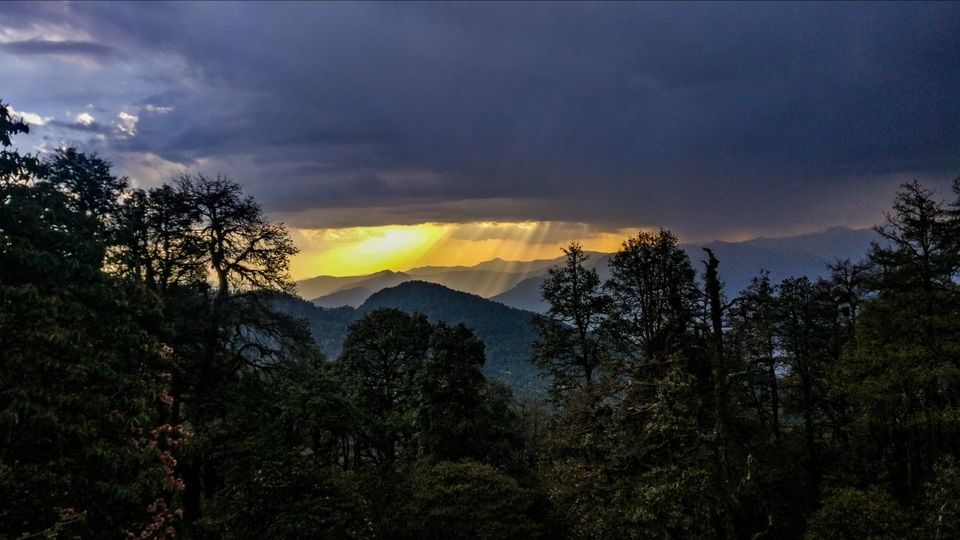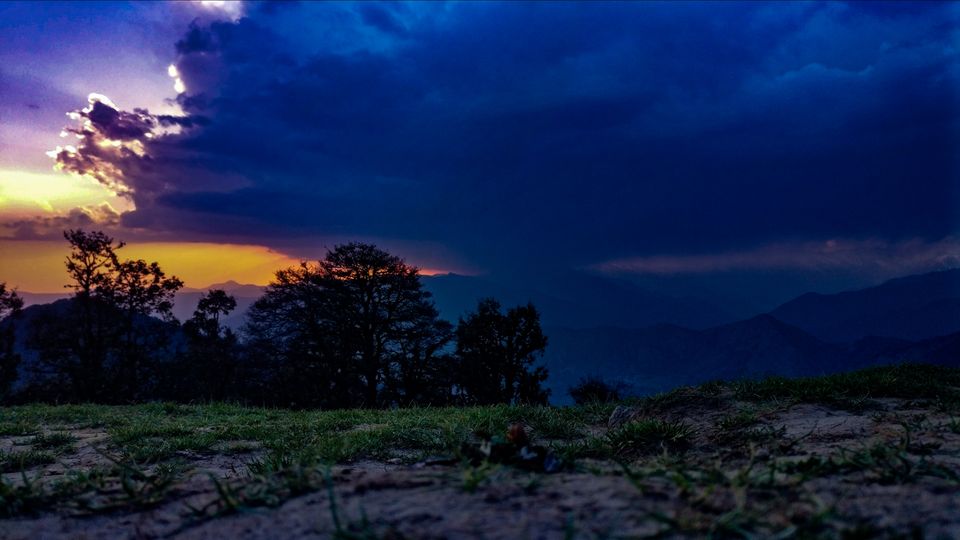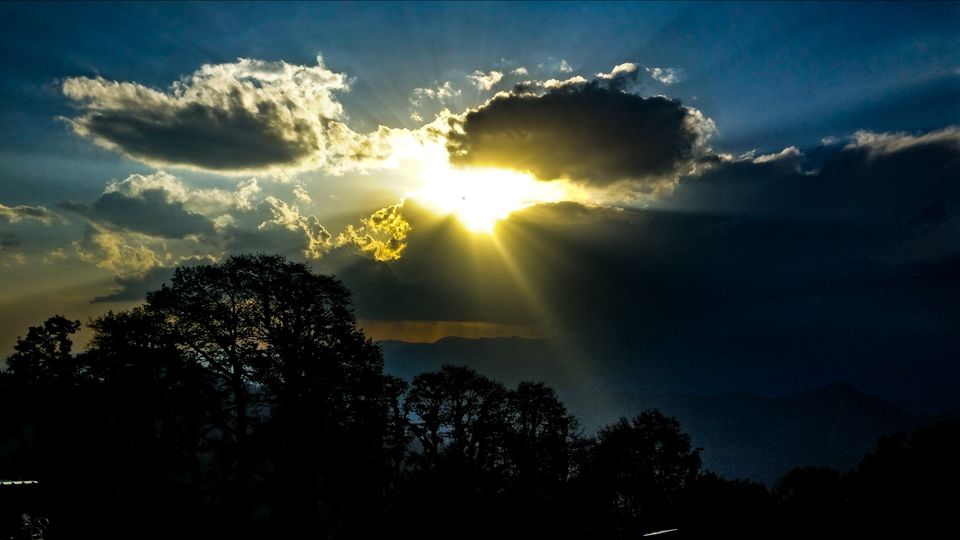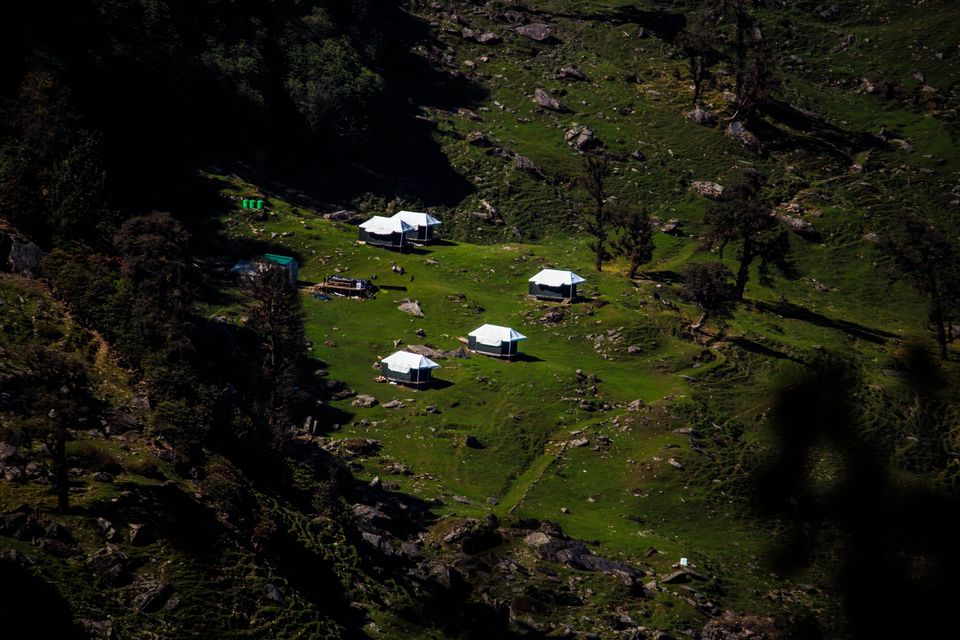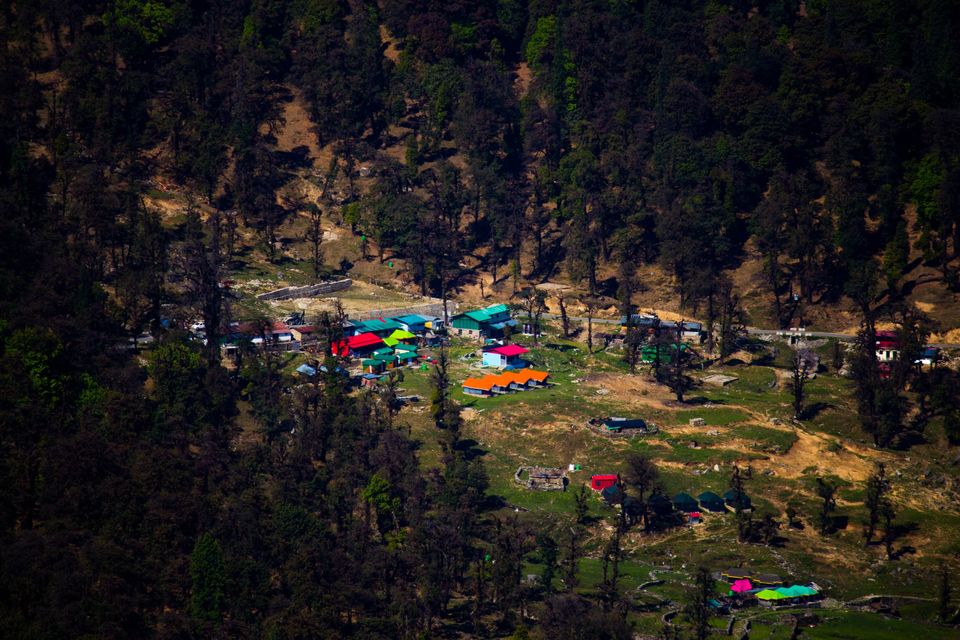 Tungnath Temple , Chandrashila :
8 am stated . Okaaay I am always late. Tadaaaa
Nice trecking. You will or should stop by a lot many times to feel the nature and it's beauty.
Take lots of water and food with you. It's 6km only but its too stiff . Khirganga is easy though.
You will find shops during your journey . I got ice.
Not for peg but fresh show to play.
Reached Tungnath trample a word's second highest shiva temple. From there another pick Chandrashila point . It's like hell. No path ,all are covered with snow and if you look straight up you will see people are climbing almost vertically to you, eee. Refer pic for more. I wanted a dog sitting beside me.
Almost done .
Came back to my place. Next day way to home.