Thailand was a trip done in August but somehow I am writing about it in December. Yes some of the memories are hazy now but the important ones completely haze proof :)
So yet again this was a girls trip with three of my closest friends. I am so damn lucky to always find women who are fiercely independent, broad minded and absolute fun to be with!! We covered Phuket and Phi Phi. Phi Phi islands are very close to Phuket. The map below shows how big Thailand actually is and how we chose the quieter option.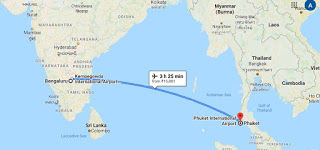 We planned Thailand to be a semi leisure, semi adventure sort of a trip. We had no itinerary planned, we had our to and fro tickets of course, a kick ass Airbnb booked and that's about it. I cant rant about the house enough. It was a three bedroom, pool facing (Yes we had a private pool), open kitchen, full length glass doors, amazing cutlery and amazing host Villa. Loved it, Loved it, Loved it.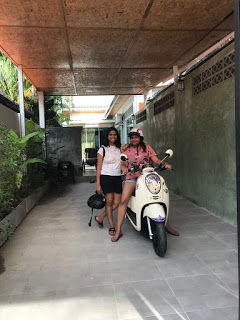 This is the entrance of the villa. By the way you can rent scooty also quite cheap there for around 200-250 Thai Bhat per day.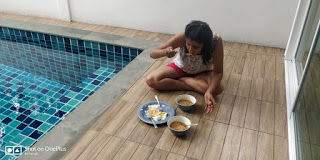 Our super awesome pool side area where we would regularly have self cooked comfort food - soupy noodles and omelettes (lots of them) and bread of course.
Day 1 was mostly settling down, jumping up and down in the villa and relaxing in the pool. By evening the whole gang had come down and we decided to hit Bangla Road that day. Now I am sure there are many stories and versions of this but I think it mostly is suited to what one wants to explore. For me it was a street filled with freedom and surprisingly extremely safe also. There are too many bars/ restaurants/ clubs (all kinds) on both sides of the street but not once did I see anyone mis behave. It is one of the most accepting and free streets that I have see in my life. We crossed through a random street open cafe sort of an area; where we became friends with some spanish folks. Together we danced to the music and had so much fun :) There is this concept of mini bucket liquor as well which is cool.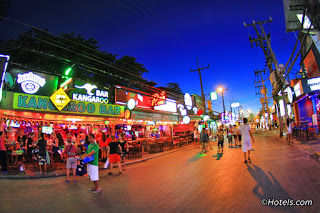 We explored the city today. We went to a near by area which was something like a dam, we saw some accessories and handicraft. You will find enough 24/ 7 stores which makes it easy for Indians to shop things which are familiar to them. Yes Indians are also non vegetarians but the scope of non veg that we saw here was next level. A very interesting sight are the local fruit shops who will cut fresh fruits and give to you (do try the local/ unexplored ones - they are delicious). The sea food market is definitely worth a visit. Being a semi vegetarian I had hardly seen anything like this before.
Sea Food Market. All varieties in their preferred accommodation options.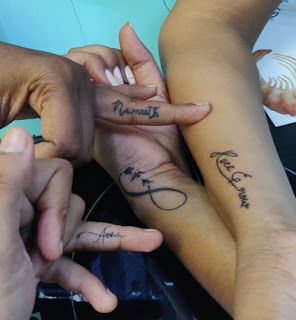 All of us had also wanted to have a tattoo sometime in our lives, sort of a checklist. Here we just went ahead with it. Mine is the "Here & Now" one.
Phuket is also famous for its Ladyboys. They are these beautiful, very well dressed elegant men who give extra ordinary stage performances. The cabaret shows of Phuket are really famous - Simon Cabaret being one of them. It is an experience which can be compared to going to "Kingdom of Dreams" in Gurgaon, India. The costumes were as jazzy as it could get and there were legends being played combined with Bollywood Songs (Unbelievable right, I know!)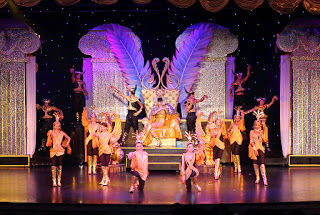 Day 3 is really exciting for us coz its Phi Phi time. You get really good cruise speed boats which can hold up to some 8-10 people. It is a whole day package in around 3000 Thai bhat per person with food and drinks included. The water is simply amazing. Blue and clear like anything. The island is of course beautiful but the journey more so. You cross through these amazing rock formations, you cross through the Viking Caves which are famous for their legendary paintings. The legend says that during war times soldiers would camp in here and whenever they would get stuck for long such paintings would become a reality.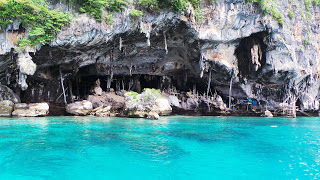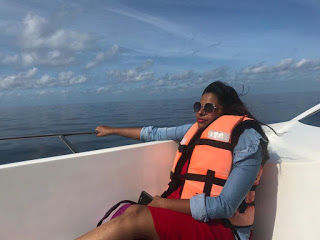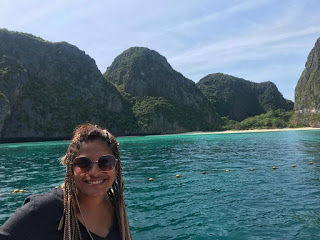 The green mountains and the blue water
Phi Phi islands is a beautiful full of life island. You have so many shopping shacks to shop anything and everything. You have amazing dining options and amazing drinking places as well. While coming back we did snorkeling. For me it was an achievement coz in Mauritius I had terribly failed at this feat. These are the times I guess when you start falling in love with the alternate universes - the underwater world is beyond words.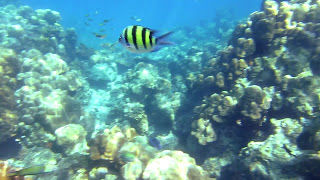 This image is closest to how it actually looks under water.
Now I dont remember the exact turn of events but I will cover the important parts. We explored the local markets of Phuket. I think it was a Sunday and we were really lucky to go to one of these Sunday Street markets. Imagine stores on both sides of the road, in the middle there is another line of shops which are mostly selling art and local food. Couple this with awesome bands playing on one end and artists painting on the other. It was spectacular. The whole vibe of the place was amazing - colorful buildings, aroma of all kinds, shopping of all cheap and expensive type - for us girls it was a treat.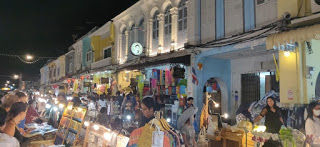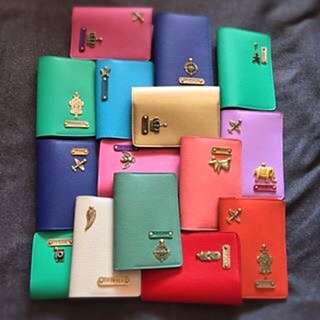 You can also get a lot of personalized stuff there like diaries and passport covers. My other favorite was the hand made cute elephant/ moon/ star earrings that they had. Enough options to bring back love for my folks here.
Sorry I jumped straight to the market :| We actually started with going to a hard core sea food restaurant. All my non vegetarian friends had had enough because of me so far. So now it was my turn. We go to this restaurant which has all eatable things in aquariums from octopus to lobster to crabs to what not. They loved the meal there, I love the way these dishes looked <3.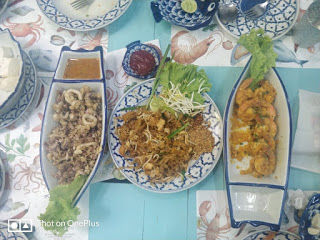 These are squids and shrimps and something else I donno. The cheese oysters looked amazing.
From there we went to this really nice cafe - Highly Recommended "Tunk Ka Cafe". It is located on a tiny hill, surrounded by greenary and clouds. The cafe itself is huge with internal stairs and indoor/ outdoor balcony. They have a dish which is basically toasted bread bites with condensed milk and sugar on top - Yumm. Do go here for the view/ for the nice yellow lights/ for the hearty staff and for peace.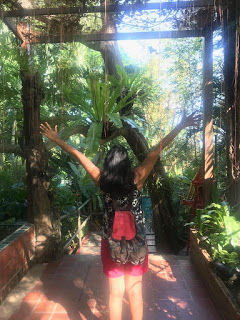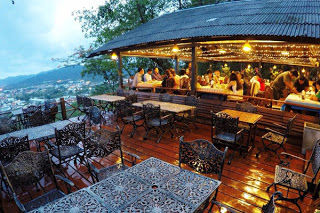 Last but not the least, the Thai Massages. They are so not over rated. I am a person who hates all such things but the foot massage I took in Thailand was simply Wow. The Thai Aunties just know the right pressure points. I would suggest to shoot the budget up on this and go to a really nice uptown massage parlour. They offer you damp mini towels at the reception with green tea and some local candy. The whole experience is totally worth it.
Here I come to the end of my trip. You have direct flights from Bangalore to Phuket so that is really convenient. Local transport can be a scooty or a car on rent. The Airbnb staff is super helpful in doing any of the cruise bookings. Largely for me Phuket was one the safest and carefree trips. You can actually go there and not just travel but really live. Happy Travelling!
Budget - approx 50 k per person.
Image Credits - Girls and Google open images.