I always have been fascinated by blue water and serenity of nature. So at First I decided to travel to Maldives, but due to some time constraints and other issues our direction turned to Thailand .. an amazing land.
On day first we boarded our flight from Ahmedabad to Bombay at night. We have made all our bookings through travel agent ( which one can make by self - I came to know after experiencing the trip ).
At Bombay we have had halt and later caught flight to Phuket. On arrival at Phuket airport we had to get Visa on arrival ( for E-VOA one have to apply for Thai pass jn advance and it takes 48 hours to process. Get all detail and apply here https://tp.consular.go.th/ . For Thai pass one requires vaccine certi, international travel insurance, booking detail of hotel and of course return flight ticket).
One thing I liked most is cooperation by airport staff and helpful nature of Thai people. It took us 1.5 hour to complete all formalities and then we came out of airport where our sharing cab was ready to pick us up to Krabi. Yes little bit of language barrier could be experienced as many people talk in local Thai language.
From Phuket to Krabi it took 2.5 hours to reach our resort. The roads and long trip were quite enjoyable as scenic road side jungles and views couldn't let you get your eyes off them.
Krabi is almost 120 Km from Phuket and in mountains along with sandy beaches. Atmosphere there was little cloudy but calm and cool in June.
note : convert INR to Thai Baht from India as in thailand currency conversion is little bit costly. Also one can use international credit/debit/cash cards at some places ( with 3.5% tax). But you can withdraw any amount of cash from any ATM with 220 THB fees - which is the cheapest option.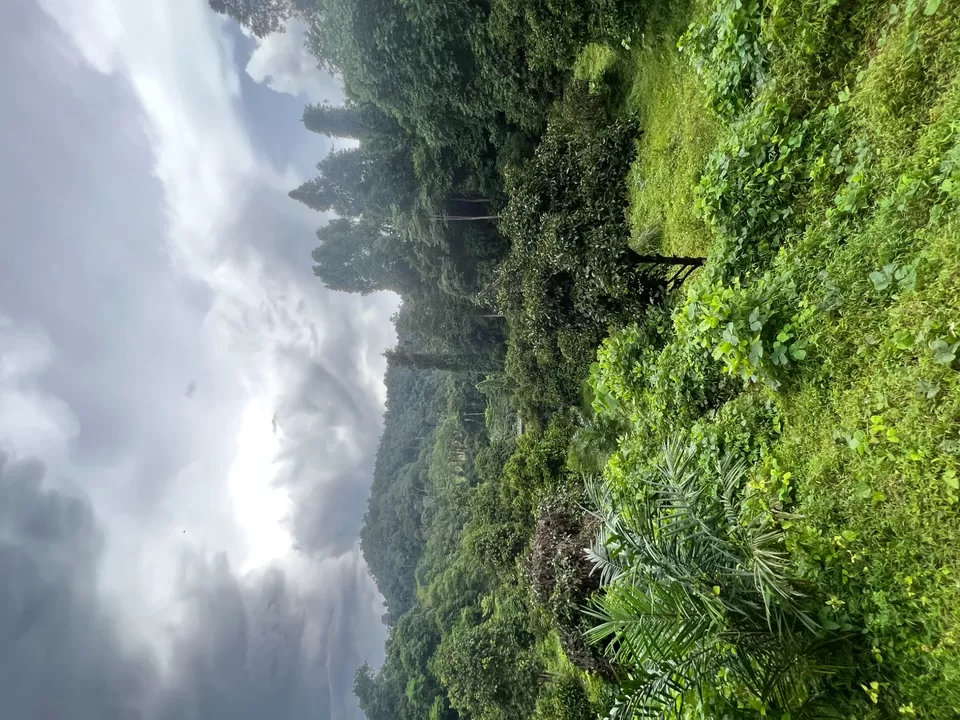 on 5th of June we had four different islands tour nearby Krabi. Mostly all tours start at 8:00 pickup time so one can get little less time to unwind. One good thing is that Thai people and all local tour operators are punctual in time, at least more than us. We were transfered from resort to beach were speed boat was ready. One can book long tail boat also. And if you are arranging everything by self , you can find many local sightseeing tour operators' desk around Krabi market ( no worries).
We then sailed on blue water and had some amazing views and clicks. First at Railey bay beach where many foreign tourists opt for rock climbing.
Then at two other islands where water was so crystal clear that one can see bottom of the sea with bare eyes. So soothing and calm breeze over beach can transform you in someone else.
After that we went to chicken island were water was almost 3 meter deep and boat guides provide us life jacket and snorkeling tools to experience shallow dive in blues. All that was amazing.
We were then taken to Ko poda island were lunch was provided by tour guide ( boat operators) . Yes.. here vegetarian food ..especially Indian food is very hard to grab. So satisfy yourself with veg sandwiches and fruits.
Ko poda island has mesmerizing beach view almost similar to James bond Island.
Day trip ended with some good clicks and lots of memorable views at 4 in evening. Rest day spent at resort and evening in local market at Krabi.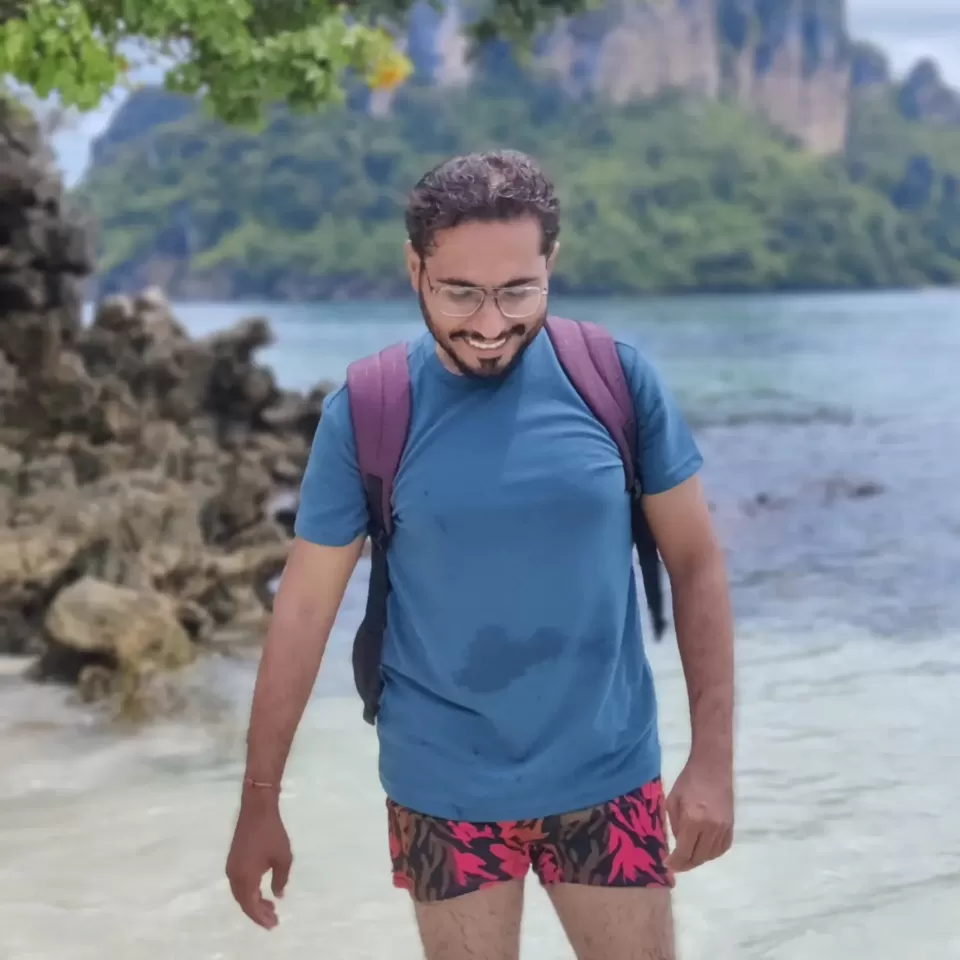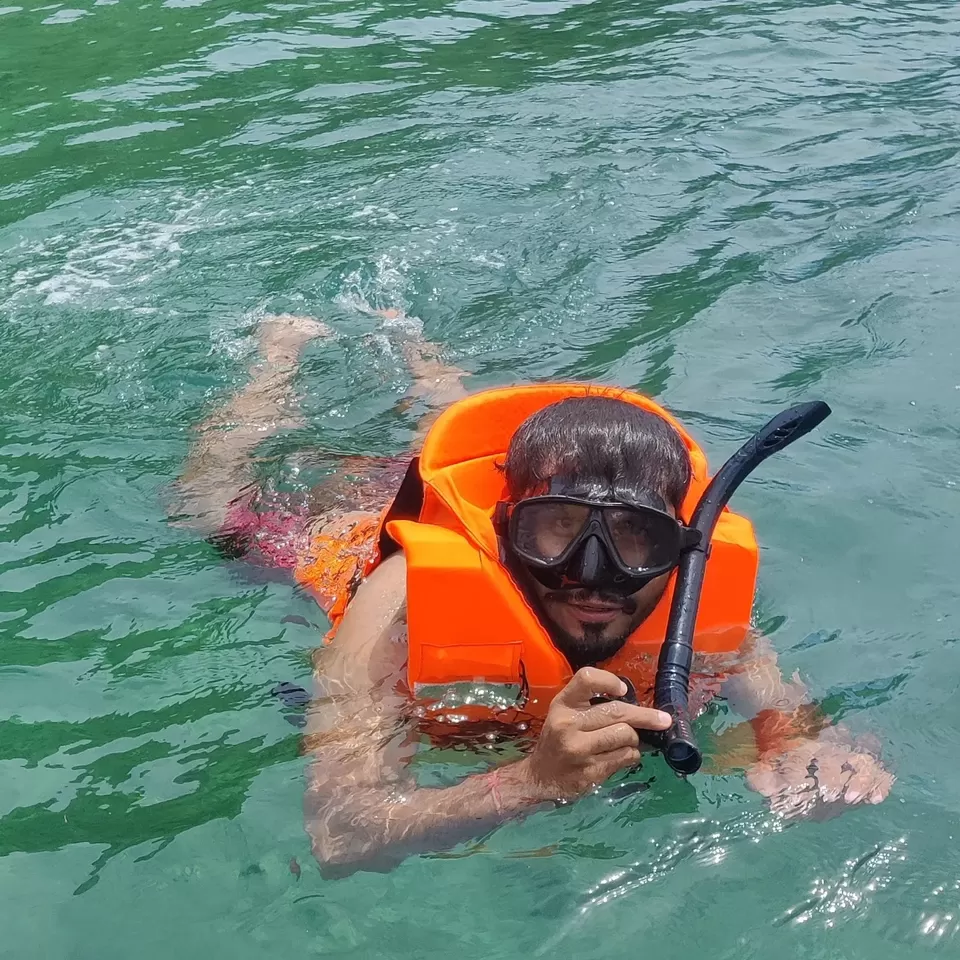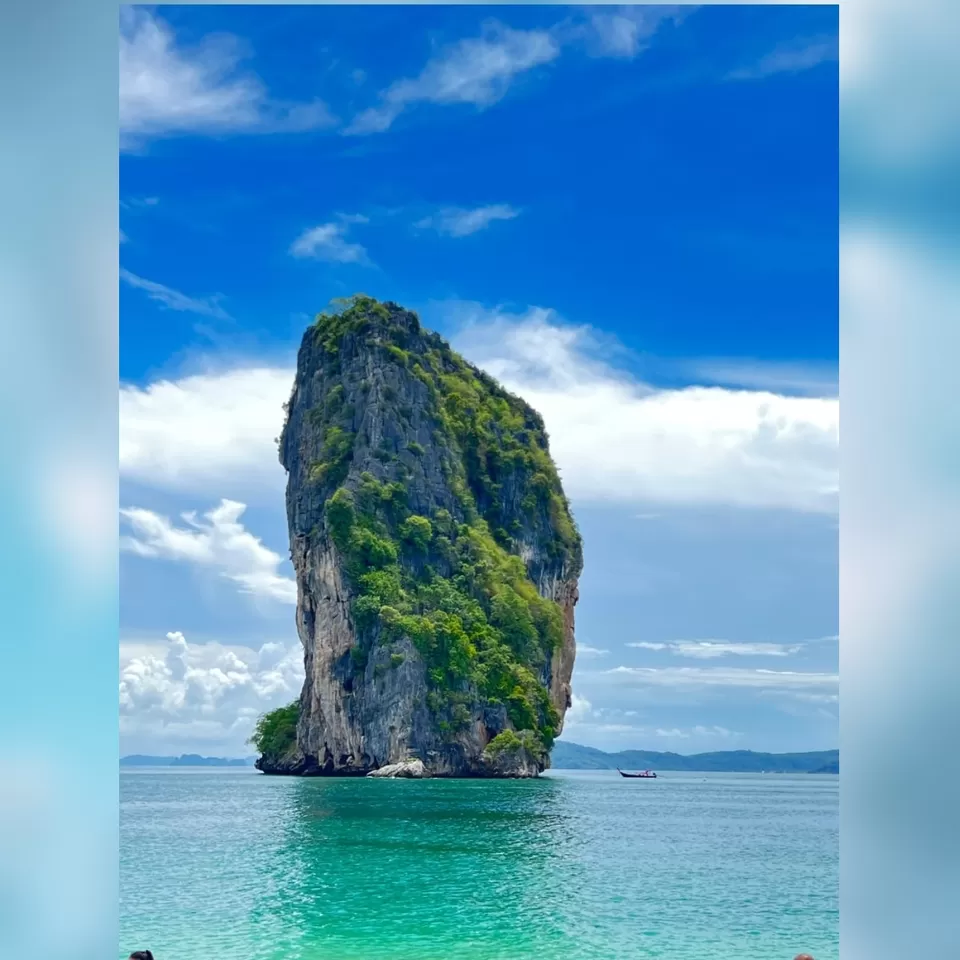 Day 3 - June 6th was back ride to Phuket, as it was planned by tour operator. But in my experience no need to leave Krabi in less than 2 days.. As all other sight seeing which would be done from Phuket was actually nearer to Krabi. But in my experience Krabi is little costly than Phuket so tour agents plan this way to keep the day busy in traveling. Anyway... our resort checkout was at 11:00 and then one humble driver drove back us to phuket along with city tour.
It took us almost 2 hours to Phuket and 3 hours in city ride. Very much comfortable ride we experienced in toyota commuter mini van. Only 4 of us and lots of music and fun.
In city ride there are some good places to visit like old Phuket, Chalong temple, big budda statue and Karon view point.
One can experience thai street food here but as we are vegetarian we skipped that part.
Upon checking in resort we enjoyed at leisure. In night we walked at nearby Indian restaurants to have some indigenous taste.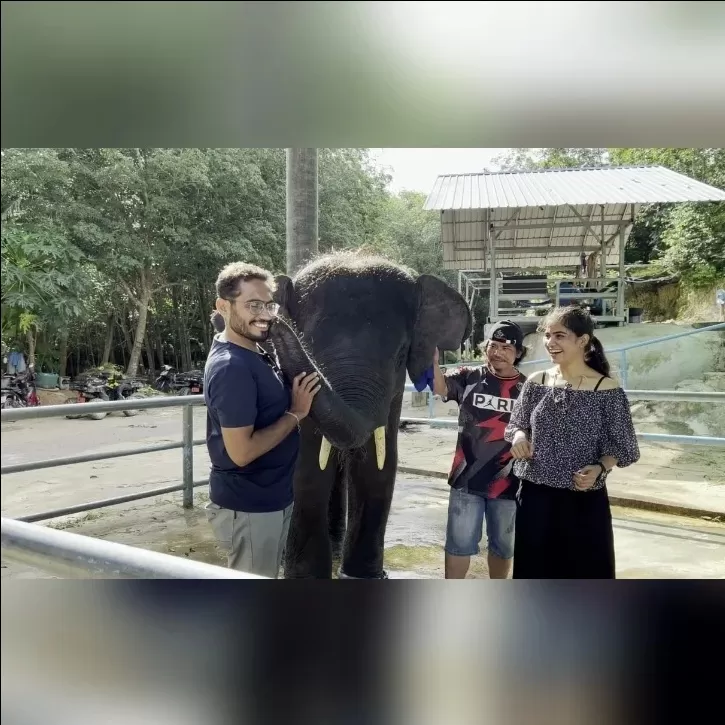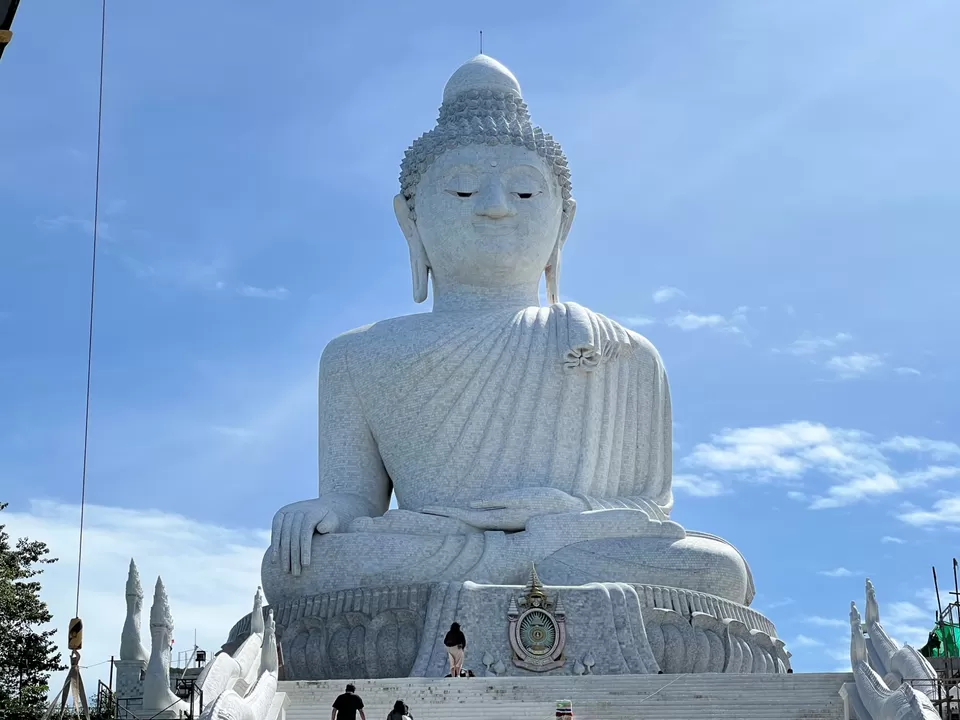 One june 7th we had a tour to Phi -Phi island. Which is 50 Km from Phuket and nearby Krabi. ( As I said earlier). So we were transfered from resort to harbour by cab. No matter how many exchanges take place and how many different tour operators involved in your day trip, they plan it in such a way that at your next destination someone is always ready with your name board. So it causes very less inconvenience.
From Harbour we boarded phi phi cruiser to maya bay beach and then phi phi island.
Note : One can reach phi phi island by speedboat from Krabi and can stay there overnight to enjoy scuba diving and leisure time at nearby maya bay beach and shark view point. It makes you enjoy more activities in less travel time. But in our tour itinerary it was not possible.
At phi phi island we enjoyed scuba diving ( at 3 meters deep , 1500 TBH per person).
Rest day spent in traveling back to Phuket by cruize ..but journey was awesome.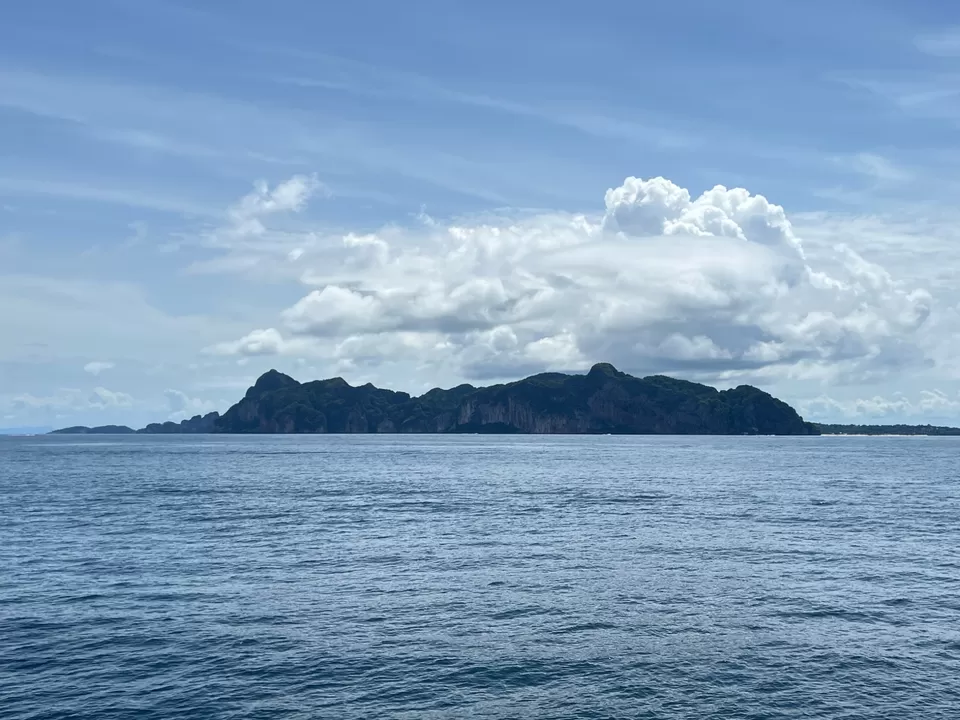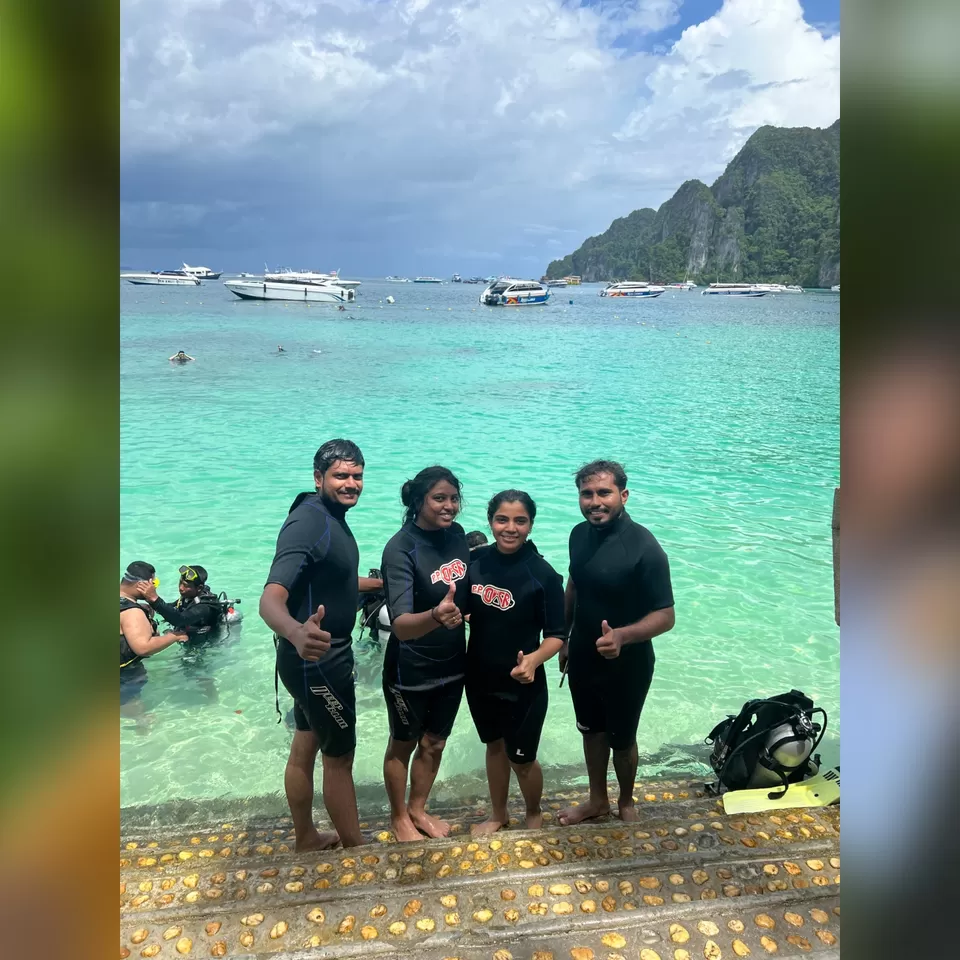 It was the last day of our trip - 8th june and our tour planner kept it as a free day at leisure. So we decided to go on jungle and adventure trip. In which different activities like river rafting, bamboo rafting, KTV, zip line and elephant ride with elephant shower includes in different packages offered.
So we choose bamboo ride, elephant tracking and elephant bath including lunch. In morning we were told to be ready at 8 Am but it took us half an hour extra so our tour guide which we have booked for 1800 baht per person left the resort. So with the help of tour agent we had to book our ride at extra cost of 3000 baht to Phang Nga. Which is 120 km from Phuket and nearby Krabi ( one can stay in krabi and do all this trip).
At Phang nga national park various adventures activities arranged by various groups/camps and they preserve elephants rescued. We enjoyed elephant bath in river ( which was quite different from our imagination as we imagined two-three elephants bathing and showering peoples, but it was not the same). Before that we enjoyed bamboo rafting for almost 1 km in very peaceful place also enjoyed waterfall.
Then we rode elephant for almost half and hour in jungle. It was quite adventurous and new experience. But I recommend not taking elephant bath in package instead include RVT and zip line or river rafting for more thrilling experience.
On the way back we visited monkey cave. Yes for lunch it was quite different from vegetarian lunch we have to happen here. so brace your self if you are vegetarian and planning to visit thailand.😀
In evening we visited Patong beach, local market( market expo is the cheapest place in phuket to butly clothes and any souvenirs). In night visited Bangla street to experience night life of Thailand...( must visit).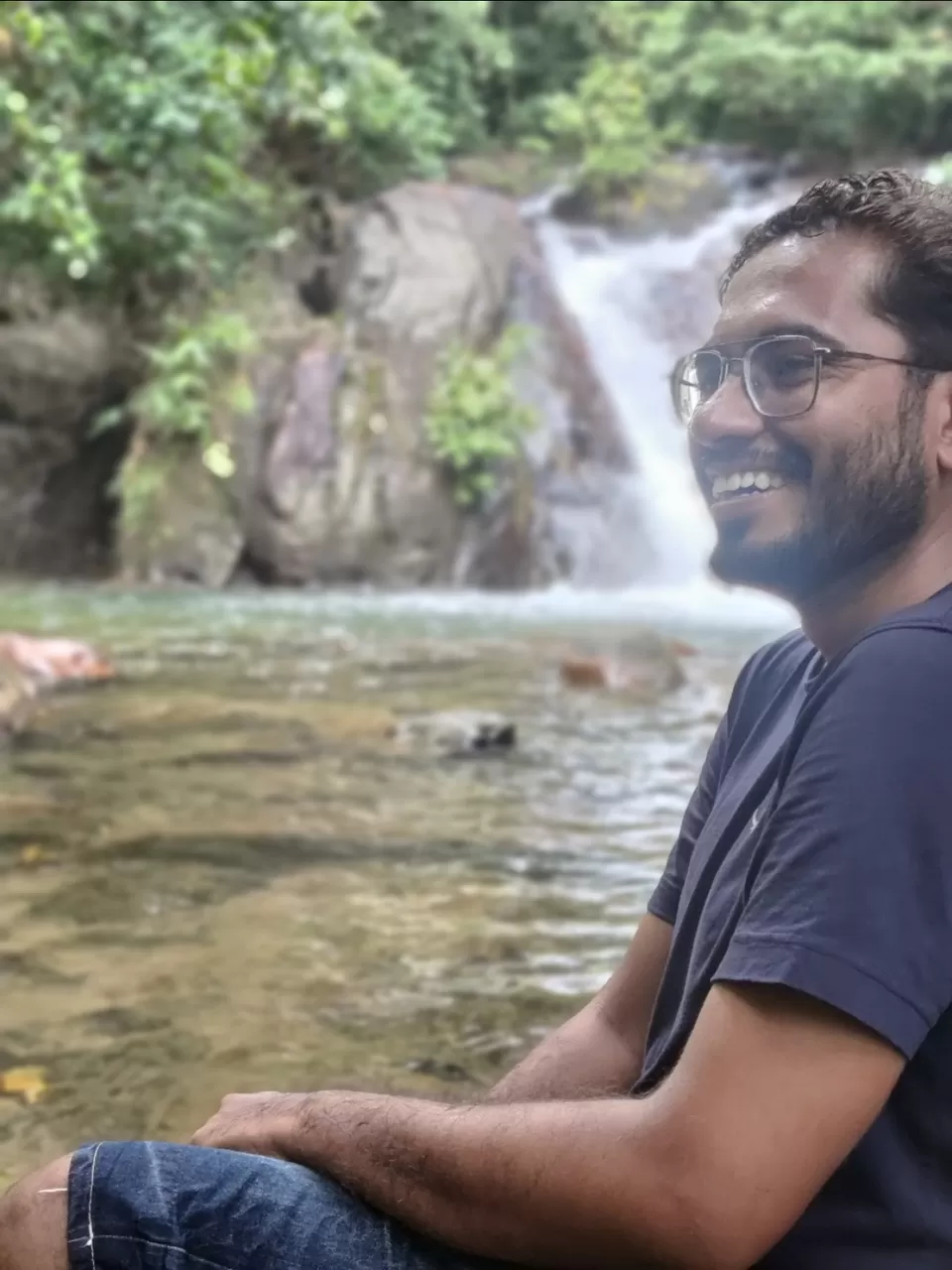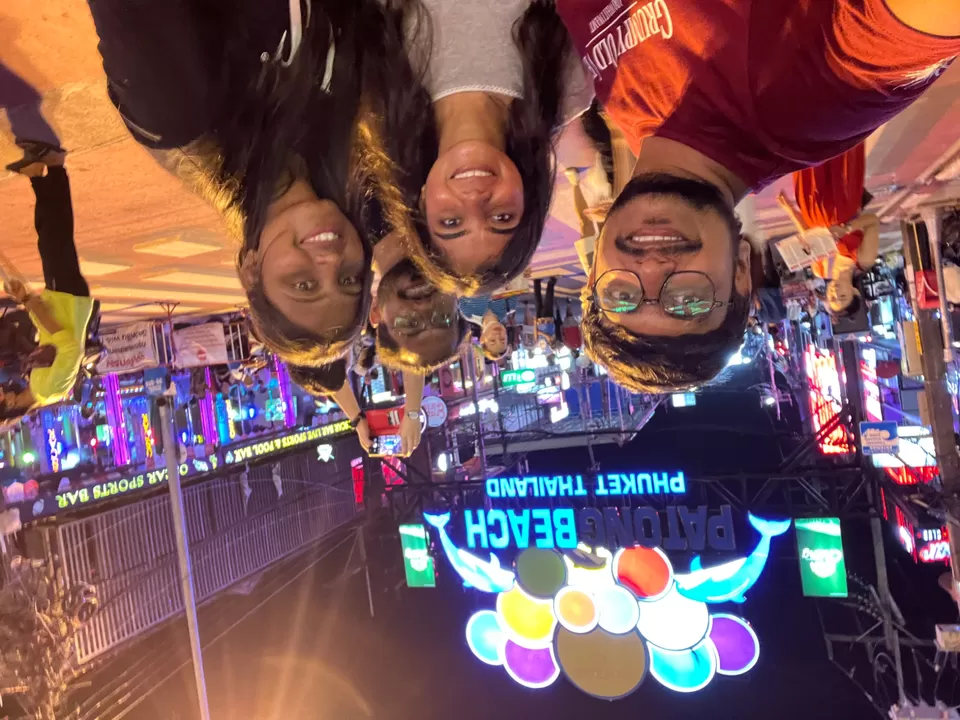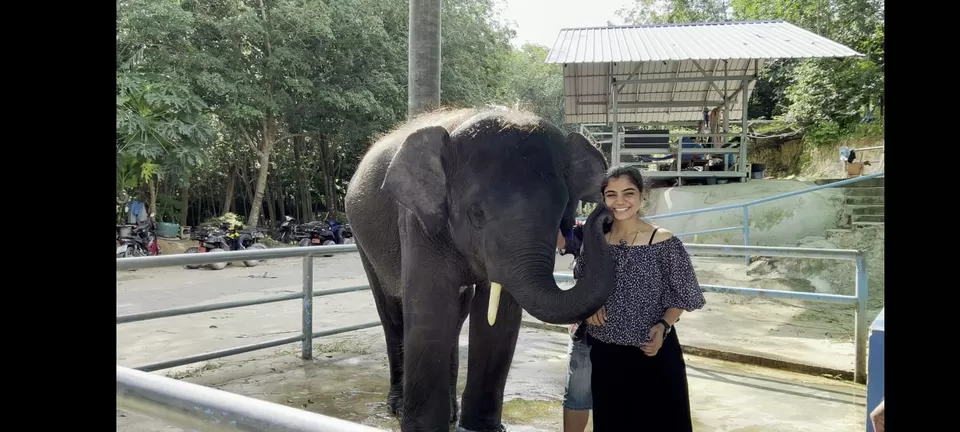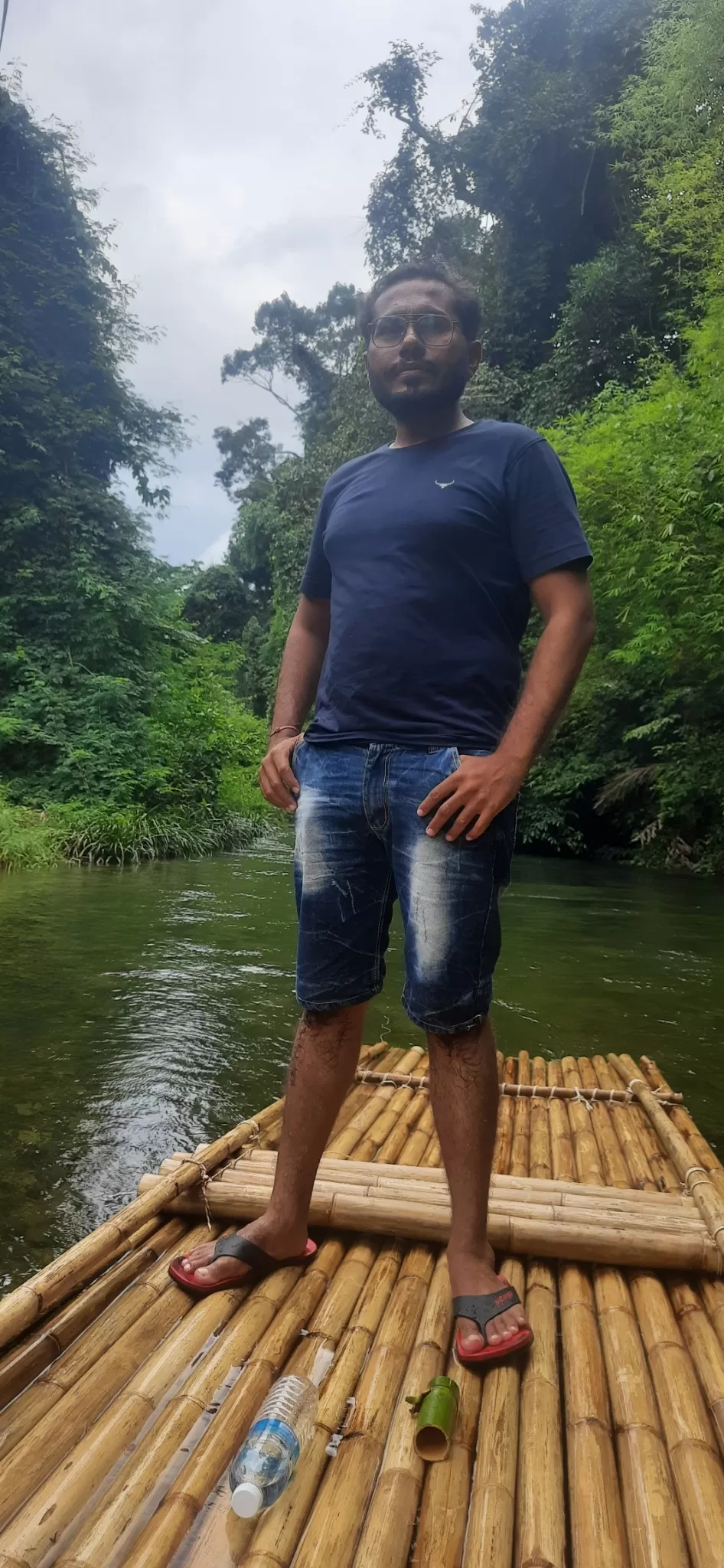 It was the last day and with lots of memorable things we departed for Phuket airport at 10:30 for our flight back to India.
It was quite enjoyable and rejuvenating trip I had with my beloved wife.
If you are planning to visit Thailand you should spend more days at Krabi instead of phuket to reduce any traveling time and enjoy all sightseeing at convenience. We skipped Bangkok in our tour ..but hoping to visit it in our next Holiday...