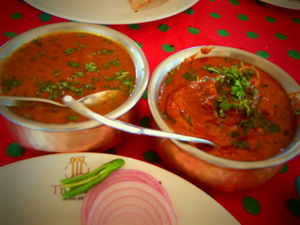 Places to stay near
The Trio
The Surya Paying Guest House
Golden Marigold Hotel - welcome!
Reviews •
3
More Food More MemoriesOne last stop before we head back to our normal life was The TRIO restaurant. Its the best that you can have in Jaiselmerh and our ultimate destination had to be the best one. Very close to the fort and serves exquisite food. The setup is also very well maintained which is why foreign travelers prefer this place. We for the one last time had Laal Maas along with Naan and Bud. We even packed our dinner so that we do not miss Rajasthan on our way back to home.Post our lunch, we headed for railway station and finally bid adieu to beautiful Rajasthan for such colourful memories to cherish for our remaining life.Few things to make a note, both Jodhpur and Jaiselmerh are not that commercial as compared to Jaipur and others. So you find less fake peoples. Plus people have value for their words. So always make clear communication of your requirement and you will find a bliss while you travel.Plus personal experience suggest, Jodhpur is a bare minimum 3 day stay. We missed Umaid Bhawan Palace which we have planned for next year.Jaiselmerh is a 2 Night 3 days trip. We did not planned for Tanot Mata Temple so we got it all covered under 1 Night stay.Lastly if you like to use my contacts, here are the details below. To be honest, both my CAB's were too good to be true.For Jodhpur- Mr. Puran Singh Gehlot: 7665308172 & 9799858614. Cost: 4300+ (Toll & Parking) for All places. Car: Honda City.For Jaiselmerh- Mr Jamsher: 9660234286.Mr Ali (Owner- Malra Heritage Camp): 9928254863.Not to forget my best buddy @suvojitroy who did all the hardwork for finding the best available places and the itenary. As said, he painted we relived.. ;)
The Trio Restaurant near Mandir Palace, Jaisalmer serves delectable, lip smacking food. I thoroughly enjoyed their laal maas with naam accompanied by chilled beer!
Quality restaurant (mentioned in even Lonely Planet & Outlook Traveller).
Attractions near
The Trio