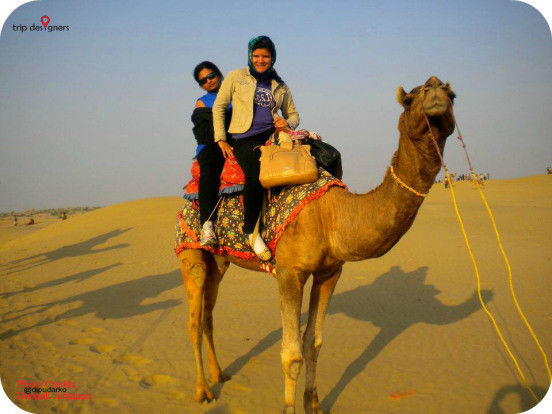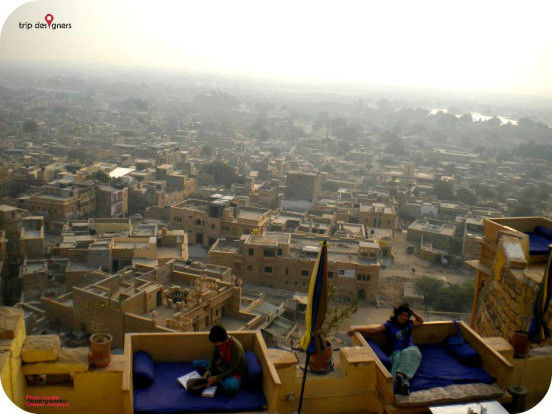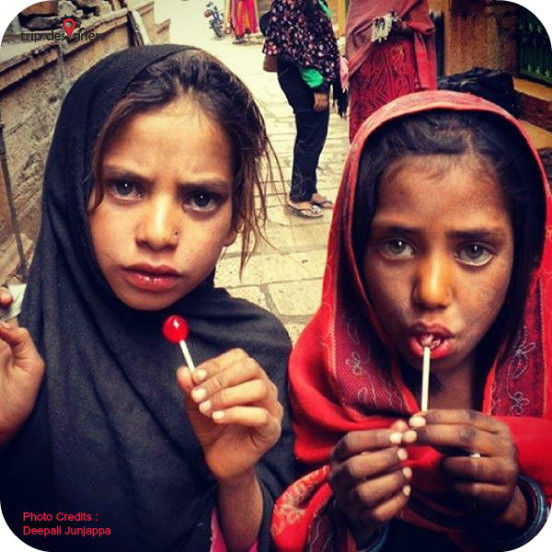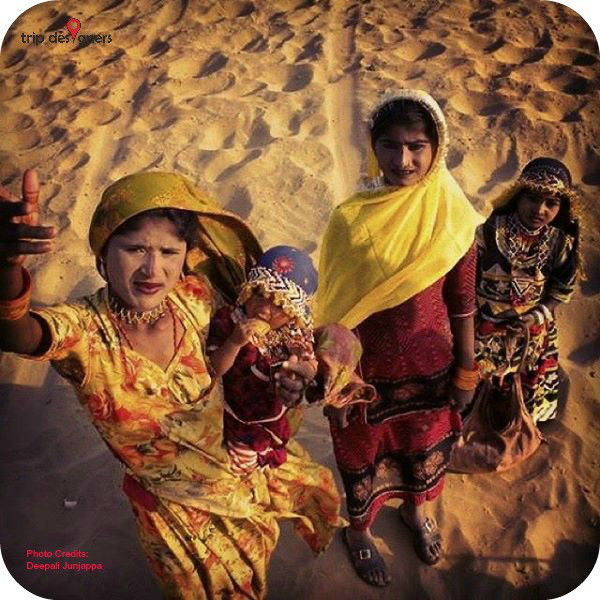 Our Jaisalmer sojourn started with a certain Pappu Singh Jaisalmer (Yes! That's his name)who I met through an online website.  For all my hundred queries,  he had just one  answer, 'Pappu organise everything for you.' Later this got a bit obsessive and when we actually descended on the yellow city we were welcomed by hordes of  touts all promising the  best  "view" of the fort! Literally! Finally  I rang up Pappu who came dressed in shiny leather pants and quickly whisked us to his 'best friend's' hotel ; The Suraj Hotel, which fortunately was the best address in the city.
Well, I could resort to the same old clichéd and whip lines like 'Jaisalmer is a page stolen from Arabian Nights, a quaint gem hidden in the vast global imagination' but hey I'd just read recently that a good travel piece should stay away from words liketimeless, quaint, and nostalgic, all fodder for jaded tourists searching for their postcard perfect destination.
And yet Jaisalmer is like no other place I've been and it behoves you like no other. We stayed in one of havelis inside the fort and could see the entire city turn gold in the mornings and evening. Walking through the gullies and narrow lanes we got a firsthand idea how this city must have been hundred years back.  Within the fortress is a living, breathing, functional city where people work, shop and go about their lives like they did a couple of hundred years back. What's amazing is that the residents still reside in these ancient havelis and houses dotted along the narrow by lanes. Most of these mansions have been carved in yellow sandstone and gleam with ferocious luminosity under the Sun's golden rays.  By noon, the entire city is enveloped in bright ochre colours welcoming everyone to its magnificent sights and sounds. It was such a giddy sight walking past the old havelis, enchanting palaces and the old by lanes.
Of course we faced a whole barrage of shopkeepers who were as charming as their wares yelling, 'Hello lovely, would you like some silver' or 'Please Miss you must try my stole.' After cheerily warding off these enthu cutlets we chanced upon Sahil who flashed a warm, friendly smile and offered to show us around the city for a minimal fee.  Normally wary of these local guides, we ignored him when he suddenly spluttered ' Buenos Dias' and other random Latin words and sounded as  regal as any  conquistador.  Sahil, as it turned out was quite the surprise package. Besides having an intrinsic knowledge of the city he was multilingual and spoke a smattering of languages including Korean and Spanish.  After every sentence he would spout, ' No me importa'  literally translated as 'I don't mind'.  We laughed at his earnest approach and even picked a few  fancy Spanish words.  After entertaining us with some cheesy Latin songs he took us to the biggest and most elaborate temple inside the walled city.
Living inside the Fort
Living inside the fort was an experience by itself  as each room had been designed from some ancient quarter along with pillars and jharokas (balconies) and one got the sense of being in a time warp. Indeed our hotel was part of the fortress and enjoyed an envious location in the whole of Jaisalmer. A little cafe was set amidst the fort bastions giving it the charm of a fantasy novel. As the sun set over the golden city we chatted with fellow travellers, and everyone was as entranced and fascinated by the golden city; some even extending their stay by a couple of weeks.  A French artist couple were exploring the culture of miniature art had decided to extend their stay by for months after they realised they wanted to study miniature paintings and adapt it to their creative ventures.  At night the entire fort was lit up by giant ground lights which reflected the yellow colours giving it a mesmerising metallic golden hue.
Patwon  Ki Haveli
We stepped out of the fort and explored the most famous haveli in tow. This particular haveli has been immortalised in many Bollwood movies and for some reason appeared familiar. The Patwon Ki haveli  is elaborate, quaint and grand  and truly stands out in its brilliance.  It was originally built in the mid 18th century  by five Jain brothers who made their fortune in trading jewellery and fine brocades. Although it's more impressive from the outside, the view back towards the fort from the roof is magnificent.
There we met  a robust old man with the longest moustache seated smugly on a high chair.
After  a few  photo sessions  we were taken to the best silver ware shop located in the  lanes outside the fort. The shop had some of the best silver jewellery and finally after some coaxing and heavy duty bargaining, we settled for some anklets and toe rings.
Later, that evening we bid adieu to Sahil, thanked him for taking us around and entertaining us  nonstop with his 'international' jokes. Sahil then insisted we take a photo with him and asked us to write a review on his diary. As we browsed the pages we came across many positive reviews written in Spanish, Korean, French and Japanese all praising Sahil's versatile knowledge of Jaisalmer and its best kept secrets . We wrote an honest appraisal and gave a heavy tip  after which someone insisted we  store him in our hearts forever. We promised to do so as we all burst into loud bawdy laughter.
'Bye, bye , Buenos Tardes,  encantadode conocerle'.  He muttered as we retired for the day.
Camel safari
Of course a trip to Jaisalmer is not complete without the Camel safari  and a night of  song and dance in the desert.  Around four in the afternoon, we were  dutifully picked by the hotel driver and taken about 20 miles away from the city to the desert.  As vegetation became sparse the landscape changed and soon we were right in the middle of  sand dunes. It was a breathtaking sight with miles and miles of rolling dunes, yellow sand and egg blue skies. Soon we were introduced to our  Camel guide  and his camel glamorously named  Michael Jackson and apparently one of the most famous camels in Jaisalmer. From there on  we were taken to sunset point . The camel ride was slow but extremely enjoyable and as we soaked in the desert sunset we clicked a million pics all waiting to be uploaded on facebook.
Later  we were taken to a nearby tent where a 'cultural programme'  awaited us. A huge bonfire was set up  in the centre along with a small stage for the performers. As we watched the dancers and singers  I realised that even though I might have watched this on TV it's something else to see a live dancer moving her body to the haunting melodies of ancient bard like singers . Some of the dancers were mystical and enthralled the audience with their wondrous talents.  I must confess I came across such beautiful  people in this desert town from gypsies to beggars to random camel touts: they were all gorgeous and oh! so handsome!
On our way back to Delhi we met a charming American couple who were  celebrating their thirtieth wedding anniversary.  They had travelled extensively across India but nothing had prepared them for the  beauty of  Jaisalmer.  The woman in particular was bowled by the Golden city and  compared  Jaisalmer only second to the Taj. We exchanged   some traveller stories and all of us agreed that it was  an incredible place with some marvellous people.  As our train trawled out of the station, we looked back at the fort, the yellow sandstone, the smiling faces waving goodbye and  then suddenly out of nowhere, we caught  Sahil running towards us with a huge card in his hand. He thanked us  non-stop then blurted another cheesy song for my travel companion Monisha. I'd already  figured  that he'd  developed a  small crush on her and was definitely floored by her sultry Mallulooks where as Monisha on her part smiled back and took a quick selfie with him. In the end both smiled and supposedly  "promised" to be in touch with each other. Well,  all's well that ends well. I'd definitely go back someday .Most definitely Yes!