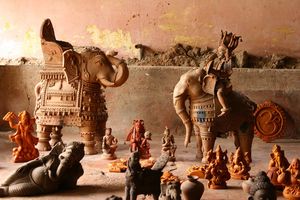 Places to stay near
M G Road
NEW House of Blue Mangoes
Eden of Zen - Agni Room (Fire)
Beachside hut for 2/ w shared bath
Exotic cabin surtounded by greenery
Reviews of
M G Road
•
3
One of the things I saw when I was roaming the streets of the French Quarter were the wonderful terracotta items there. There were wind chimes which I'd seen in Mumbai, except these were more delicate and had more bells. There were small cups, like the earthen cups people sipped tea from in olden days and there were a lot of beautiful curios.
Place to Shop and eat.You can explore options to eat in Pondicherry, especially in White Town and MG Road like Cafe des Arts and The Indian Cafe express for Breakfast, Le cafe to enjoy the Rock Beach, Cafe Xtasi for their huge portion size of wood fire pizza, Villa Shanti for Continental, Baker Street for French Bakery etc etc the list is endless.Tips for trip:1. Try to rent a bike, as the Autos will charge exorbitantly.2. Food and safety won't be an issue, but please don't litter around. Try to take accommodation in White Town as a lot of places would be walking nearby and you can go to the Rock Beach easily for sunrise/sunset.3. Keep a lot of change, as some cafes might not be accepting Debit/Credit Card even during the demonetisation scenario. Though the ATM queue in Pondicherry is not as much as compared to other metropolitan cities, but what is the point of getting a Rs 2000 note when you can't use it.4. Incase you are reaching Pondicherry early morning, do try for an early check-in.
The place which hosts Pondy's flea market. You just might get everything here, ranging from apples to zebras.
Attractions near
M G Road