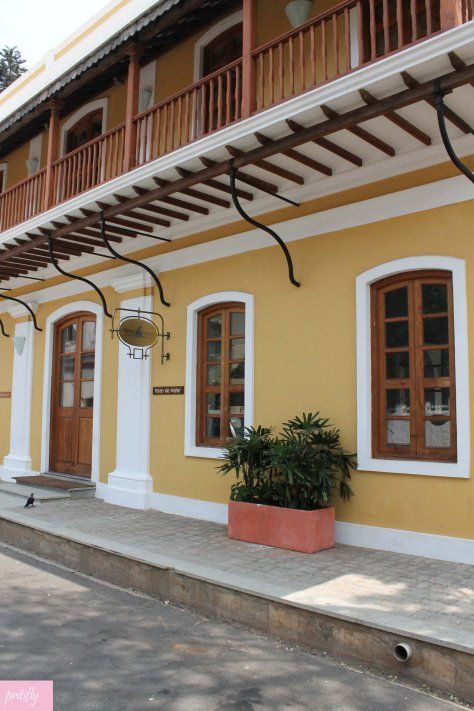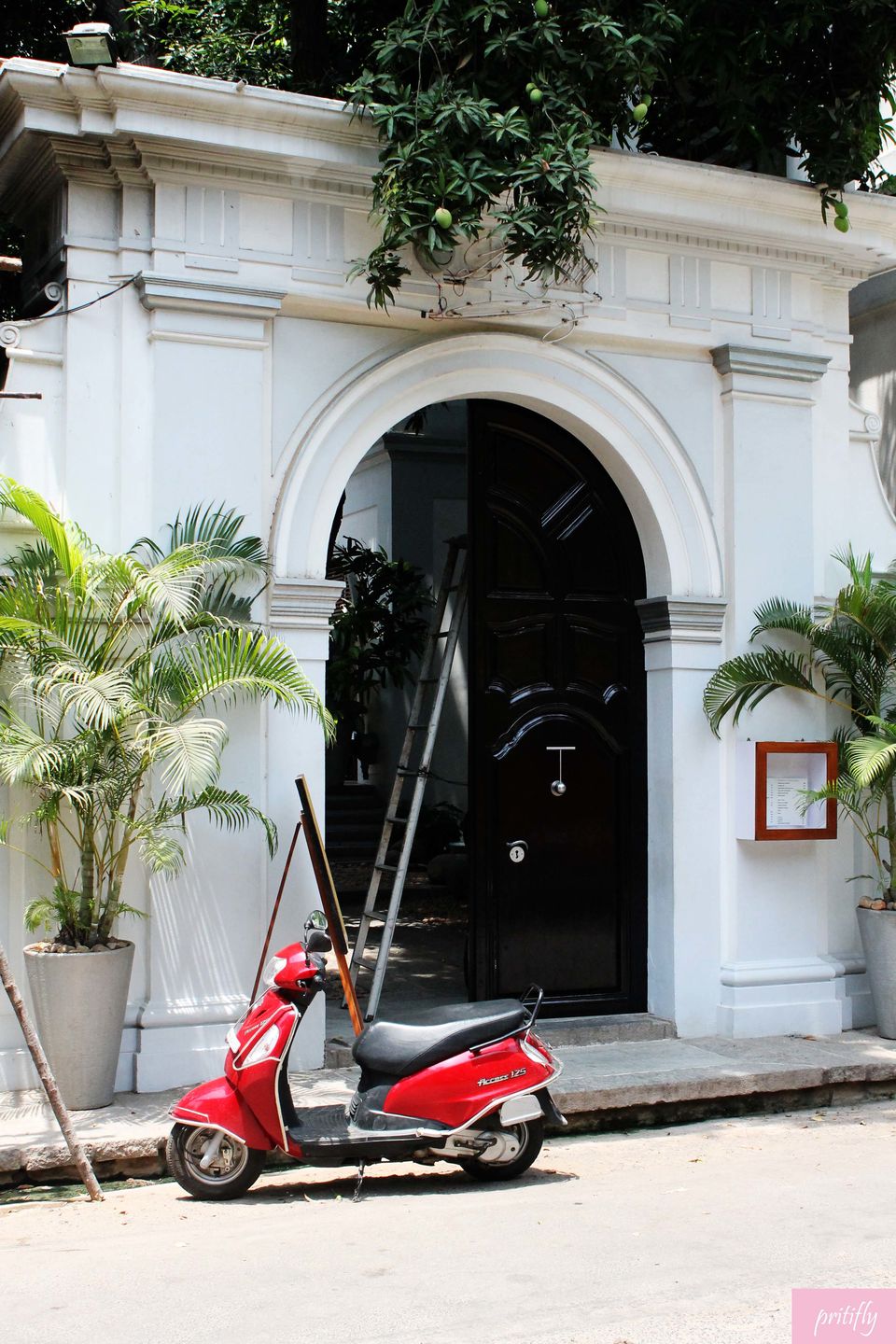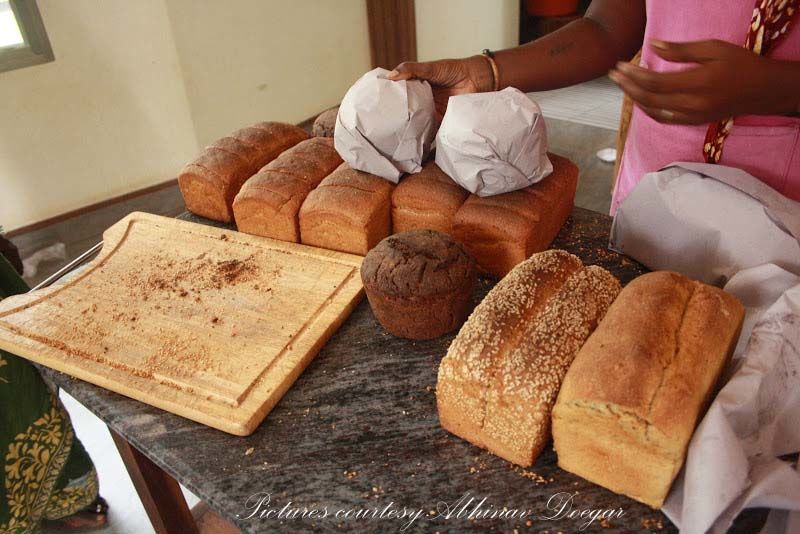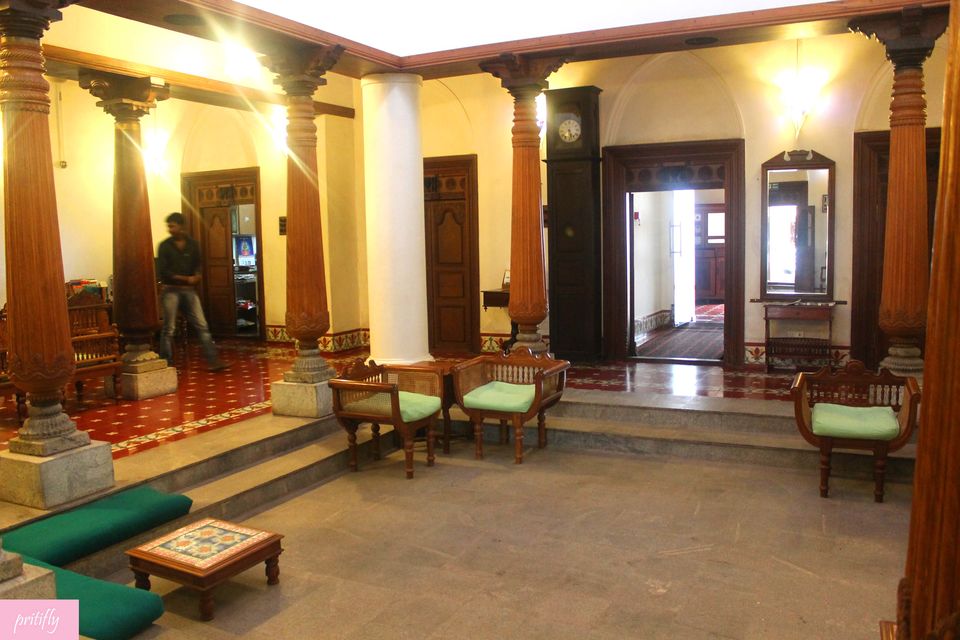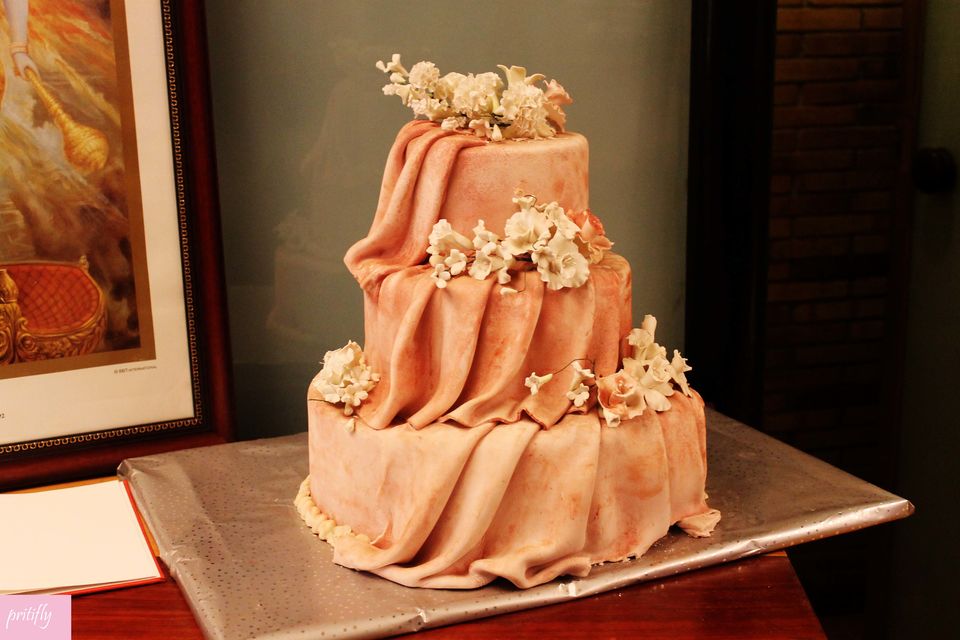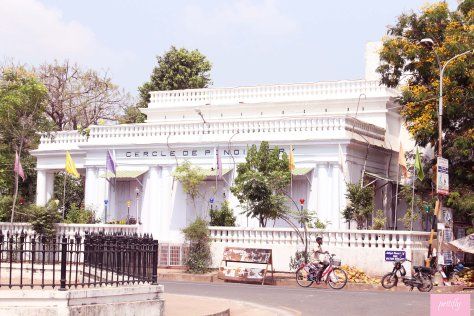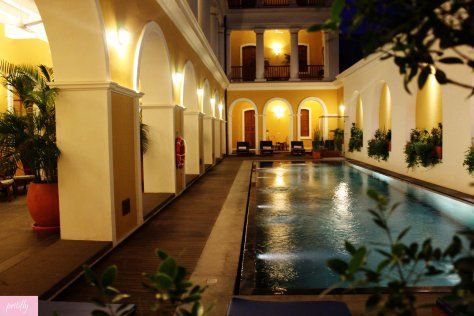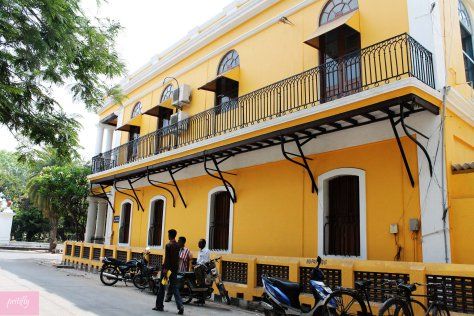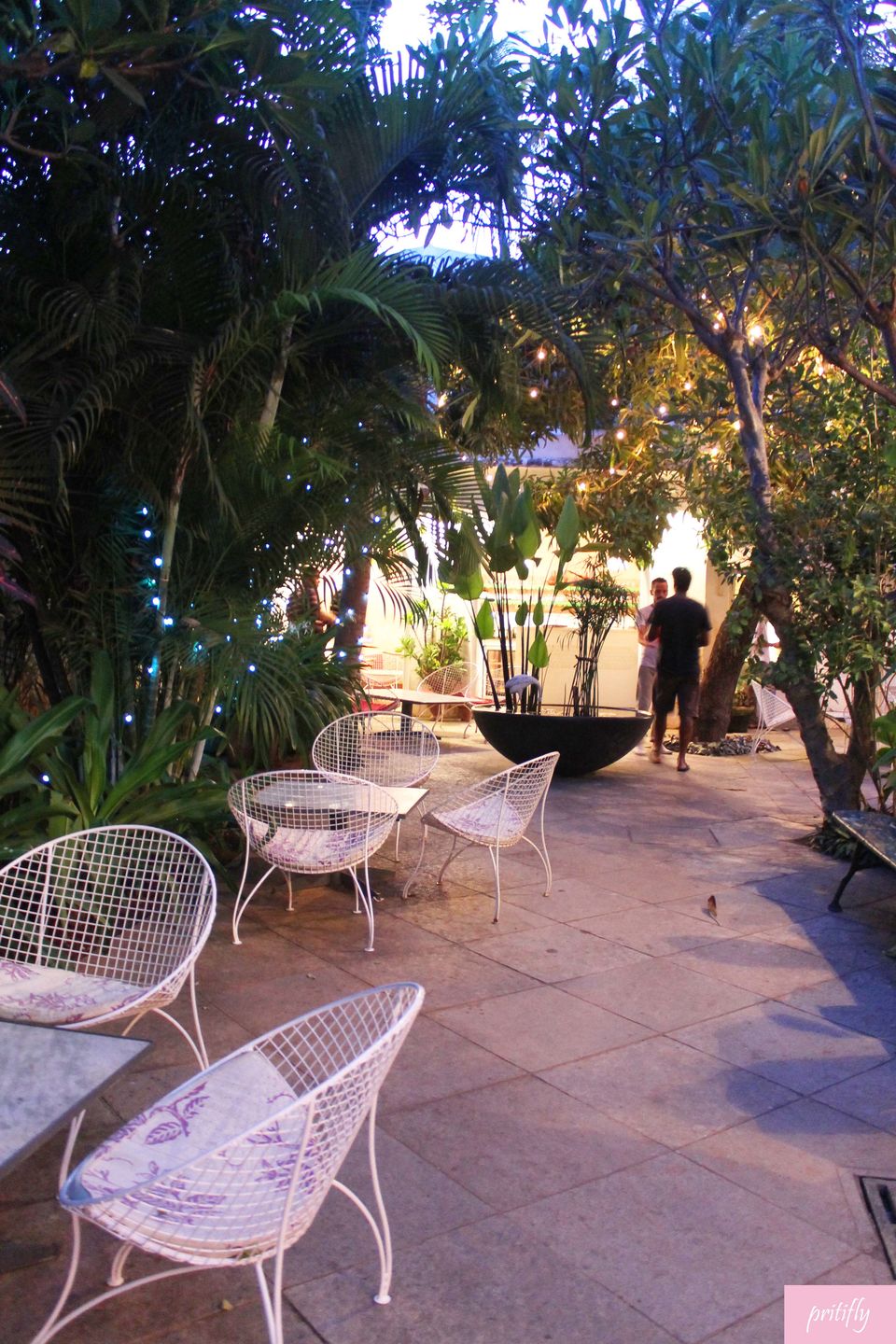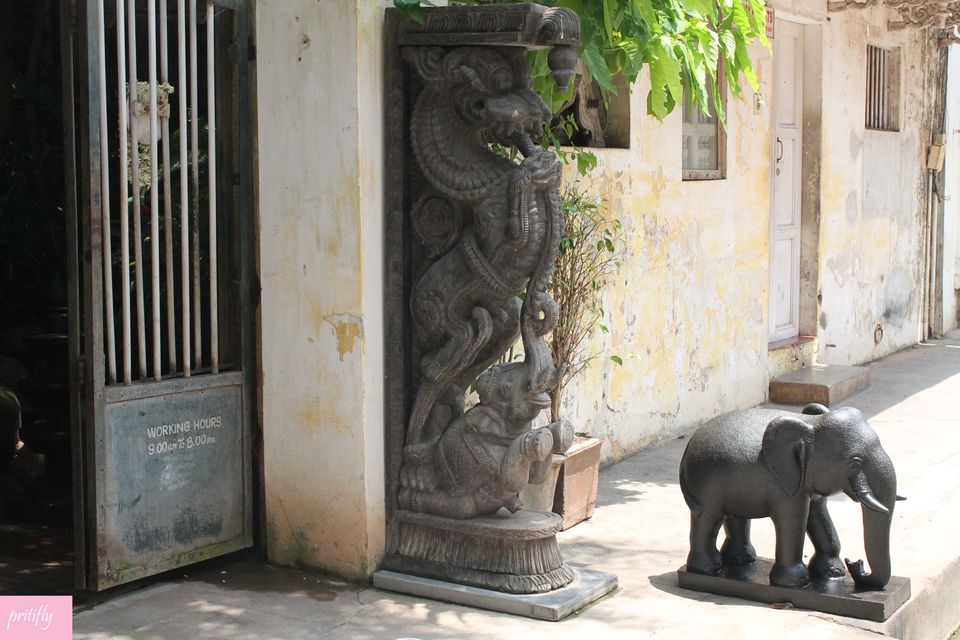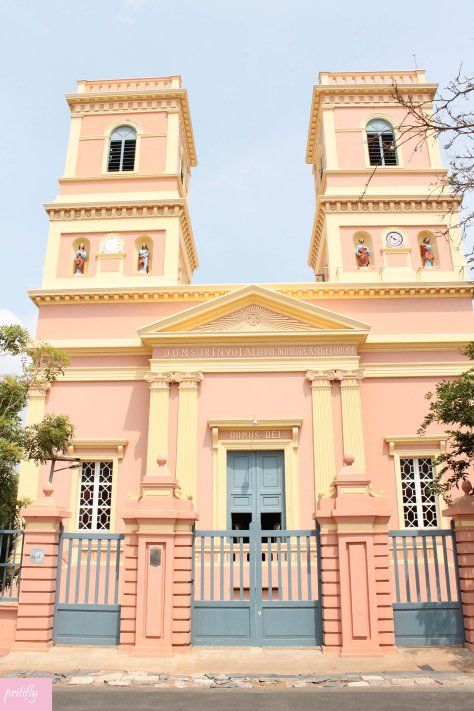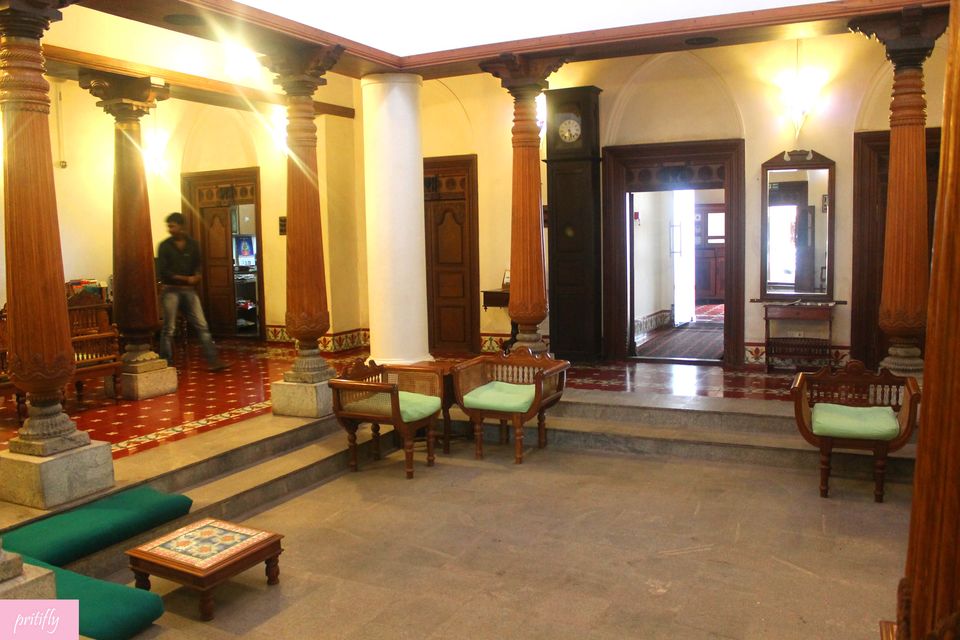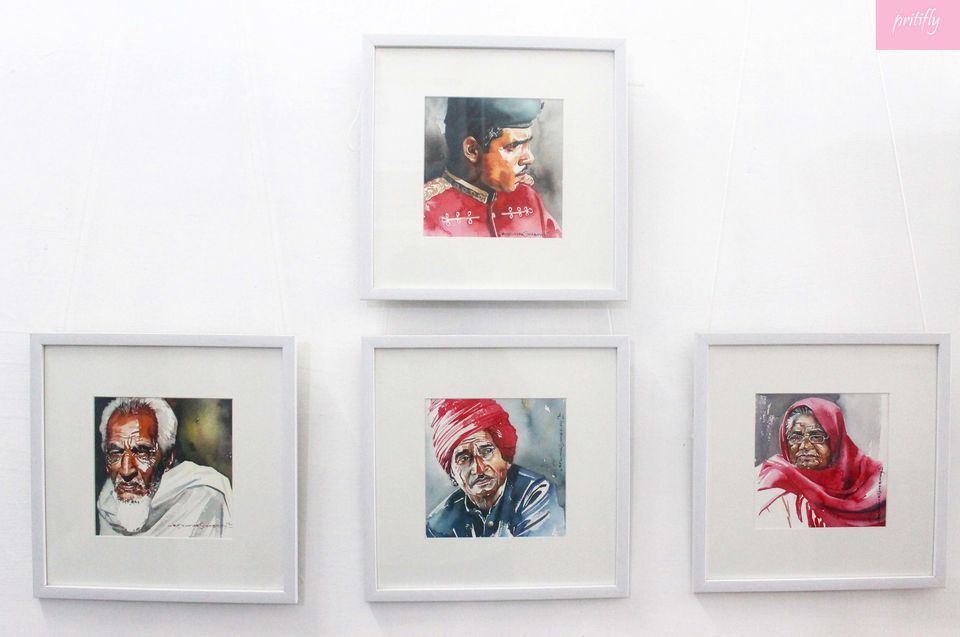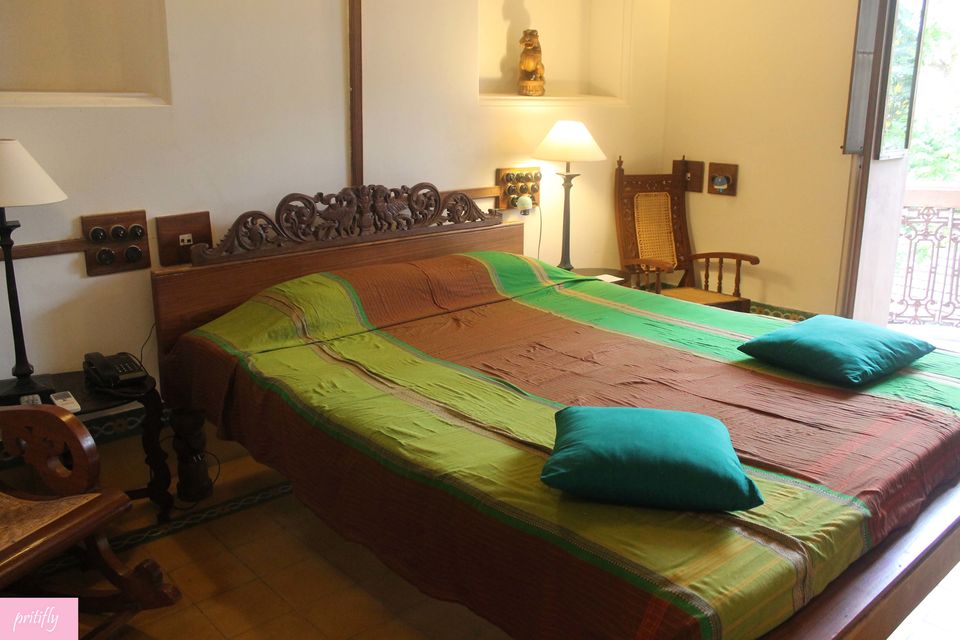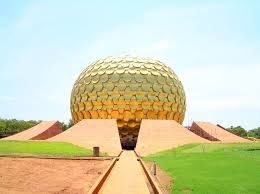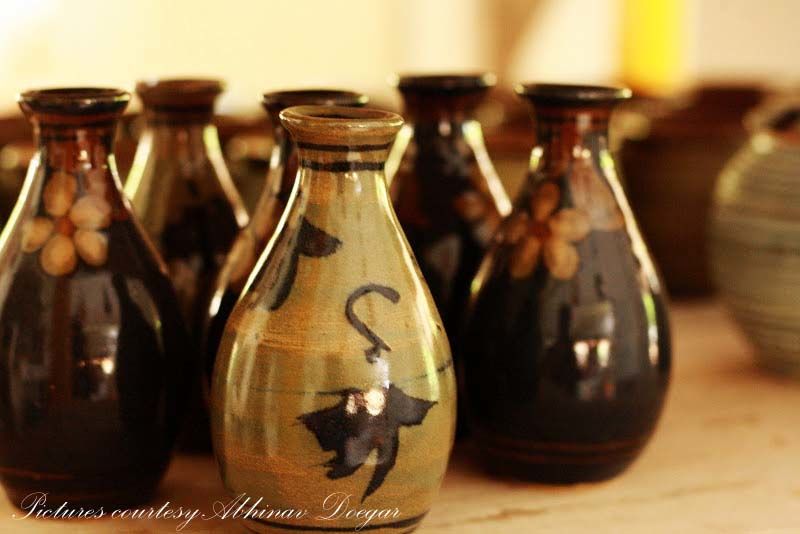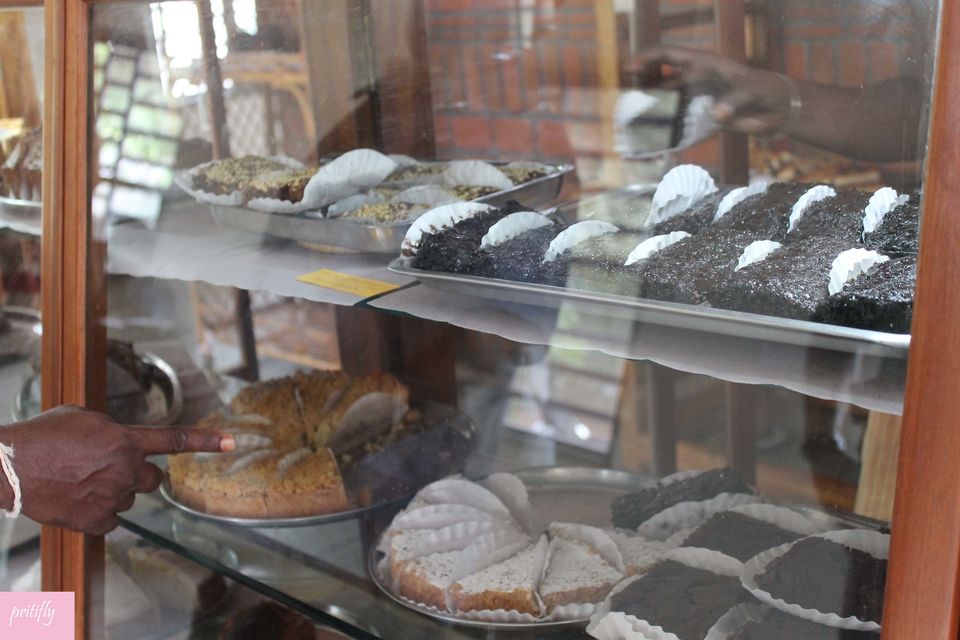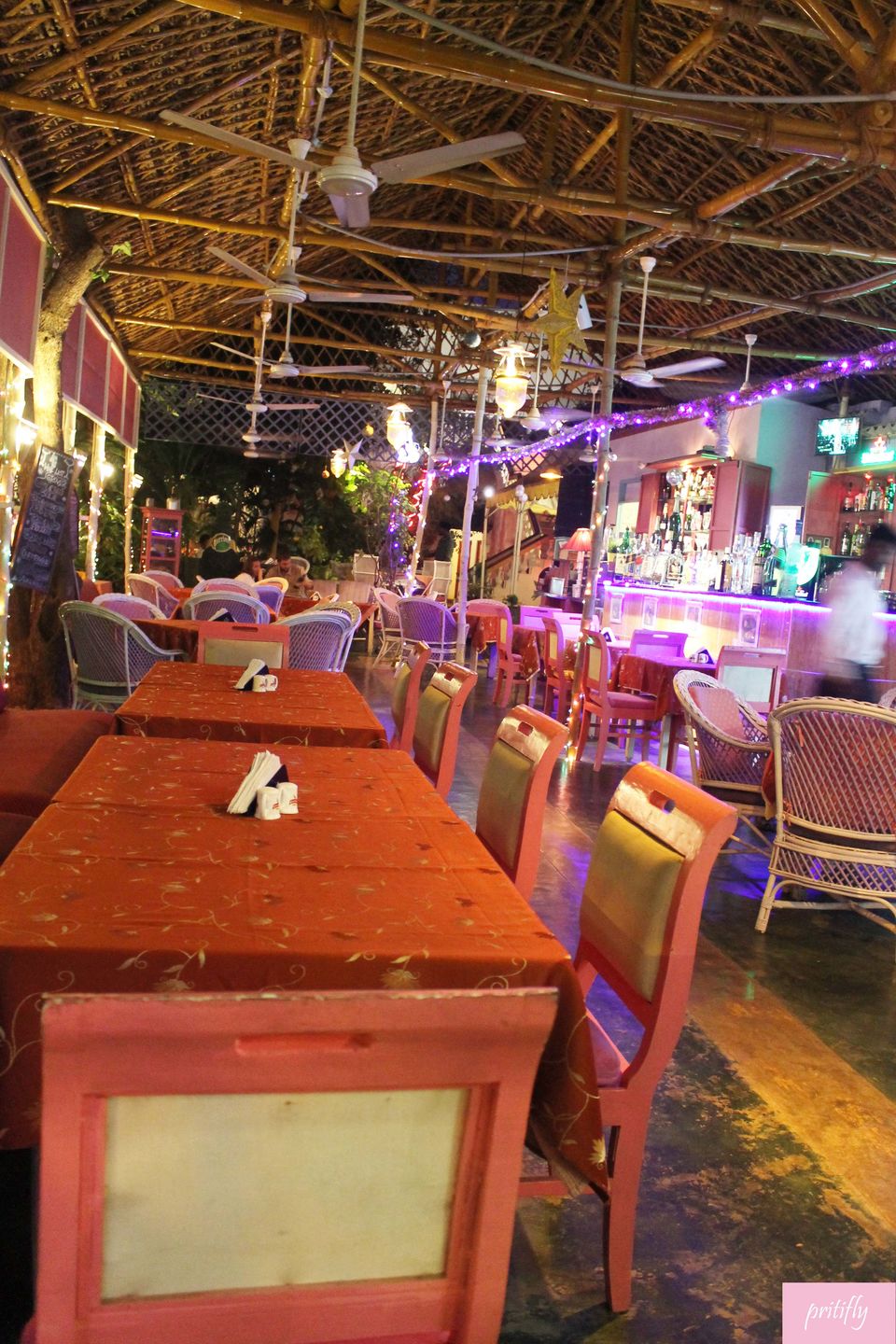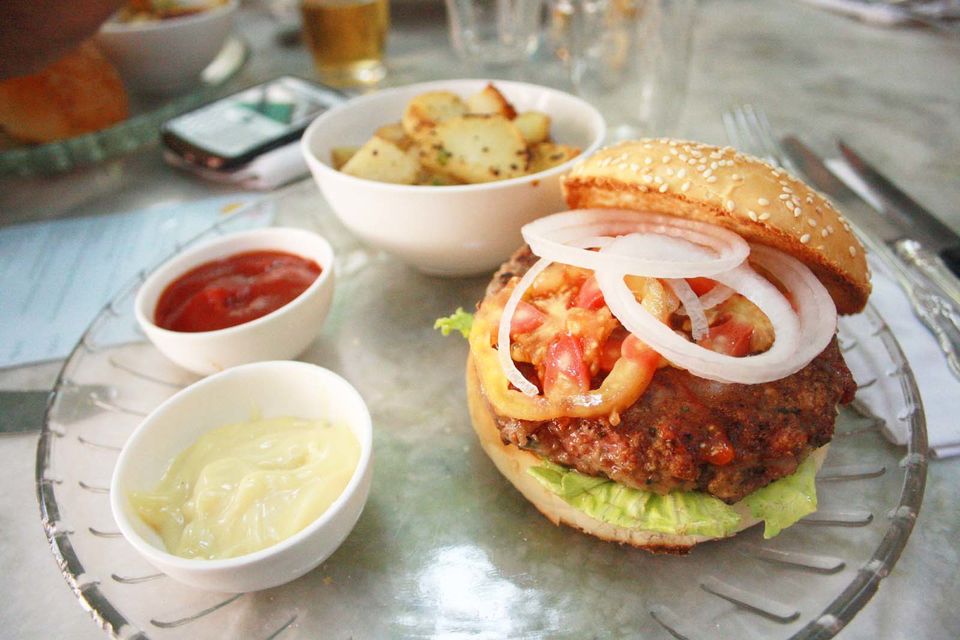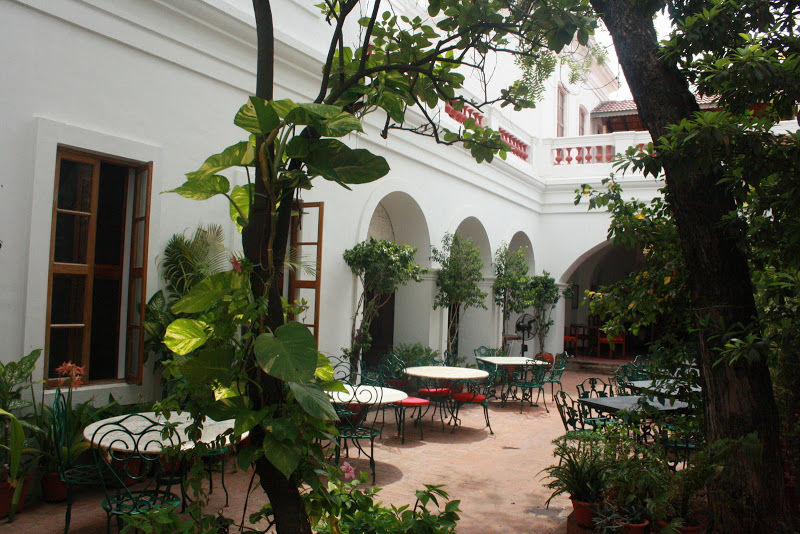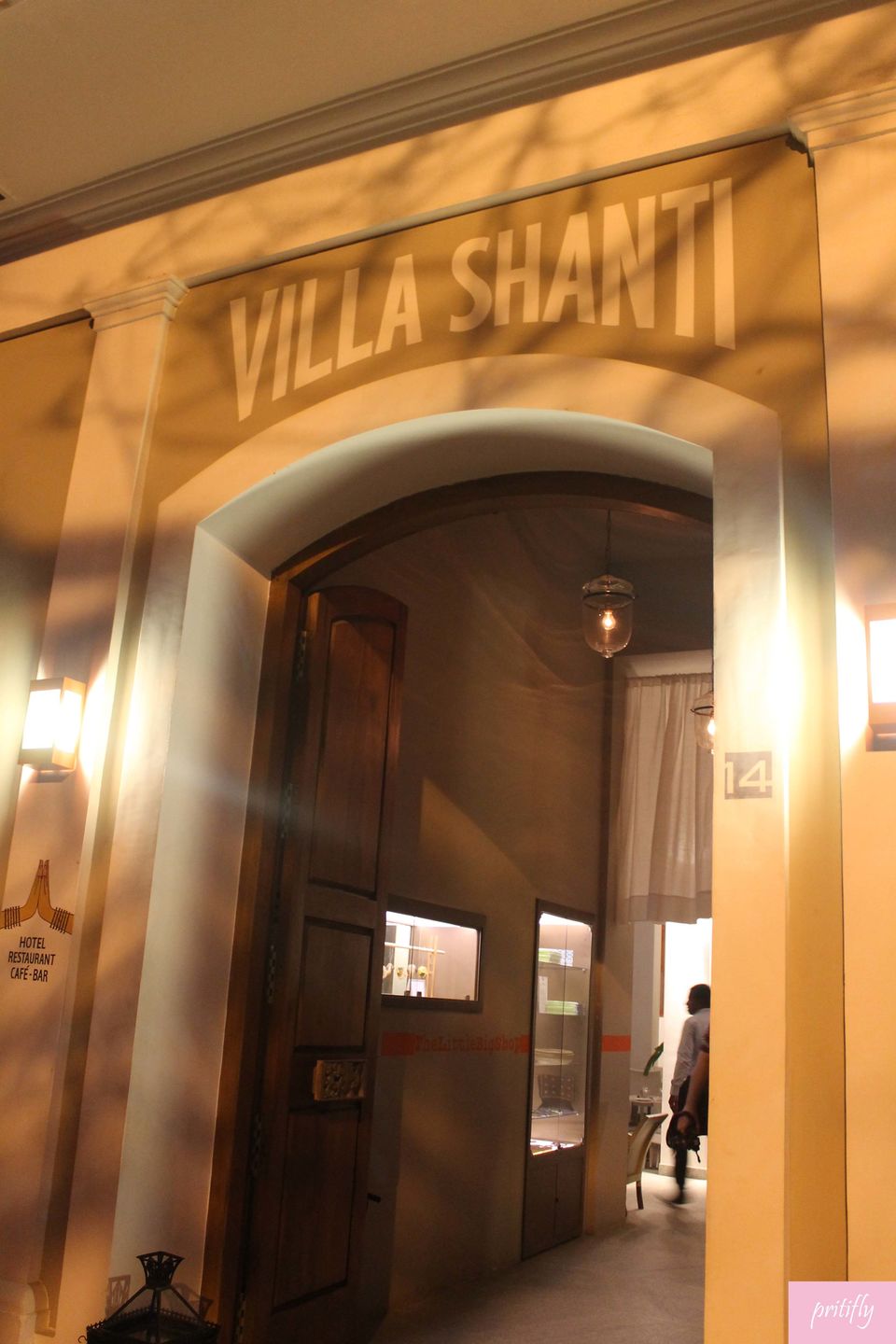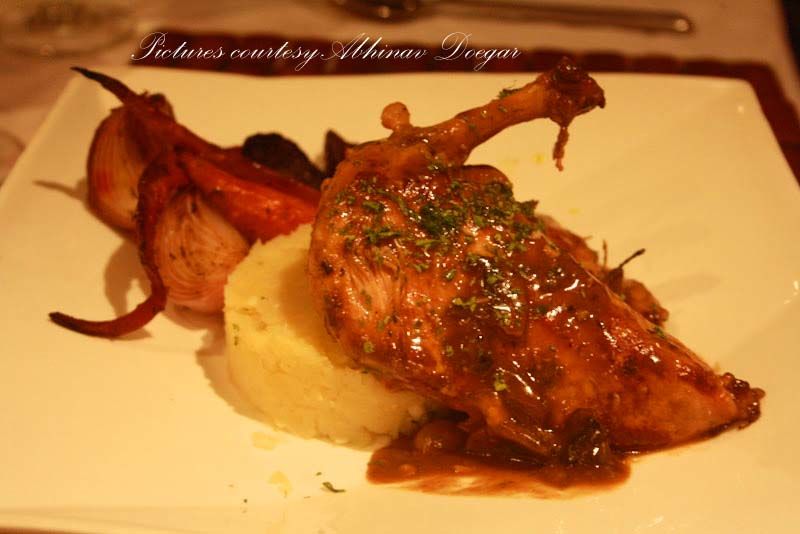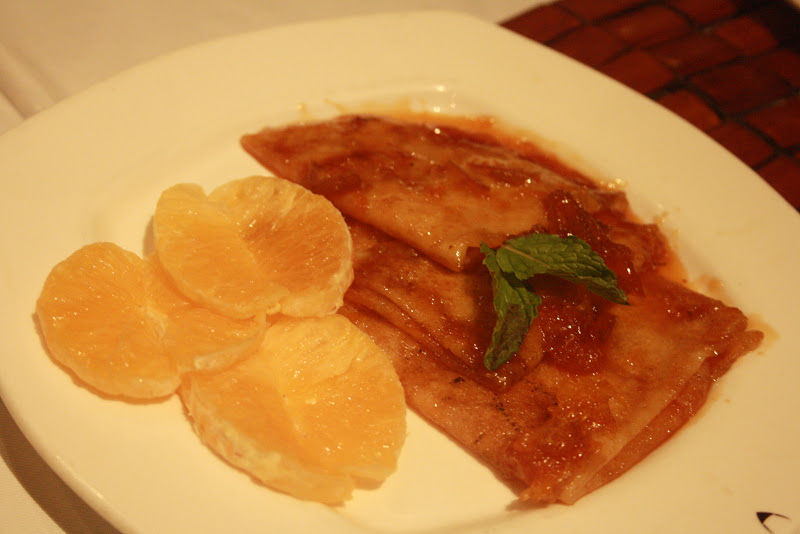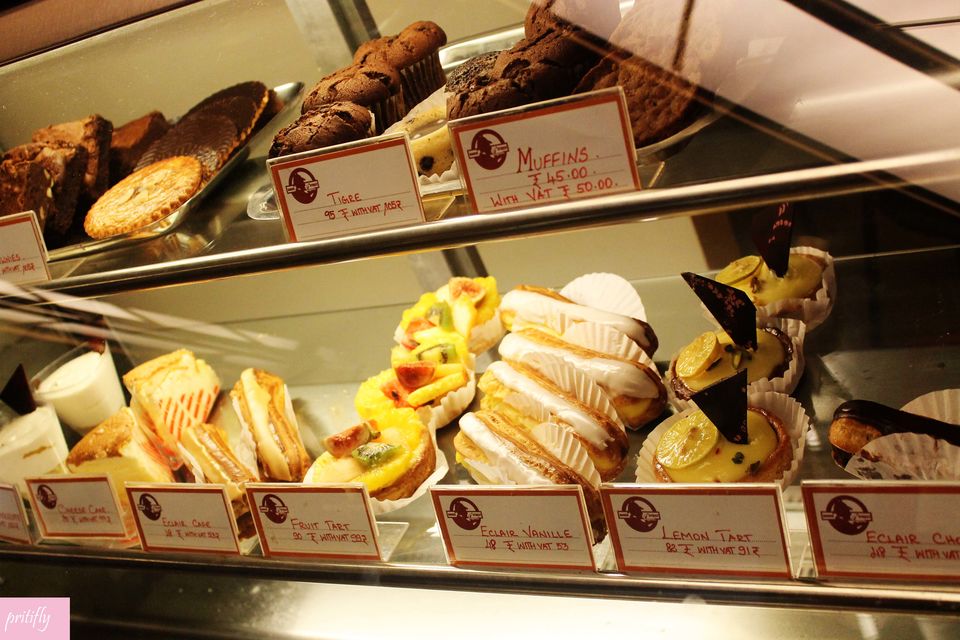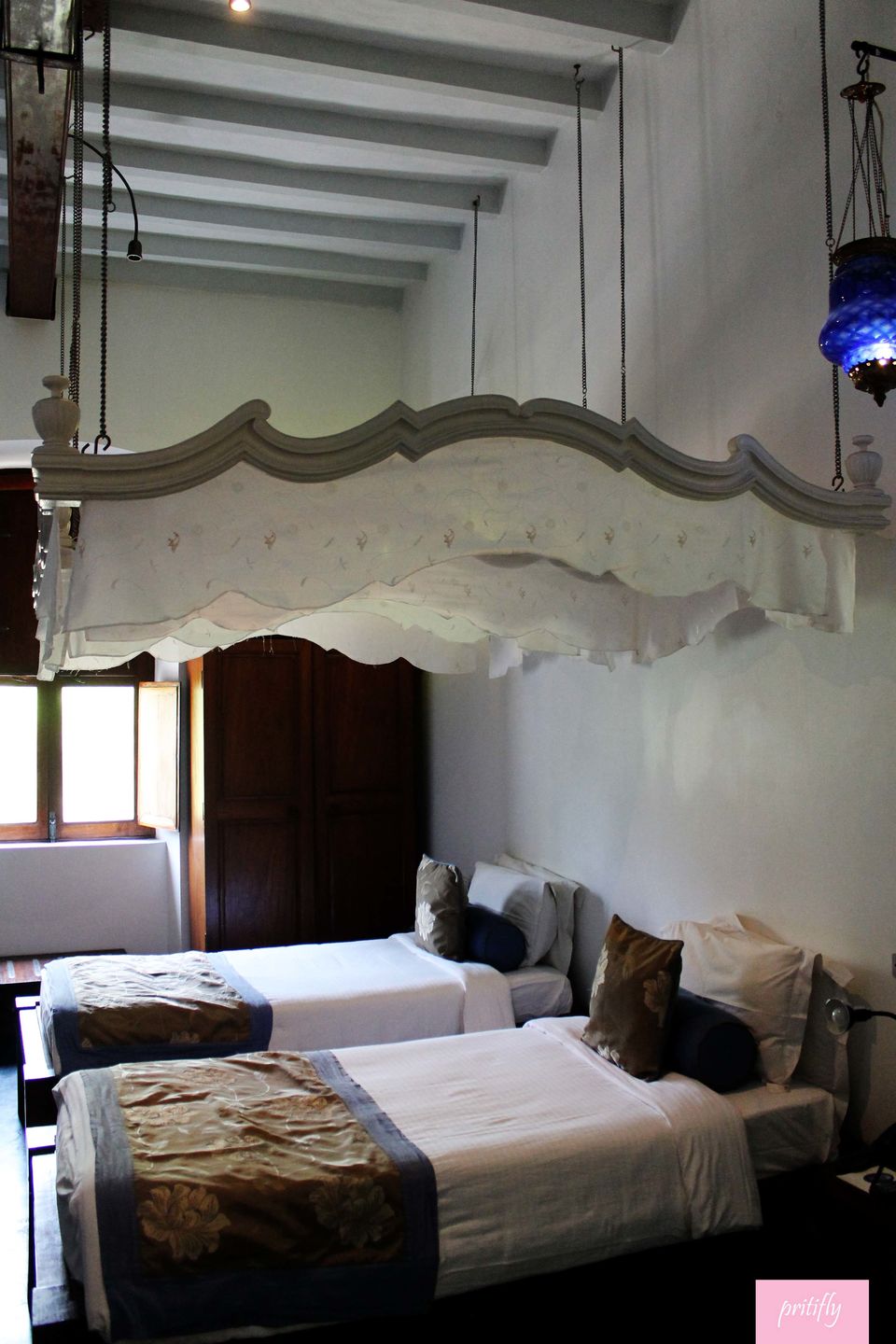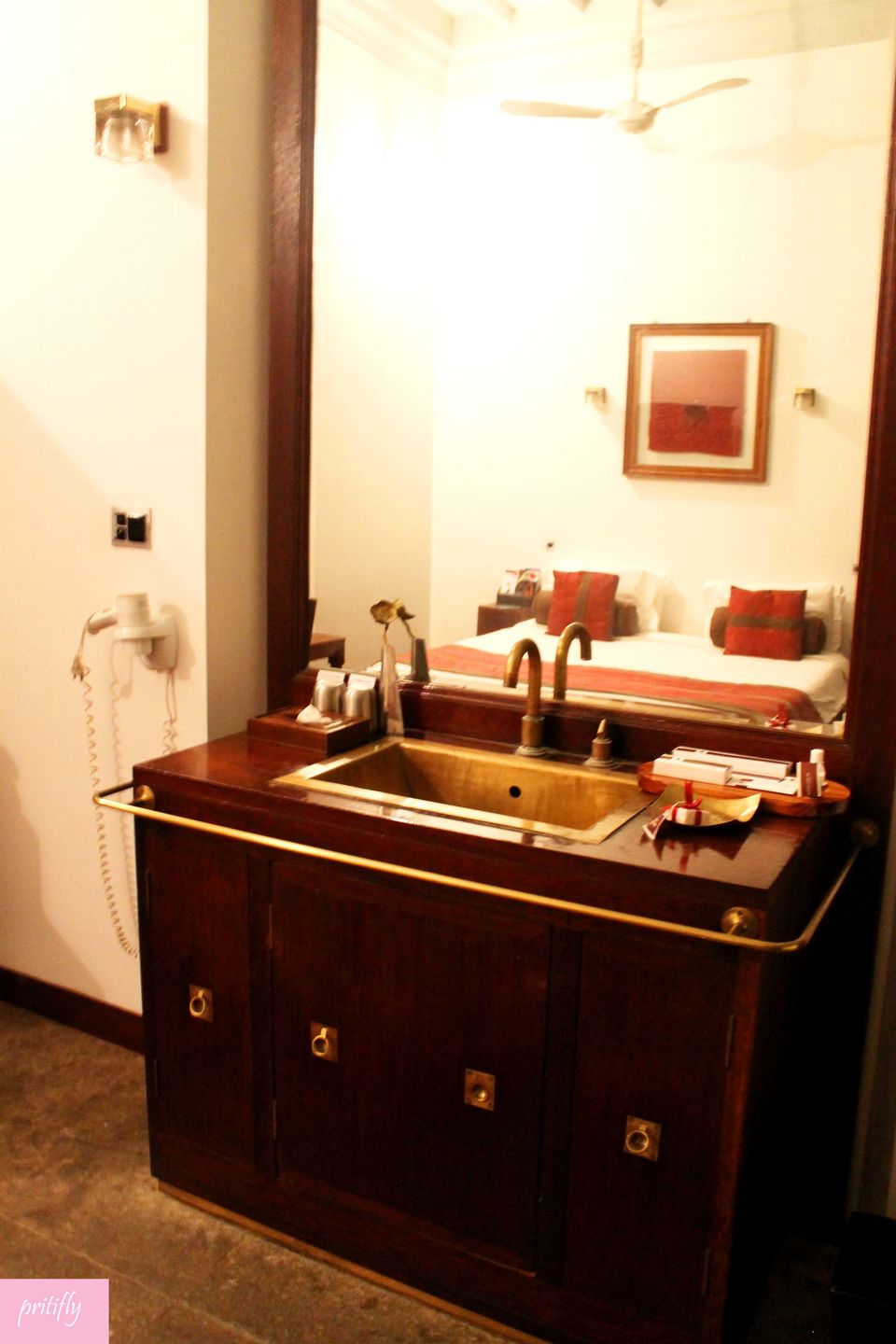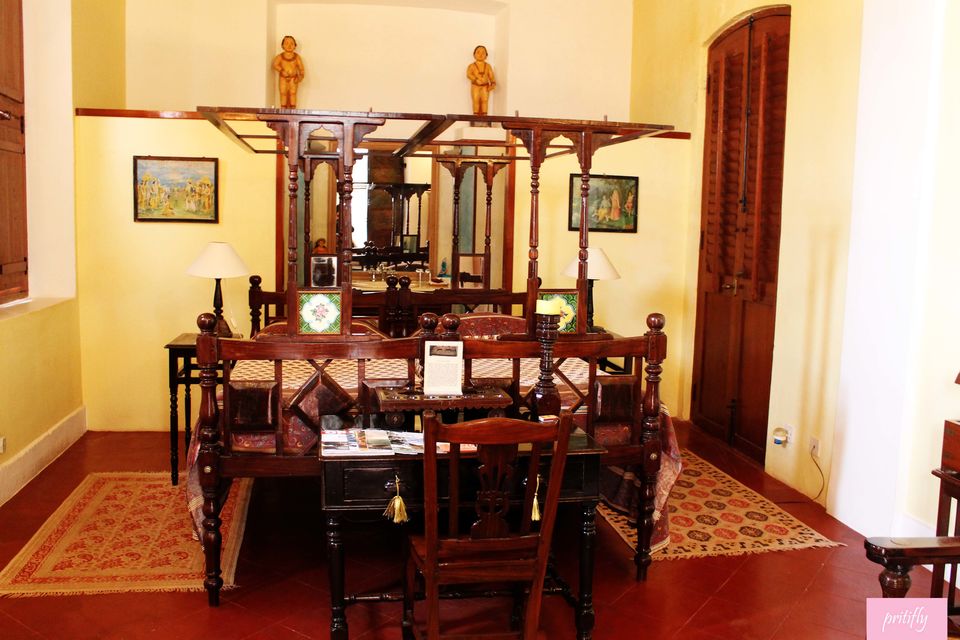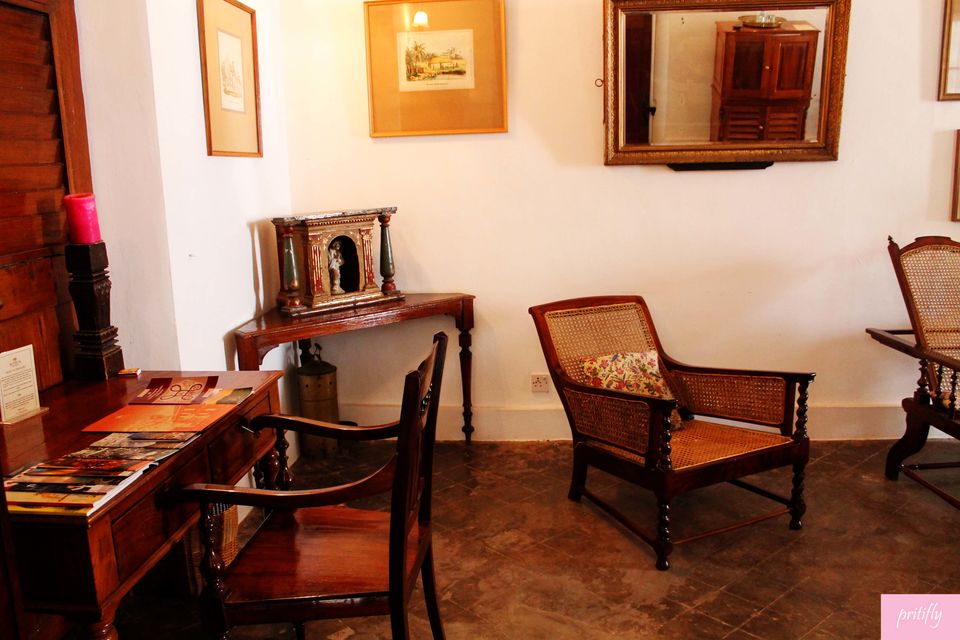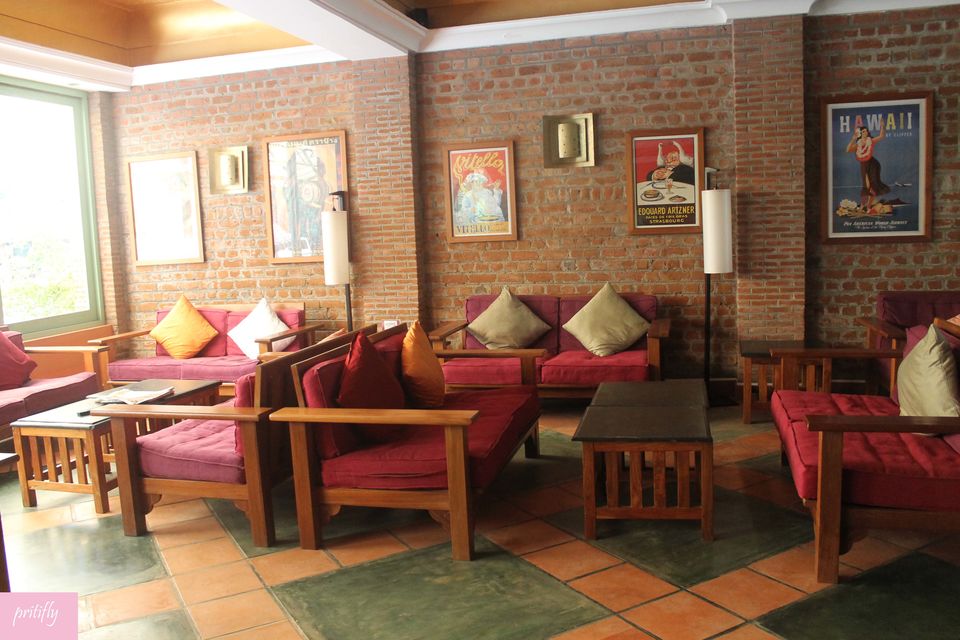 Sunlight streams through the tall majestic tree lined boulevards; I walk past ochre colored stately colonial mansions, glorious old churches and pretty cafés; it is only until I hear the familiar honk of a passing auto & feel the humidity (note: sweat) that I'm reminded I am indeed in Pondicherry and not a French coastal village.  This quaint little town tucked away in the Southern part of Eastern India oozes French charm and a distinct joie de vivre reminding visitors that it is a former French settlement. Pondicherry, was decreed a Union territory of India in 1962, thankfully many decades later, I am pleased to note that the town still maintains its distinct French character- streets bear French names, heritage buildings have been lovingly restored to their former glory, tiny bakeries flourish reviving the French pastry making traditions & French still remains the second language to many of the locals living here. It's easy to see why most Indian visitors will fall in love with this place instantly- giving us a chance to experience what the tourism officials proudly call the "French Riviera of India" without actually stepping out of India…
Those who expect the Pondicherry experience to mirror that of Goa will be left disappointed- there isn't any of that to be found here. Noisy bars & nightclubs are conspicuous by their absence and tourism infrastructure in Pondicherry is relatively basic. Pondi appeals to those who have a lazy, laid back approach to their holidays. Soaking up the history by walking through the White town( or French Quarters), meditating at the Auroville Ashram 15kms away, reading a book at a quiet café, taking an afternoon nap under a shaded tree in Auroville, shopping in interesting galleries and pottery studios & finally tucking into a delicious Creole meal for dinner at L'Orient by Neemrana.          
Here are my top picks of what to do while you are here:
1)     Visit and stay at the historical French quarters
2)     Spend the day in the Auroville commune
3)    Shop and visit the Tamil Quarters
4)    Sample traditional French pastries in Baker Street@ Rue Bussy or Auroville Bakery
FRENCH QUARTERS OR  "WHITE TOWN" 
Visitors are immediately transported back to a time where clocks ticked slowly and glorious colonial mansions existed. This small part of town retains a distinct European vibe, no surprises also that it receives the maximum number of tourists (which is actually nothing compared to the hordes of tourists that visit Goa). The affluent locals with the help of tourism authorities and French historians have lovingly restored many of the historical building here. The roads retain the original French grid layout and their French names. A perfect way to start exploring the streets is by foot. You may begin your walk from Bharati Park on to Rue Mahe de Labourdonnais, turn left into Rue Romain Rolland and walk the entire length of the street, at the end make a left into the parallel street Rue Dumas & finally turning right into Goubert Avenue or the beach facing Promenade. There are many interesting buildings, galleries, shops & cafes to visit along these streets.
The Promenade/ Beach Road/Goubert Avenue- this 1.5 km beachfront stretch running alongside the French quarters, is considered to be the pride of Pondicherry. Every evening after 5pm, the road is made closed to traffic and named a pedestrian only zone, making it a popular spot for evening walks amongst locals. The Promende hotel and Lighthouse makes for an interesting stop, the former being very popular for sundowners.
Bharati Park-a beautiful tree lined park in the heart of French town, offering visitors and locals a respite from the sweltering heat of summers. This park adds to the French character of the historical quarter.
Aurobindo Ashram(Rue St Gilles/ Rue de la Marine)– Founded by Shri Aurobindo in 1926 & developed over many years by the Mother ( Mira Alfassa), the Ashram is one of the top tourist draws in the French Quarters. Many come here seeking solace and respite from the stressful life in the city. The quiet and cool environs of the Ashram make it a perfect place to meditate or to practice yoga.
La Maison Rose( # 8 Romaine Rolland)- An interesting boutique housed in an attractive colonial mansion, features the works of several designers dealing in clothing, children's wear, accessories as well as Indian fashion, home furnishing and antiques. Their al fresco café is a must visit when the sun goes down.
Curio Centre( #40 Romaine Rolland)- an intriguing antique shop sells massive four poster beds, traditional wooden pillars, Yallas or wooden carvings, Tanjore paintings, Carved wooden doors and much more.
Notre Dame Anges( # Rue Dumas)- a delicious pink and cream color draws you closer for a look. The church built in 1858 and is an architectural and visual treat.
TAMIL QUARTERS OR "BLACK TOWN"
Running to the left of the main arterial shopping street, known as Mission St, are a parallel grid of roads that give us a glimpse of the old traditional houses belonging to the once- affluent Tamil merchants and Brahmins. Most of these building are giving away to gawdy Jewelers show rooms but thanks to the efforts of a few sensible locals, some effort is being made to preserve its heritage.
Maison Tamoule( Vysial St/ Rue Calve Supraya Chettiyar)-A Neemrana property( hotel) situated in the heart of the Tamil Quarters, this unique Tamil house also has distinct French elements. Do visit even if you're not about to stay, their friendly staff are only to happy to show you around.
Aquarelles Gallery( Vysial St)- situated opposite Maison Tamoule, this art gallery stocks the works of 3 water colour artists, most notable of whom is Raj Kumar Stabathy(a genius in my opinion), his use of light and intricate detailing make him a master! The other two talented artists- Ejoumale and Abel also have noteworthy paintings.
Maison Perumal( Rue Perumal Koil)- a CGH property( hotel)- another classic example of Franco-Tamil design, this hotel also deserves a visit. Stained glass windows are paired with majestic wooden pillars creating a surprising synergy that is evident of the Franco –Tamil style.
AUROVILLE
It's impossible to come to Pondicherry and not visit Auroville. Known across India and the globe for producing high quality natural incense sticks, essential oils and exquisite handmade paper, the likes of which are retailed throughout India (and at the Auro & Kalki boutiques in town) The Auroville commune founded in 1968, is the brain child of the Mother (Mira Alfassa- of Egyptian-Turkish descent) who aimed to create a free thinking society/nation made up of people from different countries creating cultural harmony. Initially formed with around 60 people, its population has slowly crept up to over 2000 residents. It's hard to tell when driving around, in what seemed like a forested area, that this was a barren wasteland allocated to the Aurovilians who carefully nurtured it to its current "green" state. Most residents that are part of the commune, have given up their life savings, to start afresh on a new slate- contributing to the development of the commune and nature. I have been told that citizenship is extremely selective. Consumption of alcohol and drug substances is highly discouraged. Meditation, deep thoughts & open communication are encouraged. Off course, like any other organization, Auroville is plagued with bureaucracy and internal scandals- thankfully none of this is apparent immediately to wide-eyed visitors! Most of the futuristic designs of the principal buildings of the commune can be credited to Robert Anger.
Matri Mandir- this futurist dome represents the Soul and Spirit of the Auroville community, in line with that visitors aren't allowed to carry cell phones & cameras into the main shrine area. Children below 10 years of age aren't allowed to visit too. There is a huge impressive amphitheatre made with red sandstone before the entrance. Inside the Inner chamber or dome, we find the world's largest optically perfect glass globe. The entire architecture encourages you to sit down and meditate.
Auroville Visitors Centre- is a collection of futuristic buildings that houses a restaurant, café, Boutique d'Auroville( great for their pottery, Library and bookshop and Gallery. I found their boutique a great place to stock up on massage oils, essential oils, pottery & incense sticks.
Mantra pottery ( Kottakarai, Auroville)- a charming pottery studio 5 minutes away from the Visitor's Center. The brainchild of Aurovilian Angad Vohra, the unit started production in 1994 and has evolved over the years! All the pottery here is handmade and local villagers are employed and trained in this field.
La Ferme Cheese- Started as a humble establishment in 1988 by a Dutchman Benny Ernst with the simple aim to provide cheese to residents of Auroville. Little did Benny know that this would spurn off such a huge demand across India that his cheese can be found in upscale restaurants and hotels! The milk used for producing the cheese is sourced from Auroville farms and local villages, pasteurized and finally vegetable enzymes( note no Rennet) are used to create a 100% vegetarian, artisanal cheese.  No preservatives or emulsifiers are used in the process. Their fresh cheese Mozzarella, Feta & Ricotta are worth sampling as are the seasoned cheese such as Lofabu, Jeera cheese, Gruyere and Auroblochon( a 6 month old piquant cheese).
Auroville bakery- spurned by the need to provide Europeans with their bread and pastry, the bakery started as a modest establishment and today remains so. But don't let that put you off, step in and drool over their delicious quiches, pain au Chocolat and Chocolate moelleux. La Boulangerie, located just down to road also makes for an interesting stomach pleasing stop.
SHOPPING
Ok so I don't usually propagate shopping as an essential part of your holiday itinerary, but it's hard to resist when you're in Pondicherry and (a bargain hunter). Most shops are along the stretch of Mission Street &  within a couple of 100 yards of each other.
Kalki (# 134 Mission Street)- showcases all products from Maroma-an Auroville venture specializing in incense sticks, essential oils, massage & aroma therapy oils, natural soaps & bath works, pottery, hand painted home accessories &  paper lamps.
Titanic( # 33 Rue Ambalatadayar Madam)- Looking for a Massimo Dutti linen shirt for under Rs 1,000( $20)? this is the place to head to. Known for stocking export surpluses or rejects from leading Fashion houses, this is the place to head to if you're looking a bargain- do note that being an export reject their could be faults with the stitching or labels but you'll eventually end up finding something!
Hidesign Factory outlet( # 69 Jawaharlal Nehru Street)- synonymous in India for bespoke leather handbags and accessories, Hidesign is an iconic Indian brand that now manufactures for the house of LV. There are deep discounts at factory outlet (at least 25-40%) on previous season's designs.
Casablanca( # 165 Mission Street) -Pondicherry's first department store, Their home section of the 3rd floor is worth visiting- you may get a deal or two with clearances sales.
EAT
Over to matters of the stomach, here's my picks on places to eat and drink:

Le Club (# 38 Rue Dumas) – Possibly the only place to remind you of a beach side shack, easy laid back vibes and comfy al fresco section makes this a perfect place to head to for drinks. Do order a calamari fritto to go with your chilled drink.
La Maison Rose (# 8 Rue Romaine Rolland) – Cosy courtyard setting with oodles of charm. The European fare here is a must try.  Please avoid the thai tofu curry (tad bit too sour) Lunch reminded us of sitting in a packed café in Provence with the unmistakable French accents.
Le O'rient by Neemrana(#17 Rue Romain Rolland) – This courtyard restaurant is the only restaurant I can think of in India to serve up Creole cuisine- French food heavily influenced by the Indian culture. Don't give their Creole food a miss.
Villa Shanti (# 14 Rue Suffren) – I've been told this is THE place to head to for cocktails. Too bad we missed giving it a try!
Le Dupleix (# 5 Rue de la Caserne) – heartwarming European fare in an uber cool air-conditioned setting- a relief for the sultry evenings. There is a courtyard too, for those who love the outdoors.
Baker street (Rue de Bussy-Lal Bahadur Sashtri St) don't let the rather standard & non descript façade put you off, for once you step in you are transported to a Parisian patisserie. Focusing only on French pastry- their chocolate éclairs and Chocolate mouilleaux (cake) are sinful!
Tantos (Auroville road)- If you're craving Italian this is the place to head too which packs up for both lunch and dinner. Another inexpensive grab and go option is Café Ecstasy on Mission Street( no really a place to charm you over but the pizzas are good hands down!
STAY
Hotel Du Parc (#5 Jawarharlal Nehru Street)- our favourite budget place! For under INR 3,500you get spacious clean rooms with a touch of history;  its proximity to the Aurobindo Ashram and Mission Street are a definite plus. Manager Ravi and staff are ever attentive to guests needs.
Le Dupleix (# 5 Rue de la Caserne)-a Hidesign venture  managed by the Sarovar group of hotels, we were bowled over by the hospitality of the staff and chic rooms- effortlessly blending the old with the new. Their breakfast is delicious and café food heartwarming. I highly recommend staying here. Room prices start from INR 4,000.
L'Orient by Neemrana Hotels (# 17 Rue Romain Rolland)- a big disappointment from our check-in to the lackadaisical attitude of staff. What put us off even more were their musty rooms that smelt of old sheets & damp walls. It was only at our adamant insistence that they offered to change our rooms. If you're able to put that aside, there's plenty of history inside the hotel and rooms each of which have been named after a colony. Suites are priced at INR 6,500 and room start from INR 3,000 upwards. Stay at Karaikal suite which boast of a massive 4 poster bed and private terrace overlooking their pretty courtyard below.
Palais de Mahe-a CGH property (# 4 Rue de Bussy)– we stepped into this property and were blown away by the design. Room prices are slightly on the high side and start from INR 8,000 upwards.
Mango Hill (Old Auroville road)– the only hotel which boasts of a pool situated just outside the Auroville commune. Rooms are spacious, simple and comfortable. Makes a good choice if you are looking to stay near Auroville. Room prices start from INR 4,500.
This trip was originally published on the Hungry grape.