The erstwhile French colony, Pondicherry is a melting pot of a vibrant South Indian culture with a smattering of French flavours. Perched on India's east coast in Tamil Nadu, Pondy is dotted with Gallic landscapes of bougainvillea-draped colonial townhouses, pastel cafes and leafy boulevards. A haven for both the traveller in quest of adventure and spiritual awakening, and the leisure-seeking tourist, there's no dearth of places to visit in the lovely town. But by far, the best way to explore the city is through its food, that epitomises Pondicherry's past and present.
So after you have doused yourself in the tropical sunshine and surfed the waters of the Auroville Beach, here's your guide to some of the city's most charming cafés that will whip you up the most lush crème caramel and fluffiest of croissants.
Domus, translating to house in Latin, is a melange of all things bizarre. Turquoise pillars and red walls invite you into this vegetarian café hidden in the quiet gardens of an eccentric design shop which boasts of antiquated paintings, 40's style lamps and other such rare objects. The items on sale are all curated from across the globe by Claude Dalmais, French proprietor and interior designer. Serving up a range of organic and healthy fare, you can also create your own sandwich here with the desired choice of bread, seasonings and filling. An especially good spot to sit with your iced tea and unwind would be under the cool shade of the mango tree in the courtyard.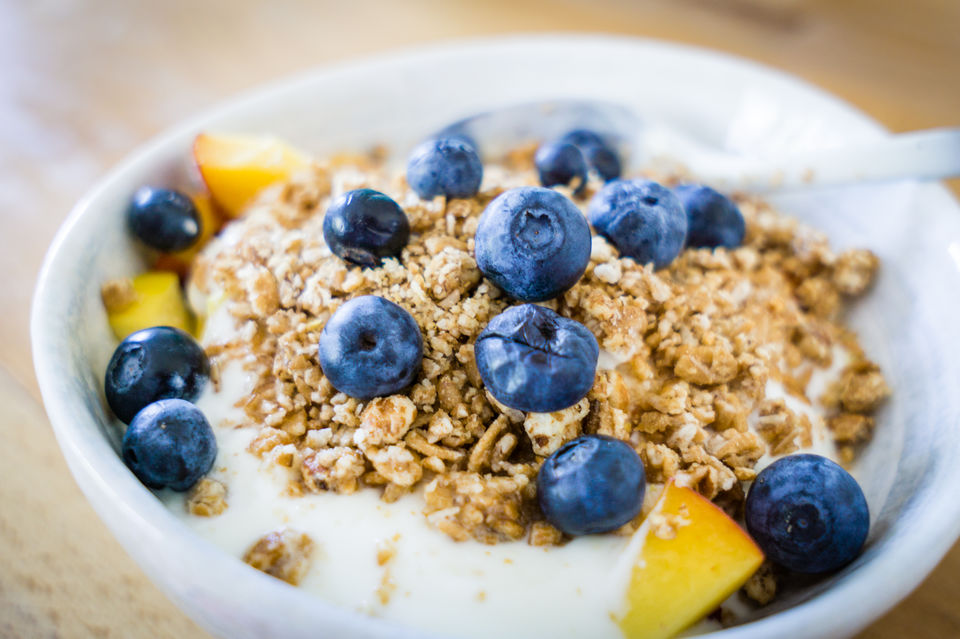 Where: 56, Rue Suffren
When: 10am to 6.30pm (open all days)
Wifi: Yes
Must-have: Muesli breakfasts, European-salad thalis, the Financier dessert
Cost: ₹210 to ₹350
Taking you through a canopied avenue, the Artika Café Gallery beckons you with graffiti-etched walls and a fashion boutique. While it's a quintessential French courtyard café, some spectacular imagery can be seen all over the café interiors. A particularly zany mural of a half-man, half-woman on a playing card, drawn on the door to the entrance stays with you long after you've left the place. Go here for a healthy breakfast plate, or for late lunch of some of the best basil pesto you've ever tasted.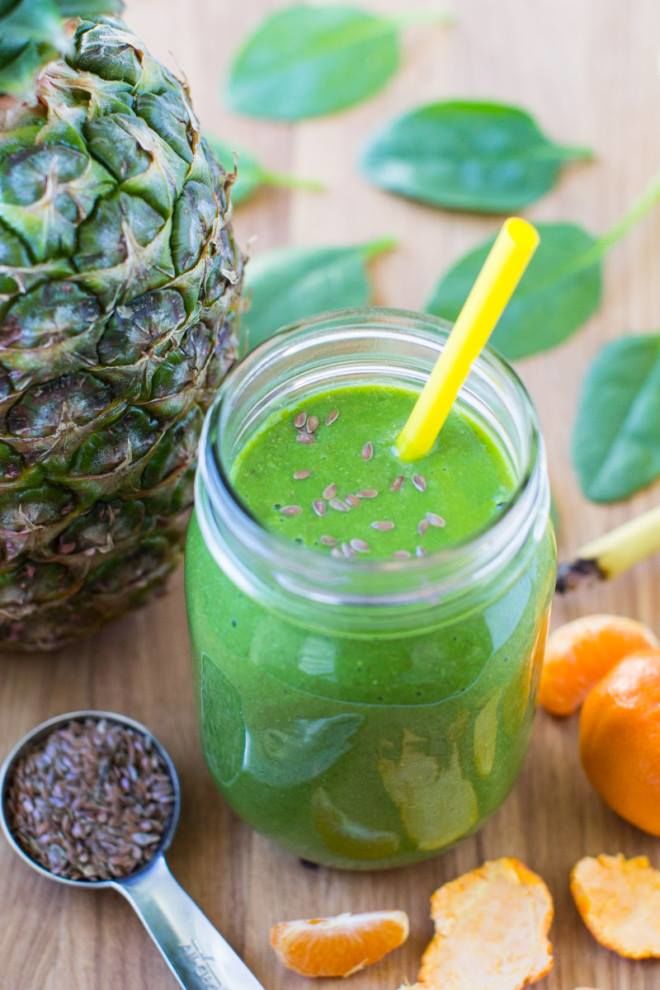 Where: 1, Labourdonnais Street
When: 8:30am to 7pm (closed on Wednesdays)
Wifi: Yes
Must-have: Green smoothies, chocolate cake, Croque Monsieur, French crêpes, ratatouille and croissants.
Cost: ₹120 to ₹260
Owned and run by French expat Pierre Elouard, this is where the locals come to eat. With an open-air seating arrangement, the cafe serves a delicious concoction of French and Italian cuisines. Surrounded by lush green foliage, and with a thatched bamboo roof, go to this cafe for a warm, intimate experience.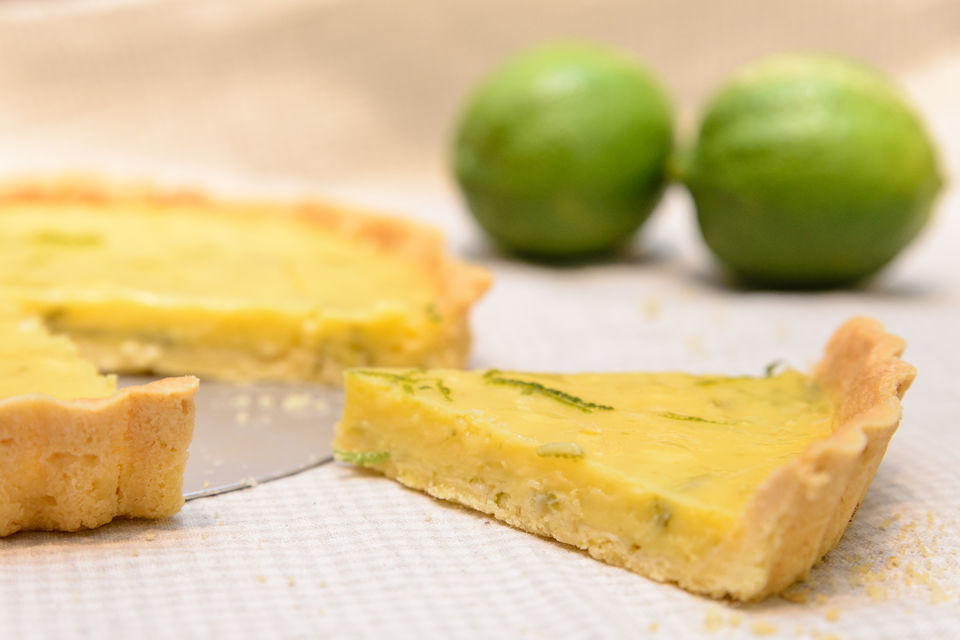 Where: 54, La Bourdonnais Street
When: 12-3pm, 7-11pm
Wifi: Yes
Must-have: Salad niçoise, steak-frites, crème brûlée, lemon pie
Cost: ₹170 to ₹370
Auroville's Well Cafe has an enticing assortment of Mediterranean food and vegan meals. An easy hike through forest trails leads you to this hidden cafe. The rustic charm of the seating area and the frequent events that are held at the cafe will keep you coming back for more. Well Cafe also partners with Well Paper, an initiative that aims to rehabilitate women affected by the tsunami.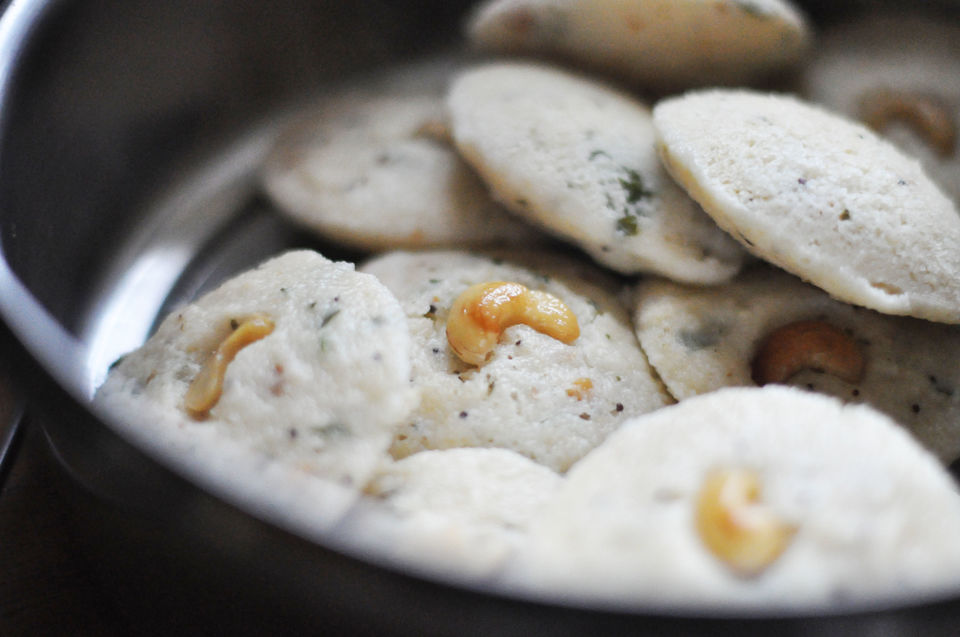 Where: Opposite Upasana Auroshilpam, Auroville
When: 8:30am to 4pm
Wifi: Yes
Must-have: Creme brulee, seafood curry and idli-sambar.
Cost: ₹150 to ₹500
A kitschy rickshaw parked in the front lawn. Pop-culture themed decor. A small hushed library. Cheery yellow walls illustrated with musicians sitting inside teacups, monkeys sitting on bicycles and flying elephants. This is what will welcome you when you step into the old French townhouse, refurbished into a quaint bohemian café. It also houses two shops – Nirvana and Cottonwood, selling all things Bollywood and Indian. The cafe is home to probably the best and most authentic French food in town.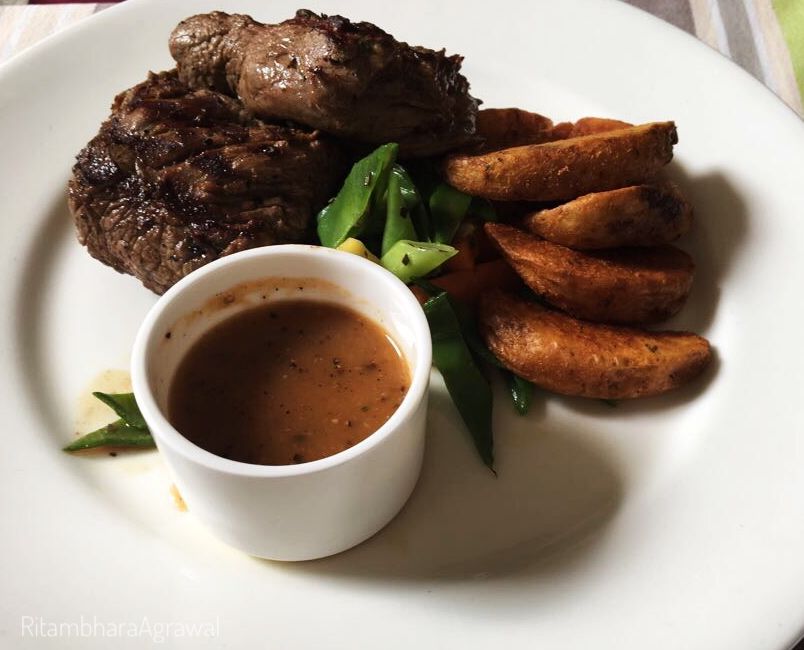 Where: 10, Suffren Street
When: 8.30am to 7pm (Closed only on Tuesdays)
Wifi: Yes
Must-have: Waffles, masala chai, crepes, pancakes, hibiscus flower syrup with soda, and croque provençal.
Cost: ₹150 to ₹260
A delight for history aficionados, located inside Hotel De L'Orient, Carte Blanche is a heritage café that adhering to Pondicherry's glorious heritage, specialises in authentic Creole cuisine. Creole is a fusion of both South Indian and French flavours. Also, interestingly, the café's seafood menu is curated according to the catch of the day.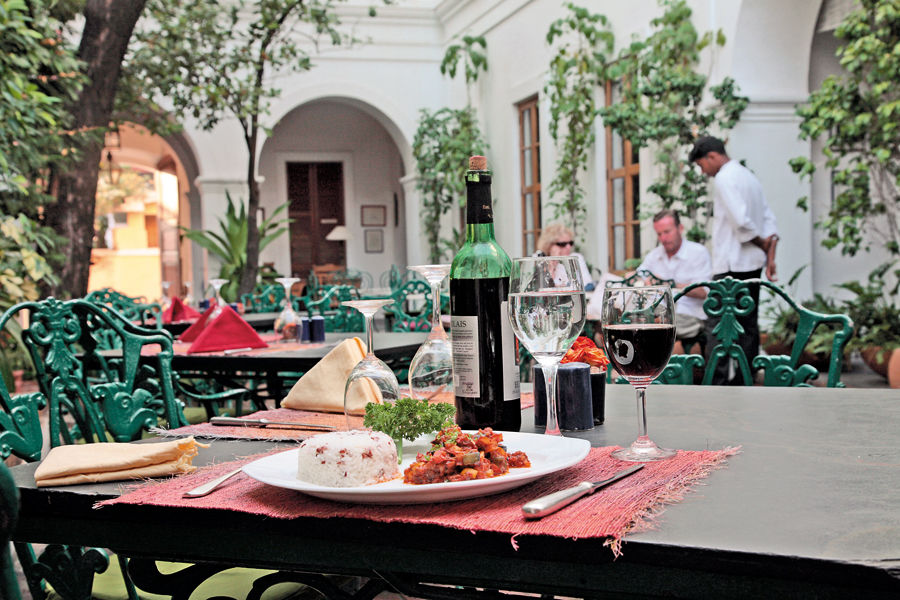 Where: 17, Rue Romain Rolland
When: 7:30-10:30am, 12-3pm, 7-9:30pm
Wifi: Yes
Must-have: Ratatouille, coconut crab cakes and curry creole
Cost: ₹180 to ₹450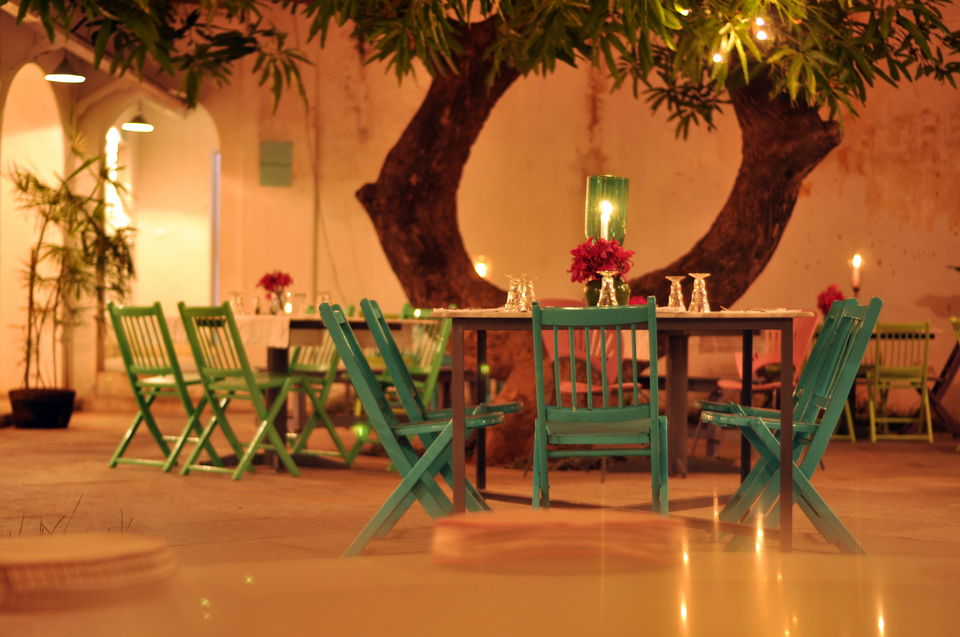 La Maison Rose's historic villa lets you dine under the shade of mango trees. The boutique cafe's architecture is heavily influenced by French-colonial designs. Especially stunning after dusk, the courtyard is draped in fairy-lights imparting subtle elegance to the dining area. Their menu boasts of a simple yet flavoursome French fare.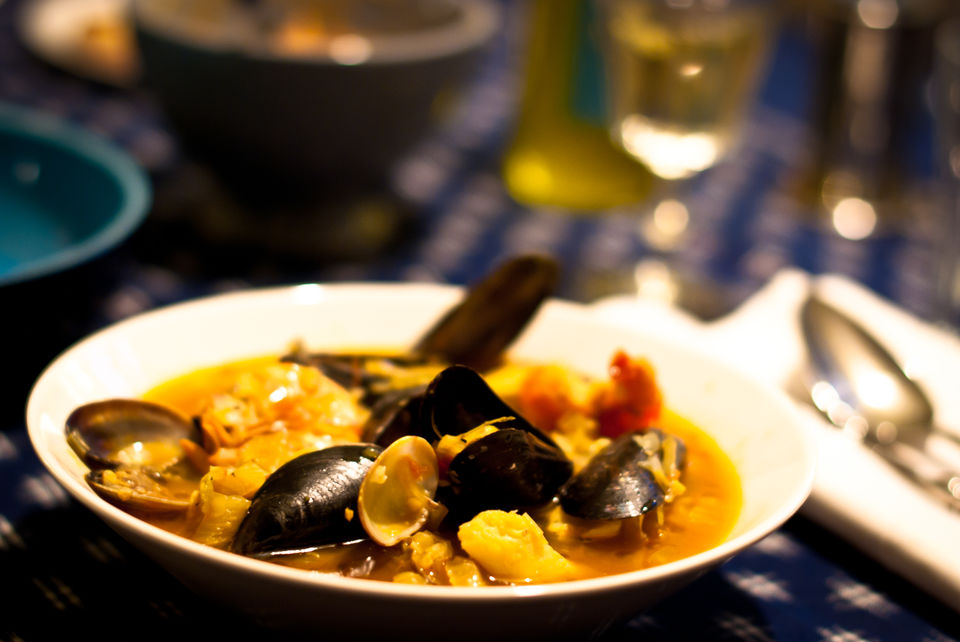 Where: 8, Romain Rolland Street
When: 10am to 11pm (open all days)
Wifi: Yes
Must-have: Salad niçoise, steak-frites, bouillabaisse, crème brûlée, cheese fondue, French pastries
Cost: ₹300 to ₹470
Offering a slice of the authentic French way of life, Maison Perumal's open courtyards will let you witness the most magnificent of sunsets. The cafe is also decked with arched stained glass windows and Burma teak pillars that emanate a French-Tamil melange. This is also embodied in their delectable fusion cuisine.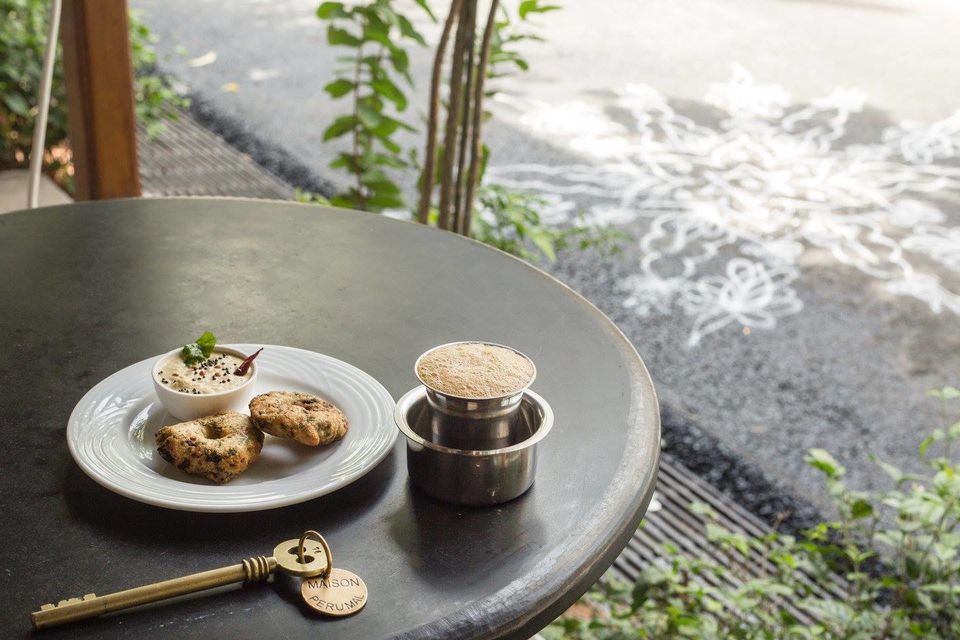 Where: 44, Perumal Koil Street
When: 9am to 10pm
Wifi: Yes
Must-have: Coffee caramel and the cilantro fried fish
Cost: ₹150 to ₹450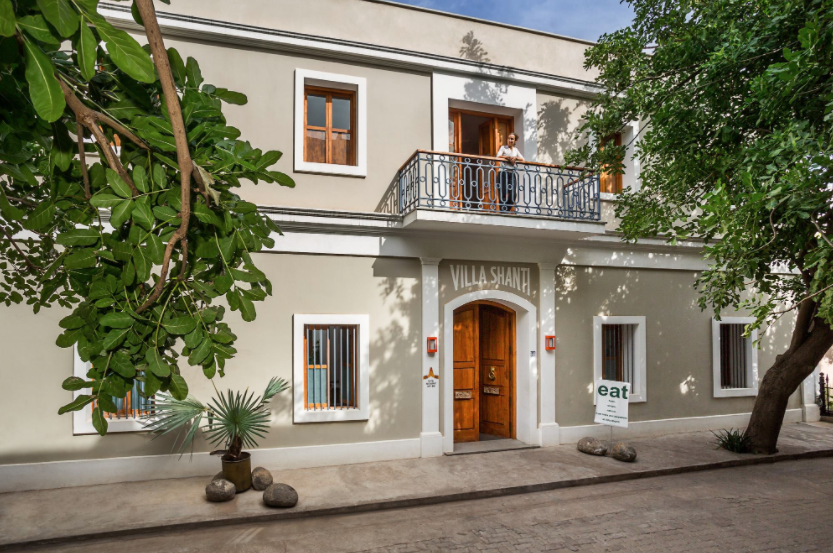 In the heart of the old French town lies Villa Shanti, a 19th century townhouse that has now been converted into an award-winning hotel. With minimalistic decor, the cafe offers a refreshing Grecian ambience to dine in. Most of their meals are prepared with organic produce and are also light on the wallet.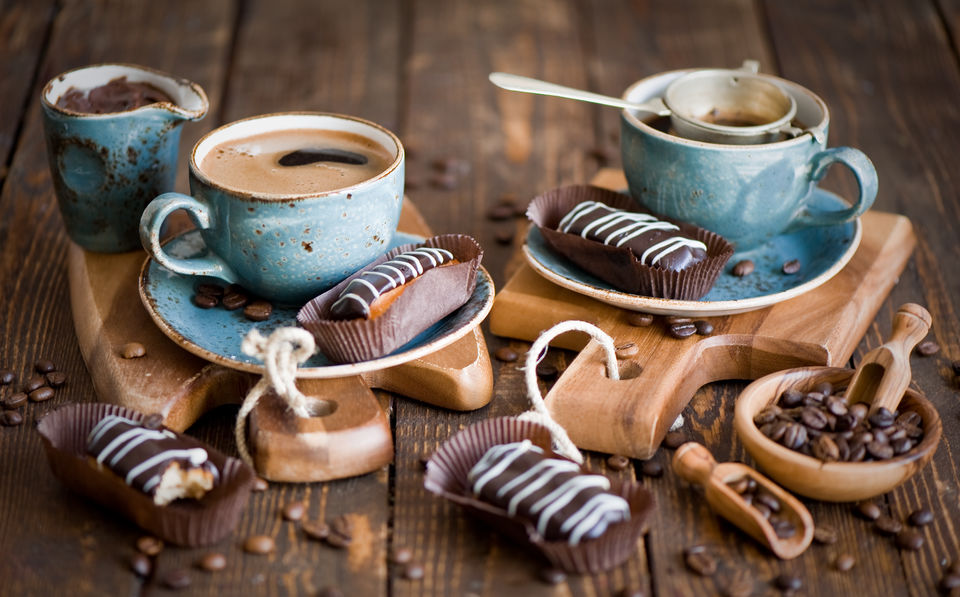 Where: 14, Suffren Street, White Town
When: 12-2:30pm, 7pm-10:30pm
Wifi: Yes
Must-have: Steak-frites, crêpes, crème brûlée, chocolate eclairs, masala prawns
Cost: ₹180 to ₹450
The Traveller's Café is hidden inside La Casita, Centre of Latin American Art and Culture in Pondicherry. Offering sweeping views of the Kamatchi Aman Sanctuary and the entire town of Pondicherry, the housetop bistro also holds concerts and gigs incorporating Latin American music, motion picture screenings and workshops.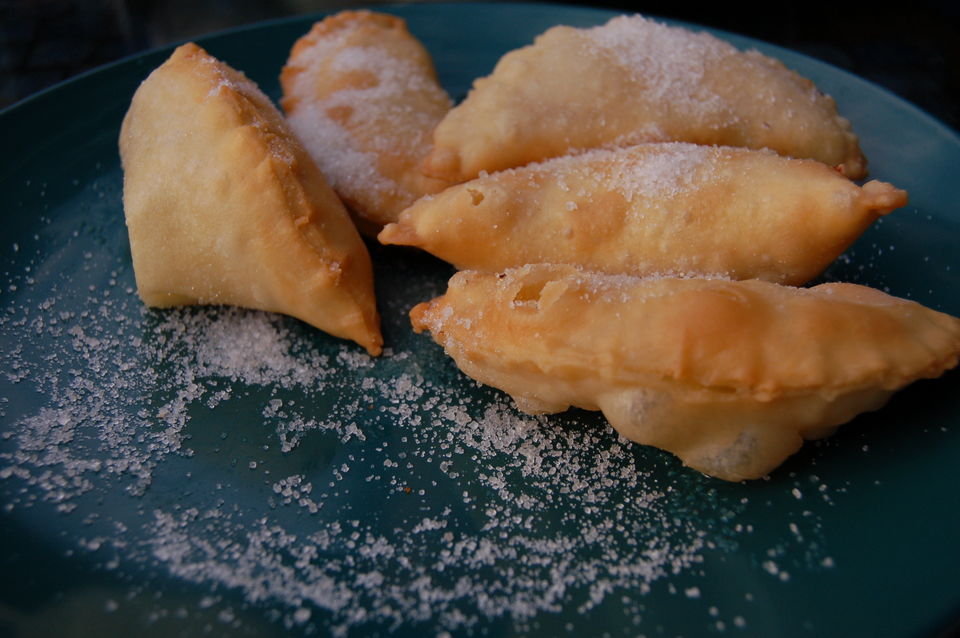 Where: 147, Eswaran Dharmaraja Kovil St
When: 11am–3:30pm, 5:30–9:30pm
Wifi: Yes
Must-have: Dimsums and the fried cheese empanadas
Cost: ₹150 to ₹400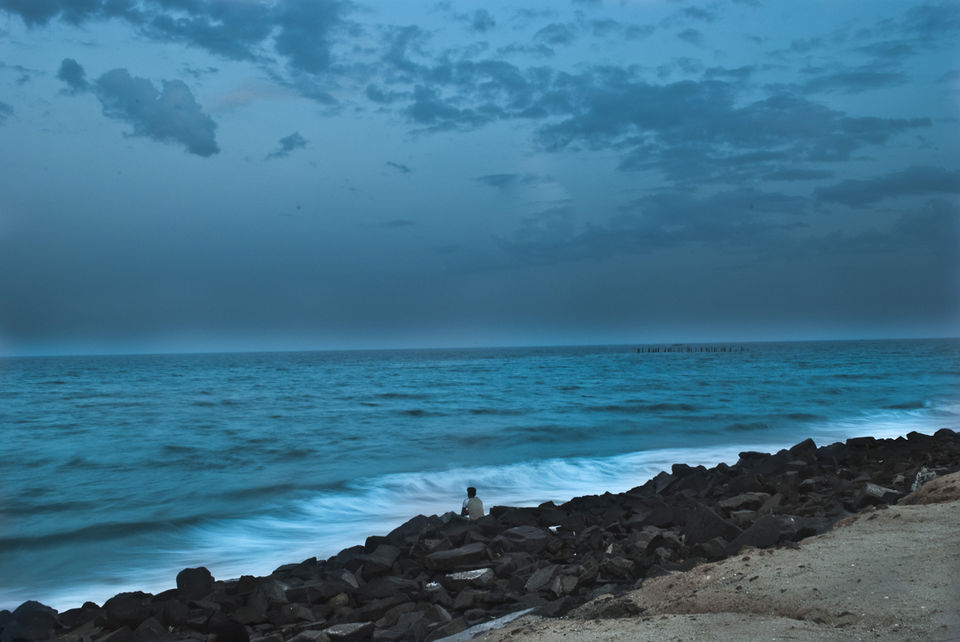 Found a quirky cafe in Pondicherry that hasn't been featured on our list? Tell us about it in the comments or write your very own travelogue on Tripoto.