Everyone (at least in my opinion) cares to welcome a new year impressively, or should I say with a bang (as the youth would put it). People party, travel, spend time with themselves or with family and close friends, or are involved in charity work (or actual office work, tsk tsk!). This, of course, depends on the taste of each individual and plans eventually fall into place. Talking of plans, I guess I was destined to visit Nepal after all and return to my motherland with memories to last a lifetime. I can say with conviction that owing to this trip, my previously calculated travel equation has improved and inspired me to think about bigger and better travels.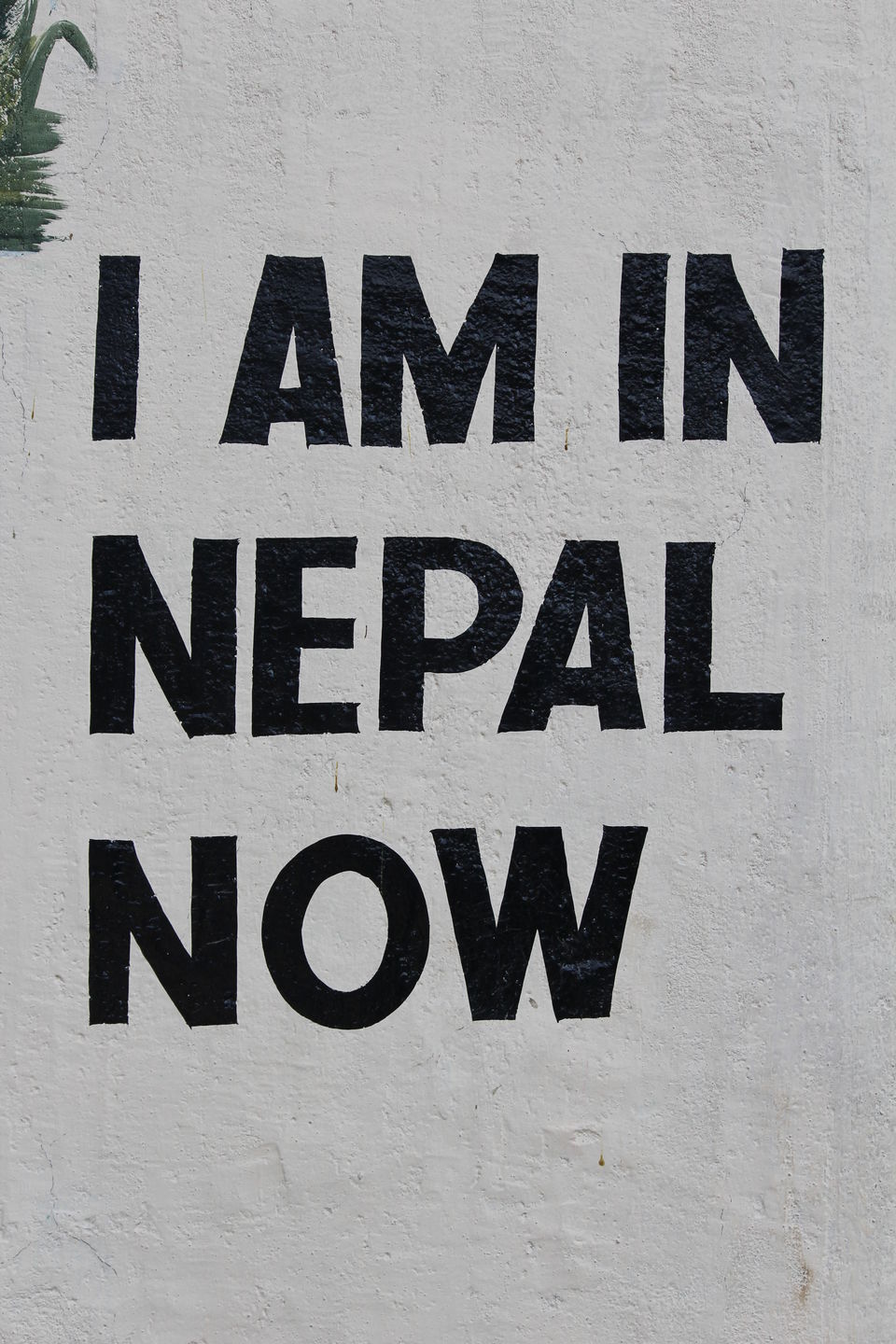 Where do I begin? You see the problem with writing a travel blog after you visit a dream destination becomes difficult as there are so many things to list that it makes you wonder how to ensure everything is captured in the perfect manner. Well! I'm not going to break my head on the flow; so, let's just get on with the details.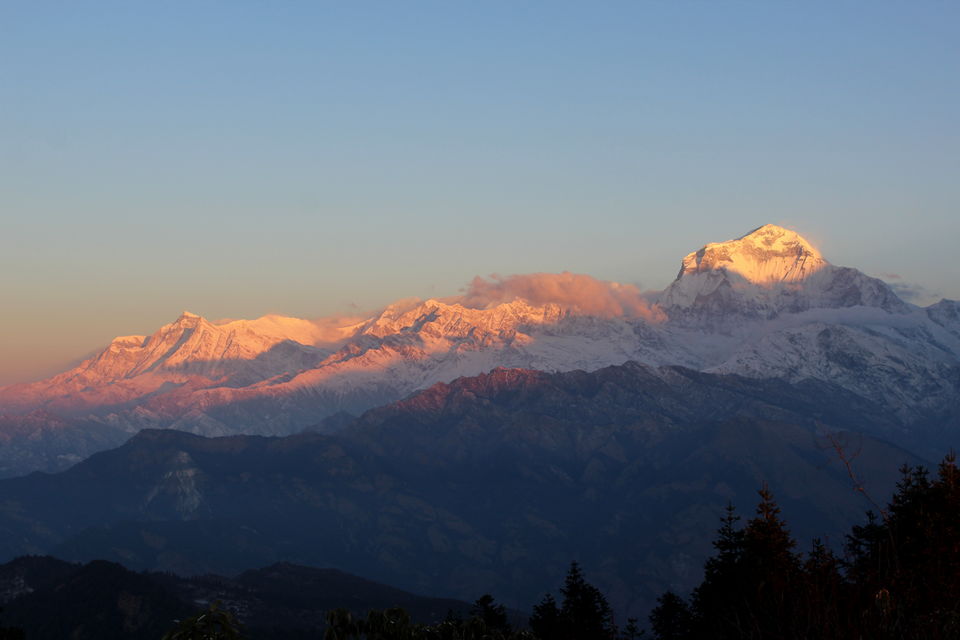 Planning began a few months in advance and my goal was set that the last trek of 2016 should be more of a hike/easy level trek and across the Indian border. Nepal was shortlisted and went on to win the award of "best destination", and considering my undying love for the mountains, the Ghorepani Poon Hill trek fell within my boundaries. Earthbound Expeditions (my travel organizer) soon became my point of contact for all details and I must mention that the President of this adventure company, Mr. Rajan Simkhada, was extremely patient and spontaneous in all email communications. I had numerous queries as this was my first Himalayan trek outside India and I had to ensure that everything was properly laid out to avoid any untoward incidents in a foreign land. Rajan ji made sure that everything was in place and it is with extreme happiness that I can say that the Earthbound team certainly cares for the avid travelers' passion and love for traveling and are committed to delivering the best service.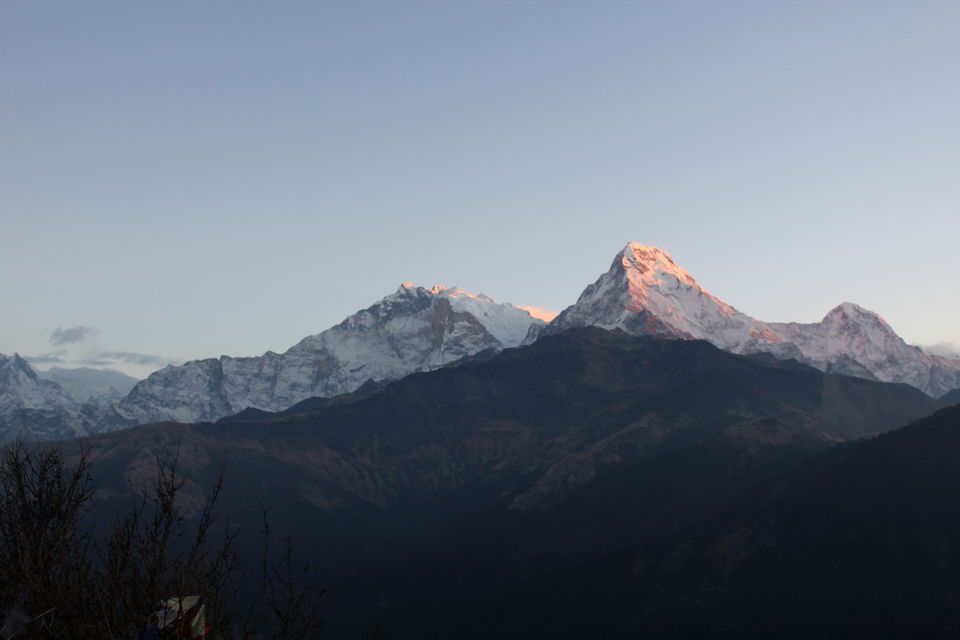 Our journey through emails finally transformed into reality on December 22 when we boarded our morning flight from Mumbai to New Delhi at around 9:00 AM. Excitement levels were definitely high and we were eager to reach Kathmandu at the earliest. Adventure awaited us around the corner as we landed in New Delhi 25 minutes behind schedule and had our next flight to Kathmandu in less than an hour. Visa formalities, security check, and a long (brisk) walk to reach the departure gate followed. Shruti and I gave ourselves a pat on our backs after successfully boarding the plane 15 minutes before the gates closed - like I said, adventure fails to leave the true enthusiasts. The flight duration wasn't much and 2 h 15 mins later we were at Kathmandu airport frantically searching for someone who could lend us a pen to fill the immigration form. Yes, you heard me right! We carried everything for the trip, but forgot to add a blessed pen to our list. Lesson learnt for the next journey. So, after 10 minutes of waiting and searching, one gentleman was kind enough to lend us a pen; we filled our forms and had our passports stamped (without any visa fee - it took me a while to digest that though!). Next, we followed the queue not knowing where it was leading us, but we hoped it was the right way to the baggage counters. Sounds dumb when written in this manner, but if you had seen us then, you would know what I am talking about. Anyways, Kathmandu airport (or Tribhuvan International as it is known to all) has the weirdest of baggage belts facility, which seemed more like a snake (having the same width at the front and rear) with no intent of harming mankind. It took me a while to gauge where one belt ended and the other started. To add to the existing confusion, the display screen didn't seem interested in letting passengers traveling by our flight know which baggage belt to proceed to. So, after much speculation and a quick announcement 15-20 minutes later, we were instructed to collect our luggages from belt #3. We were then exposed to another round of inspection - the red versus green channel. Hmmm! Go green is the motto for the modern world and red isn't quite my color. Philosophy doesn't really work in matters of the government (of any country) and I decided to inquire about this from a fellow traveler. We were told to follow the green channel if we didn't have anything to declare in customs. What made me LOL was the fact that people who had a LOT to declare (TVs, audio systems, etc) were also in the green channel queue and successfully passed the screening test. Can't help being sarcastic, but slow clap to humanity and security for having rules that are meant to be broken or disregarded completely. Anyways, getting past this security was a piece of cake and we were finally outside the airport where our driver (Heera) was waiting for us.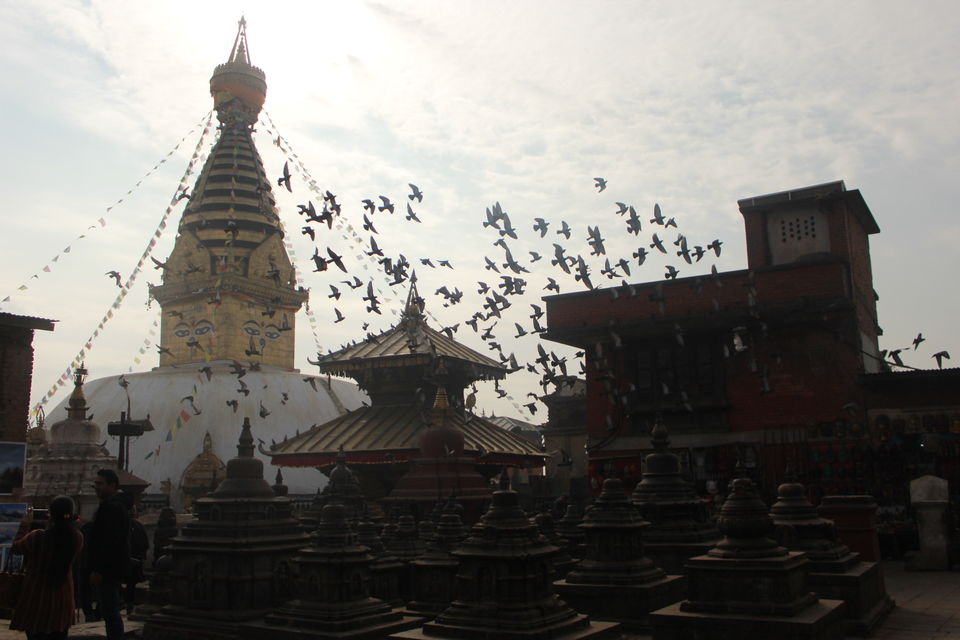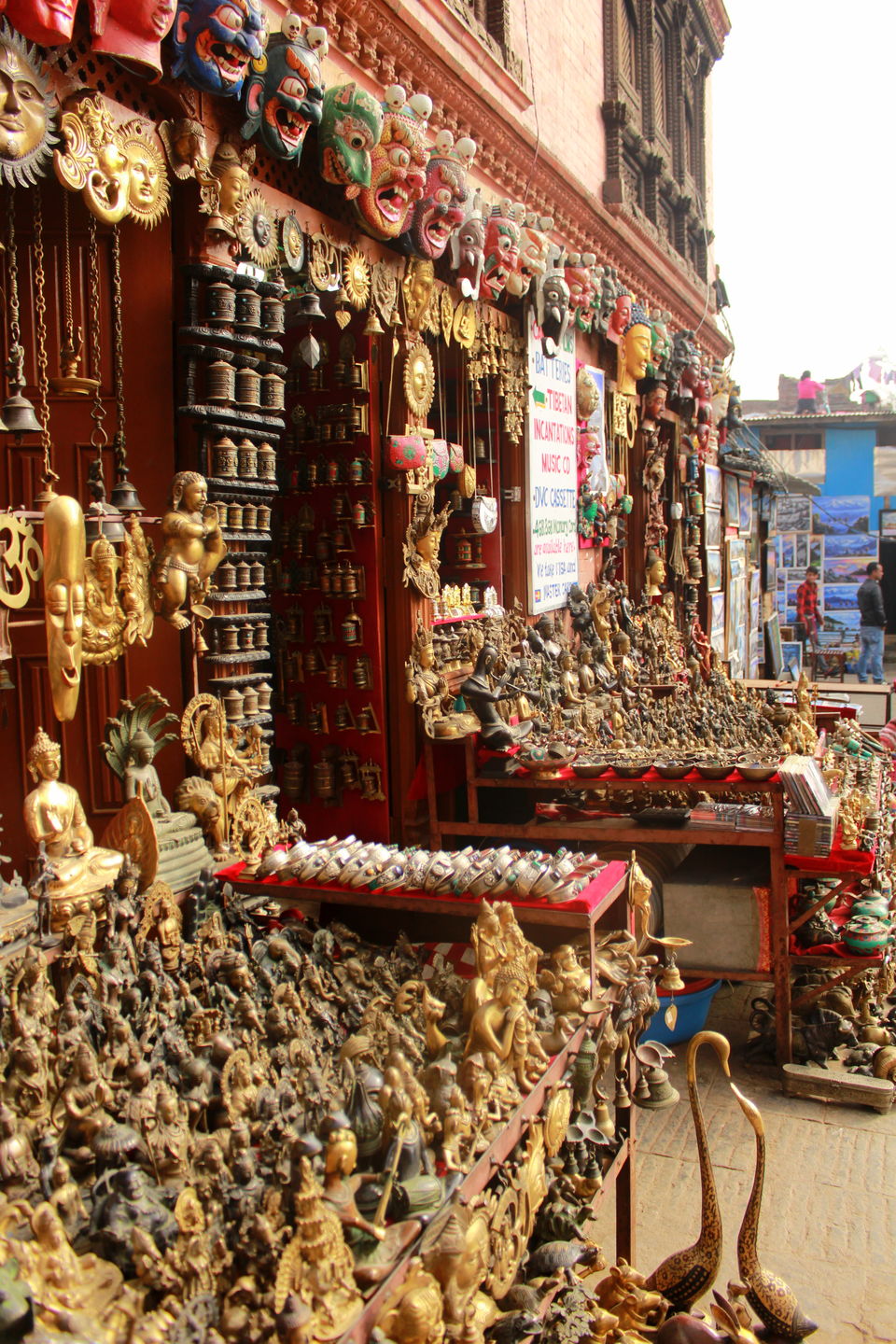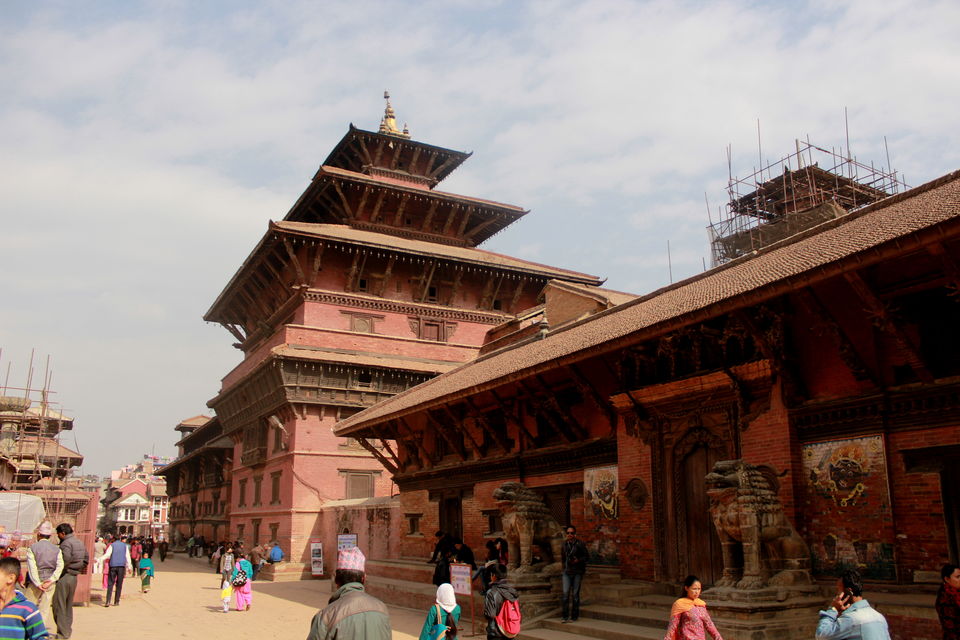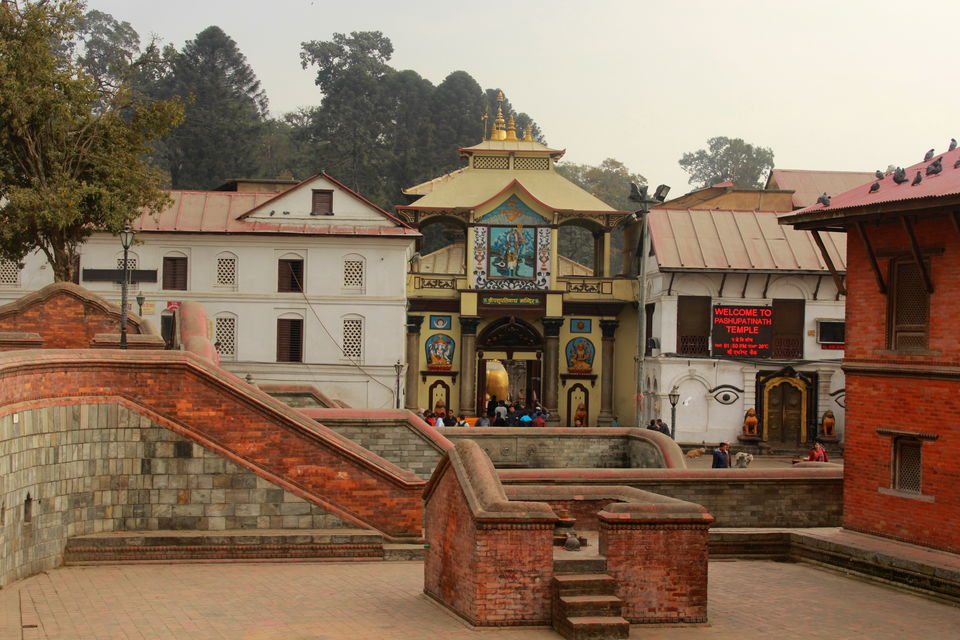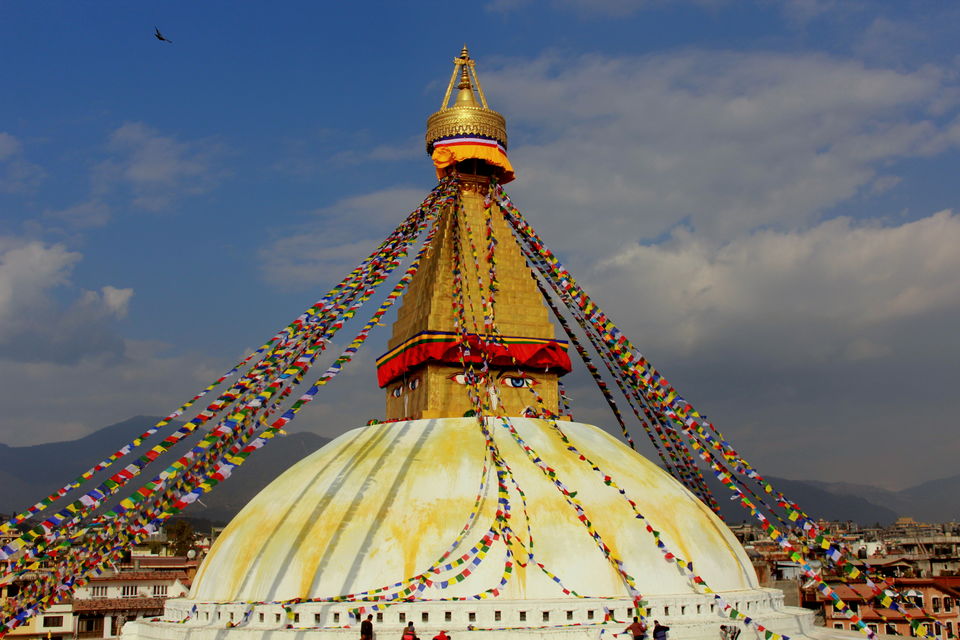 The drive to our resort (Thamel Eco-Resort) was approximately 45 minutes owing to city traffic. At first glance, Kathmandu seemed quite Indian possibly because of the incessant honking and traffic in that part of the city , street hawkers having their stalls set up on the pavements, and children playing football on the roadside and on scarcely grassy enclosed spaces. As we approached the Thamel area, the roads became narrower and it was evident that this is the main marketplace for locals and tourists. The rush could also have been for the New Year shopping, but it would be right to assume that this is definitely one of the busiest streets in the city on any given day. Our resort was located inside a small gully (thankfully off the main road), which explained the silence in the neighborhood. We checked in and met Rajan ji who gave us the detailed itinerary for the entire trip. The rest of the evening was spent in exploring the marketplace and having a quiet dinner at a nearby Tibetan restaurant.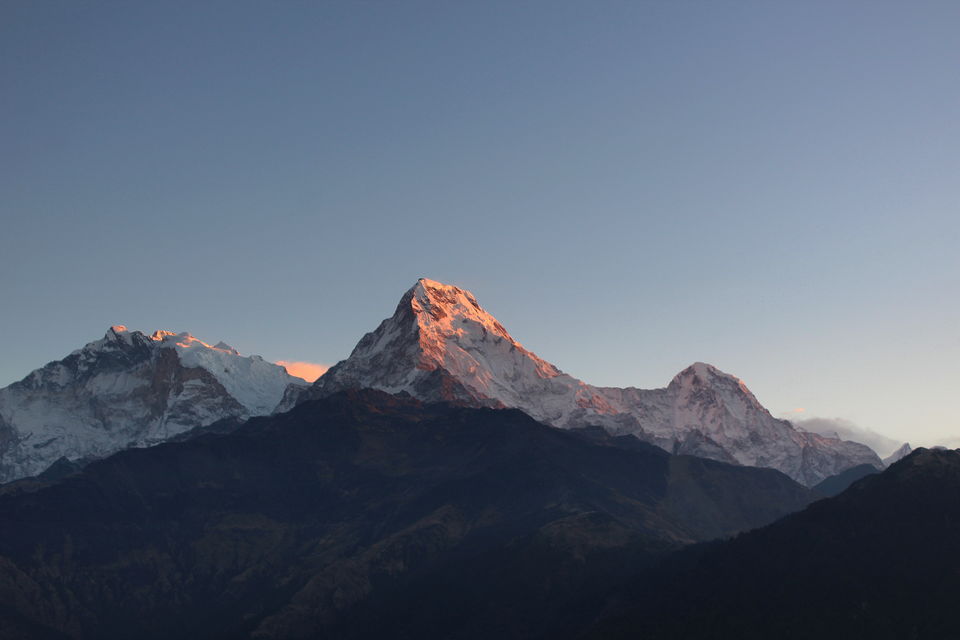 Believe it or not! Nepal must be regarded as one of the top destinations for religious travel. It is culturally rich and is bundled with religious sentiments possibly across all sections of society. Accounting for a meagre 0.03% of the global population, this land echoes the preachings of Lord Buddha for generations, which probably explains the serenity, peace, and emotional balance one experiences when standing in front of a stupa. The ambience coupled with the crafty artsellers' shops in the vicinity provide the much needed clarity to the traveler's mind, which is when you imbibe a fraction of the Nepalese culture and realize the importance that people pay to religion in this part of the world. These emotions were displayed when we were at our first sightseeing destination, the Swayambunath Stupa. After spending an hour and gathering some basic knowledge about Thanka art, we proceeded towards our next destination, the Darbar Patan Square. As the name suggests, this place happened to the be the Raja's darbar back in the day and the market street was quite busy (typical as we see in some of the period drama Bollywood flicks). Unfortunately, the temple had collapsed during the 2015 earthquake and the layout for the new establishment was already in place with the base foundation completed. The interior of the darbar was grand, yet simple with a modern-age coffee shop and a small garden for people to hang out. A photo gallery encompassing mountain ranges, natural landscapes, and villages and the local life was spread across 2 floors.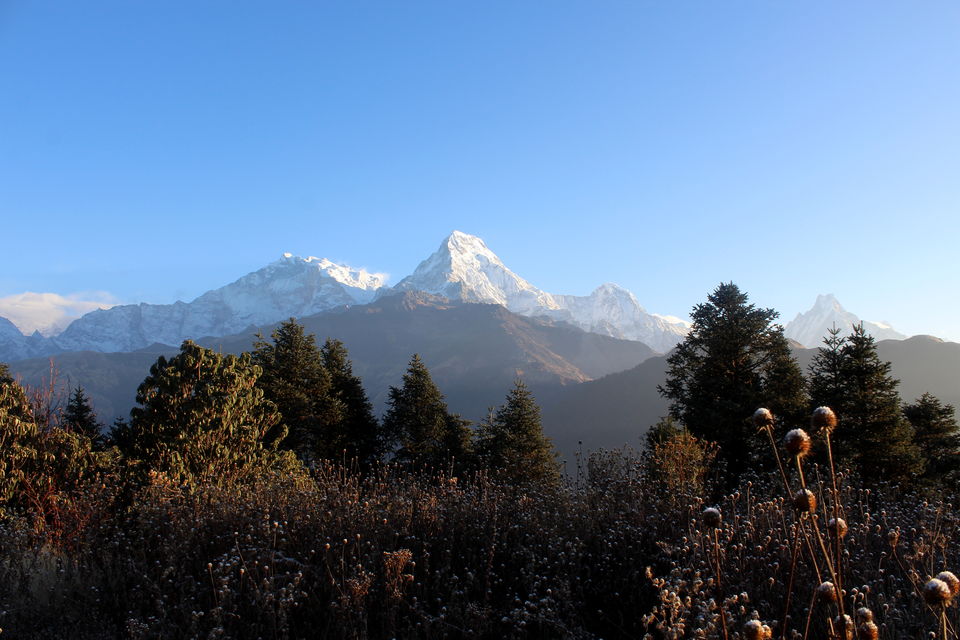 Now most of us have heard about or even seen the singing bowls, popularly known as Tibetan singing bowls or Himalayan bowls. Our guide decided to take us to one of his friend's shops to experience positive vibrations (as he'd put it across) and gain some knowledge about what this ancient tradition entails. Five minutes into the conversation, Shruti decided to experience some positive energy and was asked to remove her shoes and stand in one of the bigger singing bowls while an attendant created sound vibrations via another smaller bowl. The vibrations (according to her) were felt throughout her body and made her feel comfortable and relaxed for that brief period of time. I wonder if it actually made her calmer from the inside because her present behavior seems quite the opposite. Tsk tsk! This is no forum to take personal jibes at people (but couldn't stop myself from this small attempt); so, I will restrict myself to the travel bits. After this experience, our stomachs were crying out loud as it was almost lunch time and we had been sightseeing for almost 3 hours. Pashupathinath was our next pit stop, which we covered in 15 minutes as we weren't really keen on entering the premises and waiting for our turn to seek blessings owing to the long queue. Finally, as our guide had promised, the last stop, the Boudanath stupa, approximately 2 km away from Pashupathinath was our lunch hotspot, where we were given the best dining seats in the house - an open-air arrangement directly staring at the stupa and the surrounding landscape. The mountains were visible in the distance and added the perfect blend of scenic beauty and elegance to that afternoon. The symbolic mantra was being chanted as we sat down and ordered our food. It was peaceful and our palettes were satiated by the cuisine. An hour later we walked around the stupa, clicked some photos, and headed back to the resort to prepare ourselves for Pokhara, our next destination on the following morning.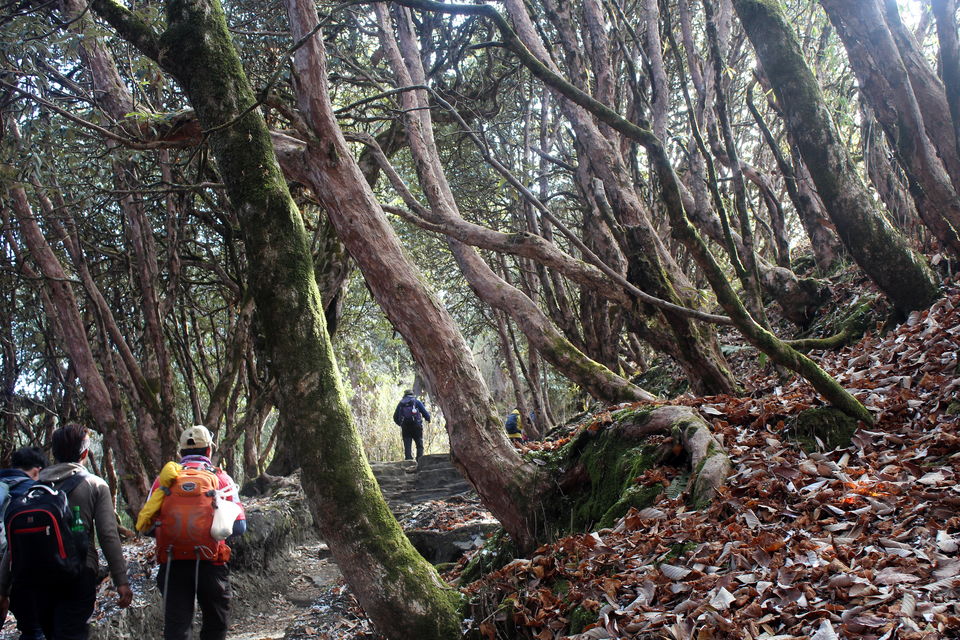 Finally the actual day of the trek arrived, but before that could begin, another short journey had to be completed from Kathmandu. A 25-minute flight to Pokhara followed by a short (and bumpy) drive to our trek starting point. The Kathmandu domestic terminal was like an independent functioning unit with newbies (like us) left to figure out things for themselves. It was particularly fun to see the security checks that they conducted for all travelers and I would have loved to enact the procedure. Alas! You'd have to meet me in person to enjoy that part. The flights that operate out of Kathmandu to nearby destinations within Nepal include a smaller Airbus and are usually of short duration. It gave me the feeling of a private jet for the most part and when you look at the below photograph, you might just end up agreeing with me. Anyways, agree or not, I was definitely charged up and 15 mins after take off, my excitement knew no bounds as we flew past snow-capped mountains. You get a sneak peek from the airbus window at 12,000 ft and view the stunning ranges in the distance. Oh! What a sight! I decided to soak in this beauty rather than clicking a 100 photographs of low resolution. Sigh! And more sighs! And more…..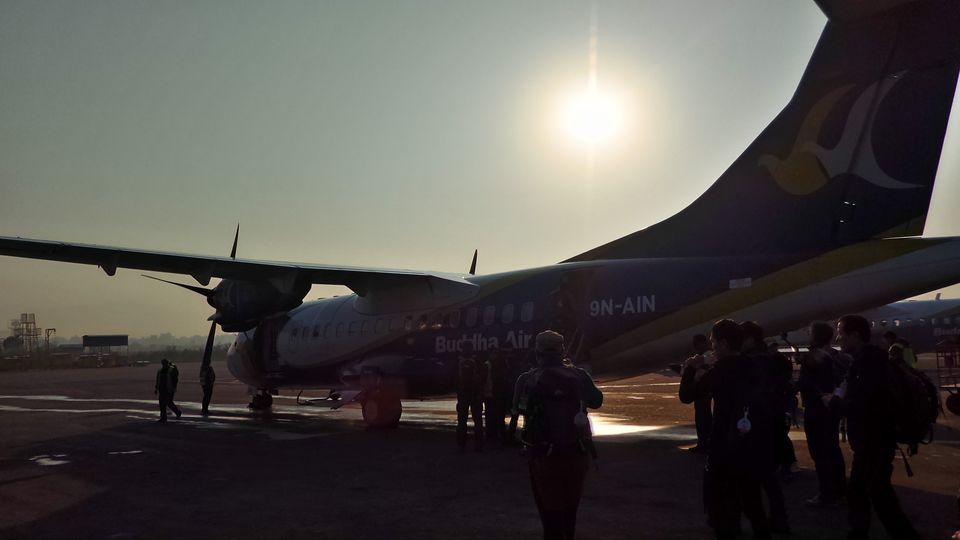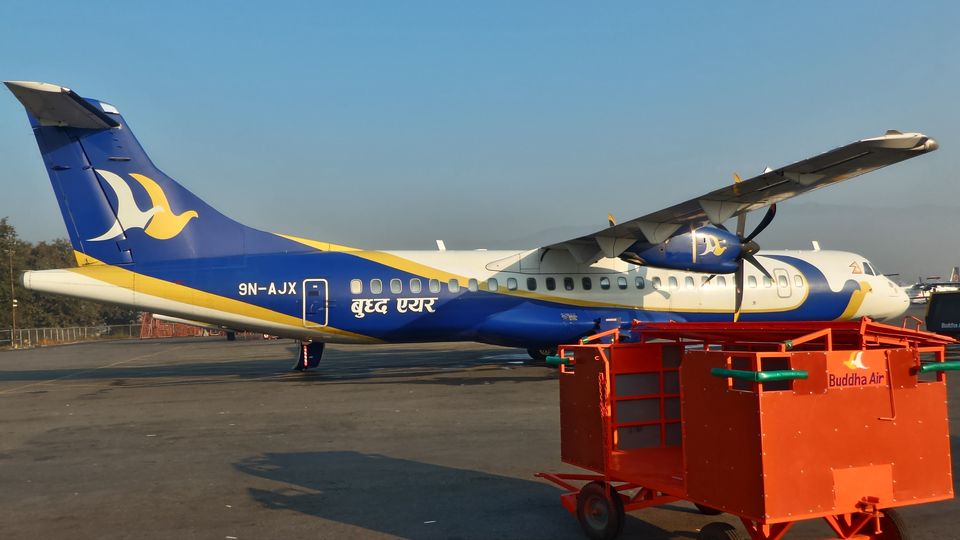 We met our guide (Namaraja) at Pokhara who took us to the resort where we deposited the extra baggage and received our trek permits; other formalities were completed following which we left for the starting point of the trek. We were warned that the roads might not be too considerate and we were prepared for it. An hour and a half later, we were walking past the Nayapul market en route to our first destination, Tikhedunga. We stopped for lunch along the way and the trail was scenic and simple. One could say we were just warming up for the coming days and getting our limbs stretched, specifically those that were never exercised in a few cases (tsk tsk!). Along the way, what impressed me was the cleanliness of the trail and friendly nature of the villagers. You would be greeted with a smile and the customary Namaste. We took short breaks all along and reached Tikhedunga by 3:30 PM. We freshened up and had an early dinner around 6:00 PM as darkness began to set in and temperatures plummeted. We were briefed about the following day's itinerary after which we engaged in a game of cards. It is the rule or rather discipline of the mountains to ensure that the body and mind get ample rest before the next day's hike. So, lights should be out by 8:00 PM and that is precisely what happened. We had a long day ahead of us and were mentally preparing to get closer to our lakshya.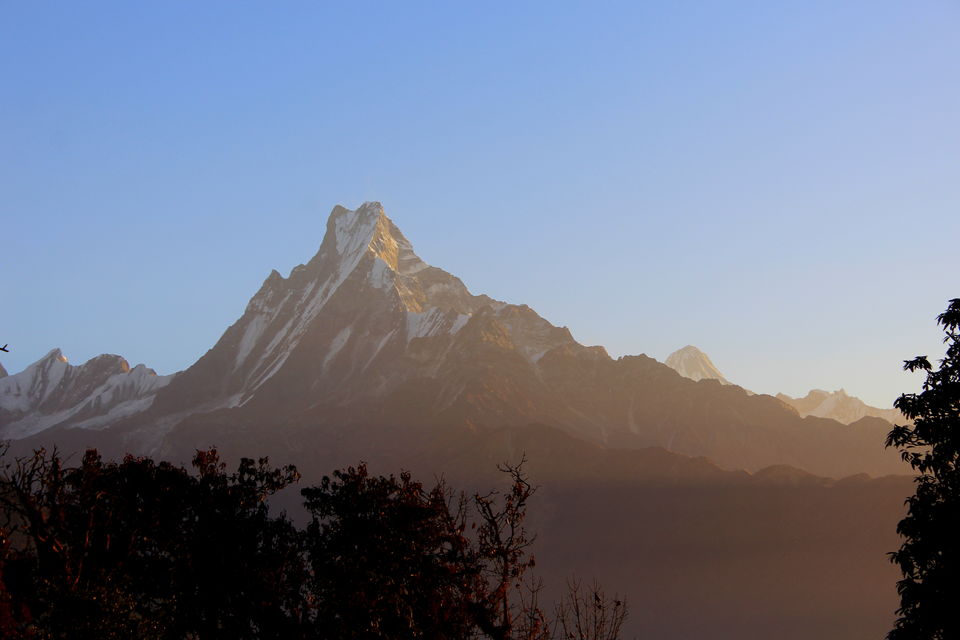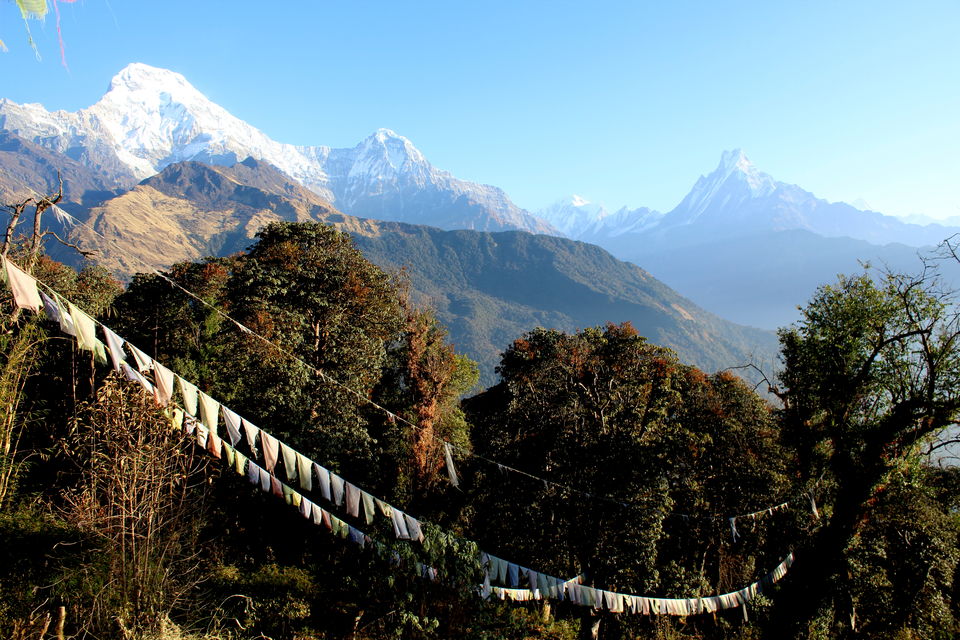 Tikhedunga to Ghorepani - take me one step closer to the edge! Breakfast was served around 7:00 AM and we were ready to rock (sorry walk) by 7:30 AM. Adieu Tikhedunga and start chanting fellas because the route (to heaven maybe!) involved climbing ~4,000 well-carved steps to pass a pretty established village (by high altitude standards), Ulleri. Ulleri, Ulleri, Ulleri was the mantra for the next 2 hours or so. The idea was to keep calm and continue climbing, but the path seemed never-ending. As Shruti put it (for herself specifically), she felt our company would lose an employee soon after climbing 2,500 steps. Ha ha! But whatever goes up has to come down. The ascend was over around lunchtime and we entered a jungle trail to continue towards Ghorepani. It was a BEAUTIFUL trail, something that cannot be described in words. You could sense the silence around, absorb Nature's beauty, and breathe in the mountain air. We had a small victory celebration when we saw the "Welcome to Ghorepani" signboard. This was our base for the Poon Hill hike, which we were supposed to cover early next morning. We were now at an altitude of ~11,000 ft so you can imagine the drop in temperatures by sun down. We couldn't get clear views when we checked into our tea lodge, but were certain that we'd get a chance to witness something big soon. Much to our surprise, a hail storm greeted us that evening while the group was sipping on hot ginger honey tea. Mountain weather is something so unpredictable that one cannot guess what can happen even in the next 30 seconds. So, weather forecasting departments can take a hike because their predictions will fail and people following them will be in for a disappointment.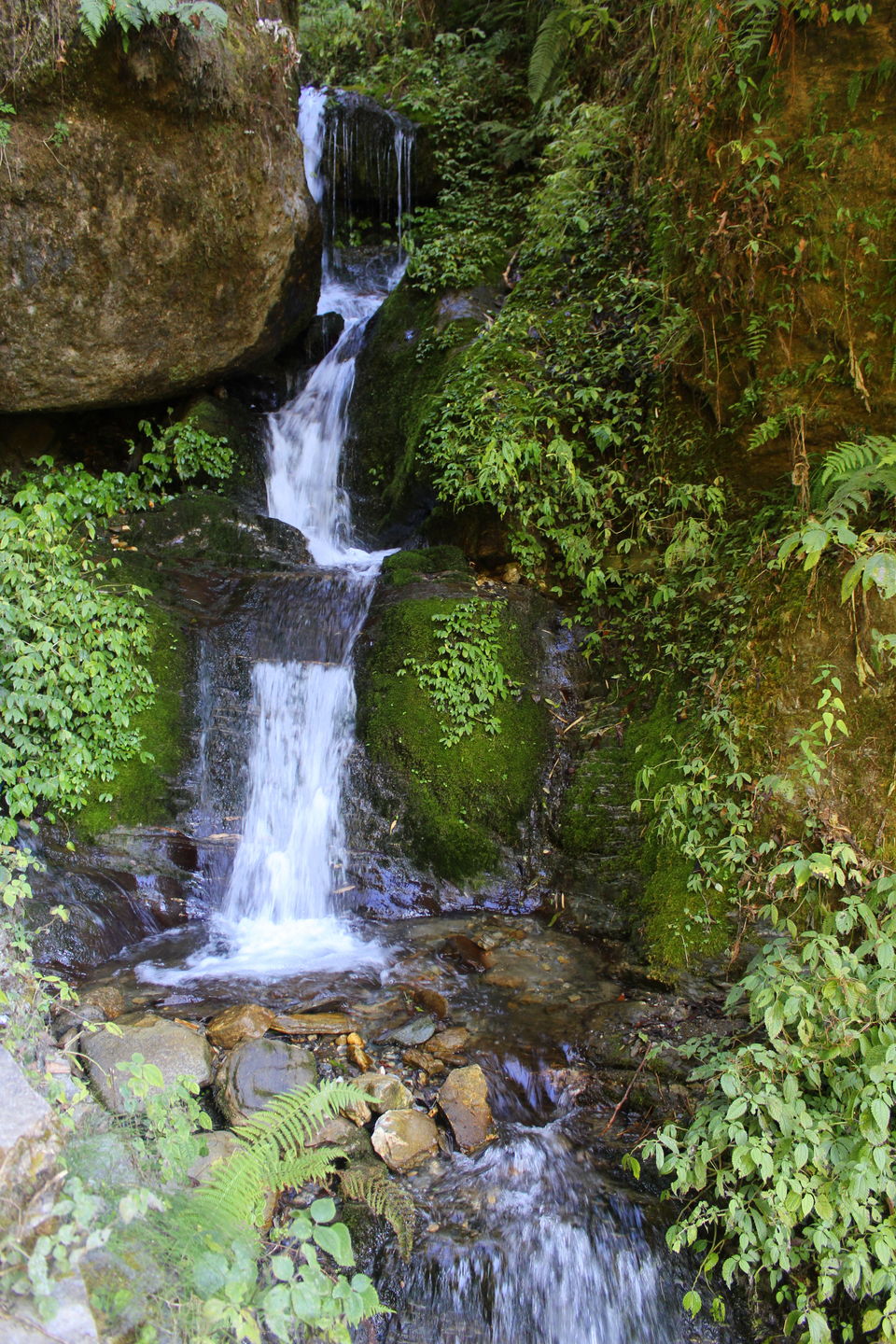 Anyways, let's be a little less philosophical and more practical here. Our guide prepped us that very moment saying that if the weather doesn't improve overnight, we might not end up ascending the last 400 meters to the summit. Basically, if it rains or the weather is unclear the next morning, it would be futile to reach the top and see no sunrise or be able to view the panoramic snow-capped landscape. However, positivity is key in such adverse situations and we did not let this (minor) weather disturbance dampen our spirits. We had a sumptuous dinner, played our daily share of cards, and resigned to our rooms for a goodnight's sleep. After all, we were excited and geared up for an early wake up call around 4:45 AM as we had to leave for the summit around 5:30 AM.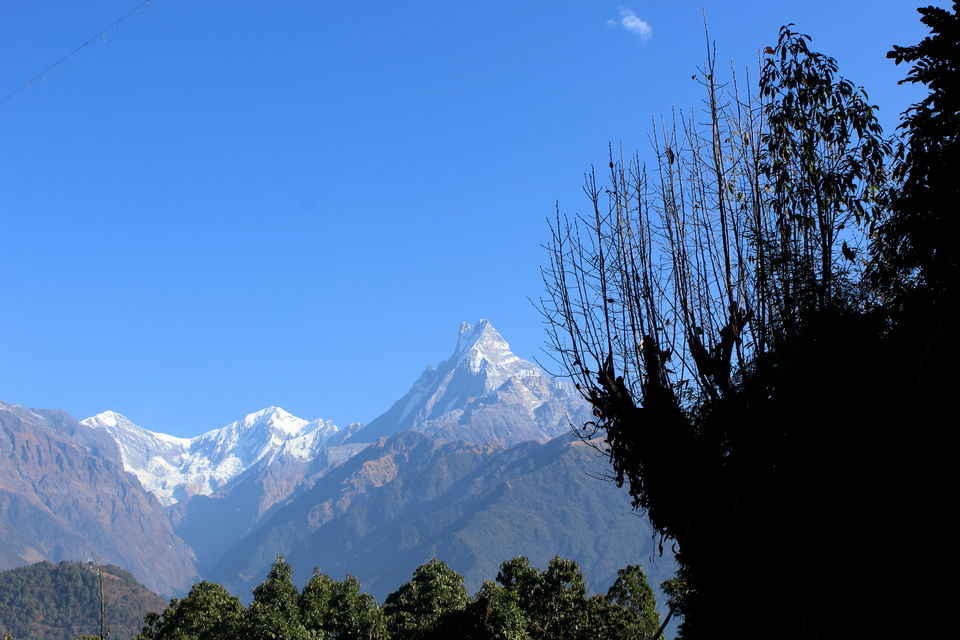 The day when the mountains welcomed us with open arms: Poon Hill, here we come! Alarms rang galore from 4:30 AM and we could hear tons of excited voices and discussions across rooms in the tea lodge (Hotel Sunny to be precise) with fellow trekkers getting ready to reach the top. The weather seemed appropriate, definitely cold in the early hours of the day and it felt awesome. Cold is something that I can easily adapt to and that morning set the stage for me. Adrenaline rushing through my veins and my target set, I was definitely "all guns blazing" and ready to take the plunge. We left around 5:40 AM and our headtorches guided the way as we entered the Poon Hill premises. An hour later, it was dawn and the mountain ranges in the distance came alive. It felt so amazing that I wanted to run the last few steps to the top and shout out with joy at the very sight of it. Yes! People who echo these sentiments will agree with this feeling. The sun rose around 7:10 AM and when the first rays shone on the Macchapucchare, Annapurna, and Dhaulagiri ranges, I was dazed, mystified, and completely speechless at that morning's glory. It gave me another opportunity to witness Nature's power and spectacularity in all aspects. As I fended against the cold and stared at the beauty that surrounded me, I got lost in a universe of my own for that brief time period, feeling nothing but the power of positivity, hope, and goodwill. It felt surreal, epic, and no matter how many adjectives I come up with, it won't be enough to describe the happiness that I felt at that very moment. It takes a few minutes to soak everything in and say to the world that you did it, feel proud of your achievements, and thank Mother Nature for being so generous yet again. It leaves you craving for more and you don't feel like leaving that spot (where you're gleefully lost and do not wish to be found anytime soon). However, as they say that all good things come to an end so that the human mind can look forward to bigger and even better adventures in the future, I captured everything I could in the time spent there and was content when we began our descent back to our lodge for breakfast.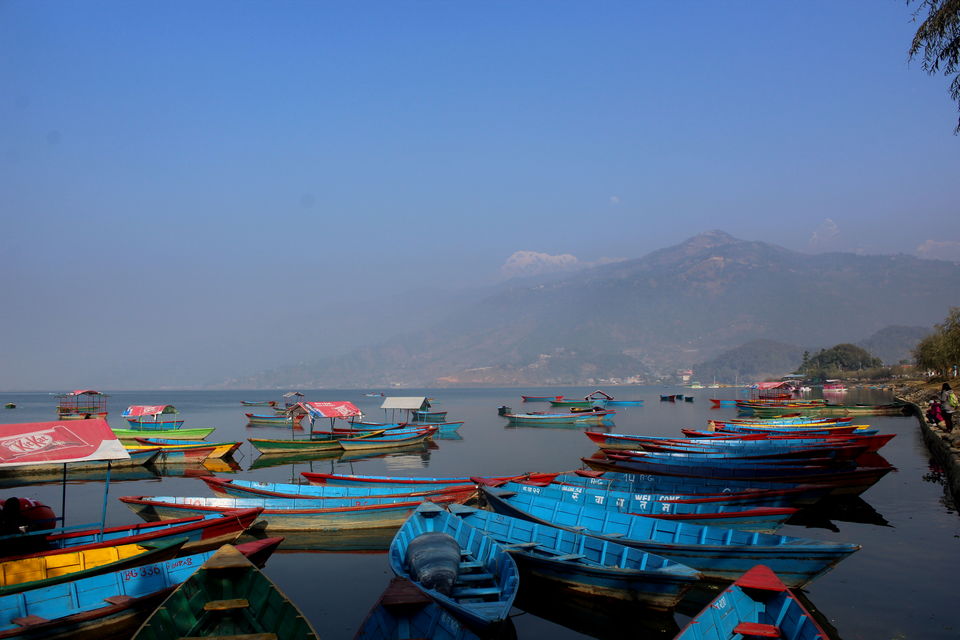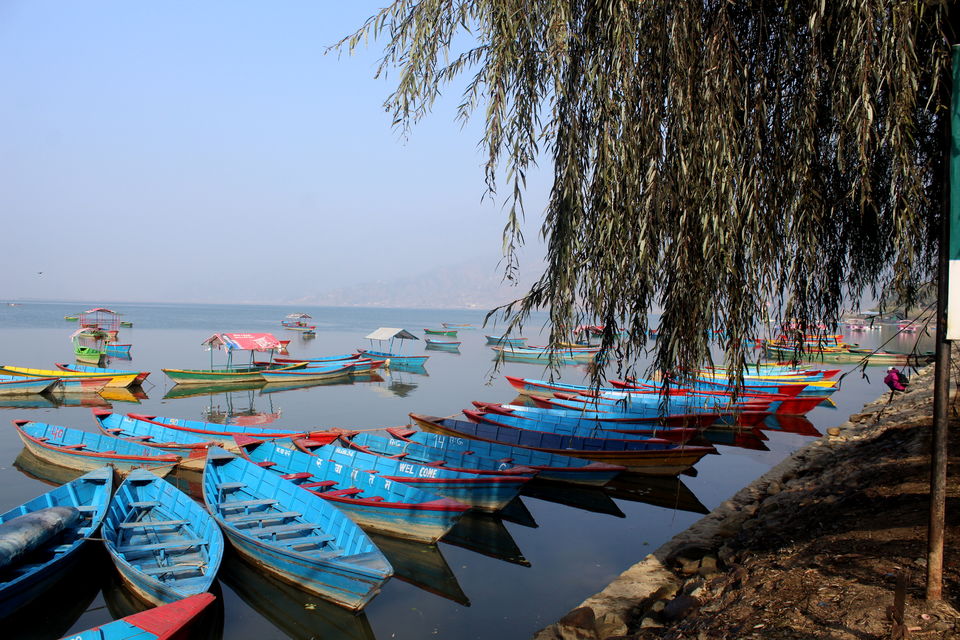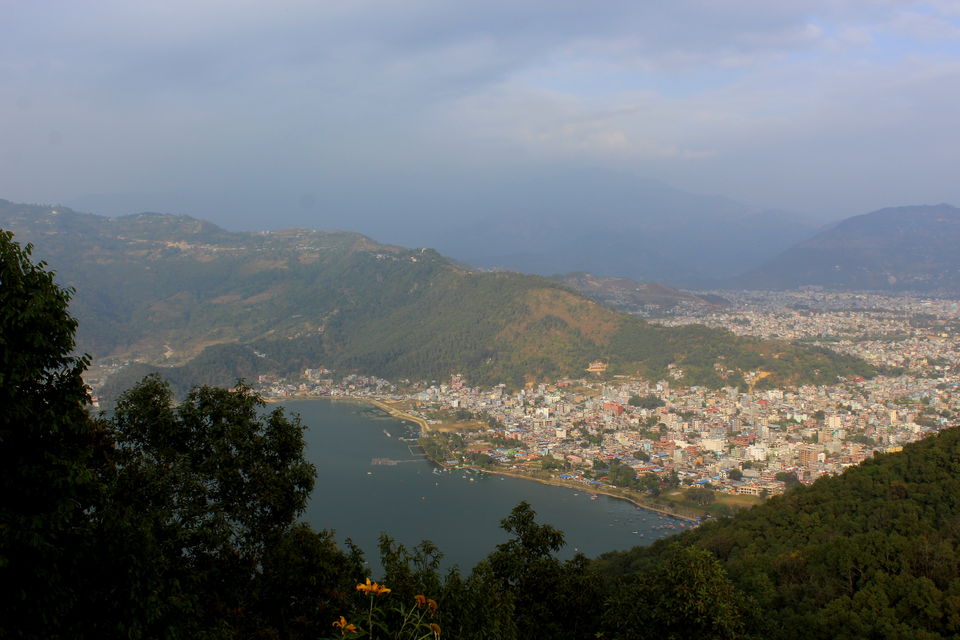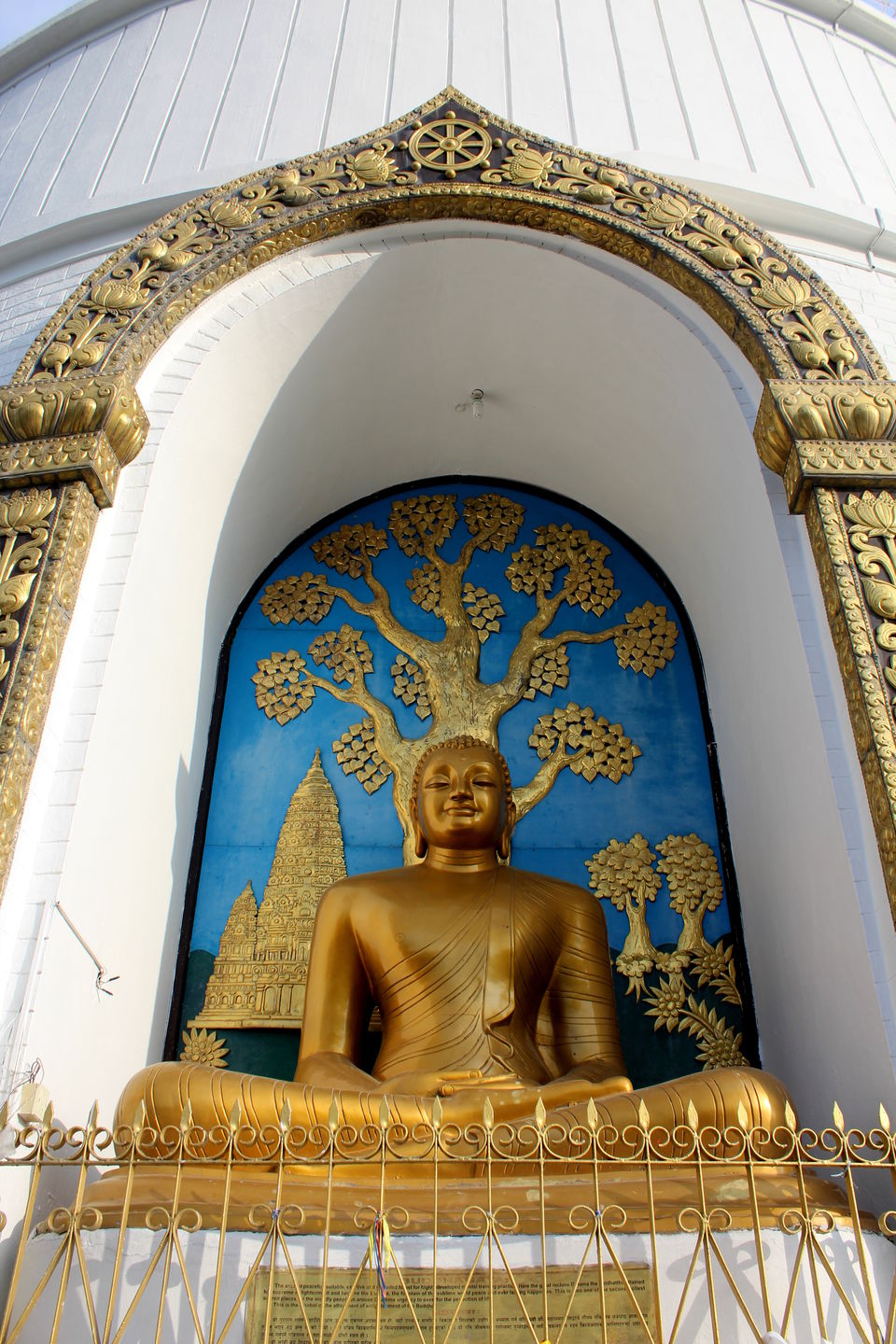 After breakfast, we were ready for our descent to Tadapani. It was a 7 h walk through dense rhododendron forests with numerous waterfalls that left us mesmerized with everything around. Nature was surprising us at every step just when we thought (and were a little disheartened) that the trek was coming to an end, she made sure our journey just gets better and we are more than satisfied with what she had to offer us. I had the customary dal bhaat for lunch at Bantehanti village and approximately 3 h later, we were playing our last game of cards for that evening at Tadapani. I should've mentioned this before, but dal bhaat power 24 h is the popular slogan of the mountains in this part of the globe; not sure if it applied to bhukkads like me who would get hungry within 2-3 h after a plate full of dal bhaat during lunch and look forward to the next meal. Tsk tsk! Guess my metabolism sky rockets at high altitudes and I end up eating more like a greedy pig (not that I'm complaining). Ha ha!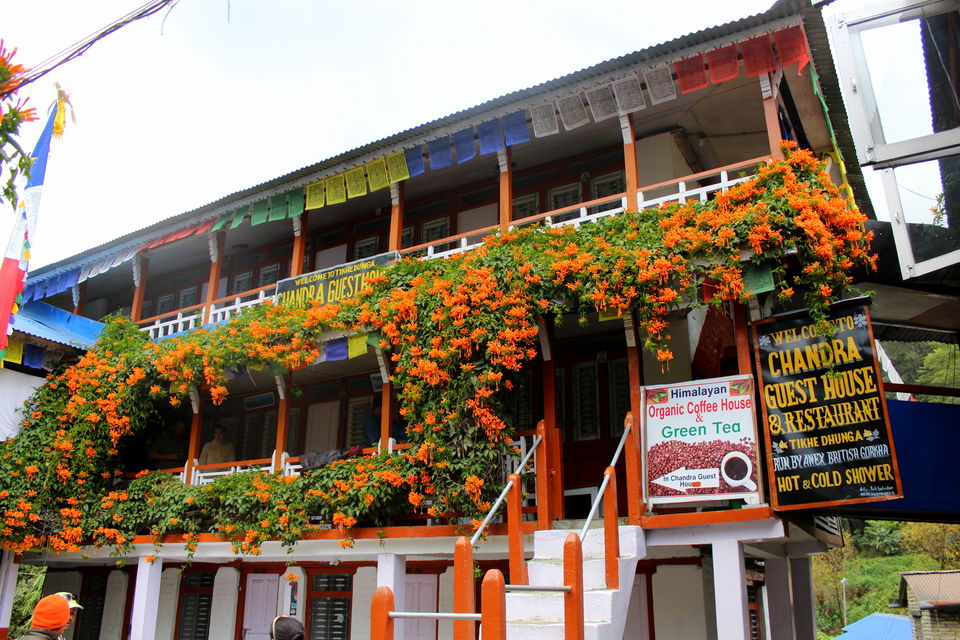 The final descent: From Tadapani to Nayapul and finally back to sea level (at Pokhara) - The last morning of our trek had something special in store for us. The Annapurna and Macchapuchare ranges bid us farewell with a wide smile as the sun shone brightly on these snow-capped ranges. It made our day as we stood hypnotized by the way they were looking right back at us. Our final descent to Nayapul began around 7:45 AM and we were halfway there by 1:00 PM when we halted at Ghandruk village for lunch. After my last dal bhaat at high altitudes, we ended up walking for another 2 h on a barren trail towards Nayapul from where our journey started 4 days earlier. Our bags were loaded into a vehicle who was supposed to take us back to our resort in Pokhara.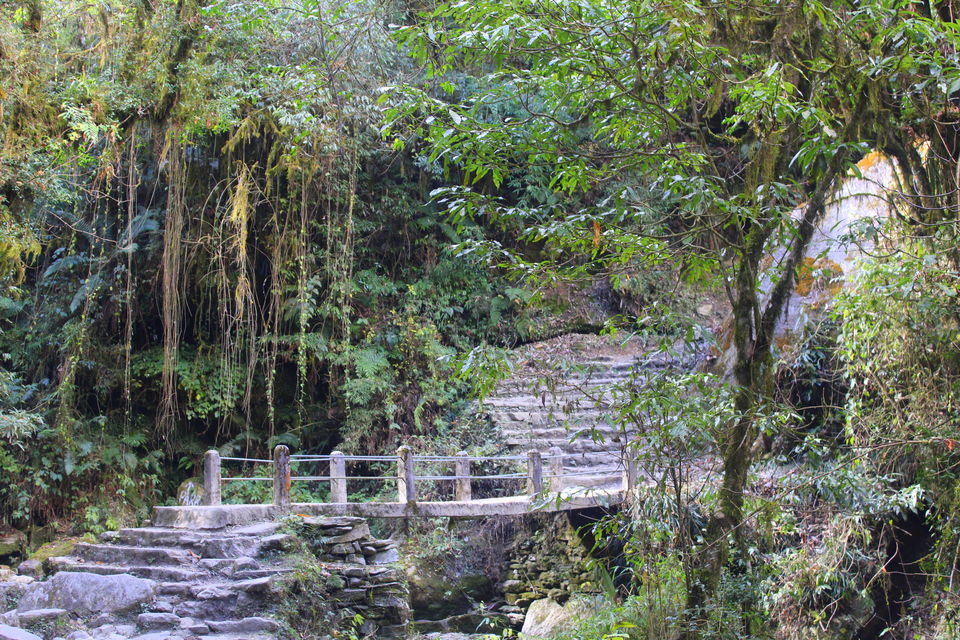 Now, what is the first thing that comes to your mind when you finally reach sea level and check into a hotel? Any guesses? C'mon now, a HOT SHOWER!!! Ain't that right? After spending 3 days without a shower, you tend to somewhat forget what you actually smelt like in the first place. A hot shower followed by some good food and ample rest was definitely needed for rejuvenation, and that is exactly how the sequence of events turned out. We weren't really concerned about the following day as we knew there was no mountain climbing to be done, and therefore no alarm was needed.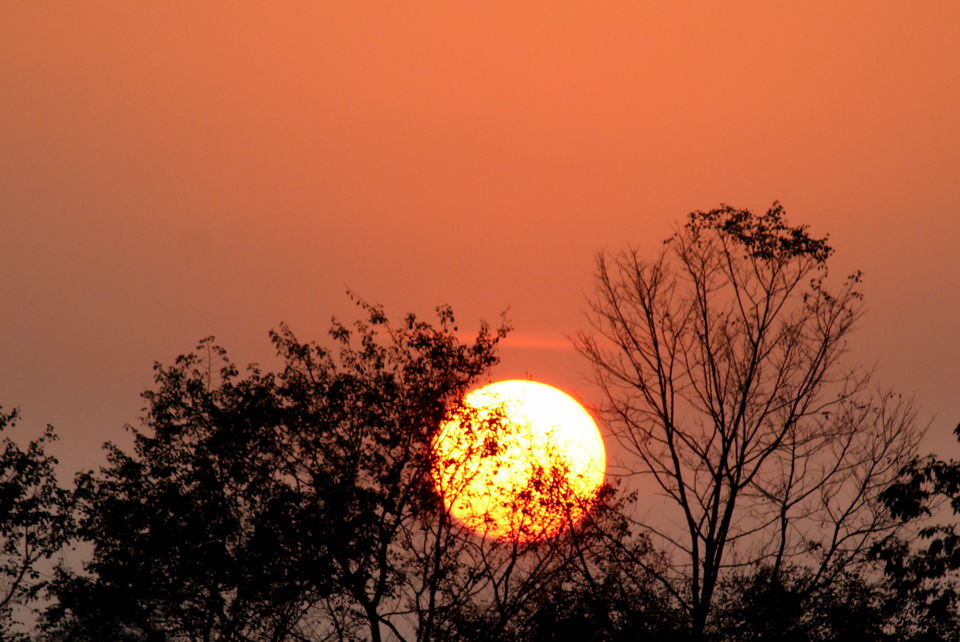 Pokhara won our hearts the following day by treating us with spectacular scenery and food choices. After a week-long trek in the mountains, this small town served as the perfect retreat. The day started by taking a short walk along the Fewa Taal (lake), which apparently stretches over 60 km and is the central highlight of Pokhara. On any given day when the skies are clear, one can clearly view the snow-capped Annapurna ranges from here. Unfortunately, that didn't happen owing to partially overcast weather, but we weren't really disheartened because we had already witnessed something far more amazing at 12,000 ft that wouldn't leave us for several years. I got my first chance to do some actual mountain biking for an hour on a rocky terrain by the Fewa lake. What added to the glamour was the fact that the Pokhara street festival that had kicked off on that day itself. The entire city was celebrating and it ensured that both locals and tourists had their fair share of fun, frolic, and laughter. Food, culture, music was the theme and I believe this street festival is deemed to be the best in the country (at least that is what one of the ad-board hoardings claimed). Undoubtedly so, I agreed as that evening the city came alive and was bubbling with spirit as several local artists entertained the audience, live food counters were set up on the pavements, and people from different cultures and countries were blending with each other. Ever had that feeling that you'd much rather be at some place than any other? That is precisely how it felt that evening. Everything seemed right and the ambience was to die for. This is one destination that I would highly recommend visiting during New Year's as the vibe and energy will leave you speechless. This small city has much to offer for every kind of traveler, ranging from short hikes by the lakeside and mountain biking to paragliding and other adventure activities. Do give it a try if you intend to visit Nepal.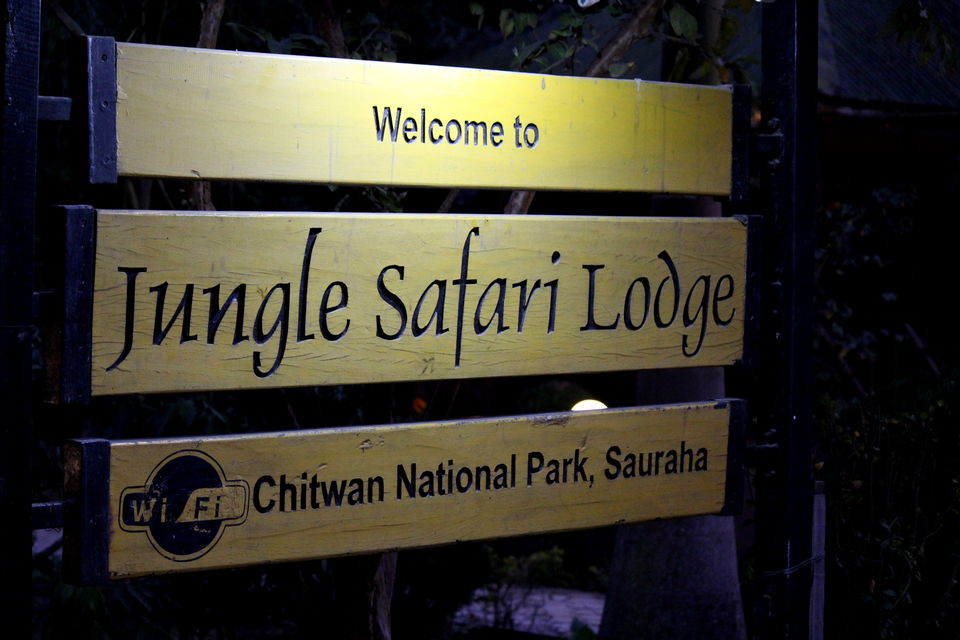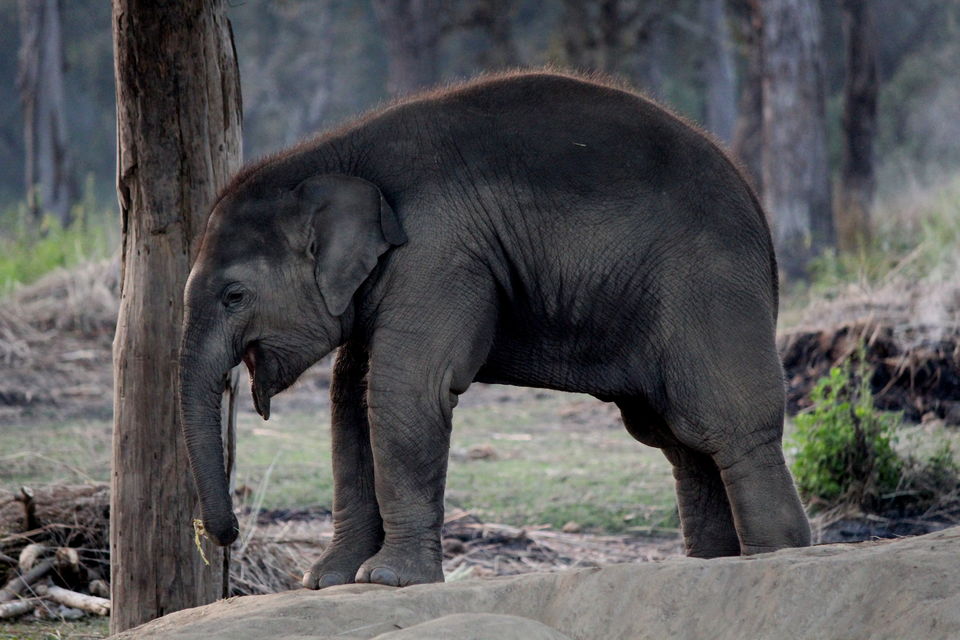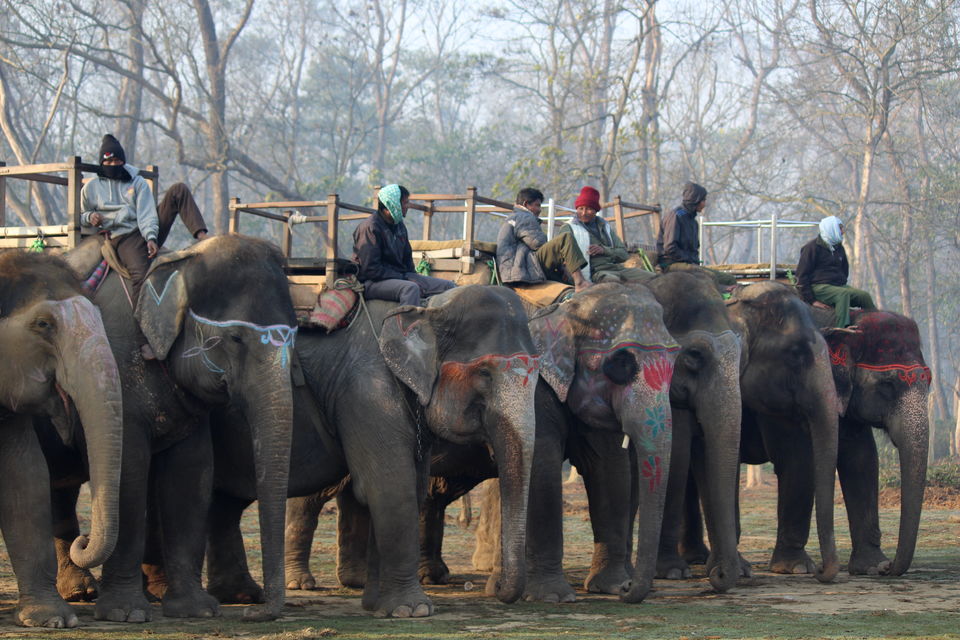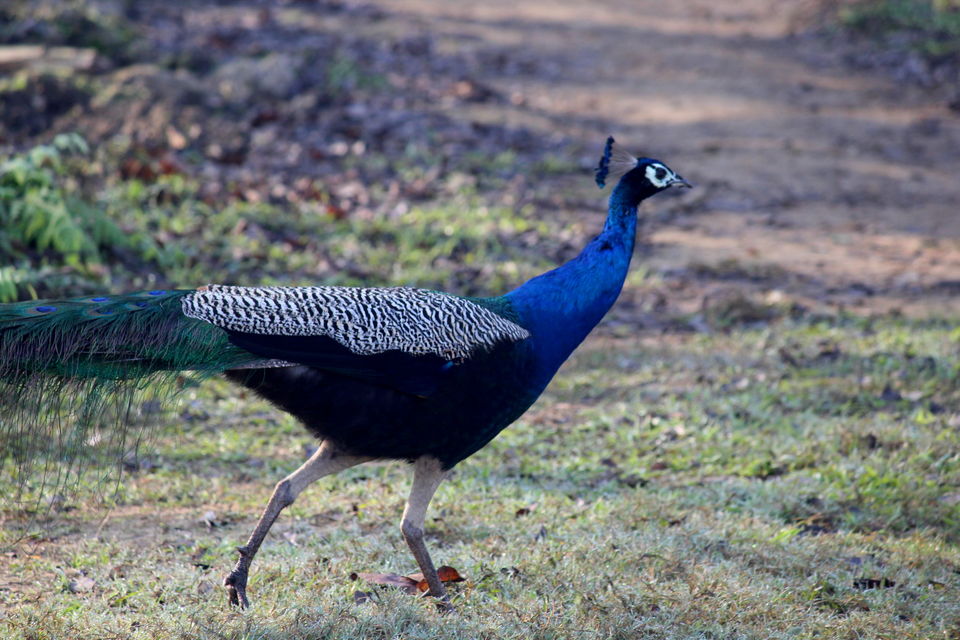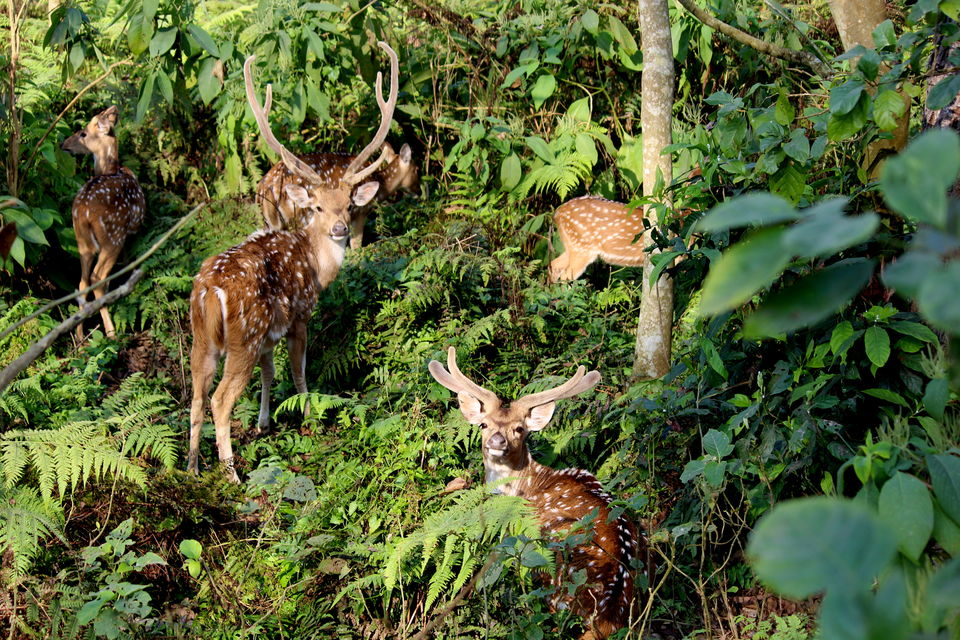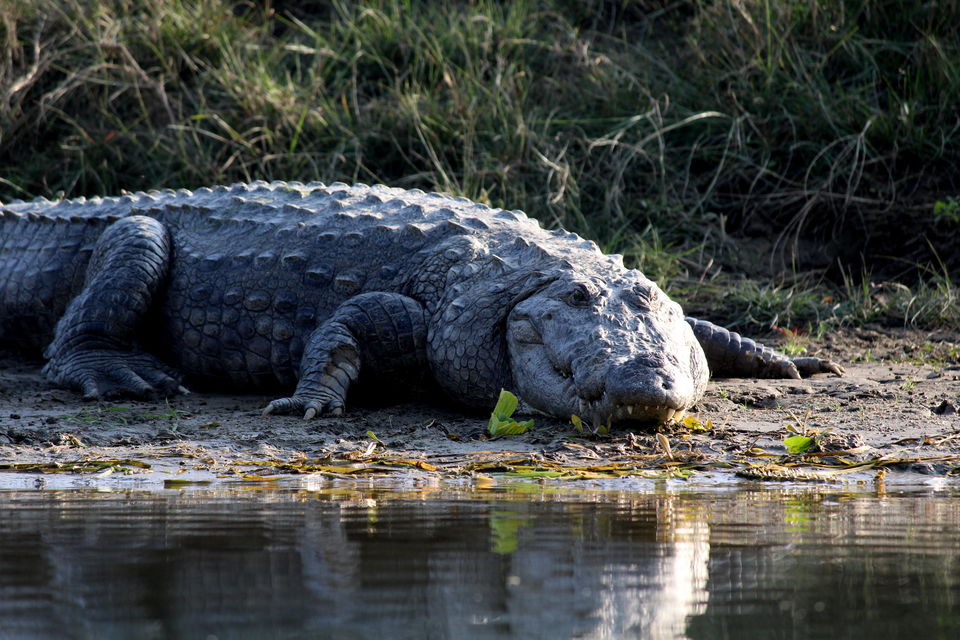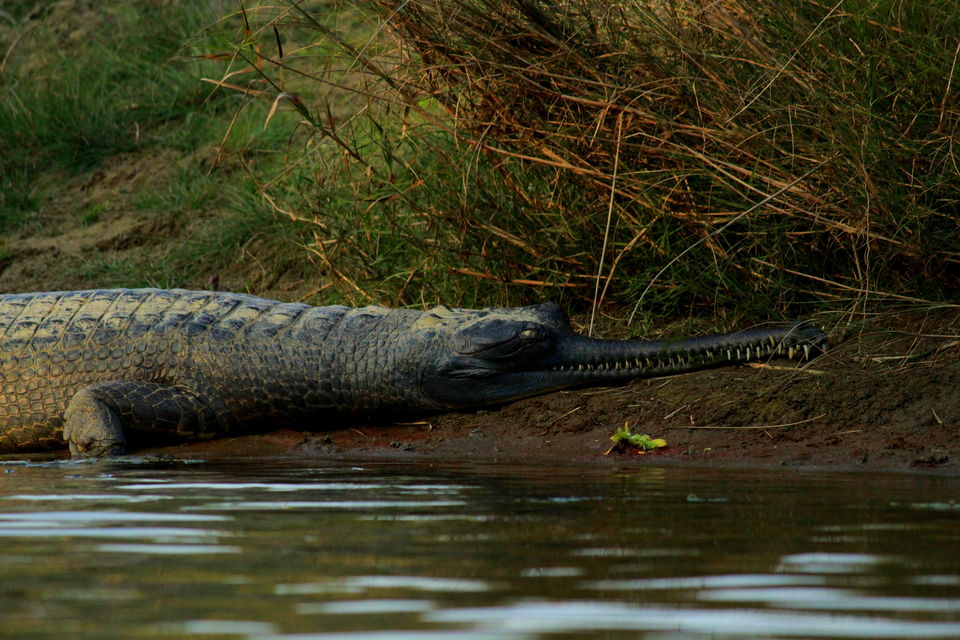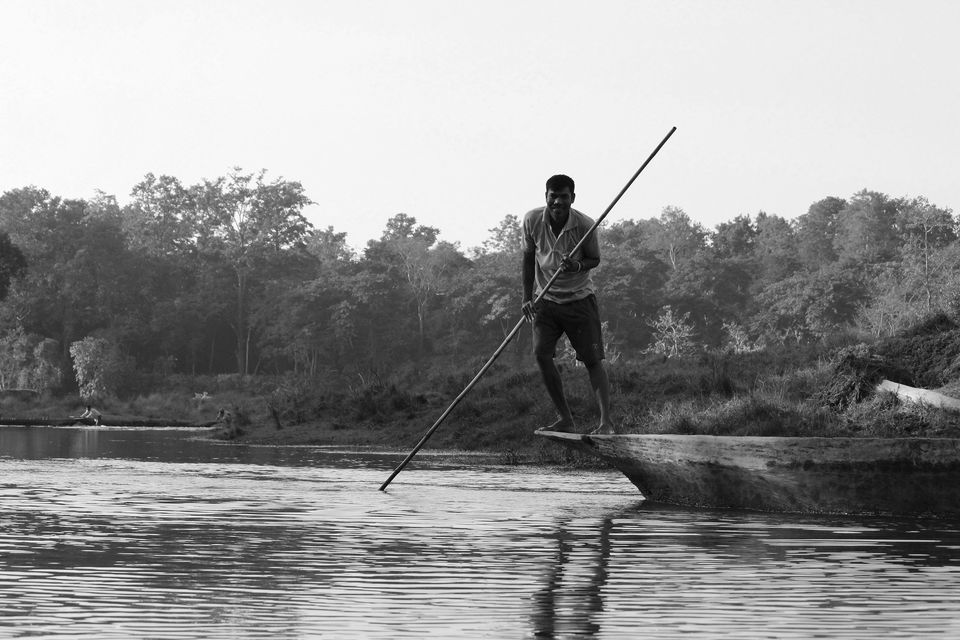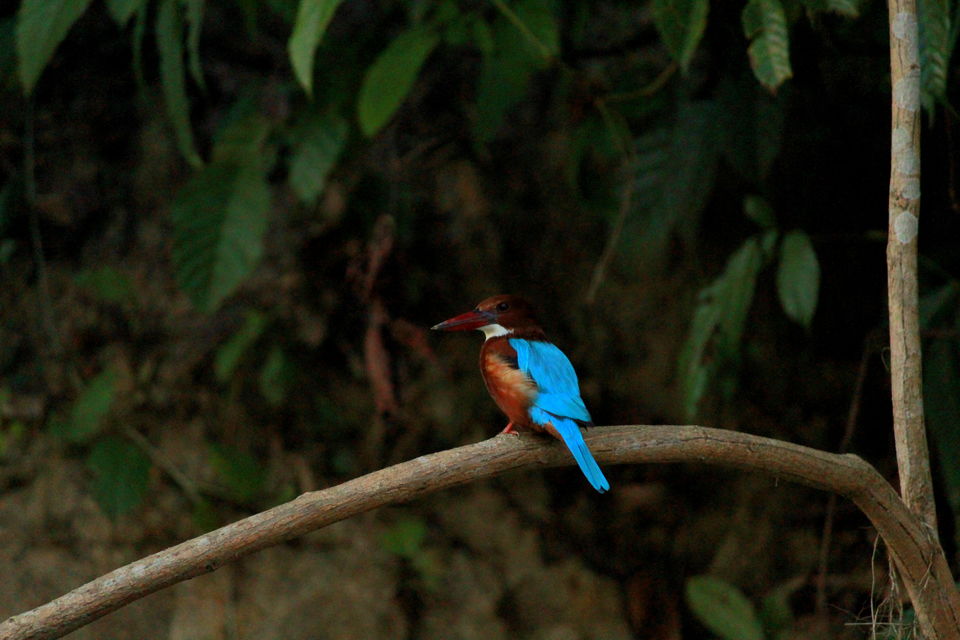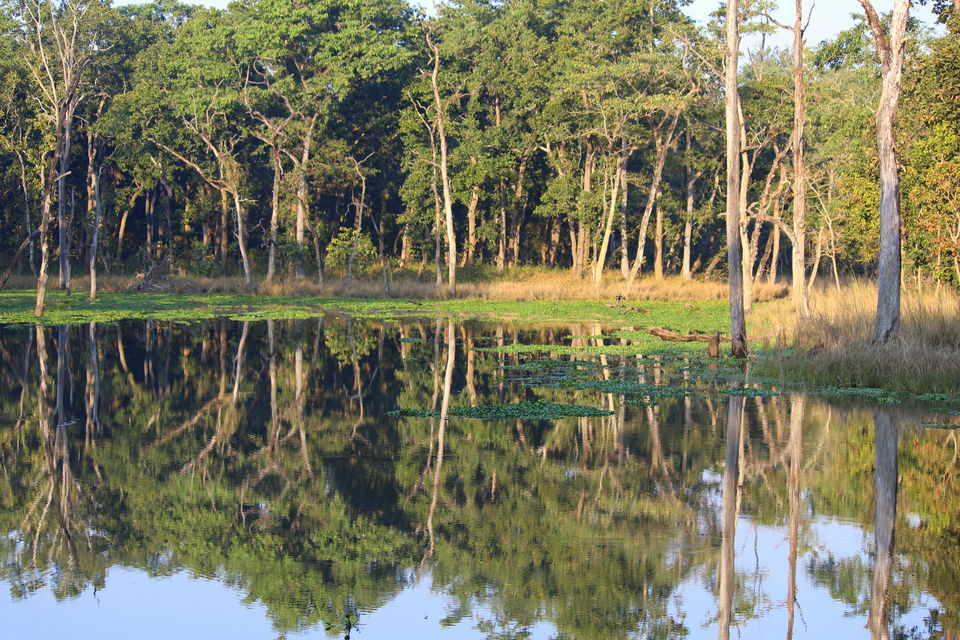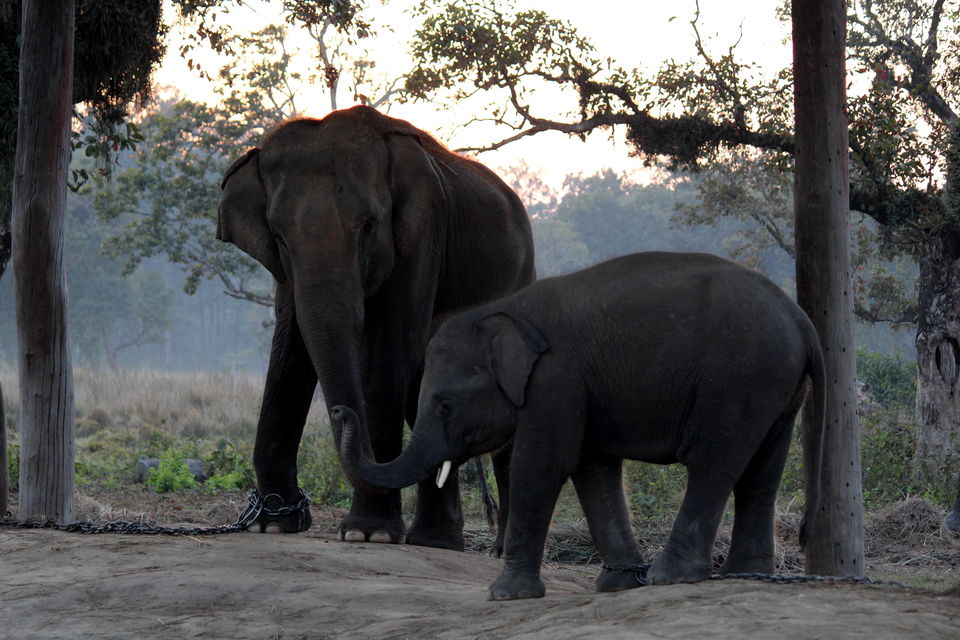 Welcome to the jungle, we got fun and games (well! Not really sure about the latter) - The concluding chapter of our trip included a visit to Chitwan National Park where we were welcomed by a few exotic bird species, marsh muggers and ghariyals, and the mighty elephants. This was a much less strenuous fiesta and included an elephant safari, jungle walk, and boat ride across the vast national park. The elephant ride, though slightly scary at the start, ended up being the highlight of this trip (for me at least) as this was my first. Honestly, it was quite uncomfortable to begin with and knowing that you're virajman on perhaps the mightiest mammal on the planet made my feet tremble a bit out of fear of being squashed if the singhasan on which we were seated fell off. I know this sounds too dumb, but then you can't stop one's thoughts from reaching levels of extreme stupidity, right? Anyways, the safari took us through some narrow and deep forest paths, ups and downs, and across small streams for about an hour. We had the opportunity to see a herd of deers, including the barahsingha, and managed to get a few good clicks and close ups. Next, we attended the cultural evening show hosted by the oldest inhabitants of Chitwan, the Tharu tribe. The peacock dance was the best, which had the audience clapping their hearts out; it was truly enjoyable.
After bidding adieu to Chitwan, we flew back to Kathmandu the following morning. It departed a couple of hours behind schedule owing to bad weather, but we arrived in Kathmandu just in time for lunch. We spent the evening exploring the market and before we knew it, the New Year had arrived. It's been over 2 weeks since this trip got over, but nostalgia doesn't seem to leave my side at any stage. Nepal has left a long lasting impression on me and one time is definitely not enough to visit this great country with numerous opportunities and destinations for the enthusiastic traveler. As one of our guides put it in simple words, Nepal honestly sums up to Never Ending Peace And Love - the mountains and valleys lie at the very heart of it and the people constantly strive towards making this country more beautiful.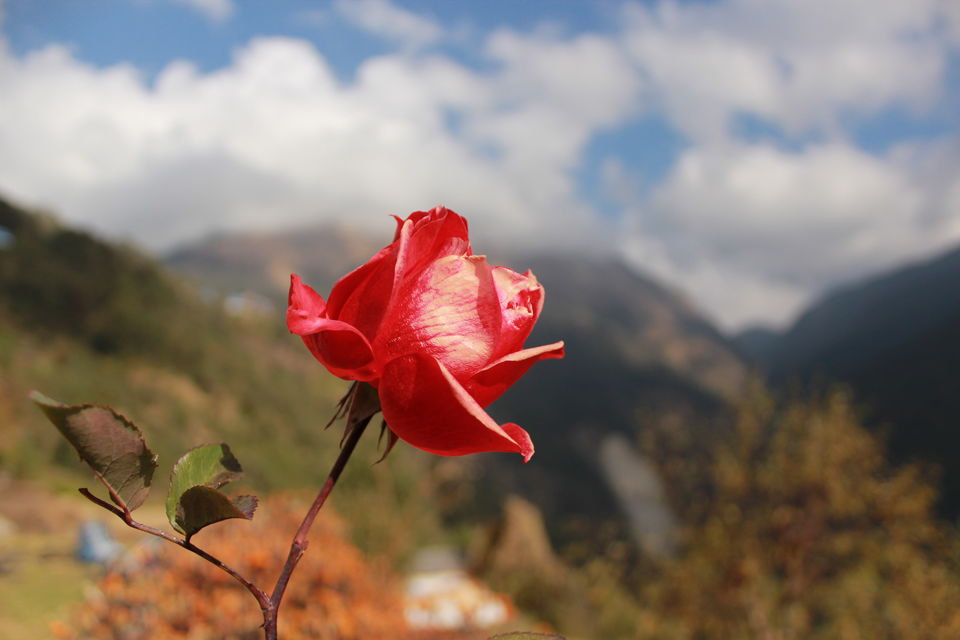 All said and done, as I mentioned earlier, I believe I was destined visit Nepal at this time of the year and have an unforgettable experience. Nepal (and the mountains) will be calling me again soon and I'm sure when the time comes, it would be hard to hold myself back. Until then, let me leave you with this beautiful quote that I read in a magazine on the flight back to India.
***A journey can only be measured in memories***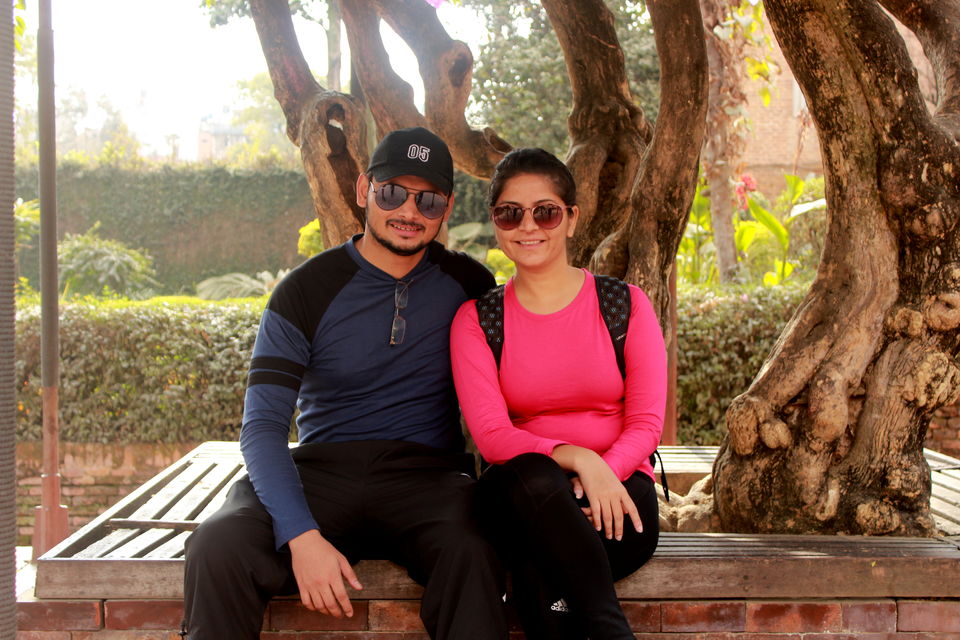 For good or bad, every travel teaches the traveler about values that cannot be found in textbooks or on Google. You need to physically live that moment and experience it - traveling leaves you speechless and ultimately turns you into a storyteller. Explore yourselves, guys, and travel to places that will make you appreciate Mother Nature's creations and live a life different from the others.
Travel, explore, live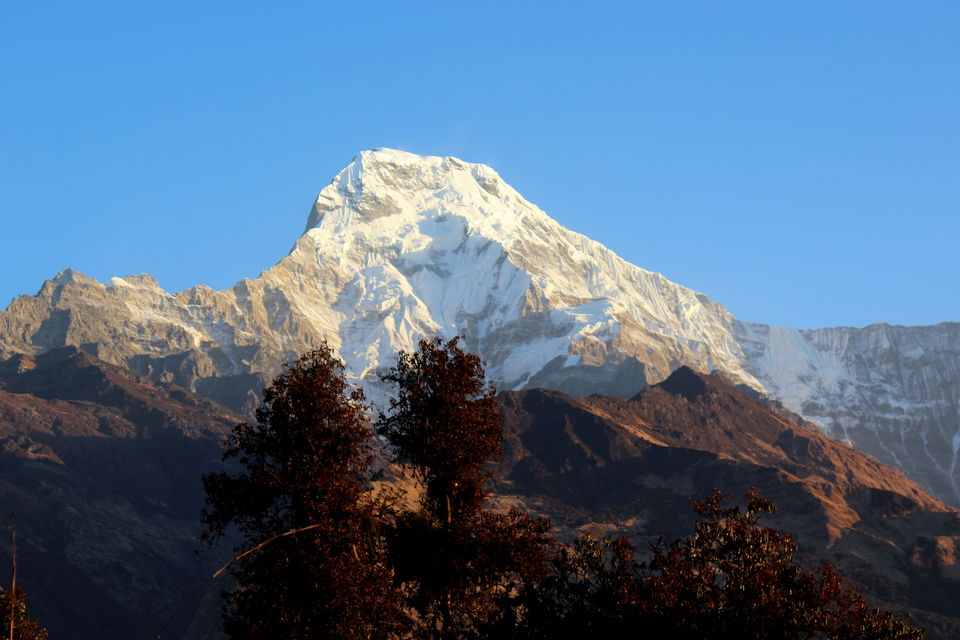 All photo credits: Shruti Ambetkar