Ross & Smith Islands, Diglipur is the northern and remotest part of Andaman Archipelago which brings a unique flavor and experience of the Andaman Islands altogether.
Crystal clear turquoise water, twin Islands surrounded by tropical forests, serene and calm environment and very few tourists makes this the best place to relax, swim, and sun-bath. Wooden beach chaises set on the gleaming sand and melodic sound of sea waves adorn the aura for sunbathing and unwinding in Ross & Smith Islands.
Twin Islands, Ross & Smith are connected together by a natural sand bar which makes these islands a truly picturesque and beautiful sight to behold. The sand bar disappears during the high tides, connecting both the islands into one. At any given point of time during the daylight, the tides on any one side of the islands are very low, making it a perfect spot for swimming.
Note: This journey will be a tiring but unique experience. Journey where you won't see many tourists, journey where you won't get many luxurious options, journey where you will interact with nature of all forms like ocean, jungle, mangroves & beaches, journey where you will enjoy the ride of large ship, small ferry, speed boats & buses, journey towards the unexplored path of Andaman Islands. So, read along to explore the unexplored.
The end goal of this journey is to reach Ross & Smith Islands, Diglipur. Though It's a long journey to Ross & Smith Islands, Trust Me! the final results will woo you. Most of your 1st day will be spent in traveling. You will have to change commutes at places and do a night halt in between before you can reach Ross & Smith Islands.
This article will only talk about Ross & Smith and it's detailing. To know more about Andaman and it's amazing Islands, please check out the below link.
The easy way to reach Diglipur is to take a direct bus from Port Blair which takes around 11 hours or a private taxi. The route mentioned below is for travel freaks and adventurous souls who want to explore Andaman in a unique way.
Note: The same ferry starts from Port Blair and continues to Havelock and Neil Island, so no matter where you are, you can catch the same ferry to continue your journey. Below are the places/stops you will take to reach your destination.
Long Island, 60 km from Neil Island, is a small modern village with a population of about 2,000. A narrow concrete footpath connects the whole village, with a village on one side and a serene and calm ocean on the other.
Long Island will be your first stop. Entry into Long Island is from Port Blair, Havelock, and Neil through government ferries (big ships). Ferries start from Port Blair at 6:15 AM which reaches Neil at around 8:30-9:00 AM on Mondays, Wednesdays & Saturdays only, so plan accordingly.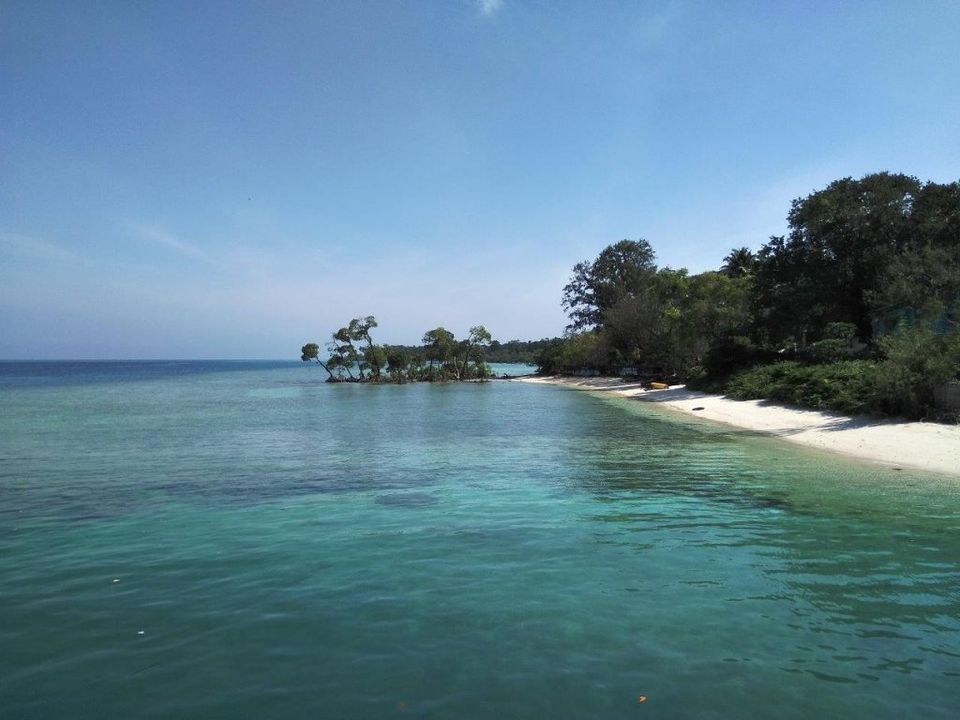 Rangat is a large Island in Middle Andaman known for some of its interesting beaches and mangrove creeks. 700 meters long wooden boardwalk, named, Dhaninallah mangrove Nature Walk is one of its kind. 20 km from Rangat, this boardwalk is the longest in India and is named after the local mangroves named Dhanipatti. After 700 meters of the amazing walk, this opens at a very beautiful Dhaninallah Beach which is known for turtle nesting.
Rangat will be your second stop on this journey. You can get a small ferry from Long Island at 2:00 PM which will cost you only 11 Rupee. This will be an hour journey from Long Island to Rangat passing through the dense mangrove creeks, making it a mesmerizing and unique experience. From Rangat Jetty, you have to take a city bus to reach the main bus stand of Rangat from where you will continue your journey towards Mayabunder.
Mayabunder also spelled as Maya Bunder or Maya Bander, is the northern part of Middle Andaman. This will be your third stop where you can finish your day and rest. Rangat to Mayabunuder is approximately 70 km and takes around 2 hours to reach. You can easily get buses from the Rangat bus stand which are priced at Rs 50 approximately.
Diglipur is approximately 80 km from Mayabunder and takes around 2.5 hours to reach. You can take an early morning bus (at 5 AM) from Mayabunder to reach Diglipur. Once in Diglipur, have a sumptuous breakfast and take a local bus or auto for Aerial Bay Jetty which is 20 km from Diglipur. From Aerial Bay Jetty, you can get a speed boat at a cost of Rs 2000 for 6 people which will take you to Ross & Smith Island. The speed boat will wait for 3 hours there and then will drop you back at the Jetty but you can tip them if you want to spend some more time.
Note: You will need a permit from the forest department to enter Ross & Smith from Diglipur. Sometimes you can get that from Aerial Bay Jetty itself. So please confirm it once.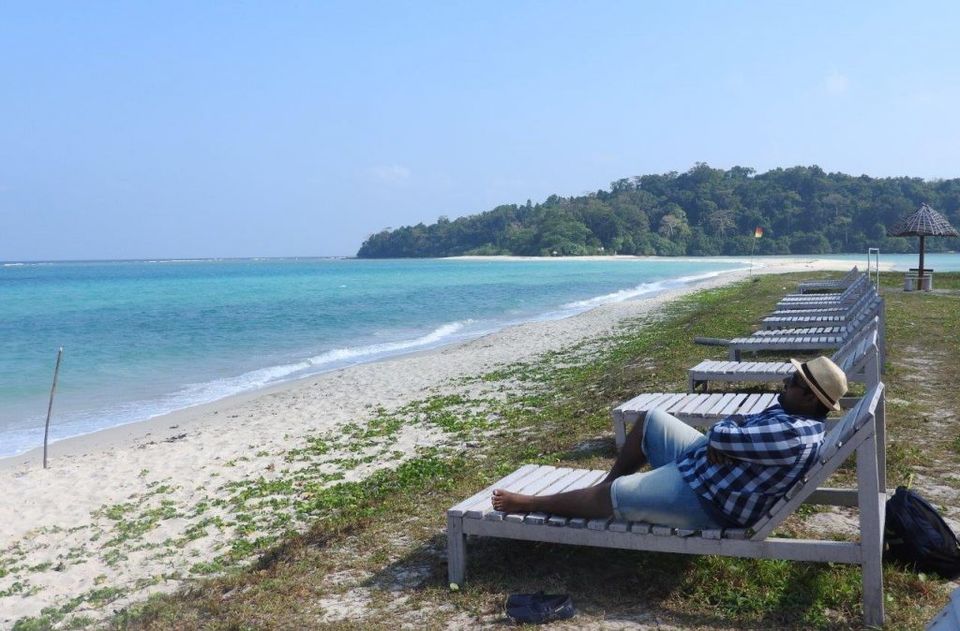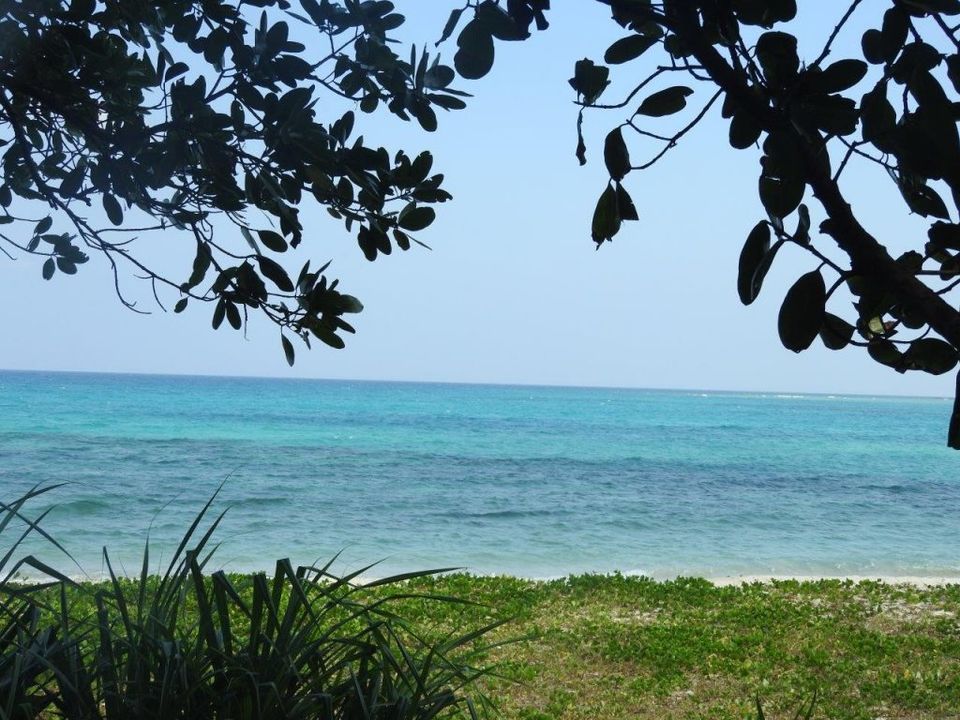 Another Beach you can explore in Diglipur is Kalipur Beach. Just 8 km from Aerial Bay Jetty, Kalipur Beach is famous for turtle nesting. Thousands of turtle can be seen in the month of December & January but only during their nesting periods. There can be a good chance that you don't get to see any tourist, making it a very calm place.
Summary
Starting Point: Neil Island
First Stop: Long Island through government ferry from Neil Island and the time required is approximately 4 hours.
Second Stop: Rangat through a small boat from Long Island and the time required is approximately 1 hour.
Third Stop (Night Stay): Mayabunder through a bus from Rangat and the time required is approximately 2 hours.
Final Stop: Diglipur through a bus from Mayabunder and the time required is approximately 2.5 to 3 hours.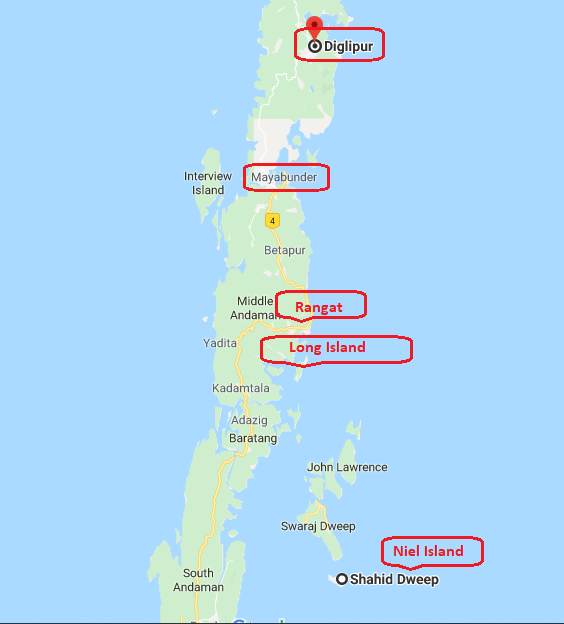 Take a night bus from Diglipur to reach Baratang (if you want to explore) or directly to Port Blair.
Checkout the below links to know more about Andaman and how you can plan a budget trip.