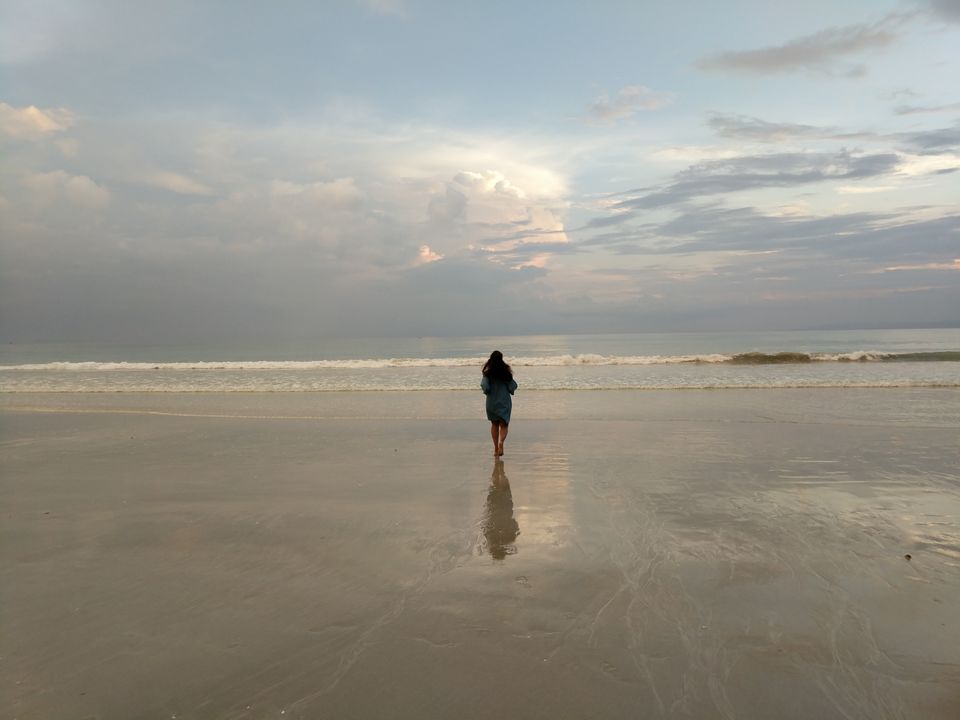 In the mid of November, we were planning a very short leisure trip and beaches were on top of our list this time and we wanted to try some place less crowded, blue waters ,not so far and on a budget friendly side. We visited bali and didn't want to go to Malaysian islands for some reason and hence our next choice was Andamans.  Personally my sole reason to choose Andaman as our next destination was Taj Havelock. My husband being a Tata employee got the villa for decent price of 15k per night where as open price of the same is 34k per night which pushed us a little more towards choosing Andamans.
There are couple of islands in Andaman like Ross smith, Niel and Havelock. As it's a short leisure trip we were confined to Havelock Island alone. Among the Andaman Islands, Havelock has got best beaches and radhanagar beach infact is termed as one among the best beaches in Asia, so we did not see any point in visiting other islands just to see beaches.
Transportation :
Our to and fro flights from Hyderabad to portblair costed around 30k . We reached portblair by 8 am , had breakfast and headed to phoenix ferry bay to board our ferry to Havelock at 12:30 pm which we booked online beforehand. We have booked green ocean cruise to Havelock which costed around 1500/- per person but i would suggest makruzz which you would get for same price and is more luxurious than green ocean. It took us one and half hr to reach Havelock Island. To roam within the island we took an activa which costed 500 rs per day.
As Havelock is a very small island(30km one end to other) you can roam all of it on a bike. Cabs are very costly here and try not to take one.
Stay :
Taj exotica resort and spa Havelock - 2 nights
Symphony palms Havelock - 1 night
Grey stone shelter Airbnb portblair -1 night
Coming to the best of Havelock
One of the best thing in Havelock is taj property. Situated on radhanagar beach the property is spread across 45 acres out of which 40% is untouched mongroves and the rest has magnificent semicircular villas resembling Jawara tribe huts. Hospitality is top notch and no need to mention about the maintenance and cleanliness. Though the property is in lap of nature, it's maintenance is flawless. The villas are big and luxurious. You almost get to eat anything you wish for , food can be customised according to you , the chef's there will definitely make your palettes happy.
The property has private access to radhanagar beach. Radhanagar beach is known for sunsets but unfortunately we couldn't experience one, as the evenings were cloudy. We enjoyed high tea in the evenings at the beach. The beach was clean, has got white sand and blue waters.
Still a lot to talk about the property but will end it here and yeah it's an amazing property one should definitely experience.
Next place to visit in Havelock is elephant beach. There are two ways to reach this beach as it's not easily accessible. One is by taking a boat from ferry bay and second is to trek through the forest. We chose the second way. We took a guide along with us who charged 500/- but worth taking a guide as the path was muddy and he was helpful in choosing the path and taking care of us. Donot wear shoes as you would be mostly walking barefoot because of the slippery mud. We had to pass through thick forest and mongroves to reach the beach. The trek was fun and took us 1 hr.
Elephant beach is known for water activities. They have almost all kinds of activities like scuba diving, snorkeling, banana rides, sofa ride 🙄 and what not. The corals here are beautiful and many people try scuba and snorkeling to experience the corals.
We spent some time here and took a boat back to ferry bay. The boat costed us 900/- per person. If you take boat to and fro then you have to stay for 3 hrs at the beach.
I also enjoyed driving on the lonely roads surrounded with tall trees.
Coming to not so good things about Havelock
No good party places
No beach side shacks
No decent hotels to stay and to eat.
Food and stay prices are very high.
Beaches are crowded.
We visited in November but the weather is too hot and sunny.
We stayed at symphony palms for one night which is one among good rated hotels in Havelock. The food there is worst and the rooms are not so good and not worth the price we pay. As it's a small still developing island it's tough to find good hotels here.
Over all one can plan a 3-4 day trip to the islands and not beyond. Apart from the beaches if you are interested in historic places then you can visit portblair for a day.