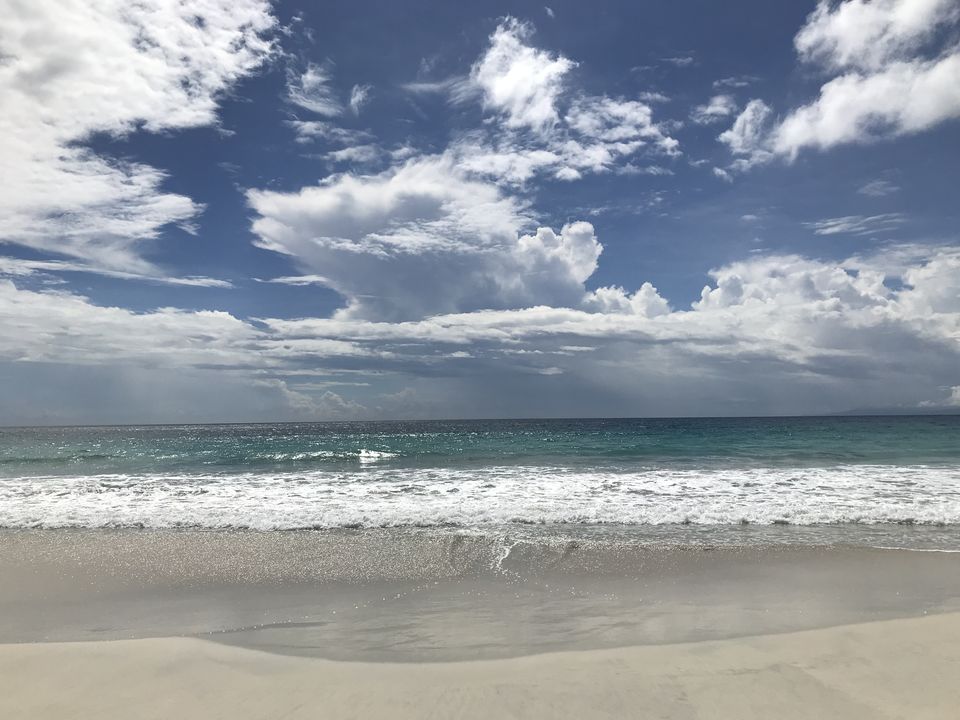 4 Days, 3 Islands, 2 beautiful beaches and 1 wish!
Just like the often heard "unplanned trips are the best (because the planned ones never happen)" turned out to be true is our case too. After successfully chalking a trip to the most desired destination and cancelling it for the third time in a row, my friend decided to change the destination itself! Out of nowhere, the never planned, never dreamed, never thought about place- Andaman randomly popped up and I do not regret saying yes to this plan. With pestering the rest of friends in the group to join along, wondering what to do when it didn't work out and deciding to go ahead no matter what, three of us set our foot out, all for one reason- THE SCUBA DIVING!
Booking the flights in the nick of time and packing our bags to leave against all odds was nothing less than a fictitious tale. December was quite pleasant for the visit but the holiday season marked a larger crowd.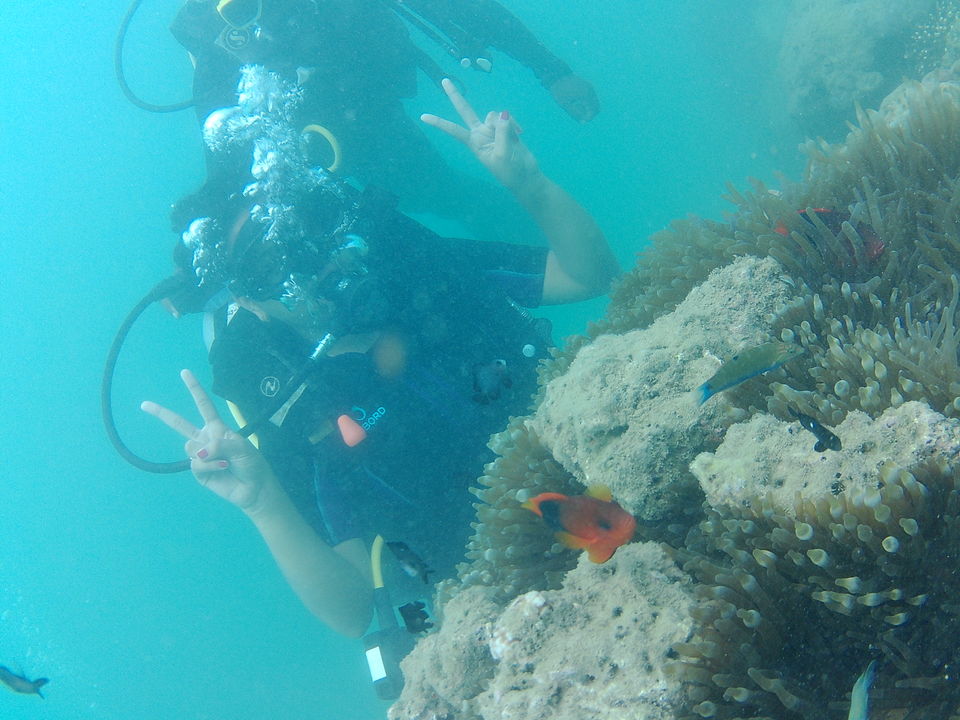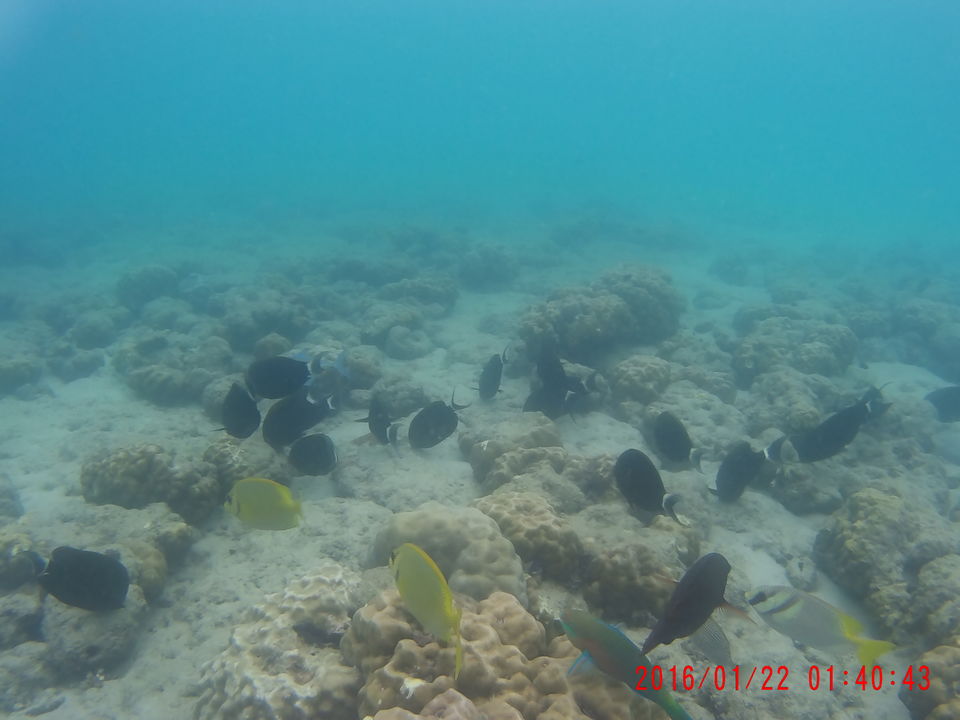 Day 1, Port Blair- It took a full night of airport rounds, sleep deprived faces, coffee gossips and a 2.5 hrs flight to land in the destination that promised us a bag of new memories. A quick brunch and a power nap had us all geared up for the first day's to-do.
Famous as Kaala Pani, 'The Cellular Jail' a colonized prison used by the British was a mirror to sacrifices made by the country's freedom fighters. Knowing the architectural and operational set-up of the place was thrilling yet disheartening.
Later in the evening we spent a quality time walking along the palm-fringed Corbyn Cove beach with some tea and hot bajjis (fried snack). Getting used to early sunset was a point to be noted for the rest of the days. Trance music on the boombox and the waves touching our feet was a different sync of rhythm altogether. The moment we actually felt rejuvenated, away from the concrete jungle and a busy life.
Day 2, North Bay & Ross Island- A tickle in the stomach right from the morning, excitement backed with fear and all the what-ifs, it was time for the bucket list adventure. We headed straight to the water sports complex and our scuba diving session was scheduled in the next 2 hours. A motor boat took us to North Bay Island and in no time we were with the scuba tank on our backs and a mask in hand. Scared, but a strong desire to experience this, I took a deep breath and stepped to the training. First dip with the equipment was just near the shore and the water being not so clean made me feel 'what did I get myself into' for a fraction of a second. I did feel claustrophobic and took a while to acquaint to normal breathing through regulator. Within no time I could see colorful fish around me and soon reached the world of corals. The feeling was unmatched and I was continuously grinning out of joy. 20 minutes in another world and my mind was absolutely overwhelmed. The still and strikingly beautiful corals, the calm movement of thousands of fish and the sound of my breathing, added to a carpe diem kind of moment . And that was my pinch-me moment. It was impossible to soak it all in such a small span but had to return after a few poses to the camera and exchanging a thumbs-up with my friends. The 'we did it' smiles prevailed throughout the day.
Rest of the afternoon in the land of historic ruins, Ross Island with friendly deer, peacocks and rabbits relaxing beside us was a surprising yet satisfying sight. Little drizzles added to the scenic view of water and the coconut trees.
Day 3, Havelock Island - The plethora of natural beauty, a place that promises peace like no other. A 2 hour ferry ride from Port Blair and a drive to the resort with lush green trees on either side of smooth roads was a pleasure trip. It was a beach resort and a photo-shoot in that crystal clear private beach went without saying!
Radhanagar beach- titled as one of the cleanest beaches in India, actually lived up to the hype. The seemingly unlimited stunning view of the sea, serene surrounding, white sand and the turquoise blue water felt like a perfect setting to recharge our minds. Stuck by the aura of serene ocean merging with the sky, we spent a few more hours just doing nothing and that marked the best of 2018 for me.
Day 4, Elephant Beach- Another beautiful beach apt for water activities, clear water and best known for the exotic marine life. After scuba diving, next up was snorkeling (where we float on the surface of the water and breathe normal through a mask). This was absolutely fun because we did this as a group and we had built up some confidence after the scuba experience.
Later in the evening we returned to Port Blair and the joy of those first times did give us a good night's sleep.
Day 5, Port Blair- With all the good moments and a slightly upset stomach due to poor eating, we returned to home by evening
Oh, by the way, Ross Island is now Netaji Subhash Chandra Bose island, Havelock is Swaraj Dweep but they weren't renamed when we visited. Food can cost you a fare bit and internet dates back to 2G. Never mind, you can have a good digital detox!
Quick details:
Airport: Veer Savarkar International Airport, Port Blair (2.5 hour direct flight from Bengaluru)
Cost per person: Approx.28,000 Rupees per person including flights for 5 days & water adventures - December 9 to December 14, 2018 (Ideal time)
Places Visited:
Central Jail, Port Blair
Corbyn Cove Beach, Port Blair
North Bay Island (Scuba Diving)
Ross Island
Havelock Island (Snorkeling)- Radhanagar beach and Elephant beach
What we didn't try but are famous: Neil Island, Light & Sound Show-Cellular Jail
What we brought back: Sea shell souvenirs and pearls
P.S: The date on photos taken undersea is misprinted due to camera settings
More pictures on Sierra Limelight

Blog link : https://susmitadeshpande16.wixsite.com/sierra/post/the-andaman-story