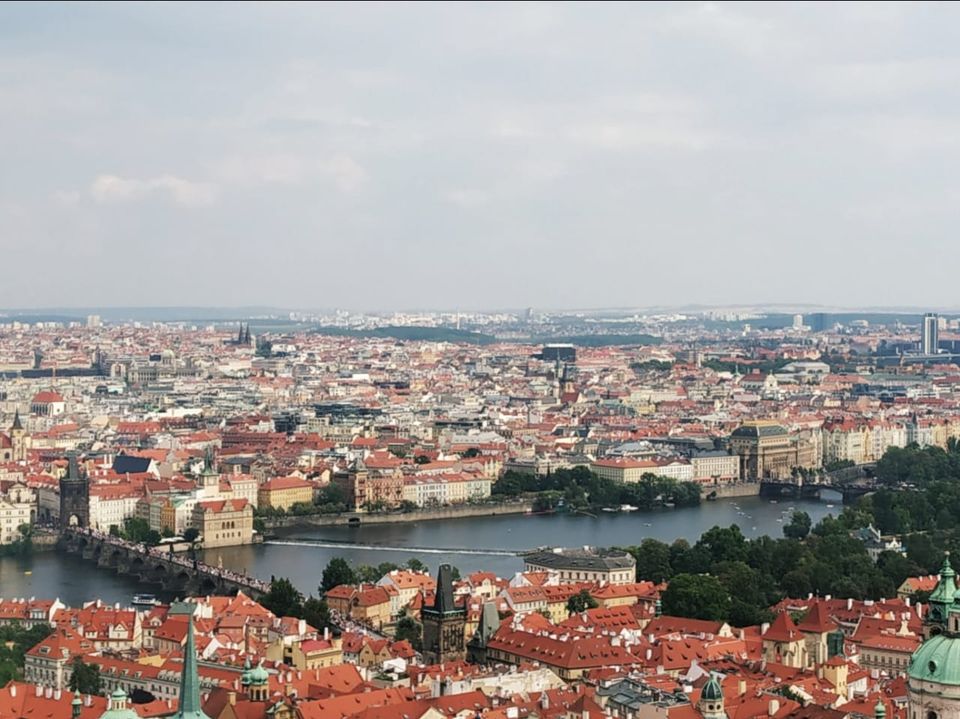 As we (me and my friends) landed at the Prague airport from Mumbai the tiredness from the long 8-hour flight just disappeared. We just wanted to drop off our luggage at the Airbnb and start exploring.
But for that, we needed a ride!
Now let me tell you while planning this trip we had done a lot of research and the one thing that helped us a lot was a YouTube channel called Honest guide (yes I have become a big fan of their channel and hence the name of this blog).
It was because of these guys that we knew local taxis will rip us off, public transport was not an option given the heavy luggage we were carrying, so we booked an uber.
As soon as we got out of the airport for a second I thought I was in India! Not because of any other reason but the weather, it was freaking 32°c.
We reached our Airbnb only to realise the building did not have an elevator and we had to lift our heavy bags to the 4th floor! and our apartment did not have a fan or an air conditioner either. 
(Quick tip: If you are travelling to Europe in summer make sure the accommodation that you book have an air conditioner. Also if you are booking an Airbnb and are not a light traveller like me then please check in advance if the building has an elevator)
Yeah, the start was not that great but all this did not dampen our spirit. We were all set to make the most of our vacation.
By the time we got out of the house, it was already 3 pm so we decided to grab some lunch and explore aimlessly. We stayed at the Dlouha street and this street is really close to the city centre, so while roaming aimlessly we actually ended up exploring the city centre. I realised I was already in love with the city. The heritage buildings, cobbled roads, horse carriages... made me feel I was in a different era altogether.
We came back to the apartment early as it was time to take some rest as we had something exciting lined up for Day 2.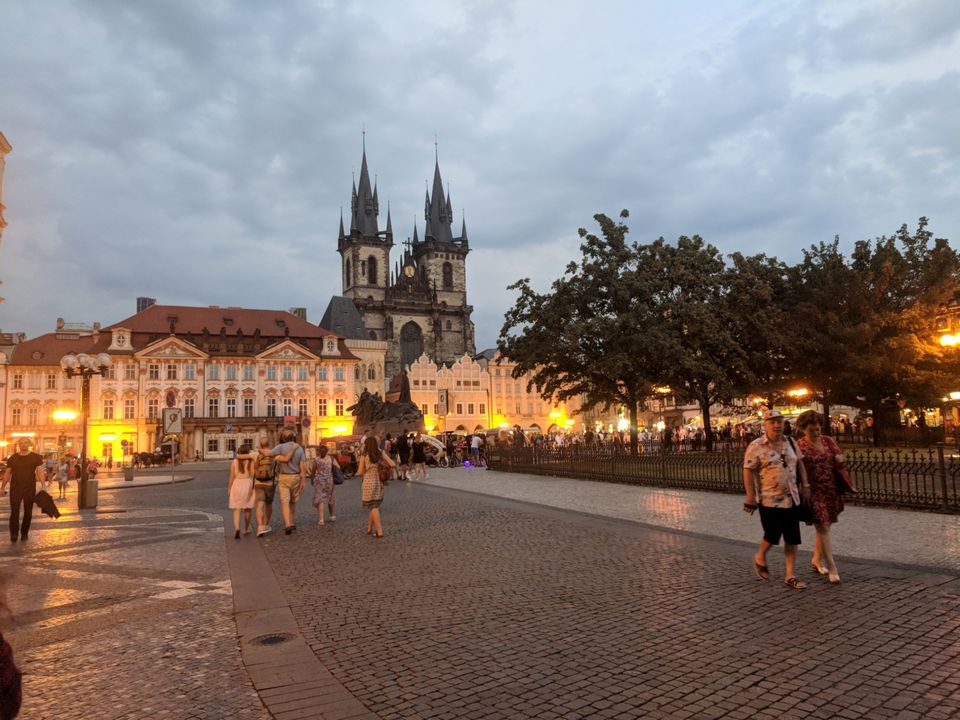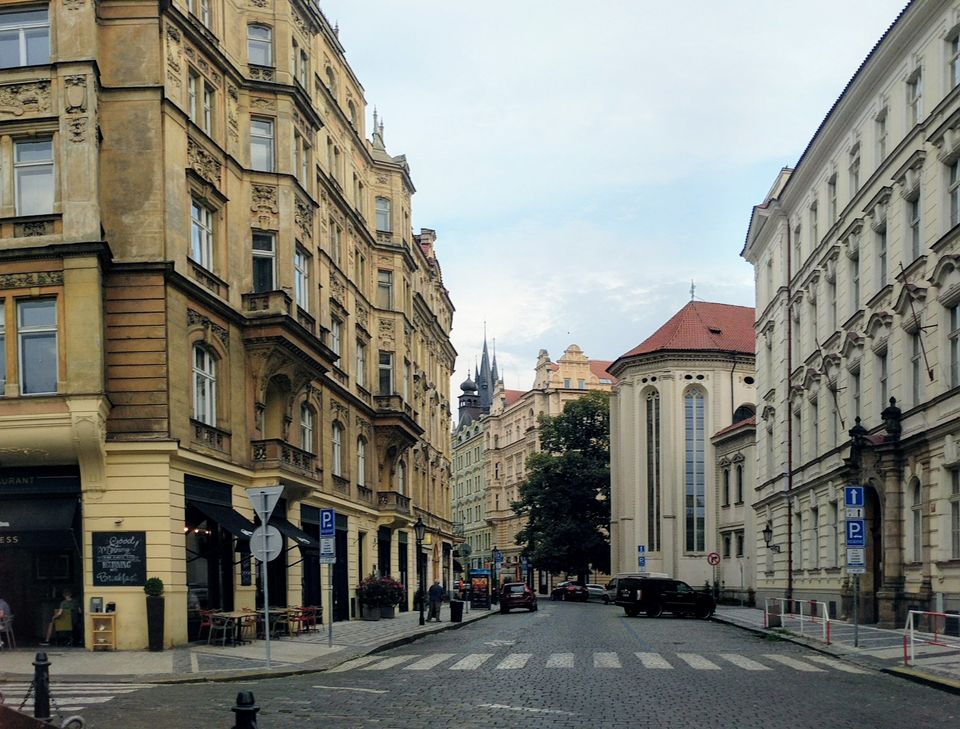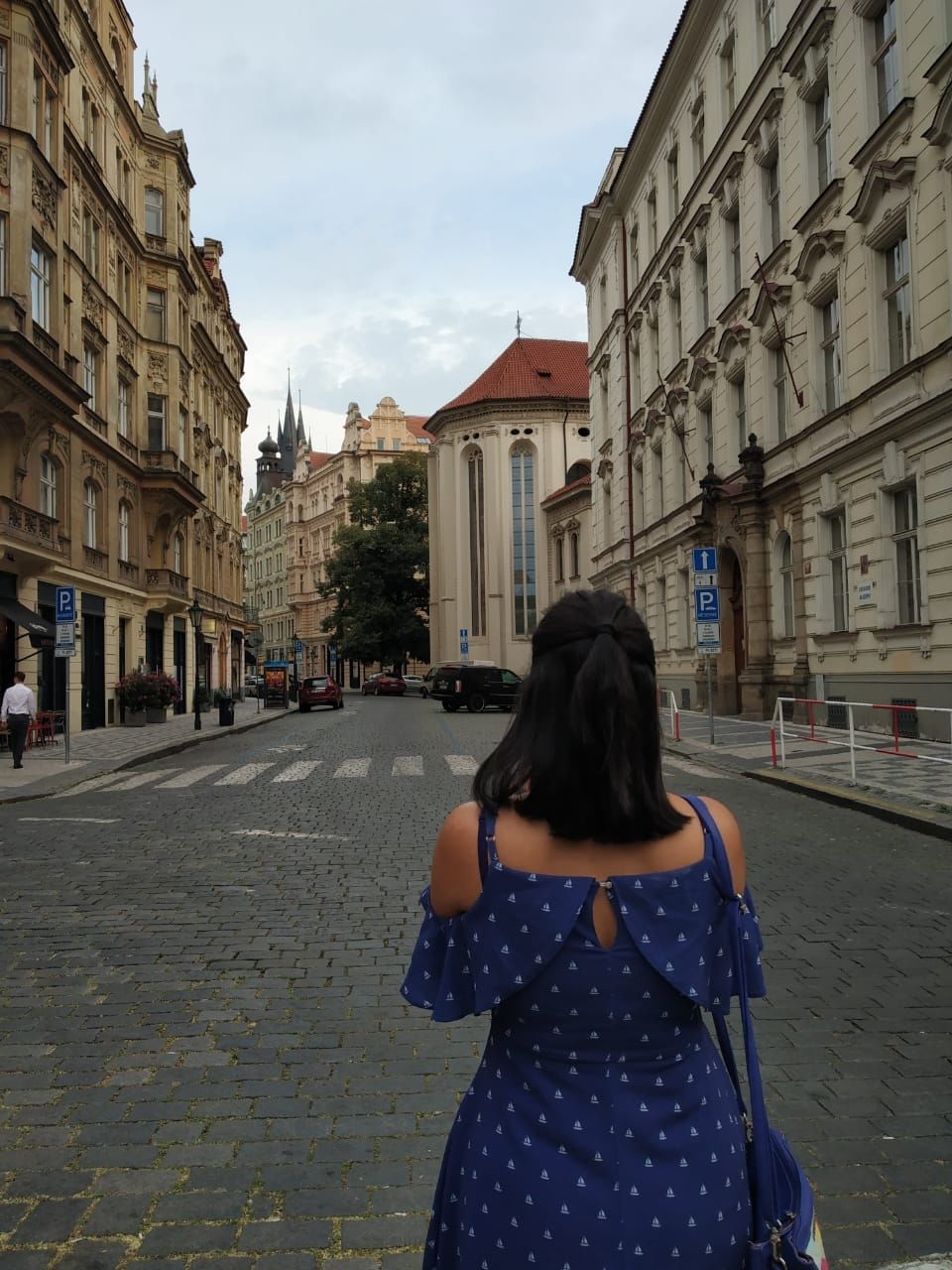 Skydiving!!! Yes, not many tourists know this but Prague also famous for skydiving.
While planning our trip we had already decided to include this in our itinerary. The best part was we had to book our slots in advance by sending them only an email and had to pay the fee at the skydiving location (c.Rs. 22k).
The location was a 2-hour drive from Prague city centre and the skydiving centre had arranged the drop.
As we reached the location we could see people dropping from the sky! What a sight it was!!
Given we had opted for a tandem jump (the one where you are connected by a harness to the instructor) no specific training was required. We were given skydiving suits and goggles to wear, This was enough to get me in the Tom Cruise mode. Mission impossible theme song kept playing in my head as I walked around in that suit posing for pictures and selfies.
At last, the time had come to board the plane and jump out of it.
The jump, the free fall, the view, the adrenaline rush..its impossible to describe the feeling in words. It was surreal and worth every penny. We knew this day is going to be the most memorable day of not just this trip but our life.
As we came back from the skydiving centre we decided to check out some of the must-see places in Prague. Starting with a beer at Wenceslas Square, we next took the metro and reached Prague castle to enjoy the breathtaking view of the red-roofed city. Lastly, the Lenon wall which is so beautiful that the trip to  Prague would be incomplete without visiting it.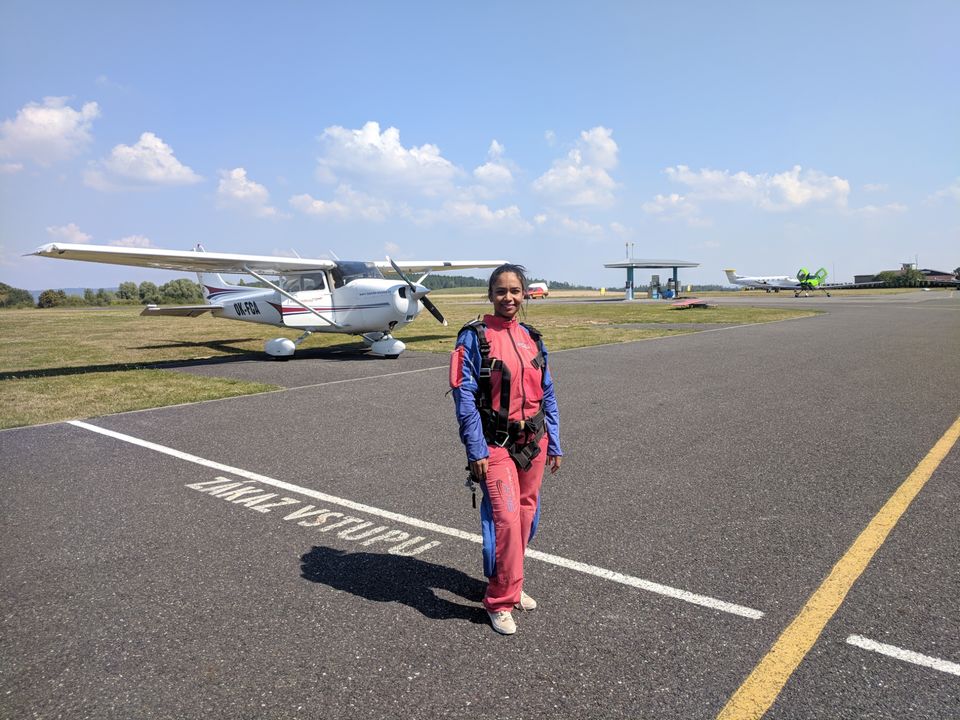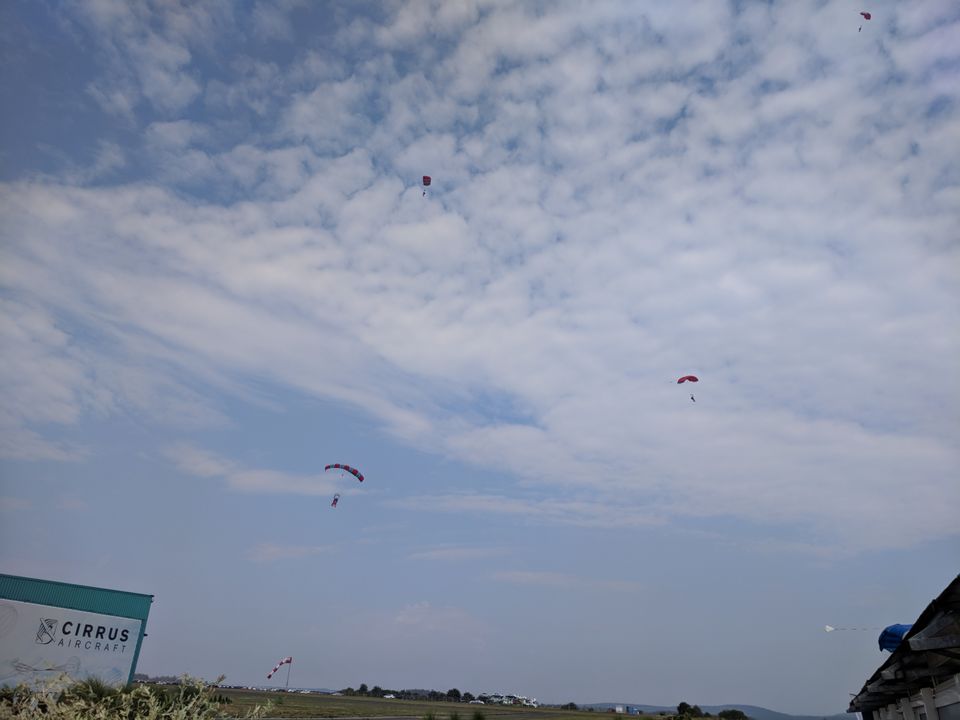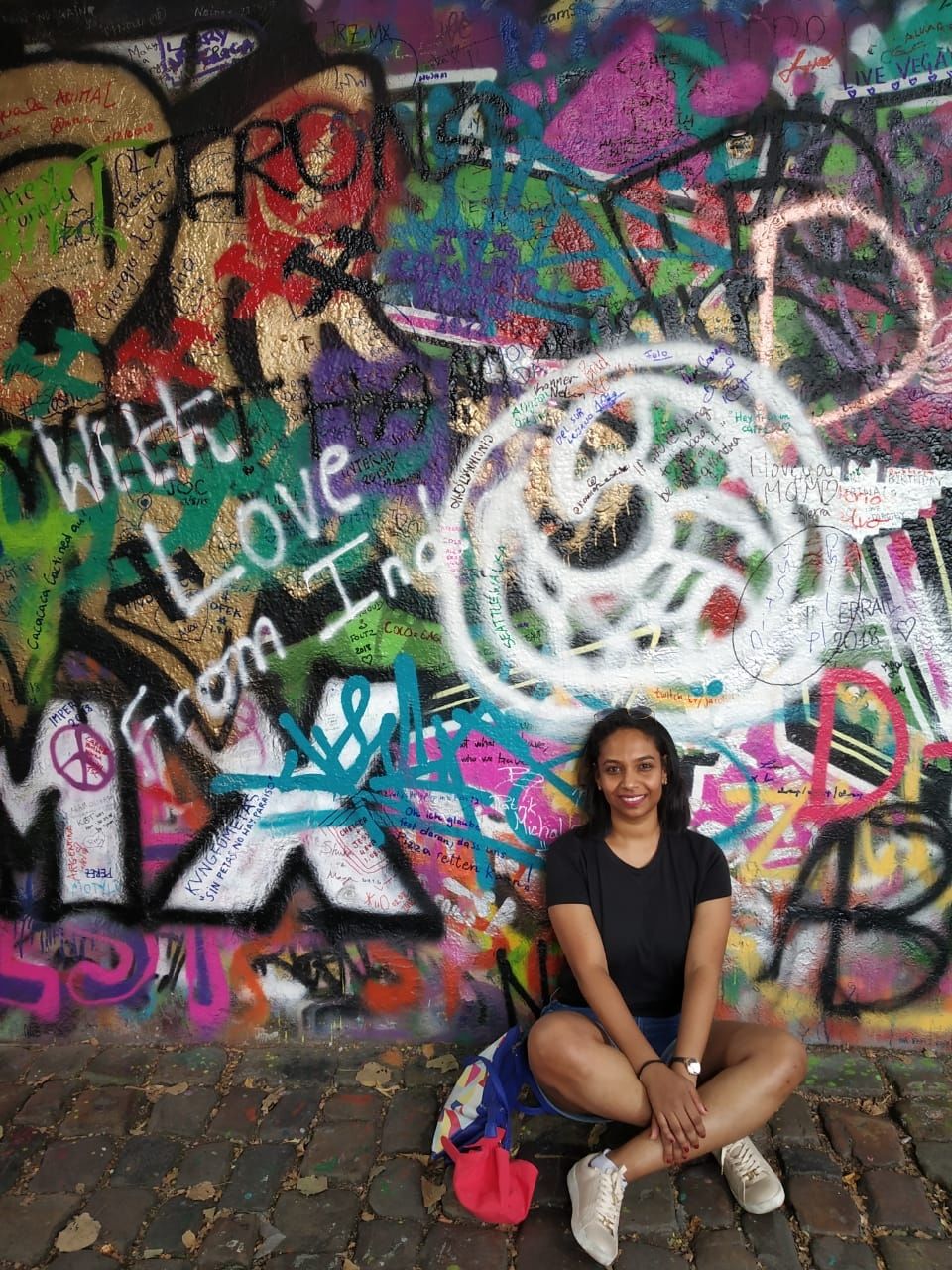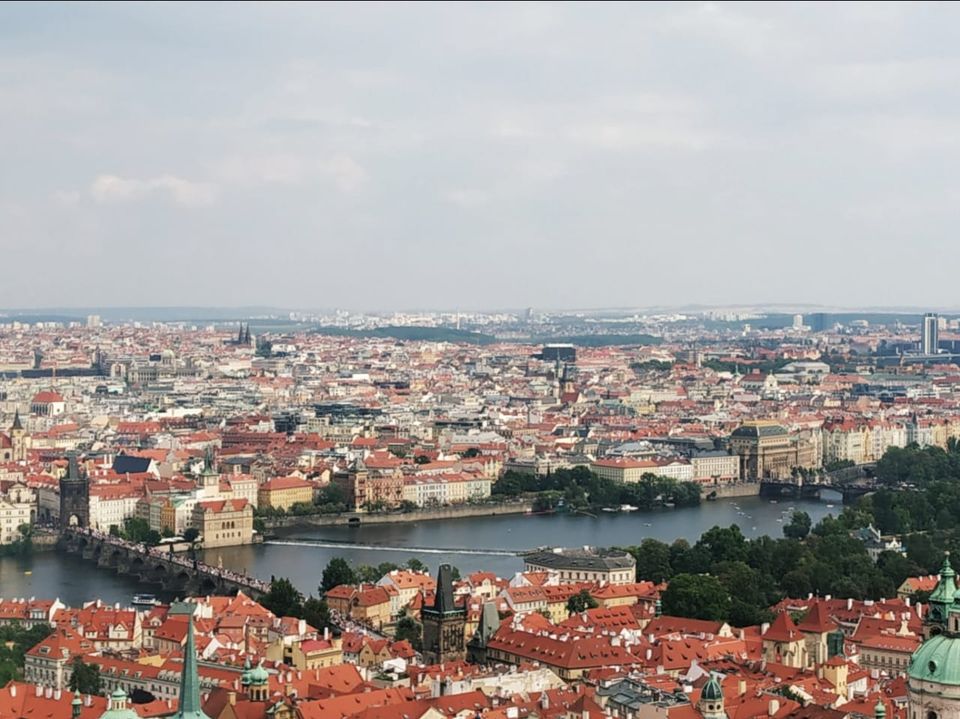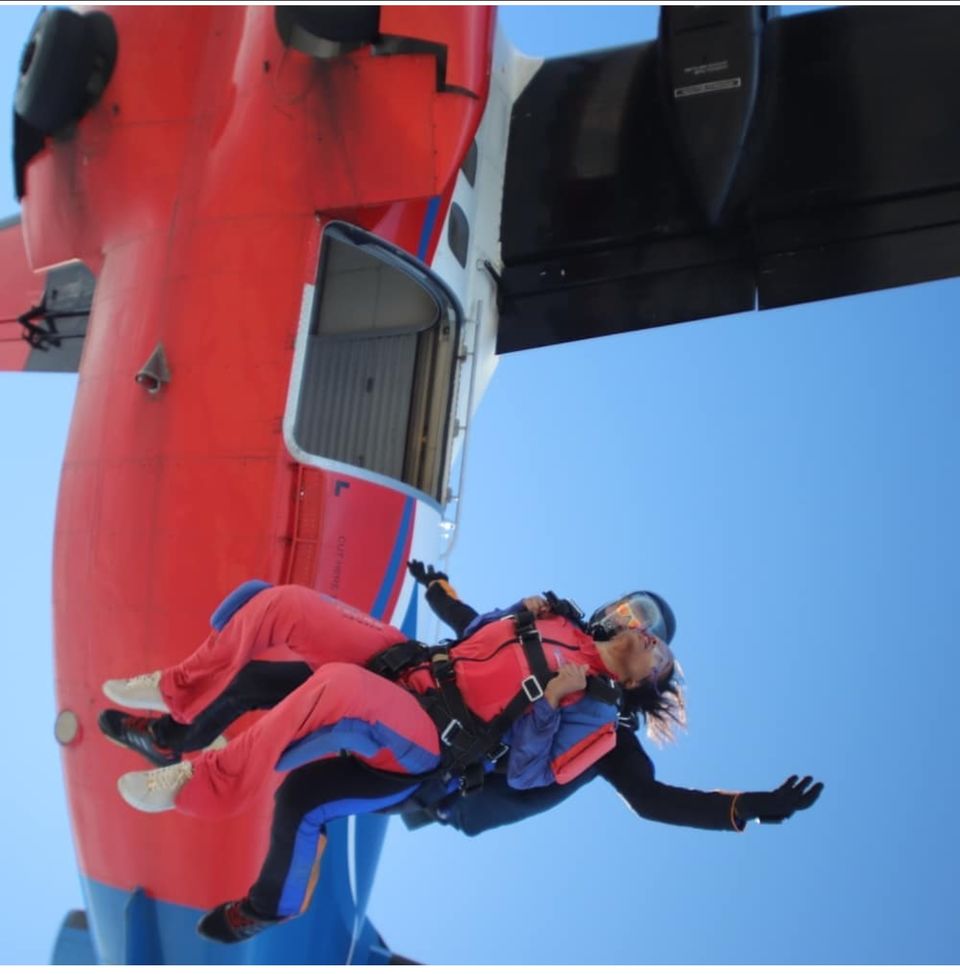 Day 3 was the realisation day that our trip to Prague had almost come to an end. We started with Petrin hill, it was too hot and we had lost our way while reaching there. As soon as we reached we treated ourselves with ice cream, we had also bought some fruits from Tesco which we enjoyed eating in the garden there. From there we took the tram to the city centre, the other day we were trying to find the astronomical clock there but couldn't find so decided to revisit. Only to know that it was closed for repairs.
We headed to the garden near the boat club to chill. Lying there and thinking about how the past 2 days went by made us all emotional and we promised ourselves that we would come back to Prague again!
On our way back to the apartment it started raining heavily and the temperature dropped to 10°c. The pleasant change in weather changed our mood too and we decided to end this trip partying at one of the pubs at Dlouha street.
(Quick tip: If you want to party in Prague don't go to the biggest club that you will hear about everywhere, it's overhyped. Instead, try one of the pubs on Dlouha street, this street is well known for the many restaurants and pubs it has).