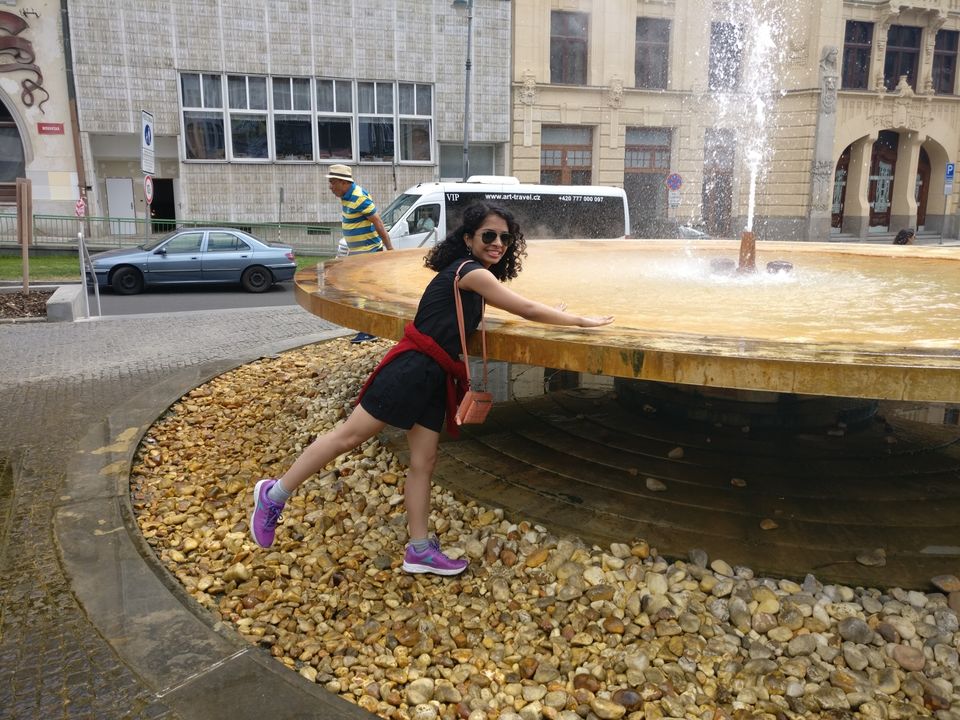 This time we went to a city not widely visited by tourists in Europe. But we wanted to explore such off places to gain an experience.
So when we went to Prague,we made a day trip to the quaint city of Karlovy Vary.
This place is famous for attracting many visitors around the globe
looking to cure various metabolic, digestive, arthritic, and gynecological ailments through the healing springs.
At the beginning, we saw a huge fountain like spring emitting warm to hot water.( Be careful, burnt my hand slightly in the scalding water)
We were told by our tour guide Kinga ( what a cool name!) that Colder springs tend to have a slight detoxifying effect, while warmer waters slow down the formation of bile and other stomach juices( too much info). The springs range 102-163°F and are all clearly marked with a card detailing their mineral compositions and average temperature.
The different types of springs were:
Thermal Spring
Charles IV Spring
Lower Castle Spring
Upper Castle Spring
Market Spring
Mill Spring
Nymph Spring
Prince Vaclav Spring
Libuše Spring
Rock Spring Freedom Spring
Park Spring (list is from a brochure I keep in my travel box!)
The springs are available freely to the public but we were told to use the spring water only on advice of a spa physician.
We didn't want to spend on a spa physician, ( if that's a thing) , so we restricted ourselves to showing our hands below the springs. Also didn't want to drink anything unwarranted in a foreign strange land.
Also we were told to not touch the spring stand or pipes while taking water from the fountain
Apart from the springs, the town itself is mystical. There's a river flowing in between as in almost all European cities!
Beautiful bridges!
Painting worthy buildings!
We had a wonderful time walking through, slurping our ice creams!
We also saw horses that actually looked like unicorns wearing bright colourful knitted ears!
If you're visiting , please research on the springs.
We didn't take any water as we didn't have any ailments to cure. So if you're going with hope of curing ailments, please research!
Even without imbibing the spring's healing powers, 😁😬, it is a place worth visiting!