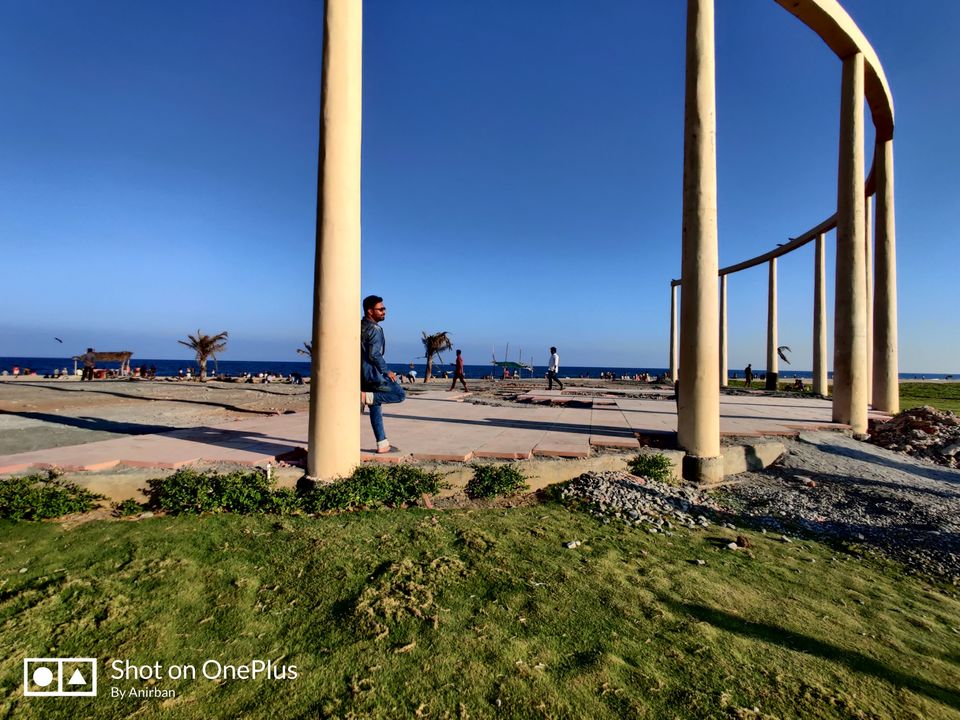 Pondicherry- People know this place for liquors at cheap rate, soothing breeze in beach side, a perfect weekend destination, a drive through East Coast Road, French Colony , sea foods , cafes and pizzas. Indeed ! this sums up what Pondicherry is all about!
Staying in southern part of India ? Tired of corporate work ? Short of leaves ? Too broke to go to pubs ? Done with regular food ? Want a peace of mind? Yes !! Pondi is the gate to heaven for you!!
It was Sunday, We all were thinking where to go and relish for some hours and return back as we, corporate people have to face Monday blues. Me , my cousin and my aunt and uncle decided to go for a one day trip to Pondi..! We booked a Ola outstation cab on Saturday night and we decided to start our journey on Sunday at 6:30 am from Chennai.
If you are less than 4 people you can book Bus/Train from Chennai also. It's a 2.5 to 3 hours journey from Chennai to Pondicherry.
We started at 6:30 am , Sunday. Travelling in the morning in the orange rays of the Sun is always charming and enchanting , and the cool breeze hypnotizes you to utter calmness.
On the way we had breakfast and the first place we headed in Pondicherry was the Auroville. Yes ! It's the golden globe what many people have seen in the pictures. This Golden Globe is called the Matri Mandir. Your car will drop you in the entrance and it's a 1km walk though nature to Matri Mandir.
Generally you are not allowed to enter inside Matri Mandir, but you need to get one prior appointment to enter inside Matri Mandir for meditation. Unfortunately all the slots till next Friday were booked for meditation, so we couldn't enter inside the Matri mandir. But , nevertheless the Golden Globe was dazzling under the Sun and is one of the major attractions in Pondicherry.
Next we headed towards Manakulu Vinayagar Temple, very famous Ganesh Temple and if you are lucky you will see an Elephant in front of the temple offering you blessings. They told that the Elephant will be there at 4 pm.
Next we thought of visiting Aurobindo Ashram, which is at a distance of 100m from Vinayak temple, but it was closed from 12:30 pm to 2 pm. So, we had lunch in a Chinese restaurant nearby..you can have French food and pizzas too !
This Aurobindo Ashram is located in French Town also known as White Town , as most of the buildings are built in French architecture and white/light blue painted and the French people resides here. If you are a photo freak as me , you will get the best shots with some best poses here !
At 2 pm we entered the Ashram , you have to leave your footwear outside and the mobiles need to be switched off. If you have a baby less than 3 years old, they may not allow to enter and babies may cry and that may break their silence and they maintain pin drop silence inside. You can offer your prayers there and sit there for a while.
Afterwards, we went to Rock Beach which is again at a distance of 100m from the Ashram.
The flurry breeze will just melt your heart , you can relax there for an hour . You can't bathe there as there are many rocks in the shore and not safe for swimming and bathing. We had a great relaxing time sitting on the rocks , enjoying the calmative breath of wind.
We then started for one of the famous beach in Pondicherry , known as the Paradise beach. We thought of viewing sunset from the Paradise beach , but we realized we can only see sunrise from the beach not the sunset. In paradise beach there were few water sports like speed boat and all, but all were happening in a still water , so there is no much fun and we didn't tried.
Paradise beach is one such beach where you can spend the whole evening . You can take bath and swim in particular areas denoted by flags in Paradise beach.
It was 5 pm , we thought of visiting another famous temple Varadaraja Perumal Temple located at 10km away from Paradise beach. The architecture of the temple is magnificent and you can offer your prayers to all the Hindu Gods and Goddesses here.
After having an essence of divine spirituality we started our return journey to Chennai. We went as a family , that's why didn't booze, if you like boozing , the entire night is waiting for you !!!
Things to note:
1) Do not drink in the beach Unless you are pro in tackling police
2) If you are returning by Cab , avoid bringing liquor, as if you have the worst luck , you have to pay fine and face harassment
3) Ola outstation from Chennai costs around 4100 INR including toll charges of 140 INR and a permit for 250INR
4) If you have plans to return by night please avoid returning in Bikes.