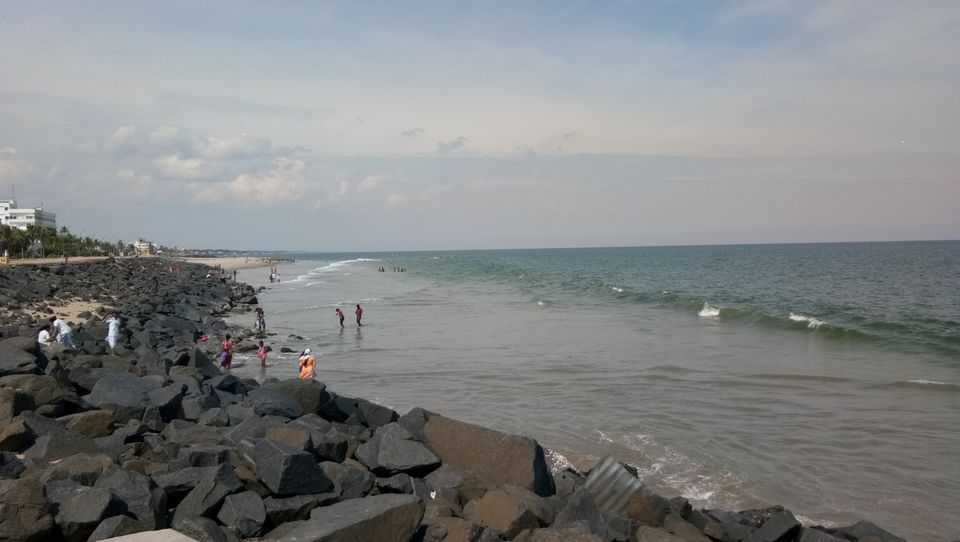 Travelling is my passion so I start to explore whenever wherever I get chances . Actually I went to Vellore for my treatment but a sudden shock came to me as daughter's PDA ( Hole in heart between Aorta & Pulmonary Artery ) diagnosed and surgery dated on 30/10/2019. So I decided we should explore before her surgery as after that she will be not able to travel for atleast 5 months so I decided Pondicherry . One day trip from Vellore it took 4 hours journey ( maximum) . We started at 7am our driver was friendly and well behaved ,we took few stops for breakfast & tea. First we reached at Aorobindo Ashram ( specific timings & days ) at 11am , what a place full of peace and tranquility. We collect some souvenirs from there . Located at a distance of 5 kms from Pondicherry, Sri Aurobindo Ashram is among the most visited places in Tamil Nadu. The ashram was founded by Mirra Alfassa (also known as 'The Mother') and the philosopher Sri Aurobindo, a yogi, guru and poet.The idea of City of Down or Auroville was conceived by The Mother. The samadhi or mausoleum is located in the central courtyard under a frangipani tree and is paid respect by laying flowers on it every day.The library and main building can be accessed after taking a pass from the Bureau Central or some of the ashram guest houses. A gate pass is required to enter the library and main building during collective meditation period. Photography inside the Sri Aurobindo Ashram is permitted only after the consent of ashram authorities.
Open: Every day
Visiting Hours: 0800 Hours to 1200 Hours 1400 Hours to 1600 Hours
Visiting Charges: Not Applicable
Restrictions: Children below 3 years are not allowed inside the Sri Aurobindo Ashram.
After that nearby we visited Arulmigu Manakula Vinayagar Temple.
Vibrant Hindu temple known for its elephant blessings, ornately carved stone walls & golden chariot.
Then the Pondicherry Museum followed by Governor's House ( from outside only) , Bharathi Park , Bharathiar statue , Puducherry Kargil war memorial, & Rock Beach of Puducherry, beautiful sea full of sea animals . After that we headed towards Auroville in between we roam the Puducherry beach ( mainly for fisheries). Last & best destination was Auroville .
Auroville ( City of Dawn)It was founded in 1968 by "the Mother" and designed by architect Roger Anger.
Auroville wants to be a universal town where men and women of all countries are able to live in peace and progressive harmony, above all creeds, all politics and all nationalities. The purpose of Auroville is to realize human unity.
— Mirra Alfassa
One day is not enough to explore whole Puducherry but atleast you can smell the essence of peace and happiness.
N.B -- total cost 6000/- INR ( 3500/- car , entry fees 200/-, Food 1300/- , Shopping 1000/-).
Inside photography is not allowed in Ashram and in Museum also. Matrimandir closed by 4pm .
Sunday Puducherry visit is not good as many things are closed.
Bye bye happy travelling