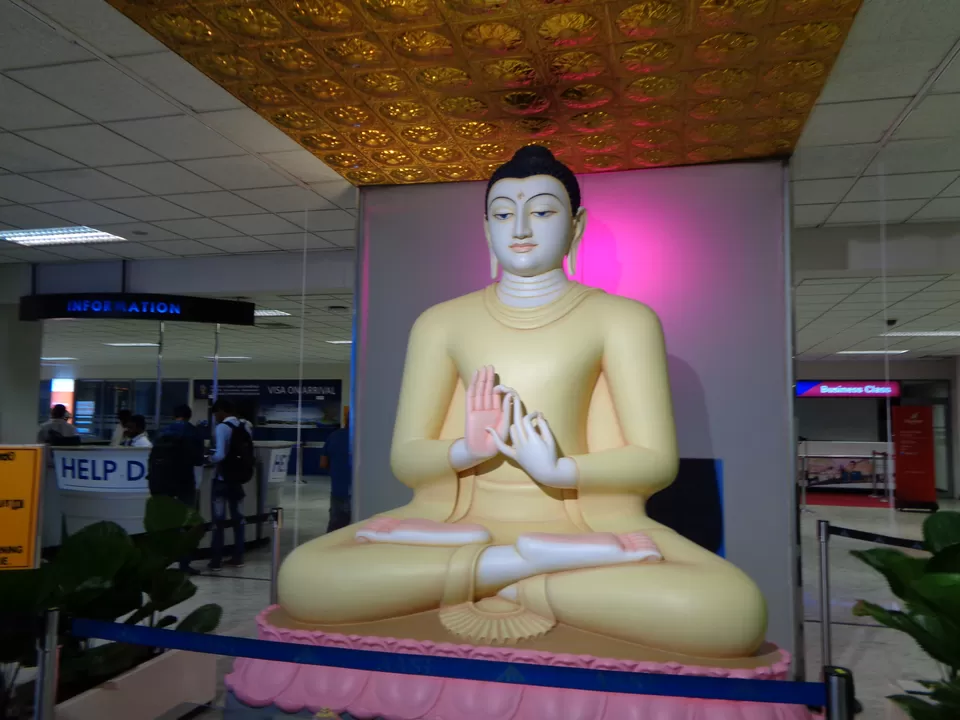 MALAYSIA IS A SOUTH EAST ASIAN COUNTRY WITH MORE OF MALAY/CHINESE/INDIAN POPULATION,KULA LAMPUR IS THE CAPITAL OF THIS COUNTRY WITH MAJOR SKYSCRAPPERS AND WELL POLISHED INFRASTRUCTURES.WE MADE A QUICK VISIT/SHORT TRIP/BUDGET TRIP WITH 3NIGHTS AND 4DAYS TRIP TO KULALAMPUR, MALASYIA.
HOW THE TRIP STARTED:
ACTUALLY IT WAS A SUMMER TRIP, WHICH STARTED FROM CHENNAI INTERNATION AIRPORT TO KLIA, AFTER LANDING ONLY WE COME TO KNOW ABOUT THE DISTANCE BETWEEN THE TERMINALS, ONE IS DOMESTIC TERMINAL WHERE AIR ASIA FLIGHTS WILL BE LANDING, BUT THE SAD PART WAS MY PARENTS TOOK THOSE FLIGHTS INSTEAD OF SRILANKAN AIRLINES THROUGH WHICH WE BOOKED OUR UP AND DOWN LONG BACK, THEY JOINED THE TRIP PLAN LATELY HENCE BASED ON THE AVAILABILITY AND THE FLIHT FARE THAT WAS BOOKED,
FINALLY LANDED MALAYSIA:
I WAS IN A SHOCK …HOW THEY R GOINTO MANAGE THE NEW COUNTRY AND FOR THE FIRST TIME AT INTERNATION TERMINAL ,HENCE WE DECIDED TO TAKE THE EXPRESS RAIL LINK(ERL) TO REACH THE OTHERSIDE TO PICK THEM UP, ITS HARDLY 3-4HRS TIME DIFFERENCE BETWEEN OUR FLIGHT TIME AND THEIRS,AFTER OUR IMMIGRATION CHECKING AND BAGGAGE CLEARANCE,WE LITERALLY RUSHED AND MADE EVERYBODY NERVOUS,BUT TO MY SURPRISE THE AIRINDIA(DELAYED) OF ABOUT 1 HR AND THAT HELPED TO REACH THAT TERMINAL AT APT TIME AND RECEIVED THEM WITHOUT ANY HASSEL.
FLIGHT JOURNEY AND FOOD: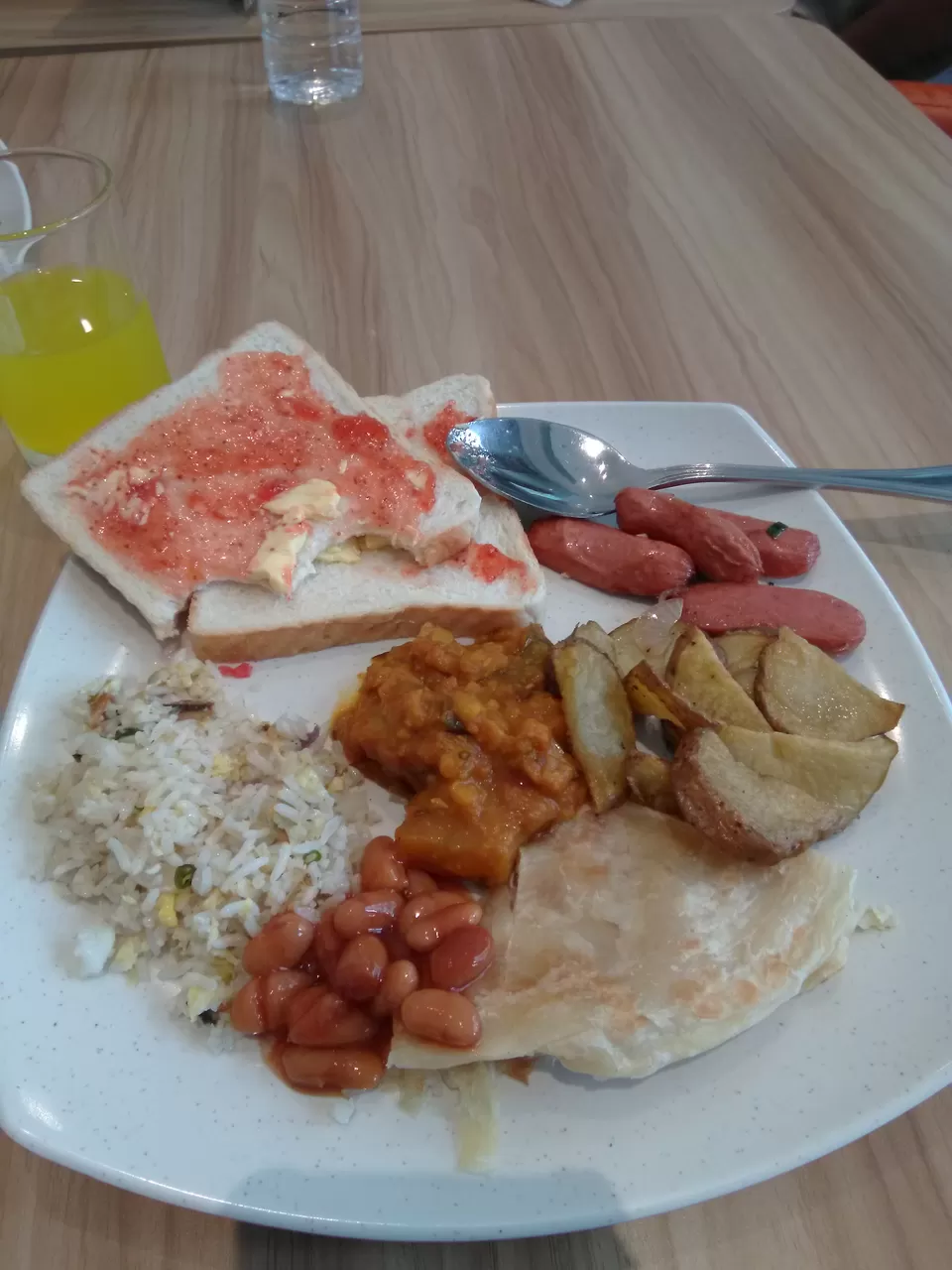 THE DISTANCE BETWEEN THE AIRPORT AND THE KL CITY IS ABOUT 50-55KMS, HARDLY IT TOOK 2 HOURS, WE BOOKED MIDNIGHT FLIGHTS, ALSO SRILANKAN AIRLINES, WE HAD A LAYOVER OF ABOUT 5HRS AT SRILANKA FOLLWED BY CONTINUE FLIGHT, WE HAD BREAKFAST AT OUR 2ND FLIGHT WAS NOT BAD, BASED ON YOUR PREFERNCE YOU CAN GO WITH EITHER VEG OR NON VEG.BUT HOSPITALITY WAS NICE, HAD LED MONITOR INFRONT OF EVERY SEATS HENCE TIME PASSED BY WATCHING ONE SRILANKAN MOVIE WITH SUBTITLES.HAHA
NOTE: THOSE WHO IS SUFFERING FROM NECK PAIN DEFINITELY CARRY COLLARS OR NECK PILLOW, ALSO I AM NOT SATISFIED WITH THE LEG ROOM TOO, SELECT YOUR SEATS BASED ON THAT, IF YOU'RE JOURNEY EXEEDS MORE THAN HOURS.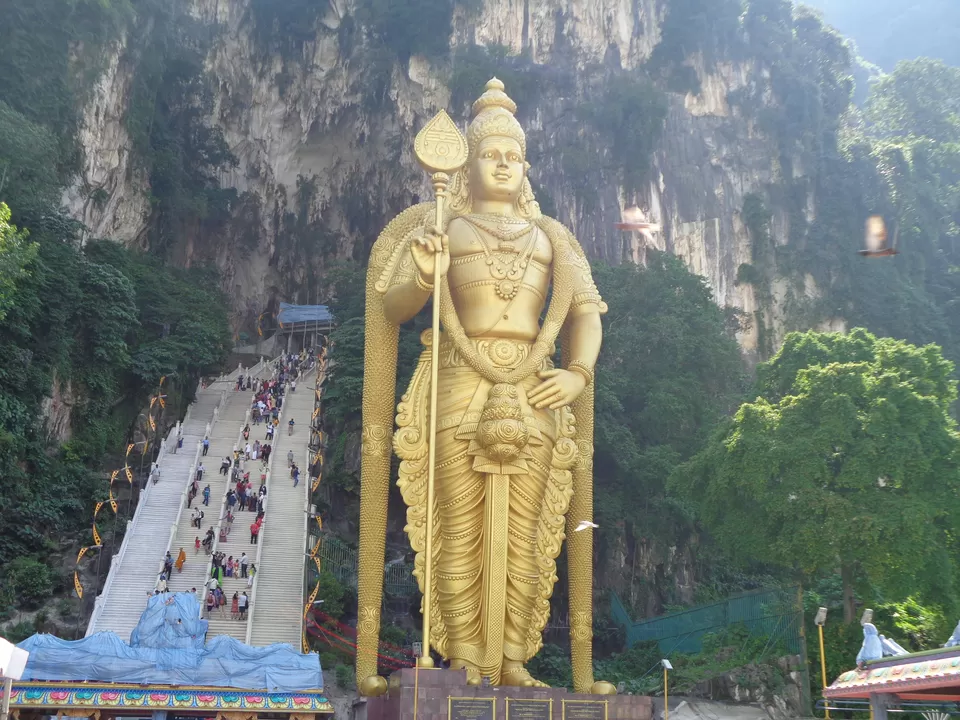 DAY 1 WENT QUITE NORMAL, GATHERING EVERYONE AND OURS IS A PREBOOKED TRIP, HENCE THE MINIVAN ALREADY AWAITED FOR US,WE JUS ASSEMBLED ALL OUR LUGGANGES AND HEADED TOWARDS KL,ON THE WAY WE HAD OUR LUNCH IN A TAMIL HOTEL WITH BIRYANI,TYPES OF CURRIES ,RICE AND FILLED OUR STOMACH AND MOVED, REACHED OUR HOTEL AROUND 4PM I GUESS,AFTER THAT WE REFRESHED AND WE TOOK TWO BEDROOMS WITH INTERPARTITION SO THAT ME AND MY PARENTS WILL BE IN TOUCH, IT'S A BASIC HOTEL OF ABOUT 3 * CATEGORY AND WE WERE AT 5TH FLOOR, AND IN MIDDLE OF BUSY ROADS ,METRO STATIONS ARE VERY NEAR BY,ALL STORES ,RESTAURANTS ALL WERE AT WALKABLE DISTANCES .WE HAD IDLIES AND NORMAL SOUTH INDIAN SUPPER ON DAY 1 AND THAT'S HOW IT WENT ON DAY 1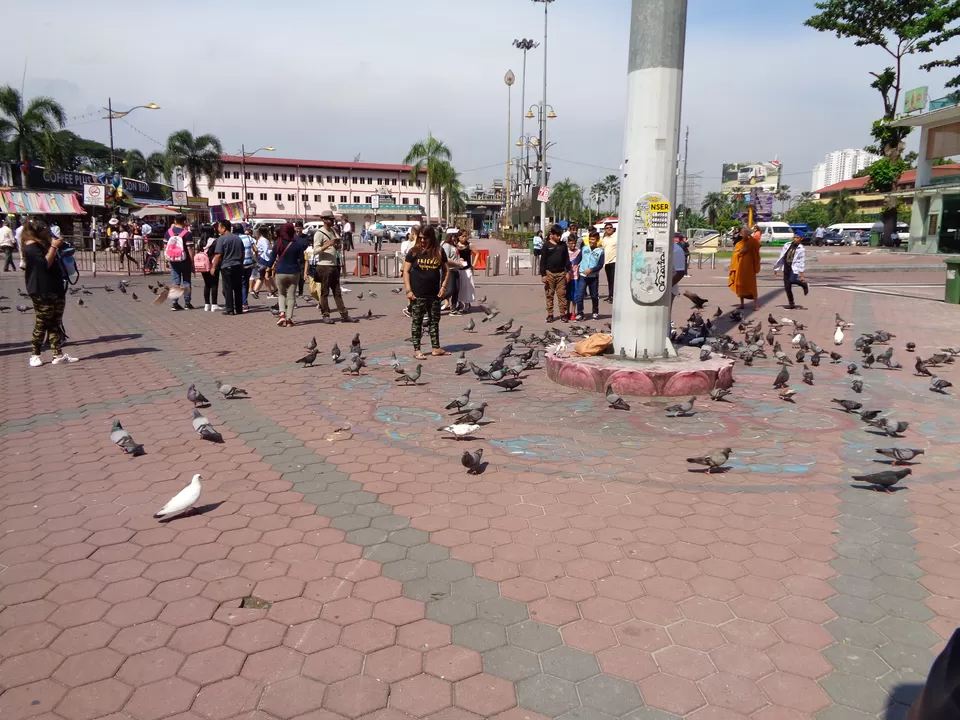 DAY 2: ALL WOKE UP, FINISHED OUR COMPLIMENTRY BREAKFAST AND GOT READY TO BATU CAVES, ONE OF THE FAMOUS TOURIST ATTRACTION OF MALAYSIA AND ALL TAMIL PEOPLES BUCKET LIST...I HOPE
ON THE WAY WE STOPPED AT
1. SULTAN ABDUL SAMAD BUILDING (SECRETARIAT BUILDING FOR THE COLONIAL BRITISH ADMINISTRATION) WHERE THE MALAYSIAS INDEPENDENCE PARADE TAKE S PLACE
2. NATIONAL MONUMENT OF MALAYSIA (REMEMBRANCE FOR MALYSIAN MILITARY SACRIFICES )
3. BATU CAVES,FAMOUS FOR LORD MURUGA AND THAIPOOSAM IS A ANNUAL FESTIVAL WHICH WAS CELEBRATED IN A GRAND MANNER,NOT ONLY HINDUS,MALAY , CHINESE ,DEVOTEES FROM ALL OVER THE WORLD SHOW THEIR RESPECT ,GRATITUDE AND OFFERINGS TO LORD MURUGA,MUST VISIT PLACE, AT THIS CAVES,THEY HAVE SPECIAL ENTRY TICKET TO EXPLORE EVEN MORE ABOUT THOSE LINE STONE ROCKS IN TO THE DARK CAVES,THOSE WHO LIKE THRILLS AND DARK,DON'T MISS IT
4. CHINA TOWN:
ALL REPLICAS OF ALL BRANDS ARE AVAILABLE AND DON'T FORGET TO BARGAIN
AFTER THE PURCHASE, WE HAD DINNER AT ONE OF OUR COLLEAGUE S PLACE, WHERE WE HAD NONE OTHER THAN BIRYANI AND OTHER NON VEG DISHES AND COMPLETED OUR DAY
DAY 3: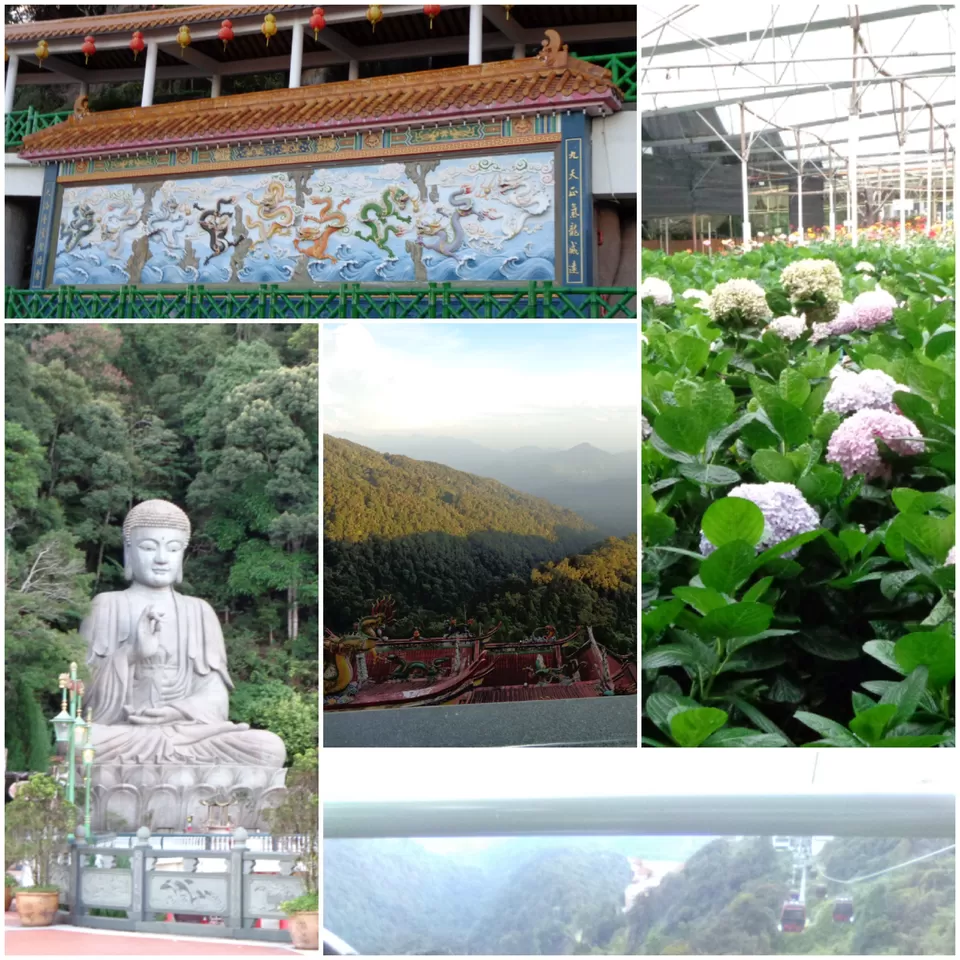 WE STARTED TO GENTING HIGHLAND,IT'S A HILL AREA WITH LOTS OF FUN ACTIVITIES,CABLE CARS,MALLS,INDOOR GAMES,PLAY STATIONS,FOOD COURTS,LIGHT SHOWS,RESORTS,THEMEPARKS..SO ON..AVAILABLE ALL IN ONE PLACE, THAT'S THE BEAUTY OF THIS PLACE….ON THE WAY WE VISITED STRAWBERRY GARDENS AND HORTICULTURE AND NURSERY.
AROMA FILLING PERFUMES ARE MANUFACTURED BY SMALL SCALE INDUSTRIES' AND IN ORGANIC WAY, PERFUME LOVERS CAN CHECK AND GRAB IT
MOUNTAIN PYTHONS WAS CAGED AND ANYBODY INTERESTED, TAKE PICTURES ALONG WITH IT AND SHOW YOUR BOLDNESS
WE TOOK THE CABLE CARS TO REACH THE MALL, SAW THE LIGHT SHOW AT THE CENTRE OF THE MALL, AFTER THAT WE HAD SOME TEA BREAKS AND ENJOYED MY FISH PEDICURE, HAD WINDOW SHOPPING AND CAME DOWN BY CABLE CAR,AND THE VIEW FROM IT WAS OUTSTANDING, I THINK DON'T NEED A SEPARATE THEME PARK/GIANT WHEEL TO EXPLORE ,CABLE CAR VIEW ITS SELF WAS SPECTACULAR…MUST VIST,WHILE RETURING DOWN,A CHINESE TEMPLE ATTACHED WITH A SMALL RESTAURANT AND CLIMATE WAS DONE JUSTICE TO US, HENCE WE WERE ENERGETIC AND COVERED ALLMOST THE HIGHLAND BUT THEME PARKS AND RESORTS WERE UNDER CONTRUCTION(2018)
LUNCH AT SARAVANA BHAVAN:
HAD SOUTH INDIAN MEALS AND HEADED TO SHOPPING NEAR BY..ONE OF FRIENDS FAMILY PURCHASED LOTS OF STUFFS AND WE HEADED TO LULU HYPERMARKET AND BOUGHT SOME BED SHEETS AND TOYS FOR MY NEICE & NEPHEW.AGAIN WE ALL GATHERED AT ONE POINT, AWAITED FOR OTHERS TO COMPLETE THEIR SHOPPING, BRINGING PARENTS TO SHOPPING IS A BAD IDEA UNTILL UNLESS THEY HAVE SEAT TO SIT...SO THINK AND TAKE THEM TO SHOPPING AREAS (FOR THEIR HEALTH SAKE)
AS A FOODIE, WE DIGGED IN TO A PINEAPPLE SHAKE, WHAT A TASTE MAN...WORTH WAITING FOR THEM… HIHI, THEN WE HEADED TO THE MOST FAMOUS KL TOWER AND PETRONAS TOWER/TWIN TOWER
WE CHOSE TO GO AND SEE THE TOWERS AT NIGHT BECAUSE WE DON'T WANT TO MISS OUT THE LIGHTNING EFFECTS AND THAT WAS REALLY A TREAT TO OUR EYES …WE DIDN'T WENT INSIDE THOSE TOWERS AND HAD THE GROUNDLEVEL VIEWS….ONLY..WE WERE DONE WITH DAY 3 AND HAD OUR LAST NIGHT AT KL
LAST DAY/DAY4:
WE HAD A VERY MINIMAL TIME AND ALSO HAS TO FINISH OUR BREAKFAST, ONE MORE PLACE TO COVER...THAT WAS PUTRA JAYA-WHICH WAS ON THE WAY TO AIRPORT AND FINALLY HAS TO CATCH OUR FLIGHTS TO INDIA/CHENNAI VIA SRILANKA BY NOON..THE SAME WAY, OUR PLAN WENT WELL AND CATCHED OUR FLIGHTS,THOUGH WE MISSED LOTS OF PLACES/ BEING WITH THE FAMILY AND TIME TOGETHER WAS AWESOME AND NEVER FORGET THIS TOUR FOR LIFE TIME
THAT'S ALL FOR NOW, WILL COME UP WITH LOT MORE INTERESTING TRIP EXPERIENCES IN NEAR FUTURE,HOPE U ALL LIKE MY PAGE/BLOG,MY FIRST BLOG,ALL YOUR COMMENTS AND SUGGESTIONS ARE WELCOME.THANKS EVERYONE..TAKE CARE