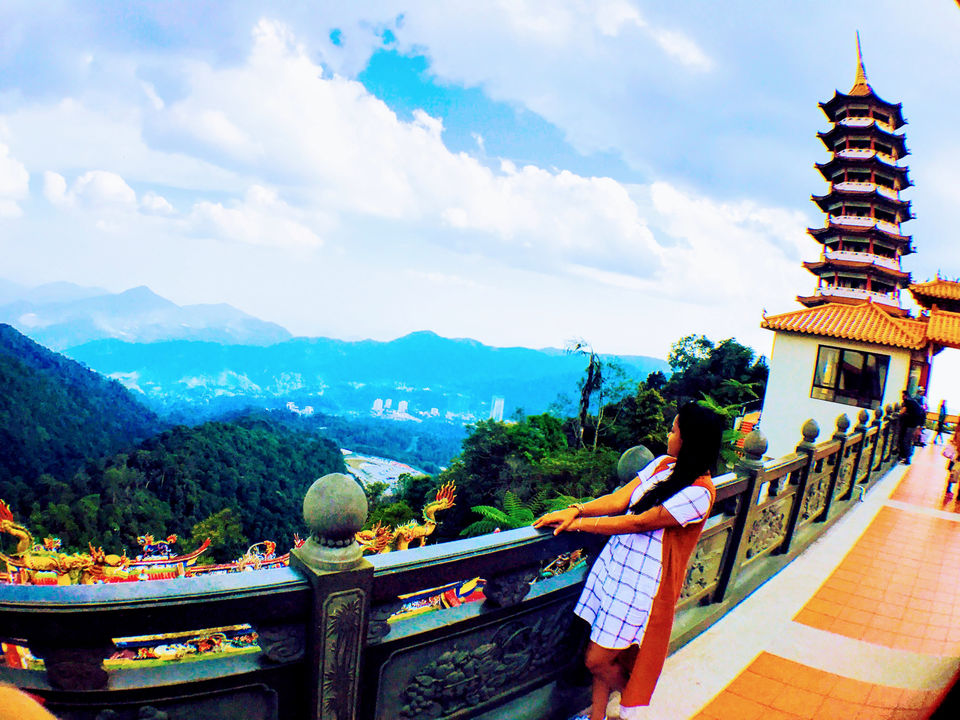 This fast moving world has turned everyone overly ambitious and people work for ridiculous shifts with no exception to me. Work, home, sleep, repeat! That's how my days were running from last six months. Mind was completely drained out running the monotonous script every other day and suddenly a message popped up 'offers running on Malaysian flights' !! Mind's bell rang. Tring tring. Why not ?
We all need to move around a bit. Isn't it ?? To shuffle our surroundings. To throw ourselves out of our regular robotic zone. To wake up in the cities we are unaware of our way around and to have conversations in languages we can not entirely comprehend. And to realize this world is a much bigger place than the town we live in.And when we come back to the same home and same old job, for sure a better version would go along. There we are. Tickets are booked!!
We first booked and then researched but Kuala Lumpur will never disappoint you. It is much more than its iconic towers. From temples to clubs and everything in between. If you don't have budget to roam around the world, you must visit Malaysia! It will give you the flavor of Malay, India & china in majority & some other countries too in minority.
The country of Highlands and Islands!
Get the checklists ticked ✅

2. Book your hotel (Tip 1: Book it near petronas/ bukit bintang to make your daily conveyance easier.)
3. Once 1 & 2 are sorted, apply for Malaysian eVisa.
(Tip 2: Though Malaysian visa just takes few hours to get approved but then don't be super casual about it. One of us did not get it approved until the last day of our departure and had lost all hopes to travel KL, but then an agent came to us like an angel and helped to get it approved.)
4. Make a tentative itinerary after doing a good research.
5. Carry raincoat/ umbrella as it rains almost everyday in KL.
Transport
1. From international airport to city: Kuala Lumpur International Airport (KLIA) is approx 45 kms away from the main city and the fastest way to connect is KLIA Ekspres. You get it every 15/30 mins depending on the peak hours and it takes 28 mins to reach KL central in 55RM (Malaysian Ringgit).You can also take taxis and airport bus services.
2. Intra-city transportation: KL being the capital of Malaysia has highly developed unrivaled transportation system with 6-7 integrated metro lines( LRT, monorails, KLIA Ekspres and so on )connecting to all the parts of the city.The rapid bus services are also cheaper options for regular passengers. If you don't have time to spend waiting for buses & getting to know all the routes then don't opt for meter taxis too instead apps like Uber & Grab would be best options to get a drop for nearby locations (in 7-15 RMs, which is super affordable). And as the drivers speak in English, you can easily communicate with them (they can be your free guides too).
The tallest twin towers of the world from 1999 until now. The view of this amazing skyscraper was worth watching. Tourists all over the world taking pictures, locals selling fish eye lenses (Tip 3: Negotiate well with the sellers if you are planning to buy) to bring entire tower in the background & the sunset. Slowly the sun sets and KL lightens up with its iconic towers. Roam around the KLCC mall & the Sephora having entire range of cosmetics at the opposite side of the road. You can go to the sky bridge that connects both the towers at 84th floor, but you can skip if you want. I did skip & I will tell you why, later.
Tip 4: Spend the dusk time near the towers to enjoy both daylight and nightlight view of the towers with the water light shows. 1-2 hours is enough for this place.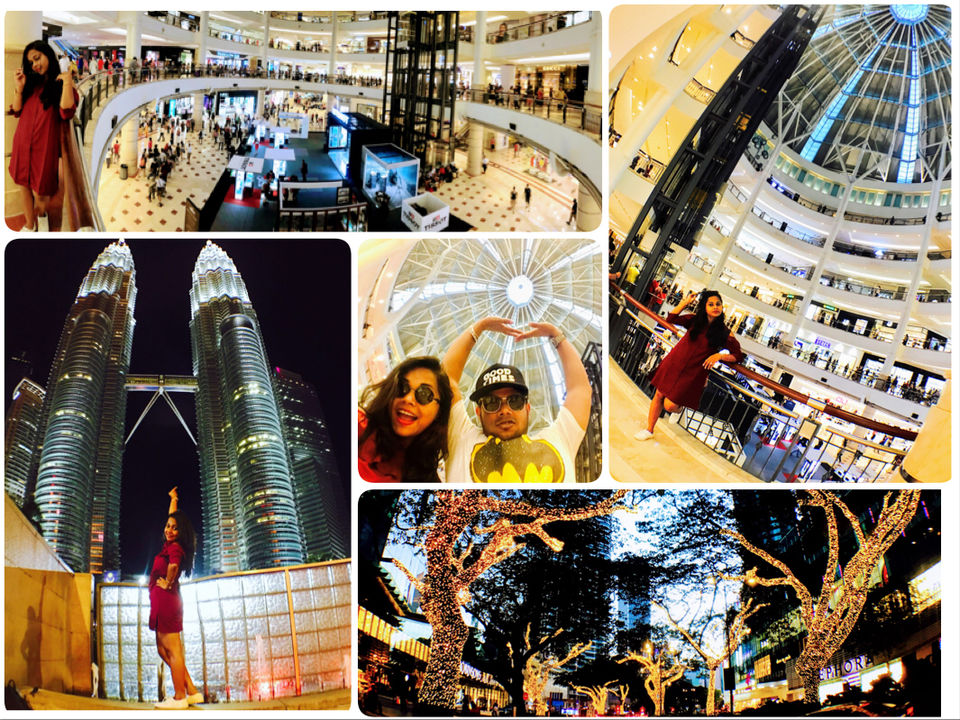 After spending sometime at the towers, we headed towards Bukit bintang, the soul of KL. It is full of hustle bustle & lively. It starts with the biggest Mall of the city the Pavilion followed by various other shops, restaurants. The moment we thought we are done and were about to leave (9pm) for the hotel ,our attention went on to a live performance with music and dance going on. And how can I miss the opportunity to dance? We rushed to the place & did not leave it until midnight.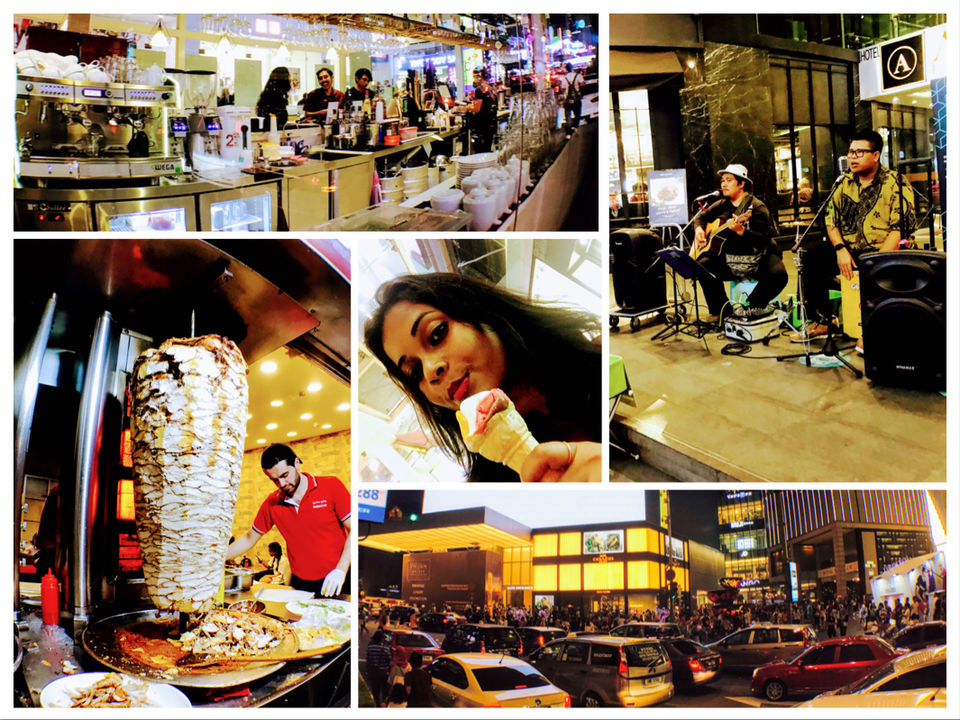 It is a series of caves formed by limestone & said to be 400 million years old (as per wiki). You get to see the amazing view of caves & the 140 ft height Lord Murugan statue from a distance. There is a Hindu temple in the main cave & some souvenir shops. you need to take 272 steep steps to reach to the temple & see interior of the cave. There are 3-4 other caves as well which can be toured with help of guide. (Tip 5: Female travelers to carry stoles to get covered up in case attire falls above the knees). You gonna meet some of our ancestral friends (monkeys ;),watch a sample video ),they may snatch your food & water. But don't get afraid from them, calmness will help. There are various restaurants which serve Tamilian food in banana leaves, don't miss to try them.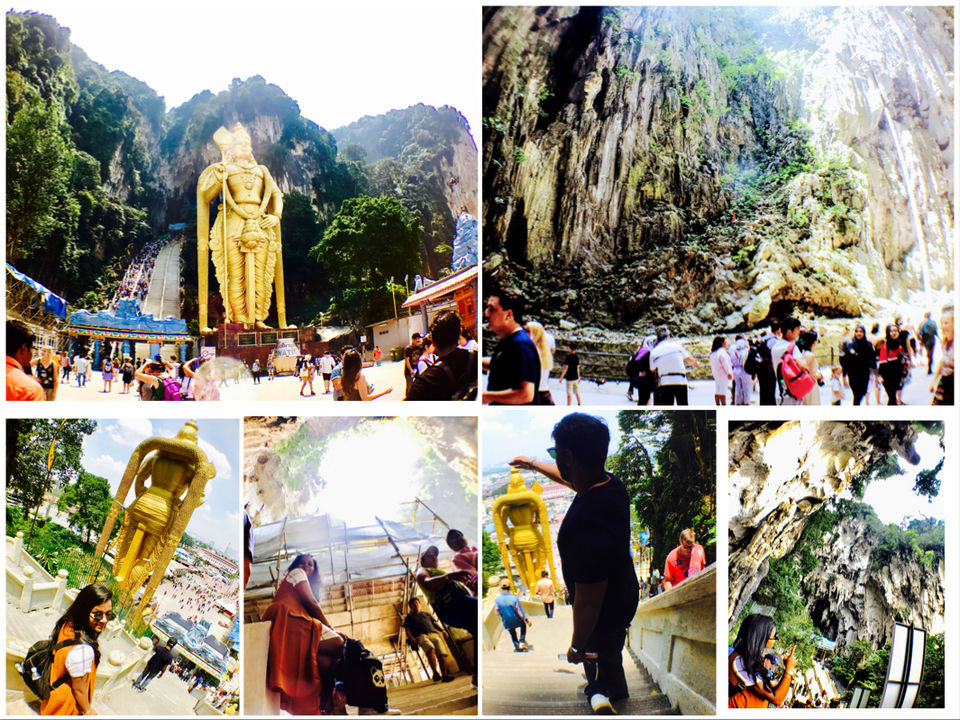 Snoozing the alarm button is my favorite task in the morning. I can easily be awake until 5am but not wake up at 5, especially after a late night yesterday.But then we started for our road trip that day with a local relative of ours.First spot, the famous "Batu caves".
Our next spot was Chin Swee caves temple. We were going up and up the sea level with every spot. This time we had to drive some kms, park our car & take cable car. Chin Swee caves temple is the famous Taoist temple of Malaysia and most visited temple because of its amazing surroundings. The view of Genting highland from here is just breathtaking (check it in cover pic). It is also one of the most instagrammable places having a hall, a Pagoda, a gigantic Buddha statue and a lesser gigantic statue of Goddess of mercy. It has many other statues which has deeper meaning as per Chinese mythology.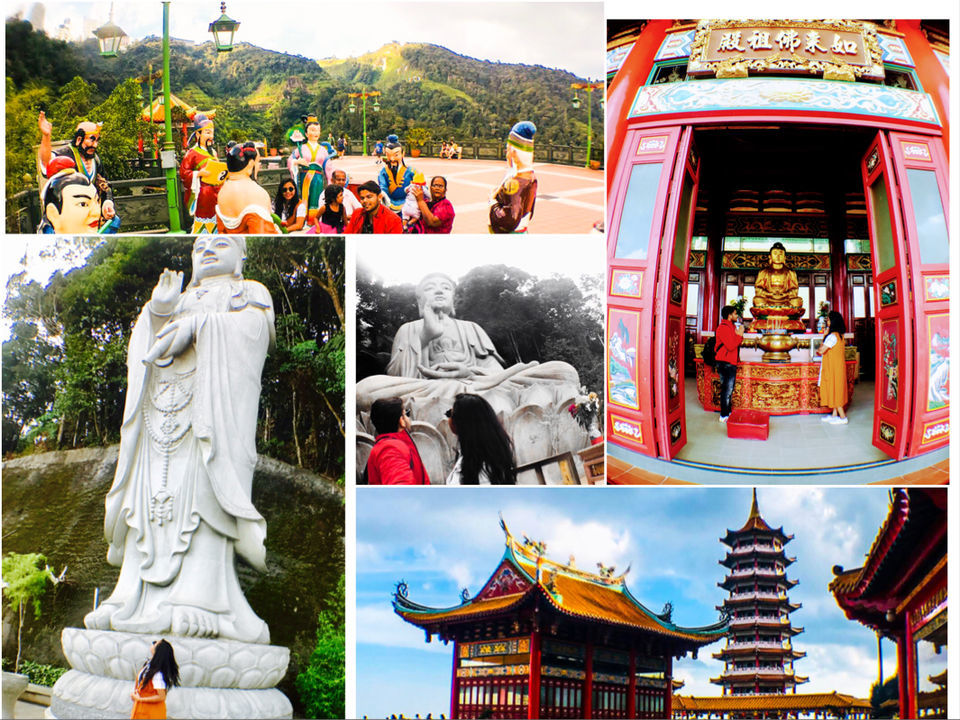 Finally to the top. 6100+ feet up the sea level. It was really scary to go up there by cable car.Looking down was an adventure in itself .We had too much of a change for that day, from 30 degC to 8 degC. Finally to the world of utmost luxury. 7 hotels with 10000+ rooms, the highly rich Sky avenue casino (people say amount earned per day in this casino can run whole Malaysia, not sure how true it is), varieties of shopping malls ,gaming zones ,multi cuisine restaurants of all over the world and what not. We all played in casino & I lost all my bets (lol) but it was worth trying (Tip 6: Passport is mandatory to get into casino). And it was a wrap for 2nd day, drove back 60 km to our hotel and had a good sleep.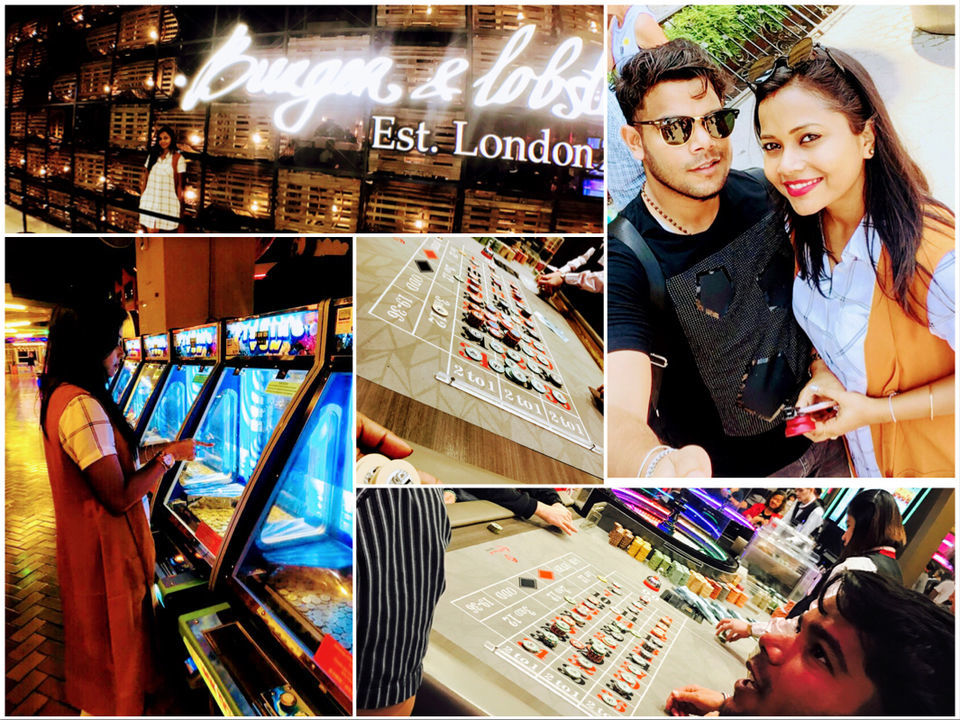 Day 3! It was the day for Malaysia's federal capital, Putrajaya! It is the most planned & modern city of Malaysia, so much planned that a man-made lake is running through out the city for natural cooling. The roads are designed in the European feel & all the government buildings & mosques are designed with Islamic architecture. We booked a Govt. tourist bus (which runs twice everyday, 11am & 3pm). The driver/guide was really disciplined & strict for timing. He made us cover all the must see places in 2 hrs. That included Masjid Putra (also known as pink mosque), I had fallen in love with its rose tinted granite architecture. They will provide you a pink robe to wear and go inside the mosque (to respect Islamic religion & I was really happy wearing that ). You also get to see Prime minister's office & residence, seri wawasan bridge, palace of justice, Putrajaya corporation complex, Putrajaya international convention centre (from here you can witness the top view of Putrajaya) & at the end Seri Gemilang bridge (It gave us the feeling of the European country).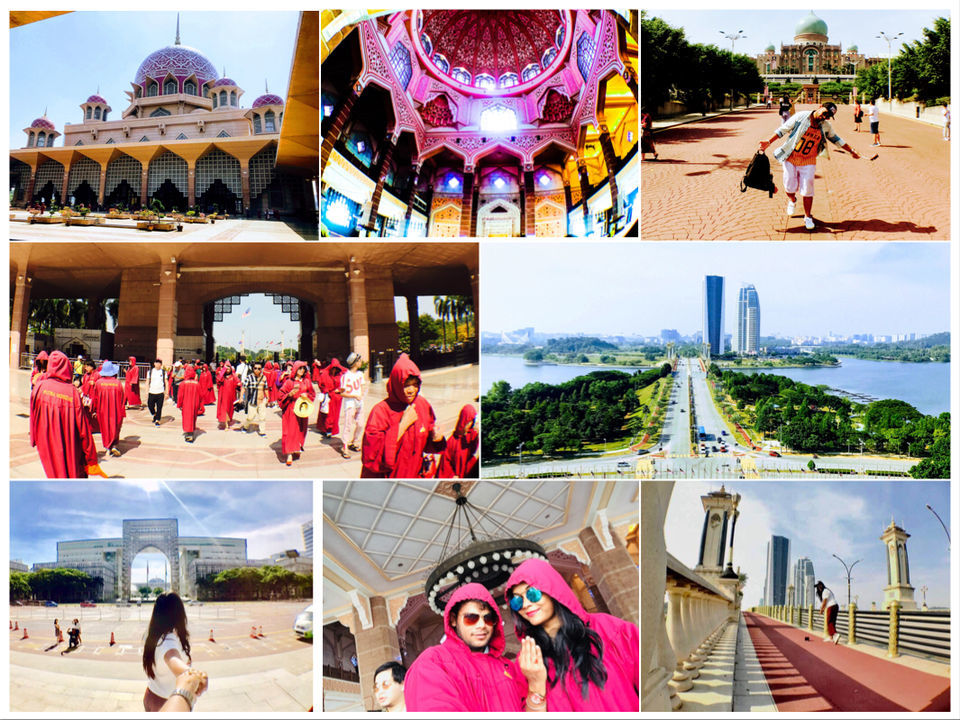 We returned from Putrajaya & headed towards Chinatown (took LRT after KLIA transit). Every place has its own version of Chinatown which is more or less similar.Number of shops in parallel. You can go shopping there in cheaper prices, starting from clothes to electronic items & enjoy authentic Chinese cuisines. We could not enjoy the place much as we were really tired to handle the over crowdedness at that moment. So we left the place, chilled at Starbucks for sometime. But we were fortunate enough to witness 1 of the Hindu celebrations (Padayatra, pic below) while waiting for our Grab & then came back to room.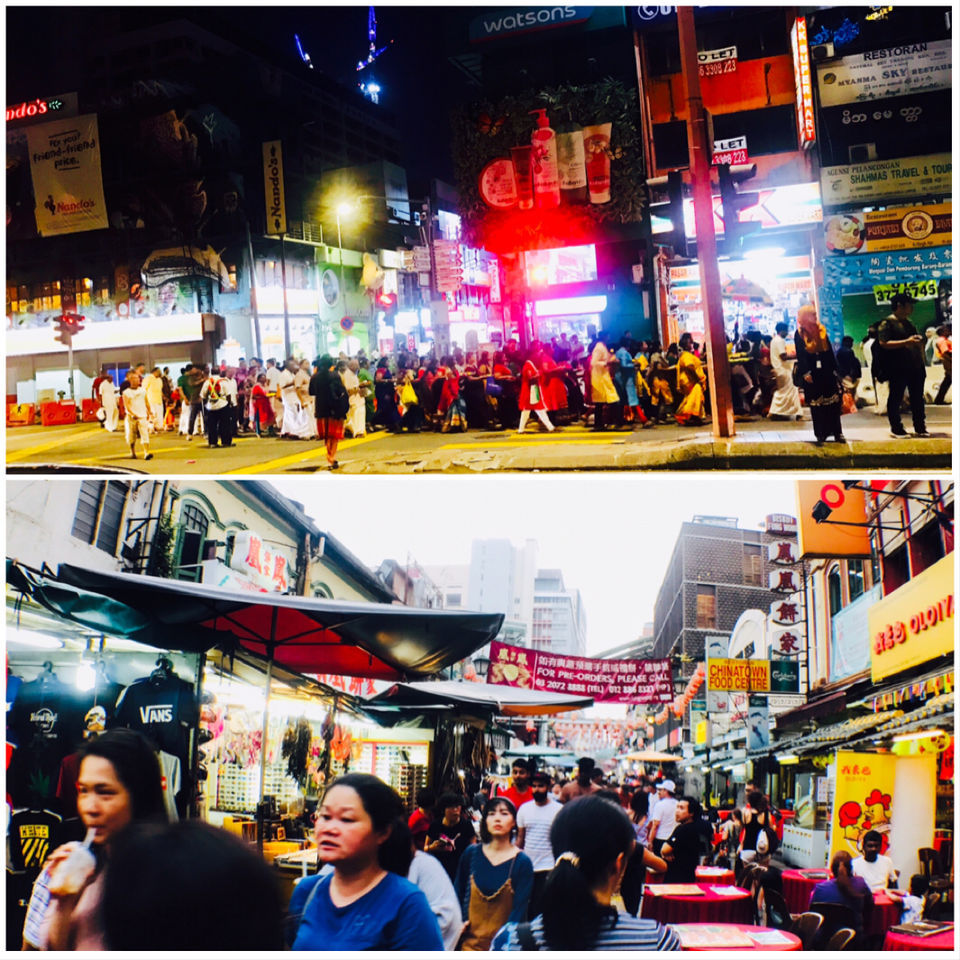 You should never miss going to Jalan Alor. After getting freshen up we went to see another famous tower of Malaysia, KL tower. But it was already 10pm & the tower was getting closed. And in hurry we started for Jalan Alor thinking shops might get closed there as well. But, what we found is completely different.To our surprise, Jalan Alor never sleeps!! People were coming in even at 1/2 am to that place. The live music bands playing will boost your mood for sure & relax you. Malaysia is no doubt famous for its varieties of cuisines & you can find everything there in a line. Different types of ice creams (Famous ones are dragon breathe ice cream, coconut fruits & nuts ice cream, fresh fruit ice cream), drinks, food & yes the spa out there is pretty awesome. You should try them as well. Finally we returned room at 2am.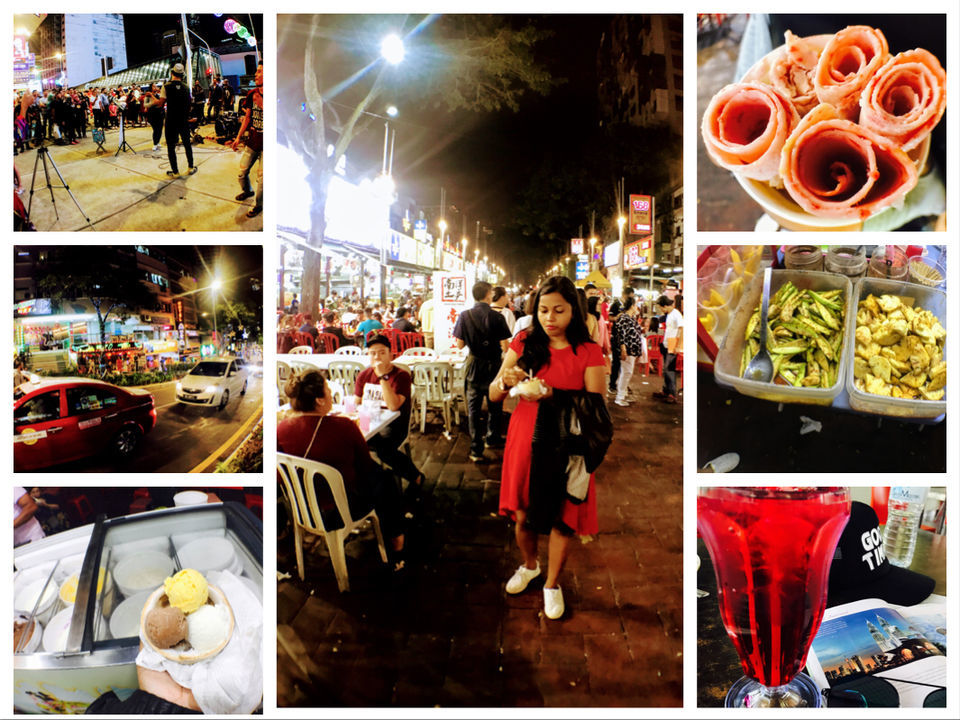 We could not wake up before 11am today. After having our brunch, we started for Merdeka square. Merdeka means "freedom". Its said that when Union flag was lowered & Malayan flag was raised at the midnight of 31st Aug 1957 for the first time, people were gathered at this place & had shouted merdeka! merdeka! & from then this square got named as merdeka square.Every Independence Day, Malaysia celebrates its freedom hosting flag at this place. This flag post is tallest of the world(100 mtrs). Sultan Abdul samad building situated exactly opposite to merdeka square is a government office of KL but its uniqueness of Mughal architecture has made it a must see tourist place. KL's city gallery is also nearby which has an 'I love KL structure',no one misses to get captured there.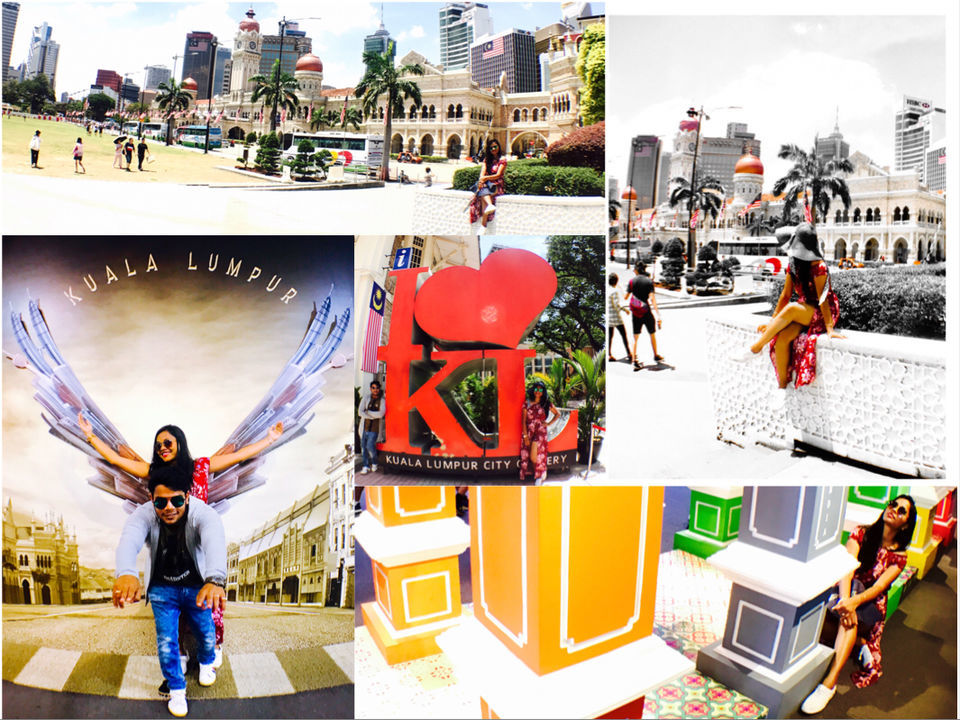 We had almost covered everything from our checklist for KL by 3rd day & this day was for leisure & relaxation. We headed for Heli Lounge, the KL's secret! Why so? Instead of spending 80+ RMs at Petronas/ KL Tower to go to observation deck and view city's skyscraper, just spend 30+ RMs to grab your drink & take a relaxing seat at the roof top bar of Heli Lounge & enjoy the view! Icing on the cake would be a sunset view. (this is what I was referring to earlier).
Tip 7: Reach heli lounge by 6pm so that you can get a seat else it gets over crowded. After 9, charges get more.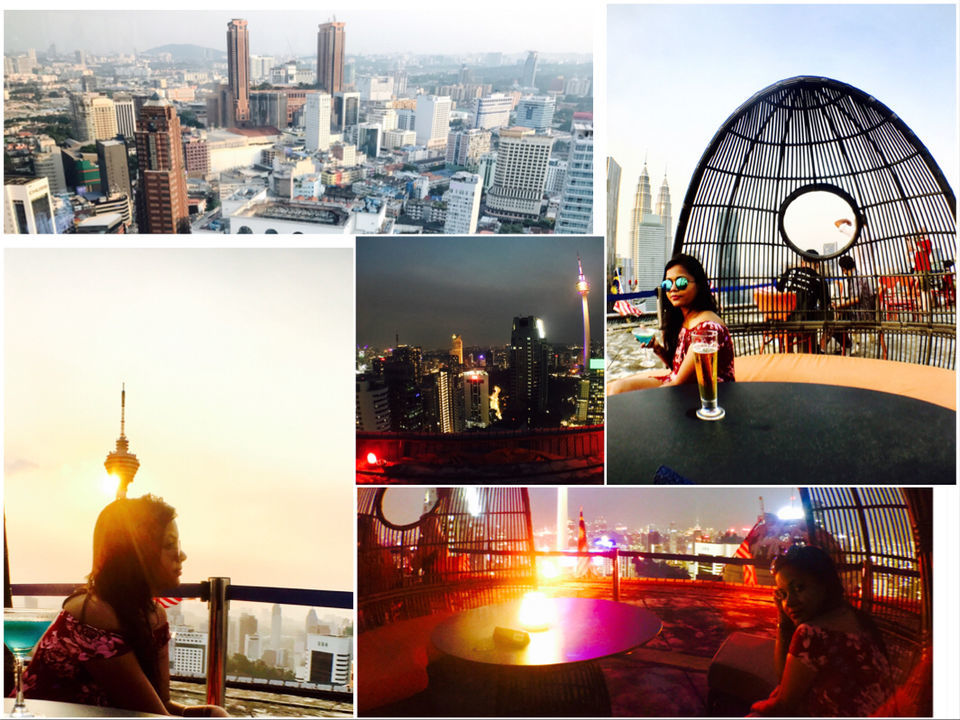 This was the last day of our trip. We just had half day available & that should have been given for some treat to ourselves. Some shopping. Yeee!!! We went to Berjaya Times Square, few other nearby stores & Plaza low Yat. There is an amazing restaurant in Berjaya which you must go eating "Taste of Asia". Food served is buffet, pick any dish in a plate, show the plate at the counter and the bill will be generated looking at the plate (it looked really interesting to me, unlike the conventional way of ordering a dish, pay for full plate either you eat or not).
And it was time to say goodbye to Kuala Lumpur. You get a strange feeling leaving a place & their people. I was sad, I was going to miss the person I was for all these times & this place. I can't think of anything that excites a greater sense of childlike wonder than to be in a country where you are ignorant of almost everything. Suddenly you are a five year old again, you can't read anything, you can't even reliably cross a street without endangering your life. Your whole existence becomes a series of guesses & I was going to miss these badly.
Time for airport. I wish there was some sort of time lapse to show how people change between arrivals & departures. For sure a better version of me was coming back home!
There are a lot more places that we could not explore this time (Malaca, Camerion highland, Langkawi).And I am coming back soon. Malaysia, Wait for me!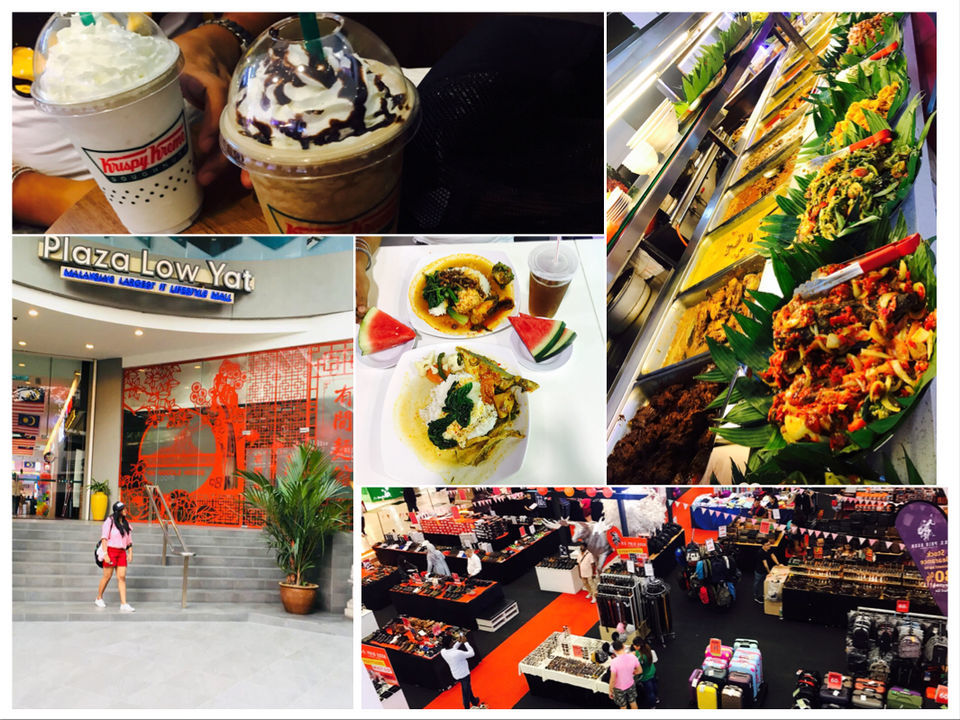 Until then you guys follow me for more backpack stories. Please do like & comment!
Thank you for reading!
Frequent Searches Leading To This Page:-
Malaysia Vacation Packages, Malaysia Tour Cost, Malaysia Tour Price, Malaysia Trip For Couple, Cost Of Malaysia Trip, Best Place To Stay In Malaysia, Malaysia Tour Plan