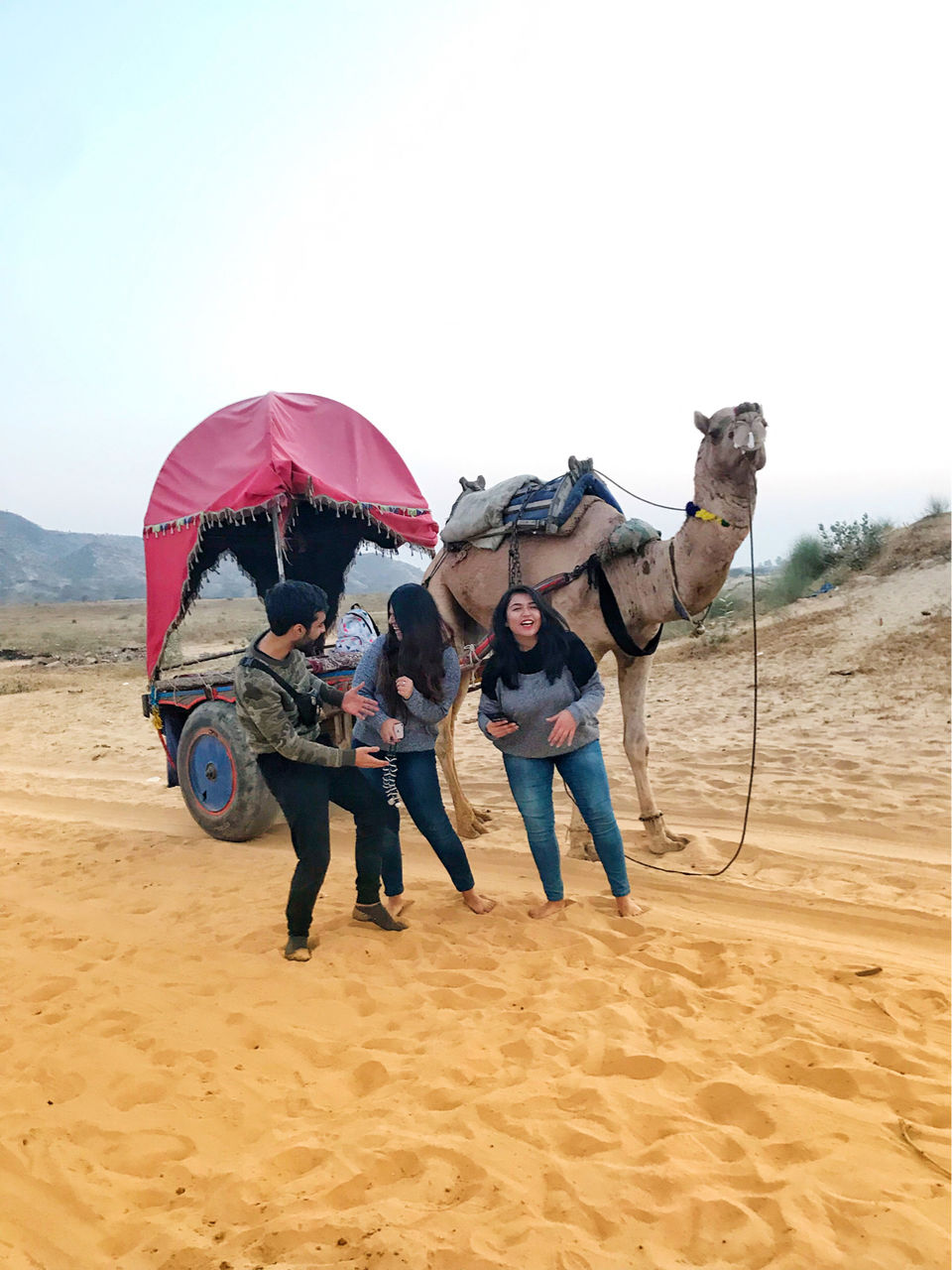 To wind up 2018, my friends and I planned this impromptu trip to Pushkar. As unwillingly as I signed up for this trip, it turned out to be a one-of-a-kind experience. I wasn't expecting much and an alike vibe, but it was a total bliss. So we took a private overnight bus and reached there at 7 in the morning. Since ours was a budget friendly trip, we booked rooms in Pushkar Villas and the rooms turned out to be a lot more spacious and nicer than we imagined and very much easy on the pocket.
So after freshening up, we went onto the famous Pushkar lake direct, it was 10 minutes drive away and we took a sharing auto which are easily available on the roads. The lake was quite tiny but stunning. It was surrounded with temples and ghats and ducks, along with LOTS of pigeons, yes. Camels will follow later.
We had our first meal at Cafe Lake View, which was just near the lake and it was the usual Parathas and cold coffee for the menu was just like any other cafe's but the meal was yum. Mind you, I wasn't expecting much... food included. Then we just sat at the ghat and witnessed the maha-arti. It was lovely and quite grand. Now comes the fun part... instead of taking the auto, we decided to just walk around without google maps or any fixed destination, just wherever we felt like. So we randomly started scrolling across the narrow beautiful streets which had shops and stores where you could get souvenirs, handloom, accessories, and stationary. We spotted lots of leather stationary which were pretty cool. Upon exploring, we found a lot of street food joints, I was at-max expecting chats or Rajasthani food but all of them along with the usual had varieties of falafel and pancakes, we ordered a falafel but I was still not sure about pancakes, but let's just say it.. It was scrumptious. Different than usual but unique in its own way, turns out Pushkar consides Israeli community, hence the food.
The next day also, we casually walked down the lane across the resort and came across the cafe called Deja Brew. This happens to be my most favourite part of the trip. The cafe had a small golden retriever named Shanti and it is single handedly operated by the owner. The menu consisted of mouth-watering breakfast platters and we couldn't resist trying them all. It was all so delicious and Shanti gave us company all throughout. We visited this place twice through our four day trip. The muesli bowl was just so incredible.
Ofcourse, when you are in Rajasthan,you are bound to encounter camels. As usual as it may come, we went on a camel safari during sunset and hired a buggi. They'll quote higher prices but play it smart and bargain. We paid 500 bucks for an hour long ride amidst the dessert of Pushkar, it was a fun joyous ride.
Later that night, we went to Ajmer city and the route was hilly and scenic. Straight away we went to have chicken dinner for it's unusual to find Non-Veg in Pushkar. We ate our hearts out at Ambrosia Bliss, which was such a gorgeous restaurant with terrace seating. Definitely recommend the chicken tikka masala of that place. Now when you are in Ajmer, you can't miss on the famour Ajmer Sharif Dargah and ofcourse the kababs that they sell outside. The dargah was beautiful and the vibe was calming but the best part was the yummy kababs. After spending quality time there, we took our way back to Delhi, with lots of memories and happy stomachs. To summarize, food over there is definitely and most-unlikely my reason to travel back to the sand city. However next time I'm not missing on the Pushkar mela and reuniting with Shanti!