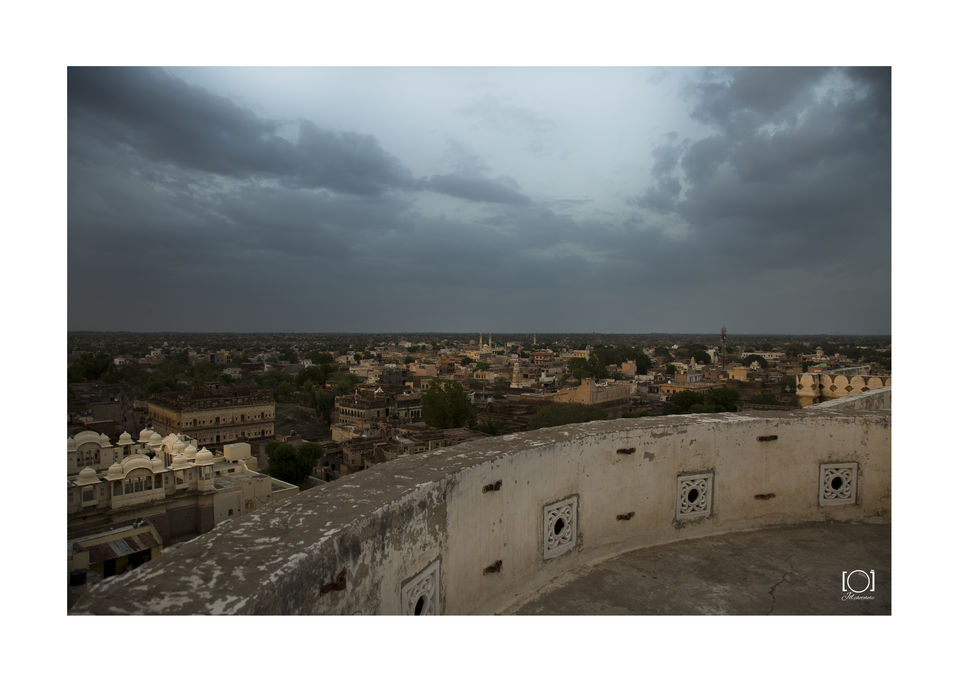 Mandawa- is a very small town in Jhunjhunu further in Rajasthan which is also a part of Shekhawati region.

It is 232kms from Delhi and 190kms from Jaipur by road, from Delhi take NH 334B to reach Mandawa. Beautiful highway, 90% the roads are good apart from just few patches. Do look for camouflaging speed breakers while in the interiors.

This small town is sometimes referred as "open art gallery" of Rajasthan because of the beautifully painted havelis with very rich architecture. Several havelis have been converted into lavish hotels and the families have shifted to the various metro cities.
I stayed at Castle Mandawa, a beautiful and a huge haveli turned into hotel, but one of the side of it has been restored and intact as still an old haveli. Though the weather did not permit me to be there but the rich cultural heritage what each small village and town of Rajasthan holds always invites me back. So the right time to visit Mandawa is from November till March where you will find the right climate to move out comfortably and enjoy the colorful, busy market, lots of astounding havelis, also do not forget to aesthetically perceive and admire the hand painted walls .

Though it's a very small town but I would suggest to hire a guide who are available generally outside of the hotels or even you can ask the hotel people to arrange for you. Hiring a guide makes it easier to locate different locations of havelis and being local they know very well about the unexplored, hidden and interesting places too. If things like tie and dye, bangle making, turban wearing, miniature painting interests you then definitely you are at the right place and must ask your guide to escort you to the place where all these various activities happen.

The sunset from the Castle Mandawa is the most prepossessing sight, how when the sun goes down painting the town complete golden is a must to go for.
Near to the Castle Mandawa is the restaurant Monica where you can try the local dishes and I really want to mention for those who would be traveling here in summers it's the only air conditioned place to sit and relish food, apart from your hotels.

The most interesting thing about this small town as a travel photographer I would say is the market place. For photography enthusiasts Mandawa's market area is the best way to explore your skills as street photographer.
Lastly, I would say that do visit Mandawa which has been our Bollywood's one of the Favorite destination too. So, be there to have an experience of a different Rajasthan.