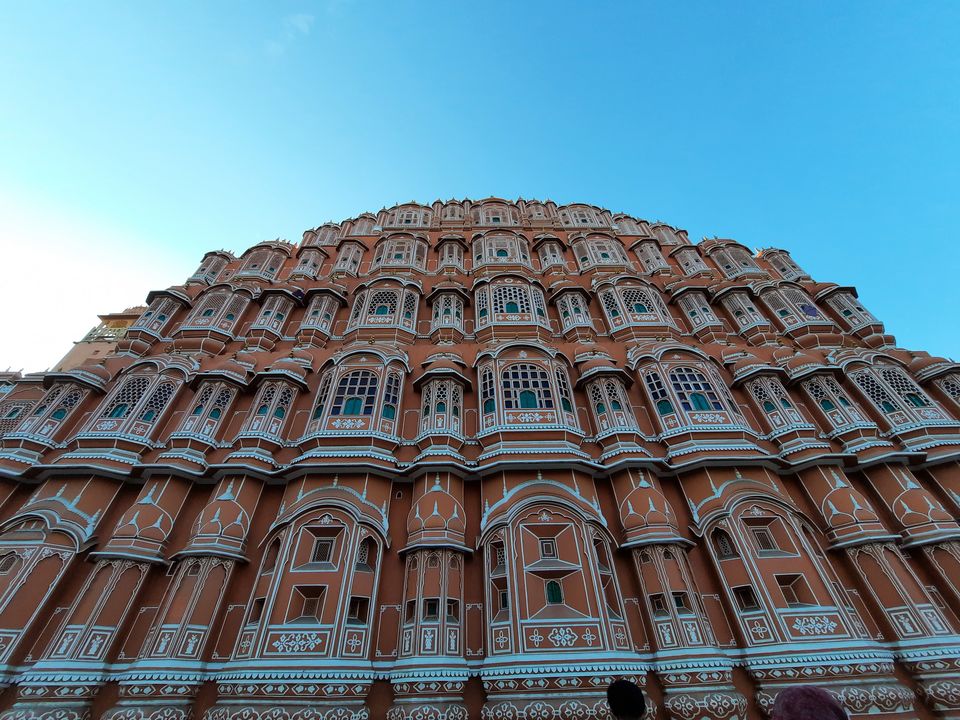 DAY 1 | Forts and Palaces
Main Highlights of Day 1: Amer Fort, Nahargarh Forts, Jal mahal
7:30 AM | One of the most popular attractions in Jaipur is the Amer Fort (or Amber Fort), located outside the city limits. It is also a great starting point for your three days in Jaipur itinerary.
Tip: To avoid crowds and people in your pictures, you will want to arrive as early as possible.
10:00 AM | From Amber Fort, you can walk over to Panna Meena Kund for some Instagram-worthy steps. It's 10 minutes away or 1 minute by taxi.
11:00 AM| Optional: Jaigarh Fort is approximately 20 minutes away from Amber Fort, and can be reached easily by taxi from Amer Palace. You should allow one hour for this.
Lunch | You can have lunch either after Jaigarh Fort or Nahargarh Fort. Although there are only a few restaurants in these areas, you can also get street food. If you like to pack your lunch, though, bring a small supply with you.
Next, you can visit Nahargarh Fort, which is a 15-minute drive away. Otherwise, you can pass Jalmahal the Water Palace on your way back to the city.
13:30 PM | Nahargarh Fort and Jaipur Wax Museum.
There are several beautiful forts around Amber Fort, but try Nahargarh Fort for a panoramic view of the city. You can reach it from Amber Fort in 15 minutes.
In addition, it is only a 3-minute walk from Nahargarh Fort to the Jaipur Wax Museum and the Nahargarh Step Well. Both attractions take about 2-3 hours to visit.
17:00 | As you are driving back to the city, make sure to stop by the Jalmahal (the Water Palace) in order to take some beautiful pictures of sunset from here.
18:00 | Next we'll be heading to Johri Bazaar for some shopping in Jaipur. The distance from Hawamahal is only 10 minutes by foot or rickshaw.
19:00 | There is no escaping the breathtaking beauty of the Hawamahal (Palace of Winds). Many visitors simply stare at the majestic building from the street. There is one cafe named 'Tattoo cafe' you can see breathtaking view from there of hawamahal.
DAY 2 | Within the City
Main Highlights of Day 2: Jantar Mantar, City Palace, Albert Hall, Birla Mandir, Isar Lat, Govind Dev Ji Temple, Statue Circle.
09:00 | Day 2 can be started at the famous Jantar Mantar Observatory at 9 am opening. Approximately 45 minutes will be required for this.
10:00 | After that go for The City Palace which is walking distance from Jantar Mantar. Allow 1.5-3 hours to explore the entire complex.
Lunch | Try Rajsthani cuisuine from any nearby rajasthani dhaba.
14:00 | After lunch walk over to the Govind Dev Ji Temple in which is also in the City Palace Complex. Allow 30 minutes-1 hour here.
15:00 | Visit the Albert Hall Museum to see Indian art, arms, jewels, and artifacts. It is a 5-10-minute drive from the Govind Dev Ji Temple. Plan on spending 2-3 hours here.
Next,Isar Lat is is a 5-minute drive from Albert Hall Museum
17:00 | This tower provides visitors with the breath taking 360 degrees panoramic view of Jaipur City.
Next, Birla Mandir Temple is a 10-minute drive from Albert Hall Museum.
18:00 | Birla Mandir's white temple is a quick and easy activity that shouldn't be missed. Just look at the temple from the outside or spend a few minutes looking inside.
The Statue Circle is only a 5-minute drive from Birla Mandir.
18:30 | For a view of the sunset, a view of the Statue Circle at night, and dinner nearby, head to the Statue Circle in the evening.
To help you plan for your next trip to Jaipur, I have tried my best to share a perfect 2 days Jaipur Itinerary. Comment down if anything needs to be added. Thanks much ❤