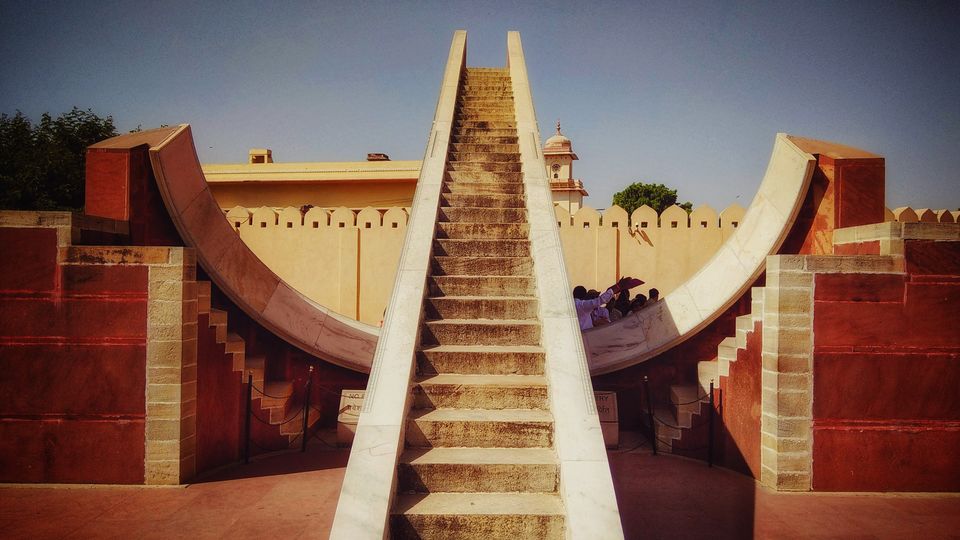 So, what rings in your mind when you hear this word Jantar Mantar? Something mysterious… magical…isn't it? Well yeah… it is magical in the terms of its incredibility and architecture, not literally.... Otherwise how can someone, living so distant from all the inventions happening in Europe, will be able to create so precise instruments for astronomical and astrological studies!
Built approx. 280 years back with locally found stone, bronze and mortar, bricks and marble, the unit and sets of instruments were used majorly for calculating the position of stars and other celestial bodies with reference the earth. King also used it for astrological purposes, there are various instruments to calculates and showcase all 12 zodiac signs believed auspicious in Hinduism.
In total there are 19 instruments, which are enough to amaze you once you step in the campus of Jantar Mantar. I am not technically sound in astronomy or astrology, so I won't be able to tell you all the details, and that's why, if you are like me, hire a guide who can tell you the technical and the historical aspect of each instruments. Although, even for a layman, the place is equally mesmerizing.
The huge scale instruments have made with a first try on their models. Once having a perfect calculation only., they proceeded to start with the actual ones. Even you can find some of the model kept there for observation.
The campus has tall boundary line on four side with big inscribed space I the shape of gates in them. They also have little temple in left side of the entry gate just next to a big tree gives you an exact feeling of peace I there. They have drinking water coolers, a little canteen and public toilets inside the campus as well. A little garden to which is served by water sprinklers.
What is so Great About it.?
The 'Vrihat Samrat Yantra', which is the biggest sundial in the world and can calculate tie up to precision of 2 seconds…can you imagine.? There's a smaller version of it in almost the center of the campus which has precision of 20 seconds.
What can be avoided?
Going the 12 in the noon of summers. No, don't even thing. The heat will literally burn you up. The place needed direct sunlight for the calculation purposes, so they never bothered about shades… be smart their… take the required safety measurements
ProTip
It's so nearby to the Hawa Mahal, you don't have to any ride to go there… you can take a walk of 10 min to reach Jantar Mantar, so don't get fooled by the local drivers.