One of the largest sundials in the world is here – this is a pretty good reason for someone to visit Jantar Mantar while in Jaipur for two days . Well maintained by the Government of India, Jantar Mantar is an astronomical observatory that displays an outstanding testimony of how scientific and technical conception devised in the 18th century culminated into one of the greatest observatories of the Medieval World. This observatory was built by Sawai Jai Singh, the founder of the fortified city of Jaipur and is one of the UNESCO Heritage Sites!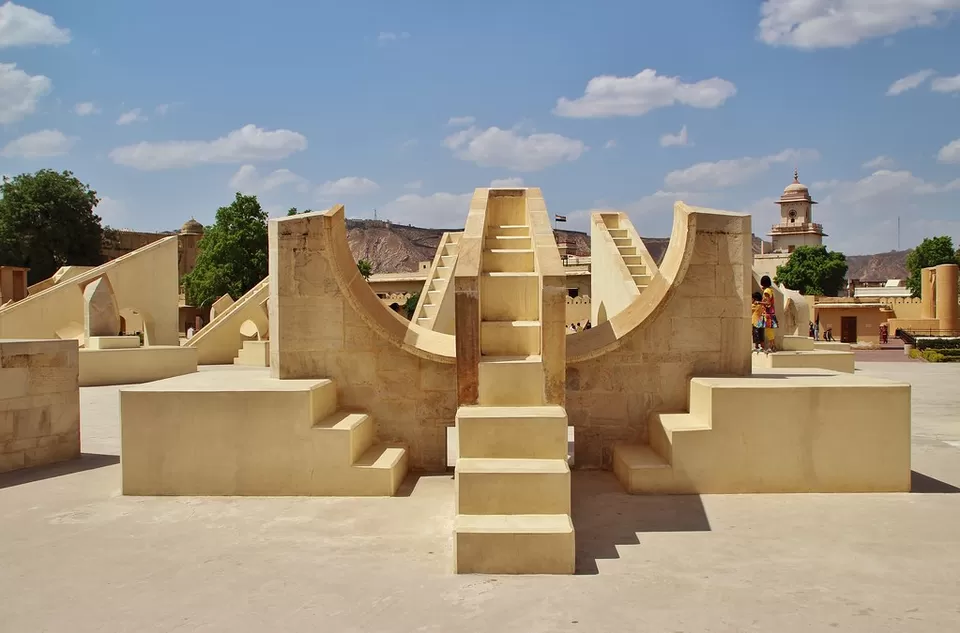 About the Architect
Built in 1729, this ambitious project was the brainchild of Raja Sawai Jai Singh II, an astronomy enthusiast along with his chief astronomer, Pandit Jagannath Samrat, who had immense contribution in influencing the design of Jantar Mantar.
Fun Facts
Sawai Jai Singh built five observatories in west-central India – Jaipur, Delhi, Varanasi, Ujjain and Mathura.
All but the observatory at Mathura are in existence today.
Except for the observatory in Jaipur all other Jantar Mantars are incomplete. Why? Because that is where Raja Jai Singh was performing trial and error!!
All the instruments in Jaipur Jantar Mantar are in perfect condition and work till date. However, due to partial completion of instruments and being a part of "experimentation", the "yantras" in the other four observatories do not work efficiently!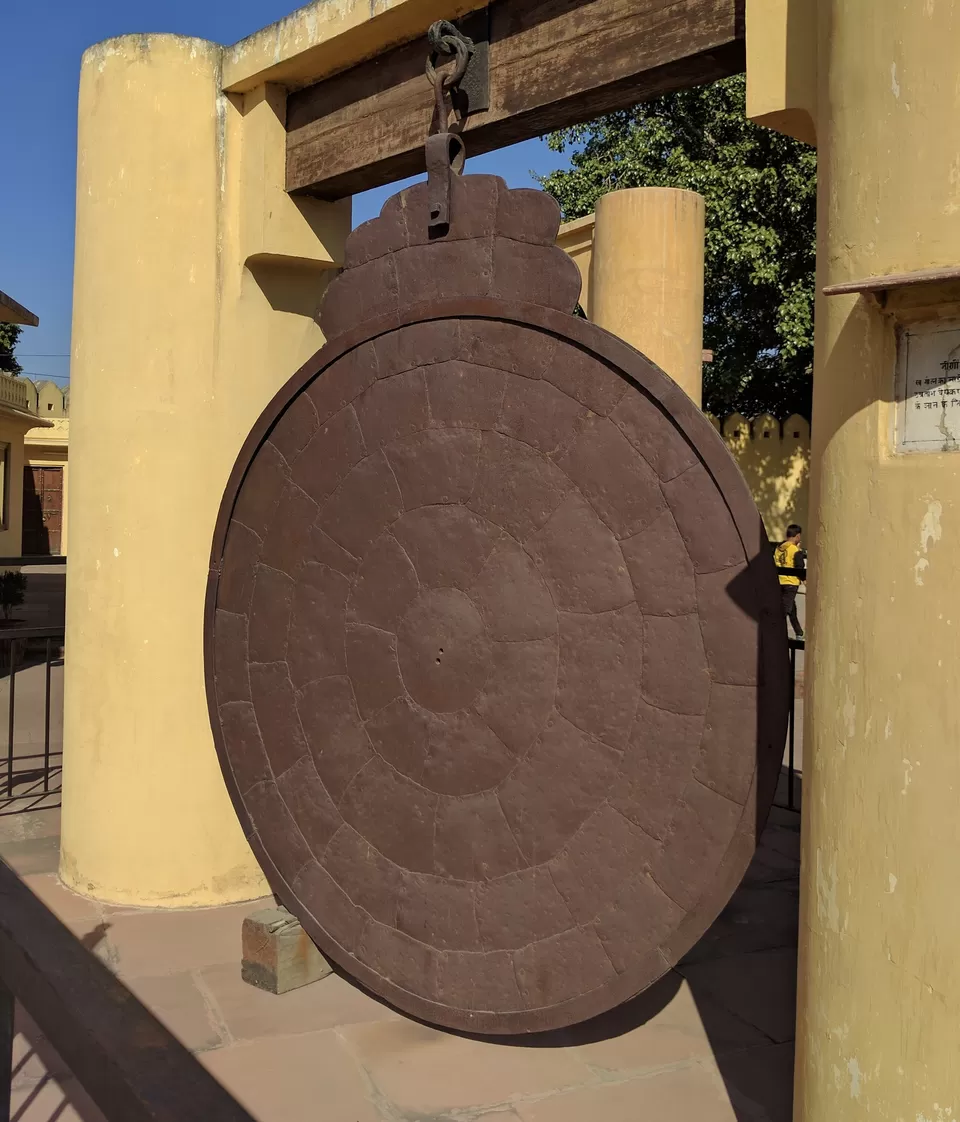 Architecture
One of the world's most accurate pre-modern observatories, consists of 19 instruments with some of the major ones being – Samrat Yantra, Chakra Yantra, Rama Yantra, Jai Prakash Yantra, Digamsa Yantra, Nadivalay Yantra, Daksinottara Bhitti, and Unnatamsha Yantra.
Vrihat Samrat Yantra
Also known as the "Supreme Instrument", and also one of the world's Largest Sundials standing 27 metres tall, is capable of measuring time to an accuracy of two seconds – precision that has never been achieved with any other sundial!!!!! It can also be used to measure the height of the sun in the sky.
Video here to understand better.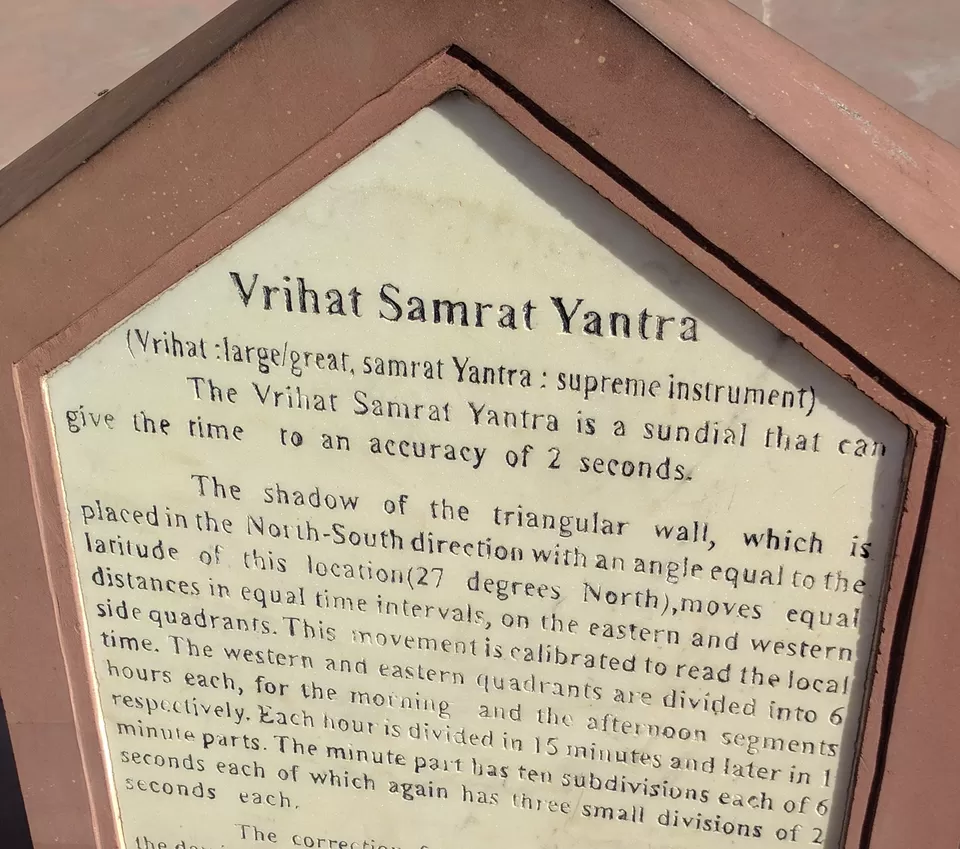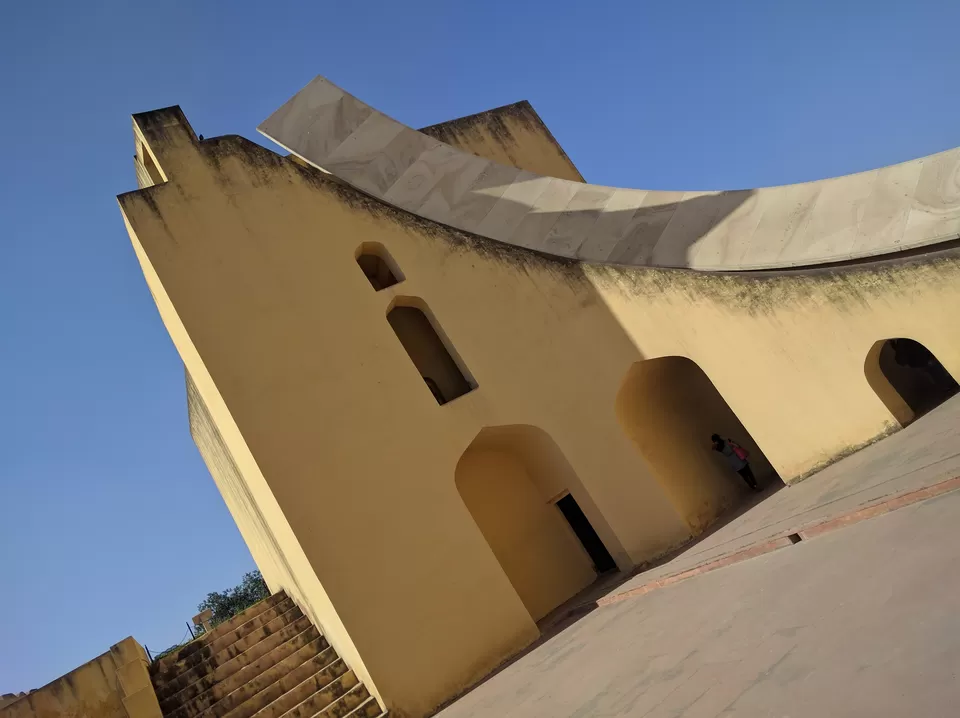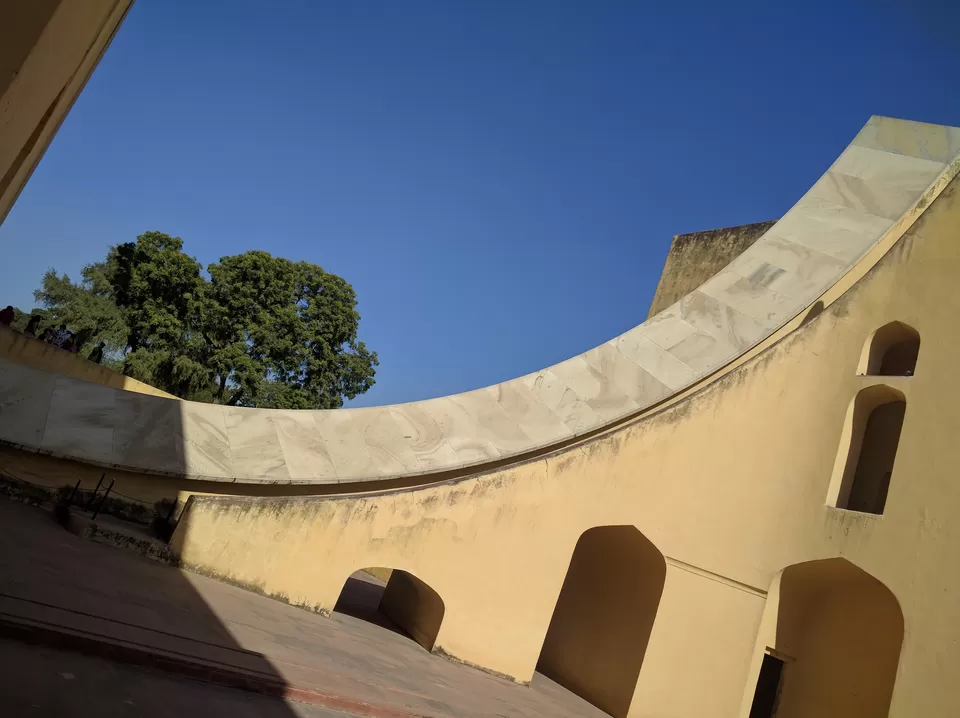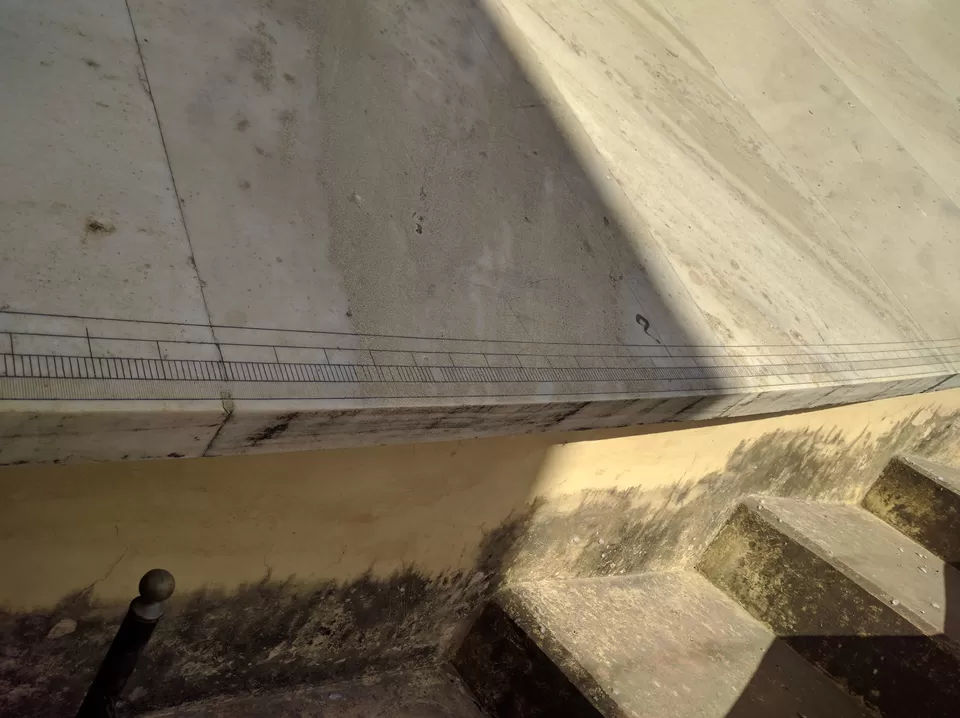 Chakra Yantra
It is a ring instrument that consists of four semi-circular arcs that helps to calculate the co-ordinates and the hour angle of the Sun!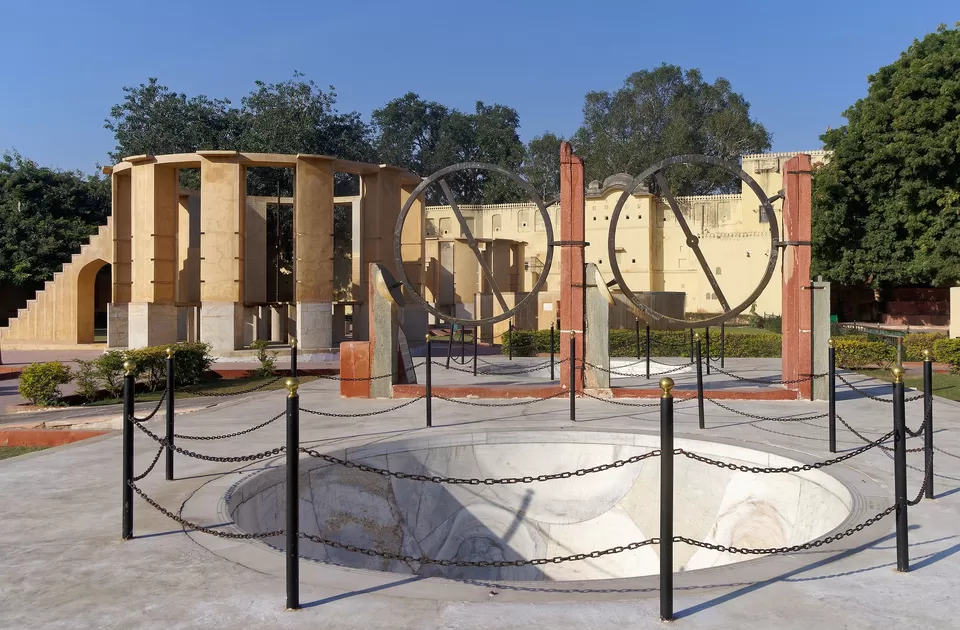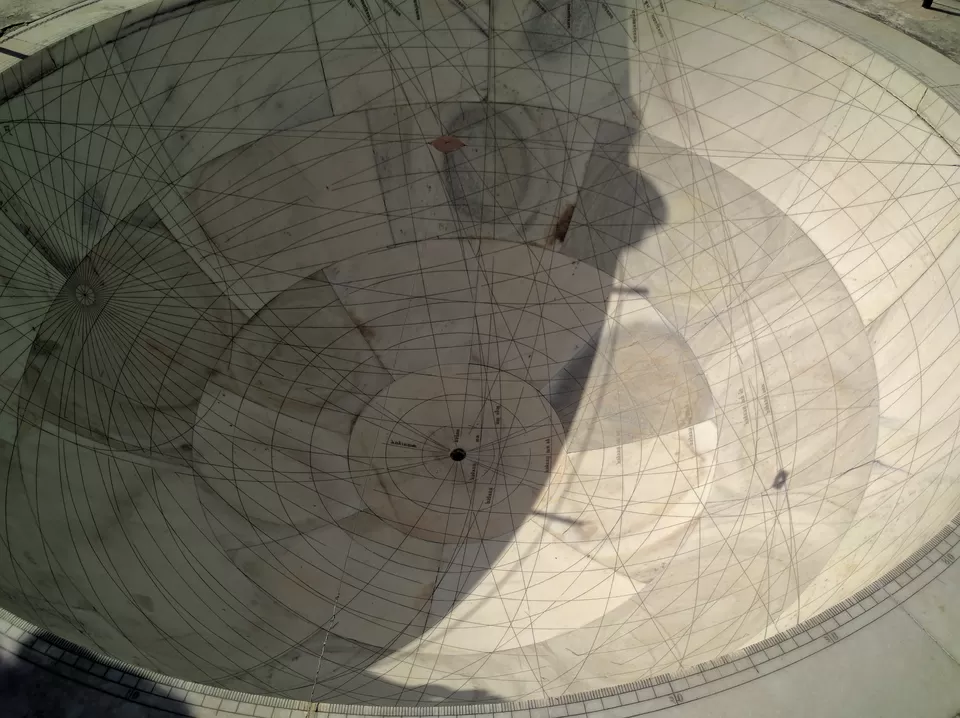 Rama Yantra
Pair of cylindrical structures, that were constructed only in Jaipur and Delhi observatories, can be used to observe the position of any celestial object being most accurate near the intersection of floor and wall, corresponding to an altitude of 45 degrees. On the other hand, if the altitude readings are greater than 45 degrees, then the accuracy diminishes; near the base of the pillar.
Video here to understand better.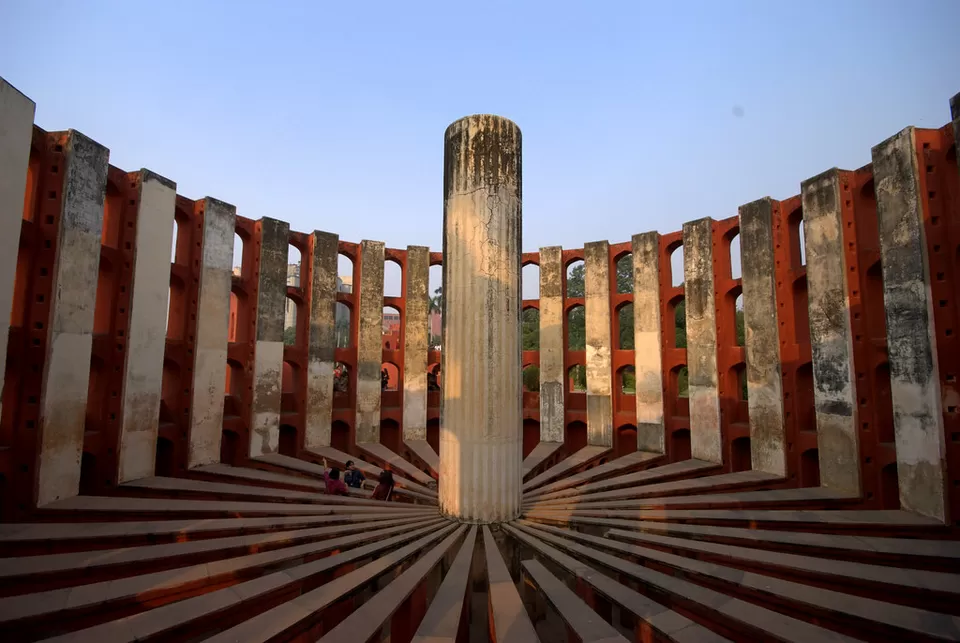 Jai Prakash
Based on concepts of Berosus's hemispherical sundial, dating back to 300 B.C., Jai Prakash may be considered Jai Singh's most elaborate and complex instrument!
This Yantra consists of two hemispherical bowls like sundials with graded marble slabd. As the inverted image of the sky falls on the slabs, the shadow of the metal plate suspended above the instrument moves displays the sun's apparent position, hour angles, azimuth and exact position of heavenly bodies and in doing do also reveals the zodiac.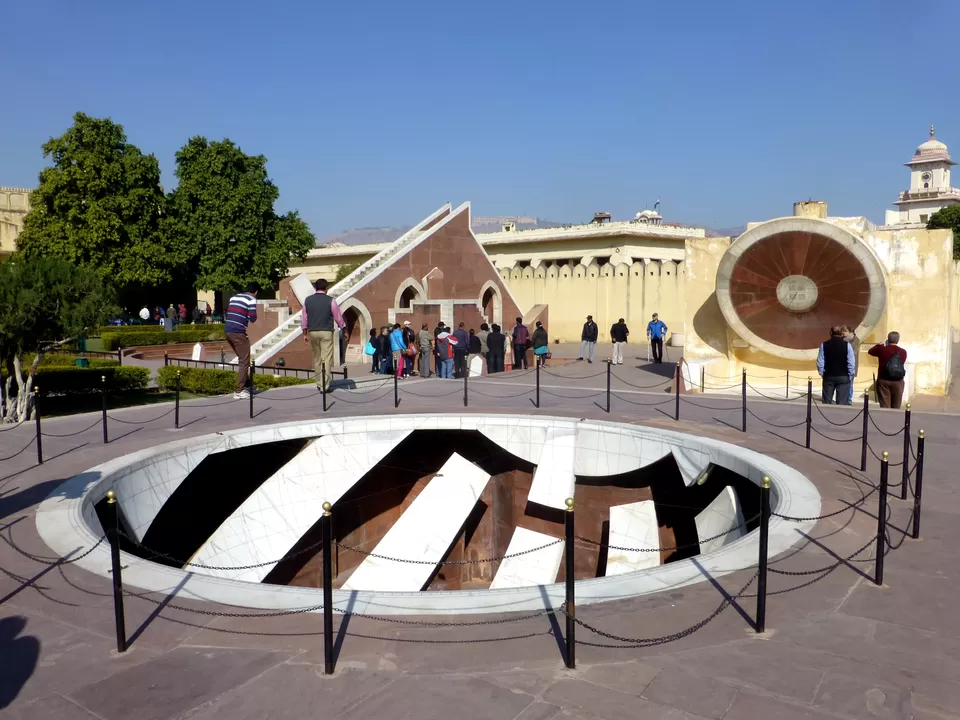 Digamsa Yantra
This instrument was used to measure the Azimuth of any celestial object.
P.S. – Azimuth means the direction measured in degrees clockwise from north to south on an azimuth circle which consists of 360 degrees.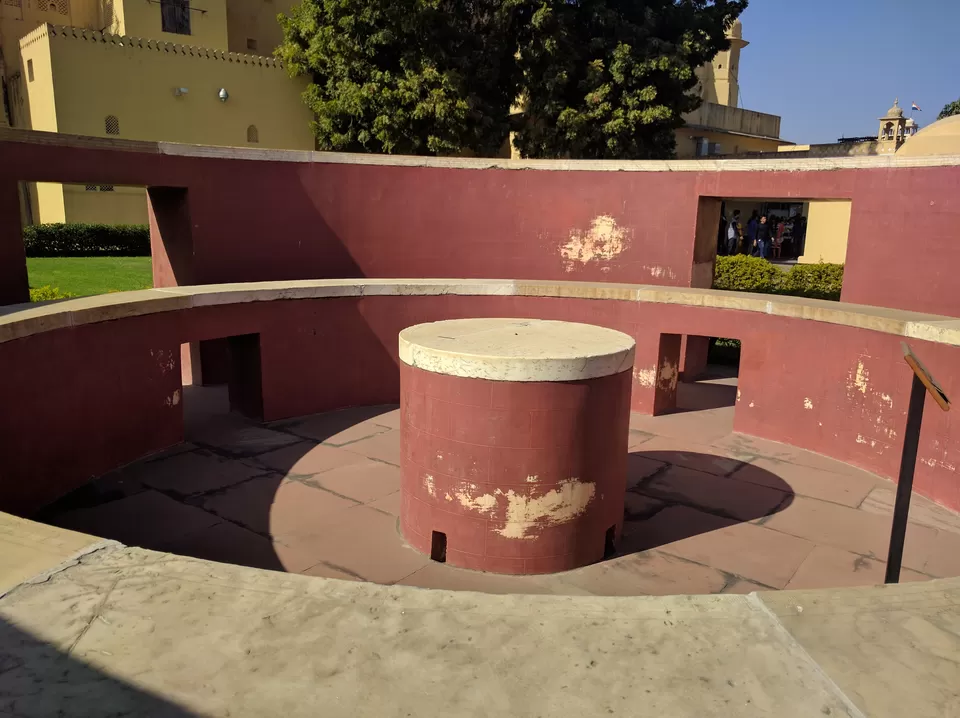 Nadivalaya Yantra
Two plates facing north and south represent the two hemispheres of earth, this is an equinoctial sundial that helps to indicate the time with the help of the shadow of the pin .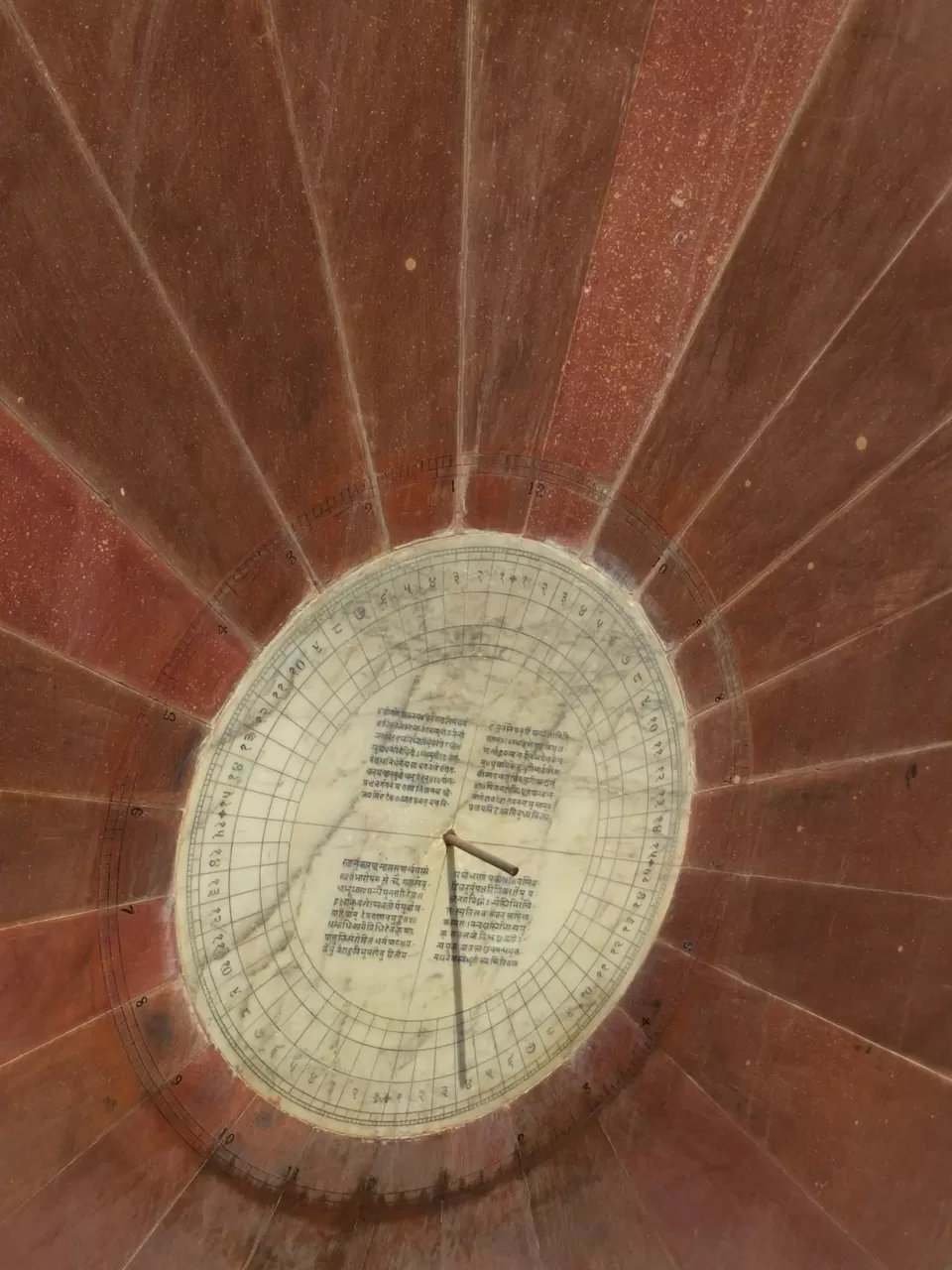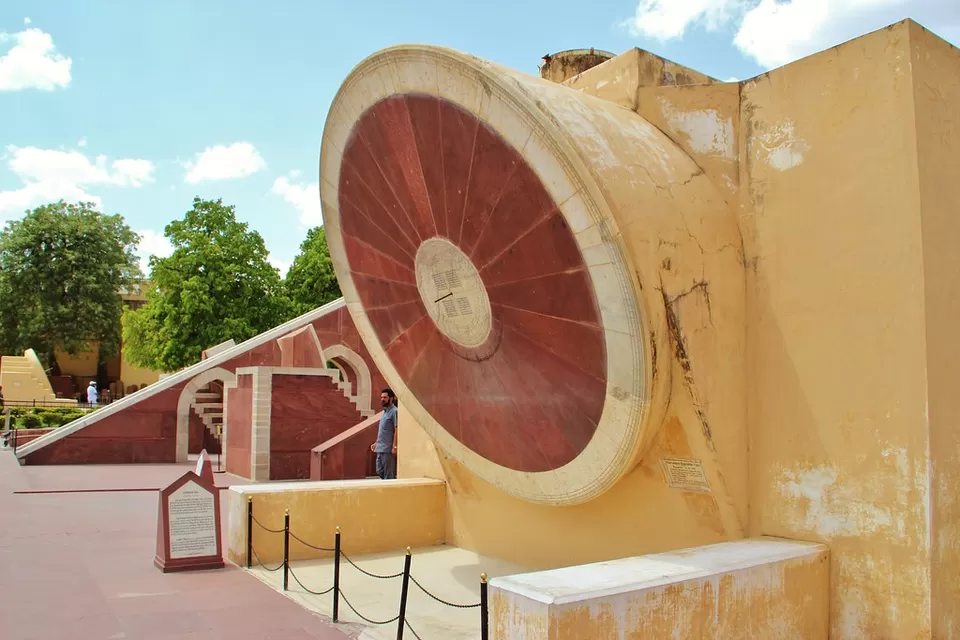 Daksinottara Bhitti
An extension of the gnomon of the Samrat Yantra, this instrument known as "Transit Wall Instrument" can be used to indicate the progress of seasons including summer and winter solstices.
The metal rod on the wall casts shadow of sun at noon, and is used as sighting guide at night!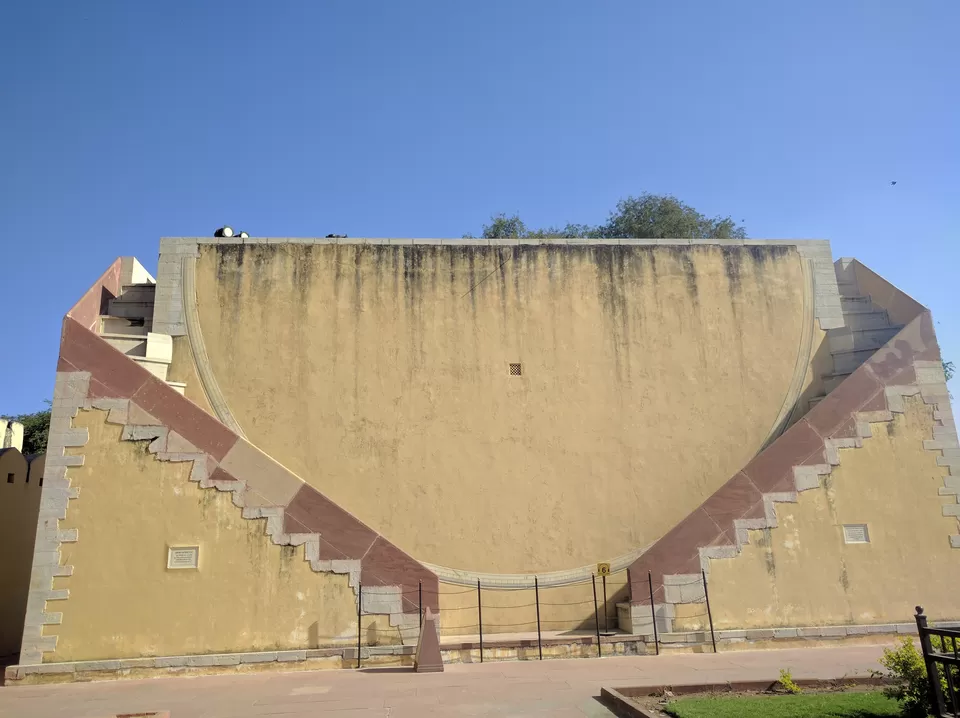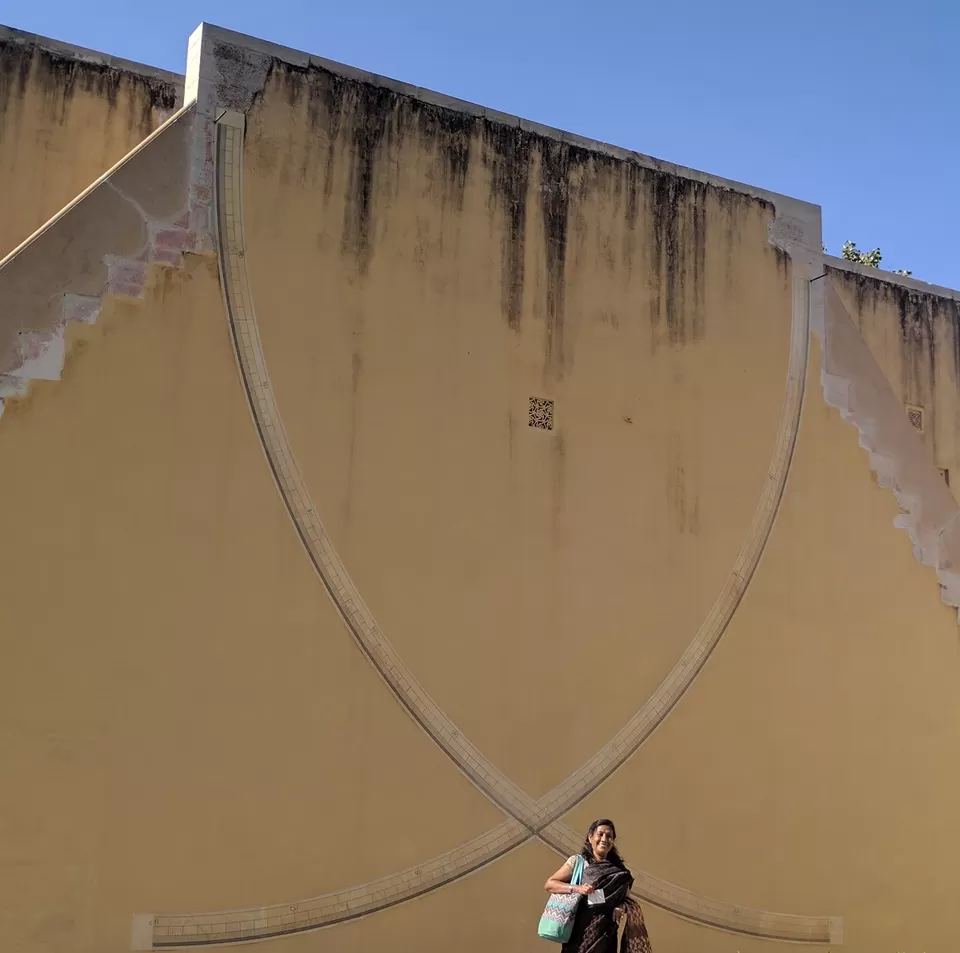 Rasivalaya Yantra
A unique and the most intriguing instrument, each of the twelve Rasivalaya Yantras indicates the position of one of the constellations of the zodiac!!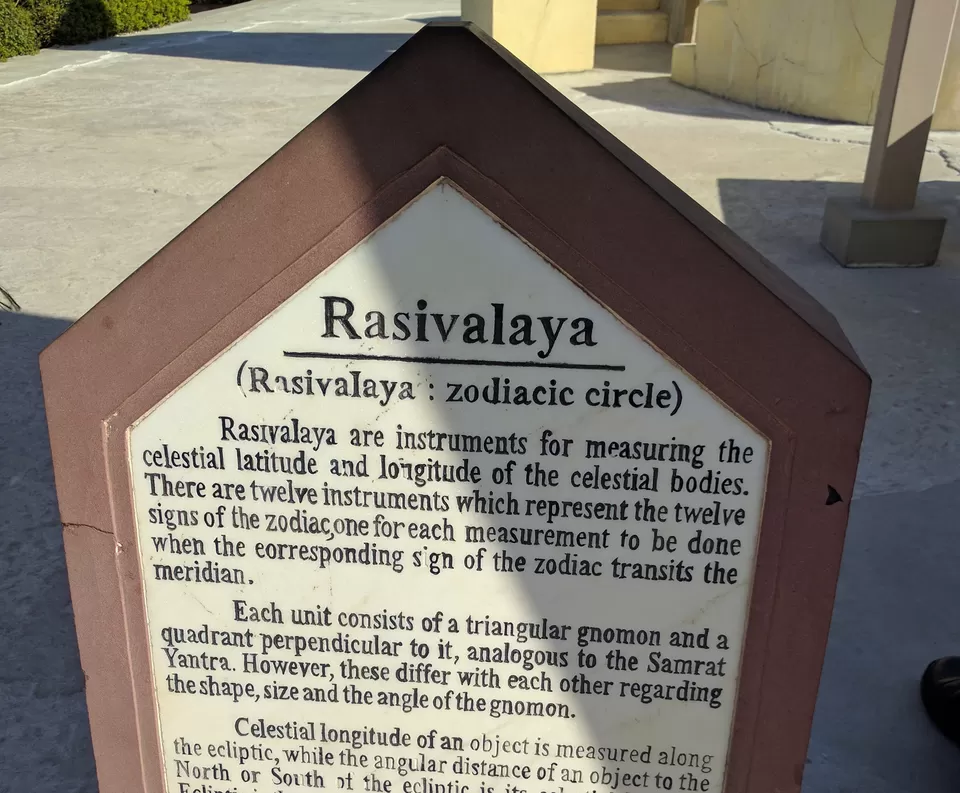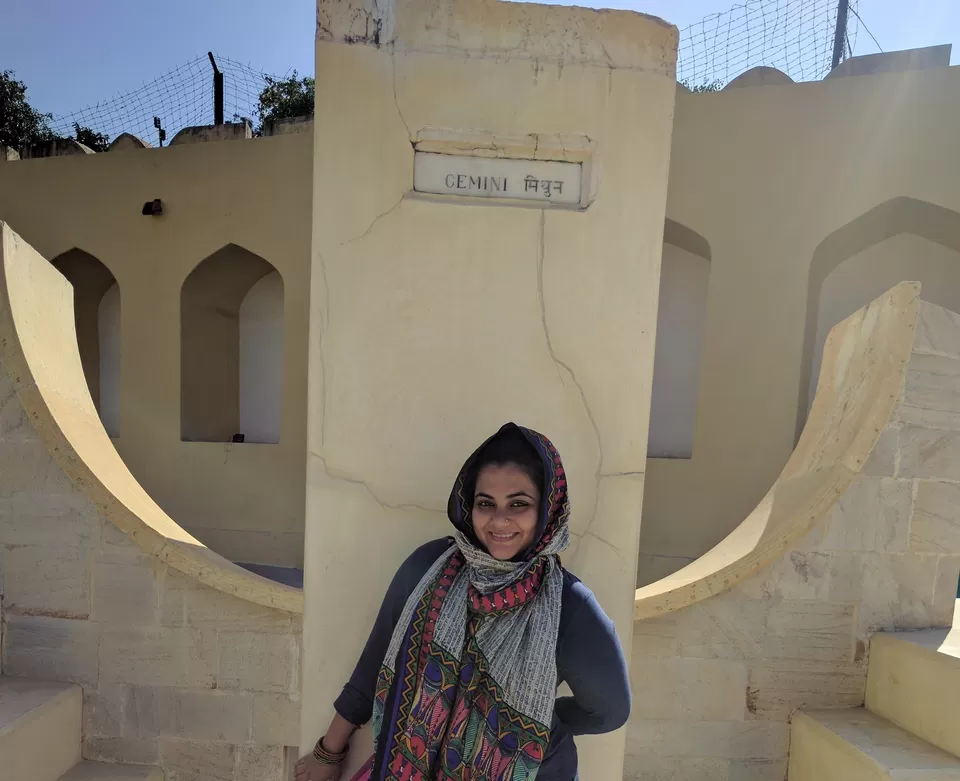 How to Reach?
Placed strategically, right across City Palace, Jaipur, this can be easily accessed by local means of transport when visiting Jaipur. One of the known cashless cities, even the autorickshaws take GooglePay!!
Best Time to Visit:
October to March (but winter is perhaps the best time !)
Entry Timing:
9:00am to 6:30pm
Entry Fee:
• Indians – INR 50
• Indian Students – INR 20
• Foreigners – INR 200
• Foreign Students – INR 100
Address:
Gangori Bazaar, J.D.A. Market, Pink City, Jaipur, Rajasthan 302002
Contact:
0141 261 0494
Online booking
You can book here. Any monument across Rajasthan can be booked here.
Pro-tips:
• This is an open area so perhaps it is better to wear a hat or carry an umbrella as the heat can get intense during afternoons even if it's winter.
• Carry a bottle of water to beat the heat.
• The tour around Jantar Mantar involves quite a walk so wear comfortable shoes.
• You cannot tour this place without a guide. So it is essential you take one. Otherwise all the beautiful "yantras" or instruments will merely remain "background objects" for selfies.
Places to Visit Around Jantar Mantar:
1. City Palace Jaipur
Founded by the founder of the city - Sawai Jai Singh II, this palace is one of the major tourist attractions and also a place where a lot of movie shoots take place.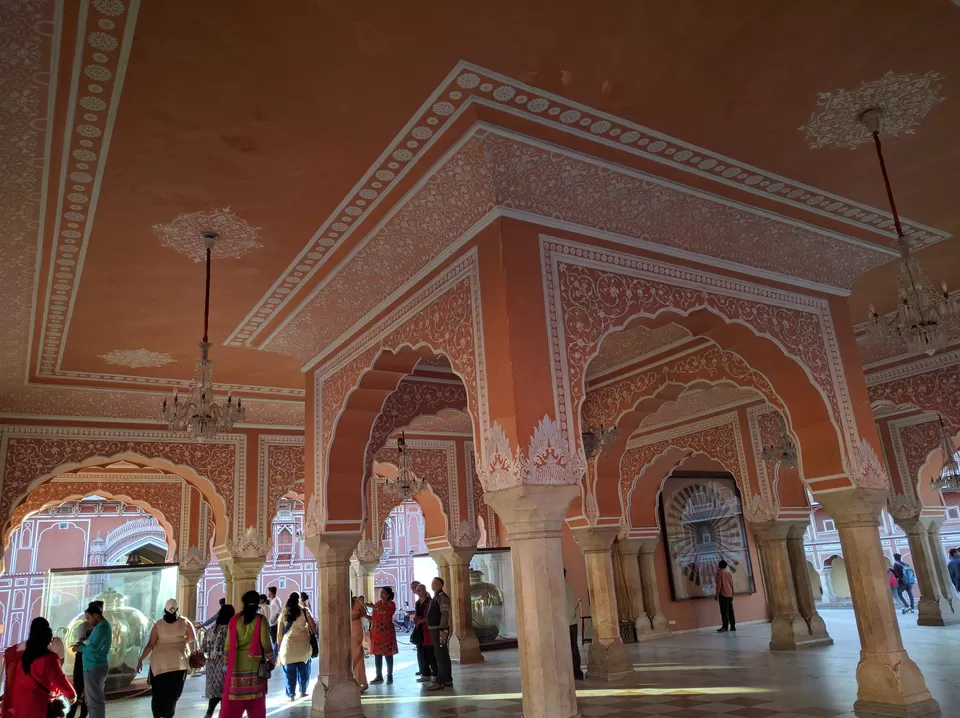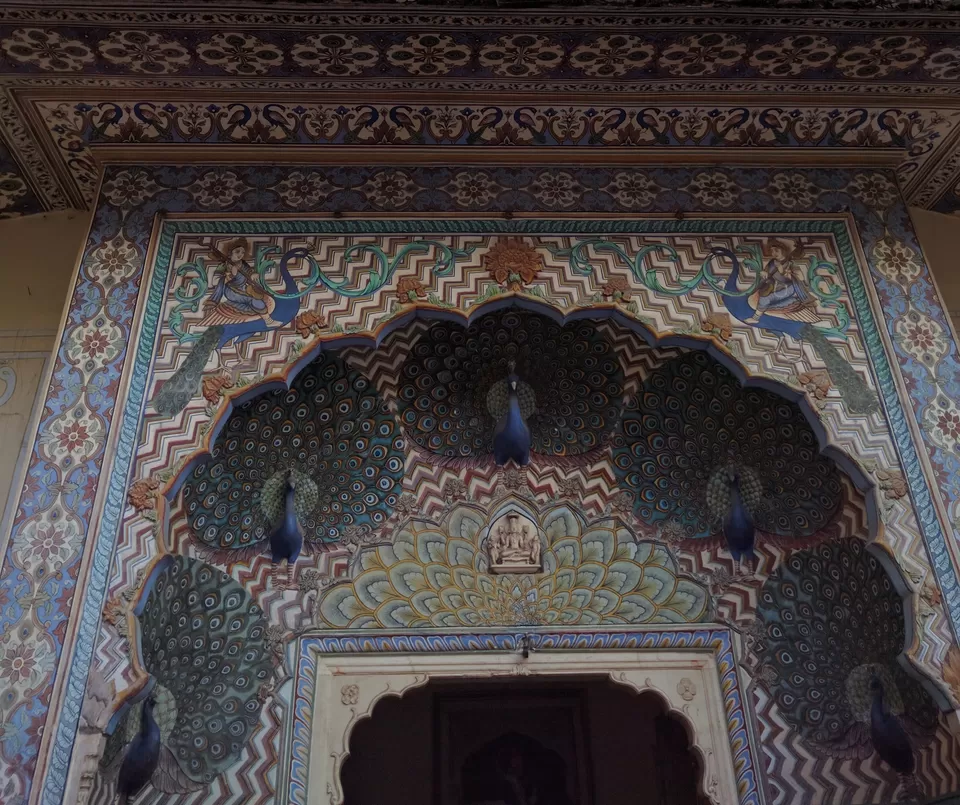 2. Hawa Mahal
Tallest Builing In The World Wthout A Foundation, Hawa Mahal is a perfect amalgamation of Rajput and Mughal architecture. Literally meaning "Palace Of The Winds", this architectural marvel boasts of 953 windows or "Jharokhas" adorned with intricate designs.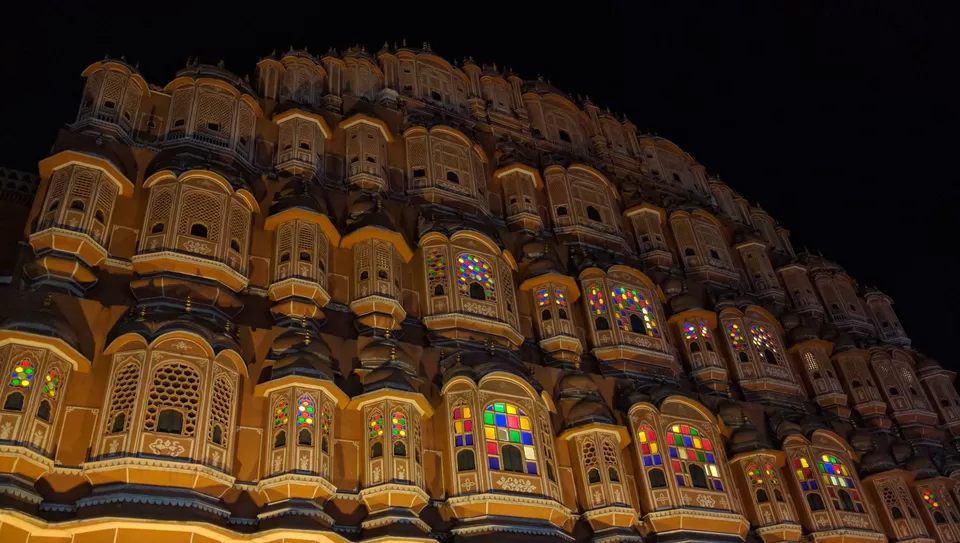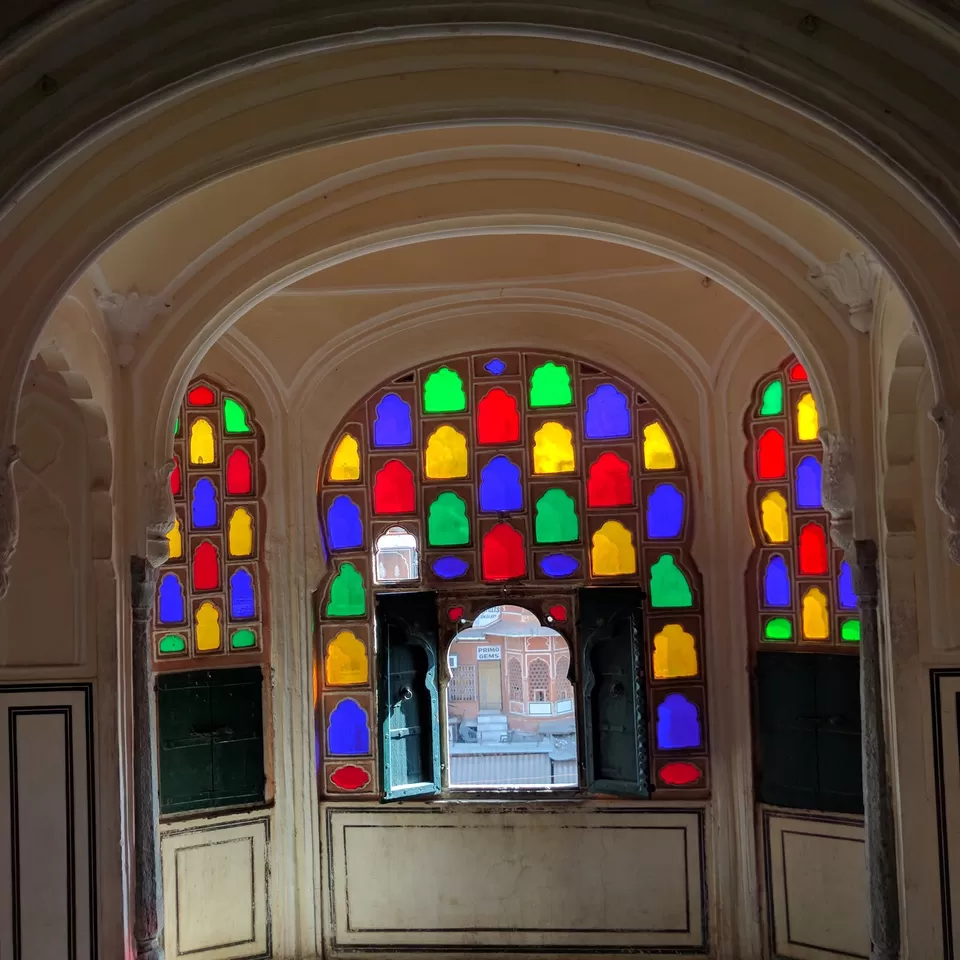 3. A Vintage "Minute" Camera of 1860
Apart from City Palace and Hawa Mahal which are in close proximity to Jantar Mantar, there is one interesting place you can visit and get clicked with an 1860's Vintage "Minute" camera by a man named Teekam Chand Pahari. The camera that was manufactured in Germany, was gifted to his grandfather Pahari Lal by the then Maharaja of Jaipur During my visit, a chance encounter outside Hawal Mahal, where he sits, led to him taking our snap!
Quick bit
Price: INR300 for a print
Timings: 11am – 5pm
Location: Outside Hawa Mahal, Jaipur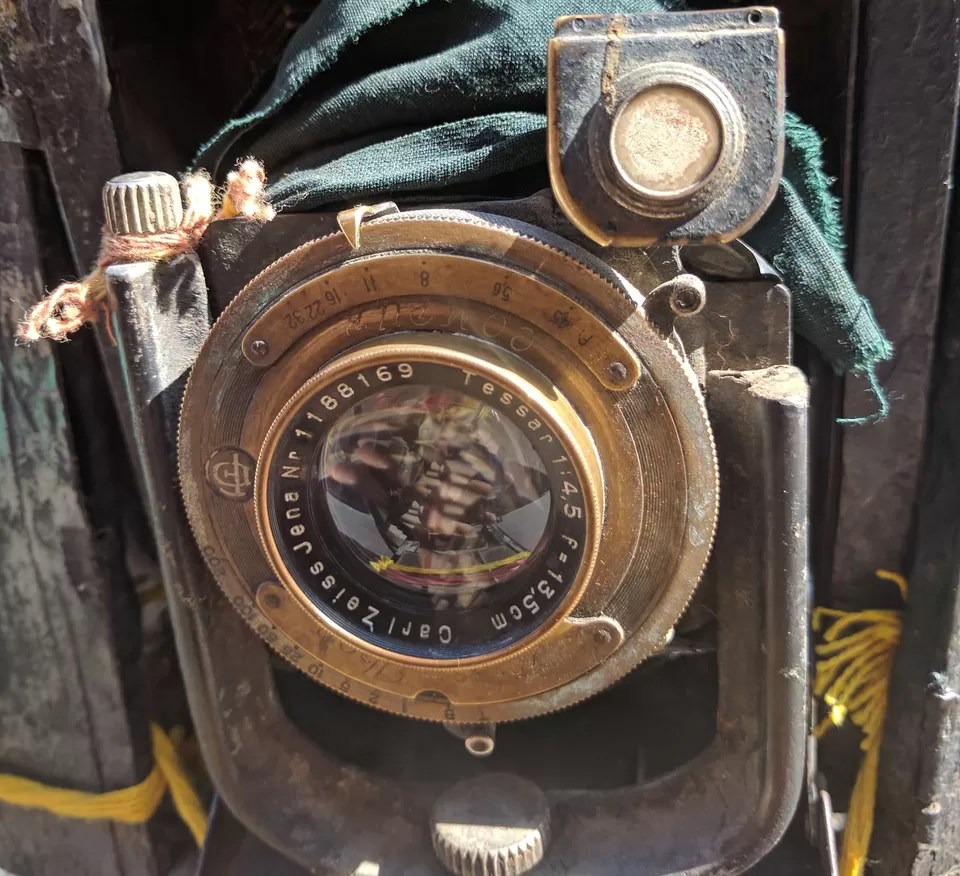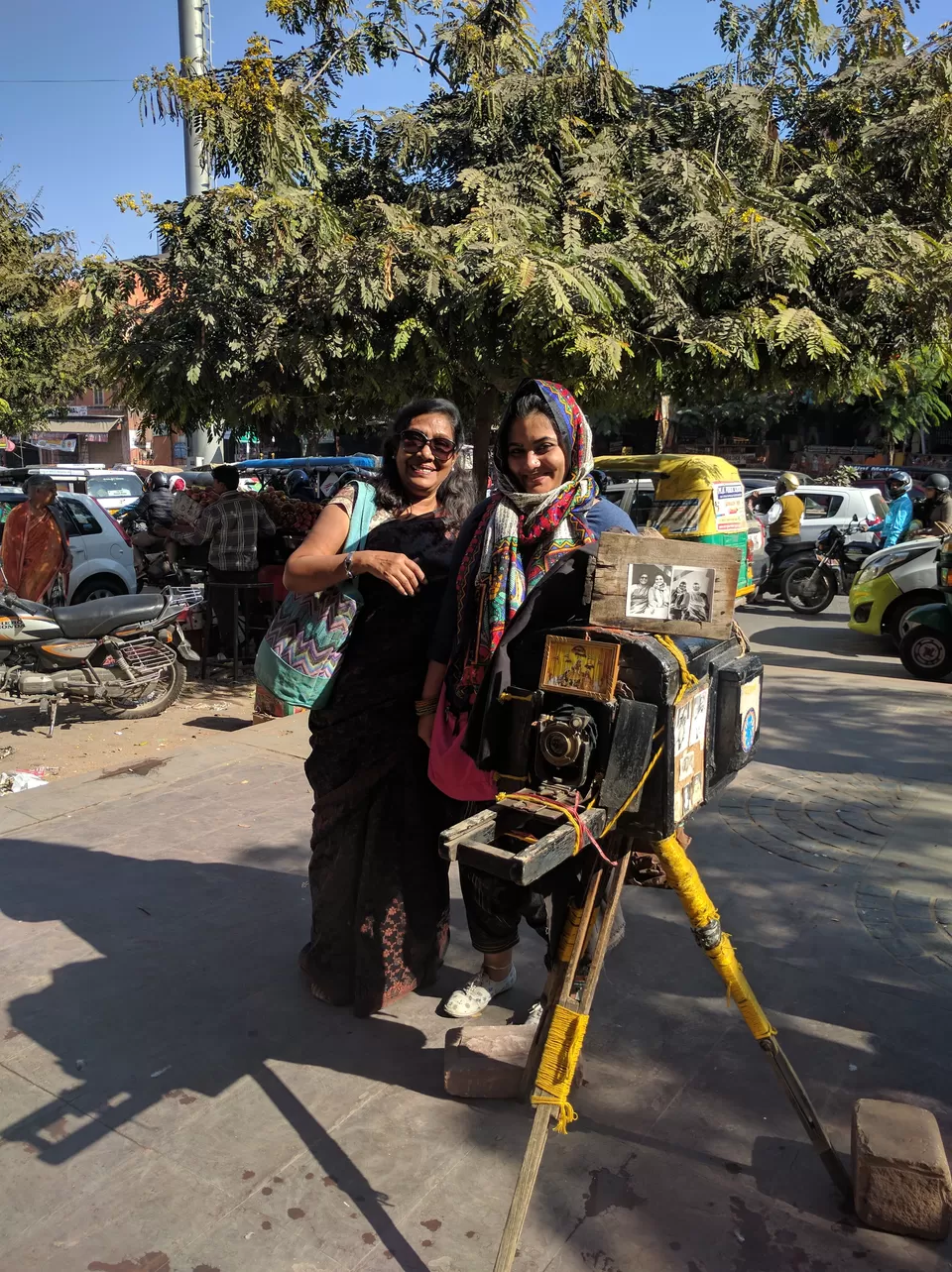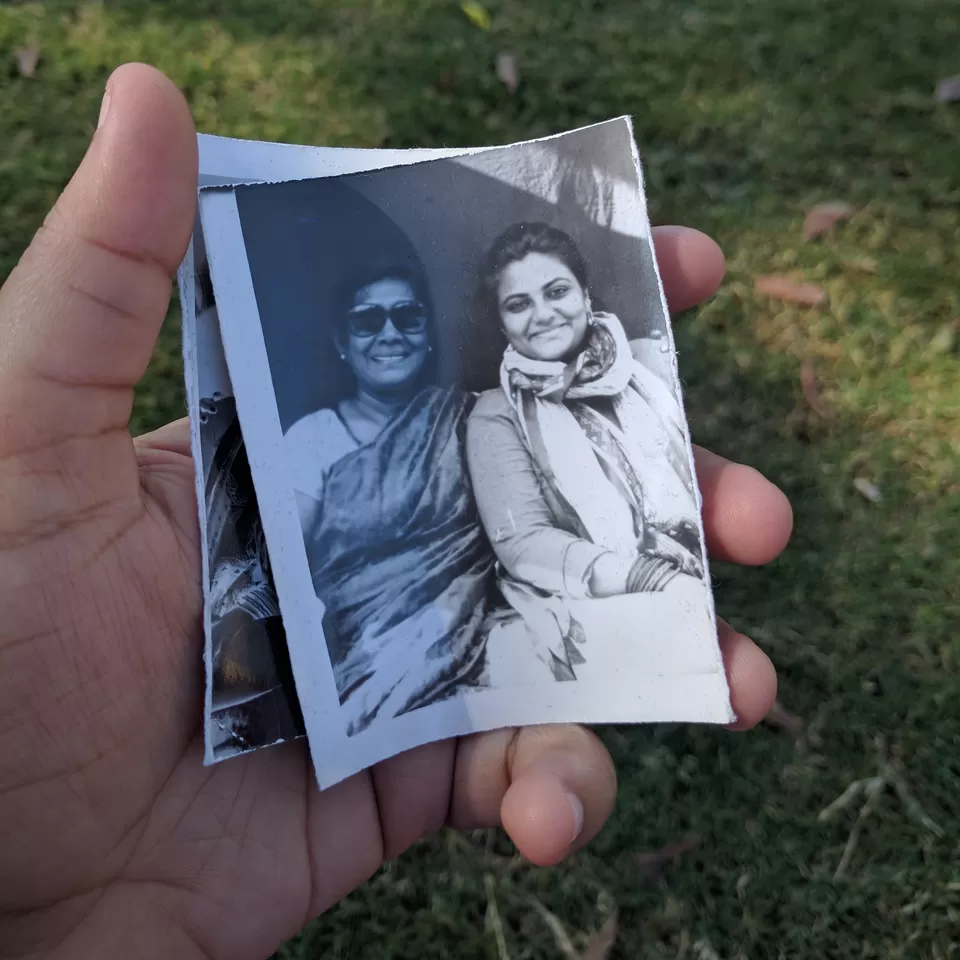 Jantar Mantar is a phenomenal piece of construction that beautifully embodies science and astronomy and remains one-of-a-kind observatory, right in the heart of Jaipur! It speaks volumes of the knowledge of rulers of the region who were not only patrons of art and architecture but also adept in the scientific field. So, don't miss out on the opportunity to "go back in time" and measure the hour using the colossal scientific instruments!!
I hope you all found this information useful. If 'Yes', do follow this space for regular content on local travel, local cuisine and transport! Until then, keep travelling, eating, exploring and smiling!
You may also like to read: kochi biennale
Think we missed out on something? Tell us about it in the comments below. Or write about it here on Tripoto and earn Tripoto Credits! And don't miss to follow us on Tripoto's Facebook Page!