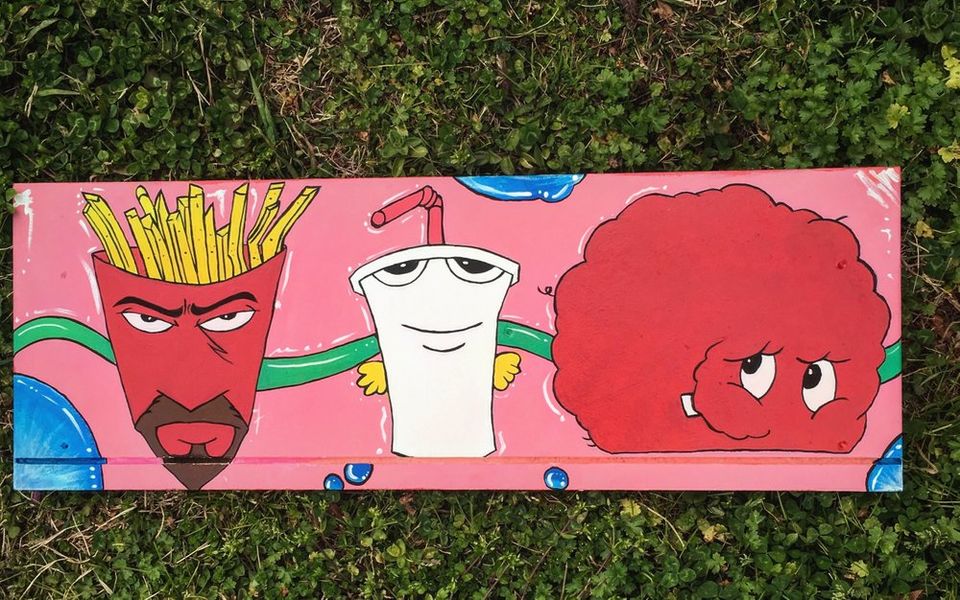 Hi, i'm Pulkit and this is my first blog, and it contains travel adventure of 3 guys.. me, Kartik and Manoj (BOYS) . So, it all began on our usual weekend , chill out get together and we had a 'hits blunt' moment ,boys were like kahin chill karte hain chalke ( lets go somewhere and chill ) , and as i was a frequent visitor to kasol, i suggested them kasol saying '' bro tu mujhe chill karne k liye bolega na , to main kasol hoke aa jaega ( bro if you'll ask me to chill i'll go to kasol) , as manoj is scared of driving in the mountains, he was like no ! no way ! weather is not good, with intense rainfall and flood situation which was true by the way , kartik agreed with him , and they were like if we're going somewhere we'll go by bus or train else we're not going, i finally agreed to it, and as per my suggestion the destination PUSHKAR was selected, dates were decided and finally the day came i;e Friday 26 October 2018. It was supposed to be a 3 day trip which turned out to be many more days which you'll get to know as the story unfolds.
FRIDAY NIGHT 11PM - THE BUS NEVER ARRIVED
we were supposed to catch our bus, at dhaula kuan metro station (booked on paytm) at 11pm , we waited and waited and it was 12:30 am already, we tried contacting the bus driver, the conductor, we must have done more than 20 calls to the travel agencies, paytm customer care (they all sucked) , i was very upset because i wanted us to go by car or train but because of boys we decided to go by bus, i could see their face of regret during that situation, in that moment we decided to wait till 1 am and go back to our flat and leave for pushkar again the next night, but manoj walked down the road started talking to conductors of other buses passing by on the same route, finally a bus came , hoping to get a full refund as suggested by paytm customer care we finally boarded that bus around 12:40am which was supposed to pass through pushkar.
in our original bus we had 3 sleepers booked , but as that bus never arrived , in this bus we got 2 sleepers and a reclining seat, as the sleeper was in back of the bus without wasting any time, we sat there , rolled a joint in the moving bus !! , man that feeling was amazing, got high, earphones in , and a difficult but good journey and sleep got us to pushkar.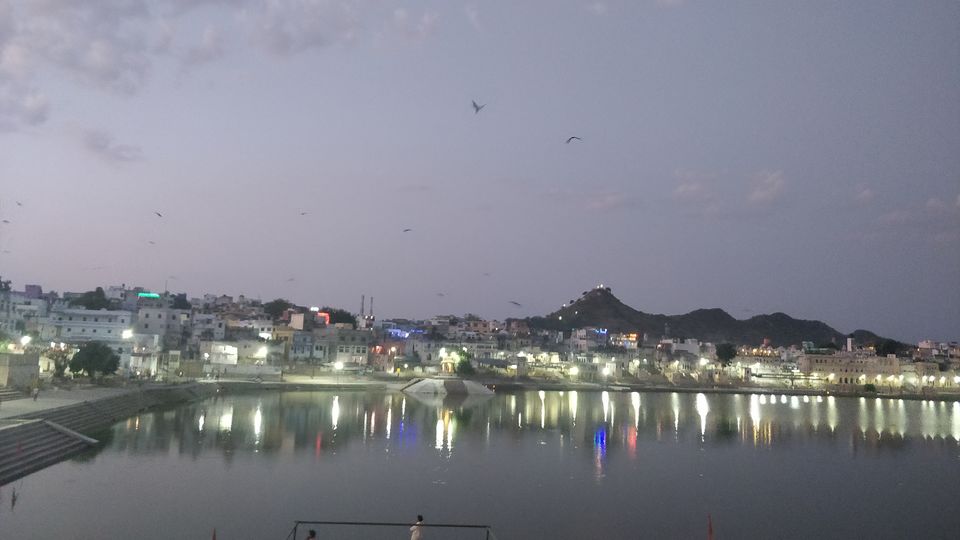 we reached pushkar bus stand around 9:30 am, as pushkar was my suggestion, whole journey i was getting taunts from boys that if we don't like that place we'll do this and we'll do that general bakchodi (baseless talks), i had a reputation to keep , regardless i did my research way before i suggested them this place. we took an auto which dropped us near pushkar lake and thehunt for a nice chill place began, as i knew where to go , we went straight to DOCTOR ALONE CAFE, near the ghaat, the main reason for visiting pushkar was for it's Spirituality and famous weed, hash and bhaang drinks and edibles. Me and kartik went out to score stuff while manoj managed the looking and booking of the rooms. we managed to get our hands on good quality hash which we bought from a sadhu near pushkar hills and temples, you need to have the right nose for this XD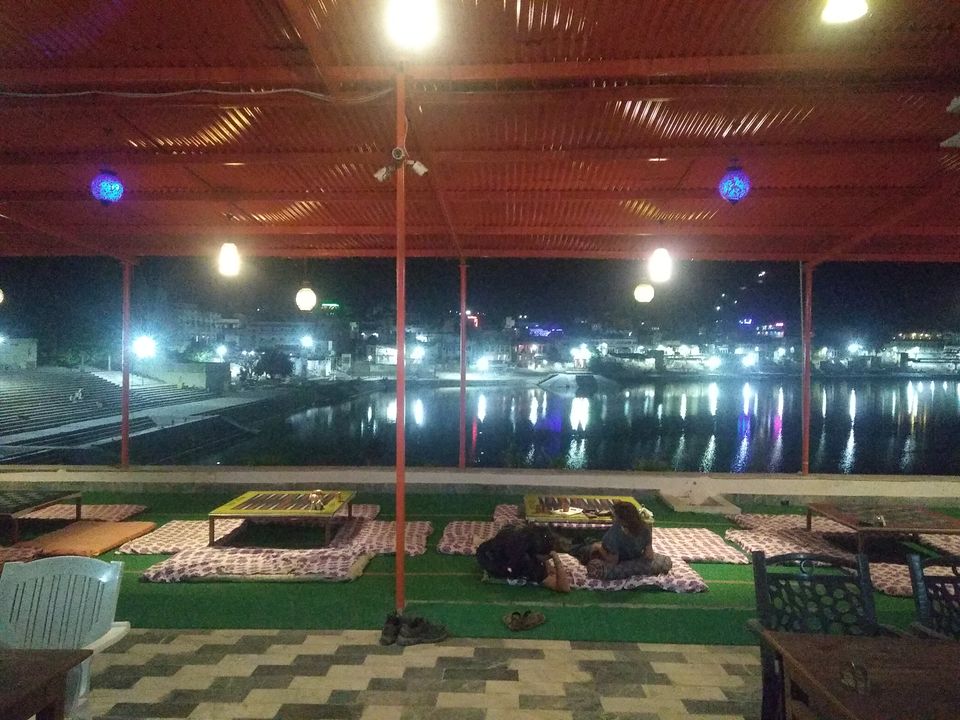 NEXT LEVEL CHILL at DOCTOR ALONE
this place is amazing with trippy hippie art everywhere you look , we ordered ' SPECIAL LASSI ' rolled a joint from the weed we had from the night before , and after that came the hash joint , as soon as we had bhaang !!! which was cherry on top and in no time we were walking on the clouds, tripping balls and convincing each other that bro mujhe kuch nahi ho raha , tujhe ho raha hai kya ? (bro i'm not feeling anything, are you feeling anything ? ) lmao this was epic. we all knew we were fucked up !! and my music made that whole scene memorable, CAUTION : NEVER MIX WEED + HASH + BHAANG LASSI , i'm actually out of words to describe the high after having all these simultaniously, it was like i don't know what i was doing but that was the beauty of it, that feeling was so good i was just sitting and flying at the same time, the cafe was filled with our laughter and ohh !! the food !!! the taste of pizza loaded with cheese felt like heaven, everything around us was adding up to the scene and creating something new and beautiful, after few hours the high turned into not so beautiful high, as kartik explained that his thought process went so fast that he wasn't able to focus on anything, which was totally opposite to what i was feeling , i just sat there crossing my legs and focused, i had no thoughts, just me, my eyes and the music, nothing in between, kartik couldn't handle it and he went to take a nap, after some time me and manoj decided to take a break and come back again in the evening, when we went to our room , we found kartik listening to a slow hindi song, he told us that he had to listen to slow hindi song so that he could sing along and slow down his thoughts, damn !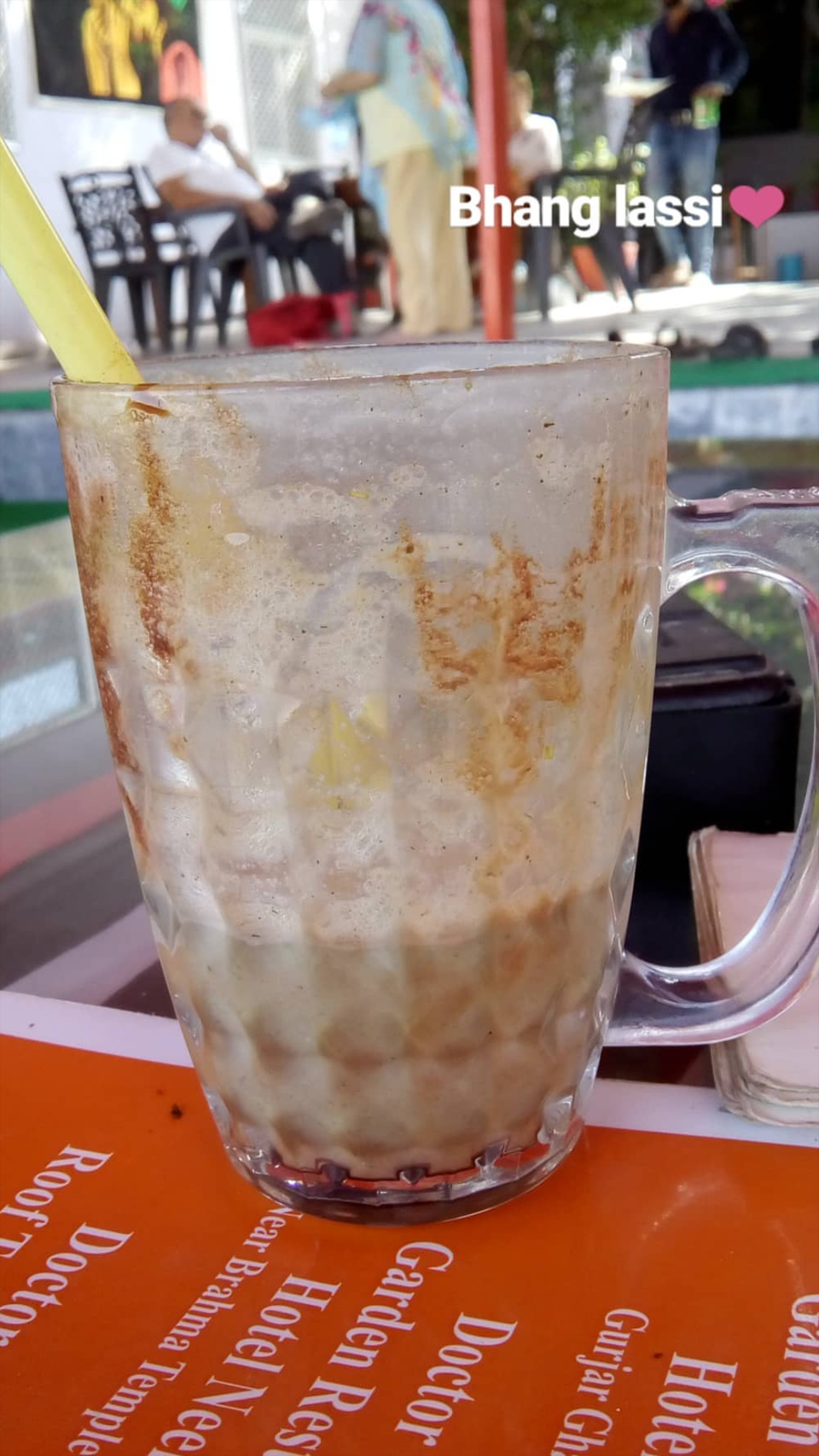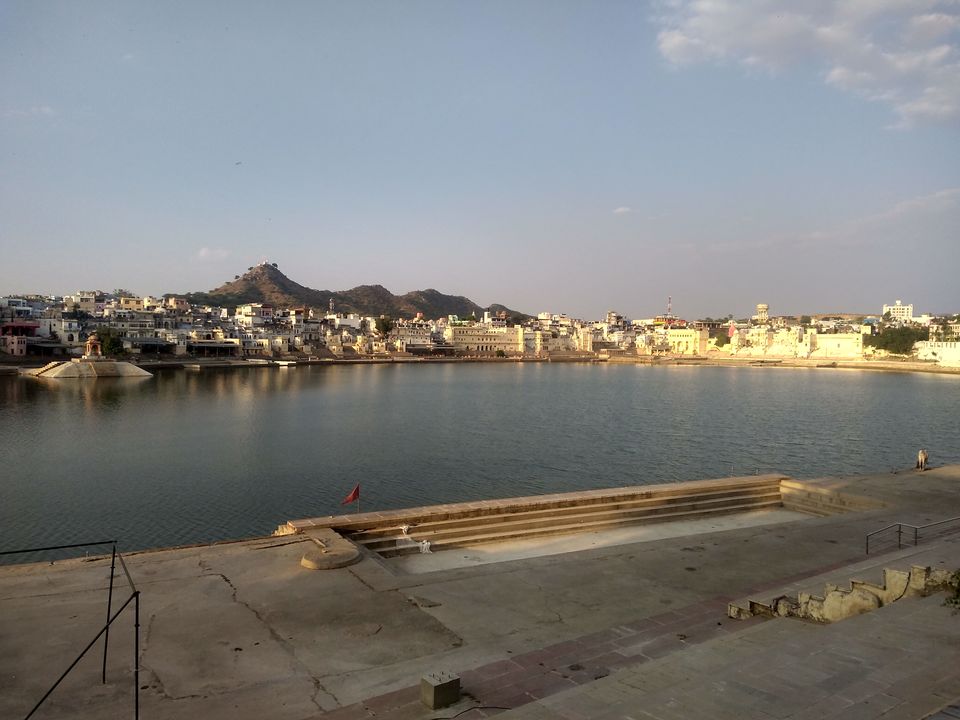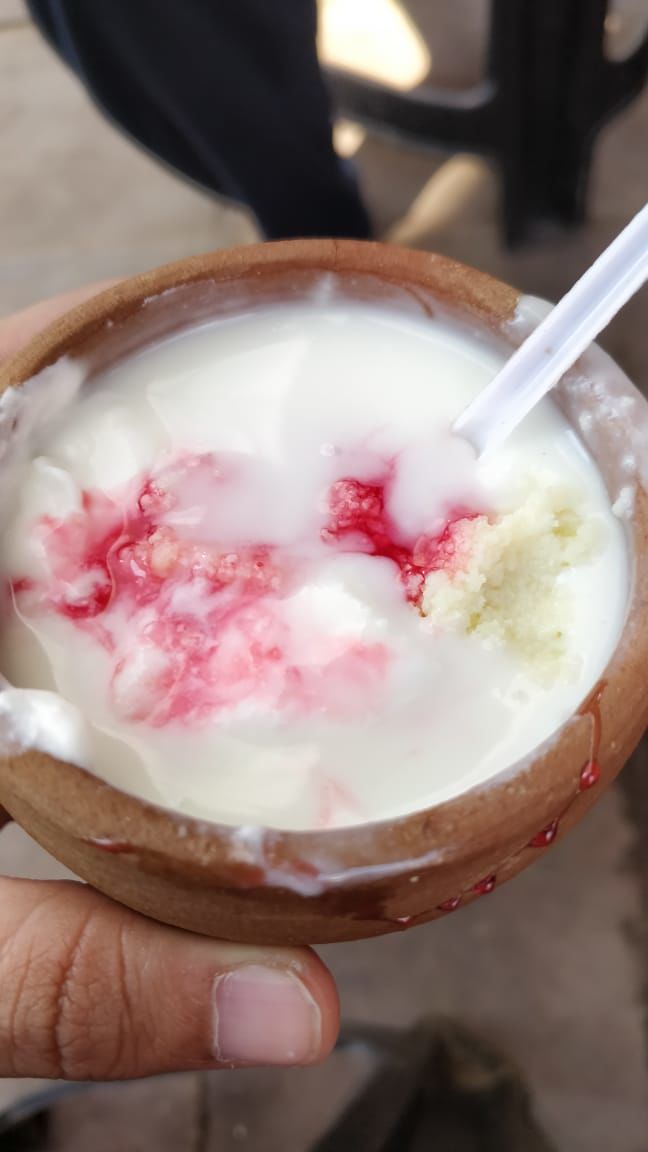 nap time over and we decided to go for a walk, went to the market, had sweet lassi with khoya in it, man !!!! that was the best drink i've ever had after getting high. it was evening , we came back and went straight to the sitting area, view from the cafe of the ghaat was breath taking, which looked mind blowing during the sunset and even undescribable during the night, the silence is just soul pleasing with temple bells ringing during the aarti. imagine pin drop silence, crickets chirping, bells from the temples, joint in your hand, psychedelic music playing , pizza in front of you, that feeling of being alive when you don't think about anything else and just live in the moment, you don't speak, your eyes and smile do the talking, ahh inner peace !! amazing !! me and kartik decided that we'll come back here first thing in the morning , for the sunrise and the morning aarti.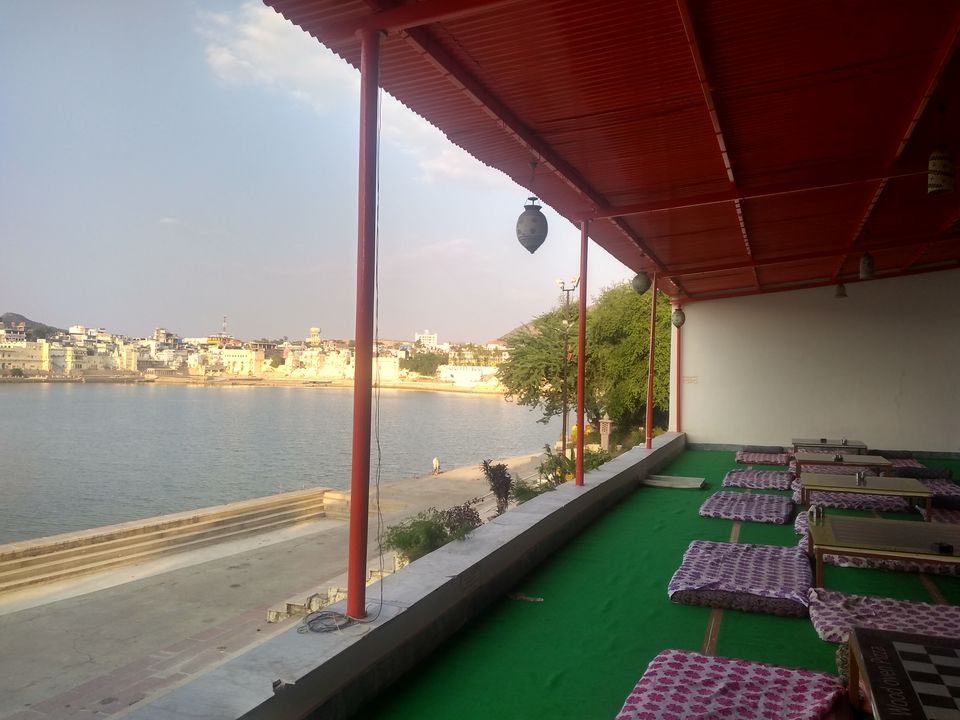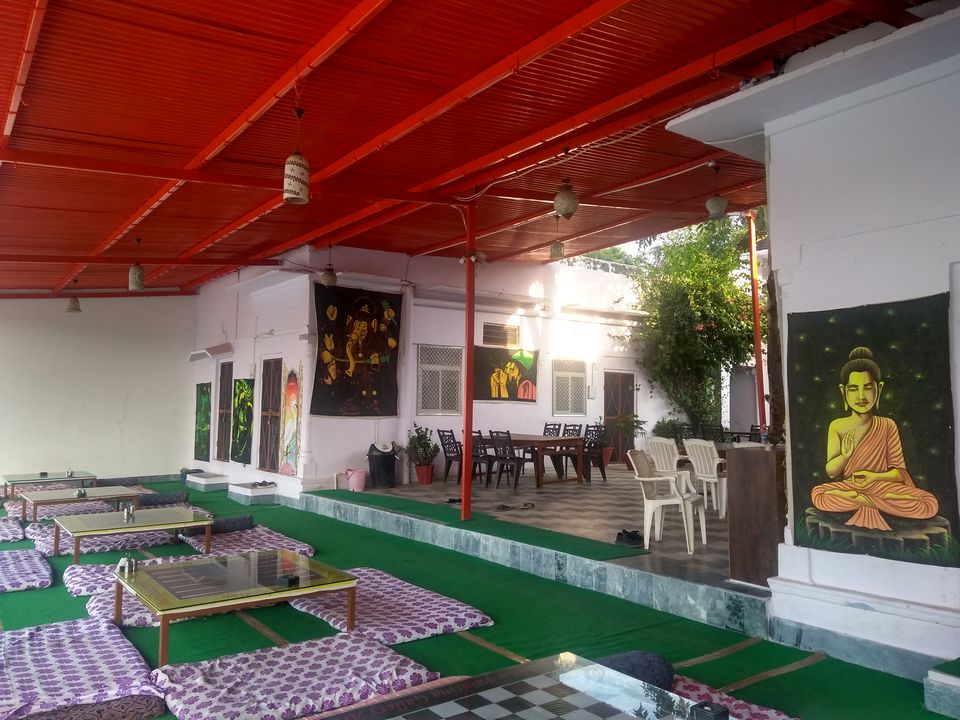 THE TALE OF MISSING SLIPPERS !!, DAY 2
5am in the morning , alarm went off , it was time , woke up kartik, manoj the lazy one of the three , he can sleep for hours anywhere , anytime, he didn't bothered and kept sleeping. it was a chilly , we took our blankets to the sitting area and waited , made our first joint for the day and as soon as the first 2-3 drags went in , everything from the last day and night came back, it was a beautiful sunrise and a beautiful morning, curious people like us started joining, manoj came around 8-8:30, so this funny incident happened, some guy wore manoj's slippers and took off and manoj was upset and angry he was all like there are thiefs in this place, i'll never come back here and his gt turned into bt lmao hahaha !!! me and kartik were enjoying the hell out of this situation and laughing , pulling his leg , taunting him because , all this showed how he loved his slippers so much lol, manoj was all like how can someone wear my slippers and not leave his back ?? whole day he was sitting and keeping watch over people coming and going in search of his slippers ! how can someone love his/her slippers so much i wonder? these kind of things can happen when you travel so take care of your things properly. it was evening, manoj was coming back to the sitting area after taking a nap, and guess what did he found ?? HIS SLIPPERS !!!! oh boy seeing that happiness on his face, his face lit up, kartik said '' itne pyar se dekh raha hai kahin ye chappalon ko kiss na karle bc '' ( he's looking at his slippers with so much love that i'm afraid he doesn't start kissing his slippers lol XD) we laughed so hard at this, this didn't stop here and throughout the day manoj was like today i will find out who took my slippers and he waited for that person to wear them again ! can you believe that ? we couldn't XD, finally in the evening that person came and as soon as he was going to wear them , we had an eye contact with him and , and gave him a death stare, he understood, and without saying or doing anything he left murmuring something which we couldn't hear. manoj quickly got up and guess what did he do ? he wore his slippers , went to the room and left them there, and came back bare foot, this scene was epic af !! hahaha me and kartik couldn't stop our laughter!! food , drinks , sleep , smoke repeat was on repeat, this continued till 8pm.
THE BIG TWIST - UDAIPUR
it was supposed to be our last night in pushkar and we were to come back to delhi the next day. sitting at the table we had another ' hits blunt ' moment , and this time manoj was like '' boys kahin aur chalein kya kya chill karne '' ?? ( boys should we go somwhere else to chill ?? '' and kartik was like kahan ? (where ) , and damn!! within minutes our new destination UDAIPUR was selected. So, i gave them a suggestion that if we were anyways going to sleep in the night, so why not sleep in the bus to udaipur, we all agreed and tickets were booked on the spot, (another bad experience of booking bus tickets from paytm coming soon) , in the paytm app the bus timings were 11pm, so we still had hrs with us, kya kiya jaaye itni der tak ? ( what to do with the remaining time ? ) we made 2-3 joints again and discussion began that how their destination udaipur will be a completely different experience for me, in their words '' pulkit bro tujhe maza aa jaega '' , i was like okay let's see, what happens, damn !!! i forgot to mention the food , food here is amazing, all vegetarian, because pushkar is a sacred place with no wine shops or non vegetarian food, but still wide variety of italian , chinese and other continental food can be found in the cafes, we had our dinner , packed our bags and checked out at 10pm sharp, we crossed the ghaat bare foot, as shoes are not supposed to touch the ghaat as it's considered to be pure, as we were just half way , we heard someone shouting sir !! sir !!! sir!!! bhaiya ji !! bhaiya ji !!! we looked back and saw a man running towards us with something in his hand, and guess what was it ? this time they were kartik's shoes , he left them in our room, and now it was manojs and my turn to make fun of him, we were so high, and this little incident filled the ghaat with our laughter, as a thank you we gave that man some money and were on our way to the bus station.
ANOTHER BUS CATCHING FAILURE (NOT OUR FAULT)
so, as i said earlier that the bus timings were 11pm, which was shown in the paytm app, but in reality the bus was supposed to come at 12am, but how the hell were we supposed to know that ?? paytm bus information was incorrect which led to this whole scene, so we arrived at the bus station on time, and we tried to contact the bus driver , the conductor , but none of them picked up our call, we were again very frustrated and annoyed , we waited and waited and finally some nearby bus operator came to us and offered to book fresh tickets for us for an upcoming bus, again hoping to get a full refund of the bus which again never arrived , we cancelled our tickets on paytm and booked fresh tickets from pushkar to udaipur, but here is the surprise and how that transport operator fooled us , the bus in which we had booked our tickets earlier , he booked our seats in that very same bus, but he did not tell us that, and at 12am that bus came, that was our bus which we had booked on paytm , but because on paytm the bus timings were 11pm, we had to cancel it, and that's how he got us, and made money. readers who are reading this, beware and double check bus timings before and after booking their bus / train tickets. anyways, we slept good in that bus as we had 4 sleepers , arrived in udaipur around 5:30 am in the morning.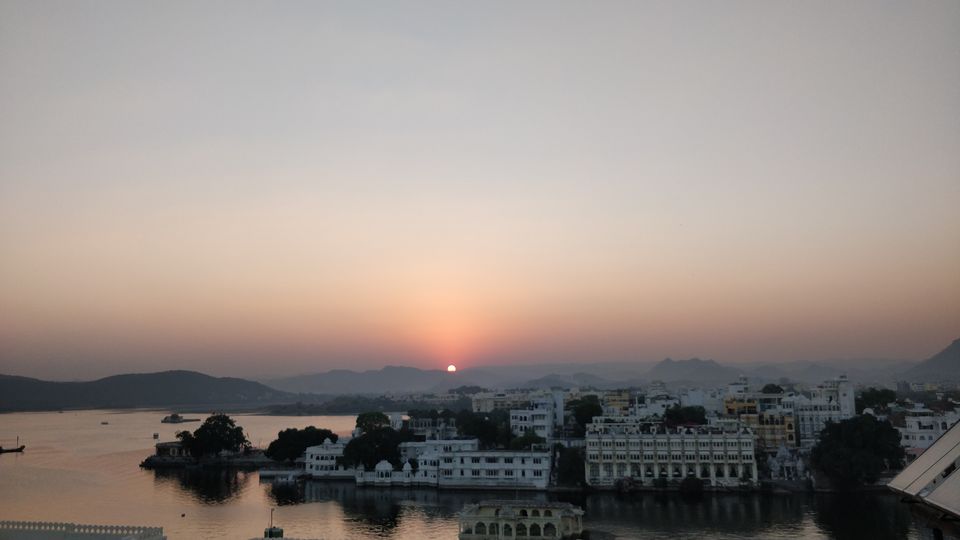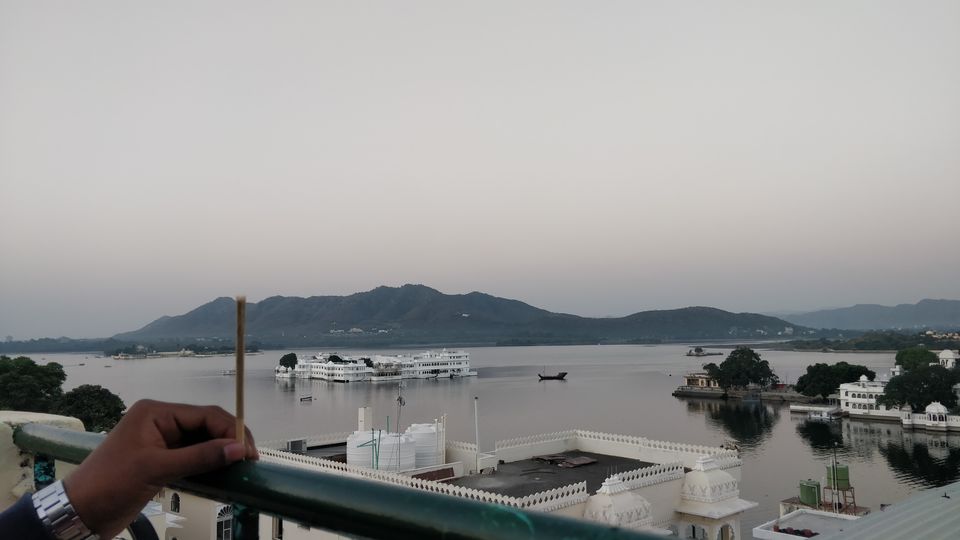 as i had never been to udaipur before it was boys turn to take over as they had been to udaipur before. as we wanted to have a raw experience, it was pre decided that we're going to take a hostel, where all the travelers like us like to stay , in local hindi language we call it ( chehel kadmi XD ) , the hostel where we were supposed to stay was called as BUNKYARD HOSTEL, this was a whole new experience for me, as my whole life while travelling i've been staying in hotels, so, we took an auto from the bus stand and reached the hostel, but the hostel gates were closed in the morning, we waited for around 15-20 minutes and then a local milk distributor came and he told us to ring the bell , we did that 6-7 times and someone from inside came and opened the gates for us, he immediately recognized my boys as they had stayed in that very hostel before, we were assigned our dorms at the reception, hostel life is amazing, full of people around, from India and around the globe. after getting fresh and taking a bath we all went to the rooftop and went on with our routine, oh boy !!! the rooftop view from the hostel was again fantastic, i really felt like yeah, this is a view worth watching, they had single beds on the rooftop, which was very comfortable to sit, and without wasting anytime, we started rolling our joints and the relaxation started,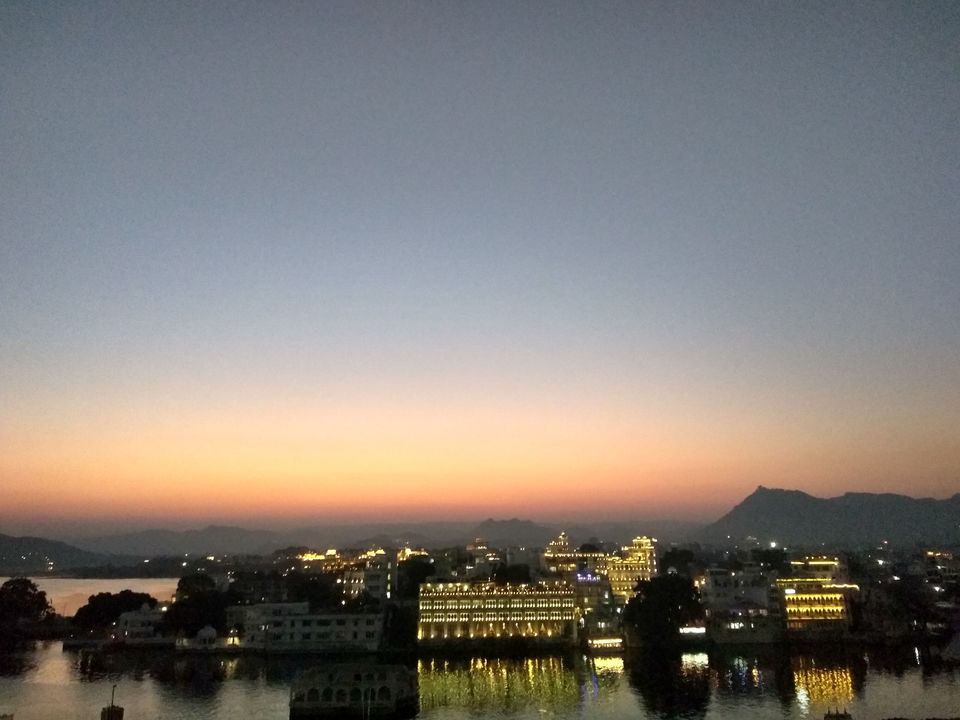 ENCOUNTER WITH THE SLEEPING MAN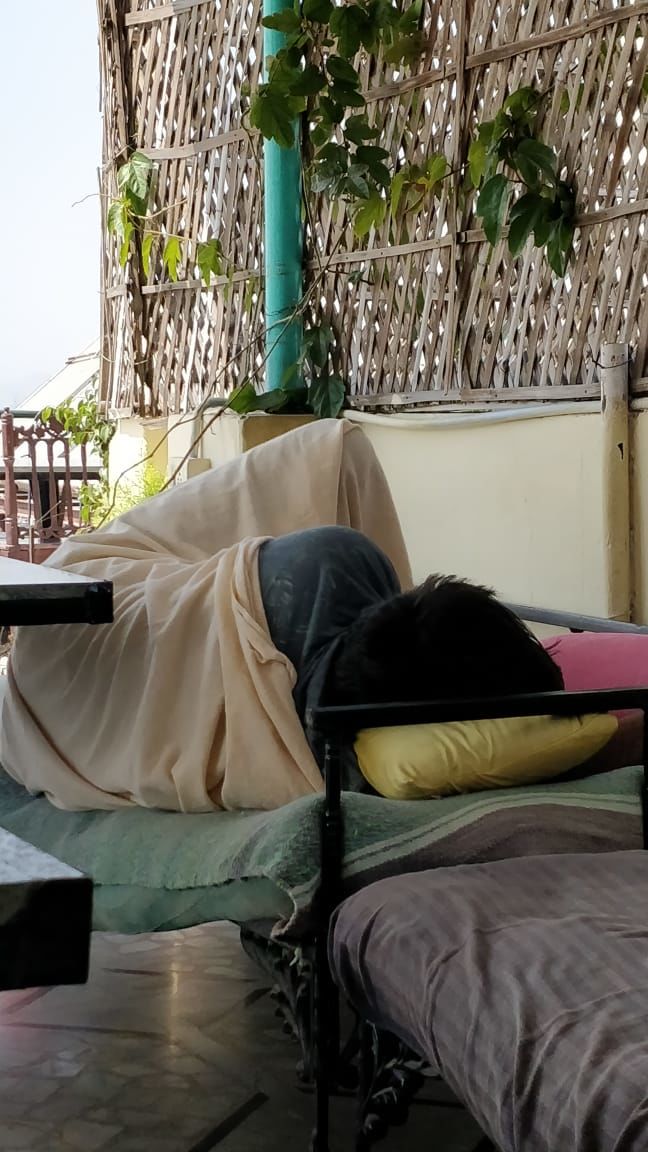 me and kartik were smoking and manoj was downstairs getting fresh and ordering chai etc, a guy came to us forgot to ask his name, he asked us '' yaar tum log phoonk rahe ho kya ?? '' ( are you guys smoking ) , and i was like yeah sure man, so that guy thought that we were smoking weed, but we had hash with us, and he was like yeah man this stuff is good this and that, and when we told him that it's hash (charas) he was like oh i've never had it before, and believe me guys he slept for the whole day, yes!! the whole day !! and it was another fun experience, i mean i don't want to offend anyone here but that guy was from a different breed of sleep, when he woke up the next day and when i asked him , why are you here ? he told me that he is stressed in his life and wanted to take a break , and to my surprise he said that sleep helps me relax and on top of that which made us burst into laughter was that he said that he was on a solo trip !! i mean bruh !! you're on a solo trip and you're sleeping the whole day and night ?? fucking go out, rent a bike and drive alone , sit on top of the mountains and chill, interact with people , share your experience, give yourself time, instead of looking at other people's faces, hoping that they'll come and talk to you, instead of you making an effort. it was weird seeing someone on a solo trip and sleeping all day, everyone around the hostel was noticing him , it was strange but it was new, something to remember by, that such people do exist, that their definition of solo travel is going to an awesome place and sleep. all he did was literally, smoke cigarettes, eat food and sleep, on the terrace, in common room and in the dorm rooms, i mean dayumn !!!
MEETING THE 'WHY NOT' girl and the 'SUNRISE girl '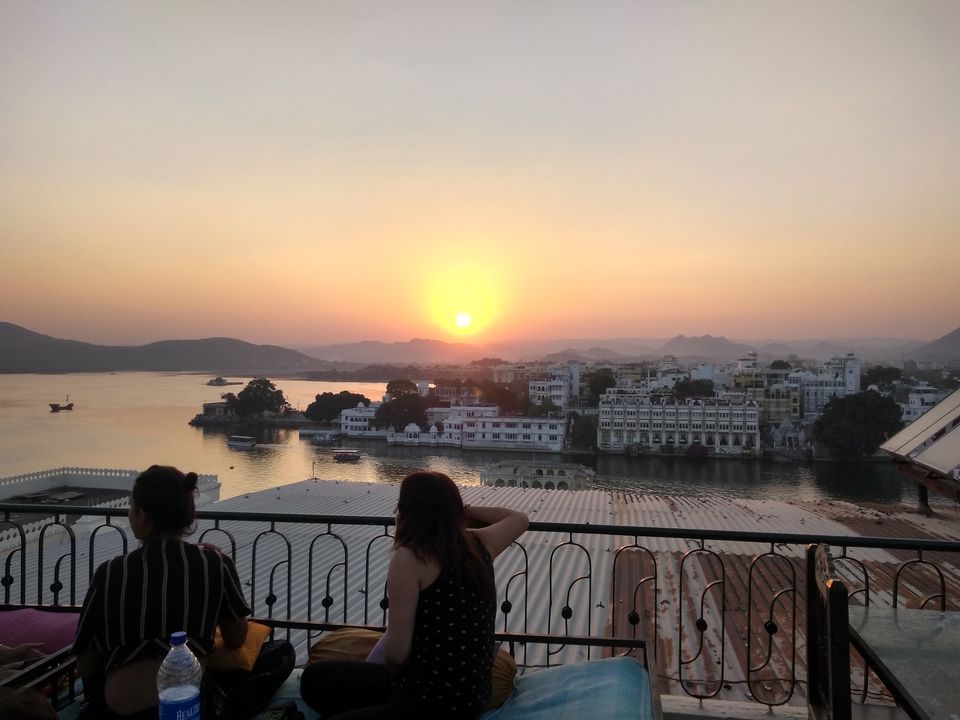 okay so , we were chilling as usual because it was really hot outside and we decided to not go anywhere and stay back and relax in the common room, it was lunch time, and manoj and kartik decided to take a nap, i'm not a sleep person so i stayed and rolled a joint , put on my music , closed my eyes and got on board the high train. Ticianne(chussi) also the (why not girl) and maria(the sunrise girl) were having lunch and after finishing it , they were talking, after sometime Ticianne came and asked me if i was smoking a joint, i offered it to her and maria joined immediately and we got into talking , introduction and all, we discussed many things, Ticianne showed her tattoos from different countries and the thing which really caught my attention was the mehndi tattoo which read ' WHY NOT ' , for every good thing possible, which comes our way, THEN WHY NOT ? for many hours i kept thinking about those two words, this is simply a positive attitude towards all the good things, i found it different, i'm glad i lit up that joint XD haha , if i recall correctly maria talked about her tattoo ' sunrise ' (tattoo of a sun) like the sula sun :p , depicting eternal life and promise of a new beginning, two simple tattoos and two very deep meanings. these two girls were amazing, '' common !!why not '' , i can still hear Ticianne saying this, and maria always had this smile on her face, like always, that is how a person is supposed to be, meeting new people and not awkward at all, it was like we knew her from way before, meeting these two female solo travelers was a totally different experience.
raat me fir mehfil saji, fir sab mile aur fir wahi bakchodi hui...(again in the night , me Ticianne, maria, kartik , sandeep( cafe manager) and jio with a bald guy, can't remember his name, we all sat for smokeup and music) which i couldn't get enough of, kyunki wahi to karne gaye the !!! ( that's what we went there to do ) XD , for 4-5 days do everything like it's the end of the world .
MEETING OLD FRIENDS FROM BUSINESS AND VISITING FATEH SAGAR LAKE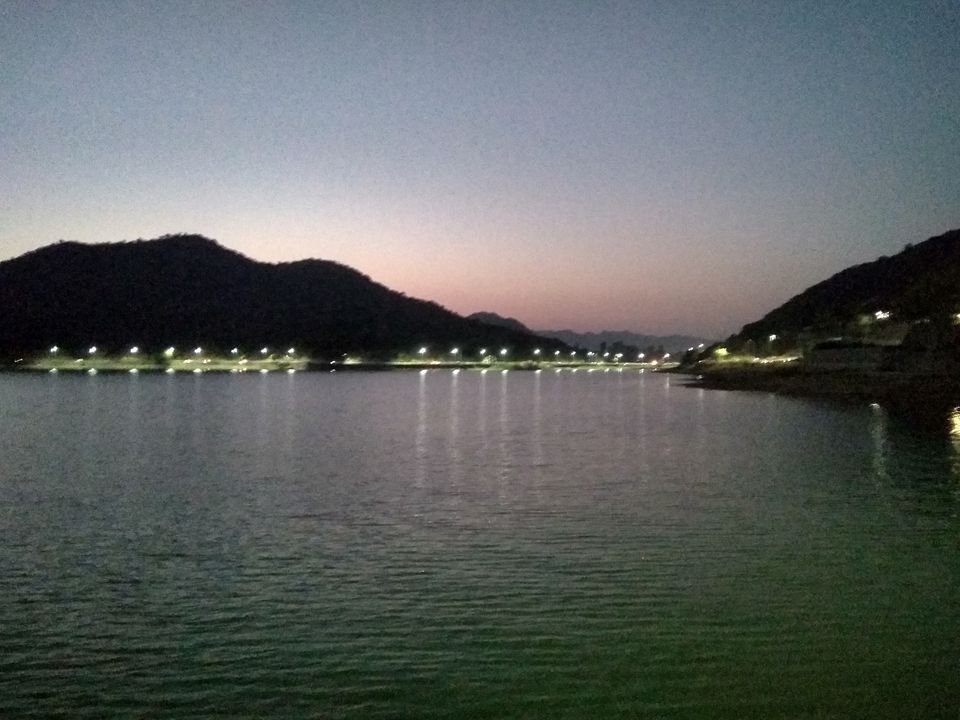 this whole scene was related to friends from business , drinks and discussions, which i can not reveal, but visiting fateh sagar lake on bike, no helmets , that too trippling , no fucks were given as the locals told us a getaway line '' sir we've come from delhi and are visiting fateh sagar , cops here only catch the locals and not people coming from outside, it was simple route to fateh sagar , but guess who made it long ? boys !!!! lol but bike ride was fun though , went straight to the food market , which i couldn't even count, food here is mind blowing, all the foodies visiting fateh sagar must visit this food market, lots and lots of options available.
EPIC SCENE WHICH LED TO BAHUBALI HILLS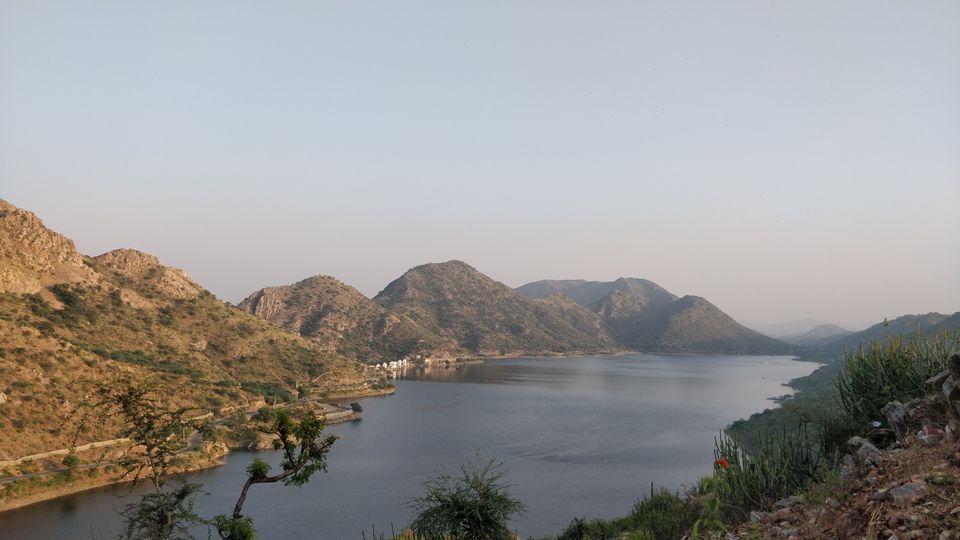 Okay so what Happened was as you know we were smoking hash from many days in a row continuously so after 4 days we noticed that hash isn't doing it's charm anymore, I mean fuck man our bodies developed tolerance for it XD lol
So then we decided to drink that night, what to drink beer or whiskey ? , whiskey was decided (in Rajasthan wine shops closing time is 8pm), and you can guess we were late.. it was 9pm + already, we anyway decided to go for some whiskey hunting.. FYI there are people who store alcohol and sell it again to people like us in black after the shops are closed, (we call them saansi over here) . Asking questions here and there, to the locals, and auto walas we finally, found a guy who offered to sell us a bottle for double the price on the bottle, we were like okay, he called someone and asked us to wait for 15-20 minutes, in the meantime manoj wanted to eat as he was not in a state to drink, we went to a restaurant, the lady (owner) was nice and kind enough that we shared our problem with her, had to sweet talk her a bit but guess what ? she knew some owner of a wine shop and after convincing her she agreed to help us, we were paying double to that guy but here the owner of the wine shop agreed to give us a bottle for just 50rs more, can you believe that ? fuck !!! she even sent her son with kartik on her scooty to get the bottle, and just like that poof we were back in game XD
after a while that guy also came and started saying like bhiaya ab main kya karun is bottle ka , apke kehne pe mangwaayi thi , to us time maine usko aisa samjhaya na ki bc main same bottle k double kyun dun jab wahi bottle 50rs zada me mil rahi hai, chutiya likh rakha hai maathe pe.. then he was like kabhi aage aaoge to yaad karna acche rate pe dilwa dunga etc etc. ( so that guy was like bro , now what am i supposed to do with this bottle, i specially called and brought this bottle for you and now you're not even buying it, i explained to him why in gods name will a buy a bottle double the price if i'm getting the same bottle in just 5ors more )
We came back to the hostel and started our program, I kid you not , hostel scene was amazing , loud enough music was being played with music videos on the projector screen. Brace yourself things get interesting from here , after having few drinks, around 11:30 we realized that the kitchen is closed and we can not order food, this was a fucked up situation , drunk with no food... Now guess what ? who gathered courage to go out 11:30-11:45pm on a food hunt ?? You gussed it right.. me and kartik haha XD
We were hoping that we'll find packet of chips at least if not proper food...
Guess who came back empty hands ?? :P
a cafe nearby by the name Doctor cafe ( leaving one shop on the left hand side of the entrance when we go out from our hostel gate ) I saw someone standing in the balcony and asked him if they had food.. Like literally anything to eat, call it our luck but he said yeah sure we can give you pizza or pasta !!
(Omg moment I know XD)
I almost cried :3 kidding !! So kartik went up and placed our order and we told the gate keeper to let the food delivery come in . Around 12am Sandeep(cafe manager) joined us , sandeep is good guy and a jolly person, who likes to talk.. he was already having beer and then me kartik and Sandeep got drunk, he was hungry too but he had no idea of what was coming , and dayum he was so happy seeing that pizza when it came , i guess around 12:45am kartik left, and me and Sandeep were having last remaining drinks. After finishing everything we were talking about life and all, journey of our lives, gave him few tips to increase his business according to what i observed and what he told me, as I was getting up for sleep, he asked me bro let's go to the terrace and light a joint, you know me, I'm a peoples person and never say no to stuff like this :p
So we went up, now the time is 1 am + , and we smoked a whole joint, after that he was like bro let's have some beer as well , I was like bro wtf ... but... let em come Haha !! no worries, and beers went down, business /love/parents/past/future were topics of our deep conversation and Sandeep was in full form and he said bro , yo guys are good, after many days people like you have visited you this hostel, and i don't usually sit with everyone because of my business but today i'm sitting with you and now I will make a joint for you.. i was like bro why not ? then we had another joint this was it for us,
Before we went down he asked me bro what would you like to have cheese sandwich or vegetables and chapati ???
I was like bro are you drunk talking , he was like no bro I have the kitchen keys with me , oh man and at that time I believed in God again !!!
We went to kitchen and within minutes we were having delicious food , before sleeping he again asked that bro another jooint... nooo !!! hahaha XD bc gaand phati padi thi nashe me !!! (i was really fucked up that time )
Salute to his drinking and holding capacity and I was in my bed around 3:30+am . as manoj slept early he woke up early and thinking that i slept good that asshole woke me up around 7:30am , and i have thing that if i wake up from sleep i can not sleep again, but i had power nap so i was okay, we went up to the terrace, ordered some tea, and back to rolling joints, maria joined us after a while, we talked about the past days experience in udaipur, and Sandeep joined us later , after last night, out of brotherly love for us, he said bro today I'll show you guys that place which only very few people know about and he told us about BAHUBALI HILLS, an unexplored place behind the mountains. now I know how much joints and liquor it took for that view, of the place that is hidden XD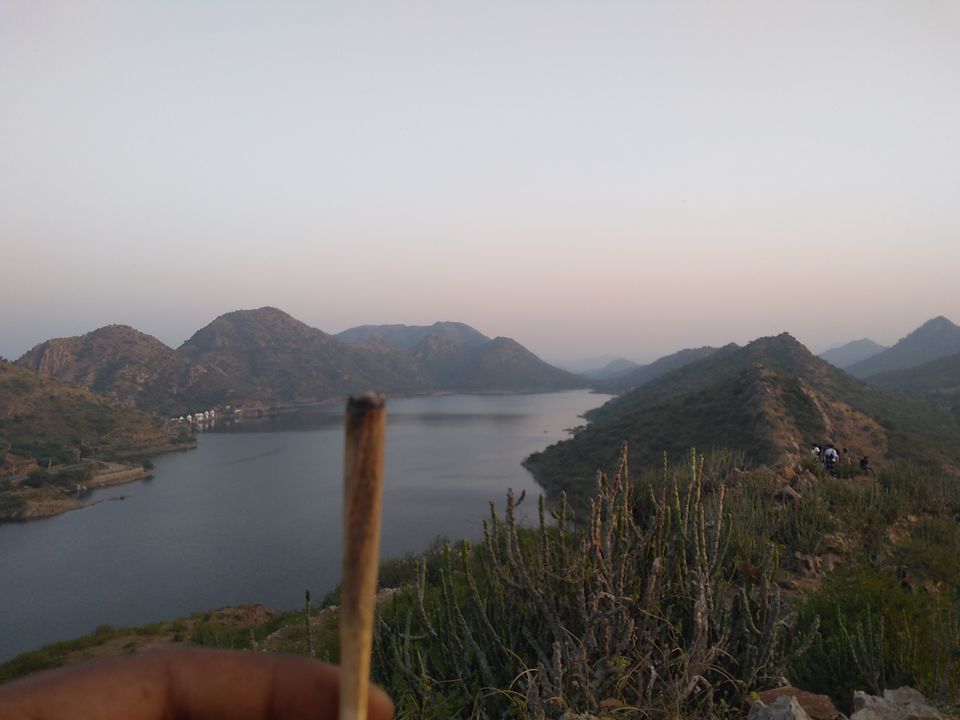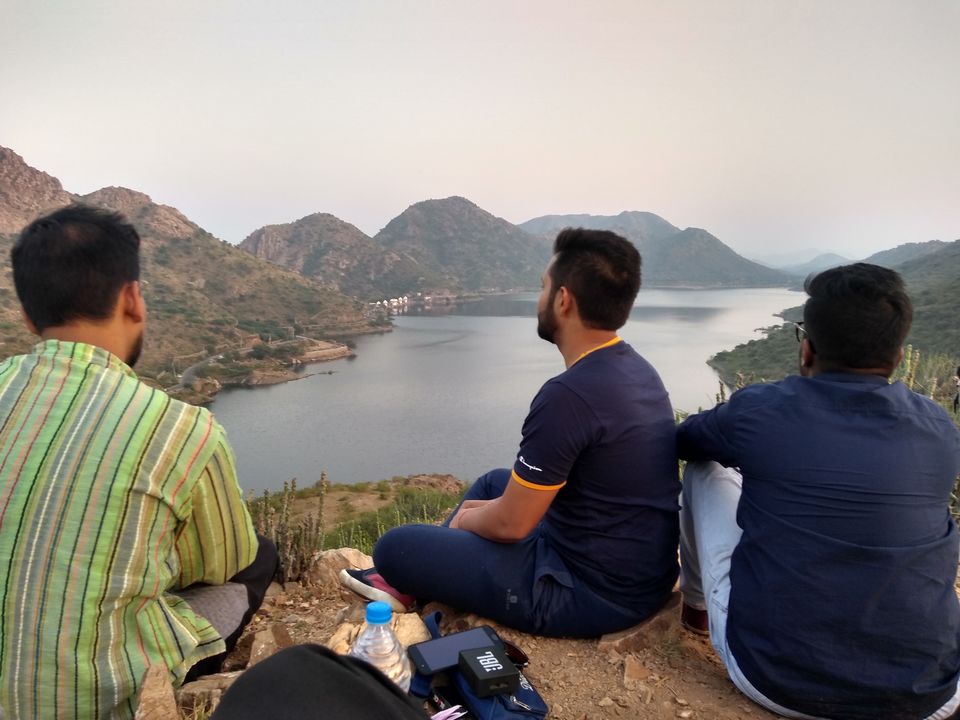 THE DAY OF FINAL GOOD BYE !!!
things get a little fast over here, as we were supposed to go to bahubali hills and also we had to catch our bus back to delhi, which was at 7pm in the evening, we left bunkyard around 3pm , sandeep arranged a scooty for himself and manoj, me and kartik rented an activa, because sandeep knew us the activa guy didn't ask for identification, sandeep told that guy he trusts us so there is no problem i take their guarantee, felt good right ? we were on our way, the way to the mountains was full of traffic, but once it cleared , man !!! nature was in her full glory , few sites which i saw were just soul soothing, we hiked to the mountain top, and oh my god the view !!!! the sunset plus guess what bitches getting high right there was an out of the world experience, that epic view plus sunset plus music, plus us happy people !!! we were there till 6pm , returning back, i asked kartik for activa keys, and vroooom !!!! we had to catch our bus which was leaving at 7, and we took good 45minutes to reach back to our hostel, me and kartik went to the hostel to get our back, while manoj went out to get an auto , it was such a rush running here and there meeting people, saying goodbyes, clearing bills, but guess what , the damn bus was full half an hour late !! lmao !! hahaha heartbreak moment !!!
saying goodbye to this trip was difficult for me because manoj and kartik told me that pulkit bro this trip will change something inside you, and now having experiencing all this, meeting those beautiful people, sharing memories of a lifetime, i have no regret in saying this that my boys were right, earlier i was stuck at a point in my life and it was difficult for me to come out of, but these 6 days changed something inside me and i've learnt to move on from things, WHEN LIFE AND TIME DOESN'T STOP FOR YOU , WHY ARE YOU STOPPING FOR SOMEONE OR SOMETHING, JUST MOVE ON !!! LIFE IS BEAUTIFUL !!
learn to say COMMON !!! WHY NOT !! TO ALL THE BEAUTIFUL THINGS COMING YOUR WAY, AND DON'T FORGET THE SUNRISE WHICH WILL COME AFTER THAT DARKNESS !!!
CHEERS TO EVERYONE READING THIS , I HOPE YOU HAVE AN AMAZING LIFE AHEAD.
THIS is trippymusafir (instagram) SAYING GOODBYE.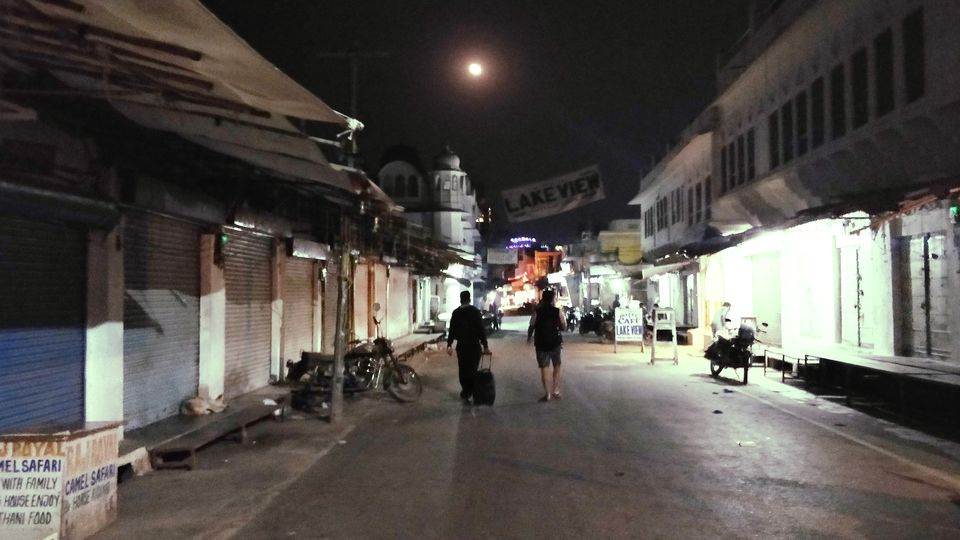 MUSAFIR means TRAVELER and PULKIT is my name XD
stay in touch for our KASOL adventure, coming soon !!!
Frequent Searches Leading To This Page:-
Delhi Udaipur trip, tour package from delhi to udaipur, delhi to rajasthan by road, delhi to pushkar trip, tour package from delhi to pushkar, places to visit near udaipur, 3 days in udaipur, cheap hotels in udaipur, weekend getaways in udaipur from delhi, things to do in udaipur for couples