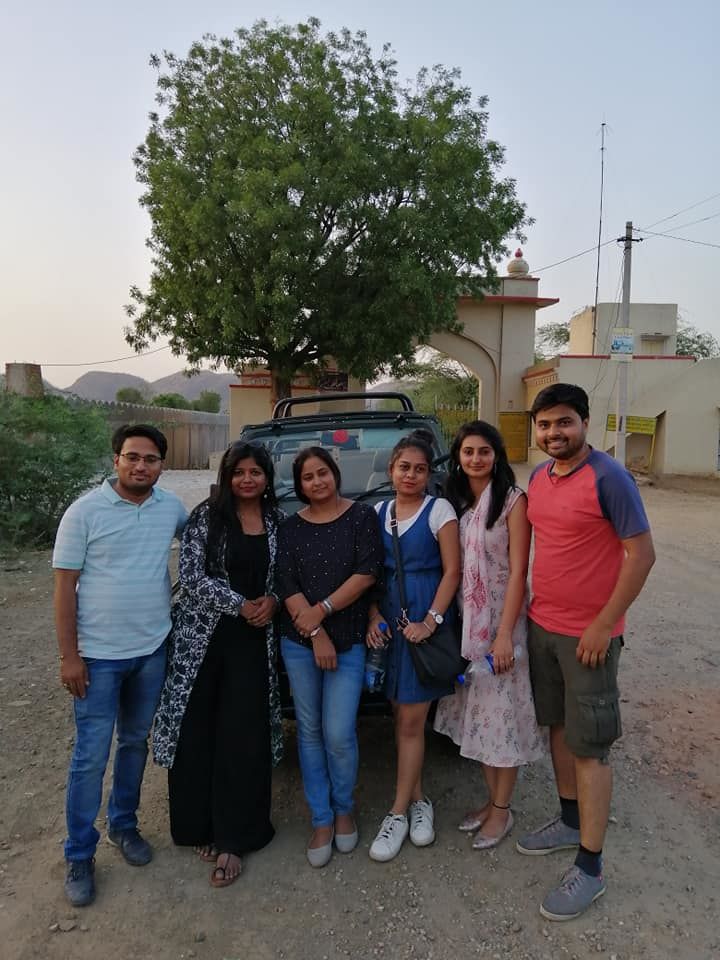 A fine Friday afternoon sitting in a office and doing nothing as usual and thinking about the same boring weekend(Eat,Sleep,Rest) but suddenly some weird colleague gathered and just in few hours a weekend plan workout for Sariska tiger Reserve(alwar) and Bhangarh Fort.
Through friend of friends contact, We hired a Erica 6 seater on Kms basis and planned to leave next day Early Morning around 4.00 A. M. from Noida Sector - 29 but thanks to 2 weird colleague that after 2 hours wait for them, Our trip finally started around 6.00 A. M.
Soothing music in car, Morning breeze, Trip'sq excitement, everything starts making the trip memorable. Next we stop at gurugram for tea and snacks and after almost 30 min we cross Delhi NCR and from there aravali range started. It clearily feels, we have left our city life behind, At both the sides of Road there were beautifully decorated Dhabas, aravali Hills,and in front never ending road, Just 2 hours away from Noida all of this view is in front of our eyes are like printed this memory into our eyes for lifetime. Around 10.00 A. M. we stopped at a random road side Dhaba for breakfast then we move further. Soon highway convert into kaccha Roads and we are here at Bhangarh Fort around 1.30 pm. Yeah! I know it was quiet a long journey but what can you expect from bunch of weirdo who happens to be your friend. But before entering into Haunted Fort, we visit a temple suggested by locals because of their so much supnatural beliefs. We spent around 2 hour inside the Fort then move for sariska national park, on the way we had our lunch on a local Dhaba. We reached Park Entry gate around 4.30pm. And hire an open jeep (jeep charges are affordable around Rs. 4000/- including driver and guide). My personal suggestion to all-always hire open jeep whenever you are planning to visit Sariska national Park. It was fascinating to see wild life. It was so exciting even now when I am writing this story after few days, I'm having goosebumps. It was one its own kind of experience to see those birds, animals on their original way of living rather than locked in a cage at a zoo. Main attraction of our jungle safari is to see leopard. After spending 1 hour on jeep safari we return by 5.30pm. And start our journey back to the origin. We reached Noida around 12.00 midnight, on the way, we had dinner in road side Punjabi Dhaba. It was tiring day yet full of adventures and excitement.