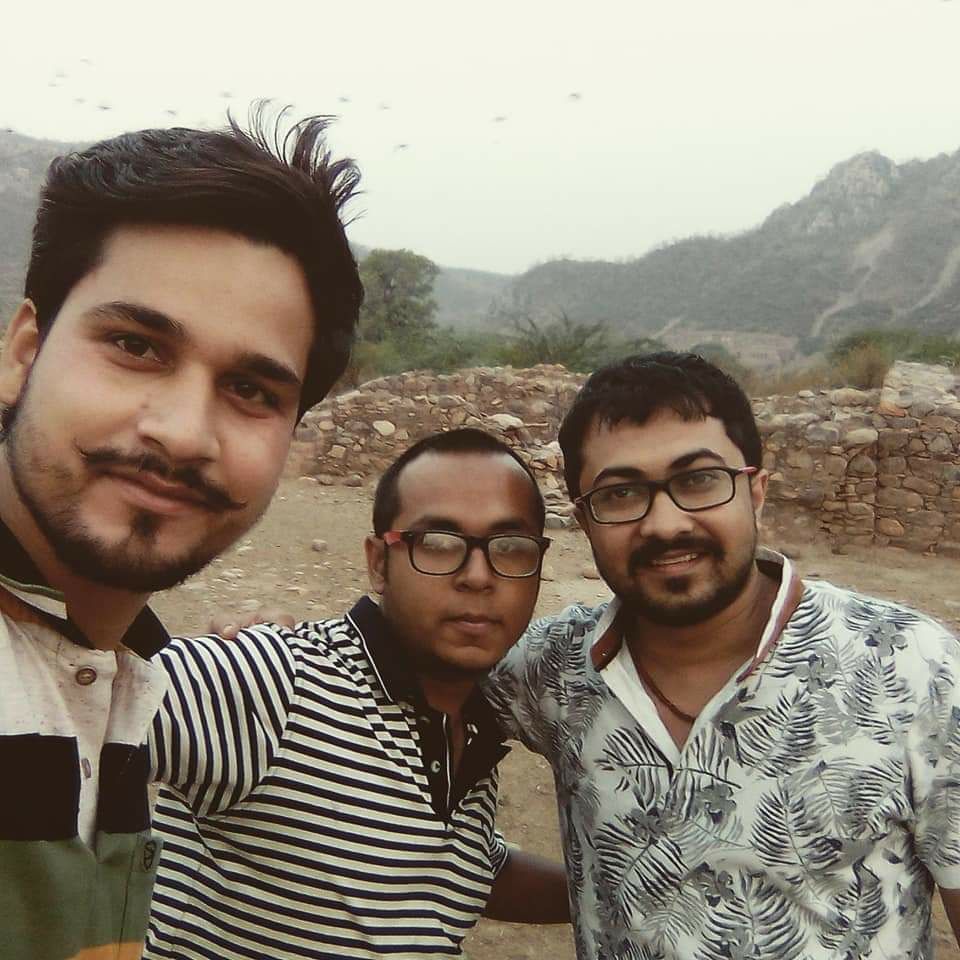 Here's sharing an Old story from Haunted Fort, Bhangarh however it was not much haunted as I used to listen from my Friends and so as on YouTube stories and Google search results. Me, Ajeet and Sagar we were partying at Gurgaon and at night around 9 PM we made a plan of roadtrip to Jaipur as Ajeet was having his newly self owned Car.
And I am like always ready to go anywhere if it comes to Travel a new place and we managed to make Sagar to come join us too.
so we fueled up our Tank and started driving to Jaipur from the Delhi - Jaipur highway NH - 8, and the highway is really awesome for a Highway Drive however at night you will see lot of heavy vehicles on road and distance is about 260 Kms approx from Gurgaon, I might be wrong with the figures.
OKAY! Cool so it was an amazing drive and in 4 - 5 hours we entered the Pink City Jaipur, however we couldn't see anything Pinky at midnight 1 O Clock.
so here at Jaipur we found nothing to visit at midnight and suddenly Ajeet suggested to go Bhangarh Fort and we said yes, Let's go!
It is said that Bhangarh Fort is the most scariest fort in India and the Fort have many Haunted stories too I won't write here about the Sadhu and the Princess of Bhangarh as many people already posted the story of the Fort you may Google and read.
Bhangarh Villege comes under district Alwar, Rajasthan. And yes If we look at Rajasthan tourism wise the state have lot of Tourist attraction places like Jaiselmer, Jodhpur, Jaipur, Ajmer Sharif Dargah many more. And distance of Bhangarh Villege from Jaipur is around 80 Kms, so we reached at Bhangarh Fort at around 2: 30 or 3 AM night. And yes, It was a horrible Drive from Dausa to Bhangarh.
Dausa is a place between Jaipur and Mehandipur Balaji Mandir from where the road diverse to Bhangarh villege. Road from Dausa to Bhangarh villege is not well conditioned and we found lot of Murti making shops on our way and at night when we were driving those Murti's were looking too much scary in Car's headlight.
And here's another thing about Bhangarh Fort, the Security guards there they do not allow people to enter the Fort area after Sunset and before Sunrise so we all three took small nap in the Car itself as we were tired of travelling too.
After a small nap of 2 hours we woke up at 5 AM and here we made an entry to the most haunted Fort Bhangarh, however we didn't find anything scariest there not at all. Once you enter the place you will find an old street of their Times that is totally ruined now a days. The whole place is totally cursed actually. You will find few Animals and Birds there.
Some Adventures guys who willing to explore places and wanna make stories they also come and visit this Place.
Fort don't have very much to see as I said it's a cursed Place so after 2 hours we came out from the entry gate and booked a Resort that is near to the Fort itself.
It was a good Resort with a swimming pool inside the Resort so we had fun in the pool and went to sleep because we were tired already.
It was a deadly sleep at the daytime. After we woke up we went towards Alwar city and booked a Oyo Hotel again and after having Dinner we slept.
Next morning we woke up so much refreshed, visited Alwar fort, Sariska Tiger Reserve park. Sariska Reserve park have Safari ride to the Park they won't allow your own vehicle inside the Gate what you have to do is book a Safari and take a ride along with few fellow Travellers and their Guide.
Than on the same day at Evening we started our Engine and came back to Gurgaon itself as distance from Alwar to Gurgaon is near about 120 Kms
Thats not too much unless we are reaching Delhi NCR region, and obviously everyone knows about the Traffic in NCR region.
Finally, It was a nice Trip, All sudden plans with Friends are always Amazing at your Age.
Lot of Love ❤️