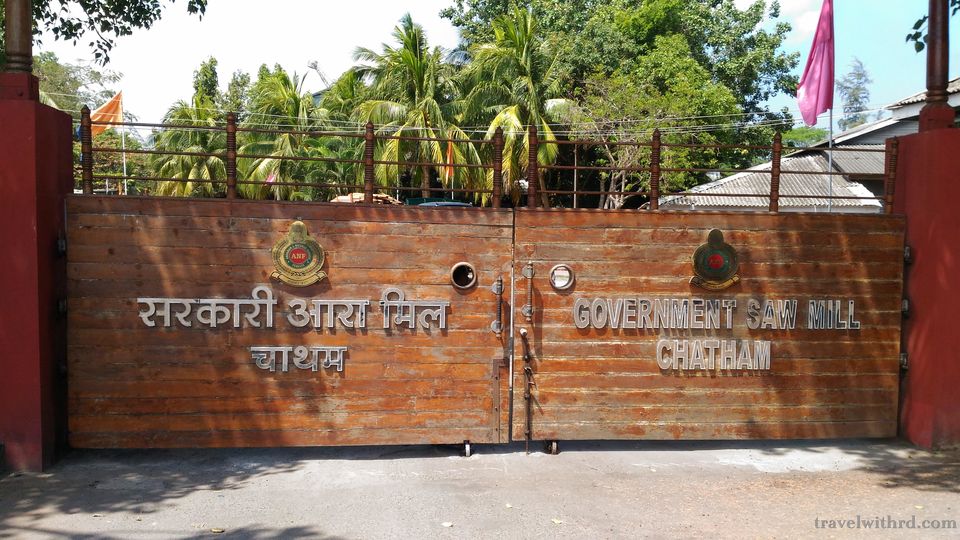 The first thing that I did today was bike bikes. Bike was found in a shop in the Aberdeen market - 500 rupees per day rent and Rs 2000 security-amount, which will be refunded upon returning the bike.
The net was not running in our mobile, so Google Map was not available. My wish was to mount Mount Harriet from the bike. For Harriet, we have to walk on the Andaman trunk road, the same road that goes to Diglipur. Then, going from right to left, going a long distance, Harriet has to go. But in the absence of the map, we reached Chatham. Now when Chatham is reached then here also see the jigsaw mill. I'm a mechanical engineer. It is not known how many mills have been visited, so for me this was nothing more than a production unit, but nowadays it is a tourist spot.
Before an old bridge, Idli was selling a box on the stool on the intersection. We needed cheap food and cheaper from here. Two plate took the idli. But there are at least ten hair in both plates. We left the hair and ate idli. And what do you do? Idli leave a little?
Take a ten-ten rupee ticket at the gate of the mill. The museum is as soon as you enter. There is a good collection of wooden items. There was a restriction on hand drawing, not on taking photos. Then began to roam in the mill and began to explain the bliss - "Look, this is the scars of wood scars. It speaks 'seasoning'. The extra moisture in the wood is resin, everything goes out. Wood is done only after drying, wet wood is used only for drying, and no other work is done. "
If there is a saw machine then it is obvious that the timber will be grazed, its pieces will be cut in different shapes and will be sent out. The train was set up to carry the goods there. Wherever there was 'junction', there was no 'point' and 'turn-table' remained. Put one wagon on them, turn the turn-table and wagon on the second line. Although there are 'points' in some places, but all are bad.
It means 'Rail-Way' in Andaman too. By the way, a plan to lay the railway line from Port Blair to Diglipur is proposed. It has probably been surveyed. It will be built along the eastern coast. In the west there are zaravas, so there will not be any kind of tampering. Do not know whether your live-in will become this line or not.
Mount Harriet is very close to here. Boats run, which lets you take off the bamboo-flat across. Not far away. If you throw stones from health, then the stone will go to the Bambu-Flat. From there Mount Hariat is 7-8 kilometers away.
But we chose the road path, which is at least fifty kilometers. This route goes from the front of the airport and it is a hoax. After Chholdari, this route goes straight to Diglipur and one of the roads turns right on it. It has been written that go to Wimperliganj, Bambu-Flat and Mount Harriet right. But keep in mind, this path is bad. If you want to go from the bike, it is better to go straight on the trunk road and turn right from Faragarganj ahead of Tasnabad. The road to the right from Faragarganj is the State Highway and is shawl-bay. From this road you will easily find the road going to Bamboo-flat will be different.
A bus running between Rangat and Bambu-Flat was also seen.
Have fun here by biking. And yes, just a little ahead of Farraganj is the Zirkatang check-post, from where the Jarawa jungle starts. No two-wheeler is allowed from next to Zirkatang. In the Jarawa forest, you can only sit in a car, bus or truck. We did not go there. If we were allowed to bike in that jungle, then we would pull it up to Diglipur today.