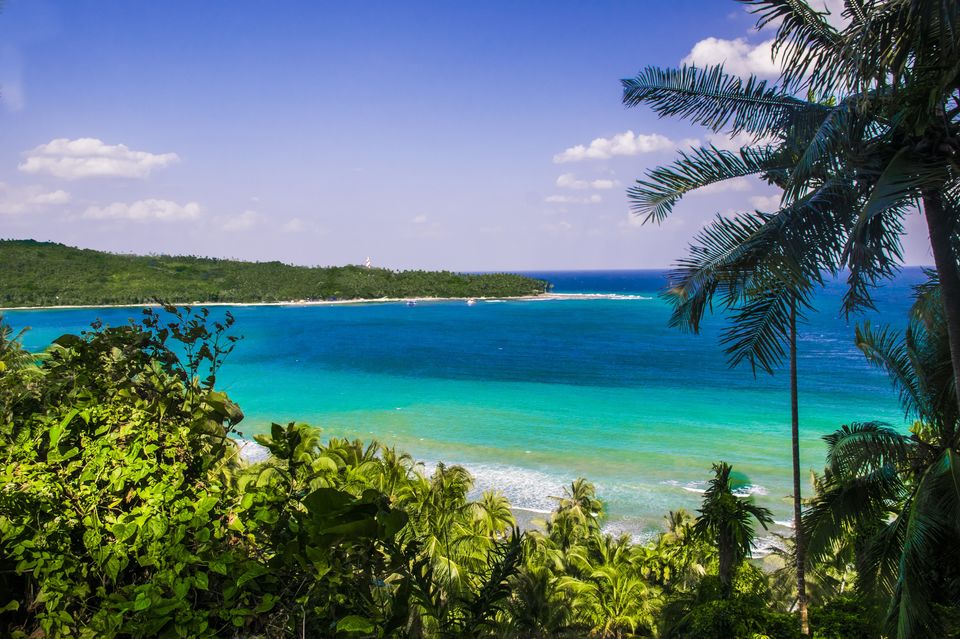 I've been travelling since 2009 and my first trip was at Arunachal Pradesh. Since then, I love to be in the mountains whenever I get the opportunity. Although I've travelled entire East Coast and some parts of the West Coast of India too still I never feel any attraction towards the sea.
After so many years of travelling in the mountains, I had suddenly felt an urge travelling to an Island as I've never been to an Island in my life. First and foremost name that had come to my mind was Andaman and Nicobar Islands. It's an Indian archipelago, situated at the Bay of Bengal, not so far from the mainland.
I've been planning this trip since last four years. First I was looking for a package tour. But later I found a package trip does not cover all the places or beaches that I want to visit and it's a bit costly too. Then I was looking for friends or groups to make it with them. That too did not work. After so many if's and but's, I decided to make it solo.
As they say, if you go solo you can start any day but if you go in a group, you have to wait for others to start . So I'd planned a 10-Day Andaman trip meticulously after doing lots of online research for the first week of December and booked the air tickets on a whim. I'd taken the tickets through a reputed travel agency and it costs Rs. 14 K for to and from the journey. Then I went for ferry tickets for Havelock and Neil through http://www.greenocean.com portal followed by hotels through www.booking.com. You can book the ferries through https://ferrybooking.in also. Although Andaman is known as honeymoon haven for newly married couples, still it has a lot to offer for a solo traveller also.
Trip in a nutshell: -
Things I did in 10 days in Andaman Island:-
 I roamed around Port Blair city, its bustling market on foot, used local buses, visited the Cellular jail, watched Light and Sound show.
 Hopping some of the gorgeous islands Havelock, Neil, Redskin
 Explored the enchanting beaches like Radhanagar, Kalapathar, Elephanta, Corbyn's cove, Chidiya tapu, Lakshmanpur, Sitapur, Bharatpur busking in the sunshine, soaking in the glory of the sunset.
 Cruising from PB - Havelock – Neil – Port Blair
 Enjoying various water sports activities- scuba Diving, Glass bottom boat ride
 Witness the mesmerizing underwater world, coral reefs.
 Trek to Mundapahar through the deep forest path
 Visited the Mount Harriet – the 3rd highest point of Andaman and last but not the least
 Made a trip to Jarawa Island – Baratang and visited the Mud volcano and Lime stone cave.
That's all .
A brief overview of the trip :
Day 1 : Visit Cellular Jail and watch the Light and Sound Show in the evening
I started my journey at dawn with a little bit nervousness towards Netaji Subhash Chandra Bose airport (Dumdum airport). After security check, while waiting at the lounge for boarding, I met a lady who was also travelling to Port Blair with a small group in the same flight. She became quite shocked to know that I was travelling alone.
It was a 2 hours 20 minutes journey. We were moving through the ocean of clouds. The different pattern of clouds on the backdrop of the blue sky was amazing.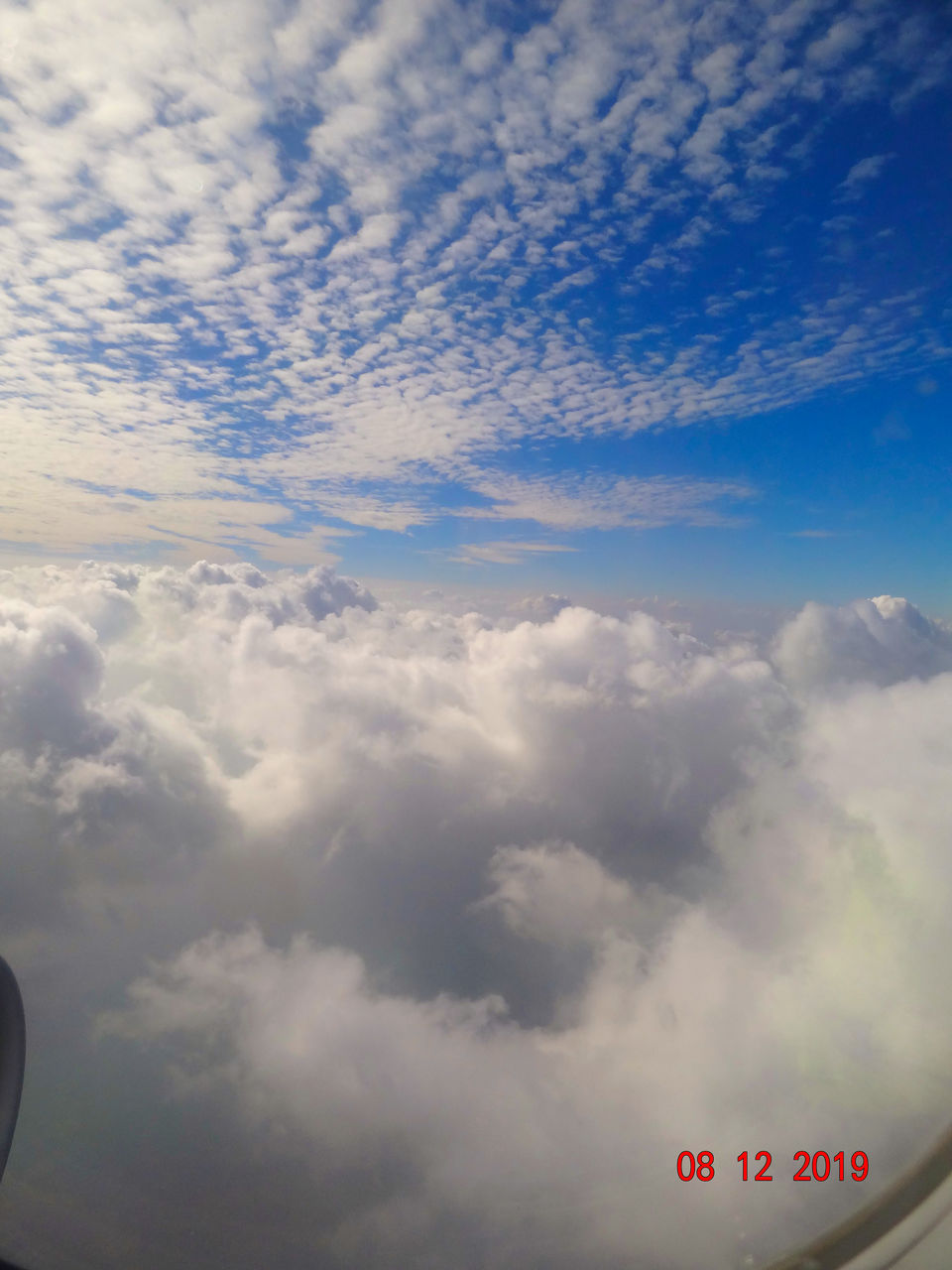 As the flight started losing altitude, bird's eye view of the Island through the shinning floating white clouds coming in to view. Lush green island with white pristine beaches surrounded by turquoise blue water, followed by an aerial view of the Port Blair city leaves you awestruck.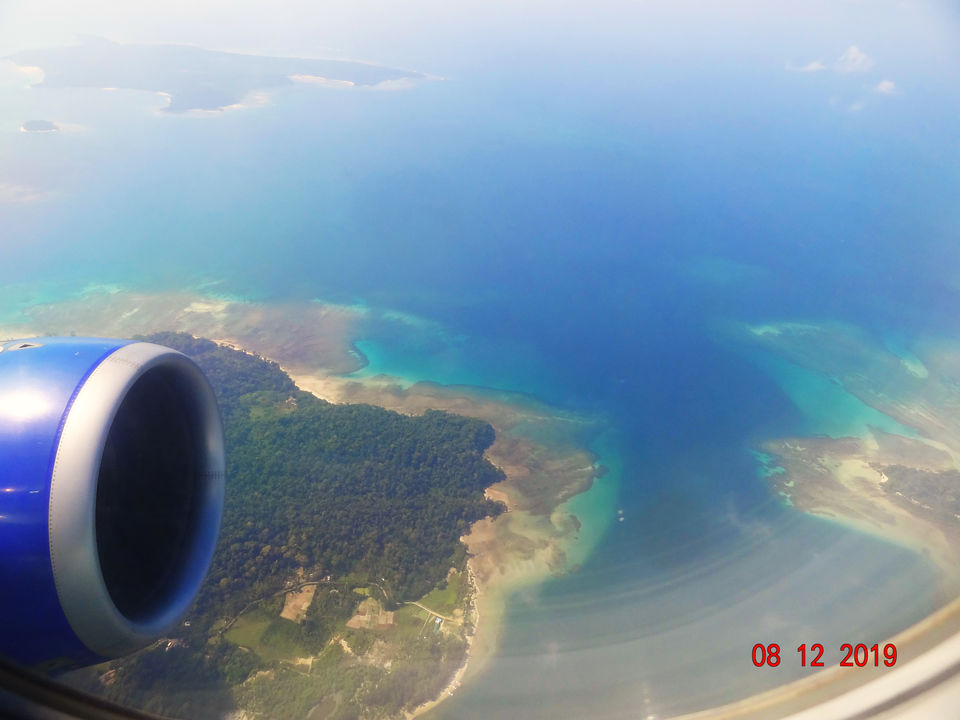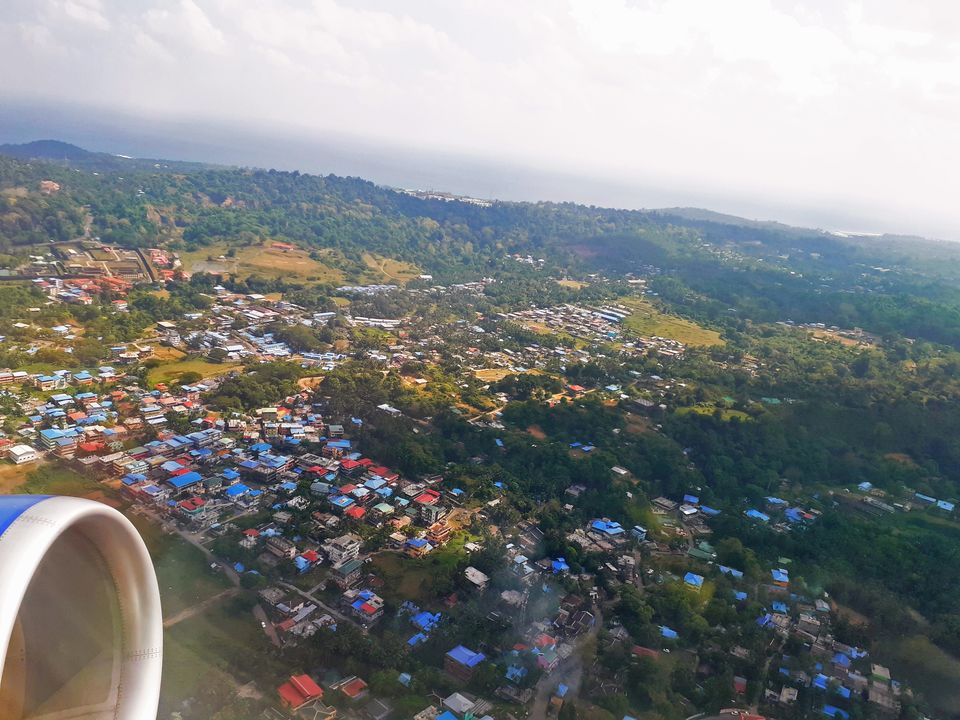 The flight landed at the small but picturesque Veer Savarkar International Airport by 11 am. We were carried to the terminal by bus. After getting my checked luggage, I came out of the airport.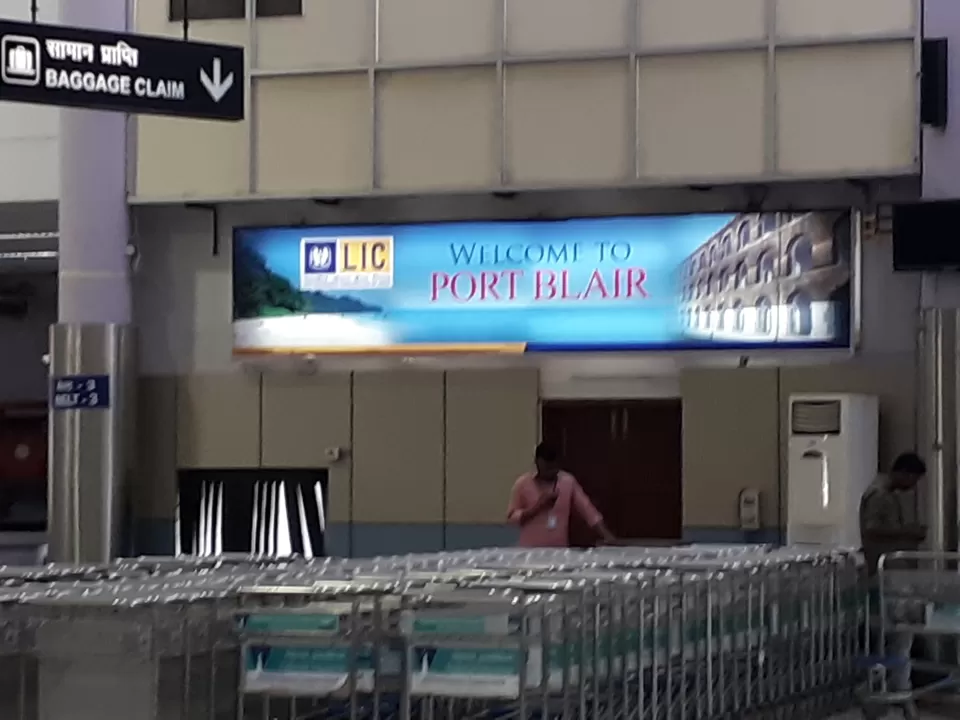 My hotel was at Middle Point near the State Library. It took only 10 minutes to reach there. Post lunch I stepped out in the roads of Port Blair to stroll around on foot. Weather was pleasant. The day was sunny with a clear sky. It's an amazing feeling to be an entirely new place all alone. I dropped in Zonal Anthropological Museum near Bengali Tola which was just a 10 minutes walk from my Hotel.
This museum is one of the ways to know and understand the tribal life of the island.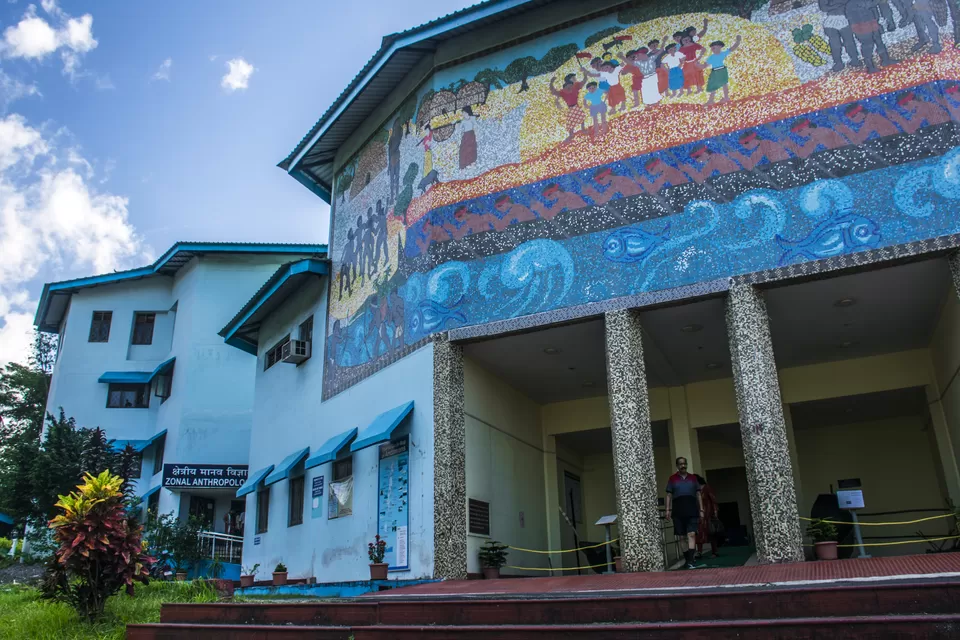 Next, I headed to the must -visit place of Port Blair – the Cellular Jail. I took a bus from Bengali Tola. It dropped me at the Bus terminal which is two minutes away from the main entrance of the Jail. It costs only 10 rupees. I took a ticket from the counter and stepped inside the Jail. Presently the jail is a National Memorial. There is a museum inside the jail where you can see the miniature of the Cellular jail with all the seven wings out of which only three remain there but only one wing was open for visitors as the construction work was going on in other wings. You can check the small cells or go straight to the rooftop that offers a beautiful view of the surroundings and distant views of Ross Island across the sea.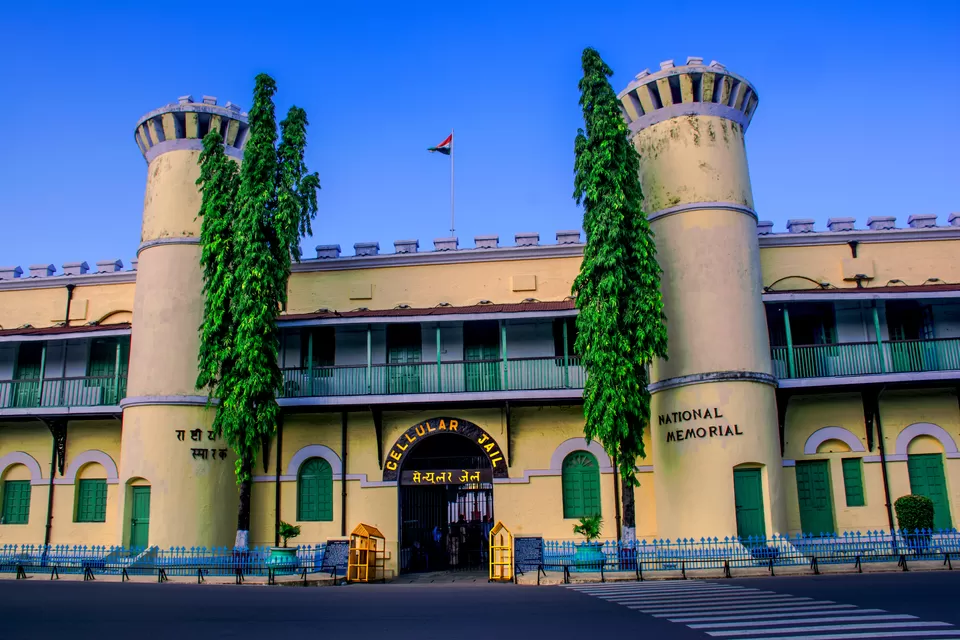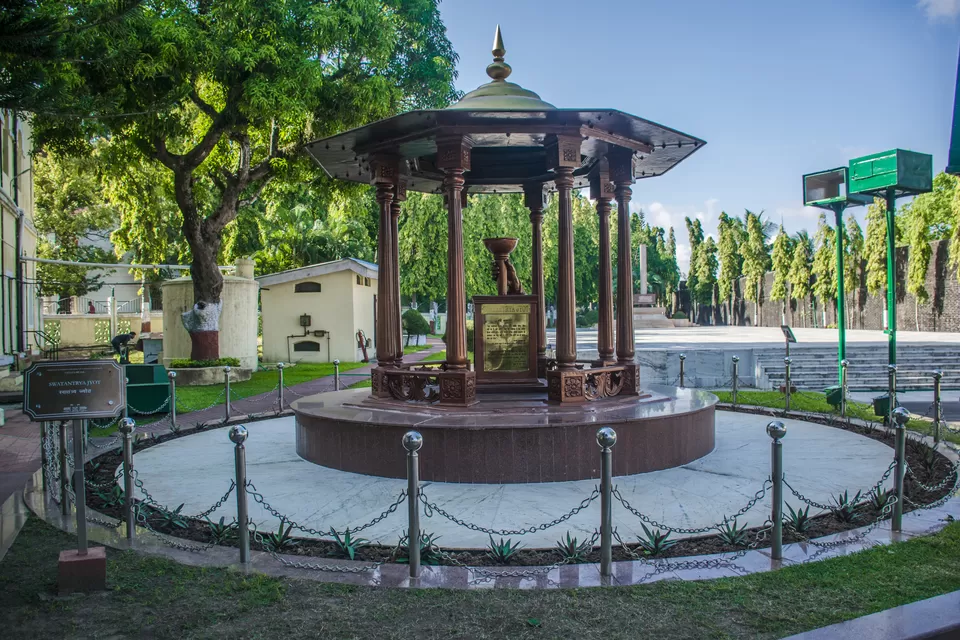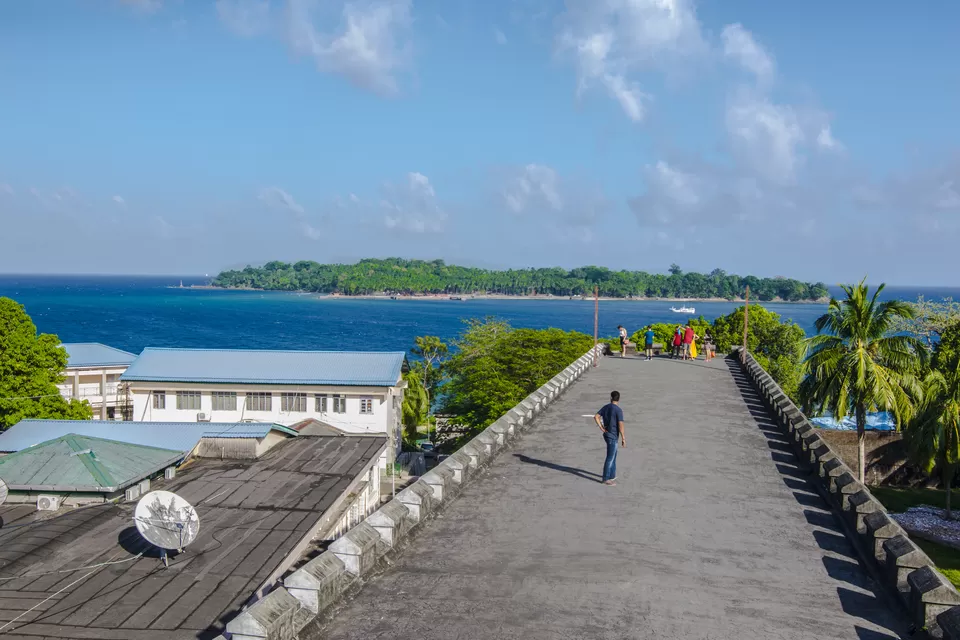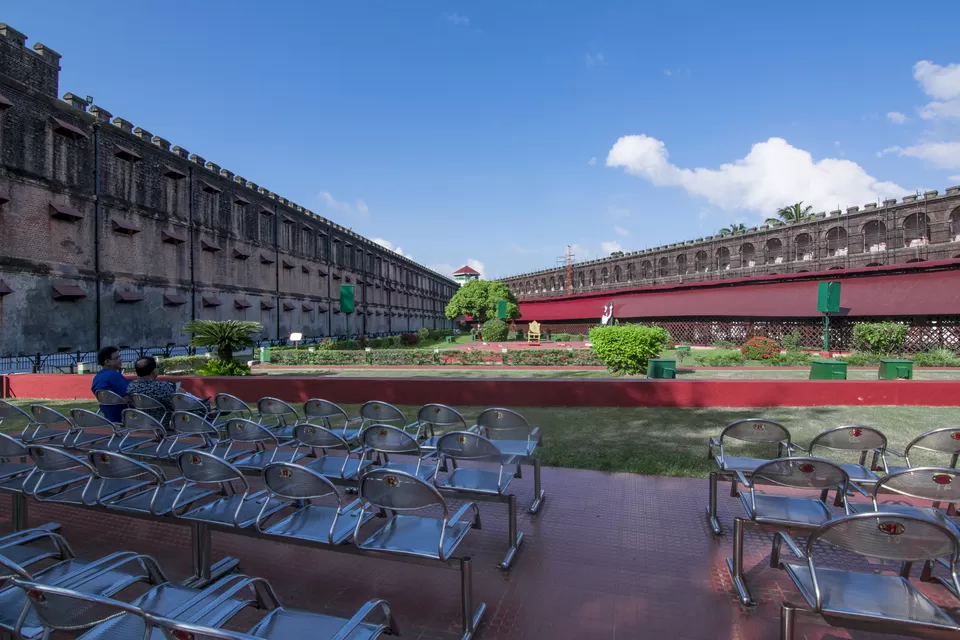 The evening 'light and sound show' takes place both in Hindi and English. You can get the timings of shows and tickets online through e-Tourist - Home Page - Andaman (www.andamantourism.gov.in › etourist › index.p ). I booked the 5.45 pm shows. In this 45 minutes show, the old Peepal tree at the entrance narrates the story of the inmates of the Jail in association with dramatic lights that transport you back to the time of British era.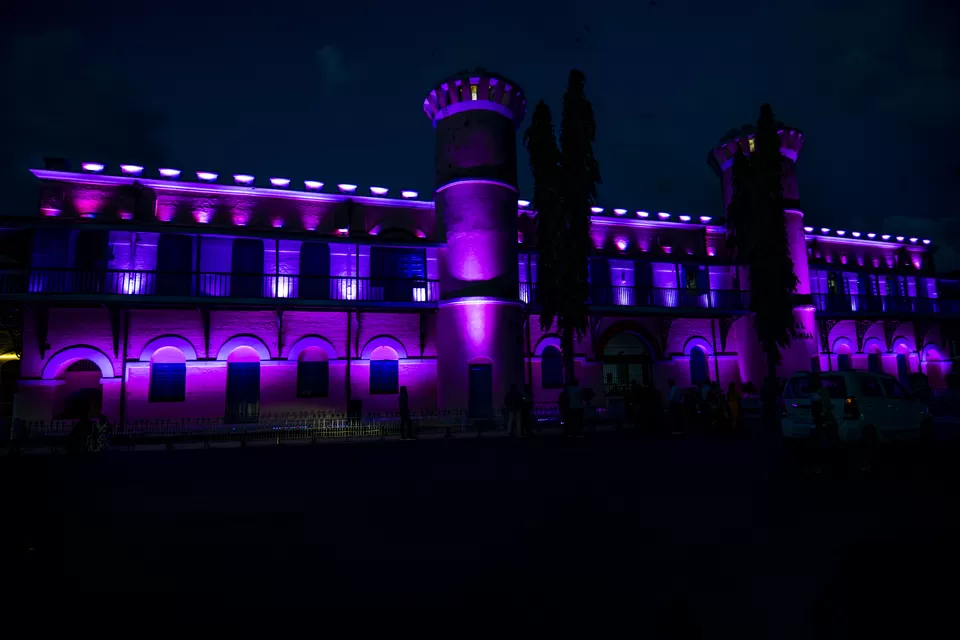 There is a beautiful park called Veer Savarkar Park, just opposite to the jail. It's a nice place for hangout.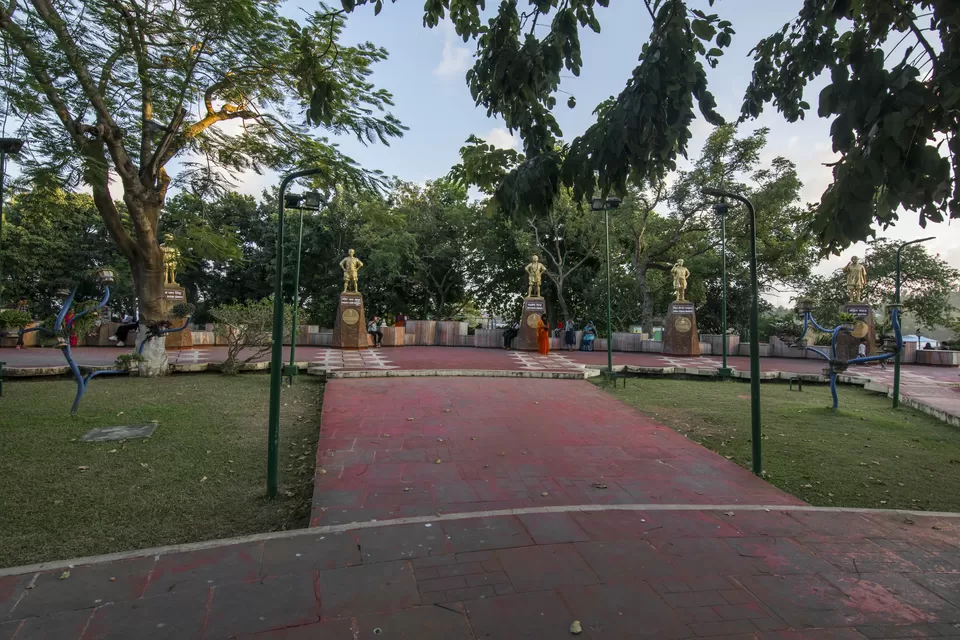 Day 2 : Failed attempt to visit Ross Island and North Bay Island
Having planned to visit those two islands on the second day, I went to Aberdeen Jetty at Rajiv Gandhi Water Sports Complex in the morning with the e - ticket that was booked online beforehand. You can also take ticket directly from the counter near the jetty. And then, to my utter surprise, came to know that boat was not ferrying due to high sea waves. What a pity!.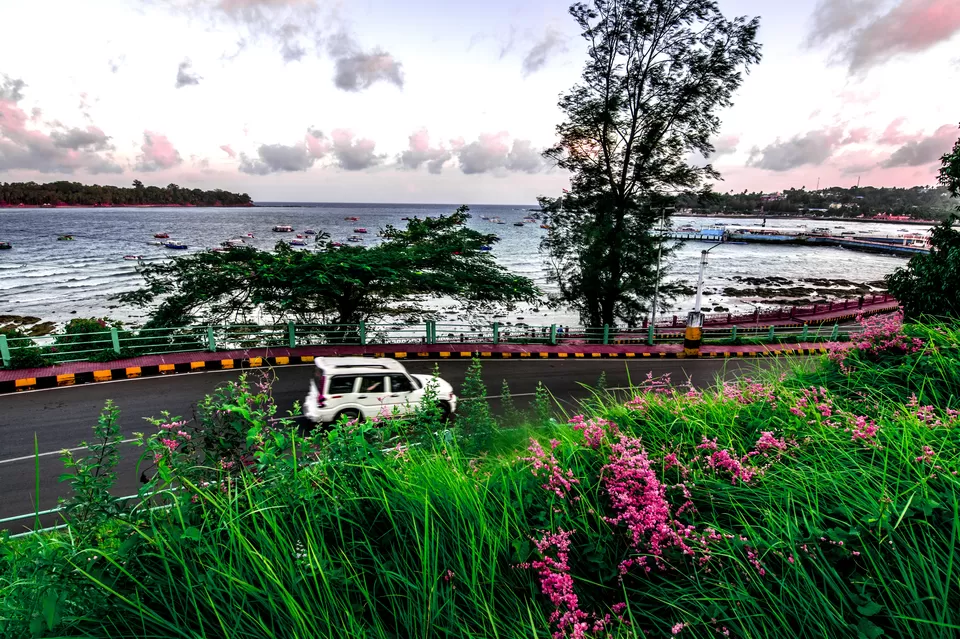 The Sports Complex itself is a very scenic place. Numerous small boats of various colour floating in the waves. The benches are there near the jetty to sit and relax and enjoy the beauty of the sea and the distant view of Ross Island. After spending some time there, I planned to visit the following worth seeing places by using the local buses of Port Blair. The buses are frequent and less crowded too.
By the way, on that day I Changed my hotel from Middle point to Aberdeen Bazar.
I dropped first at Chatham Saw Mill, Asia's oldest and largest Saw Mill situated in Chatham island of Port Blair. This island is connected by a bridge over a stretch of seawater, with Port Blair. It comprises of Forest Museum, Two Bomb Pits and a Japanese Banker.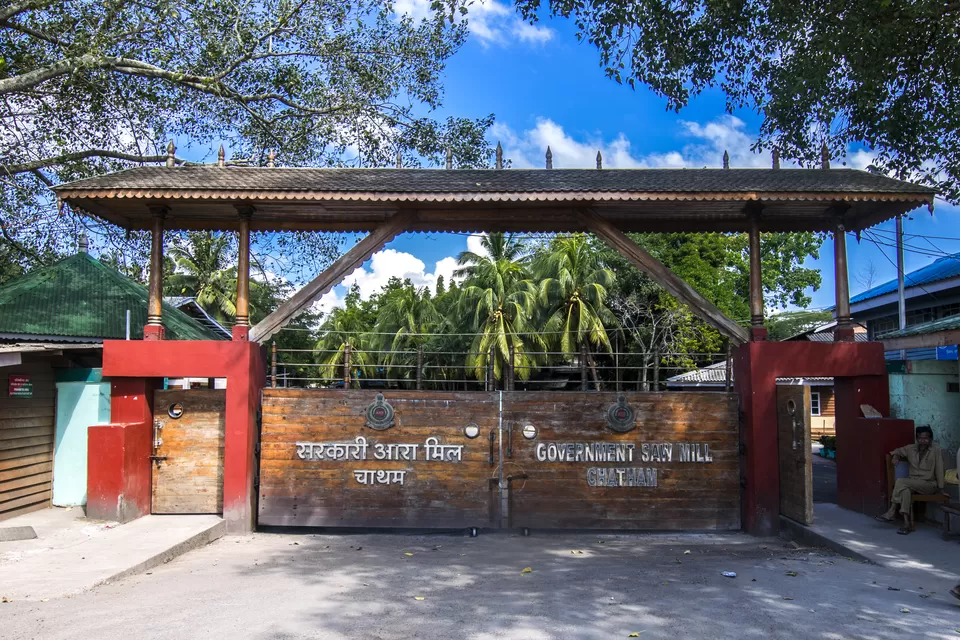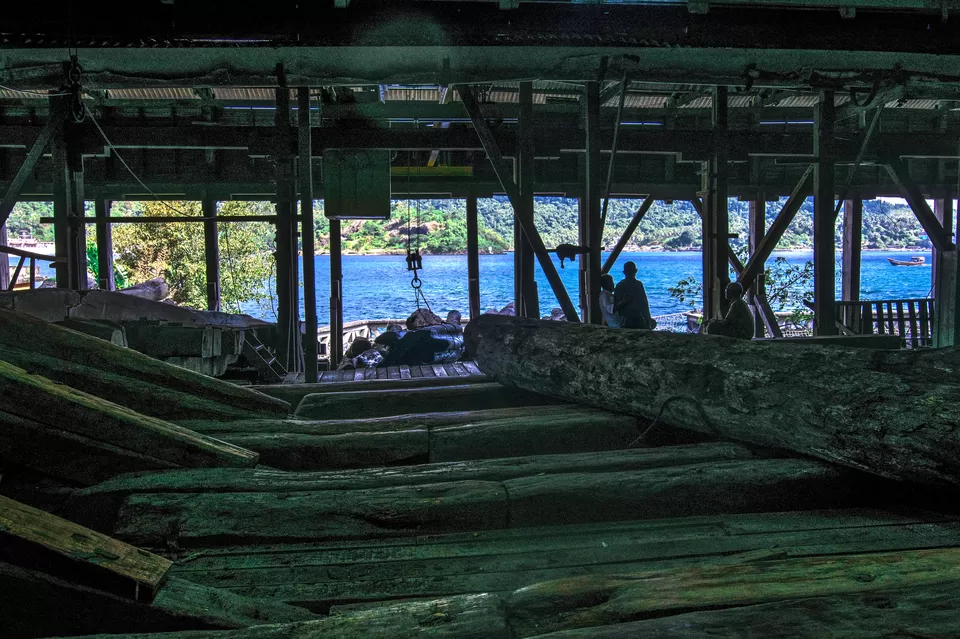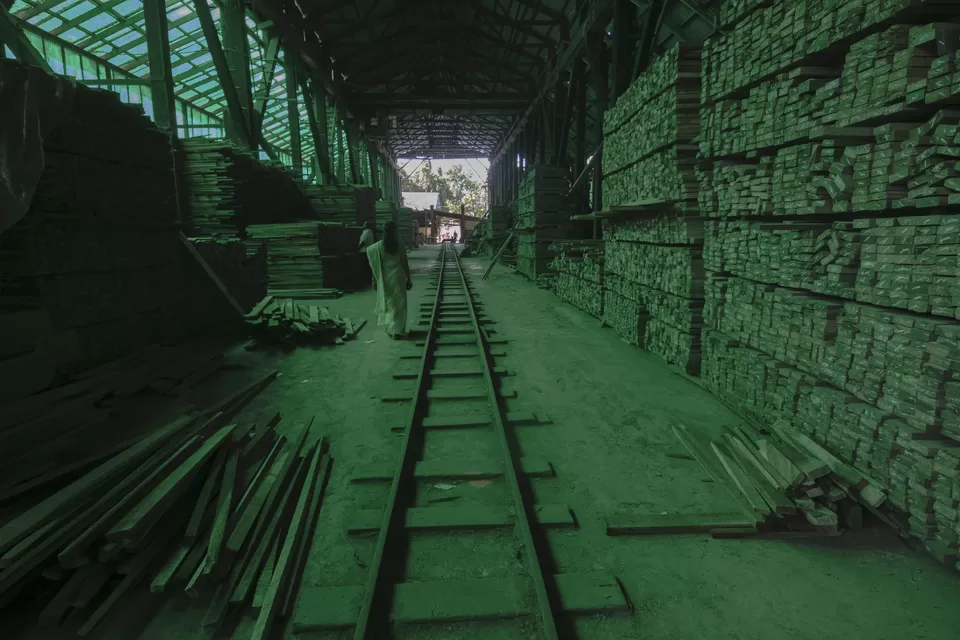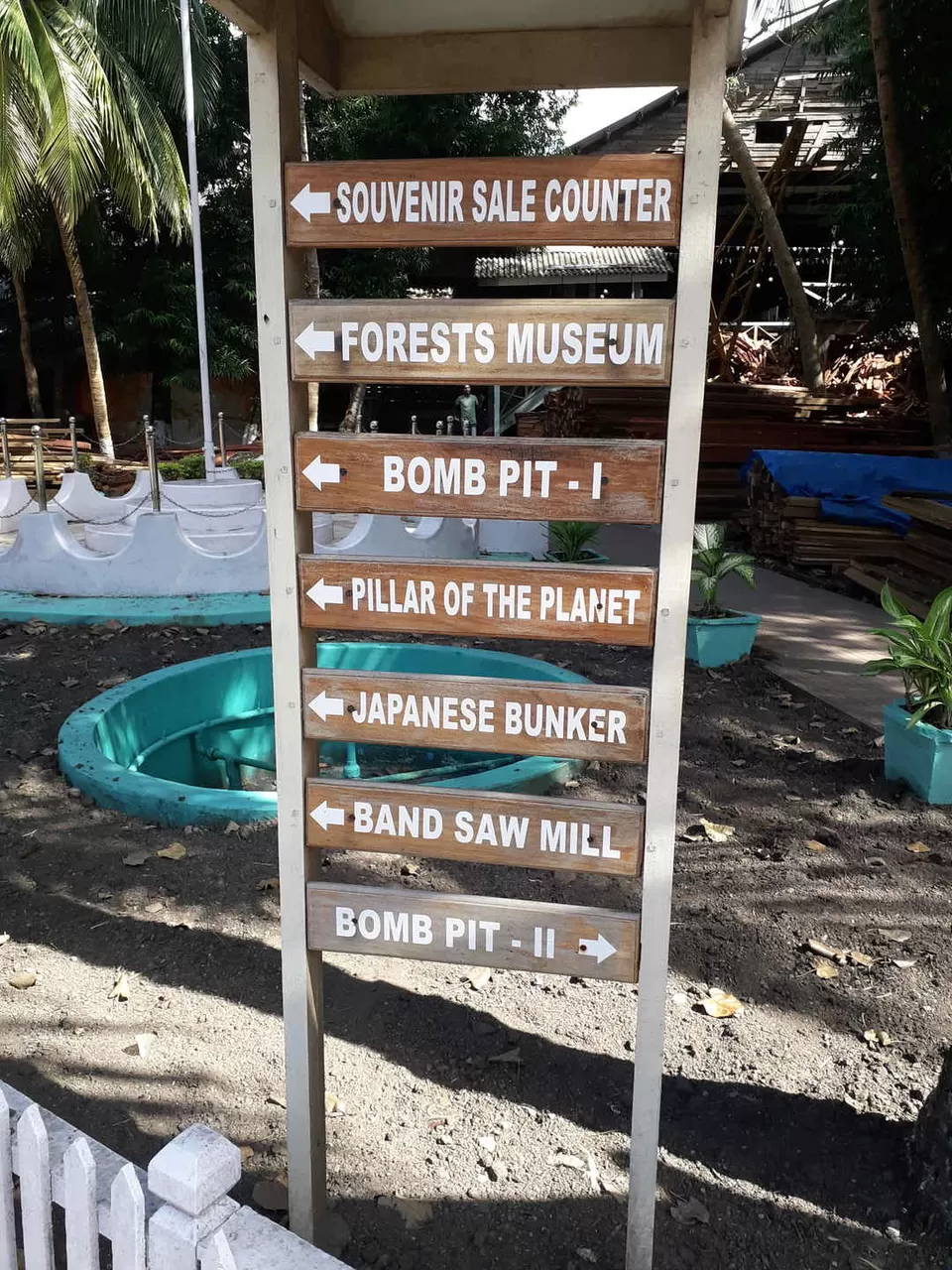 Forest Museum :
It's situated inside the Chatham saw mill and includes artifacts made up of timber.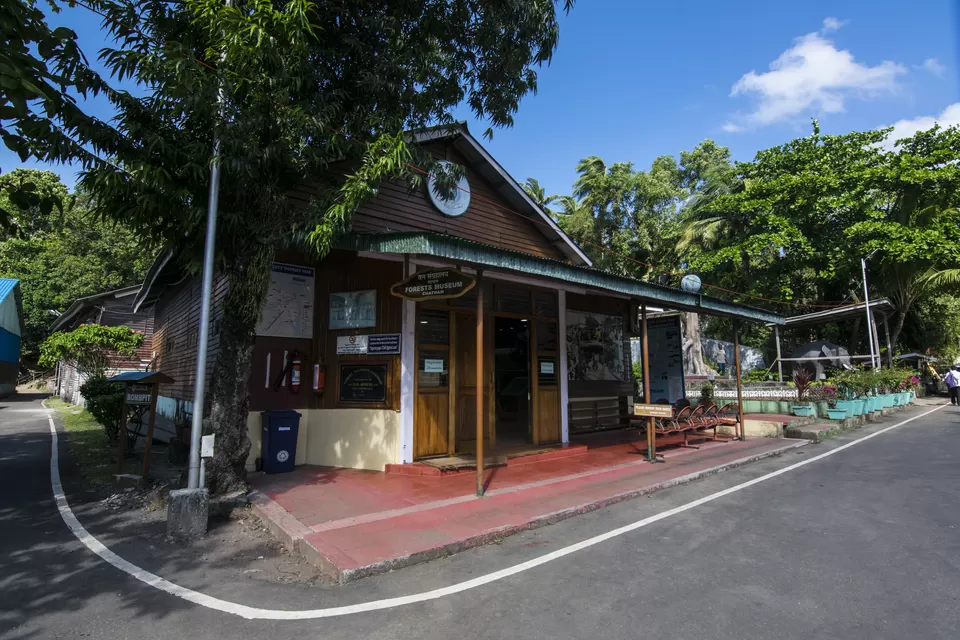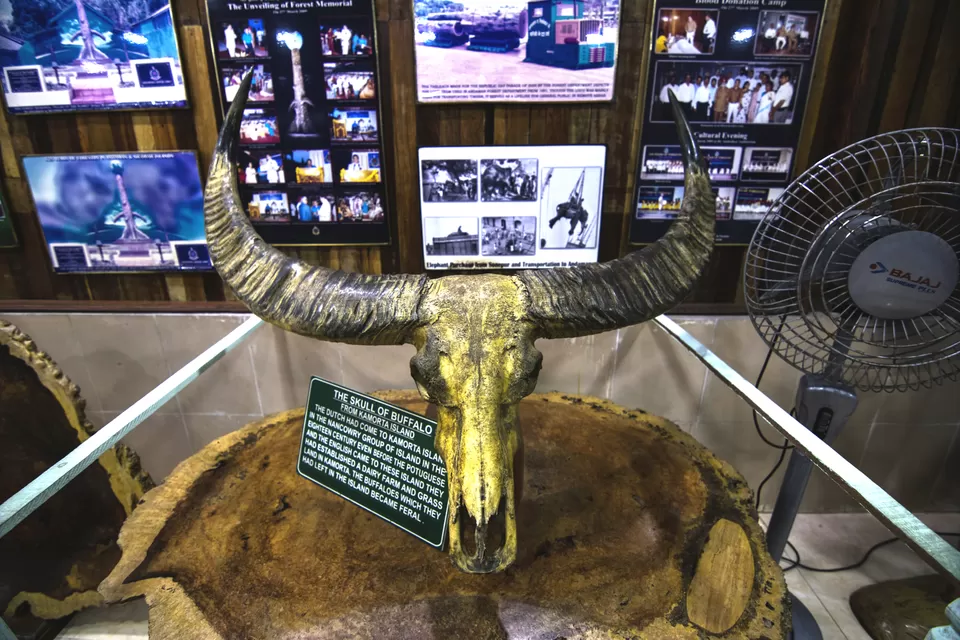 Bomb Pit I & II :
These pits created by bomb dropped during World War 2.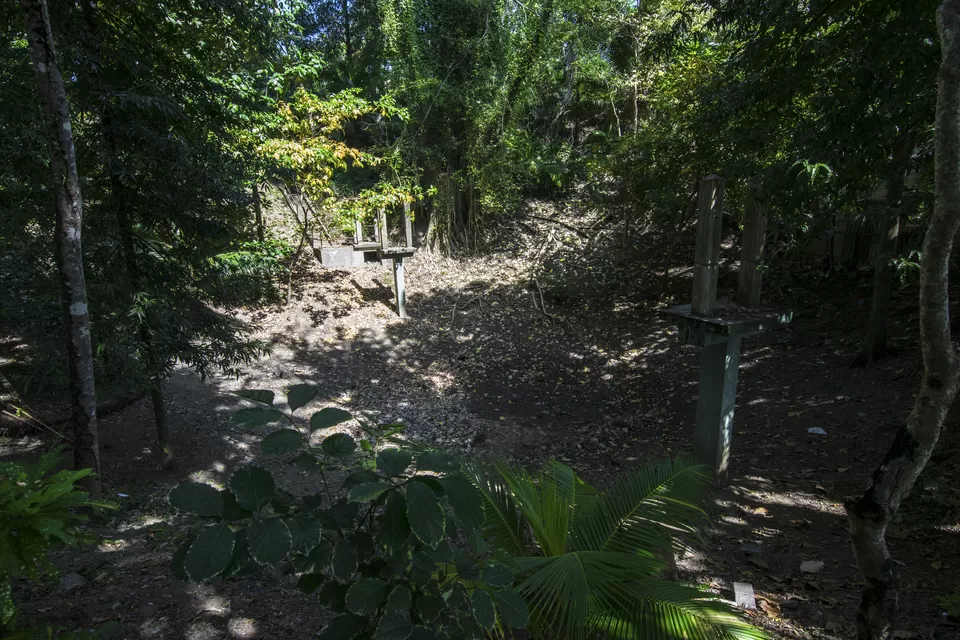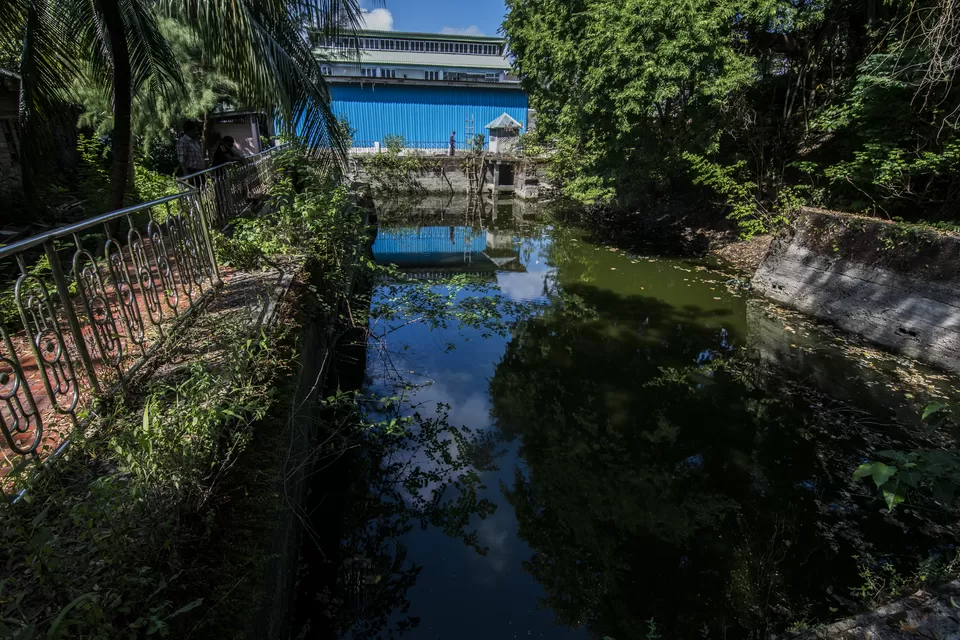 Japanese Banker :
It's basically a cave.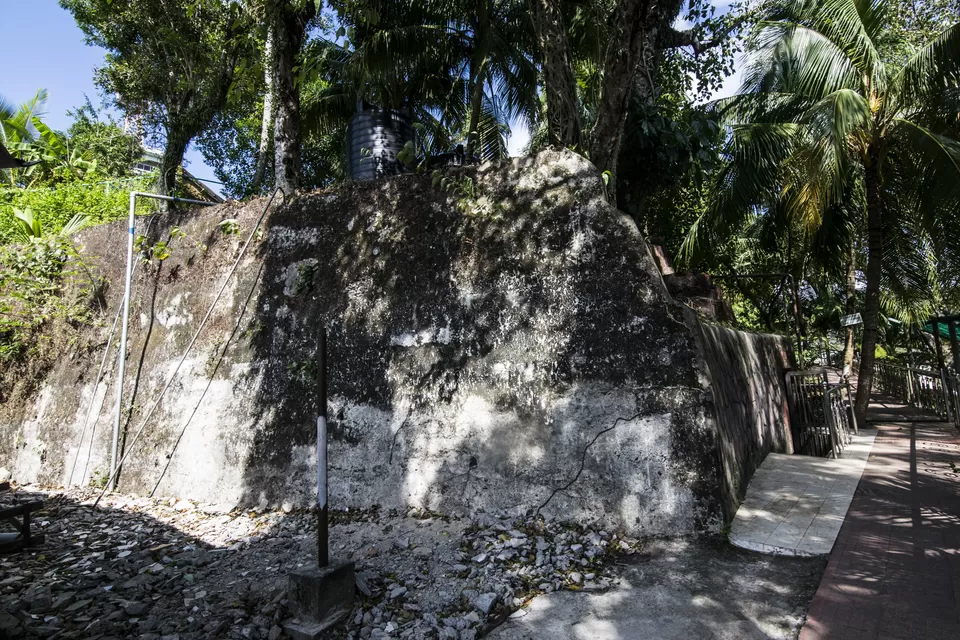 Then, I headed to Samudrika Marine Museum. It has a wide range of plants, animals, tribal communities and marine life. This museum also includes a small aquarium that houses various collection of fish, corals and shells. In the outside, you will also come across a skeleton of a blue whale that was washed ashore on the Nicobar.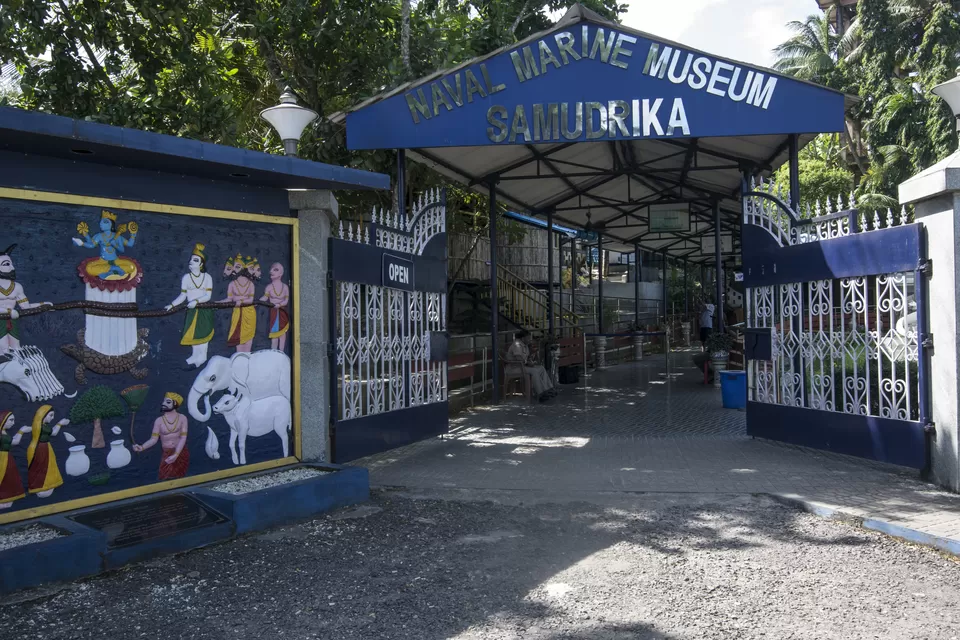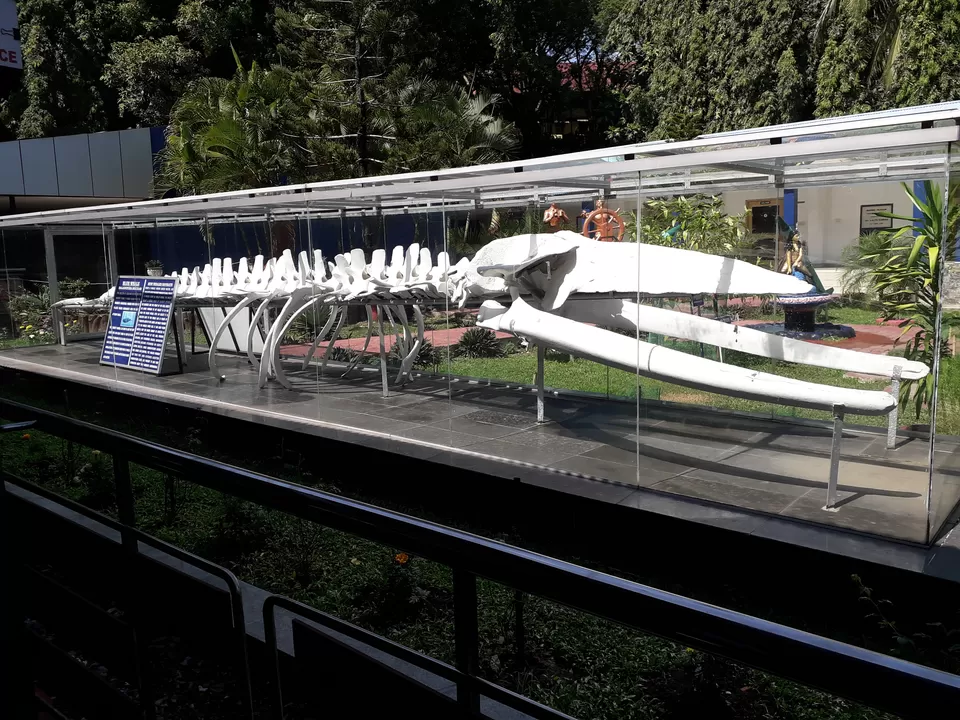 In the afternoon, I dropped in the Corbyn's Cove beach. It took almost 20 minutes from Aberdeen Bazar. The road to the beach along the coastline is very scenic and the ride was enjoyable.
The Corbyn's cove beach welcomes me with deep blue water, rippling waves, white sand beach and swaying palms along the coastline. I dip my feet in the sea for the first time in Port Blair. I was elated. The beach was not much crowded. A group of people were bathing, enjoying the jet ski ride. Some were taking photographs with their friends while others were just admiring the beauty by sitting on the shore.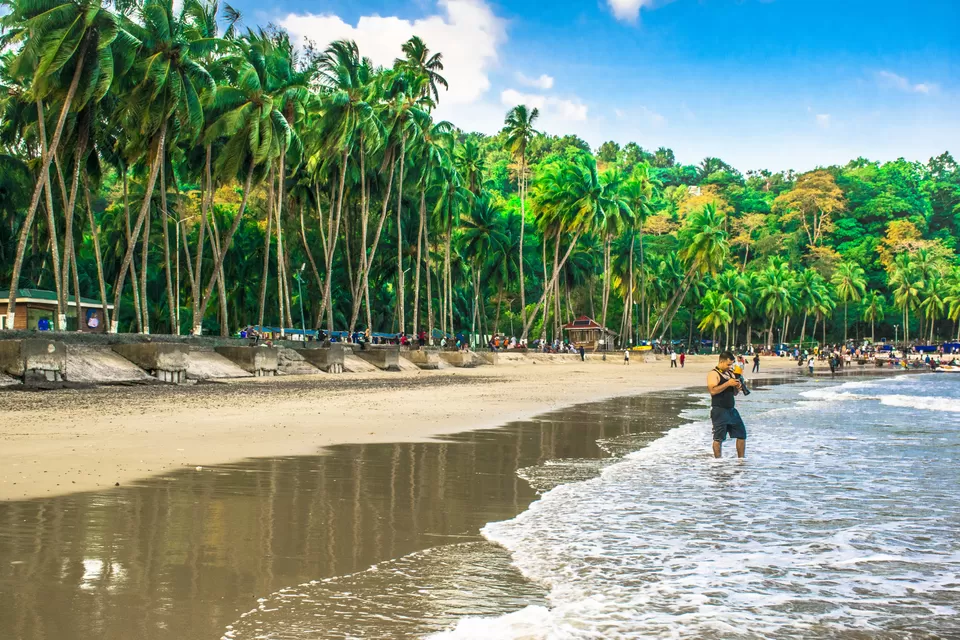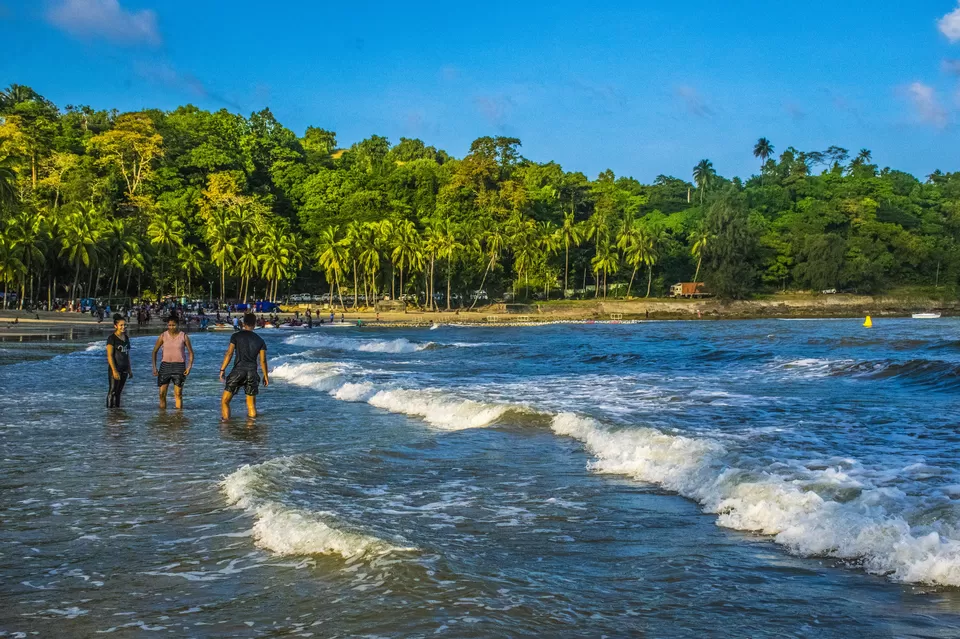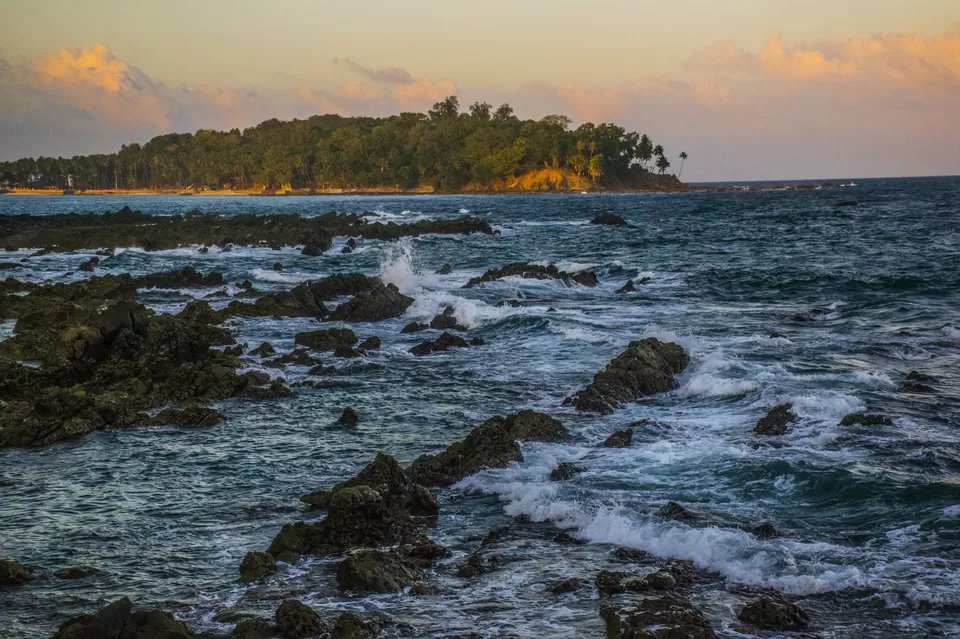 While coming back from the beach, loud music and sparkling lights near Rajib Gandhi Water Sports Complex drew my attention. As I went there, I saw a small fair going on around a by-lane. Small shops were selling a different kind of artifacts, food items (Payesm, Sweets, Phoochka, Chat etc.) on either side of the lane. Cultural programme staged by mainly children was held at the beginning and end of this fair. I was feeling hungry and seeing all these lip-smacking items, my test buds started tickling and I tested a few items among those ata payasam(Indian dessert ) was something new for me and it's delicious.
Day 3 : Visit Swaraj Deep (Havelock) Island, enjoy scuba diving and witness a spectacular sunset at Radhanagar Beach
I booked Green Ocean ferries to visit Havelock from PB. There are two ferries, Green Ocean I and II plies between the islands. Initially, I booked with Green Ocean I with sailing time at 6.30 am but due to some technical fault in the ferry, the Green Ocean I was replaced by Green Ocean II with sailing time 6 am from Haddo Jetty Gate No. 3. Reporting time was one hour before the sailing time. We were allowed to enter the jetty at 5.15 am after production of ticket and ID proof and withing a couple of minutes, the boarding started. I availed Economy class for this leg of journey. Before getting inside, you will have to check- in your big luggage. The ferry started moving sharp on 6 am. through the deep blue sea. It takes almost two hours. The journey was enjoyable although you may develop motion sickness or sea-sickness, so don't forget to take the anti -vomiting medicines.
Havelock jetty :
The jetty was picturesque. Numerous small white boats were floating on the deep blue sea. After collecting my luggage, I came out of the jetty and headed towards my pre-booked resort.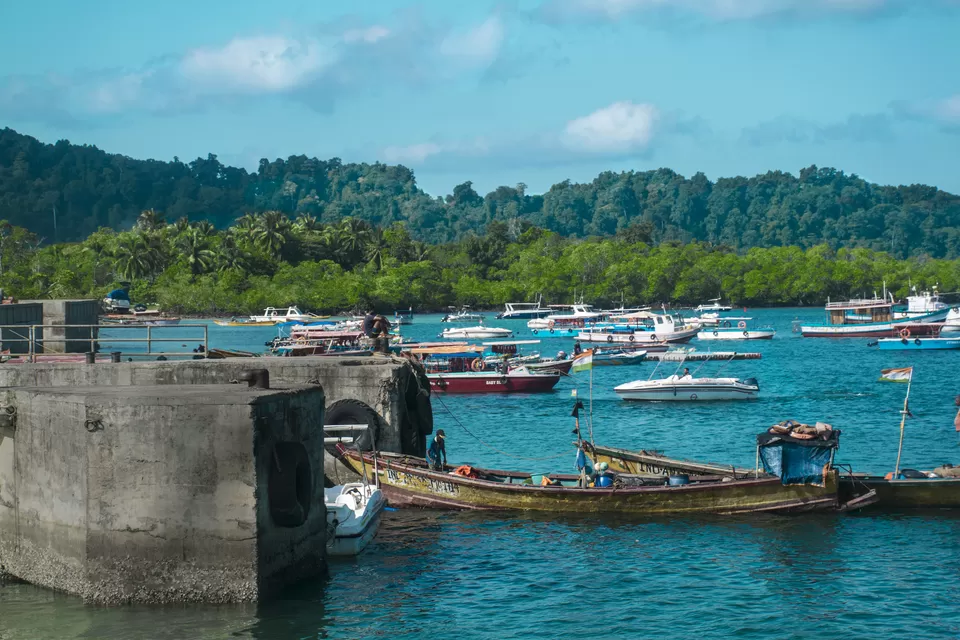 My Resort was near Beach No. 5. By the time I reached there, it was almost 9 in the morning. It's a beautiful place. Small cottages and bamboo huts lined up in a row on the either side of a small narrow path. Each cottage has an attached bathroom and small balcony in the front.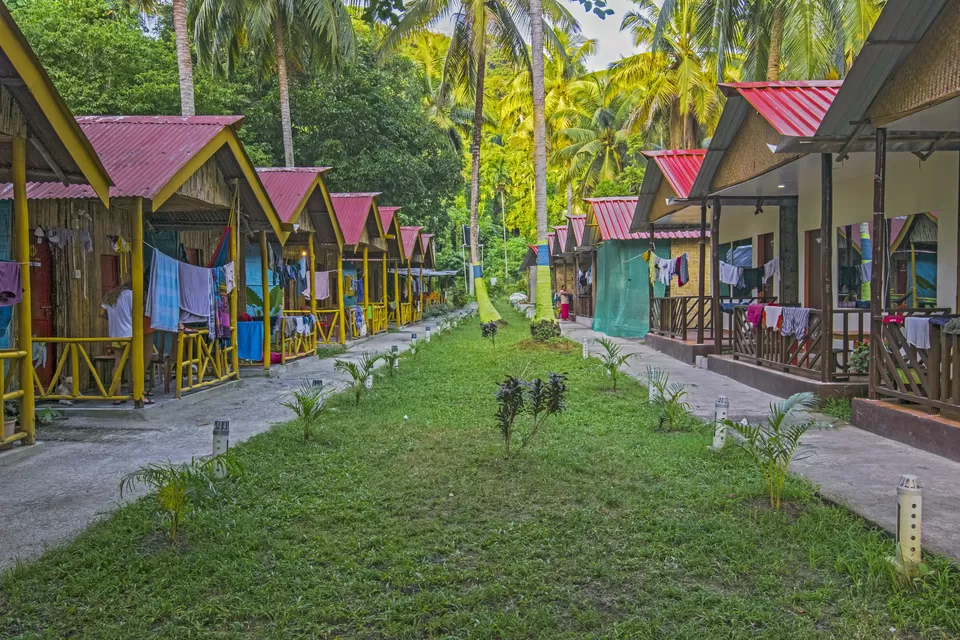 The first and foremost thing I wanted to do at Havelock was scuba diving. My resort was arranged the same for me.
Scuba Diving :
I's picked up from the resort and taken to their office. After completion of formalities, I was provided with a scuba uniform and taken to the dive site. An elaborate training session was done about how to take a breath through the mouth with an oxygen mask as eye musk close the nose, how to communicate under water etc. A weight harness was provided around the waist. Now I all set to go for diving. The trainer would carry the oxygen cylinder for you before put up it on your back.
The first sight of the dive site with its transparent turquoise blue water mesmerized me. I couldn't help but swim. I jumped into the water, drowned and landed at the bottom swallowing salty water. The trainer helped me get out of the water. I was quite surprised as I heard swimming and cycling once learned never forget. Then I came to know that it was due to the weighty harness that prevents me from floating. Anyway, after practicing a couple of times in shallow water how to breathe with the mask below the water, I was taken in the deep sea. The oxygen cylinder was put on my back in the water.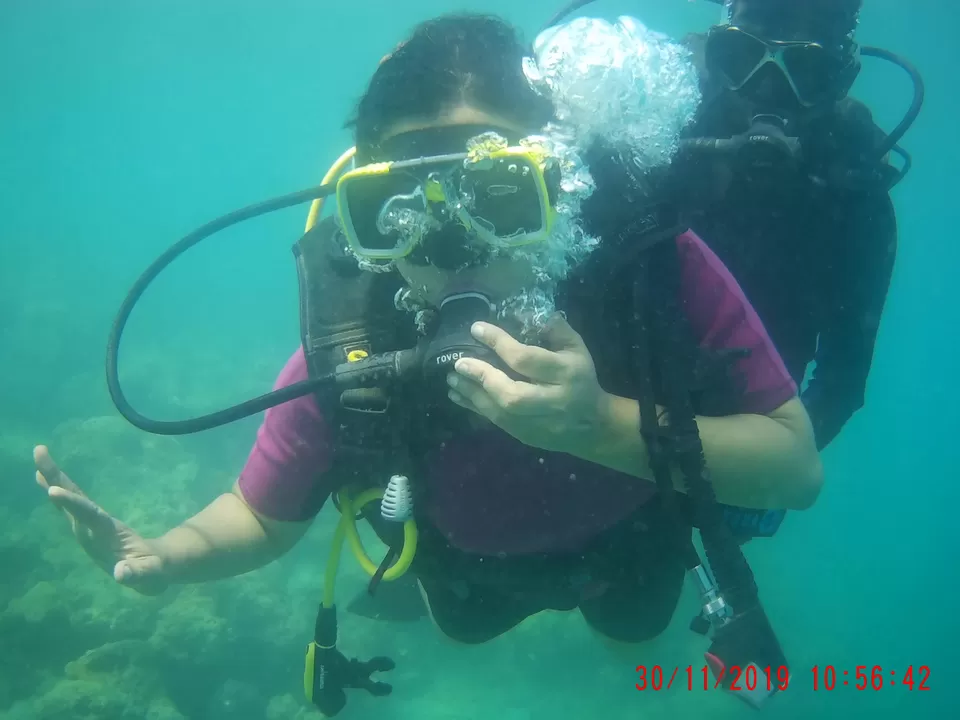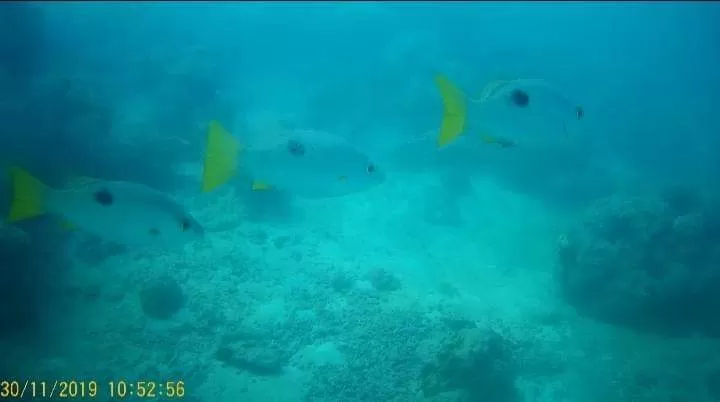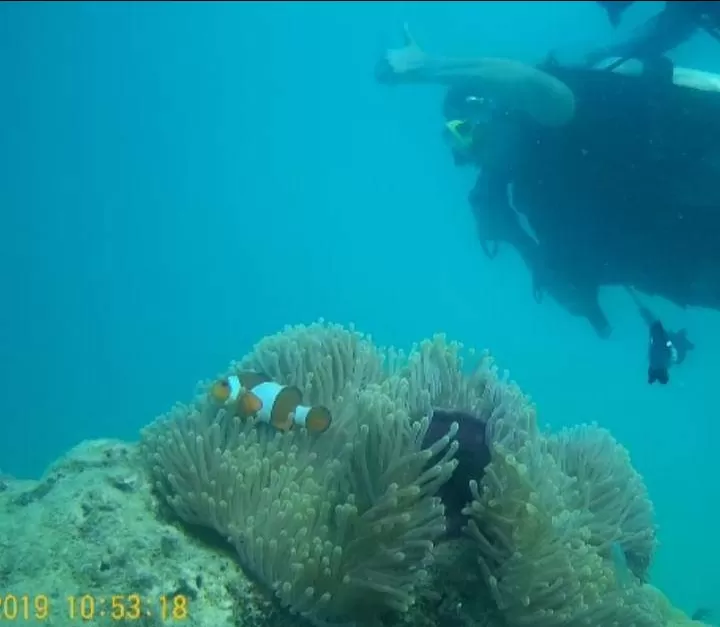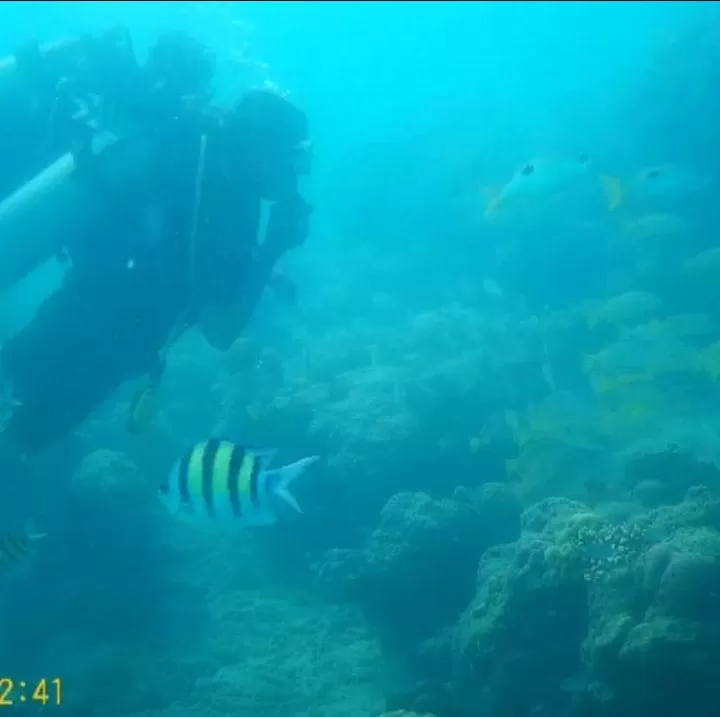 I could able to go down around 30 feet. It was just like a fairyland. Swarm of colourful fish of different kind passing by just in front of my eyes. Suddenly I saw a big pretty fish having almost all the shades of blue. It's ssooo beautiful. Coral reefs, bottom sands, abundant fish that I had ever seen in Discovery channel, was now in front of my own eyes. The feeling was inexplicable. The amount of joy and happiness I felt in 30 minutes dive cannot be expressed in words.
Post lunch I headed towards Asia's cleanest beach - Radhanagar. The entrance of the beach was a little crowded, people were taking bath. A few foreigners were busking in the sun. I started walking along the coastline, soaking feet in the waves. White sandy beach flanked by the deep blue sea and lush green trees looked fabulous.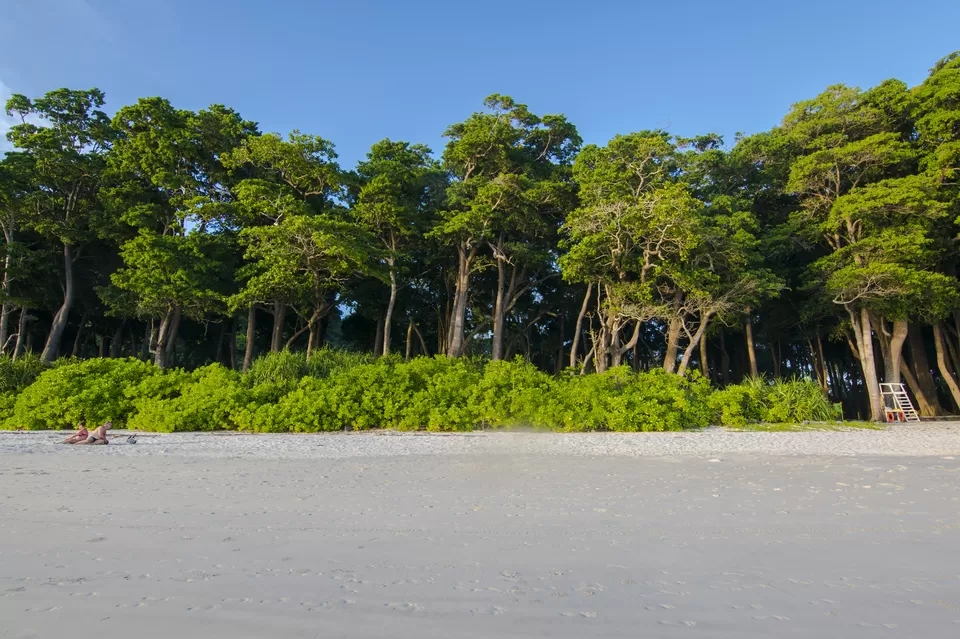 In the dusk, sitting on the beach,I experienced the most amazing sunset ever. The sun slowly sinks into the ocean spreading a golden yellow colour in the pristine blue sky that gradually changed to deep purple.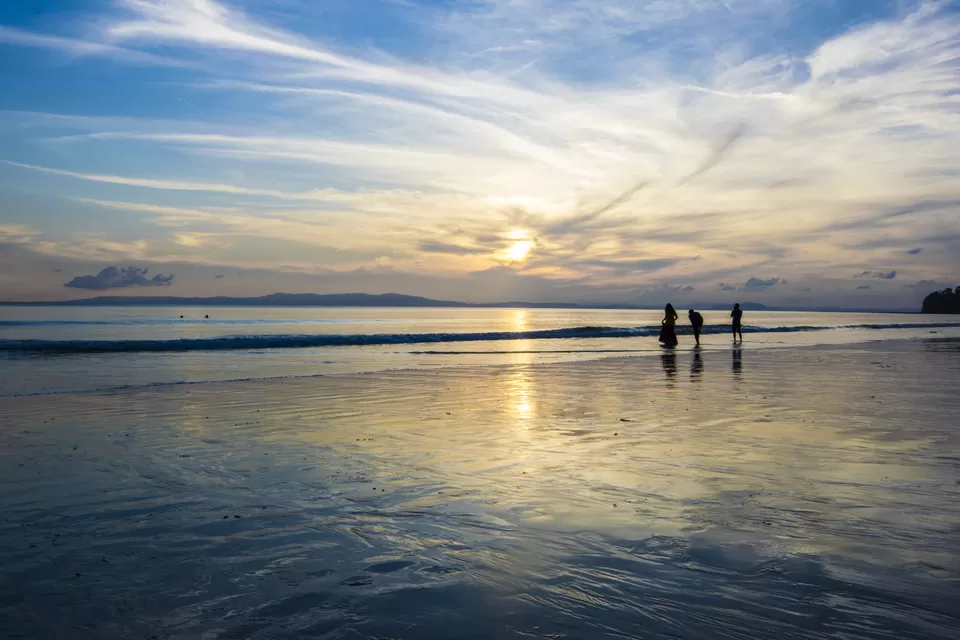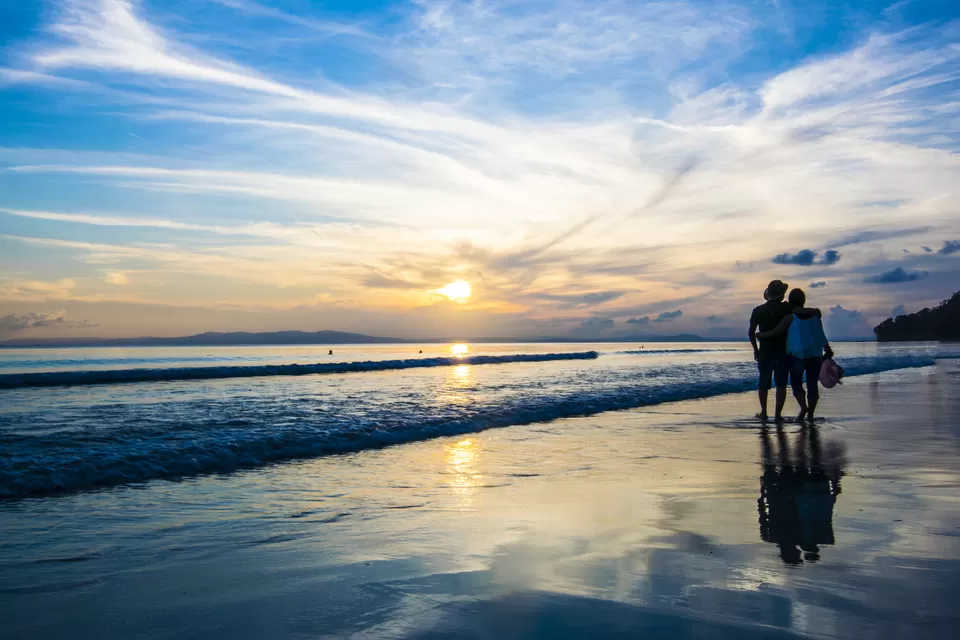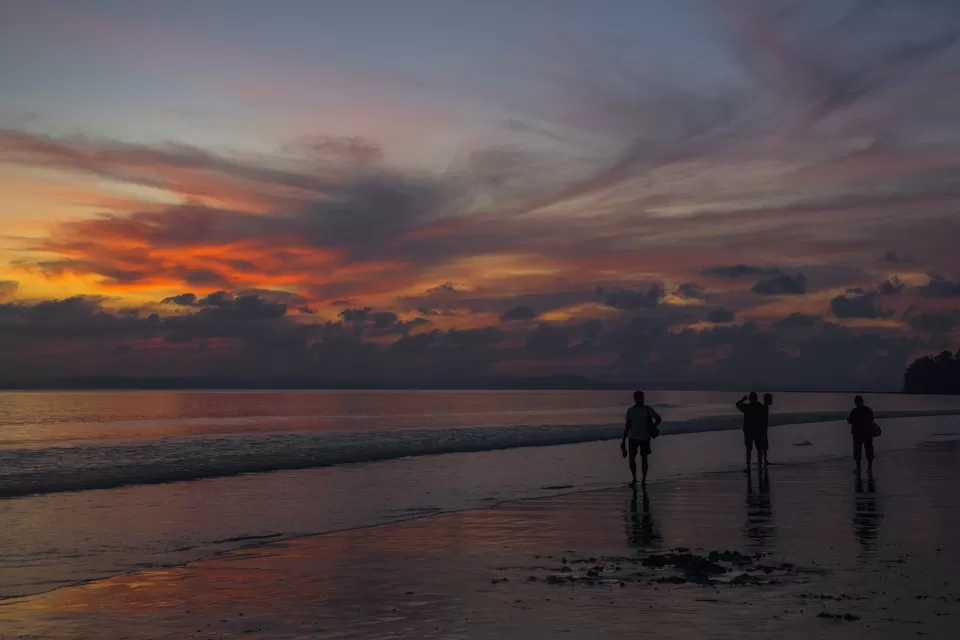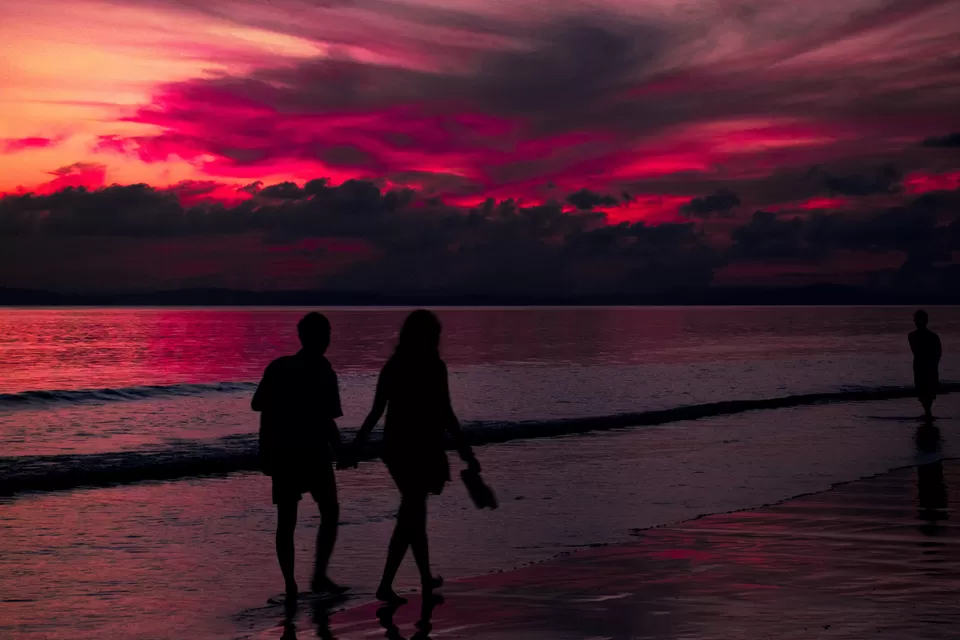 Coming back to the resort, I booked a bi-cycle for the next morning.
Day 4 : Witness a spectacular sunrise at Kalapathar Beach, visit Elephanta Beach and spend leisurely afternoon in Beach No. 5
The next morning, as the sky lightened, I started and it took only 20 minutes to reach the Kalpathar Beach on Bi-cycle. After witnessing a gorgeous sunrise in this lonely, secluded beach and spending hours at this beach, I made my return journey.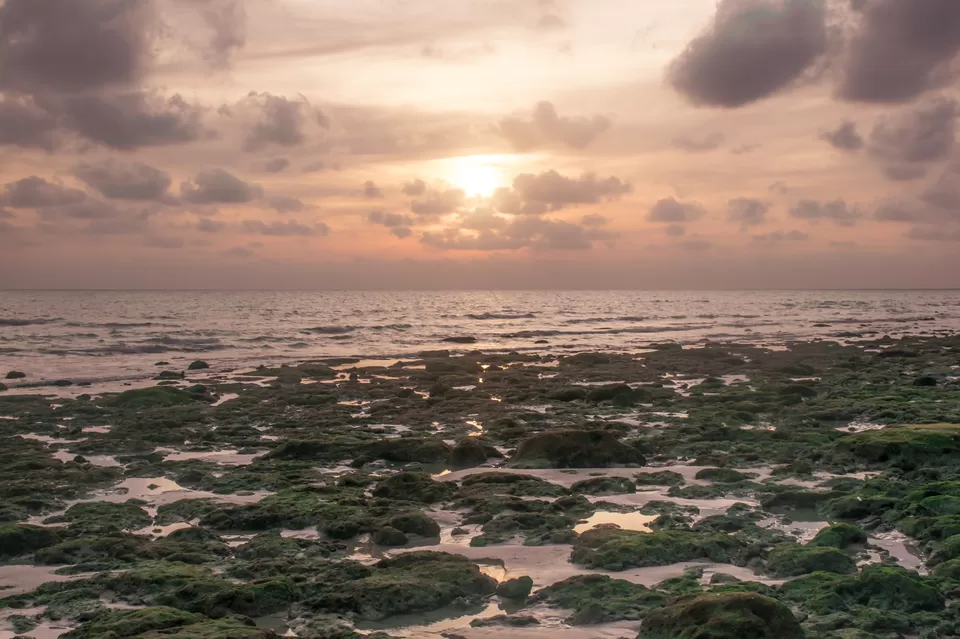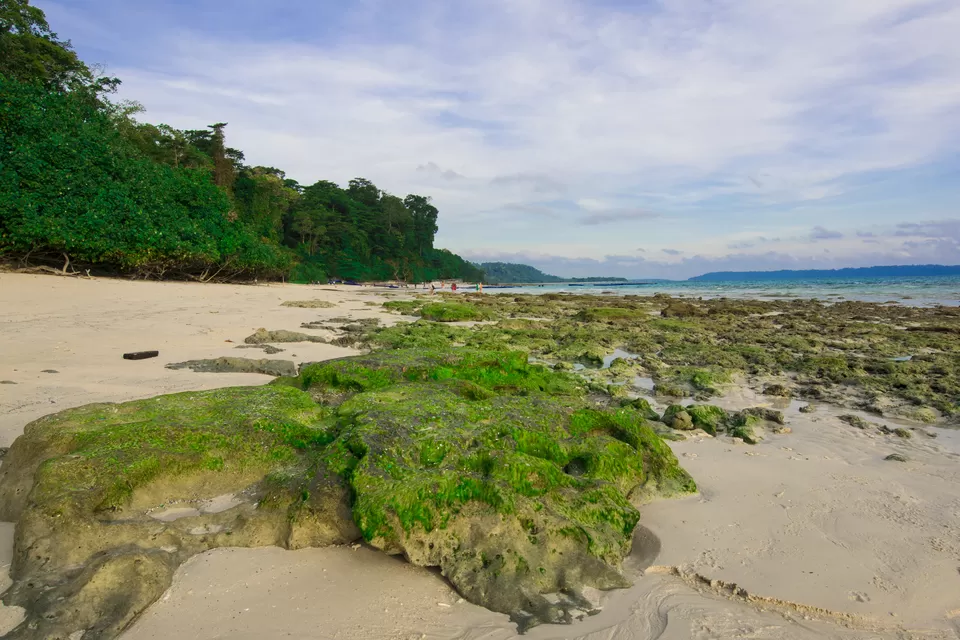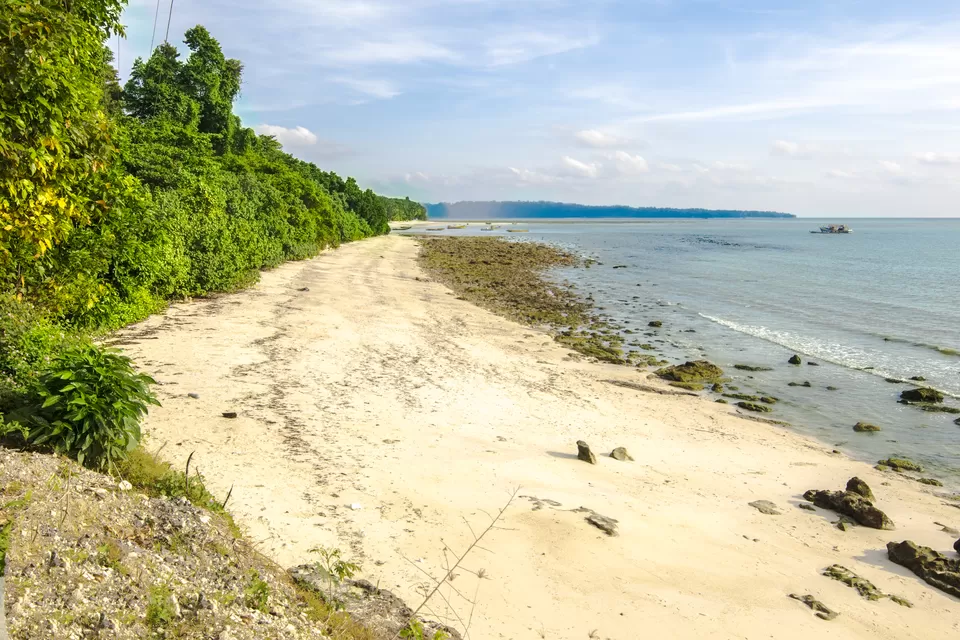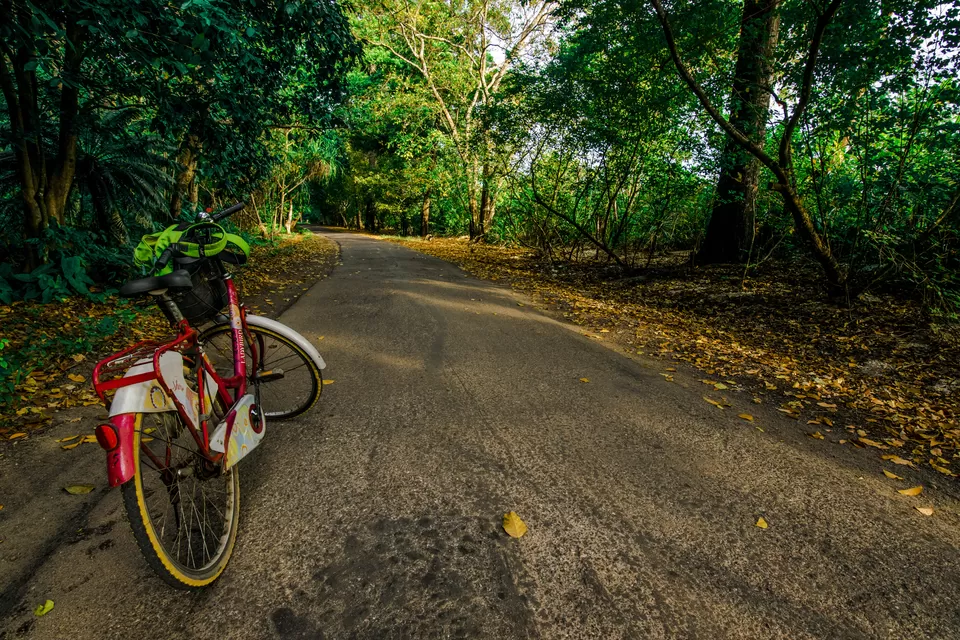 After breakfast, I headed towards Elephanta beach. There are two ways you get to the beach, either by trekking through a dense forest or boat riding. I opted for boat riding. The boats depart from a place near the Havelock jetty. An hour journey in speed boat takes you to the Elephanta beach. You will be given three long hours to spend on this wonderful beach. You will have to remember your boat name so that you could not miss it. My boat name was 'TWO BOTHERS'.
The beach is full of water sports activities. There are small vendors selling mixed fruit, chats, giant coconuts full of water and solid pulps. After consuming a big coconut, I sat on a log watching the beach activities.
While getting back to the jetty, the sea was very rough and we all got drenched in the splashes.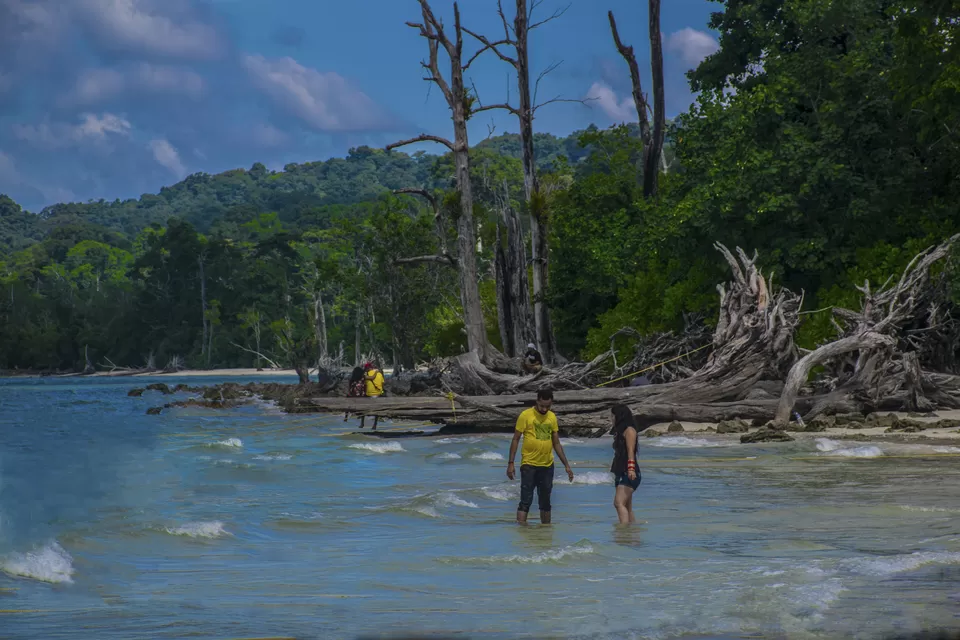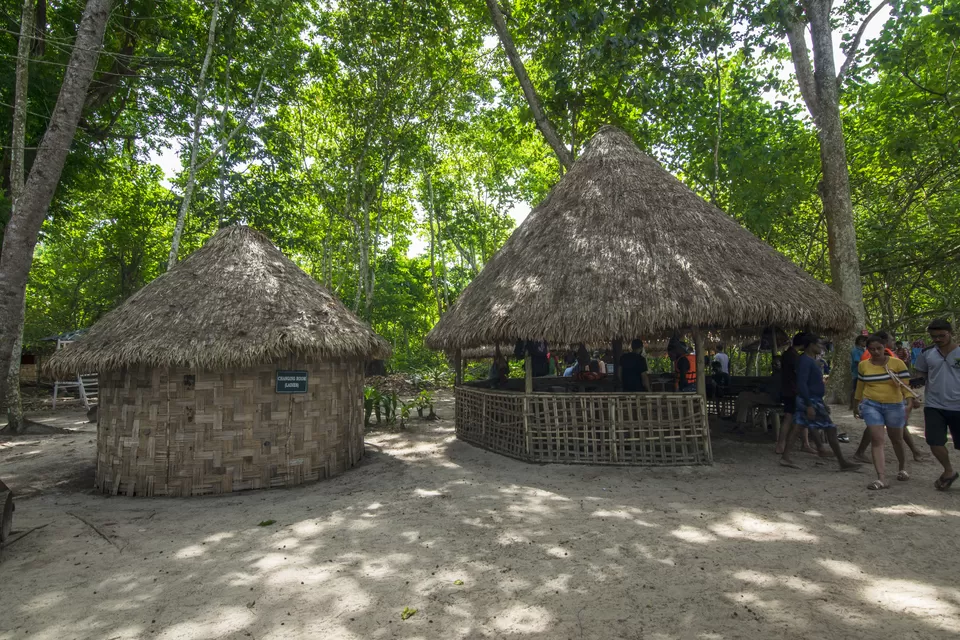 I got back to the resort by 3 pm and went straight to have lunch at Sangrilla at Beach No. 5. Tuna fish, lobstar are very common in Havelock island although foods are a bit costly.
Beach No. 5 or Vijaynagar Beach :
Post lunch, I took my bi-cycle and roam around freely along the narrow path of the island and came across a super market where you can get all the things in reasonable price. You can explore the incredibly scenic Beach No. 5 - the Vijaynagar beach and Govindnagar Beach too.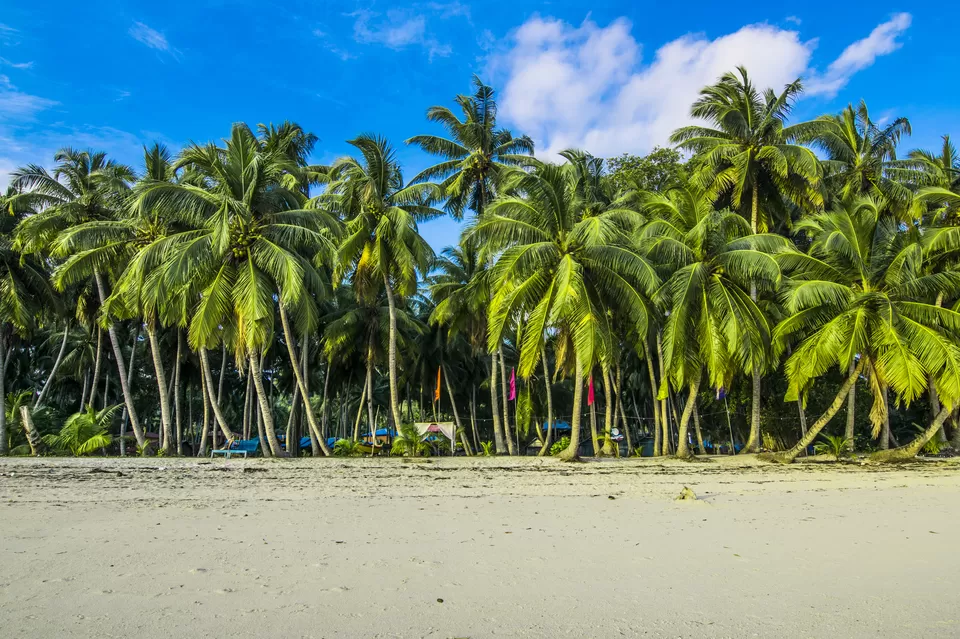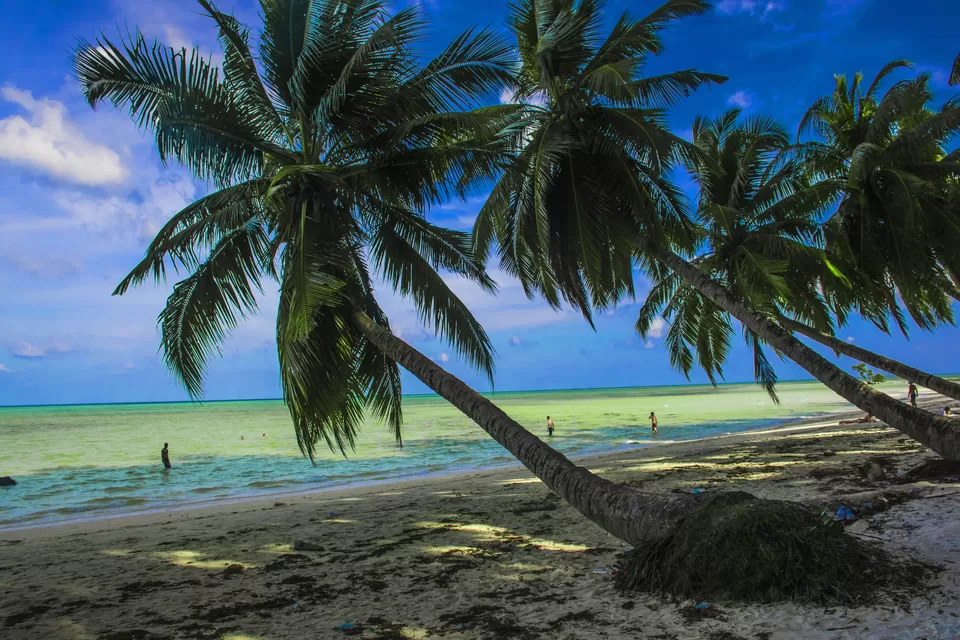 Day 5 : Visit to Shaheed Dweep (Neil island ) and Neil beaches
In the morning, I headed towards Swaraj Dweep jetty to catch the Green Ocean II again for Neil Island. The sailing time was at 8.30 am. Neil island is 18 km away by sea route I chose the Royal class for this leg. It took only an hour to reach Neil Island.
Shaheed Dweep welcomed me with deep blue see, white sand beaches and lush green mangrove forests. The scenery was spectacular. The cabs and autos are easily available for getting around in the island. You can rent a bicycle or scooter also.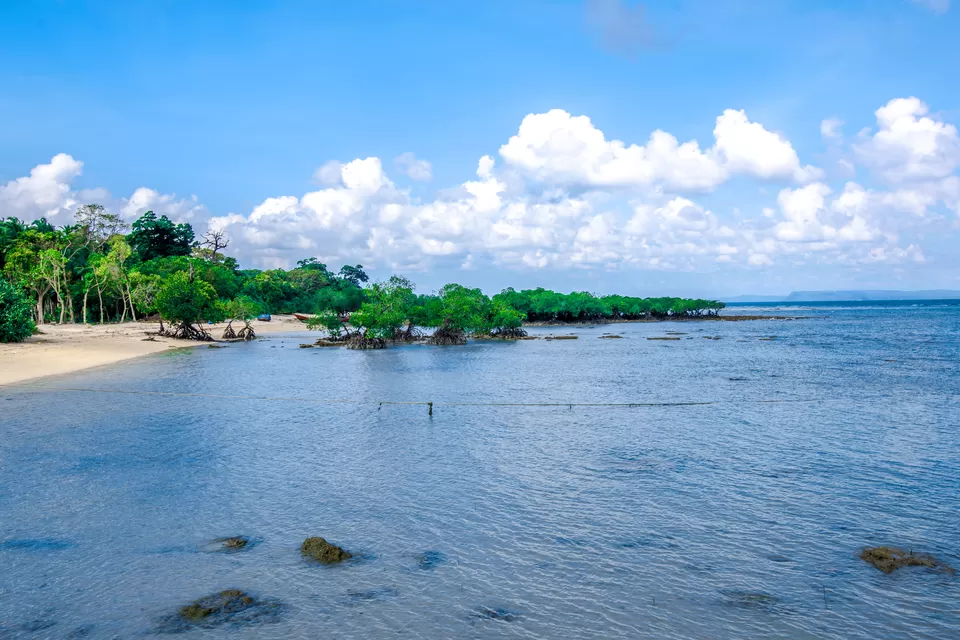 My resort was near Ramnagar Beach. After dropping my luggage in the resort, I went straight to the beach. It's a secluded but beautiful beach. The sun was shinning brightly. So I didn't explore much. After making some clicks, I got back to the resort.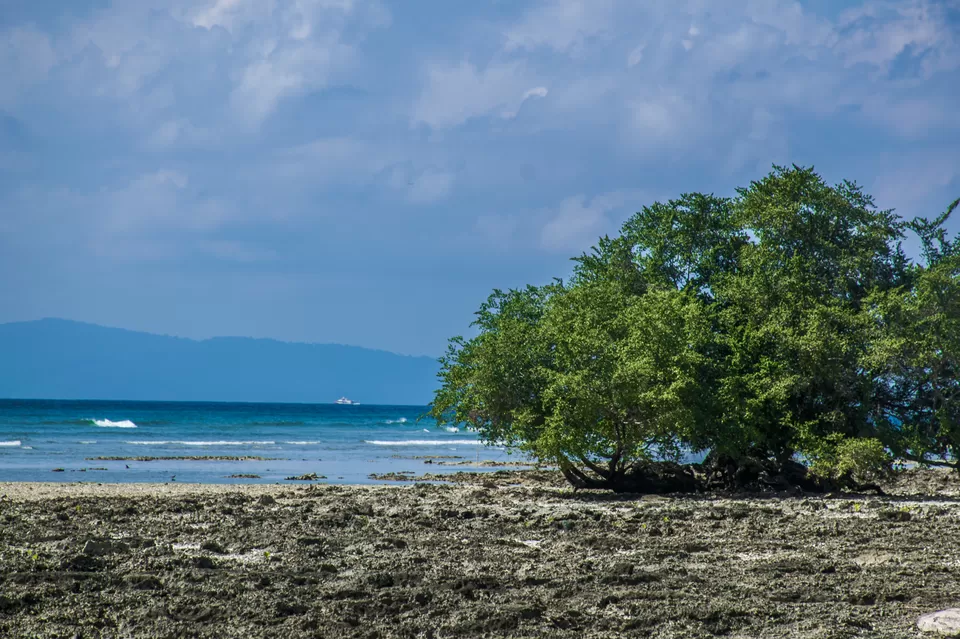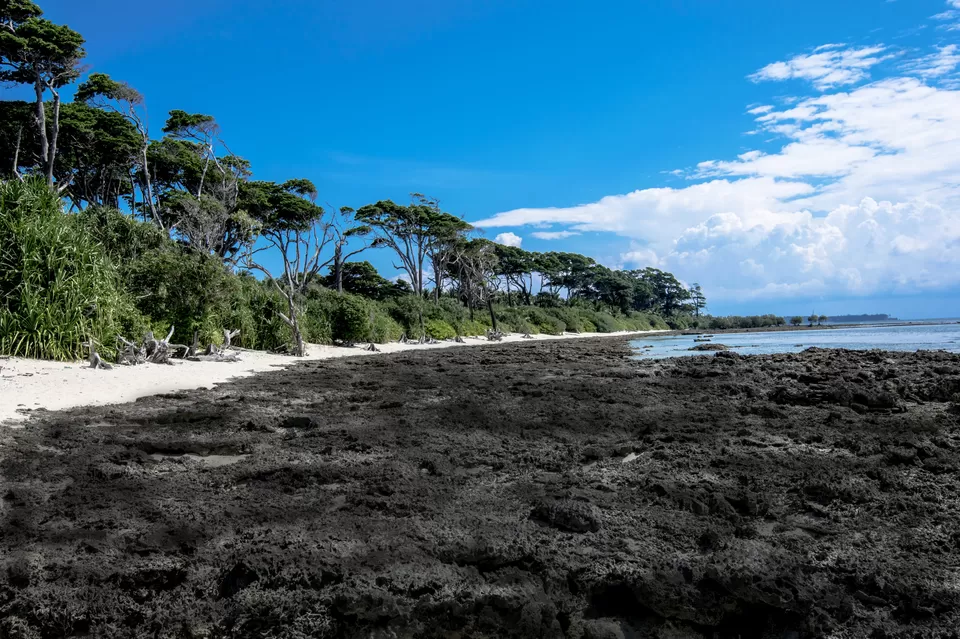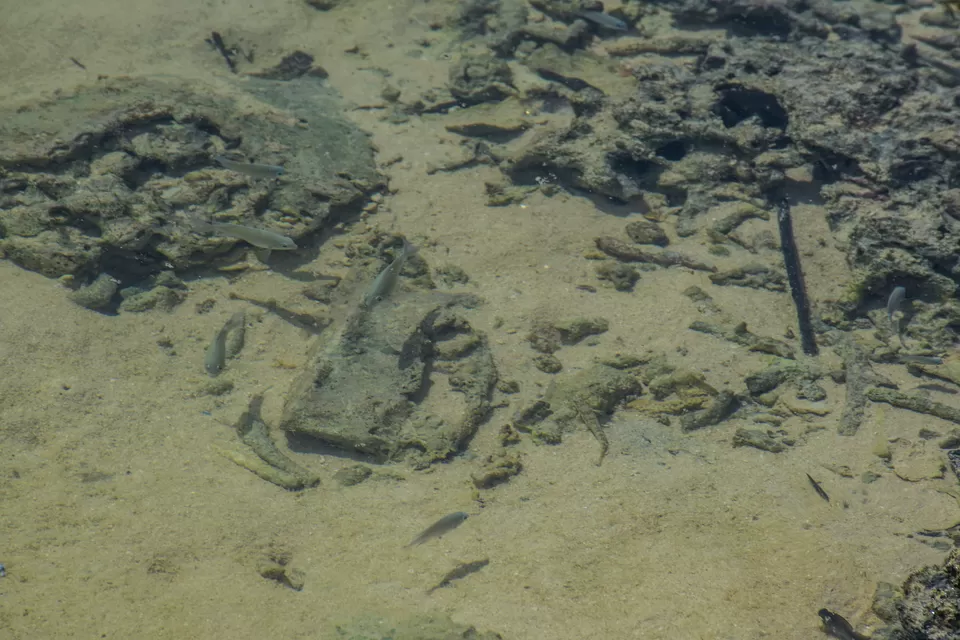 Post lunch, I went for beach hopping in Neil Island.
The beautiful beach situated just beside the jetty. I decided to go for Glass bottom boat ride. I was sharing the boat with a family of four members. The sea was rough. The huge waves were coming. Soon the boat started swinging and one lady out of four started feeling nausea. It was a 30 minutes trip but due to her health issues, on their request, we were back after 15 minutes. I personally think if you have a motion or seasickness, you should avoid boating or should take anti- vomiting pills beforehand.
However, this 15 minutes ride left me awestruck. Undoubtedly, it's a great way to admire the under water marine life without getting wet. The swarm of colourful fish of various kind small, large, balloon shaped and many more and huge bottom corals took my breath away. The water was so clear that I could see the bottom sands also.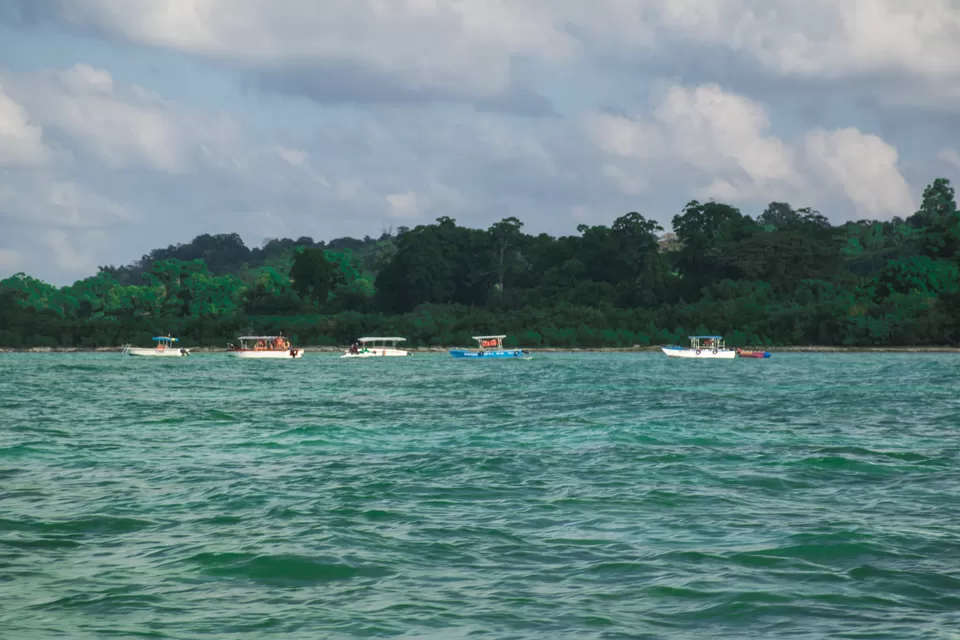 From parking area, a flight of steps followed by a long walk way and then a few down steps take you to the beach. Then you have to take a long walk again through corals and rocks to get a view of the famous Natural Coral bridge. It's popularly known as Howrah Bridge. The entire area was very crowded. Tourists were busy to click photos with the bridge in different poses and angles.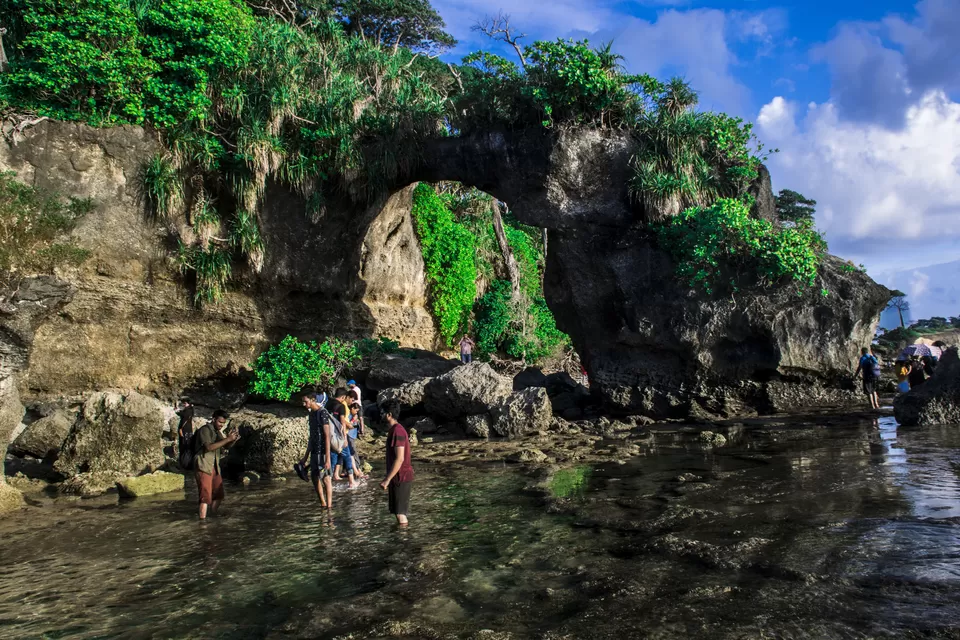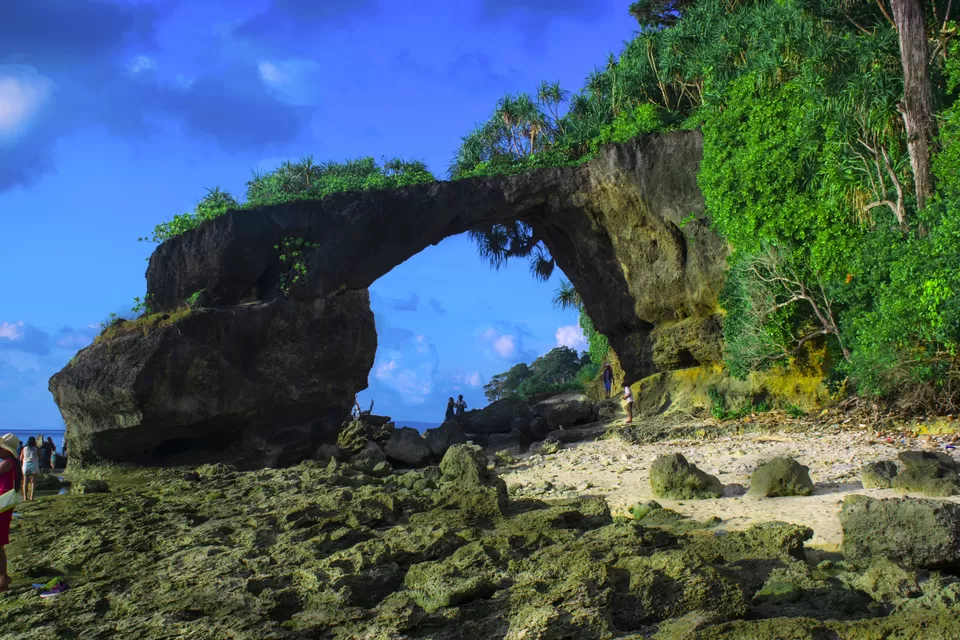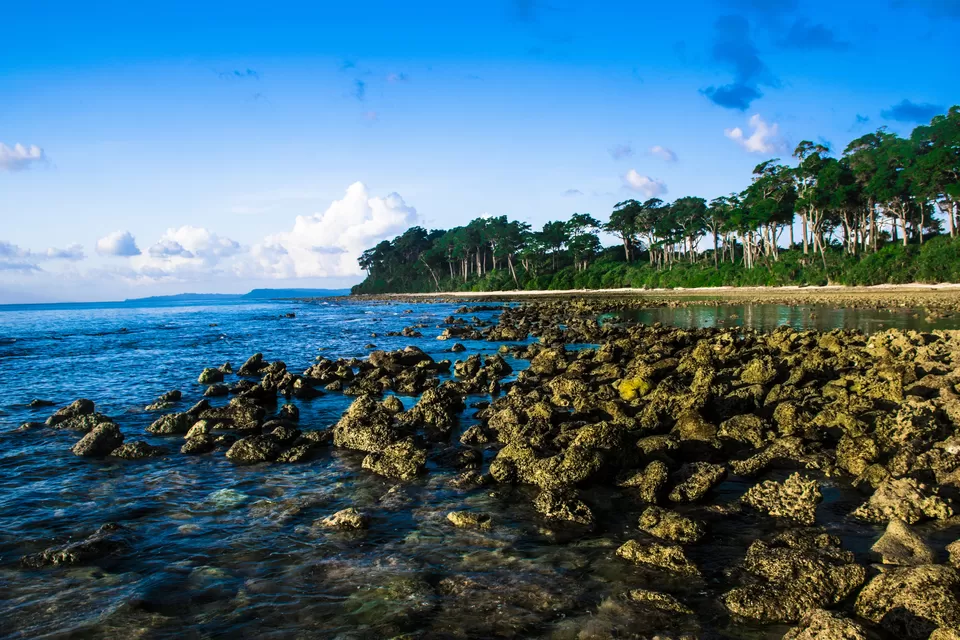 Lakshanpur Beach I :
A beautiful beach that offers spectacular sunset. You have to walk down the entire beach to reach the sunset point, situated at the far left end of the beach.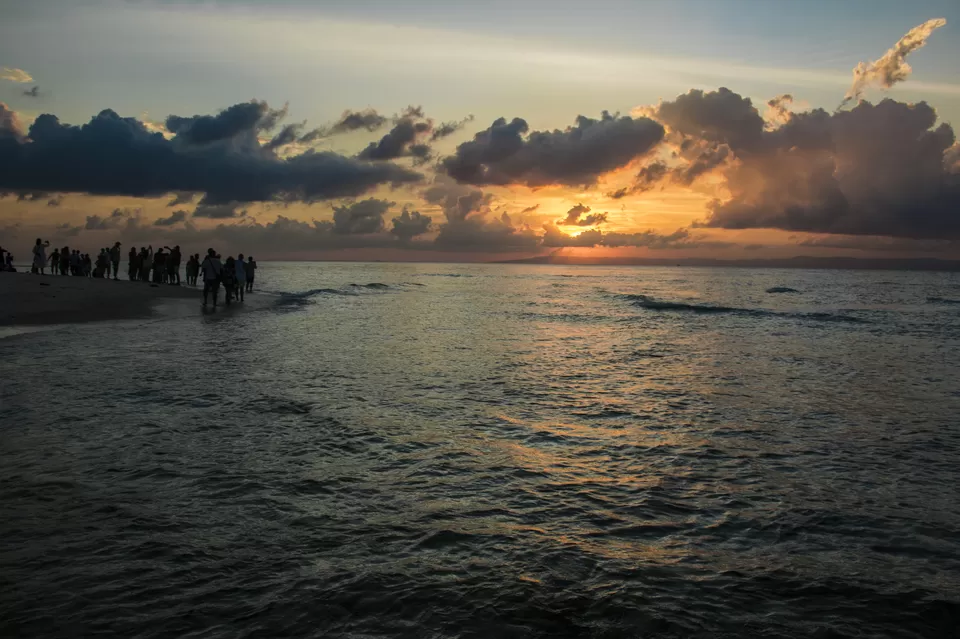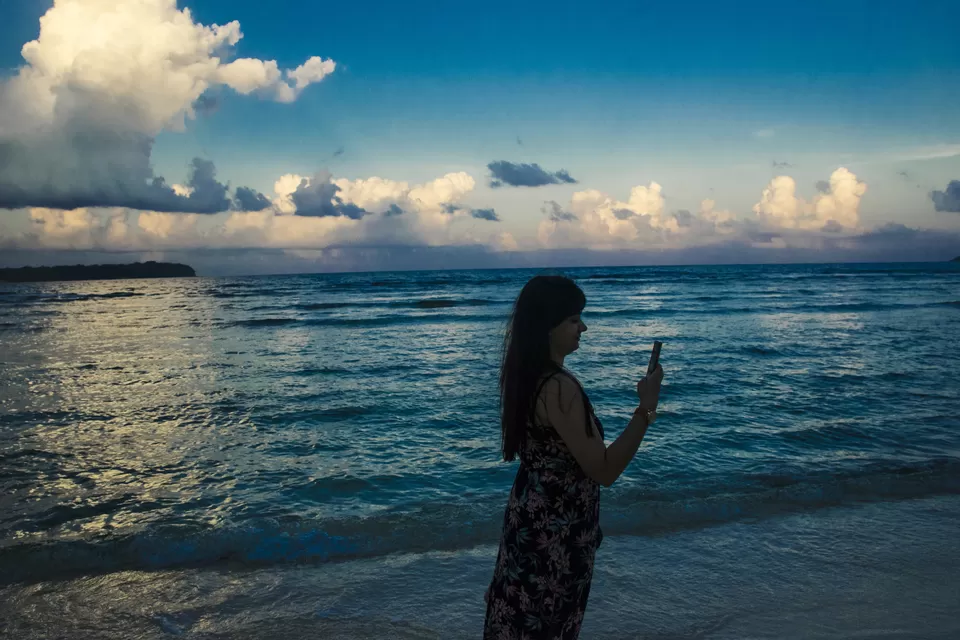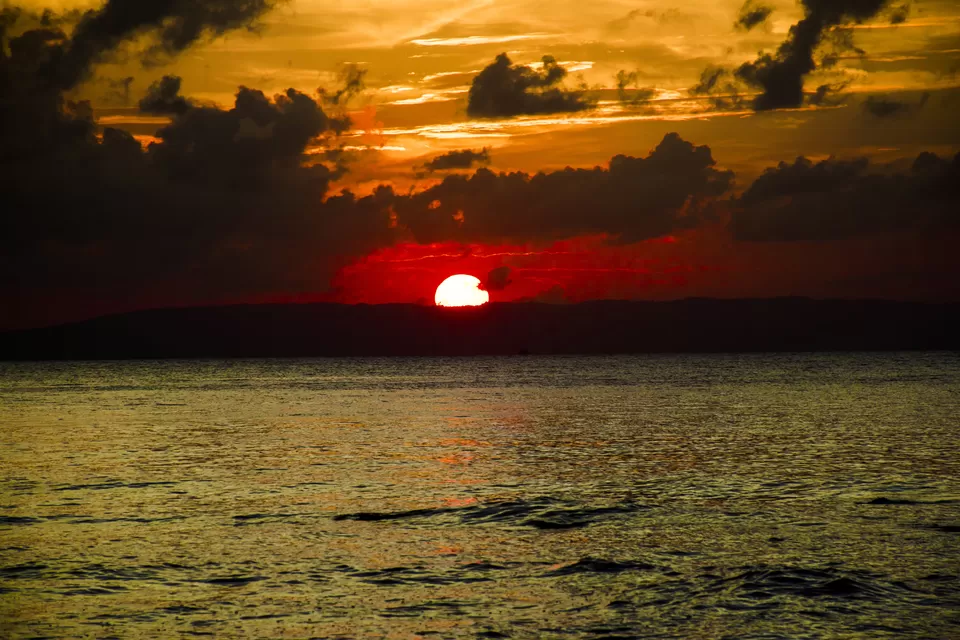 Day 6 : Watched a spectacular Sunrise at Sitapur beach, then back to Port Blair
Sitapur beach is almost 5 km away from the resort. The road towards the beach is very scenic. The narrow path flunked by tall palm trees. I reached there just on time and watched a dramatic sunrise. The beach was very crowded. But within a couple of hours after sunrise the beach became empty leaving one or two late comers taking a stroll.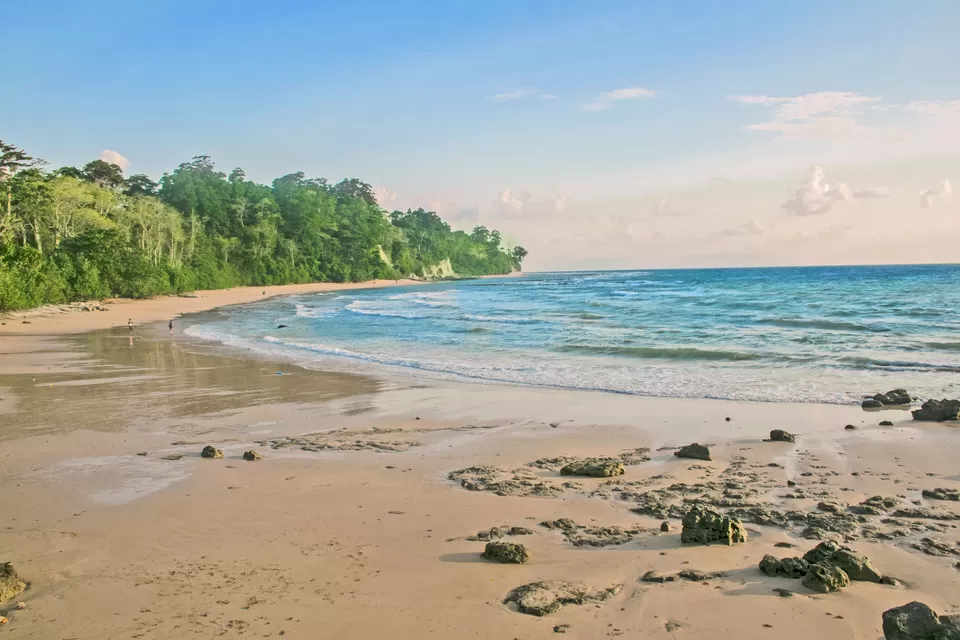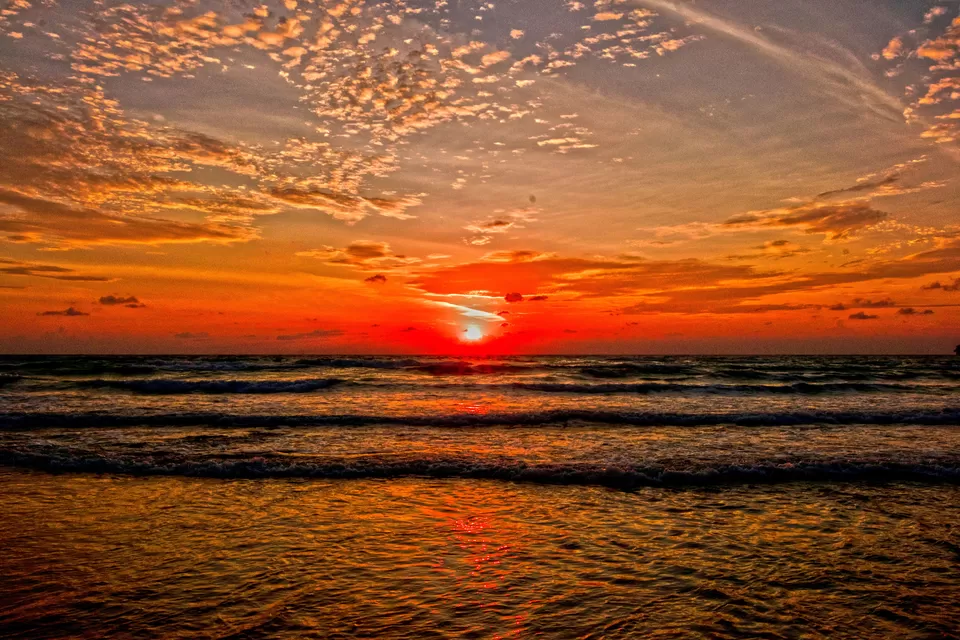 Getting back to the resort, I had my breakfast and went to the Neil jetty to catch the return ferry for Port Blair. The ferry was almost two hours late. The entrance of the jetty was very crowded. Not only the Green Ocean but Macruzz was also running late. There were a few small shops with thatched roof having seating arrangements for few people near the jetty. I, somehow, managed to sit there. The ferry came around 11 'o clock. It took only one and a half hour to reach Haddo jetty. I opted for Luxury class for this leg of journey.
After satiating my stomach with seafood, I stepped in the bustling market of Port Blair, the Aberdeen market. This market is found around the clock tower. There are many shops for pearls, shells, handicrafts, jute items, timber crafts among them shell based products are very fascinating.
There are a couple of small shops also near State Library. They are mainly selling shell based products and timber products. Sagarika Emporium is another good shop for shopping various items.
I took my dinner early and retired to bed as next day was for Baratang trip.
Day 7 : Trip to Baratang Island
See Baratang trip
Day 8 : Visit Mount Harriet – the 3 rd highest point of Andaman Island
In the morning, I went to Rajib Gandhi Water Sports Complex once again for Ross Island trip but my bad luck, ferry service was shut that day also.
I decided to visit the Mount Harriet – third highest peak of Andaman and took a bus in front of the Water Sports Complex for Chatham Jetty. It costs only 12 Rupees. From Chatham jetty, you have to go Bamboo Flat after crossing the water body by a bigger size ferry.
Jeeps are available near the jetty that take you all the way to Mount Harriet through narrow winding uphill pitched road flunked by dense tropical forest. It costs Rs. 500/-. Shared jeep is not available.
On the way to the park, there is a view point that offers a distant view of North Bay Island that shown in the reverse of 20 rupees note.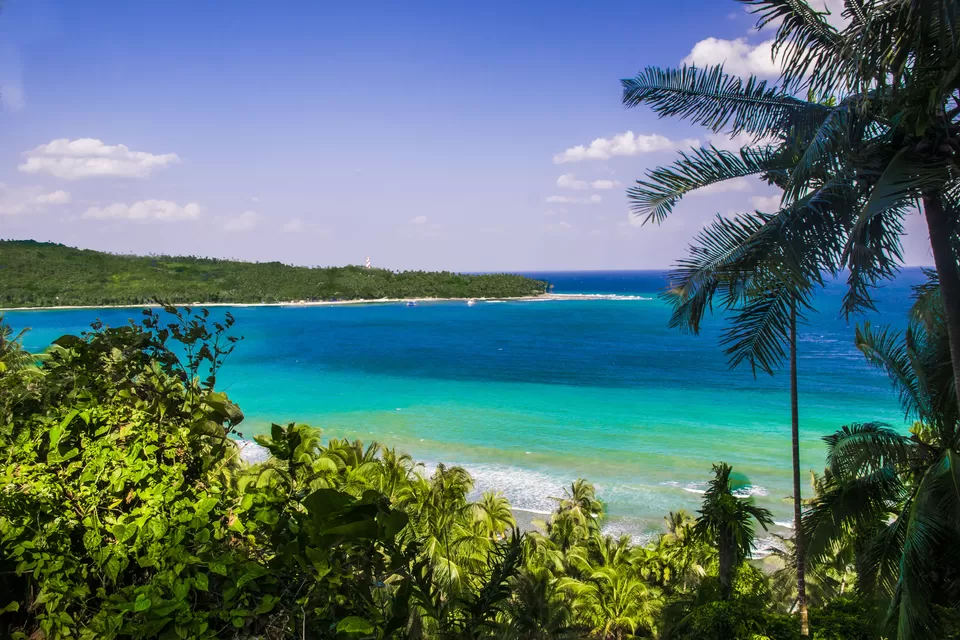 There is a huge arch shaped entrance of the park where you have to register the name and vehicle number and bought a ticket for self and camera. Although main entrance comes a couple of kilometers ahead.
Inside the park is picturesque with lots of greenery around. You can see the distant view of Ross island from the elevated view point. There is a traditional Nicobari huts that offer a glimpse of Nicobarese culture.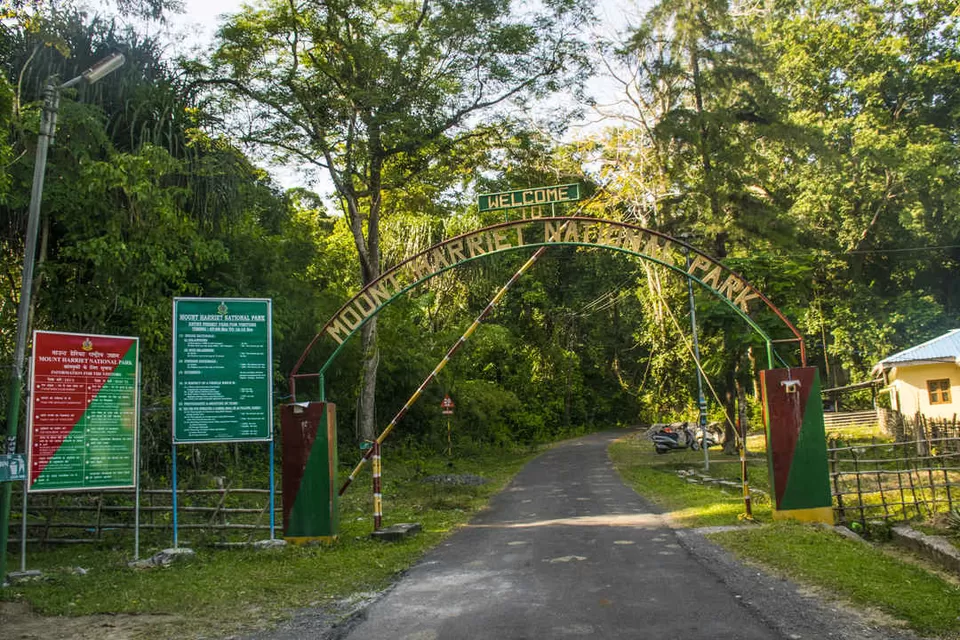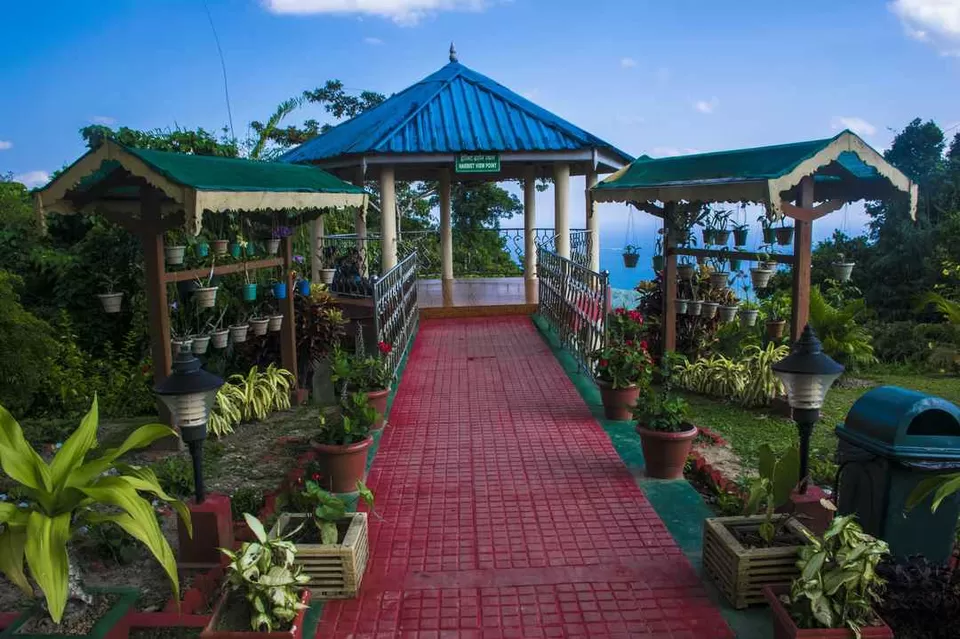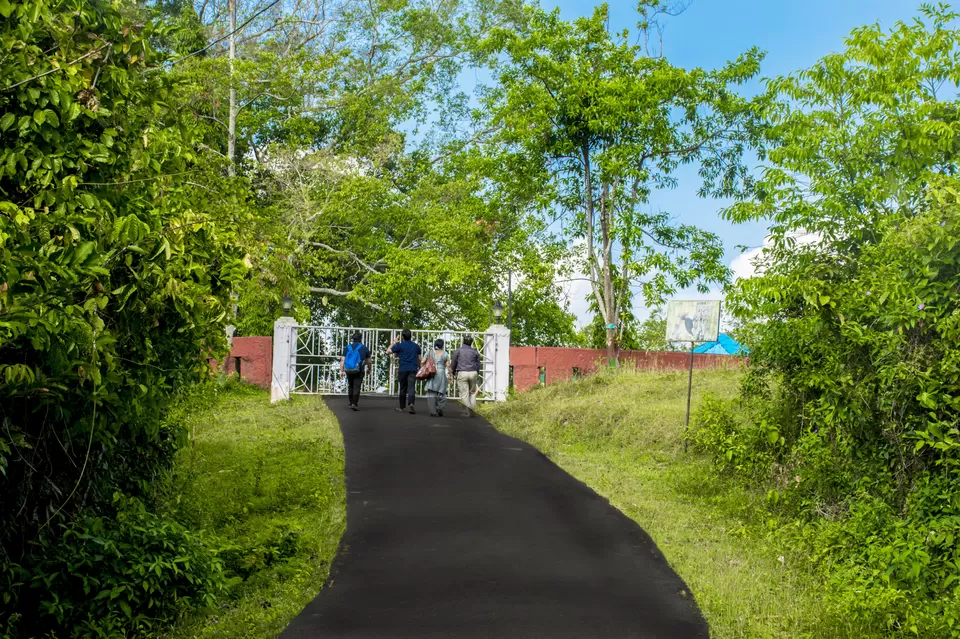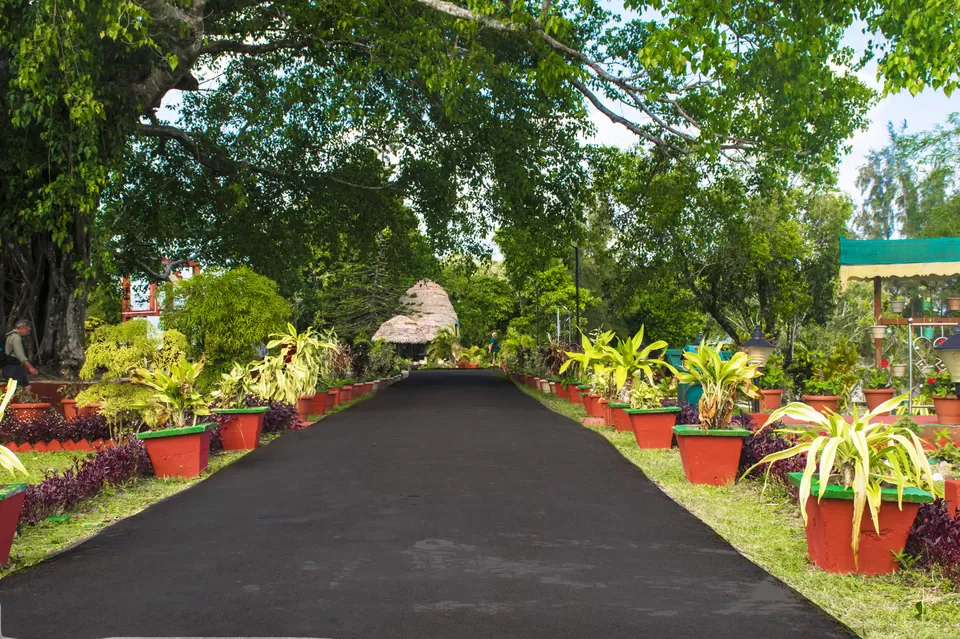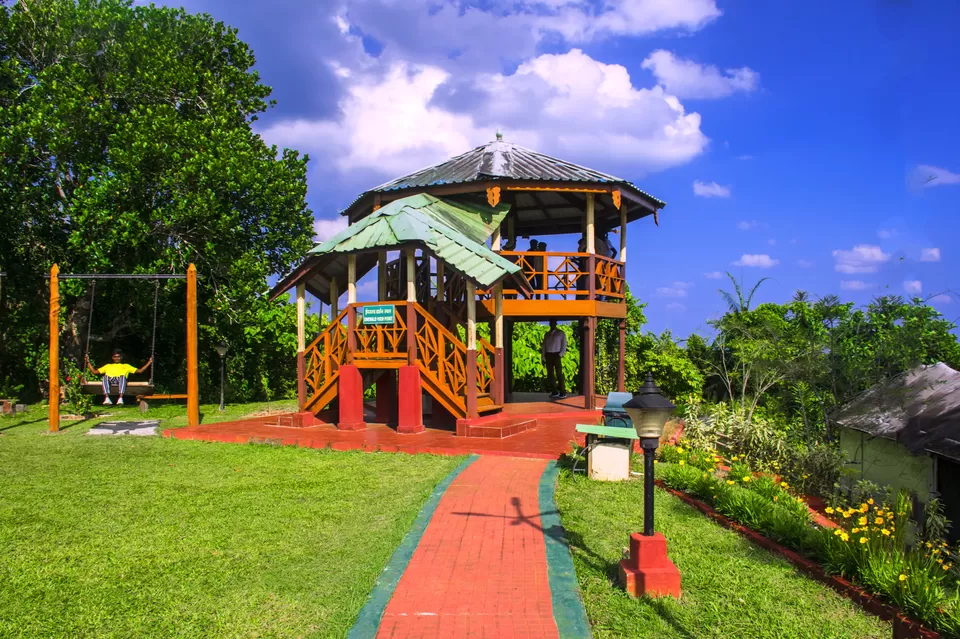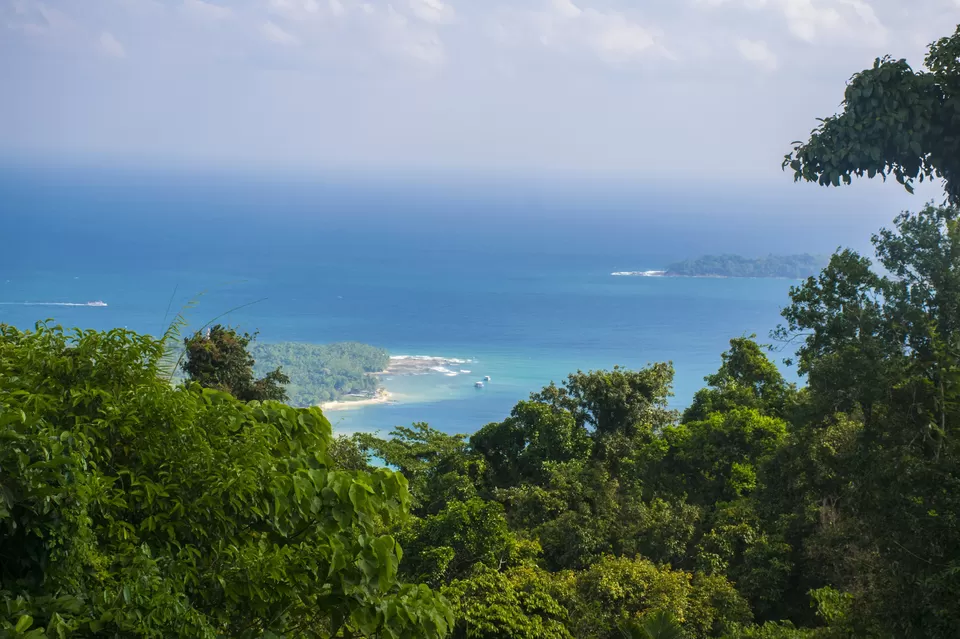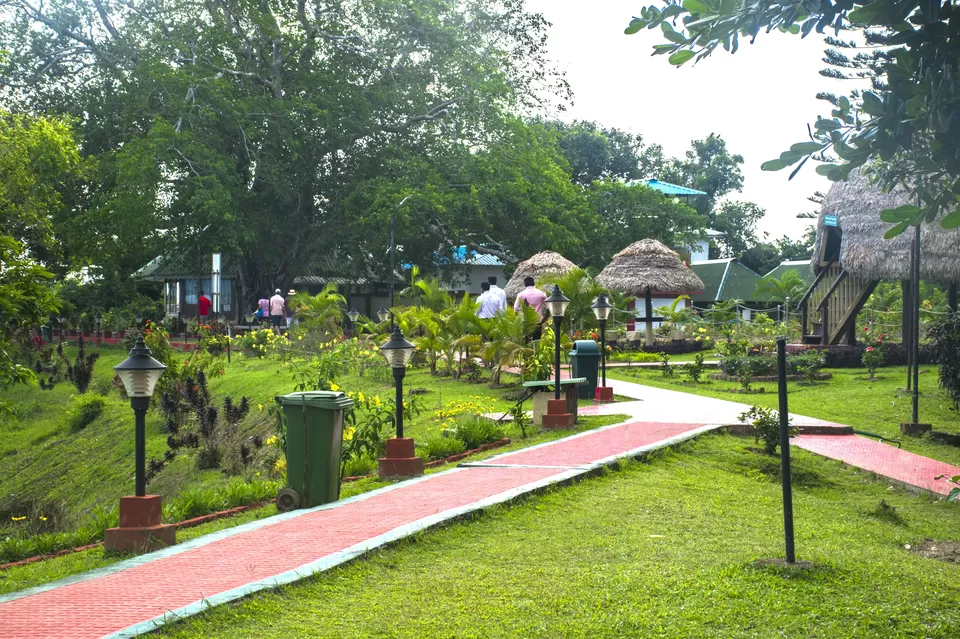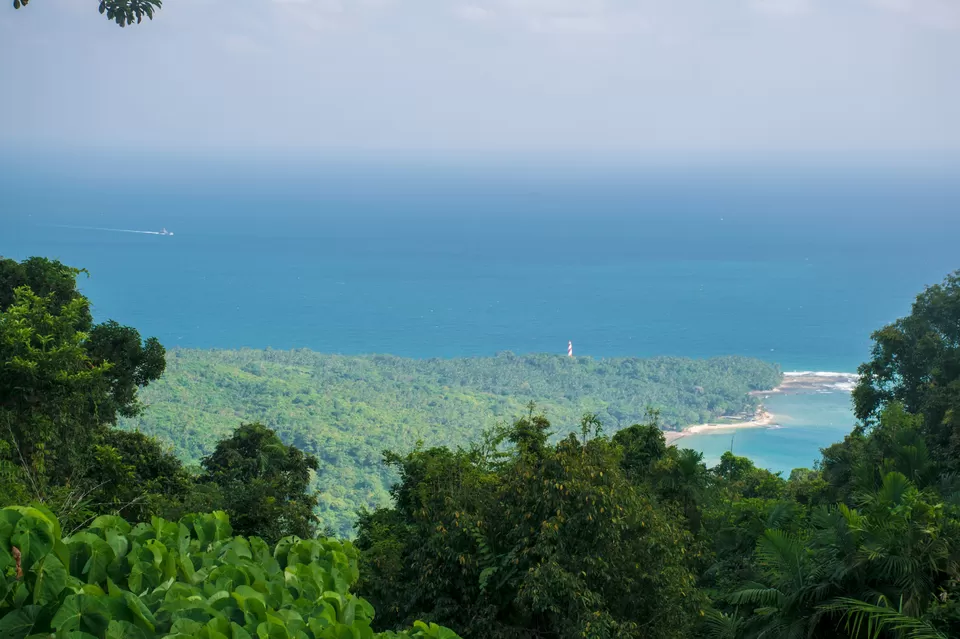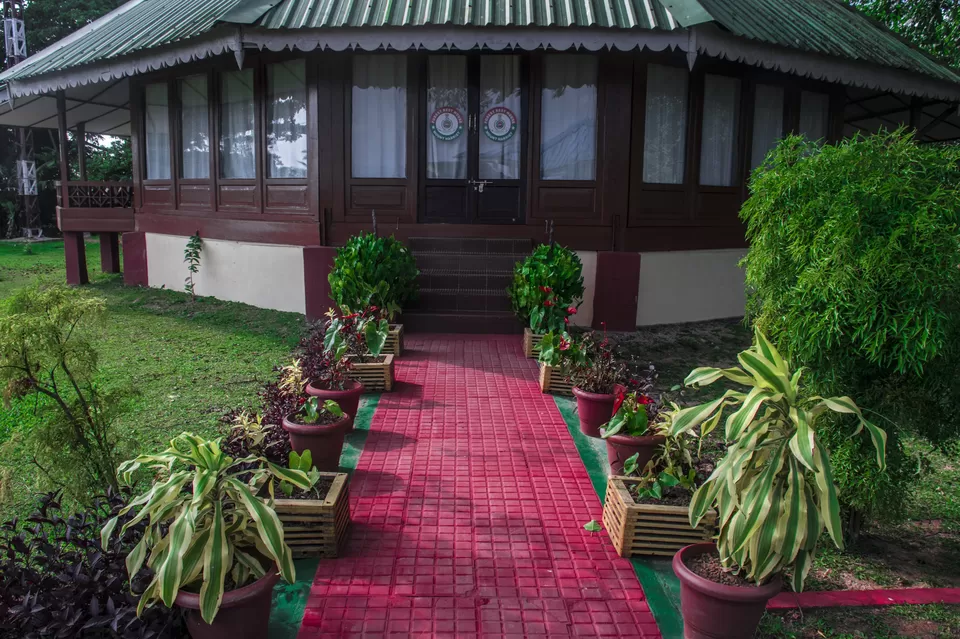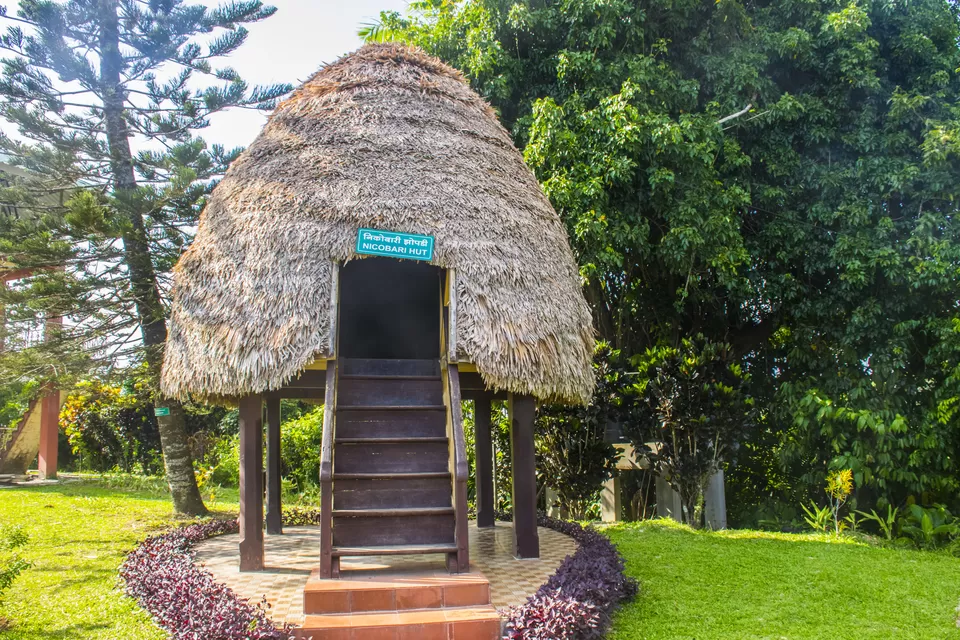 While roaming around, I came across a narrow trail that led to a Anti- aircraft gun that was used by Japanese during second World War.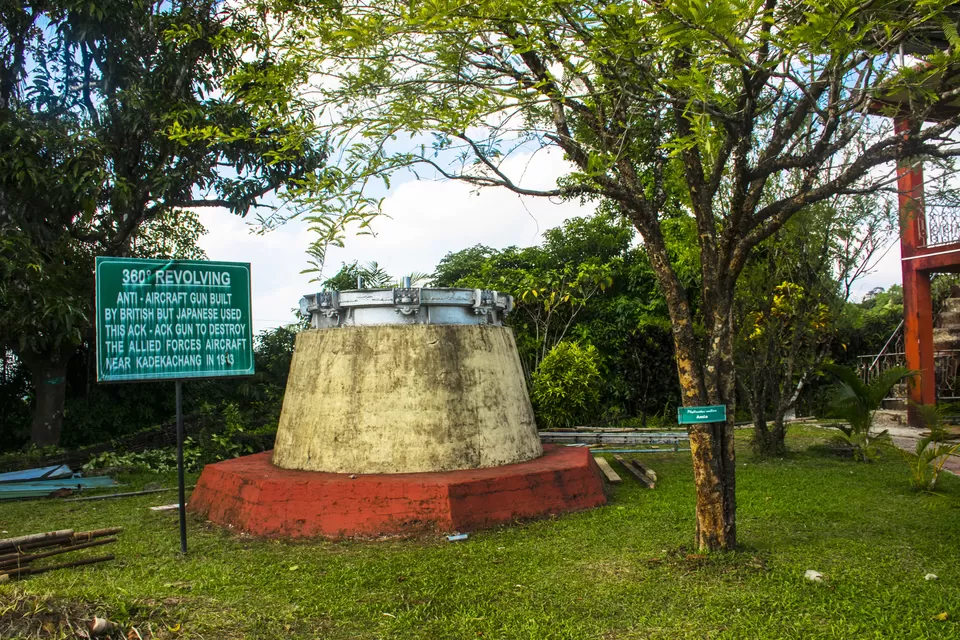 After got back to the city, I took a stroll in the market, bought some souvenirs and then having dinner with tuna fish, retired to bed early.
Day 9 : Visit Jollybuoy/Red Skin island, wandoor Beach in the morning and Chidiyatapu and Mundapahar beach in the afternoon
See trip to Mahatma Gandhi Marine National Park and Chidiyatapu .
Day 10 : Return to Kolkata
Now it's time to say good bye. My flight was 11.30 am. After breakfast I reached the airport by 8 am and arrived Kolkata around 2 pm.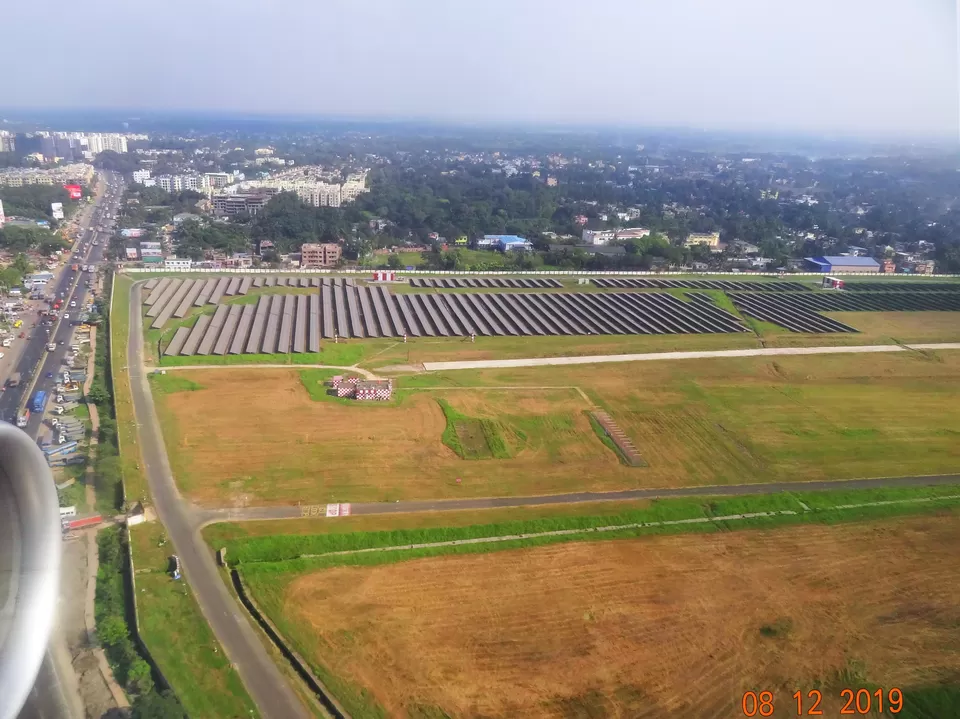 A visit to this island was altogether a different experience for me. There are some moments that will stay with me forever. The first glimpse of the island from the flight, witnessing the Jarawa tribes, mud volcano and breathtaking beauty of underwater marine life.
How can I forget about the people of Andaman? They were so friendly and cooperative. Be it the cab driver, bus conductor, hotel staffs, restaurant employees, shop keepers or travel agent, everyone was soo helpful and trustworthy that I never felt insecure. Moreover, wherever I went, not only in Port Blair but also in Havelock, Neil even in Red skin island, I met people speaking Bengali that gave me a feeling of home away from home.
Above all travelling solo in a place where I have never ever been made me feel more confident and strong. I am looking forward to making many more solo trip ahead.
Best time to visit :
November to March
How to go :
Port Blair is connected with most of the major cities of India by air. Private Ferries as well as Government ferry are there that take you to the Havelock and Neil island from Port Blair.
Scuba diving :
There are so many agencies for scuba namely Ocean Tribe, Andaman bubbles, Dive India. You can book with one of them yourself or you can ask your resort to book a package for you. Scuba diving is of two types Shore scuba and deep sea scuba. You can attempt one as per your choice, budget and capacity.