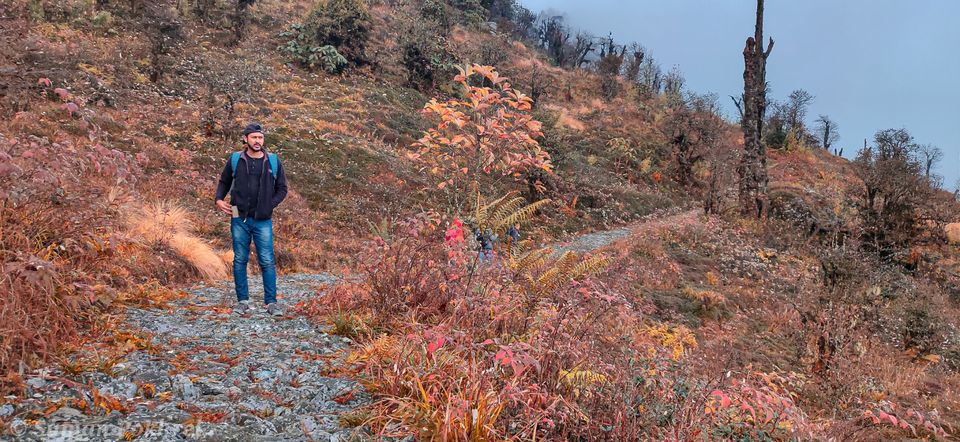 "Oh shit!! We are lost" this made us freak a bit as we were on a trail to BHALEYDHUNGA. It was a silent, dark night and the only light we were able to see was the flash light of our mobile phones. And we came to know that we took the wrong path.
Filled with the excietment and strong feeling of enthusiasm and zeal we started our journey from YANGANG, SOUTH SIKKIM at 8 o'clock in the evening. We reached RAVANGLA, around 17kms away from Yangang. Its a small town and a gateway to our destination. We started our trell from Ravangla around 9:30 pm and after walking for around 2hrs we came to the conclusion that we were lost.
We didn't have any idea what to do now ? After discussing for a minute we decided to return to the point from where we have started our journey.
It was 1 am in the night, we took help from the official of the forest department who was there at the checkpoint . He guided us and showed us the right path.
Again we recollected our excietment and marched along the trell through the jungles, scared of the bear that usually appears on that region.
We took few small breaks during the trek. We also had snacks and tea that we have prepared for the same.
After walking for more then 6 hrs , we reached our destination. Maenam hill. Which lies in the Maenam wildlife sanctuary at an altitude of around 10600 ft above se level.
Sanctuary treasures diverse varieties of medicinal plants and herbs and also shelters Himalayan brown bear,Red Panda, Goral, Serow, Barking Deer, Marbled-Cat, Leopard-Cat, Civet-Cats, Blood Pheasant, Common Hill Partridge, Magpies, Black Eagle, and Blue necked Pita, Sunbirds and many other animals of the temperate forest.
Ahead of Maenam hill, lies the highest point known as the BHALEYDHUNGA. From where we can see the picturesque view of mount KANCHENDZONGA.
There is a historical Buddhist Monastery called Maenam Gumpa on the top ridge of the sanctuary. It was established in 1969.
Bhaleydhunga top,which is worshiped by the local villagers and is considered a sacred place. It also host a small praying sopt (kind of a temple ) where people pray and believe that their wish will be fulfilled.
We prayed and took rest for couple of hours and headed back to yangang but this time through another route via Dhappar.
We reached YANGANG at 4:30 pm tired and hungry , all of us were sleep deprived too so we straighly headed towards our home.
This trek tooks you through the alpine forest rich in biodiversity. Where you will be cutoff from the hustle and tussle of daily life and can enjoy your own company which helps you know yourself better.