Well, if you are into softer(Easy) Himalayan Trails like Hampta Pass, Jalora Pass, Triund etc. and even Sandakphu, and thinking of trekking as a 'gentle walk' in the meadows of snow /grass, then bro I must say that this little beast is waiting for you to change your preconceived idea by challenging your body and spirit in such a manner that can make you give it a second thought about, trekking this kind of trails(moderate) again in future. You may ask yourself if this trek was worth it,after returning. But if you are planning for Goecha-la / Pin Parvati Pass / Sikkim Green Lake Trek, types of High altitude treks, then this is the one which must be checked in your backpack . Seems Interesting now?
Let's get into it. Oh yes ,this will cost you just a single day to experience all these sudden turmoils. Cheeky, yeah? ;)
Getting into there :
The Trek starts from Ravangla.
Ravangla is a hub in South Sikkim accessed by; railway station New Jalpaiguri Jn./NJP (120 kms.) or airport Bagdogra(126 kms.).
It takes roughly 6 hrs. at maximum to reach Ravangla by road from both of the point.
Plenty of cars are available at NJP Station/Bagdogra for booking, to drop you at Ravangla. As of April-May 2017, a small car from NJP to Ravangla(Alto/Wagonr) will cost around INR Rs. 3k and a larger one(Travera/Sumo/Innova) will ask you to spend around INR Rs. 4.5k. Calculate accordingly what could be the cost of both options if you have had landed in Bagdogra.
Bagdogra is another 6 kms. from NJP, which takes some odd 25-30 minutes extra to reach Siliguri comapred to time taken if you start from NJP.
If you are travelling tight on budget then you can go all the way to Ravangla by shared taxi(Sumo/Bolero/Max) which accommodates 10 passengers; however you need to brake this journey in 3 stops.
1. Reach Siliguri Tenzing Norgay Bus Terminus by an auto-rickshaw from NJP station (fare - INR Rs. 25/-, 30 minutes)
2. Shared cars are frequent from outside premises of the terminus,to Singtam on certain time intervals, .(fare - INR Rs. 150/-, 2 hrs. & 30 mins.)
3.From Singtam you will again get shared car to Ravangla frequently throughout the day. (fare - INR Rs. 80/- , 2 hrs.)
Where to stay :
There are numerous hotels (budget+mid range+luxury) at Ravangla. A budget hotel (Hotel Mount Siniolchu, +91 97344 67000) will cost around INR Rs. 600-800/- for a double bedded room/day,compared to a whooping INR Rs. 1800/- (Hotel Ravongla Star, +91 98514 21452) for a mid-high range hotel.
But, as per my suggestion ,if you are looking for a luxurious night stay amidst the lap of pristine nature, instead of staying at Ravangla, move another 17 kms.(45 mins. from Ravangla) towards Borong,and stop by the Wild Flower Retreat at your left, which itself is a weekend destination with numerous things to offer. Check it out here : http://wildflowersikkim.com/ . Cars are available from Ravangla Bazaar. Bargain as much as possible as there are no other shared options to go to Borong.
Behind the Scenes :
Decide whether you are going to camp atop Maenam Hill (10,600 ft./3150 mts.) or not .
-- Cons :
1. You will have to carry all your logistics like tents, foods for night, utensils, cooking arrangements etc. all the way to the top.
2. Dear ladies, please keep it in mind that there is no proper privy on the top.
3. If you are extremely lucky then you can encounter a Himalayan Black Beer at night,probably when you are excited and submerged in the thoughts of framing a perfect view and shoot Long Exposures !! ;)
-- Pros :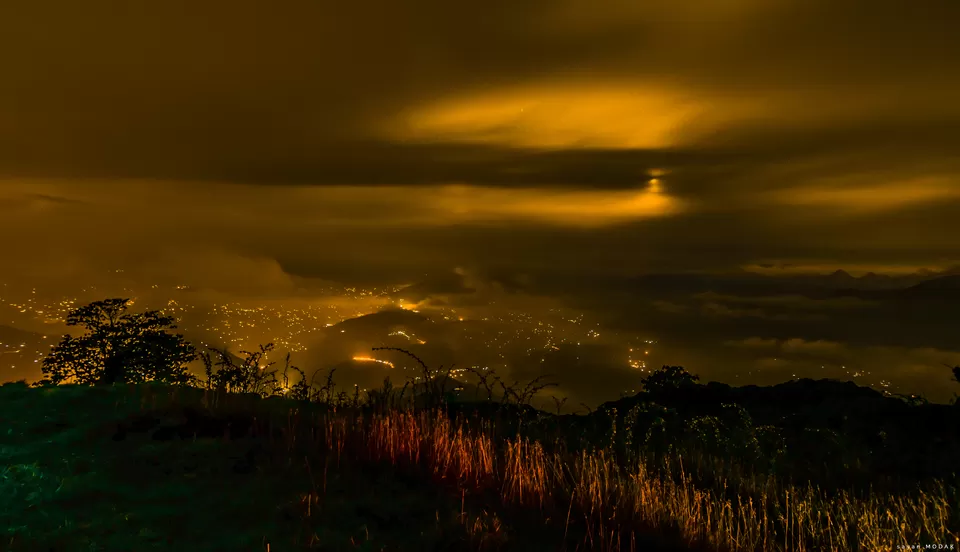 Apart from the above, on a clear day you are entitled to witness a supercalifragilisticexpialidocious sunrise, comprising of entire Kanchenjungha range.
-- Guide, Porter and Permissions :
Ask at the reception of your hotel for arranging the trek for you, as per your convenient time (like tomorrow/ day after tomorrow, whenever you want). Yes,you can do it after reaching Ravangla and settling into your hotel.
There are few trekking agencies at Ravangla who run the trekking business and are connected to all the residential hotels. Upon asking at hotel, they can fetch you with the phone numbers of one or more of these agency's spoke person to settle the deal, on your own. Yes,there is no commission for the hotel. It will cost you around INR Rs. 2500/person lump sum, if you are, going to camp overnight and do the maths if you are, not.
Hotel Ravongla Star provides the full support. You may knock at aforesaid number, the name of the contact person is Mr. Manish. The person is really friendly and warm behaved with no compromise in the business standards. He provided all the Camping logistics of the brand Quechua, to our surprise.
A typical team consists of a single guide(who carries the camping logistics) and porter/porters(who carries the cooking logistics and cooked lunch). The number of porter may vary according to team size, for example there were 2 porters for a group of 5.
The Trek :
The walk starts from Forest Checkpost of Maenam Sanctuary. You need to register with your details and entry fee (charges are nominal for camping,photography etc.) over here to which they provides a stamped challan to stay at inn.
If you are walking from Ravangla Bazar then the check post will be at your right after you cross Ralong Monastery and walk for another 10 minutes.If you hire a car to drop you at check post from Ravangla/Borong side then the checkpost will be to your left just after you cross the parking of the famous Buddha Park aka "The Tathagata Tsal".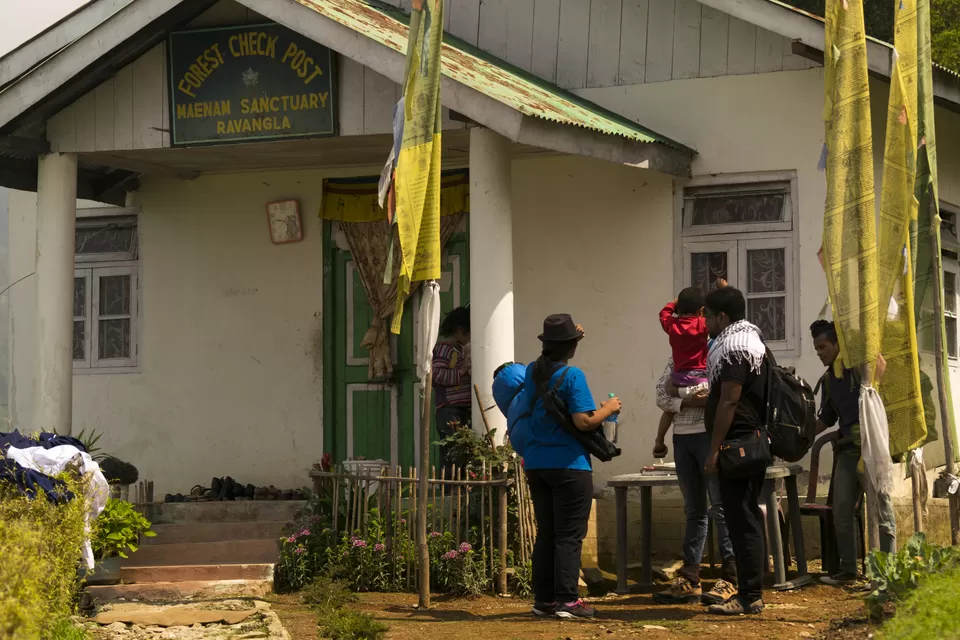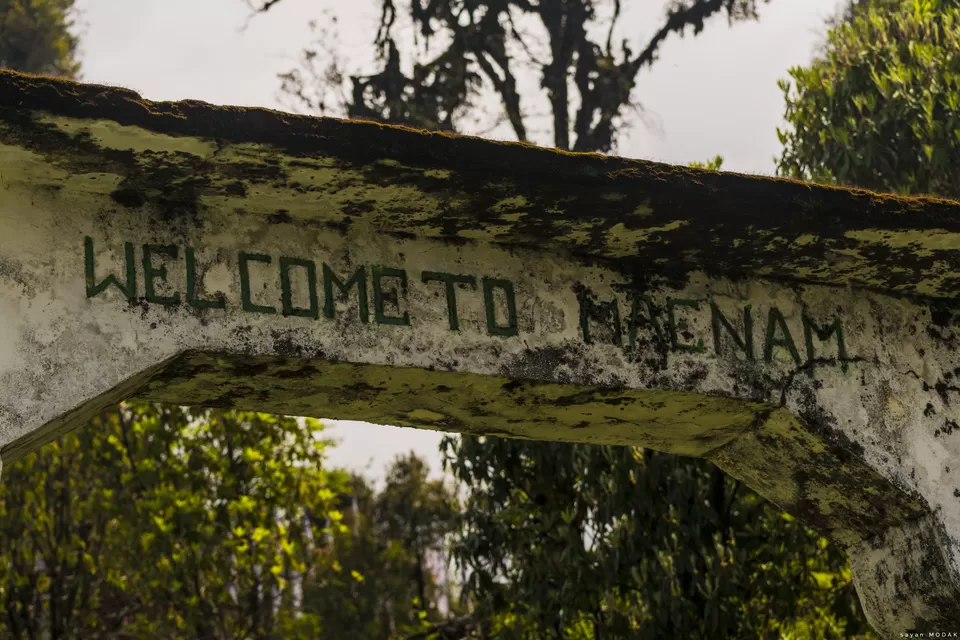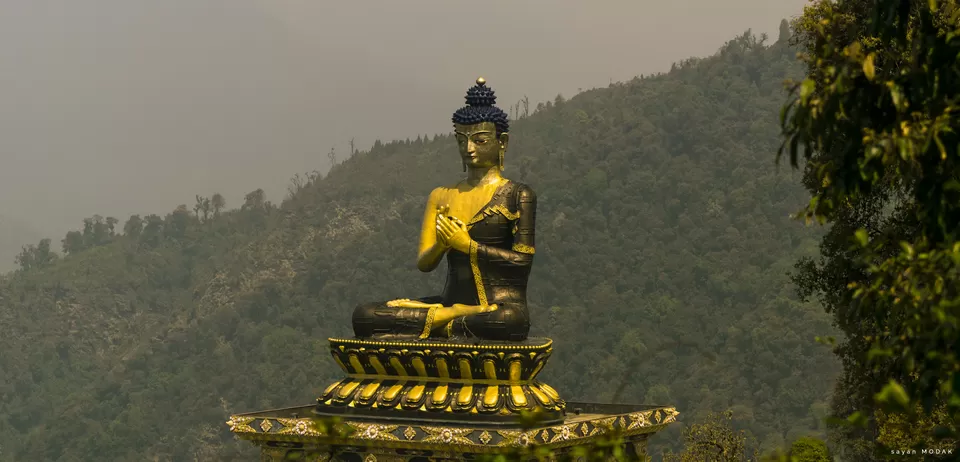 Keep the check post to your left and start walking on the moraine path ahead. There are 2-3 water pipelines laid in this section and they have leakages in few places which in turn always keep this section moist and muddy. The slope is easily negotiable but the gain is continuous and grossly uniform.Keep walking on this trail for 15-20 minutes until you locate a climbing route through the thick forest to your right, which is a shortcut. You can choose between walking on the current trail or this shortcut. We, in our trek named it "The Surprise Shortcut".
Just after entering the shortcut, within 5 minutes the trail disappeared and we had to walk in a narrow path which was entirely laden with the fallen leaves. I have never seen such a dense vegetation settlement, moss decorated trees.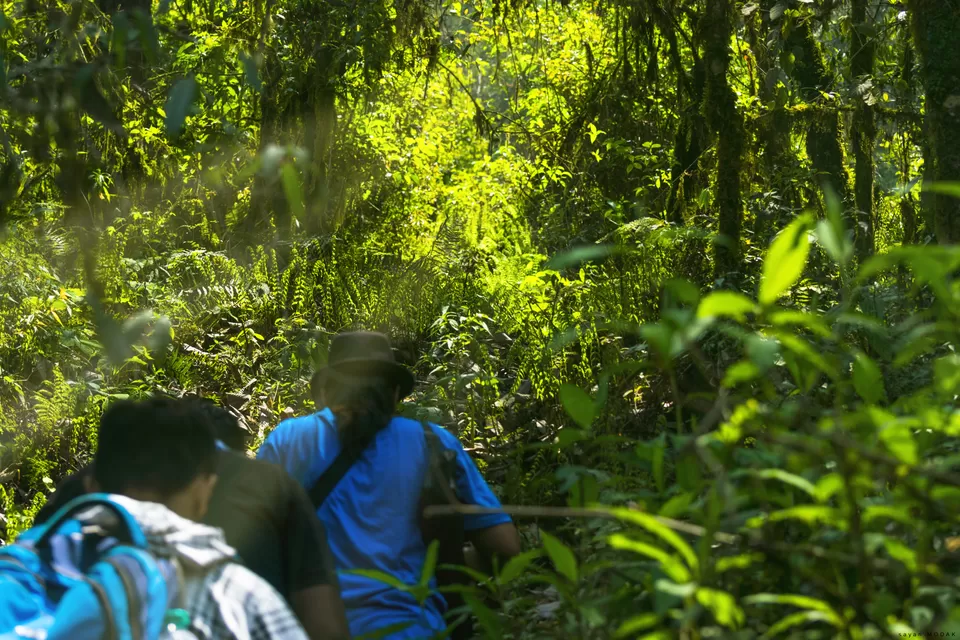 The density of the fallen leaves were such high that the sole of our shoes were getting drenched into it.A skilled bushman will face hard challenge if he was asked to identify and match the leaves to their parent trees. Kindly note that this route doesn't have any slope,but steps; formed due to the tree roots at different levels !! Another odd 5 minutes of negotiating the steps, the trail became more and more difficult as the riser of the steps got higher and higher. At one point of time next step on which you will have to put your feet,is at your chest level. Regardless to mention that there was no possibility for taking a few snaps of the trail, as all of us were negotiating this tiresome section with all of our fours. We did continue like this and exactly like this(!) for another 40-45 minutes which took us to a place where there was some possibility to take a bit of rest. The place was a little piece of land where we finally could see some flat trail. We waited for the last member to reach there and by the time he reached he was sanguine that he was going to quit the trek and getting down. I had past experience of trekking but this was challenging for me as well. So I could relate what pressure was going down through the nicotine coated lungs of the poor soul who was first time in trekking. After a long conversation, we managed to convince him to continue, as he will not be able to navigate back on his own and will be lost in this impenetrable greens and will remain as a ghost for the entire life. It did work; as the guy was phasmophobic. :p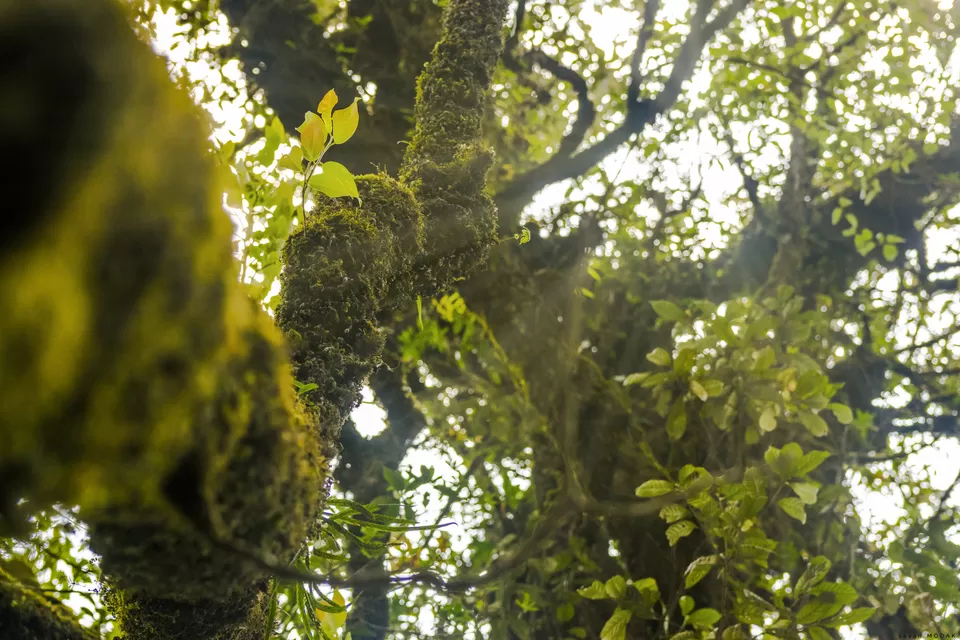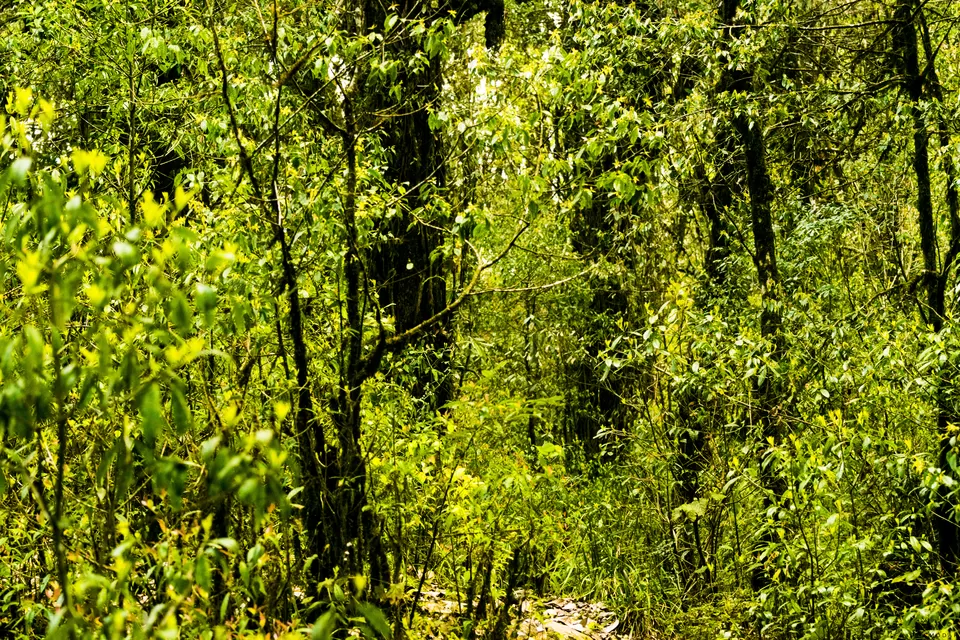 We resumed our walking, and this time the trail was continuous upward and the slope was a bit tiring. But it was definitely better and easier than the stepped section which we was through, earlier. After 15-20 minutes of walking, we caught that moraine path which we left for taking that shortcut, to our left; and another 10 minutes of walking took us to the 1st official rest point of the trek route, by "official", I mean there is a tin shaded rest places at the side of the trail with some vegetation free ground, for laying and other activities.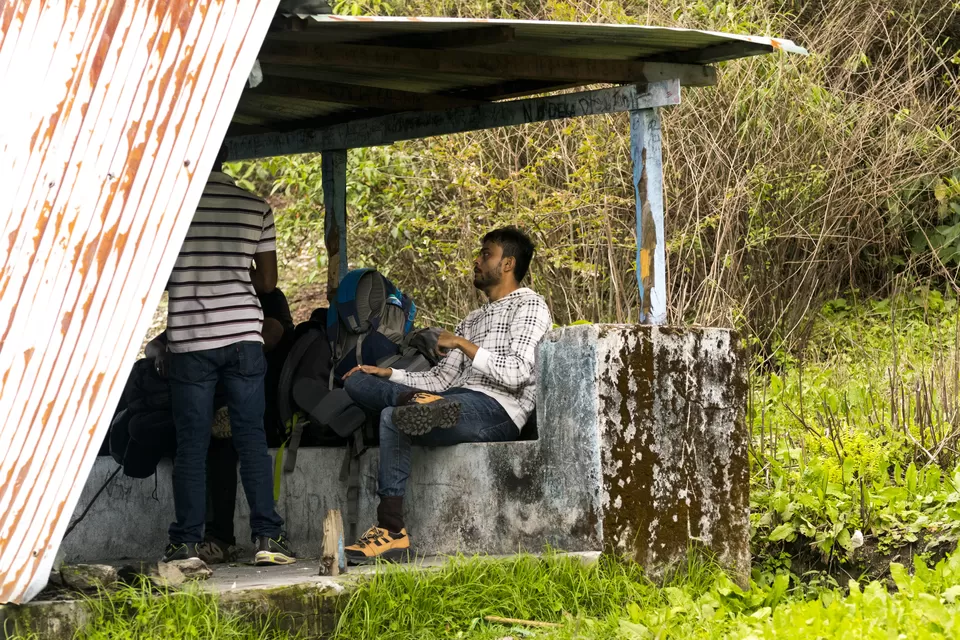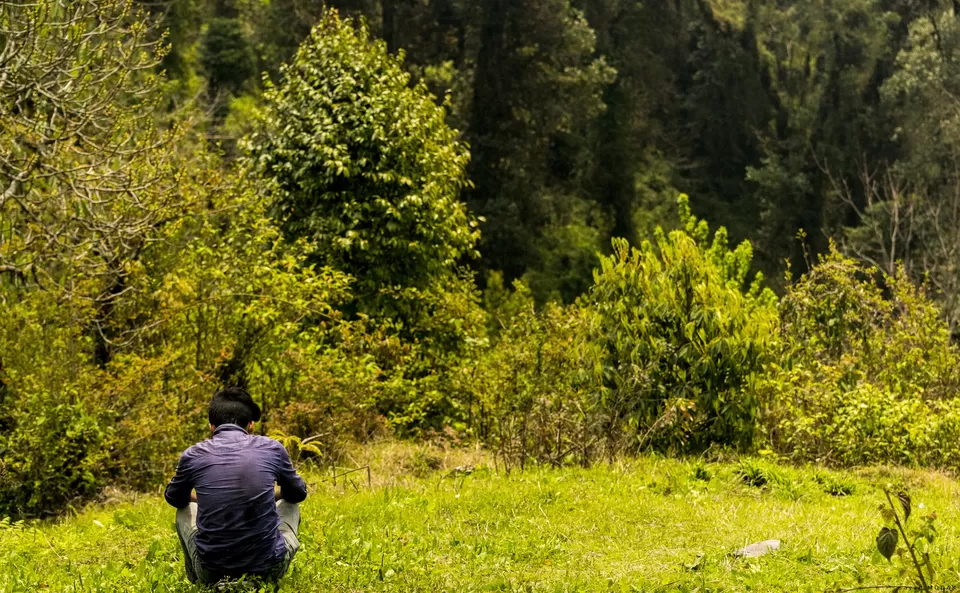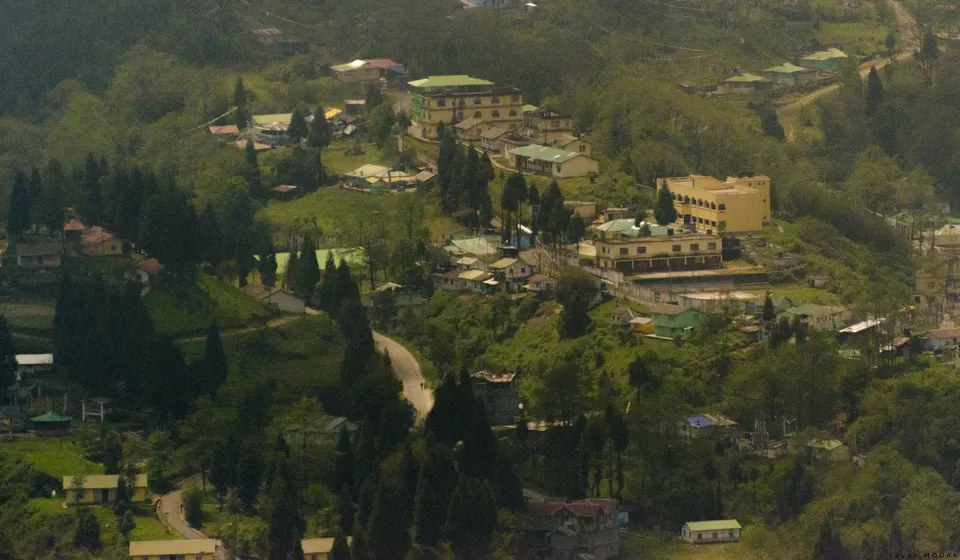 After consuming some fruits and water we continued our walk. The path was no different than, that we had came across already. It was not gentle at all but really tough at some stretches. We kept our pace low in order to not run out of breadth. Our guide suggested us to do so. Again continuing for another 45-50 minutes, we came across path where the trail went missing again and to our horror, again steps appeared. The level changes were not so whimsical like the previous one, but this time it required body balancing as the trades of the steps were very narrow, most of the time it didn't have the width of a UK 7 size shoe.
Pursuing this for another 15 minutes we did reach the Rest point 2. This was the place where our porters met us. To our surprise,we came to know that they started 1:3o hrs. after and was carrying all the fooding logistic, water etc. for our night stay and not to mention our lunch too.What your lungs were made of, bro! We did rest here for 30 minutes including having our lunch. They served Paratha and Dry Aloo Curry in an Aluminium Foil. No one had any issues with the food but me. I was into trouble during walking as my stomach couldn't digest it properly, and I had to forcefully puke and drain the reminiscent from my stomach to remain fit for walk.It was not about the food quality, it was my stomach, later I realized.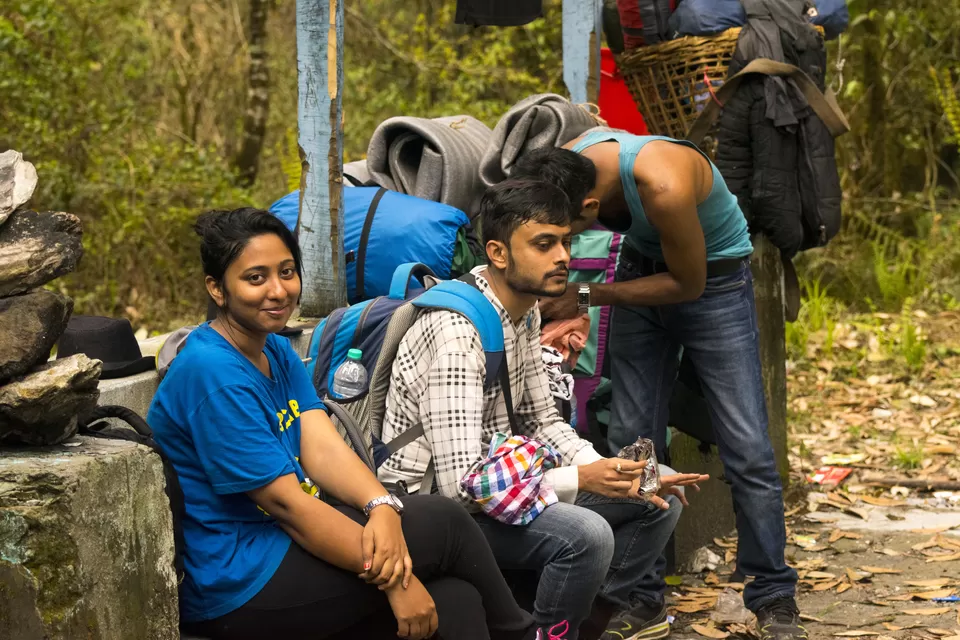 Shortly after having lunch, we resumed to our course. There is nothing more to tell about the trail. The definition was almost same like previous sections. It was a mix and match of slopes and steps. The sloppy sections finally had some gentle grades and was wider compared to the previous ones. The Step sections was all the same.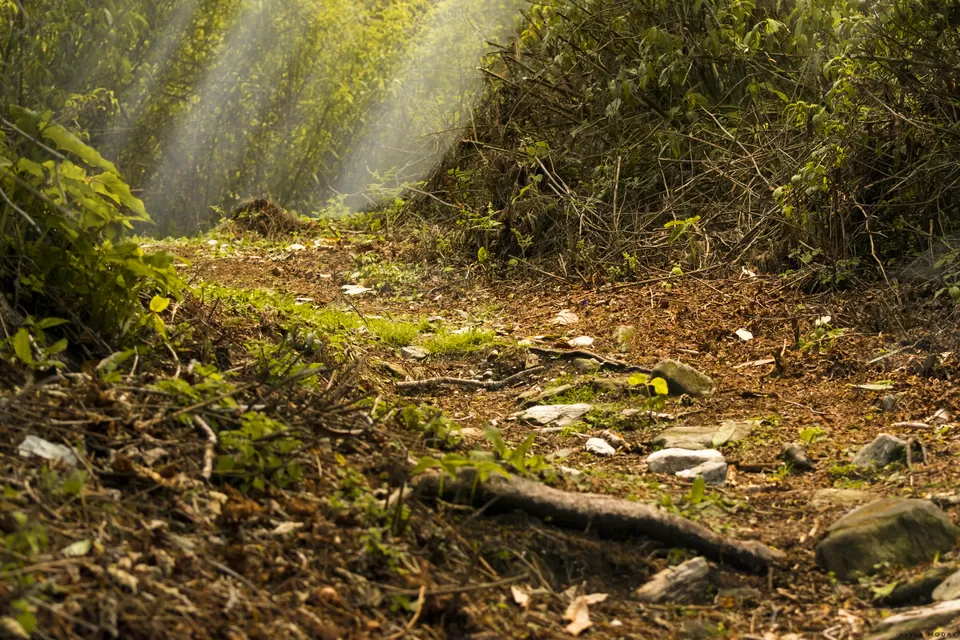 After continue for another 45 minutes or so, the trail became most gentle ever.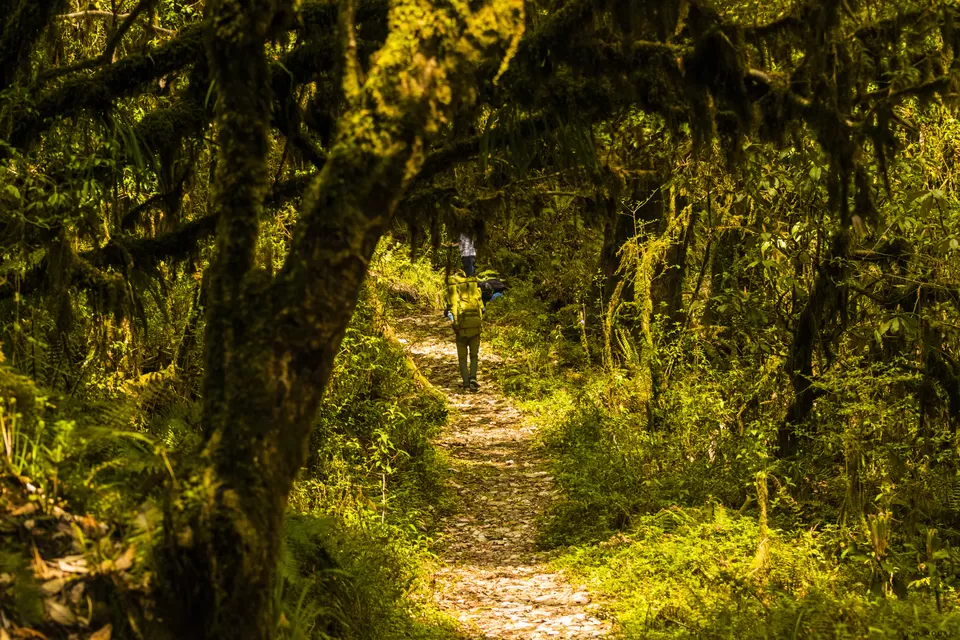 Since then, there were no stepped sections.We were gaining altitude and the temperature was dropping marginally, and that guy again suffered something horrible,he was not being able to breathe properly, but was managing to walk at a slow but steady pace. Our guide told us to remain sharp and cautious about the presence of leeches in this section and asked to keep some salt handy and easily accessible for everyone. Few minutes later, it was again,that guy who was affected by a leech but identified it very fast and quickly removed it.
Resuming for another half and hour on this section and we almost reached there, at the top.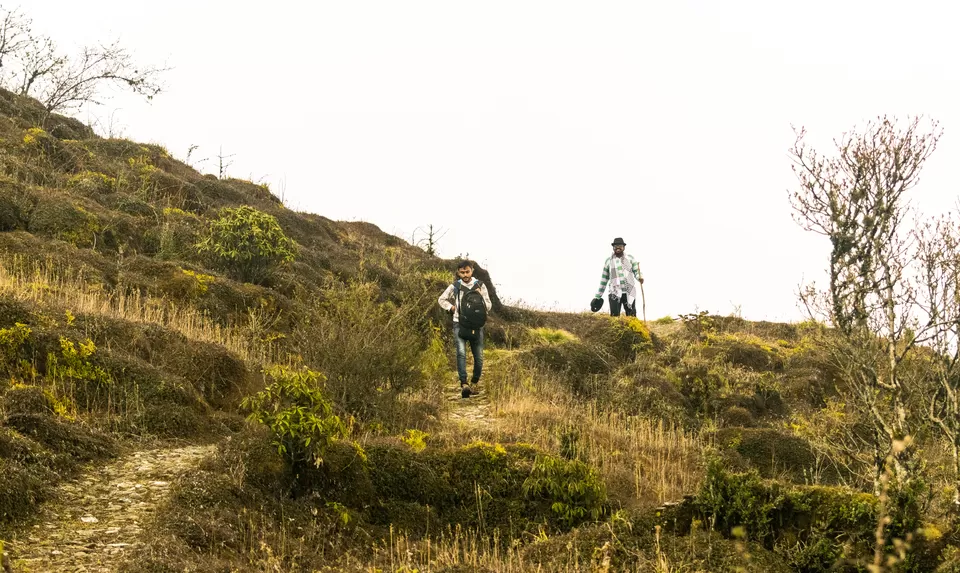 The day was overcast so it was completely white out, on all the 4 sides.The visibility was such low that we couldn't even figure out what was there in front of us within 100 meters of distance.
Our porters were busy in pitching the tents and within half and hour all the 3 tents were set and they then left for finding some potable water for cooking and drinking. We continued with our euphoria to explore the nearby places along the ridges here and there.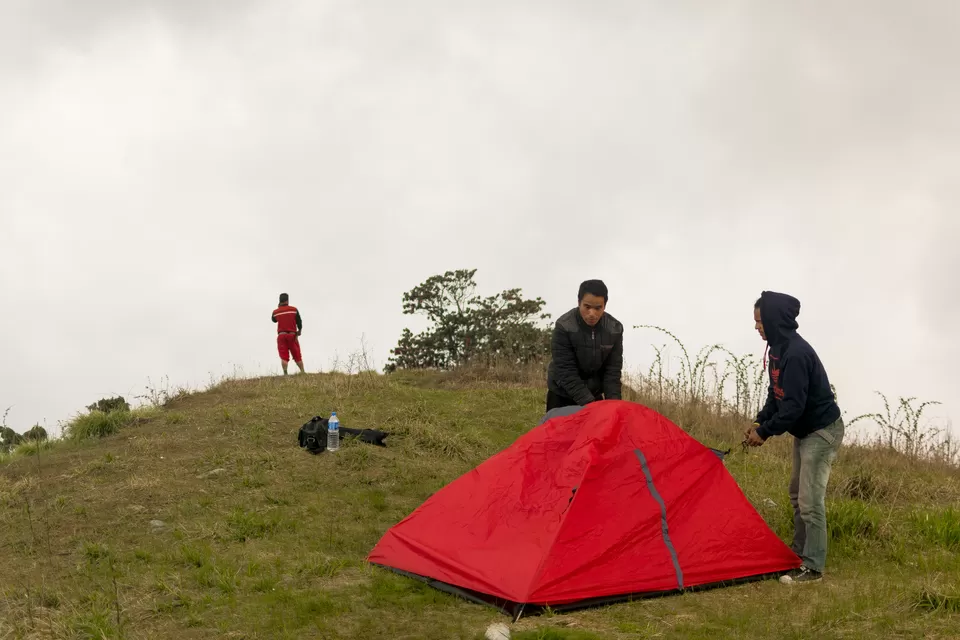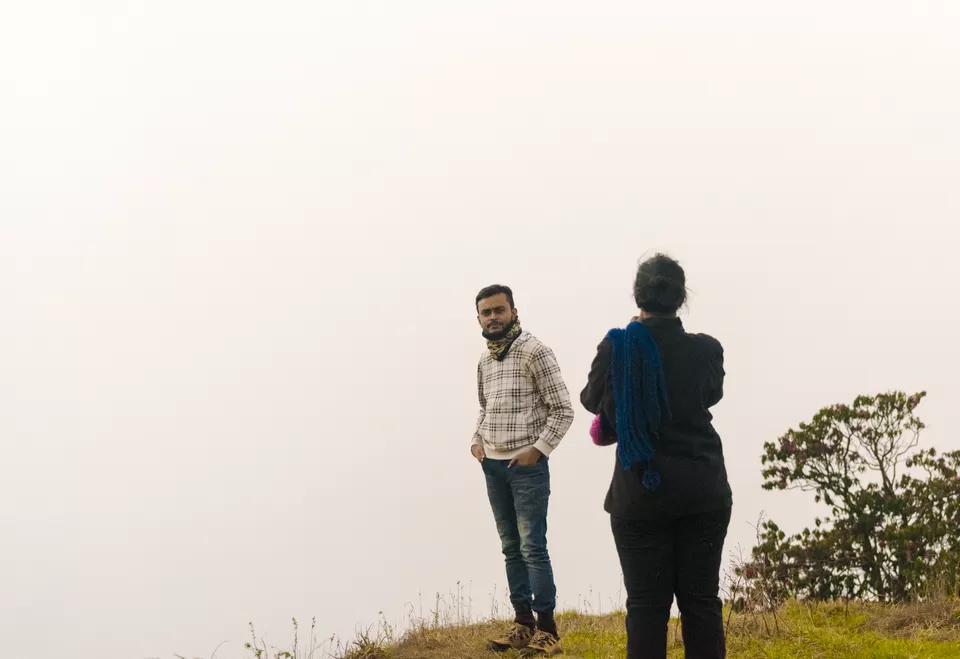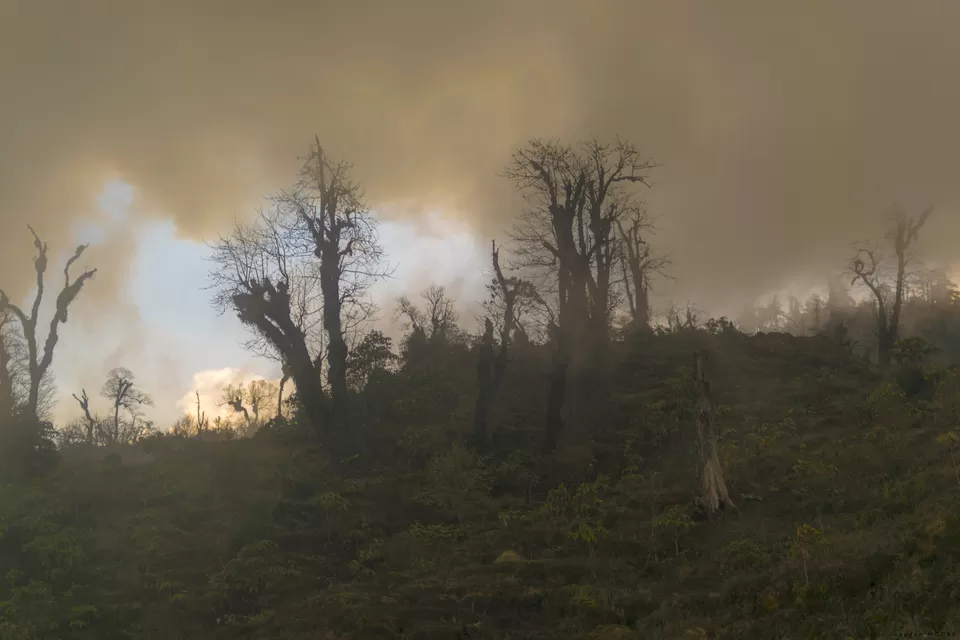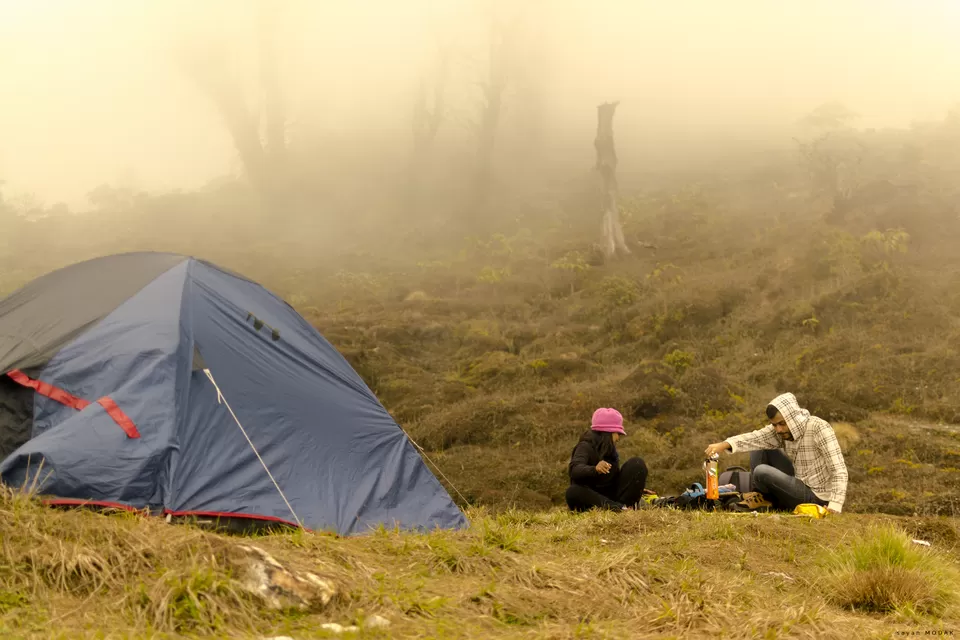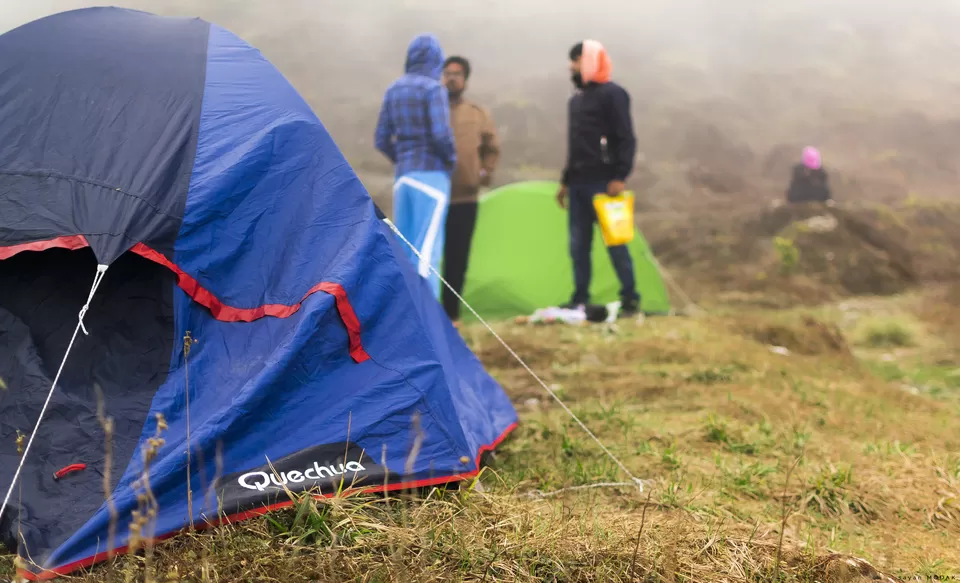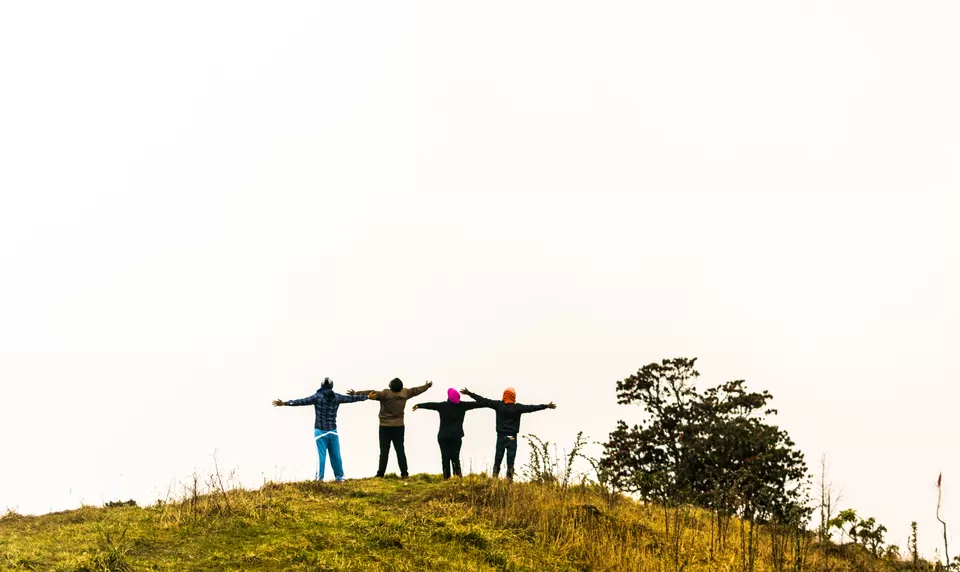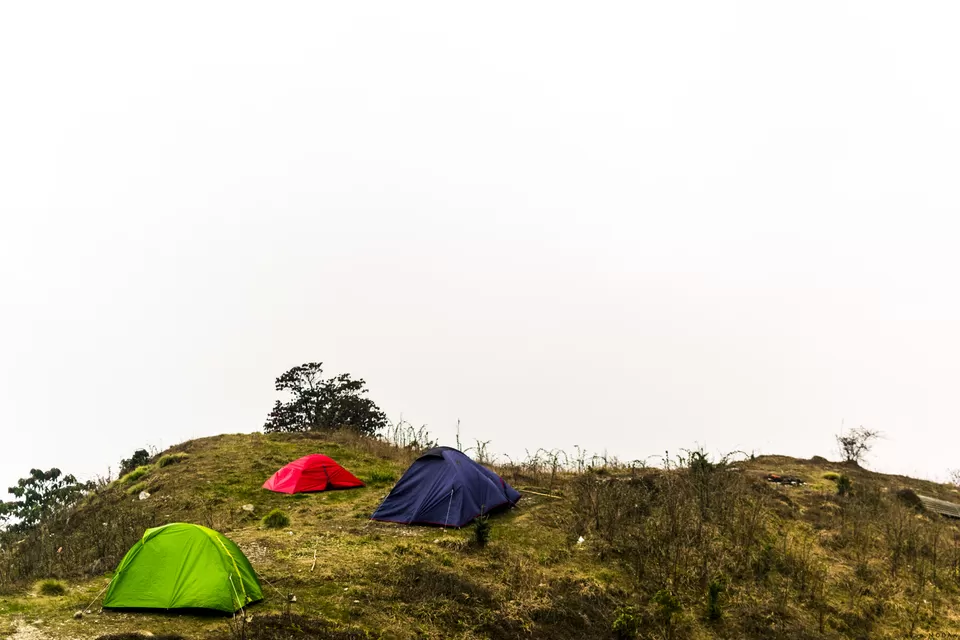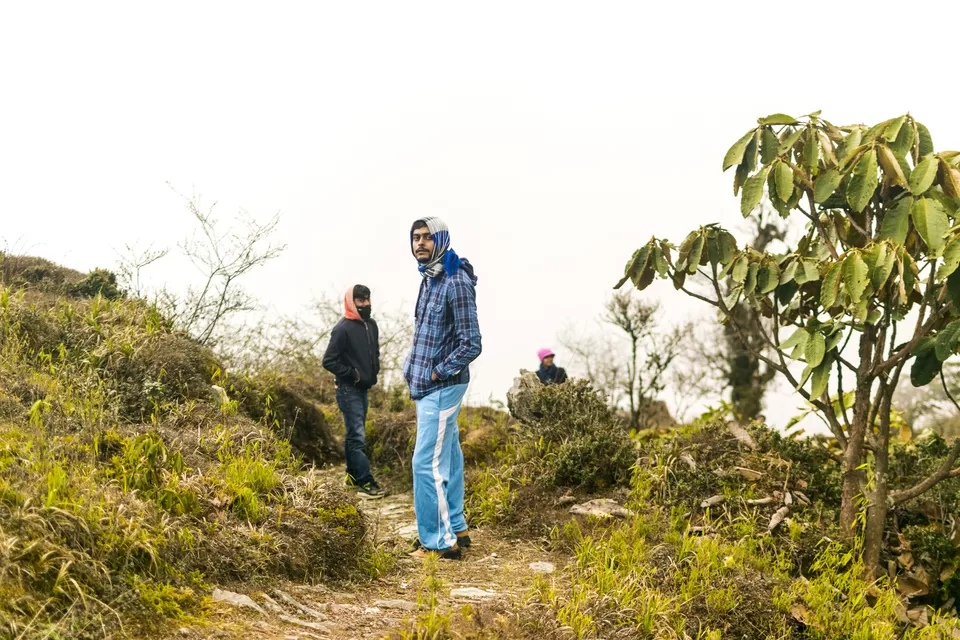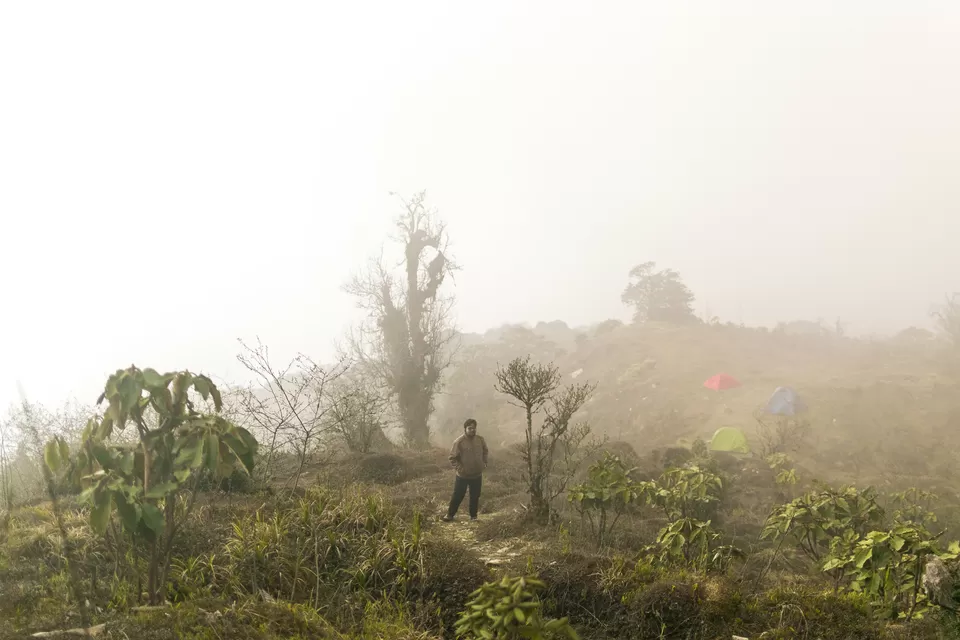 The light was fading out quickly and mercury level was dropping constantly. We were not able to conceive, how scorching hot and humid was the weather of Kolkata just 2 nights back. We had to unpack our sacks and put 1-2 layers on each of us to withstand the cold. Another 15 minutes later we got back to the place where the guide and porters were making soup for us. There was a small tin shed for that purpose. We came to know that the local authority had erected a permanent structure for the same purpose but it was dismantled and there was only the ruins now with a shed.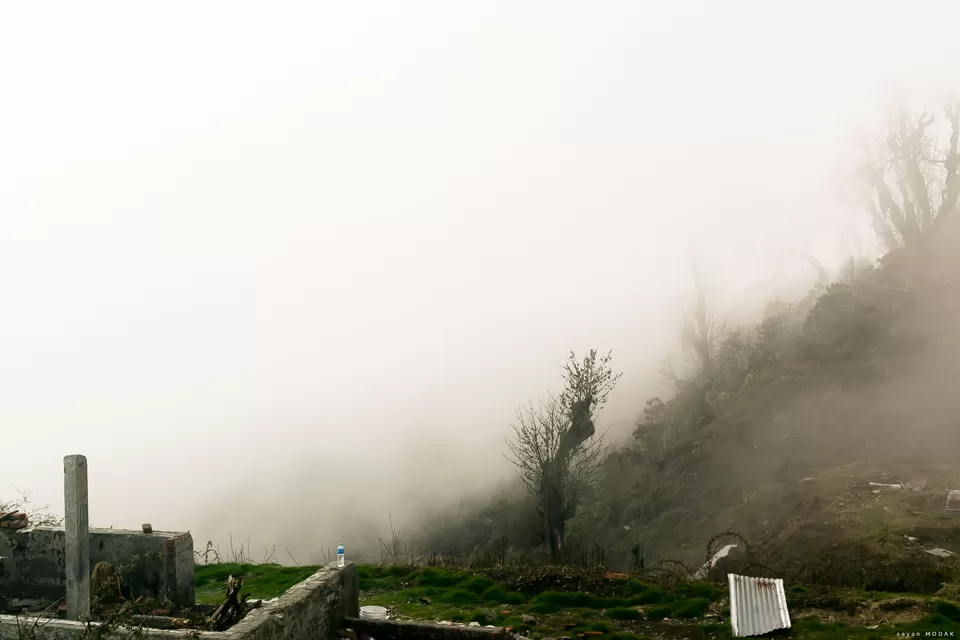 It was such a freezing outside that we were basking few minutes in front of the brick oven .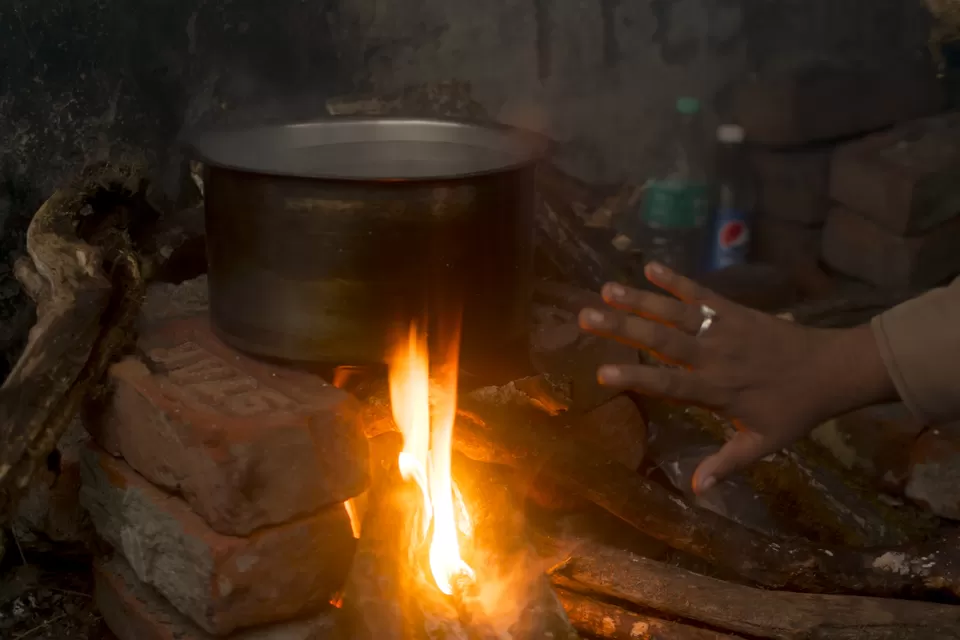 And then,like the cherry toppings on the cake, it started pouring. It started pouring so heavily that we had to get back to our tents fast. We decided to move to one tent for chit-chats. So we settled inside the Blue one(All 5 of us). We were smoking, talking about,our day, was sharing our personal experience and who exactly felt what during negotiating the slopes; all keeping the tent door open. The Lightning display in front was quite spectacular for the entire 18o degree views featured by the canvas of the sky at back.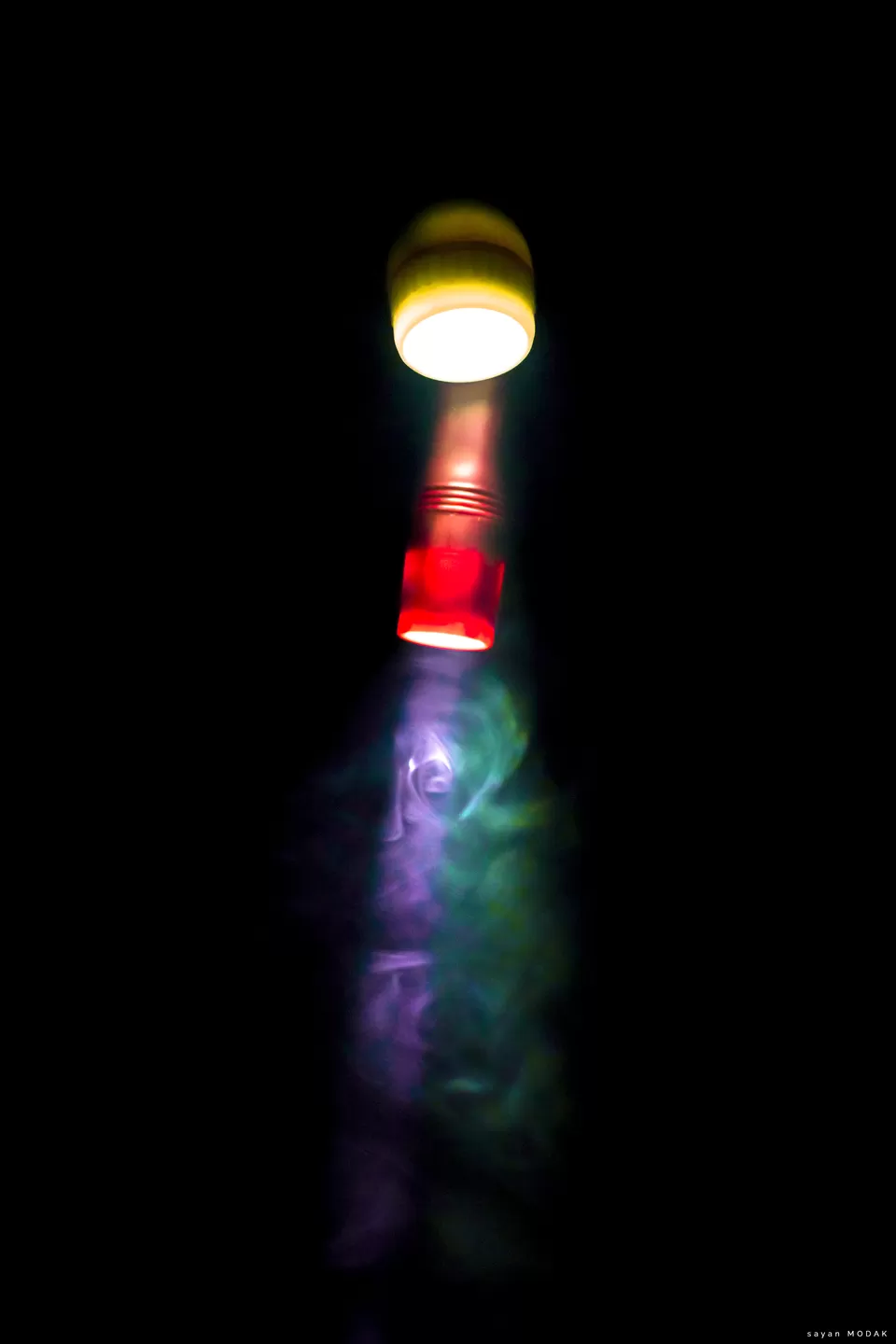 One of the porters served a full Dekchi(The Utensil in the above picture)of fresh Knor soups and few glasses. At that context it was like having the taste of Elixir.
Each of us drank 3 glasses only to realize how thirsty and hungry we were. After finishing, we continued our discussion etc. The rain stopped around 8 p.m. and we got out of the tent only to discover that; the cloud below the hill, has completely disappeared unveiling another scintillating display of light, of entire Ravangla town below.It was looking like a terrain of lights that was floating on the lap of the mountains.
We then toiled a bit, around the campsite till the time the porters called us for dinner. It was a sumptuous meal consisting of chicken curry and rice. It was really really tasty and at that altitude where it doesn't get boiled properly because of the reduced air pressure, the chicken was extremely soft,to our surprise.
After the dinner the group settled for sleep as everyone was tired.
However I was experimenting with camera for another 30 Minutes or so, which did result like this.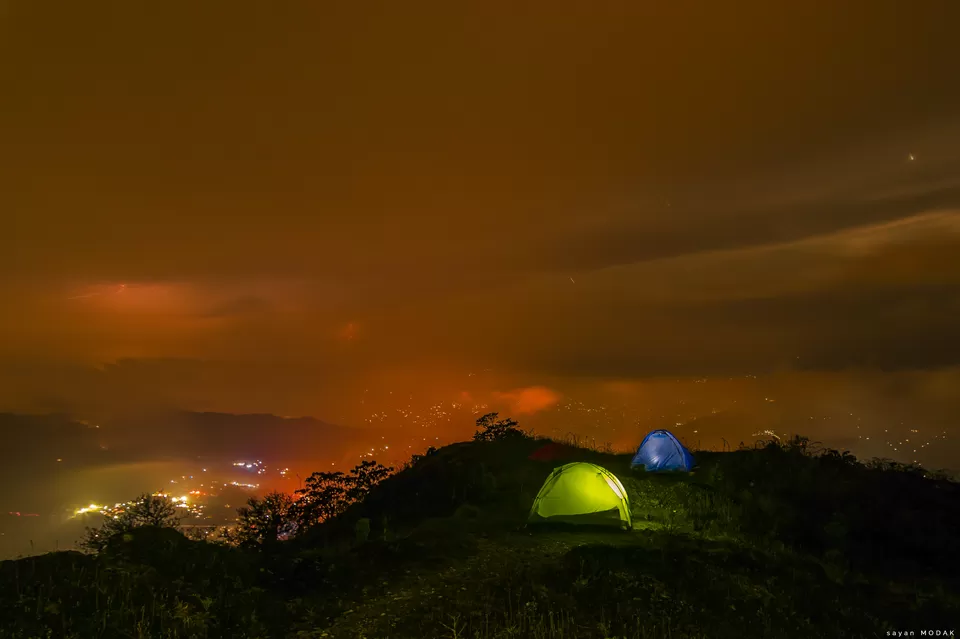 On the next day after having breakfast we dismantled our tents and started walking for a Monastery nearby, which is another 30 minutes of upward journey from the campsite. The entire path was moraine laid and the slope was gently upward continuously.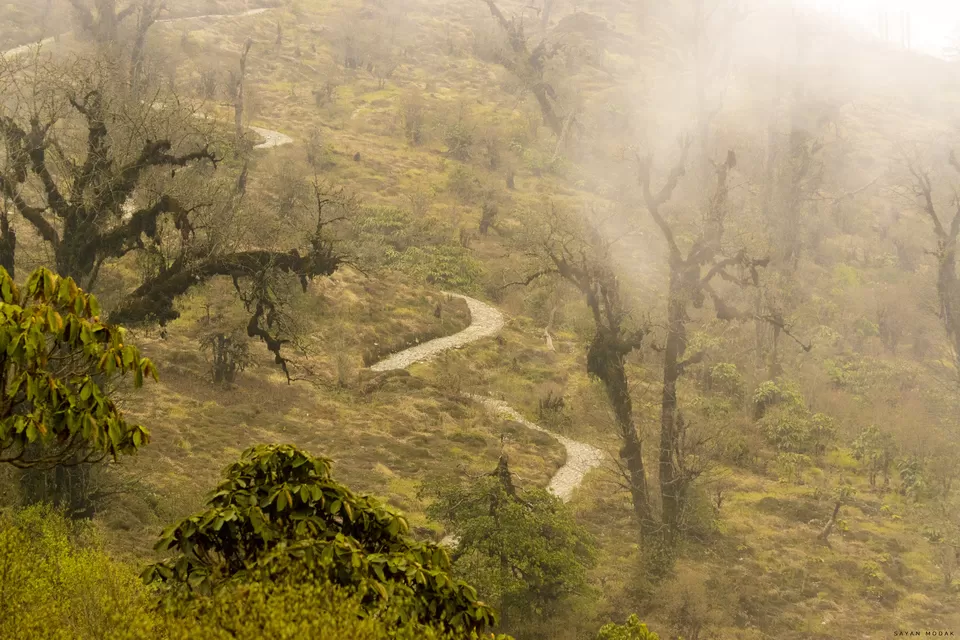 The place had an aura of spiritual awakening. There was a constant incense in the air, so soothing that I can't match it with my vocabulary.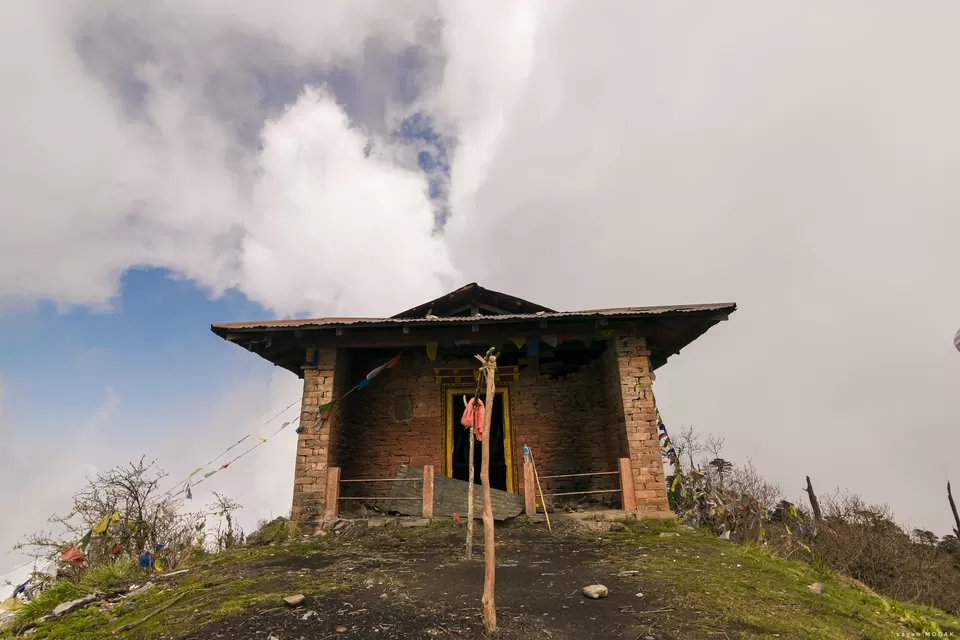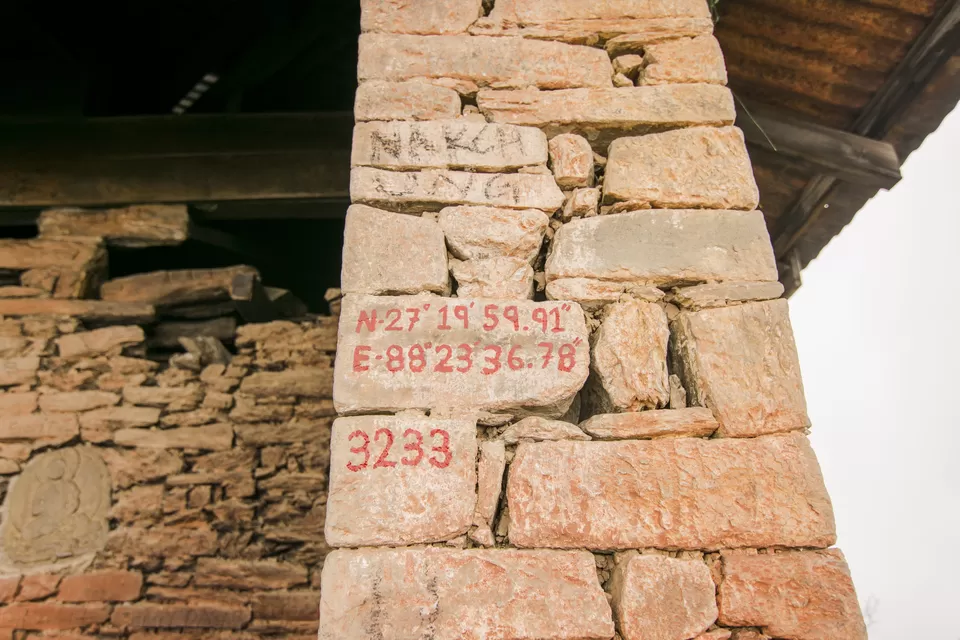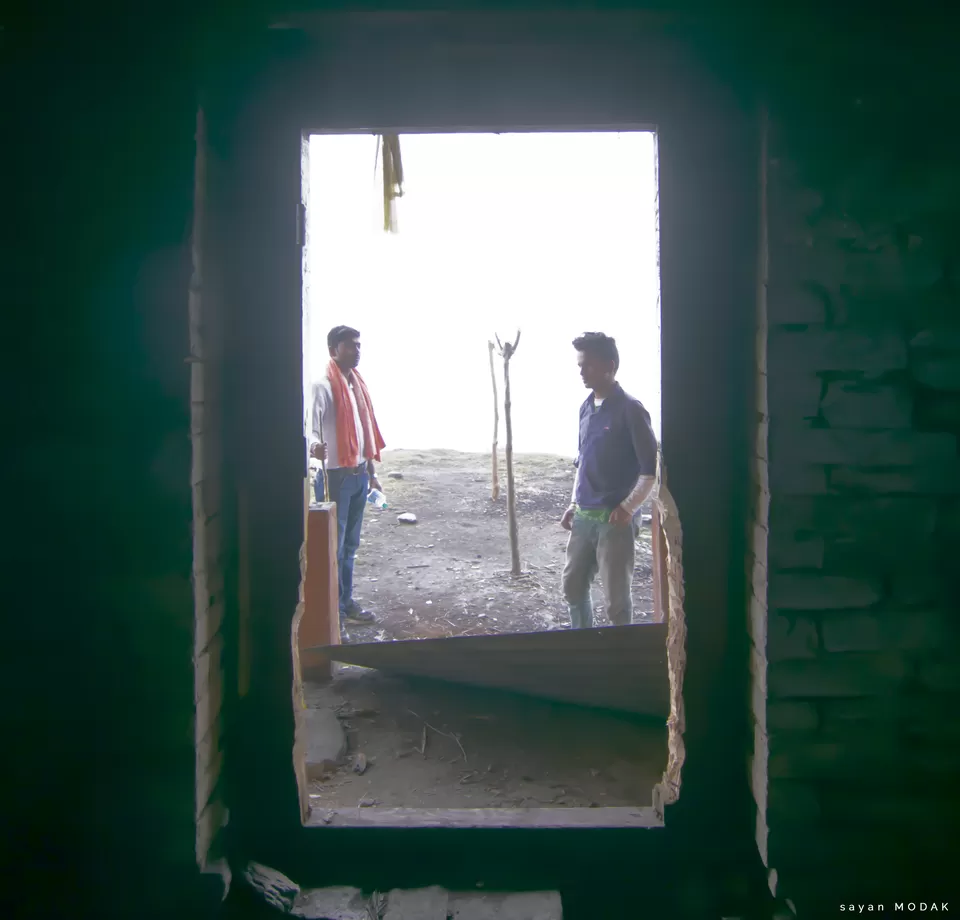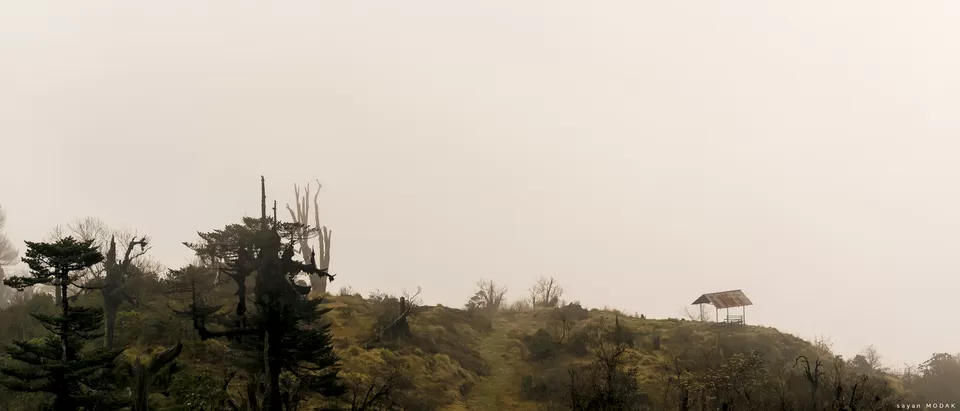 After spending 10 minutes or so, we traced our way back.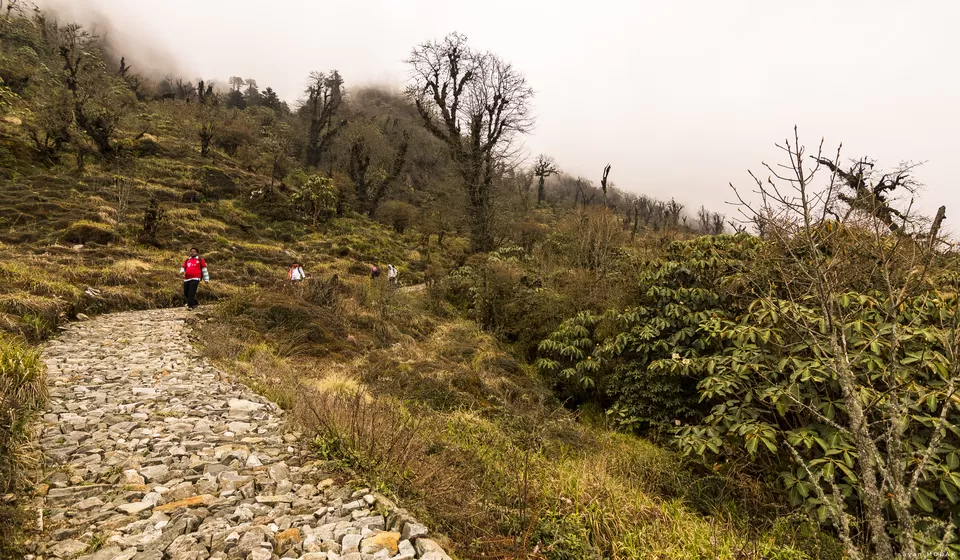 The getting down was much much faster. Only to bother about was, the strain in the muscles we were going through in our thighs and calves.
Again that Surprise shortcut came back in our life. The getting down through that route was at least 10 times more difficult than climbing up !! :( . I am not going to describe the pain. Just to mention it was the last section that we had to negotiate. That was the only survival strategy we had, to face the agony while getting down.
Our Itinerary :
April 28, 2017 - Starting from Sealdah
April 29,2017 - NJP to Wild Flower Retreat(Borong)
April 30,2017 - Wild Flower Retreat to Ravangla, Maenam Check Post (Night Stay at Maenam Top)
May 1,2017 - Maenam Top to Ravangla to NJP
May 2,2017 - Reach Sealdah.
Thanks You for having your patience to made it end up till here.
Much Love,
Sayan