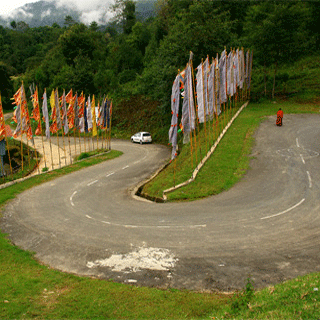 An insane love for nature! This is what has always drawn me towards the Himalayas every year. Rolling mountains, mists swirling down, humming rivers, wild scent of orchids... Himalayas are a mix of dazzling spirit and tuneless melody.
Day I – A Journey to the land of unmatched beauty
So little did I know that I would be greeted with all these and more as I began my journey towards Ravangla from Siliguri. My heart was pounding with joy every moment as the car took twists and turns ascending the hill top. It took a little over 4 hours for me to reach the sleepy little town of Ravangla, located at a height of 8000 ft in Southern Sikkim. Located amid the folds of Himalayas, Ravangla, lures its visitors with cascading ranges, hilly trails and some unforgettable scenic beauties.
I had my boarding arranged at Hotel Mt. Narsing. 4 km away from the main town, this village resort is located on the Ravangla Pelling connecting road. It was already lunch time when I reached and I was hungry. So I did not waste much time before delving into a large bowl of Thukpa, a traditional Tibetan dish. The next moment I was strolling in the landscaped garden of my resort exploring the natural beauty of the surroundings.
My bedroom had three wall to wall glass windows, each one of which framed a different view of the snow capped peaks of the Greater Himalayas. Surrounded by Rangit river valley and picturesque ranges this is the best place to stay at Ravangla.
Day II – Exploring the panorama
The temptation of capturing scenes from this beautiful hilly town in the celluloid was so strong that I woke up earliest the next morning. The beauty that I witnessed completely deserted my vocabulary, perhaps due to the over use of adjectives like "fantastic", "superb", and "marvelous". I was greeted by the morning mists swirling down the mountains softly blanketing the winding ways. The virgin landscape was covered with pine and spruce that stood proudly looking at the azure sky. Soon the faint streaks of light started coloring the mountain golden. I took a series of bracketed exposures in the hope that at least a few perfect images would come.
Just as I finished my breakfast my car arrived and we began our journey for exploring the various sightseeings in and around Ravangla. Our first halt was at the Ralang Hot Spring. A drive of about 26 km from the main city brought me to this place of extraordinary beauty. I got down from the jeep and went for a short stroll around the spring. This is a perfect place to get in touch with your senses.
The other places we stopped were the Mangbrue Gompa and view point and Tashiding Monastery. The Gompa is a drive of 8 km above Kewzing and is the best view point to secure an overview of the whole town. Tashiding, which means 'Central Elevated Glory' is located at a distance of 39 km from the main town of Ravangla. This is regarded as the most sacred and the oldest monastery in Sikkim. The annual festival of 'Bumchu' is also held here.
Day III – The trek
Although I thought I would not require a guide here, as north Bengal and parts of Sikkim has become my second home now, the manager at Hotel Mt. Narsing advised me to take someone along as I planned for a trek to Mainan and Tendong Hills. He arranged for a young Nepali lad, Raju, who arrived no sooner did I finish my breakfast. On our way to Damthang, from where our trek to Tendong hill began, Raju, whom I preferred to call my companion than guide, gave me ample information about the Tendong hill.
Damthang, with several grocery shops, some scattered cottages, a school, and a few Buddhist monks walking briskly, has strong resemblance with any other Himalayan villages. We began our trek right from here following the paved footpath of 1.5 km long. It was easy for me and my companion to walk till here. But ascending the rugged and hilly trails through thick grown forests that housed more than 90 species of birds, red pandas, leopards, Himalayan bears and specular oak, fir, pine and rhododendron trees was nightmarish. The elevation was so rapid that we reached a height of 8000 ft by just walking 3 km. On our way further up, Raju showed me the caves where Lamas used to meditate some thousand years back.
We reached our destination, the summit of the hill, at 2 pm. I couldn't resist myself to catch the glimpse of the 360 degree view from the three storey watch tower. It was the spectacular Himalayas all around me. The east was flanked by Chola range and on the west lied the majestic Kanchenjunga along with the entire Singalila ranges. Parhunri peak in the northeast looked most dreamy with its misty peaks. I began photographing with wide angle compositions and then cutting down to longer focal lengths for tighter frames.
Suddenly dark clouds started blanketing us. Raju said that rain was a common phenomenon here. My heart was engulfed with the feeling of love for nature. Rain.....Himalayas....and Romance....What else one needs in life to survive? After a brief downpour the rain stopped presenting to us an unforgettable view. Glittering snow capped Himalayas, bewitched forests, lush green valleys, scent of wild flowers – the endless panorama created a mesmerizing spell around me. Raju suggested we should get back before its dark. The time had come to park and I began my way back to the hotel with memories never to be forgotten.
Day VI – Sunrise and some leisurely walks
The alarm clock rang at 3.30 am in the morning. I woke up with a lot of enthusiasm and excitement. My morning soon arrived while i was getting ready. The first sip on the flavored Darjeeling Tea made me feel absolutely refreshed. I felt euphorically divorced from the hustle bustle of my everyday world. My car arrived at 4 am as was scheduled. It took me ten more minutes to get started for the Rayong Sunrise View Point. It is a drive of 8 km from the main town of Ravangla.
As I reached, I witnessed the majestic Kanchenjunga and snowy peaks of Narsing, Kabur, Pandim and Rathong standing tall reflecting a pale blue color. Soon the faint streaks of sun started coloring the snow capped mountains. It seemed like the nature was painting the peaks with orange, golden, pink and finally silvery white hues taken from the pallate called sun. I sat there for long adoring the the rolling hills. On my way back home I stopped at a small roadside tea stall and had my breakfast there with flavored Darjeeling tea and amazingly tasty momos.
After returning to the hotel I decided to go for a walk around the town. I had planned earlier to stock a day for exploring the unknown trails with a hope that I might just have a rendezvous with inexplicable vistas of beauty. This is something I love to do on all my trips. And trust me I have never been disappointed. Walking through some hilly slopes I came across a number of local people. I learnt from them about their occupations and interesting stories of the hills. I returned hotel with tired legs but bag full of films that had several long, tight and interesting frames etched on it.
After lunch my car had arrived. It was time for me to pick up a few souvenirs for my dear ones. I wanted to buy something unique so my driver took me to Khuenpheling Carpet Centre. Locate at the Tibetan refugee settlement camp, this is a small carper weaving centre. I check out a few ones and then decide upon purchasing a small rectangular carpet of bright red, black and beige colors that suit my budget.
Day V – Pain of Departing
My visit draw to close. This was my last day here. It was difficult to tear myself away from Ravangla's thickly forested hills, picture perfect villages nestled on the slopes, warm hearted people and the beautiful Himalayas against the backdrop of azure sky. But like every good things come to an end mine came too. Time and again, planned or unplanned I have found myself amidst this land of misty mountains – in different moods, different seasons, alone or with friends and family. My heart ached as I began my journey towards the NJP station. I promised myself to come back to this mysterious land soon.
Surrounded by Rangit river valley and picturesque ranges this is the best place to stay at Ravangla.
A drive of about 26 km from the main city brought me to this place of extraordinary beauty.
Glimpse of the 360 degree view from the three storey watch tower