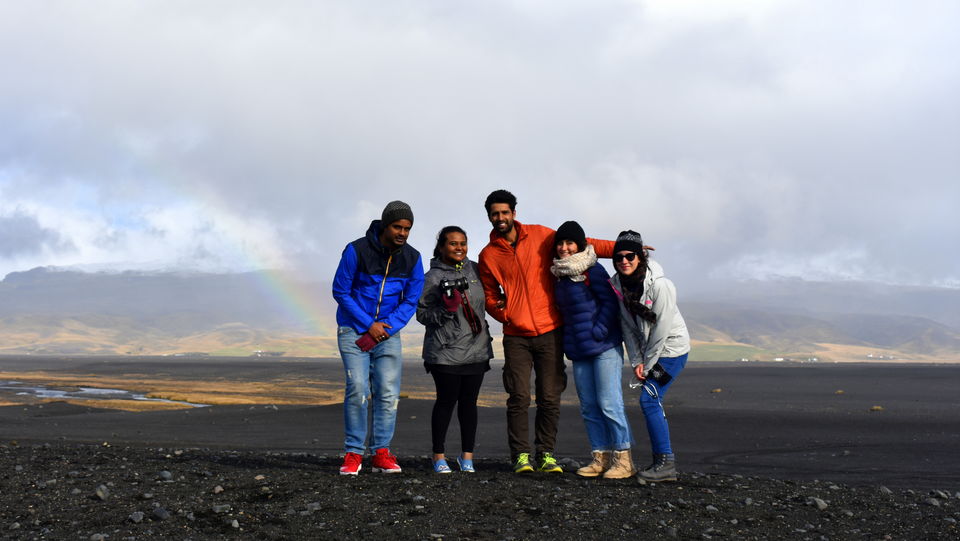 There is a feeling between being overwhelmed and being underwhelmed. And that feeling is called home.
Intro
Except for some exceptions (since there are always some), everyone wishes to travel the world. It's just that many aren't lucky or daring enough at times.
Like for so many others, Iceland had been a dream destination for me for a long, long time. But unlike others, its beauty and out-worldly landscapes were not what led me to travel there in the first place. It was music.
Since 2014, I had been listening to the Icelandic band Sigur Ros, and their music has always felt to me to be inspired by nature - Icelandic landscapes to be specific. So, it had been a long-awaited wish of mine to witness those landscapes in real life.
For all my other fellow travelers, the reason was photography.
People
Main Group
Rajiv Ranjan Sinha - Photography expedition leader from Bokaro, India
Deepak Lakra - Photographer from Bokaro, India
Mukesh Srivastava - Full-time photographer from India
Dr. Nirmal Jain - Photographer from Indore, India
Dr. Virendra Prajapati - Photographer from Ranchi, India
Deep (myself) - Traveler from Chandigarh, India
Others
Jocelyn Anami (Jo) - Traveler & part-time model for expedition from Mexico
Clara Maria Aimaretti - Full-time traveler from Argentina
Sneha Sai - Traveler from Hyderabad, India
Mohammad Ayaz - Traveler from Hyderabad, India
Most of us had never met each other before and had come in each other's contact through Facebook. The trip was essentially a landscape photography expedition, which Rajiv had been planning for months. I came in his contact in late July 2018 and agreed to be a part of the expedition as a traveler only.
The main group was flying from Delhi to Reykjavik. Jo, who was friends with Rajiv and had agreed to be part of the expedition, was flying from Mexico via LA. Clara, a full-time traveler who kind of hitchhiked with us, was flying from London. Sneha and Ayaz, who were travelling on their own with an itinerary similar to ours, were flying from Hyderabad via Munich.
Day 0: September 18, 2018 - Reykjavik (Hotel Aurora)
Our Finnair flight was scheduled to land in Reykjavik at 5:30 PM. And roughly half an hour before the landing, we began to witness the beauty of the land of ice and fire.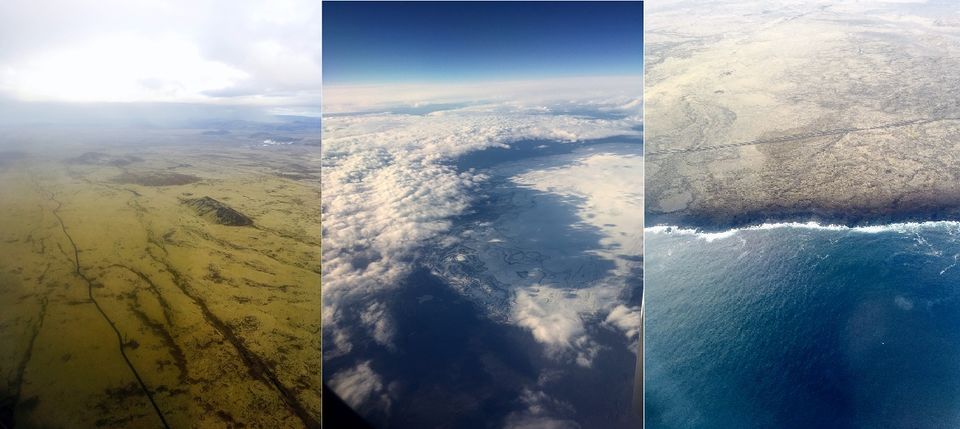 When we set our first foot on the Icelandic ground, it was a strange place, in a cold land, far, far away from home. Yet, it felt warm.
Keflavik airport was bustling with tourists - busy in taking clicks and clips, all exuberant, all absorbed in the moment. A sight we would be seeing for the rest of the trip because the country is filled mostly with tourists. (Population: 338K; Tourists/year: 2 Million)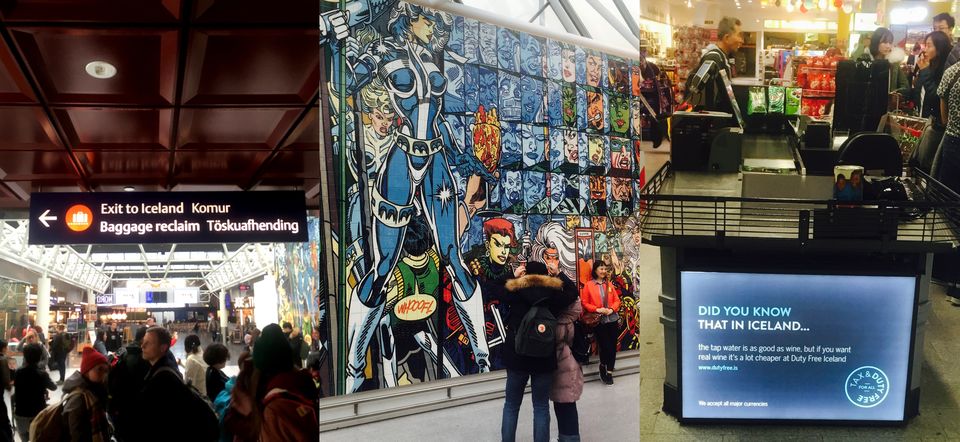 Being photographers, my fellow travellers had a lot in mind to document the moment in a rather artful manner. In fact, they had a lot of heavy and sophisticated photography equipment out at the exit. But at the same time, everyone was so absorbed with excitement and busy in taking their own pictures that it just couldn't happen. And I am glad that it didn't. I am glad that instead of documenting the moment, we lived it.
There are moments in your life you long for, sometimes all your life. And when they arrive, it is important to live them, not get overwhelmed.
On my part, I only wanted to take a shot of my first foot at the exit (technically, not my first foot on Icelandic ground). And it was rather easy to manage.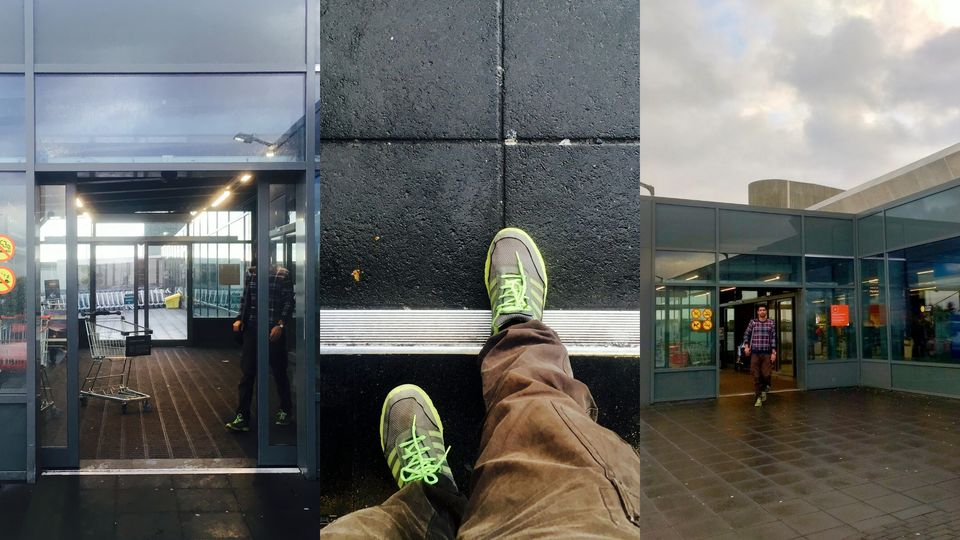 After spending some time at the airport, we boarded our two rental cars (Mickey Cars), switched to Icelandic sim cards, and headed to our hotel - Hotel Aurora, located at a walking distance from Hallgrimskirkja. On the way, I asked Mickey whether he listens to Sigur Ros. I was surprised when he said he had heard of them but doesn't listen to, as I had assumed that Sigur Ros should be a household name in Iceland. Sadly, that wasn't so.
Having heard a lot about Iceland's low population, it was surprising to find Reykjavik to be a rather densely populated place, like any other major city/town. Later I found that out of 338K of Iceland's population, 217K people live in the capital region, and 123K in the City Reykjavik. So, yeah, that made sense.
Anyway, it took us quite some time to find parking spaces for our cars. We parked one of our cars temporarily in front of a house next to our hotel, but the house owner was out in a minute to tell us that we could not park there. So, we had to find a couple of parking spaces on another street.
Amid all that parking hassle, I noticed (I guess, we all did) a girl standing next to a garage shed in front of our hotel. She was Clara, but we only found it out when she finally approached Rajiv, with whom she was already in the conversation on Facebook to join our expedition (as we had a vacancy for one more co-traveller). And she would join us the next morning for the entire trip.
After settling down at our hotel rooms, we went out for a stroll to explore a bit of Reykjavik. The first thing in mind was Hallgrimskirkja, of course. But it was closed during the evening, so we just roamed around it a bit, took some clicks, and the photographer bunch analyzed the surrounding for best angles to take pictures the next morning.
Coming down from Delhi's 34/25°C to Reykjavik's 11/6°C was a bit chilly, but the chill was being constantly flushed out with our excitement, especially because for many of us, it was the first trip abroad.
We strolled a bit more, met Mickey (car lender) on our way, and paid him some cash in advance, in Icelandic Kronas (some 120,000, which was a lot of cash I had just withdrawn from an ATM). On our way back, we bought dinner at Krambúð. Luckily, I was able to find something vegetarian, which is usually costlier than meat in Iceland, since they don't produce it but import.
After reaching our hotel rooms, we quickly had dinner and pretty much went dead sleep despite the excitement for the trip ahead; courtesy of 11+ hours of flight and jet lag.
Day 1: September 19, 2018 - Reykjavik to Grundarfjörður (Hellnafell)
We woke up early next morning despite previous day's exhaustion. We pretty much had to because photographers were there on business and they needed to be ready at the right place during the morning golden hours.
Hallgrimskirkja
We were out well before the sunrise in the biting cold (especially the wind) and after a couple of minutes' walk to Hallgrimskirkja, everyone scattered to set equipment at their chosen spots. Deepak and I had only cameras with us, so we moved around the area to capture the church from different angles.
From what I remember, Dr. Virendra had a pretty good shot including a bike stand at an angle with all bikes superimposed. I am pretty sure the others too had some good shots, especially when the sunlight touched the cross at church's tip and slowly began to creep down on its structure with rising sun's angle, adding quite a contrast to an already beautiful scene.
I took a couple of okay shots as well. One before the sunrise with a bench in foreground, and other after sunrise when an airplane flew by in the background sky leaving behind a white streak of its exhaust. I almost managed to capture the moment when plane crossed the cross at the tip. The photograph's white balance was terrible, and it's a bit shaky as well, but the moment was almost perfect.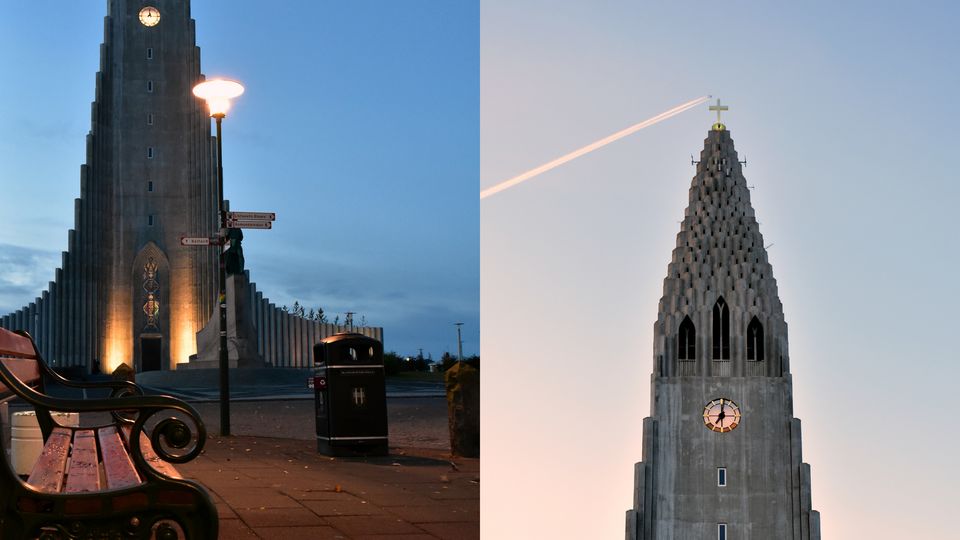 Sun Voyager
Once there was enough light, I could see the ocean through the Frakkastígur Street descending to the shore. Deepak and I decided to walk towards the ocean. The wind near the shore was much, much stronger, and it was quite an effort to continue walking against it or standing upright for that matter.
At the shore, to our surprise (since we hadn't done our research), Sun Voyager sculpture was right there in front of us. So, our excitement got the better of the wind in seconds, and we had our gloves removed in an instant. And despite constant difficulty, we started taking pictures and admiring the sculpture from different angles.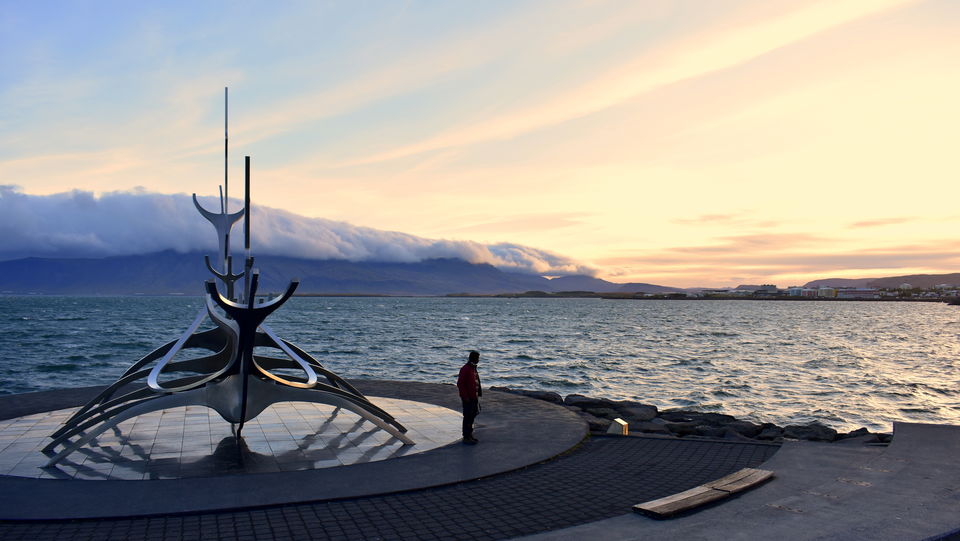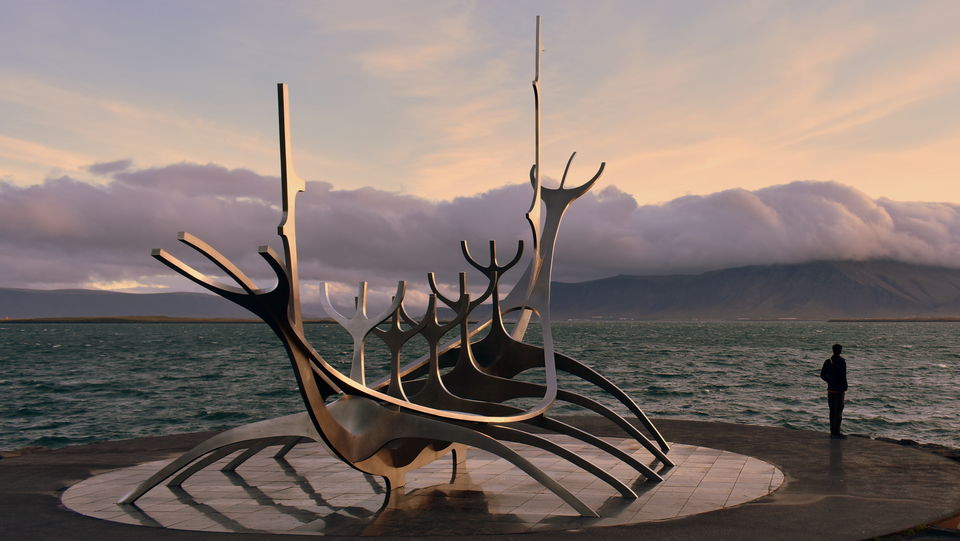 Once done with the pictures, we just stood there for some time - gazing at waves hitting the rocky shore, looking at a raft of duck that seemed to be dancing along the turbulent waves, enjoying a mesmerizing view of clouds hovering around the Engey Island, all the while feeling slight warmth coming from a rising sun through wispy clouds on our right.
After spending about 45 minutes at the shore, we headed back to the hotel. And it was such a relief to be back under the covers of buildings after standing amidst brutal gusts of wind. At the hotel, Jo had arrived. Soon after meeting her, we had our breakfast. Rajiv asked us to stuff ourselves as much as we could, since we were not going to stop for lunch (which would be the case for the rest of our trip). After breakfast, we packed our bags to commence our clockwise ring road trip.
By that time, Clara had also joined us. So, we headed towards our cars. Rajiv was going to drive one and Deepak the other. But Deepak had some difficulty igniting the vehicle, so Dr. Virendra took the role. He too had some difficulty (especially because of the left-hand driving), but we made it safely to the highway after a couple of awkward moments on the city roads.
Once on the road, the view was amazing, every inch of it. The highway exiting Reykjavik runs across an Atlantic bay on the left. Sun was shining brilliant on its surface and on the other side we had the typical Icelandic landscapes, grass covered mountains with streaks of black/grey surface underneath, visible more and more up the slope. Although autumn had already begun, the lush green of the grass was still there. We had barely left the sight of the city but every one of us had taken dozens of pictures and videos already.
After about two hours of drive, Rajiv spotted a parking area little off the road and decided to stop there to take some pictures without hassle. The bay was on the other side of the road. Dr. Virendra and I decided to go towards the bay, while the rest of the group was taking the pictures of nearby grass fields and herds of sheep. On reaching the other side, Dr. Virendra occupied himself with photography while I just strolled a bit and sat on grass near the shore to stare at the water.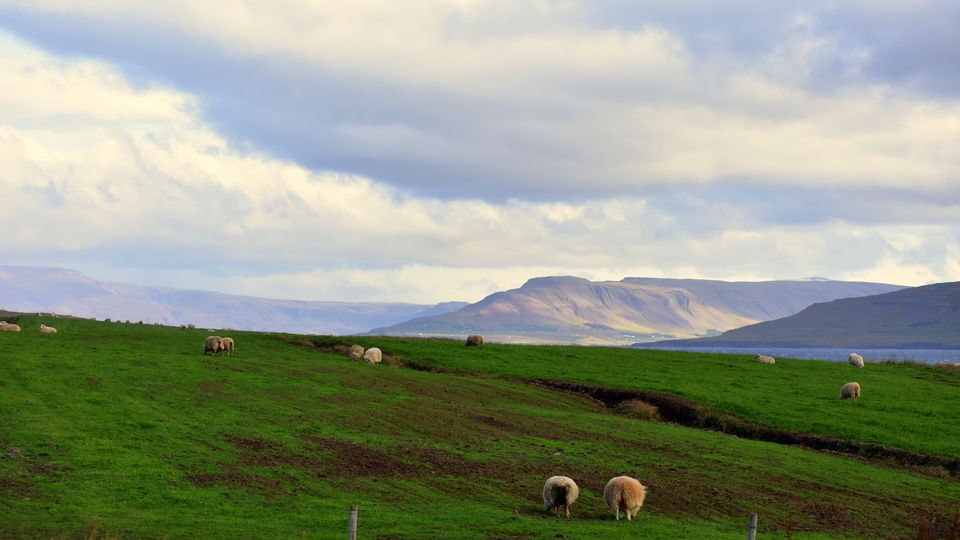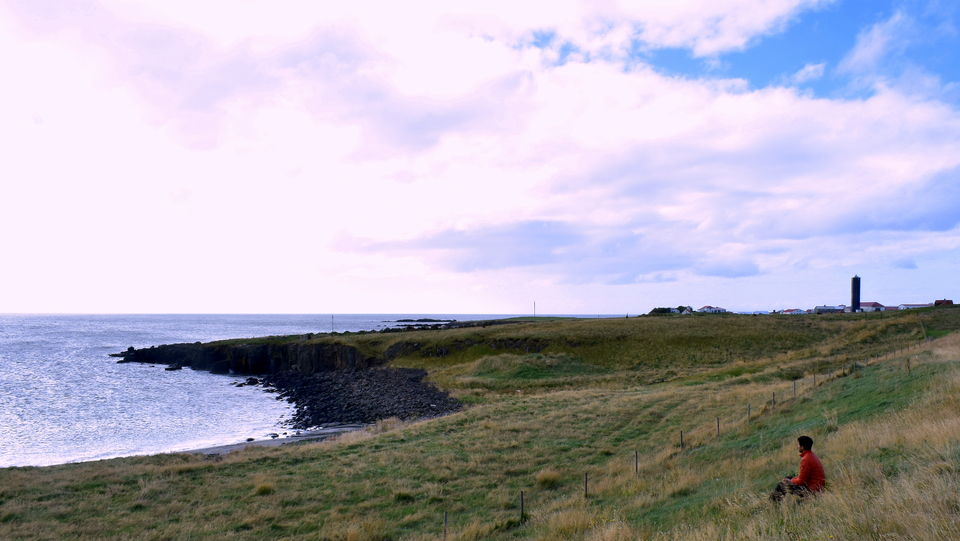 After spending about half an hour there, the group decided to drive on ahead. But there was a problem! The window glass of one of the cars was malfunctioned. If you open it, it won't close. Mickey had warned Rajiv about it and I think he had conveyed it with the group, but it is something that just happens out of reflex when someone tries to talk to you through a closed window.
Driving with an open window in biting cold was out of the option. So, after pondering for about 10-15 minutes, with no success, Rajiv finally had to call Mickey. The poor guy had to come all the way from Reykjavik just to pull a car window glass a few inches up.
By the time the window was fixed, we had lost a couple of hours in the day's itinerary, which meant we were to make lesser and briefer in-between stops. While we're still waiting for the car to get fixed, I asked Clara which country she had found the most beautiful so far, half expecting her to say Iceland. She flatly said, every place she has been to is beautiful. Every place has its own beauty and there is really no comparison. I wasn't expecting such a profound answer from a young person like her (she was 18), and was tongue tied for a few seconds before finding a response to that, which was a lame extension of my question, "which place she liked the most landscapes-wise?". Her answer to that was similar to her first answer, so I didn't probe further. She had that sense of a seasoned traveller, which a novice like me couldn't outdo with a mere play of words.
Our first stop was about an hour's drive ahead. A river was passing under a bridge and ending up in an array of rapids on the other side. We ventured on both sides of the road. On the river side, the water was deep blue, like I used to paint on drawing sheets as a kid. So, it was quite unreal to watch it in real. The rapid side was a fenced private property, so we couldn't get near enough. The sun wasn't at a good angle either, but we took a few shots nonetheless, and drove ahead.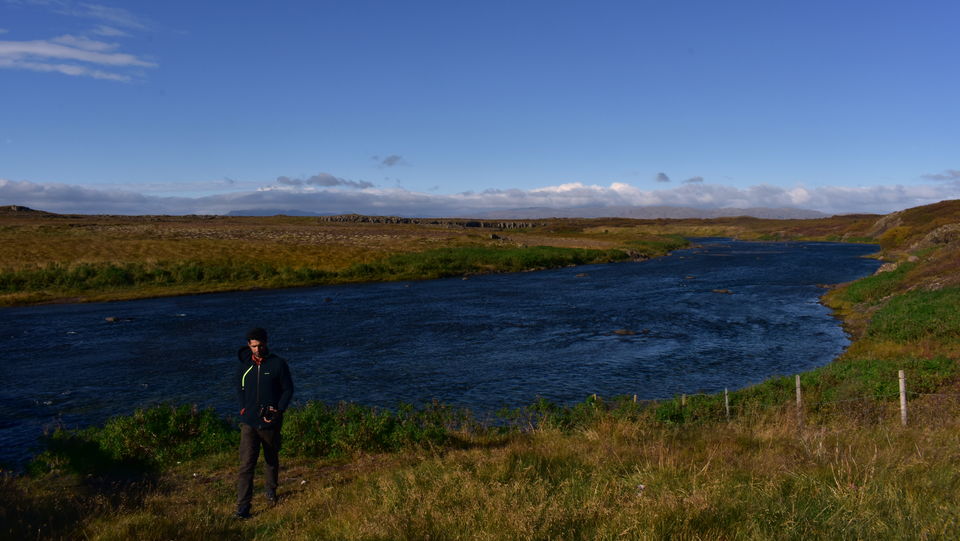 Second stop was again after about an hour's drive. It was near a vast expanse of grassland with a range of mountains at a distance in the backdrop. Sun was in the opposite direction, low but rather bright, so light was good, except for the shadow of frequent floating clouds. I am pretty sure everyone got some decent landscape shots there. I again ventured off into the grass fields and got a few clicks of me, thanks to Deepak and Clara. We took a few shots on the road side as well, and resumed the drive.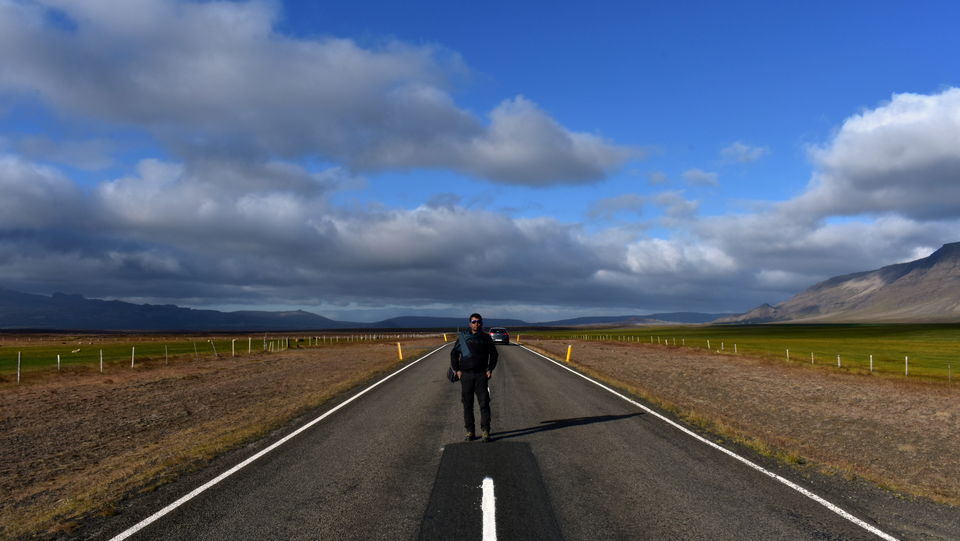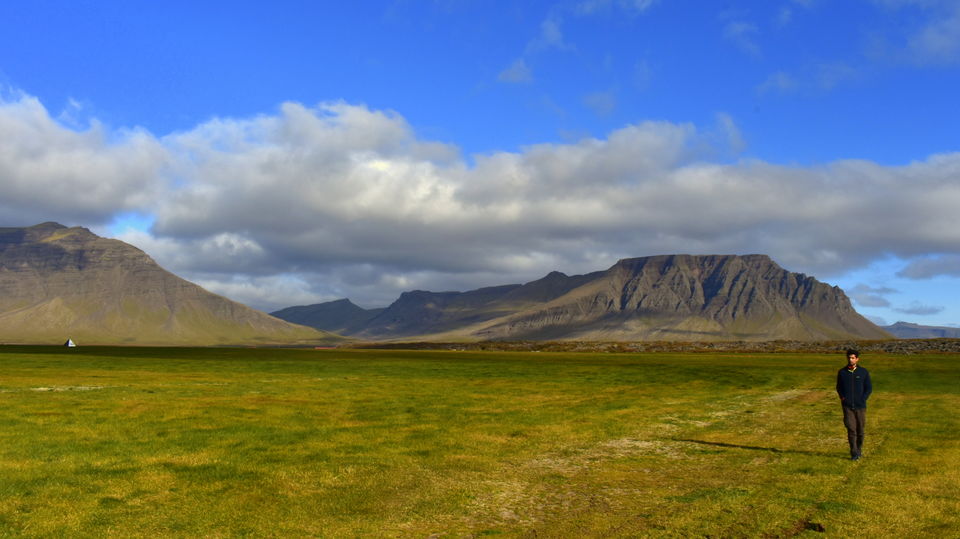 Third intermediate stop was a quick one, near a WC. On the opposite side of the road there was a church. We didn't have enough time, so we took some shots from a distance.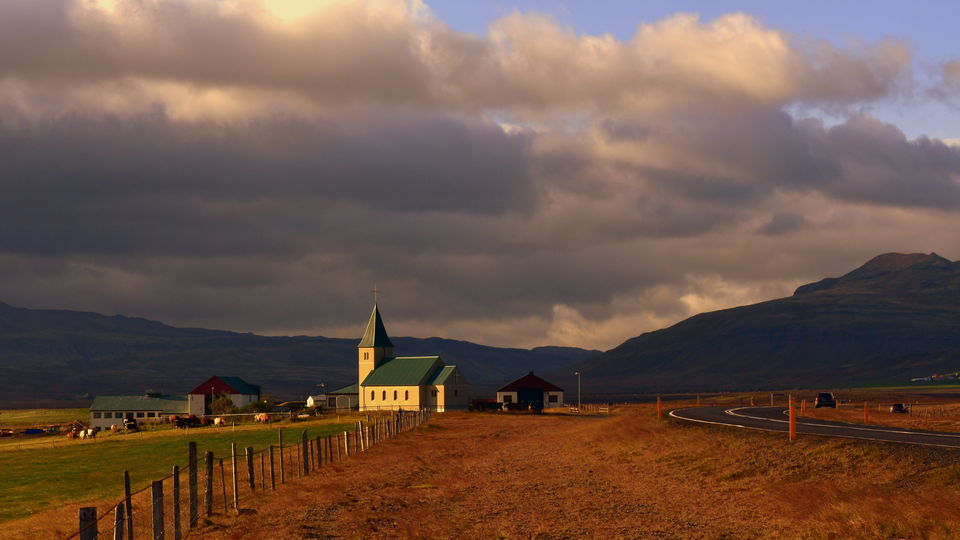 Fourth intermediate stop was near another grassland, but with white rolls of mowed grass across the field. The wind was extreme as we got out, and frequent gusts were strong enough to push one a bit with it. We spent about 10-15 minutes there. During that time a full rainbow, first of the trip, also appeared. So, stopping by there, amidst that cruel wind turned out to be a little worthwhile after all.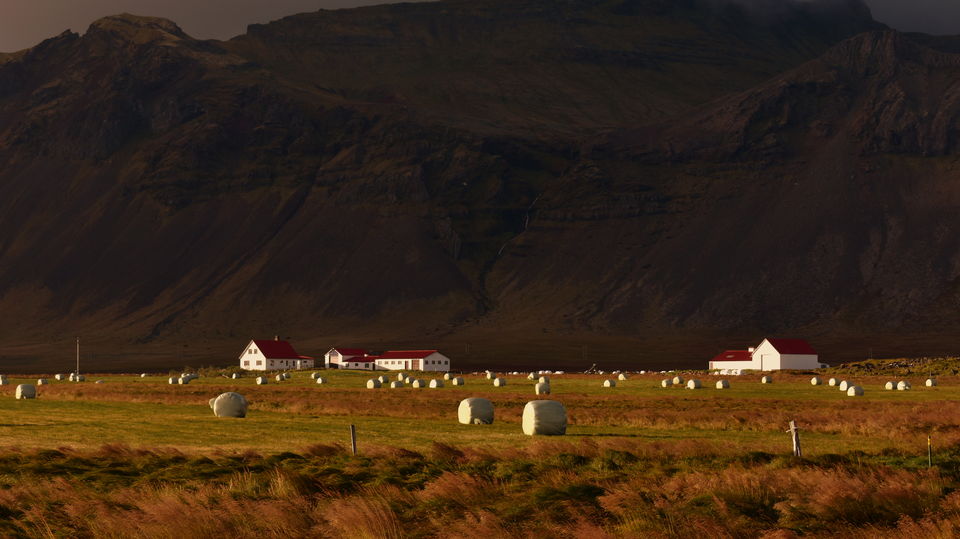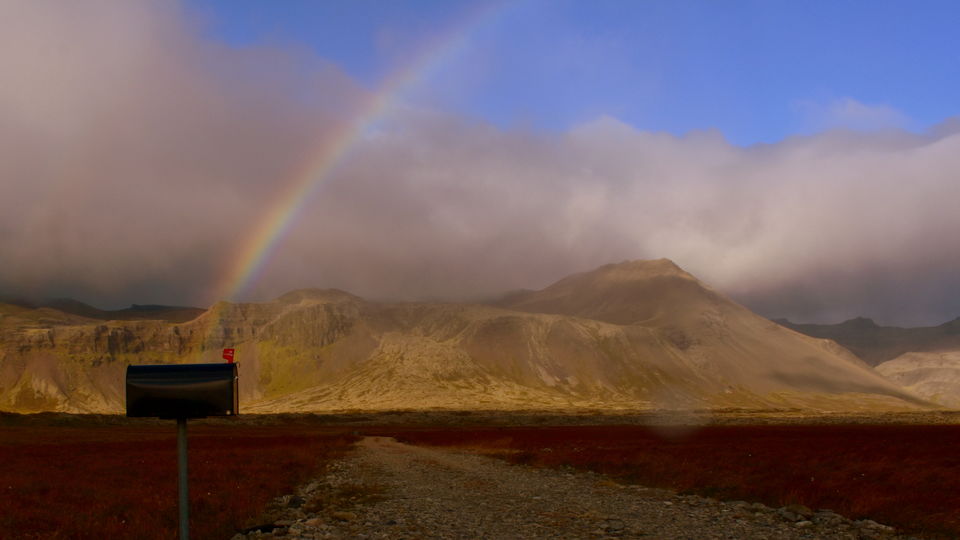 Fifth and the final intermediate stop was at a rather frequently photographed (which I found out later) abandoned red hut. Unfortunately, the sun had set by then and the cover of cloud wasn't allowing any remaining natural light to pass through. Everyone tried their best to get some good shots and I hope some did, but mine were terrible. After spending half an hour near the red hut, we finally resumed towards our destination of the day, Hellnafell, a guesthouse next to the famous Kirkjufell Mountain.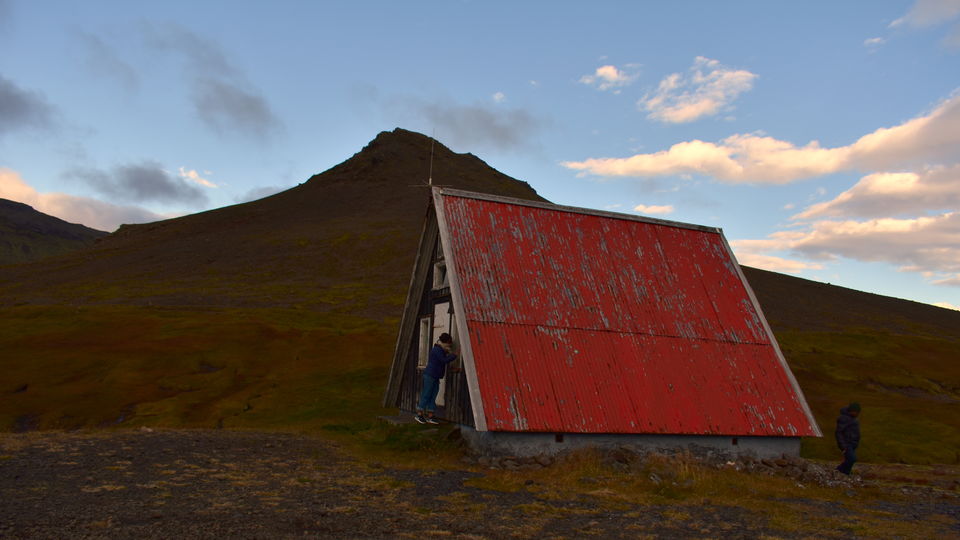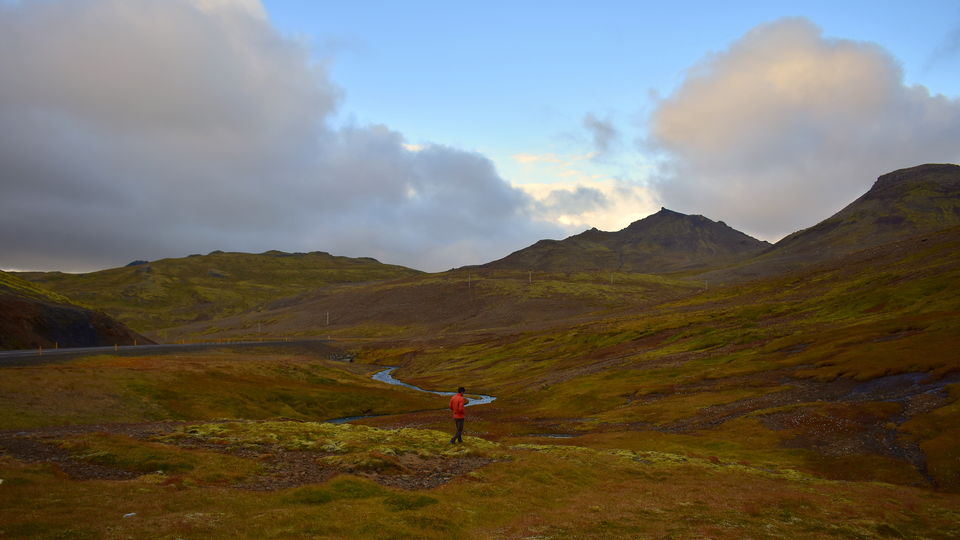 Kirkjufell
Kirkjufellsfoss waterfalls were on the way, so, although tired, the group decided to go there first and try to take some pictures in the dying daylight. I too took the picture from the famous angle, with Kirkjufellsfoss waterfalls in the foreground and the mountain in the background. But others did a far better job than I. We stayed there for about 45 minutes, and I spent most of the time wandering and exploring the nearby area, partly in a futile search of a different angle to capture the mountain.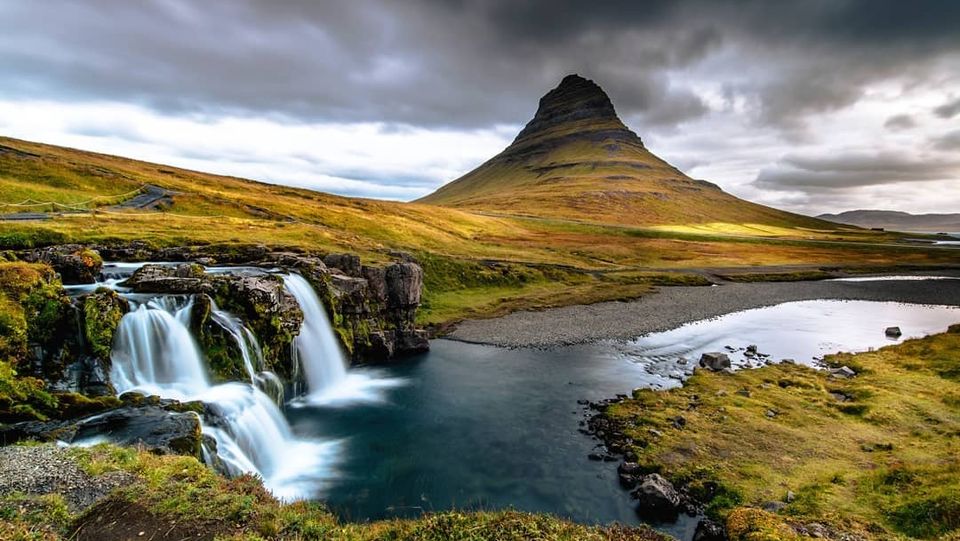 Once the daylight died completely, we headed to Hellnafell, which was just 3-4 minutes' drive ahead. It was a beautiful and cozy place, and felt like home in every sense. There were four bedrooms - sleeping space for 8 people, and a glass-walled living room at the left end of the house, with a magnificent view of Kirkjufell all day long.
After putting the luggage inside, Rajiv and few others left for the Grundarfjörður town to buy some groceries. For the night, the owner had kept spaghetti noodles for us in the kitchen fridge, which was a relieving surprise, since none of us had any energy left to prepare the dinner. After a day long drive with hardly anything to eat, we were ravenous, and ate quite a bit of it. Luckily, it was enough for everyone.
I was sharing my room with Deepak. But when it came to sleeping, we found out that our bed was a bit too narrow to accommodate two persons. So, I decided to sleep on the living room couch, which was large enough for a 6 feet tall person to lay down comfortably. It was a little less warm in the living room in comparison to bedrooms, but not cold. So, I slept there rather comfortably.
We had a two day stay at Hellnafell in the hopes that at least one night northern lights will appear and the group will get the chance to capture Kirkjufell with it. So, some of us stayed up for the night watch. Unfortunately, the cover of clouds didn't let any aurora through throughout the night.
Day 2: September 20, 2018 - Grundarfjörður to Arnarstapi to Grundarfjörður
Sleeping on the living room couch had one big advantage - I got to wake up to the view of Kirkjufell. It was early and the weather was still cloudy, yet the view was magnificent. It was still a bit dark inside, so I turned on a couple of warm white cob lights. The setting seemed perfect for a lazy morning, so I quickly fetched a book and a cup of coffee and got back into my warm quilt on the couch.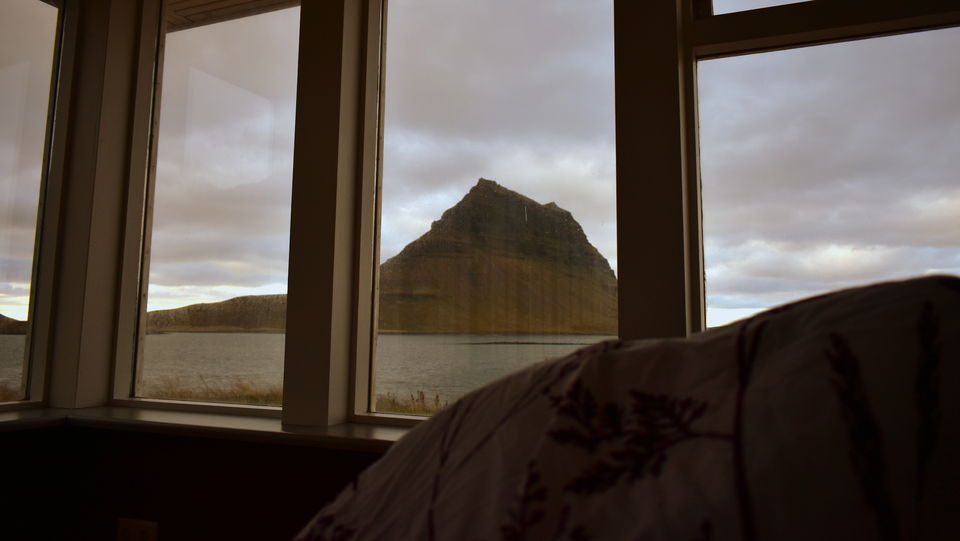 After chilling on my couch for about half an hour, I finally got up to find out that Rajiv, Deepak, Dr. Virendra, and Dr. Nirmal had already left for Kirkjufellsfoss to take some more photographs. It was at a 10-15 minutes walking distance from Hellnafell, so at first, I thought of joining them, but then decided to stay back, take a shower and have something to eat. Jo, Clara, and Mukesh had also stayed back. Jo and Clara were having breakfast in the kitchen and Mukesh was in his room, busy editing his photographs on his laptop.
After having breakfast - bread, cheese, milk, bananas, etc. - with Jo and Clara, I was exploring the TV room items for guest - magazines, kids' playbooks, game boards, toys, etc. - listening Ágætis byrjun on my phone at a low sound on speaker, when Jo asked me "Are you listening to Sigur Ros?" Bingo! I was just searching for a Sigur Ros fan.
She was a fan but not a die-hard like me. But we still got into a long discussion about which albums and tracks were our favorites, what other post rock bands we listened to, so on and so forth. We had quite a few bands in common. She was a much bigger fan of Bjork, whom I had listened to only a bit. So, she shared a few titles, and in return, I shared a few titles of other bands she hadn't listened to. And we would keep the practice of sharing music on and off for the rest of the trip.
It was still early (7-8 AM) and we were to leave for the round trip to Arnarstapi and Hellnar at about 11, so there was quite a bit of time to kill. While Jo stayed inside to have some rest, Clara and I went out to explore a bit of outside.
There was a temporary ranch kind of space next to the house for a couple of horses to graze. I went inside to get some pictures clicked with horses. While approaching one of the horses, I slipped a bit on the wet grass, and the horse looking at me also stumbled, feeling threatened. One knee still on the ground, I felt scared for a moment that horse might attack, but to my relief it didn't. Plus, Clara also called after me telling me it was alright, it won't attack. So, I gathered a bit of courage to caress the horse on nose, while Clara took the pictures.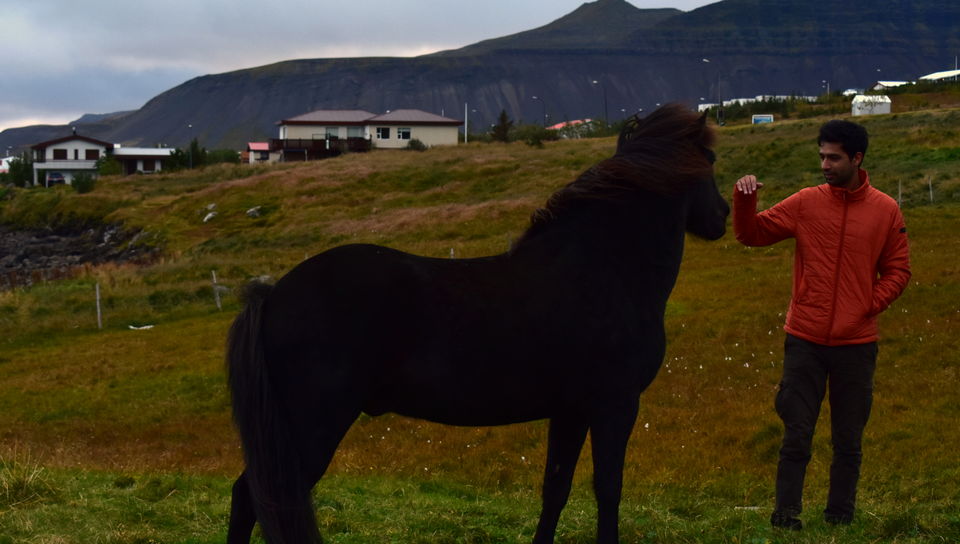 Next we went on an extended way into the sea from shore - not a platform, just sand over a pile of rocks - and took some pictures. By this time, Rajiv and others had also arrived. On spotting us near the shore, Dr. Virendra and Deepak also joined us and we took a few more clicks.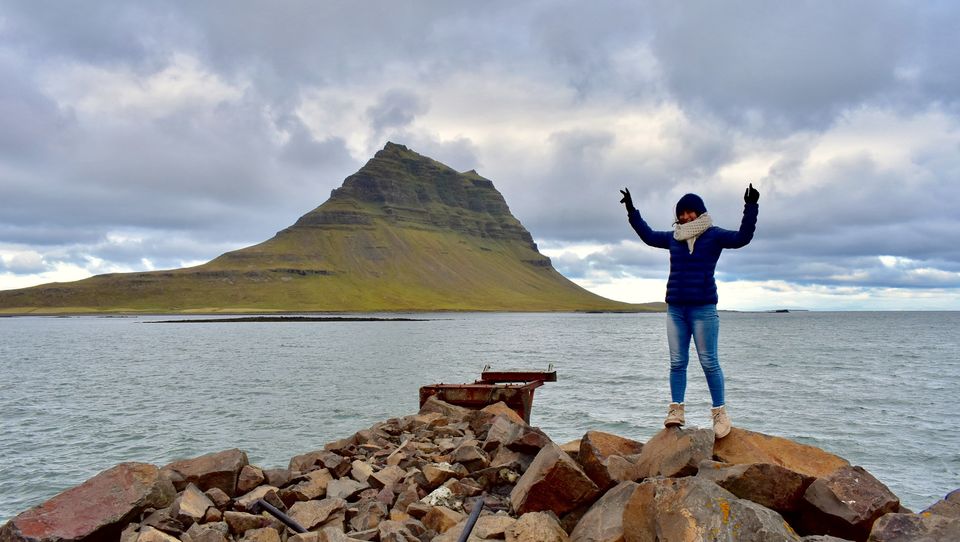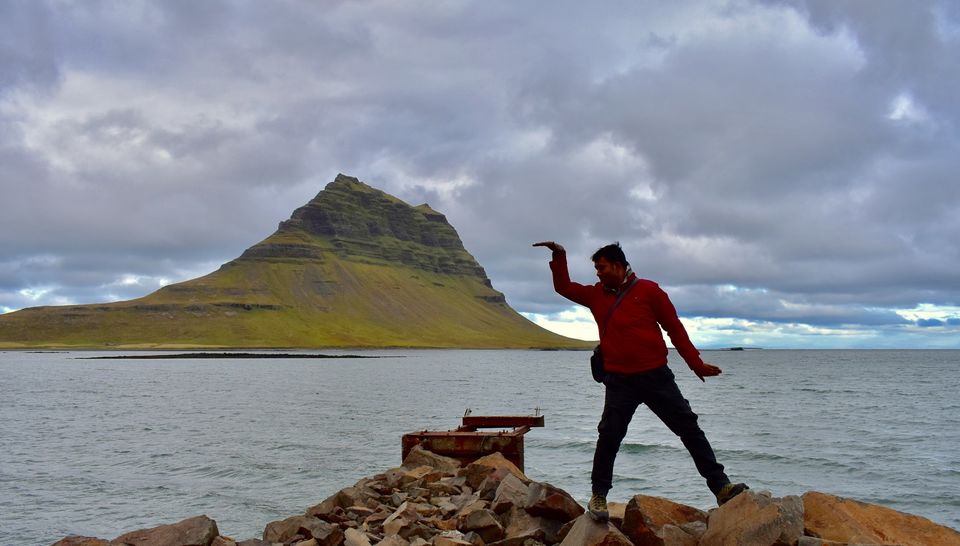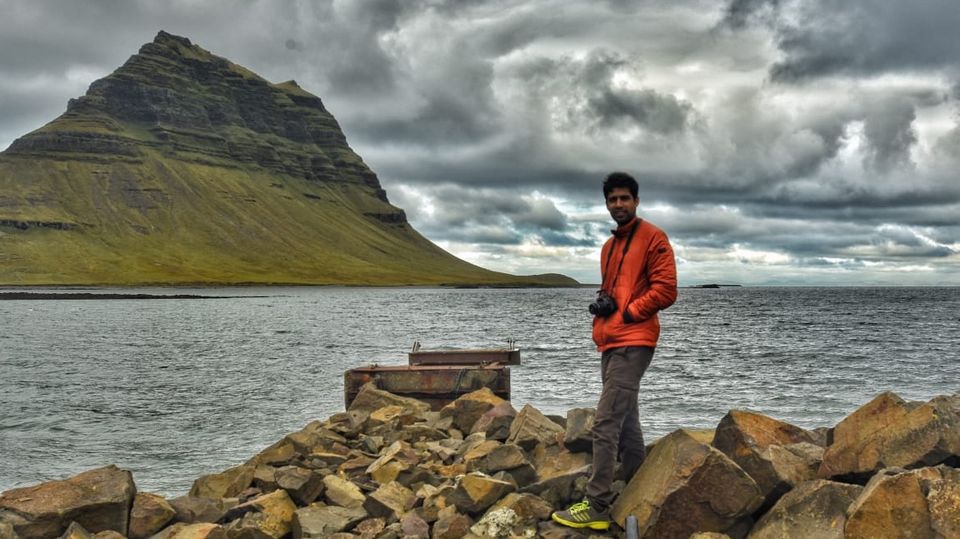 After spending a couple of hours outside, we finally headed back to the house, where everyone was busy having a snack, taking a shower, or packing bags. Rajiv told me that a couple from Hyderabad (Ayaz and Sneha) was going to join us for our round trip to Arnarstapi and Hellnar. Ayaz and Sneha arrived at Hellnafell soon after. They were staying somewhere in the town.
After getting introduced, our caravan of three cars left for Arnarstapi, which was about 50 Kms from Grundarfjörður and on the other side of the Snaefellsnes Peninsula. As we left the coastal road, we missed to spot the famous Black Church, which was on the itinerary for the day. And unfortunately, we didn't get another chance to go there again, since we were taking a different route on the way back.
The deeper we went into the land, the more scenic the view became. Now the mountains were a bit higher & greener. Before reaching Arnarstapi, we made a couple of stops for some more landscape shots.
Since all photographers were busy taking pictures and Jo's job was to pose for them whenever asked, Clara and I automatically formed a kinship and took each other's pictures at every stop. Besides, both of us were a bit of a wanderers and used to wander off into landscape away from group - sometimes climbing a mountain, sometimes descending to the river shore, and so on - so it was good company as well.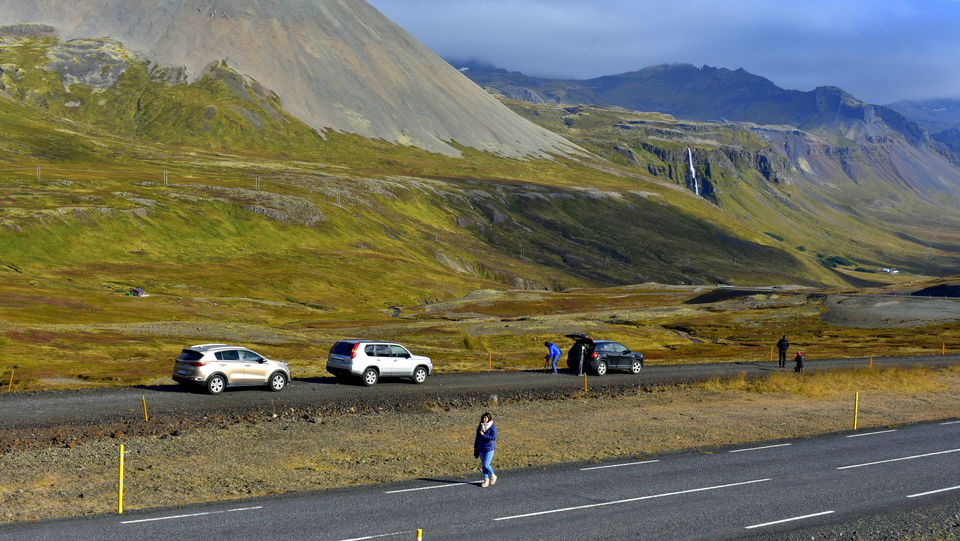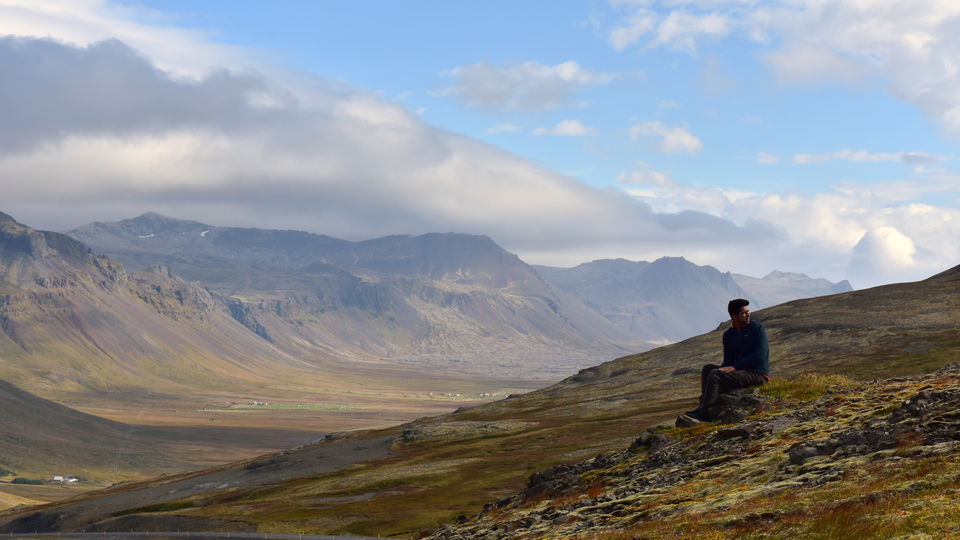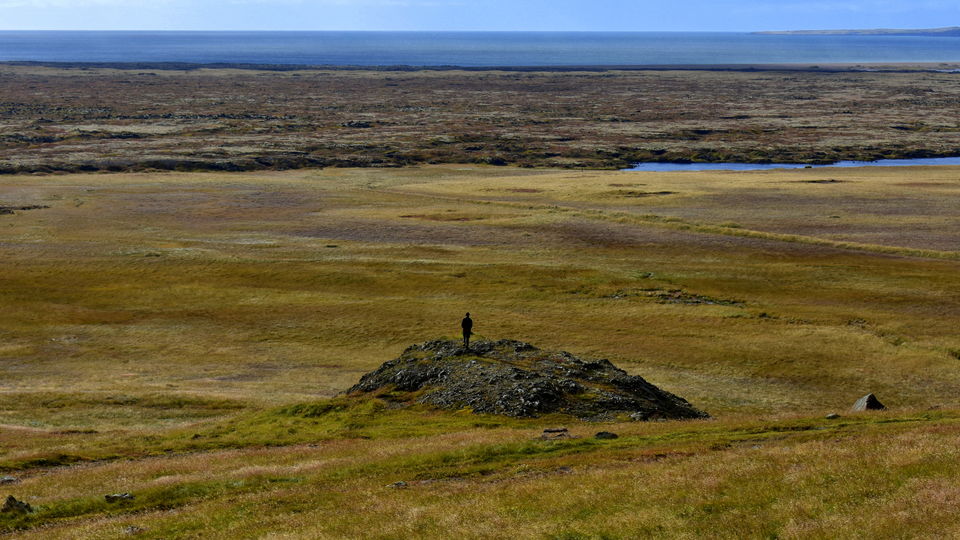 Arnarstapi
We reached Arnarstapi at around 1 PM. After driving and staying in pretty much isolation for one and a half day, it was a welcoming change to be part of a crowd at Arnarstapi. The sky was clear and the sun was shining brilliant, but the wind was still undoing whatever warmth it was sending across. Still it was nicer to be outdoors there in comparison to Grundarfjörður.
The two main attractions of the place were obviously the Gatklettur mountain (little elephant head shaped mountain) and the Bárðar Saga Snæfellsáss Statue. Plus, there was quite a bit of pedestrian paths around the area, especially across the coast. So, everyone just moved here and there to take photographs. Luckily, a rainbow came out and I was able to get a decent shot of it with the Bárðar Saga Snæfellsáss Statue.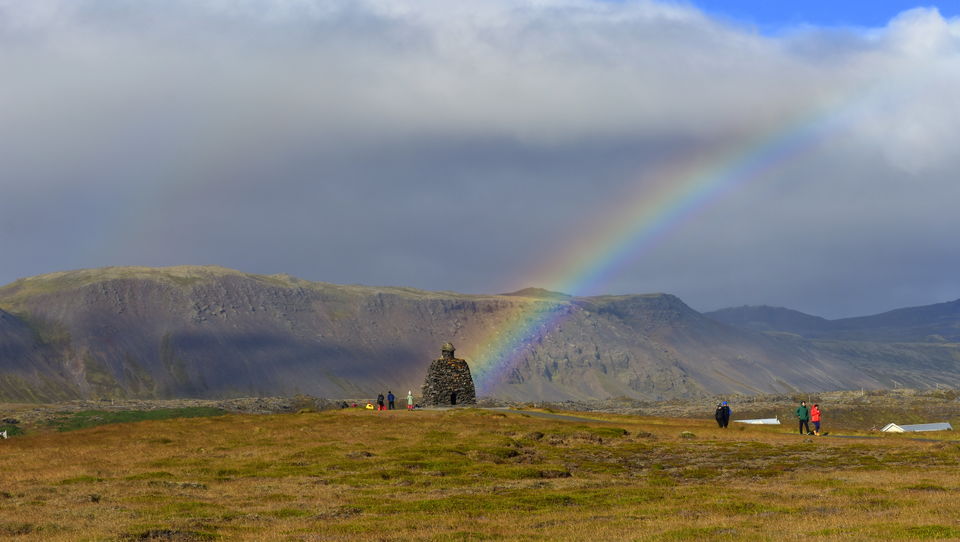 Just ahead of the statue, there was a platform at the coast to gaze deep into the Atlantic Ocean. I asked Clara to take a few pictures of mine standing on the platform. When I was returning from the platform, Jo was approaching it, we briefly stopped while crossing each other to admire the natural texture of rocks that formed the edge of the Arnarstapi plateau running across the coast.
Clara was still taking pictures continuously. When I finally reached her to check the shots, I saw she had captured the encounter between Jo and I rather beautifully, like two strangers crossing each other's paths and then getting along.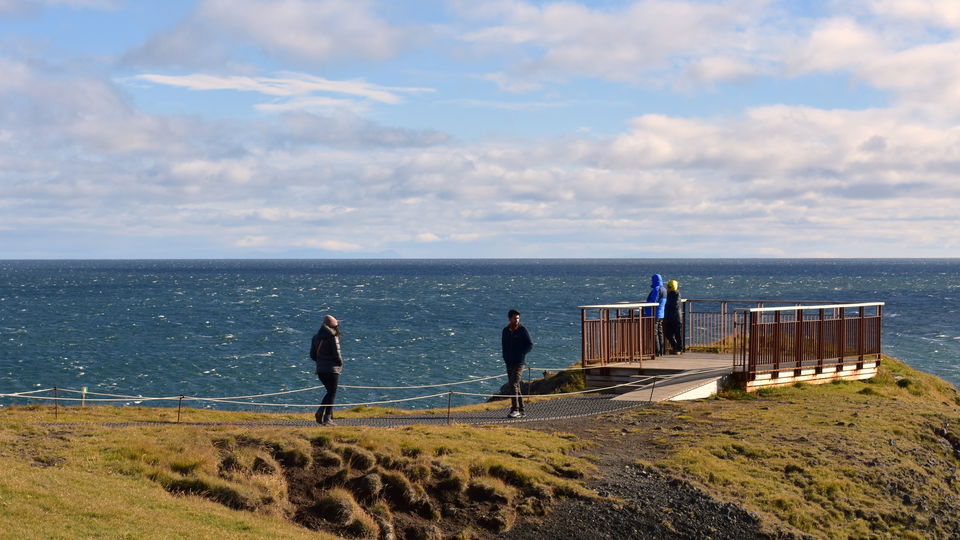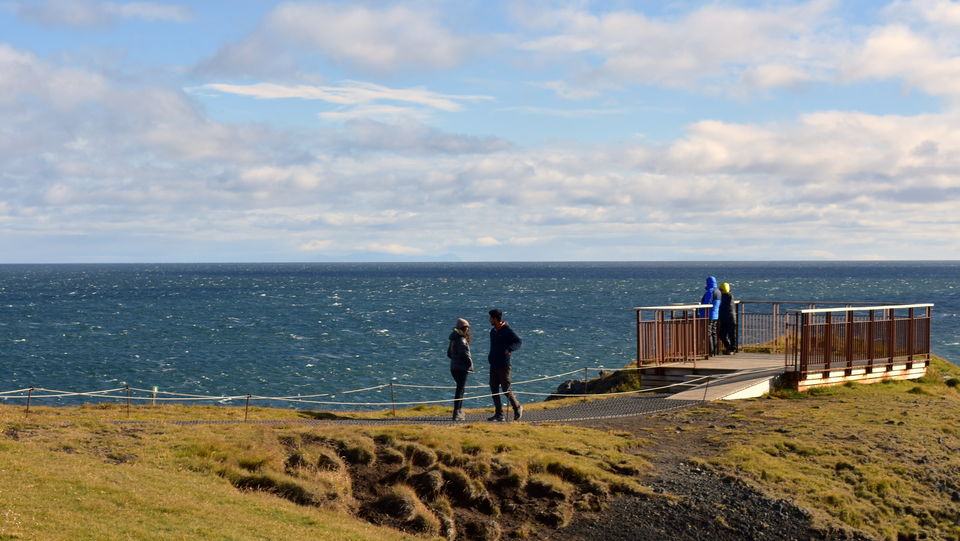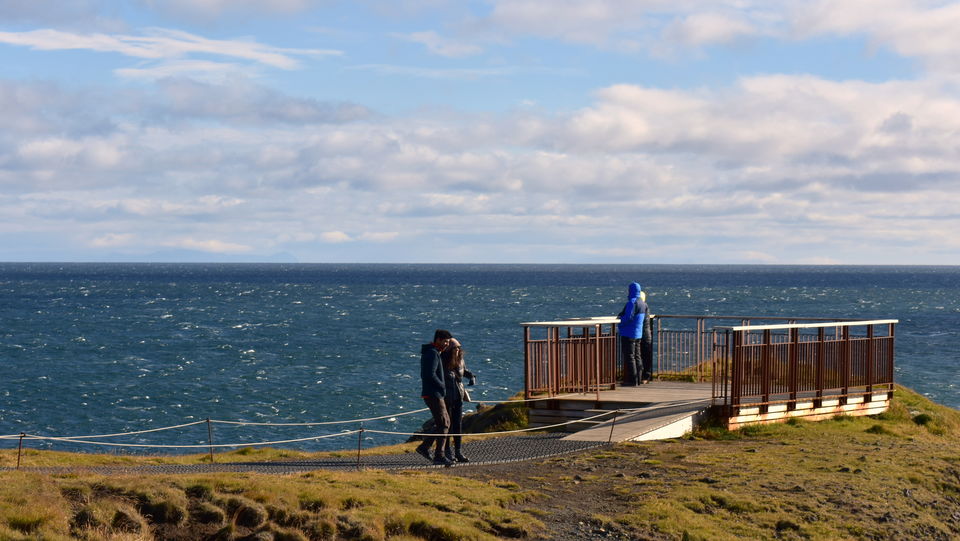 After spending some more time strolling across the pedestrian paths and taking some pictures of Gatklettur mountain, the group gathered back at the parking area to drive ahead to Hellnar.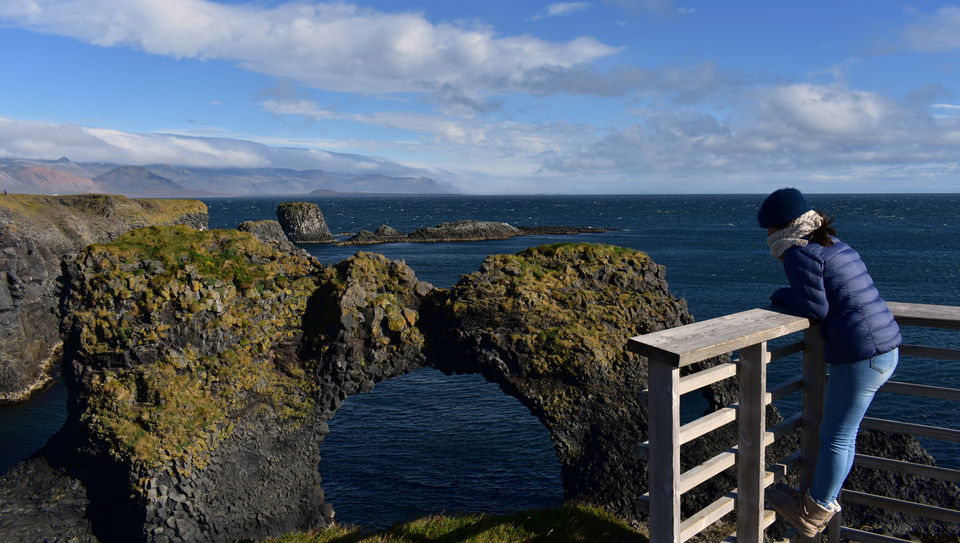 Hellnar
Hellnar is just a few minutes' drive from Arnarstapi. Like Arnarstapi, there are spectacular rock formations across the Hellnar beach, but unlike Arnarstapi, you could get down there. Most notable of these formations is Valasnös, a cliff reaching out to the ocean from the mainland with a cave tunneling into it.
The group decided to do a professional photoshoot of Jo at Valasnös, who did a purple dress for the shoot. Everyone went down there. I neither had the skills nor interest to take a model's photographs, so I just explored the area on my own. Unfortunately, there was nothing distinct to explore apart from Valasnös, but fortunately, everything was beautiful anyway, so I just wandered aimlessly for about an hour, admiring the beauty, taking pictures here and there randomly.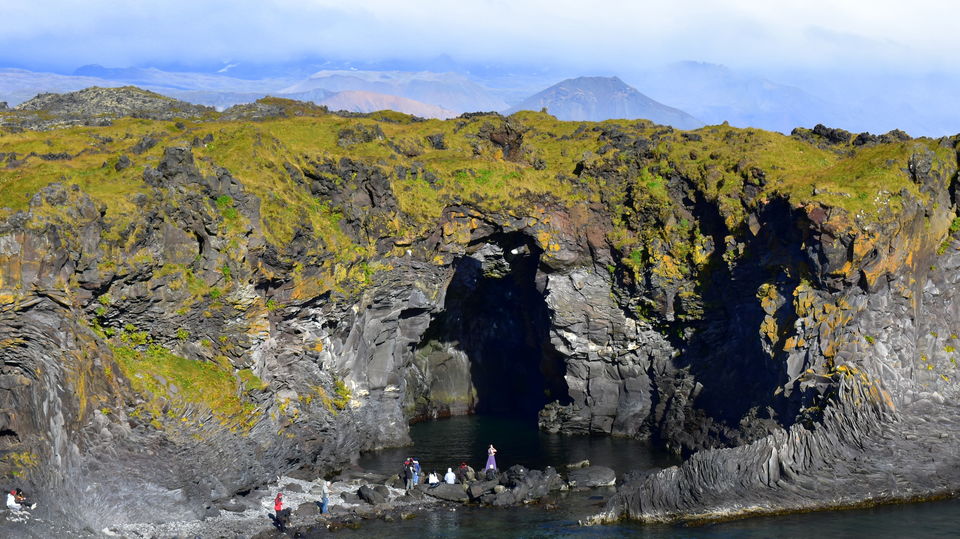 After a while, I spotted Sneha and Ayaz on the extended concrete path of Hellnar beach and joined them. By now the photoshoot was done and Valasnös was a bit less crowded, so I went there with Sneha and Ayaz. We were taking photographs of each other when I noticed a guy on the cliff, right above the tunnel. My instant reaction was to go up there. So, I quickly went back up to find a way to climb the cliff. From the top spot, the view of the back of the tunnel was surreal because of the reflection of sunlight from water surface on already magnificent rock formations of cave walls.
Once done with admiring the cliff, I called (shouted) after Ayaz and Sneha. After a couple of attempts they noticed me. I asked Ayaz to take some pictures and to come up. On the way back I realized that I had taken a different route when climbing up, which wasn't a route at all. Ayaz got up there with some difficulty and got his clicks by Sneha and me as the reward.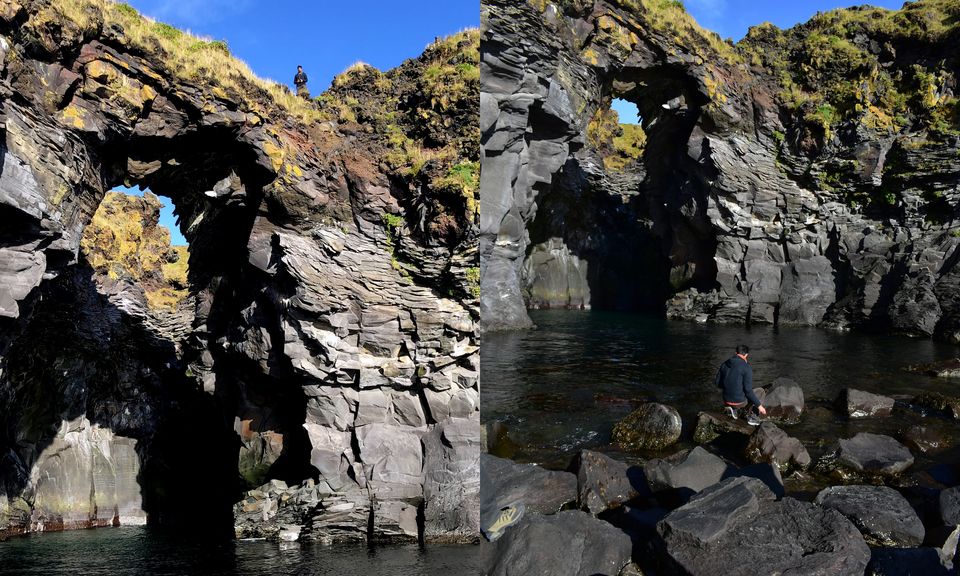 The group, after the photoshoot, went up to Hellnar church to take some more photographs. By the time they were done there, we were done at Valasnös. So, we all gathered in the parking area. Photographers were excited after their first model shoot and were obviously discussing its nitty-gritties. Once everyone was ready and packed, it was time to head back to Grundarfjörður.
On the way back we took a different route, which was across the coast for the most part. The only stop we made on the way back was at Ingjaldscholskirkja, Rif - a little red roofed church situated ideally on a straight path up the slope from the highway. Its setting was so beautiful that even an amateur like me took a decent enough photograph.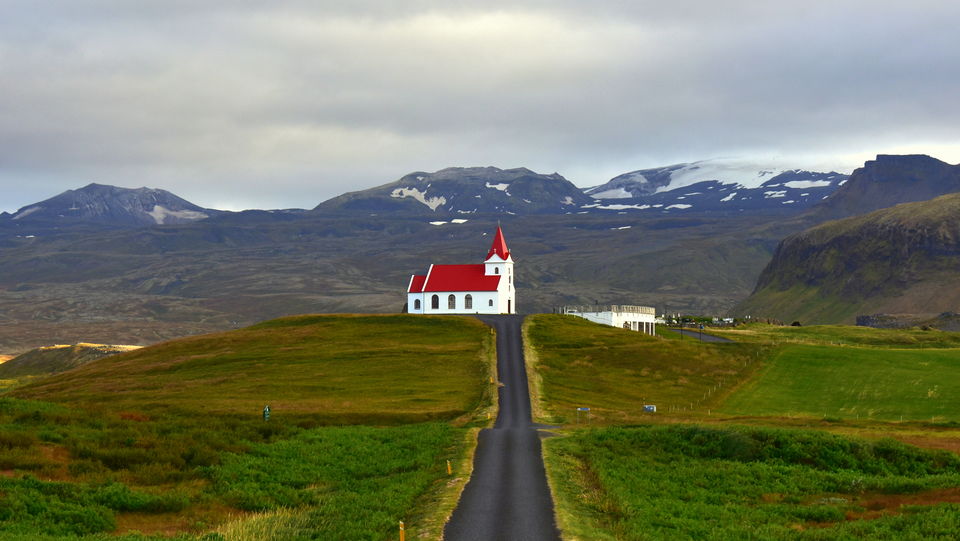 By the time we got back at the guesthouse, the sun had set. Sneha and Ayaz had stayed behind at the Grundarfjörður town and would join us the next day. After a little bit of rest, we started preparing dinner. Some of us had brought some stuff from India (like rice, pulses, spices, etc.). So on the second night at Hellnafell, we prepared some Indian dishes - Curry Chicken, Rice, and Daal (since I am a vegetarian).
During dinner, we had some fun as I asked Clara to summon the group from the living room to the kitchen by speaking in Hindi. Everyone was suddenly shocked and surprised at the gesture and had quite a laugh afterwards. After dinner, I went on to sleep on my pet place - the living room couch on the second straight night, to wake up to Kirkjufell mountain view for the second straight morning.
Again, some from the group stayed awake during the night in the hopes of northern lights. But for the second straight night they had no luck.
Day 3: September 21, 2018 - Grundarfjörður to Thorfinnsstadir (Hótel Hvítserkur)
On waking up the next morning, I repeated my morning ritual of chilling on the living room couch with coffee and a book. I pretty much had to because it was my last chance to wake up to the view of Kirkjufell. After about half an hour, I got up, had a snack and went out. Outside, I met Mukesh who was doing a shoot with Clara and horses from the adjacent ranch. So, I helped them a bit.
Soon after, Rajiv and Jo came out to do their shoot with the horses. Rajiv asked me to hold a mobile flash device towards Jo. So, I stayed with them throughout the 15-20 minutes shoot. It was around 5 degrees, plus the wind, and Jo was wearing only a single layer (a black dress) for the shoot. I was already cold and looking at her gave more shivering. I was also carrying her jacket, so I made sure she gets her jacket quickly once the shoot is done. The shoot turned out to be rather good. Personally, I enjoyed the part when a horse snuck upon Jo from behind to graze her hair.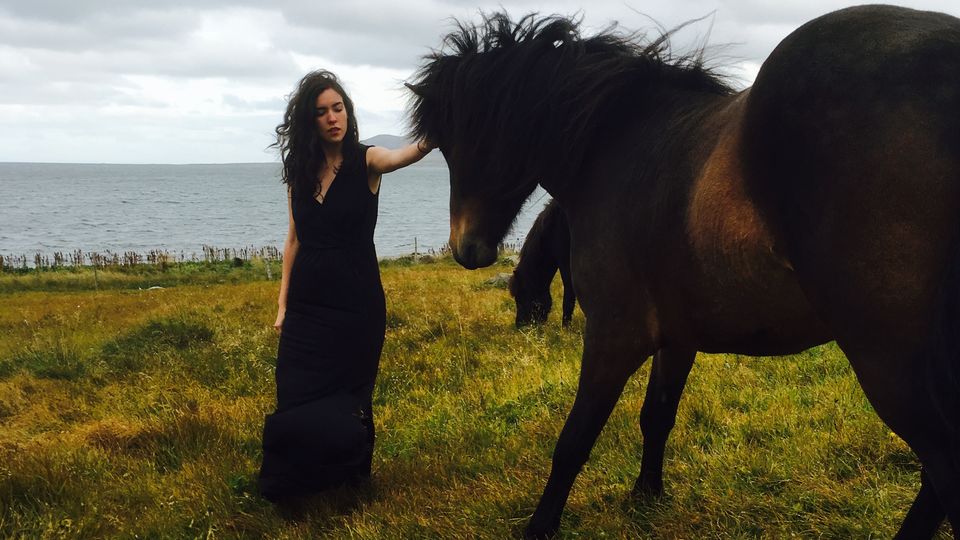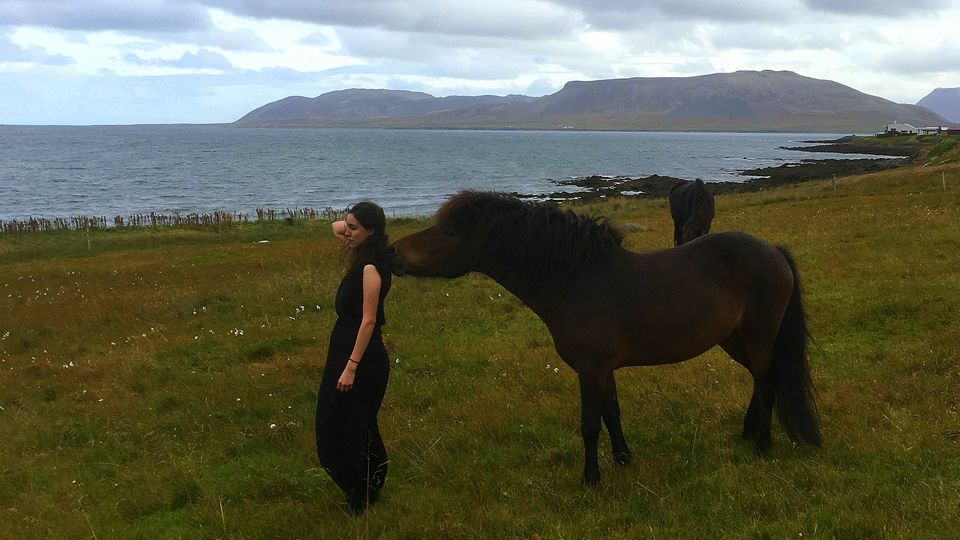 After taking shower, packing bags, and having breakfast, everyone was ready to bid farewell to Hellnafell and Kirkjufell. I quickly scribbled a review on the guest feedback diary at the guest house. The experience was so good at the house and I wanted to give it some time, but I had to do with a bunch of ideas on the top of my head. On our way out, we took a few more shots before saying "so long" to Kirkjufell.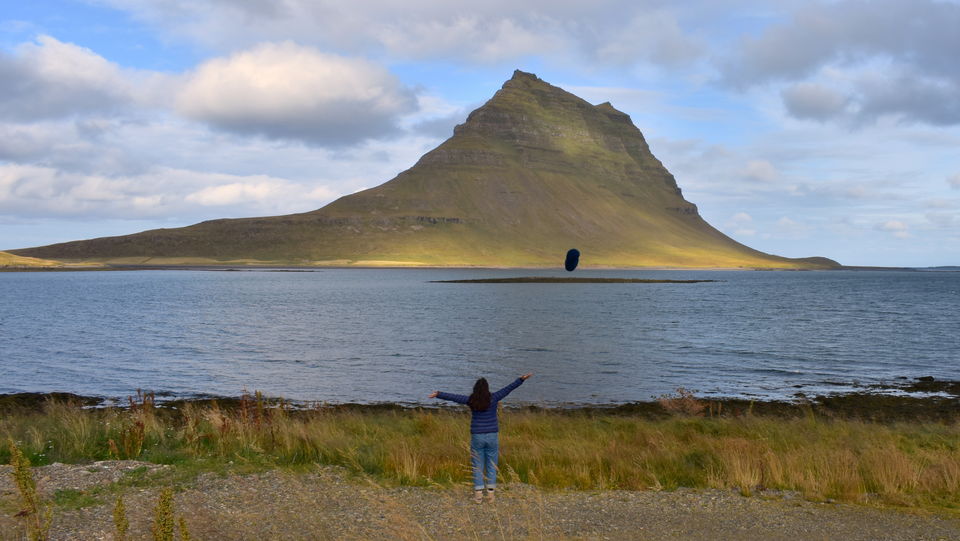 On the way out, we bought fuel at Grundarfjörður gas station. Unlike India, Iceland had these self-service gas stations where you fill your own fuel. Unfamiliar with the process, we were already a bit nervous and by mistake filled petrol in a diesel engine car. As we drove out of the town, our car stopped. Dr. Virendra, Deepak, Dr. Nirmal and I were in the car that broke. Rajiv and others were driving ahead. I called Rajiv to inform and for help. By now they had reached Grundarfoss parking, which was around 200 meters ahead. So, instead of driving back, Rajiv walked back to our car.
We hadn't figured out the problem yet, so Rajiv suggested we should at least push the car off the road to the Grundarfoss parking. By then we had some clue what might have gone wrong the way car stopped. So we called Mickey, he exclaimed "Oh, Shit!" and confirmed that one of the cars had a diesel engine. It was a pretty tense situation, since it was not only going to cost us time but a few extra bucks as well. And we still hadn't any clue how to fix it.
Rajiv was still discussing it with Mickey when Sneha and Ayaz arrived at the parking a few minutes later. They too were heading towards Thorfinnsstadir, but their itinerary for the next few days was a bit different from ours. After lingering there for about 10-15 minutes, Sneha and Ayaz started walking towards Grundarfoss. And since we couldn't be of any help there, Jo, Clara, and I joined them. Rest of the group stayed behind with cars.
Grundarfoss
Grundarfoss wasn't the hot spot on the day's itinerary. But with the car incident, some of us had the chance to check it out. And what a blessing in disguise it turned out to be, as we had one of the best times of the trip there. Especially, because we were all of the same age group (in our late 20s except for Clara who was 18), had the same wandering attitude, and had enough time to spend there.
Now that I am on it, I think I should mention the age of other members as well. Deepak was in his late 30s. Rajiv and Dr. Virendra in their 40s. Dr. Nirmal and Mukesh were above 60.
The waterfall, although visible from the road, was a kilometer or so inside the terrain with a bit of a hike towards the end. The path to the waterfall was across large natural grass fields. On the left side, there was a herd of horses grazing across it. I wanted to go there, but the herd was a bit too far and group was excited to check out the waterfall first. We reached the waterfall in about 30 minutes. And except for a handful of other people, we had the Grundarfoss all to ourselves for a few hours at the least.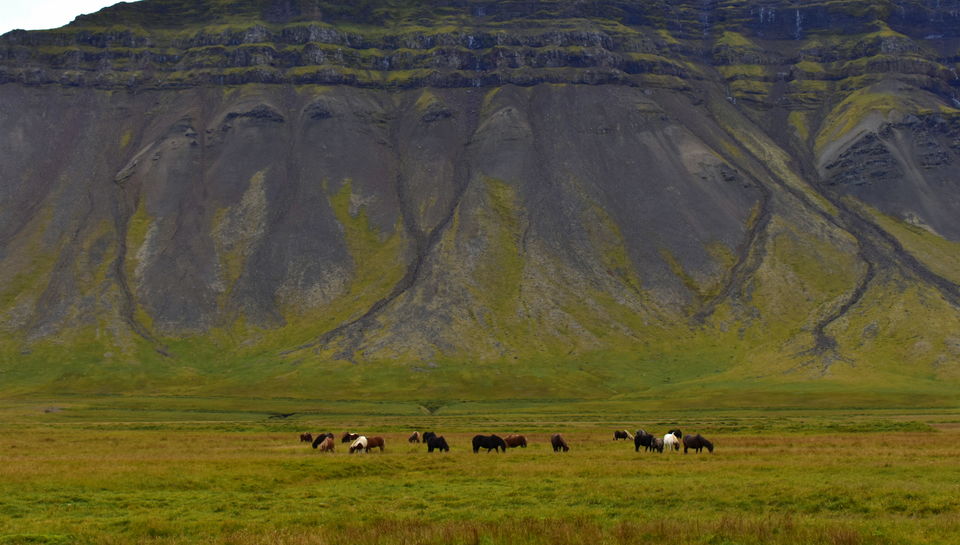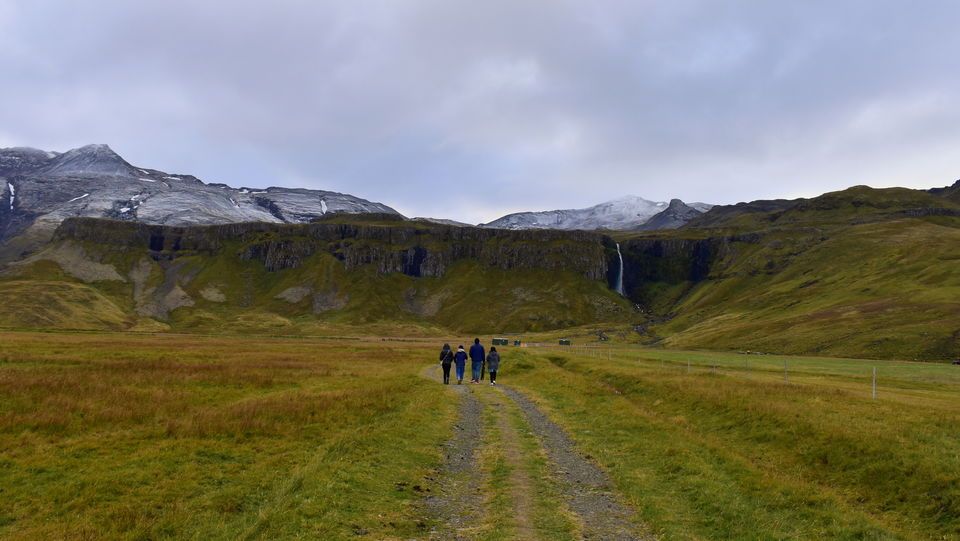 After taking a lot of pictures near the waterfall, we started tramping across the place. Clara climbed to the moss covered rocks on the left side. When I spotted her, I climbed behind to join her. The soft moss cover, although damp, felt quite cozy. We sat there for quite a while, watching extended terrains meeting the ocean at a distance. Soon after Jo joined us and we took some fun photographs.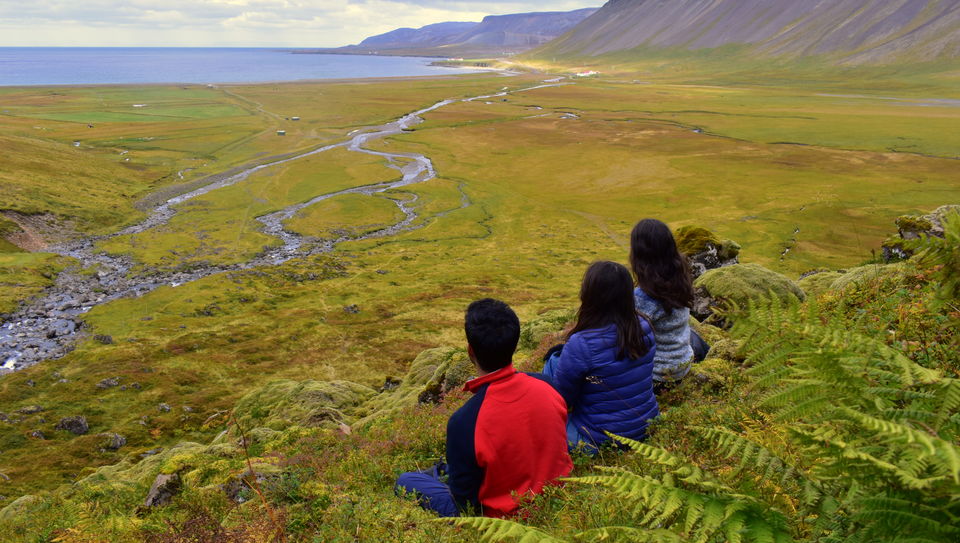 At the time, we weren't aware that walking on moss isn't a good practice, as it takes many years for them to grow. And although the experience was fun and nice, I regret it and would plea others not to do it.
Clara and I then climbed a bit further up towards the waterfall (not on moss now). The slope there was steep and grass wet and slippery. I had to climb up and down using all four limbs, while Clara seemed to be doing it relatively at ease. Ayaz also joined us and it seemed he had an even tougher time than me. We descended after taking some photographs to join Sneha and Jo who were a little down below.

When the whole group sat together, we did the Viking chanting for Instagram stories but we had to shoot it a few times before everyone was satisfied that their face and gestures weren't coming out too awkward for social media. Ayaz and Sneha went down to take some more pictures. While Clara, Jo, and I were sitting there - still watching the terrain and the distant ocean - I played Hoppipolla by Sigur Ros on my phone and we sang along.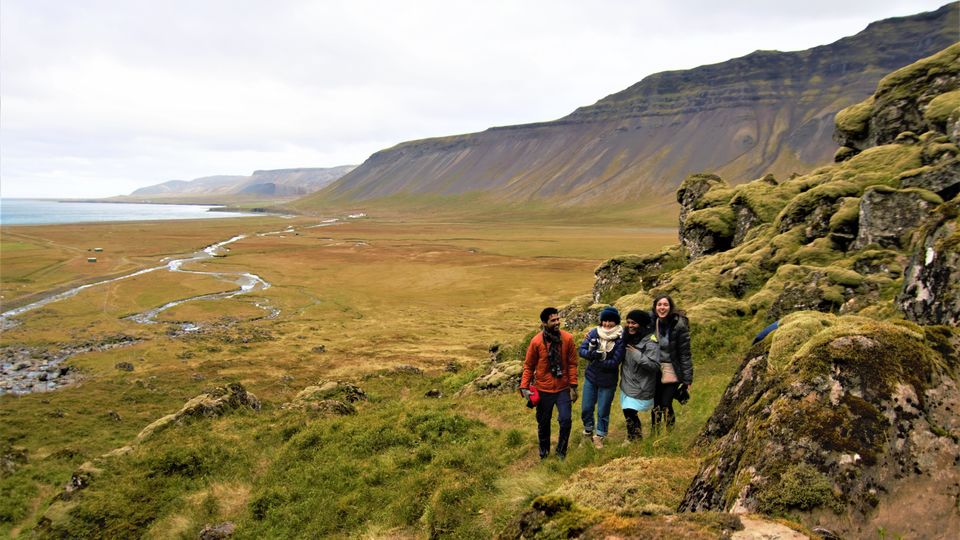 Meanwhile, I was also checking with Rajiv about the car situation and got to know that they towed the car back to Grundarfjörður, and luckily the first building of the town was a Garage. Mechanics there were emptying the fuel tank and it would roughly take another hour. So, we decided to head back to the parking area. On the way back, we continued to have fun and took some more fun photos.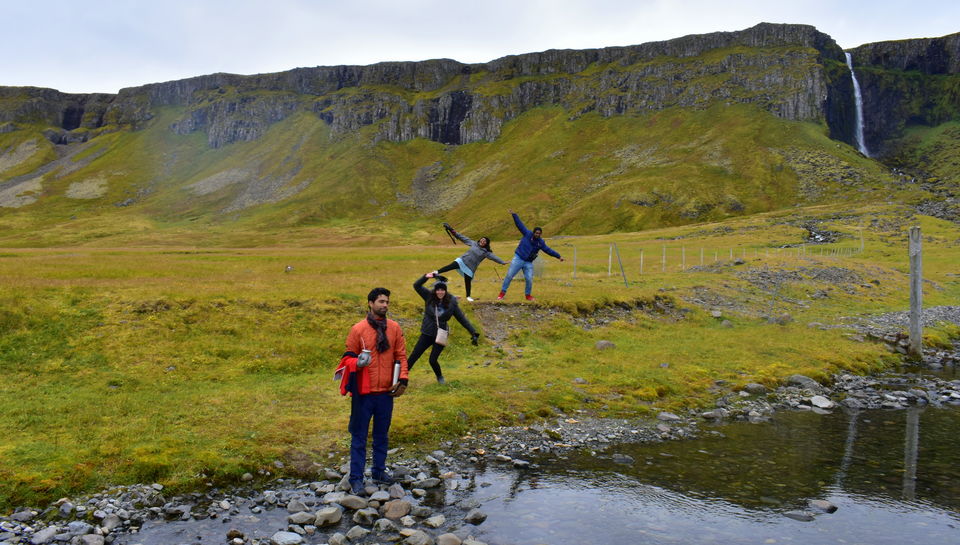 Rest of the group was at the garage with both cars. Sneha and Ayaz dropped us back in the town and headed forward. At the garage, the job was pretty much done. I joined Deepak who was at the garage office where one of the mechanics was preparing the invoice for the job. It cost us €214.
In the garage office, we got into a conversation with one of the mechanics, who was Polish. He was living there in Grundarfjörður for a few years with his wife and kids and he said, it's nice living here in a small town, closer to nature in comparison to Reykjavik, which is rather crowded these days.
After talking to him, I could not help but think that deep inside I always wanted to have a similar life. To live in a small town, close to the nature, do some sort of manual work for a living, (I wouldn't mind a little hardship either), and be able to provide for my family. But the notion had remained buried somewhere under a socially imposed need to make a so-called respectable living in the hubbub of the city.
Once the car was fixed, we quickly took off to our destination for the day - Thorfinnsstadir. It was around 4 PM already, so we weren't going to make any intermediate stops. As we were heading further north, now we had begun to see fresh snow on the way. The last 20 kms of stretch to Thorfinnsstadir was a pothole road off the ring road. We reached our hotel just before the daylight went out.
Hótel Hvítserkur
On reaching Hótel Hvítserkur, I saw that the hotel has a football field to its side. Its setting was so beautiful, especially because of a low range of snow covered mountains right behind it. So, instead of unloading our luggage from the car, Clara and I ran off to the field to play some football. Soon Rajiv and Deepak also joined us and we had a 5-10 minutes of fun football session.
Inside the hotel, the ambience was so nice and cozy. The lobby had a separate area for shoes near the entrance, since outside the road and parking areas were muddy. To the left was hotel's restaurant with a pool table. The reception was in the front where the owner, Kristbjorg Birgisdottir, greeted us and showed us our rooms. She runs the place with her husband and twin sons. Her kids reminded me of Zack and Cody from Disney's Tv show.
We had three rooms booked with 8 beds (3, 3, 2). After putting luggage to our respective rooms and washing ourselves up a bit, some of us went up to the recreational area of the restaurant, at the pool table. There were some magazines, books, and board games as well. Rajiv, Virendra, Clara, and I played some pool. Jo and Deepak were also there.
Deepak was talking to Kristbjorg about life there. She told him that she was quite content living there, but it had its own share of difficulties. For instance, every day she had to drive some 25 kilometers to drop her kids to school. Meanwhile, Jo and I went to check out the lobby area. There were some fun drawings on the glass notice board, and photographs and facts about Hvítserkur were hung on the walls. On the lobby table, there were maps, postcards, and travel brochures. Both of us were keen on collecting such stuff, so we picked up a few.
We had our dinner around 9 PM. Kristbjorg's twins set the table for us, lit candles, and served the food. Watching them help her mother managing things was quite a heartwarming sight. Again, images of Zack and Cody ran through my mind. Luckily, Mukesh had the brains to capture that beautiful moment. But he was a bit far and only had his phone, so the picture didn't come out clear. But the moment he captured was perfect.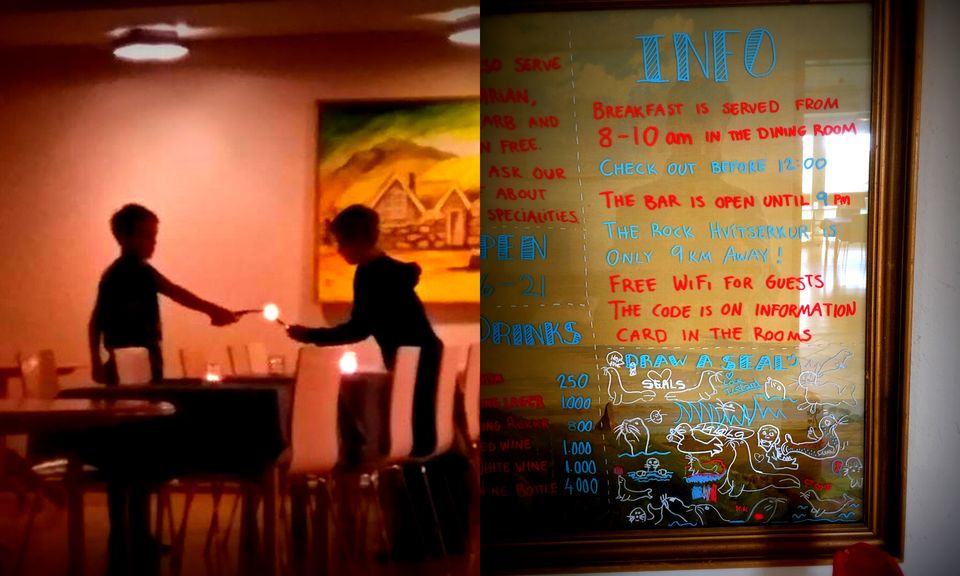 I don't remember what we had for dinner, but we enjoyed it. Especially, because of the ambience, I suppose. At the dinner table, we talked about the trip so far, photographs, aurora no-show, and Rajiv explained how the journey was going to be colder and more isolated for the next few days.
After dinner, Clara, Jo, and I stayed back at the restaurant recreation area, where light music was playing; mostly, post-rockish - lucky for us. Jo had heard quite a few of them, I had only a couple. Clara was writing in her journal. So, Jo and I talked about music, life, and other random stuff, and got to know each other a bit better.
Although we were tired and sleepy, but it was quite nice sitting there talking and distracting Clara from her writing every once in a while, for fun. We sat there and talked for more than an hour. Then we bid each other good night. Jo and Clara went to their room. I was staying with Mukesh and Dr. Nirmal for the night, who were fast asleep when I went in. So, I quietly changed and went to bed.
Day 4: September 22, 2018 - Thorfinnsstadir to Goðafoss (Fosshóll)
Mukesh had a habit of waking up early every morning and doing yoga and exercise. Maybe that was the reason why he looked to be in his 40s or 50s despite being above 60. This was all admirable, except that he used to make a lot of noise during his exercise routine - inhaling, exhaling loudly, sometimes to the extent of shouting. So, if you were sleeping in his room, that admirable quality of his quickly turns into an abominable one.
That morning, I was obviously woken by his exercise routine. I could have asked him to keep it quiet, but then I thought it might be a bit disrespectful. Besides, we had to wake up early anyway to take photographs at Hvítserkur rock during the sunrise, so it was kind of okay.
Hvítserkur Rock
We were out just when the dawn had begun to break. Hvítserkur rock was less than 10 km from the hotel, but the road was in bad shape, so it took us about half an hour to reach there. It was still quite early when we reached there, and there wasn't anybody else. The Hvítserkur rock parking area had an extended wooden platform, from where one could see the rock from a height with the expanse of the ocean in the backdrop.
Rajiv, Deepak, Dr. Virendra, and I climbed down to the shore. Although short, the way down was steep and slippery with a handful of sharp and tricky turns. So, Mukesh and Dr. Nirmal decided to stay behind at the platform because of their aged bodies.
Once down, all three photographers had their equipment set in position and they started analyzing the perfect photography settings as per the conditions. I took a couple of ametuer-ish clicks of the Hvítserkur rock then wandered off across the shore, admiring the contrast of white foams of waves sliding up and down on the black sand. Besides, it was the Arctic Ocean. And you don't get to be near Arctic every day.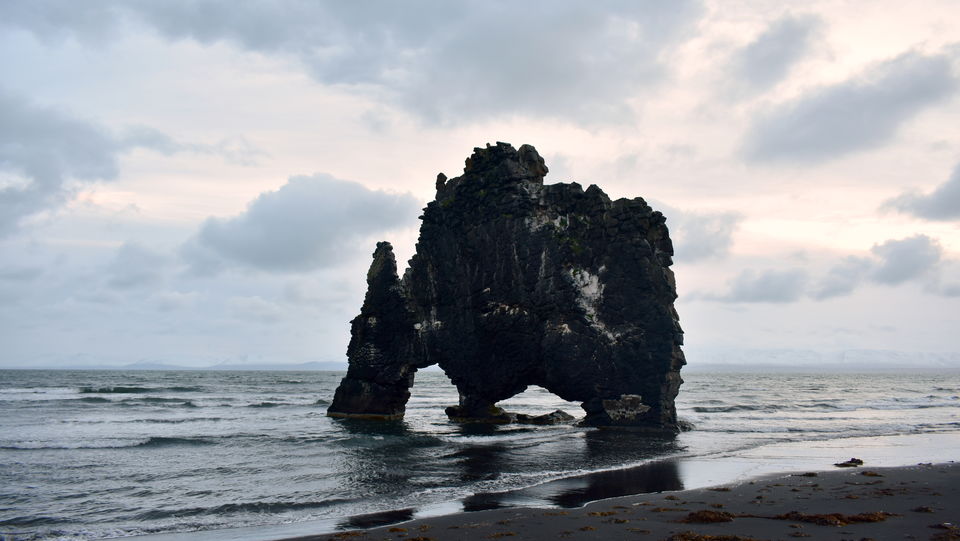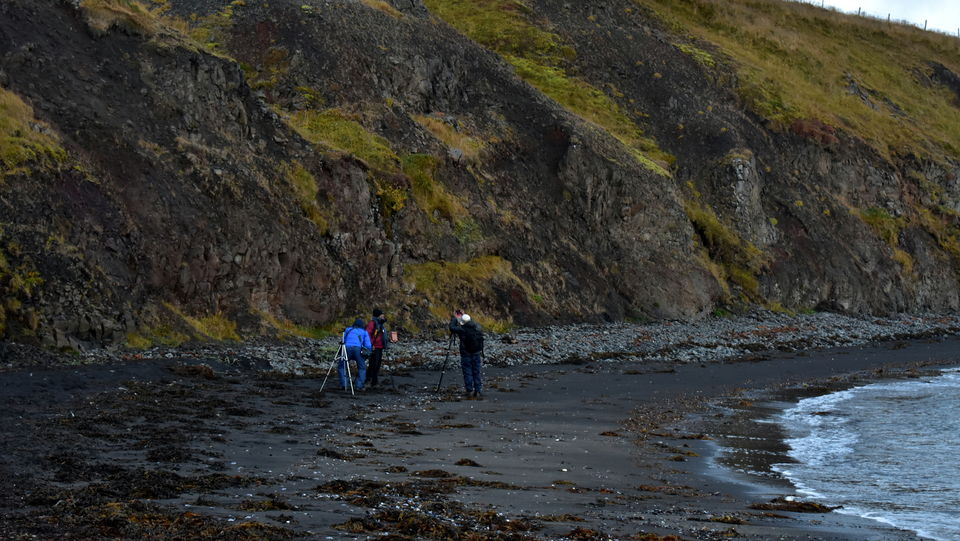 Further ahead, I noticed a couple of people on the shore. When I got closer, I found they were Jo and Clara, who had taken a different and easier path down to the shore. I called after them and joined them. I thought of telling Mukesh and Dr. Nirmal about the other path, but they were a bit far from that point.
Clara, Jo, and I stood there for a while, admiring the ocean waves, spotting seals popping up their heads above water surface once in a while. Then we started walking in the direction of Rajiv and group, taking a few photographs of each other. I was walking quite close to the shore line, and one of the waves turned out to be a bit stronger than others and drenched me up to a few inches above the ankle. It was already near zero degrees, plus the wind, and my wet shoes only made it worse. But then again, not everyone gets to say they had their feet drenched by Arctic waters.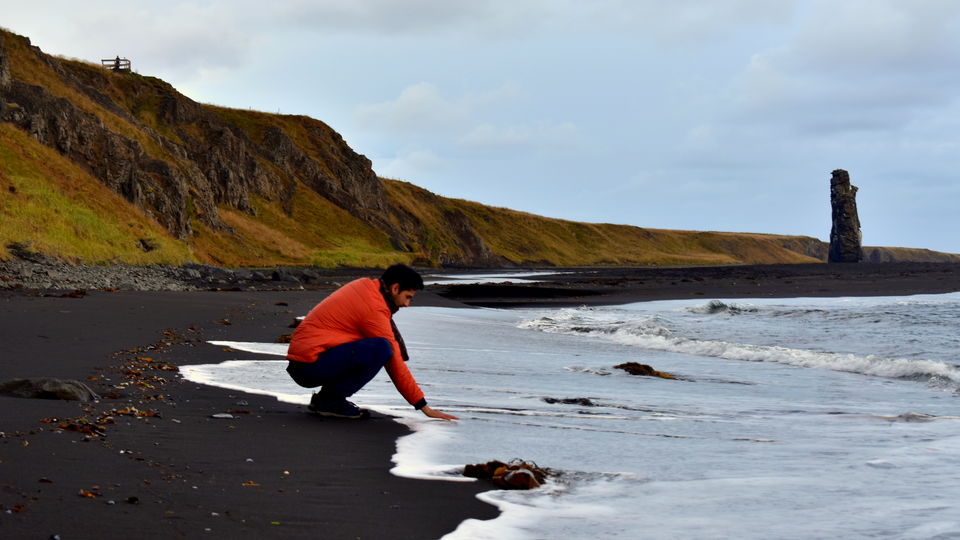 Later, Mukesh would tell me that he spotted us strolling across the shore and complimented that we were the ones who were really enjoying the trip instead of brooding about photography. He also told me he had taken a few shots of us from above and would show us later. Later, I forgot to ask and didn't remember until now.
Once everyone had given their best to capture the Hvítserkur rock in the conditions, we all climbed up, and took a few pictures at the parking area - but not of the rock.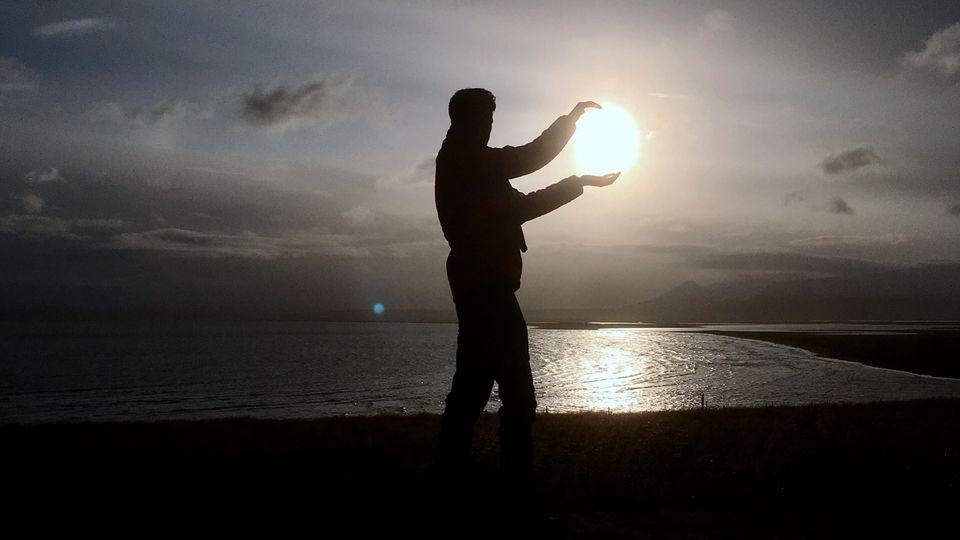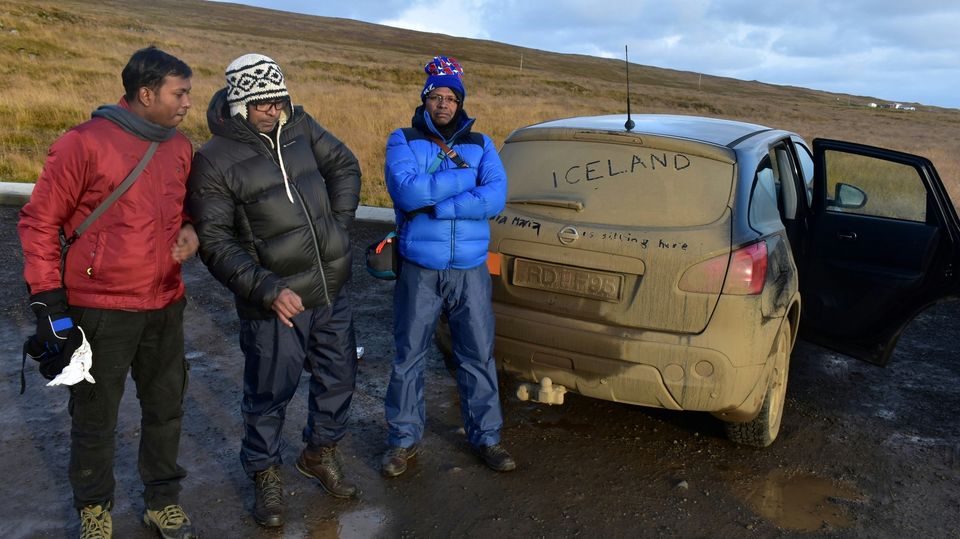 Once back at the hotel, I changed my shoes. Luckily I had 2 pairs of shoes, which turned out to be a wise decision, since I was going to get my feet drenched a few more times. After relaxing a bit, I took a shower, packed my stuff, and we all went to have breakfast at the hotel restaurant, which was complementary with the stay.
Breakfast was similar at every hotel we stayed. Different types of bread and cheese, waffles, eggs, cereal, dry fruits, milk, juices, spreads, jams, fruit, and some other non-vegetarian stuff, most of which I didn't know.
After breakfast, Rajiv and I were standing in the parking area where we met an American photographer, who was on a solo trip there. After watching Rajiv's photography gears, he approached us and got into a conversation. Rajiv told him about our stay near Kirkjufell and aurora no-show for two straight nights. The American then pulled out his Instagram account to show us some of the photographs of Kirkjufell with Northern Lights that he had taken during his previous year's trip. His photographs were breathtaking. But Rajiv later told me that they seemed a bit photoshopped. Well, he had an eye of a professional, so he would know better.
We checked out from the hotel at around 11 AM. For me personally, it was the nicest stay of the entire trip. But sadly our stay there was very short, barely 15-16 hours. Although there wasn't anything else popular in the area to explore, I wished we had stayed there for one more night.
Since we left the hotel timely, we had enough time to make a few intermediate stops. The weather now was getting colder and we were seeing more and more fresh snow along the way. As the trip progressed the path continued to become more scenic. But now, the group was spending less time capturing the landscapes from the road, and more time absorbing it. That's something I have realized over a period of time travelling - the more you travel, the less you click.
I was the co-pilot for the car Dr. Virendra was driving. My job was to keep a check on the itinerary, the navigation, and to keep an eye on Rajiv's car that usually drove a little ahead of us. Part of it was also to assist the driver whenever he needed something to munch or to have a sip of water, and to keep the conversation going to ensure driver doesn't doze off during long drives.
Apart from that, I also used to hold Dr. Virendra's phone whenever he received any calls. His wife used to call a few times every day to check on things, and at least once while he was driving. They usually did the video call if the network allowed. I often used to pick the call and then put him on the line. They had been married for 15-20 years, and still used to talk like a young couple in love, which was quite admirable; also, a note to my future self. I had thought of complimenting him on that, but didn't get the chance, or maybe just forgot.
Our first stop of the day was in the town of Blönduós. We stopped there to buy some groceries and get fuel. While everyone was occupied, Deepak and I took off to Blönduóskirkja church, which was just across the parking area of the fuel station/grocery store. Dr. Virendra also joined us after a while.
The church is known for its unusual architecture. But none of us had heard of it before, so stopping-by there turned out to be a nice surprise. We admired (and tried to figure out) its architecture from all sides, took a few photographs and after a while joined the rest when everyone was ready to drive ahead.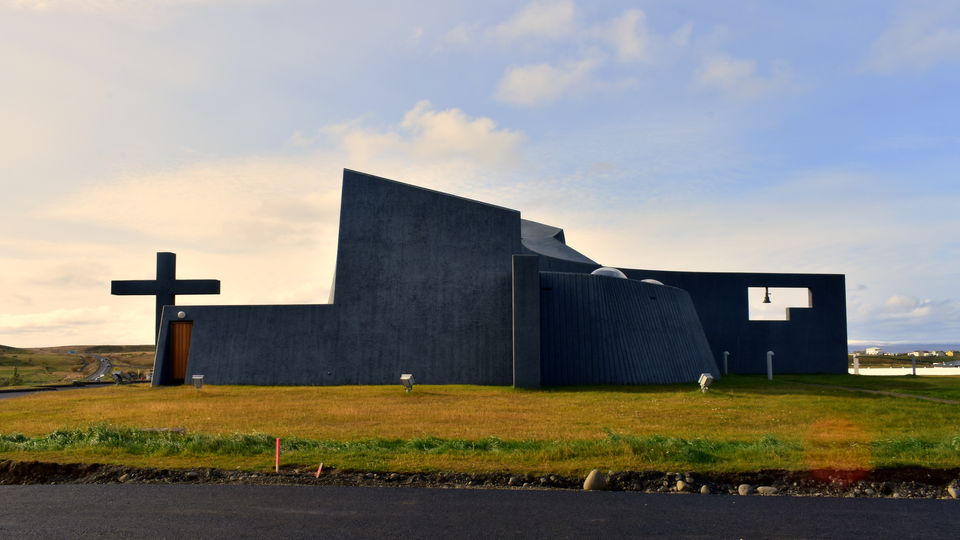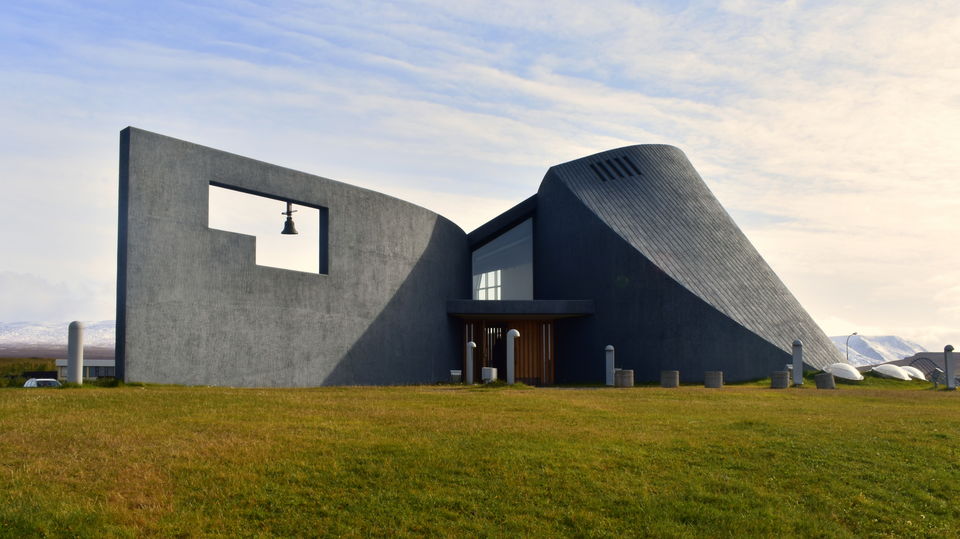 Second stop was at an ancient turf-roofed church (Víðimýrarkirkja). It was closed, but the group didn't read the small board outside that read "closed", and went in. When I read it, the group had already got in the inner boundary of the church. It was a private property, like most of the other popular places in Iceland. There was a house to its left, and I noticed that from one of the windows a person was looking over to the group. But the person didn't say anything. When Rajiv got back, I showed him the sign, and he quietly beckoned the group back.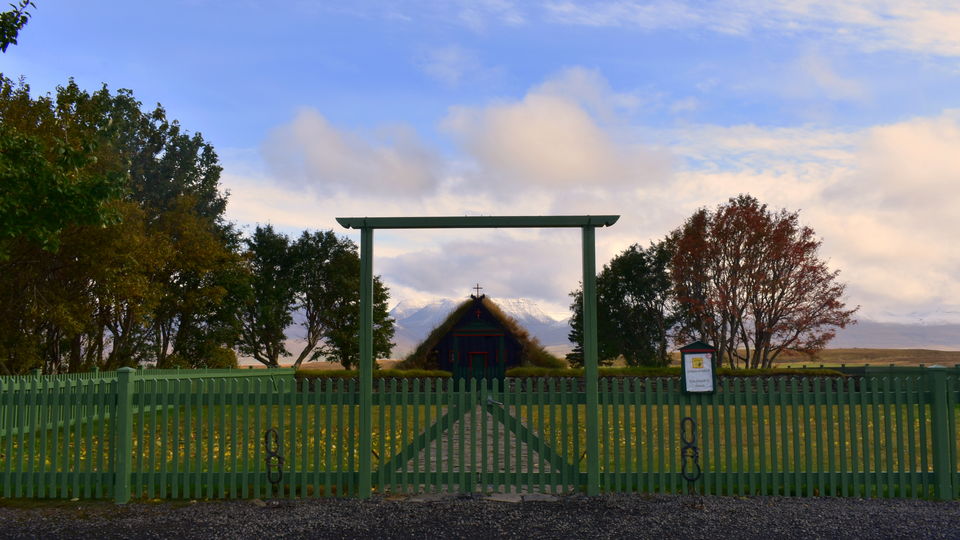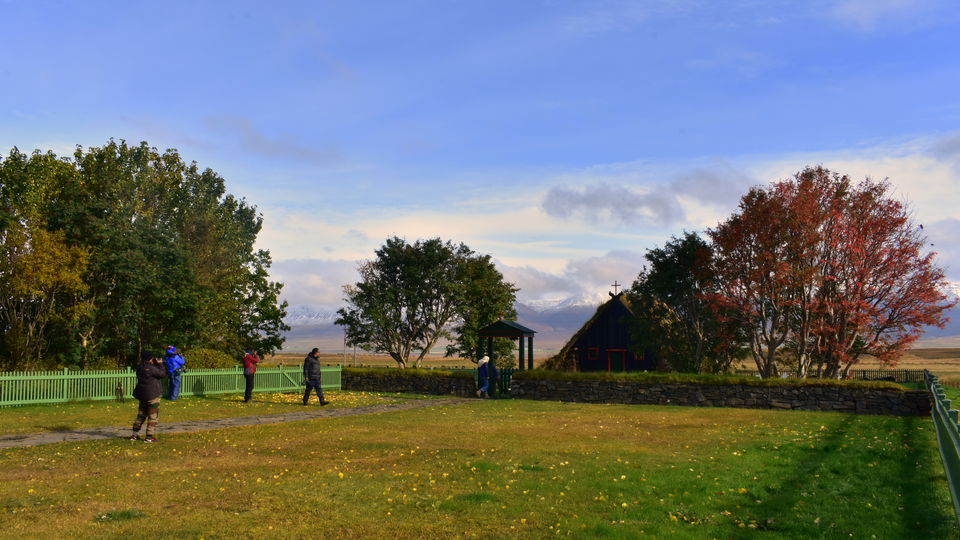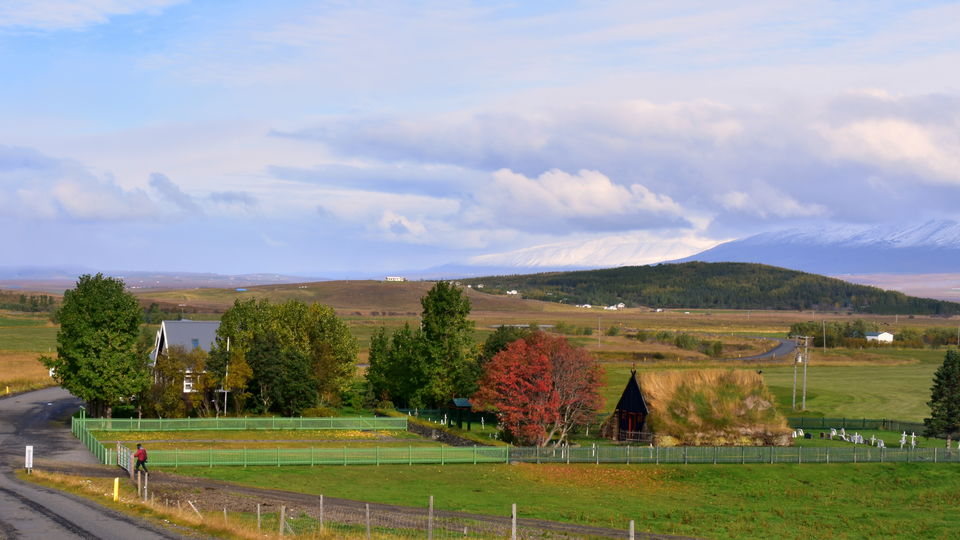 Next we stopped after about an hour at a place where landscapes seemed a bit more photogenic. The group decided to do another photoshoot with Jo there, so it was clear that we would stay there for some time. By habit, Clara and I ran off to explore the area ahead of the group. We reached the edge of cliff from where we could see a river flowing through a canyon-ish valley.
The sound of the river was virtually nonexistent when it was not in sight, but when we took just a couple of steps ahead to be in its sight, the sound was quite loud. None of the rest came to edge at the moment, so they hardly had any idea about it presence. Clara and I sat there for a while and took some photographs. From the main group, Mukesh spotted us and captured us from the distance.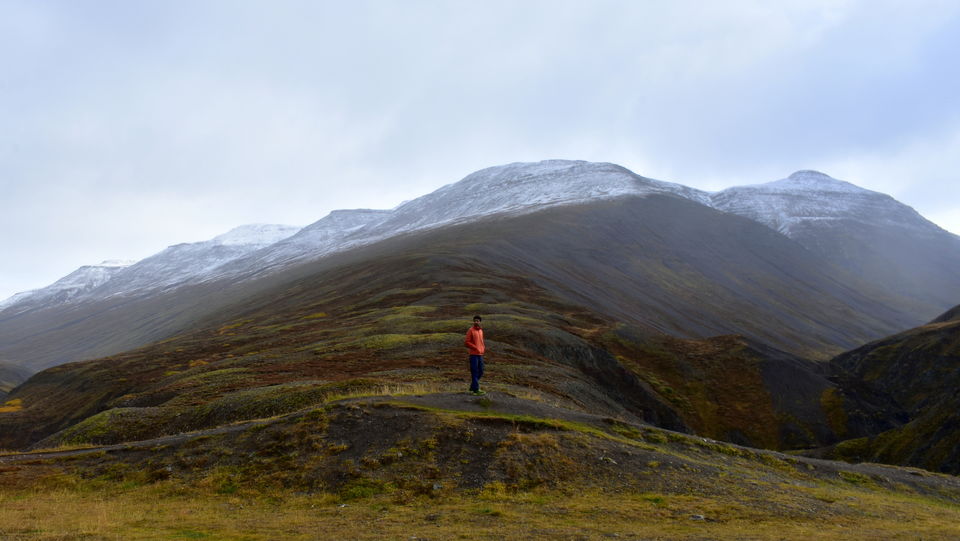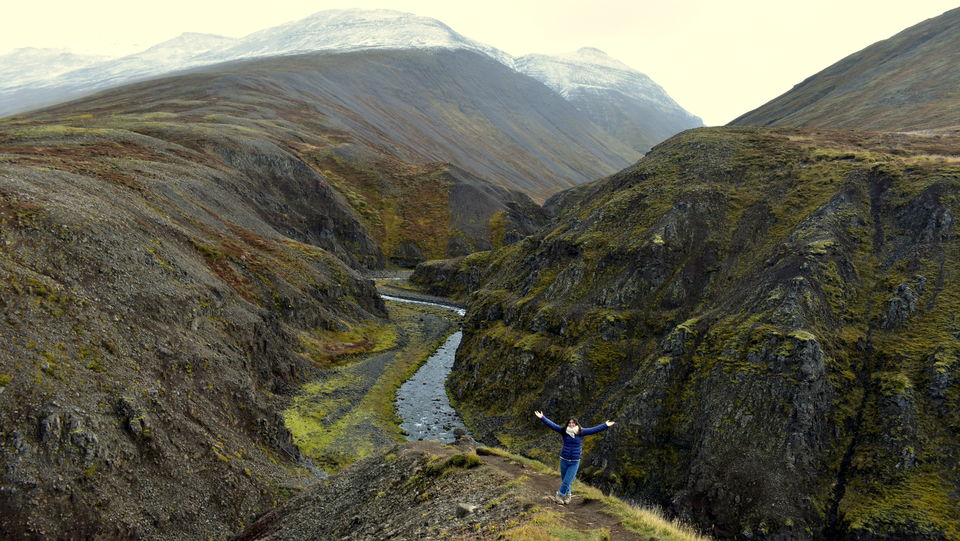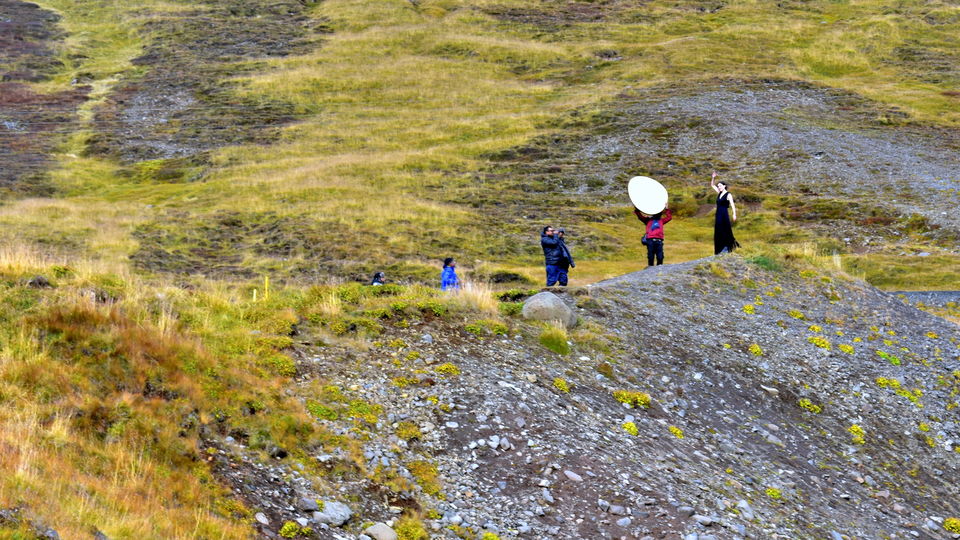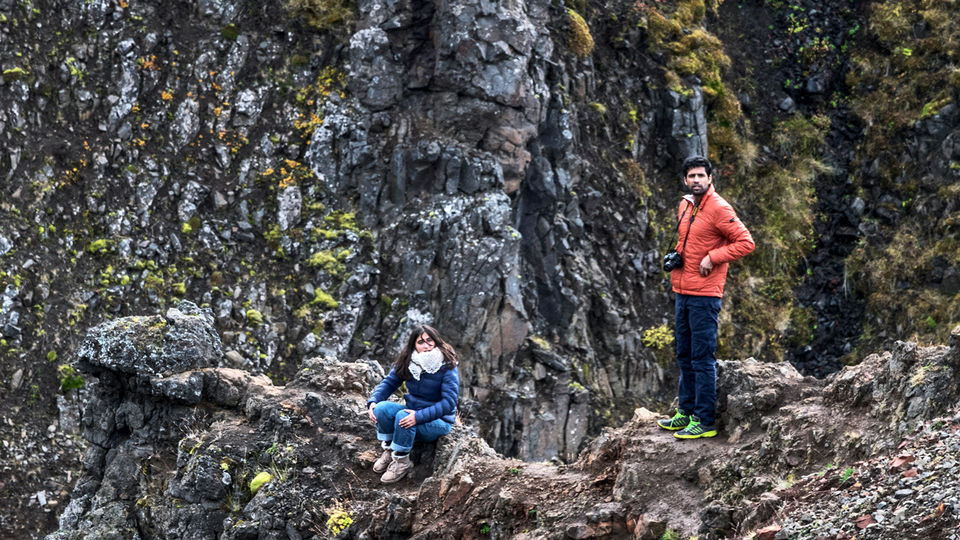 The edge of the cliff we were standing on was made of lava rocks, which usually aren't very tough to hold much weight. So, when Rajiv spotted us, he quickly called after us in urgency to get back. Nothing happened, so it was all cool. But it was another reminder for us that one should not tread on unfamiliar ground carelessly all the times.
We climbed up to where the main group was and for a few minutes watched the shoot in progress. When Clara too involved herself with the shoot, I took off in another direction where a green truck was parked. On spotting me there, Rajiv shifted his attention from the shoot, and asked me to lean over the back of the truck and do a few other poses. Later I checked with Rajiv that one of the photographs had come out quite nice, especially because of my orange jacket. After that photograph, Rajiv would often call upon me to give a pose. But of course, not as a model; as a traveler in natural settings.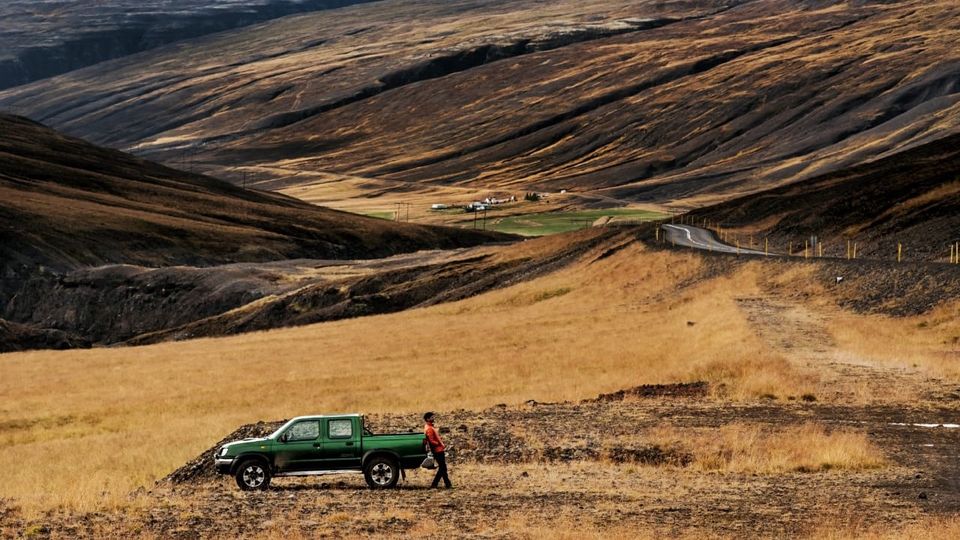 The photoshoot had gone well and everyone had a few good shots. When the shoot was over, Deepak asked Jo to pose for a couple of more shots. Later he showed Jo and me those few late shots, and they were gorgeous!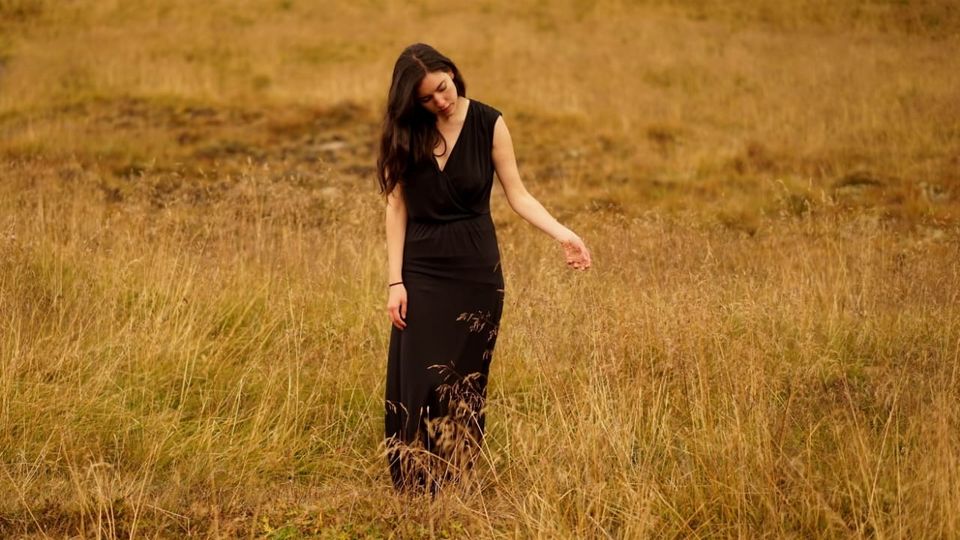 Next we made a quick stop near a house, from where a few pointed snow-covered peaks were visible, one quite distinct from others. Rajiv briefly explained that the peak has been the inspiration behind the architecture of many of Icelandic churches. In fact, one could easily see some resemblance with Hallgrimskirkja.
We had parked our cars a little off the road, down the way to the house. On noticing that, a couple of people came out from the house to see what was going on. Maybe because it was an isolated place and one gets down on that gravel path only to meet residents of the house. But by the time they were out, we were done and on our way back. Plus, the resident also must have noticed the photography gears, so they understood and let us be.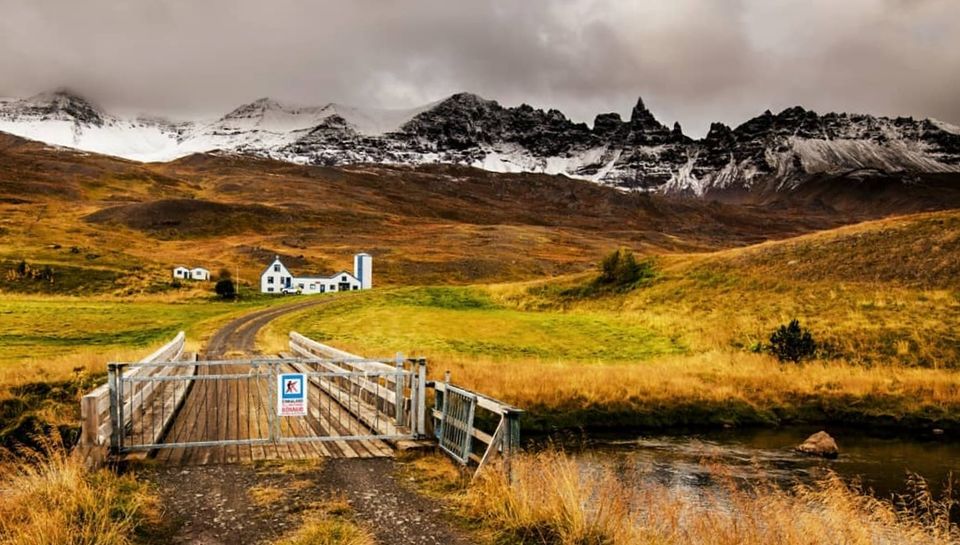 We made another quick stop soon after to capture a hut at the crest of a small hill. Again, its setting was so naturally beautiful that even I took a nice shot, still ametuer-ish though. Rajiv took a far better one, obviously.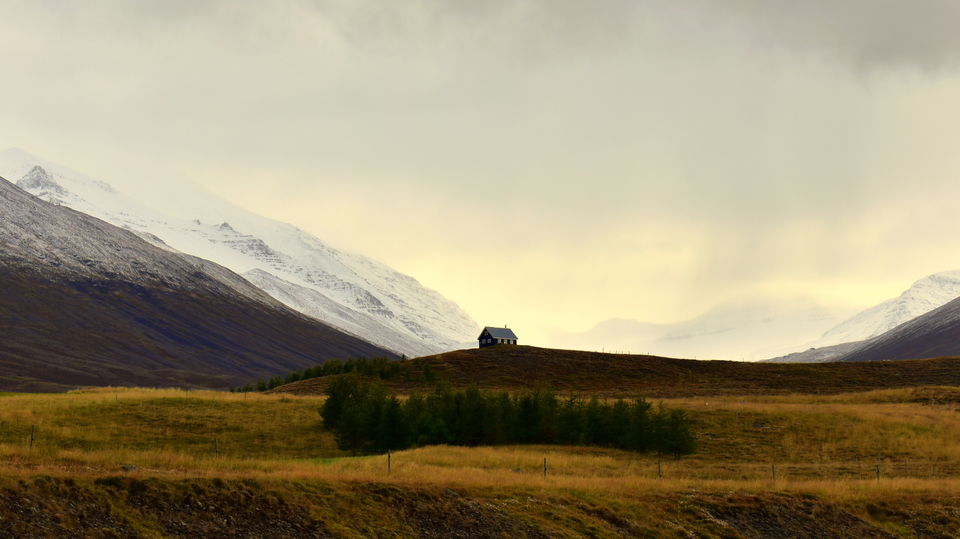 Our last intermediate stop for the day was when we saw fresh snow across the road, and where the road was traversing through the terrain like a snake. When we got out, there was still some snow falling. It was much colder outside, definitely. But that didn't stop us. Everyone enjoyed the snow, took a few shots, and played a bit by throwing snow at each other. After staying there for 10-15 minutes, we took off for our destination for the day - Goðafoss.

We reached Guesthouse Fosshóll roughly an hour before dusk. The yellow building of the hotel gives it a good contrast against relatively darker surroundings. We met the owner - a lady in her 50s - at the Fosshóll restaurant reception, who had travelled to India with her husband for quite some time. On seeing us and our photography gear, she was quite delighted and quickly launched into a conversation with Rajiv - telling about her experiences in India and asking us about our expedition.
The owner then asked her daugther's boyfriend, Alex, to help us find our rooms, which were in different building a few steps down the slope behind the main hotel building. Alex was a nice chap; very good looking and very good natured. I remember his name because the group would often mention him later during the trip.
Since it was still some time to dusk and Goðafoss was right across the road from the hotel, tempting us to come, all this while we were in a hurry to check it out first. So, we quickly put down our luggage in the first room we found for ourselves and ran to witness the grandeur of Goðafoss in the dying sunlight.
Goðafoss: Day 1
The waterfall was magnificent in every sense. Its curved structure automatically allows a panoramic view, which is satisfactory in a way I cannot describe in words. And despite the noise water was making falling from a height of 12 meters, watching its mix of white and ocean blue was a peaceful experience.
We were on the eastern bank of the river and witnessed its beauty from every possible angle. There was some plantation beside the road where Jo and Clara were capturing the colors of Autumn. I spent a few minutes with them, then walked further to the back side of the fall. Once out of sight, I could barely hear the sound of the waterfall; in fact, one could hardly guess from that point that there was a grand waterfall down the path. And the river originating it also seemed quite peacefully flowing in contrast to the waterfall.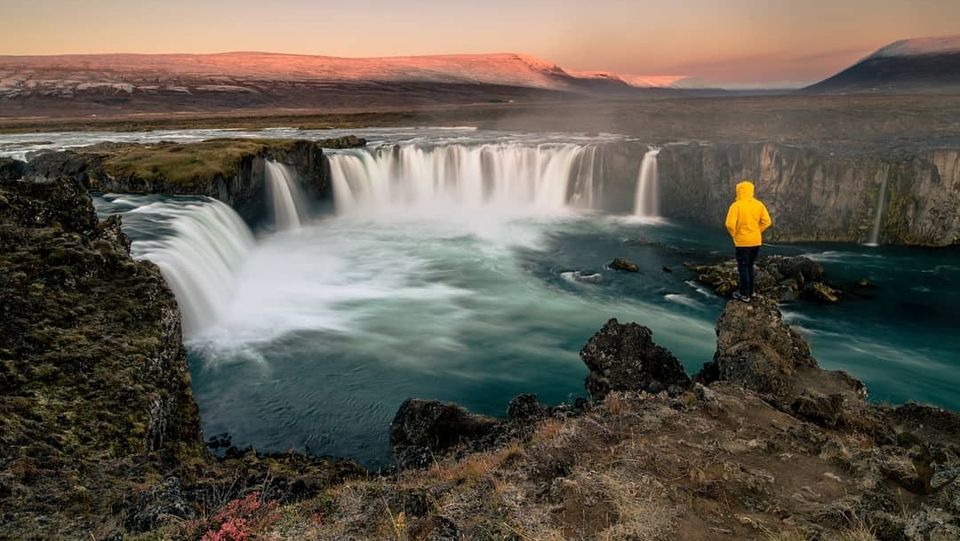 Then I tried to approach the waterfall from behind. There is a gap across its width, a couple of huge boulders on the edge cutting the flow. From behind that gap is approachable to an extent. I walked till the path allowed. The path ended well before the edge, but I could still see some minor streams of water gushing through the gaps between boulders. I could also see the people on western bank entirely, and bit of eastern bank as well, and thought to myself that a shot from one of the banks of where I was standing might come out good. Later, I suggested it to Rajiv at dinner, but he was preoccupied with other ideas that he had for Goðafoss, so it never got materialized.
When the daylight died, we went back, sorted our luggage, and relaxed a bit. We had three rooms, bed for 8 (3, 3, 2) and again I was staying with Mukesh and Dr. Nirmal. After resting a bit, we all gathered at the hotel restaurant for dinner. That night, there was a good chance for Aurora show. So, at the dinner table, the hot discussion was "how to capture the northern lights" - questions and suggestions. Someone also made a video of the discussion and put it on Facebook. In the video, I look quite exhausted - courtesy to my numerous little excursions throughout the day, pretty much at every stop.
Day 5: September 23, 2018 - Goðafoss to Lake Mývatn (Hotel Mývatn)
The Northern Lights
At around 1 AM in the morning, I was awakened by Deepak who asked me in a rush to come out of the room to the parking. When I came to my senses, everyone was delirious and talking with excitement. The Northern Lights had finally appeared for us. The magic had finally begun in the sky. Not that the sky at any other time, anywhere else in the world has any less magic. One just needs to look up and pay a little attention.
I was sleeping in my t-shirt and pajamas, but reacting to everyone's excitement, I jumped out of my quilt and directly went outside in -4°C without adding another layer.
Witnessing aurora was such an unreal experience. Arcs of green light dancing in the sky. Its motion, at times, looked like someone giving a shake to a ribbon repeatedly. Everyone's face was lit up with joy and seemed to be shining despite the darkness in the parking area. Everyone was ecstatic, like a team that had won a football match.
In simplest of words, it was special. Not just because of the aurora, but because of the fact that we were all living in the moment, without life's any other concerns for the time being. The moment was extra special for Dr. Nirmal who had been keeping up for many hours every night, despite his aging body and travelling all day long.
I stood outside with the rest for 10-15 minutes in excitement and admiration, but couldn't take any clear photographs (maybe because I didn't pay attention to the discussion at the dinner table). By then, the cold had struck my uncovered body. Pretty much to the bone. And when I felt it, I couldn't stand there anymore and went back inside, shivering and shaking. I did a couple of layers before getting back in my quilt, hoping to get warm a little bit so I could go outside again. But the shivering continued. The room thermostat also had some glitch and it wasn't keeping the room as much warm as we would like to. And for the rest of the night, I couldn't sleep and couldn't gather enough courage to go back outside either.
In the morning, when Jo asked me why I left early, I told her my story. But she flatly said, "when the aurora appears, you don't give in to the cold". I knew she was right. Partially, I had given in in the hopes that I will get to watch aurora on another night possibly. But that didn't happen. So, I had that one big regret. Although I saw the aurora and the experience was beautiful, it could have been amazing had I been a bit more careful and braver.
While I was shivering in my quilt, Rajiv, Dr. Virendra, Dr. Nirmal, and Deepak went to Goðafoss, which was magnificently lit by the northern lights in the sky. All of them took absolutely breathtaking photographs, which they showed me in the morning.
At that time, I realized that in photography, owning a camera and developing/honing skills are essential but only minor parts of the job. Discipling oneself, developing patience, endurance, and be ready to take on the harsh nature, at times beyond your body limits, are the real tests.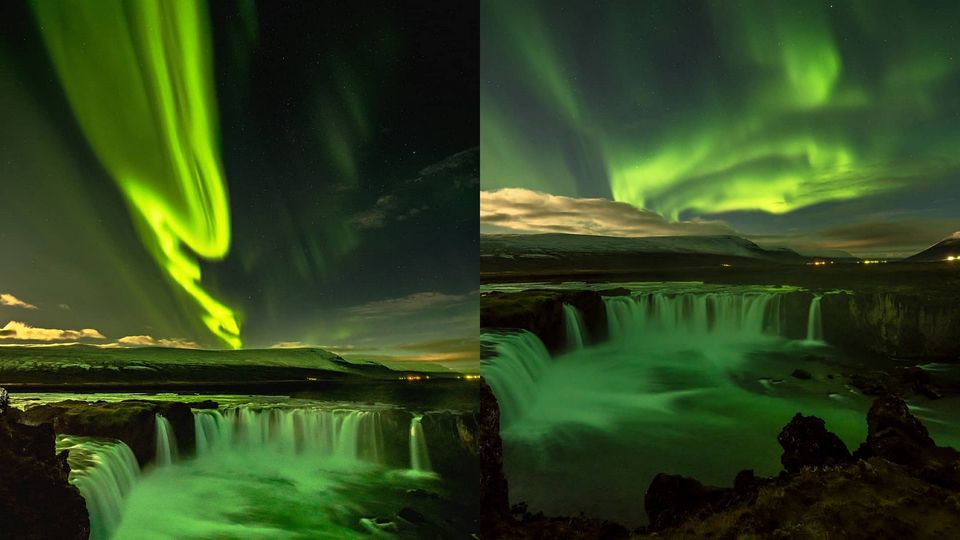 At breakfast, I showed the pictures of Aurora to Alex on my phone that Rajiv had shared. He watched them in amazement, and went into the kitchen to show them to others. To me, it felt such a nice gesture that he was sharing our excitement. He lived there, aurora over Goðafoss might be a usual sight for him, still he reacted to our photographs in a way like he had never seen such a sight before. Well, it wasn't only him being nice, the photographs by Rajiv were an absolute stunner as well. Later, I came to know that Alex even bought the picture from Rajiv.
It wasn't the only recognition of the efforts that photographers put in capturing the Northern lights. A couple of days later, a picture by Dr. Nirmal Jain also got published in a local newspaper in India.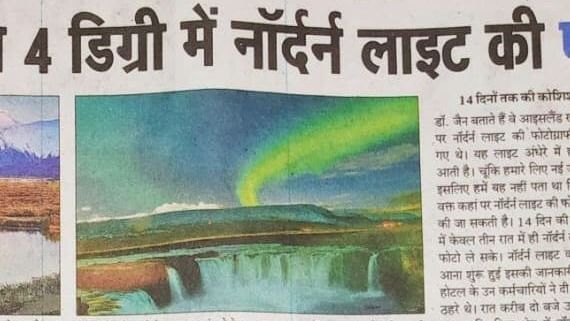 Goðafoss: Day 2
After breakfast, we went to Goðafoss again. The rising sun lit the snow-covered slopes in the backdrop in pink, adding more beauty to the whole scene. This time I went down to the fall and stayed there for about an hour. I took some photographs, felt the cold of the water, lava rocks under water (took one as a souvenir) and gave company to Dr. Virendra who was also trying to capture its beauty through the lens.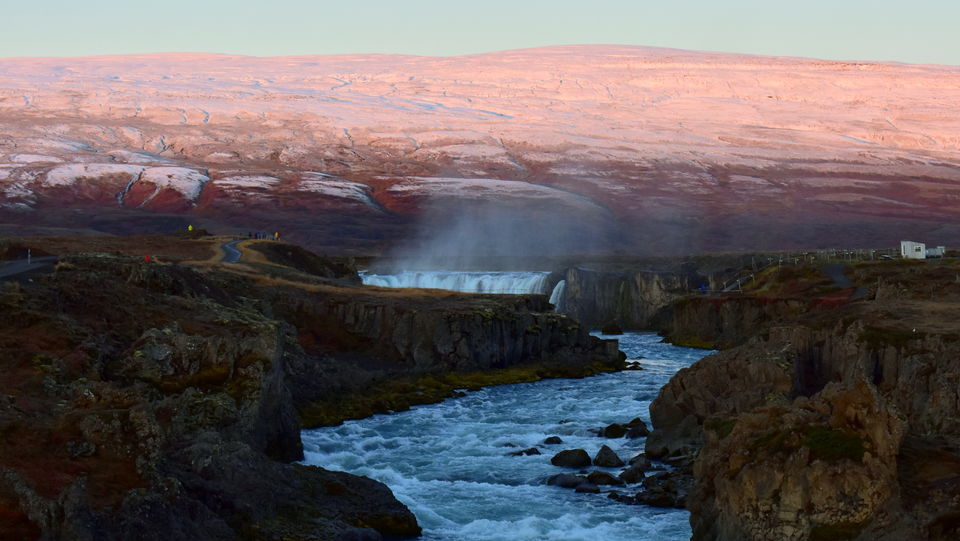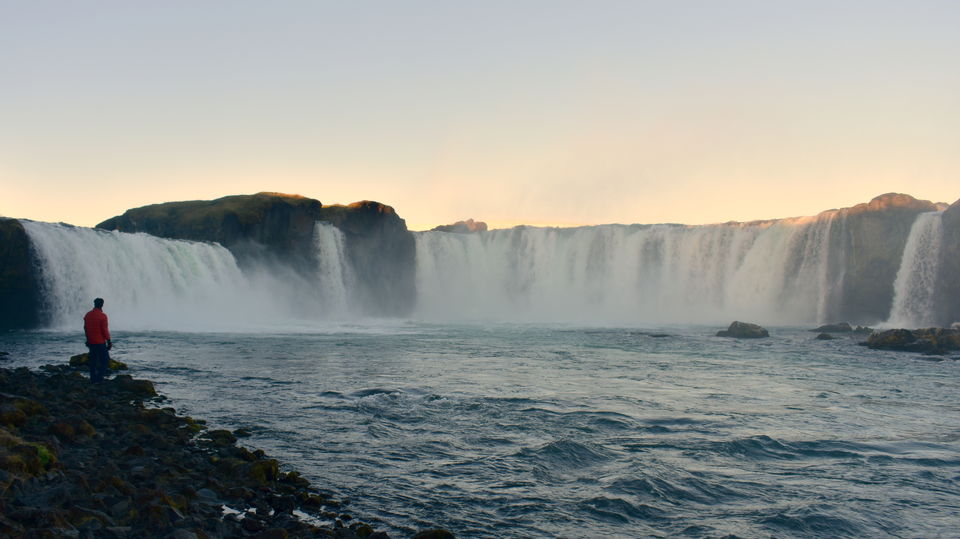 When I went up, Jo asked me for three words to describe the waterfall. I had just shared an Instagram story of the waterfall with the caption "Goðafoss, it is!", so I repeated that. She said not like that, but I naively argued that she said three words, not three adjectives. But eventually, I uttered Beautiful, Grand, and Alive (which I only vaguely remember now). Her three words were better than mine and more accurate, which was probably the reason she asked me the question in the first place. Unfortunately, I don't remember them at all now. So, Jo, if you get to read this and remember the words, please convey them.
By 11 AM, we all had satisfied ourselves with the sight of Goðafoss as much as we could and were ready to leave. At the parking, our cars were covered with half-a-centimeter thick layer of ice. It was a new experience for us. I thought, maybe splashing windows with hot water will melt the ice down. Luckily, the owner's husband, a sturdy man in his 60s, was there in the parking who told me it would only make it worse. He lent me his hand ice-scraper and suggested we should keep one handy.
Our destination for the day, and the first stop, was Lake Mývatn (Skútustaðir region), which was barely an hour's drive ahead. Outside the hotel, there were shoe mud cleaners installed at the front door, which was a good alternative to prevent the shoe mud from coming in. As we entered the hotel, I heard Starálfur by Sigur Ros being played at the reception area. It was nice to finally listen to Sigur Ros in public, although it would be the only time.
Our rooms were upstairs. We had 2 rooms with 8 beds (4, 4). Rooms were quite large and through the window, the view was mesmerizing. On the left, we could see a bit of the lake and the road running along it. In the front, there was a church, a few huts, and completely snow-covered plateaus in the backdrop.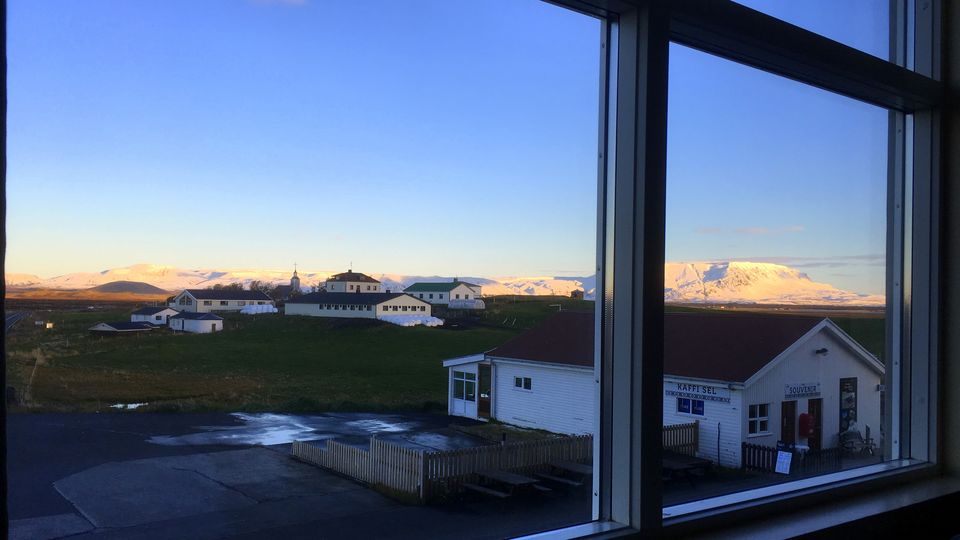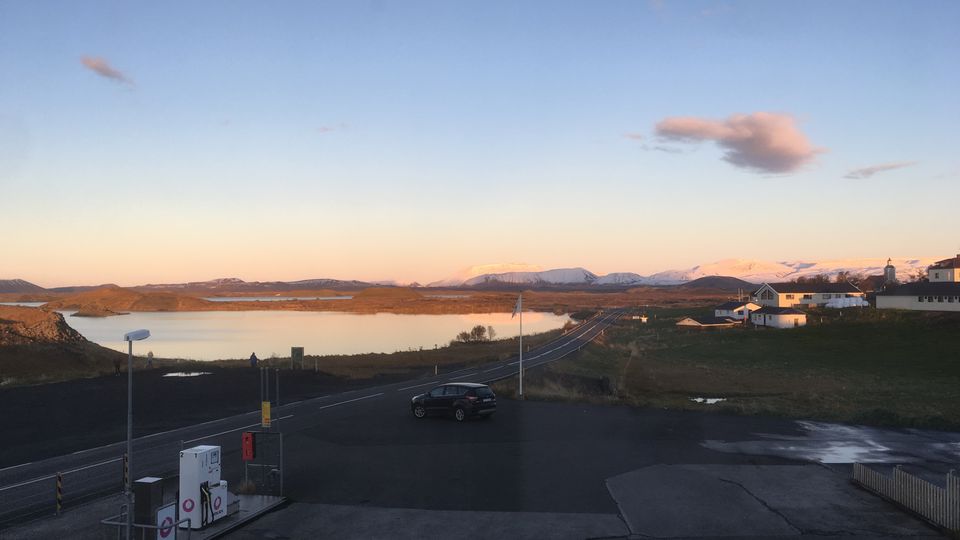 Skútustaðagígar
Hotel Mývatn is located near the Skútustaðagígar region of the lake. Skútustaðagígar craters are pseudocraters (or rootless cone), which are not formed due to lava eruption but by steam explosions when flowing lava crosses over a wet surface. In Skútustaðagígar's case, it was Lake Mývatn. Later I read on Wikipedia that the phenomenon was exclusive to Iceland and, guess what, Mars! Hence the term, "Planet Iceland".
After putting our luggage, we went out to explore the craters. We strolled through the labyrinth of fenced paths across the area for about an hour. The weather was good, the wind also a bit mild, and we could see miles in every direction. So, the experience was quite refreshing and relaxing. However, unfortunately, you cannot witness the true beauty of Skútustaðagígar from ground, which I came to realize only later after seeing some aerial shots of the region on the internet. Go check them out.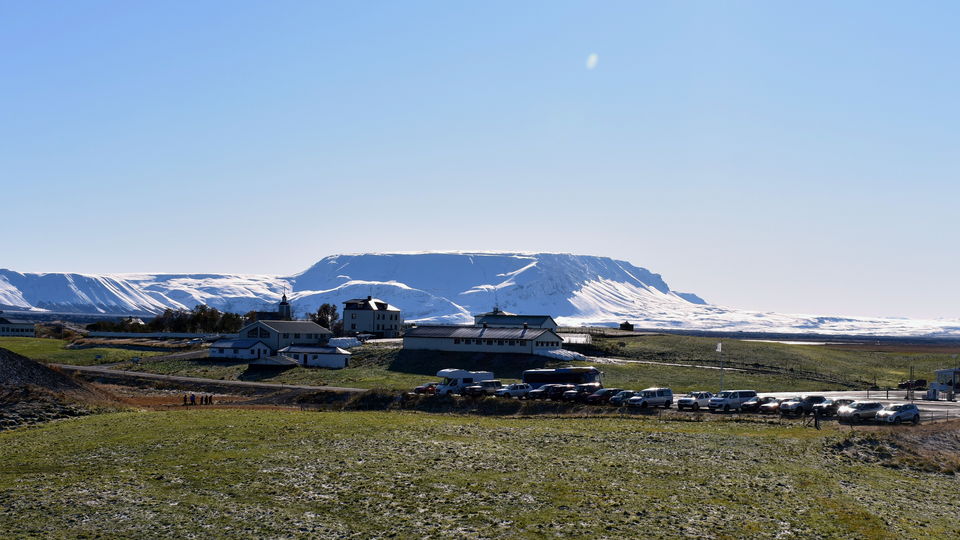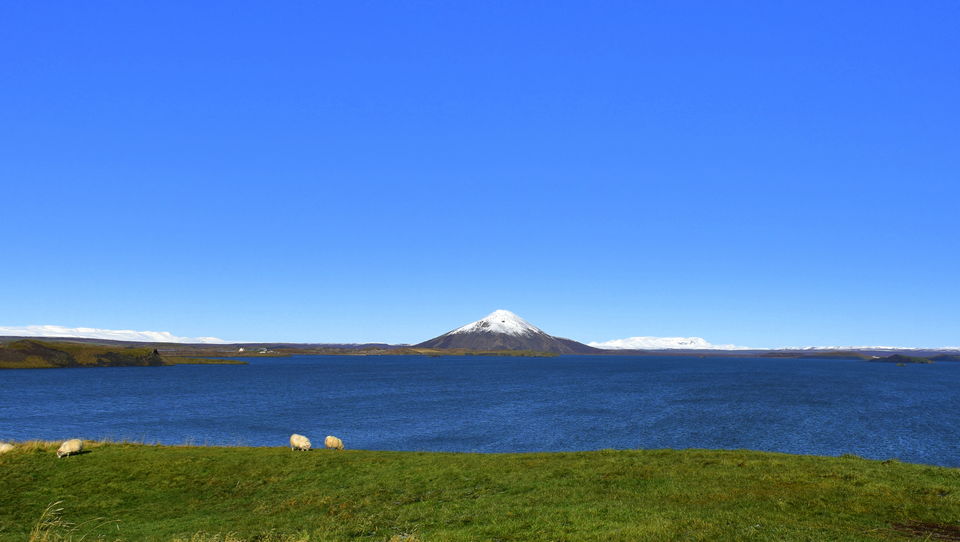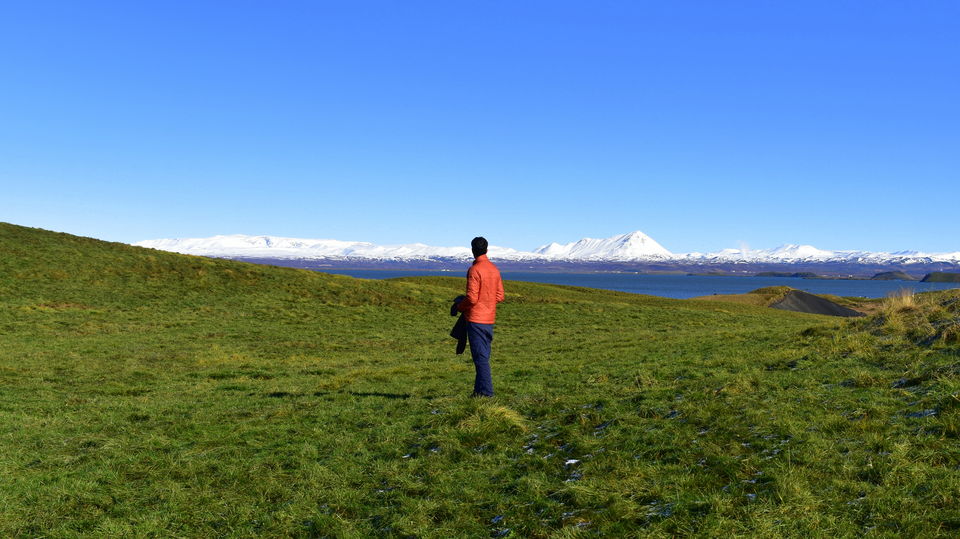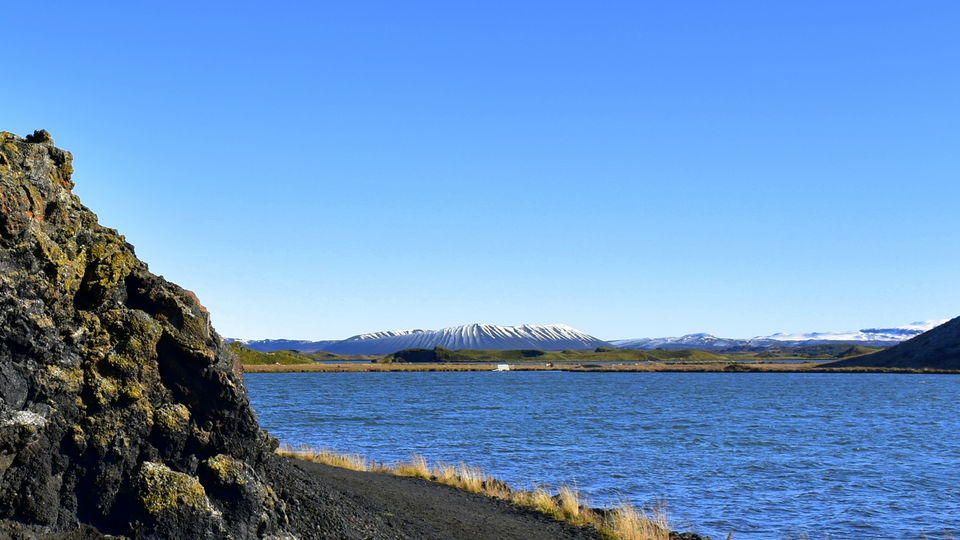 Once back from the crater site, I spotted a free self-car wash point near the hotel. Our cars were covered with mud after driving on muddy roads to Thorfinnsstadir, so I got down to business and sprayed one of the cars clean. Rajiv joined me to wash the other car. And both of us made Instagram stories of our car washing, announcing that we are not returning to India, as we had found jobs in Iceland.
Hverfjall
After relaxing a bit, we were ready to drive on to our next destination in the day's itinerary - Hverfjall crater, which was just half-an-hour away. Hverfjall is a real volcanic-eruption-made crater with 1 km diameter and 400+ meters elevation. Luckily for us, there had been snowfall in the region the night before and crater was still partially covered with snow. The special thing was that the snow had melted only where sunlight had touched the surface, so there were streaks of white and black all across it parameters, adding more contrast to its appearance.
The path up to its rim didn't look that difficult from below, bus as we climbed up, it turned out to be a bit demanding. Partially because of the slope, partially because it was a gravel/lava rock path. Since I had proven myself to be the most athletic one in the group, to maintain my reputation subconsciously, I tried to walk ahead of the group at a fast pace. But I felt exhausted just the mid-way, so I sat on a rock for a while. Rajiv and Dr. Virendra were a little behind me, some 30-40 meters. When I saw them coming, I pretended to be absorbing the view. By the time they reached me, I had caught my breath so continued climbing. But this time I kept my pace moderate, so I could enjoy the moment as well.
I still reached the top before others. When I looked down the path, Rajiv, Dr. Virendra, and Mukesh were a few paces to the rim. Jo and Clara were a little further behind. And Dr. Nirmal and Deepak were visible at quite some distance below. Since Dr. Nirmal was the least athletic of us, he had a bit more difficulty climbing up than the rest. And Deepak was kind enough to accompany him at a slow pace, instead of running ahead like me.
When I think of the moment in retrospect, this African proverb comes to my mind - "If you want to go fast, go alone. If you want to go far, go together." I don't think I enjoyed the climb at all just because I was the fastest. It was not a competition. With friends, nothing is a competition. Winning doesn't matter. Be it a hike, a game, or an argument. What's important is to be together in the moment and enjoy it. So, I think I would have enjoyed it much more had I kept someone's company along the path.
Anyways, the view from above was quite nice. We could see the inside of the crater. The inner slopes were also streaked black and white around the perimeter. At the center, there was a huge dome, which was also half black and half white. For a moment, I thought about whether I could climb down the slope inside the crater. Then realized the slope was too steep, the surface too loose; therefore, too risky. I could also see people walking around the rim across its parameter and thought I should too, but then decided otherwise.
We stayed up there for about half an hour, took some photographs, and admired the landscapes around. Lake Myvatn region was also clearly visible from the crater's rim. On the way down, I kept the company of Rajiv and Dr. Virendra, and helped them by carrying their tripods, which was better than running on alone.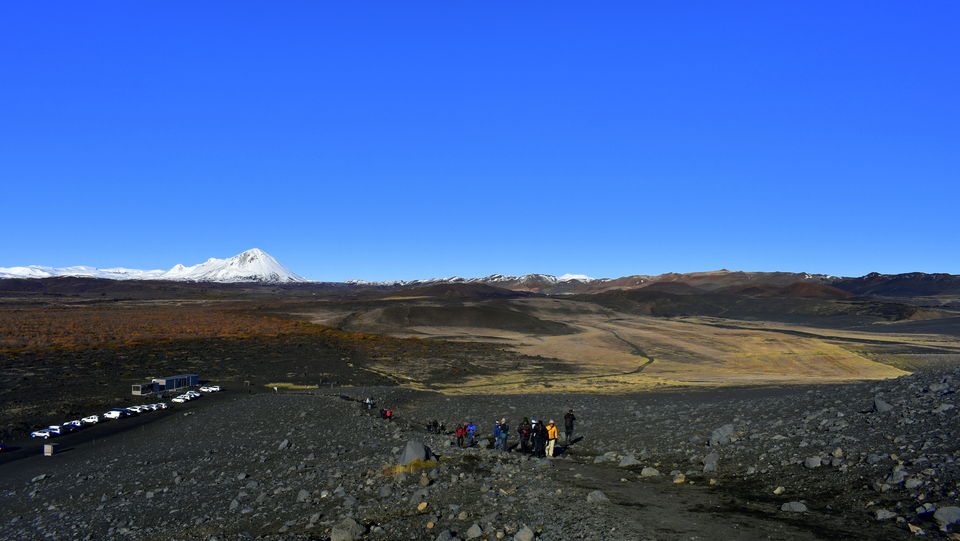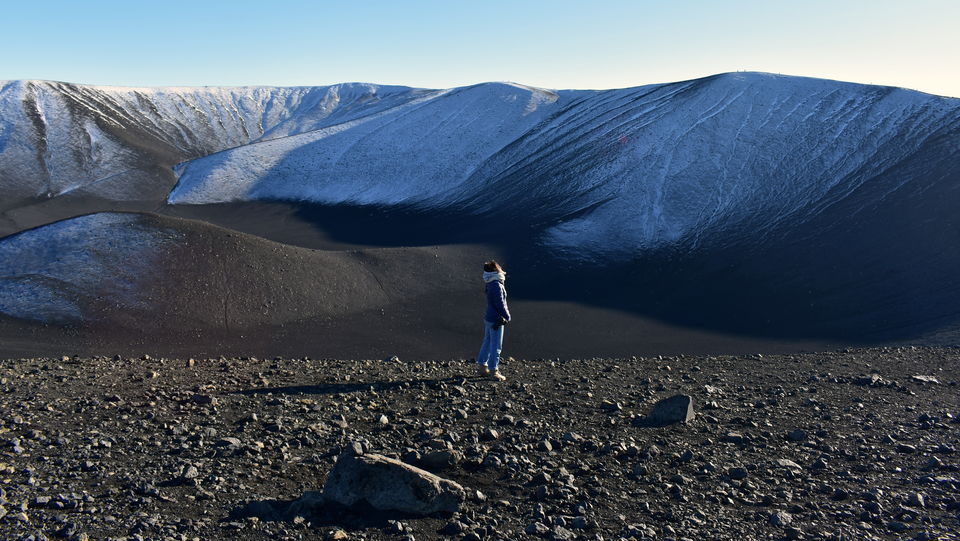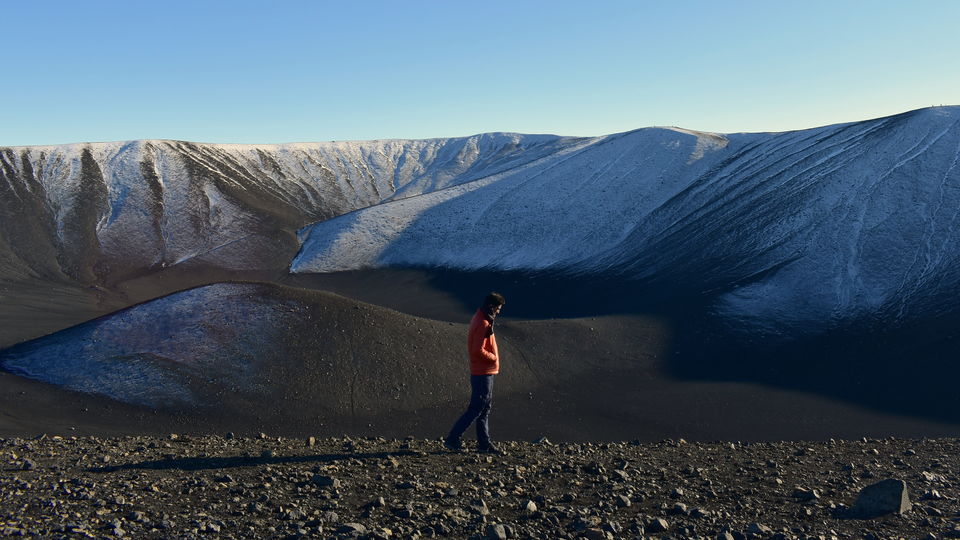 Námafjall
After pseudocraters and an ancient volcanic crater, it was time for another interplanetary site. Námafjall is a geothermal area with numerous smoking fumaroles and boiling mud pots. The whole area is covered with layers of Sulphur of different colors - mostly whitish-green, and mostly muddy. And not your regular muddy, it was sulphuric muddy. And there was an overwhelming pungent smell because of the Sulphur fumes. The place was a good enough example of what hell would look and feel like. I wondered to myself, the locals must have thought how crazy tourists were to fly from around the world to experience that.
There was a platform near the parking. Most of the group stood there. Rajiv and Dr. Virendra ventured ahead, somewhat half-way through the area in search of a good view to capture. I pretty much covered the entire area edge to edge to watch multiple fumaroles and tiny mud pots spread all over the place. On my way back, I heard Rajiv wondering to Dr. Virendra what a place Iceland is - as on one side of the slopes you have paradise (Lake Mývatn) and on the other, you have hell (Námafjall), which was something to be reckoned with.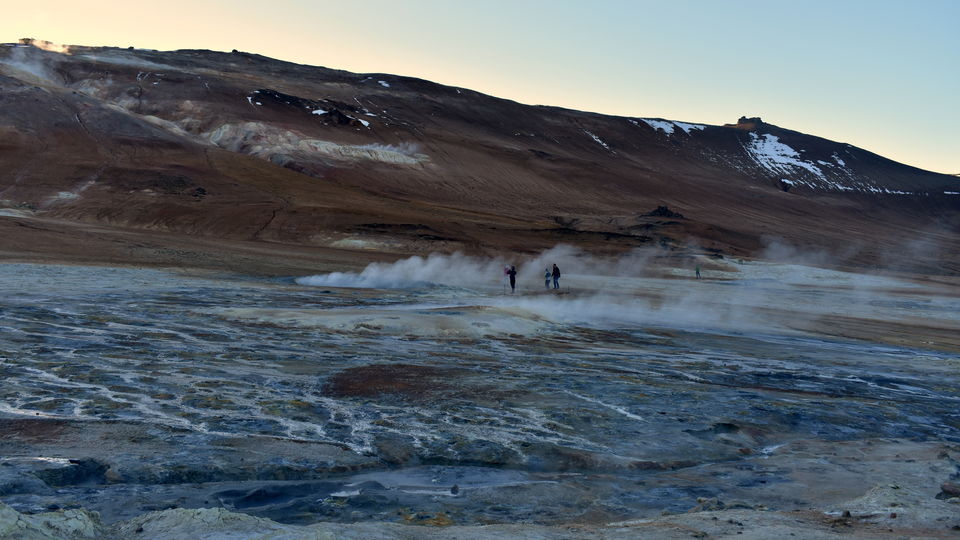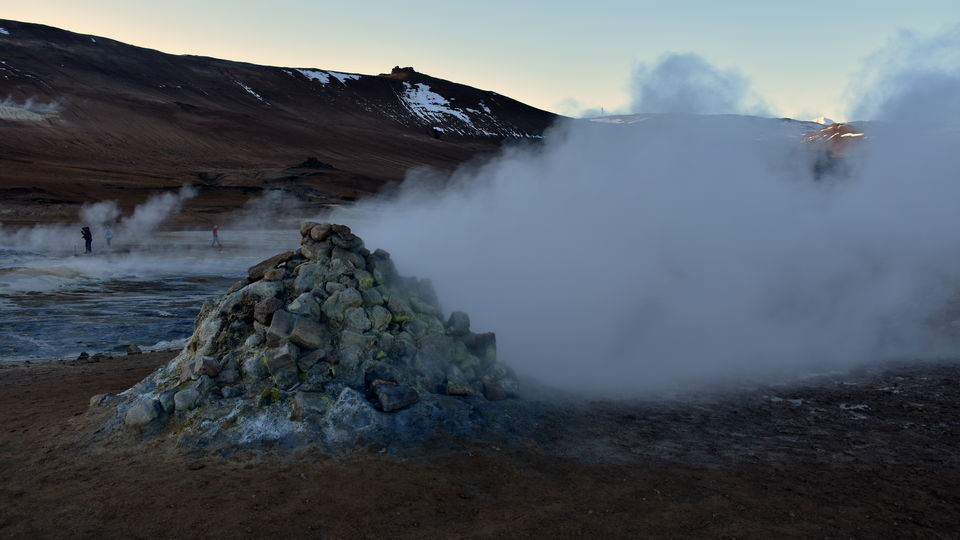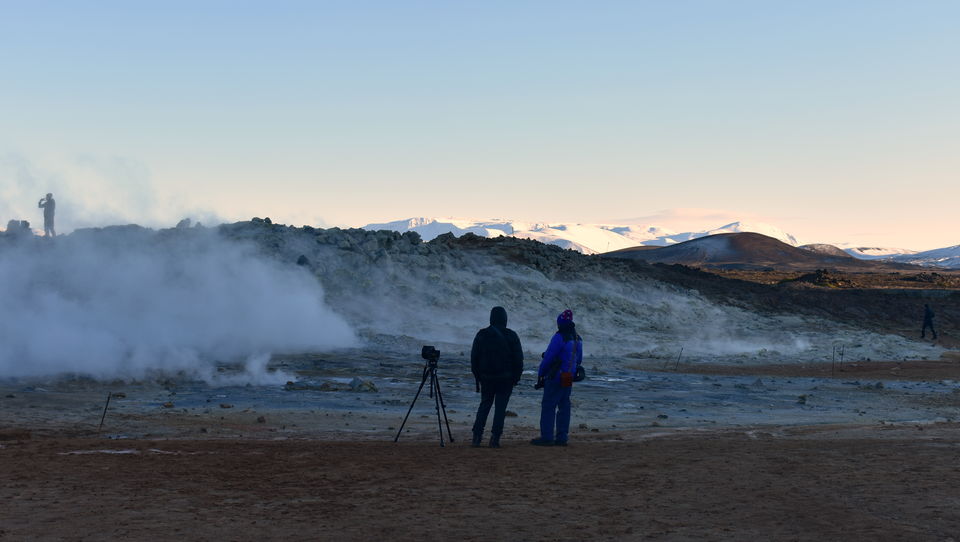 After treading the Námafjall area, our shoes were covered with disgusting mud, which we had to shake off with some effort in the parking area. There were dozens of our tourists as well doing the same thing. Once everyone's boots were clean enough to be permissible in the cars, we drove back to our hotel.
Although we had covered 3 major tourist spots, it was still a relatively relaxing day, especially since the weather was good and everything was nearby. On getting back to the hotel, some of us took a shower and relaxed for a bit. Rajiv, Jo, Clara, and I were staying in one room. The rest in the other. On finding a study table by the window, Clara was joyous and occupied the seat quickly to write her journal. Rajiv, Jo, and I were also sitting nearby admiring the view from the window, which continued to get more beautiful as twilight merged into dusk.
Soon after the night had fallen, the moon began to rise. And lucky for us it was a full moon, visible right from our window. As it continued to rise, the snow-covered slopes right underneath started glowing in blue color. It was then I realized the first time why all the painters across the world draw night skies blue, not black.
It was such a spellbinding experience. Literally. All of us had already gathered there at the first sight of the moon and stood there for 10-15 minutes pretty much in silence. The situation was similar in the other room, as Deepak would tell me later, who also managed to take a couple of good shots of the moonrise. The shots had come out quite beautiful, but I think they still fell short of capturing the beauty we witnessed. The experience was quite similar to when we had watched Aurora the night before. Except this time, expression on everyone's face was peaceful, rather than joyous.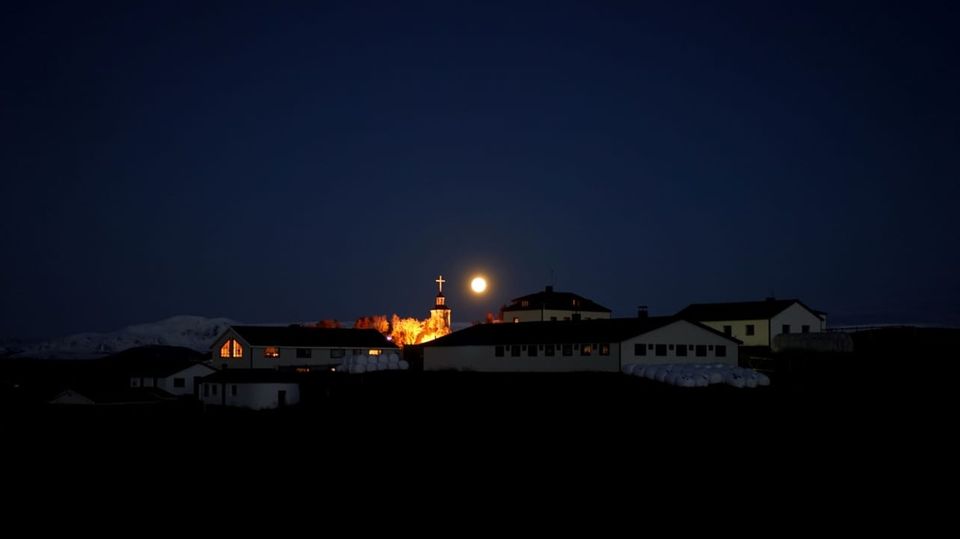 Once we were out free from the spell of rising moon, we went down the hotel restaurant to have dinner. Unfortunately, there was no vegetarian food available except for the Greek salad, whose taste was a bit stingy, so I had to make do with the French fries and cookies from my personal ration.
After dinner, when Clara, Jo, and I were in our room, all busy in our phones, I heard Jo humming a Hindi Bollywood song. I asked her to sing it, and she sang it quite well. It was such a nice surprise. When I asked her where she learned that, she told that Rajiv had taught her that song when they traveled to Iceland last year.
Day 6: September 24, 2018 - Lake Mývatn to Seyðisfjörður (Nord Marina)
Since we had explored the Lake Mývatn area quite a bit the previous day, we were good to leave early. At breakfast, we repeated our ritual of stuffing ourselves up as much as we could and were ready to be on our way. But we got delayed a bit due to a key incident, which seemed to have been lost but was in the car itself. It still took us good 10-15 minutes to find it, during which Rajiv seemed a bit too pissed and lamented that he had the feeling that some trouble was on his way since everything was going smooth for a couple of days. Fortunately, it didn't turn out to be as troublesome an incident as what happened at Grundarfjörður.
This time Deepak was driving the car I was in. I had my usual job of co-piloting the vehicle and assisting driver in whatever manner required. Dr. Virendra finally had some relaxation and he was enjoying not-driving the vehicle by clicking the landscapes from the side window. Deepak still seemed nervous driving, so I had to pay a little extra attention.
To keep the group lively, I also used to play songs once in a while. The car radio picked only Icelandic radio station and the internet network also wasn't always good, so we listened to only what was there on our phones. On my phone, I had only Ágætis byrjun by Sigur Ros stored. And I used to play a couple of songs from it that I knew everyone would like, whether they understand it or not. In fact, after a few days, Dr. Virendra and Dr. Nirmal used to ask me to play Svefn-g-englar by calling it "that Tjú-Tjú song".
When we took off from Lake Mývatn, the weather wasn't as good as the day before. For about an hour the road also ran through a bit colder landscapes. We made a quick stop somewhere near Hólsfjöll, which I only remember because I had taken a photograph of a road sign saying it. What I remember was that it felt much colder outside after a full sunny day in Mývatn.
Next, we stopped after about an hour's drive at an array of small waterfalls beside the road. Luckily, the sun was out too at that place. I took the opportunity to lie down on the dry grass and take a nap, while others take photographs. Soon after Mukesh and Rajiv also joined me on the grass bed.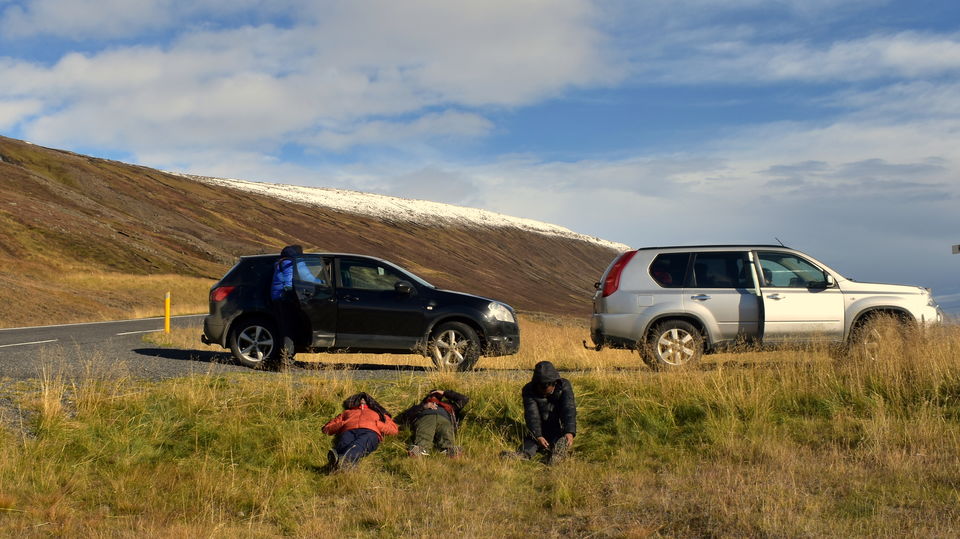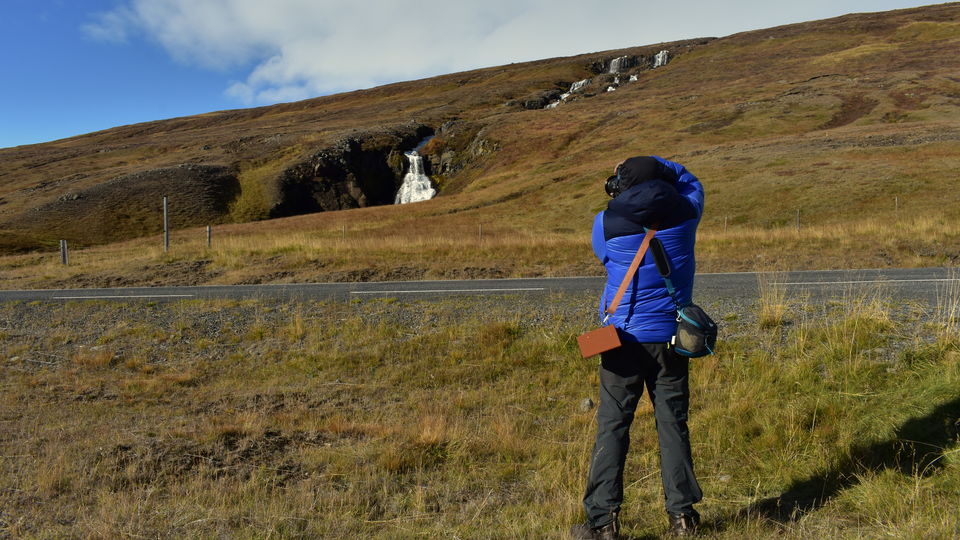 Hengifoss
We reached Hengifoss (our only planned stop from the day's itinerary) at 1:30 PM. There is a hike of about 2.5 km to the waterfall, but its white patch of water falling from the tip was visible from the road. Instead of going up right away, we lingered in the parking area for a bit as a few of us had to go to the toilet. Clara and I took the opportunity to click a few pictures near the river flowing next to the parking area.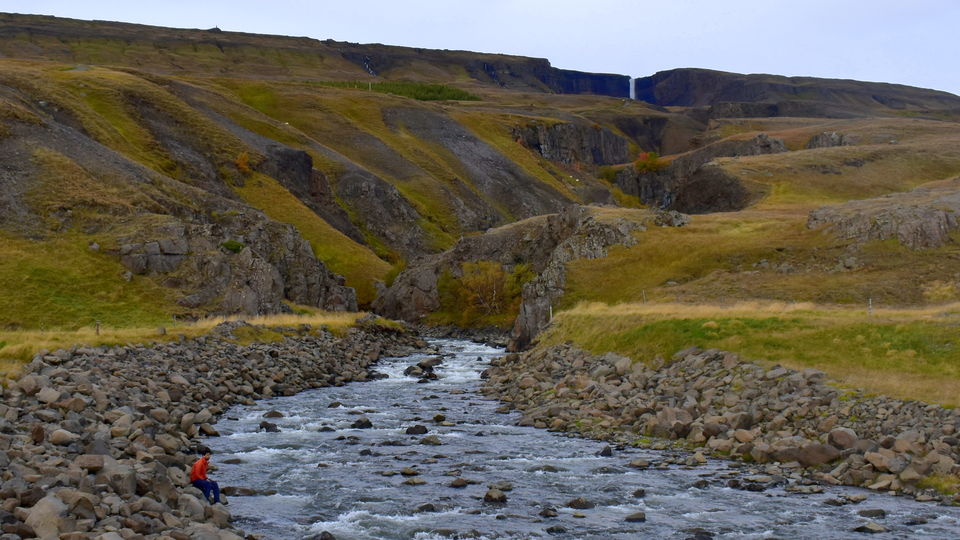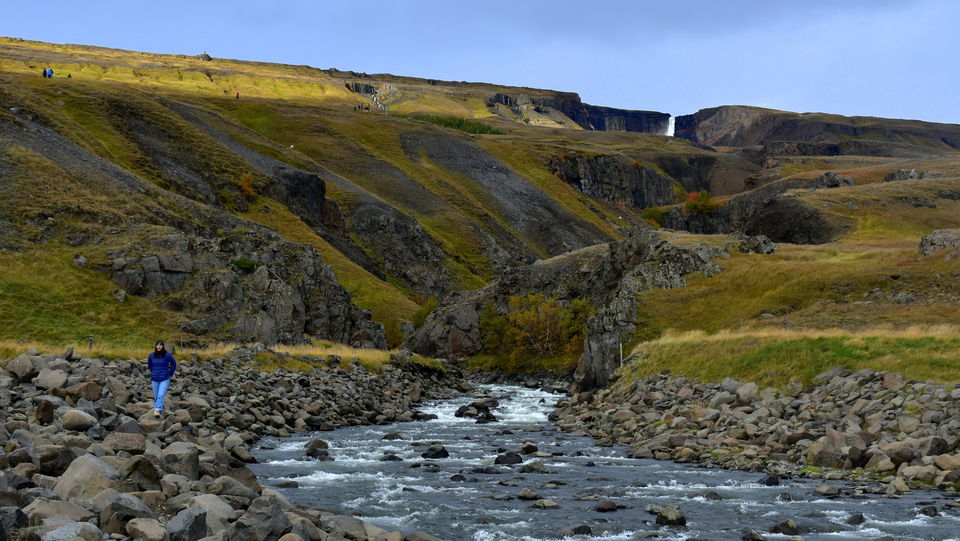 It was about an hour long hike to Hengifoss. From bottom to top, the path was quite scenic. There were several waterfalls (considerably smaller than Hengifoss) along the path and the river was running across the canyons to our right. As we gained some height, we could also see the expense of landscapes for miles on the opposite side.
Along the way, Clara joined Jo and I joined Rajiv and Dr. Virendra. I also helped them carry their gear, something I would keep in practice for the rest of the trip. Rajiv never minded whenever I used to carry his tripod or backpack for him. But Dr. Virendra used to feel a bit hesitant letting his stuff being carried by someone else, and only let me when I used to insist. I never minded it either. Deepak was again keeping the company of Dr. Nirmal and Mukesh who were the slowest of the group.
About midway, we stopped near Litlanesfoss, a towering waterfall framed by numerous hexagonal basalt columns. Since only Rajiv had done research when preparing the itinerary, some of us mistook it for Svartifoss. But he was there at the moment to clear the doubt. Some of us stayed there for a few more moments, while the rest continued ahead.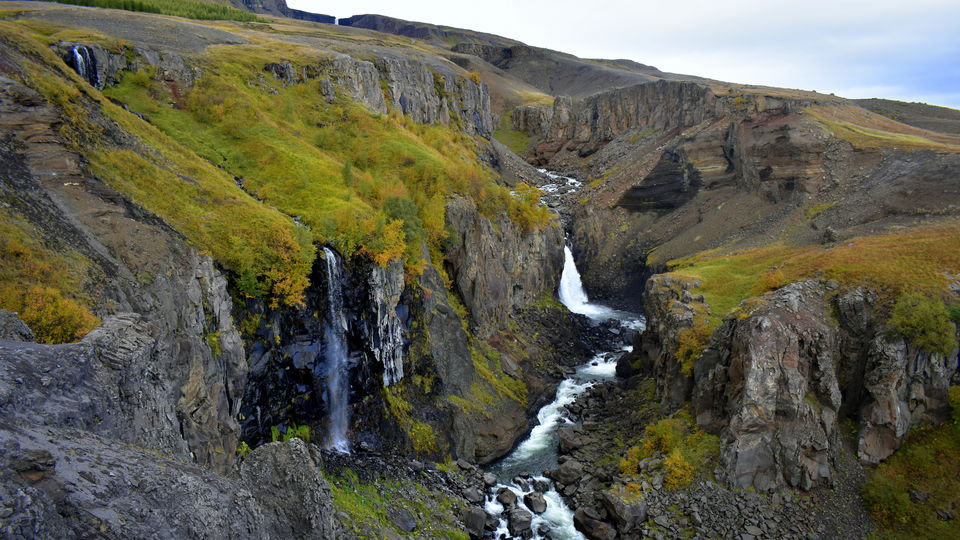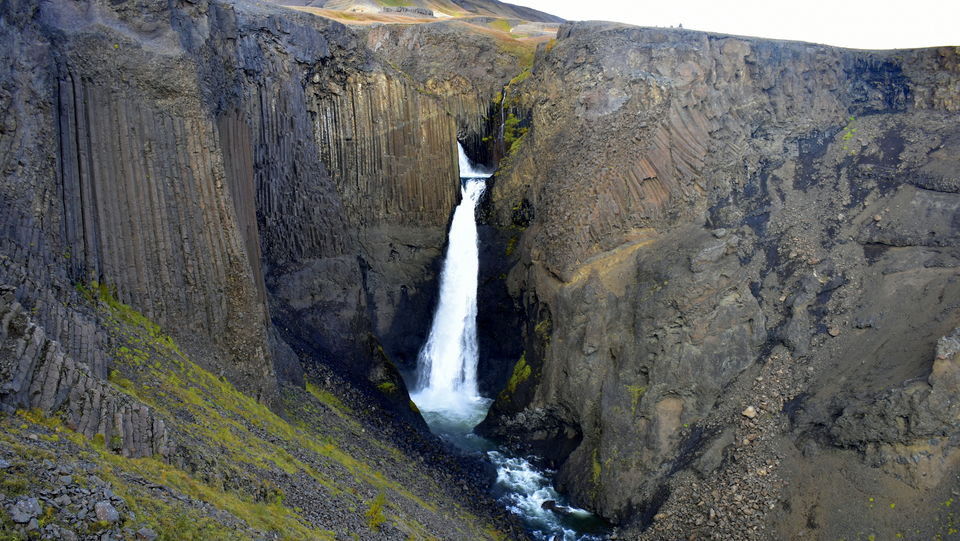 Further up the climb, the path got a bit tricky. I was hiking alone at the moment. The waterfall was visible now, but there was a long stretch of muddy and slippery path ahead. A good amount of people were climbing up and down the path, so it didn't seem that difficult at first. But when I passed through it, I had a difficult time keeping my feet steady despite wearing shoes with moderately good grip. At the moment, I thought to myself that Dr. Nirmal and Mukesh probably won't make it up there.
At the end point of the hike, I found Rajiv and Dr. Virendra already set with their equipment. The weather was a bit cloudy at the moment, but the light was pretty good. The area was quite wide and there were dozens of other tourists and photographers scattered around the place. I lingered there for some time with Rajiv and Dr. Virendra, then I decided to hike further ahead, and handed over my camera to Dr. Virendra, since the path wouldn't allow carrying it around your neck.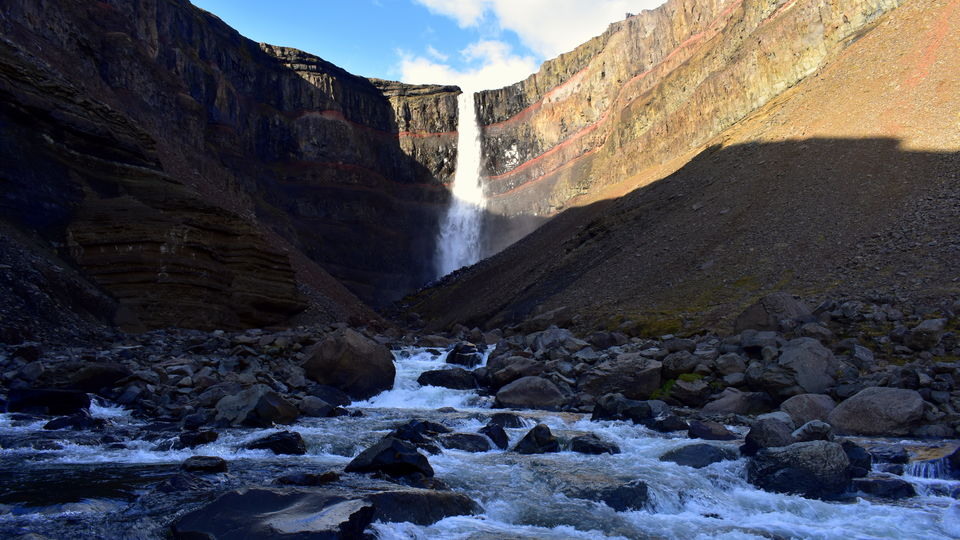 As I ventured ahead, I realized that the stretch of muddy path which I had found difficult a few minutes before was nothing in comparison to the ground I was treading now.
Ahead, the river was flowing through a shallow gorge (but not shallow for a human). First, I had to slide through a layered rock formation at the edge of the shallow gorge. I pretty much had to clip the extended part of layered rock with my fingers to keep my balance. Beyond that point, for a few meters, the path was okay. I found a couple there taking pictures.
The guy (husband) was standing on a huge boulder near the edge of the river, getting his photos clicked. When I enquired him about the path ahead, he said that his wife asked him not to go further, so that was the end of the line for him. They were leaving at the moment, so I replaced him on the boulder and sat there for a while and admired the beauty around. My phone's battery had gone dead, which it used to throughout the trip whenever it got too cold, so I couldn't take any pictures.
After sitting on the boulder for about 10 minutes, I continued ahead. The path was difficult throughout. At times, I had to slide beside the rocks, and at times, I had to do a bit of rock climbing, hugging and holding whatever I could. I might have exaggerated the whole thing, but it was quite difficult and dangerous. Along the path, I continued to think to myself that I shouldn't have come. But something kept me going.
By now, I was well inside the embrace of the concave of basaltic strata that surrounded the waterfall. And inside that embrace, for once, there was no wind buzzing through my ears while I was outdoors. It was just the sound of the water falling from a height of 128 meters. It was peaceful.
I decided to stop there and found a rock to sit. After a few moments, the cover of clouds gave way to the sunlight, and the waterfall lit up half way through from above. I sat there for some time in the admiration and wonder. Since I didn't have any active device on me or a soul to share the moment, for those few moments, I kind of felt that inexplicable connection to nature that I have often read about in books.
After spending about 15-20 minutes with Hengifoss, I decided to head back, in case the group was wondering about my whereabouts. The way back was equally difficult, but at least now I was a bit more mentally prepared and somehow a bit more confident after my time with the waterfall.
Once back in the hike's endpoint region, I noticed a sign board that said the way ahead was closed. Oops! I was also a bit worried that I might get scolded by Rajiv for venturing far ahead on a dangerous path. Fortunately, he had little idea about my experience and didn't mind the sign board as well. However, I got into a little argument with Dr. Virendra, who couldn't get anywhere else the whole time because he had my stuff. But after shooting a few snaps at me, he cooled down.
By the time I was back, Deepak, Dr. Nirmal, and Mukesh had also made it to the hike's end point, which was quite admirable. I could only imagine how difficult and exhausting it had been for them. Yet they made it. Slowly, taking one step at a time, they made it! Later, I also complimented Dr. Nirmal for his feat and said that my goal in life is to have the same passion for travelling that he had at the age of 60.
On the way down, I kept the company of Rajiv and Dr. Virendra again. Jo also joined us along the way. She borrowed my camera to take some pictures of the surrounding area. About midway down, we met three Indian tourists and talked to them for a few minutes, then continued climbing down. I met one of the three Indian guys again after about a week in Helsinki and explored the city with him.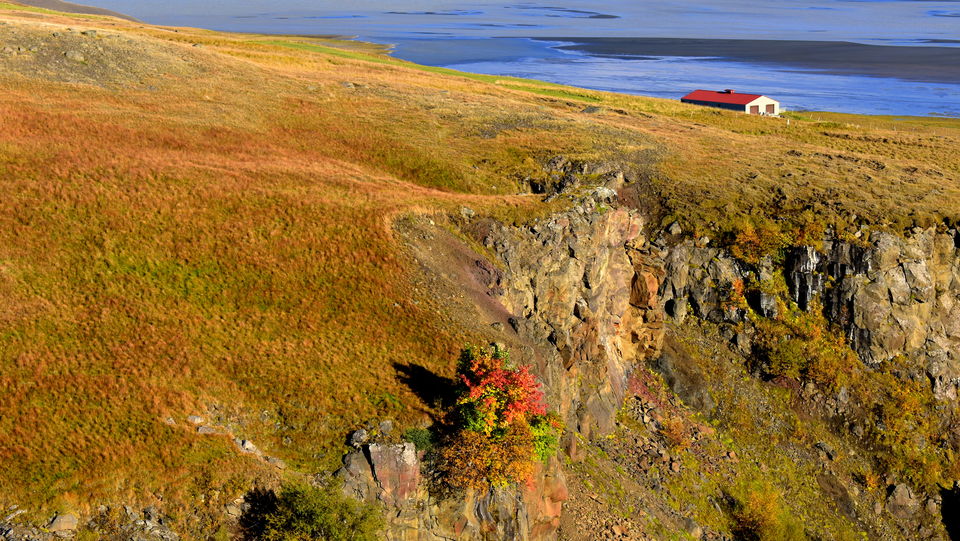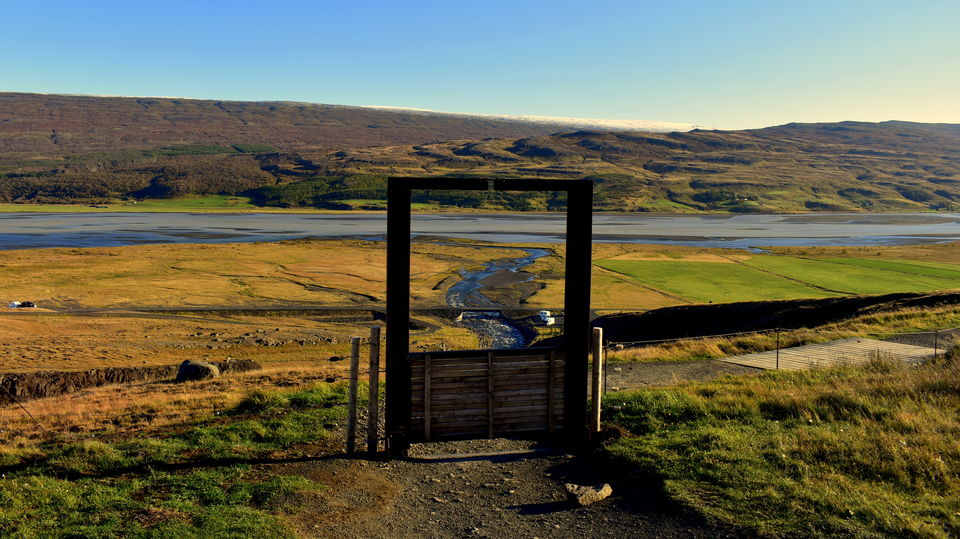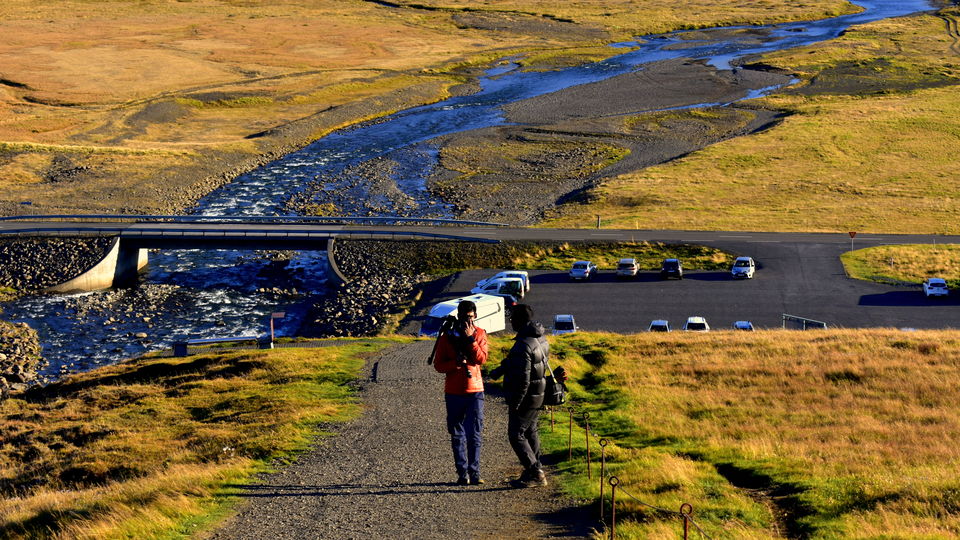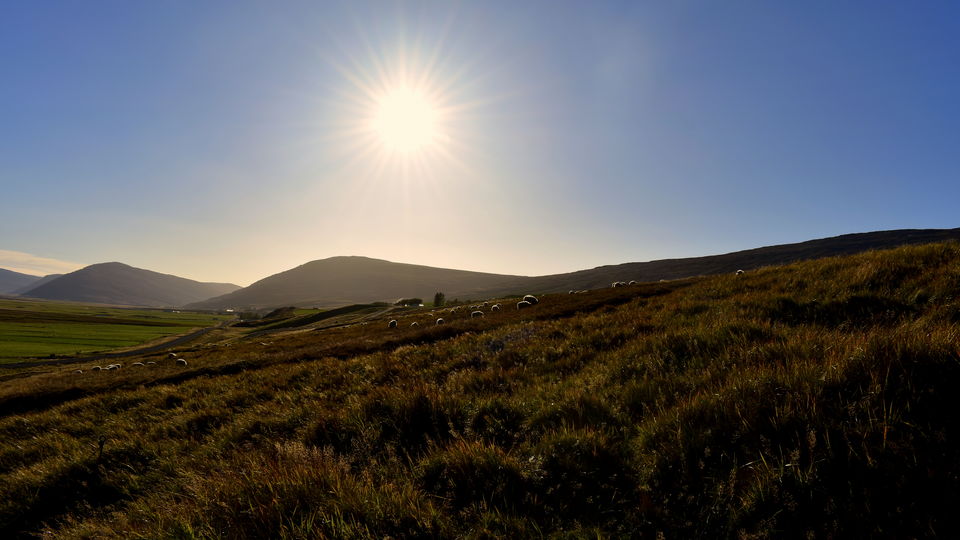 Dr. Nirmal and Mukesh were the last ones to reach the parking area. Nice guy Deepak had again accompanied them. Once everyone was back in the parking, we drove ahead to Seyðisfjörður.
The way that followed was one of the most scenic of the entire trip. The road ran through a snow covered terrain that was glowing with pink and blue hues of dusk. I captured most of the way on my phone for a video of the trip I was planning to make.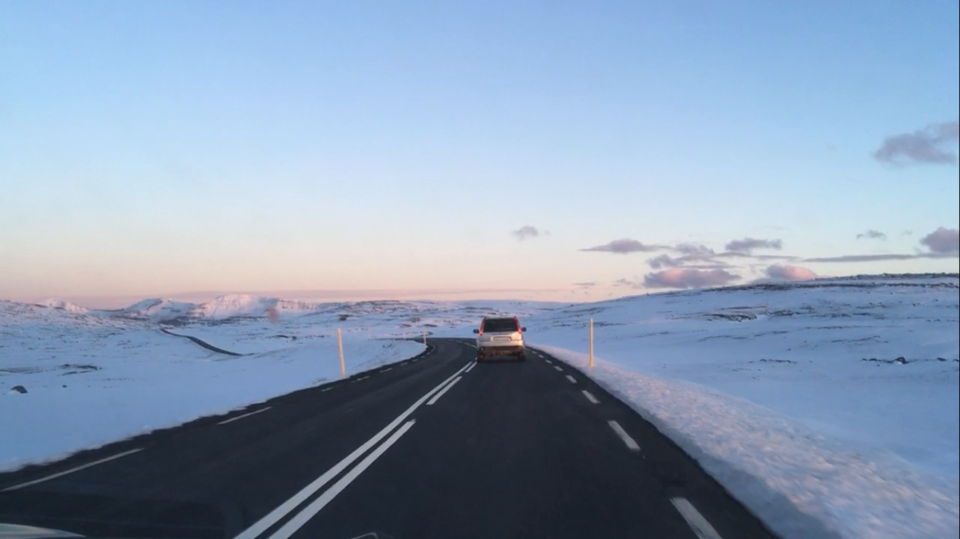 Before reaching Seyðisfjörður, we made one multi-purpose stop just before the bridge that led the road across the river into the Seyðisfjörður side of the river. There was an array of hut-shaped tourist rooms visible from the road, which seemed irresistible to a photographer's eye. After capturing the huts, we drove to a nearby gas station and grocery store to get some fuel for the cars and for ourselves.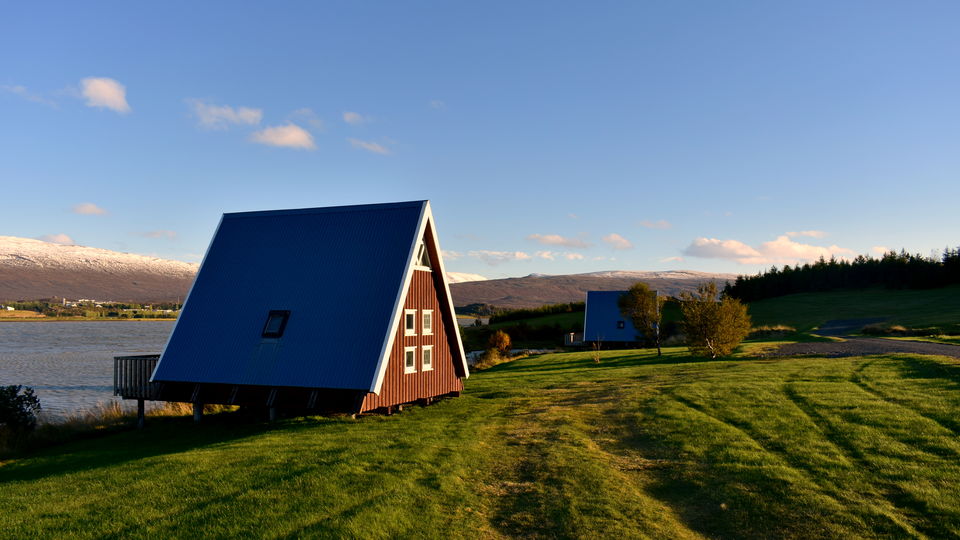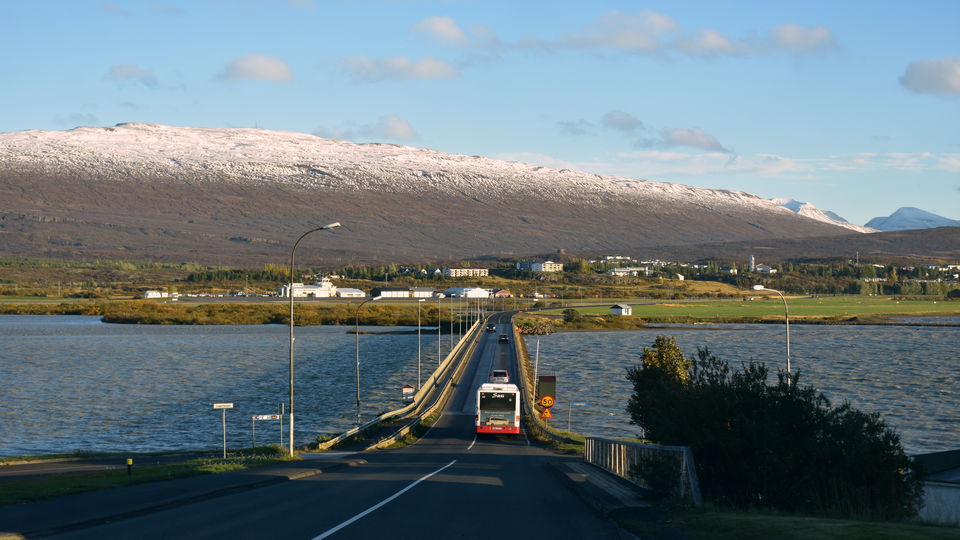 After a while, the way ahead went through some high-altitude terrains with lots of twists and turns. Since it was Deepak's first day driving as well, we were a bit nervous, but for all our sakes, he held his nerves and drove us safely. Along the way, I noticed a waterfall to the right of the road. Although we had seen countless such waterfalls, for some reason, its image got stuck in my mind. Later in India, when watching The Secret Life of Walter Mitty, I instantly recognized the waterfall as Ben Stiller skates by it.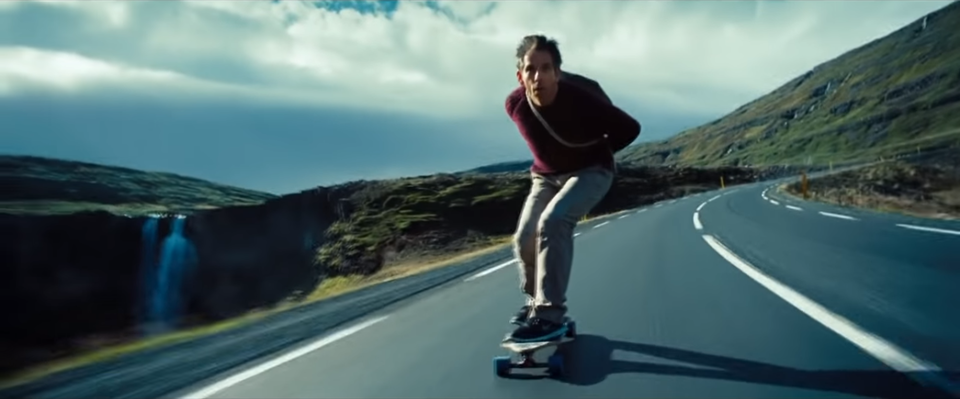 The night had fallen when we reached Seyðisfjörður, so we couldn't witness the beauty of the town right away. Our hotel, Nord Marina Guesthouse was in the outskirts of the town, overlooking the Seydisfjördur Fjord.
At the guesthouse, we all put our luggage in the dining area and sat on the dinner table while Rajiv was deciding who goes into which room. There were two rooms and bed for 7 people (2,5). Rajiv and Dr. Virendra took one room and the rest of us accommodated the another. Since Clara was kind of hitchhiking with us and it was an advanced booking, there wasn't any booking for her. So, she decided to sleep in her sleeping bag.
Soon after, we had dinner. Last time (at Hellnafell) we had prepared an Indian dish, so this time Jo decided that she would make something Mexican for us. She and Clara made Burritos for the group, which was the best meal I had during the entire trip.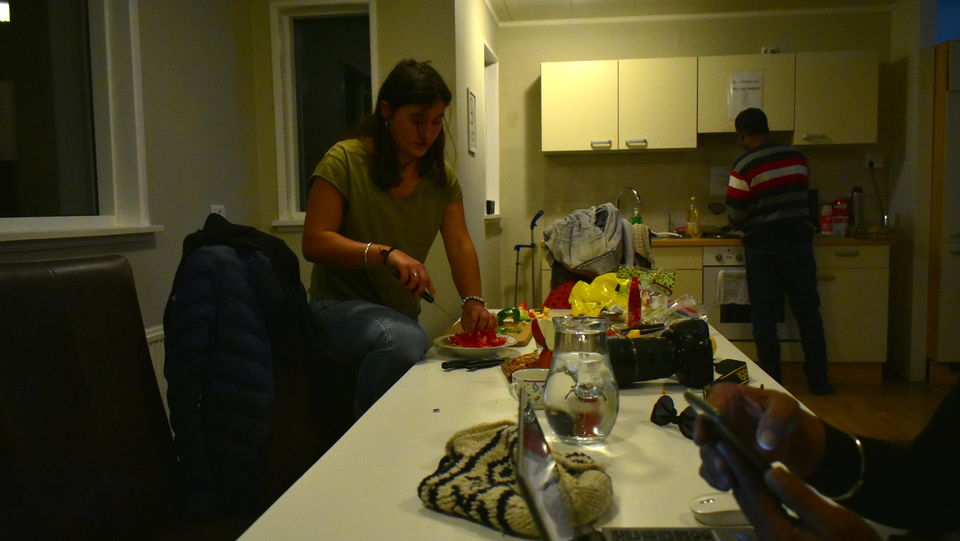 At bedtime, when Clara was making her bed on the floor, I thought of asking to exchange places with her, but decided otherwise, thinking someone from the group might object that she wasn't paying for the stay. When Deepak entered the room, he asked her the same without any hesitation. But she said it was okay and besides she likes sleeping in her sleeping bag anyway. Then I thought to myself, I should have asked her that without worrying what others might say. Afterall, I was paying for my own stay, so the decision to let her sleep in my place was really no one else's concern.
Day 7: September 25, 2018 - Seyðisfjörður to Stokksnes (Viking Cafe)
Early next morning, I went down to Nord Marina's parking area, which extends into its concrete patio, which further extends to a heightened wooden deck. All across the fjord, there was an array of wooden decks at different heights and raw wood furniture all over the place - long cuboid and cylindrical wooden logs as stools, large wooden reels as tables, metal barrels as fireplaces, and other fishing and seaman stuff for some other handy use.
Although there was not a soul around, the entire area gave a fair enough sense of the domestic life of seamen and fishermen, which I had seen only in movies before. I spent about an hour there, looking over the fjord, admiring the mountains on the other side of the bay, gazing into the water (even spotted a jellyfish) and clicking a few pictures. Dr. Virendra also joined me after a while (he had just returned from the Seyðisfjörður town with Rajiv and Deepak) and both of us talked about the seamen stuff around in admiration.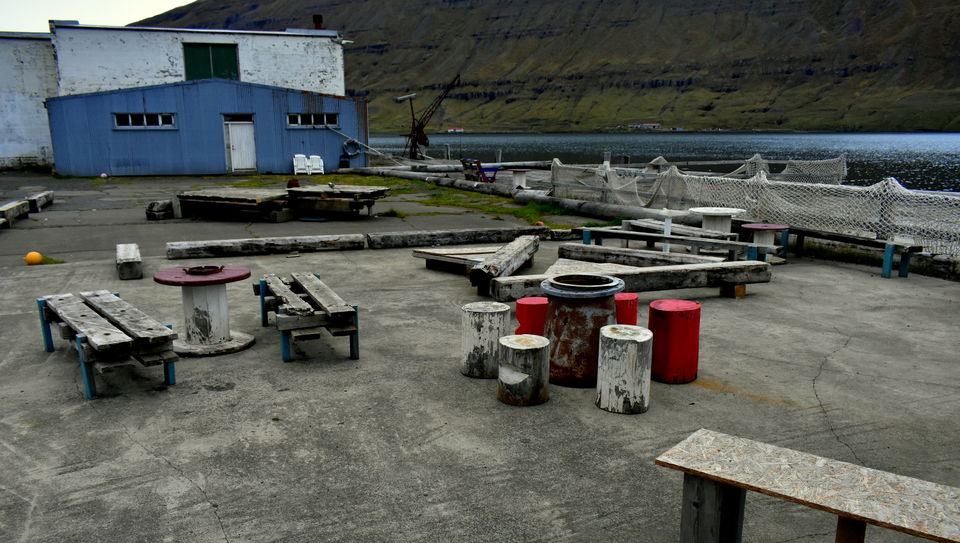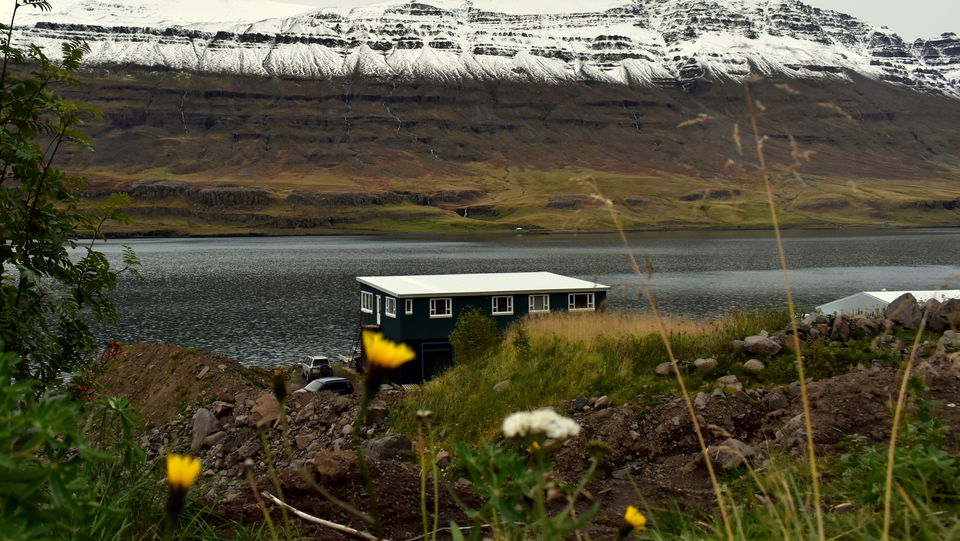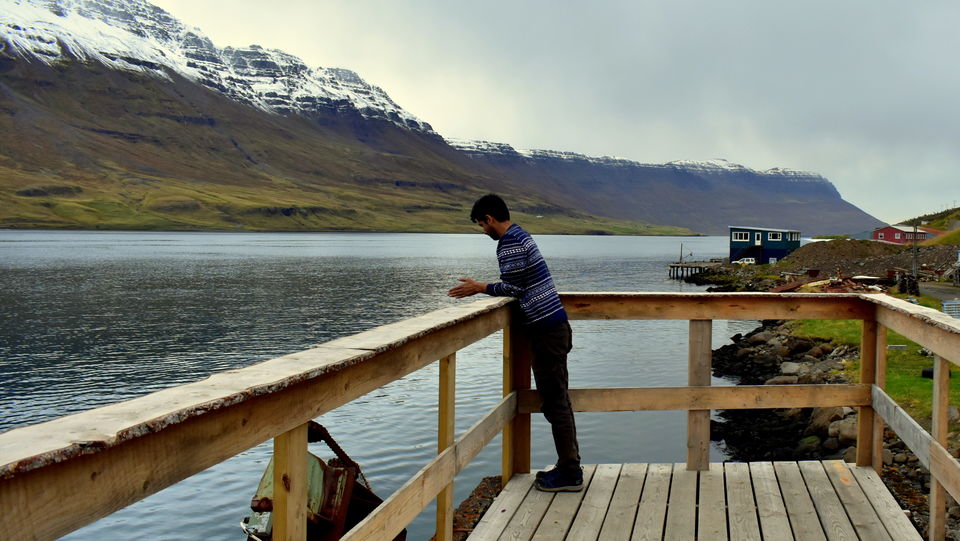 The weather was cloudy all morning and by now a soft drizzle had begun. We enjoyed the drizzle for a few minutes but then had to head inside since we didn't have anything to cover our cameras. At the breakfast, Rajiv recommended the rest of us to go check the town. As he was telling us about the stuff we should check out, a Danish ferry passed in the bay behind us. Many of us left the table instantly to take its pictures. Some of us even went outside.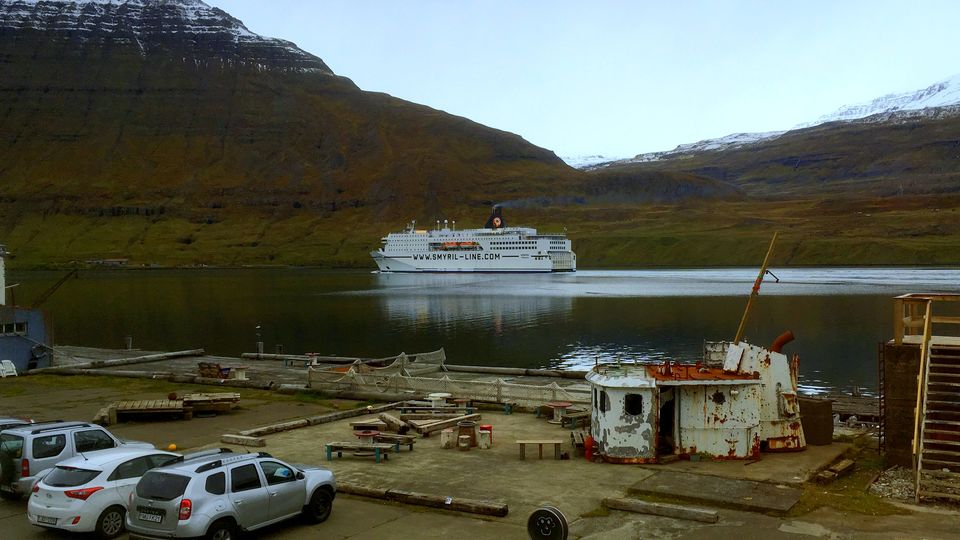 By the time we had our breakfast, the drizzle outside had gotten a bit heavier and now only Jo and I seemed interested in exploring the town. I borrowed Dr. Nirmal's umbrella and Jo had done her waterproof jacket. But as we began to head outside, Jo got caught up in something and told me she would join me later.
Seyðisfjörður
The center of Seyðisfjörður town was about a 15-20 minutes' walk from Nord Marina. The drizzle was light when I stepped out, so I didn't use the umbrella right away. On the road, I first passed through a mill or thermal plant on the right. Once I crossed the facility and came across an array of houses, I instantly fell in love with the town. Some of the houses were so picturesque that one cannot help but exclaim "Seyðisfjörður, you beauty!"
Along the way, there was also an unused old wooden ship by the road, wooden benches here and there in huge natural lawns, colorful trees - all of which seemed more beautiful in the rain. I could also see the ferry harbored in the bay that had just passed the guesthouse a few minutes ago.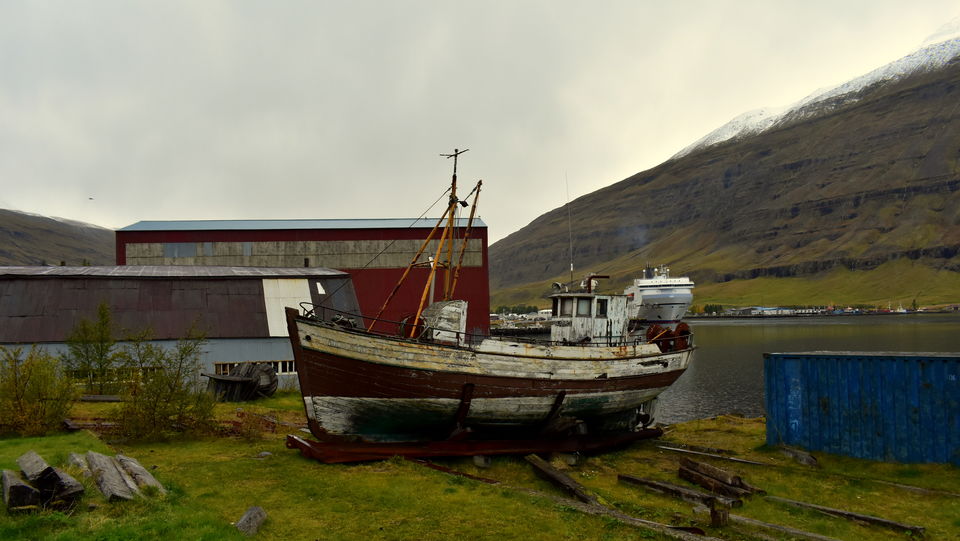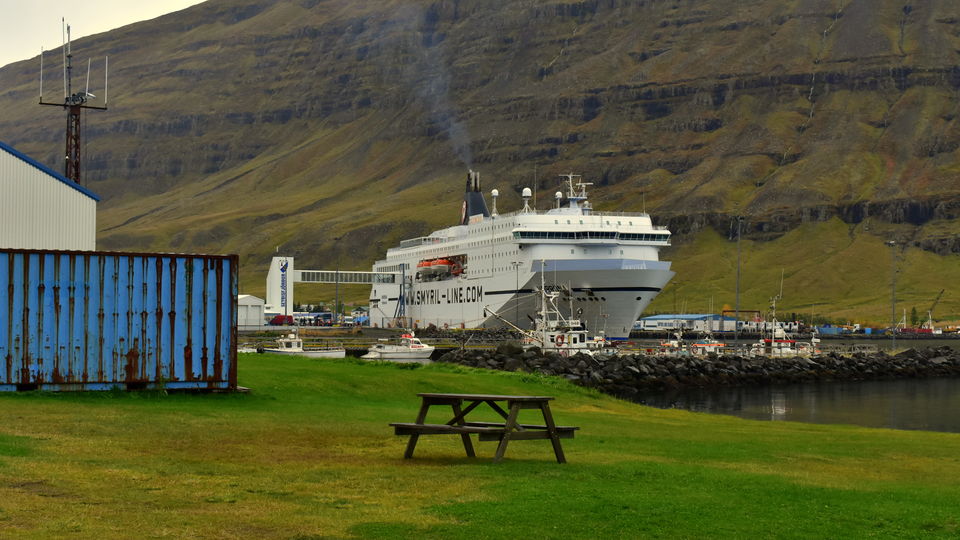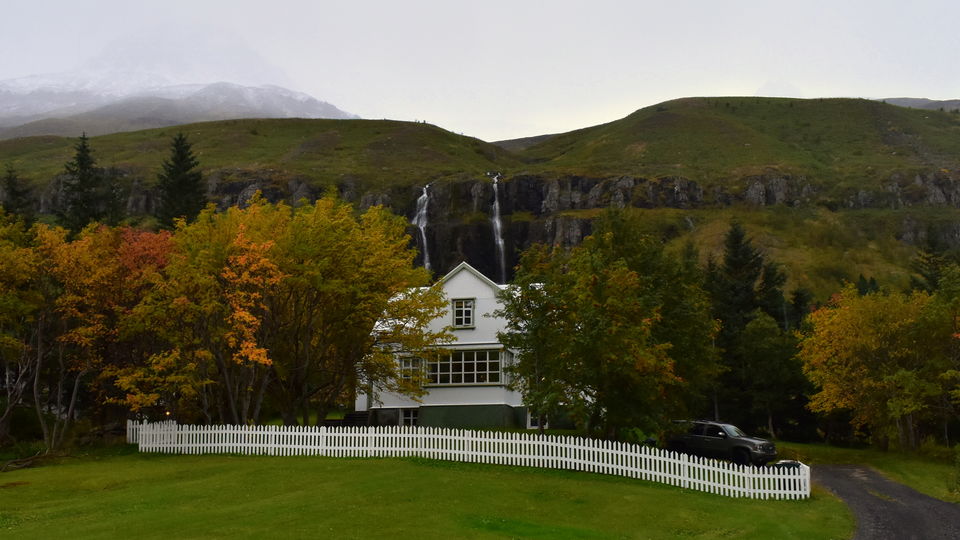 Inside the town, the colorful houses continued to look more and more beautiful to my eyes, which had seen such beauty only in posters and magazines before. Soon after, I reached the famous colorful church street, which was the reason why I had come out in the rain to explore the town in the first place. Because of the rain, there was hardly anyone around. Luckily, I found an Asian tourist couple under a shed near the church, who asked me to click their pictures; and in return, clicked a few of mine.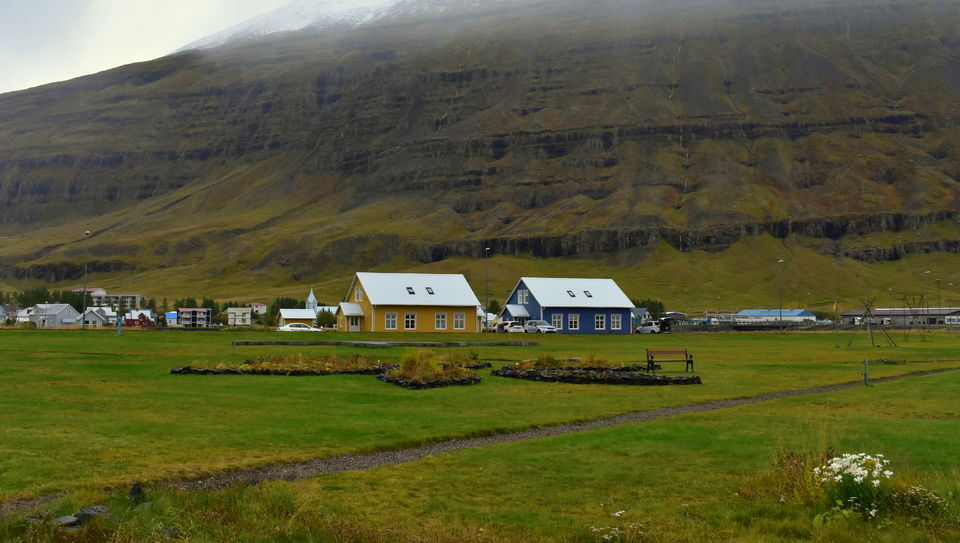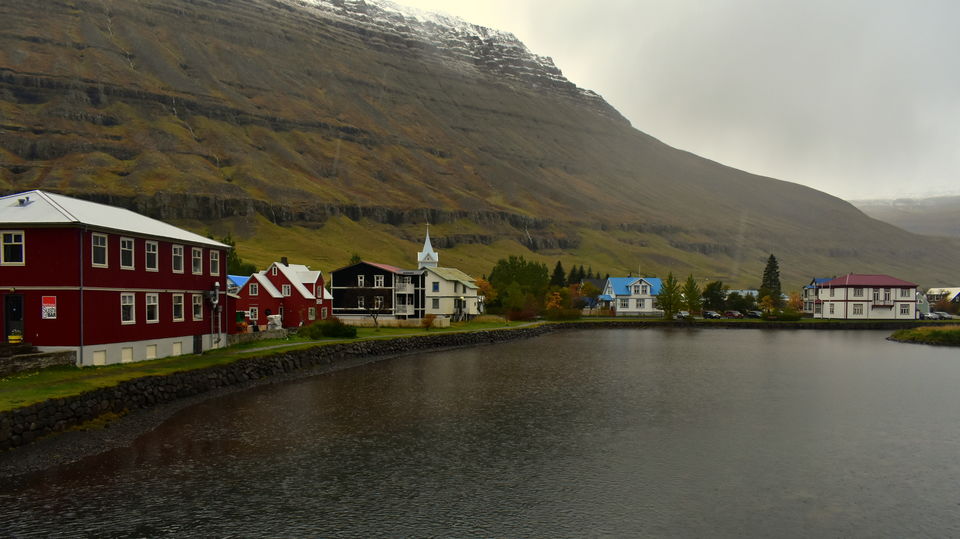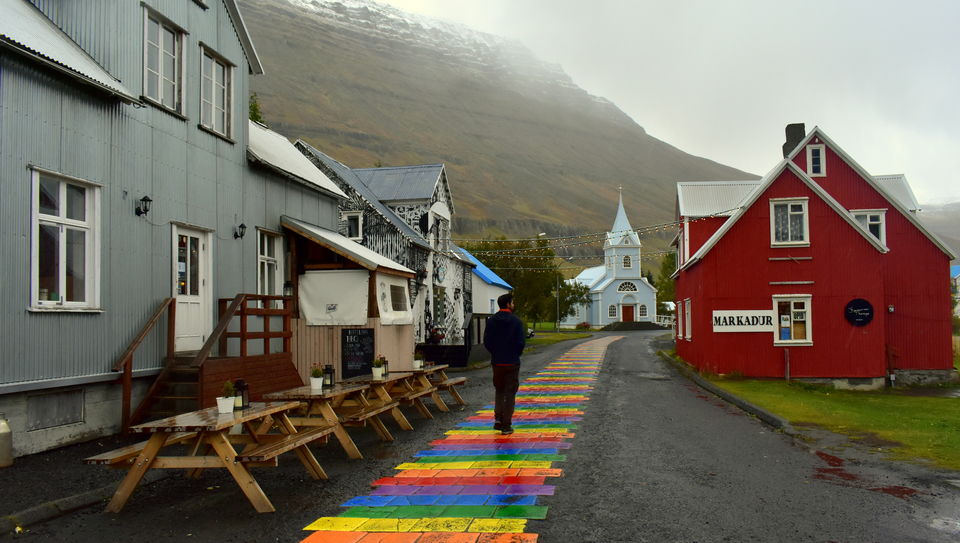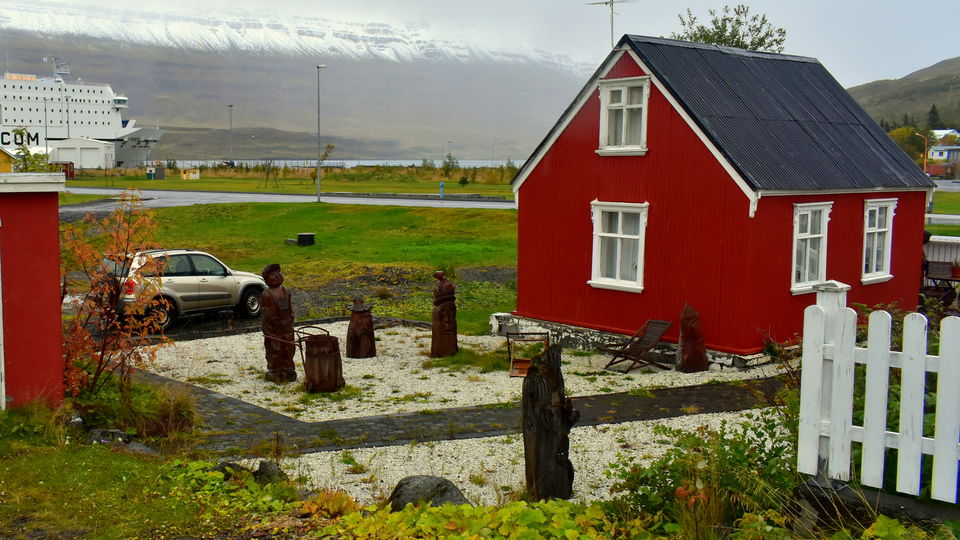 After strolling the main streets of the town for about half an hour, I started to head back to the guest house. By now, the drizzle had also picked up some intensity, so I had to use the umbrella. On my way back to the guest house, I saw Jo coming to explore the town now. Instead of continuing heading back, I joined her for another stroll into the town.
We strolled through the town for another half an hour, both of us joyous after absorbing too much beauty. I showed her the spots freshly marked in my memory, and of course, we spent quite a bit of time treading on the colorful street in front of the church.
Once the rain got a bit more intense, we had to take cover under the shed of a building facade near the main town square. The building seemed to be part of a school. Soon after we saw a few school children coming out in the rain to play from another building. Being native, many of them were in only t-shirts, while we had done multiple layers and were still feeling cold. We felt like joining them, but didn't. Besides, they weren't out for long because of the rain.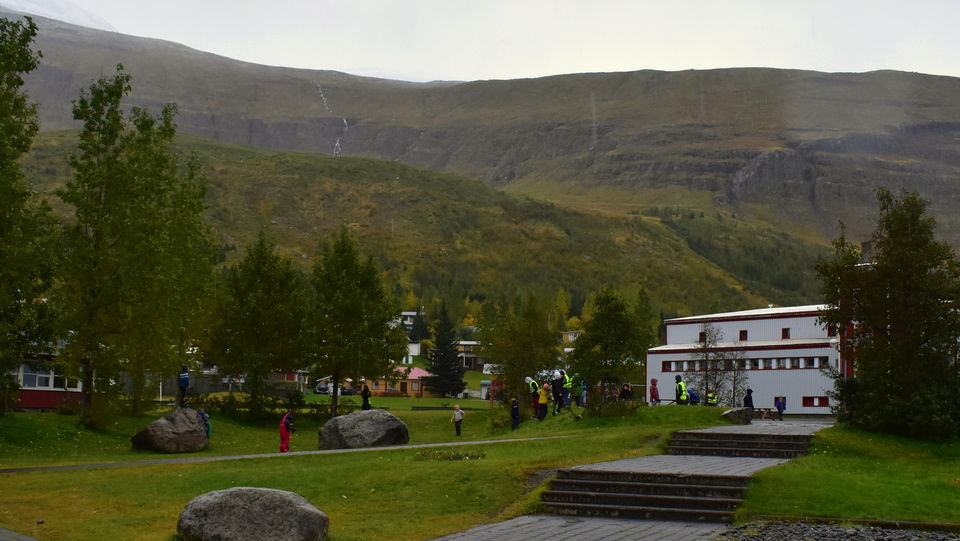 After watching children play in the rain, both of us had the itch to do the same, which we could see in each other's face. There were a few puddles just ahead of the shed, so I came up with this idea of jumping in puddles while playing Sigur Ros's Hoppipola (which means "jumping in puddles") and recording the act. Unfortunately, the network was weak, so we couldn't play the song, but did the rest nonetheless (plus, I added the song to the clip later). We had quite some fun for a minute or two, and she seemed to have more fun than I, which was nice to see.
Since we spent quite a bit of time in the town, Rajiv had to come pick us up so we could all drive ahead timely. On reaching Nord Marina, we quickly packed our bags and were on our way by 11 AM. As we drove through the town, I kept my eyes wide upon to gaze upon the place one last time I had just fallen in love with.
I didn't talk to a single local during our stay and barely saw a few kids, yet I think I would have gotten along with them quite well. Because for me, the town seemed to reflect the character of the people who live there. And the life that was lived there. And I like to believe I am right. I hope I am.
The road from Seyðisfjörður to Route 1 (ring road) was not an easy one, which we had come to realize that evening before. And on the way back, we had to drive through a blizzard.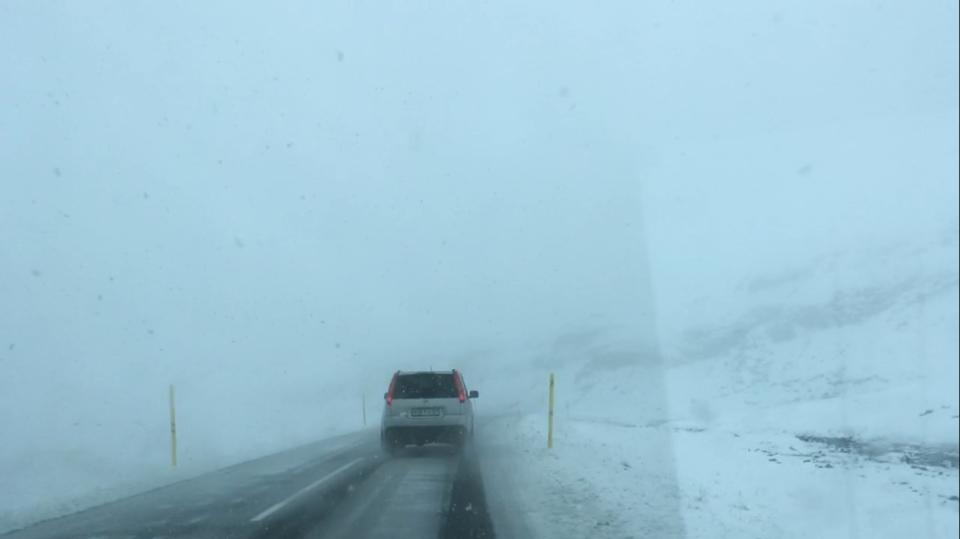 Deepak was driving the second car and he still was a bit nervous (I don't blame him, because I would have been far more nervous). At some stretches, the road was barely visible, so we had to drive really slowly. At one point, the car seemed to have slipped from the road, and Dr. Virendra and Dr. Nirmal sitting behind gave a yelp, but Deepak held his nerves again and drove smoothly up. I gestured with my hand towards him, telling it was okay and to boost his confidence a bit. But he seemed too focused on the road to see my gesture.
Further ahead, we saw an Asian guy taking some pictures in the blizzard, pulling over his car only half off the road (since there was barely any space to the side). Both our car had to traverse beside his car with some difficulty, so we all give him a good scorn while passing by.
Later, Rajiv seemed really pissed on the guy for pulling over his car like that on a rather dangerous road and in such conditions, causing trouble for others. Despite the urgency of getting out of that blizzard asap, we too wanted to take some pictures in the blizzard, but didn't because we couldn't find a proper place to park the cars. In fact, later we found that Sneha and Ayaz drove through the road pretty much at the same time. Ayaz didn't see the car in the blizzard until the very last moment, and almost drove off the slope. Fortunately, they made it safely.
Once out of the snowy terrains, we made our first intermediate stop at a place the colors of autumn seemed too irresistible to drive by. Rajiv said there was a waterfall somewhere up the slope, hiding behind the vegetation. Mukesh and Dr. Virendra followed him, while Dr. Nirmal strolled across the road in search of a good shot from below itself. Clara, Deepak, and I stayed near the cars. Deepak and Clara did a quick photoshoot with the vegetation, while I picked up some blueberries to munch by the river bank, which was flowing on the other side of the road.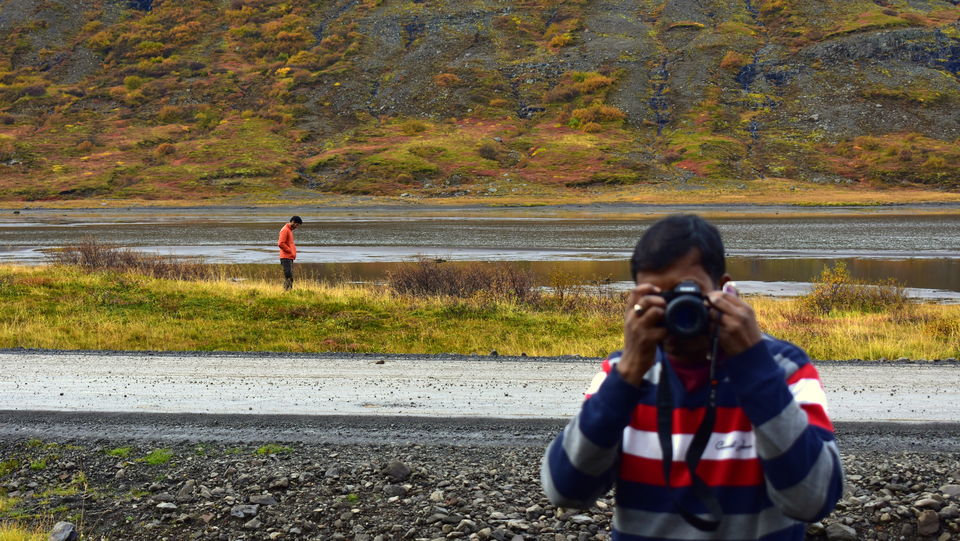 Our second intermediate stop brought us to one of the most beautiful views we had in our entire trip. Like some landscapes from the Lord of the Rings movies. We could see for miles ahead of us from where we had parked our cars. I quickly spotted an area where I could stand and someone can take a good picture from some distance. The slope ahead seemed manageable, so I handed my camera to Clara and just got down to business.
When Rajiv spotted me, he also climbed down a bit and asked me to do a couple of pose for him, which essentially involved standing upright, something I was doing already. Clara's clicks had come out nice naturally, because of the landscapes. But Rajiv's were absolute masterpieces. In fact, those shots were my favorite of the entire trip. And after watching them, I thought to myself, "That's it! That's what I had come all the way to Iceland for."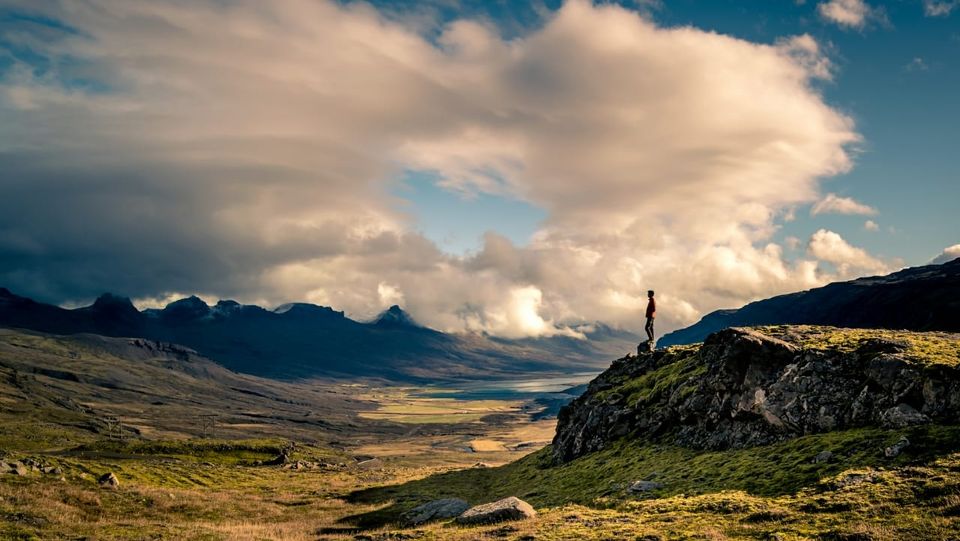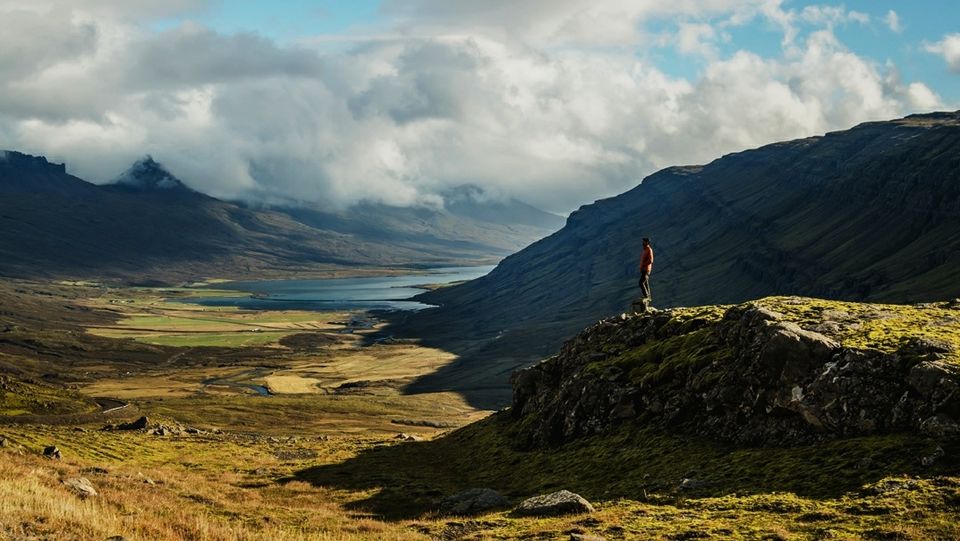 Eystrahorn: Day 1
By now we had entered the southern region of Iceland, for which the country is essentially popular in the travel community, and on the internet. Our first stop along the southern coast was Eystrahorn, which Rajiv told me is an equally important spot for photography as Vestrahorn, but virtually unknown to tourists. And the number of people we saw on both spots confirmed the fact. At Vestrahorn, you will see hundreds of people at any given time of the day; at Eystrahorn, pretty much no one.
We reached Eystrahorn in the afternoon when the sun was quite bright. Rajiv decided that the light was too harsh for photographs at the moment, so would do a round trip to the area early next morning. But he let the rest of us to explore the area for some time. Some other photographers decided to use the time to do a shoot with Jo, who did her purple dress for the occasion. Later, when I came to know about the shoot and checked the photographs, they had come out gorgeous.
I first ran off to check out a huge lighthouse situated at the edge of the cliffed coast. Then I saw Dr. Virendra and Rajiv heading towards the beach on the western side, so I followed them. The path down to the beach required some climbing down through rocks. Rajiv and Dr. Virendra were loaded with camera equipment, so they stayed behind. I went down to walk across black beach made of gabbro, as the white water forms slid up and down on it.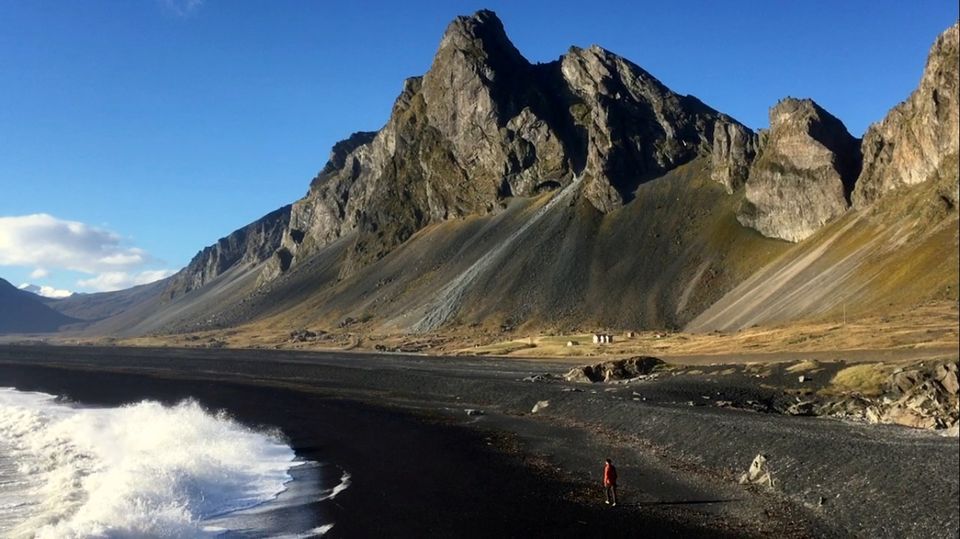 The beach was actually more distinct that it looked from the ground. It is a 200 meter wide and a few kilometers long strip of land that separates the Atlantic Ocean from an almost in-land bay to its right. The walk was quite special as it was, but watching the birds flying around the Eystrahorn Mountain made it more special. A view I had only seen in some of Sigur Ros's music videos.
After spending about 45 minutes in the Eystrahorn area, we drove towards our destination of the day - Stokksnes. As we were approaching the Vestrahorn mountains from the east, the three pointed tips of the mountains looked like batman logo, which Rajiv pointed out to us along the way and also told that it is also known as the Bat Mountain. On the road, we saw a red chair on rocks next to shore (which is another lesser known tourist spot of the region), but all of us were in a hurry to reach Stokksnes/Vestrahorn, so we decided to skip that for now.
There is also about a kilometer-long tunnel (Almannaskarðsgöng), which runs through somewhere, behind the Vestrahorn range of mountains. Right after the tunnel, there is a 5 km long gravel road to the left of the road, which kind of runs parallel to Route 1 (in opposite direction) and leads to Stokksnes.
Stokksnes: Day 1
There's an entry fee for the Stokksnes beach. Although all major tourist spots in Iceland are on private lands, it is the only place where you have to pay to visit. Rajiv told me that the owner (the lady who also runs the Viking Cafe, where we were staying for the night) is denounced all over the country for commercializing her land.
Anyways, we first checked-in at the Viking Cafe but kept the luggage in cars as our rooms were a bit ahead and drove to the Stokksnes/Vestrahorn parking area instead, which was about 500 meters ahead. We parked the car a bit too ahead on the road, and completely missed the flooded area where ankle-deep water is locked inland at the foot of the mountain; essentially a paradise for photographers for the breathtaking reflections it offers.
In our excitement, we didn't mind missing the area much and strolled amidst small black sand dunes with tall grass on them. At Stokksnes, Sneha and Ayaz also joined us and we had quite some fun strolling around the area, playing with horses that were grazing the long grass on dunes, and taking each other's photographs. This time, I was able to handle and caress the horse rather comfortably.

Rajiv, Dr. Virendra, Mukesh, and Dr. Nirmal had gone straight to the sea shore to capture some good golden hours shots, but the natural light was dimmer than they would have liked, so they too joined us at the dunes soon after. On realizing the possibility of a good picture, Rajiv asked me to go stand on one of the dunes (thanks to my orange jacket) and took some shots. And what pictures they turned out to be. Later in India, one of the photographs would won Rajiv a few accolades.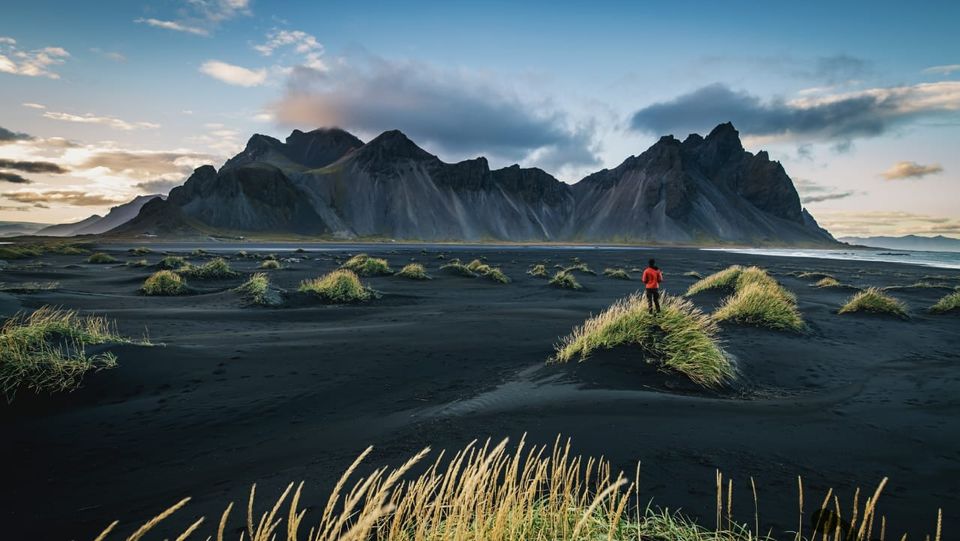 By now the wind had picked up a bit, and since there was fine gabbro sand all over the place, it was becoming difficult to stand there without cover. The daylight had also died, so we all decided to head to our rooms. Sneha and Ayaz were staying in Höfn somewhere, so they took off from there right away. Rest of us headed to the accommodation Viking Cafe provided us for €500 per night.
There were 2 rooms and we had bookings for 7 people. So we kind of snuck Clara in. Luckily, there were 4 beds in each room, so Clara wouldn't have to sleep on the floor. I was staying with Rajiv and the girls, rest in the other.
After putting our luggage and taking a shower, we relaxed a bit. Rajiv's back was aching because of driving the whole day and then carrying around heavy photography equipment. He asked me to give him a massage, which I didn't know a thing about, so he guided me. First, he asked me to press my palm against his back, then my fists, then giving my fists a push. When all that didn't bring any relief to his aching back, he asked me to stand on his back and walk over it in a massage manner. Not sure whether my efforts brought him any relief, but the girls and I had quite some fun during the entire exercise.
At around 8 PM, Rajiv suggested to have dinner in Höfn. Since we were too exhausted to make dinner, we all agreed, except Mukesh and Dr. Nirmal, who had some instant meal. So, the six of us drove to Höfn, straight to the restaurant called Bistro, where Rajiv dined during his previous trip to Iceland.
Rajiv also called Sneha and Ayaz to come join us at the restaurant, and the 8 of us had a nice time dining there. The restaurant and the staff were very nice, especially the Czech girl attending our table. In our jolly-good mood, Ayaz and I tried to talk to her and stretch the conversation whenever she served our table. She didn't mind our hitting at all (if at all it qualified for that) and took it all in good spirit and acted as a good hostess the entire evening.
Day 8: September 26, 2018 - Stokksnes
Since Rajiv had planned to shoot Eystrahorn during the morning golden hours, a few of us drove there before the dawn. I hadn't accompanied the group in their early morning or late night photography expeditions so far. But now that Rajiv had developed a liking for my orange jacket, he kind of persuaded me in coming along by drawing a vivid picture of how the place would look during the sunrise. Especially because my wandering instincts often led me to far-off photogenic spots, adding a human subject effortlessly in his landscape photography endeavors.
Eystrahorn: Day 2
We reached Eystrahorn just when the sun had started to rise above the horizon (Atlantic Ocean). In the opposite direction, I could also see an almost full moon on its way to set behind a range of snow-covered mountains lit under a pink hue. I had seen a lot of sunrises in my life and many with a setting moon as well, and pretty much each one had been beautiful, but the colors that the sunrise at Eystrahorn produced were nothing less than magical. It exceeded every bit of description that Rajiv had given. Luckily, Rajiv spotted me admiring the beauty and captured the moment beautifully.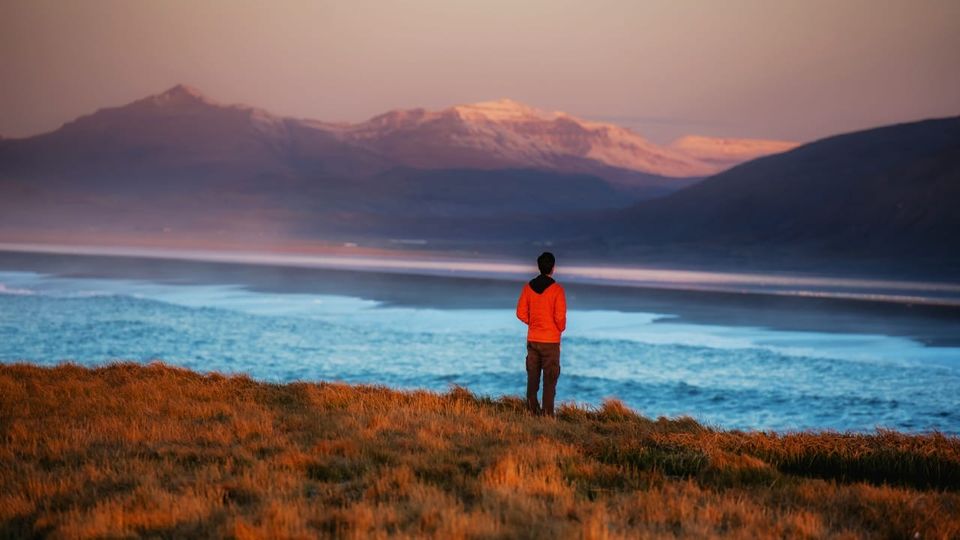 Photographers were also in luck that morning for they found a little pond in a good enough location to capture the mountain with its reflection; a feat easily possible with Vestrahorn but not so with Eystrahorn. The sunlight hadn't fallen on the mountain yet, so while everyone was waiting, I thought of going to the other side of the pond to get my reflection captured along with the mountain. The opposite side was a bit swampy, but somehow, step-by-step, I managed to reach to the edge of the pond. And again, I was lucky to have Rajiv on the other side, who took another beautiful shot of me with the mountain.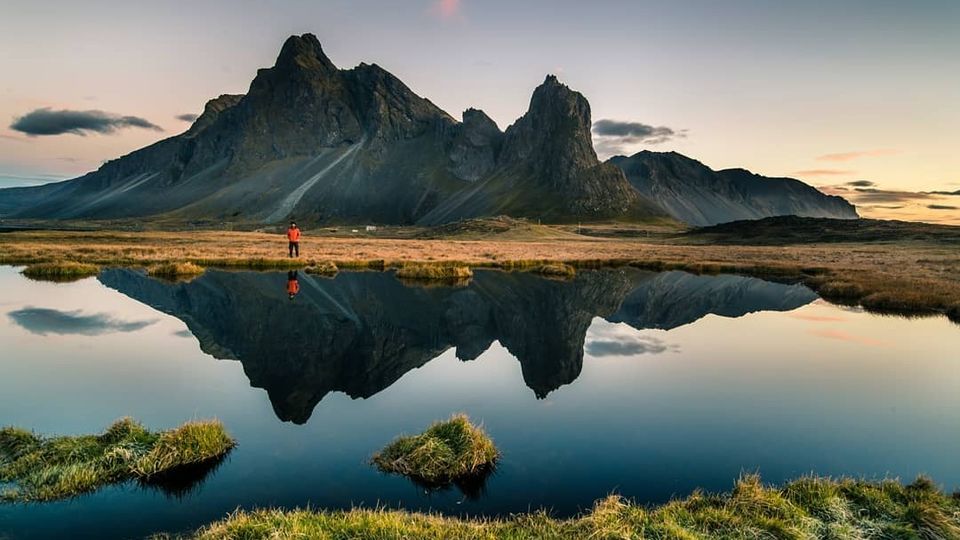 After getting my photographs clicked, I joined the rest on the other side of the pond, who were now busy taking multiple long exposure shots of Eystrahorn reflection. My feet were a little drenched and shoes muddy after treading in the swampy area, so, I took some time to rub it off the grass. In the meantime, Rajiv went live on Facebook to share the beautiful sunrise and his team of photographers capturing the moment.
In a few minutes, the sunlight had reached the tip of Eystrahorn mountain and was gradually creeping down its slopes. The area began to light up in morning sun's light and the colors of dawn gradually transformed into the actual colors of landscapes.
I spotted a few rocks where the sunlight was falling on the cliffed coast and went on to stand there to absorb a little bit of warmth and to dry my feet. On spotting my figure lit by sunlight amidst otherwise shadowed surface, Dr. Virendra took a few pictures of me with a black and while coastline in the background. Soon after, we drove back to Viking Cafe.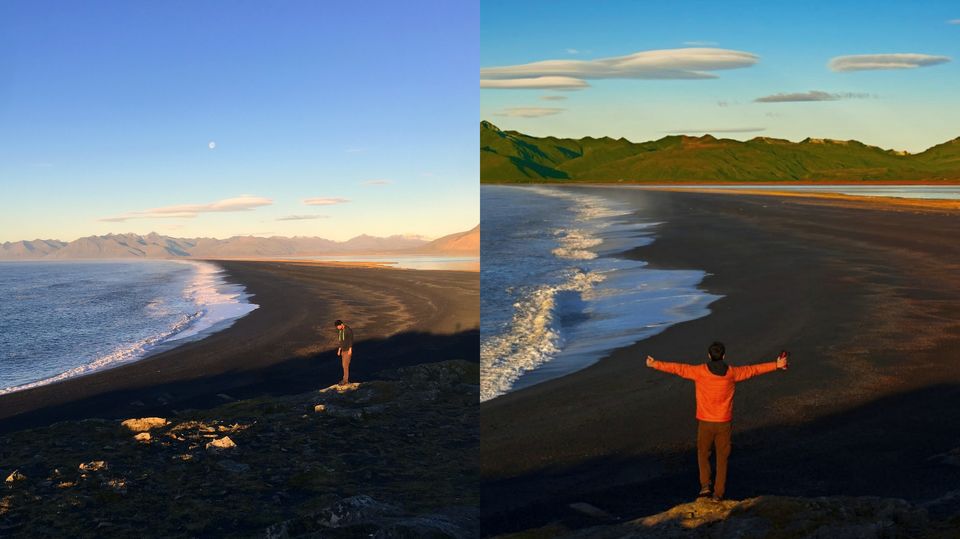 Back at Vestrahorn, everyone was up and met us outside the Viking Cafe restaurant. The front of the Viking cafe was adorned with flowerbeds, wooden Viking statues, and many other peculiar Viking artifacts. We took some quick clicks of the stuff outside, then went in.
Since Clara didn't have a booking there, she had stayed back inside the rooms. Everywhere else the owners had let her (our 8th extra member) stay and eat without any extra charges on our request, but Rajiv had warned us that at Vestrahorn they might not. So, Jo and I stole a few cookies, a couple of Skyrs (Icelandic yogurt), and a little bit of juice from the breakfast table. We tried to be as sneaky as we could, but I guess my nervousness gave us away a little as it seemed to me that someone from the staff noticed us. But nobody said anything. Besides, even if some had caught us, we would have pretend-eaten it as a part of our own breakfast. At least that was the plan.
After our partially successful heist, we went to our rooms and provided Clara with the stolen breakfast. I did a bit of laundry and dried my clothes on the tall stone structures just outside of our rooms. Outside, a couple of Icelandic sheepdogs were enjoying the warm sun and I played with them a bit. The owner's son lived in quarters right next to our rooms, so the dogs might be his.
There was also a stable right in-front of our rooms. Rajiv thought of borrowing a horse for a shoot, but the owner told him that he could rent a horse for some €200 per hour. After homelike stays pretty much everywhere, with or without the owners, it was quite a different experience where everything seemed to have a price tag on it.
After a while, Jo and Rajiv went towards the mountain to click some more pictures in broad daylight. As I was sitting outside soaking up the sun in a windless spot in front of our rooms, Clara said she wanted to find a secluded spot somewhere outside to write her journal and asked me whether I would accompany her. I said okay and fetched my book so I wouldn't get bored when she writes her journal. After strolling for about 10-15 minutes, we found a decent enough spot to sit and do our respective deeds. We stayed there for about an hour until she finished writing and then captured the moment just before heading back.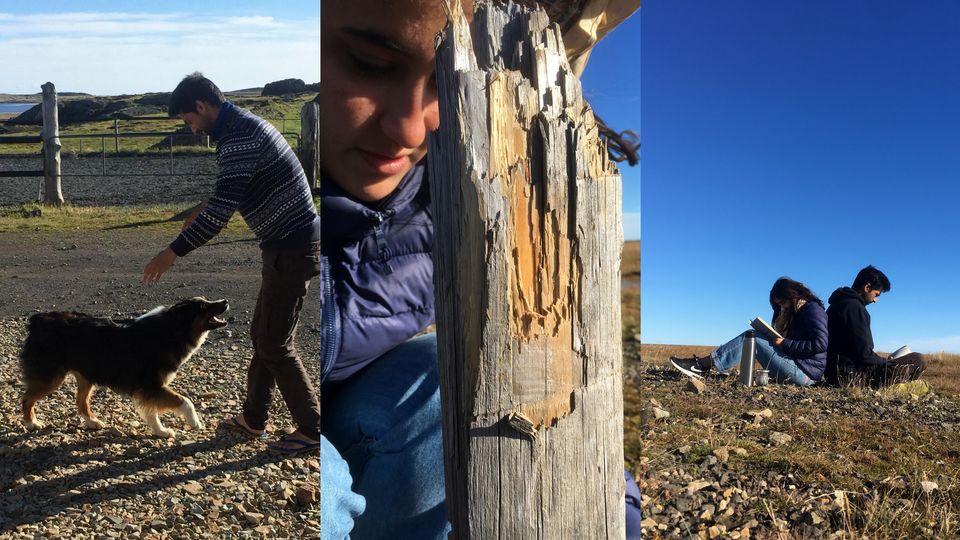 In the meantime, Rajiv and Jo had discovered the flooded area at the foot of Vestrahorn mountain, so when we returned to our rooms, we found them to be quite excited and saw a few pictures they had taken, which, needless to say, had come out really nice.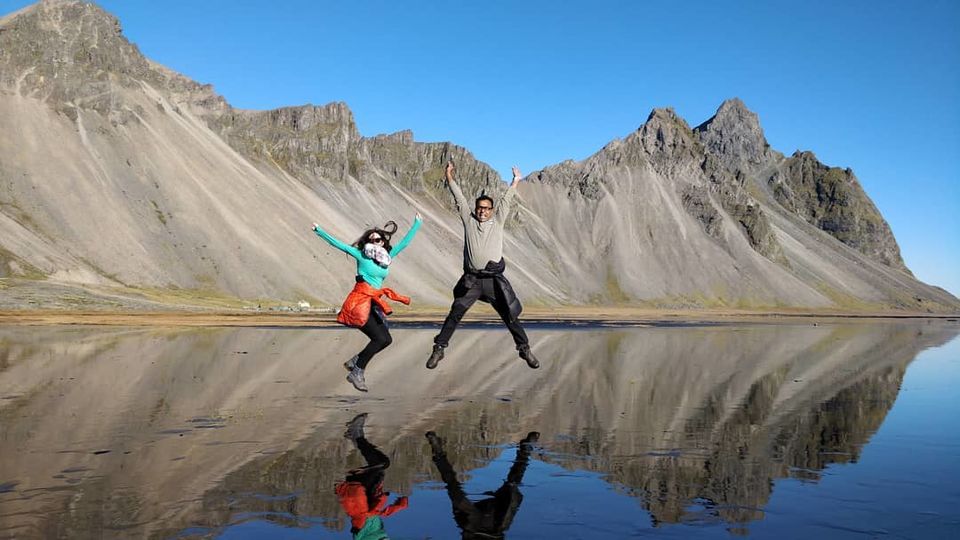 In the afternoon, when we realized that we were short on rations, some of us (Rajiv, Jo, Dr. Virendra, Deepak, and I) decided to go to Höfn to buy some groceries. Among a lot of things, we also bought marshmallow and some stuff for bonfire, for which Rajiv had taken permission from the owners at Viking Cafe.
It was my second trip to Höfn in two days, but both times I didn't get to see much of the town. I asked Rajiv, whether we would explore the town, he flatly said he had a better plan for the afternoon. Like any other town in Iceland, Höfn was beautiful, as much I could see. And in our rush to head out after grocery shopping, I managed to take only a quick shot of the place.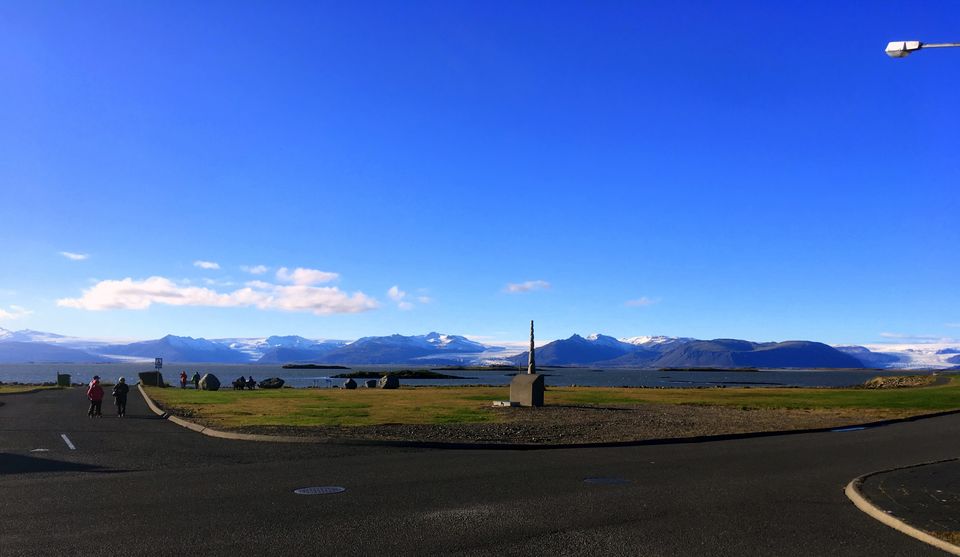 Almannaskarð
About 15 years ago, Almannaskarðsgöng tunnel was built as an always open alternative to Almannaskarð pass, which the government had to shut down during winters. The pass is no longer in use, but is accessible from the eastern side for tourists during summer. Its endpoint is a parking area at some height from where one has a good view of the vast Atlantic Ocean. And that's what Rajiv had planned for the afternoon for the ones who accompanied him to Höfn for grocery shopping.
Coming from Höfn, we obviously had to pass through the tunnel first and then take a detour towards Almannaskarð. From Almannaskarð's parking, we could see quite a bit of Atlantic, which simply wasn't possible from the ground level, no matter at what point you are across the coast. We stayed up there for about half an hour, gazing at the view in admiration. Jo and I took a few photographs of each other, trying different poses. While we were at it, Dr. Virendra asked me to do a "jumping in the air" pose, and took an amazing shot.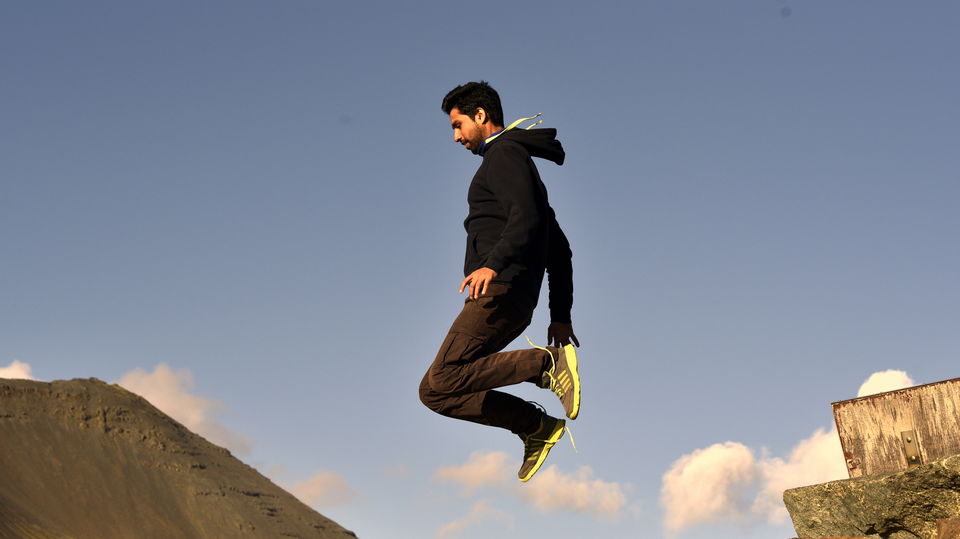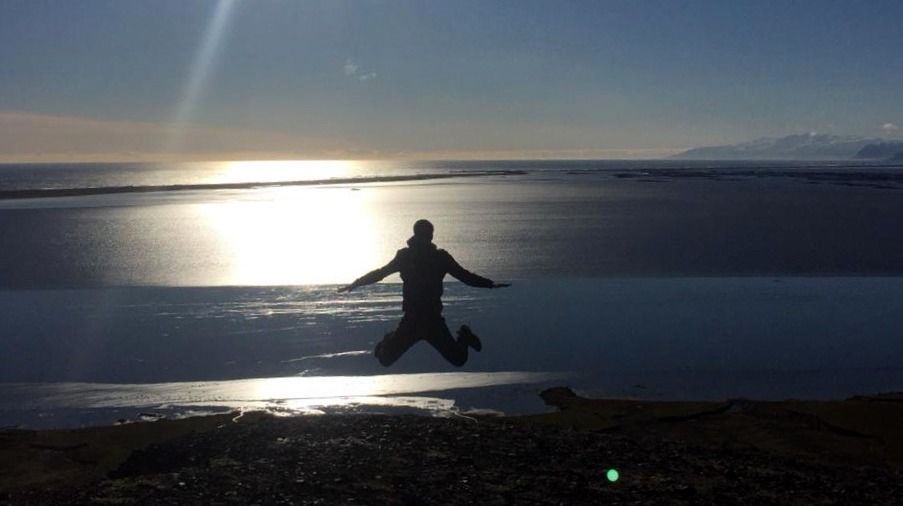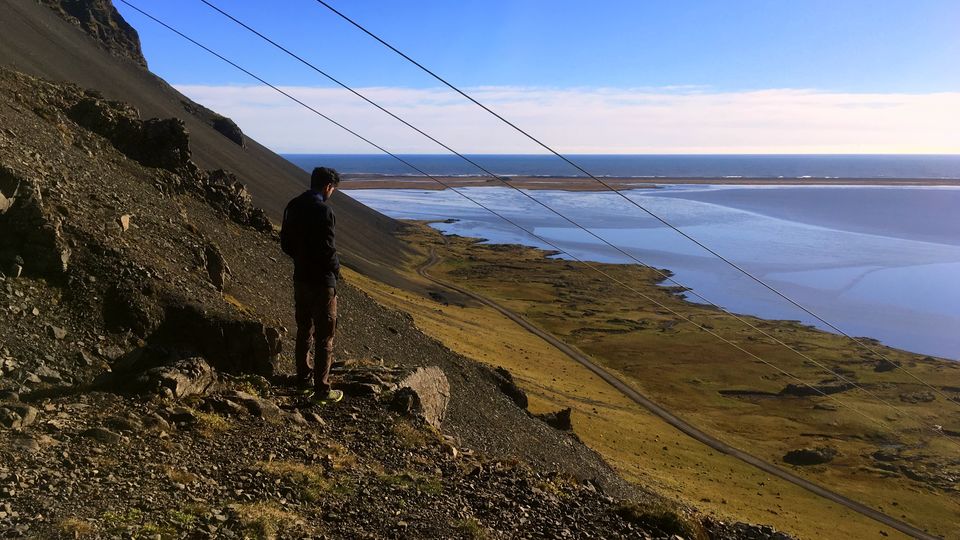 Stokksnes: Day 2
Ever since Rajiv and Jo had told the group about finding the flooded area at the foot of Vestrahorn mountain earlier in the morning, it was hot on everyone's radar. So, after coming down from Almannaskarð's, the group went directly to Stokksnes. Clara, Mukesh, and Dr. Nirmal were already there.
On seeing the water, Clara and I just took off inside and tread the area in pretty much every direction. There was a little breeze so the reflection wasn't crystal clear, but waking on almost water surface was an amazing experience nevertheless. At one point, when Clara was well inside the flooded area, a flock of birds flew by right above her. Luckily, I was paying attention and my camera was ready to capture the moment.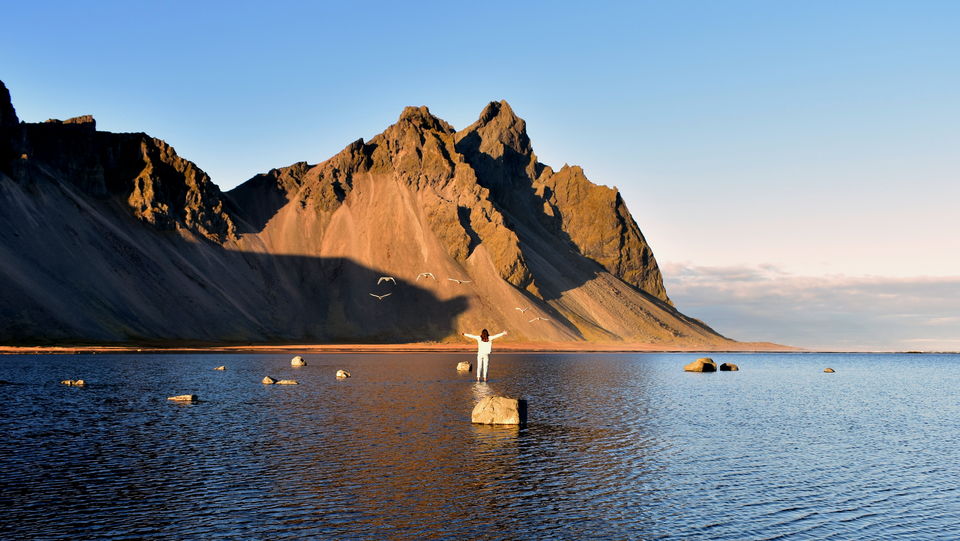 We spent a good 40-45 minutes there treading in the water, clicking each other's photographs, and absorbing our Jesus-like experience as much as we could. We only got out when there was barely any sunlight reaching the area. Rest of the group was also there in search of some good reflection photographs. But since there was a little breeze, they decided to head towards the ocean shore.
I exchanged my shoes with Rajiv who was wearing gumboots so I could venture further inside the flooded area. Later, Deepak exchanged the gumboots with his shoes so he too could go inside and get a few of his clicks.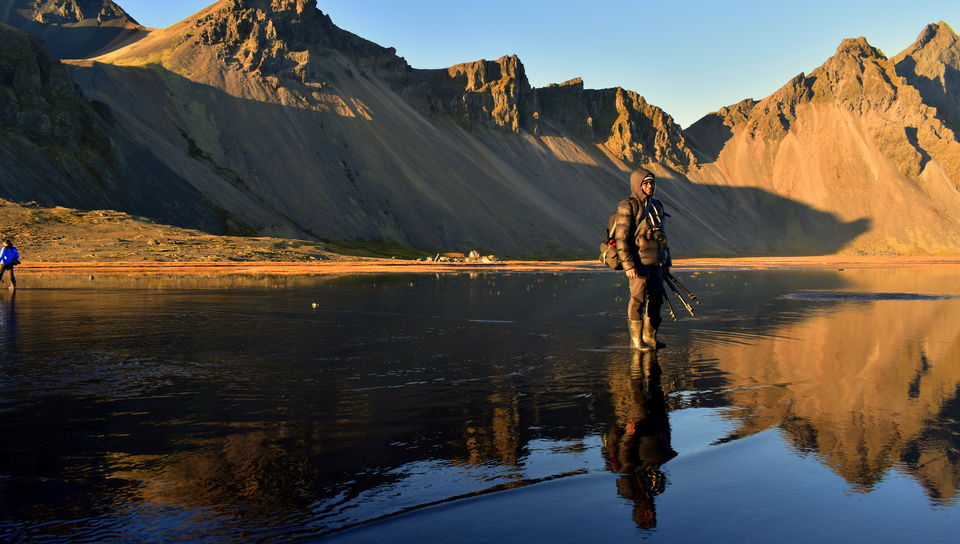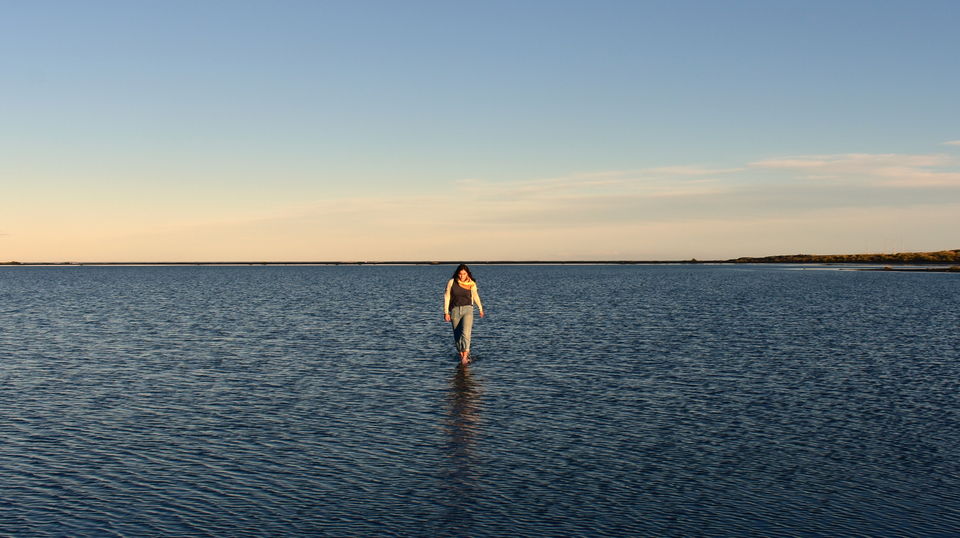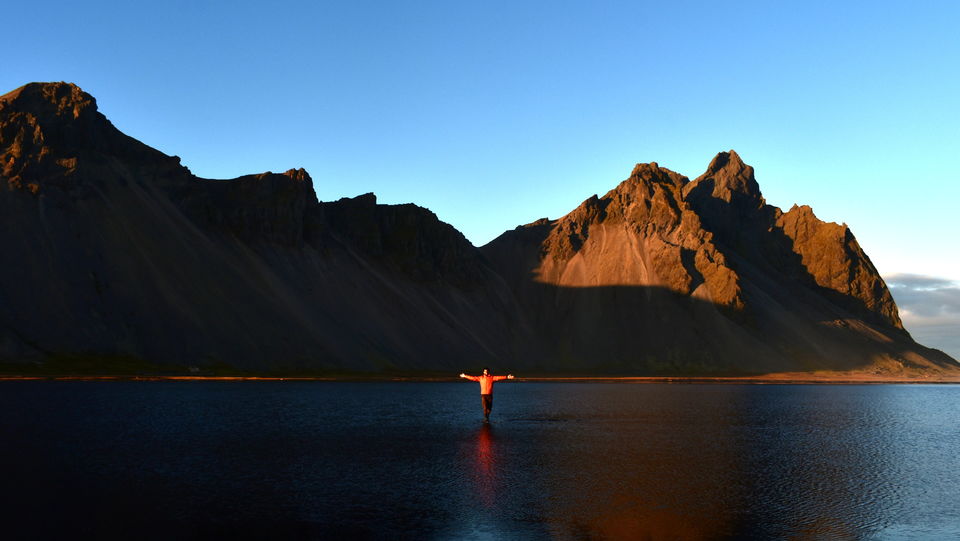 Clara had gone barefoot inside the flooded area, so by now, her feet were freezing and the pain was visible on her face. She told me that she wanted to go back to the rooms, but since her English wasn't as good as the rest, she said "I want to come back." For a moment, I was confused whether she wanted to come back the next morning, or wanted to tread the flooded area again, but then I understood from her gestures that she needed to go back to room.
She often had trouble explaining herself due to her limited experience with the English language. But luckily, she had Jo to translate things from Spanish to English and vice versa, whom she often used to ask for help with the Spanish phrase "Como se?". Clara had travelled quite a bit of South America and Europe and could speak in French and Italian as well (she was half Italian), and often used to mix up words from multiple languages. But it was all the same for us if it wasn't English.
Anyways, no one with car keys was there at the moment to drive her back, so I offered her to walk to the room, which was roughly 500 meters from there. She said it was okay walking back on her own. But on the way, she met Jo, who was at the rooms all along and was coming to join us. She told Clara that there was no one at the rooms and by now Clara's freezing had become a little bearable, so she decided to join us back at the beach. Clara, Jo, Deepak, and I stayed there till dusk and clicked a few random pictures here and there. Deepak was still wearing gumboots, which he had exchanged with me. Later, he told me that by walking quite a bit wearing gumboots he got some blisters. But he didn't ask me to exchange back.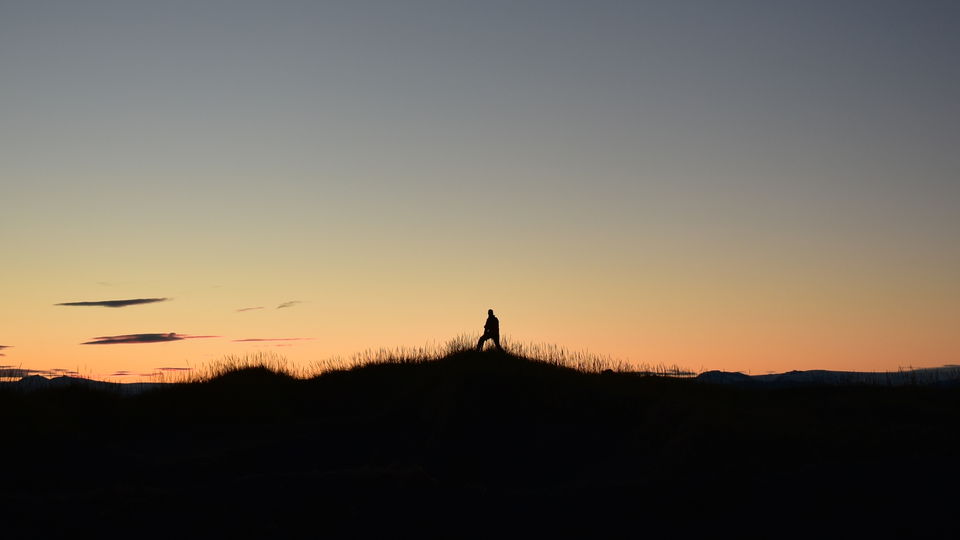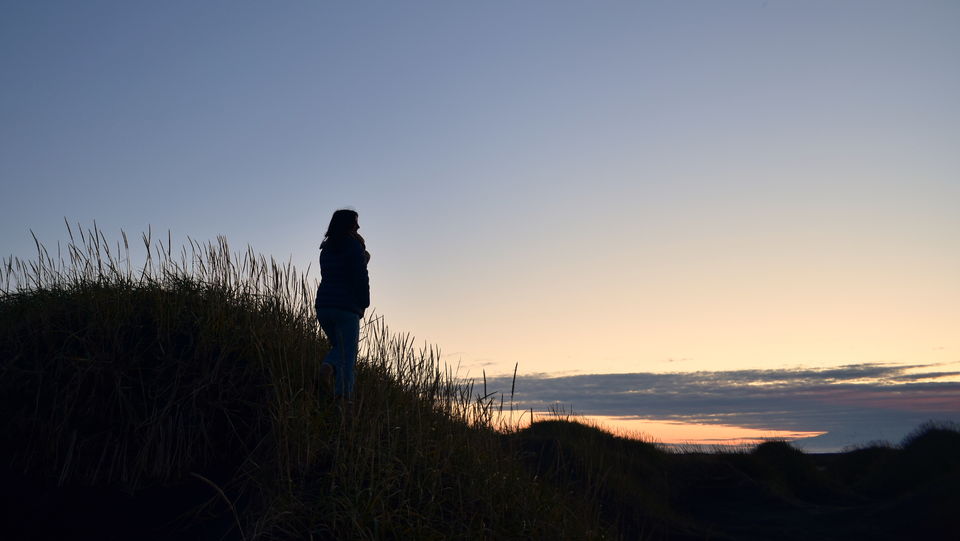 For dinner, Rajiv and Jo had plans to visit a mutual friend who lived in Höfn. So the rest of us had whatever we could find in the groceries we bought earlier in the day, but spared some appetite for marshmallows that we were planning to have later during the bonfire.
At around 10 PM, Rajiv and Jo were back, so the group gathered outside for the bonfire. As we began to process, (naturally making quite some noise) the owner's son and his wife, who were sleeping next door, came out yelling at us what the hell we were doing. Rajiv told the guy that we had taken permission from his father for the bonfire, but he snarled at us that it was not allowed after 10 PM and not right in front of the quarters. We instantly put off the fire and apologized, but the guy was too pissed to take an apology and said "don't apologize, just go back to your rooms".
Some of us felt like snapping back at him for his rudeness despite our apology, but decided not to get in the argument pointlessly. Once inside, Jo seemed really pissed at the guy for the way he reacted. Besides, the whole bonfire-marshmallow thing was her idea essentially.
Day 9: September 27, 2018 - Stokksnes to Hotel Smyrlabjörg
Despite a bitter experience with owner's son just before bed the previous night, the morning was quite pleasant. Thanks to another beautiful sunrise. Thanks to the nature! During my travels, I have realized that people often disappoint, but nature seldom does.
The sunrise seemed pretty much a replica of what we had seen a day before at Eystrahorn. Luckily, I woke up in time to witness it. Outside, near the ranch, Mukesh was doing a shoot with Jo in the morning light. I greeted them Morning but didn't join, and just strolled around the area until the sun was well up. While Jo was not busy posing, she took a photo of me walking around the stable, absorbing a beautiful sunrise with a setting moon in the background.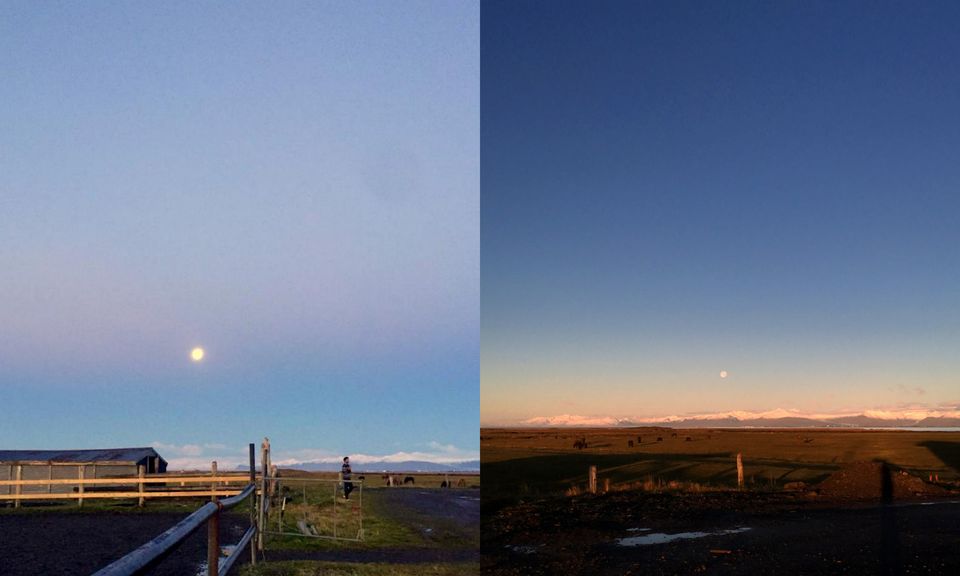 At around 9 AM, we had breakfast at Viking Cafe. Jo and I repeated our robbery of cookies and Skyr for Clara. Outside the sun was shining bright, so everyone decided to head to Stokksness to give one last try to capture Vestrahorn reflection.
Stokksnes: Day 3
A recent Bollywood song "Gerua", starring Shahrukh Khan and Kajol, was shot in Southern Iceland, and a good part of it at Vestrahorn. Personally, I am not much into Bollywood music, so I hadn't known about the song at the time. But during the trip, I received multiple references of it from my friends when I shared my photographs online. And that's how I came to know that the song played a good part in popularizing Icelandic landscapes in the Indian community.
When photographers from my group took off from India, they had that song as an inspiration for shooting Vestrahorn. And today, they were finally in luck. The sky was crystal clear and so was the reflection of Vestrahorn Mountain. And there was barely any breeze over water surface to distort it.
When we reached there, dozens of photographers were already scattered across the edge of the flooded area, capturing the moment and absorbing the magic of it as much as they could. I so wanted to go inside the flooded area again and when I told it to Rajiv, he said, he too is tempted to go in but we have got to respect the time and efforts all the other photographers were putting to capture a seamless mountain reflection.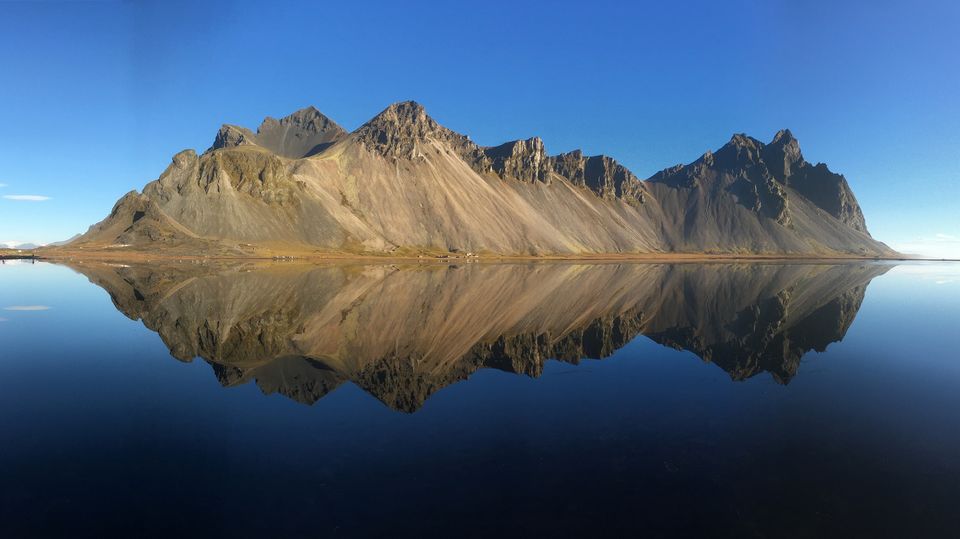 After a very satisfying hour at Vestrahorn just before leaving, we checked out from Viking Cafe in a very good spirit despite a forgettable stay. For our next night's stay, Rajiv had booked Hotel Smyrlabjörg, which was about 45 minutes' drive from Stokksnes. We reached there at noon. It was quite warm outside with sun shining brilliant and only a little bit of wind. So, after putting our luggage we went outside to soak some warmth from the sun.
On the way out, we checked out the restaurant area of the hotel, where at coffee machine you could also serve yourself a cup of hot chocolate. We all poured ourselves a cup of hot chocolate. Deepak was particularly delighted for the complimentary beverage and had an extra cup, I think.
When we were outside, Dr. Virendra came up with the idea of capturing the shadows of all of us standing together. While he was at it, I took out my phone as well and copied him from a different angle. Later in India, when I was going through my photographs, I realized that it was the only photograph of the main group together. I amused myself with the thought that 'if you don't have many photographs together, it means you had a good time.'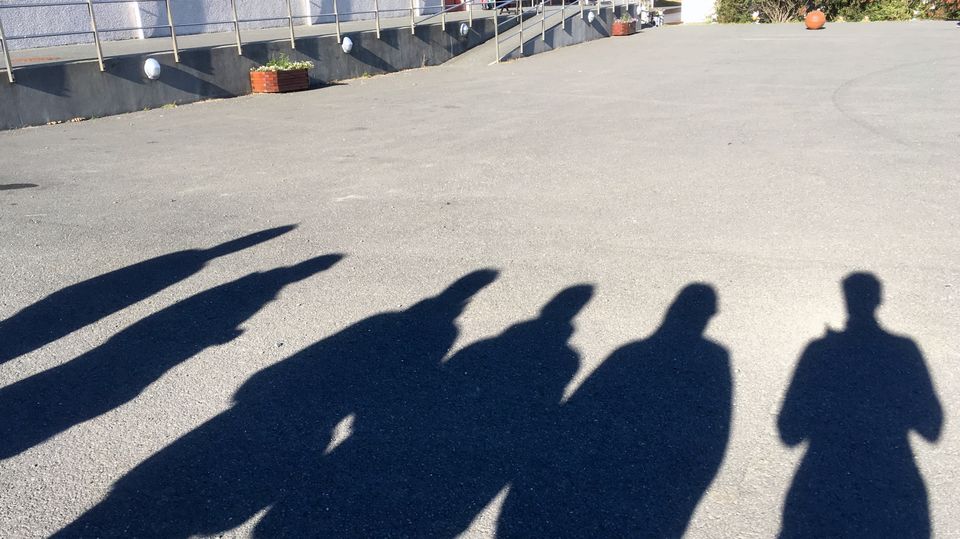 The two major sights in today's itinerary were Jökulsárlón glacial lagoon and the diamond beach, which are essentially at the same location, on either sides of the Route 1. Rajiv wanted to capture the place during sunset hours, so he suggested that we take some rest first.
At the hotel, Rajiv, Clara, Jo, and I were staying in one room and rest in the other. The arrangement had become pretty much standard by now and would remain so for the rest of the trip. We were lucky to have the ocean side rooms, which had a decent view. When we went inside, Jo was already in her bed writing something in a notebook. Clara too had found a study table to add another entry in her journal.
As we were settling down on our beds, Jo asked me to take a picture of her holding a note that she was writing when we entered the room. When I asked her what was that about, she told me that a friend of a friend of hers was collecting encouraging notes for her ill daughter Ava from people all across the globe. The story reminded me of someone I used to know who had gone through a similar experience. For a moment, I felt like talking about it, but then decided otherwise since the topic was a bit too sensitive. It was such a nice gesture from Jo, so I let it remain that way, and just took the photograph without saying much.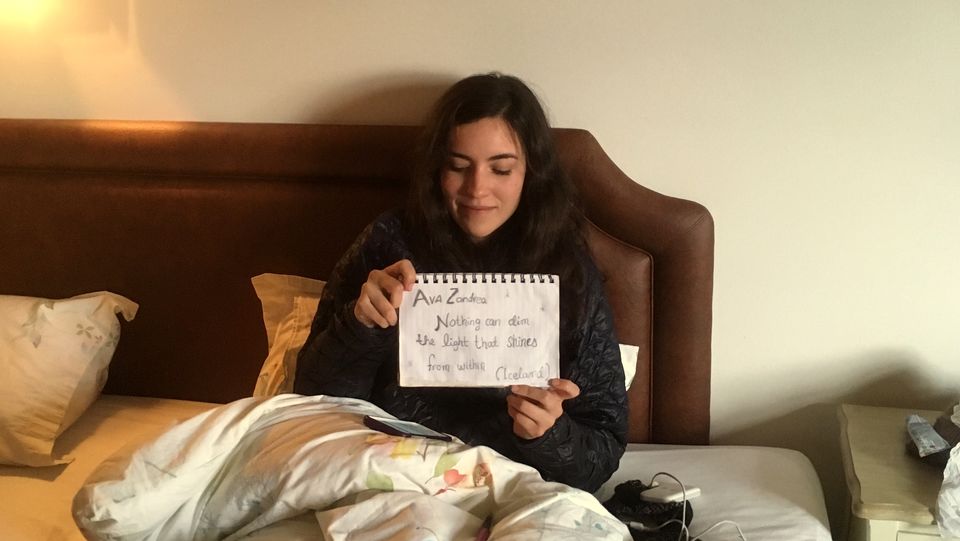 Jökulsárlón: Day 1
At 4 PM, when everyone had taken quite a bit of rest, Rajiv asked us to get ready to go to Jökulsárlón, which was just half an hour's drive away. After seeing a lot of amazing nature during the past few days - northern lights, and the magical Vestrahorn reflection just a few hours ago - a calm composure had taken place of the excitement that we used to feel whenever heading towards a new tourist spot. But the sight of Jökulsárlón glacial lagoon restored that sense of excitement.
Being a rather popular tourist spot, we all had seen multiple photographs of the place, yet seeing those giant, building size icebergs floating and breaking free into the lagoon was still an unreal experience. For a few minutes, I just stood there in amazement, comprehending the size and structure of countless icebergs floating slowly towards the ocean. A flock of barnacle geese was also flying around the area and swimming in the lagoon with a few seals popping out their head of the water surface occasionally.
There were boat tours available at the lagoon that takes people through floating icebergs. I asked Rajiv whether we could do that. He said that the group was planning to do a photoshoot with Jo at the diamond beach, but I could go on if I like as we were going to stay there for some time.
There were two options available - a solo kayak and a tourist boat. The latter seemed to be boarding about 100 people at a time. I didn't have any kayaking experience and neither felt like boarding the boat packed with people, so I just decided to stroll beside the lagoon, admiring diamond-like little pieces of ice scattered across the shore.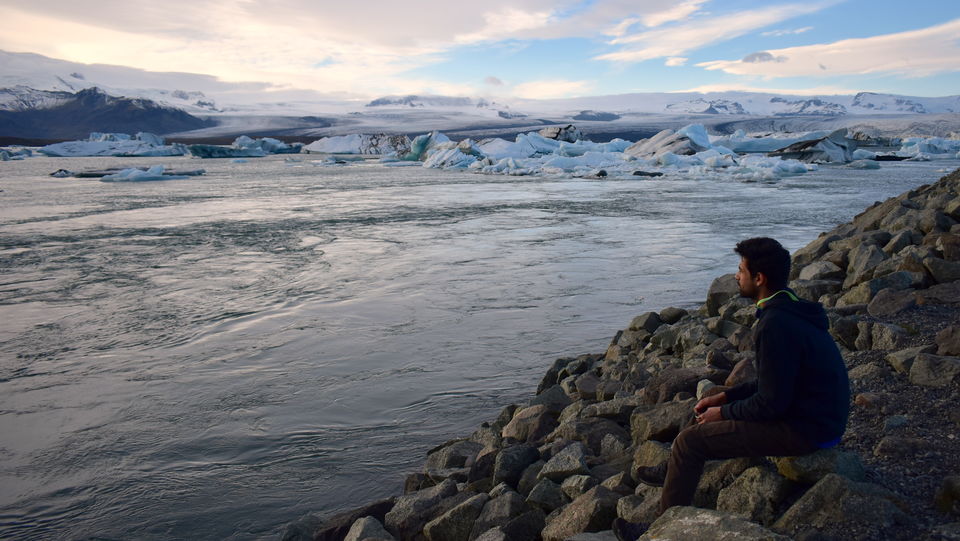 The place was very crowded, like any other tourist spot in the Southern Iceland. And it was crowded to the extent that it reminded me of the "expectations vs reality" travel posts on the internet. And especially after experiencing the isolation of Iceland (in western, northern, and eastern regions), watching hundreds of people scattered around in one place felt a bit annoying. But then, I couldn't really complain. After all, I was part of the crowd.
After spending about half an hour near the lagoon, I thought of joining the group. I called Rajiv to ask for directions, but I couldn't quite follow. I wandered a little in search of the diamond beach unsuccessfully, then asked an aged man for directions, who already seemed to have noticed me being lost. He told me the diamond beach is on the other side of the road and the path goes under the bridge. He was heading there as well, so I tagged along.
On the way, he told me he was from Australia and had travelled quite a bit of India. He had been mostly to major Indian cities like Jaipur, Delhi, and Agra. During the conversation, when I mentioned that Southern Iceland is a bit too crowded, he seemed confused. Probably, he was comparing the crowd at Jökulsárlón with the crowd at Taj Mahal.
The Diamond Beach
After a 5-10 minutes' walk, I joined the group at the diamond beach, which was every bit of beauty I had expected (except for the people there). At the beach, the entire group seemed rather absorbed in the photoshoot. Jo had done a light purple net dress for the shoot, which seemed to be blending quite well with the pieces of icebergs scattered across the ocean shore.
It all looked dreamy and beautiful but anyone could tell it wasn't easy for her. First, the biting cold, and then, adjusting a rather uncomfortable dress while standing on freezing and slippery icebergs. But the photographs the group took made it worthwhile. Standing there, I started clicking my camera as well in search of some good shots, but all I could manage to capture was her struggle.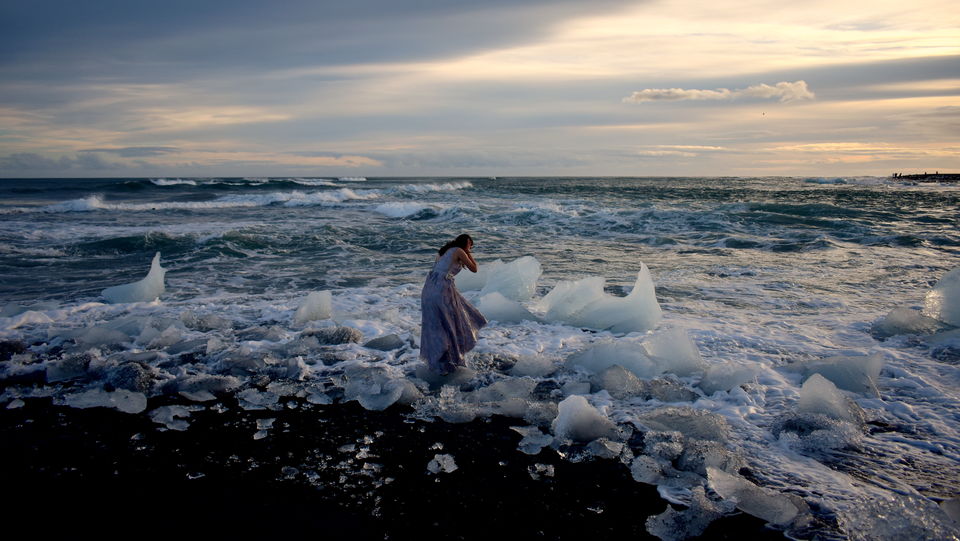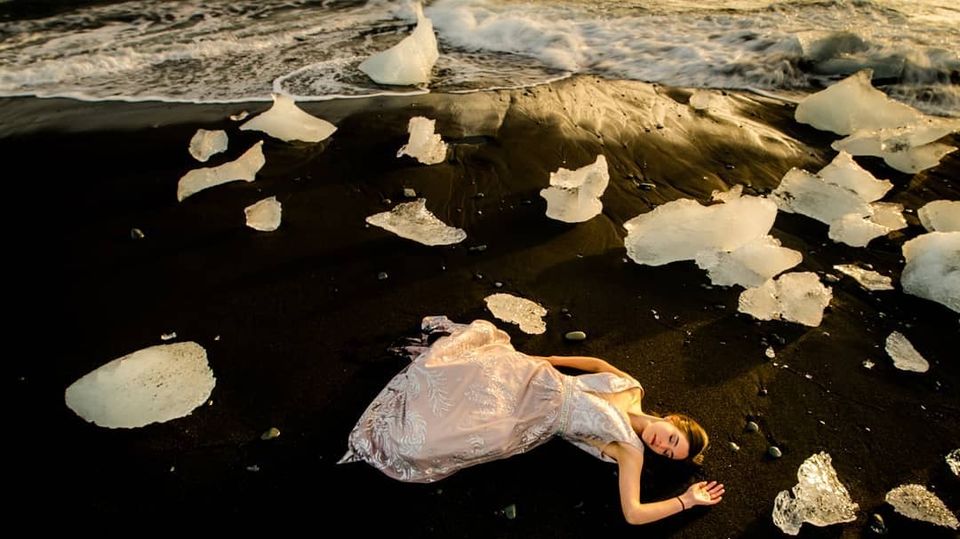 The shoot remained in progress for a little while. Since I wasn't getting anything beautiful out of it due to my poor photography skills, I strolled across the beach, admiring the waves crashing against huge pieces of ice and the light of the setting sun shining on them.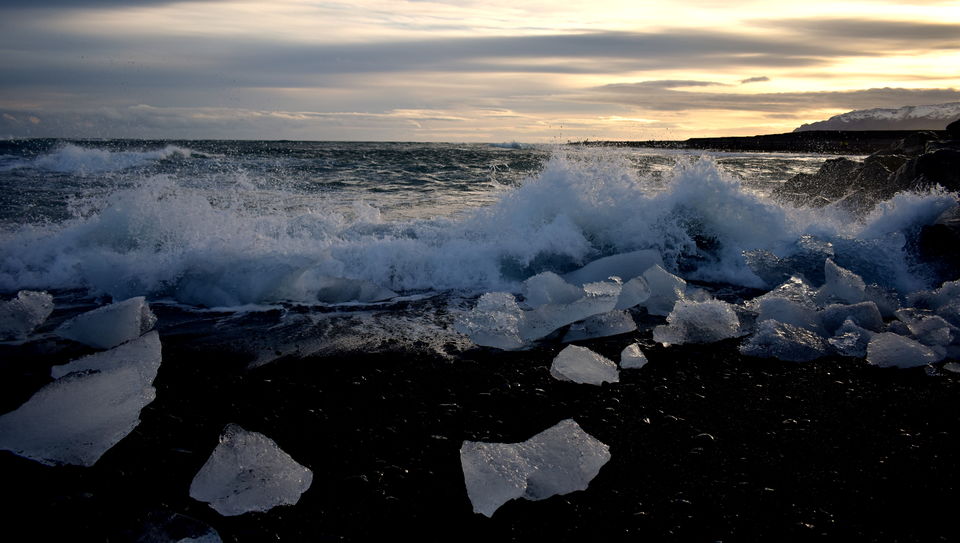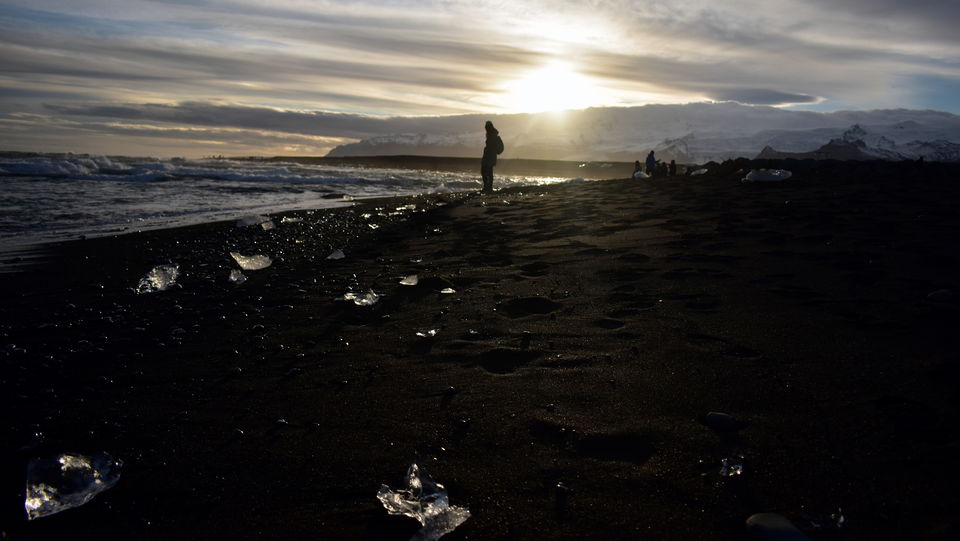 Once the shoot seemed to be over, I handed my camera to my photography buddy Clara, who was busy helping Jo all along, and asked her to click a few pictures of me holding pieces of ice. The pictures, although failing on the technical parameters, captured the moment rather nicely.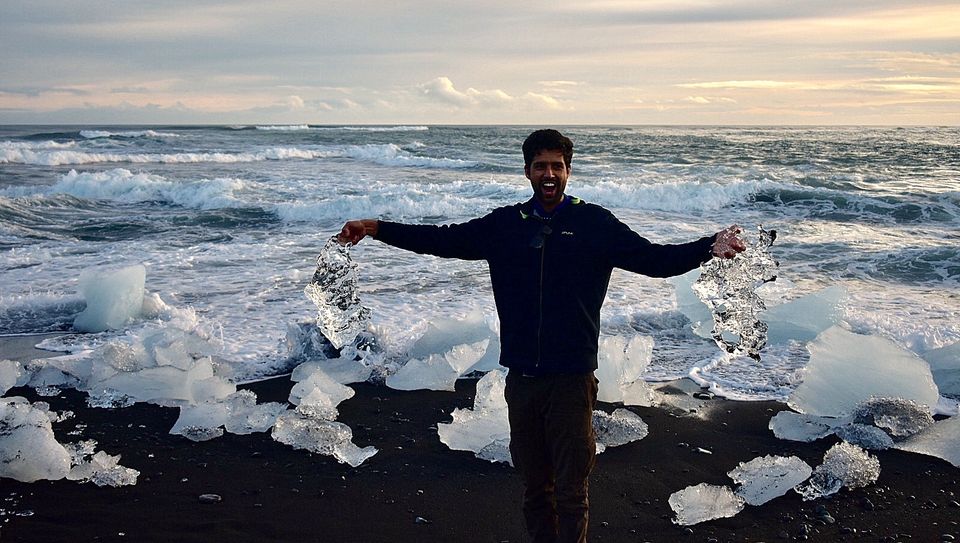 By now, everyone was done taking pictures and was only absorbing the beauty of the place. I walked a little further to the left side of the beach and stood at a place where a large piece of ice was floating quite deep into the ocean. I was so absorbed in watching it float that I didn't realize when a wave crashed against my feet and drenched me till knees. At Hvítserkur, I had my feet drenched by Arctic waters, and now it was Atlantic.
Personal trivia: the Pacific (which I kind of missed earlier this year) and the Southern are the only oceans where I haven't got my feet drenched yet.
The group was having a very good time at the beach and didn't seem to head back to the hotel anytime soon. Unable to find any way to dry my feet, I headed back to the pile of rocks on the right side of the beach, sat there, pulled my shoes out, and unsuccessfully tried to wring them somehow. While I was at it, Jo and Clara were strolling at the beach and noticed me. Jo took a few shots of me and later shared telling that she caught me at the beach 'meditating'.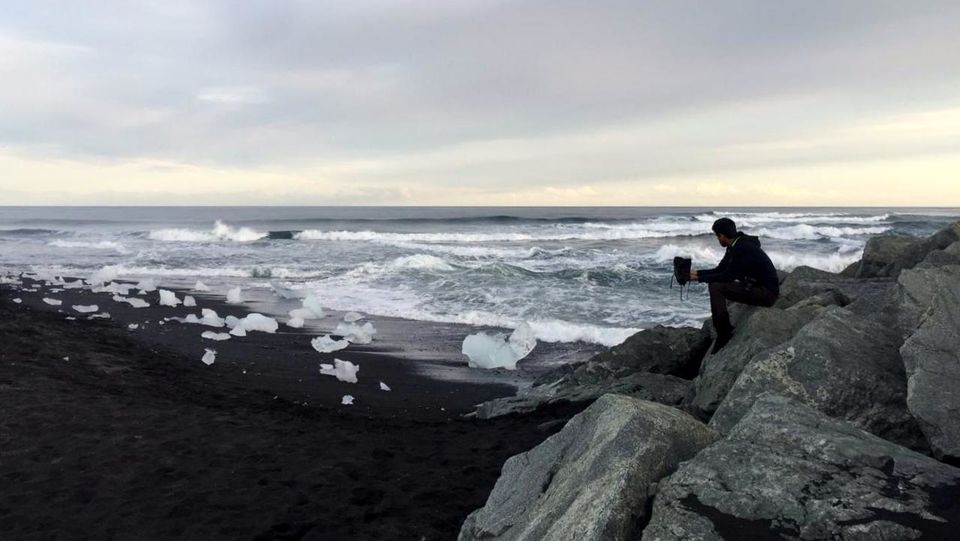 On the way back to the hotel, I spotted a figure at the tip of a mountain at the side of the road, which seemed like a man standing on it. When I showed the figure to Dr. Virendra (who was back on his driving duties now), Deepak, and Dr. Nirmal, they all thought it was a human. We were still at some distance from the figure, and I was 50-50 all along. Once we reached near enough, it turned out to be just a structure at the tip of the mountain. Another example of how amazing nature can be.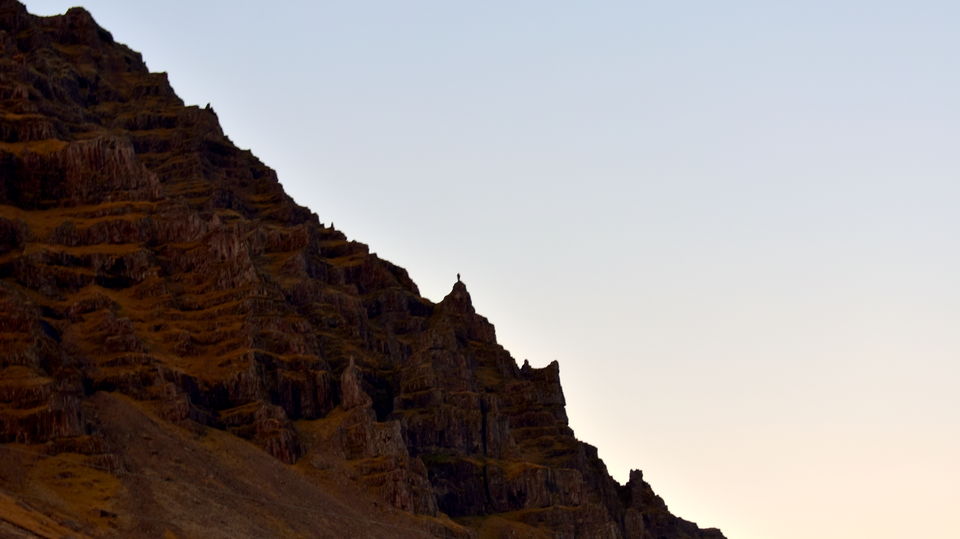 Later at dinner at the hotel restaurant, I again had a tough time finding some good vegetarian food option and had to manage with a leafy salad, which turned out to be a little too acrid for me. I couldn't eat the entire salad and so had to take out something from my personal reserve of snacks before going to bed.
Day 10: September 28, 2018 - Hotel Smyrlabjörg to Skógar (Hotel Skógafoss)
Jökulsárlón: Day 2
The previous evening, the group had spent much of the time at the diamond beach, so the first plan of the day was an early morning drive to the Jökulsárlón lagoon. I am not sure whether Rajiv postponed the lagoon on purpose or was it just for the diamond beach photoshoot, but after arriving at the lagoon I realized why experiencing in the early morning hours was a brilliant idea.
The entire area was glowing in dim blue hue and every sight was surreal. It was so surreal that it almost looked like an artificial setting for a magic land for a movie shooting. Plus, there were way more seals swimming in the lagoon now than the previous evening.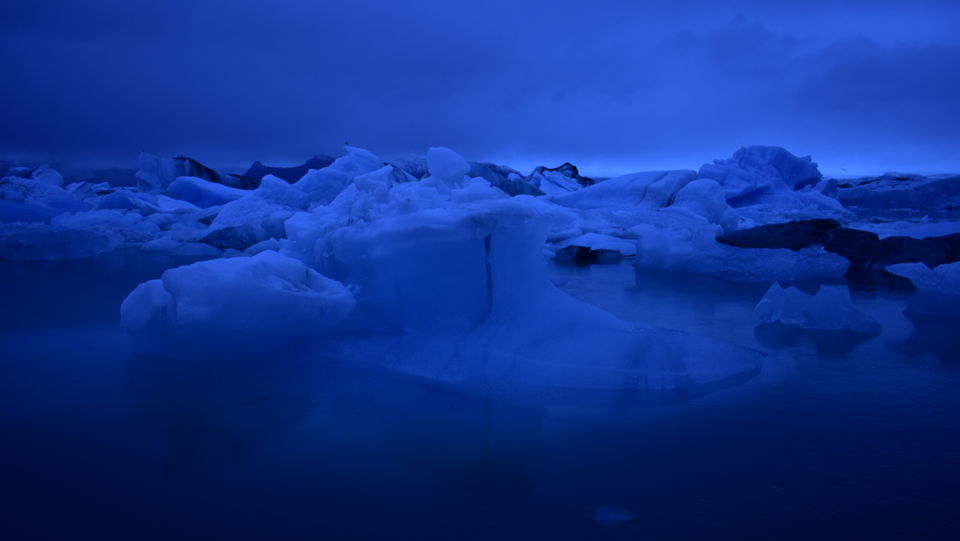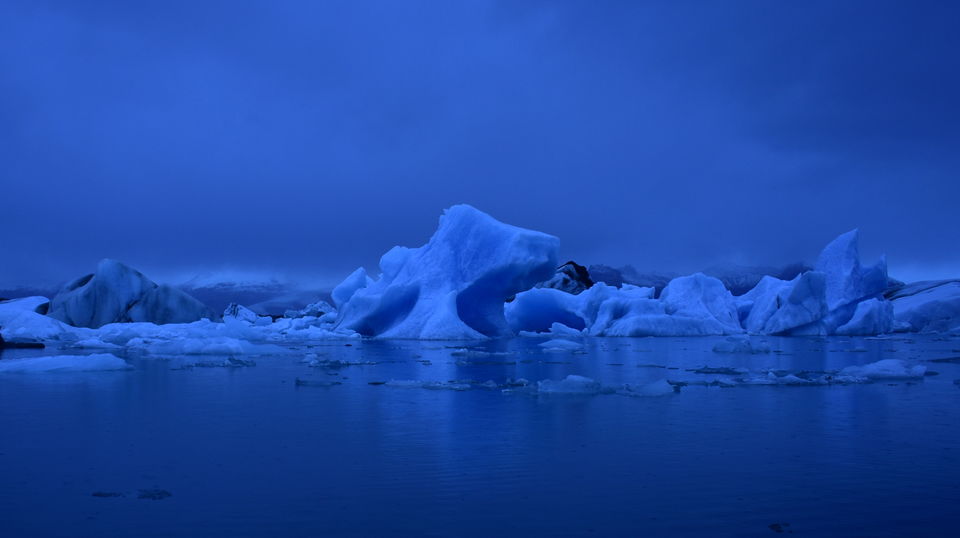 Like the previous evening, I went for a stroll across the lagoon again. In the evening, I was walking with a conscious mind and with the sense of exploration. But this time, I was just spellbound. Half-conscious of my surroundings, I was just following the path like kids and rats of the town Hamelin following the tune of Pied Piper (google the story: 'Pied Piper of Hamelin'; we have all read it). Earlier, I had thought of visiting the diamond beach again in the morning, but under Jökulsárlón's spell, I completely lost the thought.
As a matter of fact, we all seemed to be under its spell, as everyone just scattered around the area on their own without the need of any company. At one point, Jo, Clara, and I were upon one of the many dunes that run across the lagoon's shore. Mukesh saw us and captured the moment quite nicely, although in the photograph, I seem to be busy on my phone.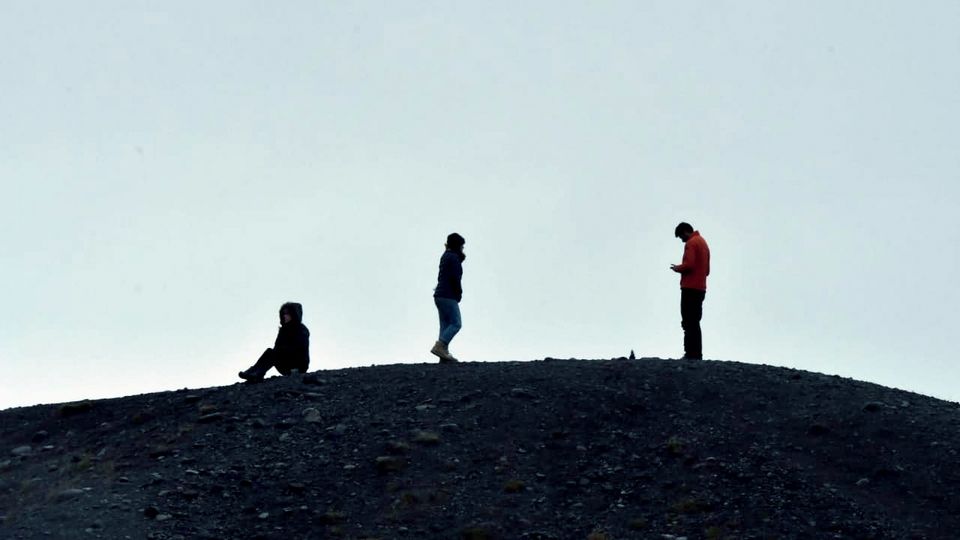 Later, after seeing the picture, I complimented Mukesh that he had a good eye when it comes to capturing such moments (I think candid photography is the word?), as he had captured many such moments during the trip. I am not sure how much my compliment meant to him, as his specialization seem to be portrait photography, which he is doing for many decades and he likes to stick with that.
Anyways, it seemed I was in more luck than I was experiencing that morning, which I only found out when Dr. Virendra showed a photograph he took of me standing on a stone while wandering around the area. It was such a blessing travelling with photographers!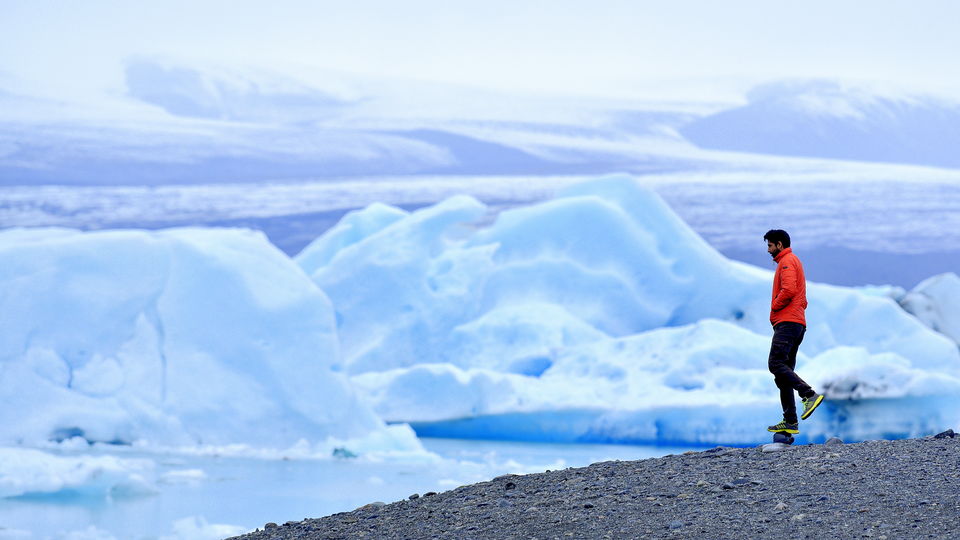 Once back at the hotel, we gathered at the hotel restaurant for breakfast. Once again, we repeated our practice of eating as much as we could. Jo, Clara, and I stayed a little longer at the breakfast tables, and got into a conversation about things like what do we do for a living, family, person we were dating, aspirations in life, so on and so forth. That's when I came to know that Jo and I had the same profession - marketing - although different roles. Clara, well, she had done a lot of part-time jobs for her travel expenses.
By 11 AM, we checked out of the hotel and just before leaving Deepak again had his favorite - cup of hot chocolate. I know it because he asked me whether I'd have one. But I was a little stuffed with breakfast and beverage was a little too sweet for me, so I politely declined.
On the road, as we were crossing the bridge over Jökulsárlón lagoon, Rajiv decided to make one more stop, but this time at the western side of the lagoon. After parking the cars, the group scattered around the area, which wasn't as populated as the eastern side - be it people or icebergs. Sky was partly cloudy but the sun was shining bright during our half an hour stay there.
Most of the group members went straight to the western shore of the lagoon, which was a 5-10 minutes' walk from the parking area. Along the way, I decided to climb one of the dunes, in hopes of a better view. From the top of the dune, I could see tiny figures of people at the shore, admiring the wonder of nature and taking pictures. We were in luck as a full rainbow also appeared to welcome our short impulsive stop.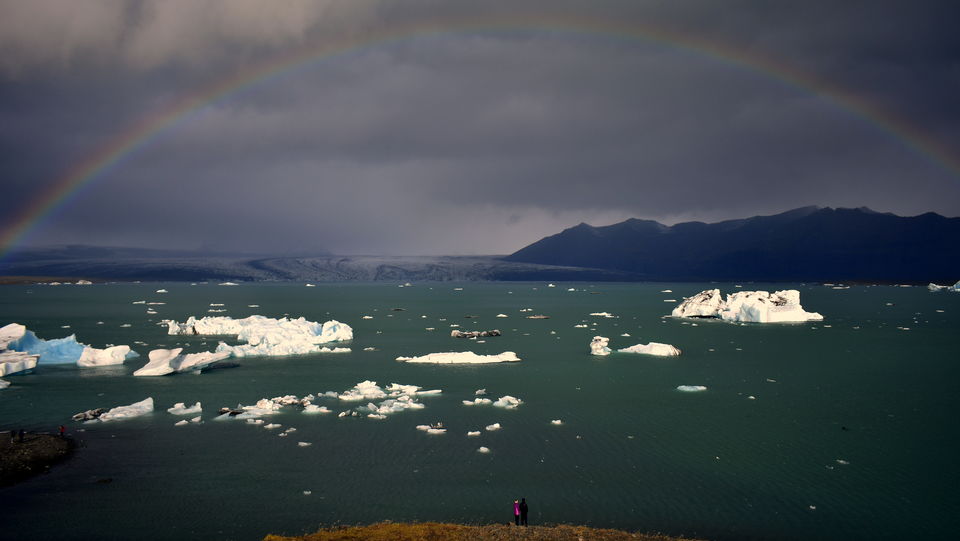 As usual, the wind was quite strong, which felt even stronger at the top of the dune. So, I decided to climb down to the shore and join others. The descent was not necessarily easy, but seemed manageable. As I began to climb down, a gust of wind put me off balance and to avoid a slip or fall, I had to sit down. After retaining my balance, I tried to climb down again, but the wind got the better of me again. I tried a few more times before finally giving in my presumed athletic prowess to nature's strength and headed back up to climb down from behind where the wind wasn't as strong.
I wonder whether anyone looking at me would have realized the struggle I was going through. Instead, might have just found it laughable since the slope didn't seem that difficult to climb down.
I joined the others at the shore after walking the path between two dunes - the path that all normal people were using. As I joined the group, Rajiv asked me to stand upon a boulder at the edge of the shore of the lake, so he could take a picture. The picture turned out nice, I guess, but my jacket was puffed by the wind, making my human figure a little awkward to look at.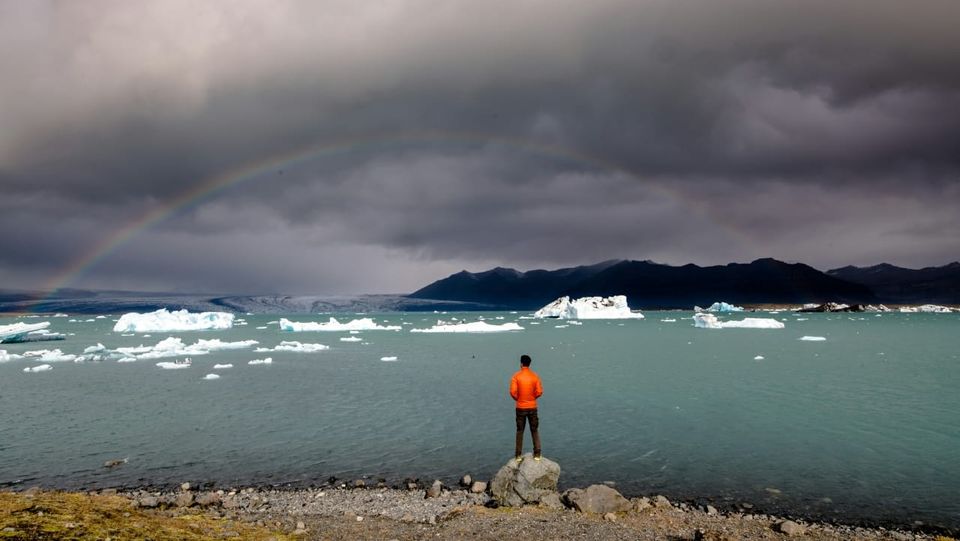 Fjallsárlón
Throughout the trip, Rajiv's car used to drive ahead of us, since he had better knowledge of the area and had planned the itinerary. So, whatever intermediate unplanned stops we used to make were mostly his decisions. When we left from Jökulsárlón's parking, we were driving ahead of him. And in a few minutes, we could see Fjallsárlón glacier from the road. Its sight was so beautiful that I told Dr. Virendra (who was driving the car) we must make a stop there. After a little hesitation about whether Rajiv would stop there or not, Dr. Virendra said, "to hell with them, let's check out the place!"
Fjallsárlón glacial lake was about a half kilometer walk from its designated parking area. Since we intended it to be short stop (to ensure we don't fall too far behind Rajiv's car, in case he drove on ahead), I ran ahead of the rest to buy more time at the lake.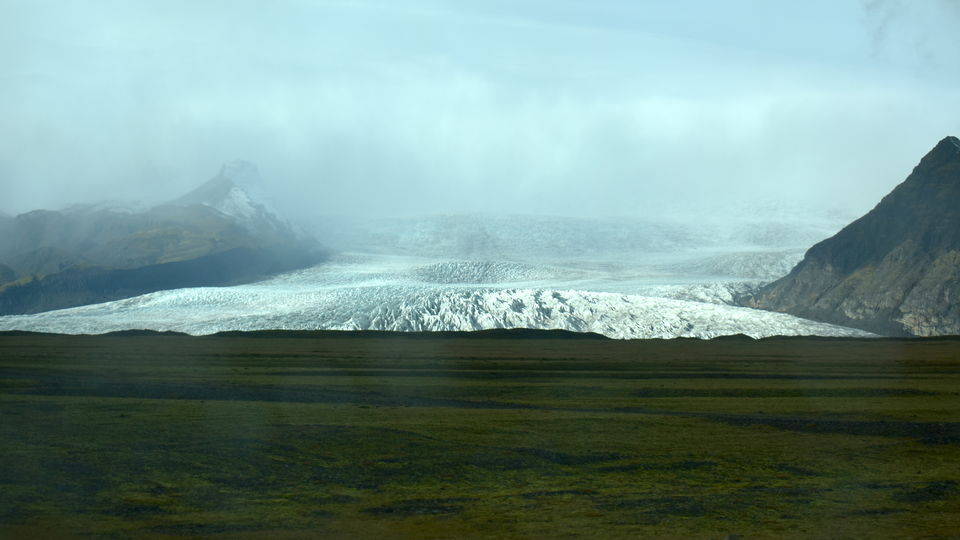 Fjallsárlón is not as grand as Jökulsárlón and the lake doesn't have as many icebergs in it at any given time, but its sight was magnificent. Like Jökulsárlón, there were boat tours available there, but unlike Jökulsárlón, we could see the glacier meeting the lake and icebergs breaking free into it right from the point where the trail ends at the lake shore.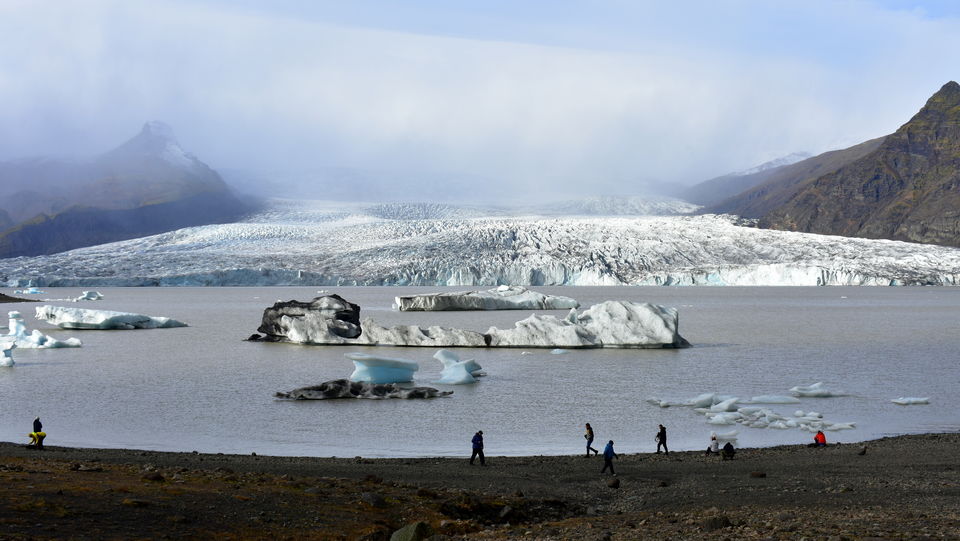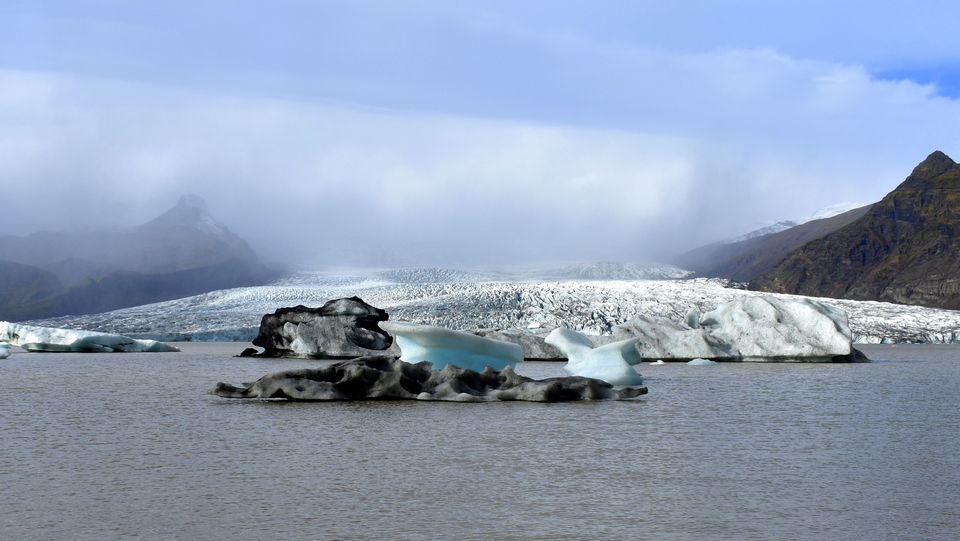 The sight was pretty similar to the glaciers that appear in the movie Batman Begins. Later when I checked on the internet about the movie's filming locations, it turned out to be a part of the same glacier (Vatnajökull), but not the exact location.
Since Fjallsárlón was not as grand as Jökulsárlón and was after a few minutes' walk from the road, there were fewer people there. After a few minutes, the rest of the group also arrived, including Rajiv, as he too couldn't resist the beauty of Fjallsárlón. The group spent 10-15 minutes there, admiring another of nature's wonders and capturing it the best they could. Meanwhile, I spent my time building another stone pyramid at the shore.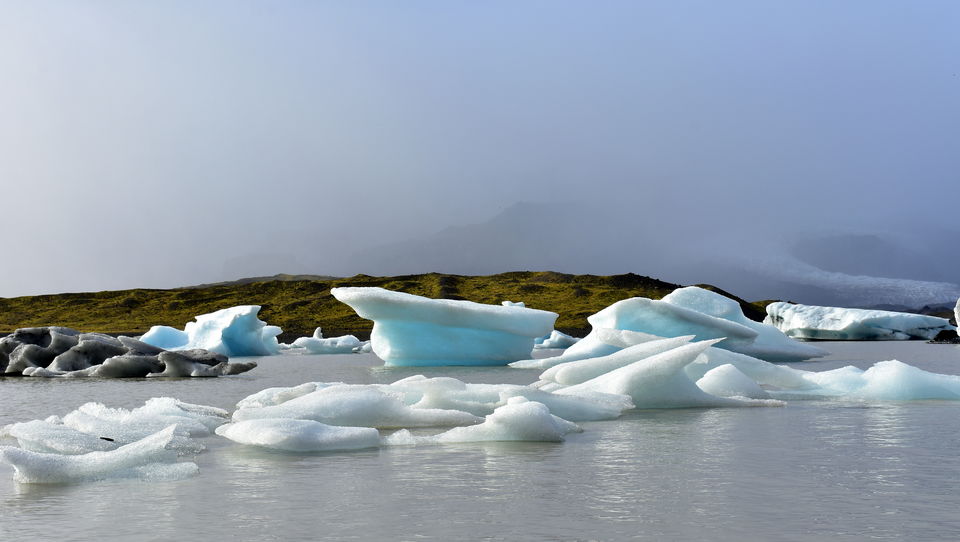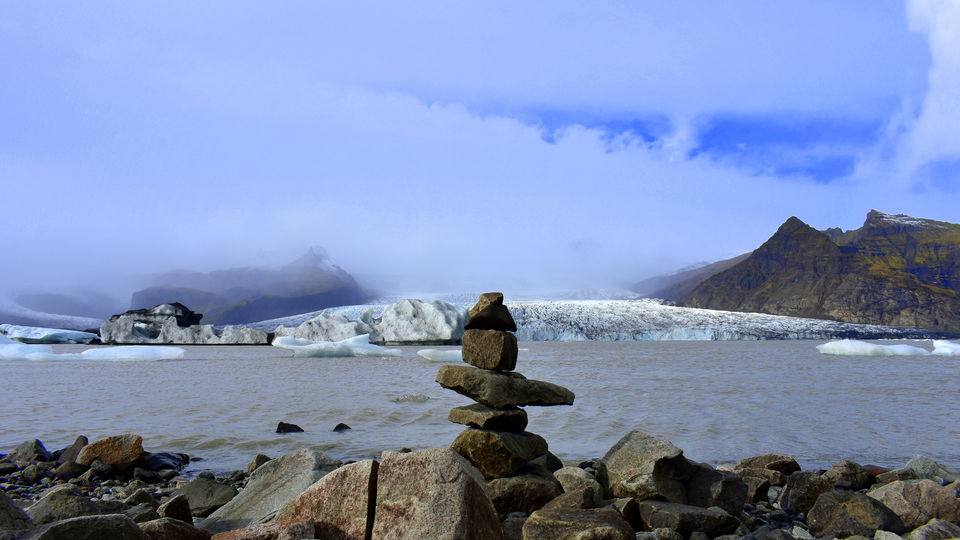 The next item on day's itinerary was Svartifoss. When we reached there it was pouring heavily, so it was doubtful whether we would be able to do it. And when Rajiv told us that there is a 3-4 km hike to reach the waterfall, the group seemed only half interested in doing the famous waterfall. Eventually, after waiting for about 10-15 minutes for the rain to stop, we finally decided to head ahead.
Along the way, as we were driving in the rain, Rajiv recognized the Lómagnúpur Mountain from the road and made a quick stop to take some clicks. But it was all fruitless, as the mountain was barely visible amid the cover of clouds surrounding it and the rain only made it less visible. I didn't even get out of the car, which was rare for me at any of the in-between stops throughout the day. Through the car window, I tried to make out the shape of the mountain, but I could hardly see anything.
Foss á Síðu
Ahead the road, we got a bit lucky, as the sky cleared up a little and the rain also subsided. But the thing that really brought us luck was the sight of an utterly beautiful waterfall we caught from the road. Without any message exchange or any other sort of coordination, both drivers made a stop there almost instinctively.
Without a second thought, all of us got out of the car with our cameras and phones and started taking pictures of a sight that might just be a glimpse of what a fairyland looks like. The thin cascade of Foss á Síðu was blowing up in both directions because of the strong wind coming from the ocean and hitting the wall of Icelandic highlands where the water was falling from.
I clicked a couple of pictures and clips during the stop, but I am pretty sure I did it only half-consciously, as the sight was downright hypnotizing. Later those clips will come really handy to beautify the video I made of the trip. And only after I had shared the video in one of Iceland Travel groups on Facebook, where people pointed it out several times, did I come to know the name of the waterfall. We barely stopped there for 5-10 minutes, but in those few minutes, Foss á Síðu became my favorite waterfall of the trip. Even including the ones I was going to witness in the next couple of days.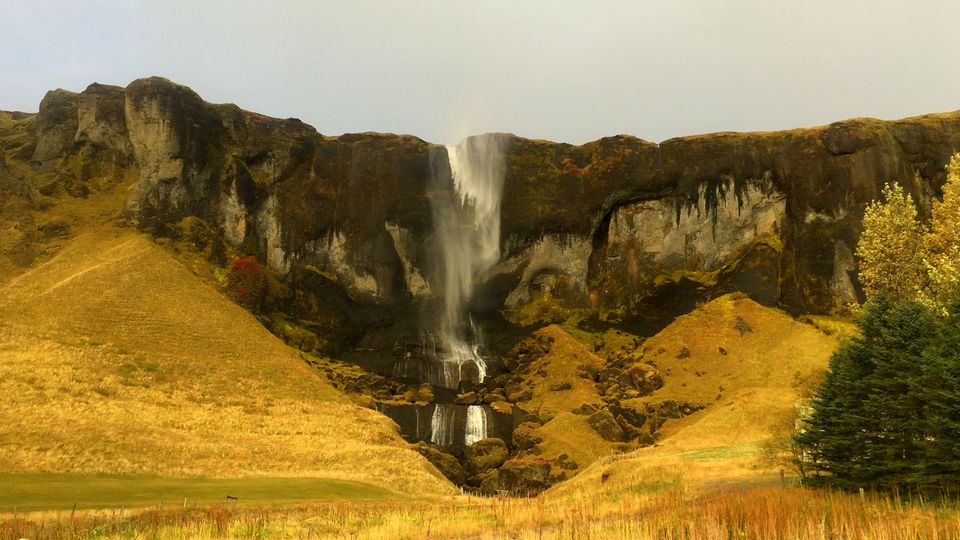 Fjaðrárgljúfur
The last item in the day's itinerary was Fjaðrárgljúfur canyons. But due to our unplanned stops at the glacial lakes, we reached the canyons a couple of hours later than intended. When we reached Fjaðrárgljúfur, the canyons were already covered under the shadows of surrounding mountains under a late afternoon sun.
Although the light across the area was still good, in the unrest of missing the canyon's beauty in the dying sun, the group started walking the tourist footpath (which runs beside the canyons) right away. Instead of joining them, I took some time in the search for a path that might lead to the river that runs through the canyon. Unfortunately, whatever path was visible, it was closed. There was a low bridge built over the river at the lower end of the canyons. From there the view was pretty nice. So, I just stood there for a few minutes and clicked a few pictures before starting the hike.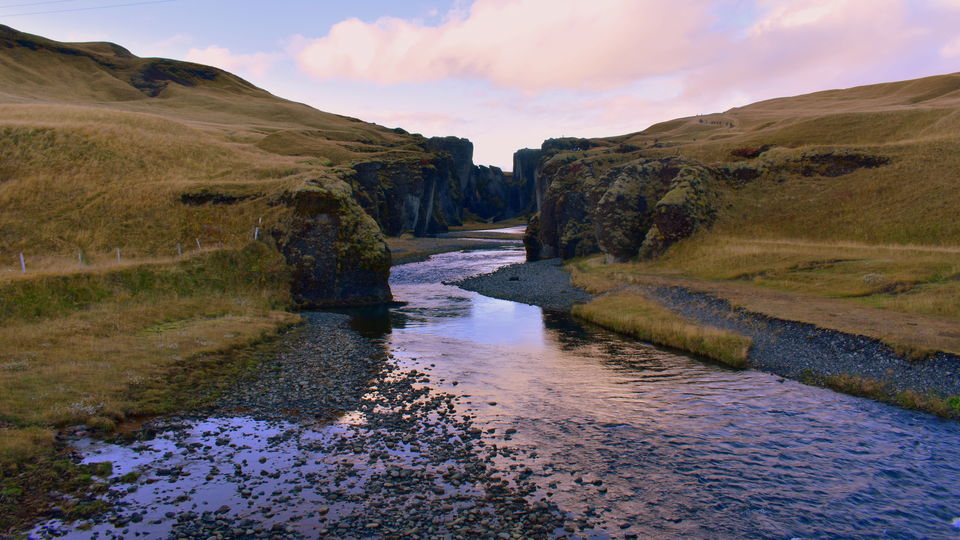 Formed over 2 million years ago (according to Wikipedia), Fjaðrárgljúfur canyons is a brilliant work of art by nature. The intricate structure of its escarpments appeared to be carved carefully by the hands of a sculptor. And from a photographer's perspective, capturing the true beauty of this piece of art is a difficult job (at least in my humble amateur opinion). The only shots that come close to reflecting the real beauty are ones taken along the stretch of the river or aerial.
Walking across the fenced path for tourists, I took several pictures of the canyons, but none of them came close to capturing its true beauty. No matter how hard I tried, I simply could not capture the depth of structures appearing in the frame. Maybe it was just my lack of skills, or maybe it was simply the fact that some things in nature are only meant to be experienced, not replicate digitally (at least not with current mainstream technologies).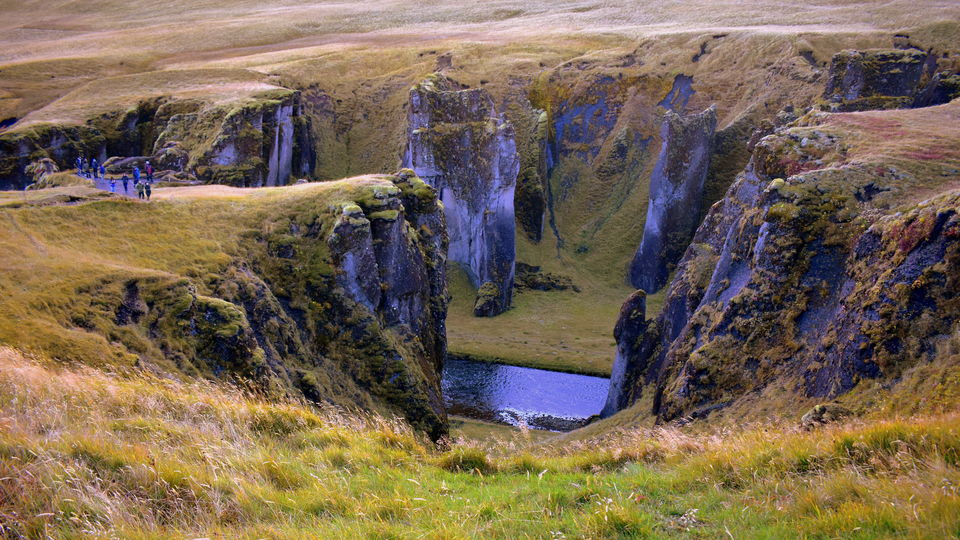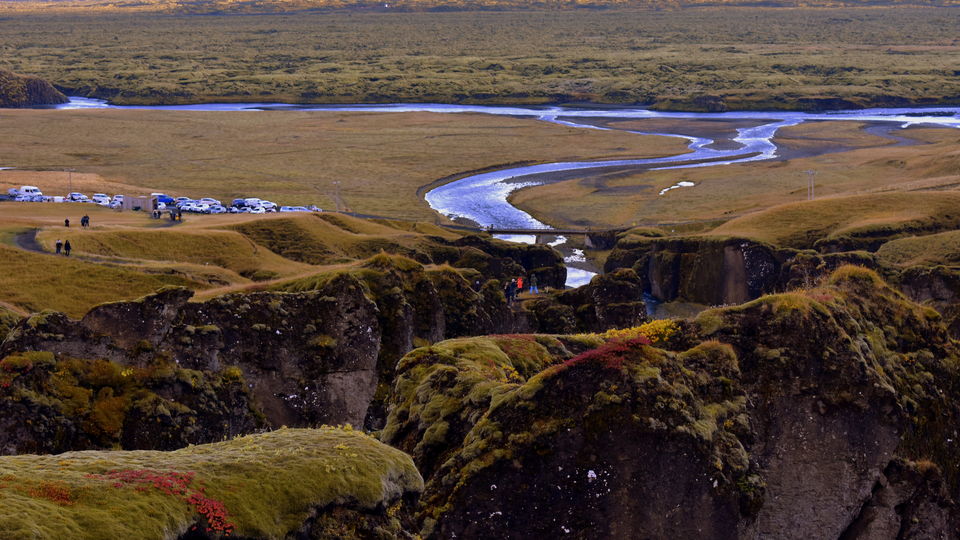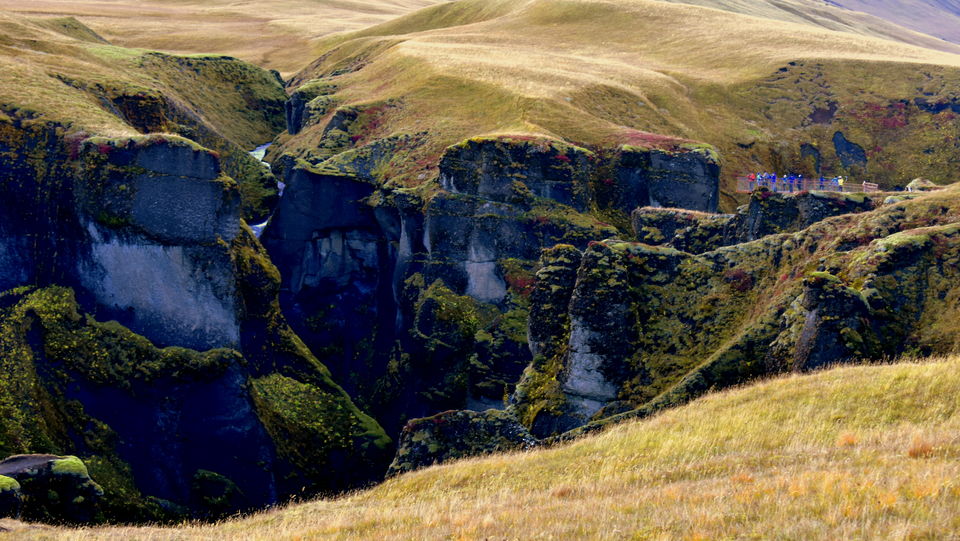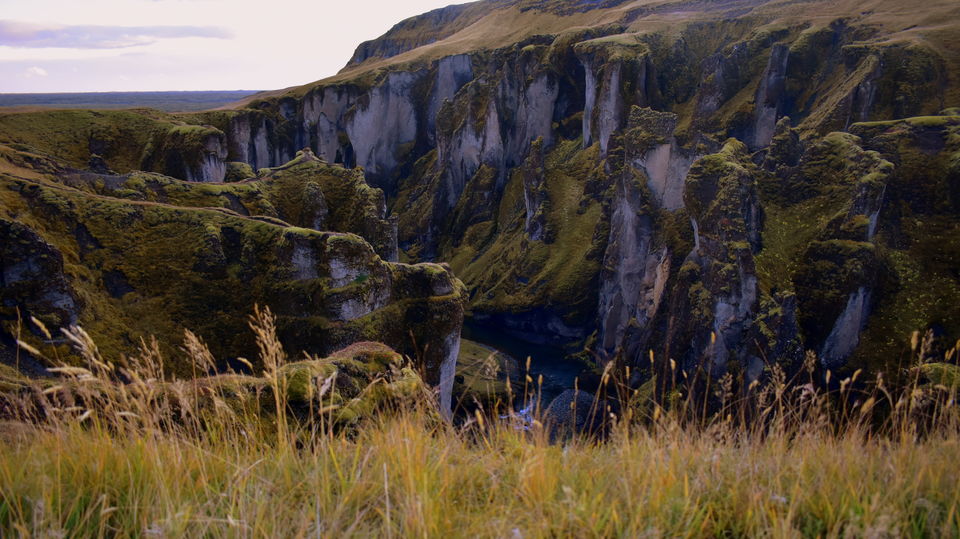 About midway, I had given up taking pictures every 2 minutes and was focusing more on absorbing the beauty and its intricacy as much as possible. Along the path, I noticed a few trails leading up to the edge of the escarpment. But all were closed due to the stream of tourists stamping over them and threatening the canyon's structure and ecosystem. In fact, at the time of this writing (August 2019), I found that the canyons were closed for visitors recently.
Another thing that I noticed along the way, or rather became aware of, was that every tourist spot in Southern Iceland had a good number of Asian tourists. And they were noticeable not only because of their numbers, but also because of their sophisticated photography and travel gears, and sometimes their irresponsible behavior - like flying drones in no-drone zone, tramping off fenced paths, and pulling over cars when there are no passing places (like what happened to us when leaving Seyðisfjörður).
I don't mean to demean any ethnic group here. It was just what I (in fact many in my group) observed. At times, we too acted irresponsibly, but mostly in ignorance. But if there is a fence or a sign strictly telling not to cross a limit, we obliged.
The iron grill observation platform at the end of the canyon was crowded with people. I waited for my turn to occupy a spot at the railing to have a good view of the beauty residing down below. Leaning over the railing, I could see a water stream sliding down calmly on a slope with slight turns and meeting the canyon river below. At the eastern side of the river, there is a lone tall tree over a dune or moss-covered rock. Its colorful autumn leaves were flickering in the breeze blowing down below, creating a serene and peaceful sight for us humans. I had my earpods on at the moment (to quiet down the noise from the crowd) and was listening to Ágætis byrjun's title track, which felt perfect for the moment.
For a few moments, it was indeed perfect - my existence and the spot in the world I was occupying - before I came to my senses and realized that I should empty the spot for others. I forced myself to stand there for a few more seconds before stepping behind, but that sense of oblivion, the connection with nature was gone.
At one end of the observation platform, a stair takes tourists down to another small observation platform. From there a different stream meeting the river is visible. At the lower platform, a couple was trying to get their wedding shoot with the help of a friend. For a few moments, I waited for my turn, then realized that they would need more time there. On seeing me waiting, their expression seemed a bit apologetic. I just smiled back as a gesture to tell them to carry on and headed back to prevent them anymore embarrassment.
Throughout this time, I was on my own. And on the way back, I stood near the fence at a place from where I had a decent view of the canyons and river. Since photography wasn't keeping me occupied, my mind began to contemplate my being. It was in fact the first time during the trip that my excitement and jollity had given way to the realization that I was really on the Icelandic grounds - something I have dreamt of for many years, but had hardly ever hoped that one day I would live that dream.
For a few seconds, a sense of contentment filled my body, my whole being. But then the thought came in that in a few days it will all be over and I will be back running the rat race constrained by corporate and social norms. It shoved aside the sense of contentment and filled me with a feeling of sorrow. And instantly, my mood was so spoiled that I felt numb to all the beauty around.
Jo and Clara were strolling not far behind me. When they walked by me, Jo said something in a friendly tone. I don't remember the exact words but I think it was something like "are you meditating here standing?". I forced a smile towards her and made an awkward reply, which might have sounded a bit cold, I'm afraid. In response, she just nodded or maybe said something in acknowledgement that she understood that I wanted to be left alone for the moment.
By the time we gathered back at the parking area, the daylight was pretty much gone. Our destination for the day, Skógar, was over a hundred kilometers away, so we drove off without any delays.
Earlier, we had driven in bad light and around dusk many times, but never in the complete dark. But by now, Dr. Virendra had gotten a good hold of driving the new vehicle on the new side of the road, so he drove us smoothly pretty much the whole way, until we bumped the car on road guard rail just before reaching Skógar.
About 5 km east of Skógar, there is a single-lane low bridge over a glacial river. When driving on such one-way bridges, you wait until the opposite side traffic is through. When we were about to reach the bridge, the car ahead of us was already halfway through and at the opposite end we could see a car waiting for our side of vehicles to pass.
Dr. Virendra's first reaction to the situation was to drive straight ahead, which would have been the right one. But considering that the car on the opposite end was waiting for a while, and there was still some distance between our car and the bridge, some of us advised him to pull over, then the rest advised against it. All that happened within a frame of a couple of seconds, and in the confusion Dr. Virendra slightly turned to the side but couldn't manage to pedal the brakes as hard as was needed to avoid the crash with the guard rail and boom!
The sound of the crash was pretty loud and scared the shit out of us. After a few panicked seconds, Dr. Virendra tried to pull back the car and in the second attempt, he managed to ignite the car and pull it free. I opened the door to look for the damage, but luckily there was no dent and any scratches visible, especially since the car was covered in dirt.
Meanwhile, the bridge was empty and the car on the opposite end was still waiting for us to pass through first. After getting inside, I told everyone that there was no visible damage, which gave everyone a little bit of relief. Then slowly, Dr. Virendra drove the car across the bridge and further ahead. But the car wasn't moving as smooth as it was before. And we all knew that something was wrong.
On reaching Hotel Skógafoss parking, we all checked the vehicle again. Rajiv and others were also there. But to our relief, it was just a flat tire, with a couple of scratches on the right fender. Then Dr. Virendra also revealed that he had figured it out while driving the vehicle after the crash as it was inclining towards the right side. But he didn't disclose it to save others from the alarm.
By the time we had reached Hotel Skógafoss, it had started raining. From the parking, I could make out the white speck of the waterfall in the dark of the night. And all my instincts were telling me to go there right away (after all, witnessing it was one of the biggest motivations I had when planning for the trip). But with all the tension circulating in the group because of the crash and the pouring rain, my wish to witness it right away was washed up, and we all headed inside.
After a long day outside, it was nice to be inside the warmth of Hotel Skógafoss. Our rooms were across the hallway right to the entrance. On the left was Hotel Skógafoss's restaurant. After putting our luggage and washing up, we all went to the restaurant to put our crying stomach on rest. As usual, I had a tough time finding a good vegetarian option and the only viable option I could find was soup and bread. The soup was essentially what we call daal in India. I remember, it cost me some 1800 bucks in rupees. In India, I could have gotten it easily in 30-50 rupees.
At Hotel Skógafoss as well, we were short on booked beds, so Clara laid down her sleeping bag. This time, I asked her without hesitation whether she would want to switch places. But she politely declined with a bit philosophical explanation on how her sleeping bag had been her companion during her travels and she cherished sleeping in it.
Day 11: September 29, 2018 - Skógar
Skógafoss: Day 1
Inevitably, the first thing on everyone's mind on waking up was Skógafoss. The waterfall was visible in its full grandeur from the side of the hotel restaurant. Between Hotel Skógafoss and the waterfall, there is a large parking area for tourists' vehicles, which isn't platformed or asphalted, so didn't look like one until later in the day. On the right-hand side, next to the fence of a grass field, there was a small camping site with a handful of camps.
It was still drizzling when we stepped outside. Since we were early, the area was vacant, except for a couple of campervans and roughly a dozen people. I captured my walk from restaurant to Skógafoss for my Instagram story while playing Flugufrelsarinn by Sigur Ros. The clip with the music came out quite nice.
As we continued to walk closer, Skógafoss's grandeur continued to expand to the edges of our sight's frame. A handful of people were standing at the foothills of the slope on the eastern side from where the stairs to the hiking trail begins.
When we reached there, it was difficult to tell whether it was the shower from the waterfall or the rain drenching us. It might have just been the waterfall since Dr. Nirmal and Deepak had their umbrellas open and raincoats on now. The shower was so intense that water droplet covered the camera lens completely in a fraction of a second. After a couple of tries, all of us had to pack the photography gears and were relying on our mobile phone cameras.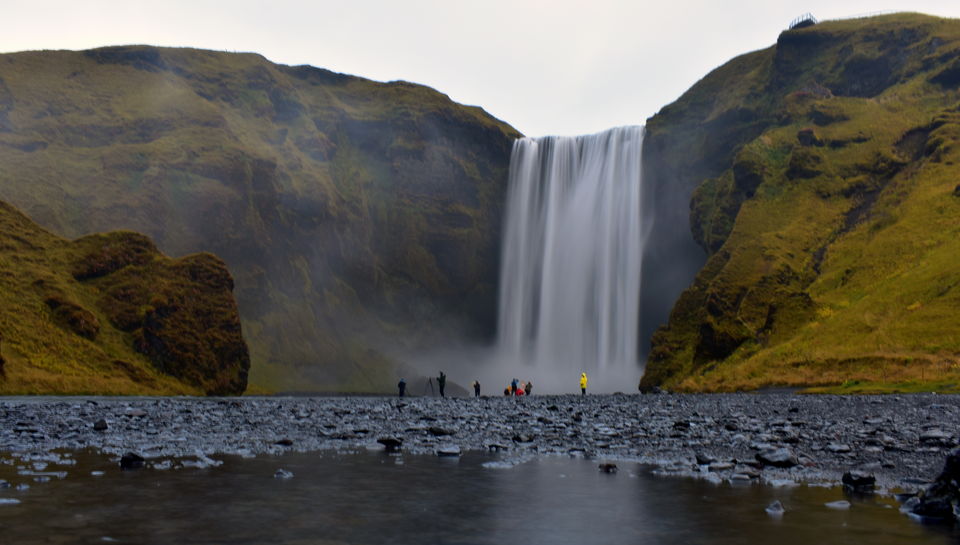 Meanwhile, Dr. Virendra had set himself in the middle of the stream that the waterfall gives birth to. The shower on that spot might be less intense since he seemed rather occupied taking pictures than worrying about covering his lens.
Standing there, I felt that pull from the waterfall that nature often exerts to beckon us feeble human beings to experience a fraction of its glory. The pull that transforms fear into exhilaration. For a second, I wondered why anyone isn't going beyond that point. It might be the intensity of the shower at the moment or bad light for photography. Seizing the opportunity, I started to walk ahead. At the same moment, I thought of capturing the walk as well. So I handed over my phone to Deepak, who had to hold the phone in the portrait mode since in landscape orientation, the height of the waterfall was bleeding out of the frame.
As I kept getting closer, the sprinkle of water continued to turn from breezy to drenching to stingy. About midway, I was completely drenched and thought to myself "well, at least I won't need a shower today." I walked a little beyond what seemed to be the end of the comfortable zone and stood there for a while. The fumes coming from the waterfall shower were engulfing me completely. To avoid the sting from the falling water, I had my face lowered, and a violent mist was all I could see around. And as I began to contemplate my surroundings, I could not help but feel thrilled and a little bit of fear.
As I finally dared to look up, I am pretty sure I skipped a heartbeat or two. For the first time, I really got to experience what the word awestruck really meant. The splendor of Skógafoss can be seen from all around the place, but it's not much different from looking at its pictures. Without standing near its foot and looking up to closely see the texture of its curtain of water; without getting engulfed in its intense shower and the deafening sound of a 25 meters wide stream falling from a height of 60 meters, I don't think its true might can be experienced. Standing there I also realized why no one ever dares to go beyond its curtain, where, according to Viking legends, a treasure is hidden.
When I returned, to my surprise, Deepak was still making the video. During my time with Skógafoss, I had completely forgotten that it was being captured as well. I thanked Deepak for his efforts, for holding my phone for 5-10 minutes and capturing the entire thing. The video was a bit shaky and muzzy, but then I couldn't really complain. I was more than grateful for his efforts.
About one minute into the video, a girl holding a blanket enters the frame from right and remains inside for the entire clip. My initial reaction was "she has screwed my video". But later, when I edited it, added music (Njósnavélin by Sigur Ros) and synced girl's movements with beats, the video turned out to be rather nice; presuming the girl and I were a couple.
Later, while editing and then watching the video, the pattern on the girl's blanket kind of got imprinted on my mind. Months later, I would recognize the blanket in one of the random travel pictures on Instagram. It could have been a different blanket with the same pattern, but the moment I saw it, it made me look for the girl. And as it turned out, it was the exact same one.
In my research, or rather stalking, I first came across the guy who took the photograph, then the girl. Both are well-established instagrammers. I chatted with the guy briefly on Instagram and as it turned out, the blanket was his. I shared the video with both of them, but didn't get any response afterwards. Anyway, the thing is, I haven't even remotely thought that I would ever get to know who the girl was. But as they say, "It's a small world". And the internet has made it even smaller.
By the time Deepak, Dr. Nirmal, I got back at the hotel, everyone was already off for breakfast. Dr. Nirmal and Deepak went straight ahead to the hotel restaurant, but I had to go to the rooms first to change into dry clothes.
At breakfast, everything felt better after a very satisfying time at Skogafoss. There wasn't any trouble letting Clara in (not sure whether Rajiv talked to the hotel staff or paid for breakfast). We could also see the waterfall from the restaurant's glass walls while munching our bites. Everyone seemed relaxed and at home, so the conversation and the in-between silences went on smoothly.
After breakfast, we went outside to fix the flat tire. The job was a bit troublesome, but since we were in a good spirit, we dealt with it just fine. While we were jacking up the car, it seemed that the front shocker had also come out due to the impact. But since it seemed in place while the car was on the ground, we figured it might be due to the jacked-up position (except that it was actually broken).
Once we fixed the spare tire in place and everything seemed good. We decided not to make a fuzz out of it by telling Mickey the whole story. So, Rajiv informed Mickey only about the flat tire, not how it happened. And about scratches, since they seemed only minor, we decided that if Mickey would ask for the repair charges, we would pay.
Days later when we had returned to India, the car owner did a thorough inspection of the vehicle and found that apart from the flat tire, there were scratches and a broken shocker. He was furious and sent us photographs of the damage and asked for the payment (around €200). It wasn't like we were trying to get away with it, we only thought that it wasn't that big a damage. So once we came to know what we owed him, we paid it right away. But I guess, we should have been upfront when telling Mickey about the accident.
By the time we had fixed the tire, Sneha and Ayaz had also joined us. We were all up for the plane wreck site and Dyrhólaey, but Rajiv had other plans (Kvernufoss, which isn't much known to tourists). Since we were one car short, Clara, Jo, and I got in Sneha and Ayaz's car for the day's itinerary. And when five of us explored places together, we were bound to have a jolly good time.
Sólheimasandur Plane Wreck
The trekking point for the Plane Wreck site is hardly a 5 to 10-minute drive east to Skógafoss. During the drive, Sneha and Ayaz told us about their experience at Dettifoss, which I remember from the movie Prometheus, but unfortunately, the group didn't cover it. They also did glacier hike, which sounded fascinating, and I felt really happy for them and a little envious too. I reckon Jo and Clara also felt the same. If they didn't, they should have had.
The plane wreck is after a 4 km walk in the direction of the Atlantic Ocean. When we started the walk, the sky was partly cloudy. A bit of sunshine was leaking through the cover of clouds and a little bit of drizzle was also on. The kind of weather that puts even a sad person in a good mood. So we were simply exhilarated.
In the beginning, the walk felt a bit long. But amidst our amicable talk, we hardly realized when the 40-45 minutes of the walk passed. We reached the wreck at around noon. And since it was peak tourist time of the day, to our displeasure, the place was crowded. In our mind, all of us had always imagined the place to be a dark and desolate one. But with the sunlight and the crowd, unfortunately, the place didn't feel quite enthralling.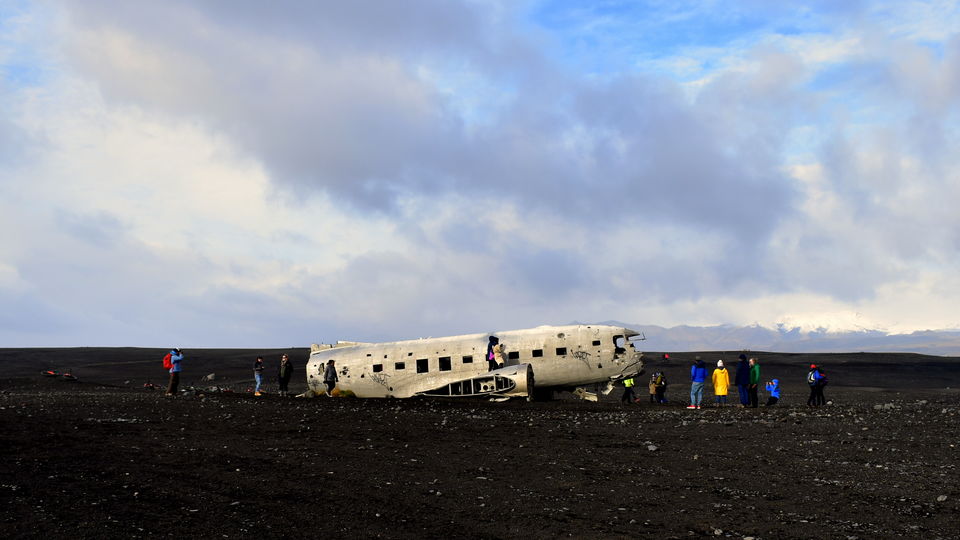 The sight put us off slightly and for a few minutes, we just strolled around the wreck in vexation. Ayaz and I both had planned to get a picture standing alone upon the wreck, but with so many people around and many climbing up and down the wreck, that seemed unlikely. It just felt like any other tourist spot in a crowded country.
Ayaz was so pissed that he said he simply didn't want to climb the wreck anymore. I was still double-minded about that. While everyone was still strolling amidst the crowd exasperated, I walked passed the crowd and sat on a table size rock lying a bit ahead of the wreck, waiting for the crowd to subside. But that was not going to happen. Not at least in the way I had wanted and imagined.
After a while, Sneha started taking pictures and involved Ayaz and others in it. That sort of lifted up the group's mood a bit. As we gathered around the wreck, luckily, I got my chance to climb up the wreck as well. I climbed up and down in a rush and was there not at all in solitude, but Ayaz managed to capture both - calmness and solitude - in the photograph he took of me.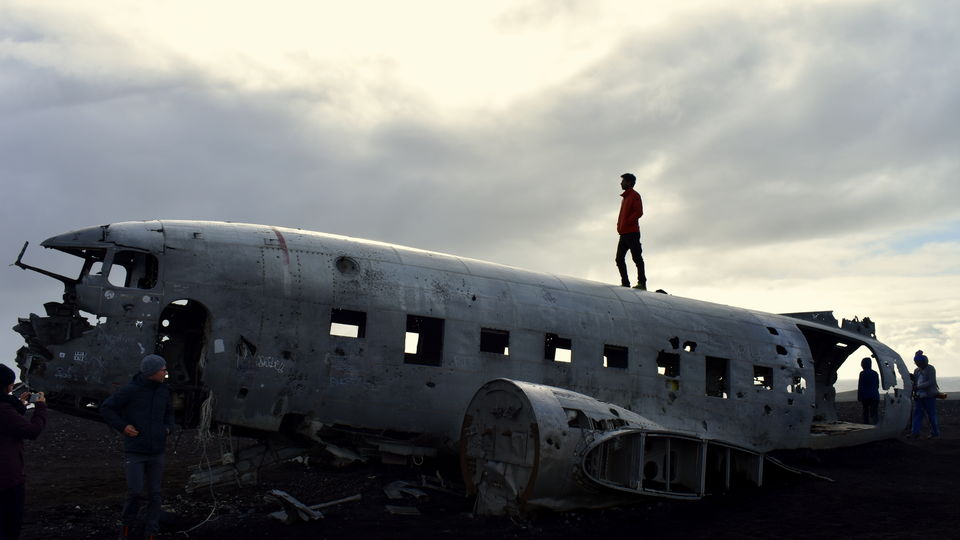 By now, Dr. Virendra, Dr. Nirmal, Deepak, and Mukesh had also arrived and everyone had started taking pictures around the place. After I got down from the wreck, I could see on Ayaz's face the itch to climb it. But he stood by his words with the reason that every person climbing on the wreck was essentially damaging it. And he did not want to be a part of it. At other times, I am also like that. But Iceland was my weakness.
Now that we had come out of the gloom of our shattered expectations, we began to enjoy the moment a little bit. We started taking lots of fun pictures. First inside the wreck and then on its left wing. We had to take like dozens of shots to get some decent clicks. Inside, the light was too dim. Outside, the wind was too intense. But we really didn't mind that. In each other's company, we were having a good time now. And thanks to Dr. Virendra and a couple of strangers who had the courtesy and patience to take multiple clicks of us.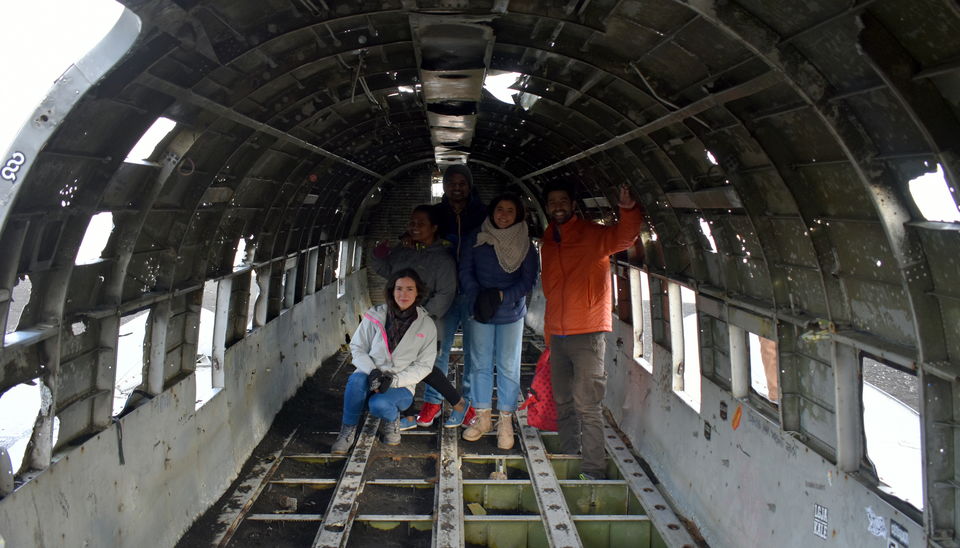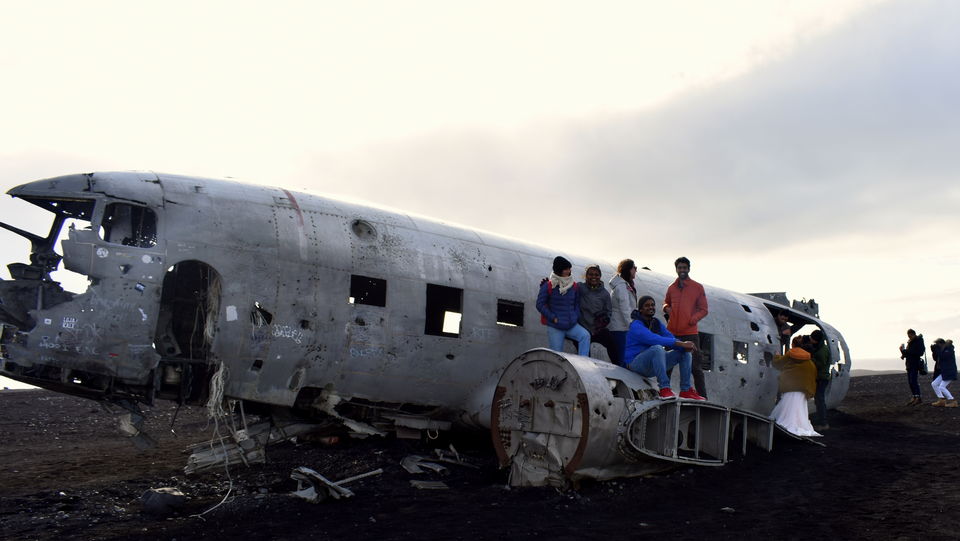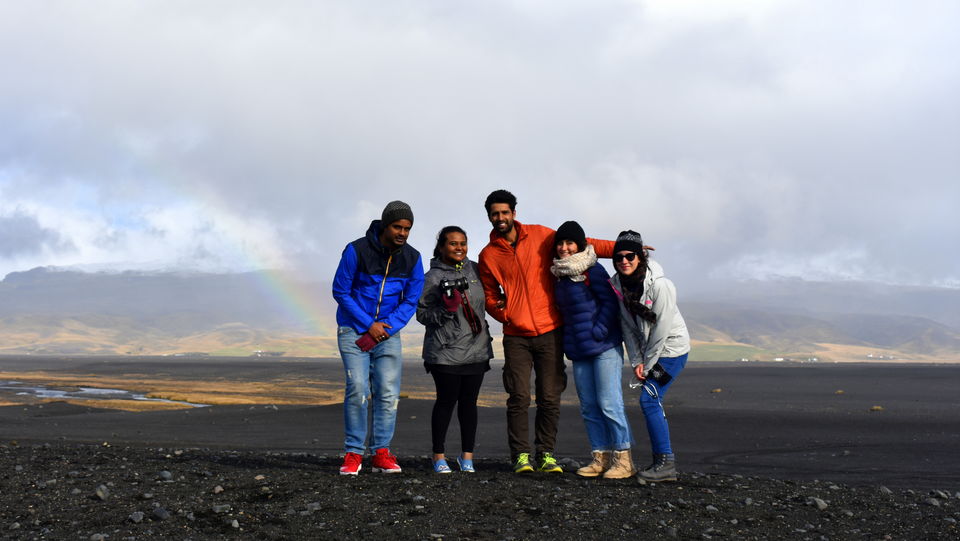 By the time we headed back, we were in a pretty good mood despite not finding what we expected. Clara, Jo, and I walked together kicking a stone throughout the way, pretending to be football players our respective countries - Argentine, Mexico, and India - and doing commentary on who is winning or losing or playing good or bad. Clara picked up the stone as a momento once we reached the parking; though, I am not sure whether she carried it later. Soon after, we took off to our next stop - Dyrhólaey - singing along with the songs Ayaz played in his car, including some Telugu (his native language) songs.
Dyrhólaey
Dyrhólaey is about a 15-minute drive east to Sólheimasandur. Sun was quite bright when we reached there. And its reflection on ocean water's white foam on the beach made us all put our sunglasses on. Rest of the group was heading directly to the Reynisfjara beach, so we just went ahead on the promontory after parking our car.
We barely spent half an hour there, but those were good 30 minutes. Mostly, we just strolled across the fenced gravel path on the eastern side, admiring the unreal rock structures holding itself and taking pictures. The lava rock columns of Reynisfjara beach were also visible from the promontory but I didn't know it was the place at the time. And I am not sure whether others knew about it either at the moment.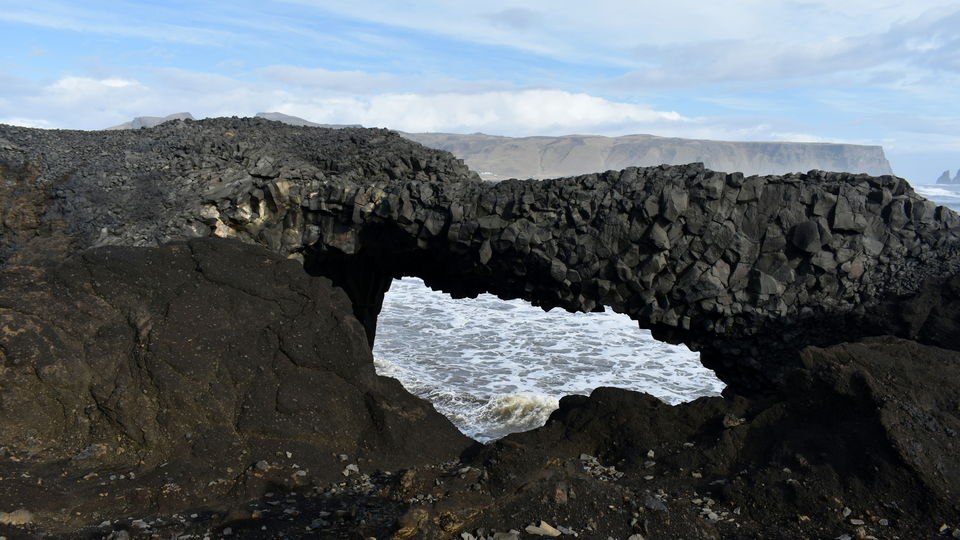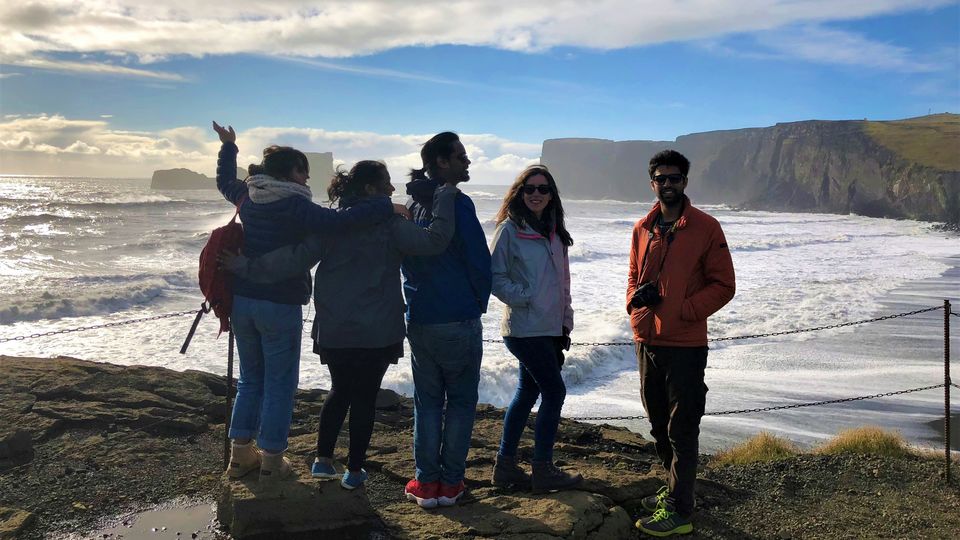 Unfortunately, we missed to check the western side of the promontory form where a straight coastline to Selfoss is visible. I had seen pictures of the place on Instagram and had thought to get a picture of me taken at the place. But in our jolly good mood, we missed the chance. And it was quite alright as long as we had a good time.
Reynisfjara
Ayaz and Sneha had already done Reynisfjara beach in the morning (when it should have been), so they dropped us off at the beach's parking area and drove ahead to Vík, where they were staying for the night. At the parking, we met the rest of the group who had arrived a few minutes ahead of us, including Rajiv. Parking was packed, so was the beach. Ever since entering Southern Iceland, we had been complaining about the amount of crowd tramping every tourist spot. At Reynisfjara, the crowd was next level. Pretty much India level.
The group had planned a photoshoot of Jo at the beach in Indian attire (saree). Naturally, the spot they had in mind for the session were the basalt columns. But the area was packed with people.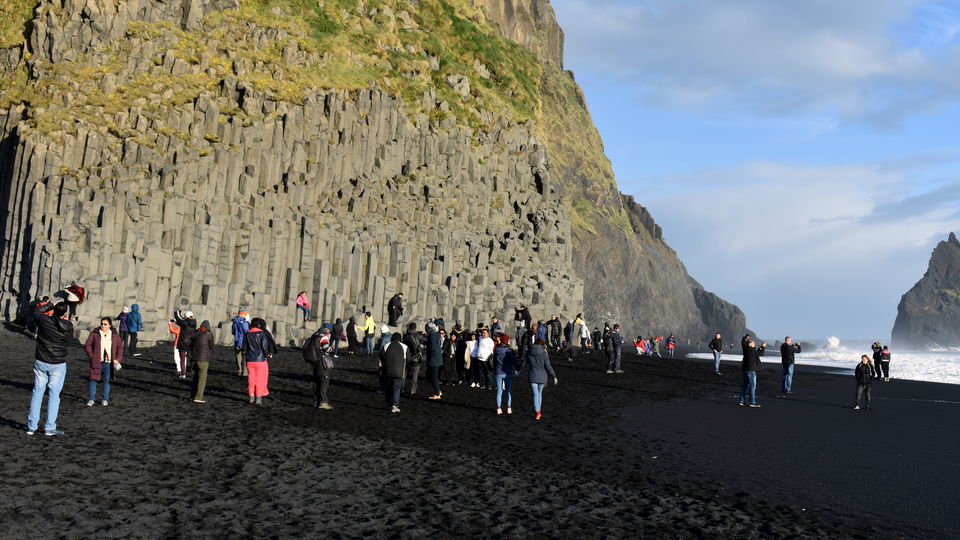 If it were the first time we were facing the crowd, the group might have just given up. Fortunately, by now we were also getting used to the crowd and just focusing on having a good time and good clicks, whatever the odds. So the photographers spotted a relatively clear zone, asked Jo to climb up a few columns, and started taking pictures.
The wind was strong as usual. And again, watching Jo in bare saree gave me shivering. But again, the photographs that the group took made it all worth. Some of the photographs they took were simply amazing. And the wind only made them look better with part of Jo's saree floating with it. Unfortunately, I could pull out only one of those photographs here.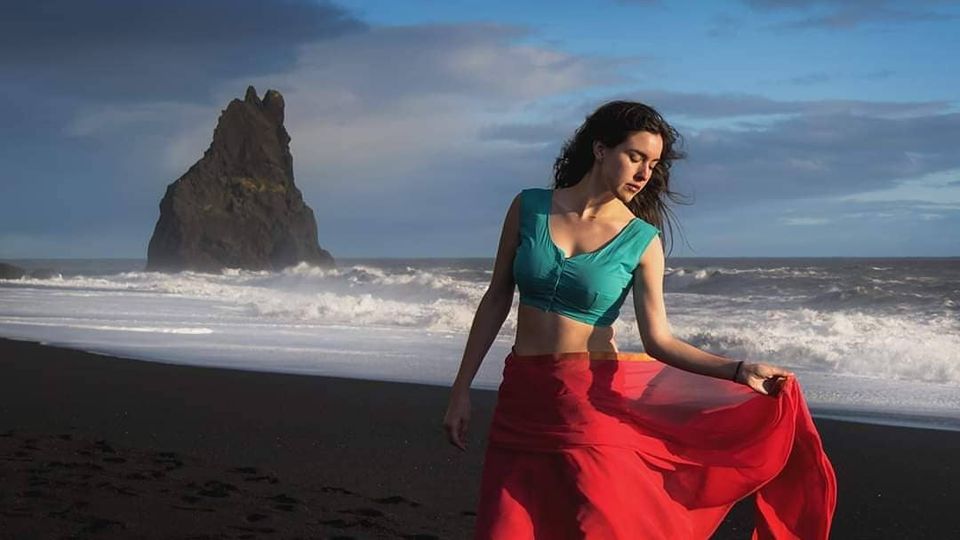 While photographers were at it, I strolled around and inside the caves at the bottom of the cliffs that run across the beach. Like so many other coastal places in Iceland, the rock structures forming the cave walls were unreal, holding against each other with water seeping through the rocks, preventing the whole thing from falling; over my head at the moment.
As I walked further towards the Reynisdrangar rock formations (the two columns on the eastern side), I found Dr. Virendra taking pictures of the columns, trying to capture the moment when waves crash against them. Like me, Dr. Virendra was not interested in model shoot, so he often used to keep away from the photo sessions. He often mentioned during the trip that he was there for landscape photography, and that was that. That was fine with me, especially since I too used to keep away from the shoots (for me it felt awkward to capture moments which were not real). And his being away as well used to keep me company often.
We spent some 15-20 minutes admiring and capturing the beauty of the waves at the eastern end of the beach. Good thing was that there weren't as many people at the Reynisdrangar columns side of the beach. I also took the time building another stone pyramid over a rock lying on the beach. By the end, Dr. Virendra also managed to click some good shots, although he didn't seem very satisfied with it.
Once he was done, I asked him to take a few pictures of me as I walk across the beach. The shots came out nice but since the sun was still quite bright, they didn't feel right - isolated and gloomy, which seems like the true essence of the place, if you have seen its pictures on the internet.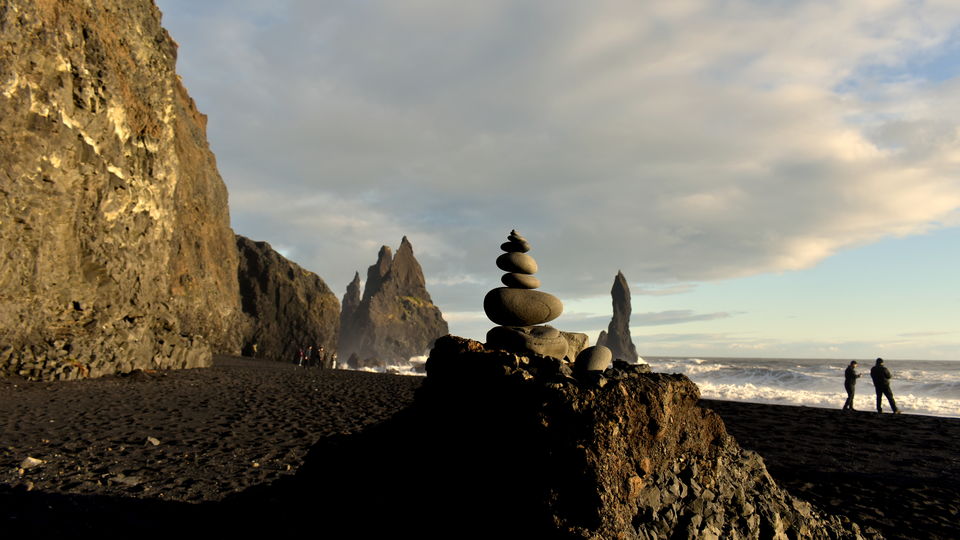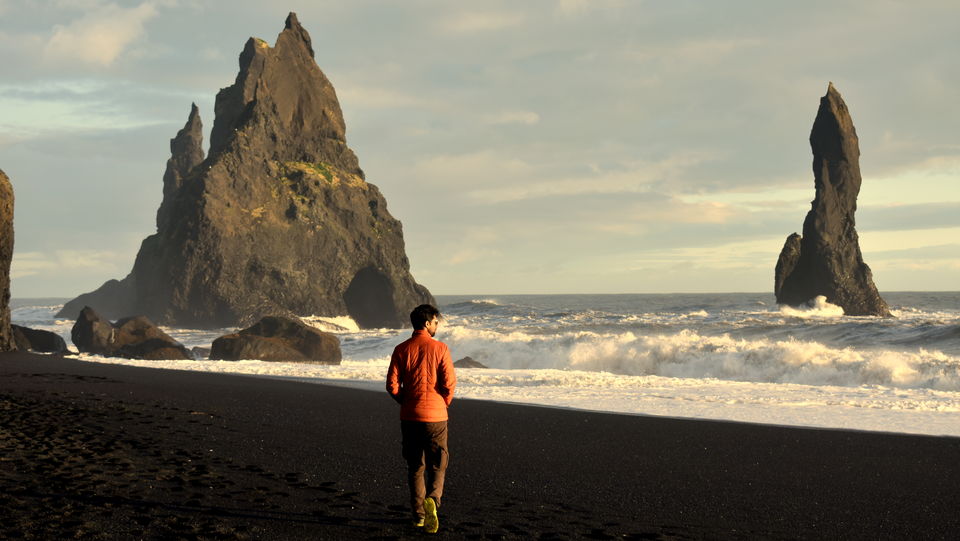 While we were at it, the rest of the group was done with the photoshoot – gear packed and ready to head to the last item in the day's itinerary - Seljalandsfoss. Rajiv had planned to capture the waterfall during the sunset, so he called and asked us to hurry.
Dr. Virendra was carrying his backpack at the moment to carry an extra set of filters, which he might use to undo the over bright sun. He had put it on a rock on the beach. In our rush to catch up with them, we forgot the bag. Once we reached near the parking, Dr. Virendra remembered his forgotten backpack and told me about it. I said leave that to me and asked him to call Rajiv to explain that we will get a bit late. Rajiv didn't want to lose the light so he didn't wait and drove ahead, while Deepak and Dr. Nirmal waited for us for another 5-10 minutes near the other car.
I ran ahead of Dr. Virendra to fetch the bag but because of the loose sand of the beach (or rather very fine gravel), which requires twice or maybe thrice as much energy as running on a hard flat surface, I couldn't keep up my pace for long and was out breath. For the rest of the way, I just walked at a fast pace, fetched the bag and returned to Dr. Virendra, who was also half way along the path. We headed back to parking as fast as we could have and drove towards Seljalandsfoss, which is about 40-45 minutes' drive west to Reynisfjara beach.
Seljalandsfoss
Since Rajiv had left about 10 minutes ahead of us, he, Mukesh, Clara, and Jo managed to reach the waterfall exactly at the moment he had wished for - just before sunset. We were already running behind and because of the spare tire, we also had to keep a check on our speed. So we ended up reaching about 20 minutes later. At the parking, we met a jovial Rajiv who had already clicked the photographs he had dreamt of.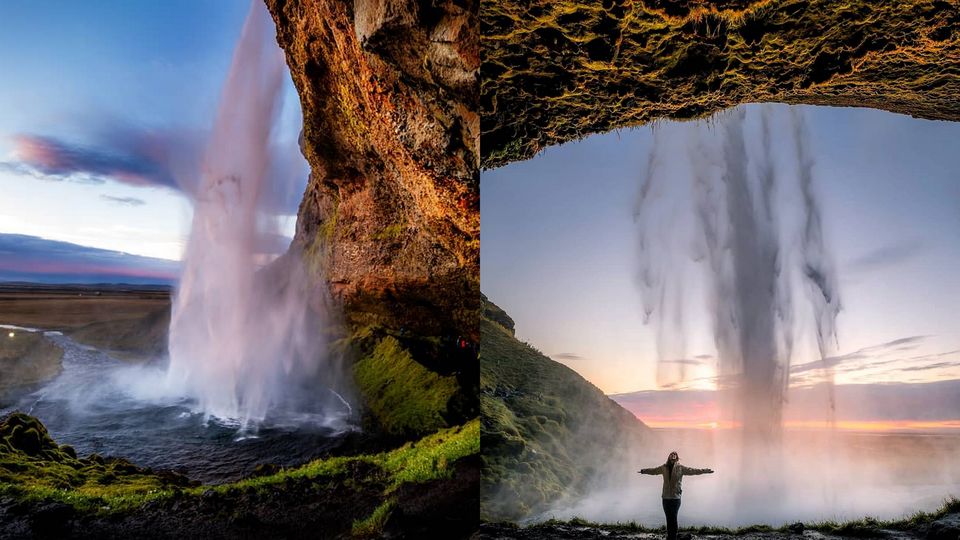 When we reached there, the sun was about to set, so there was still some light to enjoy the view through the waterfall's curtain. Rajiv suggested that I put on a raincoat to avoid getting drenched from waterfall's shower. My raincoat was packed somewhere with the luggage, and my jacket was only semi-waterproof, so I exchanged jackets with him and ran off to the trail leading to the waterfall.
I could feel the shower a long way from the fall. Slowly, I tread on the slippery path towards the back of the waterfall, all the while admiring its scenic beauty with a constantly changing angle. I don't know if everyone does that, but when I see a waterfall I don't see it as a curtain of water, but lumps of it falling from above one after another, attaining a certain structure at any given point across its fall, yet distinct every time.
There were people all across the trail and all across the cavern at the back side of the waterfall - essentially, photographers who had established themselves with their gear to capture the light coming from a setting sun and filtering through the fall's curtain. I found myself a spot to stand where I was not obstructing anybody's view, and stood there for a few minutes admiring another of Iceland's wonder.
It is such a special experience to see a waterfall from behind. When you look up at the top of the cavern, the origin point of the cascade, and water appearing out of nowhere over your head, it puts a perpetual smile on your face that stays there long after you have left the place. And the view sticks with you forever.
I didn't have the skills to capture the moment with a DSLR, nor the waterproof cover for my camera, so I had left it in the car and was relying on my phone alone. Standing there, I made a clip of water falling with setting across, which turned out to be nice enough to eventually be part of the video I made of the trip.
After the sun had set and I had plenty of view for my eye-gasm, I went down the path through the rocks to the bottom of the fall. Took some water in my hand and splashed it on my face, a ritual I had followed throughout the trip whenever I had gotten my hand on a waterbody - despite there being absolutely no need of it, especially in that bitter cold weather.
When I reached back at the parking, Rajiv got out of his car to exchange back the jackets. But I first gave him a hug and thanked him for planning the whole trip and bringing us all along. Inside our car, when everyone was back, Dr. Virendra told me that he was looking for me to put a human element in his photographs of the waterfall but had to do with a stranger when he couldn't find me. Recalling the Jo's photograph with Seljalandsfoss that Rajiv showed us, for a second, I sort of regretted wandering off from Dr. Virendra. But then thinking about the experience I had at the waterfall put any regret at rest instantly.
At the hotel restaurant in the evening, in the absence of other viable food option, I again had that soup and bread that costs 1800 bucks in Indian currency. I don't have any other recollection of that evening. Maybe I simply didn't participate in any other acts because of the exhaustion that was wearing me off more and more with each passing day.
Day 12: September 30, 2018 - Skógar to Reykjavik (Andrea Guesthouse)
The next morning, I slept till late. When I woke up, Clara, who was still in the room seemed a little more excited than usual and poured over me the news of aurora appearing the night before in a rush. Promptly, I asked her why you guys didn't wake me up. A little confused, she snapped back "I woke you up and you said, 'go ahead, I'll join you'." Dang!
I had no recollection when that happened and I told her so. She said she even shook me when I didn't respond to her calls to come out and only then I told her that I'll join them. Anyways, as it turned out, the group had a good time when the Aurora appeared and they were able to take a few good shots as well. On-and-off, a few of them were still keeping up during the night for Aurora, and their efforts finally paid off again.
During breakfast, Rajiv and Mukesh showed me some of the pictures they took during the appearance of the northern lights. Unquestionably, they were pretty good. But then when you are talking about something as surreal as northern lights, a photograph cannot replicate the actual experience. Like Alex at Goðafoss, I shared their excitement (not that I wasn't awed with what they clicked) to make them feel happier than they already were.
At breakfast, Dr. Virendra also told me that they also went on an early morning drive to Seljalandsfoss and described the sight that how the entire area was covered in white (frozen due) and gave a pretty different sight from what we had experienced the evening before. Deepak and Dr. Nirmal had also gone with him. It seemed that due to my exhaustion I was missing a lot of things now.
Meanwhile, Rajiv asked the group whether they would like to do the golden circle, which is a 300 km long drive comprising spots like Gullfoss and Geysir. It seemed that everyone was more exhausted than they appeared as none of them said yes. Since I was considered the most agile and energetic person of the group, some of them looked at me. I too wasn't in the mood (neither had the energy), but to keep up with my reputation, I said if no one wants to go what would I do.
Skógafoss: Day 2
Now that we were in no rush to get ready for another day-long drive, Clara and I decided to do some sightseeing on foot till the checkout time. And when the mighty Skógafoss was right in front of our sight where else could we have gone.
The morning sky was clear so the view of the waterfall was a bit different from the day before. Thanks to the sun, now there was a perpetual rainbow across the waterfall. The stream of tourists had begun to arrive and the parking area was beginning to fill up. The puddles around the place had frozen partially the night before. Clara and I skid over them for a while and lingered near the fall before heading up the stairs.
It was a steep climb and by the time we reached the observation point at the top, we were a little out of breath. We stood there for 10-15 minutes, admiring the view from above - a distant ocean, the Skógar town, rainbows appearing in front of Skógafoss, the origin of its cascade, and the river flowing relatively less violently above.
After a while we started walking on the trail that runs beside the river for miles and miles on. The morning sun was well out now and we felt good about our decision to explore the highland part of the waterfall, since below it was still shadowy. Along the path, we took several pictures of the intermittent cascades in the river and of the surrounding area. And after about strolling for about an hour, we headed back.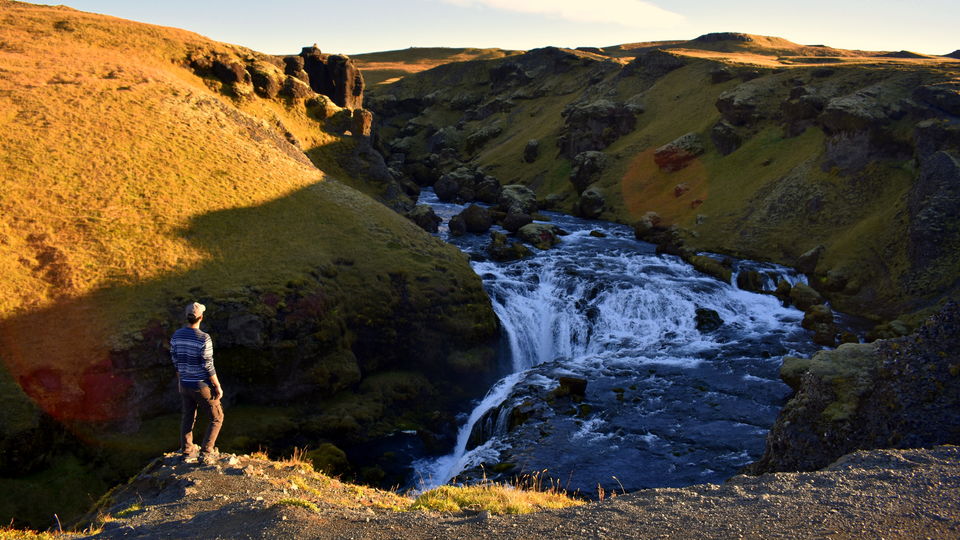 On the way back, we found Jo sitting on a distant rock near the edge of the gorge to the river. I sort of recognized her from her jacket, but we weren't sure that it was her until we got a bit closer. On meeting, we had some fun time taking pictures, playing with our shadows falling on the other opposite wall of the gorge, and singing random songs.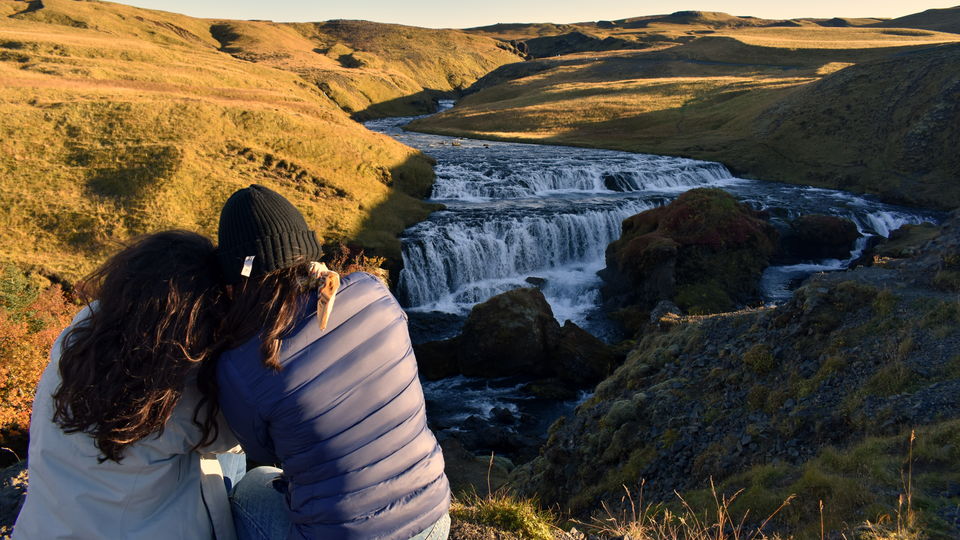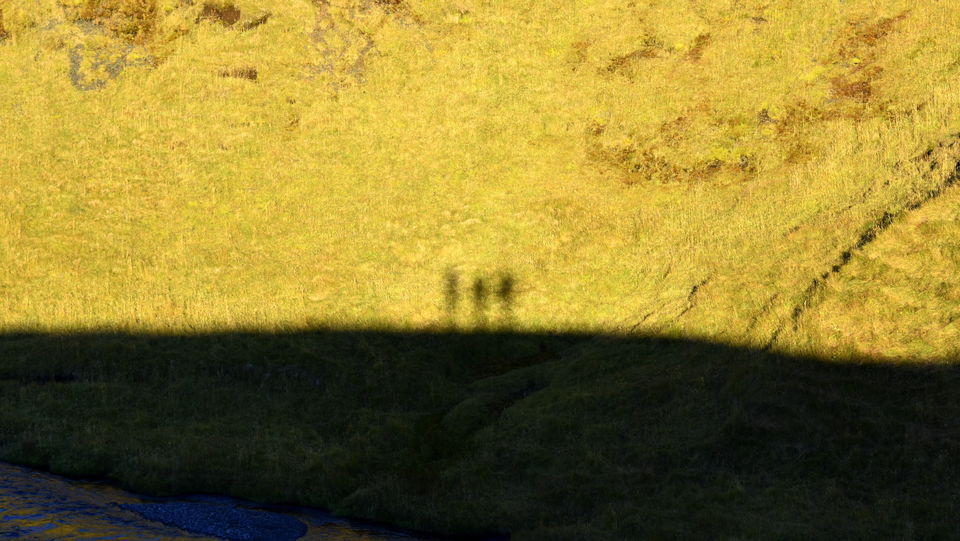 At one point I heard them singing the Spanish version of 'Here I Am' by Hans Zimmer and Bryan Adams and instantly joined them, but in English. Clara hadn't heard the English version, so she kept humming the song with Spanish lyrics. After that, Jo and I promptly got into discussion on music, which started off with the soundtracks by Hans Zimmer, then trailed across other composers like Clint Mansell, Alexandre Desplat, Thomas Newman, and James Horner.
After coming down from the trail path, we wanted to spend some time near the waterfall but looking at the crowd present there at the moment, we decided to head back to the hotel directly. Along the way, we took one last photo of the trio near a bench at the side of the path to the waterfall from the parking area.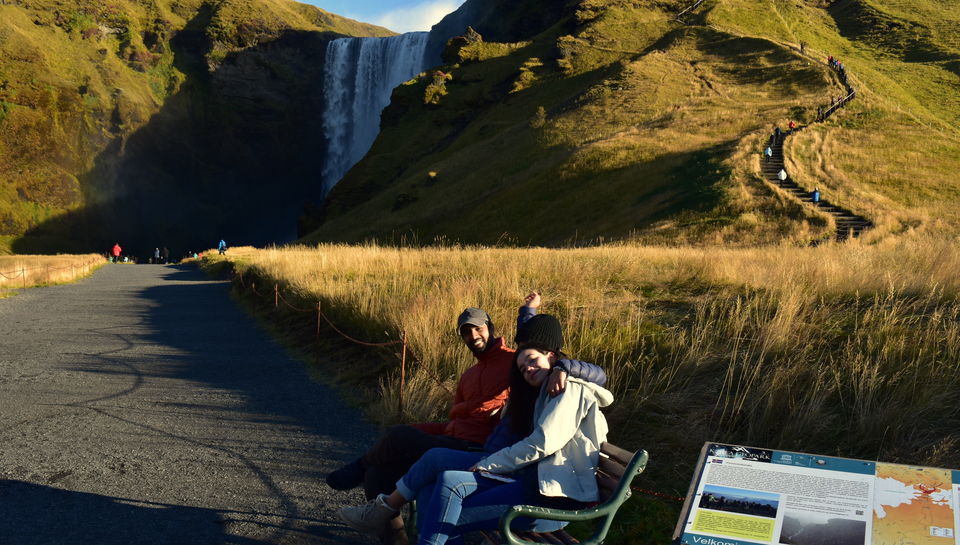 Back at the hotel, Rajiv was taking advantage of the time by taking a nap. When we reached there, he was up. When he saw that we were a bit too excited to take some rest, he suggested us to go check out Kvernufoss (which he was calling the 'the hidden waterfall' at the moment), where we wouldn't find any people. He also guided us how to get there from the backside of the Skógar museum.
By the time we were ready to take off, Jo said she was feeling a bit tired and would want to rest for a bit. Dr. Virendra, Deepak, and Dr. Nirmal also wanted to check out Kvernufoss, so the five of us (including Clara and I) headed to the Skógar museum.
The museum was closed but we were happy to explore just the outside of it, which was quite beautiful. There were some turf-roofed huts at the back of the museum. At the western side, there were some more recently built huts and in the backdrop the slopes were covered with multicolored trees, showcasing the true beauty of the autumn.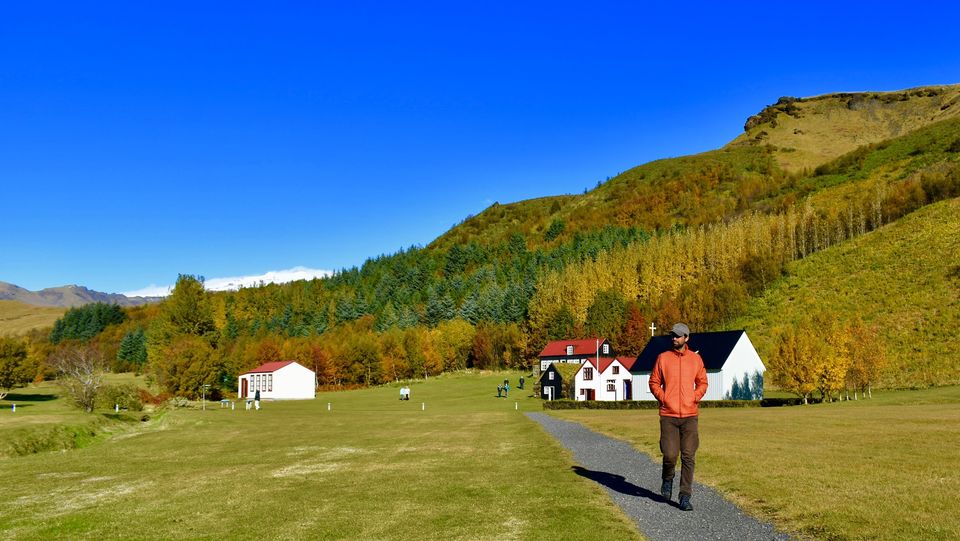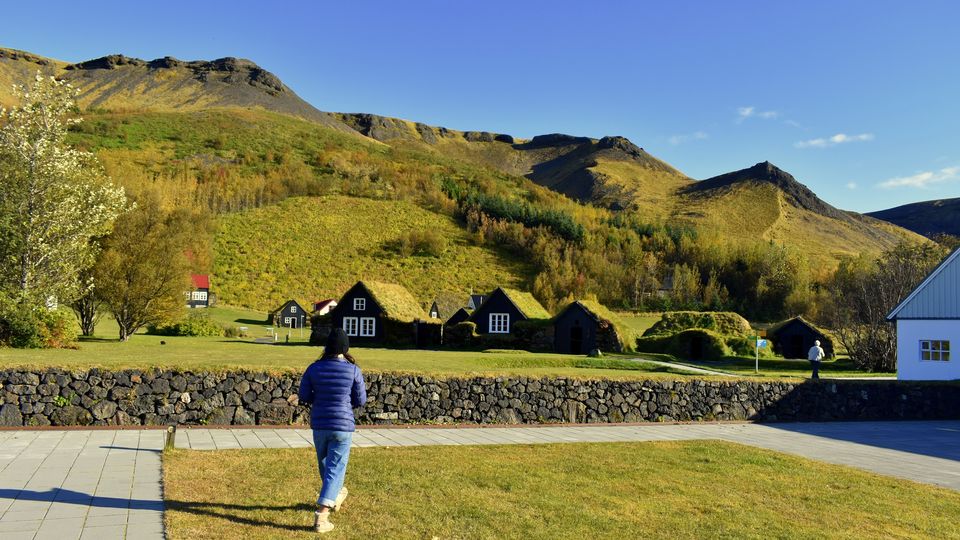 After strolling across the museum in search of a path like what Rajiv had described, I was finally able to find it at the backside of the eastern most building of the museum. The landmarks Rajiv had described were a huge metal machine scrap and a ladder over a fence nearby. I beckoned the rest to follow me and we all crossed the fence - Dr. Nirmal with a bit of difficulty.
After crossing the fence, as we began to follow the river up the path, Dr. Virendra came with the idea of taking pictures while we drink water from the river. All of us liked the idea and before he had his camera ready, Deepak, Clara, and I were already on the river like a bunch of wild animals quenching their thirst.
While we were at it, Dr. Nirmal got a call from Rajiv that it was the checkout time and we all needed to be there to get our luggage out of the rooms. Half-heartedly, we returned to the museum parking to drive back to the hotel. To lighten the mood, I asked Dr. Virendra whether I can drive. To my surprise, he let me, despite the accident we had two days ago. But I drove the short distance between the museum and the hotel safely and even parked the car perfectly between the markings for the parking slots to have something to brag about to everyone.
At the hotel, Ayaz and Sneha also joined us who drove there from Vik and had plans to stay at Skógar for the night. With Ayaz and Sneha, we had a fun time packing our luggage and spent quite some time taking stupid funny pictures, which delayed us a bit, but not by much. At the parking, we finally bade farewell with them with the promises and hopes to see each other again.
Dr. Nirmal, Dr. Virendra, and I still had the itch to see the Kvernufoss, so while the rest were ready to drive ahead, the three of us told Rajiv that we will catch him at Seljalandsfoss, which was still on everyone's radar. Deepak was more inclined to capture more of Seljalandsfoss rather than check out Kvernufoss, so Rajiv adjusted him in his car and drove off.
Kvernufoss
The three of us drove to Skógar museum again and thanks to our search for the path in the morning, we were on our way quickly. I carried both of their tripods and lens boxes so we could all walk at a relatively faster pace. The fall is about 10-15 minutes' walk from the museum and every inch of the path along the river is beautiful. About 10 minutes ahead, the path runs over a pile of rocks and is a bit tricky.
I was through the tricky patch quickly, but when didn't see the others coming, I waited for a bit. When they still didn't appear, I went back to check what was the matter. Dr. Nirmal was having a tough time climbing up the tricky path because of his aging body, and may be due to the exhaustion from the trip that was wearing everyone off. After a couple of tries to climb through the rocks, he decided not to risk it and asked Dr. Virendra and I to go ahead.
Both of us felt really bad for him and I tried to look for an easier alternate route beside the bank of the river, but there was none. On seeing our reluctance, he insisted that we go ahead and said he wouldn't mind waiting there amid the gorgeous landscapes.
As we walked ahead, I thought of a meme I had seen about an old couple sleeping in a tourist boat in Venice with the caption "why you shouldn't wait until retirement to travel." It was more of a reminder to myself, since the meme was not really applicable to Dr. Nirmal who had been travelling all his life.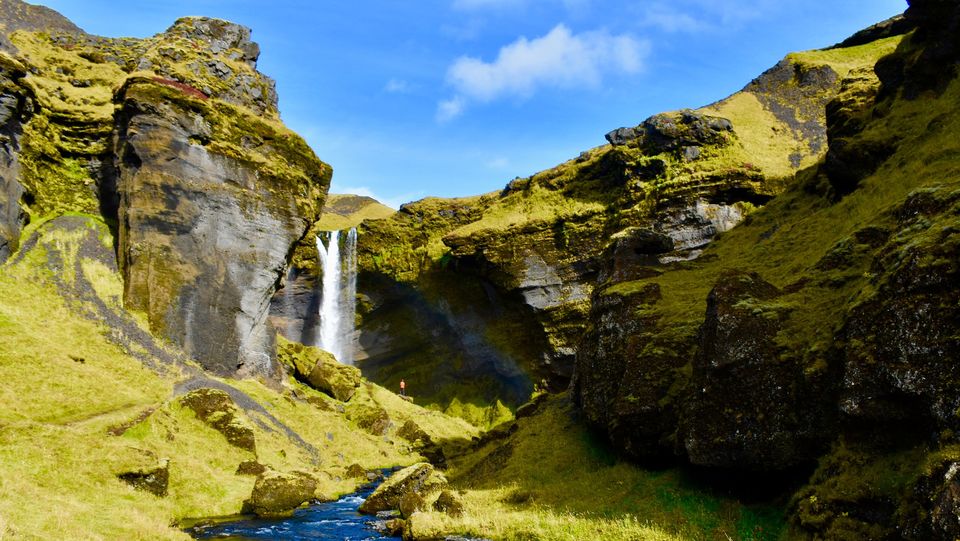 Then I went behind the curtain of the waterfall and the experience was as surreal as I had the day before behind Seljalandsfoss. But the good thing was, I had the waterfall all to myself for the entire 5-10 minutes I stood there admiring it. I had left my camera with Dr. Virendra so couldn't capture any decent photograph, but made a few clips from behind the waterfall's shower for my Instagram stories.
I could have just stand there in admiration for much longer, but since we were already running behind the rest and Dr. Nirmal was waiting for us, I had to bid farewell to Kvernufoss prematurely and return to Dr. Virendra, so we could all be on our way. Dr. Virendra also seemed quite satisfied with the clicks he took of the waterfall and the overall people-less experience he had in the lap of nature.
On the way back, after Dr. Nirmal had joined us, we described the experience to him. But we tried not to overemphasize on it, so he wouldn't feel bad for missing the chance. On returning to Skógar museum parking, we quickly drove off to Seljalandsfoss to catch up with the rest of the group.
When we got there, the rest of the group was already done with another round behind the waterfall and was now heading towards west, where Rajiv told us was another hidden waterfall. For a moment, I thought it to be something similar to Kvernufoss, but with the stream of people heading in the same direction, it didn't quite feel so.
Gljúfrafoss
The reason why Rajiv called it hidden was not because of the less amount of people who tread there, but because of its natural setting, enclosed by cliffed rocks and could only be accessed via a short trail through the narrow and almost cave-like canyon. There were about a dozen more people there, but not all were looking to enter the canyon. And a few were also coming out and it seemed that many were finding it difficult to get through.
We gathered at the mouth of the canyon where we could feel an intense shower coming through. The trail also ran through about ankle deep water, so the group had to wait and contemplate for a bit on how to enter the canyon, as they could not have risked their photography gear. In the end, only Rajiv, Dr. Virendra, and I decided to go in while Deepak, Mukesh, and Dr. Nirmal stayed behind.
After a short but careful walk, we reached a wider space from where the waterfall was visible in its entirety. The space kind of felt like a twisted inside of a dome with an open roof, which worked as the opening for the water pouring downwards. There is a huge boulder lying right in front of the fall, which is visible in everyone's photographs of the place. I hadn't known or seen any photographs of the place, but by instinct, I climbed up the boulder to experience the waterfall from a bit closer.
Rajiv and Dr. Virendra were close behind me but they were more concerned about protecting their cameras than taking the pictures or enjoying the moment. I really couldn't blame them, since I too had to hide my phone inside after capturing a few seconds of Instagram story when I climbed up the boulder. After a while, Rajiv finally took out his DSLR to take some photographs of the waterfall as I was standing on that huge boulder. Later he showed me that he could manage to take only one clear picture.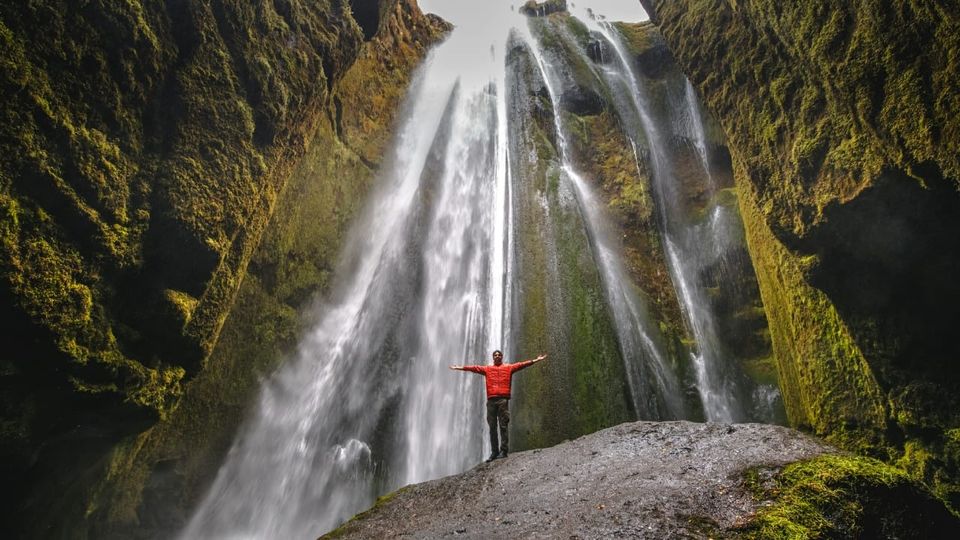 On the way back, Dr. Virendra looking up the boulders stuck between the walls of the canyon asked "what if these things fall?" I, recalling something similar being said in the movie 127 hours, replied him with what James Franco's character (Aron Ralston) said - "Of course they will. Let's just hope not today."
And it was the last natural landscape of the trip.
It was late afternoon when we finally left for Reykjavik. During the 2-3 hours long drive to the capital, the thought that it was the last drive of the trip was the constant thing on my mind. In fact, in all our minds. But at the same time, we were all too exhausted to brood about it and just wanted to reach and have a long rest.
On the way, we drove through Selfoss, the town where a museum dedicated to late chess grandmaster Bobby Fischer is located. A friend of mine at work, who is a huge chess enthusiast, had asked me to visit the museum. But given the state of things, I didn't even dare to bring it up. Besides, when I checked it on the internet, the museum had closed anyway.
A couple of days ago, during one of my conversations with Jo, I had mentioned that on the last day in Reykjavik, I would like to do a bike tour of the city. Jo, who had lived in Reykjavik for 6 months a couple of years ago, told me that she had a friend living in the city who can arrange bikes for us.
When we reached Reykjavik, it was already dark. For the night, we were staying at Andrea Guesthouse, whose owner is the same lady who owns Hotel Aurora, where we stayed at on our first night in Iceland. After staying in spacious rooms of far-off tourist spots, this Reykjavik hotel felt a very compact setting, especially with bunk beds. But we were simply too exhausted to complain.
After resting for a while, Jo asked me whether I would want to go to fetch the bikes. I was not really in the condition, but I didn't want to miss the chance of bike ride at any cost. So, finally, I gathered some adrenaline and said okay let's go.
Jo's friend, Harem (half-Kurd and half-Greek) lived more than a couple kilometers from where we were staying. Luckily he had two bikes. So initially, we planned to walk there then ride back on bikes to the hotel. But luckily, Rajiv agreed to give us a to-and-fro ride to his house, so we don't have to torture our already ailing bodies. On the way, Jo told us about the routes and buses she used to take to work and places she used to have a bite when she was living in Reykjavik; refreshing her memories of the place in the process.
As it turned out, all three of us had a nice time at Harem's, and we end up staying there for about an hour, discussing Indian and Kurdish history (mostly Rajiv and Harem). During the discussion, Harem also told us about his life story, which was a sad, but at times, an inspiring one. I want to put in some of his life experiences here, but I am not sure whether I am at liberty to share someone's life experiences like this. Besides, I don't want to stretch this already too-long travelogue.
Day 13: October 1, 2018 - Reykjavik
To mend the past few days' fatigue, everyone slept till late that day; later than usual. We had breakfast at the same Hotel Aurora basement restaurant, which was full of people. I was a bit late, so couldn't get a place at the table where the rest of the group was sitting. So I sat at the corner table, where a guy covered in tattoos was having breakfast while working on his iPad.
Since he was sitting right across me I couldn't help but look at his screen, in which he was creating more tattoo designs. It was apparent that he was a tattoo artist. After a few moments, I finally asked him about his work and complimented him when he showed me his designs, which were really beautiful.
As the conversation drifted from tattoos to our travel, he mentioned he too was leaving the country the same day and was going to Spain where he lives for 6 months during the winters. When I eyed him questioningly, he explained that winters are quite harsh and gloomy, especially if you are a resident. With no sun, not only does your body get unhealthy, but your mind too.
Later in the day, Jo would share an article from the Iceland Review magazine that talks about the same issue and how it affects children's mental health in the country. For a moment, it was difficult to digest that such a prosperous and beautiful country with such nice people could be dealing with such problems underneath the surface. But having some firsthand experiences in the arena, I know what the absence of sunshine in life can do to one, literally and figuratively.
Anyways, so for the day, everyone had a different plan. Dr. Nirmal, Dr. Virendra, Mukesh and Deepak were planning to explore cityscapes. Rajiv too had the same plan but he had specific tourist spots in mind. Jo and I had planned to explore the city on Harem's bikes.
Clara was leaving on the same evening and had some work at the bank, and asked Jo to accompany her when we were outside. So, as it turned out, Jo and I parked the bikes somewhere on the streets before even pedaling and all three of us explored the city and its market on the foot. One of the first shops we entered was a tourist guide kind of establishment, where you can fetch maps, city bike routes, and travel brochures for free.
As we strolled further and stopped by a few other shops, I bought some souvenirs and Icelandic chocolates, which Jo recommended (which turned out to be quite bitter when I distributed them among friends and family on reaching India). Jo and I both were also fascinated by the Icelandic sweaters, but they were out of both our budgets. Jo already had one but was looking for one for her friend, but she couldn't find a design to her friend's liking.
At the bank, where Clara had to do some currency exchange, we had to wait for quite some time. While we were waiting, Clara came up with the idea of clicking the picture of our hands with some Viking markings on them, which she drew with the pen she was filling her bank forms. Later the photograph kind of become the farewell photograph for the three of us.
It was already afternoon by the time we left the bank. The girls still seemed interested in shopping and I felt the time window for cycling squeezing bit by bit with every passing minute. So, I told them to continue their shopping, fetched my bike, and headed to the shore across which the cycling track ran. Jo suggested me a few spots along the cycling track in the map we took from the tourist guide shop, but I couldn't figure out the routes. So I just decided to pedal wherever the path led.
First, I made a stop at Harpa Concert Hall, especially because it had started raining. I parked my bike outside, went in and stayed there for about 15-20 minutes, strolling across the building, admiring its unorthodox architecture. After getting out, I headed back in the direction of Sun voyager and rode ahead through different residential areas, including the neighborhood where Harem's house was.
It was pouring really hard now and my outfit wasn't fit for the condition, except for the raincoat-upper I had on, so I was drenched to the skin. But cycling across the Atlantic was something from my bucket list, and I had to do, so I kept riding.
On the way, I got the message that Clara was leaving and Rajiv was driving her to Keflavik. Jo was also with them. I was in no position to reach back (at least not without making them wait for a terribly long time), so I found a shed nearby and called Clara's with my drenched hands to say Goodbye.
The cycling track ended after a couple of kilometers, where there was a mill kind of establishment. I tried to find any other tracks and took a couple of detours, but there wasn't any, so I decided to head back. By now, the rain had also stopped and only a light drizzle was on. So, on my way back, I rode slowly and also got to enjoy the scenery around.
On the way back, I met a Mexican guy and his son (probably in his grade school years), who were also cycling there. When I was riding pass them, I smiled at the kid, who promptly called "Ola" after me, thinking I was a Latino. Thanks to the Latino girls I was travelling with, I understood the greeting and responded quickly, but immediately made clear that I could only converse in English.
I joined them for the rest of the ride. As we got into conversation and told them about my trip, the guy (Rodrigez) told me that he was living there for 3 years with his wife and son (Lucas), and told me that Lucas was already fluent in 3 languages - Spanish, English, and Icelandic. Wow!
Near the Sun Voyager, we parted as I rode inside the town, but took a photo with Lucas before parting. And thanks to the father-son duo, my bike ride, which had started as a forced and uncomfortable one, eventually turned out to be quite a nice one.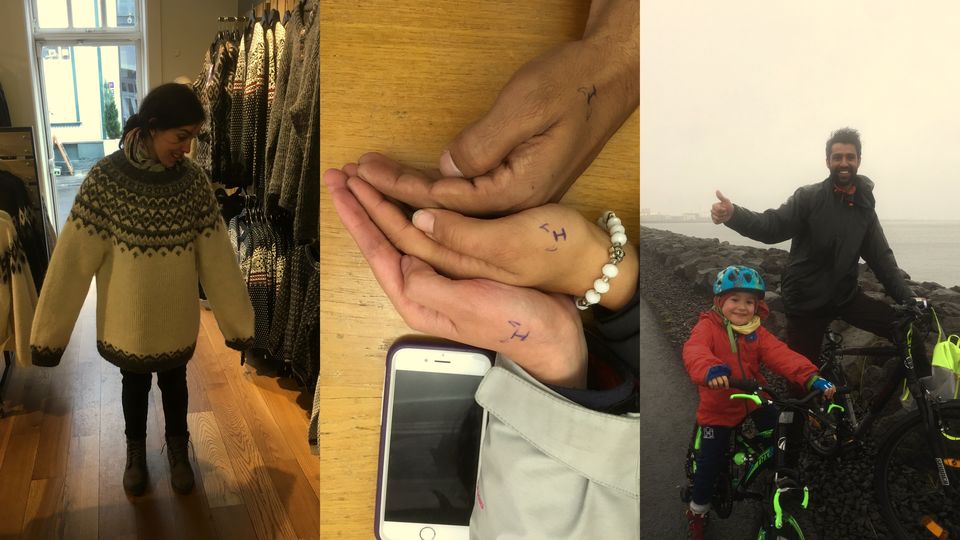 At the hotel, my room was locked since Rajiv and Jo both had went to send off Clara. So, I had to take refuse in the other room. But since I was soaked to the skin, I had to sit on a chair in front of the wall heater. After I had dried up a little bit, Deepak offered me to get in his quilt. But I had to refuse since it would have wet his bed.
After about an hour's wait. Rajiv and Jo arrived. At once, I changed into dry clothes. That evening, I finally got the chance to prepare the poha (Indian dish), whose readymade packet I had brought from India and was carrying throughout the trip. No one else seemed really interested in the poha, so I only shared it with Jo, who liked it.
Later in the evening, Jo and Rajiv drove to Harem's again to put off the bikes at his place. I wanted to accompany them, but I was just too tired after riding the bicycle with an already exhausted body. So, I just went to bed when the dusk fell and my exhaustion kept me from thinking and get overwhelmed by the thought that those were the last few hours of mine in Iceland.
Outro
Our flights were at around 7 AM in the morning, so we had to wake up really early in the morning. My flight was routed via Helsinki, while others' via Copenhagen and was leaving about half an hour later. Jo's flight to LA was some time later in the day, so she was staying at the hotel till noon. At the door, she hugged everyone goodbye. I was the last one out of the hotel room and gave her a long hug, and told that I was so happy that I met her and thanked her for her good company, which made the trip much more beautiful than it already was.
In fact, I am thankful to everyone in the group and their good company. Without them the trip wouldn't have been as wonderful as it was. I am sure a lot of amazing things happened with them during the trip and a lot of beautiful thoughts resonated their minds. But unfortunately, I could only document what happened around me and inside my head.
I am thankful to Deepak for his sincerity towards others, towards nature, his nature to put others first before him, and showing me that there are still people who do good for the sake of doing good, and not for being seen doing it.
I am thankful to Dr. Nirmal for his passion for travelling and his courage to do things beyond what his aging body allows, something which I hope continues to inspire me for the rest of my life.
I am thankful to Mukesh for his positivity towards everything life is made up of and whatever life brings his way.
I am thankful to Dr. Virendra for his passion for learning and his habit of keeps on trying things against odds and his ability to lighten the mood, and the way he articulates things in a poetic manner.
I am thankful to Jo for her taste in music and sense of aesthetics, which gave me someone to talk about random stuff that anyone else might have found boring.
I am thankful to Clara for her wandering instincts and her ability to see beauty in everything that taught me that there never really is any comparison between things. And of course for keeping me company in my wanderings.
I am thankful to Sneha and Ayaz for their ability to live every moment to its fullest and spreading the joy everywhere they go.
I am thankful to Rajiv who, without knowing me, understood my aspirations in life and encouraged me to follow them during and after the trip; and later pushing me to write this travelogue.
I am thankful to people at home - family and friends - for their best wishes and support, which made the trip successful.
I am thankful to every other person I met during the trip, every random conversation with strangers, and every smile exchanged, all of which continued to make the journey more beautiful and more worthwhile.
And I am thankful to Iceland's eternal beauty, which was never underwhelming despite our constantly soaring expectations as the trip progressed. And for some reason, its other-worldly beauty never overwhelmed me either. It was exactly how I had wanted it to be. Whichever place I visited, whichever path I tread upon, known or unknown, with people or not, everywhere I felt a sense of belonging, a feeling of home.
Ég þakka þér þá von sem þú gafst mér