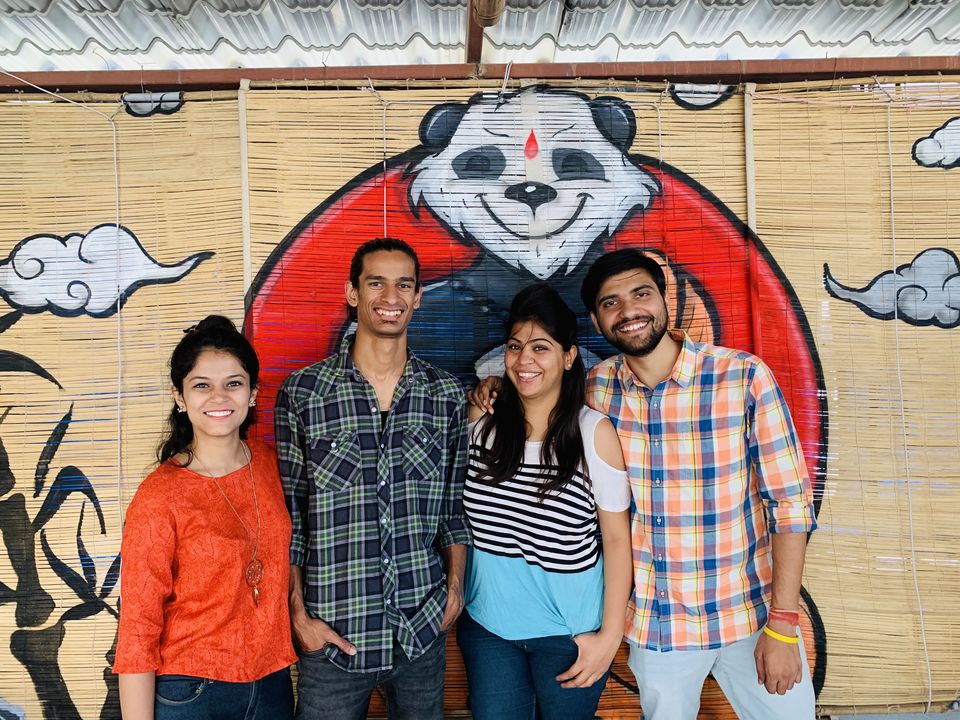 Mumbai - A city filled with so much energy and so much to give and take. One wouldn't disagree that you'd probably take months if you are planning to explore this place as it has so much to offer you. Call it places, food, people, shopping and millions of things like that.
Anyway, been to this city multiple times, different places and always end up doing something new always. I guess this time I did a good thing by penning few things down. Hope you may like it :)
Based on my nature this one was a sudden and unplanned journey as well. Decided with three of my friends this time, I booked the bus tickets and train tickets through Goibibo as it's a faster and easy way to book. So, we were good on that part. Also, booked a hostel named CoHostel in Bandra (as that's one of the best place to stay for backpackers like us).
However, life isn't easy though! Right? Everything was set apart from all 3 of my amazing friends who were coming along. They had their own things to handle on the same day.
I did manage to convince all three at the end though so that's a good beginning to the trip.
Me, Praisy, Gaurav and Surbhi were the names :) To give a heads up - this trip was planned when we were sitting in Shambu's coffee bar. Prais will be leaving the town by the end of this month (ahmedabad). So, we wanted to make sure that we go somewhere before she leaves for good for a new journey (to her favourite place - Bangalore).
And, Prais being the most amazing person on the planet, calls me up when I'm on my way to pick her up for the journey and she surprises me saying she's really not doing well and it will be impossible for her to join us. It was a shocker as that was a blank phase for us to decide what to do now (I was in the middle of the road with my bike thinking and also talking to Gaurav and Surbhi over the phone). The bookings were done and everything was set but I wasn't planning on going without her obviously. I am glad I didn't just give up. I decided to go to her place and talk to her as I still had an hour before the bus leaves. So, I'll cut it short and say that I just went to her place didn't let her think too much as she was all dead walking when she walked down to see me and I just picked Her up with her bag and asked her to just come, assuring her that I'll take care of her like a baby :D
I assured her that she won't regret it. I hope she doesn't :D
So, yayyy we did leave - the 4 of us in a AC sleeper okayish bus (Chiraag Travels). It's a good bus, budget friendly and not too bad for 700 bucks! Took approximately 11 hours to reach Bandra though.
We dropped in around 11 and checked in to CoHostel which is located in the midst of Bandra West you can say. It's a hostel kind of a setting with 6 bunk beds in a room. Most importantly it's clean and the best set up for back packers and ones who travel alone or like to explore or know new people or even keep themselves away from the usual crowd.
We were welcomed by Julia, a girl from Poland who was volunteering at that time.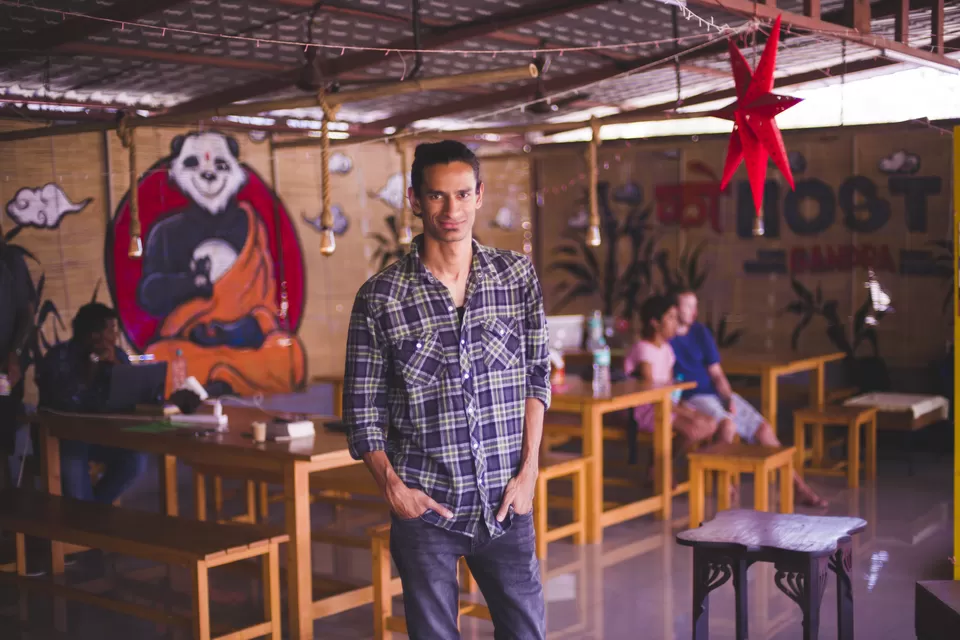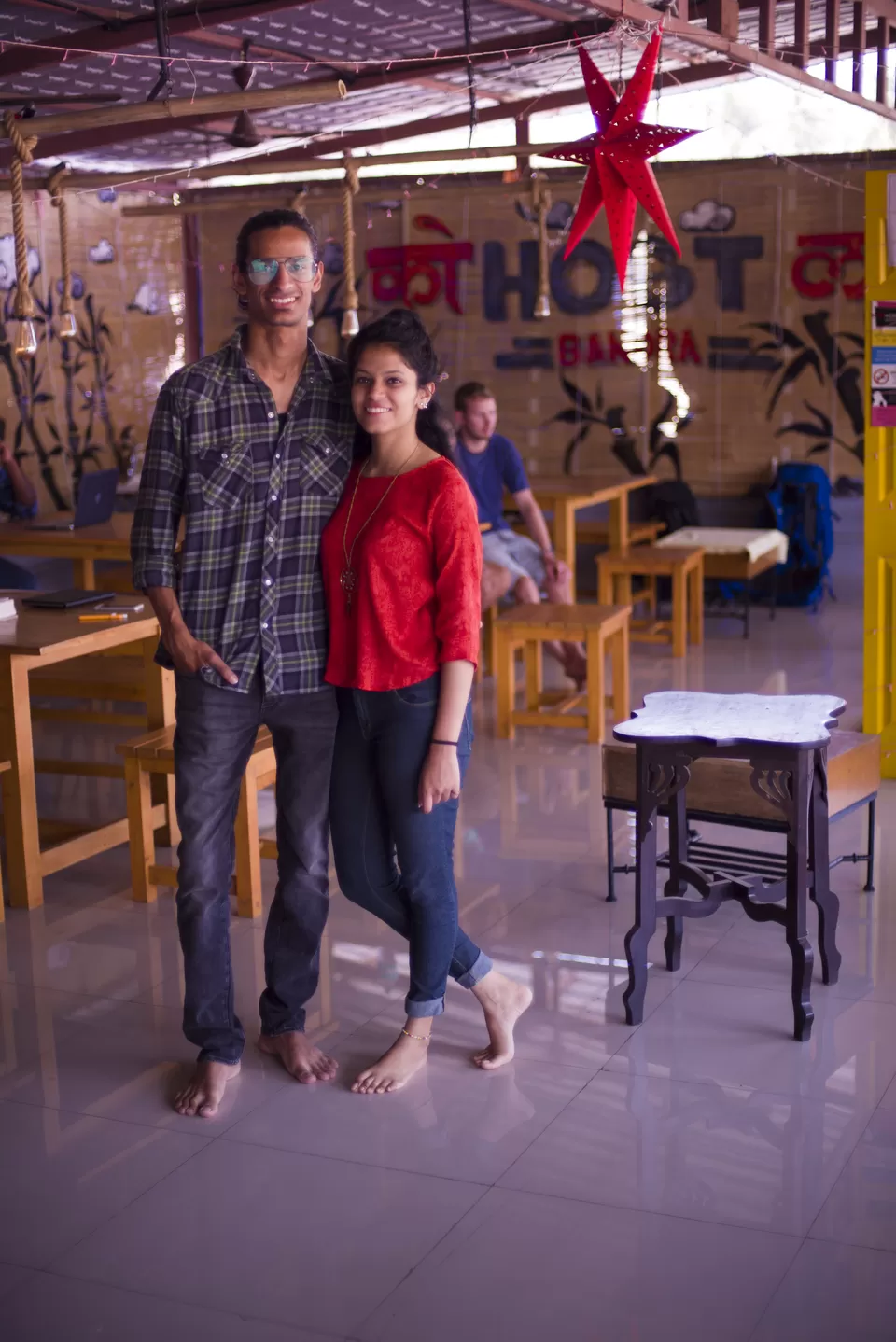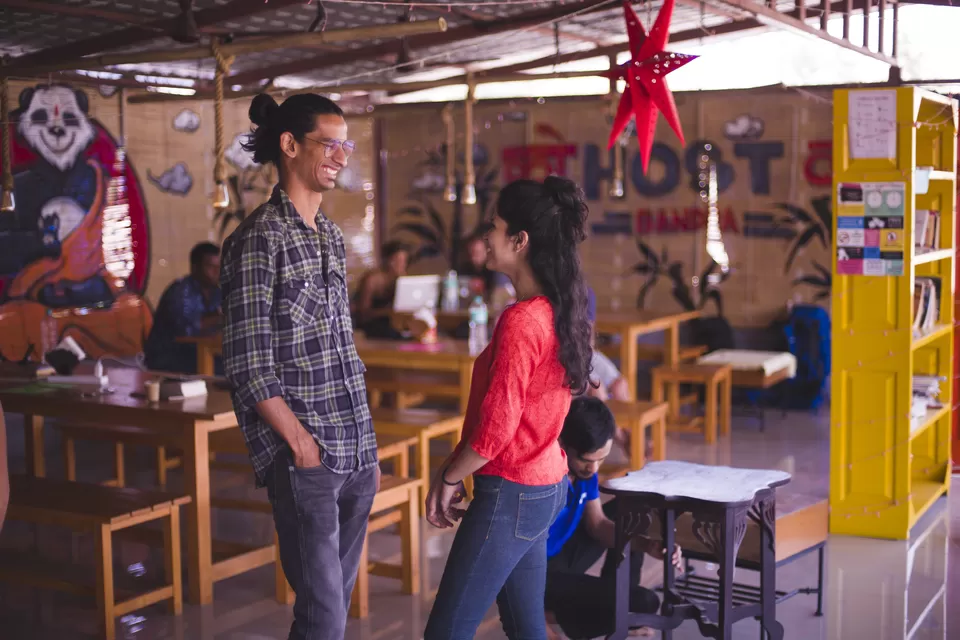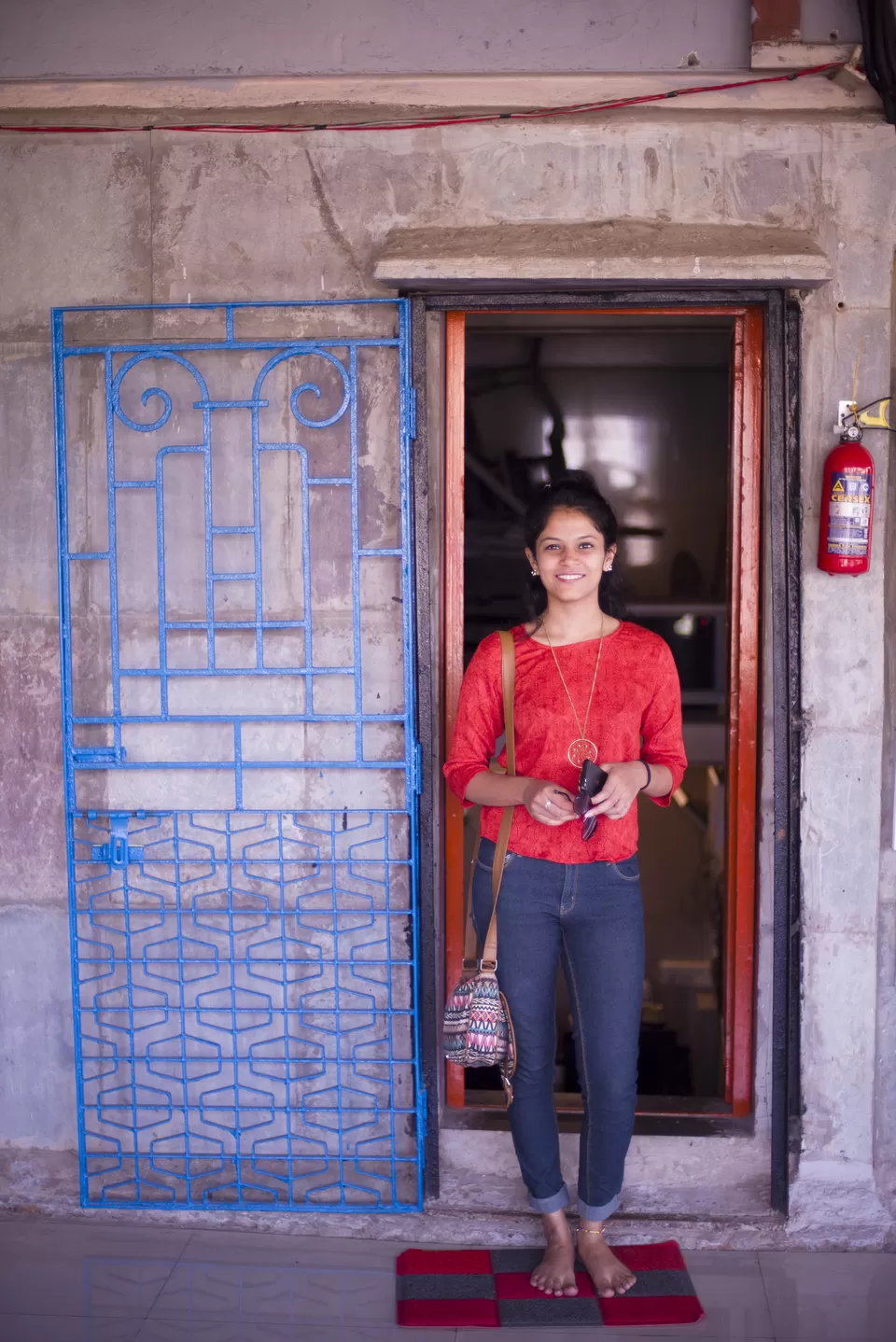 I have already been to this place and this was my second time but it was really nice to see more conceptual things introduced to the place which made it so lively and friendly for youngsters and travellers coming from any part of the world.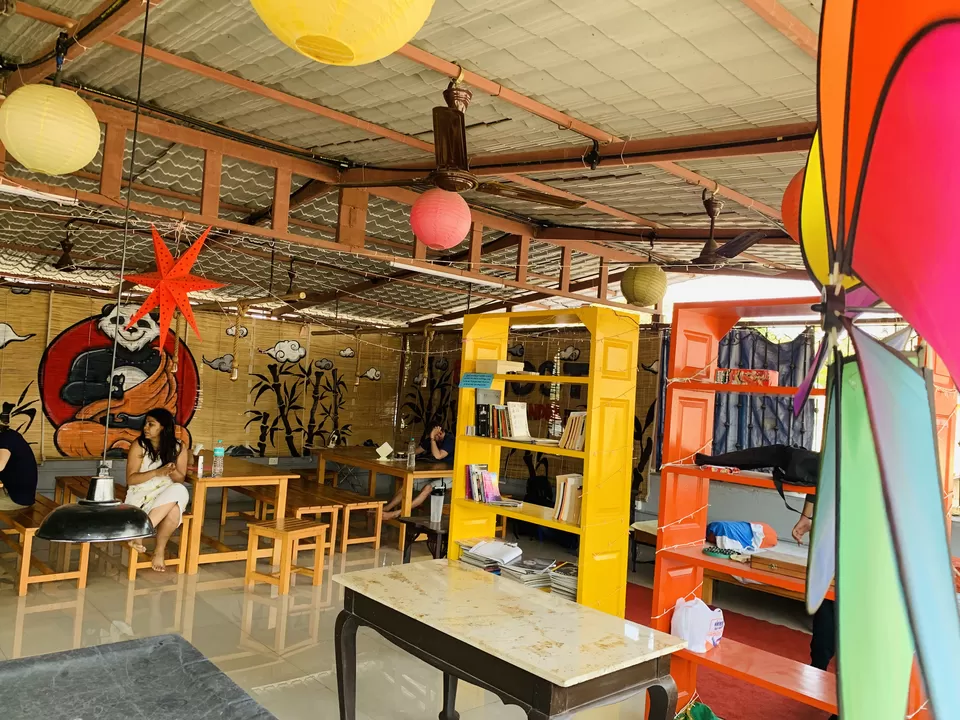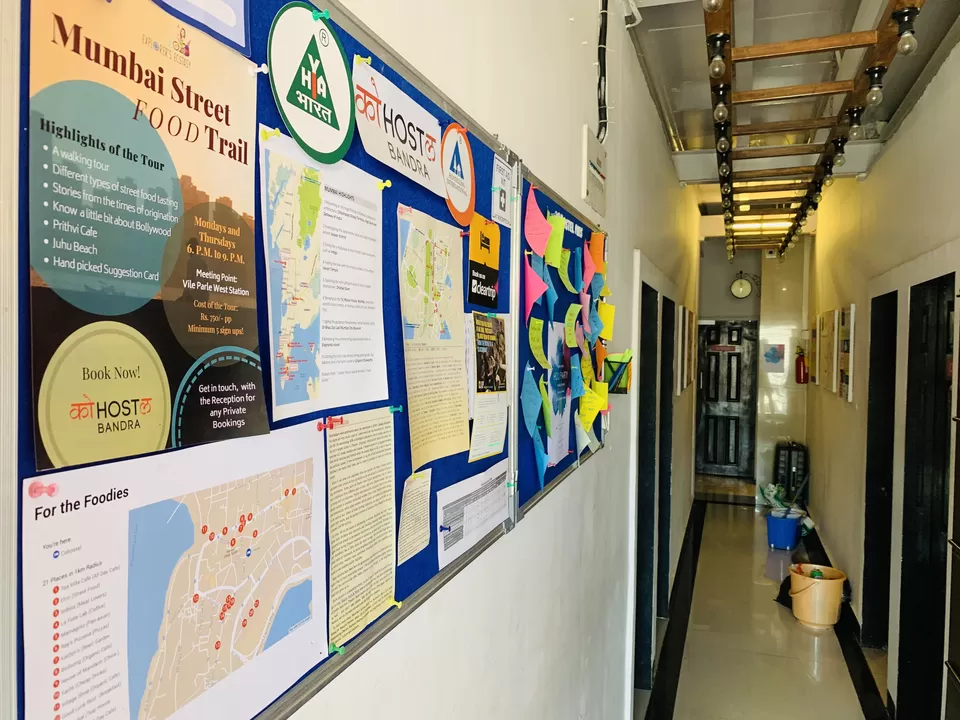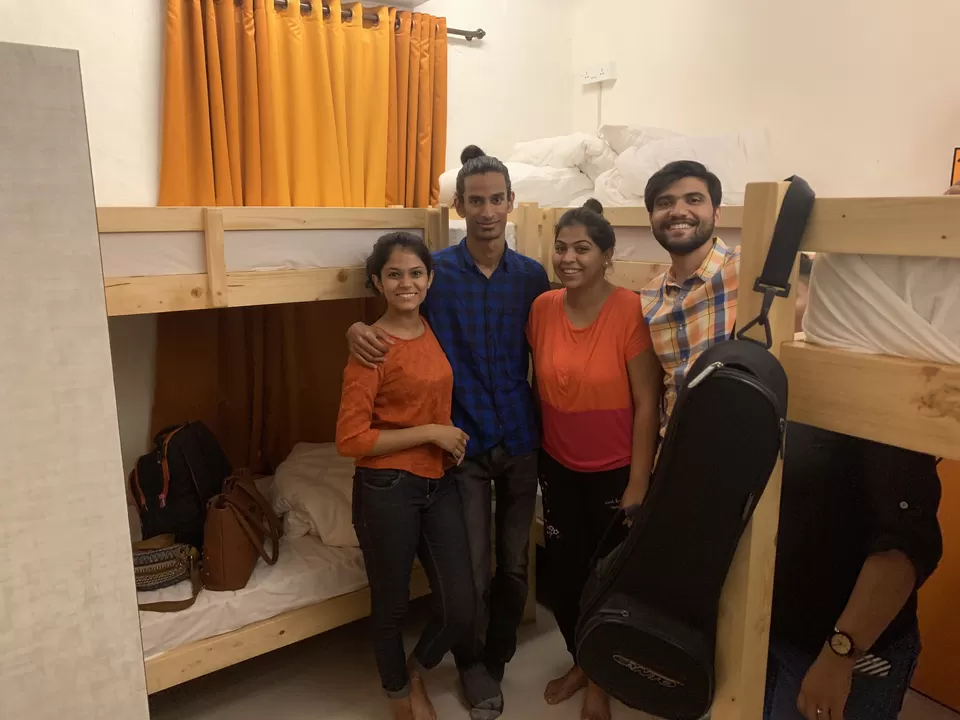 We were exhausted by that time and just wanted jump into a pool which wasn't available ????
Unfortunately, there was no water until 6 pm as something went wrong so we couldn't have bath which was disappointing but we didn't give up so soon... we took some rest and left for Bandstand in the evening without having bath because ghumna zaruri hai!
It was the most important task to complete - Going to Mannat, because Prais was looking to Meet ShahRukh khan there it seems!
She was sad that SRK didn't come out to meet her but she freaked out anyway as she was at least quite close to where he stays and I also promised her that we'll meet him soon. She trusts me!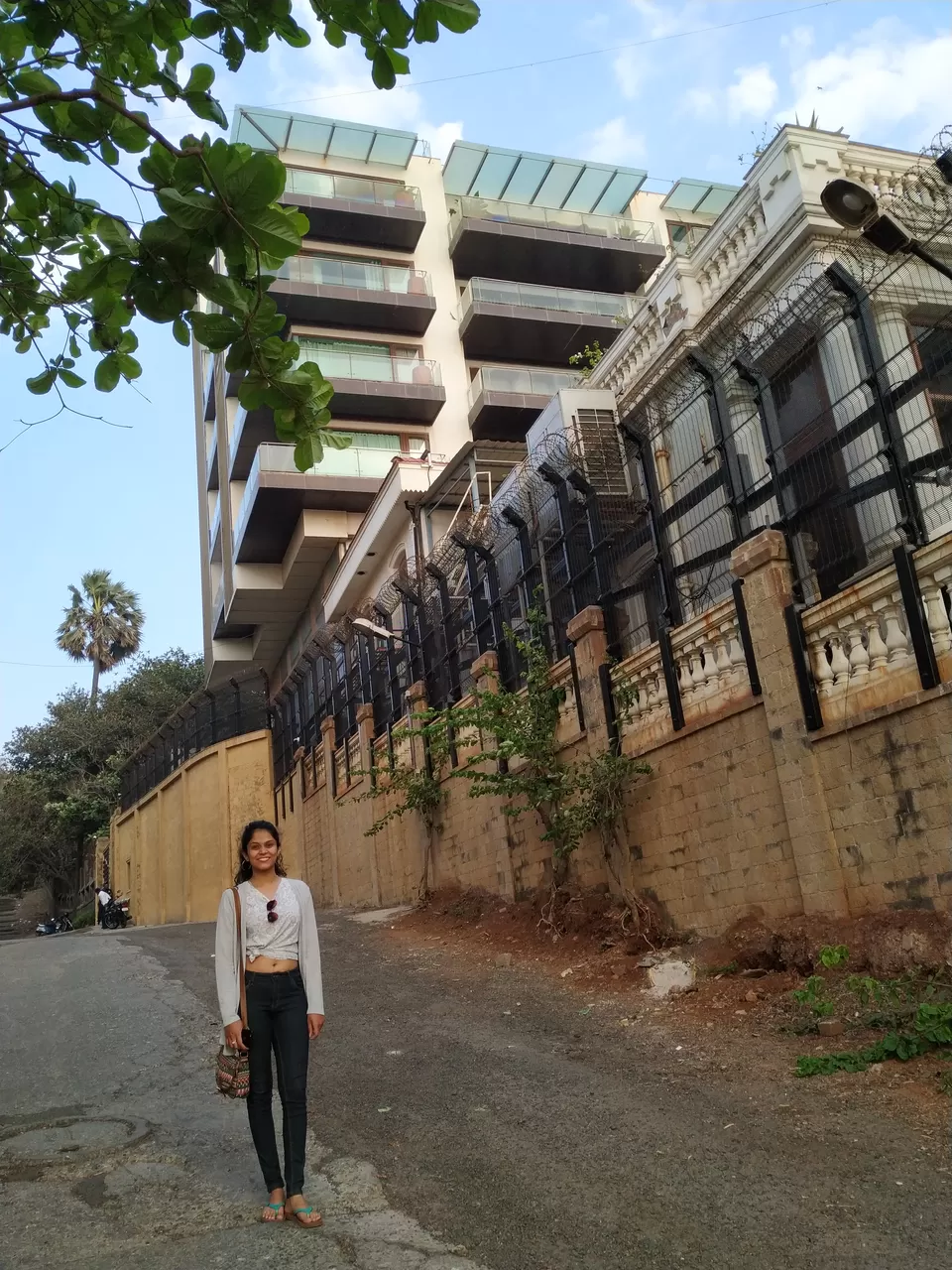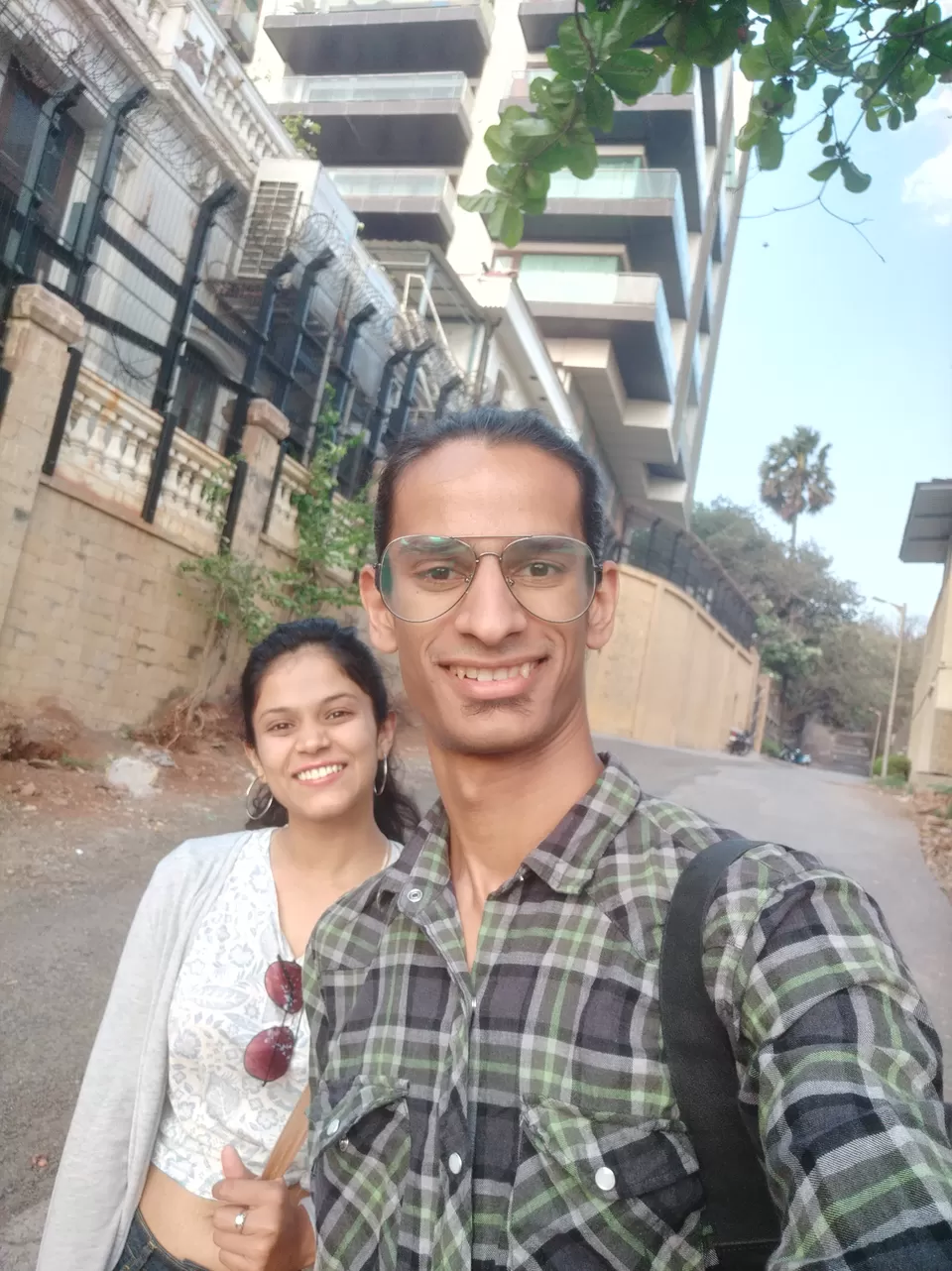 We then went close to the water and watched the sunset. And it was heavenly in literal sense. The clouds and rays and the sun just synced in perfectly as it should have been. Just look at the pictures!!!!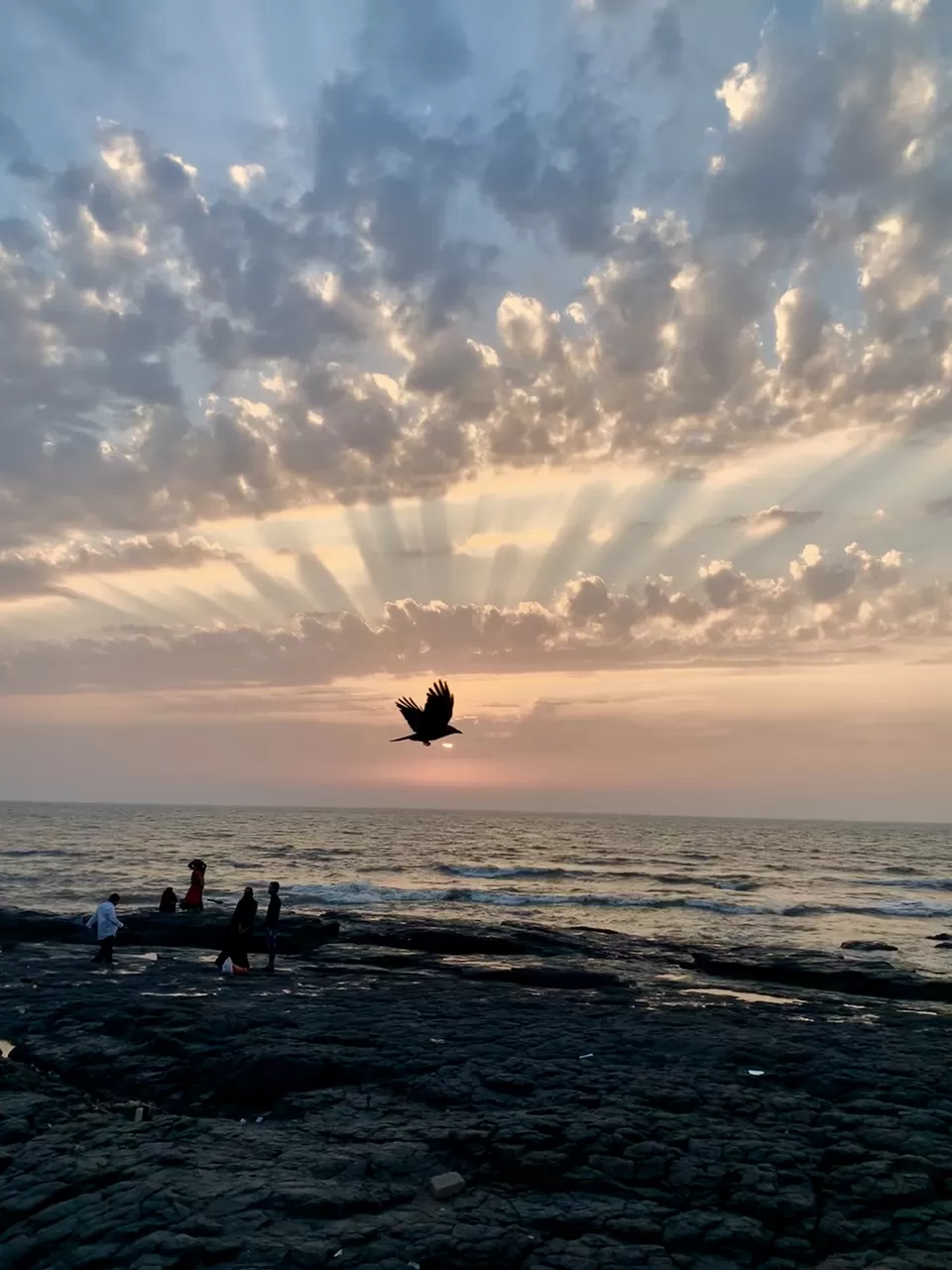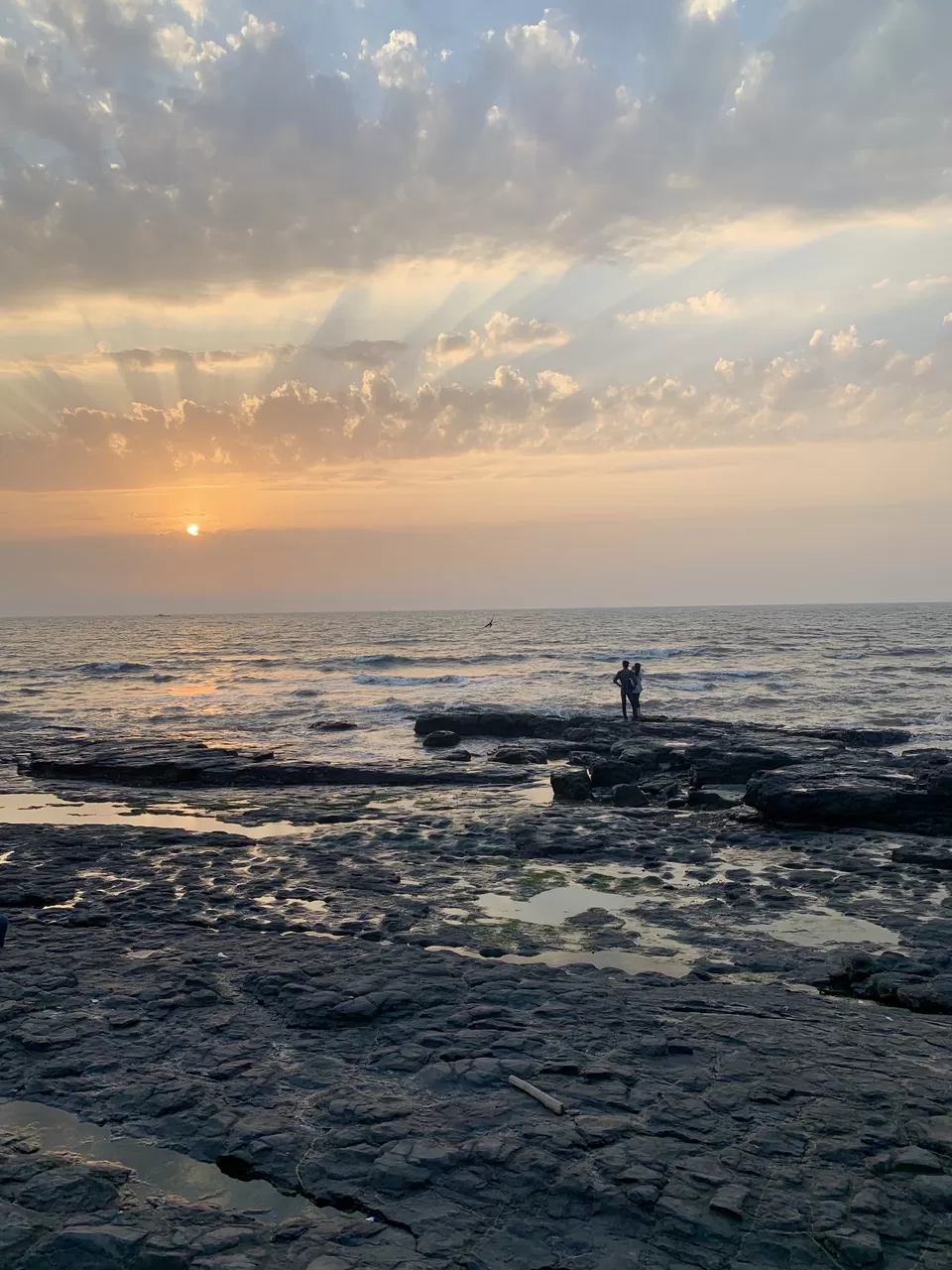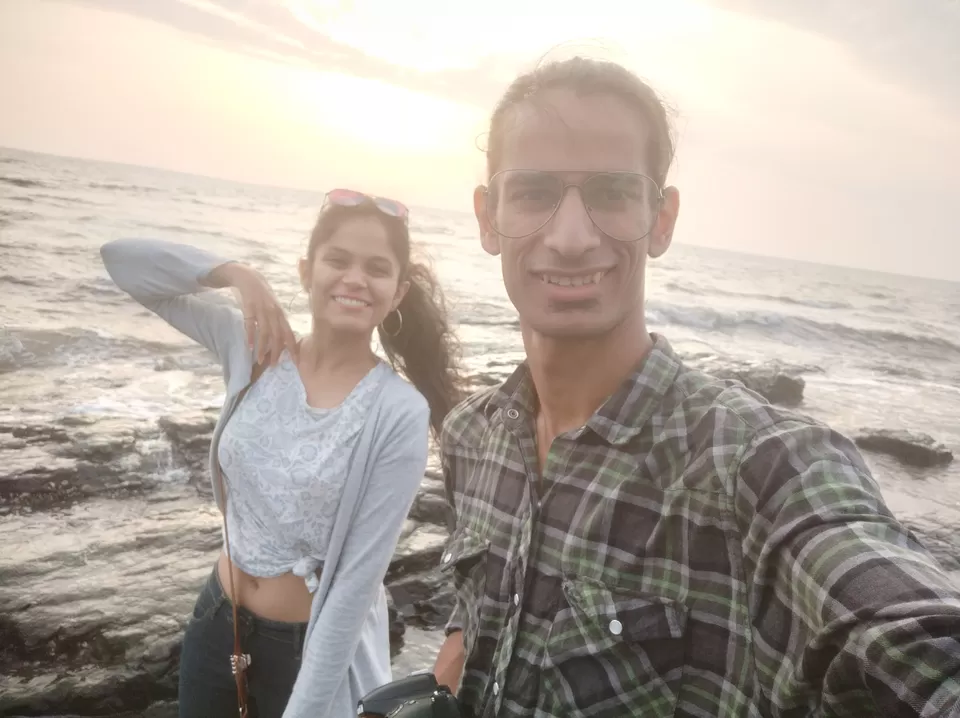 I also had my heart fall out as I slipped so bad on the slippery rocks while walking but thankfully, Prais was there and I got saved somehow but it was quite funny ???? (Mannat k bhar Prais ne meh hu na style meh Kittu ki jaan bacha li :D :D)
I am glad nobody saw that though.
As the sun went down we walked back to our rooms to prepare for the night.
Finally we got shower and all were tired-fresh and on a sleep mode after that.
We searched for a good place to party as Surbhi was the most excited from all of us, to party - get drunk and dance and shit
So, we went to Bora Bora and for some reason we all were quite dull and low and not talking to each other at all. I wasn't really sure anymore if it was going to be a party night or anything exciting at all. I anyway drank my way through the night to keep up with my mood high.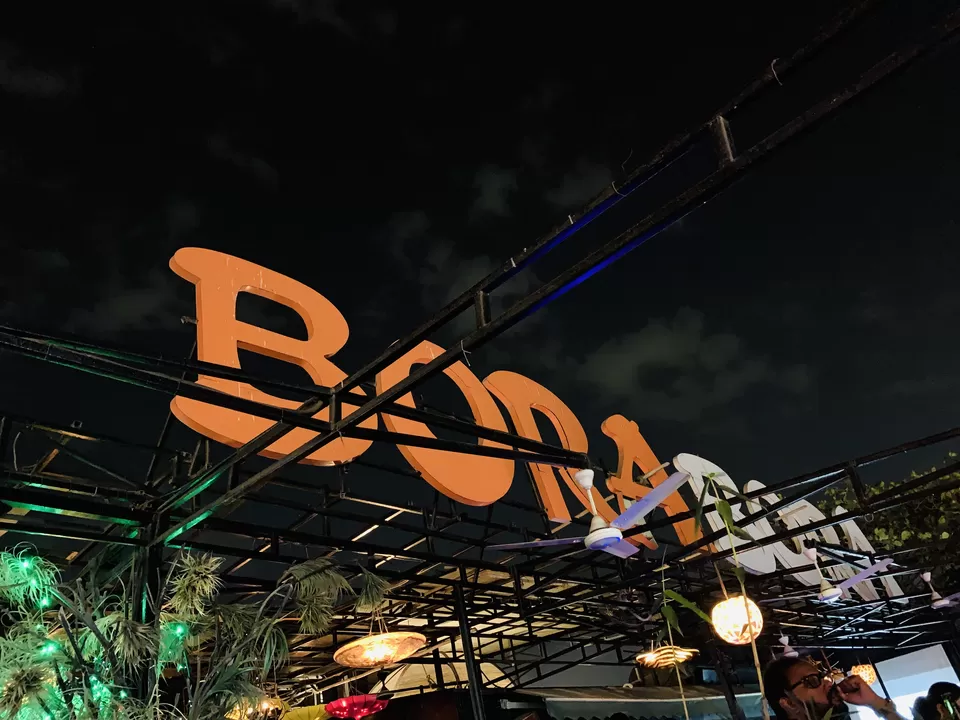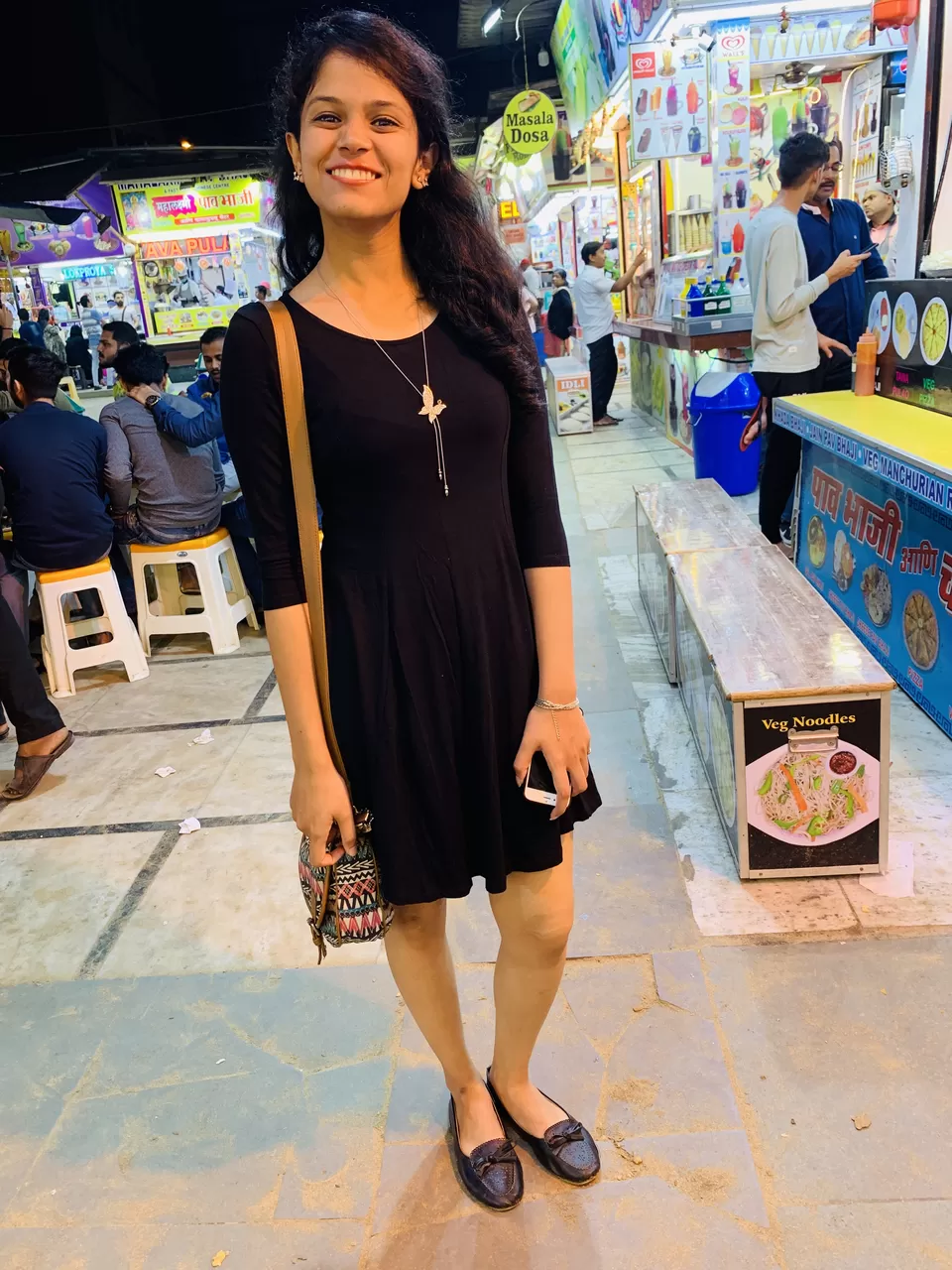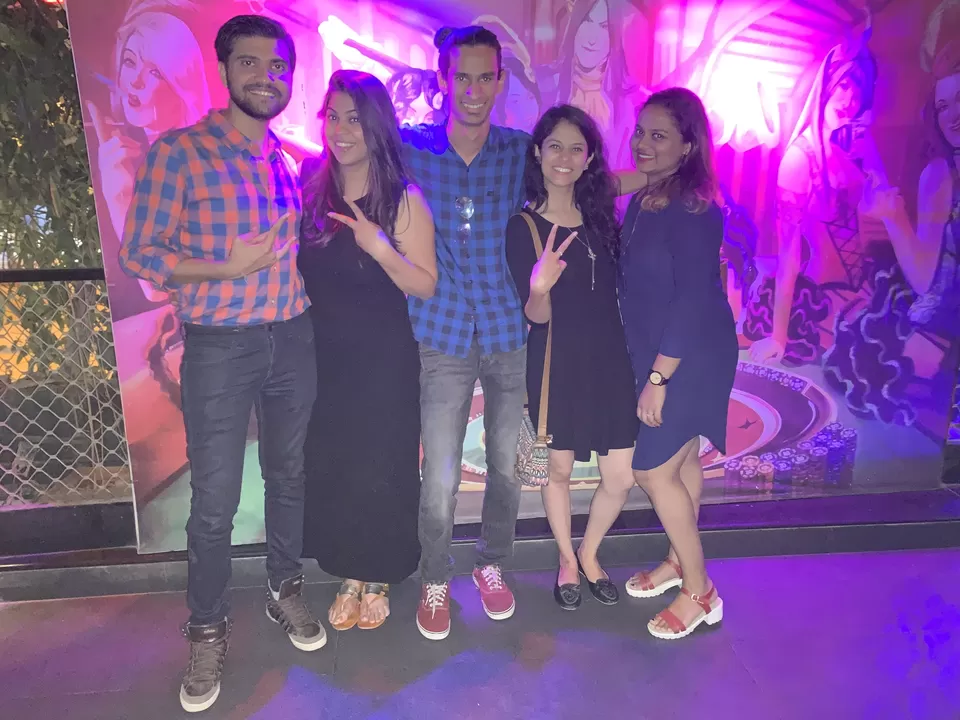 Luckily Surbhi was back to her usual mood and then everyone was like let's have some shots now...
I was quite drunk by then but then who cares, we had few more shots to make sure we don't look sober when we get back home.
The alcohol really pulled out our goodness within so we were being really nice to each other like childhood friends ????
So we returned home and sat together on the rooftop. We talked shit and we also had strangers accompanying us there. We talked shit with them too. Some cool fellows from different parts of the world. Faces that I don't even remember now.
It turned out to be an important night for us.
We talked about important things in life which we miss out because of our usual lifestyle or work culture.
Having slept like babies later, we got up with the best hangover this year.
I was the only one who got up early so I decided to write about this short casual trip by the time the others wake up.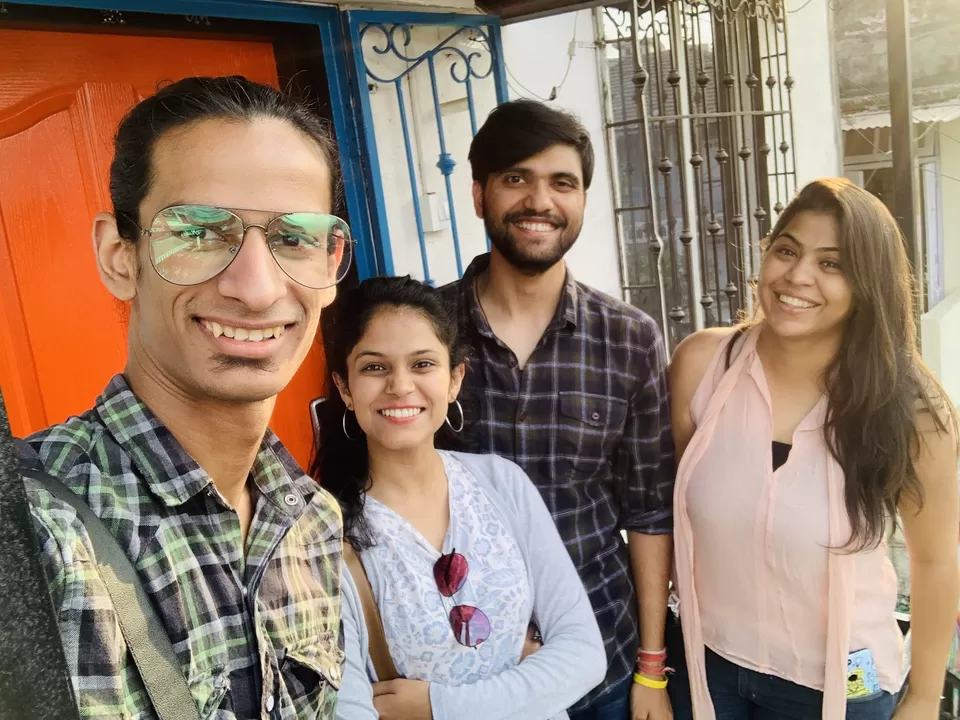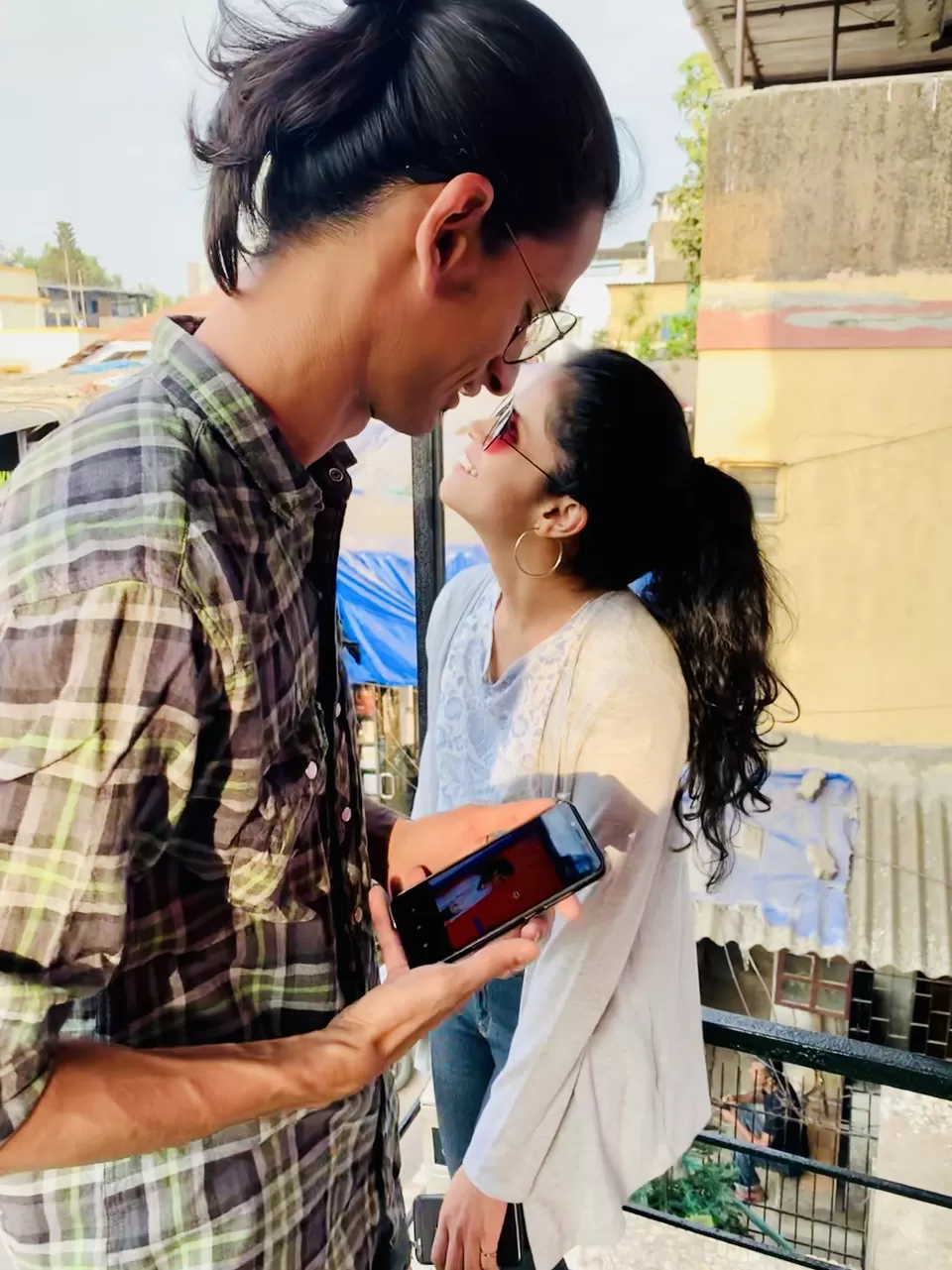 It was already afternoon of the second day and we decided to start the day by visiting gateway of India. Now, here comes the fun part!! We went by train. I have travelled by train before so I know how it works here. For Prais, Surbhi and Gaurav it was like one of the first experiences I think. Luckily while going to our destination, it was less crowded so it didn't bother us much.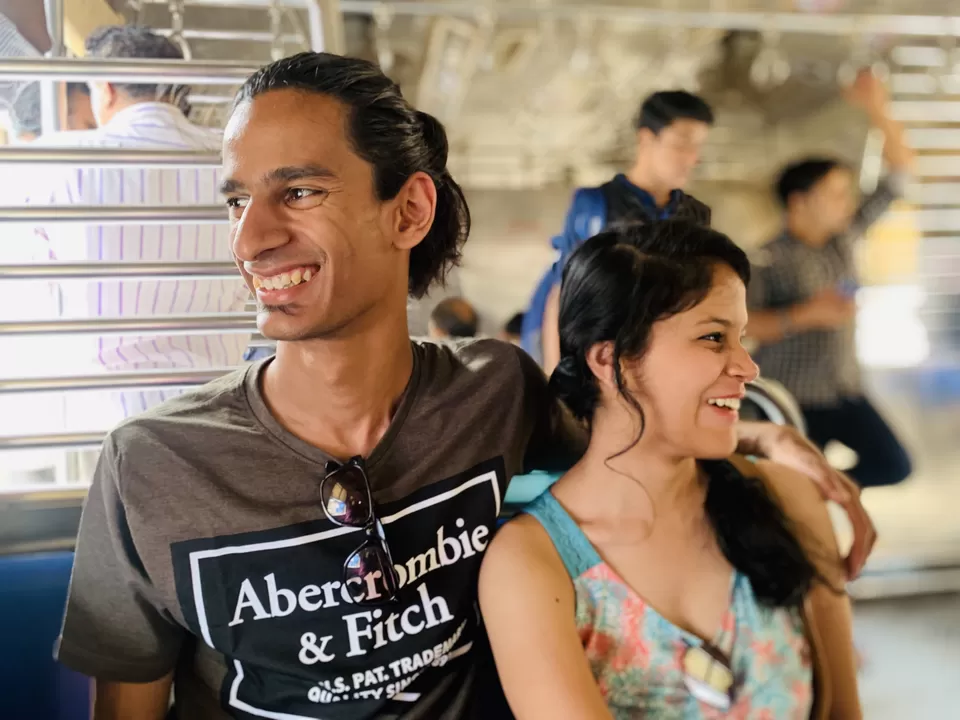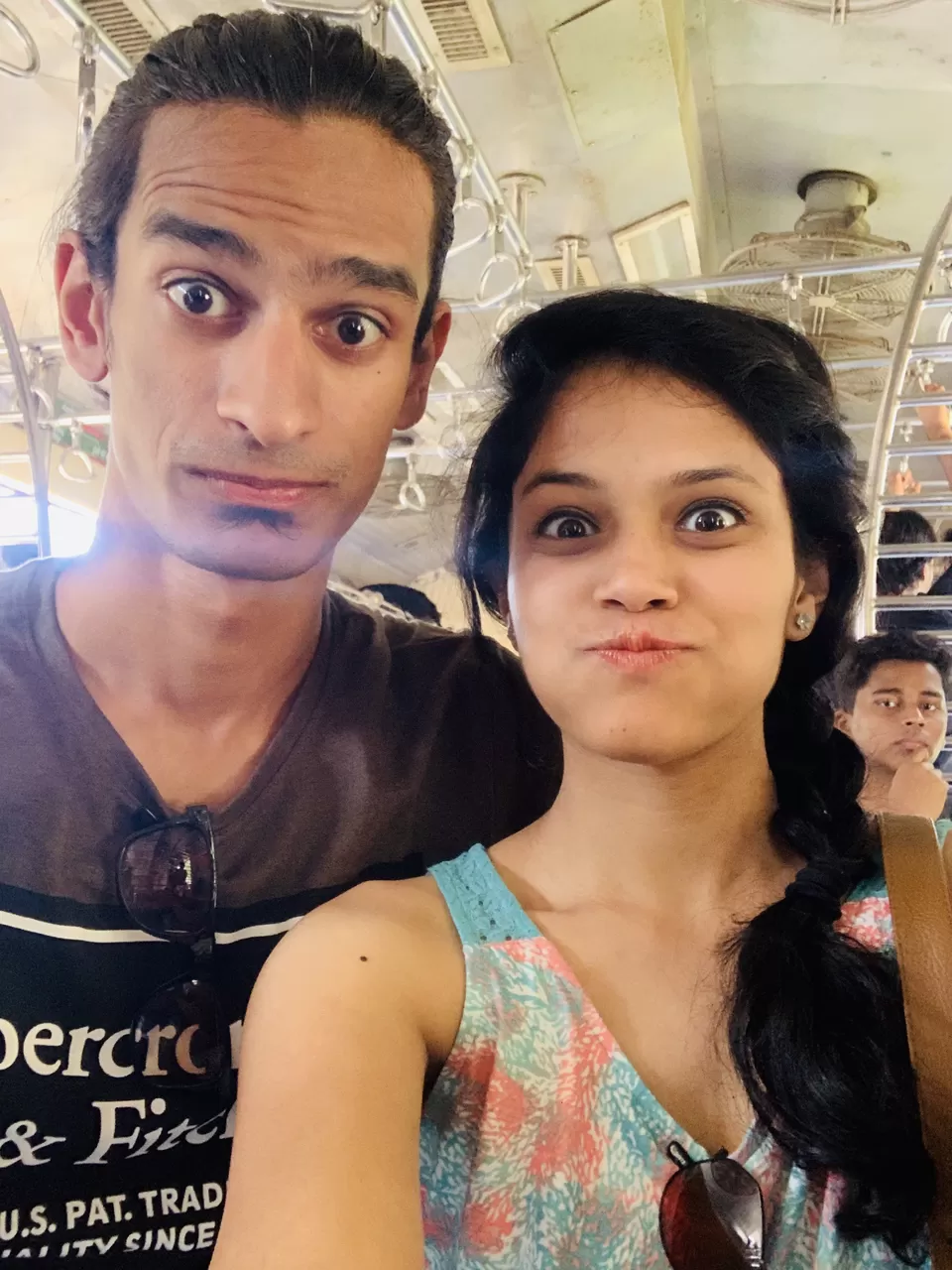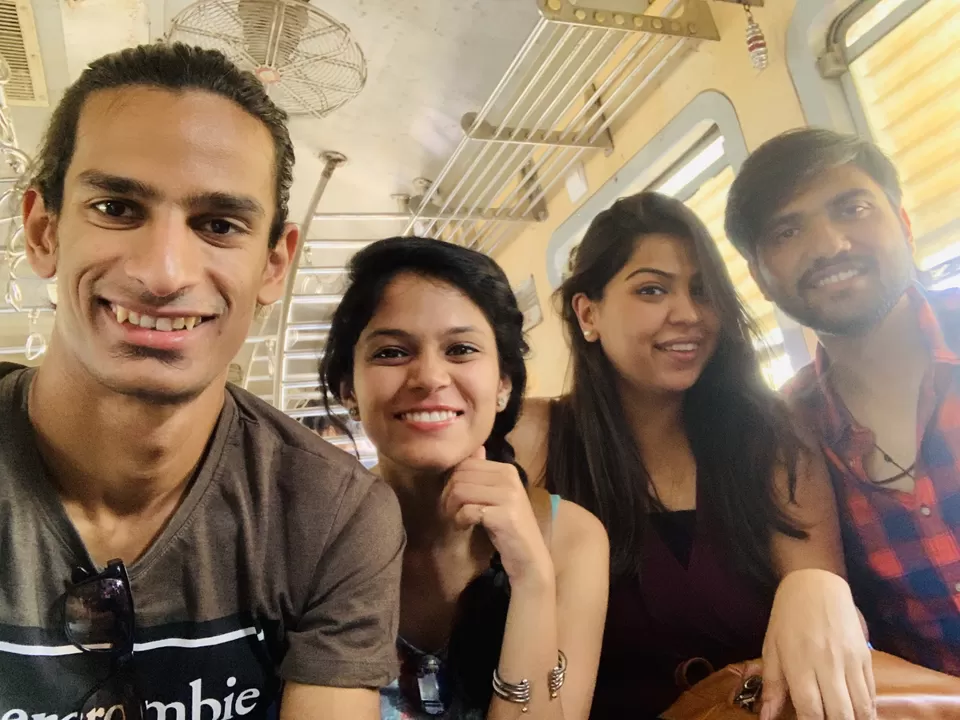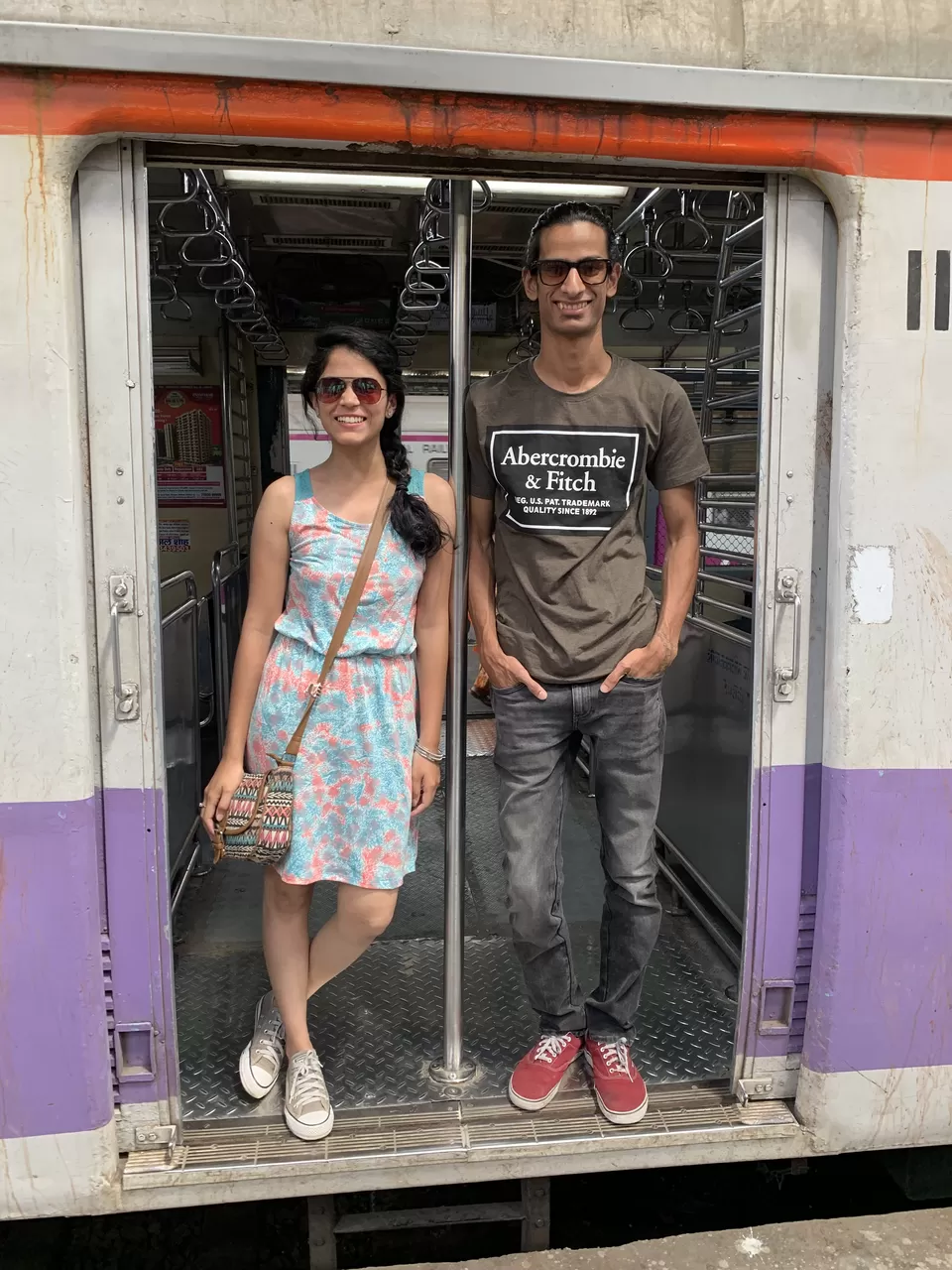 By the time we reached, we were damn hungry and decided to stop by a Zomato Gold restaurant. We stopped by The Goose and the Gridiron. Quite and amazing place to go to. The interior was maasha Allah! Covered with fairy lights and so many colourful props and textures. It was all that I needed for good pictures. Obviously, we took a lot of pictures there.
Food was okay, comparatively. Felt like we spent more than we ate there. Just 80ml of Mojito was for 450 bucks!!!!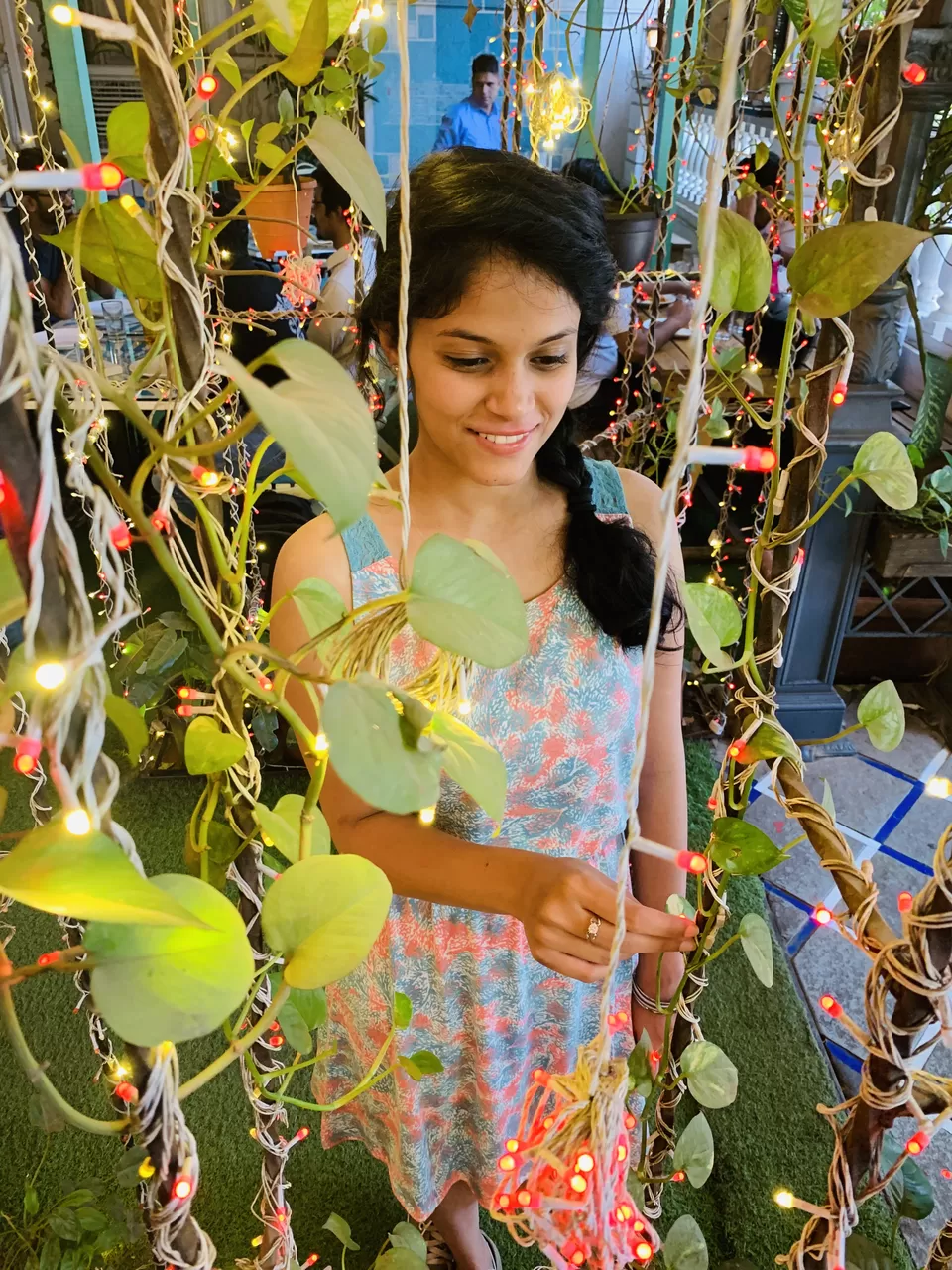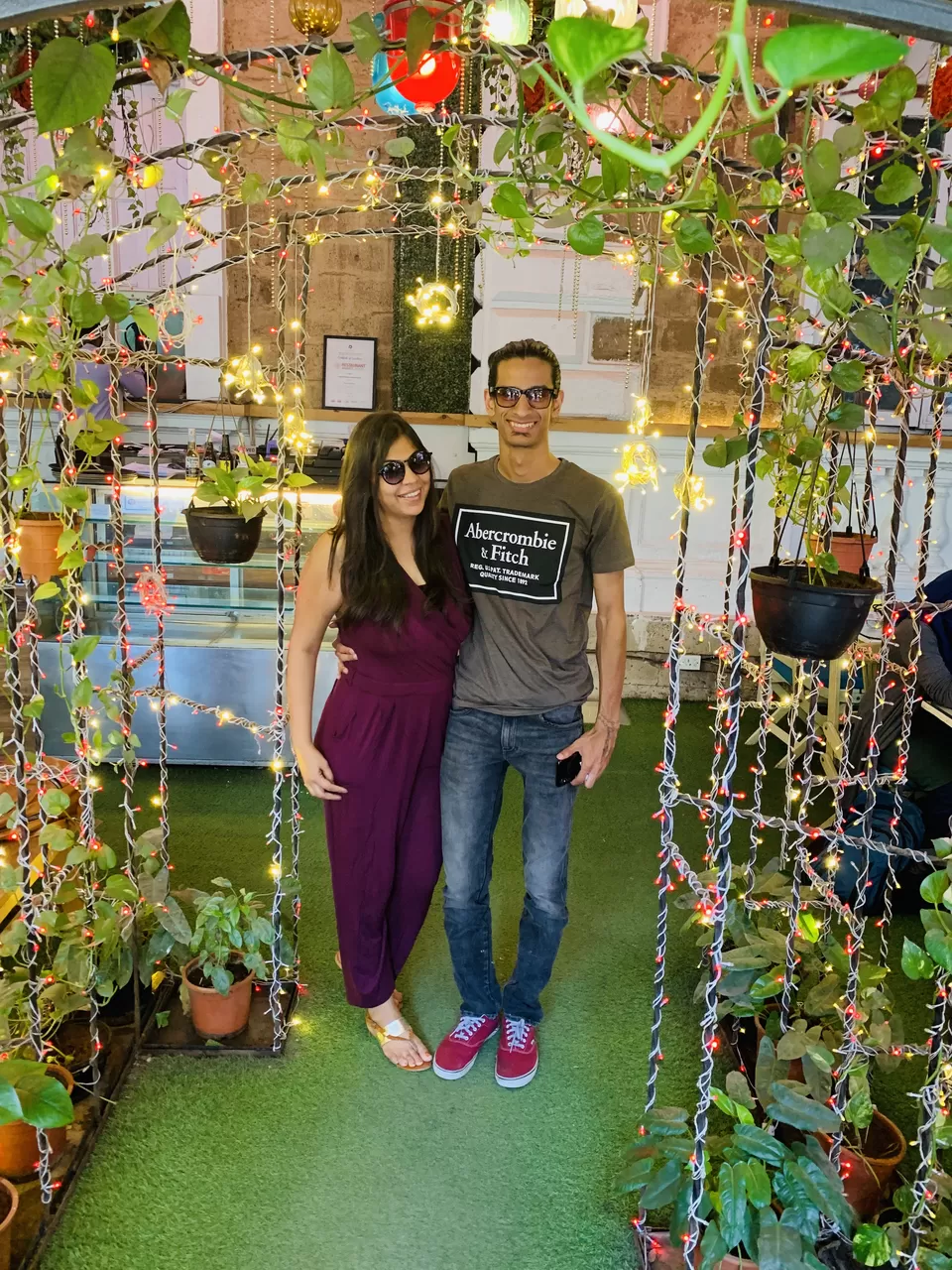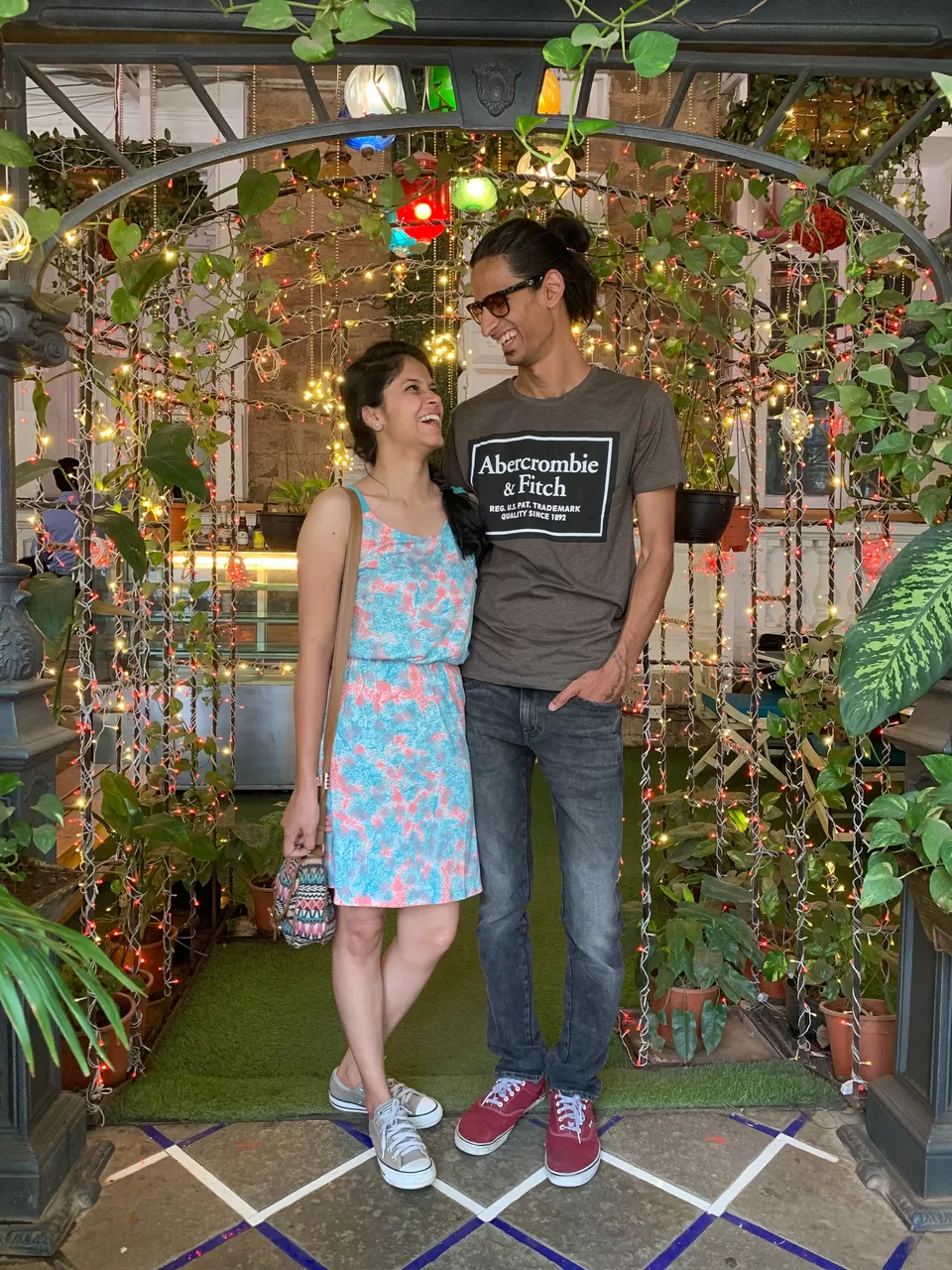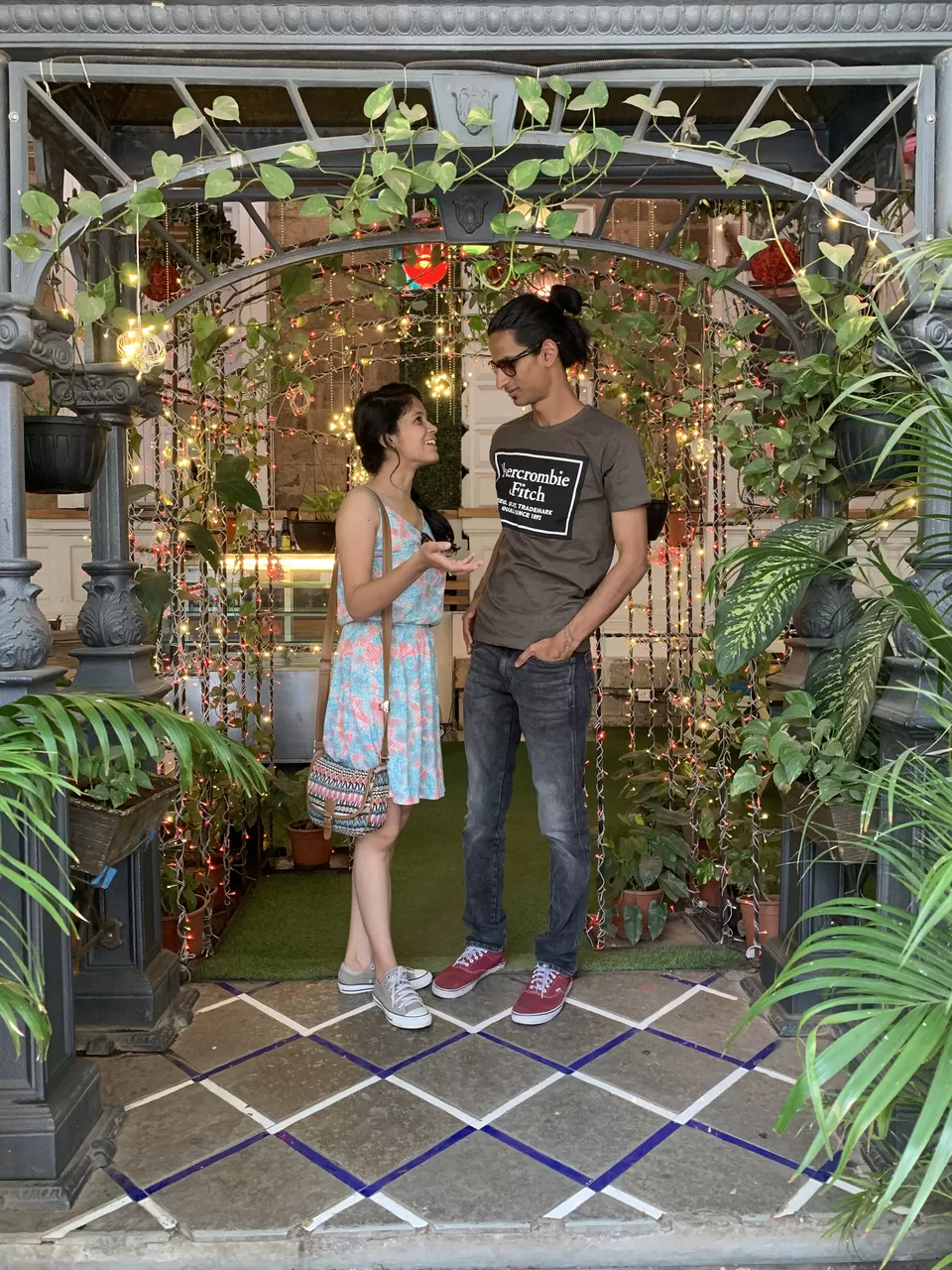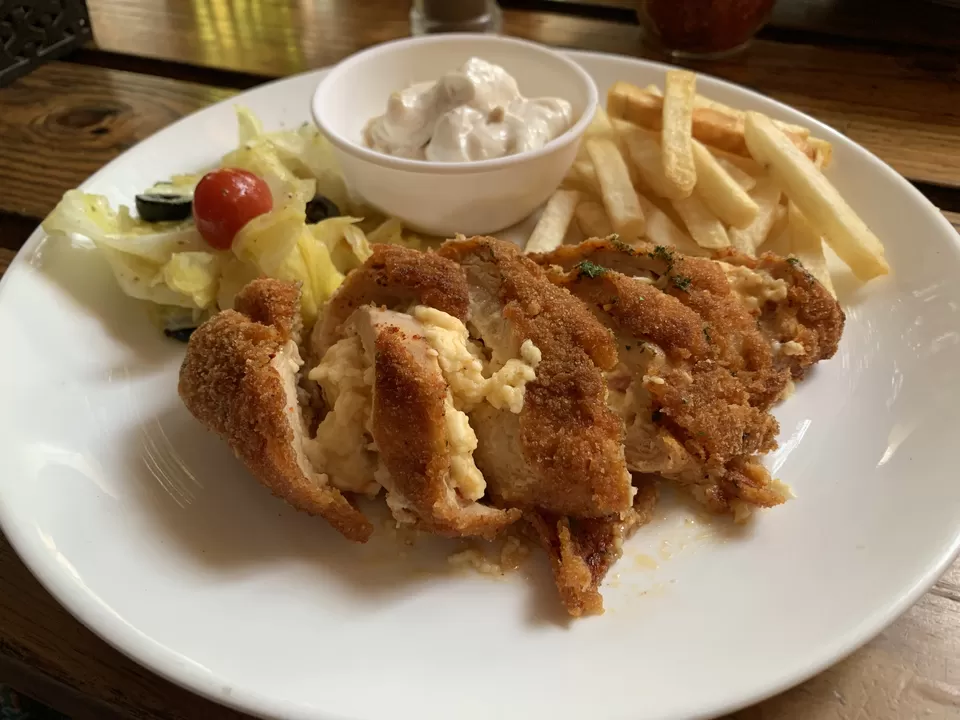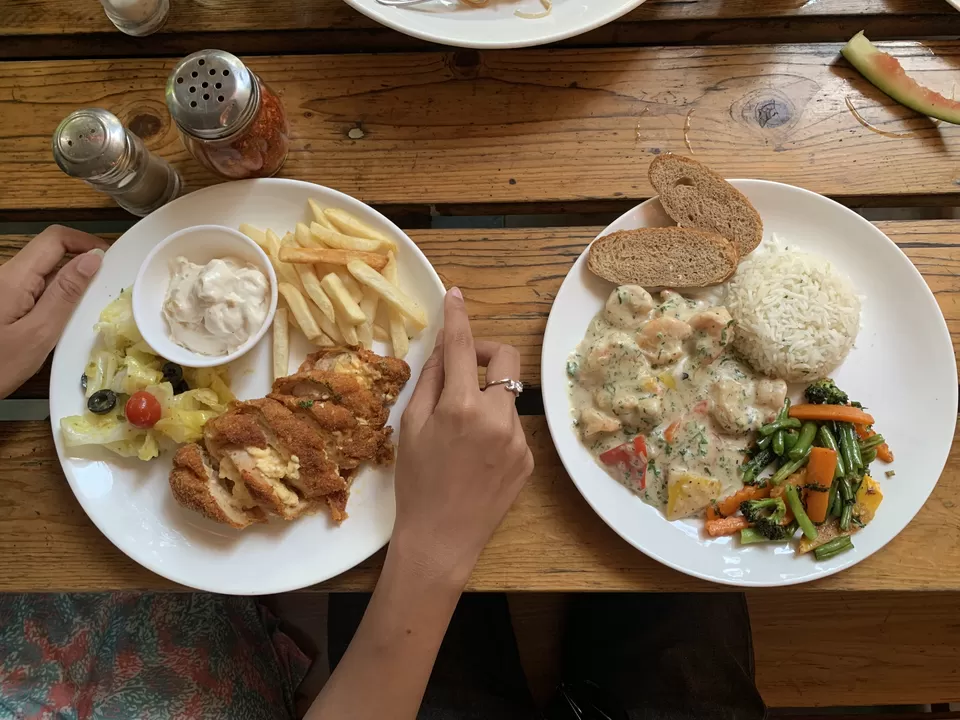 We headed up to Gateway of India finally while the sun was right on top of our headed.
Reminded me of my childhood time when I visited this place with my cousins and it was the same for Prais as well as it was the only time she came here.
My cousin sister also joined us later.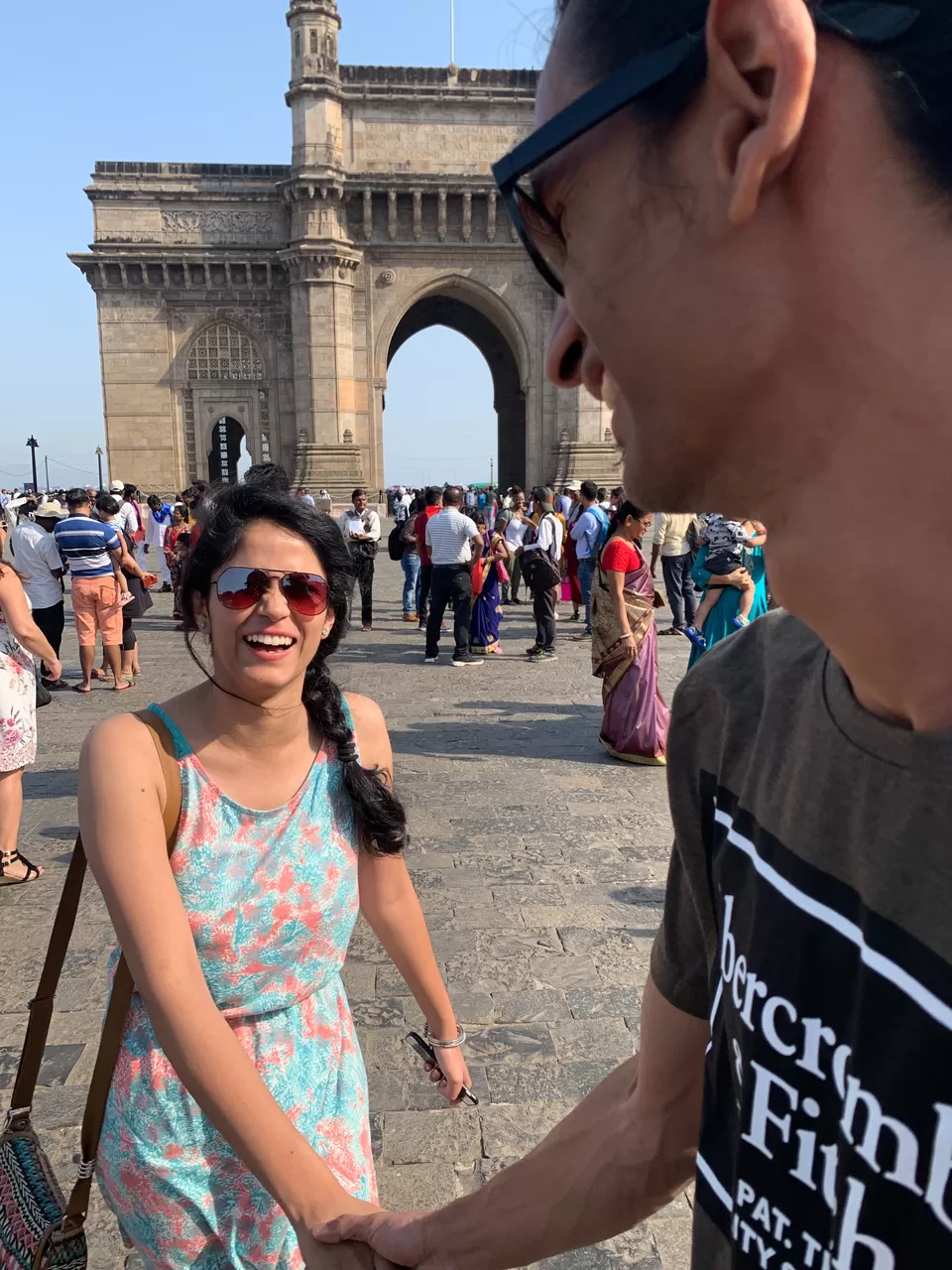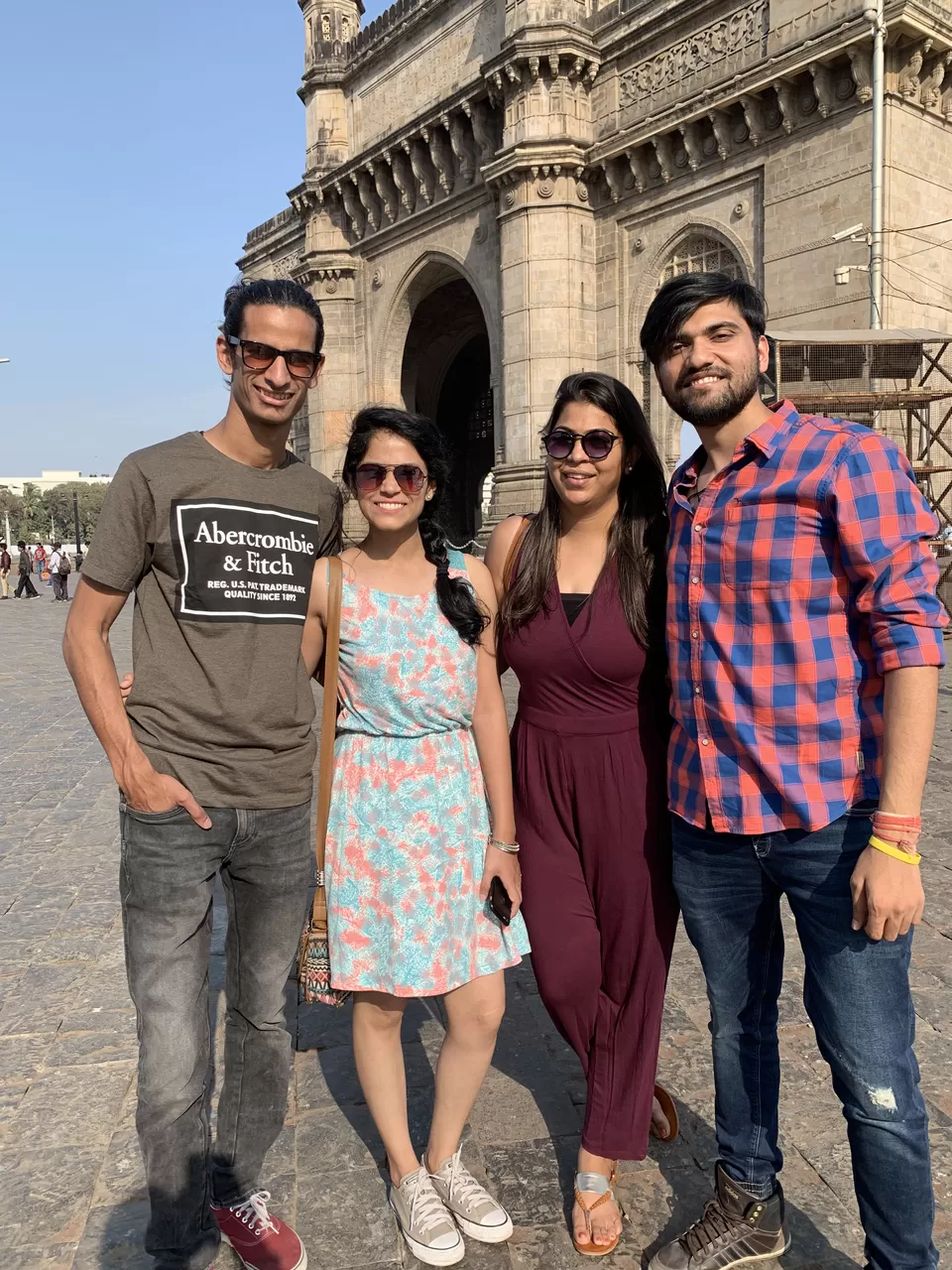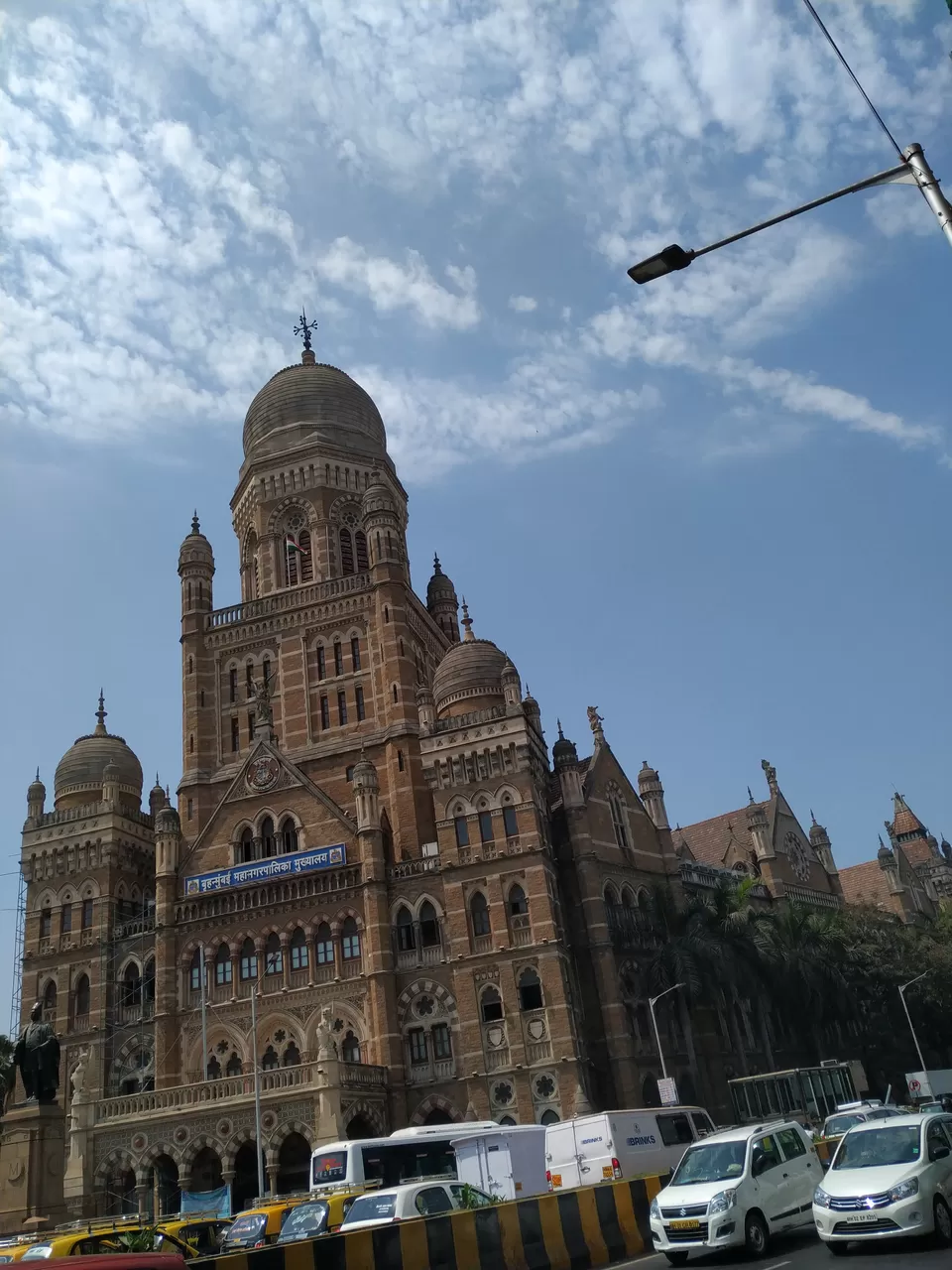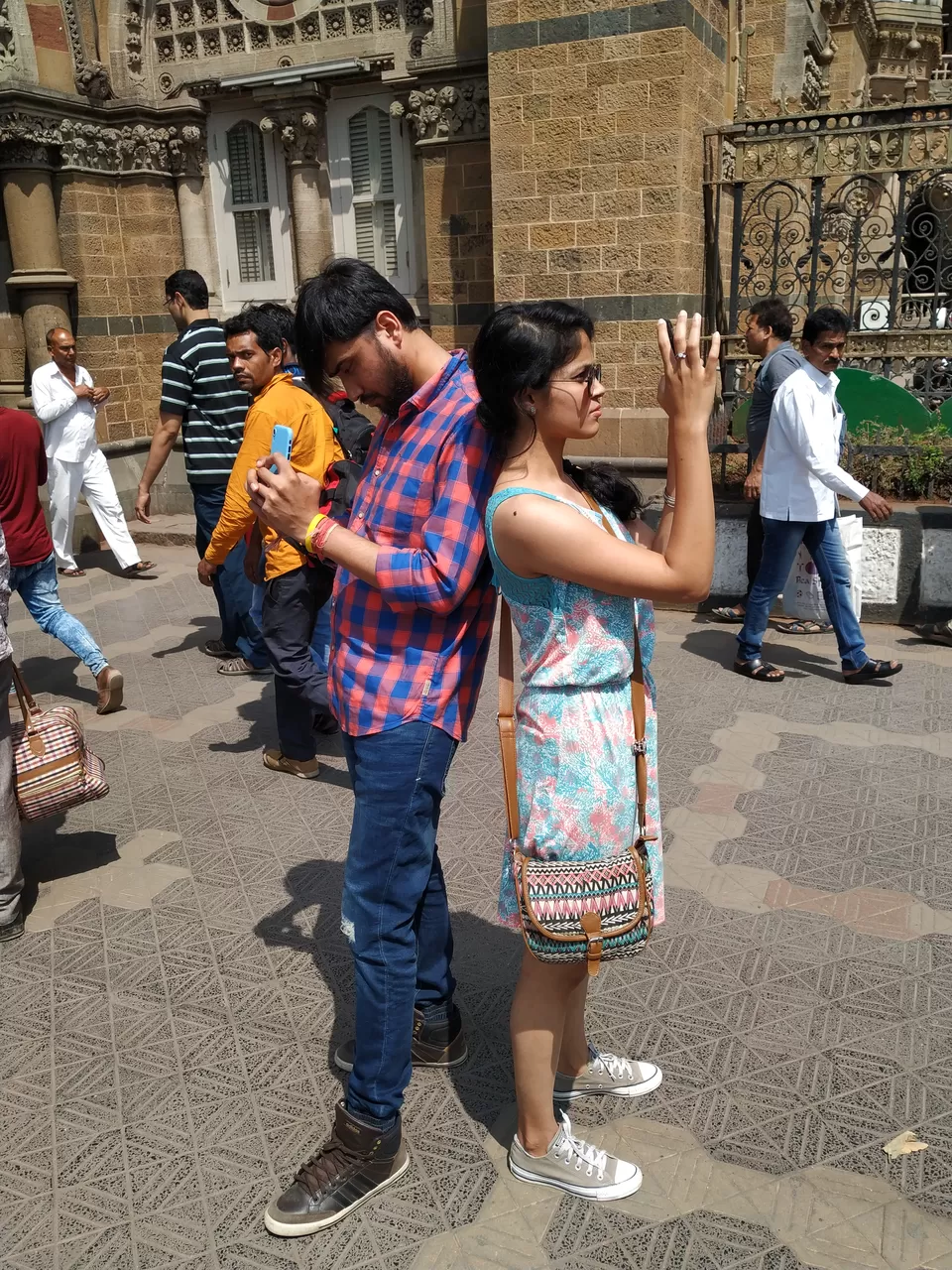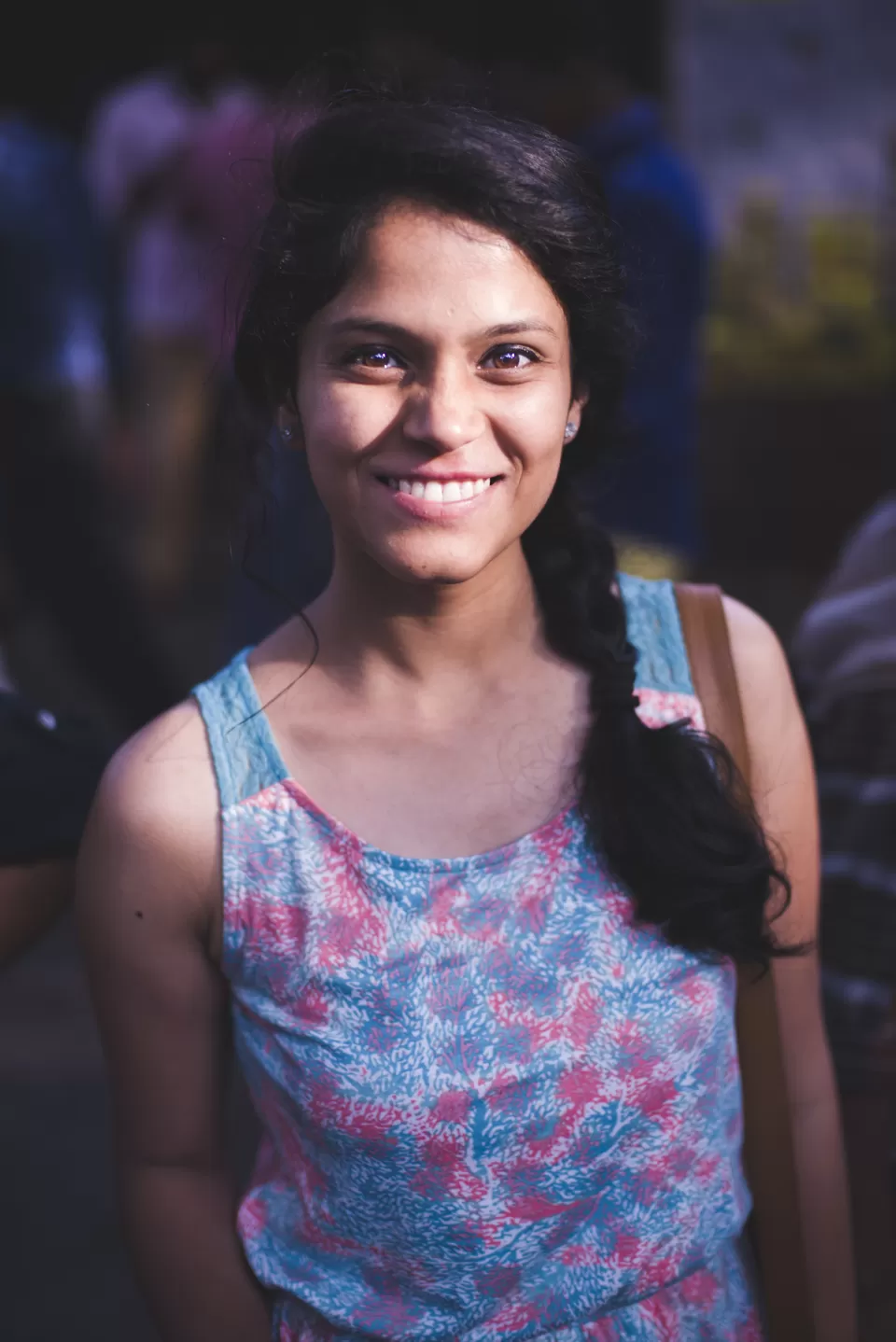 It was time for some shopping now. We went to Colaba market which is quite famous for shopping. It was disappointing for me as it was mainly and solely for the female crowd and there wasn't anything different to buy which made me exhausted for the day quite fast.
I literally sat on the street saying, " I wanna go home now" :D. So, we had some fruit juice and left from that place so that we can party a bit in the later part of the evening.
Prais was a bit sad that she couldn't get a good dress for the evening as she didn't have anything new to wear now.
To her surprise, I already had got a Global desi dress for her from Ahemdabad ????
I kept my patience and was trying to calm her until we reached home by not telling her anything about it.
The toughest time was here. We had to go back by train and was the peak time when everyone returns home. Time to get crushed and come out alive!
We got into the train successfully. Squished and squashed the best way possible, screaming and not knowing which body part is where, all four of us held each other as much as we could ???? and we made it back to Bandra station alive. Surbhi was in a total fun mode, screaming and laughing like it was a happy go roller coaster for her.
I pull Prais down from the train and the first thing she says before staring to breath again is, "we are never going back in this train again". ????????
Anyway, we made it back to the room and Prais was the first one to go for bath. The surprise dress was waiting for her as she came out and it took sometime for her to react to it as it was something unbelievable and something she couldn't just imagine. She just lost her mind with happiness after seeing the dress. It was that dress which she checked out couple of weeks back and she loved it but she couldn't really buy it at that time and she so wanted to get it somehow.
Well! Now she had a dress for the evening and she was blushing throughout the evening and night thinking about it and still not believing that she was wearing it. Unfortunately we didn't take much pictures that day in that dress.
We decided to go to a pub for the night but it was closed unfortunately and we ended up going to TAP. It seemed out of our budget as we were quite hungry as well and we wanted a lot of drinks and food and dance combined.
We did have some booze and starters but weren't really willing to end the night there as also spend more than we should. Luckily my cousin and his girlfriend were with us. He suggested that we accompany him to his friends place and we all were quite up for it. The booze had already kicked in our systems.
It was a good decision. We got some more booze and went to his friends place and they played guitar and we sang songs, went crazy and laughed our ass out. It was fun. They were sweet too as they walked us back home in the night.
We couldn't really make much of the last day as we got up quite late. We went to Candies for lunch which was quite different kind of a set up. I liked it.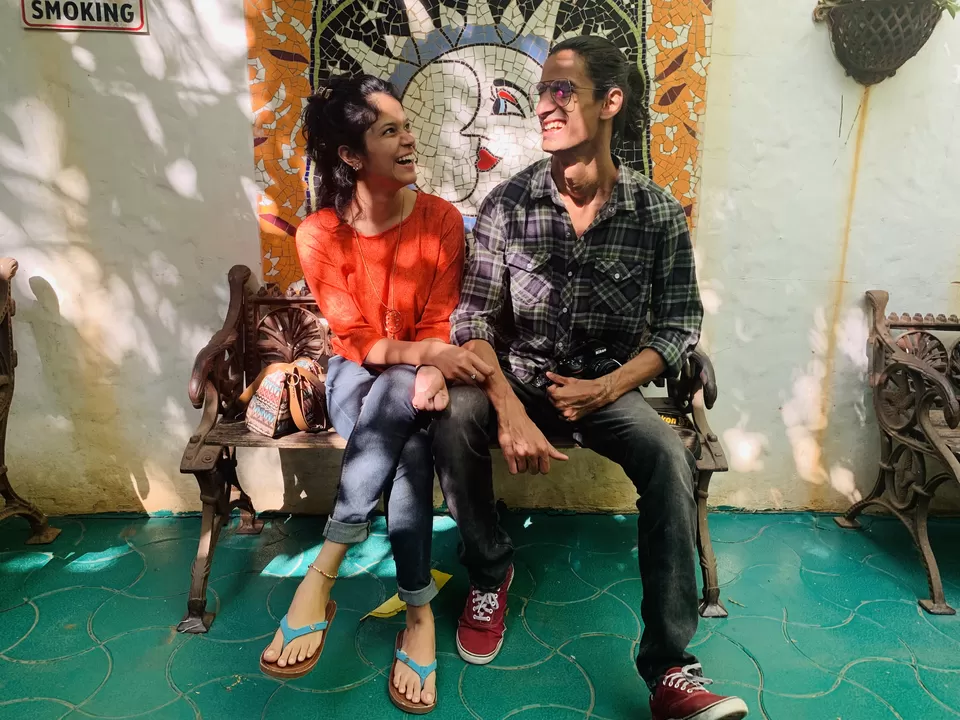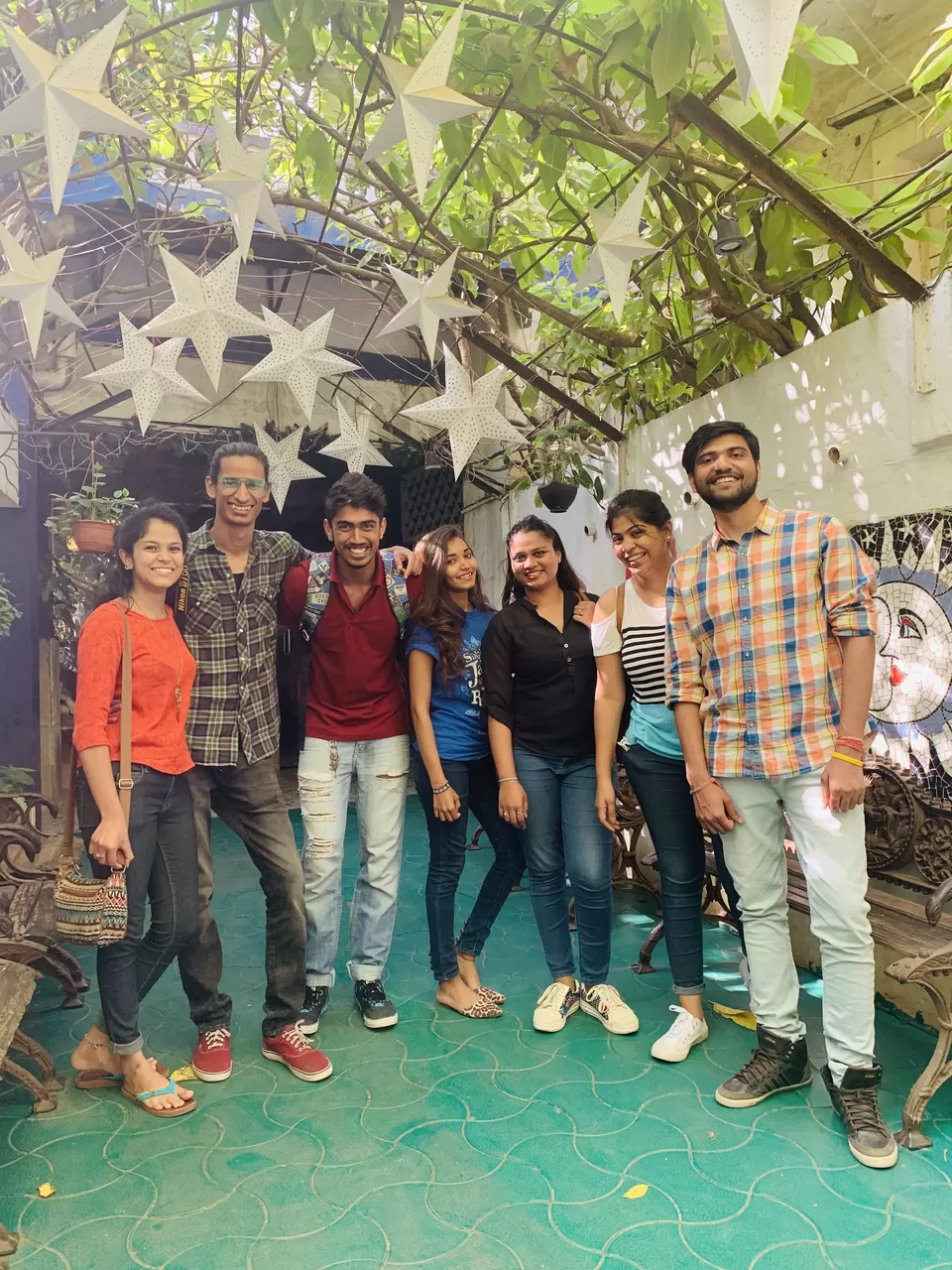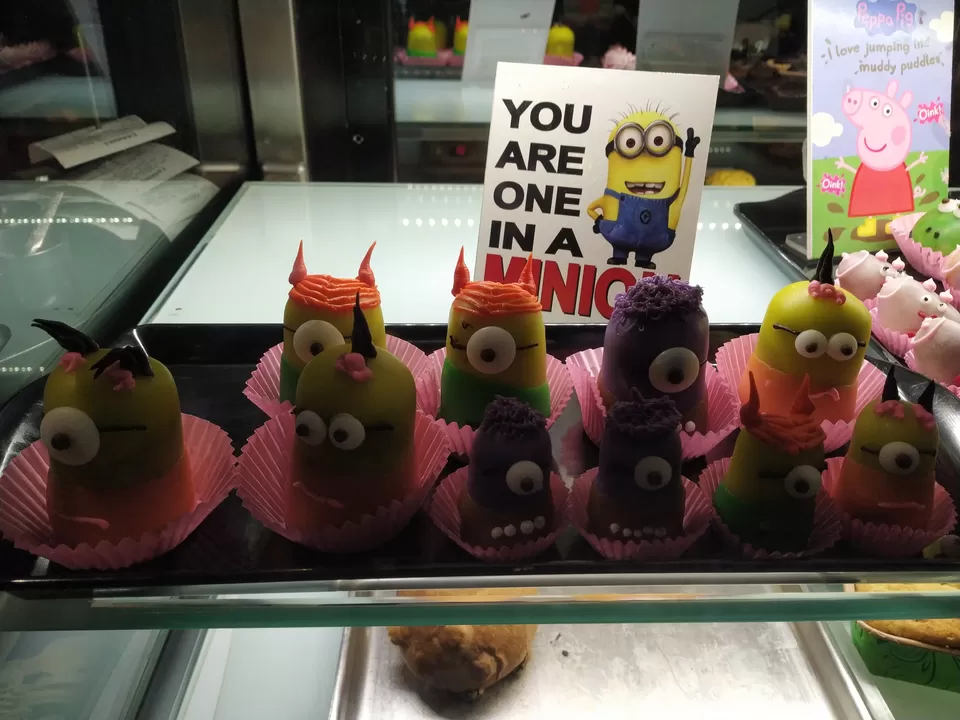 One should definitely go there. We went to hill road for shopping and then were planning to visit Mt. Mary Church which we couldn't as I made a blunder and just realised it at that time. ????
I booked the wrong train tickets. Booked it from Abad-Mumbai instead and that just freaked us out as we had to reached Abad next early morning anyhow.
I had to cancel the train and book the earliest bus then. So we had to pack our bags right away and leave in the early evening itself. The only good thing was that we got a really good bus through GoIbibo and discounts as well. So, thankfully didn't lose much money. Just that we could have clicked more pictures or visit one or two places which we had to miss out because of me.
I am glad to have sweet friends though. I had gone quite low because of all it being my mistake. But three of my lovelies were quite cheerful and up for all the things all the time and they just kept going. So we got back with double the energy, laughing and talking crazy shit. It seemed like this shit had to happen.
So, that's how the short Mumbai trip ended. By far, if you are also into travelling -just keep one thing in mind. When you are out don't think about coming back but about living all those moments while you are out there. And no matter how things go, still make sure you enjoy all of it and still stay in the same moment.
Cheers!!
If you love what I write and what I click, do follow me on Tripoto and also on my Instagram profile-
chris_vamp
PortraitEyed_chris
Frequent Searches Leading To This Page:-
weekend getaways from mumbai, weekend trip cost from mumbai, weekend holidays from mumbai, weekend tour cost from mumbai, weekend holidays from mumbai