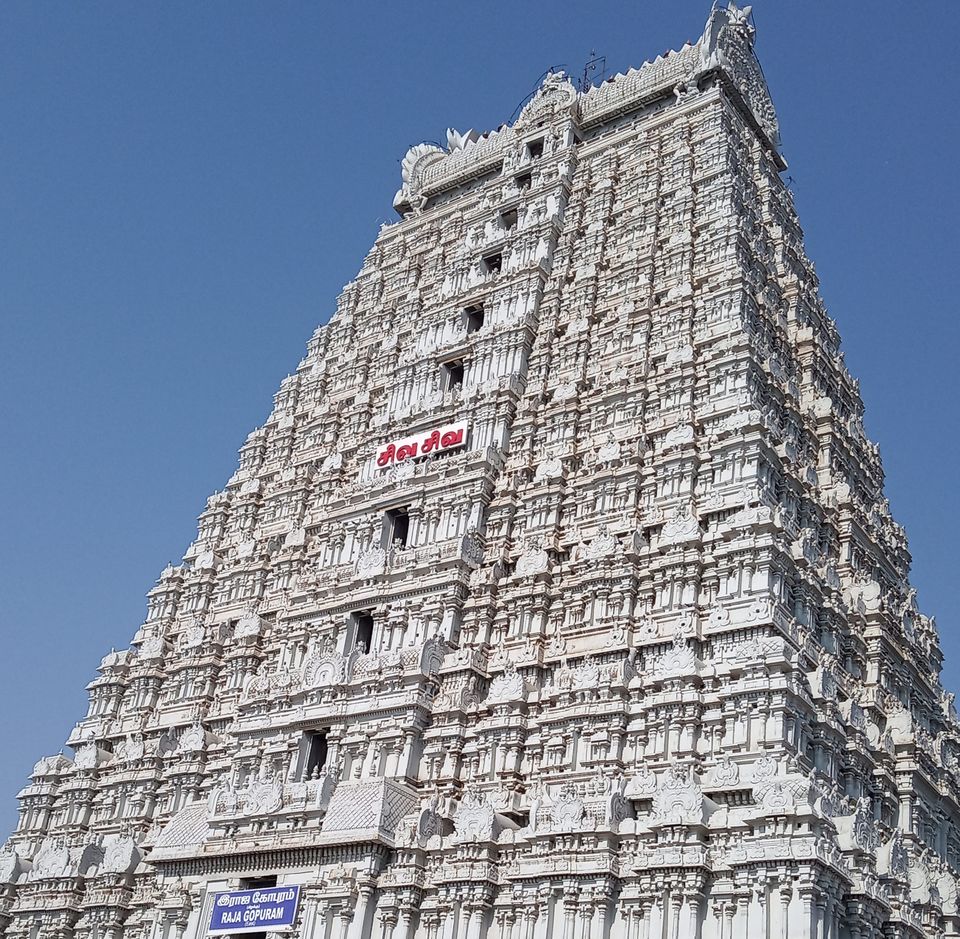 Follow us on Instagram, Youtube and checkout my other blogs at https://abhisheksura.wordpress.com/
We were 6, Me(Abhishek), Indu, Abhishek (another Abhishek), Ramya, Lavanya and Ramesh. Ramesh is my friend and rest of them are my office friends. Some how Ramesh dropped of the plan and I asked my colleague Deepak to join the trip and he said ok and we kept it as secret to give surprise to others. So now Abhishek, Indu, Ramya, Abhishek, Lavanya and Deepak(Others were still thinking Ramesh was coming but no one know the surprise).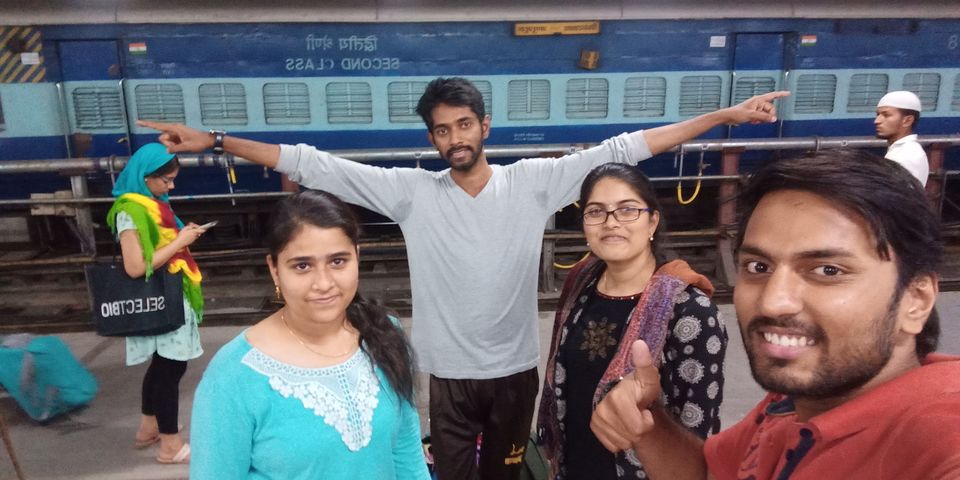 As there are no direct buses / trains from Hyderabad to Tiruvannamalai, we left with the options to go Bangalore / Chennai. From there we searched for Chennai to Tiruvannamalai trains but we couldn't find anything as per our schedule and we thought bus would be better option. Now we chosed to go through Chennai than Bangalore as bus frequency will be more from Chennai to Tiruvannamalai.
Indu boarded the train at Hyderabad Railway Station and Me, Ramya, Lavanya and Abhishek boarded the train at Secunderabad Railway station at 7:00 PM and everyone got into our seats and then came the moment of Deepak's entry and everyone was surprised as expected and were happy. We have played UNO cards and spent some good time in the train. Our journey from Hyderabad to Tiruvannamalai had begun on a fun note!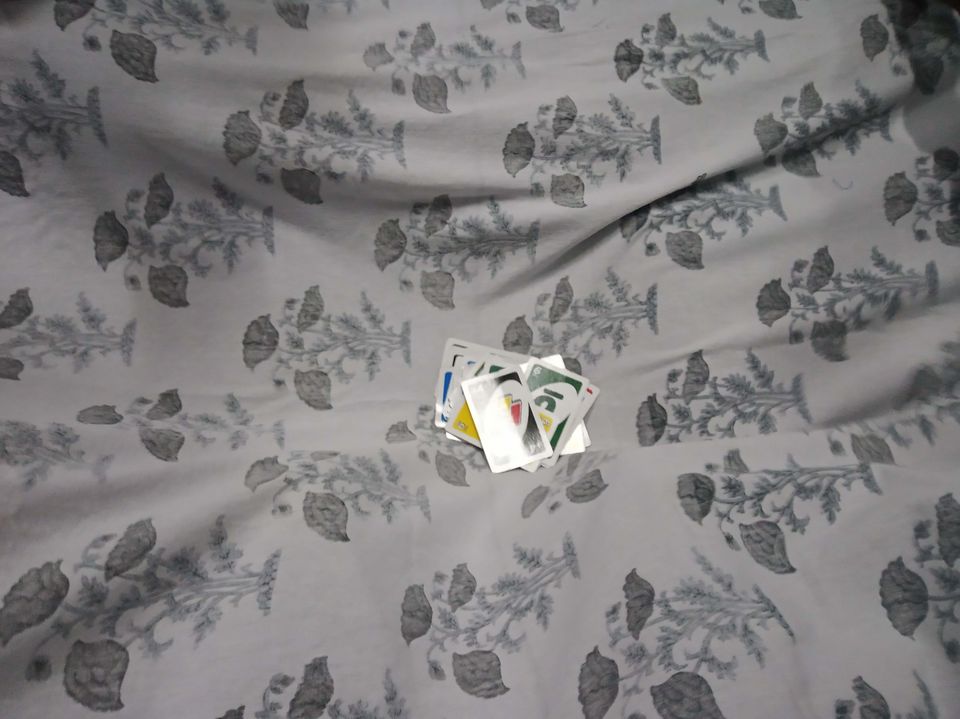 The train arrived on time at Chennai Central Railway Station and came out and finished our breakfast and headed towards the CMBT in metro. Unlike other routes, the route from Central to CMBT was more of an underground.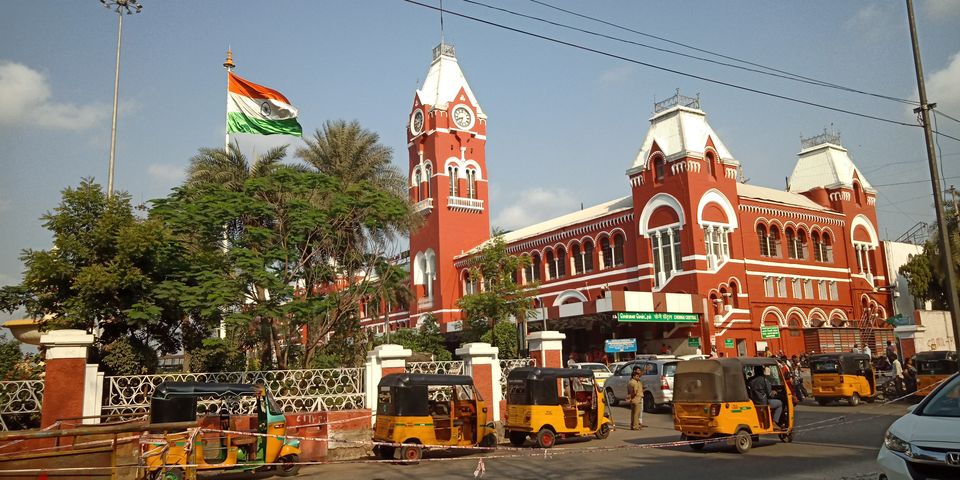 We reached CMBT by 10:00 AM and there was an AC bus on the platform. Bus started at 10:30 AM from CMBT to Tiruvannamalai. The can get buses from Chennai to Tiruvannamalai every 20-30min.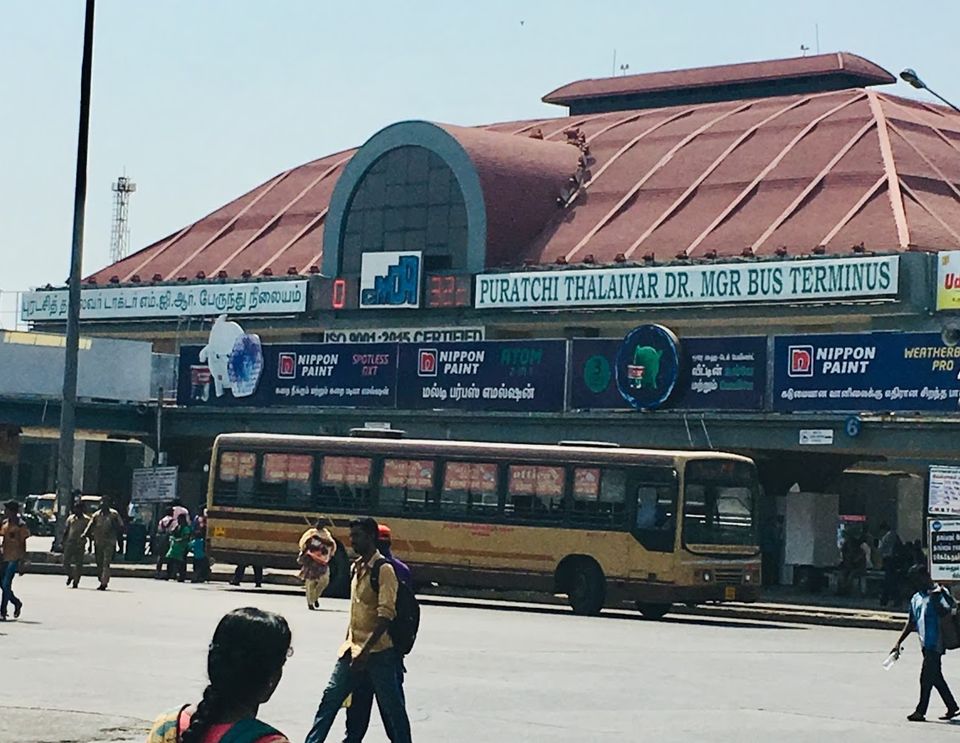 We arrived at Tiruvannamalai at 3:00 PM and took for Andra Ashramam (The ashram where we booked our rooms). We reserved 2 rooms earlier and paid 650 per room. We freshedup and decided to do giri pradakshina ( Pradakshina of 14Kms round the mountain). The hill which is octagonal in shape is surrounded by 8 Lingams and they are called Ashta Lingams.
1. Indra Lingam
2. Agni Lingam
3. Yama Lingam
4. Niruthi Lingam
5. Varuna Lingam
6. Vayu Lingam
7. Kubera Lingam
8. Esanya Lingam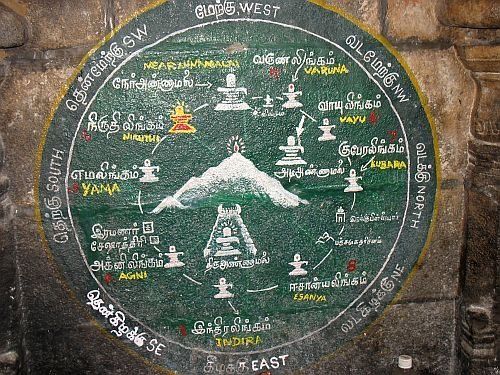 At 5:00 PM we dressed up traditionally and took an auto to Agni Lingam temple(2nd Lingam) and started our pradakshina from there but we aren't aware that we have to start from Indra Lingam.
Though it was 5:30 PM in the evening the road was still hot and our feet could feel it. Initially we all were at good pace and covered Yama Lingam and reached Nirudhi Lingam by 6:00 PM. From there the batch splitted, Indu and Lavanya were going ahead of rest.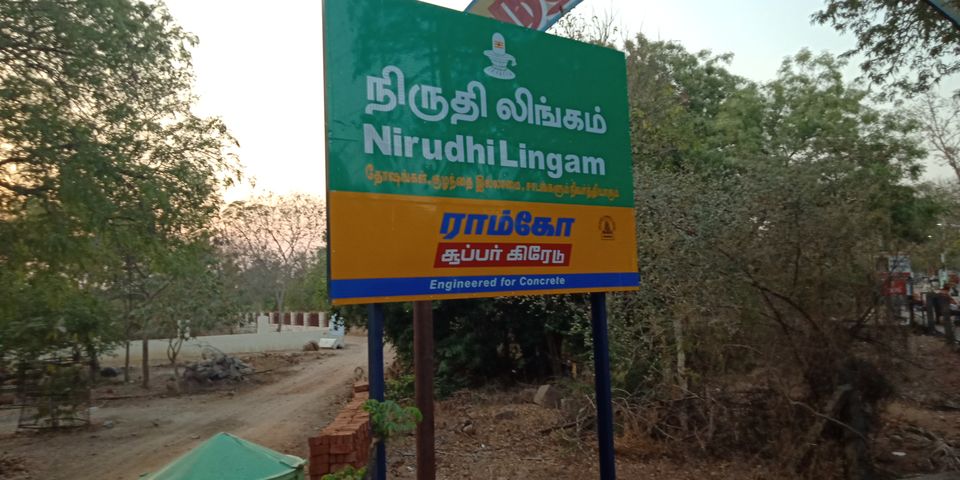 Now that deepak is somewhat slow and even Ramya's feet were burnt as the road was hot as we were doing without footwear.
We were going slow now as she couldn't walk on the bear foot with those burns and stopped in the middle to drink soda and suddenly she saw footwear in that shop. So we bought that and now she is a bit ok to walk.
At 7:20PM we reached Vayu Lingam (6th of 8 Lingams) and now our target was to do darshan before the temple closes at 9:00 PM.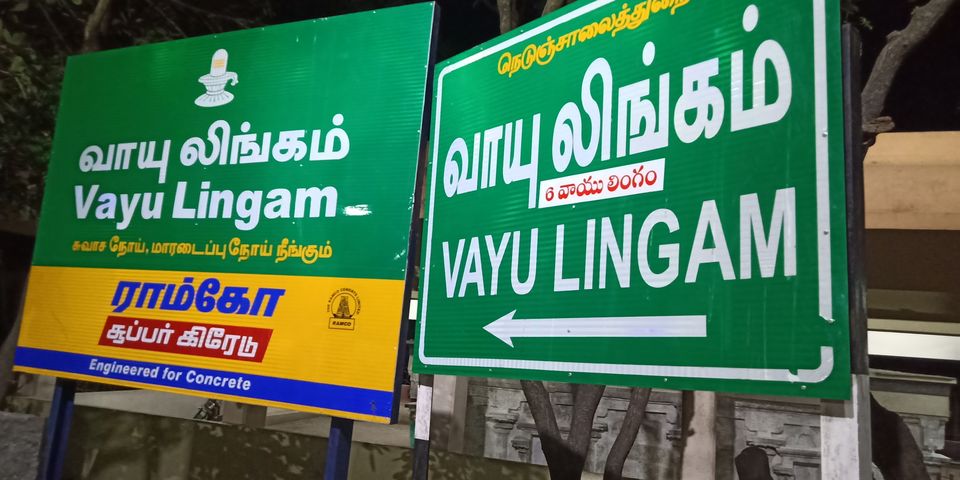 In another 30 min we walked till Kubera Lingam (7th Lingam). Now we have covered 3/4th of the pradakshina and still 1/4th is remaining and we still have Esanya Lingam (8th Lingam) and Indra Lingam (1st Lingam as we started from Agni Lingam) with just 1 hour left.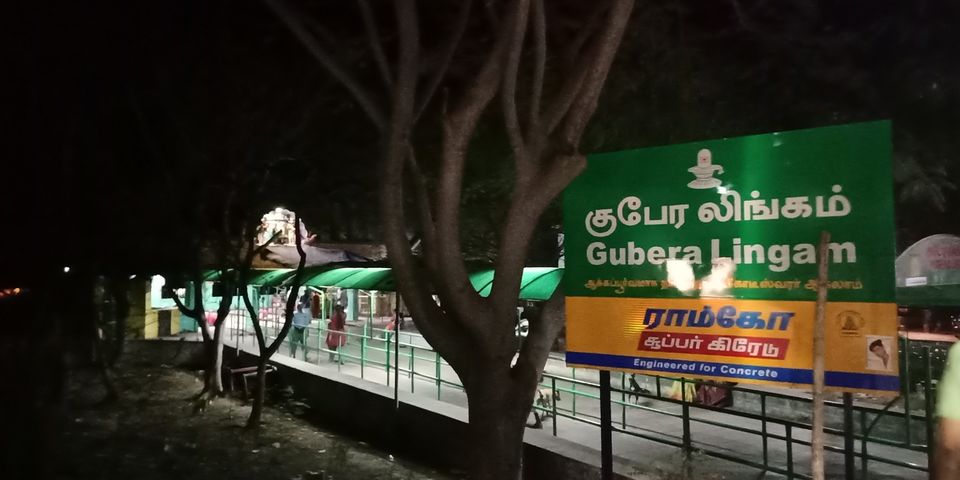 At 8:30PM we reached the Esanya Lingam and had our darshan, by this time we called Indu and Lavanya and they told that they have done the pradakshina and were in the main temple for darshan.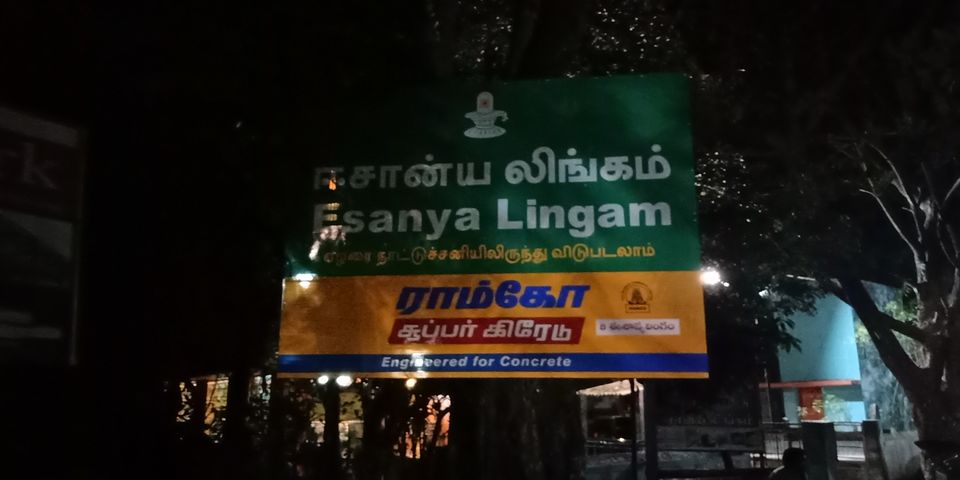 From here Deepak and Ramya took auto as deepak has intention to cover all Lingams by foot and done it and other side Ramya was unable to walk.
Now Me and another Abhishek started with an intention to complete the full pradakshina and reached Arunachalam Temple, Tamil Nadu by 9:00 PM and we got to know that Arunachalam Temple remains open till 9:30 PM and Indra Lingam is already closed. So we decided to do darshan in main temple we all of us met inside the temple. Ramya couldn't walk as she was injured severely and decided to do darshan the next day morning. After coming out me and Abhishek started for Indra Lingam which is very near to the main temple and others went for the dinner.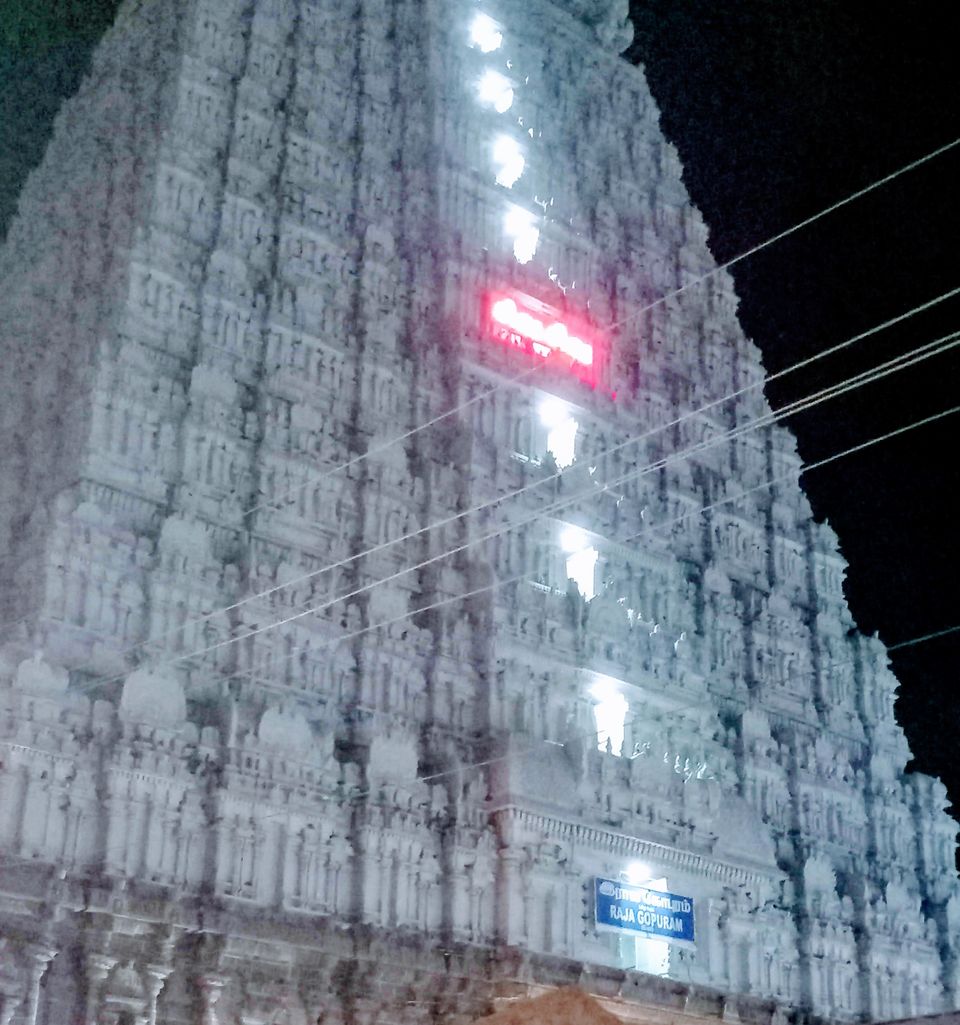 Though Arunachalam Temple was closed we could get the darshan of lord from the outside. After this we thought that we would finish the whole pradakshina by doing it till Agni Lingam. We know we didn't start in the right manner but we want to do it completely. We completed the pradakshina at 10:00 PM after having the darshan at Agni Lingam.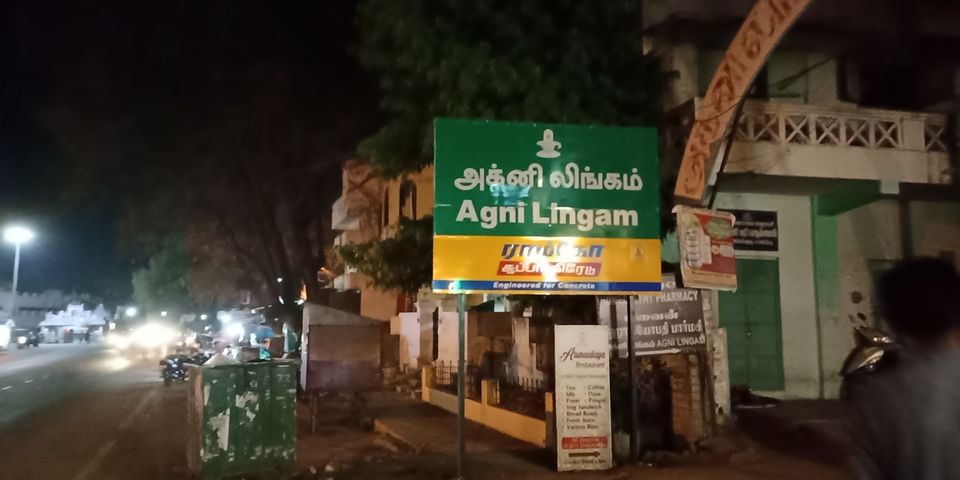 We thought Ramya was injured but got to know that Indu was also in that list and they put their legs in the hot water and applied ointment after reaching room.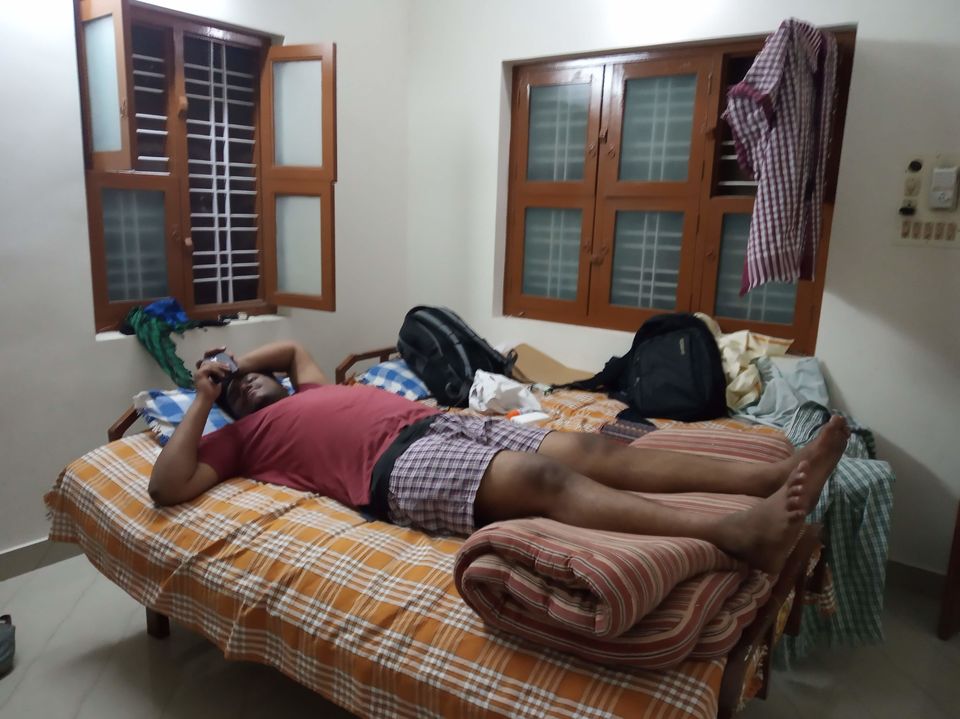 We woke up in the morning and again started for Arunachalam Temple at 7:00 AM and Indu wants to take rest and he didn't came to the temple.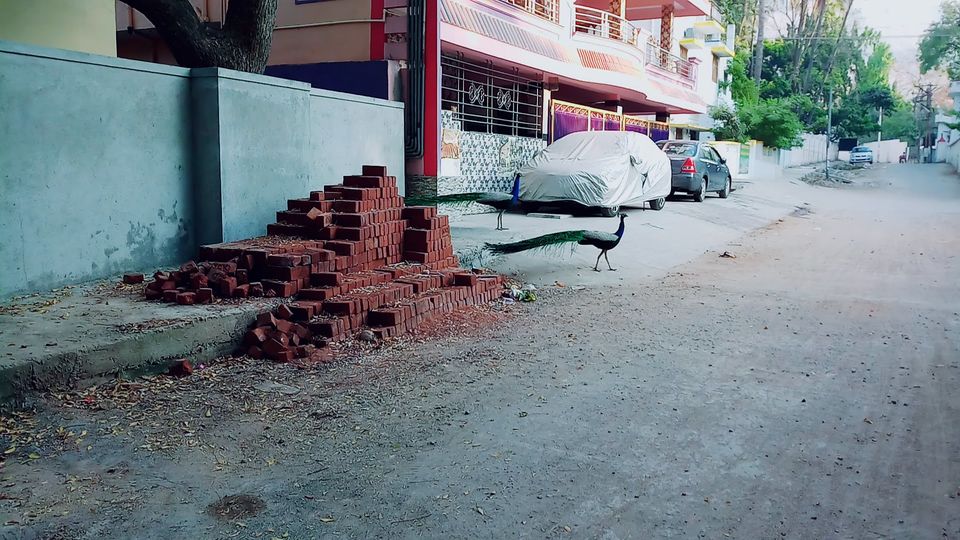 By the time we reached Arunachalam Temple it was 7:20 AM and as there was a big queue we decided to go in special darshan with a ticket of 20/- per head.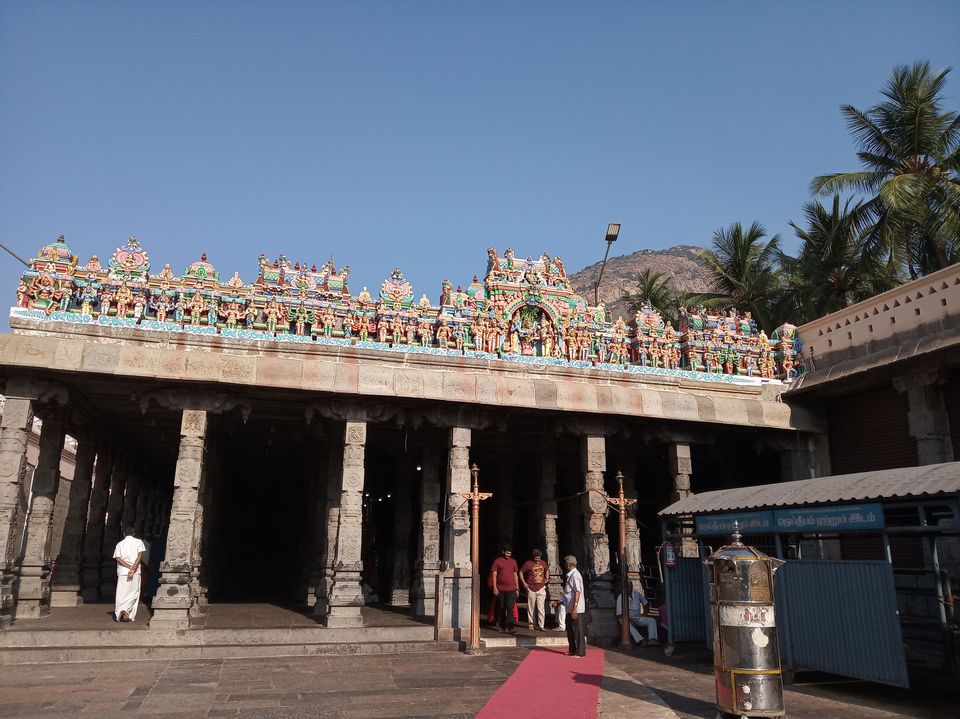 We finished our darshan of Arunachalam Temple and came out at 8:30 AM and had our breakfast.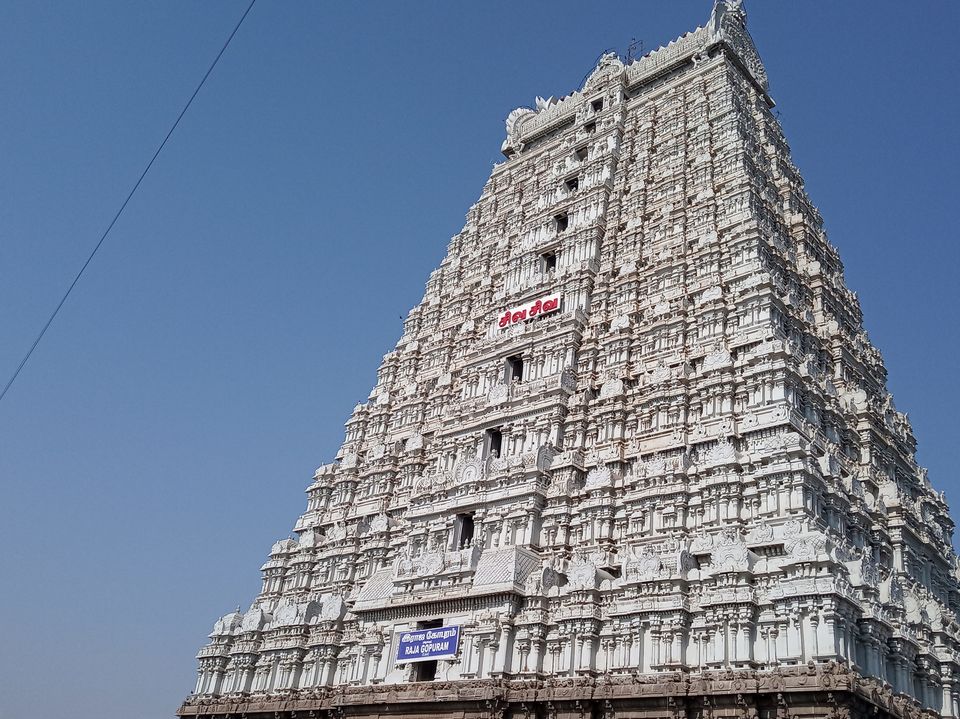 By the time we came to the room, Indu was sitting on a chair and applied some turmeric powder to his leg.
Later we started to the bus stand and enquired about bus to Chennai and this time we couldn't get AC bus as it would depart at 5:00 PM. We got into the ordinary bus at 11:00 AM and reached Koyambedu(Chennai) at 2:30 PM, finished our lunch at Anand Bhavan and headed to central in Metro.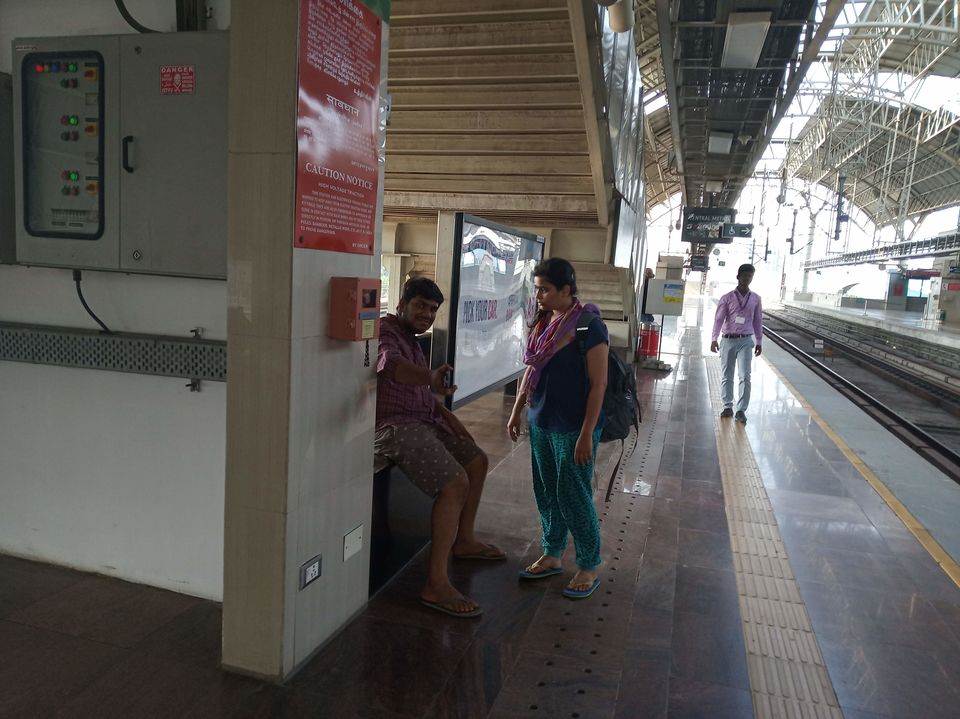 Its trouble time for Indu again and we had to take him in wheel chair in the metro station and from there auto to Central.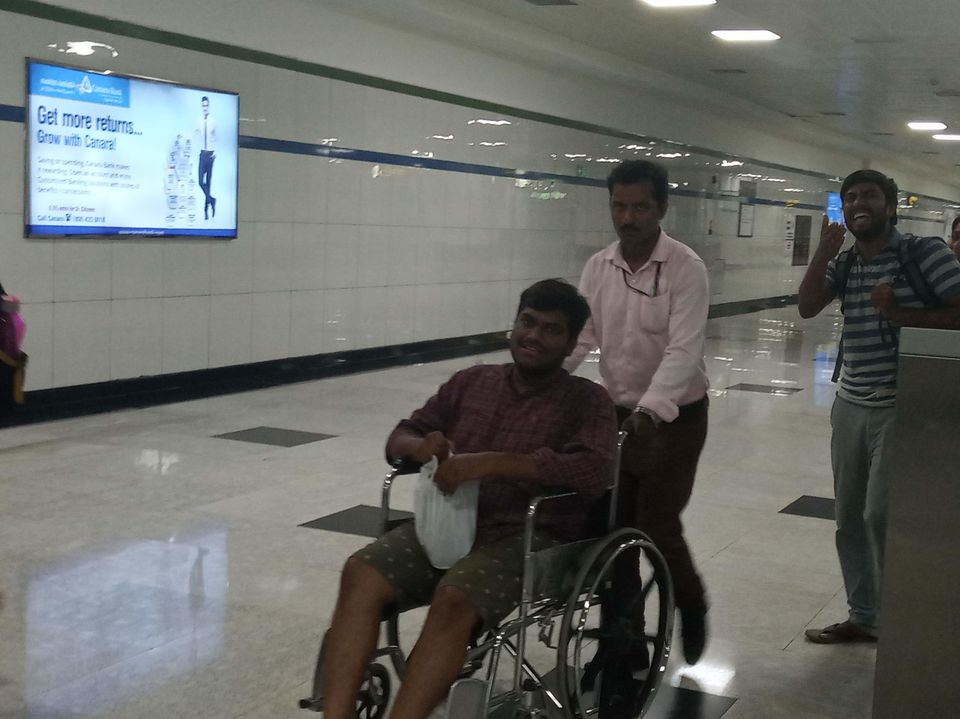 We boarded the Charminar Express at 6:00 PM and reached Hyderabad the next day morning at 7:30 AM with lots of wonderful memories of Tiruvannamalai and Arunachalam Temple.
Arunachalam Temple, Tamil Nadu - In a Nutshell
Arunachalam Temple is among the holiest places to visit in India. Since centuries, Arunachalam Temple has held a position of reverence in Tamil literature. Arunachalam Temple is known to be one of the biggest places of worship in the country. There are several shrines within the Arunachalam complex. Millions of devotees plan a trip to Arunachalam Temple every year. Travellers can attend the daily rituals as well as the various festivals celebrated at Arunachalam throughout the year. We had a great time at Arunachalam Temple, Tamil Nadu. Whether you are religious or not, Arunachalam Temple is a great place to admire its marvellous architecture and admire fellow tourists' faith.
Have you been to Arunachalam Temple? Share your story of visiting Arunachalam Temple, Tamil Nadu below.
Frequent searches leading to this page:-
weekend getaways near hyderabad, arunachalam tour package from bangalore, arunachalam tour packages, arunachalam tour, arunachalam tour plan, arunachalam temple tour, chennai arunachalam tour