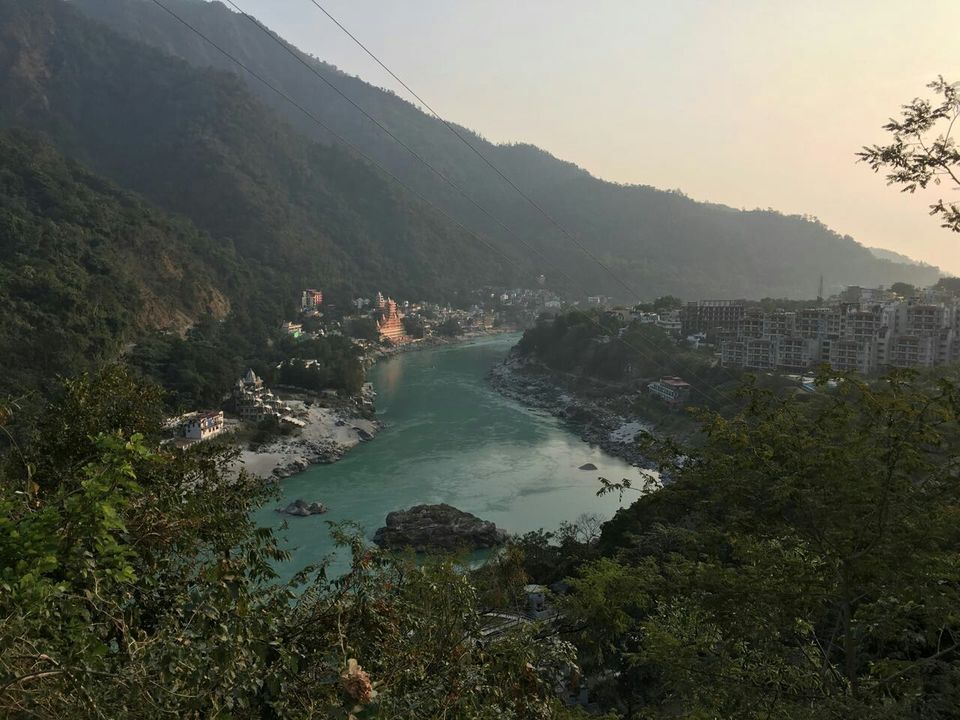 Being a Virgo, I never really preferred unplanned getaways (apologies for generalising :p). The thrill of unplanned trips never crossed me, until this!
Friday night.. Tired, frustrated, confused I returned home with no plans in mind whatsoever, until my friends barged in, equally tired!
As we started making peace with the monotony, one of us had some excitement left in him to suggest "let's rent a car".
That was it. That was all that I needed for a push. The push to travel during the weekend.
In no time, we were all up and awake for Rishikesh.
Well, why Rishikesh? Why not Rajasthan or why not Agra or why not Shimla or why not any other place which is at equal distance as Rishikesh?
Because no other run-of-the-mill place succeeded to retain its charm that Rishikesh still beholds.
Planned. Decided.
Saturday the 18th, while four of us decided to rent a car through @Myles, two of us thought of some more adventure... Why not pick up bikes and ride all the way to our destination?
Seemed like a great idea!..
All 6 of us met around 3 pm in the afternoon and started our journey to one of the most surreal destinations.
Tip: Try to start your journey latest by 12 noon to avoid night driving / riding, which can be a hustle.
As we were already running behind the clock, taking minimal stopovers on the way was the sanest decision we could make.
The clock had struck 10:30 at night, when we could feel the chills in the air, when we could hear the roar of the river, when we could see "babas" roaming around aimlessly, chanting "Jai Bhole Nath", when the streets became familiar (it wasn't the first time I was visiting Rishikesh, hence.)
Thanks to my *best man's* contacts, it was almost a cake walk for us to find a comfortable accommodation.
One of his college friends, a local lite, took us to Hotel Surya, right across the magnificent Lakshman Jhula... It was a very basic hotel worth 500 per room, but equipped with all the basic amenities.
That night was the drunken high night, the musical night, the crack-jokes-on-each-other night. It was nearly 3-4 a.m. next morning when we hit our beds.
It was 10:30 a.m in the morning, when there was a knock on the door...It was a wake up call by him to go for breakfast.
I hardly got ready. Just washed my face, wore my pyjamas and left for a walk on the lively streets.
Life there was so different from life here.
The carefree attitude creeps in you without even you noticing it. You won't care whether it's a bad hair day, or how your face looks, or how your skin feels. You just be. You are natural.
After a brisk walk, we chose to sit on the ghat for some time until the rest of our friends got ready. We found a secluded rock on the river bank and sat there, enjoying the flow of the Ganga, wondering about the science behind an iron suspension bridge :p
After an hour, we were in Purple Dhaba, do not go by the name... It doesn't just serve paranthe and paneer!
Tip: If you are visiting Purple Dhaba, do try their cheese noodles, it's definitely mouthwatering. But their expertise was in Indian food.
There are plenty of cafes near Lakshman Jhula serving "vegan" dishes as well.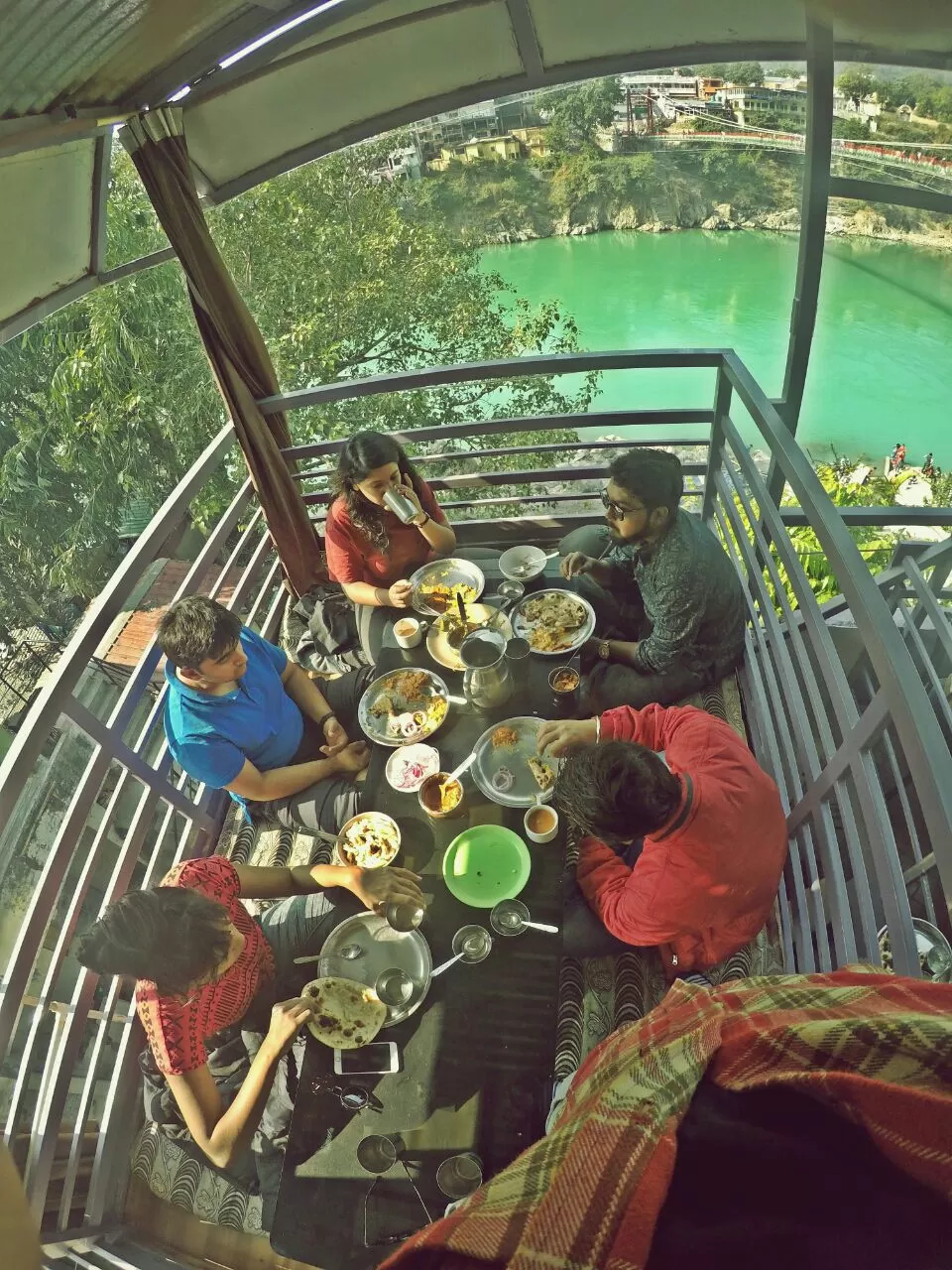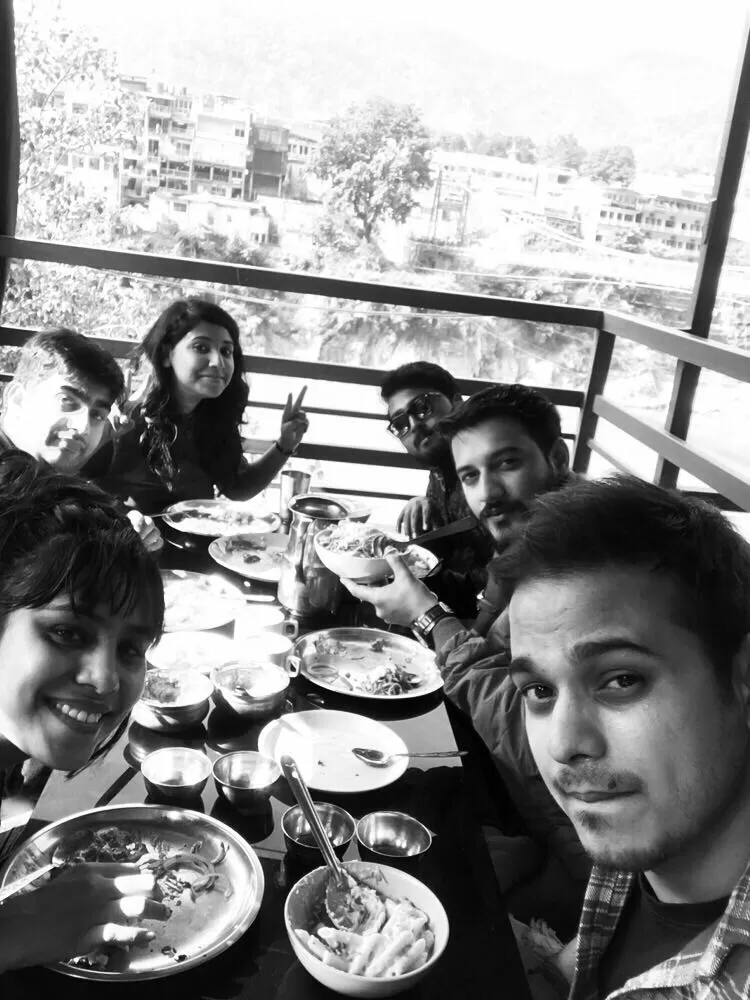 After breakfast, it was time for 4 of our friends to bid goodbye to Rishikesh, courtesy their commitments in office! But they still had the zeal to go some more, a little more.
On their way, they took a detour towards Shivpuri to reach the Neer garh waterfall.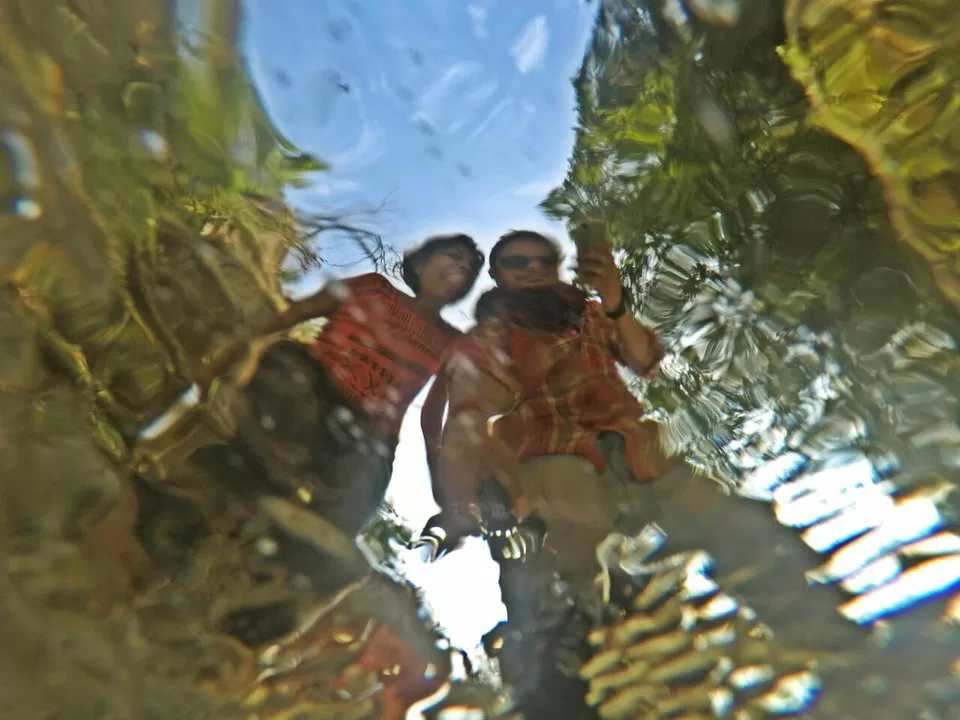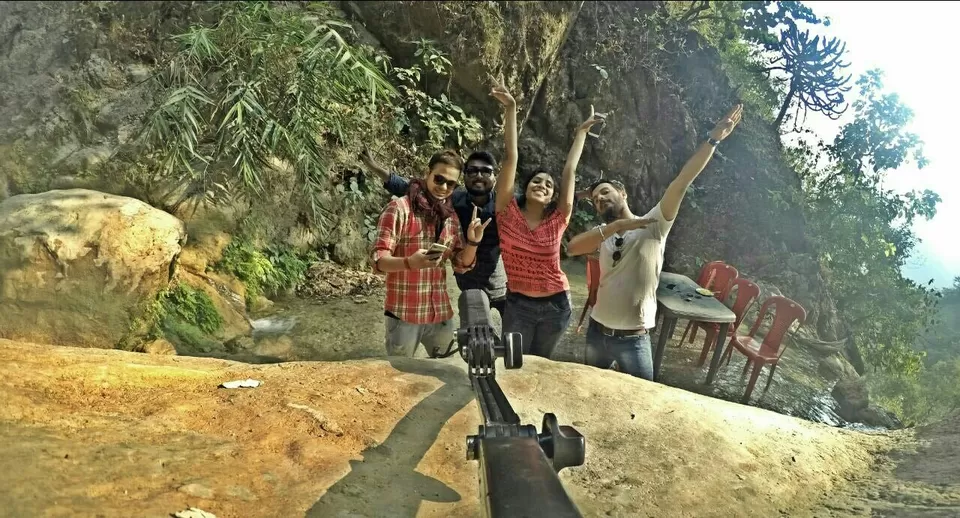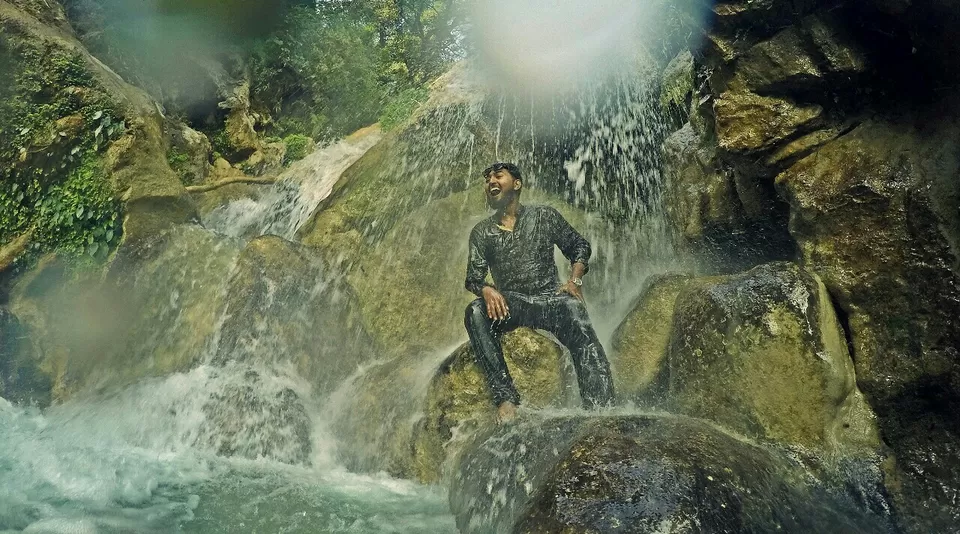 Meanwhile, me and him strolled around Rishikesh, visited one of the most talked-about cafes, The German Bakery. Oh, the view from the top was love.! We had banana pancakes, one of the best delicacies found in the Bakery.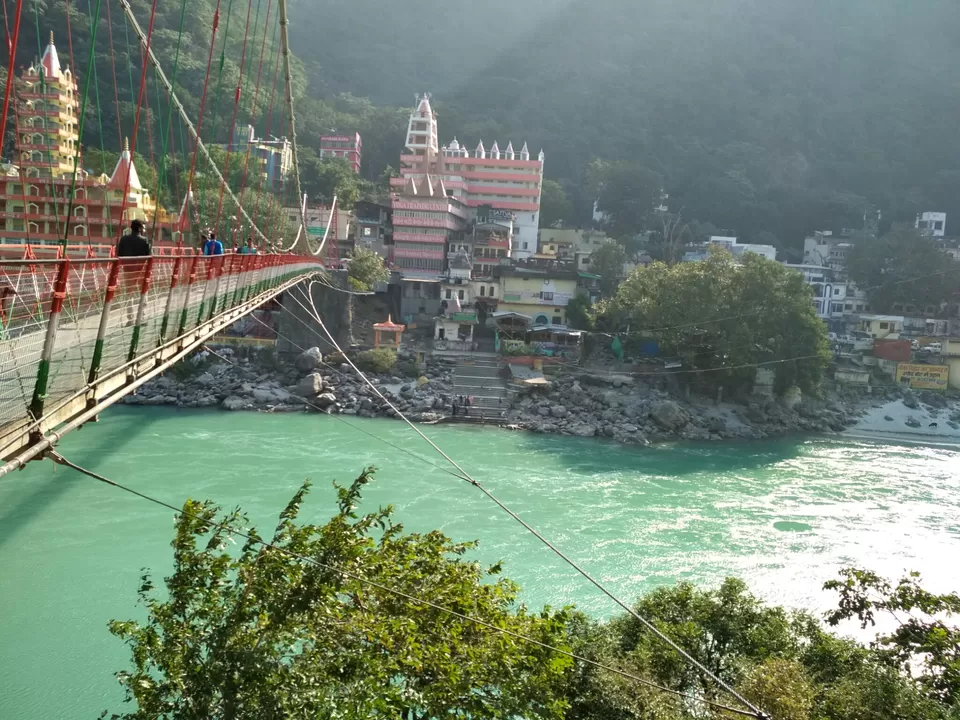 Now we were just two of us left to explore Rishikesh further. Me and him, my forever travel partner! After sunset, we came to our room to wear two more layers of clothes, as it was getting spine-chilling cold outside.
In our "high states", we left again in the evening for a walk and landed in Ganga beach cafe situated right on the ghat.
Yes, we love food and eating is our favourite pass time! (Context on mentioning "cafes" so many times :p)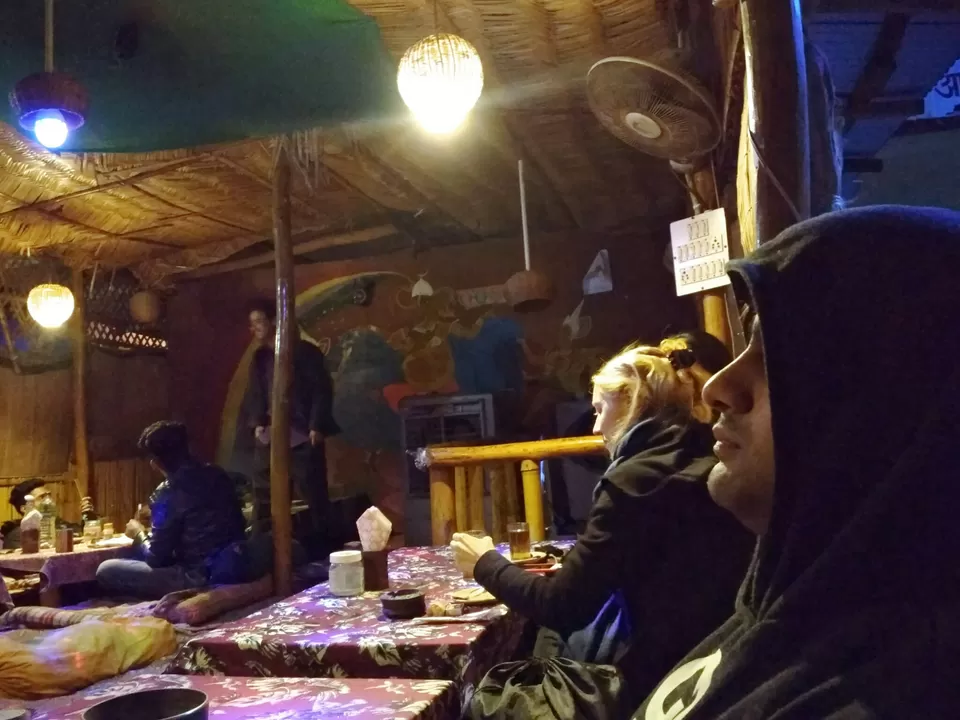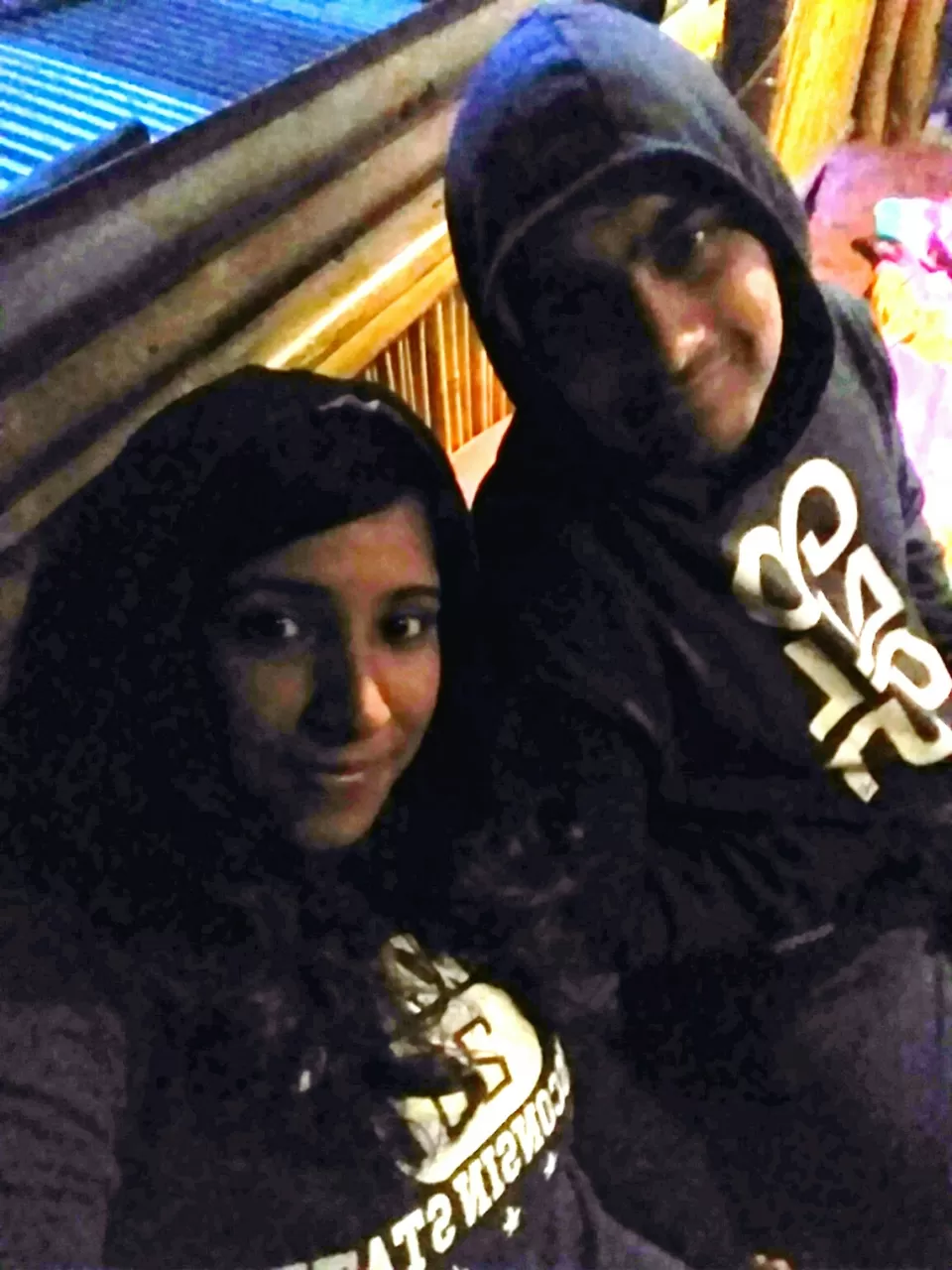 The night passed playing the guitar, singing songs with wrong lyrics :p, and enjoying the high.
As I earlier mentioned, it wasn't the first time I was visiting Rishikesh, none of the earlier times gave me the opportunity to go for white water rafting. Hence, I was no way going to return this time without taking it off my bucket list!
11:00 a. m. Sunday, we checked out from our hotel and headed for our rafting agent's shop, Johney Travels. The owner of the agency was a polite man, helped us in keeping our luggage in his shop, and had a nice conversation with us.
As we were just two of us, we had to wait for half and hour or so for six others. A raft always accommodates 6-8 people in it.
In no time, the car came to pick us up, as we had to reach Shivpuri, the place from where the rafting starts.
My joy knew no bounds, loads of adrenaline rush, loads of excitement, loads of anxiety as well!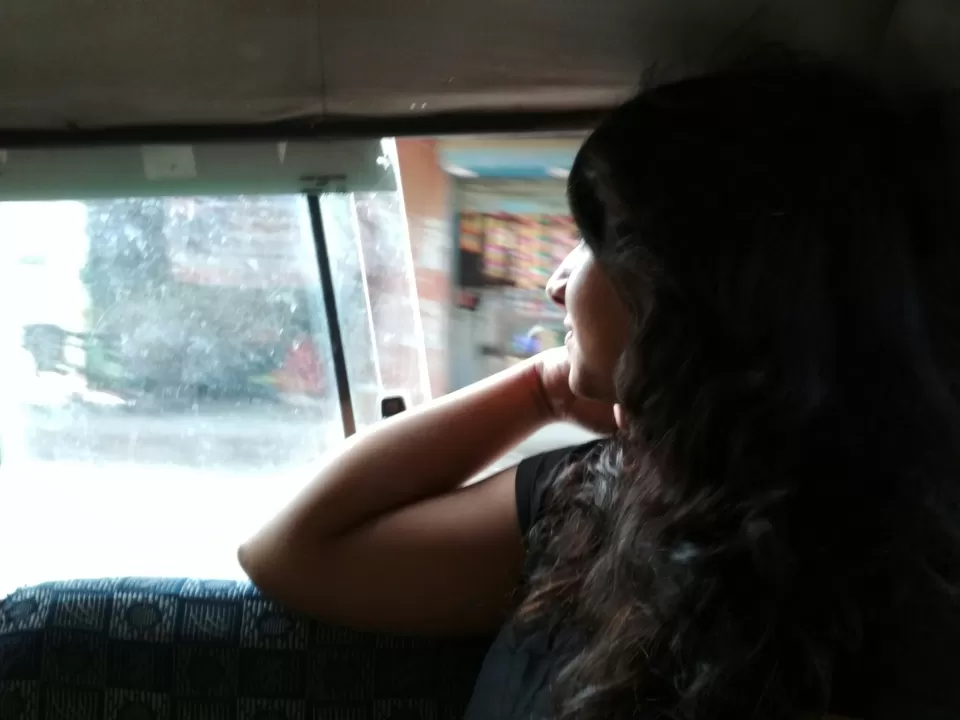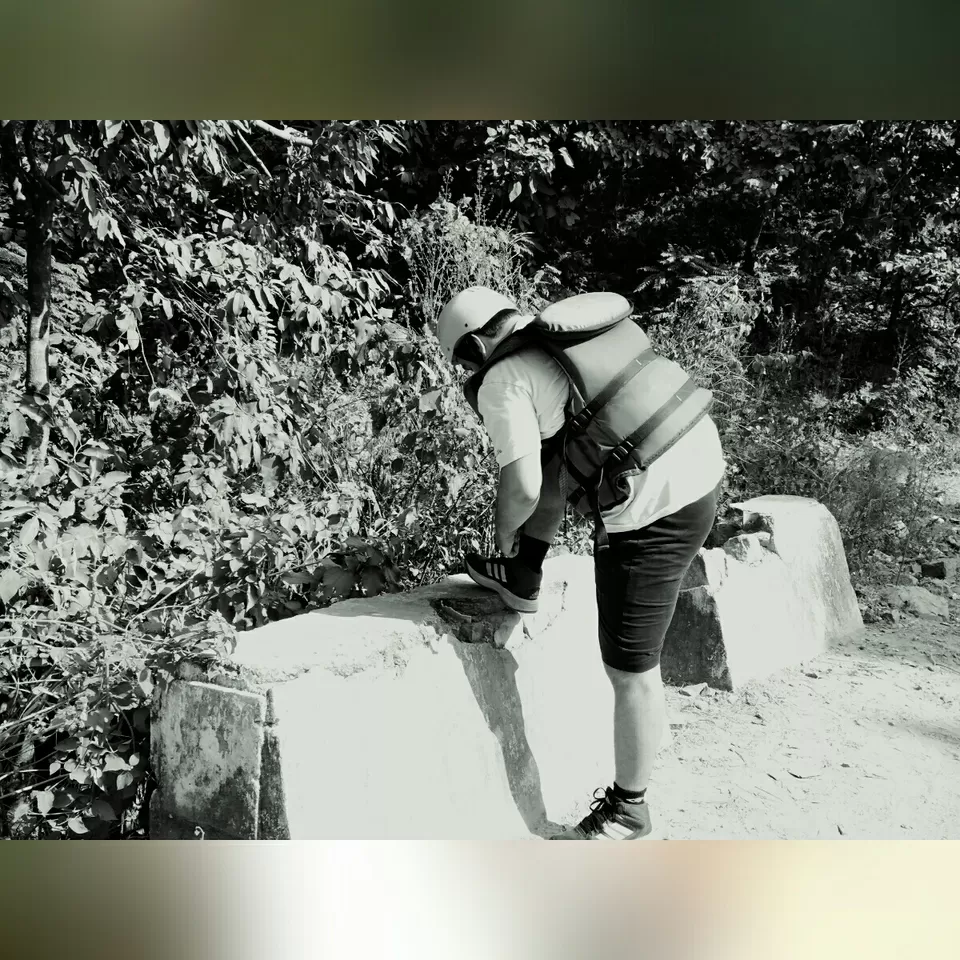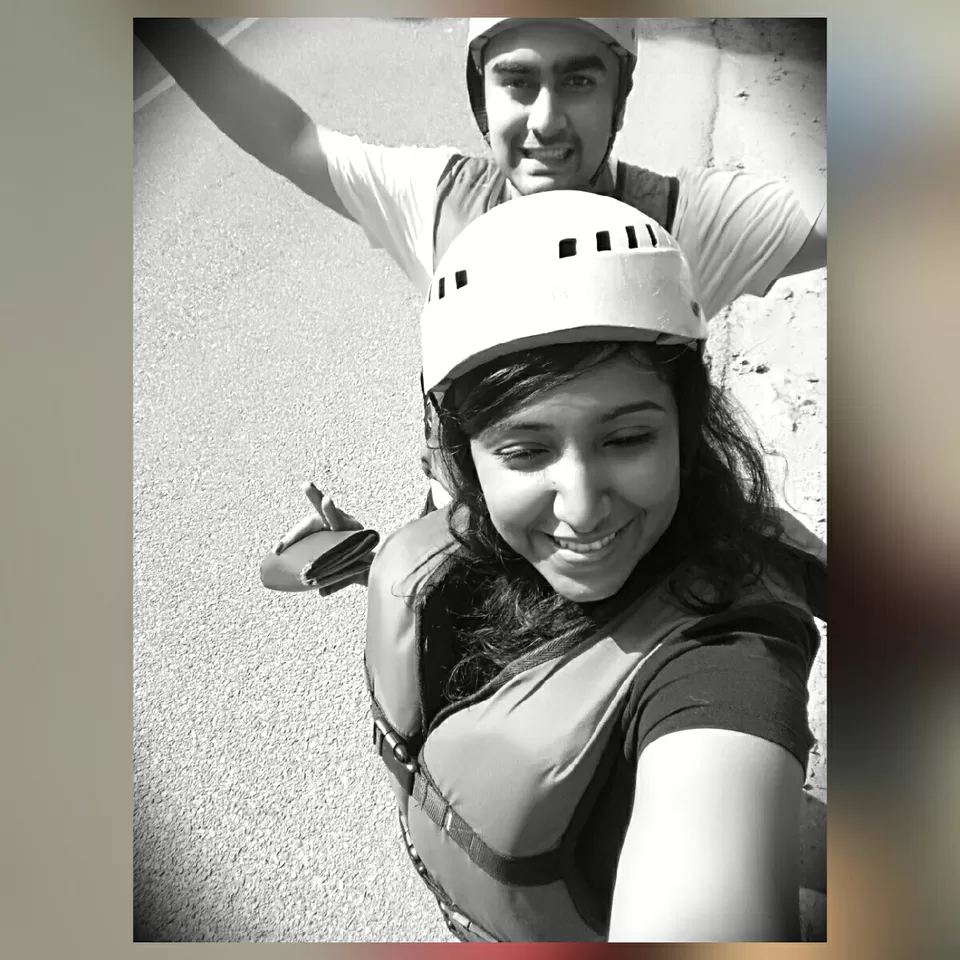 As we reached the spot from where our 16 km long rafting had to begin, we were geared with life jackets and helmets.
Tip: Make sure to tighten the life jackets as hard as possible, to avoid any sorts of accidents.
As we descended the mountains, we saw several rafts tied with each other on the ghats... The fierce Ganga flowing with all her aggression. My heart skipped a beat, and there was a sudden rush of adrenaline down my spine. But I knew I had to remove all fears, and this was it!
We gradually proceeded towards our raft, and our guide provided us with all the relevant instructions.
Me and him decided to sit on the front, to lead the raft! (People sitting on the front edges experience the minute glories of Ganga)
And it began.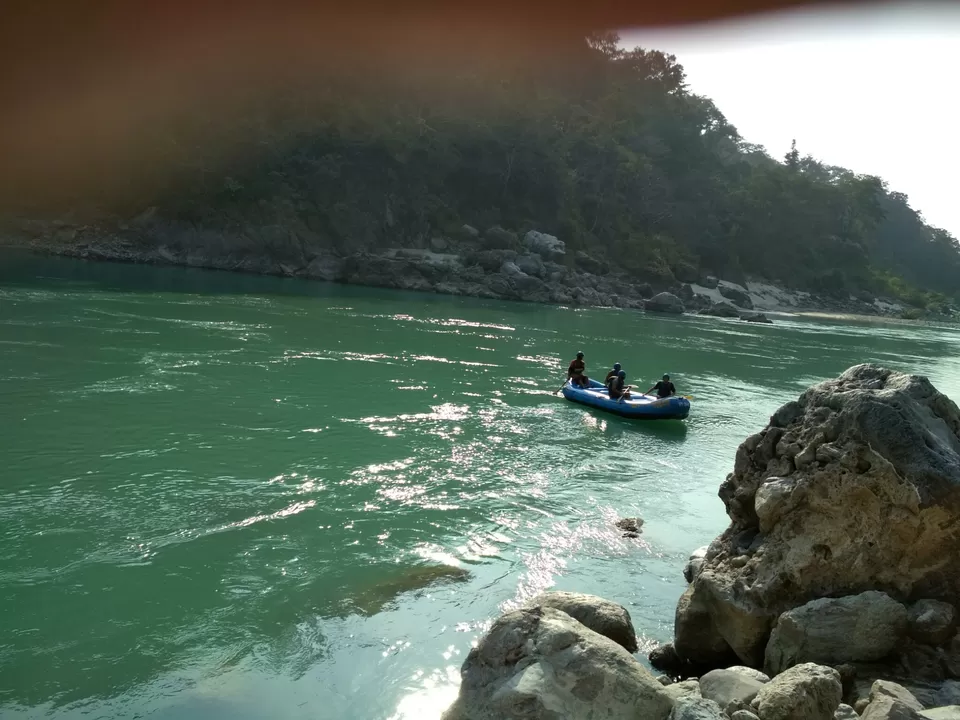 We started rowing, forward and backward. I could not believe what I was looking at, the vast and calm-outside-fierce-inside Ganga. In no time, our guide asked us to stop rowing and jump into the water.
He was the first one to jump, with no fears, no inhibitions, he just wanted to feel the water.
I couldn't gather the courage to do it, as I was as scared as a jack-rabbit who had heard the howl of a Wolf.
But then, this happened!
I was just prepping myself to jump, and our guide pushed me. Yes, he did that! For a split second, I remembered all my loved ones, and I'm not even kidding!
As I started calming my mind, and trusted my life jacket, I breathed. I looked around. Where was I? In the middle of vastness, in the middle of purity, in the middle of power.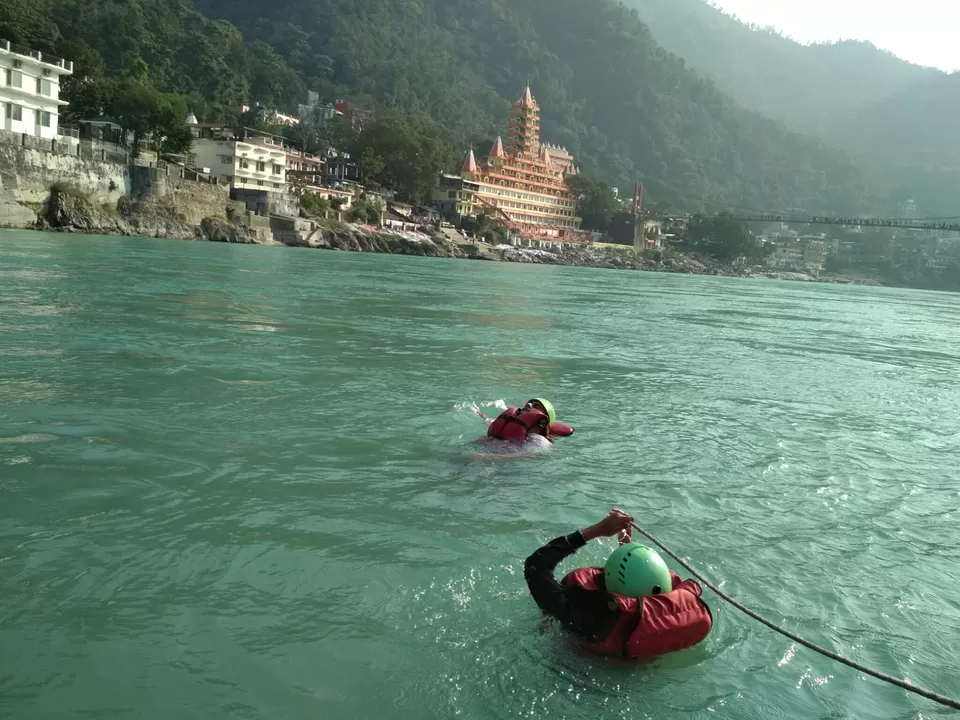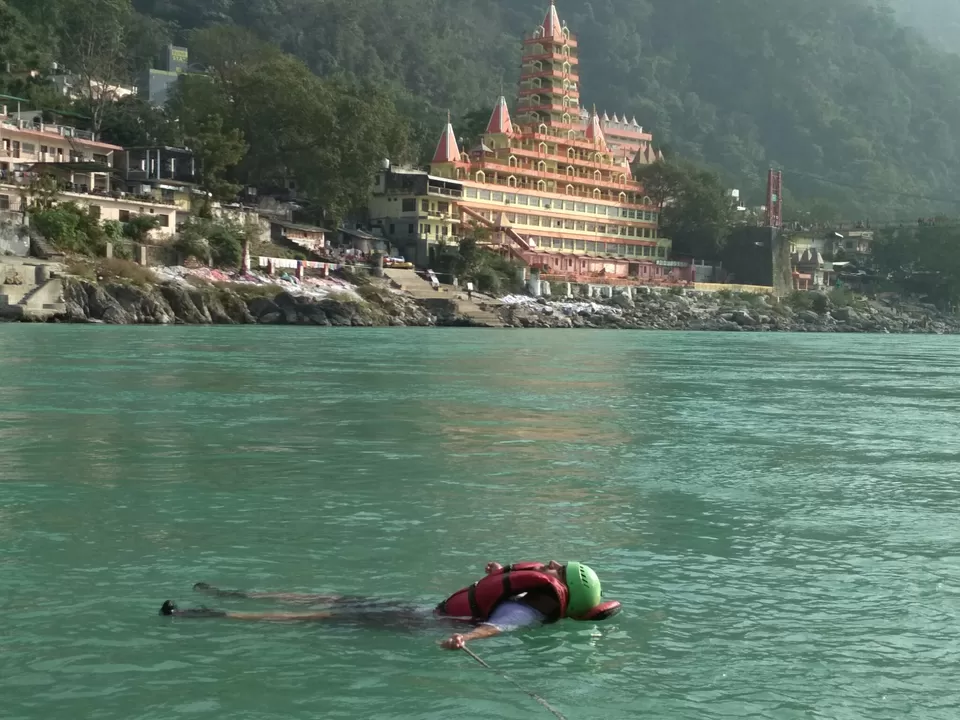 After 10-15 mins, our guide pulled us up and next was the time for our first rapid, "Initiation". As soon as we hit the rapid, the guide instructed us to row faster, else your raft may topple.
That slash of water on my face made me feel alive, believe me you!
In nearly 1 and half hours, crossing another rapid "Double Trouble", our 16 km journey ended.
We let our experience sink in. One more thing to be ticked off the bucket list!
As we had rented a scooty in Rishikesh, next we decided to visit the Neer Garh waterfall that lied nearly 5-6 kms away from Rishikesh.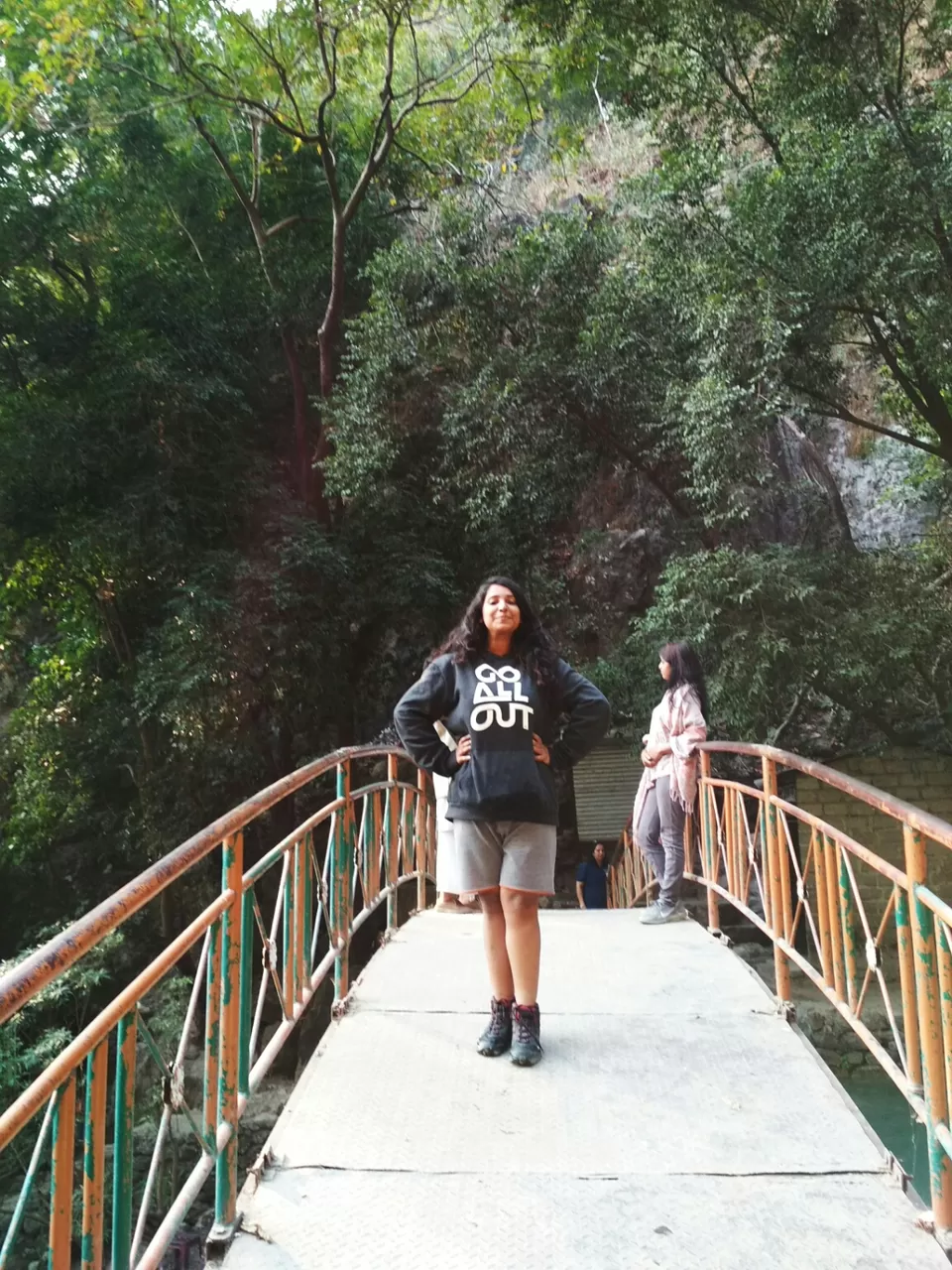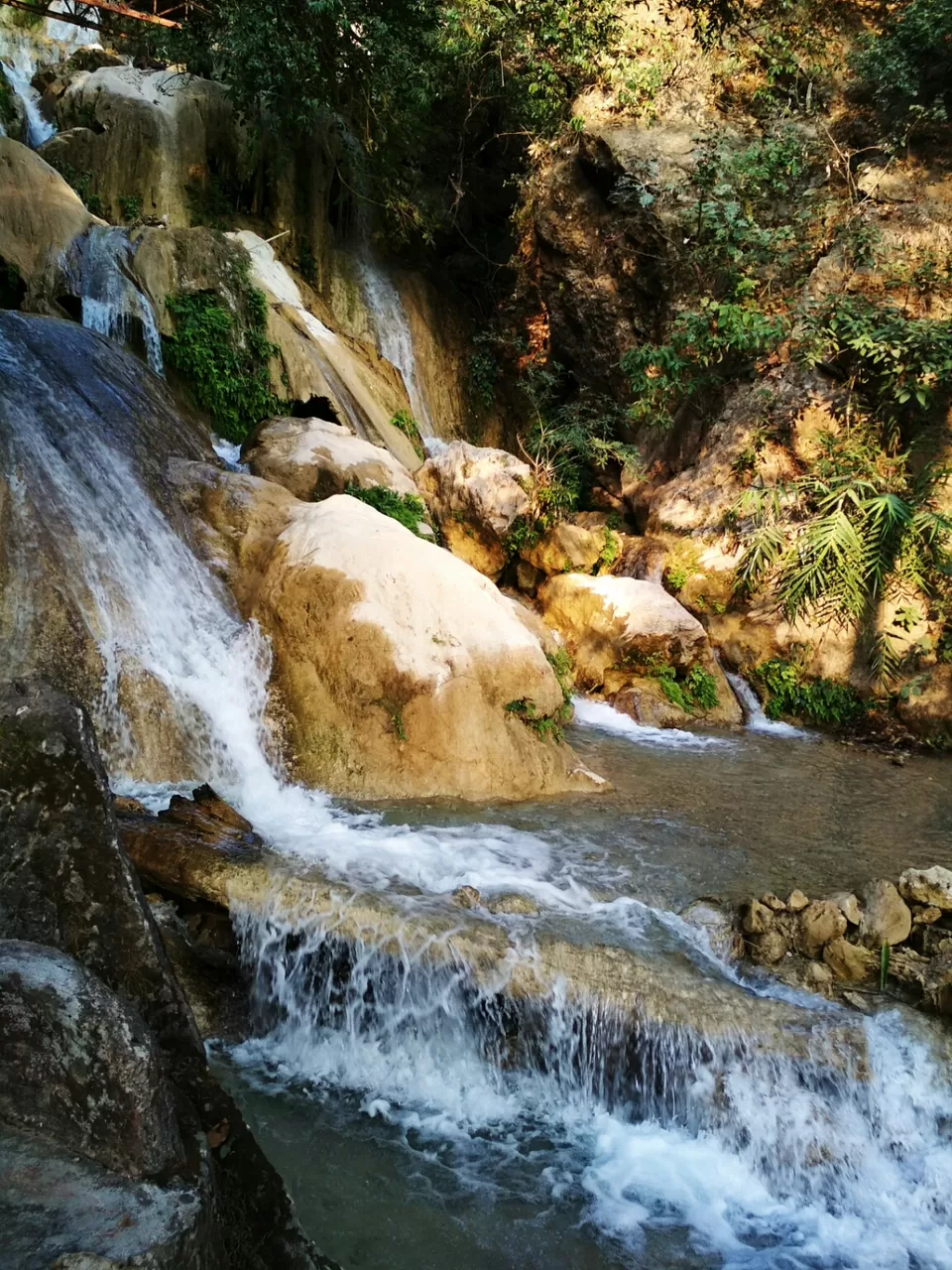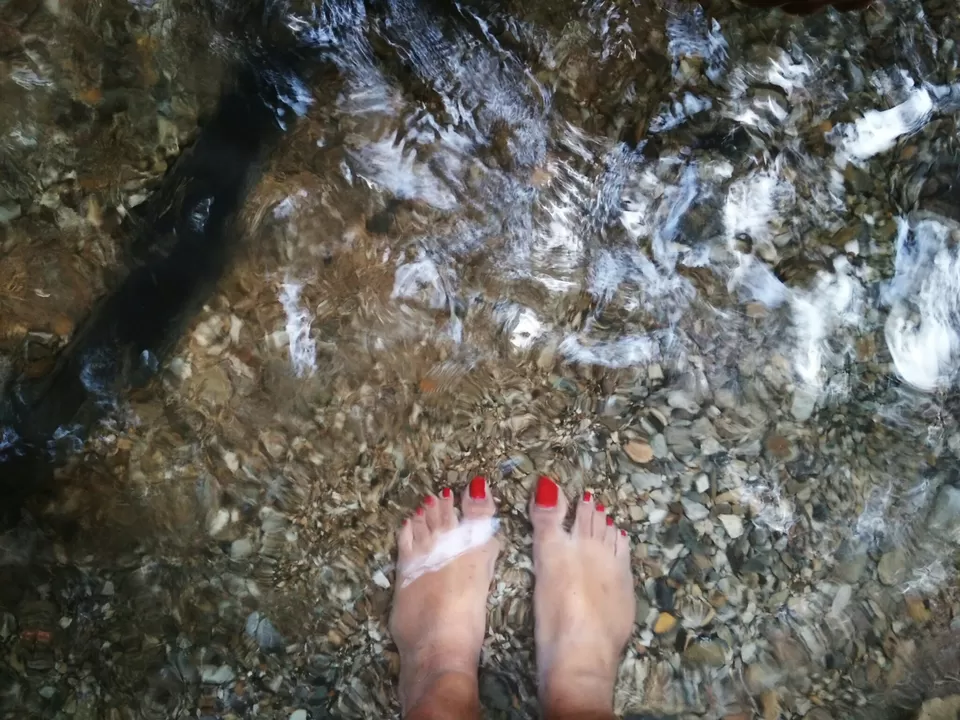 He drove the scooty amidst the mountainous roads, and cool breeze kissing our cheeks.
After paying an entry fee of 30 bucks each, we entered.
One word. Cute. :p
After we climbed few steps, there was a table and four chairs kept right in between the waterfall where one could enjoy Maggi and tea, and dip your legs into the cold water of the fall at the same time.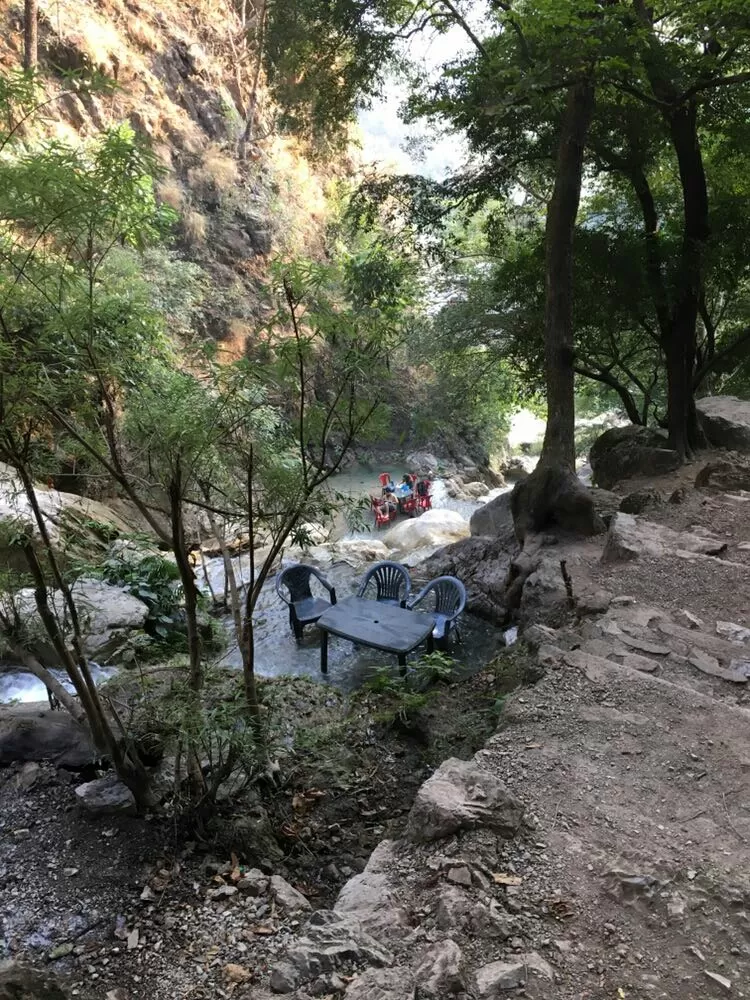 Without much delay, we started back from the waterfall at around 4 p. m. as we didn't want to drive during the late night hours.
We requested the hotel authorities of Surya to provide us with a washroom or a room for some time to change. They did. In 15 mins, we got ready to return to our metro city.
But we were refreshed, looked at everything around us with a younger perspective, ready to take life as it came.
With that, one of the most beautiful experiences came to an end.
Frequent Searches Leading To This Page:-
weekend trip from delhi to rishikesh, weekend holiday trip to rishikesh, weekend trek to rishikesh, weekend travel to rishikesh, rishikesh holidays with famiy