Few cities in the world have transformed as rapidly as Riyadh, which has grown from a small, fortified desert village into the perfect destination for all kinds of travellers. On one hand, the city plays host to rich culture, postcard-perfect souqs, and historical museums, and on the other, it charms travellers with its shooting skyscrapers, opulent hotels, and fine restaurants.
Whether you are planning to kick off 2022 with an epic solo trip, a holiday with your family or a romantic getaway with your partner, Riyadh should definitely be on your radar. Here is a comprehensive guide to the most special nooks of the city that you won't find anywhere else! Take a look.
Here's how you can explore the best of Riyadh:
1. Set out to explore Diriyah, a UNESCO World Heritage Site
Located on the outskirts of Riyadh, Diriyah consists almost entirely of mud-brick structures and labyrinthine alleyways. You must visit this site for its bustling cafes and quaint craft shops. You will find yourself stirred by the magnanimity of the main attraction of Diriyah – the grand Al Turaif, a UNESCO World Heritage Site, which used to serve as the seat of the Royal Family of Saudi.
2. Walk around the Al Masmak Fortress
This vast clay and mud-bricked citadel was built in the year 1865 and has witnessed major battles in the past and is the site at which Abdulaziz Al Saud established the modern Saudi state. Recently, this fortress was restored as a museum building and is now a must-visit if you are someone who is interested in discovering the roots of Saudi.
3. Satiate the shopaholic in you
Riyadh is a shopaholic's paradise. You can shop at various souqs and local street markets, selling luxurious carpets, gold and diamond jewellery, and precious antiques. Some of the popular ones that you must visit are Souq Al Zal, Taibah Souq, and Al Owais Souk. But, your shopping spree must not end here— the mammoth malls of the city like Al Nakheel Mall, Kingdom Centre Tower, and Granada Center, that offer a wide variety of concept stores, popular brands, and luxe fashion.
4. Go quad biking in the city's Red Sand Dunes
The large windswept dunes are aptly named and are located about a 20-minutes drive away from central Riyadh. This scenic place has become increasingly popular among tourists and residents as it offers adrenaline-inducing activities such as Quad biking and dune bashing that you can experience at affordable prices.
5. Enjoy a meal inside a glass ball suspended over the city
The Al Faisaliah Centre offers one of the most exquisite experiences in Riyadh. The midsection of its pointy structure envelopes an enormous glass ball called The Globe. Guess what? This ball is not just a visual delight but a restaurant that offers a delicious European cuisine with a generous side of sweeping views of Riyadh. Take a loved one for an unforgettable dinner or treat yourself to high-tea as you watch one of Saudi's glorious sunsets.
6. Admire views of the city from the 99th floor
This is one of the most iconic structures of not only Riyadh but in all of Saudi. The Kingdom Centre is as enchanting from within as it is from the exterior. The skyscraper is worth a day's visit on its own and includes a shopping mall where you can shop to your heart's delight. You cannot miss visiting Sky Bridge on the 99th floor that connects the two towers of the building. The views from the 302m high Sky Bridge will make you fall in love with Riyadh.
7. Visit The National Museum
The National Museum in Riyadh is not just the biggest in the country but is also one of the finest in the Middle East. The museum showcases the history of human civilization and the origins of Islam in Saudi among other things. Its collection includes sculptures, antiquities as well as audiovisual installments.
8. Go trekking and discover an endless plain
Located at a distance of about 90 km from Riyadh, running along the Tuwaiq Escarpment (which was once underwater 150 million years ago), Jebel Fihrayn or the Edge of the World is a paradise if you are a nature lover or someone who likes to go on hikes. There are various trails that you can take to reach its top, which offers a breathtaking view. Its massive cliffs drop off to reveal a valley that stretches out towards an infinite horizon.
Here are the top places you must visit in Riyadh for a gastronomical adventure:
There's no denying that the best way to experience a place is through its food. Riyadh's culture too is best tasted in its sumptuous dishes and delicious drinks. From delectable Mediterranean food to traditional Saudi meals, the restaurants and cafes of the city will leave you drooling for more!
1. The Globe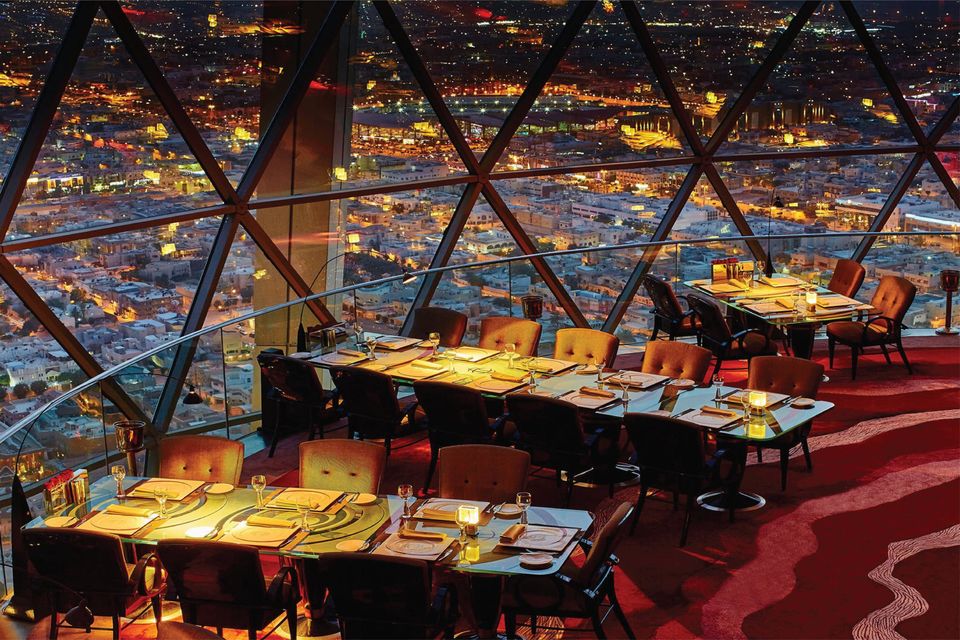 As mentioned earlier, this is an incredible fine dining restaurant that you can't miss when you're in Riyadh. The restaurant is a three-story venue serving Arabic dishes and modern European dishes with a slight French touch.
2. The Najd Village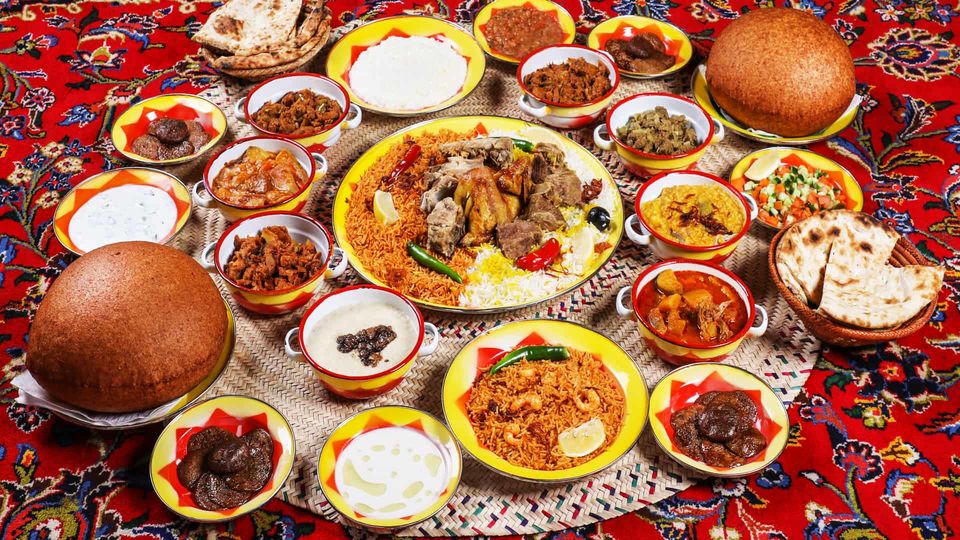 One of the most popular restaurants in Riyadh, the Najd Village has fused Saudi tradition with modernity and created the best traditional meals in the city, served in a museum-like décor. While you're there, don't forget to try the two legendary specialties: the soft, peppery lamb dish known as moqalqal, and matazeez which are Saudi dumplings.
3. Al Orjouan
Tucked inside The Ritz-Carlton, the all-day dining restaurant is also one of the best restaurants in Riyadh for enjoying international cuisine as well as Middle-Eastern flavors, served amidst a lavish setting.
4. Hualan
If you're craving some contemporary Chinese and pan-Asian dishes, then there's no better place than Hualan, bringing the flavors of the East to the city.
5. Scalini
This Insta-worthy restaurant serves quintessentially Italian dishes including Spaghetti all'astice; fresh lobster served with homemade spaghetti and a rich tomato sauce. Not only do the tourists love this place, but even the locals are seen to be eating here.
6. Sultan Steakhouse
Offering the best Turkish delicacies, this is one of the best restaurants in Riyadh for red meat, particularly dry-aged specialties, although the menu does extend to include everything from salads to burgers.
7. Lusin
If you have always wanted to try authentic Armenian food, then this is your place! Named after the Armenian word for 'moon', the restaurant serves an extensive variety of excellent cuisine, including possibly the city's greatest kebab, tasty tabbouleh, and lesser-known dishes such as saborak and manti.
Alongside these popular restaurants, Riyadh has an emerging café-culture offering aromatic brews, freshly baked goodies, and an ambiance that will spruce up your life and your 'gram!
1. Elixir Bunn
A contemporary cafeteria with high ceilings, dramatic arches, and striking angles, this place has a strong reputation for its perfect cups of caffeine.
2. Five Elephants
This go-to brunch spot serves freshly-brewed coffee with colorful plates of eggs benedict, American-style pancakes, and omelets, all through the day.
3. Magnolia Bakery
Craving for some perfectly spongy cupcakes topped with swirls of colorful frosting or a caramel banana pudding? This place would fulfill your desires perfectly.
Accommodations in Riyadh:
The city has varied accommodation options and you can choose your stay depending on your budget during your visit to Saudi.
Luxury Stays
If you are in the mood to indulge and are looking forward to a luxurious vacation, you can stay at the Al Faisaliah Hotel, which is one of the top-rated 5-star properties in the city. Other popular hotels are Narcissus Hotel & Residence. Crowne Plaza Riyadh Al Waha, The Ritz-Carlton, Burj Rafal, and Fairmont Riyadh.
Average cost per night for 2 persons: Rs 25,000 + tax approximately
Mid-Range Hotels
There are various mid-range hotels and apartments that are perfect for budget stays. Some of these include Al Mutlaq Hotel, Al Nafal Hotel, Comfort Inn Riyadh, Apollo Dimora and Burj Al Malaz to name just a few. Average cost per night for 2 persons: Rs 6,000 + tax approximately
Budget Stays
For budget travelers and solo backpackers, the most affordable option would be to find Airbnb accommodations around the popular neighborhoods in Riyadh. Explore Al Murabba, the district where you'll find the King Abdulaziz Historical Center, which includes the National Museum of Riyadh and Murabba Palace. Another happening neighborhood is Al Bathaa, which is home to budget-priced shopping and dining options, and it's the hub of the city's minibus system if you're feeling adventurous.
Average cost per night for 3 persons: Rs 3000 + tax approximately
How to reach Riyadh?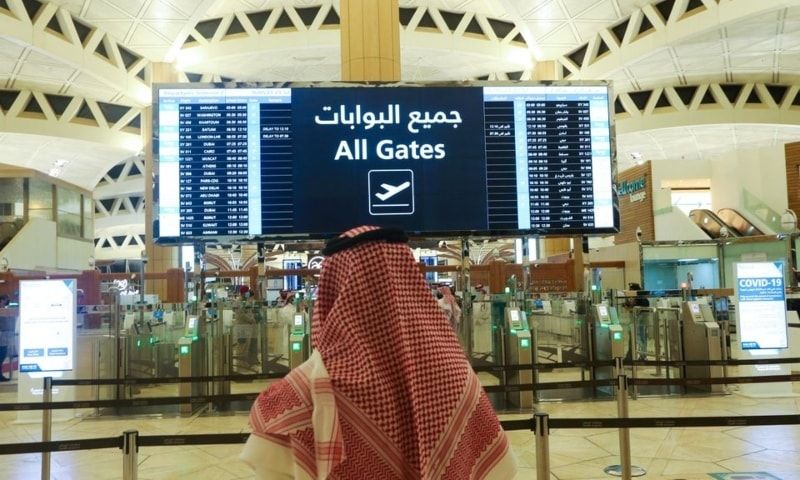 In addition to Saudi's national airline, Saudia, Jet Airways, Gulf Air, and Emirates are other popular airlines flying to Riyadh from India. Saudia also operates frequent flights to domestic airports all around the country.
What is the best time to visit Riyadh?
The winter months are an ideal time to visit Riyadh. Although average high temperatures in the summer can reach 44°C, the top temperatures in December and January are in the low 20s.
If you've been contemplating exploring this treasured city where the past meets the future in a magnanimous way, then start planning now! The country will be hosting various events in the coming months, and you'll get to experience the charm of the bygone era coming back to life.
In collaboration with Visit Saudi.
Ready to travel for free? Earn credits and redeem them on Tripoto's weekend getaways, hotel stays, and vacation packages!