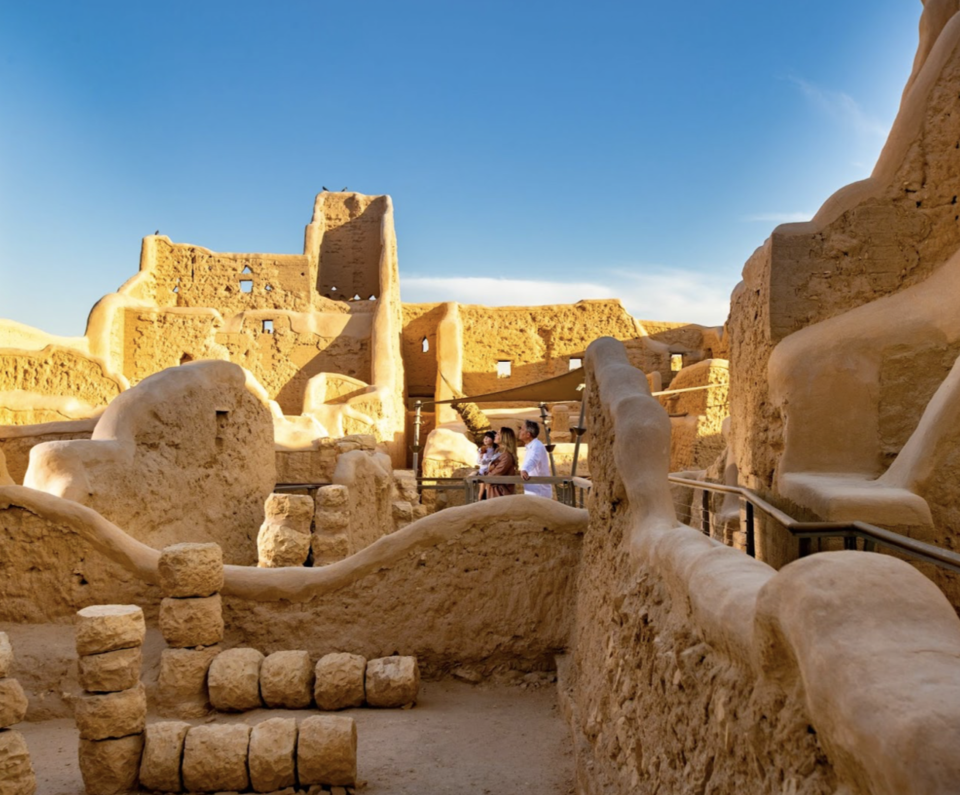 The scenic beauty of any destination is often accentuated by its culture and heritage. We find this carved in its walls, sprinkled upon its cuisine and paved along its streets. If as a traveller you're piqued by this combination of scenery and culture, then a trip to Saudi is perfect for you. The country is a treasure trove of cultural delights and allows visitors to indulge in them in unique ways. Scroll below to get a sneak peek into the one-of-a-kind experiences that the country has in store for travellers!
1. Pay your respects at the Floating Mosque in Jeddah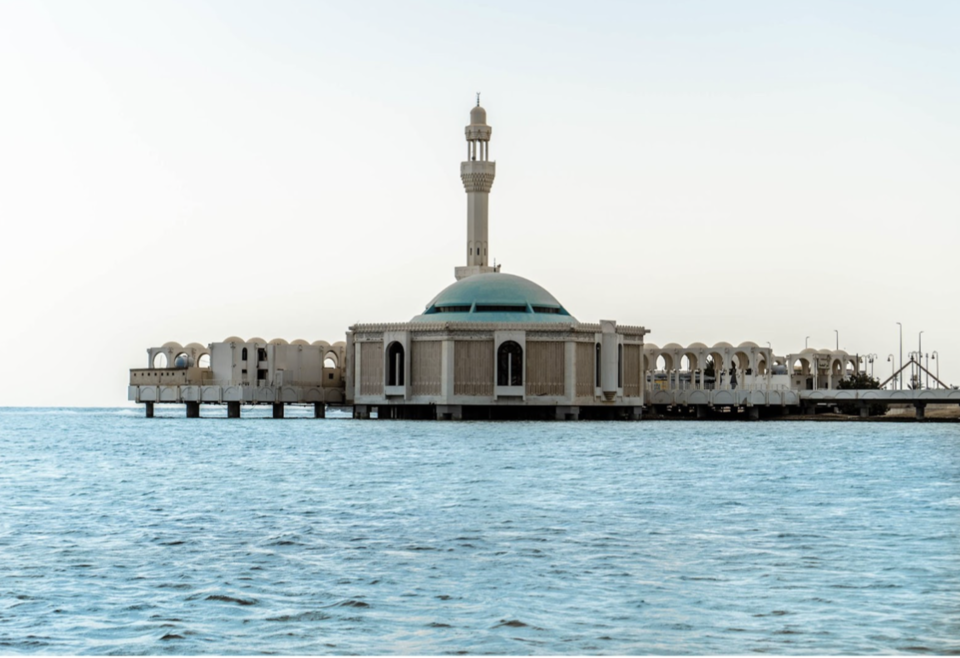 Built in 1985, the Al Rahma Mosque is a grand showcase of traditional Islamic architecture and modern design blending with each other. The place of worship has a heightened aura of tranquillity as it is anchored over the Red Sea. The turquoise-domed mosque is suspended on slender white stilts and appears to float on the water during high tides. A visit to see the waves imbue a sense of serenity around the mosque will surely be the highlight of your trip to Saudi.
2. Visit the lost city of Hegra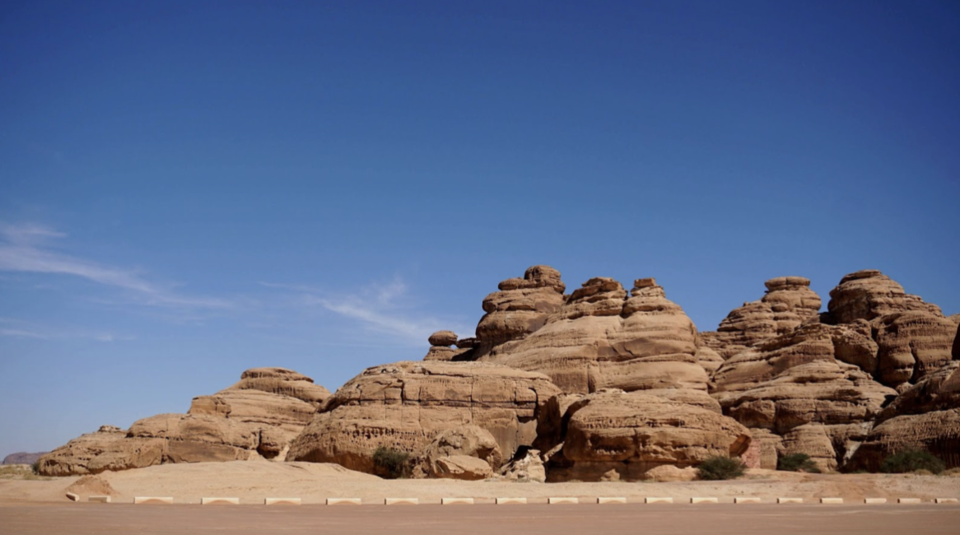 Once the southern capital of the Nabataean civilization, the city of Hegra was left untouched for nearly 2,000 years, earning itself the moniker of the 'lost city'. Rediscovered in the 19th century, it is now a central attraction of the country. Your curiosity shall wander within the ruins of the 131 rock-cut tombs of the Nabataean Kingdom. They seem identical from afar but in fact, boast distinct features. Each tomb is adorned with different symbols to indicate moments from an individual's life leading up to their death.
3. Immerse yourself in the rich history of Diriyah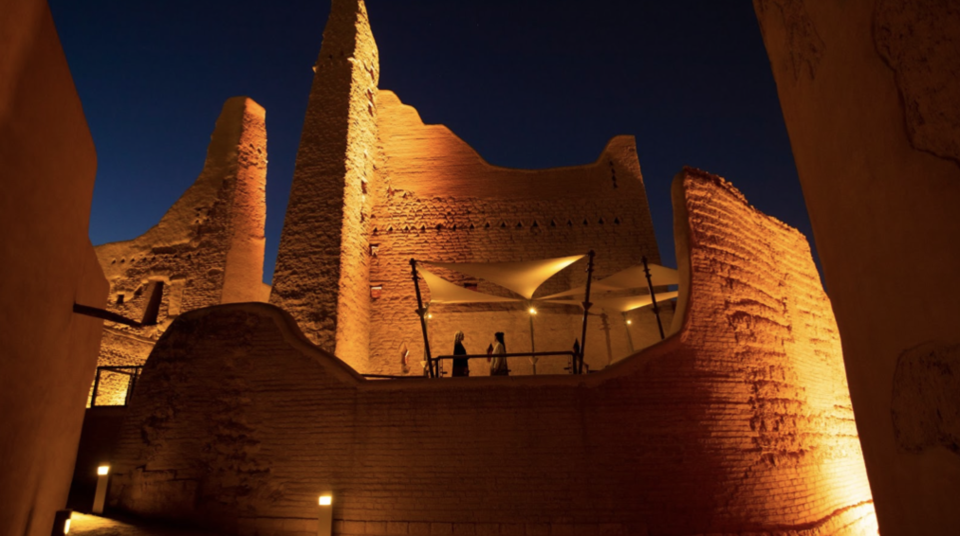 A crossroads where culture and commerce unite, Diriyah is a desert town that breathes life within its gleaming mud-brick walls. Grab a steaming hot cup of gahwa (Arabic coffee) in one of the many cafes dotted across the town and walk around to explore the pages of history spread all over its landscape. The first capital in the Ghusaiba Quarter, the mosque in Al Bujairi Quarter and the Al Saud house in the Turaif Quarter are just the tip of the iceberg of what all you can explore in Diriyah. Delve deeper into Saudi's past by visiting the myriad museums here.
4. Relish delectable Arabic dishes on a food tour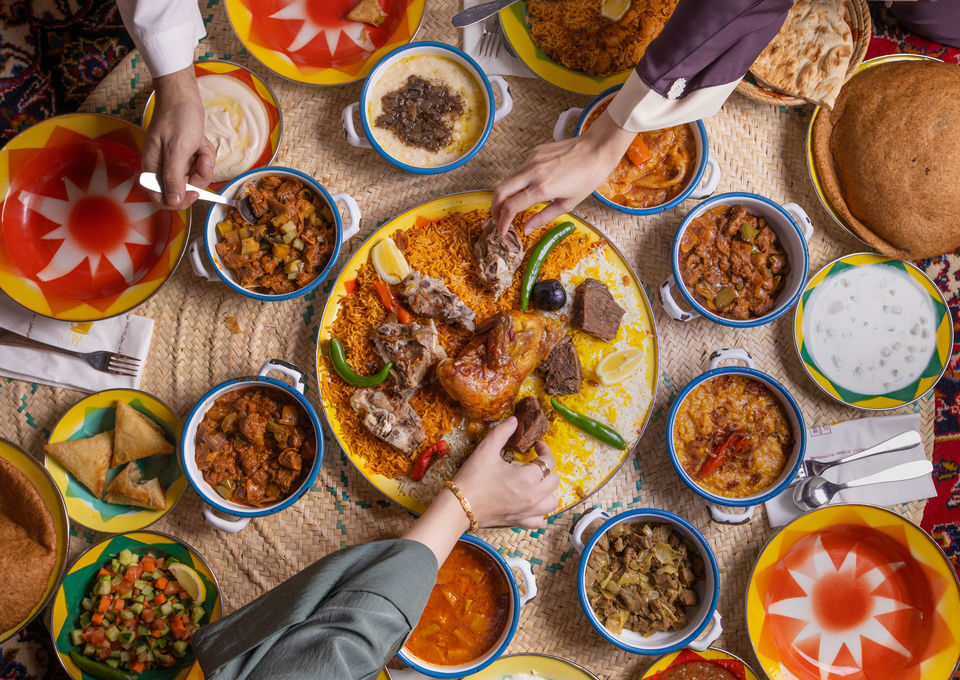 Dear foodies, here's a confession that will surely please you: Saudi is a gourmand's weakness. Devour scrumptious kebabs, munch on plates of layered meat served with rice and yoghurt and sweeten your day with a date-based dessert. This meal plan is just an introduction to the range of dishes waiting for you to savour in Saudi. For street-food crawls and aesthetic cafes, generational restaurants serving hearty meals and households mastering one dish, make sure to work up a copious appetite.
Food tours in Riyadh include visits to the old market, a robust spread at Najd Village restaurant, and sips of local wines on a food and wine tour. Take a tour that includes a meal with a local family at their home for the ultimate gourmet experience. In Jeddah, you can visit spice markets, tea and coffee houses, dry-fruit markets, hidden kiosks and sweet shops in addition to its restaurants. Just the thought of trying such exquisite new food must make your mouth water!
5. Admire the rock-cut marvels of AlUla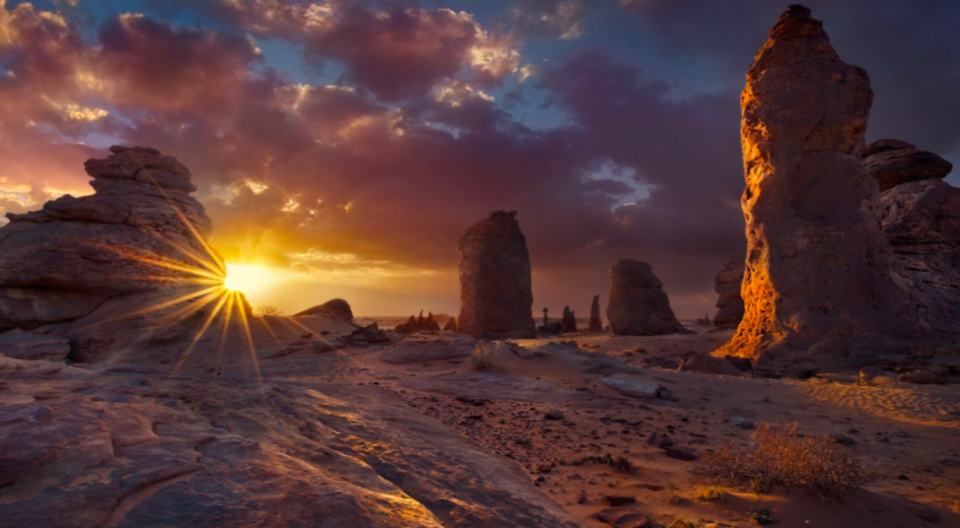 A geological gem, AlUla is where Mother Nature has best exhibited her skilful artistry. Set in golden dunes are sandstone rock formations that seem to create an otherworldly landscape. Once the pinnacle along the Incense Route, AlUla is also known for the messages etched by traders on the rocky structures here to mark their journey. A natural oasis of over 80 natural springs in AlUla makes this region a lush retreat amidst its desert landscape. A blanket of stars by night complements the enigma around this city that quite literally rocks!
6. Discover an array of arts across the country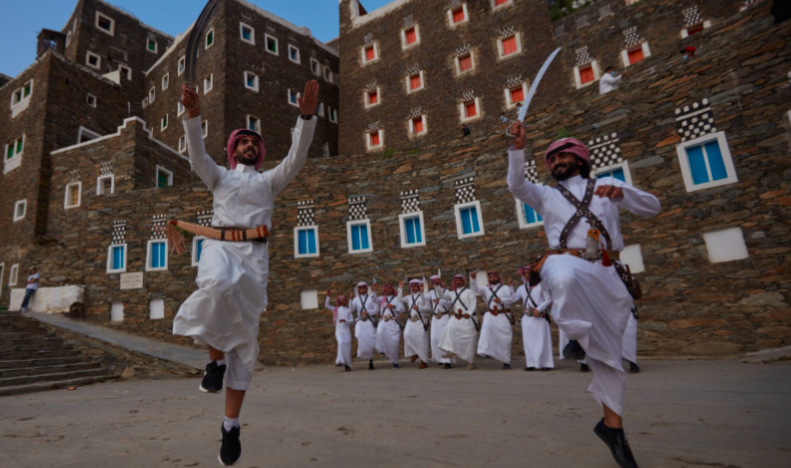 Folk practices of calligraphy, poetry, ardah (sword dancing) and more indicate how Saudi has always cherished varied art forms. Let your senses be enthralled with a performance of ardah in Riyadh where the warriors' dance is performed on special occasions. In Najran, you can see how the janbiya daggers – a rite of passage in Saudi custom – are made. In Jeddah, observe the ancient practice of palm leaf weaving. Jeddah is also home to numerous contemporary art galleries such as the Athr Gallery, the Saudi Centre for Fine Arts, and the Nesma Art Gallery, a symbol of how the arts continue to stimulate creativity in Saudi culture.
7. Drive to the Edge of the World in Riyadh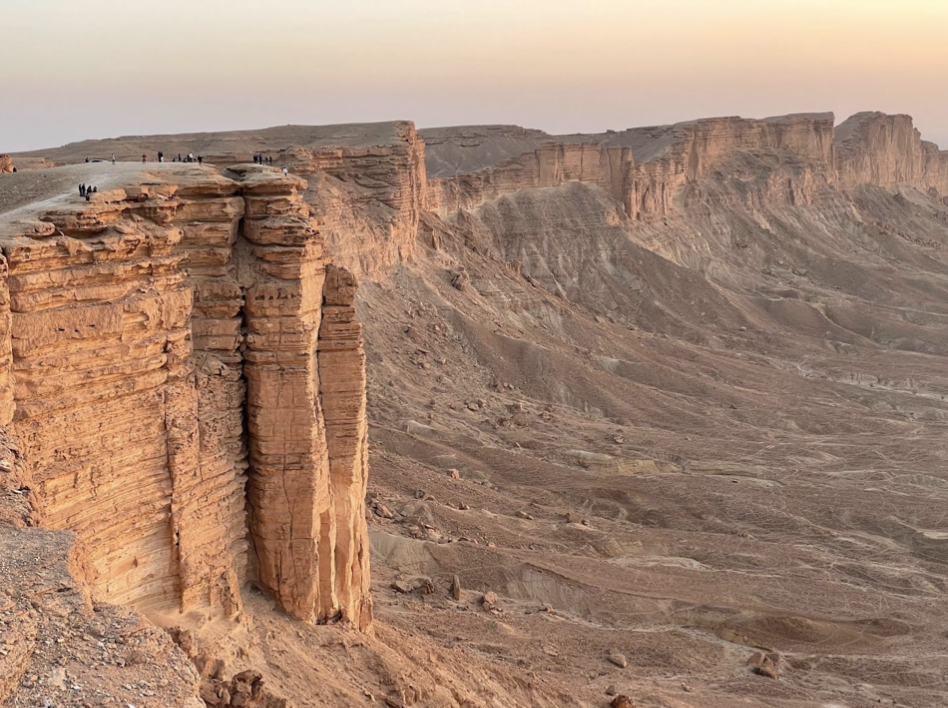 Jebel Fihrayn is a vantage point that is coined as the Edge of the World owing to the endless sight of the horizon that it offers from surmounting cliffs with a 305-metre drop. Sitting atop a dried-up ocean bed, it overlooks the plains, parched rivers and ancient caravan routes that envelop it. Thrill-seekers can hike up to this point. You can also drive up and feast on the spellbinding views.
8. Go desert camping for a Bedouin experience in Dammam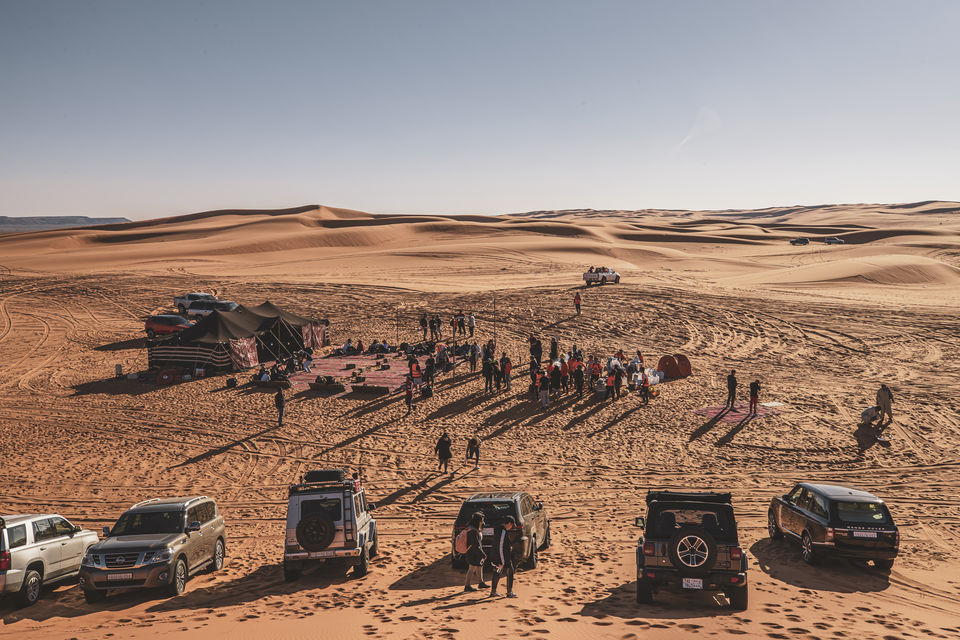 Bedouins are a nomadic tribe living in the desert areas of Saudi. They proudly preserve age-old customs of their culture that you too can experience when you go desert camping with them. Explore the charm of the desert, enjoy an evening of traditional music and dance, eat authentic food, get henna tattoos, visit a camel farm and watch a falconry event. For 24 hours, live as the Bedouins do!
9. Shop, shop and shop in Al Hofuf
Featuring a distinct collection of fabrics, artistically stitched handicrafts, appliances of daily use and artefacts you'll not find anywhere else in the world, Saudi's souqs promise the most unique shopping experience. Shopping in a souq is very popular amongst travellers, and Al Hofuf is where you'll have the most diverse excursion in Saudi. Head to Souq Al Qaisariya in Al Hofuf, which has been around for centuries and is bustling with more than 400 stalls. On a walk through its snug passageways, buy yourself a souvenir or two and bring home a memory of the Saudi way of life.
10. Explore coral houses in Jeddah's Old Town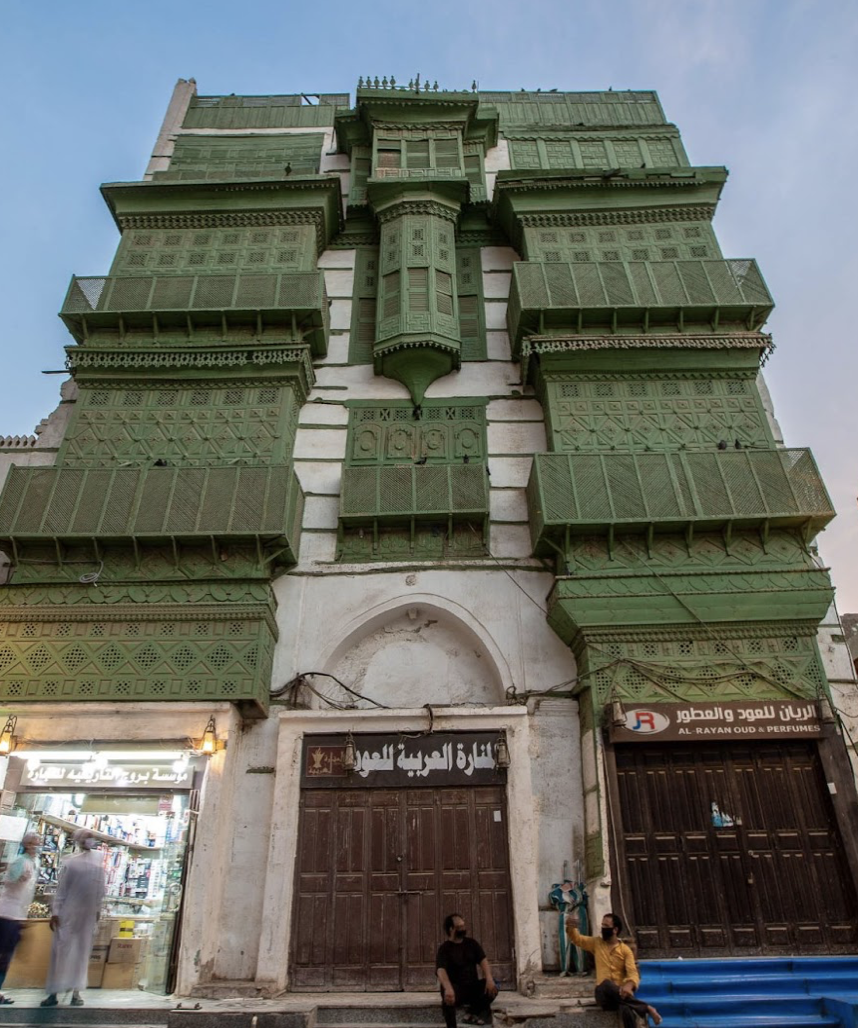 If you gaze outside the rawasheen (windows) from the high-rise buildings in Al Balad, your eyes will fall upon a unique architectural rarity – ancient buildings built using corals collected from the Red Sea's shores to house multiple generations under one roof. Declared UNESCO World Heritage Monuments, these coral houses can be found only in Jeddah's Old Town, so a walk through its slender alleyways is highly recommended!
On a trip to Saudi, geological gems and historical hubs will satiate your inner explorer. A succulent cuisine and an assortment of cultural attractions will refresh your worldview. If you've got to the end of the article, you'll agree that Saudi has just superseded your bucket list for your next adventure!
In association with the Saudi Tourism Authority.
Explore the best of travel inspiration on Tripoto's Instagram page!
Think we missed out on something? Tell us about it in the comments below. Or write about it here on Tripoto and earn Tripoto Credits!